GINZA SIX: Must-Try Christmas Sweets & Winter Goodies This Year
GINZA SIX, the biggest shopping complex in the Ginza Area, is getting ready for Christmas with a range of special seasonal foods and desserts. The line-up retains the sophistication GINZA SIX is known for as it prepares for the final Christmas of the Heisei Era of Japan.
Let's take a look at the gourmet selection on offer by splitting them into five separate themes.
Christmas Cakes: From Regulars to One of a Kinds – Gems That Glow the Skills of Patissiers
Monde argenté (ISHIYA GINZA): ¥4,000
Noel Framboisier (Ginza Sembikiya): ¥5,000
Classic Sweets: Promoting New Trends for the Last Heisei Period Christmas
Stollen Pistachio (PALETAS): ¥2,593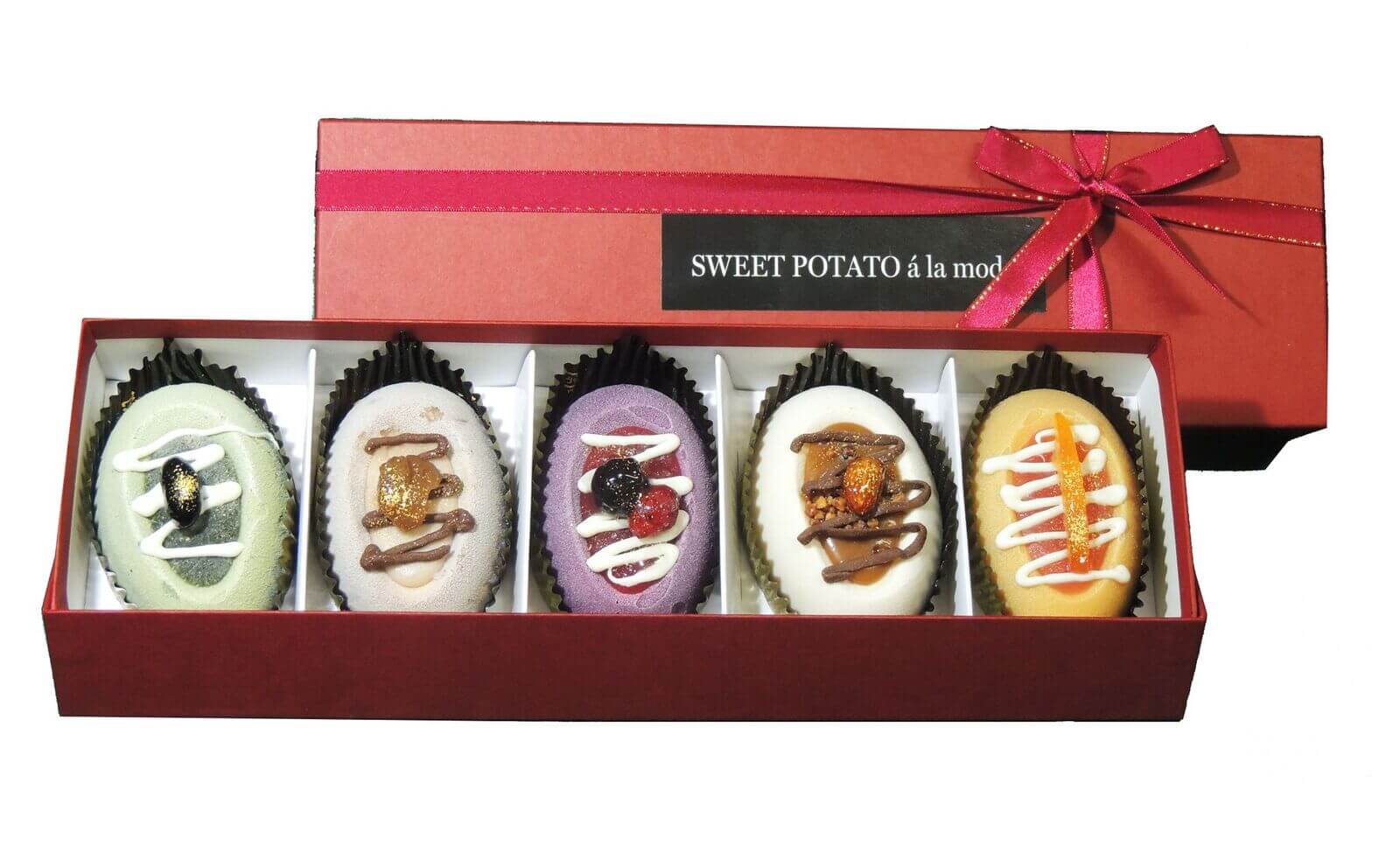 Sweet Potato Almond Noel Box (Minamikaze Noukasha Dessert House): ¥1,852
Limited Edition Christmas Sweets Gifts: Classics in Glamorous Christmas Packaging
Stardust Cookies (JOTARO SAITO): From ¥540
Limited Edition Christmas Wheat Gluten Cookie Gift (Fu Fu Fu and): ¥3,000
Party Food & Sake: A High Grade Selection to Decorate the Table
Limited Edition Christmas Charcuterie & Salad (meat&green shunjyukusei): ¥2,560
Okawa Sparkling Vinegar (Shoubunsu Vinegar Brewery): ¥2,000
Cafes & Restaurants' Christmas Menus: Bringing a Moment of Bliss on the Holy Night
Fantastic Christmas Course (Bistro Ozami): ¥8,000 / ¥12,000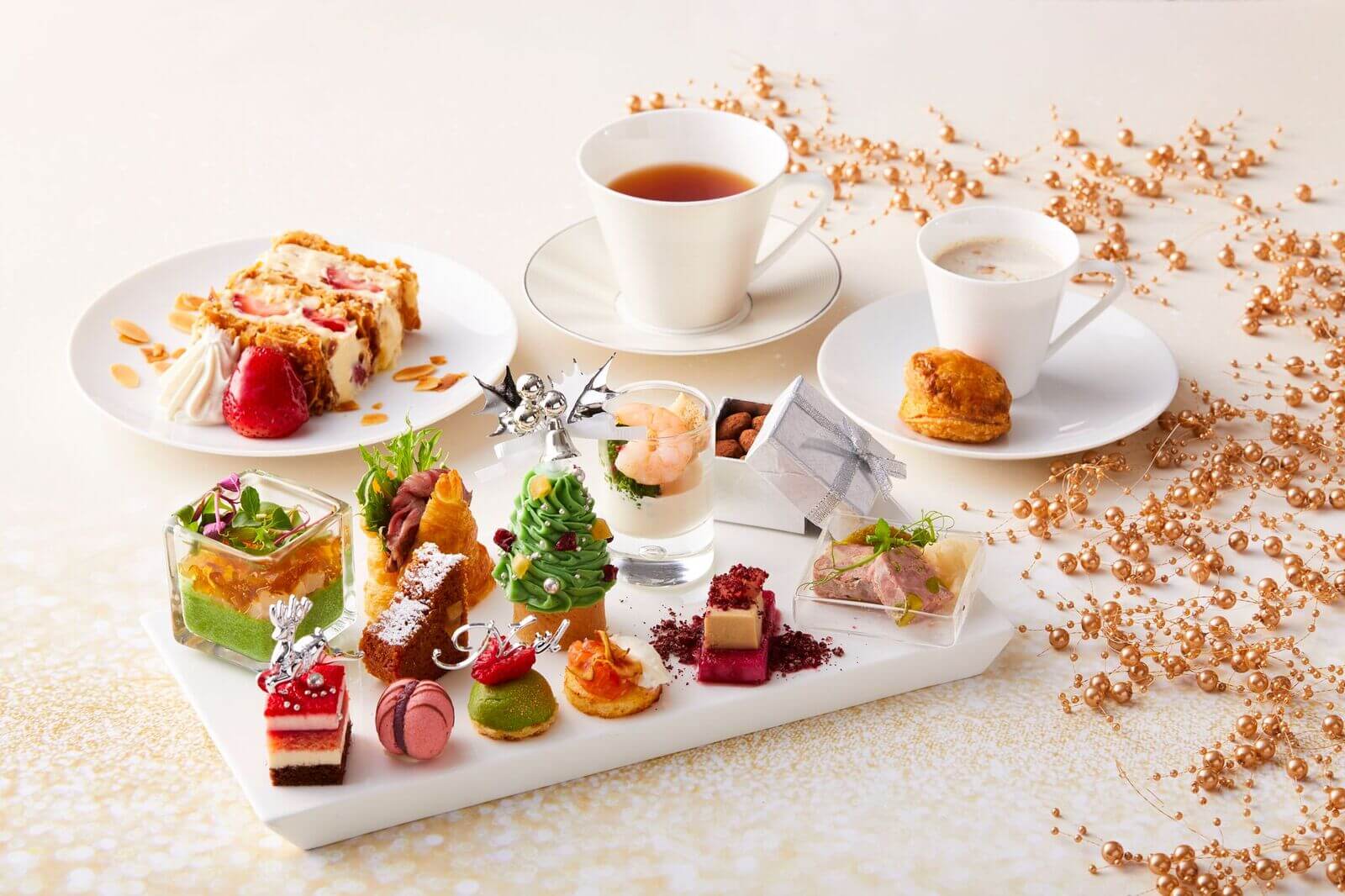 Christmas Afternoon Tea Set (THE GRAND GINZA): ¥3,800
A range of pop up shops will also appear for a limited time. This includes pop up shops for fashion brands making their way to Japan for the first time as well as fashion x art collaborative brands, brands that will hold events where you can experience craftsmanship and more.
Additionally, Ginza Sembikiya on floor B1F, which opened the first fruit parlour in Japan in 1894, will open a cafe for a limited period serving a range of fruit products that are good for health and beauty. Open from November 3, 2018 to January 31, 2019.
<GINZA SIX Limited Edition> Ginza Sembikiya Parfaits: ¥1,500 Each (Pre-Tax)
These parfaits are made with an abundance of fruit that  has been carefully selected by Ginza Sembikiya. The fruits are cut into large slices so you can enjoy their full original flavour. The parfaits are also made with a rich homemade fruit sauce. Choose from three parfait flavours: Muskmelon, Strawberry or Fruits Mille-Feuille.
Bulgari will also open a pop up store called Bvlgari Pop (Up) Corn in the second floor SIXIÈME GINZA. The store is a reinterpretation of a 1960s movie set where they will sell a range of items including a limited edition model bag. Open from December 12, 2018 to January 15, 2019.
<GINZA SIX Limited Edition> Product Name: Serpenti Forever / Price: ¥295,000 (w/tax ¥318,600)
There's plenty of other exciting Christmas and seasonal winter food and content to look forward to at GINZA SIX as well, so be sure to check their official website for more details.
Information
GINZA SIX
Address: 6-10-1 Ginza, Chuo Ward, Tokyo
Opening Hours: Shops/Cafes (B2F-5F) 10:30-20:30 / Restaurants (6F, 13F) 11:00-23:00
*Business hours differ from shop to shop.
No Fixed Holidays.
Access: Directly connected to Ginza Station via the Tokyo Metro Ginza Line, Marunouchi Line and Hibiya Line.
TEL: 03-6891-3390
Website: http://ginza6.tokyo/
RECOMMENDED ENTRIES
How about some pancakes during your shopping spree! 7 recommended cafes which sell pancakes in Ginza

There must be many people who want to eat something sweet after enjoying shopping in the Ginza.

In this article, I will introduce to you some recommended pancake shops in Ginza.

Shiawase no Pancake Ginza Shop

This pancake shop located in Omotesando, Tokyo which always has long waiting lines, will open a new store in Ginza on the 23rd of December 2017. The shop is located in front of the A5 Exit of Tokyo Metro Ginza Line's Gina Station. The décor inside the shop has a relaxing atmosphere. They have an open kitchen in front of the shop so that customers can observe the cooking process. It will no doubt be exciting to seeing the making process of their pancakes.

Yukino Shita Ginza

Yukino Shita is a shop which uses strictly selected ingredients and makes hand-made pancakes. The sweet scent of the pancakes and the scent of coffee fills the natural-styled interior of the shop. Their popular pancake, "Yotsuba Cream Cheese Jikasei Rennyu (home-made condensed milk) Ice wo Soete" is a simple pancake without any topping so you can taste the rich texture of the dough. The coffees they offer goes well with their pancakes.

Eggs 'n Things Ginza Shop

You can enjoy some "old-fashioned" pancakes topped with lots of raw cream inside this open-air, bright shop. Sitting on their terrace on a warm day is recommended. The pancake is not too sweet although it uses lots of raw cream and is recommended for women. You can enjoy eating at this shop since they sell a la carte breakfast/lunch menus and dinner menus (from 18:00).

DAVID MYERS CAFÉ

This café introduces Californian-style, body/environment-friendly menu items. You can enjoy a dessert which uses wheat flour produced in Hokkaido with bananas and bitter caramel sauce put on top of a soft dough. It is a thick-flavored pancake using caramel sauce with the scent of bourbon and fresh bananas. This pancake is recommended for women.

MOKUOLA DexeeDinerUILANI

This shop has a Hawaiian atmosphere and their standard menu pancakes use lots of yoghurt inside the dough. Their crispy pancakes are created by pouring the dough into a frypan and then baking it in an oven for a long period of time.

café & books bibliotheque

They sell more than 10 kinds of home-made desserts and their most popular item is their pancakes which are very healthy since they use yoghurt. You can put lightly bitter coffee sauce on top of the pancake which has a topping of tiramisu cream made with mascarpone and cream cheese, so the product is recommended for those of you who are not familiar to sweet desserts.

Ginza Coffee Shop Ginza Sukiyabashi Shop

A coffee shop located on the second floor of the building where BIGECHO is located. The building is located at the Sukiyabashi Intersection. The interior of the shop is chic with stylish decorations so this shop is recommended for not only women but also men. Their original maple butter pancake is very soft although the dough is thin so that customers can enjoy a unique texture.

 

How did you like our introduction to some cafes and shops which sell wonderful pancakes. Why not relax and enjoy some pancakes in the Ginza area.

Five highly recommended shops in Ginza to have lunch and/or have a sweets break at

While shopping complexes such as Tokyu Plaza and GINZA SIX are on the rise, Ginza itself is a city that has been bustling with energy for a long time. It's packed full of traditional and new shops and brings in people from all ages, young and old, and prides itself as the place to go during everyone's days off. In this article we want to introduce to you some highly recommended shops and restaurants in Ginza.

Soft and "melty" omelet-rice "Kissa You"

"Kissa You" is located in Ginza, famous for Kabuki. The main reason most people come here is the soft and "melty" omelet-rice which represents Japanese food nowadays.

You can hardly encounter this type of omelet-rice which is this smooth and light in texture. I recommend you drink "Kobu-tea" after the meal as the "Japanese way."

Related article:http://www.moshimoshi-nippon.jp/34449

■Information

Kissa You

Address: Ginza 4-13-17 Chuo-ku, Tokyo

Hours: 10:00(food order 11:30)~21:00(L.O.20:00)

Holiday:New Year's holiday

TEL:03-6226-0482

A wonderful meat cutlet burger at "Ginza Sato"

"Ginza Sato" is famous for a circular "meat cutlet burger". They are offering an "original meat cutlet" from Kichijoji, dipped in special sauce then made into a burger.

 They make only 50 of these burgers a day. (¥380 for one) You can choose either a sweet or spicy sauce. You can enjoy the meat juice on a very soft bun.

Related article:http://www.moshimoshi-nippon.jp/37898

■Information

Ginza Sato

Address: Ginza 1−14−1 Chuo-ku Tokyo

Opening period:11:00〜

Holiday:Sunday / public holiday

If you want to try one of Japan's "soul foods" go to "Kommeraku"

Dashi Chazuke (rice in soup stock) is one of Japan's soul foods. It is an easy and simple meal, but the soup or tea in this dish is sure to warm you up.

Komeraku's set menu includes either soup and rice ball or rice in the soup stock and rice bowl. You can get the soup and rice ball set as a takeout. Just one mouthful of this dish and your whole body will be warmed. If you want to enjoy Japanese food in Ginza, you should go to "Komeraku."

Related article:http://www.moshimoshi-nippon.jp/26438

■Information

Komeraku

Address: Ginza 5-2-1 Chuo-ku Tokyo, Tokyu Plaza Ginza B2F

Hours: 11:00~23:00(L.O.22:00)

TEL:03-6264-5222

>>next page

Tokyo Stroll: The Café That You Want to Visit to See Someone #8 – 'Ginza West'

Ginza is a district in the heart of Tokyo famed for its extravagant streets lined with upmarket shops, luscious restaurants and fantastic entertainment. But it's not only worthy of note for its flamboyance – it's also rooted in rich culture and history.

Today, I visited Ginza West, a café that has been continuously loved in Ginza ever since it opened in 1947.

Before entering I saw lots of delicious confections lined up on display. You can order takeout too. Your mind will wander off as you ponder on which to take away for snack time.

The entire café is clean and tidy throughout and you can feel the decor has grace. It's different from other cafés in that it has a dignified atmosphere to it. It has an air of tension to it, the kind that makes you straighten up your back. It's a place that's nice if someone wants to enjoy a luxurious experience once in a while.

I ordered cake and tea set! The tea cost ¥1,048. A cake set is the price of the drink plus ¥324.

You can actually have them bring you samples of cakes being served on that day. There's so many cake varieties it's hard to choose.

The most popular is this one – the Mosaic Cake!

Its appearance is cute. I ended up wanting to take a lot of photos.

The Mosaic Cake is made of cocoa sponge and butter sponge which is arranged to look like a mosaic piece. You can really taste the different flavours of each sponge. It's only moderately sweet so it's not too heavy. I wolfed it down!

And then, and then!

I got the white cream soda which I'd been wanting to try. It cost ¥1,188.

When you think of cream soda it's generally green coloured melon soda with a dollop of vanilla ice cream on top. But this one uses no colouring. The soda is clear and also served with vanilla ice cream. Try drinking it yourself after adding a syrup of your choice.

It looks like a very elegant beverage.

In terms of taste, if you eat the vanilla ice cream after drinking some of the soda (which is subtly sweet) it makes for an exquisite balance. It's a flavour I've never had before – it's a novel sensation.

Delicious.

The chairs in the café have something about them too! They feel extremely comfortable, I felt exhausted. The staff kindly told me the secret behind them.

The back legs of the chairs are a little wider than the ones at the front allowing you to lean back much easier and making it feel much more comfortable. The chair legs are also cut to a certain length to allow easier sitting.

So that's why. That's why I felt so relaxed simply sitting on them. I felt I could be sat there no matter the hour.

t's a kind of consideration you'd only find at a café. Hearing about those chairs made me think that cafes really are such wonderful places. The more you learn about them, the more you come to love their charms.

I wonder where I'll visit next? Look forward to it!

Information

Ginza West

Address: 7-3-6 Ginza, Chuo Ward, Tokyo

TEL: 03-3571-1554

Opening Hours: Weekdays 9:00-22:00 (Stand Open Until 23:00) / Weekends 11:00-20:00

No Fixed Holidays.

Access: 5-minutes on foot from exit C2 of Ginza Station via Tokyo Metro Line / 10-minutes on foot from Yurakucho Station via JR Line

*347m from Ginza Station

Website: http://www.ginza-west.co.jp/

Writer: Ema Tanioku

Photographer: Haruka Yamamoto

Editor: Ai Watanabe

Translator: Joshua Kitosi-Isanga

TALENT PROFILE

Ema Tanioku

"Emaeri" is the nickname for models Ema and Eri Tanioku, who are Aomoji fashion model twins. Ema and Eri Tanioku specialise in twin fashion coordination. Over the years their fanbase has increased due to their cute looks. Ema Tanioku spreads Harajuku culture within Japan as well as overseas and works as a Harajuku Tourism Ambassador. Starting off as a model, Ema has broadened her talent range from fashion magazines to TV, and from playing the lead role in dramas to movies.
RELATED ENTRIES
Akiyoshido Cave in Yamaguchi to be Illuminated for Christmas & Valentine Theater Event

The Mine City Tourism Association has announced a Christmas & Valentine's Day event at Akiyoshido Cave, one of the largest limestone caves in Japan. The event will see the natural wonder illuminated by a number of colorful lights. The Christmas event will run from December 21 to 25, 2022, while the Valentine's Day event will run from February 10 to 14, 2023.

Akiyoshido Cave is one of Yamaguchi Prefecture's most popular tourist attractions. The interior will be decorated with colorful lights and unique soundscapes, creating a once-in-a-lifetime setting for visitors. These illuminations and sounds were directed by world-renowned lighting designer Motoko Ishii, known for her work on Tokyo Tower and the Akashi-Kaikyo Bridge.

Information

Christmas & Valentine Theater ~ Akiyoshido Cave 'Fantasy of Light and Echoes'

Dates:
Christmas Theater: December 21 – December 25, 2022
Valentine Theater: February 10 – February 14, 2023
Times: (1) 10:00-11:00 (2) 12:00-13:00 (3) 14:00-15:00
3 events per day

Venue:
Akiyoshido Cave, Shuhocho Akiyoshi, Mine, Yamaguchi

Tickets/Details:  https://karusuto.com/event/christmas-valentine-theater-2022/

Eve to Hold YouTube LIVE on Christmas Eve with Afterparty for Premium Members

Eve has announced a special YouTube LIVE scheduled to take place on December 24 at 19:00. The stream will take place on the artist's official YouTube channel and those with YouTube Premium memberships will be able to take place in an Afterparty starting at 19:30. 

Starting at 19:00 on Christmas Eve, fans can enjoy a rare live studio performance complete with a full band. The Afterparty will include a special chat with Eve in which the artist reflects on the past year and gives hints on what's to come. Fans won't want to miss this exclusive opportunity!

Report: Kyary Pamyu Pamyu's Tasty Time in Gastropolis Kobe – Sweets Edition

Kobe is filled with famous sightseeing spots like the nostalgic Ijinkan neighborhood and port. The city is packed with fashionable shops and restaurants and is highly regarded for its selection of tasty sweets!

The port city, with over 150 years of history, has fostered a unique and diverse culinary culture.

Recently, Kyary Pamyu Pamyu began starring in a series of promotional videos for the Gastropolis Kobe project. The artist traveled to the city to partake in plenty of delicious treats, and MOSHI MOSHI NIPPON went along for the ride! Here are some of the singer's favorite spots around town.

Kobe, known as a city where East meets West, is lined with sweets shops that are unique to the area.

The tea salon TOOTH TOOTH Dekoboko Sabo opened in 2019 in the Kobe City Museum and offers a menu that mixes Western food and sweets with tea and ingredients from traditional Japanese cuisine. Kyary ordered the Dekoboko Sabo Afternoon Tea Set, a collection of western sweets blended with the essence of traditional Japanese flavors. Guests are invited to enjoy their tea and sweets in a one-of-a-kind space filled with Meiji period flare and retro Western furniture. Those interested will need to make a reservation, so be sure to remember the next time you're in Kobe.

TOOTH TOOTH Decoboco Sabo

Address: 24 Kyomachi, Chuo Ward, Kobe (Inside the Kobe City Museum)

Hours: 9:30-17:30 (Last Order at 16:30) 

Closed Mondays

Official Site: https://toothtooth.com/restaurant/decoboco-sabo

The next stop was Kobe Nankin-machi, one of the three major Chinatowns in Japan. Kobe MILK is known nationwide for its Apricot Pudding, which is made with local ingredients. The raw apricot pudding is mixed with milk brought from the foot of Mt. Rokko and other ingredients from Hyogo Prefecture. Of course, Kyary ordered some, and was amazed by its fluffy texture. You can only enjoy it in Kobe–also, the shop sells other puddings mixed with seasonal fruits, so don't miss those either!

Kobe MILK

Address: Shin-Motomachi Building 1F (1 Motomachi-dori, Chuo-ku, Kobe)

Hours: Weekdays 9:30-19:00 / Weekends 9:30-19:30

Official Site: https://kobe-milk.com

For Kyary's final stop, the singer visited the Moore House, a cafe located in a building with over 100 years of history. Guests are surrounded by greenery, and the Western-style building is incredibly elegant. The Strawberry Mille-feuille Kyary ordered was created by an expert patissier and based on the strawberry mille-feuille recipe from the legendary French restaurant Maxim's de Paris in Ginza. A generous amount of custard cream complements the crispy pie crust and enhances the sweetness of the fresh strawberries. We'd recommend it with a glass of champagne–if you're of age.

Kitano Ijin-kan Moore House

Address: 2-9-3 Kitanocho, Chuo-ku, Kobe

Hours: 11:00-17:00

Closed Tuesdays

Official Site: https://www.kitanomoore.com/cafe/

The streets of Kobe are packed with sweets that you can only enjoy if you visit. Why not come experience these incredible spots like Kyary did?

Kobe Sweets Trailer: https://youtu.be/Sx9B1ZdAvlI

British Beauty Brand Elemis Sponsors Christmas Afternoon Tea Bus Tour Through Tokyo

There are plenty of events going on in Tokyo to celebrate the holiday season, but this one might be the most peculiar. Elemis, a skincare brand from England, has teamed up with bus operator Upstar for Japan's first bus tour featuring afternoon tea! This extremely limited event will drive guests around the city to see some of the most impressive Christmas lights in Shibuya, Roppongi, Omotesando, and other spots. Only 60 seats are available each day and the bus will run from December 1 until December 25, 2022.

 

5 Unique Features of the Elemis Special Christmas Afternoon Tea Bus Tour

① Enjoy a Special Christmas Afternoon Tea Menu by Elemis

A special Christmas menu will be available on board, including a Santa Claus shortcake and a party popper-inspired sandwich. 

② Travel on a Bus Filled with Elemis Christmas Decorations

Inside the bus, guests can enjoy fir trees and original decorations inspired by the Elemis holiday collection!

③ Best-Selling Elemis Goods will be Gifted to Guests!

Guests will receive a trial size of Elemis' best-selling Pro-Collagen Cleansing Balm as a Christmas present!

④ A Special Gift Campaign will run from November 15 until December 25

Prior to the start of the bus tour, a campaign will be held on Instagram and Twitter. Winners will snag tickets for the bus tour and an Elemis makeup set worth over $12,000!

⑤ Travel on a Special Route to Enjoy Tokyo's Christmas Lights!

The bus tour will take visitors to some of Tokyo's best Christmas locales, from Shibuya and Omotesando to Keyakizaka and Roppongi. The 90-minute journey starts and ends in Omotesando.

How would you like to enjoy Tokyo's Christmas lights on a British bus enjoying some of the best beauty products on Earth? Get into the holiday spirit with this unusual and unique tour!

Information

Elemis Christmas Afternoon Tea

Running: December 1 – December 25, 2022 *Not running December 12, 13

Times:
1st Service / 15:00~16:30
2nd Service / 17:00-18:30
3rd Service / 19:00-20:30

Length: 90 minutes

Departure Point: In front of the Shioda Building (5-10 Minamiaoyama, Minato-ku, Tokyo)

Price: ¥6,800 (Adults, Tax Included) / ¥3,000 (Children, Tax Included)

Reservations: https://www.upstar-londonbus-travellingnewtokyo.com/booking

Hyatt Centric Ginza to Display Christmas Tree Made by Social Advocacy Group HERALBONY

From December 1 until December 25, guests at Hyatt Centric Ginza will be able to see the first-ever Christmas tree designed by the social advocacy group HERALBONY. The Light-Hearted ART TREE will welcome guests to the 4F library and lounge area, and the tree lighting ceremony will be streamed on Instagram live.

It's no surprise that the hotel is collaborating with HERALBONY again–from May to November of this year, the HERALBONY ART ROOM was open for guests to enjoy. This is the first time that the unit is designing a Christmas tree, and the piece is inspired by one of their most iconic pieces of art–Yukihito Okabe's Hoo! Hey! Visitors of all ages can enjoy this beautiful piece, filled with color and sure to bring joy.

Along with the tree, the showcase and lounge will also be decorated in a number of HERALBONY pieces. Come enjoy the Christmas season in this one-of-a-kind space!

Information

Hyatt Centric Ginza x HERALBONY

On Display: December 1 – December 25, 2022

Venue: 4F Library / Lounge

Official Site: http://hyattcentricginza.jp

Eve to Sing Theme Song for Christmas Comedy Film 'Black Night Parade'

Popular singer Eve will sing the theme song for the film Black Night Parade, coming to theaters nationwide on December 23, 2022. A new trailer featuring the track has also been released alongside the announcement.

Eve's YouTube channel has over 4.2 million subscribers with video views of over 1.9 billion. The new song, Shirayuki, was written by the singer himself, who has become incredibly popular with overseas music fans as well. The track manages to be both gentle and powerful in equal measure, combining an orchestra with Eve's unique vocals. In conjunction with the release of the trailer, an exclusive pre-release version of the song has been posted to TikTok.

Black Night Parade Trailer: https://youtu.be/57CkdVMky4o

Black Night Parade was originally manga series by Hikaru Nakamura, the creator of Arakawa Under the Bridge and Saint Young Men. The live-action film will be directed by Yuichi Fukuda, who has worked on a number of live-action film adaptations of manga series including Gintama and Kyo Kara Ore Wa! Fukuda also wrote the screenplay along with Tetsuo Kamata. The protagonist Miharu Hino will be played by Ryo Yoshizawa, while Shino Hojo will be played by Kanna Hashimoto. Taishi Nakagawa will play Kaizer Tanaka and Keisuke Watanabe will play Teppei Kohira.  

The story follows Miharu Hino, a man who is completely hopeless at everything he does. He failed his entrance exam, failed at job hunting, and has no love life to speak of. After working at a convenience store for three years, he meets a man in a black Santa suit who kidnaps him, offering him a job. Miharu then begins working at Santa Claus House, a mysterious company at the North Pole that delivers gifts to children around the world.

Comment from Eve

"I'm incredibly honored because I loved both the original manga and Fukuda's past works. I wrote this song Shirayuki with the hope that Christmas could be an important day for everyone. I would be so glad if this song makes you nostalgic for winter, making you imagine the cold air that stings your nose and the stars in the clear night sky. I love Kunehito, so I am looking forward to seeing him in the film."

©︎2022「ブラックナイトパレード」製作委員会 ©︎中村光/集英社

Sailor Moon Museum Releases New Christmas Menu

The Sailor Moon franchise's 30th-anniversary museum is open from July 1 to December 30 at Tokyo's Roppongi Museum. The series became a global phenomenon in the 1990s and remains incredibly popular with audiences around the world to this day. The museum itself is located near Azabu-Juban, where Sailor Moon took place.


 
Volume 3 of the museum, the final installment, will take place from November 12 until the museum closes on December 30. During this period, fans can see over 100 pieces of rare Sailor Moon goods from its run in Nakayoshi magazine.

 

All of the original color drawings currently on display will be replaced, with over 60 new pieces being added including previously unreleased works. Fans will also get a glimpse of the original drawing that appeared on the cover of Nakayoshi when the final chapter of Sailor Moon was published!

Christmas Menu

Sailor Moon Museum Christmas Pancake

Sailor Moon Museum Cheese Melt Muffin

Latte Art featuring Famous Quotes

THE ALLEY Collaboration Drinks

Christmas Tapioca Banana Pumpkin

Princess Serenity Cream Cheese Yogurt

New Christmas menu items will also be available during Vol.3. Guests can enjoy the cafe's original Christmas tree-inspired pancakes and collaboration drinks with THE ALLEY. The main menu has also been overhauled and now includes plenty of dishes perfect for the cold winter months. The drink menu will also feature original coasters and straw tags only available at the museum.




Will you be visiting the museum during its last few weeks?

(c) Naoko Takeuchi

Information

Sailor Moon Museum

Running: July 1 – December 30, 2022

Vol. 3: November 12 – December 30, 2022

Hours: 

Weekdays: 10:00-18:00 (Last entry at 17:30)
Weekends/Holidays: 10:00-20:00 (Last entry at 19:30)
*Open from 10:00-20:00 from December 26 – December 30
Venue: Roppongi Museum (5-6-20 Roppongi, Minato-ku, Tokyo)
Official Site: www.sailormoon-museum.com


Mister Donut Reveals Limited-Time Pokemon Christmas Collection

Mister Donut has revealed its annual Pokemon Christmas collaboration. This marks the 5th year that the popular sweets chain is teaming up with the legendary franchise, and starting on November 9, fans can find themed sweets and merchandise for a limited time. 

Pikachu Snowman Donut

Christmas Collection Donut Set

New to the lineup in 2022 is the Pikachu Snowman Donut. This will be sold alongside the always-popular standard Pikachu Donut which will be sold in a cute Christmas sleeve. Customers can also look forward to the sleepy Pikachu Donut and the fluffy Jigglypuff Donut this holiday season.

Mister Donut Blanket (White)

Mister Donut Glasses (Set of 2)

The Christmas Set will include the Mister Donut Pokemon Blanket, which is available in two patterns, as well as a pair of Pokemon glasses. Fans are sure to enjoy these new illustrations of Pikachu and Jigglypuff made exclusively for the collaboration. 

Pikachu Donut

 

The popular Pikachu Donut is back! The fluffy yeast pastry is filled with whipped cream with a pudding flavor and chocolate coating. 

Pikachu Snowman Donut

 

Also filled with whipped cream, the Pikachu Snowman Donut is coated with white chocolate.

Be sure to check out this exclusive collection of sweets and goods before they're gone!

©2022 Pokémon. ©1995-2022 Nintendo/Creatures Inc. /GAME FREAK inc.

ポケットモンスター・ポケモン・Pokémonは任天堂・クリーチャーズ・ゲームフリークの登録商標です。
Nintendo Switchのロゴ・Nintendo Switchは任天堂の商標です。

Information

Mister Donut Pokemon Christmas Collection

On Sale:

Donuts: November 9 – late December 2022 (While supplies last)

Goods: November 9 (While supplies last)


Official Site: https://www.misterdonut.jp

The World of Peanuts to Take Over Grandberry Park this Winter

The limited-time Christmas event 'SNOOPY Merry Colorful Christmas' will be held at the Grandberry Park shopping mall from November 12 until December 25, 2022. The complex is directly connected to Manami-Machida Grandberry Park Station on the Den-en-toshi Line. 

This year's event is the most colorful one yet, focusing on diversity and individuality. Fans of Snoopy and friends are in for a treat, as the area around Grandberry Park will be illuminated in beautiful colors and decorated with unique Christmas decorations that will excite the whole family. 

Colorful Sculpture

Colorful Illuminations

Snoopy Ice Rink

Snoopy Happiness Float 2022

During the event period, a giant 8-meter-tall Christmas tree decorated with Peanuts-inspired ornaments will be set up for guests to enjoy. A huge and very colorful sculpture measuring 6 meters across and over 2 meters tall will also welcome visitors to this Christmas wonderland. In addition, colorful lights will be scattered around the entirety of Grandberry Park, and a special Christmas menu filled with cakes and hors d'oeuvres is sure to delight.

On December 10, the Snoopy Ice Rink will open at Oasis Plaza, and the Snoopy Happiness Float 2022, a giant Snoopy that has traveled across Japan, will return for another year of fun.

Come have a fun time this holiday season with Snoopy and friends! A series of events will be held over the next year to market the Colors of Peanuts marketing campaign throughout the country, so keep an eye out for more news!

*Sample images only.

Grand Front Osaka to Hold Harry Potter Christmas Event

The Grand Front Osaka mall has announced an incredible Christmas celebration in collaboration with the magical world of Harry Potter! Fans will want to visit the massive shopping center between November 10 and December 25 to take part in the festivities.

Standard Decorations

Showtime Decorations

Harry Potter-Inspired Decorations

The highlight of the event is the 13-meter-tall Christmas Tree, which will be set up on the first floor of the mall's North Building. The tree will be decorated with Harry Potter-inspired ornaments like moving staircases and window frames, which will look as though they are floating in the air. At night, a light show will take place around the tree, complete with projections inspired by the four houses of Hogwarts. 

Decorated Ted E. Bear

Stamp Rally Card

House Flag Decorations

Tully's Coffee and Harry Potter Collaboration Goods and Menu

Special Harry Potter-themed decorations will be attached to many trees in the area around the nearby Umekita Plaza, and fans can also find a Harry Potter panel exhibition. An Instagram photo campaign will be held in which visitors can enter to win collab merch, so don't miss out!

Come make some magical memories at this Harry Potter event in Osaka this winter.

Information

Grand Wish Christmas 2022

Harry Potter: An Invitation to the Wizarding World of Christmas

Running: November 10 – December 25, 2022 *Excluding certain contents
Venue: Grand Front Osaka North & South Wings, Umekita Plaza, etc.
Details: https://www.grandfront-osaka.jp/xmas2022/ 

Q-pot CAFE to Release Colorful and Creative Christmas Cake

Q-pot is known for incredible Christmas cakes, and this year's dessert might be their most glorious yet. This year's motif is the 'Christmas Wreath,' meant to symbolize peace, eternity, and happiness. Featuring a massive Morello cherry, this is the perfect way to celebrate the season with friends and family.

The cake features a pistachio ganache and cheese ganache transformed to look like powdery snow, with each dessert decorated with chocolate candy canes, teddy bears, stars, and ribbon cookies.

The beautiful cross-section shows four luxurious layers: Morello cherry mousse, caramel mousse, crepe dough filled with hazelnuts and chocolate, and rich chocolate genoise. Cakes are available to order from anywhere in the country and are delivered in a beautiful box.

Orders will be accepted in-store and at the Q-pot. Online Shop starting November 1, 2022. Why not enjoy a decedent and heartwarming Christmas this year?

Information

Q-pot CAFE. 2022 Christmas Cake

Order Period: November 1 – December 11, 2022

Delivery Period: December 22 – December 25, 2022

Price: ¥3,240 (Tax Included)

Details/Orders: http://www.q-pot.jp/news/2022/10/1765.html

ANNA'S by Landtmann in Shibuya Scramble Square Now Offering Halloween Sweets

ANNA'S by Landtmann, a cafe located inside +Q Beauty on the 6th floor of Shibuya Scramble Square, has begun selling two Halloween cakes! These spooky sweets will be available until October 31, 2022.

Halloween Mont Blanc

Halloween Poison Apple

Guests will be able to snag the Halloween Mont Blanc and Halloween Poison Apple cakes, available for ¥580 each including tax. The Mont Blanc is filled with pumpkin custard and Chantilly cream. The Poison Apple is a sweet and sour cake featuring a blend of chocolate mousse covered in red glaze and applesauce with apple pulp.

Which of these two adorable cakes would you like to enjoy this autumn?