GINZA SIX: Must-Try Christmas Sweets & Winter Goodies This Year
GINZA SIX, the biggest shopping complex in the Ginza Area, is getting ready for Christmas with a range of special seasonal foods and desserts. The line-up retains the sophistication GINZA SIX is known for as it prepares for the final Christmas of the Heisei Era of Japan.
Let's take a look at the gourmet selection on offer by splitting them into five separate themes.
Christmas Cakes: From Regulars to One of a Kinds – Gems That Glow the Skills of Patissiers
Monde argenté (ISHIYA GINZA): ¥4,000
Noel Framboisier (Ginza Sembikiya): ¥5,000
Classic Sweets: Promoting New Trends for the Last Heisei Period Christmas
Stollen Pistachio (PALETAS): ¥2,593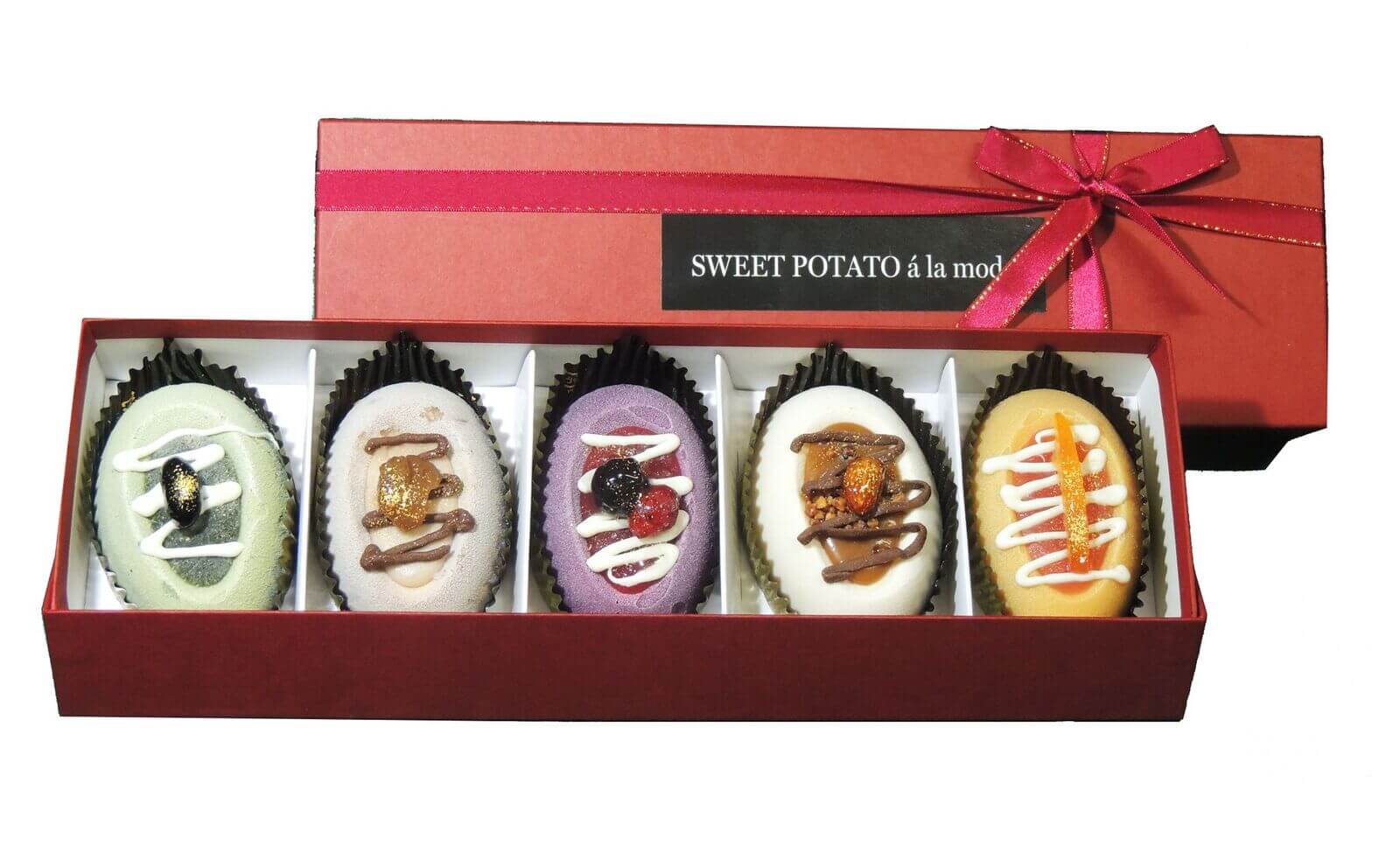 Sweet Potato Almond Noel Box (Minamikaze Noukasha Dessert House): ¥1,852
Limited Edition Christmas Sweets Gifts: Classics in Glamorous Christmas Packaging
Stardust Cookies (JOTARO SAITO): From ¥540
Limited Edition Christmas Wheat Gluten Cookie Gift (Fu Fu Fu and): ¥3,000
Party Food & Sake: A High Grade Selection to Decorate the Table
Limited Edition Christmas Charcuterie & Salad (meat&green shunjyukusei): ¥2,560
Okawa Sparkling Vinegar (Shoubunsu Vinegar Brewery): ¥2,000
Cafes & Restaurants' Christmas Menus: Bringing a Moment of Bliss on the Holy Night
Fantastic Christmas Course (Bistro Ozami): ¥8,000 / ¥12,000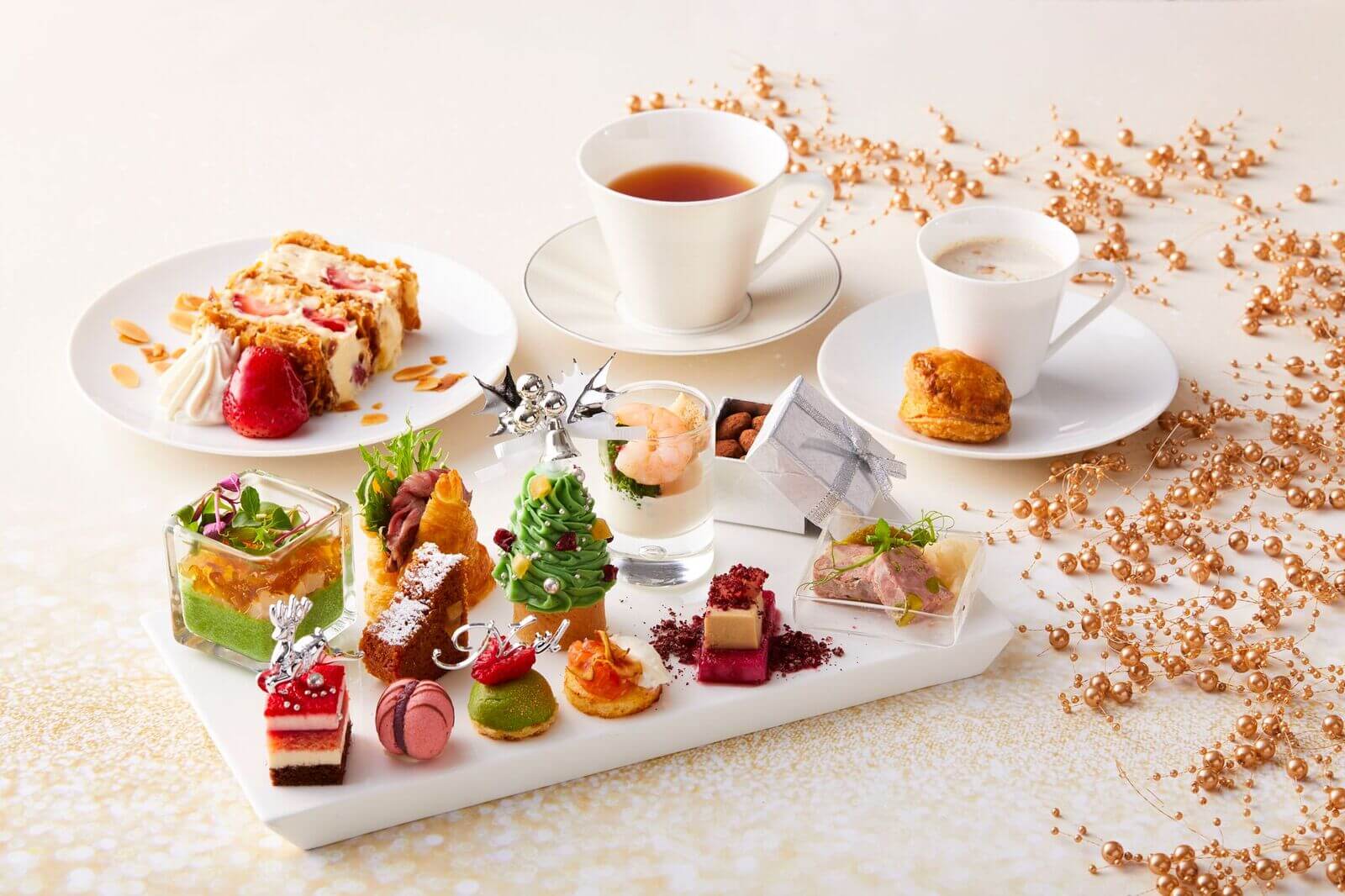 Christmas Afternoon Tea Set (THE GRAND GINZA): ¥3,800
A range of pop up shops will also appear for a limited time. This includes pop up shops for fashion brands making their way to Japan for the first time as well as fashion x art collaborative brands, brands that will hold events where you can experience craftsmanship and more.
Additionally, Ginza Sembikiya on floor B1F, which opened the first fruit parlour in Japan in 1894, will open a cafe for a limited period serving a range of fruit products that are good for health and beauty. Open from November 3, 2018 to January 31, 2019.
<GINZA SIX Limited Edition> Ginza Sembikiya Parfaits: ¥1,500 Each (Pre-Tax)
These parfaits are made with an abundance of fruit that  has been carefully selected by Ginza Sembikiya. The fruits are cut into large slices so you can enjoy their full original flavour. The parfaits are also made with a rich homemade fruit sauce. Choose from three parfait flavours: Muskmelon, Strawberry or Fruits Mille-Feuille.
Bulgari will also open a pop up store called Bvlgari Pop (Up) Corn in the second floor SIXIÈME GINZA. The store is a reinterpretation of a 1960s movie set where they will sell a range of items including a limited edition model bag. Open from December 12, 2018 to January 15, 2019.
<GINZA SIX Limited Edition> Product Name: Serpenti Forever / Price: ¥295,000 (w/tax ¥318,600)
There's plenty of other exciting Christmas and seasonal winter food and content to look forward to at GINZA SIX as well, so be sure to check their official website for more details.
Information
GINZA SIX
Address: 6-10-1 Ginza, Chuo Ward, Tokyo
Opening Hours: Shops/Cafes (B2F-5F) 10:30-20:30 / Restaurants (6F, 13F) 11:00-23:00
*Business hours differ from shop to shop.
No Fixed Holidays.
Access: Directly connected to Ginza Station via the Tokyo Metro Ginza Line, Marunouchi Line and Hibiya Line.
TEL: 03-6891-3390
Website: http://ginza6.tokyo/
RECOMMENDED ENTRIES
How about some pancakes during your shopping spree! 7 recommended cafes which sell pancakes in Ginza

There must be many people who want to eat something sweet after enjoying shopping in the Ginza.

In this article, I will introduce to you some recommended pancake shops in Ginza.

Shiawase no Pancake Ginza Shop

This pancake shop located in Omotesando, Tokyo which always has long waiting lines, will open a new store in Ginza on the 23rd of December 2017. The shop is located in front of the A5 Exit of Tokyo Metro Ginza Line's Gina Station. The décor inside the shop has a relaxing atmosphere. They have an open kitchen in front of the shop so that customers can observe the cooking process. It will no doubt be exciting to seeing the making process of their pancakes.

Yukino Shita Ginza

Yukino Shita is a shop which uses strictly selected ingredients and makes hand-made pancakes. The sweet scent of the pancakes and the scent of coffee fills the natural-styled interior of the shop. Their popular pancake, "Yotsuba Cream Cheese Jikasei Rennyu (home-made condensed milk) Ice wo Soete" is a simple pancake without any topping so you can taste the rich texture of the dough. The coffees they offer goes well with their pancakes.

Eggs 'n Things Ginza Shop

You can enjoy some "old-fashioned" pancakes topped with lots of raw cream inside this open-air, bright shop. Sitting on their terrace on a warm day is recommended. The pancake is not too sweet although it uses lots of raw cream and is recommended for women. You can enjoy eating at this shop since they sell a la carte breakfast/lunch menus and dinner menus (from 18:00).

DAVID MYERS CAFÉ

This café introduces Californian-style, body/environment-friendly menu items. You can enjoy a dessert which uses wheat flour produced in Hokkaido with bananas and bitter caramel sauce put on top of a soft dough. It is a thick-flavored pancake using caramel sauce with the scent of bourbon and fresh bananas. This pancake is recommended for women.

MOKUOLA DexeeDinerUILANI

This shop has a Hawaiian atmosphere and their standard menu pancakes use lots of yoghurt inside the dough. Their crispy pancakes are created by pouring the dough into a frypan and then baking it in an oven for a long period of time.

café & books bibliotheque

They sell more than 10 kinds of home-made desserts and their most popular item is their pancakes which are very healthy since they use yoghurt. You can put lightly bitter coffee sauce on top of the pancake which has a topping of tiramisu cream made with mascarpone and cream cheese, so the product is recommended for those of you who are not familiar to sweet desserts.

Ginza Coffee Shop Ginza Sukiyabashi Shop

A coffee shop located on the second floor of the building where BIGECHO is located. The building is located at the Sukiyabashi Intersection. The interior of the shop is chic with stylish decorations so this shop is recommended for not only women but also men. Their original maple butter pancake is very soft although the dough is thin so that customers can enjoy a unique texture.

 

How did you like our introduction to some cafes and shops which sell wonderful pancakes. Why not relax and enjoy some pancakes in the Ginza area.

Five highly recommended shops in Ginza to have lunch and/or have a sweets break at

While shopping complexes such as Tokyu Plaza and GINZA SIX are on the rise, Ginza itself is a city that has been bustling with energy for a long time. It's packed full of traditional and new shops and brings in people from all ages, young and old, and prides itself as the place to go during everyone's days off. In this article we want to introduce to you some highly recommended shops and restaurants in Ginza.

Soft and "melty" omelet-rice "Kissa You"

"Kissa You" is located in Ginza, famous for Kabuki. The main reason most people come here is the soft and "melty" omelet-rice which represents Japanese food nowadays.

You can hardly encounter this type of omelet-rice which is this smooth and light in texture. I recommend you drink "Kobu-tea" after the meal as the "Japanese way."

Related article:http://www.moshimoshi-nippon.jp/34449

■Information

Kissa You

Address: Ginza 4-13-17 Chuo-ku, Tokyo

Hours: 10:00(food order 11:30)~21:00(L.O.20:00)

Holiday:New Year's holiday

TEL:03-6226-0482

A wonderful meat cutlet burger at "Ginza Sato"

"Ginza Sato" is famous for a circular "meat cutlet burger". They are offering an "original meat cutlet" from Kichijoji, dipped in special sauce then made into a burger.

 They make only 50 of these burgers a day. (¥380 for one) You can choose either a sweet or spicy sauce. You can enjoy the meat juice on a very soft bun.

Related article:http://www.moshimoshi-nippon.jp/37898

■Information

Ginza Sato

Address: Ginza 1−14−1 Chuo-ku Tokyo

Opening period:11:00〜

Holiday:Sunday / public holiday

If you want to try one of Japan's "soul foods" go to "Kommeraku"

Dashi Chazuke (rice in soup stock) is one of Japan's soul foods. It is an easy and simple meal, but the soup or tea in this dish is sure to warm you up.

Komeraku's set menu includes either soup and rice ball or rice in the soup stock and rice bowl. You can get the soup and rice ball set as a takeout. Just one mouthful of this dish and your whole body will be warmed. If you want to enjoy Japanese food in Ginza, you should go to "Komeraku."

Related article:http://www.moshimoshi-nippon.jp/26438

■Information

Komeraku

Address: Ginza 5-2-1 Chuo-ku Tokyo, Tokyu Plaza Ginza B2F

Hours: 11:00~23:00(L.O.22:00)

TEL:03-6264-5222

>>next page

Tokyo Stroll: The Café That You Want to Visit to See Someone #8 – 'Ginza West'

Ginza is a district in the heart of Tokyo famed for its extravagant streets lined with upmarket shops, luscious restaurants and fantastic entertainment. But it's not only worthy of note for its flamboyance – it's also rooted in rich culture and history.

Today, I visited Ginza West, a café that has been continuously loved in Ginza ever since it opened in 1947.

Before entering I saw lots of delicious confections lined up on display. You can order takeout too. Your mind will wander off as you ponder on which to take away for snack time.

The entire café is clean and tidy throughout and you can feel the decor has grace. It's different from other cafés in that it has a dignified atmosphere to it. It has an air of tension to it, the kind that makes you straighten up your back. It's a place that's nice if someone wants to enjoy a luxurious experience once in a while.

I ordered cake and tea set! The tea cost ¥1,048. A cake set is the price of the drink plus ¥324.

You can actually have them bring you samples of cakes being served on that day. There's so many cake varieties it's hard to choose.

The most popular is this one – the Mosaic Cake!

Its appearance is cute. I ended up wanting to take a lot of photos.

The Mosaic Cake is made of cocoa sponge and butter sponge which is arranged to look like a mosaic piece. You can really taste the different flavours of each sponge. It's only moderately sweet so it's not too heavy. I wolfed it down!

And then, and then!

I got the white cream soda which I'd been wanting to try. It cost ¥1,188.

When you think of cream soda it's generally green coloured melon soda with a dollop of vanilla ice cream on top. But this one uses no colouring. The soda is clear and also served with vanilla ice cream. Try drinking it yourself after adding a syrup of your choice.

It looks like a very elegant beverage.

In terms of taste, if you eat the vanilla ice cream after drinking some of the soda (which is subtly sweet) it makes for an exquisite balance. It's a flavour I've never had before – it's a novel sensation.

Delicious.

The chairs in the café have something about them too! They feel extremely comfortable, I felt exhausted. The staff kindly told me the secret behind them.

The back legs of the chairs are a little wider than the ones at the front allowing you to lean back much easier and making it feel much more comfortable. The chair legs are also cut to a certain length to allow easier sitting.

So that's why. That's why I felt so relaxed simply sitting on them. I felt I could be sat there no matter the hour.

t's a kind of consideration you'd only find at a café. Hearing about those chairs made me think that cafes really are such wonderful places. The more you learn about them, the more you come to love their charms.

I wonder where I'll visit next? Look forward to it!

Information

Ginza West

Address: 7-3-6 Ginza, Chuo Ward, Tokyo

TEL: 03-3571-1554

Opening Hours: Weekdays 9:00-22:00 (Stand Open Until 23:00) / Weekends 11:00-20:00

No Fixed Holidays.

Access: 5-minutes on foot from exit C2 of Ginza Station via Tokyo Metro Line / 10-minutes on foot from Yurakucho Station via JR Line

*347m from Ginza Station

Website: http://www.ginza-west.co.jp/

Writer: Ema Tanioku

Photographer: Haruka Yamamoto

Editor: Ai Watanabe

Translator: Joshua Kitosi-Isanga

TALENT PROFILE

Ema Tanioku

"Emaeri" is the nickname for models Ema and Eri Tanioku, who are Aomoji fashion model twins. Ema and Eri Tanioku specialise in twin fashion coordination. Over the years their fanbase has increased due to their cute looks. Ema Tanioku spreads Harajuku culture within Japan as well as overseas and works as a Harajuku Tourism Ambassador. Starting off as a model, Ema has broadened her talent range from fashion magazines to TV, and from playing the lead role in dramas to movies.
RELATED ENTRIES
Pokémon Tokyo Banana Adds Special Pikachu Box Set Online

Tokyo Banana World recently added its special Dengeki Box (Electric Box) of Pikachu Tokyo Banana confections to its official website which is available to order in Japan until January 30, 2021 at 17:00 (JST).

Tokyo Banana is Tokyo's official souvenir sweets brand and it launched its new Pokémon Tokyo Banana series of confections in November last year with the first catch being Pikachu. It subsequently added Eevee to the collection in December. The Pikachu confections are also available to buy at Tokyo Station.

Pikachu Tokyo Banana – Dengeki Box | Box of 12 Packs (24 Confections) | ¥3,456 (Tax Included)

The limited-time addition of the Dengeki Box to Tokyo Banana's official website means that anyone in Japan can get a taste of the electrifyingly delicious sweet fluffy custard-filled sponge cakes without having to travel to Tokyo.

Waiting inside the Dengeki Box are 12 packages each with two cakes in and each in one of six different Pikachu designs to greet hungry Trainers, all of which are positively kawaii. The box itself also features these adorable illustrations.

Left: Front of Box | Right: Back of Box

The box even has a handle attached to it so you can reuse it after to store all your bits and bobs.

©2021 Pokémon. ©1995-2021 Nintendo/Creatures Inc./GAME FREAK inc.
Pokémon, ポケットモンスター, and ポケモン are registered trademarks of Nintendo, Creatures Inc., and GAME FREAK inc..

Information

Pikachu Tokyo Banana – Online Orders
Running: January 12, 2021 – January 30, 2021
*Available while supplies last

*Shipping not available to select islands in Japan

Tokyo Banana Group Official Online Shop
https://www.paqtomog.com/shop/c/cpk-bana/

Luxurious Gin Infused White Chocolate by Dean & DeLuca Tempts With Tasty Allure

Asakusa-based 'aromatic raw chocolate' brand MAISON CACAO created a new gin-flavoured white chocolate for Dean & DeLuca which was released in Japan on January 15, 2021.

The "Aroma Raw Chocolate (Gin)" keeps the original flavour of the white chocolate and infuses with a craft gin known as "COMMON" by Toranomon Joryusho.

Aroma Raw Chocolate GIN FOR DEAN & DELUCA | ¥2,592 (Tax Included)

​One bite into a piece of this artisanal chocolate fills the mouth with a tang of subtly fruity chocolate. Then comes the refreshing taste of the gin which complements the sweetness and adds sophistication to the chocolate in an exquisite balance of flavours.

 COMMON gin is fruity and clear

COMMON craft gin has a 'botanical' flavour. Its base is a shochu made on the islands of Hachijō-jima and Nii-jima. It also contains soft water taken from Okutama Sawai.

"It has a faint fruity taste that combines with the flavour of the cacao, and he used really delicious white chocolate," explains Shingo Ishihara of MAISON CACAO who helped in the chocolate's development. "I hope people indulge in its enjoyable melt-in-the-mouth texture."

Information

Aroma Raw Chocolate GIN FOR DEAN & DELUCA

Japanese Name: アロマ生チョコレート GIN FOR DEAN & DELUCA

Released: January 15, 2021
DEAN & DELUCA Official Website: https://www.deandeluca.co.jp/

Snoopy and Charlie Brown Turn Into Confections at Japanese Convenience Stores

Bandai's character-inspired Japanese confectionery series Tabemas is releasing two new traditional Japanese wagashi confections inspired by the Peanuts comic series. Snoopy and Charlie Brown will arrive at Lawson convenience stores across Japan on January 19, 2021.

Tabemas Snoopy | ¥264 Each (Before Tax)

The cute confections capture the little details of the iconic characters, from Snoopy's doggo features and collar to Charlie Brown's hair and shirt. The Snoopy confection is filled with chocolate bean paste—a nod to his favourite chocolate chip cookies—while Charlie Brown is filled with custard bean paste as a nod to his trademark shirt. The packaging features exclusive art drawn for the Peanuts comic's 70th anniversary with Snoopy atop his dog house.

© 2021 Peanuts Worldwide LLC

Information

Tabemasu Snoopy / Charlie Brown
Release Date: January 19, 2021

Available: At the chilled sweets section of Lawson convenience stores in Japan (Excluding Natural Lawson and Lawson Store 100)

*Available while supplies last

*Stock date may differ from branch to branch

*Select stores not participatingProduct Page: https://www.bandai.co.jp/candy/tabemas/snoopy03/

Delicious Valentine's Day Desserts Served Up at Eggs 'n Things

Eggs 'n Things is set to serve up a special limited-time Valentine's menu in Japan from January 16 to February 28 including the Torokeru Fondant Chocolate Pancakes and Strawberry & Banana Chocolate French Toast.

Valentine's Menu

Torokeru Fondant Chocolate Pancakes | Eat In ¥1,480 (Before Tax)

Torokeru Fondant Chocolate Pancakes | Takeout ¥1,080 (Before Tax)

 

Strawberry & Banana Chocolate French Toast | Eat In ¥1,380 (Before Tax)

Strawberry & Banana Chocolate French Toast | Takeout ¥980 (Before Tax)

Valentine's Drinks

Strawberry White Mocha | Hot or Iced ¥680 (Before Tax)

Hawaiian Cafe Mocha | Hot or Iced ¥580 (Before Tax)

This lovingly-prepared chocolate and fruit-loaded line-up is sure to get the butterflies stirring hungrily for this year Valentine's.

Miffy Cookies Get Baked Up by Netherlands Confectionery Theo Blom at Dick Bruna TABLE

The popular wine bar Dick Bruna TABLE, where customers can enjoy a glass of wine with a meal together with illustrations by Dick Bruna, the creator of Miffy, is now selling a batch of Miffy cookies created by the popular confectionery Theo Blom located in Utrecht, Netherlands.

Miffy Cookies & Chocolate | ¥4,000 (Before Tax)

Miffy Cookies | ¥4,000 (Before Tax)

Utrecht is the birthplace of Miffy author and creator Dick Bruna, and Theo Blom is a place that Bruna himself actually often visited. The confectionery is known for its tins which can be reused after the contents are eaten. The cute Miffy tins are definitely keepers.

Information

Dick Bruna TABLE – Miffy Cookies & Chocolate
Released: Mid December 2020
Location: Dick Bruna TABLE
Address: 3-1-1 Sannomiyacho, Chuo-ku, Kobe
Opening Hours:
[Weekdays] 11:00-15:00 (Last Orders 14:00) / 17:00-23:00 (Last Orders 22:00)
[Saturdays] 11:00-23:00 (Last Orders 22:00)
[Sundays/Public Holidays] 11:00-21:00 (Last Orders 20:00)
Access: 078-333-3332
Official Website: https://dickbrunatable.com/

McDonald's Japan Adds Crème Brûlée and Belgian Chocolate Pies to the Menu

McDonald's Japan is bringing back its popular Belgian Chocolate Pie from last year and is also introducing a new Crème Brûlée Pie, both of which will hit the menu at all McDonald's branches from January 13 for a limited time.

Crème Brûlée Pie | ¥150 (Before Tax)

Belgian Chocolate Pie | ¥150 (Before Tax)

The hot pies are filled with deliciously sweet cream and are a perfect, cosy treat during the cold weather.

Information

Crème Brûlée Pie / Belgian Chocolate Pie
Serving: January 13, 2021 – Mid February 2021
Available: McDonald's Japan
Price: ¥150 Each (Before Tax)
Official Website: https://www.mcdonalds.co.jp/

Nana's Green Tea x Häagen-Dazs Release Chocolate Matcha Glass Dessert

Nana's Green Tea is serving up a brand-new dessert in collaboration with Häagen-Dazs for Valentine's Day at 77 branches in Japan. The dessert was released on January 6 and will be available up to February 14.

Matcha Chocolate Glass with Häagen-Dazs | ¥880 (Before Tax)

The dessert is a tempting sight to behold – not only is it delicious but visually appealing to the eye too, and layered with various textures so that every bite is a surprise.

The dessert is made with Häagen-Dazs' "Sweet Chocolate" ice cream coupled with Nana's Green Tea's own original matcha ice cream, soft and crunchy meringue sticks, crumbled cookies, white chocolate whipped cream, and matcha chiffon cake. Sat at the bottom waiting to be discovered is a sweet strawberry sauce for a tangy kick.

Information

Nana's Green Tea – Matcha Chocolate Glass With Häagen-Dazs
Serving: January 6, 2021 – February 14, 2021
Price: ¥880 (Before Tax)
Available: 77 Nana's Green Tea branches in Japan (Excluding DiverCity Tokyo Plaza, Tokyo Dome, and Iias Okinawa Toyosaki)
Official Website: http://www.nanasgreentea.com/

Mister Donuts x Pierre Marcolini Luxury Doughnuts Hit Japan

Mister Donuts has teamed up with Belgian chocolate brand Pierre Marcolini to release the "misdo meets PIERRE MARCOLINI Collection" of doughnuts which hit Japanese branches on Friday (January 8).

Fondant Chocolate Doughnut – Chocolate | ¥200 (Before Tax)

Fondant Chocolate Doughnut – Caramel | ¥200 (Before Tax)

Fondant Chocolate Doughnut – Raspberry | ¥200 (Before Tax)

Fondant Chocolate Doughnut – Hazelnut | ¥200 (Before Tax)

Danish Chocolate – Raspberry | ¥230 (Before Tax)

Danish Chocolate – Hazelnut | ¥230 (Before Tax)

The doughnuts are part of Mister Donuts "misdo meets" series which first began in 2017 to combine the highest quality ingredients and techniques to in order to bake up the best possible doughnuts. This time, it has joined sticky bakers fingers with the popular Begian chocolate brand Pierre Marcolini to create a new kind of fondant chocolate doughnut and danish. The line-up is made with high quality authentic chocolate and has a bitter kick to it – perfect for those who aren't into sweeter treats. The heart-shaped danishes are also spot on for the Valentine's season in Japan.

Information

misdo meets PIERRE MARCOLINI Collection
Serving: January 8, 2021 – Mid March 2021
Available: Mister Donut Japan (Select branches not participating)
Official Website: https://www.misterdonut.jp

Gudetama Doughnuts at Floresta Celebrate the New Year

Floresta Nature Doughnuts, a doughnut cafe that hand-makes doughnuts using organic ingredients, is baking up two new Gudetama doughnuts with New Year's messages on them. They will be served from January 9 to 24.

Florest Gudetama Collab Doughnuts | ¥450 (Before Tax)

The doughnuts capture the lazy and lethargic energy of Gudetama. The crowning Gudetama is made from Japanese pumpkin and is sat on a bed of sweet white chocolate. Both doughnuts are also available as a set coming with an extra of any of Floresta's signature doughnuts.

Relax and take in the new year together with Gudetama.

7 Days of Strawberry Dessert Love at Isetan Shinjuku This January

Isetan Shinjuku has announced a special one-week event titled "7 Days of Loving Strawberries" which is centred around cute and delicious strawberry desserts and will run this month from January 13-19. Ten cafes and restaurants are participating with a sweet and succulent line-up including strawberry daifuku, strawberry shortcake, special parfaits and crepes, and more.

Strawberry Candle Pavlova @ mihopan popcake | Two for ¥972 (Tax Included) *Limited quantities

MIGAKI-ICHIGO Strawberry Parfait @ Ichibiko | ¥1,980 (Tax Included)

Strawberry Shake @ Ichigo-ya Sunsunen | ¥721 (Tax Included)

Crispy Strawberry Mille-Feuille Crepe @ Sorairo Crepe | ¥935 (Tax Included) *Limited quantities

Strawberry Shortcake Parfait @ Shiseido Parlour | ¥1,045 (Tax Included)

Strawberry Daifuku @ Berry UP! | ¥432 (Tax Included)

Ripe Strawberry Milk Pudding @ Kanjyuku Ichigo Kashi Kekyusho | ¥486

Whole Strawberry Sandwich @ Sajisakon | From ¥864 (Tax Included)

MIGAKI-ICHIGO Strawberry Daifuku @ Seigetsudo Hoten | ¥432 (Tax Included)

Information

7 Days of Loving Strawberries (Japanese Name: いちごに恋する七日間)
Running: January 13, 2021 – January 19, 2021
Location: Isetan Shinjuku Floor B1F
Official Website: https://mi-journey.jp/foodie/66251/

Matcha and Strawberry Parfaits Whipped Up at Saryo FUKUCHA in Kyoto

Saryo FUKUCHA in Kyoto is now serving up a very special selection of succulent strawberry and matcha parfaits until May 30, 2021. These exquisite delights will see only 10 made of each per day.

Saryo FUKUCHA is a cafe that was opened by FUKUJUEN in Kyoto Station in April 2019. This year, they have brought back their extremely popular strawberry and matcha parfaits : the Konome, Konoha, and Konoka. They have also introduced a new addition to the line-up: the Strawberry & Matcha Milk Parfait. Also on the menu is a strawberry matcha latte.

Matcha & Strawberry Parfaits


Konome | ¥1,350


Konoha | ¥1,450


Konoka | ¥1,550


Strawberry Matcha Milk Parfait | ¥800


Strawberry Matcha Latte | ¥650

Discover the taste of Japanese tea in a new way with Saryo FUKUCHA's matcha and strawberry parfaits and latte.

Information

Saryo FUKUCHA
Address: 901 Higashi Shiokojicho, Karasumadori Shiokoji Sagaru,, Shimogyo-Ku Kyoto Station Bldg. 2F, Kyoto 600-8216 Kyoto Prefecture
Opening Hours: 8:30-21:00 (Last Orders 20:30)
*The cafe is currently running on reduced opening hours as of December 25, 2020 due to COVID-19. Hours are now 08:30-19:00 (Last Orders 18:30) on weekdays and 08:30-20:00 (Last Orders 19:30) on weekends. Times are subject to change.
TEL: 075-744-0552

Official Website: https://fukucha-fukujuen.com/

discord Yohji Yamamoto x HUNTER Pet Accessories Drop in Tokyo

discord Yohji Yamamoto, a luxury accessory brand spearheaded by Yohji Yamamoto, has launched a collaboration with German pet brand HUNTER to release a collection of dog collars, leads, and other accessories like bags and wallets.

HUNTER was established in 1980 and has gone on to mark its territory across the world as a provider of high quality pet goods, praised for for the design, functionality, and safety of its products.


Black Dog Collar & Lead

The dog collars are fitted with studs as part of the collaboration. Both the collar and lead feature the same colouring as discord Yohji Yamamoto's products, arriving in the brand's signature black as well as beige, the latter of which is often used for its bags and small leather products. They are also clipped with a signature charm which has a design symbolising the collaboration.

Beige Dog Collar & Lead

The accessories are made from elk leather which is soft and made extra durable with double layering. Having the collar and lead the same colours also adds a sophistication to the design when fitted on a dog.

The collection will be released at discord Yohji Yamamoto stores in GINZA SIX, Shibuya PARCO, and Isetain Shinjuku, as well online. More details can be found on the official website here.

discord Yohji Yamamoto Black / Beige Selection


Y BACKPACK Nylon Studs | ¥148,000


ORIGAMI Tote | ¥98,000


Triple Clutch | ¥58,000


Diagonal Bag | ¥45,000

Y SERIES Studs


Y BODYBAG Studs | ¥138,000


Y BACKPACK Studs | ¥158,000

Small Leather Goods

Card Mini Wallet | ¥17,000

Key Wallet | ¥20,000