【Tokyo cafe】Visit the café which has a menu that gives you great impact Volume5 Ginza"You"
There are a lot of tourists who are interested in traditional Japanese culture such as watching kabuki or rakugo, or experiencing Japanese tea ceremonies or wearing a kimono.
"Kissa You" which is located in Ginza, Kabukiza has been making kabuki actors' stomach full for forty-seven years.
So many gourmet actors who are craving for the food in this café are always waiting in line before the café opens. A very cheerful waiter opens the door saying "next one, please!"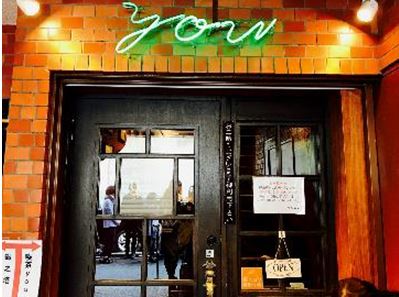 There are mainly two kinds of menus; "lunch set (1100yen)" that you can order from opening until 3:00PM, and "You-Han set (1300yen)" from 8:00PM to the last order. In this set menu, you can order one dish out of omelet-rice, spaghetti Neapolitan, vegetable curry, spaghetti Carbonara, stewed hamburger steak, bacon omelet, and combination salad. You can order just one single food item as well, but there are not so many people who look through the entire menu carefully. The main reason for most of people come here is the "soft and melt omelet-rice" which represents Japanese food nowadays.
The legendary omelet-rice appeared on my table as it jiggled. This jiggly egg omelet makes me want to dive into it.
If you want to taste it, do not hesitate. When you put the spoon on the center of the omelet, the runny egg appears and covers the fried ketchup rice.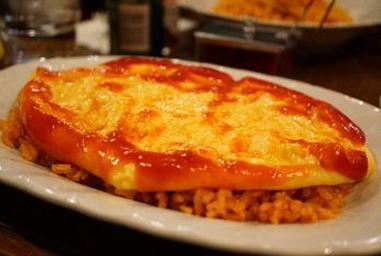 It is a very good combination of creamy and rich tasting omelet and simply cooked rice. I broke into a smile once I ate the first bite. You can hardly encounter this type of omelet-rice which is this smooth and light texture. If I have to choose a word, it is like a soup.
The owner who runs this café is Tatsuko Matsushima who is the second-generation of this business. She said the reason why this café has been loved for so many years is because she adjusts the amount of cream and uses margarine instead of butter to make it not too heavy. So many actors could work hard because she goes great lengths to make the food that is easy on one's stomach and the taste that you will never get tired of.
I recommend you drink "Kobu-tea" after the meal as the Japanese way. The flavor of Kombu helps make the aftertaste more refreshing.
One of the people who loved this store the most are eighteenth generations of Kabuki actors, Kanzaburo Nakamura who took an active role from Showa to Heisei era. "He ordered some coffee from here every day during the play season. He thought well of us, and recommend us to people who play together." Matsushima reminisced about the good memory of the great actor.
Today, there are still young actors who took over the traditional culture and local special food acting brilliantly on the stage.
■Kissa You
Address: 4-13-17 Ginza, Chuo-ku, Tokyo
Yuriko Ueki (Writer)
−−−
■Related article:【TokyoCafe】Visit the café which has an original menu that will give you great impact volume 3.
Related article:【Tokyo Cafe】Visit the café that has an original menu which gives you great impact volume 4
RELATED ENTRIES
【Tokyo Stroll】The cafe that you want to visit to see someone #5: "café Benisica" – The Birthplace of Pizza Toast

"A café that has continued to be loved for 60 years"

In this entry to my café series, I visited the familiar Yurakucho, the center of modern Tokyo culture. This year, long-standing café Benisica turned 61-years-old. I stopped by to have my fill of their amazing pizza toast. The café is a 2-minute walk from Hibiya Station via Tokyo Metro lines, and 4-minutes on foot from Yurakucho Station via JR lines, making it an easy place to get to.

The café opened all those years ago in response to the large number of cinemas and theatres dotted around Yurakucho. They wanted to create place where people could relax on their way back from seeing a show.

Upon arrival, you can still observe stylish older ladies strolling into the café. The scene hasn't changed one bit which I found to be wonderful.

Café Benisica is famous for being the birthplace of original pizza toast. They even have a sign at the entrance telling you that! Eye-catching!!!

Without further ado, let's head on in♪

I take one step into the café, and… Huh? What's this?!

That's right. At Benisica, you can enjoy vacuum brewed coffee. This was the first time I had seen a vacuum coffee maker up close, so I gazed at them with a keen interest.

Inside, I gazed at the café décor and objects scattered around of Hibiya, a town which changes with the times. You can feel the weight of the times instore – all the wonderful items look stylish simply by being placed in there! The café interior is a collection of warm colours. It's a place where you can relax and feel comfortable.

This is Benisica's famous pizza toast, costing ¥950 (tax included). They have plenty of set menus, and drink menus are ¥1,350. The story behind the pizza toast was how if you didn't go to an Italian restaurant back then, you couldn't eat pizza. So, they took pizza and turned it into something you can eat casually – toast. Since then, it has continued to be a much-loved menu item with customers for almost half a century.

After hearing the story, I took no time at all ordering my own pizza toast! To drink, I chose a strawberry shake. Just so you know, the shake doesn't come in set orders, so be careful.

Thick servings of cheese and put onto chunky slices of toast. "The soul of the pizza toast is in the cheese!" is what you'll be saying at its presence on the toast. Its generous serving makes this pizza toast suitable not just as a light meal, but even a whole lunch. As well as the standard ingredients like salami, onion and bell peppers, I was happy that there were mushrooms too.

The bread's texture is fluffy! I was hungry, so I made short work of it. Thank you for the meal.

This is the owner of Benisica, Setsuko Murakami, who told me the story of the café. She's a very wonderful person who loves her husband very much. Not only did she tell me about the café – I got to hear about her husband's way of living and thoughts too. The words of people that have walked the road of life longer than me are deep and enlightening.

I stored the owner's story safely onto the shelves in my heart. The next time something happens, I'll rely on those special words she graciously taught me and work hard.

■Information

Café Benisica

Address: 1-6-8 Yurakucho, Chiyoda-ku, Tokyo

Opening Hours: 9:30-23:45 (Open from 9:00 on Weekends & Holidays)

No Fixed Holidays.

Access: 2-minutes on foot from Hibiya Station via the Hibiya Line, Chiyoda Line, and Toei Mita Line / 4-minutes on foot from Yurakucho Station via JR Lines

Model : Ema Tanioku

Profile: "Emaeri" is the nickname for models Ema and Eri Tanioku, who are Aomoji fashion model twins. Ema and Eri Tanioku specialise in twin fashion coordination. Over the years their fanbase has increased due to their cute looks. Ema Tanioku spreads Harajuku culture within Japan as well as overseas and works as a Harajuku Tourism Ambassador. Starting off as a model, Ema has broadened her talent range from fashion magazines to TV, and from playing the lead role in dramas to movies.

Instagram:@ematanioku

Photographer:Haruka Yamamoto

Editor&Writer:Ryoichi Komaba

Design:Yuko Abe (ASOBISYSTEM)

Translation: Joshua Kitosi-Isanga

【Tokyo Stroll】 The café that you want to visit to see someone #4 Cats working at Shinjuku-sanchome's Café Arles

"Good service, a jolly owner and cute cats – this café is sure to heal you!"

I'm Ema Tanioku and today I'll be introducing you to yet another café in Tokyo as the fourth edition of my series "The café that you want to visit to see someone". Today I'll be reporting about my visit to Café Arles which can be found at Shinjuku-sanchome. Ever since hearing that there were cats at this café, I've been set on going 〜♪♪

The café is very easy to access. To get to there, you can take the Toei Shinjuku line to Shinjuku-sanchome. From here, you can get to the café within a five-minute walk. Walking around the Shinjuku Suehirote theatre, the café soon came into sight. Somehow, I could sense the presence of cats just from the atmosphere…

There it was! The entrance to the café was decorated with many ornaments of cats and dogs. I don' know why but I was filled with excitement before even having entered.

As soon as I entered, I immediately spotted a cat.

I was then greeted by the cat's master who had a sweeping grin across his face and was wearing a hat with a cat broach. I could really feel his love for cats ♪♪

I took a sweeping glance over the café – cats, cats and more cats – there were so many cat-themed goods everywhere! Apart from cats goods, the master also collects clown goods and displayed everything all huddled together to decorate the café.

Although this was my first time at Café Arles, I immediately felt right at home as a warm feeling grew within me. I asked the master what got him into the café business and I was surprised by his response. It all started when the master was working at a mahjong parlour, where a person they knew asked them to start up a café.

The master then thought about the numerous paintings he had collected and how he was in search of a place to display them. The idea of choosing his own music, menu and decorating a café interior to his own taste really struck a chord with him.

There are many paintings displayed in the café. Amongst these are some by modern artist Tomomi Kondo, who made the paintings "please your master" and "cool your thighs", which feature the kaban neko (café cats) Ishimatsu and Jirocho, who are "working hard" by lazing around.

Café Arles is fun and draws in even more fun. The atmosphere is filled with the love and enjoyment of the customers. That's why I immediately felt so at home as soon as I entered. You can easily spend a long time here.

I asked the master what he recommends from his menu. His response? "My recommendation is what you want to eat the most!" he said wisely. I felt like eating Napolitan spaghetti and so that is what I ordered! (Price: ¥720 including tax)

It came with banana and giant corn ❤ – this excellent service made me so happy!

The gentle flavour of this homemade dish was delicious and I could really taste the Showa-retro Napolitan flavour to it. The drink, soup and salad services available gives this meal a perfect score for portion size satisfaction!

The master allowed me to take his café cat Jirocho-kun out for a walk. This was the first time I'd ever walked a cat – a new, fresh experience!

Jirocho-kun is a very calm and obedient cat, so we had a lovely stroll together. Speaking of which, Jirocho-kun loves his owner so much that he runs to meet him whenever he hears his car pull up at the shop.

This year marks the 40th anniversary of the café. "I enjoyed every minute of it" explained the master happily. The master created a place where everyone can be happy and in return everyone supports him. Perhaps this cycle is the motivational force that has kept and will continue to push this café to live and thrive.

I'm glad I came to this café today and met such a special person.

I want to come here again and have another chat with the master!

■Information

Cafe Arles

Address:1st floor, 5-10-8, Shinjuku, Tokyo

Opening h0urs: 11:30 〜 22:00

Regular holidays days: Sundays, New Year's period holiday period

Access:398 metres from Shinjuku Sanchome station (reach via Toei-Shinjuku line/ Tokyo Metro Marunouchi line

URL:https://tabelog.com/en/tokyo/A1304/A130401/13087540/

Model & Writer: Ema Tanioku

Profile: "Emaeri" is the nickname for models Ema and Eri Tanioku, who are Aomoji fashion model twins. Ema and Eri Tanioku specialise in twin fashion coordination. Over the years their fanbase has increased due to their cute looks. Ema Tanioku spreads Harajuku culture within Japan as well as overseas and works as a Harajuku Tourism Ambassador. Starting off as a model, Ema has broadened her talent range from fashion magazines to TV, and from playing the lead role in dramas to movies.

Instagram:@ematanioku

Photographer:Haruka Yamamoto

Editor:Ryoichi Komaba

Design:Yuko Abe (ASOBISYSTEM)

Translated by: Samantha Fernandes

Tokyo Café Series: "Futsu ni Fruits"—A fruit sandwich stand in Daikanyama, Nakameguro

Today, we'd like to introduce to you "Futsu ni Fruits," a shop produced by a certain popular café in Omotesando that sells fruit sandwiches.

"Futsu ni Fruits" is produced by Omotesando's popular café & bakery, "Bread, Espresso &," and is the first place in Nakameguro area to specialize in fruit sandwiches. The shop's name implies that we should enjoy eating fruits not just on special occasions – but on regular days too.

You can find it located near Yarigasaki Crossing and can be easily accessed from either Daikanyama and Nakameguro.

The shop is small and compact, part of its charm being that it's a stand. The shop's design is styled around a Showa fashion shop, maintaining a retro vibe while also having a pop feel to it. There are also benches installed so you can enjoy sitting down and eating whatever you order.

The shop counter is lined with different varieties of fruit sandwiches. They embrace seasonal fruits, so you can enjoy going as many times as you like. They offer standard and scrumptious fruit sandwiches as well as delicious original ones, such as one filled with fresh cream and topped with red bean paste!

Futsu ni Fruits (¥350 – tax incl.)

You will find the "Futsu ni Fruits" sandwich listed on the shop's billboard menu. It's filled with banana, pink grapefruit, orange and kiwi and stuffed with a light serving of fresh cream, giving it a refreshing taste.

Aki no Yonaga ni (¥400 – tax incl.)

This is the limited edition seasonal sandwich for this season. It has a rich, luxurious taste thanks to the Japanese persimmon and sweet bean paste. The bread used for the fruit sandwiches is delivered every morning. The fruits and bread taste perfect together, and their soft and fluffy texture make this a winning sandwich!

Fruit Milk (¥400 each – tax incl.)

What goes hand-in-hand when eating bread? Milk, of course! These cute bottles of milk are prepared on-site every morning. The milk comes in various flavours, including fruit mix and banana milk. They also serve coffee milk (¥350 – tax incl.) using Ogawa Coffee beans.

"Futsu ni Fruits" even sells little accessories such as badges and stickers. The cool pop-style logo is the same as the shop's logo.

This colourful fruit sandwich shop might be small, but it's definitely one photogenic café stand. Why not treat yourself to a sweet fruit sandwich during your shopping trip or city stroll?

■Information

Address: 1-1-71 Nakameguro, Meguro, Tokyo

Open: 10:00-18:00

No fixed holidays.

TEL: 03-6451-0178

【Tokyo Stroll】The cafe you that you want to visit to see someone #3 "Galant" —a retro café in Ueno

"It's a mysterious café vacuum sealed with an energy that feels like it's the time of the Japanese economic miracle"

We're at the third installment of this series where we take a stroll to old-fashioned cafes filled with a sense of nostalgia.

I, Ema Tanioka, will be introducing to you another retro café that I am in love with. Today, we go to "Galant" in Ueno, a town where the Showa mood still lingers.

Galant has continued to be loved by many people since it opened its doors back in 1977. This year marks the 40th anniversary of the popular café. "Galant" sounds a little space-y, don't you think? It's a little different from the norm. When I enquired to the staff about the origin of the café's name, they told me that it comes from the Mitsubishi Galant as the owner is a fan of cars. To think that a car's name became the name of a café! But it has a ring to it and is easy to remember, so it might actually be a huge success.

Anyway, without further ado, let's make our way there!

Galant is on the 2nd floor of this building. As you head up the stairs, it no longer felt like I was in the real world. A completely different world opened before me. Because of the entrance's chic brickwork, I was surprised by the dazzling lights floating inside.

And here!

Here too! There was so much sparkle.

The first thing to peak my interest was the uniform the staff were wearing. So cute… You don't see that red & yellow combination much these days. It helped amplify that retro mood of the café even more.

The male staff wore red & black! Black was the base colour and had that well defined, guy-like feel to it. Together with the checkered vests, it completed that retro look. It was wonderful. The café was also playing popular Showa era songs. I really felt like I had stepped back in time.

And then… and then! The menu arrived!

The most popular item on the menu is the chocolate parfait (¥900 tax incl.). It was absolutely stuffed with cream all the way to the middle. For people who love sweet things this is an irresistible delight. By the way, I must ask, what do you do when it comes to the cherry on top of the parfait? The truth is, I absolutely love parfaits, but I'm really not into the cherry – I usually leave it until the end. Even though it looks so cute on the parfait…

Another item is the cream soda (¥750 tax incl.). When going to a café, you just have to get a cream soda!! It's because you don't see them around much besides at cafes and family restaurants, so I'm the person that ends up ordering one unintentionally when if I see it on the menu.

There's a nice fat serving of ice cream in there. It's a drink you can enjoy that has the aesthetic of a dessert. The melon soda is crystal clear like a precious gem. The best part about cream soda is how the ice cream slowly melts into the drink. It's pretty fun to watch!

Galant is the kind of café where the more you get to know it, the more you start to love it. Its fans have been supporting it for many years, and even when I become a grandma in the future, I reckon it'll still be bustling all the same.

■Information

Galant (ギャラン)

Address: 6-14-4 Ueno, Taitō, Tokyo

Open: 8:00-23:00

Open all week.

Access: 2-minutes' walk from Ueno Station via the Tokyo Metro Ginza Line / 1-minutes' walk from Exit 5b at Ueno Station via the Hibiya Line

Model&Writer:Ema Tanioku

Profile:Ema and Eri Tanioku are well-known Aomoji-kei twin models that go by their duo name "EmaEri." Their twin-like fashion co-ordination and cute looks have earned them a fast growing fan base. They are officially appointed tourism ambassadors and work both in Japan and overseas to promote Harajuku culture. They work as fashion models in a wide range of areas and have appeared in fashion magazines as well as on TV, in dramas, movies and more.  Instagram:@ematanioku

Photograph:Haruka Yamamoto

Editor:Ryoichi Komaba

Design:Yuko Abe(ASOBISYSTEM)

Translation:Joshua Kitosi-Isanga

【Tokyo Cafe】The bistro-restaurant "PATH"in Yoyogi hachimangu, "deep Shibuya" where it is fine to go solo

In this article, the editors would like to introduce to you the truly beautiful bistro restaurant, "PATH." Their Dutch pancakes are wonderful!

The owner of this restaurant started this bistro with the concept of making a local-connected shop where people can drop by for a meal even if they are solo. The owner wanted to make an "honest" restaurant where customers can enjoy breakfast menus and sweets that first-class patissiers have made. The local of this restaurant, Yoyogi hachimangu, has a very settled feel and it is one of the owner's favorite neiborhods.  The restaurant is very near Shibuya Station and Harajuku Station, so it is a very convenient spot to go to after touring this area of Tokyo.

 The name of the restaurant, PATH was chosen with the concept that all the staff, including the patissiers and chefs are all walking in the same direction along the same path.

The owner's liking of interior design can be seen throughout the décor of the shop. The restaurant has the feel of a Western country home. It is modern but yet the abundant use of wood make for a very "at home" feel to the establishment. The soft lighting of the interior also helps to make for a very comforting atmosphere. The restaurant also has counter seats so even those who are solo can come for a meal without hesitation.

 The other point which the owner takes great care in is the BGM. The analog sound is played through a vacuum tube amplifier making for a nostalgic sound which many customers value highly. The owner's pride are the vintage Altech speakers. The owner had saved these at his home hoping that one day he could use them in his own restaurant.

 After café time, this establishment turns into a bistro. They have a very good wine lineup and their inhouse wine comes with a very unique label – illustrations of persons faces. Something very interesting is the fact that the age of the illustrations correlates with the age of the face that is illustrated – the older the face, the older the wine. Even if you are not a wine connoisseur are will for sure find a wine to your liking.

The menu item that you must order if you visit this restaurant is the Dutch pancakes with raw ham and burrata (1500 yen). The pancakes are fried slowly – 30 minutes in the making and it is the dough that is so wonderful.  The texture of the pancakes is wonderful and although it looks like a hefty serving it is light and even a woman will be able to eat the plate clean. The pancakes are topped with ham made in Parma and burrata cheese. These toppings make a great match with the pancakes. It is recommended that you pour a generous serving of maple syrup on top before you eat. Please note that the cheese used in this restaurant comes from SHIBUYA CHEESE STAND(http://www.moshimoshi-nippon.jp/ja/38168) which we introduced before.

The inhouse wine of this restaurant is a weak forming Petty Ann wine with a label illustration depicting Keith Haring (9,600 yen, tax included). It is an organic wine, so it will not leave you with a hangover. Even those who do not drink much alcohol will enjoy this wine.

Take away service is also provided and it is also possible to purchase bread or sweets on your way to work. Just be careful that the items you want are not sold out. Their croissants are usually sold out by 10 and their baked goods are sold out by noon.

 
"PATH" is a "deep Shibuya" restaurant where you can eat a delicious and hearty meal. The author of this article being a wine lover purchased a bottle of wine to take home as a gift. Here is a bistro where you can wonder in on your own for a good meal at the counter as you watch the chefs cook or you can come here on your date. Enjoy the nice BGM, the wine and the scrumptious food.

■Information

PATH

Address: 1F A-FLAT 1-44-2 Tomigaya, Shibuya-ku, Tokyo

Hours: 8:00〜15:00(L.O14:00)、18:00〜24:00(L.O23:00

Holiday: Mondays, One Sunday a month
Tel:03-6407-0011

Photo:Haruka Yamamoto
Edit:Namiko Azuma
Text:Ryoichi KOMABA

Source:She magazine

【Tokyo Cafe】 Break away from the busy city for a cup of coffee at "GRAIN BREAD BREW" located near Hikawa Shrine.

Today's feature looks at GRAIN BREAD BREW – a café that sits snug nearby Hikawa Shrine in Shibuya. This special café brings warmth to your everyday and receives a perfect score when it comes to spaciousness.

The shop owner, who makes coffee apparatus and tumblers, is a big sandwich-lover. After travelling the world and trying out different sandwiches, the owner came up with delicious sandwich recipes and wanted many people to taste them. This is how the café was born. The café's name derives from special keywords. "Grain" is used to make the store's "bread". Coffee beans are carefully selected to "brew". This makes the "GRAIN BREAD BREW" we know and love today.

The bright and spacious entrance creates a friendly atmosphere. The interior uses white as a colour theme base. Here, comfortable furniture has been gathered and arranged perfectly. The warm-coloured lighting brings the interior design into perspective, filling the room with a warm atmosphere.

The iconic and cute squirrel is the café's mascot character. It is inspired by the animals that gather outside Hikawa Shrine, which is located nearby. These squirrel mascots are everywhere inside the café – can you spot them  all?

The coffee beans used to brew the specialty coffee are carefully selected from across the world. In order for the full flavour to be extracted from the beans, a coffee press is used. Our team recommends a hot cup of fresh, sour, yet fruity Ethiopian Yirgacheffe Domeruso (¥450 + tax).

What makes the coffee press superior to a flannel drip and paper drip is the ability to press the natural oil of the coffee beans directly into the mug, making the perfect cup.  You can enjoy the true essence of coffee to your hearts content right here at this café.

The sandwiches are made using a variety of breads including ciabatta, toast, pita bread and much more. Each type of bread has been specially made to draw out maximum flavour. The monster-style sandwich is filled with a generous 100g of bacon and costs ¥1,000 (+ tax). The springy texture of the ciabatta bread is complimented by the flavour of olive oil. A thick slice of bacon, rich balsamic vinegar, and to top off the texture, a bit of sliced cucumber. At a glance, the dish looks quite filling, but it is surprisingly light. No need to share – those who get full quite easily can still finish it off on their own!

Our recommendation from the sweets menu is the fluffy French toast brûlée. This uses seasonal fruits and is accompanied with ice cream. (¥800 + tax). The texture of this lovable dessert is created by preparing the egg mix for 24 hours. This dish is plated up with apple compote and honey, and vanilla ice cream with a nut garnish. The three parts to the dessert exist in perfect harmony, ensuring that you do not tire of the taste. Every mouthful is something to look forward to.

The company also sells coffee-making equipment and a variety of goods that are easy for anyone to use. The Wallmug Demita (¥800 + tax) is a popular product designed as a result of a collaboration of many famous brands. You can purchase a tumbler and micro coffee dripper (¥700 + tax) to make a set. These are just a few items included in the lineup of easy-to-use goods!

If you are searching for a place where you can remove yourself from the bustling city, enjoy a relaxing atmosphere and soothe your senses, please visit GRAIN BREAD BREW. There is also a takeout menu, so you can enjoy nice coffee whilst watching the autumn leaves of the shrine forest.

Photos by:Kayo Sekiguchi
Editor:Namiko Azuma
Original text by:Ryoichi KOMABA

Translated by: Samantha Fernandes

Source:She magazine http://she-mag.jp/diary/81280?wid=54544

◼︎ Information

GRAIN BREAD BREW

Address: 2-20-18, Higashi, Shibuya-ku, Tokyo
Tel:080-4355-2016
Hours:11:00 〜 21:00 (Saturday 8:00 〜 Sunday 8:00 〜 19:00)
Holidays:Mondays (The café is closed the day after a national holiday)
WEB: http://www.grainbb.com

【Tokyo Cafe】Nanaya in Aoyama has the World's Most Intense Matcha Flavoured Ice Cream

In today's installment of Tokyo Café, we head to Nanaya in Aoyama, a popular café that sells sweet and refreshing matcha gelato, perfect for the summertime.

Marushichi Seicha is a tea producer that estalished in 1988 in Shizuoka, Japan's number one tea-growing district. They were the first in Japan to sell freeze dried matcha, which has since come to prove very popular and enjoyed throughout homes in Japan due to its ease of preparation. Marushichi Seicha set out to open "Nanaya" to take advantage of the flavour of matcha, something loved by people of all ages in Japan.

The shop's special menu features a list of gelato, or ice cream, using this same delactable matcha. It offers seven varying levels of matcha intensity – level 1 begins with a more moderately sweeter flavour, but as you progress up the scale to level 7 the flavour of the matcha becomes richer and deeper. The menu also includes a range gelato using other teas too, such as houjicha (roasted green tea) and genmaicha (brown rice green tea).

The most popular item on the menu is the no. 7 level matcha gelato (¥560, tax incl.), which claims to be the most matcha-intense ice cream in the world. It uses matcha that received an award from the Minister of Agriculture, Forestry and Fisheries. There's a reason it has become so renowned, with its deeply rich and bitter matcha flavour inside which lies the right hint of refreshing sweetness.

As well as matcha flavours, Nanaya serves up other gelato too, such as the Genmaicha Gelato (pictured above on left / ¥370), a fragrant brown rice green tea that is popular among guys that visit the shop. You can customize your ice cream cups too and get double scoops (pictured above on right / ¥470) and even triple scoops (¥500), meaning you can order a variety of different flavours to try at once.

If you you're thinking of ordering another gelato flavour to go with matcha, then you should try getting it with houjicha, which has a subtle fragrance of tea in its sweetness!

>>next page

【Tokyo Stroll】The cafe that you want to visit to see someone #2 "Nanatsumori"—An Attractive Cafe in Kōenji

"A coffee lounge where you can step back in time and spend it in luxury."

Showa, retro-style coffee shops that are comfortable and echo a sense of nostalgia. I, Ema Tanioka, love going to these kinds of cafés. I hope to make you want to visit a place like this, the kind of place where you want to meet with someone.

For today's stroll, I went to Kōenji, a conveniently accessible location from the city just one stop from Shinjuku on the Chūō Line. When you think of Kōenji, you think of its plentiful second hand clothes shops and shops selling miscellaneous goods, among others, all with their individual traits. It's the kind of town where you're sure to discover something new each time you visit.

This time around, I went to "Nanatsumori," a café that has a retro look to it from the outside. It was built in Showa 53 (the year 1978). I heard that the building was originally used as a tea house.

At the front of the café is an old-fashioned shaved ice machine. I couldn't help turning it.

Upon entering, you can see the interior of the café has weathered. It has an atmosphere reminiscent of the Showa era, like you've just stepped back in time. No matter where you take a photograph in the café it will look beautiful.

There were lots of mysterious ornaments inside; I couldn't help but reach my hands out to touch everything♪

But, in the end, I didn't know what any of the things I'm holding in the photos were. How on earth do you use this stuff…?!

While pondering that, just simply gazing around the interior of the café filled me with a feeling of excitement.

>>next page

【Tokyo Cafe】Yonchome, Kouenji – reasonable prices, comfortable atmosphere and great lunch.

The orange Chuo line of the station can be seen from the large window on the wall. Sometimes it's the yellow Sobu line. Without having even left the ticket barriers, you can catch a glimpse of it from the platform. When night descends over the district, the window frames light up with illumination. Welcome to Yonchome cafe in Kouenji. I can't believe it's been 7 years that I've wandered up and down these streets! Today we are going to introduce the one place I can't stop loving. It is located in the charming Kouenji and is the home of this wonderful window view.

Leave the south exit, walk along the rotary and you will eventually arrive at Yonchome cafe, which is on the 2nd floor of the building. What a fitting name for a cafe located in Yonchome, Kouenji!

Open the thick wooden door and you will discover a cafe with an interior bigger than you imagined. With 100 seats, the atmosphere of the cafe is moderate and spacious, with a good distance between the tables and an overall calm feel. Sit here and you will easily lose track of time. Amongst the mood lights and glistening stain glass windows, of course the seat of your choice would be next to the window, where the evening light entwines with the ambient glow that radiates from the Chuo line.

However, when the weather is fine or when a mild midday breeze rolls in, it's hard to resist a seat on the terrace! A book in one hand and coffee in the other, or raising a toast with beers, watching the busy people walking the steers below. What's your style?

The heartily portioned lunch sets are reasonably priced and delicious, making this restaurant really stand out. The regular menu includes generous portions that are ideal for sharing. Happy hour runs on the weekdays from 17:00 〜 21:00, during which time draft beers and the house wine sells for just ¥230! The main charm of Yonchome is its value for time and money.

The deluxe taco-rice with soft boiled egg (デラックスタコライス 半熟卵添え) costs ¥1,000. As the name implies, it is an extravagant and luxurious dish. No matter how hungry you are or how many people are in your group, this meal is the perfect size to share or devour solely to yourself. The dish is packed with a variety of ingredients such as vegetables, meat and cheese. The spicy sauce packs the perfect punch to balance out the mild egg. Order a beer for the perfect finish to your feast.

Speaking of beer, the anchovy potatoes (¥500) make for the perfect accompaniment. Although the potatoes are quite large, the crispy skin, tempting aroma, and creamy and salty anchovy butter enhance its wow-factor. This is the ultimate combination of flavours! Although this is quite a quirky dish to single out, I must say out of all the potato dishes I have ever had in my life, this was the best!

Whether you drink alcohol or steer clear of it, there is something for everyone at Yonchome Café. The coffee, alcohol and soft drinks range is particularly large. They also sell special summer homemade lemonade for ¥630, which is the perfect way to refresh yourself and quench your dry days against the heat of summer.

Light pours passionately into the café, yet the atmosphere is calm. No matter when the food arrives, it is always delicious. No matter what time you arrive, you will be greeted by comfort. Whether it be afternoon or evening, whether you come alone or in a crowd, you will always feel welcome.

Like the view outside your window, our feelings change every day. However, you can always count on this café to always be here, unchanged. You can return to your favourite spot, your favourite seat and enjoy your favourite meal.

As the day winds down and the night time illumination lights up, the Chuo line is still running. Seated next to the window that exposes the Chuo line in operation, I thought to myself that maybe, this is my favourite spot.

Photo:Kayo Sekiguchi
Editor:Namiko Azuma
Original text by:Miiki Sugita

Translated by: Samantha Fernandes

Source:She magazine

■ Information:

Yonchome Café

Address:2nd floor, 4-28-10, Kouenji, Suginami
Telephone number:050-5592-9317
Opening hours:11:30-15:00(lunch menu: 11:30-15:00、Happy Hour: weekdays 17:00-21:00)
Fixed closing days:None

Related article:【Tokyo Cafe】Enjoy a calm and relaxed time at "Café SOROR" in Ōtsuka

Related article:【Tokyo Cafe】Visit the café which has a menu that gives you great impact Vol,6 "Kissa Housekibako"

5 Cafés in Tokyo With Instagram-Worthy Desserts

To everyone out there who loves cute things and sweet things, we have something for you! There's lots of places around Tokyo that serve the kind of sweets and treats that make you instantly search for your phone's camera without even thinking. Check these out below!

1.  NEW NEW YORK CLUB(ニューニューヨーククラブ)/Jiyūgaoka

 This is what we're talking about. This fresh bagel has the kind of visual impact that requires you to snap a photo. The combination of the sprinkles and multicoloured dough make it super colourful! It's a dessert sandwich and goes by the name "Rainbow Colour Bagel Cream Cheese Sandwich" (¥600, tax-inclusive). It's sold in a limited quantity every Saturday from 11:30am, at from 11:00am at the newly opened store in Azabu-Jūban.

 ▼Shop Information

NEW NEW YORK CLUB
Address: 2 Chome-15-14 Midorigaoka, Meguro, Tokyo
Telephone: 03-6459-5669
Business Hours: 11:30〜20:00
Closed: Tuesdays, and irregular holidays
http://newnewyorkclub.com/

2.DUMBO Doughnuts and Coffee(ダンボドーナツアンドコーヒー)/Azabu-Jūban

This café serves New York style doughnuts and coffee to go with it. If you slide your doughnut on top of your pink takeout coffee cup, then you have yourself one photogenic looking snack! You'll want a straw to go with it, so be sure to order iced coffee. As for the hearty doughnuts, there are more than 10 to choose from. The price for a doughnut and coffee start at ¥660 (tax included).

▼Shop Information

DUMBO Doughnuts and Coffee
Address: 2 Chome-17-6 Azabu-Jūban, Minato, Tokyo
Telephone: 03-6435-0176
Business Hours: 9:00~19:00
Closed: Never
http://www.dumbodc.com/

3. MELTING IN THE MOUTH(メルティングインザマウス)/Hiroo

This seriously fluffy soft cream looks just like a toy. It's made using a special method and so ensures its organic nature. And you can order it in either a cup or a cone! This is definitely one to post on your social media.

▼Shop Information

MELTING IN THE MOUTH
Address: 1F MK Bldg, 5 Chome-17-10 Hiroo, Shibuya, Tokyo
Telephone: 03-6459-3838
Business Hours: 10:30~20:30
Closed: Never
https://www.mitmtokyo.com/

>>next page Go to SHIMOKITA!!

【Tokyo Cafe】Visit the café which has a menu that gives you great impact Vol,6 "Kissa Housekibako"

I rode the train on Keio line, Shinjuku station the hustle and bustle high building area on the back. For about 15 minutes, I was staring at the slowing changing view from the train. I got to the restaurant in Chitose-karasuyama that many girls from all over Japan come here to get "drinkable jewelry."

I looked inside from the laced curtain looked like ribbon on the door. The toys that I used to play with when I was little looked like they were smiling at me as if they are saying "come inside."

When I opened the door, I felt like I leaped back from Heisei era to Showa era. There are photographs of Seiko Matsuda, who is a popular pop idol in Showa era, and her songs were playing. It is such a nostalgic atmosphere. The person who runs this café which is like a full of dreams and admires when she was little is Naomi Kanai. "I opened this café, "Kissa Housekibako" since I love too much about the Japanese pop idols and goods in Showa era. I mainly collect the music and items from 1970 to late 80s. I am very happy when the girls who don't even know about this era visit here and say it is cool or cute about the stuff in this café," she gently told us.

Anyway, the main purpose of this visit is "drinkable jewelry" as known as "cream soba" which was everyone's favorite food when they are little.

The standard color of cream soda is supposed to be green, but the one in "Kissa Housekibako" appeared in a very girly color. They appeared in cute and shiny spring colors.

Peach flavored one named "rose quarts(550yen include tax)" taste sweet and sour. This drink goes with the strong love songs sung by "candies" which was a famous Japanese idol group take light steps.

Strawberry flavored one named "Ruby(550yen include tax)" is like a sweet taste of love. This clear spring color reminds me of Seiko Matsuda's hit song, "Red sweet pea."

The grape flavored one named "Amethyst(550yen include tax)" taste of matured love. The sexy form of the cup reminds me of "Pinklady", the famous Japanese pop idol group who  dances gorgeously.

You may be able to encounter limited flavor and refreshing idol songs in this summer!

You cannot miss the spaghetti Neapolitan(600yen include tax)  if you want to enjoy Showa taste. It has chewy spaghetti noodle and bacon, onions and bell pepper chopped in large sizes. The texture of soft noodles and the sour taste of tomato ketchup took me into the nostalgic world.

It has been 8 years since the opening. "Thanks to social media, people even from other countries visit here to get the colorful cream soda. This café is made of Showa era culture, but Heisei era culture support us as well." Not only young people but also people from other countries have been attracted by their music and items. "Hosekibako" (Jewelry box) that is made by Naomi-San has full of smiles from all over the world.

Ueki Yuriko(food writer)

■Information

Kissa Housekibako

Address:4-18-18 Oyama Mansion102, Minorakuyama Setagaya-ku, Tokyo

Tel:03-5969-8577

Hours:10:00AM to 6:30PM

Official site:http://housekibako.wixsite.com/2009

Related article:【Tokyo Stroll】The cafe that you want to visit to see someone #1 The popular cafe in Jinbo-cho called "Sabouru" that has retro interior and nostalgic food.

Related article:【Tokyo Cafe】Visit the café which has an original menu that will give you great impact volume 3. Kinshicho "Kissa Knit"

【Tokyo Stroll】A café date with Yutaro at Jugetsudo, Ginza – eating a rich parfait and Mont Blanc made with matcha and love♡

While shopping complexes such as Tokyu Plaza and GINZA SIX are on the rise, Ginza itself is a city that has been bustling with energy for a long time. It's packed full of traditional and new shops and brings in people from all ages, young and old, and prides itself as the place to go during everyone's days off.

<Related article:【Tokyo Stroll】Strolling around in Harajuku which has a lot of unique spots such as popular graffiti and artistic miscellaneous stores.>

Today is one of those days, so we'll be heading on a date with model Yutaro.

Jugetsudo is a café managed by Maruyamanori that serves tea and nori (seaweed). It's located only a 1-minute walk from Higashi-Ginza. Jugetsudo positions itself as a deliverer of Japanese culture, as not only does it have a shop in Japan, but in Paris too.

Located on the 5th floor of Kabukiza Tower in Ginza, the stylish interior design of Jugetsudo was created by Kengo Kuma. The décor features bamboo throughout the entire café, giving it that Japanese authenticity.

The parks were visible from our seats, making it a suitable location for a relaxing and comfortable date. There were so many great things on the menu so it was difficult to choose what to order, but we went for a matcha parfait and matcha Mont Blanc since they are popular items at Jugetsudo.

"Matcha is my favourite kind of sweet"

The first order to arrive was the matcha parfait which is made using farming methods found in Nakajima. It came with Hōjicha and totaled ¥1,480. The luxurious soft cream uses matcha that is made from mineral-rich soil in Nakajima. Underneath, the parfait is complete with granola, matcha syrup, and matcha kanten. The entire parfait is lavished with matcha, and the soft cream even has matcha powder sprinkled on top. The sweet matcha ice cream and slightly bitter taste of the matcha syrup make for a perfect combination! This is a sweet that anyone can get down with, even people who aren't too good with sweet stuff.

"The powdered matcha on top of the soft cream is subtly bitter and delicious!"

"Wanna try?"

Of course, the Hōjicha that comes with the parfait is great too. The Hōjicha you will normally find being sold is made with second and third buds, but the Hōjicha in Jugetsudo boasts first buds. It's a sweet and satisfying taste.

"Whew!"

The second order to arrive was the matcha Mont Blanc and cold-brew tea set which came to ¥1,450. The Mont Blanc is made with a matcha cream that has a slight bitter taste to it, and chestnut paste, to bring out a rich flavour. You eat the cake with chestnut on top, and as you approach the center you'll find a big chestnut inside. The chestnuts used as Japanese chestnuts. The sponge has cream on top of it and liquid matcha mixed inside, making this a sophisticated dessert indeed.

What goes perfectly with the Mont Blanc is the cold-brew tea that comes in the set, called "Matsuri Mecha." The sweet tea brings out a refreshing flavour in the aftertaste of the cake. It's the perfect thing for the upcoming hot summer days.

To celebrate having gone out this day, we bought souvenirs and puddings, before saying goodbye.

The date with the matcha-loving Yutaro went by so quickly, but when I eat my pudding I will most definitely remember the happy day I spent today. Let's plan our next date while eating our puddings ♡

■Information

Jugetsudo in Kabukiza, Ginza

Address: Kabukiza Tower 5F, 4 Chome-12-15, Ginza, Chuo-ku, Tokyo

Telephone: 03-6278-7626

model:Yutaro

Born in Hiroshima-ken on June 3rd, 1998. Yutaro is a model that has received attention as a new-generation fashion icon and who currently works as a charisma shop assistant ('karisuma'). He gained attention on Japanese variety shows as a "mysterious and handsome guy" and made his debut on "Gyorestu no Dekiru Horitsu Sodanjo." Since then, he has appeared on lots of different TV shows. He challenged himself to appearing on stage for the very first time this year in March and is growing ever more popular every day for his diverse work.

Photograph:Kayo Sekiguchi

Writer & Editor:Sayuri Mizuno(ASOBI SYSTEM)

Translation: Joshua Kitosi-Isanga

Related article:The big models (including Yutaro) of Harajuku fashion give their New Year's Resolutions!

Related article:【Tokyo Stroll】Strolling around in Harajuku which has a lot of unique spots such as popular graffiti and artistic miscellaneous stores.