There are a lot of tourists who are interested in traditional Japanese culture such as watching kabuki or rakugo, or experiencing Japanese tea ceremonies or wearing a kimono.
"Kissa You" which is located in Ginza, Kabukiza has been making kabuki actors' stomach full for forty-seven years.
So many gourmet actors who are craving for the food in this café are always waiting in line before the café opens. A very cheerful waiter opens the door saying "next one, please!"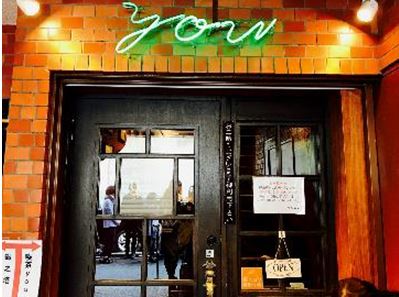 There are mainly two kinds of menus; "lunch set (1100yen)" that you can order from opening until 3:00PM, and "You-Han set (1300yen)" from 8:00PM to the last order. In this set menu, you can order one dish out of omelet-rice, spaghetti Neapolitan, vegetable curry, spaghetti Carbonara, stewed hamburger steak, bacon omelet, and combination salad. You can order just one single food item as well, but there are not so many people who look through the entire menu carefully. The main reason for most of people come here is the "soft and melt omelet-rice" which represents Japanese food nowadays.
The legendary omelet-rice appeared on my table as it jiggled. This jiggly egg omelet makes me want to dive into it.
If you want to taste it, do not hesitate. When you put the spoon on the center of the omelet, the runny egg appears and covers the fried ketchup rice.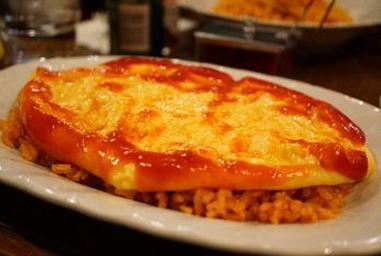 It is a very good combination of creamy and rich tasting omelet and simply cooked rice. I broke into a smile once I ate the first bite. You can hardly encounter this type of omelet-rice which is this smooth and light texture. If I have to choose a word, it is like a soup.
The owner who runs this café is Tatsuko Matsushima who is the second-generation of this business. She said the reason why this café has been loved for so many years is because she adjusts the amount of cream and uses margarine instead of butter to make it not too heavy. So many actors could work hard because she goes great lengths to make the food that is easy on one's stomach and the taste that you will never get tired of.
I recommend you drink "Kobu-tea" after the meal as the Japanese way. The flavor of Kombu helps make the aftertaste more refreshing.
One of the people who loved this store the most are eighteenth generations of Kabuki actors, Kanzaburo Nakamura who took an active role from Showa to Heisei era. "He ordered some coffee from here every day during the play season. He thought well of us, and recommend us to people who play together." Matsushima reminisced about the good memory of the great actor.
Today, there are still young actors who took over the traditional culture and local special food acting brilliantly on the stage.
■Kissa You
Address: 4-13-17 Ginza, Chuo-ku, Tokyo
Yuriko Ueki (Writer)
−−−
■Related article:【TokyoCafe】Visit the café which has an original menu that will give you great impact volume 3.
Related article:【Tokyo Cafe】Visit the café that has an original menu which gives you great impact volume 4