Rilakkuma Halloween Themed Brushes Released in Collaboration With Kumano Brush
Kumano is the brush capital of Japan responsible for producing 80% of brushes in the country for painting, writing and cosmetics. Kumanofude, the company that produces the brushes, has teamed up with the popular character Rilakkuma to release two limited edition Halloween themed face brushes. Orders are now being taken on the HKDS STORE.
The brush experts in the town of Kumano in Hiroshima Prefecture use traditional methods passed down to carefully and skilfully create each and every brush. These "Rilakkuma no Fude" are the newest project from the company and are limited in stock.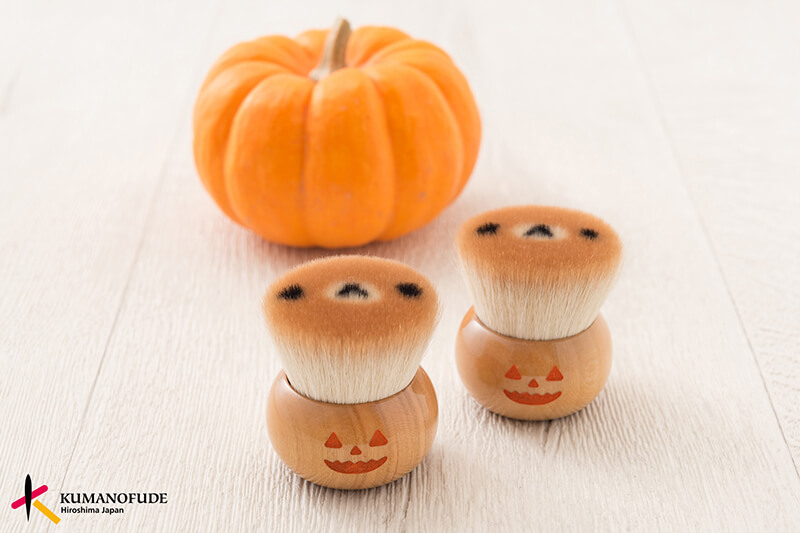 The handle features a pumpkin design made from natural wood while the bristles feature Rilakkuma's face.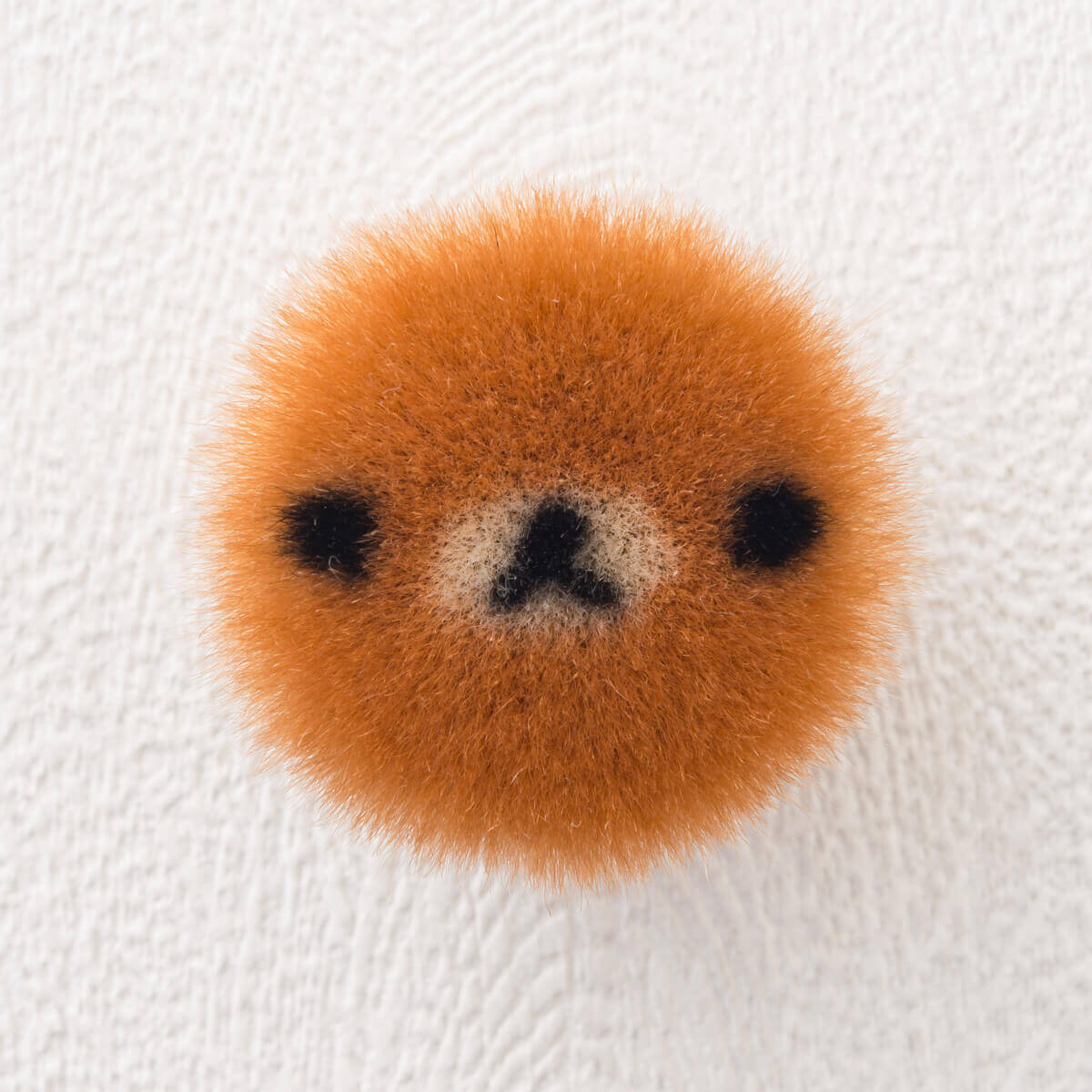 The brush makers delicately place each and every bristle by hand, and by using three different colours are able to recreate Rilakkuma's fluffy face. It may be a cute product but showcases the skill and experience of the makers who have truly created a work of art.
The brushes come packaged in orange Halloween packaging with the Kumanofude brand mark – a stamp of approval promising super quality.
Get your makeup done with a cute product produced by the best of the best.
Information
Rilakkuma no Fude (Kumanofude) Halloween
Produced: Kumano, Aki District, Hiroshima Prefecture
Price: ¥5,500 Each (+Tax)
Pre-Orders: From October 17, 2018
Release Date: October 25, 2018
Product Page: https://hkds.tokyo/category/RILAKKUMAKUMANOFUDE/
©2018 San-X Co., Ltd. All Rights Reserved
RECOMMENDED ENTRIES
Rilakkuma & Korilakkuma Make-Up Brushes Released by Kumano Fude

From KOYUDO Collection's Kumano Fude make-up brush line comes a new Rilakkuma design series. Hikidashi Store are now taking pre-orders for the new Rilakkuma Face Brush, Rilakkuma Cheek Brush and Korilakkuma Cheek Brush.


The Rilakkuma face brushes are carefully handmade by artisans one by one with three different colours of wool to create Rilakkuma's face.


The Rilakkuma cheek brush is dyed a brown colour like the bear himself.

The Korilakkuma cheek brush is a dyed pink colour inspired by a strawberries, her favourite fruit. All the handles are made with natural wood and feature logos of the characters on the handles.

Kumano is the number one brush manufacturing company in Japan. In 1975, it was designated as a Traditional Craft by the Minister of Economy, Trade and Industry. Kumanofude continues to be cherished for its quality which is made possible by the traditional techniques and crafts use as well as the materials.

The Rilakkuma Kumano Fude brushes are the ultimate brushes made by the artisans of Kumano who continue the pass down the tradition of brush manufacturing which doesn't cut the tips off the brushes. Each brush is marked with an official quality approval mark of Kumanofude.

Cute yourself up with these new kawaii Rilakkuma items!

■Information

Rilakkuma Kumano Fude

Place of Manufacturing: Kumano, Aki District, Hiroshima Prefecture

On Sale: End of July 2018

Price: Face Brush ¥5,500 (+Tax) / Cheek Brush ¥3,700 (+Tax) each

Items: Face Brush (Rilakkuma), Cheek Brush (Rilakkuma / Korilakkuma)

Now accepting pre-orders.

Product Page: https://hkds.tokyo/category/RILAKKUMAKUMANOFUDE/

©2018 San-X Co., Ltd. All Rights Reserved.
RELATED ENTRIES
YOUCA's Formula For a Fine Face Vol. 1: Oriental Face

Popular Japanese hair and makeup artist YOUCA is an analyzer of the latest makeup collections. In this new featured series, YOUCA reveals the secret formula to easily incorporating today's makeup trends into your daily routine. In Volume 1, she showcases midsummer oriental-style makeup. Learn the formula for a fine face by following her trendy tips and tricks.

Oriental Face Formula = Turquoise Line x Terracotta Lipstick + Flower Print

YOUCA: "The 2019 fall/winter collections have been adventurous with eye makeup colours, featuring things like paint makeup and graphic eyeliner. Those are hard to incorporate with your everyday looks, so I recommend just using them in one spot. I'm serving makeup colours that go well with the botanical look, something which is in fashion right now."

Turquoise Line: Go casual with a single coloured line drawn from your eye

What we are focusing on here is the single coloured eye makeup line. By choosing a colour like turquoise, which is far away from skin colour, it highlights the eyes more. With this style you are looking to make the eyeline stand out, so we want to be low-key with the eyeshadow. All YOUCA has done here is used grey eyeshadow (pictured top right) which is spread thinly. The eyelashes are not raised and only a little mascara has been applied. Then, using the eyeliner (pictured bottom left), she has drawn a thin line just above where the double eyelid ends. Simply apply the colour as it is without flicking it up for a more effortless eye.

Terracotta Lipstick: Sophisticated grown-up lips without looking overly pop

The colour of terracotta, which is a type of earthenware, goes really well with floral designs. It's also a perfect match with the turquoise eyeliner. Just put a little bit of the terracotta lipstick (pictured bottom right) on your lips and pat it with your finger to blend. Keep in mind that the eyes are the main focus so don't emphasize your lips too much.

To make your eye makeup stand out even more, try to go makeup-less as much as possible on your skin. YOUCA is using the purple makeup base from Shinseido (pictured bottom) instead of foundation which gives a more no-makeup naked look. For her cheeks, she's using the Cream Cheek (pictured top right) by Celvoke and applying it thinly to her cheeks to give her a more grown-up look.

Clockwise From Top Left

Top Left: SHISEIDO Essentialist Eye Palette 02 – ¥4,000 / Shiseido International

Top Right: Celvoke Comfy Stick Brush 03 – ¥3,500 / Celvoke

Bottom Right: SHISEIDO Kajal InkArtist 07 – ¥2,200 / Shiseido International

Bottom Middle: Shiseido Glow Enhancing Primer – ¥4,000 / Shiseido International

Bottom Left: Celvoke Dignified Lips 09 – ¥3,200

Styling Credit
Shirt (Stylist's Own Item) / DISCOVERED: Pants ¥27,000 / flake: Earrings ¥24,000, Bangle ¥46,000/ agete: Ring (Gold/Right Hand Ring Finger) ¥22,000 / IDEALITE: Ring (Silver/Right Hand Index Finger)

SHOP LIST
agete 0800-300-3314
IDEALITE 03-5413-3546(alpha PR)
Shinseido International 0120-81-4710

Celvoke 03-3261-2892
DISCOVERED 03-3463-3082
flake 03-5833-0013

Staff Credit
Photographer:中野 与志夫
Styling:橋本 裕介
Model:KAINO Yu
Writer:石井 佐代子
Editor:YOUCA

*All prices listed are pre-tax prices

Source: https://asbs.jp/archives/43166(Japanese)

Self-Care Like a Magical Girl With Ojamajo Doremi's 20th Anniversary Lip Balm

Bandai's official online store Premium Bandai has teamed up with Japanese makeup brand CreerBeaute to celebrate the 20th anniversary of the magical girl TV anime series Ojamajo Doremi by releasing a set of two different lip balms. Both have been made to look like the Pollon wands used by the witches in the series to cast magic: one is based on the Peperuto Pollon from the original series and the other on Pikotto Pollon from Ojamajo Doremi # (Sharp).

The former lip balm is filled with colourful balls representing the Magic Spheres from the series which a witch needs to power her Pollon to use magic. When used on the lips the balls add a natural pink colour to them along with a sweet and sour strawberry scent♡

The Pikotto Pollon lip balm on the other hand is filled with pink pearls, bringing to life the gorgeous appearance of the original wand. This lip balm adds a natural complexion to your lips with its red colour and ensures they stay hydrated and looking healthy. This one has a floral rose fragrance.

If you want to keep your lips looking and smelling as sweet as a magical girl's, then pucker up with this limited-edition set.

©Toei Animation

Information

Pirika Pirilala Ojamajo Doremi Lip Balms Set of 2 

Price: ¥4,180 (after tax)  (shipping and handling fees not included)  

Set includes: Two lip balms of different colours. 

Purchase from: Bandai's Bandai's official online store Premium Bandai https://p-bandai.jp/?rt=pr%5D

Available to purchase from other websites and stores. 

Preorder from: July 8, 2019 (1pm)

The perorder period will end once all stock has been ordered. 

Estimated delivery: December 2019 (subject to change)

 

Rilakkuma Umbrella by Felissimo Can Be Used in Clear or Rainy Weather

Felissimo released a new Rilakkuma-inspired beige-pink umbrella on their website on June 10.

The umbrella's design is subtle and sophisticated. The outer rim is lined with a brown coloured lace reminiscent of Rilakkuma. It also has a handle made from high quality wood carved into Rilakkuma's face. The umbrella also cuts 98% of UV rays meaning it can be used in both clear and rainy weather.

Its beige pink colour with brown lacing gives it a sophisticated feminine design.

Rilakkuma's facial features on the handle were made using laser cutting and together with the frilly cotton rope tied to it give it a polished and refined look.

There is also a name tag on the umbrella with a nonchalant Rilakkuma logo printed on it.

There is also a separate bag you can purchase to put your umbrella in after it rains so you don't get the floor wet if you go inside anywhere.

©San-X

Help Me Choose! Japan's Trending Makeup #2: Yurippa's Repeat Cosmetic Pickups♡

This is my first ever series I've ever been put in charge of as a writer and model.

As long as you're stocked up on these items, you're good to go. In this special edition, I will showcase cosmetics that I'm a repeat buyer of and would definitely buy again.

▽Skincare

The first thing I should mention is my skin type.

・I have tough skin and so it doesn't blemish easily

・It becomes dull when I have lack of sleep

・With my combination skin, it's easy to spot oily areas (T Zone) and dry areas (around the eyes, U Zone)

Like this.

Using my knowledge of various cosmetics and methods I have tried I would like to showcase my recommendations. (Don't worry if you don't have the same skin type as me as some of the items I have picked can be used with other types too, so be sure to take a look.)

Finally, you'll be happy to know that these can be used during all seasons.

So, ready to give it a go?

▶︎Dior Capture Youth Series

Quickly and actively delays the appearance of signs of ageing. This series was created to retain youthful looking skin. There are six serums to choose from which cater to different skin conditions. Each can be used on their own or in combination with your own serum products. I've made a custom serum for myself by combining two different types.

1. Intense Rescue Oil (30ml) – ¥12,420 *Photo is my own. Price shown is as was on the day of purchase.

(Effective against dry skin and helps maintain moisture. Supplements lipids.)

2. Glow Booster (30ml) – ¥12,420 *Photo is my own. Price shown is as was on the day of purchase.

(Rich in Vitamin C. Leaves skin glowing and feeling invigorated.)

For face lotion, I use 3.Enzyme Solution. It has a refreshing water-like texture and leaves skin moist. Good to use on skin that favours serums in this series.

Enzyme Solution (150ml) – ¥7,452 *Photo is my own. Price shown is as was on the day of purchase.

For cream, I use 9.Capture Youth Creme. It doesn't remove the face lotion or the serum and doesn't feel sticky.

Capture Youth Age-Delay Advanced Creme (50ml) – ¥12,420 *Photo is my own. Price shown is as was on the day of purchase.

It's safe to say that after using this series, I don't even know what dry skin is anymore. It really is that effective!

▶︎FEMMUE

5. Lumière Vital C  (30ml) – ¥8,000 (Before Tax) *Photo is my own. Price shown is as was on the day of purchase.

6. Ideal Oil (30ml) – ¥6,000 (Before Tax) *Photo is my own. Price shown is as was on the day of purchase.

FEMMUE is a really popular brand right now from the hub of beauty, South Korea. Firstly, it's steeped in fragrance. It's rich in floral scents like perfume. Simply holding the bottles fills you with a feeling of satisfaction. It leaves your skin feeling clear, smooth and glowing. And though it's a thick oil, the skin absorbs it extremely well. 10/10 from me!

I might recommend it to girls who've just stepped into adulthood, girls who want to look sexy, and those who want to be popular! It's perfect for skin that blemishes easily.

▶︎dear mayuko

7. Innocent Skin Serum (20ml) – ¥8,424 *Photo is my own. Price shown is as was on the day of purchase.

This serum contains sericin which comes from silkworm cocoons. Sericin ensures your skin is moist and is gentle on the skin. Despite being a beauty product the texture of this serum is really silky (like water!) and will leave your skin soft and healthy.

Personally, I recommend using it as a booster serum! It's an easy way to nourish the skin before putting on any makeup. It will also help things like face lotions and milky lotions soak in better. The serum itself soaks into your skin nice and quickly so it won't ruin your makeup. Its warm matte texture and colour will leave you looking soft♡

▶︎Kiehls

4. Kiehl's Ultra Face Cream (49g) – ¥4,000 (Before Tax) *Photo is my own. Price shown is as was on the day of purchase.

This cream spreads lightly on the skin. It's also very clear to see that it lets no moisture escape…! That's how dense this cream is, it's like it adds a cover to your face. It also doesn't clear away face lotion or any beauty essences. It reaaally moisturises your skin. This is my 5th or 6th time buying it.

8. Kiehl's Ultra Face Cleanser – ¥2,800 (Before Tax) *Photo is my own. Price shown is as was on the day of purchase.

This can be used on any skin time. (It's also good for people with eyelash extensions!)

It's a gel-type cleanser. What's good about it being gel-type is that cleans off better than oil and yet doesn't take in unnecessary moisture from the skin. You also don't get that stretched feeling after you wash your face. This can really be used all season and by anyone. I haven't used any other cleansers the past three or four times. It's one I can trust.

▽Cosmetics

Be sure to check out my recommended lipsticks from last time too!

https://www.moshimoshi-nippon.jp/183569

▶︎CANMAKE

8. Quick Lash Curler (Transparent Type) – ¥680 (Before Tax) *Photo is my own. Price shown is as was on the day of purchase.

I often use this as a top coat. It makes it harder for your eyelashes to sag and can be used with any kind of mascara. You get a great product for a cheap price, so there's no need to feel guilty about picking up something cheap. You'll end up picking it up multiple times a day, and the cosmetic pouch one stick comes with is sure to come in handy too!

▶︎BIODERMA

2. Sensibio H2O – ¥1,200 (Before Tax) *Photo is my own. Price shown is as was on the day of purchase.

This is a cleansing water to be used with sensitive skin. Pour some onto a cotton pad and simply wipe to remove your makeup without any unwanted excess being left on. It's a super convenient product to have during those times when your makeup need a quick fix up. It's often used in makeup shoots too! They have both small and large bottles, so try starting from the handy mini size first ☺

▶︎M.A.C

1. Strobe Cream Peachlite – ¥4,500 (Before Tax) *Photo is my own. Price shown is as was on the day of purchase.

A glittery pink cream that feels comfortable on the skin. When used as a base for your makeup it will brighten your skin, or when used as a highlight it will glimmer in the light on your shiny skin. It might be nice to add to the décolleté or when you are exposing skin too to add a little something. This item has many different uses!

▶︎Primavista

3. Long Keep Base UV – ¥2,800 (Before Tax) *Photo is my own. Price shown is as was on the day of purchase.

This product can won't blemish skin at all even if it's been working all throughout the day. It goes on gently and soaks up quickly. This means it can be used when you don't have much time, such as when you're in a hurry in the morning. It feels so light it makes you wonder whether you've even put any on! It also holds up well against sweat and oil so I highly recommend it for the coming season! (It's been a No. 1 best seller for 9 years in a row.)

As a footnote, I'll just add that I'm actually a model for Primavista's products and I'm really glad I discovered them.

▶︎YSL

5. TOUCHE ÉCLAT BLUR PRIMER 1 – ¥6,300 (Before Tax) *Photo is my own. Price shown is as was on the day of purchase.

This is a makeup base that has gold pearls in it. It fixes the uneven parts of the skin to make it uniform making it perfect for foundation. It has a semi-matte consistency and the goal pearls give your skin a gorgeous gloss.

10. LE CUSHION ENCRE DE PEAU B30 – ¥7,500 (Before Tax) *Photo is my own. Price shown is as was on the day of purchase.

This is the covering power, moisturisation and texture I wanted! It feels very light on the face, so much so that it feels like you have none on, but it's the opposite of useless―it covers the face completely. As expected of them. It's easy to put on too, just pat it onto your face with a sponge. It's very durable too!

▶︎MIMURA

4. Smooth Skin Cover – ¥4,200 (Before Tax) *Photo is my own. Price shown is as was on the day of purchase.

This too is a makeup base and evens out the odds of your face. It's silky and makes you look extremely beautiful so it's the perfect accompaniment to makeup. It also thankfully contains SPF20 and PA++ and is free from ethanol, colouring agents and synthetic fragrances, making it kind to skin. I would also recommend it to people with weak skin. This is my second pot ♡

▶︎LANCOME

6. Grandiôse Mascara (Volume Type) BK – ¥4,200 (Before Tax)

The rose design of the cap is so cute! This is the No. 1 easiest product to coat. The shape of brush has been carefully calculated to curve with your eyelashes. It does nothing short of bolstering the volume of them. It has also received high praise for how easy it comes off with hot water. But it doesn't blot either. This one's for those who want to emphasise their gaze♡

▶︎CLINIQUE

7. Lash Power Mascara Long-Wearing Formula BK – ¥3,780

We can all relate to mascara becoming clumpy. This formula entwines with each eyelash hair to give big, beautiful eyes. It makes you feel good when applied. Though this is my third time buying it it never fails to make me say out loud to myself, "Wow, how beautiful." You don't have to worry about sweat or oil either, plus it comes off easily with hot water♡

▶︎MAYBELLINE

9. Hyper Sharp Liner BK – ¥1,200 (Before Tax) *Photo is my own. Price shown is as was on the day of purchase.

I have loved and used MAYBELLINE since I was a high school student. I've used many different eyeliners but always end up returning to the same place. The Hyper Sharp Liner is easy to draw with, doesn't smear, and the tip of the brush is thin and soft, so drawing on cat eyes is so much easier now. It's perfect! Get it ASAP!

What do you think of my list? The categories are a bit jumbled, but I have listed all the items I highly recommend.

A lot of the items I've presented are expensive, but even if they are pricey, the quality is good and the effects they have really work! I wonder if the reason for people in their teens and 20s focus so much on skin care is because they have seen the speed at which you can revitalise your skin, or have the power to 'rebirth' oneself.

My skin is changing entirely now compared to back when I thought it was okay to not take care of it. I want to make more recommendations to people at my age and invest in my future self.

Be sure to reference this last, and thank you for reading! Until next time ☺

Writer / Model  Yuri Suganuma
Photographer  / Hikari Shibata

Translator / Joshua Kitosi-Isanga

TALENT PROFILE

Yuri Suganuma

Yuri Suganuma is a model with a high fashion sense that has been picked up by various magazines. She receives much love and support from girls of the same generation as her to whom she is known by her nickname "Yurippa." She has a huge influence across her social media. Recently, she has stepped into other fields outside of modelling, such as appearing in TV shoots and in music videos. She is skilled in make-up and involved in the development of cosmetics.

Rilakkuma & Kiiroitori Confections by Tabemas Coming to Lawson Convenience Stores

Character-inspired Japanese confectionery series Tabemas has revealed that its next products will be based on Rilakkuma and Kiiroitori. They will go on sale at Lawson convenience stores across Japan from May 21, 2019.

Both characters are made from a type of dough called "nerikiri" which is used in making traditional Japanese wagashi sweets. Their tiny hands, ears and facial features have all been carefully and delicately crafted to create some seriously adorable sweets which, as Tabemas describes all their products, are just too cute to eat.

Rilakkuma is filled with Japanese custard pudding flavoured bean paste while Kiiroitori is filled with chocolate flavoured bean paste. Both sweets are made with natural colouring and have the deliciously moist texture that wagashi have. They are also made with chickpeas which have become popular for their high nutritional value so are a better option for the health-conscious individual.

Whether as a treat to yourself or a friend, don't miss out on these cute and tasty sweets.

©2019 San-X Co., Ltd. All Rights Reserved.

Information

Tabemas – Rilakkuma / Kiiroitori

Price: ¥259 Each (Before Tax)

Release Date: May 21, 2019

Store: Chilled desserts section of Lawson convenience stores across Japan

*Not available at Natural Lawson or Lawson Store 100.

*Available while supplies last.

Product Page: https://www.bandai.co.jp/candy/tabemas/rilakkuma2/

Enjoy your chores more than ever before with this cute Rilakkuma-themed laundry bag by Felissimo! ♪

Felissimo is making washing more fun with the new character-themed Rilakkuma laundry bag.

Rilakkuma's everyday outfit is now a laundry net?! If you take a look inside the bag from the back zipper, you will notice that the inside of the bag has been accurately created and firmly secured to look just like Rilakkuma.

You'll feel as if Rilakkuma has come to stay at your house! Without realising, you'll be smiling at the sight of your new laundry bag swaying gently in the breeze alongside the rest of your laundry no matter where you are. If you're concerned about your delicates or socks, you can still wash them together with the rest of your laundry using this bag. You can put this bag directly in the washing machine! After you've finished the washing, you can easily carry the bag to the washing line by the handle! How useful!

The bag isn't fully transparent and it's made using mesh. This makes it perfect for carrying a change of clothes to the gym or your bath set for when you go to the hot springs!

Now you can finally enjoy doing the chores around the house thanks to the Rilakkuma laundry bag!

Information

Rilakkuma Dararinno hohon ♪ Character laundry bag

Price: ¥1,950 (+ tax)
Material: 100% polyester  ※ machine washable
Size :  50.5cm long X 35 ー 55cm wide,  handle length: 25cm
Maximum weight: 6kg

You can also choose to have a brand new laundry bag delivered to you each month (charges apply).

Made in China

Click here to purchase: https://feli.jp/s/pr190425/2/

Rilakkuma-themed Japanese-style cafe Rilakkuma Tea House opens in Itsukushima, Hiroshima

Japanese-style Rilakkuma cafe Rilakkuma Tea House will permanently open up its second shop in Itsukushima, Hiroshima.

Itsukushima shrine located in Miyajima of Aki is the symbol of the shop. The large, elegant scarlet shrine gate that floats in the water is built entirely of wood and is one of the most beautiful shrine gates in Japan. The main shrine building has a long, honourable history as a world heritage site. As it was built by the sea, the beautiful wooden structure is famous worldwide.

 The Rilakkuma Tea House represents the shrine's traditional wooden architecture style and the warm atmosphere created by wood. Rilakkuma's favourite food, honey, is also a main theme.

The healthy menu and Japanese-style dessert menu which are popular at the Rilakkuma Tea House will also be available at the Itsukushima cafe. There are also dishes that use Miyajima and Hiroshima's famous delicacies including oysters and lemons. This is a flavour adventure you can only enjoy in Hiroshima!

Rilakkuma eel and oyster tempura gozen ¥1,580 (tax included)

Rilakkuma is taking a nap on a bed of fried eggs. Enjoy the crunchy eel and oyster tempura along with three varieties of traditional Japanese-style sides.

Yellow bird and fried oyster curry ¥1,280 (tax included)

This yellow bird is made from saffron rice and is topped with crispy fried oyster, which is the perfect match for the deep-flavoured curry!

There is also a dessert menu and a takeaway menu too! All the menus are packed with Hiroshima goodness!

Rilakkuma chilling out in the autumn leaves ー Japanese-style chocolate banana parfait ¥1,280 (tax included)

A bridge made from banana stretches over a valley of autumn leaves in a beautiful arch shape. The banana ice cream is complemented with gyuhi mochi cake and warabi mochi. The chewy texture of this Japanese parfait resembles banana daifuku cake!

Korilakkuma Seto Inland Sea lemon chiffon  ¥980  (tax included)

This is a fluffy chiffon cake that uses Seto Inland Sea lemons and honey. The cake is sprinkled with berries, and lemons slices decorate the cake to resemble flowers, creating a sweet yet sour flavour.

Delicious Rilakkuma/ Korilakkuma honey sandwich  ¥600  (tax included)

The Rilakkuma Brioche Bread and Korilakkuma White Bread are filled with different ice cream flavours! Those cute round eyes will win you over in no time! ♪

*Takeaway item

Rilakkuma autumn leaves manju (pack of 2) ¥350  (tax included)

These cute Rilakkuma autumn leaf-themed manju are an Itsukushima original!
*Takeaway item

Momiji manju (includes 8)  ¥1,200/Decorated wooden paddle(small, 5 patterns) ¥1,600 each/Kumano makeup brush /small dish (7 varieties) ¥800 each  (all prices with tax included)

There will also be Itsukushima Rilakkuma Tea House original goods! Of course, this includes the Itsukushima's speciality momiji manju buns, momiji wooden paddles and art overflowing with Itsukushima's specialities such as lemons!

There is just so much on the limited edition menu and there are just so many goods too! Check out the official website too! ♪

Information

Itsukushima Rilakkuma Tea House
Address:537, Nakanochohama, Miyajimacho, Hatsukaichi 739-0500,
Opening hours (subject to change):
Tea House :10:30 ー 17:30 (Lunch last orders: 16:30  Cafe last orders: 17:00)

Takeaway:10:00 ー 17:30
Shop:10:00 ー 18:00

Open all year round
Open from:Thursday 25/04/2019
※ It is possible that the reception is closed even during order times.

Rilakkuma Tea House official website:http://rilakkumasabo.jp

Netflix Original Series 'Rilakkuma and Kaoru' to be Released on April 19

Netflix just posted an English trailer for Rilakkuma and Kaoru, the first ever Rilakkuma stop-motion animation.

Netflix describes the series: "Her life might be a little mundane, but Kaoru gets to go home to Rilakkuma, her endearingly lazy roommate who happens to be a fuzzy toy bear."

The show will feature appearances from the lazy Rilakumma, the hard-working Korilakkuma, and the adorable Kiiroitori.

Twelve episodes are planned foe release across 12 months.


Lana Condor (X-Men: Apocalypse, Alita: Battle Angel) will provide the English dub for the main character Kaoru. The series is being directed by Kobayashi Masahito who has worked on many stop-motion pictures.

Rilakkuma and Kaori will hit Netflix on April 19, 2019 with a new episode airing every month.

©2019 San-X Co., Ltd. All Rights Reserved.

Help Me Choose! Japan's Trending Makeup: #1 Lipsticks Loved by Everyone!

This is my first ever series I've ever been put in charge of as a writer and model.

Moshi Moshi Nippon is where I start!

To briefly explain my makeup history, I first became interested in makeup when I was in elementary school after I went to a drugstore and saw cosmetics all lined up. After entering middle school, I was an awkward girl hooked on eyeshadows. I realised in high school that unique people get a lot of attention, and so I wanted to learn more about makeup. Every week, if I had a free moment, I'd pop down to the department store and little by little, deepened my knowledge about cosmetics. At around the age of 22 or 23, I achieved my certification as a "Cosmetics/ Skincare Meister". (There's still a lot to learn though…)

At 23, I started writing a series of my own about makeup!
Even if it's just a little bit, I want everyone to feel like they can use my articles to help themselves find their favourite cosmetics.

As this is my first ever business, I was obviously quite nervous about a few things.

As the impression that makeup leaves, and everyone's individual tastes can always completely change in an instant, I made this report which puts the spotlight on lipsticks that are suitable for a range of people!

These are recommendations by Yurippa!

These lipsticks are perfect for spring and summer!

If you're looking for stylish yet affordable lipsticks, join me and take a peak of my world of makeup through my eyes!

▽ Yurippa's recommended lipsticks!

・3CE  MOOD RECIPE MATTE LIP COLOR #909 ¥2160

Feels like a cream when you spread it on your lips.

A matte finish colour that sticks to your lips.

Very good colouring

Slightly deep red coral…

Gives an adult-like impression!

Coordination ideas: Perfect highlight for an all black outfit or a white shirt, or all navy look. I think it would make a great contrast with blue!

Suitable for all skin types (yellow base, blue base)

No matter where you go, you'll be complimented for your lipstick coordination ♡

To buy this, search for "3ce" lipstick

It'll be somewhere around the 4th or 5th link down. Look out for the product number #909.

This is a very popular lipstick!

・another item・

・M・A・C

(Left)Dubonnet ¥3240

Matte finish wine purple colour.

Deep with an edgy finish.

M・A・C lipstick colours are very defined and difficult to rub off!

You don't even need to top up very much throughout the day.

(Right)Chili (MINI size) ¥1404

This is an orange brown matte lipstick.

There are many models these days who use this colour.

If you are not sure what colour suits you, you can play it safe with this.

All these lipsticks smell like vanilla.

※M・A・C lipstick is sold at some stores.

・CHANEL Rouge, Allure, Velvet series ¥4536

These are also matte lipsticks.

If you compare the feel of 3CE and M・A・C lipsticks, you'll find they both have a different matte texture.

You can really feel the moisture in this!!

A smooth, matte finish.

I'm way too keen on this series. I mainly have lipsticks from the colour version.

The texture, quality of colour, and the exquisite choice of colour is what makes this lipstick so addictive!

(Left)No.58 Rouge Vie

Deep, strong red

(Right)No.61 La Secrete

Salmon pink

▽2019 Perfect for spring and summer Lip

・ADDICTION  Lipstick Sheer 003 cherry cherry ¥3024

Finally here's a non-matte lipstick that I like! Haha…

But despite I love matte lipsticks so much, this lipstick just has the cutest texture! I fell in love with it at first sight.

The transparency is perfect for the shade of red.

Despite the strong red colour, it is rather transparent, giving a "pop" look.

The more you apply, the cuter your lips!

How about wearing a white shirt to match your red lips?

…or a patterned shirt, woven bag and denim bottoms??

Allow yourself to be driven by the wild feeling of spring and summer fashion. This lipstick is a must for your handbag!

I really want to wear cherry earrings to match the lipstick!

・shiro ginger lip butter(lip gloss)9C06 copper brown  ¥4104

A matte brown-orange.

This is quite a fashionable colour that will make you appear more like an adult.

A lip balm and gloss in one! No need to apply a balm as a base to stop your lips from drying out.

The shade is rather nice and the colouring is perfect.

The small touch of gloss will make you seem more adult-like ♡

It has a smooth texture and spreads smoothly!

The natural scent of ginger makes it seem just like an organic cosmetics product like "shiro".

Look no further for a lipstick you can use all year round!

The new colours came out on 7th March as a product not just for spring and summer, but also autumn and winter.

・Celvoke  Enthrall gloss 03 ¥3024

Orange/brown, glossy and plenty of moisture.

This will give you the plump lips that every girl wants!

As the colour is quite toned-down and dark, use a subtle amount of eyeshadow,  give your cheeks a matte finish and your lips will become the glossy accent to finish your look!

▽ Stylish yet affordable!

・CANMAKE Lip Tint Matte 03 rose ¥650

This is a rather girly rose pink.

Although this is a strong-coloured lip tint, it holds moisture so you don't have to worry about your lips drying out.

Spreads completely over your lips perfectly.

You would look so cute if you combined this with a floral outfit or gingham checks♡

01 coral

04 Terracotta red

・INTEGRATE Silky Matte Lip(Lip/cheek colour)PK384 ¥1296

Bright coral with a slight glossy semi-matte finish.

This is a fresh colour which will brighten your face.

Enjoy the light texture as you apply it.

As you can colour both your cheeks and your lips with this lipstick, this is perfect for those of you with busy mornings or those of you who are not good at makeup and are uncertain of how to balance colours!

This is an easy way to achieve a balanced look!

~ <Extra!> If you get your hands on this you should celebrate! ~

Pat McGrath is a hair and makeup artist. She owns the makeup brand "Pat McGrath"♡

She still hasn't been to Japan.

She is involved in famous fashion show brands and collections and is a hair and makeup specialist.

From the packet design, these products overflow with cuteness!

The smooth matte lipstick is absolutely perfect when it comes to durability and colour.

This high-quality lipstick is a leading lipstick ー no doubt about it!

Just how people buy CDs because of the awesome CD designs, you might end up getting this just for the packaging!

・Pat McGrath MATTETRANCE LIPSTICK

Elson 2  (The Perfect Red) ¥4752

Omi (Mid-tone Rose) ¥4752

(The packaging and the lipstick are just so beautiful!)

You can purchase these online.

I don't think there's many people who use these lipsticks!

If you have them, you can boast about your fashion to others! ☺︎

That's all!

…and that wraps up my personal lipstick report!

I didn't even realise that I wrote an entire report…

I want to continue with a second and even third series!

I aim to write these reports in a style that creates a close connection with my readers.

If you want to ask questions or need advice, I'm making an advice corner where you can reach me personally!

Let's be friends!

Writer / Model  Yuri Suganuma

Photographer    Haruka Yamamoto

Make & Hair      Yusuke Hashimoto

Cherry Blossom Jam Filled Rilakkuma Confections Releasing at Lawson Convenience Stores

Japanese confectionery brand Tabemas is releasing new cherry blossom flavoured Rilakkuma and Kiiroitori confections. You'll find them at Lawson convenience stores around Japan from March 26.

'Tabemas' is an abbreviation of the Japanese words taberareru masukotto, meaning 'mascots that you can eat.' It is a Japanese confectionery series that combines well-known characters and Japanese sweets made from ingredients like red bean paste, sugar and rice flour. Their products are hugely popular in Japan and are described as being too cute to eat. These delicate treats are the perfect dessert for the hanami season.

This product was originally released back in 2017, but this time they have made it even more delicious and fitting for the springtime. Rilakkuma is posed holding a pink cherry blossom flower while Kiiroitori is wearing one on his head. Inside both of them are two different bean pastes: Rilakkuma is brown sugar syrup flavoured while Kiiroitori is cherry blossom flavoured.

They not only taste delicious but are carefully crafted by hand so perfectly that you'll find them nearly too cute to eat!

Information

Tabemas Rilakkuma Sakura Rilakkuma

Price: ¥366 (Before Tax)

Release Date: March 26, 2019

Available: At the chilled desserts corner of Lawson branches in Japan.

*Not available at Lawson Store 100 branches.

*Limited stock. Products will discontinue once all have been sold.

*Select branches may receive stock at a different date from that of the release date.

*Select branches not stocking.

*Photos are for illustrative purposes only. Actual product may differ slightly.

*"食べマス" is a registered trademark of Bandai Co., Ltd.

Product Page: http://www.bandai.co.jp/candy/tabemas/s-rilakkuma/

©2019 San-X Co., Ltd. All Rights Reserved.

Rilakkuma Ice Cream Maker―Create Cute and Delicious Ice Cream From Home!

Kai Housewares is joining paws with the adorable Rilakkuma to release the Rilakkuma ice cream maker and ice cream spoon on March 20, 2019. This makes it easy for fans of the cuddly bear to make and enjoy rich and delicious ice cream from their very own home.

Kai has been collaborating with Rilakkuma since 2017. It began with the cookie cutter set which cut cookies into Rilakkuma shapes followed by the sandwich maker which cut your sandwiches into the shape of Rilakkuma.

Rilakkuma Ice Cream Maker: Open Price

The new ice cream maker makers it easier than ever whip up authentic ice cream. You simply put in the ingredients of your choice and flip the switch. You're able to continue mixing in ingredients while as air enters the machine, so the butterfat, which is the deciding factor of the flavour, becomes uniform, allowing you to create smooth melt-in-the-mouth ice cream. Its compact size also means it will fit nicely inside home freezers. You can make an endless amount of ice cream at home in a very short space of time♡

Rilakkuma Ice Cream Spoon: ¥600 (Before Tax)

The Rilakkuma ice cream spoon, which is sold seperately, is made from aluminium which has 12 times the thermal conductivity rate than that of stainless steel. The heat from your hand will travel down to the end of the spoon making it nice and easy to scoop your ice cream even when it's frozen solid.

Get these cute and convenient Rilakkuma items and enjoy ice cream to the fullest this spring from the comfort of your own home.

Information

Rilakkuma Ice Cream Maker / Rilakkuma Ice Cream Spoon

Release Date: March 20, 2019

Kai Corporation Website: https://www.kai-group.com/

©2019 San-X Co., Ltd. All Rights Reserved.

Springy-textured fried sweet treat Rilakkuma-yaki makes a comeback with new packaging design!

Springy-textured dough filled with custard cream, the delicious Rilakkuma-shaped fried sweet treat is making a comeback! As the "Mochi mochi Rilakkuma yaki" was so popular the last time it came out, this time the packaging has been renewed! You can purchase this sweet treat at Lawson convenience stores nationwide from Tuesday 12th March. This does not include Lawson 100 stores.

Mochi Mochi Rilakkuma yaki ¥146 (+tax)

もちもちリラックマ焼き 

As the springy-textured "Mochi mochi Rilakkuma yaki" makes a comeback, you can enjoy the relaxed pose of Rilakkuma as you dig in! The fried outer shell is combined with honey and filled with custard pudding-flavoured cream because Rilakkuma's favourite dessert is pudding!

 The Rilakkuma yaki was first released in November 2018 and because it was so popular, it will be sold once again! This time, the packaging has been changed to an image of Rilakkuma lazing about in the lawn! This spring-like design is perfect to celebrate the season!

This is perfect for a picnic or cherry-blossom viewing so make sure you try one this spring♪

Information

Mochi mochi Rilakkuma yaki

もちもちリラックマ焼き

Available: At Lawson convenience stores nationwide (chilled dessert corner)

Release date: Tuesday 12th March 2019

※ Not available at Lawson 100

※ This product will no longer be available for purchase once stock runs out.

More product information: http://www.bandai.co.jp/candy/products/2019/4589919690534000.html

 

(C)2019 San-X Co., Ltd. All Rights Reserved.

※ The image above is not a real image and may be slightly different to how it actually looks.

※ Some Lawson convenience stores may start selling this item from a different day.

※ Some Lawson convenience stores may not sell this product.

※ Product contains honey. Please do not feed to children under the age of 1 who are still breastfeeding.