Purple-Coloured Halloween Cat Bread Set Pouncing on Blue Jean Bakery in Osaka
For a limited time only, the Blue Jean cafe and bakery located in Hotel New Hankyu Osaka will sell its new 'Iro Neko Halloween Set' for 7 days from October 25.
Blue Jean has taken its popular cat bread, mixed it with more ingredients to make it even more delicious and made it purple. The set itself comes with the bread and some Halloween merch and goodies.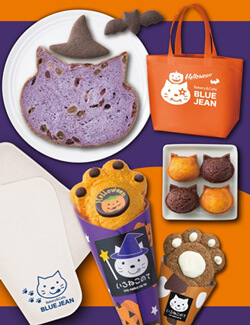 Iro Neko Halloween Set
The bread is grape flavoured and is mixed with dried cranberries and raisins. It comes decorated with bat and witch hat shaped sablé shortbread cookies. The set also includes pumpkin flavoured cat paw and financier baked desserts. It also comes with a cute blanket which will be very useful for the coming cold season.
Information
Iro Neko Halloween Set
Running: October 25, 2018 – October 31, 2018
*30 available per day on weekdays / 60 available per day on weekends
Price: ¥2,200 (Tax Included)
Available: Blue Jean Cafe & Bakery on floor B1F of Hotel New Hankyu Osaka
Selling Time: 8:00-22:00
TEL: 06-6372-5101
RECOMMENDED ENTRIES
Cute Cat Bread Loaf Now Available in Brown Bread Version!

"Blue Jean", a bakery and café located inside Hotel New Hankyu in Osaka, added a new companion to their hugely popular cat bread line on July 1st.

The "Iro Neko Shoku Pan" is a cute bread loaf that comes in the shape of a cat. It costs ¥350 for one bag of 5 slices. The bread is crunchy on the outside and soft on the inside. The product is so popular that people line up early outside the shop nearly 30 minutes before it opens to get their paws on one.

A new friend has joined the clowder. Now you can get the well-cooked brown bread version which if you toast smells absolutely divine. You should definitely try packing in as many ingredients as you can for the ultimate sandwich feast.

How can you pass up the opportunity to get bread like this? If you're around Osaka, be sure to arrive early to Blue Jean to get your fingers into this kawaii cat bread!

■Information

Iro Neko Shoku Pan (Brown)

1 Bag (5 slices) – ¥350

Store: Bakery & Café "Blue Jean", Hotel B1F

Open: 8:00-22:00

Enquiries: 06-6372-5101 (line direct to hotel)

Related Article:A cake shop in Kansai that is popular for its cute cat logo "Chat noir"

Related Article:Become a Cute Kitty Cat with the New Cat & Tail Roomwear from "Felissimo Neko-bu"!

Miffy Sakura Kitchen & Bakery to Open in Arashiyama, Kyoto

The new takeout bakery Miffy Sakura Kitchen will open in Arashiyama, Kyoto on October 3, fusing traditional Japan with Dick Bruna's cute bunny character.

The bakery faces the main street that runs from Togetsu-kyo Bridge through the Arashiyama Bamboo Grove, the most iconic tourist spots of Arashiyama.

Vintage Mugs – ¥1,200 (Pre-Tax)

Lunch Bowls – ¥2,000 (Pre-Tax)

At the bakery you can get your hands on a range of Miffy licensed merchandise as well as a string of exclusive Miffy Sakura Kitchen made in the style of traditional Kyoto pottery and more.

Of course, there's plenty of delicious goodies to get your fingers on too like anpan sweet bread, danish pastries, ice cream, drinks and more, all inspired by Miffy.

Miffy Anpan – ¥260 (Pre-Tax)

The Miffy anpan is shaped like Miffy's face which is filled with sweet adzuki bean paste.

Miffy Fuku Daruma Bread – ¥350 (Pre-Tax)

This cute and round Miffy bread is made in the image of a daruma doll and is filled with rich matcha cream. Limited quantity available.

Carrot Bread – ¥310 (Pre-Tax)

Miffy loves carrots, so this one's dedicated to her. It's made with carrot puree and contains an egg salad.

Miffy Danish Pastry – ¥500 (Pre-Tax)

When you sink your teeth into this crunchy toasted pastry your mouth is filled with the sweet taste of butter. You can order it as French toast or enjoy it as a sandwich.

Miffy Cube (Matcha & White Chocolate) – ¥230 (Pre-Tax)

This cubed shaped bread bears the shop's logo and Miffy on the front. You'll get addicted to the sweet white chocolate and bitter matcha inside!

The bakery itself will also be decorated with all things Miffy, so if you're a fan of the cute bunny yourself you'll definitely want to go and visit.

■Information

Arashiyama Miffy Sakura Kitchen
Address: 20 Sagatenryuji Tsukurimichicho, Ukyo Ward, Kyoto, Kyoto Prefecture

Grand Opening: October 3, 2018

Opening Hours
Miffy Kitchen: 10:00am-6:00pm
Miffy Bakery: 10:00am-6:00pm

Contact
Miffy Kitchen: 075-863-2022
Miffy Bakery: 075-496-4244

Miffy Sakura Kitchen Offiみっふぃー桜きっちん公式サイト:http://www.miffy-sakurakitchen.jp

McDonald's Japan to Release Black & White Chocolate Pies Again This Year

McDonald's Japan will release its two new triangular-shaped black and white chocolate pies again this year on October 26. The pies are made by adding layers upon layers of pie dough to create crunchy three-sided pie. These are filled with gooey chocolate cream that elevates the pie to the next level.

The black chocolate pies at McDonald's boast unshaken popularity. This delicious treat is packed with a melty chocolate cream made with almonds. The level of sweetness is also on point.

The white chocolate pies contains a rich white chocolate cream made with sweet-smelling vanilla beans and almonds.

Ever since the triangular chocolate pies hit McDonald's in Japan in February 2007 they have continued to be gain popularity for over 10 years. Every year people call out "the chocolate pie season is here!" and struggle with which to go for.

This year, they will be served in cute limited edition packaging. If you put both the black and white packages together they will even create a heart shape.

Other flavoured chocolate pies are set to be released this winter too, and there will be a commercial for them featuring Japanese actress Maika Yamamoto.

Which crunchy chocolate pie will you be warming yourself up with this winter?

Information

Black Triangle Chocolate Pie

On Sale: October 26, 2018 – Late February 2019 (subject to change)

White Triangle Chocolate Pie

On Sale: October 26, 2018 – Late November 2018 (subject to change)

Available: At most McDonald's branches across Japan

Price: ¥120

Chocolate Pie TV Commercial – "Am I the only one not eating these?!" (15 Seconds)

Initial Broadcast: October 25, 2018

Product Page: http://www.mcdonalds.co.jp/campaign/sankakuchocopie/
RELATED ENTRIES
KINGDOM HEARTS Melody of Memory Themed Cafes to Open in Japan This Holiday Season

Japanese company LEGS has announced the opening of two limited-time cafes themed on the video game KINGDOM HEARTS Melody of Memory which will run from December 11, 2020 to January 31, 2021.

KINGDOM HEARTS Melody of Memory is a rhythm action game developed by Square Enix. Released on November 11 in Japan and November 13 everyone else, it is the latest instalment to Square Enix and Disney's video game series Kingdom Hearts.

The cafe menu features a line-up of dishes, drinks, and desserts inspired by characters and worlds found throughout the internationally-beloved video game series. The items all adhere to Disney's nutrient guidelines and so are low in salt and sugar, offering fans a healthier option. The cafe will also sell a range of original merchandise.

The Menu

Food (Excerpt)

<Sora> Power of Waking Tomato Pasta | ¥1,599

A red tomato pasta inspired by Sora that comes with a potato salad shaped like King Mickey.


<Riku> Daybreak Chicken Burger | ¥1,599

A black chicken burger based on Riku becoming enveloped by the Power of Darkness. This dish also comes with a potato salad shaped like King Mickey.


<King Mickey> King's Tuna Sandwich | ¥1,399, with plate +¥2,000

A tuna sandwich branded with a King Mickey symbol that comes with a side of fruit.


<Neverland> Island Seafood Curry | ¥1,699

A squid and shrimp seafood curry inspired by Peter Pan's Neverland which you can travel to in Kingdom Hearts.

Drinks (Excerpt)


<Sora, Riku & Kairi> Fate's Pineapple Herb Soda | ¥899, with acrylic coaster +¥1,000

A pineapple herb soda based on the Paopu Fruit from the series.


<Roxas, Xion, Axel> Sea Salt Ice Cream & Milk | ¥1,199, with acrylic coaster +¥1,000

Based on the sea salt ice cream that Roxas, Xion, and Axel all eat together. It's served with hot milk that can be poured over the ice cream for a tasty treat.


<Hundred Acre Wood> Honey Latte | ¥799, with mug +¥1,650

A latte sweetened with Winnie the Pooh's favourite thing in the world: honey.

Merchandise (Excerpt)

Folder ¥500 / Acrylic Magnet ¥700


Tote Bags (3 Designs) | ¥3,500 Each (Timeless River/Keyblade A/Keyblade B)

Bonus Items

Customers who book a table in advance (¥650 before tax) and order from the menu will receive one of two folders, and if they order a drink, one of four coasters. Available while supplies last.

© Disney. © Disney/Pixar.

*All prices listed are pre-tax

Information

KINGDOM HEARTS Melody of Memory Cafe
・Tokyo (Shibuya): SHIBUYA BOX cafe&space
Running: December 11, 2020 – January 31, 2021
Address: LOFT (Floor 2F), 21-1 Udagawacho, Shibuya, Tokyo

・Osaka (Umeda): UMEDA BOX cafe&space
Running: December 11, 2020 – January 31, 2021
Address: Umeda LOFT (Floor 1F), 16-7 Chayamachi, Kita-ku, Osaka-shi, Osaka

KINGDOM HEARTS Melody of Memory Cafe Official Website: https://khmom.ohmycafe.jp/

Super Nintendo World Theme Park Area to Open at Universal Studios Japan in February 2021

Universal Studios Japan (USJ) has announced that its highly-anticipated new Super Nintendo World area will open on February 4, 2021, which also happens to fall on the day of USJ's 20th anniversary.

Super Nintendo World comes as the world's first theme park area to be based around Nintendo's characters and games, combining innovative ideas with cutting-edge technology.


While the grand opening is still a couple of months away, USJ is teasing fans by unveiling a portion of the park's Mario Kart-themed ride which takes place inside of a reconstructed Bowser's Castle.

Bowser's Castle

Bowser's Castle stands as one of the main symbols of Super Nintendo World. It's a faithful recreation with towering stone walls, thick and heavy steel doors, pointed iron fencing, and more, not to mention the enormous stone Bowser statue that adorns the middle of the winding staircase ready to greet guests. There are plenty of thrills and chills to look forward to inside the castle of the King Koopa himself.

Mario Kart: Koopa's Challenge will open as the world's first theme park ride centred on the popular video game series Mario Kart.


Thomas Garrity (Universal Creative, Executive Producer) | Comment

"Deep inside Bowser's Castle lies Mario Kart: Bowser's Castle, a collaborative effort between Nintendo and Universal Studio's Creative Team to recreate the world of the hugely popular Mario Kart series which has sold over 150 million copies. Guests will put on their headsets and experience limitless excitement and thrills as they speed around courses." (Translated from Japanese by MMN)

Mario Kart: Koopa's Challenge

Mario Kart: Koopa's Challenge is an XR ride that lets people feel like they are inside the world of Mario Kart while in the real world. The ride will feature all the details fans of the video game series are familiar with as they drift and spin around exciting courses alongside the game's characters while collecting items from boxes to use on their opponents.


The attraction makes use of AR and projection mapping technology to make the game as immersive as possible. Fans are sure to love driving through their favourite courses and scenes recreated using leading-edge technology. The attraction is six years in the making and the results of efforts between Nintendo's Creative Team, USJ, and the legendary Shigeru Miyamoto himself.

Endless fun for fans of Mario

SUPER NINTENDO WORLD will be the first-ever multilevel Nintendo-themed area at USJ, and the first of its kind in the world. Fans of the internationally beloved games can expected to see a whole host of rides and attractions dedicated to their favourite characters, from Mario Kart to Yoshi and beyond, as well as a themed cafe, merchandise shops—the list goes on. There is endless amount of fun for fans to feel a part of the Nintendo world as they take up the role of Mario and hit blocks to receive coins, collect items, and much more.

Guests will be able to purchase the Power Up Band, a wristband that works together with a smartphone app that allows you to collect virtual coins by punching Questions Blocks like Mario which are scattered around the park. Scores can be seen on the leaderboard so you can see how you stack up against other players.

Sanrio's Little Twin Stars Get Themed Cafe in Osaka This Holiday Season

Sanrio's popular characters Kiki & Lala, also known as the Little Twin Stars, are getting their own themed cafe which will open for a limited time at the Fruits Parlor & Bakery Season & Co. in LINKS UMEDA in Osaka From December 3, 2020 to January 24, 2021.

The cafe will serve up a variety of menu items inspired by the Little Twin Stars as well as sell related merchandise. There will also be a photo spot for taking cute pictures, and a special dessert assortment made in collaboration with the popular artist Dream Ami which includes a parfait made up of their favourite sweet treats.

Cafe Menu (Prices Listed Before Tax)

Menu ①: December 3, 2020 – December 25, 2020


Little Twin Stars Shortcake (X'mas Ver.) | ¥1,900


Kiki's Shooting Star Sweets Parfait | ¥1,600

Menu ②: December 26, 2020 – January 24, 2021


Little Twin Stars Tart | ¥1,700


Lala's Shooting Stat Sweets Parfait | ¥1,700

Drinks Menu (Excerpt) (Available Throughout Collaboration)

Little Twin Stars Strawberry Tea Latte | ¥1,000

Dream Ami's Special Collaborative Menu (Available Throughout Collaboration)

Dream Ami×Little Twin Stars Star Sweets 2020 2,100円

Customers who spend more than ¥1,000 (before tax) on merchandise at the cafe will also receive a free A4 folder. These are available while supplies last.

Dream Ami's collaborative dessert looks both cute and delicious and definitely worthy of being on a Little Twin Stars menu!

Information

Little Twin Stars Collaborative Cafe
Running: December 3, 2020 – January 24, 2021
Location: Fruits Parlor & Bakery Season & Co.
Address: LINKS UMEDA (Floor 1F), 1-1 Ofukacho, Kita-ku, Osaka-shi, Osaka
Opening Hours: 9:30-22:00 (Last Orders 21:30)
TEL: 06-6743-4212

Official Website: https://season-co.shop

Hatsune Miku Symphony to be Released On Amazon Music HD Using Dolby Atmos®

To celebrate the 5th anniversary of Hatsune Miku Symphony, three concerts are being held in Japan. The first took place at Suntory Hall for the first time on September 21, the second in Yokohama on October 17, and the third is scheduled to take place tomorrow (November 27) at Festival Hall in Osaka.

Fans unable to attend the final show will be pleased to know that part of the set list from Hatsune Miku Symphony 2019 is also being released tomorrow on Amazon Music HD in Dolby Atmos® format.

Dolby Atmos is a surround sound format that breaks the wall on the limits of mono and stereo sound and allows sounds to be interpreted in 3D, creating an entirely new immersive experience. This will make listening to a show like Hatsune Miku Symphony a true delight to Vocaloid lovers.

Those attending the Osaka concert will be able to listen to Miku Symphony in one of the Amazon Echo Studio booths that will be available at the venue. These booths will also be equipped with Dolby Atmos through Amazon Music HD.

The Yokohama performance that took place on October 17, 2020 is scheduled to be released on Blu-ray on February 3, 2021. It will be available to pre-order at the Osaka show.

Embroidery Art – ¥16,500 (Tax Included) | Acrylic Key Rings (7 Designs) – ¥800 (Tax Included)

A selection of merchandise will be available to buy at the Osaka show including an all-new piece of embroidery art, acrylic key rings, and more. These items will also be available to pick up at Magical Mirai 2020 in OSAKA taking place this weekend (November 28 and 29).

© Crypton Future Media, INC. www.piapro.net

W Osaka: Japan's First Luxury Lifestyle Hotel to Open in March 2021

Marriott International has announced that W Osaka will have its grand opening on March 16, 2021. Room bookings opened via the hotel&#39;s official website on Wednesday (November 18).

W Osaka is a luxury lifestyle hotel that will open along Midosuji, the primary main street in central Osaka, positioning it within walking distance of Shinsaibashi which is home to world-leading luxury brand stores, Dotonbori which hails as one of the main tourist spots in Osaka where one can find an unending selection of restaurants and places for a great night out, and Minamisenba where you can find Osaka-based designer stores, coffee shops, and more. It&#39;s also conveniently situated near the business district of Honmachi.

The Hotel's Theme: A fun place for Osaka's merchants

The hotel's design was overseen by Osaka-born international architect Tadao Ando. The 32- storey building is coloured a simple yet stylish black and is based around crystals.

The interior design was carried out by Concrete Architectural Associates from the Netherlands who have recreated the image of Osaka's city lights with dazzling neon lights. Under the rule of the Tokugawa shogunate during the Edo period, extravagance was banned, but that was well over a century ago, so it is of course permitted now. But while W Osaka incorporates flashy design, its interior isn't overly-sophisticated and maintains an air of light-hearted fun to it.

A single button caters to whatever, whenever when it comes to guests

The 337 guest rooms boast beautiful vivid colours and contemporary designs that are sure to leave an impression. Washrooms are spacious and are equipped with rainfall showers. The rooms'; windows also stand from the floor to the ceiling, allowing for a perfect view of Osaka's beautiful streets. Best of all, all room telephones are fitted with a "Whatever/Whenever" button on them which enables hotel staff to cater to guests' needs and wishes at all times no matter what it is.

A Michelin-star chef's menu

In the lobby, guests will see a mic on a mic stand which is a nod to Osaka's famous manzai culture of comedy duos. The hotel also plans to open a bar area. For now, however, guests can enjoy the all-dining restaurant which boasts a menu supervised by a Michelin-star-winning chef who has also ranked in Asia's Best Restaurants 50. In the future, W Osaka plans to be host to unique wedding ceremonies too.

If you'e planning a trip to Osaka next year, be sure to check out W Osaka, opening March 16, 2021.

Hatsune Miku and Rascal the Raccoon to Collaborate at Magical Mirai 2020 in Osaka

Nippon Animation and Crypton Future Media are set to collaborated for the 4th time by bringing together the popular character Rascal from the Japanese animated series Rascal the Raccoon and VOCALOID. The two companies will release pre-sales of collaborative merch at Magical Mirai 2020 in Osaka from November 27 to 29.

Rascal celebrate hits 40th anniversary back in 2017, the same year his collaboration with VOCALOID began. "Japanese Festival" is the theme for the merchandise line-up which sees the adorable raccoon come together with familiar faces from the VOCALOID roster including Miku, Rin, Len, Luka, KAITO, and MEIKO, all of whom are donning their appropriate festive garbs. There's also a "Firework Festival" collection of merchandise too which was designed in collaboration with Japanese illustrator Omutatsu.

The merchandise will also be released at the official Nippon Animation shop ANi★CUTE in Ikebukuro, Tokyo on December 18, 2020.

Artwork sample

Merchandise sample

Information

Magical Mirai 2020 in OSAKA
Running: November 27, 2020 – November 29, 2020
Venue: INTEX Osaka Buildings 3 and 4
Address: 1 Chome-5-102 Nankokita, Suminoe Ward, Osaka
Official Website: https://magicalmirai.com/2020/
COCOLLABO Official Website: https://www.cocollabo.net/sp/Magicalmirai2020/

Nippon Animation Official Shop ANi★CUTE
Release Date: December 18, 2020
Location: Sunshine City Alpa 2F
Address: 3-1-2 Higashi-Ikebukuro, Toshima-ku, Tokyo
Opening Hours: 10:00-20:00
TEL: 03-6914-2668

Kirby Pop-Up Shop Opens Inside EKI MARCHÉ OSAKA For 2020

A Kirby pop-up shop opened up inside the EKI MARCHÉ OSAKA shopping mall in Osaka on Friday (November 6) where it is set to stay until December 10.

Kirby fans can expect to get their hands on a whole range of merchandise from stationery and plush toys to key rings and more.

Original Postcard

Customers who spend over ¥2,200 at the pop-up shop will receive an original postcard too. These are limited in stock.

If you're in Japan this autumn and winter then be sure to grab some of these wintery Kirby goods.

Information

Kirby Pop-Up Shop
Running: November 6, 2020 – December 10, 2020

Opening Hours: 10:00-20:00 (until 17:00 on December 10)

Location: EKI MARCHÉ OSAKA S07, EkiHeso
Address: 3-1-1 Umeda, Kita-ku, Osaka
Access: Directly outside Osaka Station's Sakurabashi Exit on the JR side

Official Website: https://www.heso-pro.com/

Universal Studios Japan Announces Christmas 2020 Program

Universal Studios Japan is planning a special series of Christmas events for this year to celebrate everyone's endeavours throughout this tumultuous 2020. Set to run from November 13 to December 27, the park will be changing its Universal Crystal Christmas event from last year which included a night show and special Christmas tree set-up to create a more safe experience for guests during the pandemic.

The park is set to bring as much fun, excitement, and smiles as ever for this year's Christmas celebrations.

Happy Christmas Street Party: Dance with the park's characters

Happy Christmas Street Party is a new event to Universal Studios Japan this Christmas which will welcome characters from Sesame Street and Peanuts, as well as snowmen and entertainers, all dressed in their holiday season garbs to sing and dance for guests. Guests will be able to feel as one as they sing and dance to Christmas songs in a safe, socially-distanced environment, together with the characters.

Location: Hollywood Area

Duration: 2-3 times a day, approx 20 mins

The singing show gets a Christmas makeover

A special and romantic Christmas story of love called "New York Christmas Wish" will take over this year's singing show. Christmas songs will also be sung for the popular "Power of Pop" show.

Minion Park's Yellow Christmas: Happiness here, there, and everywhere

USJ welcomes the "Minion Park's Yellow Christmas" event once again this year where Minion decorations will adorn the park streets and the Minions themselves will be out and about dressed in Christmas costumes.

Happy Deco Masks

The park will be selling special stickers for people to adorn their masks with like decorating a Christmas tree.

 

Christmas food and merchandise

Guests can expect to tuck into some delicious Christmas-y food as well as get their hands on exclusive Christmas merchandise. There will also be special items available for guests who hold an Annual Passport to the park.

 

Universal Studios Japan Hotel

The park's official hotel is now offering a special plan for the holiday season called "Christmas Dramatic Stay" which included a special Christmas dinner and breakfast to guests who stay there.

More details will be released on USJ's official website in the lead up to the park's Christmas program.

WIZARDING WORLD and all related trademarks, characters, names, and indicia are © & ™ Warner Bros. Entertainment Inc. Publishing Rights © JKR. (s20)

Minions and all related elements and indicia TM & © 2020 Universal Studios. All rights reserved.

© Nintendo

TM & © 2020 Sesame Workshop

© 2020 Peanuts Worldwide LLC

© 1976, 2020 SANRIO CO., LTD. APPROVAL NO. EJ0102601

TM & © Universal Studios & Amblin Entertainment

©Fujiko Pro/2020 STAND BY ME Doraemon 2 Film Partners

Universal elements and all related indicia TM & © 2020 Universal Studios. All rights reserved.

Information

Universal Studios Japan Christmas Program

Running: November 13, 2020 – December 7, 2020

Address: 2-1-33 Sakurajima, Konohana-ku, Osaka

Official Website: https://www.usj.co.jp/web/en/us

Sanrio Puroland Halloween Makeup Developed in Collaboration With POLA

POLA INC. is collaborating with Sanrio Entertainment's amusement park Sanrio Puroland for their ongoing PURO HALLOWEEN PARTY event which is being held both at the park and online. The company has developed cute and sophisticated Halloween makeup inspired by the looks being worn by the Sanrio characters at Puroland for Halloween.

Halloween is a time to dress up as your favourite spooky figure, and POLA has jumped on board by creating a range of makeup looks to support Halloween outfits this year that anyone can do at home. Each look has a step-by-step visual guide as well as a video to help you along the way.

All the products used for the looks are by POLA and can all be bought at their nearly 4,000 stores including the 670 POLA THE BEAUTY branches and their flagship store POLA GINZA. Select branches in China, Taiwan, Hong Kong, Thailand, Macao, and Singapore are also stocking the items.

Cute Halloween Confections Make Their Way to Ginza Cozy Corner This October

Ginza Cozy Corner released a new collection of Halloween confections on October 19.

JOYJOY Halloween Party (9 Included) | ¥2,400 (Before Tax) | Available: October 19, 2020 – October 31, 2020

The tasty line-up features a collection of playful ghouls and ghosts partying at a haunted house. Bites include an eyeball tart, orange-flavoured Jack-o'-lantern roll cake, and lots more. Plus, the box they come in can be cut out and used as a photo prop for snapping cute Halloween pictures.

Imp's Trickster Mont Blanc | ¥580 (Before Tax) | Serving: October 19, 2020 – October 31, 2020

There's also a colourful mont blanc layered with four different creams: strawberry, lemon, melon, and blueberry, and inside—a mouth-watering tangy orange sauce surprise.

Kaori's Easy Recipe: Learn to Make Jack Skellington Stained Glass Cookies

With just a small bit of ingenuity, turn everyday food into something cute using Kaori's Easy Recipe! With a few simple ideas, an ordinary recipe magically transforms into a cute dish.

I have the perfect Halloween recipe for you this time. If we're talking Halloween, then who else but Jack Skellington is the man for the job? Here's my recipe to make Jack Skellington Stained Glass Cookies.

Ingredients

 

70g unsalted butter
50g icing sugar (or high quality white sugar if you don't have)
A pinch of salt
30g egg
110g weak flour
10g black cocoa
1 white chocolate pen
Hard candy of your choice crushed into small pieces

*To crush the candy, you can put into a zip lock bag and use a rolling pin

1


Place all ingredients except the egg into a food processor and blitz. After, place the egg into the blitzed mix and blitz once again. Once combined, wrap with cling film and place into the refrigerator for 1+ hours until set.

2


Use a rolling pin to roll out circles of equal thickness for Jack's head. Use a cutter to cut out the eyes, and place into the refrigerator one more to set.

3

Bake in the oven at 180°C for 10 minutes and take out again.

4


Place your crushed candy into the eye holes and bake for a further 5 minutes.
*The candy will melt into place and even out, so feel free to pile on the pieces

*Be careful not to overcook the candy as it will turn brown

5


Allow to cool. Be very careful handling and placing down the cookies as the eyes will be delicate. Decorate Jack's nose and mouth with the chocolate pen and he's ready for your Halloween party!

Kaori invites you into her world of character-themed food dishes in her recipe series. Be sure to check out her Instagram where she has uploaded many pictures of her character dishes!

Kaori Kubota (@kaopan27)

I live in Hokkaido and I love to make character themed foods, desserts and pastries♡

I want to see my family smile, so I enjoy putting in a bit of effort to make character foods and changing food into something cute♡

You can see more of my character foods and character bento boxes on my Instagram page → @kaopan72

Pokémon Cafe and Pikachu Sweets by Pokémon Cafe Reveal New Desserts Including Polteageist Tea Set

Pokémon Cafe and Pikachu Sweets by Pokémon Cafe are releasing a new teatime menu at their respective branches on October 24, 2020.

Pokémon Cafe

Polteageist & Sinistea Tea Party! Fruit Tea Set ~Apple Flavoured~ | ¥1,188 (Tax Included)


Polteageist & Sinistea Tea Party! Fruit Tea Set ~Strawberry Flavoured~ | ¥1,188 (Tax Included)

Pokémon Cafe is serving up two different fruit tea sets based on the Ghost-type Pokémon Polteageist and Sinistea. Customers are free to pour in their desired amount of fruit syrup which changes the colour of the tea. The sets come with a cute cookie too.

Pikachu Sweets by Pokémon Cafe

Left: Polteageist's Tea Party! Fruit Tea ~Mixed Berry Flavour~ / Right: Polteageist's Tea Party! Fruit Tea ~Peach Orange Flavour~ | ¥700 Each (Before Tax)

Pikachu Sweets by Pokémon Cafe is also going to serve up some Polteageist themed fruit teas as well as a selection of desserts like macarons and financier almond cakes which have Pokémon tail and ear designs.

After ordering one of the Polteageist fruit teas, customers can place their cups under the Polteageist tea pot as pictured above and activate the pot to dispense their drink, so it's like Polteageist  really pouring tea for you.

Left: Swirlix Strawberry Macaron | Middle: Pikachu Vanilla Macaron | Right: Galarian Ponyta Pistachio Macaron – ¥500 Each (Before Tax)

Treat yourself to one of the super cute Swirlix, Pikachu, or Ponyta macarons each with designs that tell you instantly which Pokémon they're inspired by.


Polteageist Fruit Tea and & Pikachu Macaron Set

Customers can order a tea and macaron combination set too.

Pikachu Parfaits

Pikachu Glass Parfait Set | ¥1,500 (Before Tax)

An adorable set of Pikachu parfaits, one being caramel banana flavoured and the other chocolate.

Pikachu Tea Party Assortment – Pika Pika Pikavee Set | ¥2,800 (Before Tax)

Another set to share between friends and family, this time with two Pikachu glass desserts as well as Pikachu and Eevee cupcakes.

Pikachu Tea Party Assortment – Ghost Type Set | ¥2,800 (Before Tax)

This set comes with the Pikachu glass desserts as well as Ghost-type Gengar and Litwick mousse cakes.

The Polteageist teapot and Sinistea teacup used at the Pokémon Cafe and Pikachu Sweets by Pokémon Cafe will also be released at Pokémon Center Online in Japan on December 5, 2020.

© 2020 Pokémon.©1995-2020 Nintendo/Creatures Inc./GAME FREAK inc.
Pokémon, ポケットモンスター, and ポケモン are registered trademarks of Nintendo, Creatures Inc., and GAME FREAK inc..

Information

Pokémon Cafe (Nihombashi, Tokyo)
Address: Nihombashi Takashimaya SC East Bldg. 5F, 2-1-2 Nihombashi, Chuo Ward, Tokyo
Business Hours: 10:30-22:00
No Fixed Holidays (Except when Nihombashi Takashimaya SC is closed)
Reservations: https://www.pokemoncenter-online.com/cafe/reservation.html

Pokémon Cafe (Shinsaibashi, Osaka)
Address: Daimaru Shinsaibashi Honkan 9F, 1-7-1 Shinsaibashisuji, Chuo Ward, Osaka, Osaka Prefecture
Business Hours: 10:00-21:30
No Fixed Holidays (Except when Daimaru Shinsaibashi is closed)
Reservations: https://www.pokemoncenter-online.com/cafe/reservation.html

Pikachu Sweets by Pokémon Café 

Address: Sunshine City Alpa Floor 2F, 3-1-2 Higashiikebukuro, Toshima City, Tokyo

Opening Hours: 10:00-20:00
Official Website: https://www.pokemoncenter-online.com/cafe/pikachu_sweets/

*Opening hours subject to change, please check in advance before travelling.

*Food served and duration subject to change without notice.

*Photos are for illustrative purposes only.

*Seat reservations are taken online only – phone reservations not available.