Purple-Coloured Halloween Cat Bread Set Pouncing on Blue Jean Bakery in Osaka
For a limited time only, the Blue Jean cafe and bakery located in Hotel New Hankyu Osaka will sell its new 'Iro Neko Halloween Set' for 7 days from October 25.
Blue Jean has taken its popular cat bread, mixed it with more ingredients to make it even more delicious and made it purple. The set itself comes with the bread and some Halloween merch and goodies.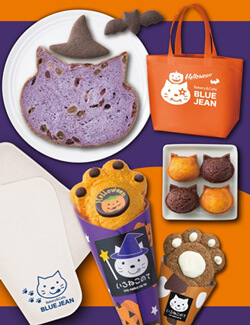 Iro Neko Halloween Set
The bread is grape flavoured and is mixed with dried cranberries and raisins. It comes decorated with bat and witch hat shaped sablé shortbread cookies. The set also includes pumpkin flavoured cat paw and financier baked desserts. It also comes with a cute blanket which will be very useful for the coming cold season.
Information
Iro Neko Halloween Set
Running: October 25, 2018 – October 31, 2018
*30 available per day on weekdays / 60 available per day on weekends
Price: ¥2,200 (Tax Included)
Available: Blue Jean Cafe & Bakery on floor B1F of Hotel New Hankyu Osaka
Selling Time: 8:00-22:00
TEL: 06-6372-5101
RECOMMENDED ENTRIES
Cute Cat Bread Loaf Now Available in Brown Bread Version!

"Blue Jean", a bakery and café located inside Hotel New Hankyu in Osaka, added a new companion to their hugely popular cat bread line on July 1st.

The "Iro Neko Shoku Pan" is a cute bread loaf that comes in the shape of a cat. It costs ¥350 for one bag of 5 slices. The bread is crunchy on the outside and soft on the inside. The product is so popular that people line up early outside the shop nearly 30 minutes before it opens to get their paws on one.

A new friend has joined the clowder. Now you can get the well-cooked brown bread version which if you toast smells absolutely divine. You should definitely try packing in as many ingredients as you can for the ultimate sandwich feast.

How can you pass up the opportunity to get bread like this? If you're around Osaka, be sure to arrive early to Blue Jean to get your fingers into this kawaii cat bread!

■Information

Iro Neko Shoku Pan (Brown)

1 Bag (5 slices) – ¥350

Store: Bakery & Café "Blue Jean", Hotel B1F

Open: 8:00-22:00

Enquiries: 06-6372-5101 (line direct to hotel)

Related Article:A cake shop in Kansai that is popular for its cute cat logo "Chat noir"

Related Article:Become a Cute Kitty Cat with the New Cat & Tail Roomwear from "Felissimo Neko-bu"!

Miffy Sakura Kitchen & Bakery to Open in Arashiyama, Kyoto

The new takeout bakery Miffy Sakura Kitchen will open in Arashiyama, Kyoto on October 3, fusing traditional Japan with Dick Bruna's cute bunny character.

The bakery faces the main street that runs from Togetsu-kyo Bridge through the Arashiyama Bamboo Grove, the most iconic tourist spots of Arashiyama.

Vintage Mugs – ¥1,200 (Pre-Tax)

Lunch Bowls – ¥2,000 (Pre-Tax)

At the bakery you can get your hands on a range of Miffy licensed merchandise as well as a string of exclusive Miffy Sakura Kitchen made in the style of traditional Kyoto pottery and more.

Of course, there's plenty of delicious goodies to get your fingers on too like anpan sweet bread, danish pastries, ice cream, drinks and more, all inspired by Miffy.

Miffy Anpan – ¥260 (Pre-Tax)

The Miffy anpan is shaped like Miffy's face which is filled with sweet adzuki bean paste.

Miffy Fuku Daruma Bread – ¥350 (Pre-Tax)

This cute and round Miffy bread is made in the image of a daruma doll and is filled with rich matcha cream. Limited quantity available.

Carrot Bread – ¥310 (Pre-Tax)

Miffy loves carrots, so this one's dedicated to her. It's made with carrot puree and contains an egg salad.

Miffy Danish Pastry – ¥500 (Pre-Tax)

When you sink your teeth into this crunchy toasted pastry your mouth is filled with the sweet taste of butter. You can order it as French toast or enjoy it as a sandwich.

Miffy Cube (Matcha & White Chocolate) – ¥230 (Pre-Tax)

This cubed shaped bread bears the shop's logo and Miffy on the front. You'll get addicted to the sweet white chocolate and bitter matcha inside!

The bakery itself will also be decorated with all things Miffy, so if you're a fan of the cute bunny yourself you'll definitely want to go and visit.

■Information

Arashiyama Miffy Sakura Kitchen
Address: 20 Sagatenryuji Tsukurimichicho, Ukyo Ward, Kyoto, Kyoto Prefecture

Grand Opening: October 3, 2018

Opening Hours
Miffy Kitchen: 10:00am-6:00pm
Miffy Bakery: 10:00am-6:00pm

Contact
Miffy Kitchen: 075-863-2022
Miffy Bakery: 075-496-4244

Miffy Sakura Kitchen Offiみっふぃー桜きっちん公式サイト:http://www.miffy-sakurakitchen.jp

McDonald's Japan to Release Black & White Chocolate Pies Again This Year

McDonald's Japan will release its two new triangular-shaped black and white chocolate pies again this year on October 26. The pies are made by adding layers upon layers of pie dough to create crunchy three-sided pie. These are filled with gooey chocolate cream that elevates the pie to the next level.

The black chocolate pies at McDonald's boast unshaken popularity. This delicious treat is packed with a melty chocolate cream made with almonds. The level of sweetness is also on point.

The white chocolate pies contains a rich white chocolate cream made with sweet-smelling vanilla beans and almonds.

Ever since the triangular chocolate pies hit McDonald's in Japan in February 2007 they have continued to be gain popularity for over 10 years. Every year people call out "the chocolate pie season is here!" and struggle with which to go for.

This year, they will be served in cute limited edition packaging. If you put both the black and white packages together they will even create a heart shape.

Other flavoured chocolate pies are set to be released this winter too, and there will be a commercial for them featuring Japanese actress Maika Yamamoto.

Which crunchy chocolate pie will you be warming yourself up with this winter?

Information

Black Triangle Chocolate Pie

On Sale: October 26, 2018 – Late February 2019 (subject to change)

White Triangle Chocolate Pie

On Sale: October 26, 2018 – Late November 2018 (subject to change)

Available: At most McDonald's branches across Japan

Price: ¥120

Chocolate Pie TV Commercial – "Am I the only one not eating these?!" (15 Seconds)

Initial Broadcast: October 25, 2018

Product Page: http://www.mcdonalds.co.jp/campaign/sankakuchocopie/
RELATED ENTRIES
Tokyo Disney Resort Reveals Its Spooky Halloween Programme and Character Costumes

Get ready for some spooky fun as Tokyo Disney Resort® transforms for the 52-day-long horrifically exciting Disney Halloween from September 10 to October 31. Head to DisneySea to be captivated by the new harbor show Festival of Mystique, or get spooked out of your skin at the Spooky "Boo!" Parade at Disneyland. Today, we will be revealing the spooky looks of both parks.

Tokyo DisneySea Festival of Mystique Costumes

Working with the main theme of a medieval European halloween, inspiration has been taken from the living creatures and waves at the port town Porto Paradiso. 

Mickey Mouse's costume inspiration comes from the the bones and scaly body of a sea creature. He will also be seen wearing a broach decorated with beautiful jewels. 

Minnie Mouse's costume resembles that of a medieval princess. You will see her in a fancy hat that bears beautiful pearls. Her costume is covered in scales on the chest and on the back which really suits her.

Tokyo Disneyland's Spooky Boo! Parade Costumes

Disney friends have joined forces with a group of spooky spirits. You just can't miss out on this rare chance to see your favourite Disney characters disguised as ghosts and skeletons. The strange and unusual atmosphere is sure to send a chilling shiver down your spine. 

Mickey and Minnie will be completely refreshing their colourful look. Mickey's necktie and Minnie's skirt are very mysterious and particularly intriguing.  Please come check them out!

Enjoy the beautiful costumes and the fun range of events this Halloween at Tokyo Disney Resort.

©️Disney

Tokyo's Pokémon Cafe Unveils Halloween Themed Menu Line-Up

The Pokémon Cafe in Nihonbashi, Tokyo has revealed its Halloween food and drink line-up for the spooky season which will arrive early on September 7 be served until October 31.

The cafe is known for always having a cute selection of meals and beverages inspired by each season. So, what do they have in store for Halloween 2019?

Pikachu's Greedy Halloween Plate 2019 – ¥1,706 (w/ Plate ¥2,894)

This year's Halloween plate features Pikachu wearing a witch's hat. This filling plate features a pumpkin salad, spaghetti and more. Plenty to keep you going until the late-night candy snacking!

Discovering Celebi!? Oak Forest Pesto Pasta – ¥1,706

This adorable and healthy, vegetable-packed Celebi dish includes basil flavoured short pasta and a cute.

Zorua's Halloween Roast Beef Burger – ¥1,706

This hearty burger is packed with a generous serving of roast beef. You'd best not leave a crumb or Zorua might play a trick on you!

When ordering a drink at the cafe you'll receive one of six possible coasters. One of the designs is being kept a secret!

And for the duration of the Halloween event, there's also a limited-edition lunch mat and clear coaster to get your hands on. These are limited in stock so you'll want to catch 'em all quickly! And don't forget, you have to book a table in advance to dine at the Pokémon Cafe.

© 2019 Pokémon.©1995-2019 Nintendo/Creatures Inc./GAME FREAK inc.

Pokémon, ポケットモンスター and ポケモン are registered trademarks of Nintendo, Creatures Inc. and GAME FREAK inc.

Information

Pokémon Cafe
Address: 2-1-2 Nihombashi | Nihombashi Takashimaya SC East Bldg. 5F, Chuo 103-0027, Tokyo Prefecture
Business Hours: 10:30-22:00

Access: 5-minutes on foot from Tokyo Station's Yaesu North Exit via JR Line / 5-minutes on foot from Nihonbashi Station's B2 Exit via Tokyo Metro Ginza Line and Tozai Line / 4-minutes on foot from Nihonbashi Station via Toei Asakusa Line

TEL: 03-6262-3439

Reservations: https://reserve.pokemon-cafe.jp/

Official Website: https://www.pokemoncenter-online.com/cafe/

Cute Halloween Sweets Spook Their Way Into Tokyo's The Capitol Hotel Tokyu

For this year's Halloween season, The Capitol Hotel Tokyu in Tokyo has announced that it will serve up its Halloween Sweets Selection again this year at the hotel's pastry boutique ORIGAMI located on floor B2F. The confectionery chefs have spun some spooky fun into this collection of 10 cute treats.

Frankenstein – ¥1,760 / Phantom – ¥1,760 / Cyclops – ¥1,760

The Phantom is a popular confection every year at the hotel, but this year he's had two new freaky friends carved out for him: Frankenstein's monster and a Cyclops. These white chocolate monsters are filled with chocolate-covered almonds, macadamia nuts and other hidden delights.

Witch Hat – ¥715

Dressed in a milk chocolate mousse is ganache and a rich and bitter crème brûlée made with bitter orange. It also contains a mandarin orange liqueur for deeper flavours. The mix of orange notes is refreshing on the palate.

Cross – ¥715

The orange and black Cross is a mousse cake made from pumpkin puree beneath which lies a cinnamon flavoured crème brûlée and coffee flavoured ganache. The bitter coffee elevates the exquisite sweetness of the pumpkin for a delicious combination.

Evil Eye – ¥715

Enter at your own risk with the grotesque-looking (but delicious tasting) Evil Eye mousse cake. It's made with fragrant biscuit and caramel as well as blonde chocolate from France and inside is a smooth pear jelly.

There are lots of other Halloween treats besides these coming to the hotel too, so if you're in Tokyo this October then be sure to stop by for a Happy Halloween.

*All listed prices include tax

Miffy Sakura Kitchen Opens Second Shop with Bakery in Yufuin

Miffy Sakura Kitchen, Arashiyama, Kyoto will open a forest-themed shop with an adjoined bakery in Yufuin, Oita on October 31, 2019.

As you enter the new shop, you will be immersed in its happy, warm and comforting atmosphere. Miffy Sakura Kitchen is popular for its Japanese-style kitchenware and miscellaneous goods which cannot be found anywhere else in Japan. The shop will also have an adjoining bakery area called Miffy Mori no Bakery, where customers order their favourite treats to take out. This includes the popular anpan bun, which is a bun containing sweet red bean paste. There will also be character-themed baked goods, soft serve ice cream, drinks and much more. 

You can order your delicious baked goods to go so you can explore the beautiful area of Yufuin, or you can choose to eat inside the bakery's beautiful and photogenic eating area. 

Miffy's good pal Boris will also be making an appearance at the brand new shop. His design will decorate some of the Miffy Sakura Kitchen-limited kitchenware and even some of the baked goods in the bakery. 

Information

Yufuin Miffy Mori no Kitchen/ Miffy Mori no Bakery

Address: 1503-8 Kawakami, Yufuin-cho, Yufu-shi, Oita

Opening Hours: 9:30 ー17:30 (subject to change)

Open all year round/

Grand opening: October 10, 2019

Miffy Sakura Kitchen Official Website: http://www.miffy-sakurakitchen.jp

Gundam Artist Yuji Kaida Exhibition Announced For Osaka Umeda LOFT

To celebrate 40 years of Yuji Kaida's illustration artwork for the Gundam series, an exhibition entitled Yuji Kaida Gundam Gallery will take place on the fifth floor LOFT Forum of Umeda LOFT in Osaka from August 23 to September 8.

Yuji Kaida is known for his longtime work on box art for Gunpla model kits. The exhibition will feature a gorgeous collection of his iconic Gundam artwork, covering traditional art from Mobile Suit Gundam to Mobile Suit Gundam Wing to digital art in Mobile Suit Gundam: Iron-Blooded Orphans.

Over 70 pieces illustrated by Kaida will be displayed, each categorised into one of four themes. Many of these will include artworks being shown to the public for the first time such as the Gwazine-class battleship.

There will also be enormous towers of piled-up Gunpla boxes, a showcasing titled "Maiking of Hi-νGUNDAM" the process of digital art, and more.

The exhibition is an absolute must-visit for all fans of the Gundam franchise.

©Sotsu Co., Ltd.・Sunrise Inc.

Information

Yuji Kaida Gundam Gallery
Running: August 23, 2019 – September 8, 2019

Time: 11:00-21:00 (Until 18:00 on September 8) *Last entries 30-minutes before closing time
Location: LOFT Forum, Umeda LOFT Floor 5F, 16-7-5 Chayamachi, Kita Ward, Osaka
Entry Price: Adult ¥500 (Includes novelty gift) / High School Children & Below ¥400 (Includes novelty gift) / Elementary School Children & Below – Free
Official Website: https://art.parco.jp/

Popular Tokyo Café Bakery BREAD, ESPRESSO & to Open in Fukuoka

Bakery café BREAD, ESPRESSO &  has made quite a reputation in Omotesando, Tokyo for its stylish interior and delicious coffee and bread. The bakery café is now opening a new branch in Fukuoka called BREAD, ESPRESSO & HAKATA & on September 25th, 2019.

To commemorate 10 years in business, BREAD, ESPRESSO & will be opening their first ever branch in Hakata, Kyushu. The café bakery will be nestled between Hakata Station and CANAL CITY HAKATA. Whether you are a busy commuter looking for a heartwarming cup of coffee or a traveling tourist, the location is ideal for anyone looking for a quick rest stop. 

The new café bakery is approximately 165 m² in size, making it the largest branch. The shop is decorated with a pure white base theme and has the perfect comfortable environment to enjoy a coffee. 

Mu: ¥330 (after tax)

French Toast: ¥750 (after tax)

BREAD, ESPRESSO &'s popular Mu and French Toast will be on the menu along with Hakata-limited goods. If you are searching for some delicious bread in Hakata, please make your way to BREAD, ESPRESSO &.

Information

BREAD, ESPRESSO & HAKATA & (パンとエスプレッソと博多と)

Address: 101, 2-8-12, Hakata Ekimae, Hakata Ward, Fukuoka 

Opening Hours: 8:00 ー 20:00

No regular holidays. 

TEL:092-292-1190

Website: http://www.bread-espresso.jp/

Sebastian Masuda And Other Phenomenal Artists Create Outstanding Doraemon Exhibition

28 artist groups and individuals have created artistic pieces to represent Japan's favourite animated character Doraemon. From July 12 to September 23, 2019, you can see these magnificent creations at the Doraemon Exhibition Osaka 2019 which will take place at Osaka Culturarium at Tempozan.

The Doraemon Exhibition Osaka 2019 features a range of artists who exhibit their works in Japan and even in foreign countries. This is a fantastic chance to meet a range of new Doraemon that the world has never seen. This event covers a range of genres through modern art that is overflowing with creativity and dedication for the anime character that has grasped the nation. 

On July 11, the day before the opening of the exhibition, there was a special opening ceremony and private viewing event held exclusively for staff and the press, which was a massive success. 

Press releases of the event reveal that artists Yasumasa Morimura and Sebastian Masuda were present at the ceremony for photos and greetings. 

Yasumasa Morimura commented with deep emotion: "I am so happy to have finally taken part in the Doraemon Exhibition. For this creation, I used lots of paper to make the costumes. I collaborated with Junko Koike, collecting lots of Doraemon manga as raw materials for the dress. As Doraemon has the power to manipulate time and space, and has the ability to create a door that leads to anywhere he desires, I thought a grey dress would be appropriate. In fact, the entire exhibition venue is just like the inside of Doraemon's pocket ー it is packed with the work of 28 solo artists and groups. What a fun experience it is. I hope that many people in the Kansai region come see this," he explained.

Sebastian Masuda commented: "I'm actually the same age as Doraemon and I share the same birthday as Noby; the main character from the series. I was born with a love for Doraemon."

He then commented on his art piece: "I actually wanted to make it as big as the Budha statue at Todaiji Temple in Nara, but we wouldn't be able to fit it in the venue so I made it two metres tall instead", he laughed. "I collected materials from markets from all around the world, so the final piece is literally made up of the colours of the world," he continued. 

His message to the people of Osaka is: "I would love it if lots of children came to see this. It would really make my day to hear reactions from them like "whoa, it's huge" or "that's so cool!""

Please come stop by to visit your favourite Doraemon!

Information

The Doraemon Exhibition Osaka 2019

Running: July 12, 2019  ー September 23, 2019 (74 days) 

※ No closed days.

Venue:  Osaka Culturarium at Tempozan (next to the Osaka Aquarium Kaiyukan) 

Address: 1-5-10, Kaigandori, Minato Ward, Osaka

Open: 10:00 ー 17:00 ※ Last entries: 30 mins before closing time 

Entry prices

General:¥1,500

Middle/High School: ¥1,200

4 y/o ー Elementary School: ¥800

Enquiries: (Hello Dial)  TEL: 050-5542-8600 (8:00 ー 22:00, no holidays)

Toy Story 4 Themed Cafe Opens in Tokyo, Osaka, Sapporo& Nagoya

Did you catch Toy Story 4 at the cinema yet? If you're in Japan this summer then you won't want to miss the official Toy Story 4-themed cafes opening in Tokyo, Osaka and Nagoya on July 20 and in Hokkaido on July 21 for a limited time.

The film was released just last month but is only set to hit Japanese theatres on July 12. It serves as the fourth and final film in the Toy Story series, wrapping up the story that first warmed the hearts of the public when the first movie dropped back in 1995.

The cafe will be a toy box of fun for all fans of the films, featuring a Toy Story inspired menu and decorations laced with trivia.

It costs ¥500 (before tax) per person to book a seat at the cafe. Customers who order from the menu will receive one of 13 possible stickers pictured above in the style of theatre tickets.

Everyone who enters the cafe will also receive one of these 13 possible entry bands.

<Woody & Bo Peep> Fateful Reunion Plate (¥1,890)

Fans of Woody and Bo Peep should look at ordering the Fateful Reunion Plate, a chicken sandwich and vichyssoise set based on both characters' outfits. Find the sheep hidden amongst the dish!

<Duke Caboom> High in the Sky! Stunt Burger (¥1,890)

Duke Caboom's chicken burger is served with mint sauce and a heap of assorted vegetables. Fly high in the sky with the dish's delicious combination of flavours.

<Buzz, Ducky & Bunny> Night Carnival Pasta (¥1,790)

This meat pasta dish is topped with colourful vegetables. Keep the fun going at the moving carnival at night!

<Gabby Gabby & The Bensons> Afternoon Tea Set (¥1,790)

Paying tribute to Gabby Gabby and the dummies, the afternoon tea set comes with a tuna sandwich and a fruit and yogurt sandwich. To drink you can enjoy a decaff Earl Grey tea.

<Jessie> Pomegranate Water (¥890 or w/coaster ¥1,790)

Feel refreshed with Jessie's satisfyingly sour pomegranate water.

<Slinky> Orange Yogurt Smoothie (¥890 or w/coaster ¥1,790)

Or order Slinky's orange flavoured yogurt smoothie with kiwi sauce.

Ordering from the food menu will also get each person a specially-made paper apron.

There are lots of other items on the menu to look forward to as well. And don't miss out on the range of exclusive merchandise they have either.

Acrylic Key Ring (13 Designs): ¥500 Each

A5 Folder (10 Designs): ¥350 Each

Mini Duralex Glass (5 Designs): ¥800 Each

The Toy Story hype doesn't seem to show any signs of stopping just yet. Be sure to visit the official Toy Story 4 cafe in Japan.

©Disney/Pixar

© POOF-Slinky, LLC

*All prices include tax. Photos are for illustrative purposes only and so designs are subject to change.

Information

Toy Story 4 OH MY CAFÉ

Locations/Dates

Tokyo: OH MY CAFÉ TOKYO (Tokyu Plaza Omotesando Harajuku) / July 20 – September 16, 2019

Osaka: kawara CAFE&DINING Shinsaibashi / July 20 – September 16, 2019

Nagoya: kawara CAFE&KITCHEN Nagoya PARCO / July 20 – August 25, 2019

Hokkaido: Interlude Cafe / July 21 – September 16, 2019

Toy Story OH MY CAFE Official Website: https://toy.ohmycafe.jp/

Toy Story Official Website: https://toystory.disney.com/

Play Hide And Seek at After Hours Spooky Japanese Theme Park in Osaka

Hirakata Park in Osaka is set to host its scary nighttime horror event "Hide And Seek at Hiraka Park" again this year from August 26 to September 1. Tickets are now on sale via Lawson Tickets. The event is being held in collaboration with MBS, Yami and ICT of NTT West.

The park will take a turn for the worse as soon as evening settles and night envelops the sky, bringing a spooky shift to the usual mirthful atmosphere during the day. Something terrible will lurk in the dark after the park closes.

Participants of this event will need to use their electronic devices, such as a tablet or smartphone, to help them reach the goal within an hour while keeping hidden from any spirits that may be lying in wait in the shadows. We also recommend taking a spare pair of pants.

But that's not all, as guests at the park can now get involved in another frightening experience using VR technology. This VR game, which is called "The Vengeful Sleep Paralysis Ghost's Mansion," was introduced to the park on July 6 and is available for a limited time only.

If you're down for some hair-raising spooks but can't wait until Halloween, then you know where you need to go this summer.

Information

Hirakata Park x NTT West: "Theme Park Hide and Seek"
Location: The whole of Hirakata Park
*The meeting point is at the park's East Gate
Running: August 26, 2019 – September 1, 2019 & September 7, 2019 – September 8, 2019
Time Slots: ①19:00 / ②19:20 / ③19:40 / ④20:00 / ⑤20:20
*Participants are allocated an hour for each slot
*You must be at the East Game meeting point 5 minutes before your chosen slot

Price: Group Ticket (Up to 4 People)  – ¥14,000 (*comes with free bonus

Tickets: Lawson Ticket (L-Code: 55500)
*Where tickets are available on the day, they will only be sold up until 20:00 that day at Lawson and MINISTOP convenience stores. Please use the Loppi ticket machines in the stores and search for the tickets using the L-Code "55500."
Ticket Enquiries: Lawson Ticket – 0570-000-777 (10:00-20:00)

Homepage: https://www.mbs.jp/obake/

Ojamajo Doremi Anime Themed Cafe to Open in Tokyo & Osaka

To celebrate the 20th anniversary of TV anime series Ojamajo Doremi, two themed cafes named Ojamajo Doremi Cafe&Kitchen will open in Tokyo and Osaka from July 12 and August 29 respectively.

Ojamajo Doremi is an original magical girl created by Toei Animation that ran from February 1999 to January 2003. The series was a huge hit with young girls in Japan when it was released, sending them into a magical daze and further spreading the love for magical girl series. The Cafe&Kitchen is aimed at today's young girls and the girls from back then who have now turned into women. The cafe promises to be kawaii through and through.

Doremi's Adoration! Steak Sandwich Plate: ¥1,490と

Steak is Doremi's favourite so there was no way the cafe was going to leave it off the menu. This steak sandwich is served in a baguette and is served with cheese sauce to make the steak even more delicious.と

Momoko's New York Memories… Meat Ball Pasta Salad: ¥1,290

This dish is inspired by Momoko's memories of how New York tasted back when she lived there as a young girl. The salad pasta bowl is colourful and filled to the brim, representing Momoko's overflowing energy and liveliness. Pour the saffron flavoured cream cheese over to make it look and taste even more American.

Ojamajo Doremi's 20th Birthday Cake: ¥1,190

The Cafe&Kitchen is a celebration of the series's 20th anniversary, so they whipped up a birthday cake fitting for a magical girl. It's a combination of roll cake and sponge cake so you're sure to never tire of the flavour. Help celebrate Doremi's 20th by tucking into this whipped cream covered birthday cake!

Magical Girl Apprentice's Rainbow Pancakes: ¥1,190

Based on the iconic colours of the magical girls, this stack of cute pancakes are shaped like hearts. Scoop up the anglaise sauce and eat together with the pancakes for an even sweeter flavour.

Onpu's Purple Tapioca Milk: ¥790

The famous idol Onpu gets her very own brown sugar bubble tea with tapioca pearls. Served in her image colour, the drink is whipped with whipped cream and showered with rainbow sprinkles♡

Aiko's Blue Lemonade Float: ¥890

You're sure to cool yourself down in the summer heat with Aiko's blue lemonade topped with deliciously refreshing ice cream, lime and mint.

Acrylic Key Ring (6 Designs): ¥600

Clear Pouch (1 Design): ¥1,500

With art director by popular creators Etoile et Griotte, who are popular with lovers of kawaii things, the Cafe&Kitchen will also sell a selection of cute and exclusive merchandise.

Customers who book a table in advance (¥500 per person, excluding tax) and order from the menu will receive one of the six above-pictured original clear stickers chosen randomly.

Those who dine at the cafe will also receive one of these two possible original lunch mats.

Finally, customers who order a drink will receive one of six possible character coasters.

Visit the Ojamajo Doremi Cafe&Kitchen this summer to celebrate 20 years since the series first aired.

*All prices listed are pre-tax prices. Photos are for illustrative purposes only

©Toei Animation

Information

Ojamajo Doremi Cafe&Kitchen

Tokyo

Location: Gourmet Stadium II, Dining Park Ikebukuro, Seibu Ikebukuro Floor 8F

Address: 1-28-1 Minami-Ikebukuro, Toshima Ward, Tokyo

Running: July 12, 2019 – August 31, 2019

Osaka

Location: Abeno contact

Address: Abeno Q's Mall Floor 4F, 1-6-1 Abenosuji, Abeno Ward, Osaka

Running: August 29, 2019 – September 29, 2019

Booking Price: ¥500 (Comes with booking present, up to 4 people per booking)

Cafe Website: https://ojamajodoremi-cafe-and-kitchen.jp

Attack on Titan Exhibition FINAL Will Take Place at Hirakata Park in Osaka

It has been announced that Attack on Titan Exhibition FINAL will be on exhibit at Hirakata Park in Osaka from September 21 to December 1.

It was announced earlier this month that the exhibition is also to take place at the MORI Arts Center Gallery on the 52nd floor of Roppongi Hills MORI Tower from July 5 to September 8. The exhibition serves to plunge fans into the world of Attack on Titan in a number of different ways, from art displays to diorama reconstructions of the world and more.

Advance tickets for the Hirakata Park event will be released on July 1.

Information

Attack on Titan Exhibition FINAL (Osaka)

Location: Hirakata Park, Event Hall 1 (Hirakatakōenchō, Hirakata, Osaka)

Running: September 21 – December 1, 2019 (2 Periods: September 21 – October 27 / October 28 – December 1)

*The exhibited content will be different for both periods

Closed: Wednesdays

Opening Hours: 10-:00-18:00 (Last Entries 17:00)

Attack on Titan Exhibition FINAL Website: http://www.kyojinten.jp

Try Some Irresistibly Fluffy Flavoured Bread Made With the Finest Ingredients

Delicious Bakery Ippondo has opened up shop at 118 locations across Japan. To celebrate summer, Ippondo is currently selling different varieties of "Shokupan". Shokupan is a fluffy rectangular block of bread that the Japanese just cannot get enough of. This year, Ippondo has released two flavours of Shokupan, namely Hoji tea and Hokkaido Milk. They are also bringing back their Salt Shokupan and Ice Cream Shokupan that are usually released as summer-limited items and are a popular pick every time.

Hoji tea Shokupan: ¥340 (after tax)

In Uji, Kyoto, Japan-sourced wheat and specially selected tea leaves and stems are infrared-roasted and then used to make the Hoji tea for this bread. The bead is baked to perfection, leaving a mix of sweetness and faint bitterness as well as a beautiful aroma that will fill your mouth. It contains no caffeine, so even small children can enjoy this bread without any need for concern.  

Hokkaido Milk Shokupan: ¥320 (after tax) 

Ippondo will release their Hokkaido Milk Shokupan at the same time. This bread is made with 100% Hokkaido milk and no water. This is then combined with Hokkaido condensed milk for a deliciously mild, milky flavour and soft texture. This bread comes in a small size so that you can easily finish it off.

Salt Shokupan: ¥390 (after tax)

The Salt Shokupan is made using wheat sourced from within Japan and generous amount of luxurious calpis butter. This high-quality bread has a mild flavour and a crispy and light texture. You can enjoy it as it is, or toast it to really bring out the flavour of the salt.

Ice Cream Shokupan: ¥390 (after tax)

The Ice Cream Shokupan is made using generous amounts of pure and fresh calpis whipping cream, which does not harden even when cooled and melts in your mouth. To make a delicious sandwich, you could use ham or cheese, vegetables, and other cold ingredients for the perfect flavour combination.

In Japan, everyone looks forward to a slice of their favourite fluffy Shokupan to start off the day. This bakery is committed to making delicious bread that is both safe and made from high quality ingredients that are prepared with lots of care.

You just have to take a bite of Ippondo's freshly-made and delicious Shokupan!