Purple-Coloured Halloween Cat Bread Set Pouncing on Blue Jean Bakery in Osaka
For a limited time only, the Blue Jean cafe and bakery located in Hotel New Hankyu Osaka will sell its new 'Iro Neko Halloween Set' for 7 days from October 25.
Blue Jean has taken its popular cat bread, mixed it with more ingredients to make it even more delicious and made it purple. The set itself comes with the bread and some Halloween merch and goodies.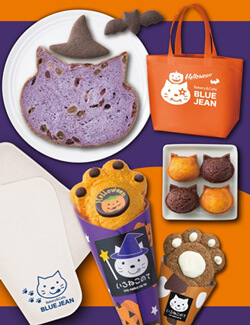 Iro Neko Halloween Set
The bread is grape flavoured and is mixed with dried cranberries and raisins. It comes decorated with bat and witch hat shaped sablé shortbread cookies. The set also includes pumpkin flavoured cat paw and financier baked desserts. It also comes with a cute blanket which will be very useful for the coming cold season.
Information
Iro Neko Halloween Set
Running: October 25, 2018 – October 31, 2018
*30 available per day on weekdays / 60 available per day on weekends
Price: ¥2,200 (Tax Included)
Available: Blue Jean Cafe & Bakery on floor B1F of Hotel New Hankyu Osaka
Selling Time: 8:00-22:00
TEL: 06-6372-5101
RECOMMENDED ENTRIES
Cute Cat Bread Loaf Now Available in Brown Bread Version!

"Blue Jean", a bakery and café located inside Hotel New Hankyu in Osaka, added a new companion to their hugely popular cat bread line on July 1st.

The "Iro Neko Shoku Pan" is a cute bread loaf that comes in the shape of a cat. It costs ¥350 for one bag of 5 slices. The bread is crunchy on the outside and soft on the inside. The product is so popular that people line up early outside the shop nearly 30 minutes before it opens to get their paws on one.

A new friend has joined the clowder. Now you can get the well-cooked brown bread version which if you toast smells absolutely divine. You should definitely try packing in as many ingredients as you can for the ultimate sandwich feast.

How can you pass up the opportunity to get bread like this? If you're around Osaka, be sure to arrive early to Blue Jean to get your fingers into this kawaii cat bread!

■Information

Iro Neko Shoku Pan (Brown)

1 Bag (5 slices) – ¥350

Store: Bakery & Café "Blue Jean", Hotel B1F

Open: 8:00-22:00

Enquiries: 06-6372-5101 (line direct to hotel)

Related Article:A cake shop in Kansai that is popular for its cute cat logo "Chat noir"

Related Article:Become a Cute Kitty Cat with the New Cat & Tail Roomwear from "Felissimo Neko-bu"!

Miffy Sakura Kitchen & Bakery to Open in Arashiyama, Kyoto

The new takeout bakery Miffy Sakura Kitchen will open in Arashiyama, Kyoto on October 3, fusing traditional Japan with Dick Bruna's cute bunny character.

The bakery faces the main street that runs from Togetsu-kyo Bridge through the Arashiyama Bamboo Grove, the most iconic tourist spots of Arashiyama.

Vintage Mugs – ¥1,200 (Pre-Tax)

Lunch Bowls – ¥2,000 (Pre-Tax)

At the bakery you can get your hands on a range of Miffy licensed merchandise as well as a string of exclusive Miffy Sakura Kitchen made in the style of traditional Kyoto pottery and more.

Of course, there's plenty of delicious goodies to get your fingers on too like anpan sweet bread, danish pastries, ice cream, drinks and more, all inspired by Miffy.

Miffy Anpan – ¥260 (Pre-Tax)

The Miffy anpan is shaped like Miffy's face which is filled with sweet adzuki bean paste.

Miffy Fuku Daruma Bread – ¥350 (Pre-Tax)

This cute and round Miffy bread is made in the image of a daruma doll and is filled with rich matcha cream. Limited quantity available.

Carrot Bread – ¥310 (Pre-Tax)

Miffy loves carrots, so this one's dedicated to her. It's made with carrot puree and contains an egg salad.

Miffy Danish Pastry – ¥500 (Pre-Tax)

When you sink your teeth into this crunchy toasted pastry your mouth is filled with the sweet taste of butter. You can order it as French toast or enjoy it as a sandwich.

Miffy Cube (Matcha & White Chocolate) – ¥230 (Pre-Tax)

This cubed shaped bread bears the shop's logo and Miffy on the front. You'll get addicted to the sweet white chocolate and bitter matcha inside!

The bakery itself will also be decorated with all things Miffy, so if you're a fan of the cute bunny yourself you'll definitely want to go and visit.

■Information

Arashiyama Miffy Sakura Kitchen
Address: 20 Sagatenryuji Tsukurimichicho, Ukyo Ward, Kyoto, Kyoto Prefecture

Grand Opening: October 3, 2018

Opening Hours
Miffy Kitchen: 10:00am-6:00pm
Miffy Bakery: 10:00am-6:00pm

Contact
Miffy Kitchen: 075-863-2022
Miffy Bakery: 075-496-4244

Miffy Sakura Kitchen Offiみっふぃー桜きっちん公式サイト:http://www.miffy-sakurakitchen.jp

McDonald's Japan to Release Black & White Chocolate Pies Again This Year

McDonald's Japan will release its two new triangular-shaped black and white chocolate pies again this year on October 26. The pies are made by adding layers upon layers of pie dough to create crunchy three-sided pie. These are filled with gooey chocolate cream that elevates the pie to the next level.

The black chocolate pies at McDonald's boast unshaken popularity. This delicious treat is packed with a melty chocolate cream made with almonds. The level of sweetness is also on point.

The white chocolate pies contains a rich white chocolate cream made with sweet-smelling vanilla beans and almonds.

Ever since the triangular chocolate pies hit McDonald's in Japan in February 2007 they have continued to be gain popularity for over 10 years. Every year people call out "the chocolate pie season is here!" and struggle with which to go for.

This year, they will be served in cute limited edition packaging. If you put both the black and white packages together they will even create a heart shape.

Other flavoured chocolate pies are set to be released this winter too, and there will be a commercial for them featuring Japanese actress Maika Yamamoto.

Which crunchy chocolate pie will you be warming yourself up with this winter?

Information

Black Triangle Chocolate Pie

On Sale: October 26, 2018 – Late February 2019 (subject to change)

White Triangle Chocolate Pie

On Sale: October 26, 2018 – Late November 2018 (subject to change)

Available: At most McDonald's branches across Japan

Price: ¥120

Chocolate Pie TV Commercial – "Am I the only one not eating these?!" (15 Seconds)

Initial Broadcast: October 25, 2018

Product Page: http://www.mcdonalds.co.jp/campaign/sankakuchocopie/
RELATED ENTRIES
NAKED to Open DANDELION PROJECT for Peace in Umeda, Osaka

NAKED and Ryotaro Muramatsu's interactive art installation, the DANDELION PROJECT, is coming to Umeda, Osaka. The project aims to connect people around the world, stressing the importance of world peace. Those wanting to participate may do so from October 7 until October 9 at Umekita Sotoniwa Square. 

In July 2020, Umekita Sotoniwa SQUARE opened under a unique premise–it would be open for 1,000 days only. The outdoor area was inspired by cities of the future, featuring plenty of green space. The DANDELION PROJECT fits in perfectly with this concept, using modern technology and networking to create art that also serves as a universal prayer for peace. This is the second time the work has been exhibited in Osaka–it was shown in Nakanoshima during the Osaka Hikari no Renaissance 2021 event last December.

 

The DANDELION PROJECT is inspired by the idea of world peace and hopes to help transcend barriers and connect people in an increasingly divided world. So far, it has appeared in 25 locations–19 in Japan and six abroad. In Japan, it has popped up at Tokyo Tower, Nijo Castle, and other historical sites. Abroad, it has been shown in Paris, Singapore, San Francisco, and Shanghai. The piece aims to bring about change by planting (or installing) dandelion-inspired art around the world, while it invites people visiting these dandelion exhibits to send their prayers for peace as a digital flower in real-time. 

 

The exhibition will also be a satellite venue for NAKED GARDEN ONE KYOTO, a next-gen art project allowing guests to experience Kyoto virtually from September 15 until December 25, 2022.

Information

NAKED – DANDELION

Running: October 7 – October 9, 2022

Venue: Umekita Sotoniwa Square
*Open daily during event period
Hours: 18:00-21:00
Entry: Free
Official Site: https://sotoniwa-uk.com/ 

Abeno Q's Mall Announces Collaboration with Street Fighter II Starting October 1

Street Fighter II will collaborate with a commercial facility for the first time in history! The beloved fighting game will take over Abeno Q's Mall in Osaka from October 1 until October 31, 2022. Popular characters from the game will appear all over the premises, and visitors will be able to take part in unique games to win exclusive prizes. 

There are also a number of interesting challenges that will pop up around Abeno Q's Mall. At the entrance, visitors will be greeted by Ryu and Ken, the main characters from Street Fighter II, as they unleash their Hadouken. Guests will be able to take pictures with Ryu with a special AR Photo Spot, and characters and stages from the title will appear around the mall. A participatory game event, Street Fighter Challenge, will be available for customers spending ¥3,000 or more (including tax). These customers will actually be able to test their Street Fighter skills, with winners winning a ¥500 yen mall gift card if they are victorious. Fans of the fighting game won't want to miss this unique event!

© CAPCOM CO., LTD. ALL RIGHTS RESERVED.

Information

Abeno Q's Mall/Street Fighter II Collaboration
Running: October 1 – October 31, 2022
Address: 1-6-1 Abenosuji, Abeno-ku, Osaka
Official Site: https://qs-mall.jp/abeno

Special 'Roots of Kawaii' Exhibition Marking Rune Naito's 90th Birthday to Open in October

A special exhibition commemorating the 90th birthday of Rune Naito will be held at the Hanshin department store in Osaka from October 19 until October 31. Titled 'Roots of Kawaii,' the event will look back at the life of the esteemed artist, illustrator, writer, and designer. Known for his illustrations of large-headed baby-faced girls, he first became interested in art after discovering the works of Jun'ichi Nakahara, joining Nakahara's company after graduating high school. In 1959, Naito got his big break, designing the cover of the girls' magazine Junior Soleil. Following this, Naito would become active as an illustrator for a number of magazines, and from the 1960s on, he began other activities, even producing a line of commercial goods from glassware to stickers. 

The exhibition's theme is 'Life's fantastic dreams,' and over 300 items will be on display, including rare original drawings, goods, personal sketches, and more. The event will be held in celebration of Rune Naito's birthday on November 20, and will also feature a special shop. Admission is ¥1,000 for adults, ¥700 for high school and college students, and free for junior high school students and younger. Discounts are available by preordering tickets. For details and tickets, check out the official website.

Information

Rune Naito's 90th Birthday Exhibition

Running: October 19 – October 31, 2022
Venue: Hanshin Department Store, Umeda Main Store 8F
(1-13-13 Umeda, Kita-ku, Osaka)

Details/Tickets: https://www.naitou-rune.jp

NAKED's Halloween Event Coming to Tokyo Tower for a Limited Time

Digital art collective NAKED will hold a special Halloween projection mapping show at Tokyo Tower! The Tokyo Tower City Light Fantasia ~Halloween Party 2022~ event will run from September 16 until October 31 on the 2nd floor of the tower's main deck. 

NAKED has collaborated with Tokyo Tower in the past to create shows inspired by the seasons. These incredible illuminations captivate audiences at night, and this fall, visitors will be captivated by autumn leaves dancing in the breeze along with silvergrass swaying and the sound of chirping insects. The scene will eventually change into something more spooky–a ghost will appear alongside witches, bats, and pumpkins! The main deck will be enveloped in Halloween colors perfect for a fall photoshoot!

Information

TOKYO TOWER CITY LIGHT FANTASIA ~Halloween Party 2022~

Venue: Tokyo Tower Main Deck (150m), 2F North Side Floor
Running: September 16 – October 31, 2022
Hours:
September 16 – September 30 / 18:00-Close
October 1 – October 31 / 17:30-Close
Entry: Guests can enjoy the main deck for only the price of entry to the observation deck.

Sebastian Masuda to Unveil Hands-On Live Performance Work

From September 30 until October 2, 2022, artist Sebastian Masuda will present a hands-on live performance work titled Polychromatic Skin – Minitsukeru, nugisuteru at kagoo in Kitakagaya, Osaka. 

Masuda, who currently resides in New York, is returning to Japan temporarily to prevent this colorful and experimental participatory live performance, inspired by the street style of the 90s. The title of the artwork is pulled from the artist's intention to break through and liberate people's unconscious stereotypes that stand in the way of gender freedom. This work is the second in a series following Polychromatic Skin -Gender Tower- and Polychromatic Skin -Gender Wall- to be exhibited at Roppongi Art Night 2022.

The theme of this art piece is 'wearing something by taking it off.' Audience members will participate in the live performance by wearing masks, tops, and bottoms based on the idea of androgyny, or the body of a human before it is divided into male or female. 

Upon entering the art space, guests will be surrounded by live music consisting of drums and violins and visuals, while being invited to act accordingly to create their own art. Each session lasts 60 minutes, and participation in the live performance must be reserved in advance. Tickets to view the works without participating in the performance will be sold at the venue on the day of the event.

The performance will take place at kagoo, a former warehouse space in Kitakagaya, an artistic area of Osaka. A free area at the entrance will feature a pop-up store filled with Sebastian Masuda's art, along with items from 6%DOKIDOKI, a popular Harajuku apparel brand celebrating its 27th anniversary in 2022.

<Comment from Sebastian Masuda>

"In Brooklyn, New York in 2018, I wandered off to go to the restroom at a club. The male and female signs on the restroom doors had been smashed together, and the sign only said 'non-gender.' Bewildered by the unexpected instructions, I opened the door with the usual color and found a completely different sight than I was expecting. Shocked to realize that there were stereotypes hiding unconsciously within me, I returned to the club floor to find the space is as fun as ever. Since then, I've wondered if there is a way to break the stereotypes I have. I can't stop thinking about it. 

Is breaking down the walls the only shortcut?
The right answer is inside all of us.
Sometimes, to see the truth, you just need to put something on.
Cast off the self by taking it off."

Sanrio Puroland Begins Autumn's Puro Halloween Event

From September 9 until November 1, Sanrio Puroland is celebrating the spookiest season of the year with the Puro Halloween event. On the first day of the event, guests immediately showed up to enjoy the new additions to the park, including the light show, Halloween photo spot, and an exclusive food menu filled with autumn flavors. 

The theme of this year's event is the popular Halloween phrase "Trick or Treat!" Popular Sanrio characters are all dressed up in spooky costumes, with each joining Team Trick or Team Treat!

First Set of Seasonal Goods (Costume ver.)

Light Show

 

At Puro Village, guests can see the incredible Trick or Treat light show, perfect for getting into the Halloween mood!

Fairyland Theater will present the new 'Let's Trick or Treat' stage show as well, with Hello Kitty and Dear Daniel dressed in new costumes as they dance and play games with each other.

Special Greeting

'Vampire Butler Cafe ~Broken Rules~' Immersive Horror Experience


Along with these new shows, those looking for a fright can visit the Vampire Butler Cafe, Puroland's first immersive horror show featuring handsome actors dressed as vampires. This will only be open after Puroland closes, and only on select dates. Younger children can also enjoy a special candy-catching event sure to excite!



Starting October 1, a Halloween version of the Mewkledreamy March stage show will wow audiences. Everyone's favorite characters Mew, Peko, and Su will appear in new costumes, so don't miss it!

Limited Time Food Menu

Limited Time Photo Spot


In the Rainbow Hall on the third floor, guests can take pictures a bright orange and purple photo spot. In the Character Food Court on the first floor, new menu items are available, served on decorated tables. The limited food menu offers everything from Meatball Curry to a Luxurious Sweet Potato Parfait. If you like autumn treats, be sure to enjoy while taking some pictures to post on social media!

Come enjoy the Halloween season with your favorite Sanrio characters, and don't forget to say "Trick or Treat!" 

© 2022 SANRIO CO., LTD. TOKYO, JAPAN MMP,TX 著作 株式会社サンリオ

Miffy's Collaboration Cheesecake Appears at Osaka-Umeda Station

From September 22 until October 3, fans of Miffy will want to head to Hankyu Osaka-Umeda Station! Some tasty collaboration sweets will be available at the station, including some scrumptious cheesecake.

As part of the ongoing collaboration between Miffy and the Hankyu Railway, a new Cheesecake Bar will be available at the Dick Bruna TABLE POP-UP SHOP at Osaka-Umeda Station, which will be open for a limited time. This is a dream collaboration between the very popular Miffy Cheesecake Bar at Dick Bruna TABLE Kobe, a wine bar and cafe where fans can enjoy wine and food along with Dick Bruna's world-famous illustrations, and the maroon color of the Hankyu Railway. Rich cheesecake and blackcurrant will be sold in sets of two, and sweets lovers won't want to miss it.

How could you not want to try these tasty Miffy goods?

Yokohama Royal Park Hotel to Hold Halloween Sweets Fair in October

From October 1 until October 31, Yokohama Royal Park Hotel will hold a special Halloween Fair at its delicatessen and lounge Coffret. In addition to six playful sweets from the Halloween Frankenstein to the Halloween Mummy, two types of autumn bread featuring pumpkin and purple sweet potato will be available, allowing guests to enjoy the taste of the season!


Halloween Frankenstein

Halloween Cat

Halloween Mont Blanc

Halloween Mummy

Halloween Pudding

Halloween Pound Cake

Pumpkin Cream Fondue / Halloween Anpan

  

Come enjoy this Halloween with some cute and silly sweets!

Information

Halloween Fair

Running: October 1 – October 31, 2022
Venue: Coffret Delicatessen and Lounge, 1F
Hours: Lounge 10:00-20:00 (*Cakes served starting at 11:00) /
Delicatessen 11:00-20:00
Reservations: 045-221-1111 (Representatives available 11:00-20:00)

Q-pot CAFE to Offer Cute Halloween Sweets to Celebrate 10th Anniversary

Q-pot CAFE in Omotesando will be offering up some Halloween treats to celebrate the location's 10th anniversary! Guests will be able to sample these special sweets from September 3 until October 31, 2022.

Happy Halloween! Afternoon Tea Set

The festive Happy Halloween afternoon tea features pink Jack-o'-lantern macarons and other Halloween-inspired sweets.

Fluffy Floating Ghost Plate (Drink Included)

The adorable ghost is made from fluffy milk mousse covered with gyuhi, a typical ingredient in Japanese sweets made from rice flour. Inside is blackcurrant and redcurrant jelly with an incredibly sweet and sour flavor.

Black Devil Tea Mocha

Featuring large devil wings, this tasty and eye-catching beverage is a mix of black tea, chocolate, and milk. When the cocoa cream melts, the taste changes to something creamy and cozy, perfect for the autumn months.

Shimmering Blueberry & Grapefruit Soda

This refreshing sweet and sour drink combines blueberries and pink grapefruit along with soda and pearl powder.

Come enjoy Halloween while celebrating the cafe's 10th anniversary!

Information

Q-pot CAFE 10th Halloween Menu

Location: Q-pot CAFE Omotesando

Running: September 3 – October 31, 2022

Hours: 11:00-19:00 (Last Order at 18:30)

Details/Reservations: http://www.Q-pot.jp/news/2022/08/1746.html

Sanrio Characters to Celebrate Halloween with Special Campaign

Namco will be releasing some exclusive Halloween prizes featuring everyone's favorite Sanrio characters! The Halloween event will run from September 9 until October 31 at around 200 Namco Amusement Centers nationwide and on the Torumo online crane game mall.

 

During the campaign, exclusive prizes featuring brand-new designs of popular Sanrio characters will be available in crane game machines!

When ¥500 is inserted into select crane games using the link function of the Namco Point app, an original sticker will be gifted to players! Starting September 16, those collecting three of these original stickers will receive an original pin that looks just like candy! All guests need to do is show their stickers to the staff. 

Collaboration Goods

Exclusive Clear Shopping Bag (3 varieties)

Original Sticker (5 varieties)

Original Candy Pin (5 varieties)

Blanket

Prizes will also be available from Torumo, an online crane game mall. In addition, a present campaign will be held to select winners to receive a special blanket! To enter, all you need to do is play the target machine three times. During the campaign period, by following a participating store on the Namco Point app, customers will receive a limited edition shopping bag!

Come grab some of these Halloween goods and show off your Sanrio love!

ⓒ '22 SANRIO CO., LTD. APPR. NO. L633490
©Bandai Namco Amusement Inc.

Halloween Afternoon Tea with Black Cat Motif Coming to Tokyo's Grand Prince Hotel New Takanawa

During the month of October, Grand Prince Hotel New Takanawa in Tokyo will be offering a special Autumn Afternoon Tea. Inspired by Halloween–and particularly black cats–Lounge Momiji on the first floor will invite guests to devour some tasty treats. 

This year's Halloween theme is 'black cats,' which are said to be the messengers of witches. Guests will be able to enjoy Halloween-specific sweets and afternoon tea to fully enjoy the flavors of autumn.

 

In addition to sweet and sour macaroons filled with blackcurrant with a black cat motif, visitors can enjoy a bat-themed purple sweet potato Mont Blanc and cream puffs made with pumpkin. The black cat cookies are also perfect for posting to Instagram, so come enjoy lots of sweet and savory goods made with autumn fruits and vegetables such as grapes, persimmons, and figs.



Come enjoy afternoon tea and get into the Halloween spirit this October!

Halloween Afternoon Tea with a Ghost Theme Coming to Kyoto for a Limited Time

Art Grace Wedding Hills, a wedding venue in Kyoto, will be offering a ghostly Halloween Afternoon Tea experience in September and October!

Mischievous Ghost Halloween Parfait *Sample Image

Sweets *Sample Image

Savory Dishes *Sample Image

Adorable ghosts and Halloween-inspired sweets made with autumn flavors such as pears, apples, chestnuts, pumpkins, and sweet potatoes will be on the menu. The Mischievous Ghost Halloween Parfait has a refreshing finish with blackcurrant mousse and blood orange jelly. The marshmallows, made to look like ghosts wearing witch hats, are perfect for posting on social media.

 

How would you like to spend a sweet time in Kyoto this Halloween season?

Information

~Trick or Treat~ Halloween Autumn Afternoon Tea

Dates:
September 4, 9, 16, 18, 25, 30
October 2, 7, 14, 15, 16, 21, 23, 30

Times: Seating 1, 13:00-14:30 / Seating 2, 15:15~16:45 (90 minute seatings)
*Must make a reservation a minimum of 15 minutes before seating.
*Only 1 seating on weekdays.

Venue: Kyoto Art Grace Wedding Hills
Details/Reservations: https://www.bestbridal.co.jp/guestparty/kyoto/artgrace_kyoto/2022event-37/