McDonald's Japan to Release Caramel Melts This Winter, The Perfect Coffee Accompaniment
McDonald's Japan has announced a new dessert for the winter season. The new Caramel Melts will be released at all branches across Japan on November 21 for a limited time.
McDonald's Japan renewed its Premium Roast Coffee in 2017 and Cafe Latte and Premium Roast Iced Coffee in 2018. It also released its Cinnamon Melts in October for a limited time, which have been gaining popularity since last year.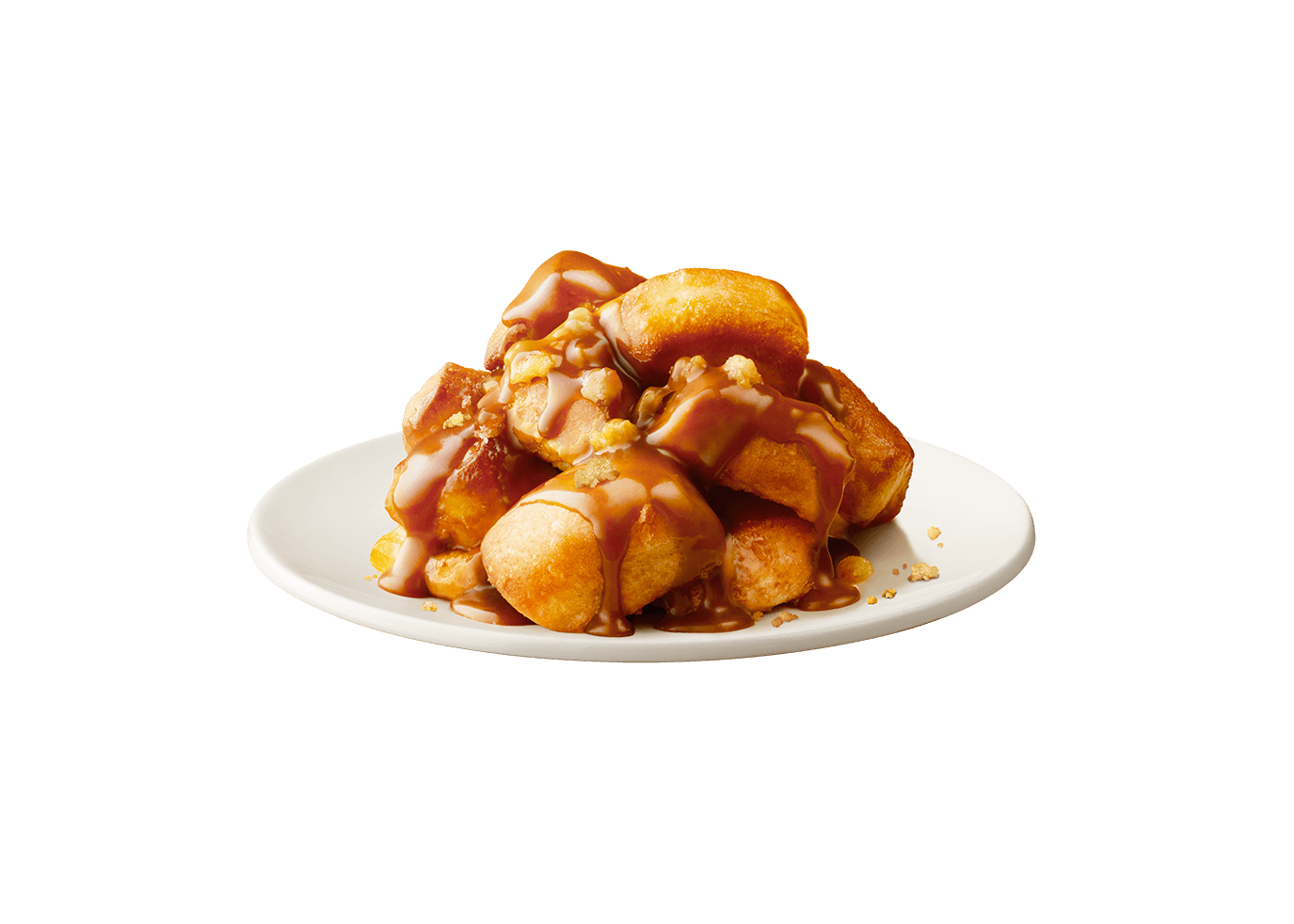 The new Caramel Melts include fluffy pastry drizzled in delicious caramel sauce and topped with crumble. Just like the Cinnamon Melts they are bite-sized so you can enjoy them one by one. They also go perfectly with coffee, especially the renewed cafe latte which was conceived by world class baristas.
Whether you're in a rush in the morning or have time to sit and have a relaxing coffee be sure to try the new Caramel Melts.
Information
Caramel Melts
Running: November 21, 2018 – Late January 2019 (subject to change)
Price: ¥320 (Tax Included)
McDonald's Japan Official Website: http://www.mcdonalds.co.jp/
RECOMMENDED ENTRIES
McDonald's Japan to Release Strawberry Matcha Frappe

The new Strawberry Matcha Frappe will be released on October 10 at McCafé by Barista outlets, the official McDonald's cafés attached to numerous McDonald's branches in Japan.

McDonald's Japan has recently been selling a series of different matcha drinks for autumn. Following on from their Brown Sugar Syrup & Soybean Flour Matcha Frappe, a Japanese-style tasting drink, the new Strawberry Matcha Frappe uses strawberries for a more Western flavour.

The Strawberry Matcha Frappe is a brand new drink to McDonald's, mixing together the full-bodied flavour of matcha together with sweet and sour strawberries. It includes both a strawberry paste made from whole strawberries and a strawberry whipped cream at the bottom. Sitting on top of these is a matcha latte frappe which uses slightly bitter Uji matcha from Kyoto and delicious milk farmed in Japan. Crowning the drink is more strawberry whipped cream and sprinkling of matcha powder. The refreshing taste of the strawberry sauce coupled with the whipped cream serves to elevate the great flavour of the matcha even more.

The beverage will be available from October 10. Until then you can enjoy McDonald's Matcha Latte Frappe, Matcha Latte or Iced Matcha Latte.

Information

Strawberry Matcha Frappe
Price: Regular ¥490 / Large ¥530 (Tax Included)
Running: October 10, 2018 – Mid November (Subject to Change)
Available: At McDonald's branches across Japan with a McCafé by Barista (Approx. 89 branches as of October 2018)
*The branch list can be viewed on the official McDonald's Japan homepage (Japanese).

McDonald's Official Homepage: http://www.mcdonalds.co.jp/menu/barista/

McDonald's Japan to Release Winter Chocolate Drinks at McCafé by Barista Branches

McCafé by Barista branches of McDonald's Japan are release four new beverages for the winter season which will drop on November 14. They include the Premium Raspberry Chocolate Frappe, Premium Chocolate Frappe, Premium Hot Chocolate, and Premium Iced Hot Chocolate.

Premium Raspberry Chocolate Frappe: Regular Size ¥500

This fruity frappe is a mix of chocolate powder and raspberry syrup topped with shaved white chocolate and raspberry sauce. The rich taste of the chocolate creates an exquisite balance with the sweet and sour raspberry.

Premium Chocolate Frappe: Regular Size ¥490

If you've ever wanted to feel like you're drinking pure chocolate, then this treat is for you. Expect your taste buds to enjoy the full-bodied and indulging taste of this frappe's chocolatey goodness.

Premium Hot Chocolate: Regular Size ¥450

Premium Iced Chocolate: Regular Size ¥450

Your mouth will water at this fragrant and sweet-tasting chocolate drink which comes with both hot and iced options.

The iced version combines cold milk with chocolate powder and chocolate sauce. This is topped with chocolate whipped cream and chocolate shavings allowing for delicious enjoyment of different textures.

The hot version also mixes together chocolate powder and chocolate sauce but is instead served hot with foamed milk.

All four of these beverages also topped with two chocolate sticks made from cocoa beans farmed in West African countries including Ghana.

Beat the cold this winter with this line-up of premium chocolate drinks.

Information

Premium Chocolate Frappe

Running: November 14, 2018 – Mid December 2018 (subject to change)

Premium Raspberry Chocolate Frappe

Premium Hot Chocolate

Premium Iced Chocolate

Running: November 14, 2018 – Mid January 2019 (subject to change)

Available: All McDonald's branches in Japan with a "McCafé by Barista" café (91 branches as of November 2018)

Branch List: http://www.mcdonalds.co.jp/coffee/top.php

McCafé by Barista Official Website: http://www.mcdonalds.co.jp/menu/barista/

McDonald's Japan to Release Black & White Chocolate Pies Again This Year

McDonald's Japan will release its two new triangular-shaped black and white chocolate pies again this year on October 26. The pies are made by adding layers upon layers of pie dough to create crunchy three-sided pie. These are filled with gooey chocolate cream that elevates the pie to the next level.

The black chocolate pies at McDonald's boast unshaken popularity. This delicious treat is packed with a melty chocolate cream made with almonds. The level of sweetness is also on point.

The white chocolate pies contains a rich white chocolate cream made with sweet-smelling vanilla beans and almonds.

Ever since the triangular chocolate pies hit McDonald's in Japan in February 2007 they have continued to be gain popularity for over 10 years. Every year people call out "the chocolate pie season is here!" and struggle with which to go for.

This year, they will be served in cute limited edition packaging. If you put both the black and white packages together they will even create a heart shape.

Other flavoured chocolate pies are set to be released this winter too, and there will be a commercial for them featuring Japanese actress Maika Yamamoto.

Which crunchy chocolate pie will you be warming yourself up with this winter?

Information

Black Triangle Chocolate Pie

On Sale: October 26, 2018 – Late February 2019 (subject to change)

White Triangle Chocolate Pie

On Sale: October 26, 2018 – Late November 2018 (subject to change)

Available: At most McDonald's branches across Japan

Price: ¥120

Chocolate Pie TV Commercial – "Am I the only one not eating these?!" (15 Seconds)

Initial Broadcast: October 25, 2018

Product Page: http://www.mcdonalds.co.jp/campaign/sankakuchocopie/
RELATED ENTRIES
Make Your Own Rilakkuma Valentine's Day Treats With Kai's Recipe Kits

Cupid is readying his arrows for Valentine's Day 2020 which is right around the corner. It's the time of the year to show your special someone that you love them with some tasty chocolatey treats.

If you're wanting to make a grand gesture this year by making your own gifts, but are struggling for ideas or are intimidated by the task, the Kai Corporation in Japan has you covered with its collection of Rilakkuma goods. Now you can make some Instagram-worthy gifts with little effort. Let's take a look.

Make lots of Rilakkuma chocolates with this simple tool

Rilakkuma Silicone Chocolate Maker – ¥850 (Before Tax) – Buy Here

Five different patterns of Rilakkuma, Kiiroitori, and Korilakkuma make up this silicone tray, allowing you to make lots of bite-sized chocolates at once. This is perfect for sharing between you and your loved one or amongst friends. It can be used for making gummy treats and ice for drinks too, meaning it's useful for the entire year.

Make cute cookies by simply pressing your dough

Korilakkuma Cutter Set – ¥650 (Before Tax) – Buy Here

Anyone can make cute Korilakkuma cookies easily with this cutter set which you simply press the dough with. It comes with two different poses so you can make an assortment of them. If you know someone who's not a fan of chocolate, then this is a perfect alternative.

Decorate your sweets and desserts with this mini chocolate tray

Mini Chocolate Tray – ¥650 (Before Tax) – Buy Here

This chocolate tray makes makes chocolate bears which can hold things like nuts and candy. They can be used in a lot of creative different ways. The tray was made in collaboration with Cookpad.

Super simple recipes that take out the work

Here are some super simple recipes that remove the labour out of making and decorating sweet treats. Learn how to make Instagrammable delights with these items and techniques.

Korilakkuma Cookie Marshmallow Sandwich – Item Used: Korilakkuma Cutter Set

All you need to do is warm some marshmallows in a microwave and stick them between two cookies for a gooey and crunchy treat. At some toppings like freeze-dried strawberries for colour and to make them even cuter.

Gateaux Chocolate Cupcakes – Item Used: Rilakkuma Face Cupcake Paper Wraps (5 Included)

Make your Valentine's cupcakes even more adorable with these paper wraps with Rilakkuma's kawaii face on them.

Tiny Bear Chocolates: Item Used – Mini Chocolate Tray

There are many creative ways you can utilise these tiny bear chocolates. Make them hold small candy, nuts, and other delicious bites, or just simply top them on another dessert.

Take the stress out of making something for Valentine's Day this year with this range of items from Kai.

Cute and Chewy Pompompurin Confection Now Being Sold at Lawson Convenience Stores in Japan

Lawson, one of the main convenience store chains in Japan, has released the all-new Mochi Mochi Pompompurin Yaki, a cute and chewy confection filled with custard pudding flavoured cream.

The kawaii sweet recreates Pompompurin's adorable sleeping form. Inside of him is a squirt of purin, or Japanese custard pudding, flavoured cream, which happens to be Sanrio Golden Retriever's favourite treat. You'll find yourself reaching for your phone to snap a photo of him to post online before tucking in.

The confection will be discontinued once all have been sold, so if you're in Japan, head to your closest Lawson.

©1996, 2020 SANRIO CO., LTD. APPROVAL NO.S604266

4 Matcha-tastic Desserts Selling at Convenience Stores in Japan

If you love delicious Japanese desserts and are keen to discover more, you've visited the right website. Today with the help of Instagrammer Yukko, we'll be looking at matcha desserts you can purchase from Japanese convenience stores. 

Matcha Purin Cake Sandwich: ¥324/ Family Mart

Matcha Purin Cake Sandwich: ¥324

This is a fluffy sandwich with a hearty filling of sweet matcha purin, matcha cream, whipped cream and red bean paste. The fluffy cake and light cream create a wonderful balance of textures and enjoy a moderate sweetness. This dessert is sure to leave your stomach fully satisfied.

Dorayaki Pancakes Stuffed with Matcha Cream: ¥300/ 7-Eleven


Dorayaki Pancakes Stuffed with Matcha Cream: ¥300


The delicious aroma of the matcha will entice you before you have even tried it. The refined, rich matcha flavour will spread throughout your mouth and melt beautifully. 

Uji Matcha and Shiratama White Dumpling Parfait:¥300/ 7-Eleven


Uji Matcha and Shiratama White Dumpling Parfait:¥300

This is a luxurious parfait containing Shiratama dango, warabi mochi, matcha whipped cream, dorayaki pancake pieces, plain whipped cream, matcha mousse and matcha starch cakes. Enjoy a variety of textures – perfect for the matchaholic!

Matcha & Sweet Red Beans & Whipped Cream Doyayaki: ¥140/ 7-Eleven

Matcha & Sweet Red Beans & Whipped Cream Doyayaki: ¥140

Sweet red bean paste, matcha sauce, whipped cream and chewy warabi mochi are stuffed between two matcha dorayaki. The matcha sauce is rich and plentiful, creating the perfect matcha-tastic treat.

 If you're on a matcha hunt, how about starting at the convenience store? There are just so many matcha desserts to discover. Mogu Mogu Yukko's Instagram is full of delicious desserts that you can buy from Japanese convenience stores and supermarkets. If you're looking for a sweet treat, make sure to check it out.

 Original Article Contents and Photos By: Mogu Mogu Yukko

*Convenience stores are always updating their products and therefore the desserts mentioned in this article may stop selling at any time. Please check the convenience store's social media or official website for the most up-to-date information. 

Delicious Valentine's Desserts and Drinks All Over Japan For You and Your Sweetheart

As Valentine's fever slowly sets in across Japan, for many of us, thoughts turn to what we could give to our lovers. For the rest of us, how about a  bit of self-love with a romantic dessert for one? Whether it's for just yourself or that special someone, if you're in Japan, you got to try one of these Valentine's-limited desserts.

Eggs 'n Things

Fondant Chocolate Strawberry Pancakes: ¥1,580 (Before Tax)

Eggs 'n Things Fondant Chocolate Strawberry Pancakes will be love at first bite. Hazelnut gianduia chocolate pancakes are topped with a luxurious mountain of fruity strawberries and drizzled with chocolate sauce for an overall mellow flavour. The pancakes come with a generous tower of whipped cream – a sweet treat perfect for you and your sweetie. 

▼Eggs 'n Things

Fondant Chocolate Strawberry Pancakes 

Price: ¥1,580 (After Tax)
Selling: January 16 – February 27, 2020
Available At: Most Eggs 'n Things restaurants across Japan

Not Available At:
・EGGS'N THINGS Lalaport Nagoya minato AQULS
・EGGS'N THINGS Coffee OPA Takasaki
・EGGS'N THINGS Coffee Kashiwa Takashimaya Station Mall

Official Website: https://www.eggsnthingsjapan.com/

nana's green tea

Choco Orange Latte/Hōjicha Chocolate Brownie Parfait

nana's green tea is serving up a gorgeous Valentine's latte and parfait topped with orange zest and gold leaf. The Choco Orange Latte is full of chocolatey goodness. The orange zest contributes a tangy kick to the sweet yet bitter chocolate latte. The Hōjicha Chocolate Brownie Parfait is topped with Valentine's limited hōjicha chocolate brownie and hōjicha ice cream, drizzled with chocolate sauce and sprinkled with gold leaf. nana's green tea is the perfect place to enjoy a sip of luxury with your lovebird. 

▼nana's green tea

Choco Orange Latte/Hōjicha Chocolate Brownie Parfait

Selling: January 6 – February 14, 2020
Available At: All nana's green tea restaurants

Please check the official website for pricing.

Official Website: http://www.nanasgreentea.com/

Sarabeth's

Choco Pudding French Toast: ¥1,600 (Before Tax)


 Sarabeth's Choco Pudding French Toast is made with their special challah bread. The bread is toasted and topped with their popular Chocolate Pudding dessert. The beauty of this Valentine's-limited dessert is captivating. Enjoy a moment of pure bliss with this luxury treat.

▼Sarabeth's

Choco Pudding French Toast

Price: ¥1,600 (Before Tax)
Selling: January 14 – February 14, 2020
Available At: Sarabeth's LUMINE Shinjuku, Shinagawa, Tokyo, Nagoya and Osaka

Official Website:http://sarabethsrestaurants.jp/

Segafredo Zanetti Espresso

Chocolat Peach Melba: ¥560 (After Tax)

White chocolate is poured over a peach melba sauce made from peaches and raspberries. The barrister then seals the drink under a thick lid of their unique, smooth foam. The sweetness of the chocolate enjoys a fruity accent and the rich flavour of the milk will warm your body and your heart.

▼Segafredo Zanetti Espresso

Chocolat Peach Melba

Price: ¥560 (After Tax)
Selling: January 7 – February 14, 2020
Available At: All Segafredo Zanetti Espresso Cafés in Japan

Official Website:https://www.segafredo.jp/

Give yourself and/or your loved ones a wonderful treat this Valentine's Day.

Kaori's Easy Recipe: Learn to Make My Melody Strawberry Purin

With just a small bit of ingenuity, turn everyday food into something cute using Kaori's easy recipe! With a few simple ideas, an ordinary recipe magically transforms into a cute dish.

As strawberries are currently in season in Japan, today we'll be looking at an easy recipe for delicious strawberry purin. All you have to do is mix the ingredients and you're done! In previous recipes, we've looked at purin recipes that involve decorating the inside of the glass. Many people commented that this is quite difficult so today we've got a recipe that is easy enough for even kids.

Ingredients (For 2 Portions)

Two small jars (this recipe uses Weck jars)

200g Strawberries with stems and leaves removed (approximately one small pack)

20g Sugar

20ml Fresh Cream (or milk to substitute)

5g Gelatin (dissolved in a tablespoon of water)

½ Teaspoon Lemon Juice

To Decorate

Premade Chocolate Decorations or Chocolate Slices (as you like)

Strawberries to Decorate (as you like)

Fresh Cream (As you Like)

Chocolate Pen

2: After removing the leaves and stems from the strawberries, blend them in a mixer.

3: Heat the mixture in a microwave on 600w for 50 seconds. Afterwards, add the sugar, gelatin solution and lemon juice in that order. Finally, mix in the fresh cream.

4: Meanwhile, press the premade chocolate decorations or sliced chocolate (white) into the inside wall of your jar.

5: Use the chocolate pen to draw the face, strawberries and ribbons from the outside of the glass. If you make a mistake, wipe it off using kitchen paper and try again.

6:Put the jar into the fridge for the chocolate to harden. Once the chocolate does not sink when the jar is placed upright, slowly add your strawberry mixture into the jar and put it back in the fridge until hard. After your dessert solidifies, you can add the finishing touches of whipped cream and strawberries.

And you're done!

Kaori invites you into her world of character-themed food dishes in her recipe series. Be sure to check out her Instagram where she has uploaded many pictures of her character dishes!

Profile

Kaori Kubota

@kaopan27

I live in Hokkaido and I love to make character-themed foods, desserts and pastries♡I want to see my family smile, so I enjoy putting in a bit of effort to make character foods and changing food into something cute♡You can see more of my character foods and character bento boxes on my Instagram page→ 

@kaopan27

McDonald's Japan McCafé by Barista Releases Oreo®︎ Drink Series You Can't Resist

In Japan, McDonald's McCafé by Barista will soon be releasing a new drink series that you won't be able to resist. The new series includes the Oreo®︎ Choco Frappé, Oreo®︎ Hot Café Mocha and Oreo®︎ Ice Café Mocha and it will be released on January 15 for a limited time only.

Mc Café by Barista has developed three new drinks based on their popular Choco Frappé and Café Mocha, to which they have added crunchy Oreo®︎ cookies. The series includes both hot and cold drinks, catering for a range of moods.

Oreo®︎ Choco Frappé

The Oreo®︎ Choco Frappé is back with a rich chocolatey flavour and mellow aroma. This high-quality sweet drink is accented by crunchy Oreo®︎ cookies. With your first sip, the bitter Oreo®︎ flavour will spread through your mouth.

Oreo®︎ Hot Café Mocha


Oreo®︎ Ice Café Mocha

The Oreo®︎ Hot and Ice Café Mochas are brand new drinks. Using their Café Mocha as a base, the drinks are topped with whipped cream, drizzled with a sauce made from high-quality Belgium couverture chocolate, and sprinkled with chocolatey Oreo®︎ cookie pieces. This enhanced Café Mocha is sweet and enjoys the crunchy and bitter goodness of Oreo®︎ cookies.

 If you're in Japan, pop into your nearest McDonald's and try one for yourself!

Information

Oreo®︎ Drink Series

Release Date: January 15, 2020

Prices:

Oreo®︎ Choco Frappé: ¥410 (M), ¥450 (L)

Oreo®︎ Hot Café Mocha: ¥320 (S), ¥360 (M)

Oreo®︎ Ice Café Mocha: ¥360 (M), ¥400 (L)

 

Official Website:http://www.mcdonalds.co.jp/coffee/top.php

Check Out The New Desserts in The Strawberry World of Ichigo BonBonBerry This Season

Strawberry Shop Izunokuni Shizuoka Michi-no-Eki Izu no Heso ichigo BonBonBerry Izunokuni factory will be celebrating "ii ichigo no hi" (Good Strawberry Day) on January 15 by releasing new strawberry purin desserts which are full of strawberry goodness. 

Committed to increasing love for strawberries, Michi-no-Eki Izu no Heso Ichigo BonbonBERRY Izunokuni factory sells a wide range of delicious strawberry-based foods as well as cute merchandise throughout the year. For example, strawberry-themed merchandise, jams, seasoning containing strawberries, desserts and much more. 

Strawberry Parfaits

Toge Toge Bonbon: ¥1800 (After Tax)

The Toge Toge Bonbon parfait is full of impact and full of strawberries. The glass is filled with homemade no-bake cheesecake, milk purin, homemade strawberry jam and much more. As strawberries are currently in season, the parfait currently enjoys a sweeter flavour. The fruitiness balances out with the mildness of the cheesecake and leaves a refreshing aftertaste.

Mix and Enjoy – Strawberry Pouch Pudding

Strawberry Pouch Pudding: ¥650 (After Tax)

A smooth strawberry purin is layered with slices of strawberry and fluffy whipped cream. The adorable purin pouch is packed with dried, crispy strawberry granola mix. Mix up the granola to enjoy a range of different textures. This can also be enjoyed on the go. 

As strawberries are in season, this is the perfect time to treat yourself to one of Japan's sweet and beautiful strawberry desserts.

Information

Michi-no-Eki Izu no Heso Ichigo BonBonBerry Izunokuni factory

Address: 195-2 Takyo, Izunokuni, Shizuoka

Opening Hours:

・Souvenir Corner: 09:00 – 17:00

・Bonbon Berry Cafe: 10:00 – 16:00 (Last Orders: 15:30)

・Bonbon Berry Stand (Soft Serve Ice Cream and Drinks): 10:00 – 16:00

Phone Number: 0558-99-9300

Michi-no-Eki Izu no Heso Official Website: http://www.izunoheso.com

Ichigo BonBonBERRY Izunokuni factory Official Website: http://www.izu-ichigo.com

McDonald's Japan Releases Their First Ever Dessert Pies Aimed at Adults

McDonald's Japan will release a creamy Belgian chocolate pie and creamy sweet fromage pie aimed at adults at McDonald's restaurants across Japan from Japan 15 for a limited time.

McDonald's Japan's pie series has proven to be very popular over the years. Other pie flavours in the series include the Hot Apple Pie from the regular menu, their limited-period Sankaku Choco Pie and Bacon Potato Pie. Now, McDonald's is set to crown their first pie of the year to be "made for adults". Both pies are packed with delicious and carefully made cream – the perfect petit treat.

The Belgian chocolate cream pie is made from a crunchy pie shell that was kneaded with cocoa powder. The hollow shell is stuffed tightly with Belgian chocolate and is bursting with chocolatey goodness. There is a perfect balance of sweetness and bitterness. 

The sweet cream fromage pie is made from a crunchy shell that was kneaded with parmesan cheese. The pie shell is then filled with cream cheese. In just one delightful bite, enjoy the flavour of parmesan and cream cheese as they blend together. The aftertaste of the parmesan perfectly balances out with the sweet and salty touch of the cream cheese. 

For the first time, McDonald's is even presenting these desserts in packaging that looks like it is aimed at adults. 

The desserts look just as good as they taste so hurry down to your nearest McDonald's for a delicious and crunchy adventure.

Information

Otona no Cream Pie: Belgian Chocolate 

Otona no Cream Pie: Sweet Fromage

Selling: January 15, 2020 – Early February (Subject to Change) 

Selling throughout restaurant operating hours

Price: ¥150 (After Tax)

Available at most McDonald's restaurants across the country 

McDonald's Japan Official Website: http://www.mcdonalds.co.jp/

Matcha Desserts in Sapporo You Just Have To Try

We've previously covered the best spots to try delicious matcha desserts in Kyoto. Now, with the help of expert dessert Instagrammer Kei, we are going to introduce you to some of the most delicious spots to try matcha desserts in Sapporo, Hokkaido.

If you want to discover more delicious cafés, desserts and drinks in Hokkaido, make sure to check out Kei's Instagram (@607keih).

 

KotoniSand, Nishi Ward

Macchan French Toast: ¥1200

 From dinners to desserts, this café serves up lots of meals based on their delicious thick-sliced bread. Bread flavours include plain, matcha and even coffee. You can order to go or enjoy the eat-in-limited menu. This fluffy french toast is soaked in matcha liqueur and is full of flavour even before trying it with the toppings. Take a bite of it with the red bean paste for a flavour adventure. A limited number of these are sold per day so if you want to try it, make sure to get there early. 

▼KotoniSand

Address: 1-1-1 Yamanote 5 Jō, Nishi-ku, Sapporo, Hokkaido

Opening Hours: 11:00-18:00
Closed: Tuesdays
Official Website: https://kotonisand.business.site

Ame no hi to yuki no hi, Minami Ward

Gelato Futatsu: ¥450

Located before Jozankei's onsen hotspot is a café called Ame no hi yuki no hi. It serves delicious pizzas and a variety of gelato flavours depending on the season. Their matcha ice cream is delicious. They even allow you to order two or three flavours at once so you can enjoy a mix and match of combinations. 

▼Ame no hi to yuki no hi

Address: 2-4-1, Jozankeionsennishi, Minami Ward, Sapporo, Hokkaido 

Opening Hours: 10:00-17:30
Closed: Thursdays
Official Website: https://www.amenohitoyukinohi.com

KANON pancakes, Shiroishi Ward

Matcha Tiramisu Pancake: ¥1500

This is a famous pancake shop in Kikusui. Tuck into a stack of fluffy pancakes inside the relaxing and soothing restaurant. The Matcha Tiramisu Pancakes are soaked with liqueur, creating a texture that is softer and moister than their standard pancakes. In addition to the matcha liqueur, the pancake is also dusted with matcha powder for a richer matcha flavour. Finally, they are drizzled with delicious brown sugar syrup and topped with walnuts.

▼KANON pancakes

Address: 5-5-18 Kikusui 3 Jo, Shiroishi Ward, Sapporo,

Opening Hours: 10:00-17:00 (Last Orders: 16:00)
No Regular Holidays
Official Website: https://kanon-pancakes.com

Any cafe, Kita Ward

Matcha Kintoki: ¥1350

This shop uses gluten-free ingredients in their food. This pancake dish is made using unpolished rice powder, three pieces of Turkish delight, red bean paste, rice flour dumplings, and cream made from Hokkaido-produced mascarpone and fresh cream. The cream is full of the bitter and delicious flavour of matcha, making the pancake sweet and very delicious. 

▼Any cafe

Address: 3-2-24 Kita 18 Jonishi, Kita Ward

Opening Hours: 11:00-18:30 (Last Orders: 18:00)
Closed: Tuesdays

Official Instagram: https://www.instagram.com/any_cafe_sapporo/

If you are looking for delicious matcha desserts in Sapporo, let this article help you decide where to go. When your food cravings kick in, make sure to visit Kei's Instagram which is full of the most delicious meals, drinks and desserts in Hokkaido. 

Original Article Contents and Photos by: Kei (@607keih )

Krispy Kreme Doughnuts Japan to Release Cute Doughnuts that Look and Taste Like America

Krispy Kreme Doughnuts Japan is set to release their new SWEET SURPRISE BOX from January 15, 2020 which is bursting with the delicious flavours of America. The box contains three doughnuts that are topped with a series of delicious treats such as cookies, marshmallows, chunky chocolate and popcorn. KKDJ will also release two banana drinks that are sure to become popular. These are available for a limited time only.  

The SWEET SURPRISE BOX contains a happy and colourful world of American treats. The doughnuts were born from the concept of a doughnut packed with everybody's favourite treats and then turned inside-out.

The "Happy Chunky Choco" doughnut is coated with bitter chocolate and then sprinkled with five different toppings including chunky chocolate chips, two kinds of chocolate puff and crunchy chocolate biscuit crumbs to balance out the sweetness with a bitter flavour. Chocoholics just won't be able to resist.

The "White Caramel Carnival" is a fluffy doughnut topped with milky white chocolate cream and five different toppings. From caramel popcorn too lightly salted pretzels, this doughnut is packed with the flavours of America. The variety of textures and fun appearance are sure to make your mouth water instantly. Chunky white chocolate chips and white chocolate puffs are sprinkled on top and drizzled with a sweet caramel sauce. If you love white chocolate, this doughnut is perfect for you.

You won't be able to take your eyes off the cute "Sweet Strawberry Magic" doughnut, which is a strawberry chocolate doughnut garnished luxuriously with a wide range of unique sweet toppings. The sweet and tangy strawberry chocolate coating is studded with five luxurious toppings including chocolate chip cookies, marshmallows, chocolate puffs and colourful sprinkles.

Purchase the SWEET SURPRISE DOZEN (Box of 12) to enjoy all three of the new American treat-filled doughnuts as well as KKDJ's no.1 Original Glazed Doughnuts and Choco Sprinkles Doughnuts.

KKDJ will also release their "Hot Caramel Banana" drink which is flavoured with a thick and fruity banana sauce mixed with caramel sauce and heated with milk. With each gulp, you can feel the fruity texture and feel the warmth.

 KKDJ will also release the Krispy Frozen Banana Caramel Pretzels drink which fuses their caramel milk frozen drink with their banana fruit sauce and crunchy pretzels.

The moment you open the SWEET SURPRISE BOX you will be filled with the exciting feeling of an American carnival. Treat yourself and your friends to a special KKDJ doughnut and drink experience this winter.

Information

Doughnuts

Price: ¥230 Each (Before Tax)

SWEET SURPRISE DOZEN (Containts 12)

Price: ¥2,000 (Before Tax)

Hot Caramel Banana

Price: ¥370 (Before Tax) 

Krispy Frozen Banana and Caramel Pretzels

Price: ¥540 (Before Tax) 

Available: January 15 ー End of February 2020 (Subject to Change)

Krispy Kreme Doughnuts Japan Official Website: https://krispykreme.jp/

Warm Food and Succulent Seasonal Strawberries Served at Ginza Six For Winter

GINZA SIX—officially the biggest shopping complex in Tokyo's high-end Ginza district—is home to a host of restaurants now serving some seriously luxurious and gourmet winter food.

For the winter season only, the shopping centre's cafes and restaurants have cooked up menus of food to warm both the heart and body. The extravagant line-up is made up of carefully-selected seasonal ingredients that's sure to warm you to the core. Let's take a select look at some of the things on offer.

JASMINE Specially-Made Hotpot Plan – ¥7,800 (Before Tax) @ JASMINE Washinkansai

This hot pot is made with a broth of chicken bones and collagen boiled in water and a broth of mala sauce. Both broths have a deep and nourishing taste and are filled with carefully-chosen ingredients as well as nine condiments for complex flavours. As well as that seen in the photo above, it is served as a set with an appetiser, fried gyoza, Chinese-style noodles, and almond tofu.

Matsusaka Beef Sukiyaki Gozen Hotpot – ¥3,400 @ Sukiyaki Gyu-shabu Matsuju

Warm yourself up with this hot pot which is made sukiyaki-style and contains high-quality Matsusaka beef picked out by Asahiya, a shop specialising in Matsusaka beef. The beef is soft, tender, and has a rich sweet taste and fragrance. It's served with a red miso soup seasoned with Japanese pepper which complements the salty-sweetness of the sukiyaki.

Homemade Sausage and Potato Raclette Cheese Melt – ¥2,400 (Before Tax) @ Bistro AUX AMIS

Raclette cheese is a staple food in France during the winter. This delicious dish is served with juicy homemade sausages made from yoshidabuta pig from Saitama, bacon, potato, and warm veg, all covered in a hot melted cheese. It's sure to warm you up and goes even better with a glass of wine.

Once you've had a fill of lunch or dinner, you should go and check out the in-season strawberry takeout treats and desserts that are being sold on the booth floor where the latest in culinary trends gather.

Strawberry Chocolate Sandwich – ¥300 (Before Tax) @ Patisserie Sembikiya Ginza Six

Coated in white chocolate, this biscuit sandwich is made with a strawberry ganache that squeezes every last delicious drop out of the fresh strawberries. Combined with he raspberry sablé cookies and chocolate, it's a strawberry match made in heaven.

Real Strawberry Gummies – ¥1,050 for 3 @ Candy Art Museum by PAPABUBBLE

These gummy candies are made as big as real large strawberries. They are coated in chocolate and made with lots of real strawberry juice, and when bitten into, taste fresh and juicy.

Strawberry Matcha Daifuku – ¥400 Each @ Kurogi Chacha

Kurogi Chacha's Strawberry Matcha Daifuku are filled with a whole fresh strawberry and coated in a matcha-laced white bean paste and gyūhi, a form of Japanese confection. The rich taste of the matcha comes together with the sweet and sour strawberry to create a delicious combination. They are hand-wrapped fresh as soon as your order is put in to retain their freshness.

Enjoy the full course winter has to offer at GINZA SIX, from soul-warming hotpot dishes to strawberry delights and more.

Information

GINZA SIX

Address: 6-10-1 Ginza, Chuo Ward, Tokyo

Opening Hours: Shops/Cafes (B2F-5F) 10:30-20:30 / Restaurants (6F, 13F) 11:00-23:00

*Business hours differ from shop to shop.

No Fixed Holidays (But shops and restaurants will be closed on January 1, 2020)

Access: Directly connected to Ginza Station via the Tokyo Metro Ginza Line, Marunouchi Line and Hibiya Line.

TEL: 03-6891-3390

Business hours will be shortened on December 31, 2019 and January 2, 2020 as shown below.

December 31st

Shops/Cafes (B2F-5F) 10:30-18:00

Restaurants (6F, 13F) 11:00-21:00

January 2nd

Shops/Cafes (B2F-5F) 10:30-20:00

Restaurants (6F, 13F) 11:00-22:30

Official Website: http://ginza6.tokyo/

5 Must-Eat Succulent Strawberry Desserts in Kyoto That Are Simply Kawaii

Winter is here, which means that the season of strawberries has finally fallen upon Japan. Today we are joined by Instagrammer Tiara, who enjoys posting their adventures around Japan's Kansai region to try out all of the sweets and desserts. We are taking a look at must-visit locations in Kyoto for a taste of their tempting strawberry delights.

LITT UP.KYOTO in Gion-Shijō

At LITT UP.KYOTO, their "ichigoame" lets you enjoy strawberries in their original cute form.

They are coated in sweet strawberry candy and served on sticks in cups reminiscent of something from a Japanese festival. Part of their allure is how perfect they are as a tasty treat for walking around with. There's even popping candy attached to the strawberries for an even sweeter textural treat.

▼LITT UP.KYOTO Gion

Address: 533 Gionmachi Minamigawa, Higashiyama Ward, Kyoto

Opening Hours: 10:00-18:00

Official Instagram: https://www.instagram.com/litt_up_kyoto/

Kissa Zou in Imadegawa

The "Kisetsu no Babaroa" (Seasonal Baravois) at Kissa Zou has an springy texture and sits in a sweet and sour strawberry sauce.

I recommend ordering one of the separate elephant cookies to place on top too to make this an even cuter dessert.

▼Kissa Zou

Address: 440-3 Santeicho, Kamigyo, Kyoto

Opening Hours: 9:00-18:00 (Last Orders 17:00)

No Fixed Holidays

Official Instagram: https://www.instagram.com/kissa_zou/

Chounohane in Fushimi

At Chounohane they are serving strawberry barquettes as well as mini versions of them. The dessert itself is of course beautiful, but is made even more so by the antique plate♡

▼Chounohane

Address: 791 Nishishujakucho, Fushimi Ward, Kyoto, Kyoto Prefecture

Opening Hours: [Tues/Sat/Sun] Shop & Cafe 11:00-17:00 / [Fri] Shop Only 11:00-17:00

Official Instagram: https://www.instagram.com/chounohane/

Utanekodo in Kyoto Shiyakusho-mae

Utanekodo was renovated from a 100+ year old building and has its own cat cafe. The cafe space is located on the first floor.

Their "Nyanko Strawberry Milk" speaks for itself, topped with adorable kitty ice cream and delicious with its subtly sweet taste.

▼Utanekodo

Address: 155-4 Tachibanayanagicho, Nakagyo Ward, Kyoto, Kyoto Prefecture

Opening Hours: 13:00-20:00 (Last Orders 19:00)

No Fixed Holidays

Official Website: http://utanekodo.com/

MASHOLA in Kyoto Shiyakusho-mae

Finally we have the "Strawberry Tiramisu Cube Cake" served at MASHOLA, a Korean-style cafe. This cake is made with refreshing homemade tiramisu cream, delightful sponge, and is packed full of sweet and sour strawberries which complement the entire thing.

▼MASHOLA

Address: 1-A MOVIX, 406 Sakuranocho, Nakagyo Ward, Kyoto, Kyoto Prefecture

Opening Hours: 10:00-20:00

Official Website: https://mashola.business.site/

All of these cafes are wonderful, so if you're in Kyoto for the strawberry season, be sure to visit as many as you can.

Tiara has plenty of other recommendations over on their Instagram page, so if you're a sweet tooth looking for something sweet to indulge in around the Kansai area, be sure to give them a follow.

Text & Photos: @happy_pinkrose_tiara

Translation: Joshua Kitosi-Isanga