Kirby and Waddle Dee Confections by Tabemas Available at Lawson Convenience Stores
Japanese character confectionary series Tabemas are releasing the third product in their line of 'Tabemas Mochi' sweets which is red bean paste inside mochi.
Named 'Tabemas Mochi Kirby's Dream Land,' the new confections feature the characters Kirby and Waddle Dee from the game Kirby's Dream Land and will be available at all Lawson branches across Japan from November 20 (except Natural Lawson and Lawson Store 100 stores).
Kirby and his cute, but weak, foe "Waddle Dee" are two very popular and instanstly-recognisable characters and are now available as edible mascot characters.
Both characters have their whole body made from Japanese confectionary. Kirby is made from pink mochi, and Waddle Dee from orange mochi, with each having 4 different faces including smiling, sleeping, and a secret one, too. These lovable characters are made of soft and chewy mochi. They are all packaged randomly with a possible 16 combinations available. Which Kirby and Waddle Dee will you?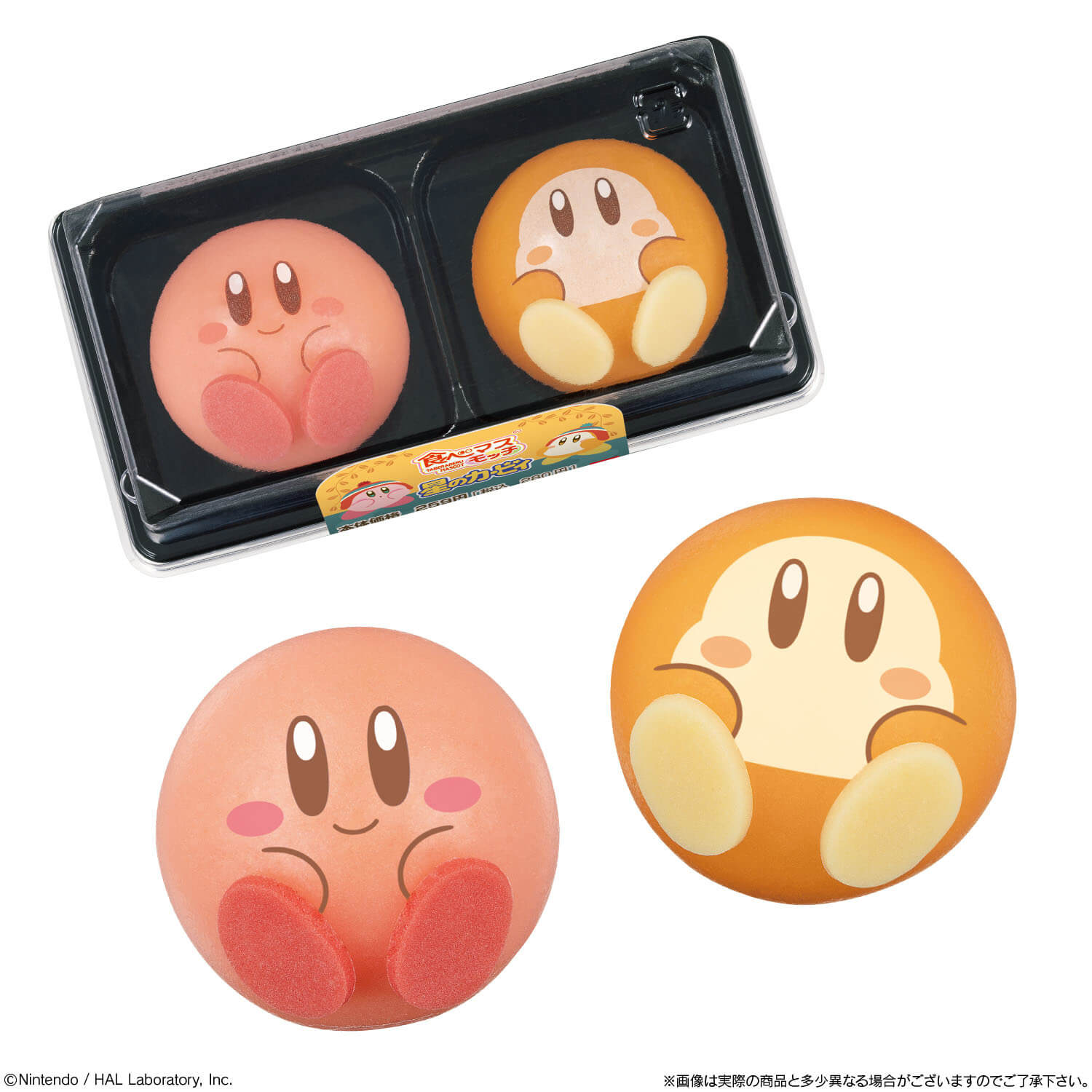 The soft and chewy mochi is matched with cream inside, with Kirby's flavour being custard cream and Waddle Dee's flavour being caramel cream. Kirby and Waddle Dee have their feet made of Japanese confection called nerikiri. Grab and enjoy these lovely sweets♡
Information
Tabemasu Mochi Krby's Dream Land
Flavours: Kirby (custard cream), Waddle Dee (caramel cream)
*Each character feature four face types (including a secret type)
Price: 2 Pieces – ¥280 (Tax Included)
Available: From November 20, 2018
Store: Chilled desserts section of Lawson convenience stores across Japan
*Not aavailable at Natural Lawson or Lawson Store 100.
*While supplies last.
*Select branches may receive the product stock at a different dates.
*Select branches are not stocking the product.
©Nintendo/ HAL Laboratory, Inc.
RECOMMENDED ENTRIES
Rilakkuma & Korilakkuma Halloween Sweets Are Arriving to Lawson Convenience Stores in Japan

Character themed Japanese sweets brand Tabemas are releasing two new treats for Halloween: one for Rilakkuma who is celebrating his 15th anniversary this year and one for his buddy Korilakkuma. The sweets will be available at Lawson convenience stores across Japan (excluding Lawson Store 100 branches) from October 16.

Tabemas are a sweets company who make wagashi―Japanese style sweets―based on familiar characters. They have teamed up with a list of popular faces including Doraemon, Mickey & Minnie Mouse, Winnie the Pooh, Hello Kitty and Pompompurin. The new Rilakkuma and Korilakkuma sweets feature both bears holding a jack-o'-lantern. They're so cute – where do you even start eating from?

The company's name "Tabemas" is a portmanteau of the Japanese word taberareru and the word "mascot," translating to "mascots that you can eat." As the name suggests, these delicately crafted treats are made to look just like the characters.

The name of this Japanese sweet is "nerikiri" which are made from bean paste. The Rilakkuma nerikiri is pumpkin purin flavoured which has both an autumn feel to it and also happens to be Rilakkuma's favourite food. Korilakkuma is maple flavoured, and both are filled with red bean paste. They look cute but are also authentic Japanese sweets!

If you're in Japan this month then be sure to find the closest Lawson to you to get your hands on these.

Information

Tabemas Rilakkuma Halloween: Rilakkuma (Pumpkin Purin Flavoured)

Tabemas Rilakkuma Halloween: Korilakkuma (Maple Flavoured)

Price: ¥280 Each (Tax Included)

Release Date: October 16, 2018

Available: At the chilled desserts corner of Lawson branches in Japan.

*Not available at Lawson Store 100 branches.

*Limited stock. Products will discontinue once all have been sold.

©2018 San-X Co., Ltd. All Rights Reserved.

*Photos are for illustrative purposes only. Actual product may differ slightly.

*Please ensure not to choke on the sweets.

*The latest information can be found on the Bandai Candy homepage.

*"食べマス" is a registered trademarks of Bandai Co., Ltd.

Product Page: http://www.bandai.co.jp/candy/tabemas/hw_rilakkuma/

Toy Story's Little Green Men Turn Into Delicious Japanese Confections

Toy Story's beloved three-eyed aliens are the next to be turned into Japanese confections by Tabemas. They will be released on October 26 at 7-Eleven convenience stores across Japan.

'Tabemas' is an abbreviation of the Japanese words taberareru masukotto, meaning 'mascots that you can eat.' It is a Japanese confectionary series that combines well-known characters and Japanese sweets made from ingredients like red bean paste, sugar and rice flour. Their products are hugely popular in Japan and are described as being too cute to eat. They have teamed up with a list of popular faces including Mickey & Minnie Mouse, Rilakkuma, Doraemon and more.

The Little Green Men confections come in two types: a chestnut flavoured version with their instantly-recognisable green body and blue costume, and a purple sweet potato version with hearts in the eyes.

The flavours are easy to enjoy and have that moist taste a lot of wagashi, or Japanese confections have. All of the colours are naturally produced and one confection contains less than 100kcal, making them a healthier choice.

They are great as a snack, gift or for creating your own army of Little Green Men like above. Head to a 7-Eleven in Japan from October 26 and claw one up yourself!

Information

Tabemas Toy Story Alien

On Sale: From October 26, 2018

Price: ¥270 Each (Tax Included)

Available: At the chilled desserts corner of 7-Eleven branches in Japan.

*Photos are for illustrative purposes only. Actual product may differ slightly.

*Please ensure not to choke on the sweets.

*"食べマス" is a registered trademark of Bandai Co., Ltd.

Product Page: http://www.bandai.co.jp/candy/tabemas/alien/

©Disney/Pixar

Kirby Wagashi Sweets Arriving to Lawson Convenience Stores Across Japan

The next series of sweets from wagashi brand Tabemasu is inspired by everybody's favourite pink puff Kirby from the hit video game series.

Tabemasu Mochi: Kirby's Dream Land (2 included / ¥259 pre-tax)

These are the first in a series of mochi products from Tabemasu, filled with red bean paste and cream. The two designs include Kirby himself and the Maxim Tomato recovery item.

The mochi line-up features several facial expressions, like smiling, sleeping, and an undisclosed secret expression. This marks the first secret item to be released from Tabemasu.


The chewy mochi texture and soft cream filling go perfect together. Enjoy a choice of custard flavoured cream in the Kirby designs and chocolate cream in the Maxim Tomato.

The mochi arrive at Lawson convenience stores across Japan on April 24, 2018 (excluding Natural Lawson and Lawson Store 100). This is a popular series of wagashi which sells out every time, so you might want to get your hands on some quick.

Enjoy these mochi however you like, whether as an afternoon treat, or as a dessert at a spring event in Japan. It's also the perfect product to post on your social media!

■Information

Tabemasu Mochi – Kirby's Dream World

Available: At the chilled dessert corner of Lawson stores across Japan.

*Not sold at Natural Lawson or Lawson Store 100.

*Limited quantity product. Sales will discontinue once all are sold.

*The day on which stores stock the product may differ from branch to branch.

*Select stores will not stock this product.

On Sale: From April 24, 2018

Price: ¥259 for 2 (w/tax ¥280)

Website: http://www.bandai.co.jp/candy/tabemas/m-kirby/

Tabemasu Product Line-up:

http://www.bandai.co.jp/candy/tabemas/

*Photos for illustrative purposes only.

*Actual product may differ from the photos.

*Be careful as to not choke on the product.

*For information on the latest releases, please visit the Bandai Candy Homepage.

*"食べマス" (Tabemasu) is a registered trademark of Bandai Co., Ltd.
RELATED ENTRIES
Kaori's Easy Recipe: Learn to Make Korilakkuma Tofu Pudding

With just a small bit of ingenuity, turn everyday food into something cute using Kaori's Easy Recipe! With a few simple ideas, an ordinary recipe magically transforms into a cute dish.

Today, I'll be showing you a dreamy recipe on how to make the healthy Taiwanese snack douhua topped with Yukimi Daifuku mochi ice cream.

Ingredients


400ml soy milk
2-g Lakanto (Zero-calorie natural sweetener)
Pinch of salt
8g gelatin (dissolved in 1 tbsp water)

Pre-preparations


Stick bear-shaped sliced chocolate around the side of a glass and leave to set in the refrigerator.

1.


Warm soy milk and Lakanto in a saucepan until the Lakanto is completely dissolved.

2.


Add the gelatin and mix until fully dissolved.

3.


Leave the mix to cool. Once cooled, remove the glass from the refrigerator and pour the mix into the glass. Place back into the fridge until it sets.

4.


Add sliced almonds and use a chocolate pen on Yukimi Daifuku to create Korilakkuma's face, or a face of your choice.

5.

Remove the glass from the fridge and add the Yukimi Daifuku. Choose your choice of toppings, like soy flour and brown sugar syrup, then enjoy!

Kaori invites you into her world of character-themed food dishes in her recipe series. Be sure to check out her Instagram where she has uploaded many pictures of her character dishes!

Kaori Kubota (@kaopan27)

I live in Hokkaido and I love to make character themed foods, desserts and pastries♡
I want to see my family smile, so I enjoy putting in a bit of effort to make character foods and changing food into something cute♡
You can see more of my character foods and character bento boxes on my Instagram page → @kaopan72

Japanese Tea Flavoured Shaved Ice For Takeout at Susumu Chaya in Tokyo and Kagoshima

Japanese tea shop Susumu Chaya started up a takeout service for shaved ice on Tuesday (July 7) at all of its branches including in Kagoshima as well as Jiyugaoka and Shibuya's DESCENTE TOKYO in Tokyo.

The shaved iced takeout service was originally only available at the two Tokyo branches, but now customers in Kagoshima can enjoy the tea-flavoured desserts.

Matcha Shaved Ice: ¥750 (Before Tax)

Made using Susumu Chaya's "koicha," a rich and full-bodied matcha variety.

Houjicha Shaved Ice: ¥750 (Before Tax)

The houjicha shaved ice is made using only first-grade tea leaves picked by Susumu Chaya. It has a refreshing taste.

The shaved ice can be ordered for takeout or eaten inside the cafes. Enjoy the full flavour of Japanese tea coupled with a refreshing portion of shaved ice.

Information

Susumu Chaya Kagoshima
Address: 27-13 Uenosonochō, Kagoshima-shi, Kagoshima Prefecture
Opening Hours: 10:00-18:00
Closed: Wednesdays
TEL: 099-251-4141
Access: 8-minutes on foot from Kagoshima-Chūō Station

Susumu Chaya Tokyo Jiyugaoka
Address: 1-25-5 Jiyugaoka, Meguro-ku, Tokyo
Opening Hours: 10:00-19:00
Closed: Every 1st and 3rd Wednesday of the month
TEL: 03-6421-4142
Access: 3-minutes on foot from Jiyugaoka Station's front entrance via the Ōimachi Line

Susumu Chaya DESCENTE TOKYO Shibuya Meiji Dori
Address: 6-19-21 Jingumae, Shibuya, Shibuya-ku, Tokyo
Opening Hours: 10:00-20:00
No Fixed Holidays
TEL: 03-6804-6332
Access: 4-minutes on foot from Exit 16 of Shibuya Station

Official Website: https://susumuya.com/

Preorder A Mouthwatering Cheesecake Made with Okinawa's Fresh and Juicy Mangoes

Fresh fruits and vegetable company yoloz is selling an exquisite cheesecake produced by chef Masato Yamazaki. The cheesecake is made using exotic mangoes sourced from Hentonanoen – an exotic orchard located in Okinawa. Preorders are now being accepted.

The new cheesecake takes the name "tabi suru cheesecake" which literally means "travelling cheesecake" – a fitting name for a cheesecake made with ingredients sourced from across Japan. The name also reflects chef Masato Yamazaki's experience of travel. Each month, chef Yamazaki creates a new limited edition flavour with the goal of "delivering the passion of fresh food producers to their consumers". This month, Yamazaki and yoloz are teaming up to deliver a delicious cheesecake made with fruits fresh from Japan's sunny paradise island of Miyako.

Whole: ¥4,980 (After Tax)

Half: ¥2,780 (After Tax)

This is the sixth collaboration by chef Yamazaki. The sun-soaked mangoes are sourced from Hentonanoen – an exotic orchard located on Miyako Island, Okinawa. The cheesecake enjoys a subtle splash of white wine for a refreshing aftertaste. Eggs with white yolks are also used to complete its refreshing image. Enjoy the contrast of the tangy yoghurt and ripe, sweet mangoes – the perfect summer treat. The sweet aroma of farm-fresh mangoes will instantly fill you with those cheerful summer vibes. 

Tadashi Hentona (From Hentonanoen)

Hentonanoen is located on Miyako Island of Okinawa. For more than 20 years, we have been working our hardest to harvest the most delicious mangoes using our own unique farming methods. One step in our procedure is caring for the soil. We periodically analyse the soil of our mango trees, enriching it with the very best nutrients it needs. Our procedure includes taking natural salts from the ocean to further enhance the quality of the soil. We always give it our best when caring for our produce. We hope you enjoy the delicious flavour of Miyako Island mangoes.

Just one bite of this cheesecake will take you on an unforgettable journey to sunny Okinawa. You just have to try it!

Lipton to Serve Iced Parfaits at New Fruit Tea Stands in Tokyo and Osaka This Summer

Japanese black tea brand Lipton is opening two pop-up tea stands this summer called "Lipton TEA STAND Fruits in Tea." They will open in Daikanyama and Osaka from July 10 and Kichijoji from July 22.

Lipton opened its two permanent tea stands "Lipton TEA STAND" in Nagoya and Hakata in winter 2018 in an effort to make black tea more accessible to people. The drinks menus at these stands are diverse, ranging from simple black tea to their "Fruits in Tea" range which are teas filled with fresh fruits, royal milk tea, desserts, and more.

Iced Parfaits


Passion Fruits: ¥1,200 (Tax Included) (+¥150 for honey milk) / Strawberry: ¥1,200 (Tax Included) (+¥150 for condensed milk)

Lipton's "Fruits in Tea" opened as a new way for people to enjoy black tea in summertime. With the outbreak of the COVID-19 pandemic, Lipton has decided to whip up some refreshing "Happy!" new iced parfaits for beating the hot weather. Their popular custom menu lets you a variety of vitamin-packed fruits, herbs, and more to your iced tea.

Frozen tea is the base of the iced parfait and retains the original flavour of the black tea. Added to that is ice and fruits inside a tumbler, all of which is layered to look like a parfait with a shaved iced quality to it. The "Passion Fruits" flavour is topped with passion fruit syrup and frozen lemon, orange, and kiwi, while the sweet and sour "Strawberry" is a mix of strawberry syrup and frozen strawberries, blueberries, and raspberries. Both options are sure to keep you cool during the hot Japanese summer.

Original Iced Tea "Fruits in Tea": Tumbler ¥1,000 (Tax Included) / Cup ¥600 (Tax Included)

Lipton's popular custom menu lets you choose from four tea bases, like Earl Grey and green tea. You can then pick your base fruits, like pineapple or strawberry, topping fruits such  as kiwi and mango, and then a special flavour like mint. Finally, choose your syrup, such as lemon, and you'v got your own custom beverage for the summertime.

Information

Lipton TEA STAND Fruits in Tea

DAIKANYAMA
Location: Sign Daikanyama (Daikanyama Station, 19-4 Daikanyamacho, Shibuya, Tokyo)
Running: July 10, 2020 – August 30, 2020

Opening Hours: 11:00-20:00

KICHIJOJI
Location: Sign Kichijoji (Atre Kichijoji Honkan 1F, 1-1-24 Kichijoji Minamicho, Musashino-shi, Tokyo)

Running: July 22, 2020 – September 22, 2020

Opening Hours: 11:00-20:00

OSAKA
Location: Diamor Osaka (Diamond Floor B1F, Osaka-eki-mae, 1-10 Umeda, Kita-ku, Osaka)

Running: July 10, 2020 – September 22, 2020 (Closed August 19, 2020)

Opening Hours: 10:00-21:00

Fruits in Tea Official Website: http://brand.lipton.jp/leaf/fruits_in_tea/

Harajuku's Fresh Cream Shop MILK Releases Milky Soft Serve Parfaits For Summer

MILK, a fresh cream shop in Harajuku, is set to hold a new summertime fair this year called "Milky Soft Fair" which will begin on July 8, 2020.

From Left: Kiwi ¥650 / Peach ¥650 / Strawberry ¥650 / Mango ¥650 / Condensed Milk Coffee Jelly ¥630

MILK's "Milky Soft Serve Parfait" usually only comes in one simple flavour, but for the Milky Soft Fair, they are serving up juicy mango, strawberry, and kiwi flavours, fruity peach, and bitter coffee jelly. The summery parfaits are made with fresh cream, fresh fruit, and rich soft service ice cream. The perfect dessert for keeping cool in the hot Japanese summer!

Information

MILK Harajuku
Address: THE SHARE 1F, 3-25-18 Jingumae, Shibuya, Tokyo
TEL: 03-5772-8858
Opening Hours: 11:00-19:00

Official Website: http://milk-craftcream.com/

Chocolate-Piled Shaved Ice & Other Summer Season Delights at BEL AMER Kyoto Villa

Kyoto-based chocolate bar BEL AMER Kyoto Villa is serving up the perfect line of new chocolatey bites for summer 2020.


The entire line-up is a delight to look at, from a mountain of chocolate piled on top of shaved ice, a summertime mango and melon dessert, and more.

Chocolate Noir Shaved Ice x Matcha: ¥1,540 (Tax Included)

Shaved ice is the quintessential summertime dessert in Japan, and since this one is being served at a shop specialising in chocolate, what better way to serve it than drizzled in a mountain of the stuff? The shaved ice is covered in rich chocolate cream and chocolate sauce and is topped with chocolate nibs. It's also served with a side of matcha sauce which you can pour over yourself, creating a delicious harmony of flavours.


Mille-Feuille au Chocolat Exotic With 196℃ Chocolate Ice Cream: ¥1,650 (Tax Included)

This summertime dessert is made with lots of mango and melon. In the centre of it all is even more mango, as well as pineapple and coconuts, for a flavourful layered experience. Served on the side is ice cream made from BEL AMER Kyoto Villa's own original couverture chocolate.

Summer Pavlova: ¥1,320 (Tax Included)

This piece of art of a dessert is a must for lovers of matcha and melon. It's made from fluffy meringue topped with white chocolate, matcha mousse, and chocolate cream, which itself is then topped with refreshing melon and grapes for a refreshing kick.


Chocolate Croquette Sandwich: ¥990 (Tax Included)

BEL AMER Kyoto Villa is also serving up a very unique dish indeed which mixes together chocolate and croquette—a flavour that actually works, combining sweetness and bitterness. The croquette is made from potatoes. The brioche sandwich also contains cheese and bacon.

These are just some of the delights on show at BEL AMER Kyoto Villa this summer. If ever you're in Kyoto, be sure to stop by, especially in the summer.

Information

BEL AMER Kyoto Villa Bettei Sanjo

Address: 66 Sanjodori Sakaimachi Higashi Iru Kitagawa Masuyacho, Nakagyo-Ku, Kyoto

TEL: 075-221-7025

Official Website: https://www.belamer-kyoto.jp

3 Gourmet Cheesecakes From Popular Cheesecake Shops in Japan

The cheesecake—a popular dessert with a flavour that is both rich and refreshing. The number of shops in Japan specialising in cheesecakes has been on the rise recently, all of whom are baking up their own unique versions. Here are three summertime cheesecakes available online in Japan from three popular cheesecake shops.

Mr. CHEESECAKE

This summer, Mr. CHEESECAKE has whipped up a seasonal "Hirami Lemon" flavoured cheesecake which they are selling in limited quantities via their official LINE account from July 12 to 19. The cheesecake is packaged in a special box featuring an illustration of the summertime ocean.

Made with refreshing hirami lemons, the cheesecake has a sour and slightly bitter kick to it. By combining Japanese sansho pepper and olive oil, the sourness of the hirami lemon is elevate to new heights. Mint is also added to up the refreshing flavour, and salt from Okinawa heightens the sweetness of the cheesecake.

Mr. CHEESECAKE hirami lemon

Price: ¥5,400 (Tax Included)
Official Website: https://mr-cheesecake.com/

Neko Neko Cheesecake

Neko Neko Cheesecake, a cheesecake shop which opened in Tokyo in May, serves cat-shaped cheesecakes. This summer-only cheesecake is made using setonai lemons. It was released on Friday and will be sold in limited quantities only.

​The cheesecake has lemon jelly in the middle and is topped with sliced lemons grown in the Seto Inland Sea area that are baked together with the cake. It's finished with a smear of lemon jam and cream, making for a real summertime treat.

Neko Neko Cheesecake ~Setonai Lemon~
Online

Release Date: July 1, 2020

Price: Single ¥3,800 / Lemon & Plan ¥5,980

Online Store: https://hbantique.official.ec

In-Store

Release Date: July 3, 2020

Price: Single ¥2,200

Available: Neko Neko Cheesecake in Jiyugaoka, Tokyo

LeTAO

Confectionery shop LeTAO has released their popular "Melon Double" cheesecake again this summer.

A popular cheesecake released every year by LeTAO, the Melon DOuble is a sweet baked cheesecake made with individual layers of melon puree and mascarpone cream cheese. The refreshing sweetness of the melon goes hand in hand with the cheese.

Melon Double ~Hokkaido Melon~
Price: ¥1,728 (Tax Included) *Shipping fee ¥890
Available: Until August 31, 2020
Product Details: https://shop.letao.jp/item/F695.html

Gourmet Shaved Ice Served Up at the New VERMICULAR PREMIUM SHAVED ICE SALON in Nagoya

For this summer only, a limited-time gourmet shaved ice shop called "VERMICULAR PREMIUM SHAVED ICE SALON" is opening up inside VERMICULAR VILLAGE in Nagoya from July 2 to September 13.

The exquisite shaved ice options are topped with fruit confitures which are made without any water involved, allowing for the original flavour of the fruits to come through, as well as adzuki beans cooked with Vermicular cookware, and more. The shaved ice is served inside Vermicular's high quality mini pots, which have been kept cool, meaning the ice doesn't melt when it's put inside, meaning it stays nice and fluffy until the end.

There are three to pick from, and underneath each the shaved ice is a blancmange which goes hand in hand with the shaved ice flavours.

Strawberry, Pistachio, & Condensed Milk: ¥1,300 (Before Tax)

This ice pot is topped with a strawberry jam which was made using no water, and pistachios—which go really well with the fruity confiture. At the very bottom is a condensed milk blancmange, making it delicious down to the last spoonful.

Nishio Matcha, Adzuki Beans, Brown Cane Sugar Warabimochi, & Houjicha: ¥1,500 (Before Tax)

Next is a matcha flavoured shaved ice pot made with adzuki beans and matcha grown in Nishio, Aichi. Sat at the bottom of the pile is a houjicha tea blancmange and brown cane sugar warabimochi.

Mango, Passion Fruit, & Coconut: ¥1,300 (Before Tax)

Lastly is a mango and passion fruit sauce covered shaved ice with coconut milk and a topping of fresh mango. At the bottom is a coconut blancmange.

Information

VERMICULAR VILLAGE
Address: 2-4 Funatocho, Nakagawa Ward, Nagoya, Aichi

Bookings: https://www.tablecheck.com/shops/the-foundry/reserve

Enquiries: VERMICULAR RESTAURANT THE FOUNDRY (052-355-6800)

Dining: 50 minutes max

*Photos are for illustrative purposes only

Summer 2020 Parfait Fair Begins at Shiseido Parlour in Tokyo

Shiseido Parlour began its annual "Midsummer Parfait Fair" at its Ginza, Tokyo branch on Wednesday which will run until August 30 and be divided into two different slots serving different parfaits. The cafe is serving up a selection of parfaits made from ice cream and local seasonal fruits under the trust that the chefs and farmers have built over the years.

2020 Midsummer Parfait Fair: Slot ① July 1, 2020 – July 31, 2020


Furano, Hokkaido – Furano Melon Parfait: ¥2,100 (Tax Included)

This parfait is made using Furamon melon which is grown in Hokkaido's city of Furano between the mountains where there is a major temperature difference. The melon is ripened after being harvested and so make it nice and soft, giving a sweet and juicy flavour and fragrance.

Sakai Nouen, Wakayama – Arakawa Peach Parfait: ¥2,300 (Tax Included)

The "Arakawa" peach is a brand of peach grown in Wakayama Precture. The peaches are grown until their nearly completely ripe while in the tree, giving them a soft texture. Inside the sweet flavour is a sour kick, both of which explode with the juiciness of the peach in the parfait.

Yaeyama Islands, Okinawa – Apple Mango Parfait: ¥2,700 (Tax Included)

The "apple mango" is a type of mango grown in the hot climate of Okinawa. The mango has a super soft, melt-in-the-mouth texture and a sour tinge which elevates its rich sweetness.

Hatake Kobo, Nagano Prefecture – Koihime Strawberry Parfait: ¥2,000 (Tax Included)

The "koihime" is a type of summer strawberry grown in-house by Shiseido Parlour. The strawberries get plenty of water, air, and sunlight so they grow into red jewels packed full of sweetness.

The second slot of the 2020 Midsummer Parfait Fair will run from August 1 to August 30.

Information

Shiseido Parlour Ginza

Address: Tokyo Ginza Shiseido Bldg. (Floor 3F), 8-8-3 Ginza, Chuo Ward, Tokyo

TEL: 03-5537-6231 (No reservations required)

Opening Hours:

[Tue-Sat] 11:00-21:00 (Last Orders 20:30)

[Sun & Hols] 11:00-20:00 (Last Orders 19:30

Closed: Mondays, New Year Holidays

Official Website: https://parlour.shiseido.co.jp/

Support Japan's Cherry Farmers During Lockdown by Eating Q-pot CAFE.'s Cherry Parfait

Q-pot. and Q-pot CAFE. introduced a special cherry parfait to its menu on June 27 to help support cherry farmers whose work has been affected by COVID-19.

Due to less people travelling and sightseeing around Japan as a result of the lockdown and self-isolation practices, orders for cherries are being cancelled, and many festivals across Japan too are being cancelled, all of which is having a huge affect on the country's cherry industry.

The current season is the best time to enjoy Japan's juicy cherries, and so Q-pot CAFE. has teamed up with a cherry farm in Yamagata, a prefecture famous for its cherries.

Cherry Cherry Parfait (w/Drink): ¥1,850 (Tax Included)

The "Cherry Cherry Parfait" is topped with snow-white whipped cream, crunchy meringue, and cherries for a gorgeous contrast of red and white.

The cherries used are considered a high-grade type called "satonishiki" which has been dubbed the "King of Cherries." They sit gracefully atop their kingdom of sweet ingredients including salt milk ice cream, chocolate, cherry jam, sponge cake, and panna cotta.


The cherry farmers are taking all the necessary safety precautions against COVID-19 while they continue to delivery delicious cherries to the people of Japan.

Information

Cherry Cherry Parfait
Location: Q-pot CAFE. Omotesando
Serving: From June 27, 2020 while supplies last
*Due to an event taking place between July 21, 2020 – September 4, 2020, customers must book a table in advance to dine at Q-pot CAFE. Omotesando. The regular menu will not be served.

Official Website: http://www.q-pot.jp

Brown Bear & Other Tasty Shaved Ice Recipes Arrive at Tokyo's Terrace Dining TANGO for Summer

For this year's summer season only, Tokyo-based Italian restaurant Terrace Dining TANGO is serving three original shaved ice desserts from July 1 to August 31.

Terrace Dining TANGO is a restaurant located in The Place of Tokyo, a wedding venue that faces Tokyo Tower. Every summer, the restaurant serves special limited-time shaved ice. They use water with absolutely no impurities that is frozen slowly over a period of 48 hours. This is turned into fluffy shaved ice which the restaurant's patissiers drizzle in specially-made sauces. This year includes their popular brown sugar syrup-drizzled brown bear shaved ice which is always well received for its cute appearance, as well as their regular strawberry milk flavour, and a new apricot kernel and mango sauce shaved ice.

Brown Bear w/Brown Sugar Syrup: ¥950 (Before Tax/Service Charge)

An original shaved ice conceived by Terrace Dining TANGO which never fails to put smiles of the faces of its customers every year. This year they are adding a Japanese taste to it with a houjicha tea syrup sauce. Inside the fluffy shaved ice is condensed milk and chewy tapioca. If you let the shaved ice melt it becomes like bubble tea with the tapioca pearls.

Strawberry Milk: ¥850 (Before Tax/Service Charge)

A classic serving of TANGO's strawberry milk shaved ice, doused in a specially-made strawberry syrup and rich condensed milk. Hidden in the centre is a condensed milk cream, strawberry jelly, and fresh strawberries.

Apricot Kernel Milk w/Mango Sauce: ¥850 (Before Tax/Service Charge)

This shaved ice is topped with melt-in-the-mouth apricot kernel cream and lots of fruity mango sauce for a sweet and sour punch.

Terrace Dining TANGO is a great place to visit after going to Tokyo Tower, so if you're in Tokyo this summer then cool yourself off with some refreshing shaved ice.

Information

Terrace Dining TANGO

Address: 1F, 3-5-4 Shibakoen, Minato Ward, Tokyo

Opening Hours:

[Weekdays] 11:30-15:00 (Last Orders 14:00), 17:00-23:30 (Last Orders 22:30)

[Saturdays] 11:30-16:00 (Last Orders 15:00), 17:00-23:30 (Last Orders 22:30)

[Sundays/Holidays] 11:30-16:00 (Last Orders 15:00), 17:00-22:30 (Last Orders 21:30)

No Fixed Holidays
TEL: 03-5733-6866

Official Website:  https://tabelog.com/tokyo/A1307/A130704/13144857/

Cute Bear Pancakes Whipped Up at IMADA KITCHEN in Tokyo's SHIBUYA109

IMADA KITCHEN in SHIBUYA109 has teamed up with Hattendo Cafe to co-create the new "Torokeru Kuma-san Pancakes" (Melty Mr. Beat Pancakes) which will be served from July 1, 2020 to August 30, 2020.

IMADA KITCHEN is a food project that aims to create original food in Shibuya. Together with Hattendo, a Hiroshima brand known for its incredible cream pastries, they have created a super cute bear design pancake. Bear designs are popular with young girls in Japan.

Torokeru Kuma-san Pancake: ¥450 (Before Tax)

The fluffy pancakes are filled with melt-in-the-mouth, handmade custard cream, meaning a single bite lets you enjoy both the moist texture of the pancake and the melty drizzle of the custard cream. Your mouth is instantly filled with flavours of maple syrup and egg, which when combined with the accompanying berries makes for a sweet amalgamation of deliciousness.

Torokeru Koro Tama Kuma Sandwich: ¥450 (Before Tax)

Normally, you would have to go to Hiroshima to try Hattendo Cafe's "Torokeru Koro Tama Kuma Sandwich," but now it will be available to try at IMADA KITCHEN. Made with the cafe's "cream bread," this moist sandwich is filled with egg salad, korokke, and cabbage for a hearty meal.