Top 10 Best Souvenirs & Top 5 Best Bento Sold at Tokyo Station
The latest rankings have been announced for the Top 10 most popular souvenirs and Top 5 most popular bento sold at Gransta.
Gransta is an indoor shopping facility inside Tokyo Station. It is made up of two facilities: Gransta is in the B1 area beneath the Central Passage of Tokyo Station inside the ticket gates, while Gransta Marunouchi is outside the Marunouchi underground ticket gates. Shops there sell everything from freshly made bento to side dishes, exclusive sweets and confections and more. There's even the huge miscellaneous and cosmetics zone where a range of goods are sold.
The top rankings for souvenirs and bento are as follows.
Souvenirs 
1st Place: Tokyo Station Set of 10 Waffles (¥1,300)
Shop: R.L Waffle Cake
This set of waffles contain five types of waffles available only at Tokyo Station together with five of R.L Waffle Cake's popular waffles. It comes in colourful packaging with the Marunouchi station building illustrated on it. The waffles are packed with a bunch of different creams including custard cream, chocolate cream, matcha cream, strawberry cream and more.
2nd Place: Gin no Budo Chocolate Sandwich (Almond)
Price: 8 Set – ¥712 / 12 Set – ¥1,080 / 18 Set – ¥1,620 / 24 Set – ¥2,160
Shop: Gin no Budou
This popular delectable can only be purchased at Tokyo Station. The most the shop has sold in a day is over 50,000. It's a sandwich-like confection made with smooth and melty milk chocolate and white chocolate together with the shop's own hard and crispy chocolate nuts.
Bento
1st Place: Spanish Bellota Iberico Pork on Rice (¥1,100)
Shop: Eashon
Taking the No. 1 spot in the bento category is Eashon's consistently popular pork bento. It's made using only the best Bellota Iberico pork from Spain. It has maintained the most sales of any other bento in Gransta for 10 consecutive years. Its special quality comes from the melt-in-the-mouth fat and sweet and spicy sauce which goes well with the rice. You can also get completely new flavours when eating it with mustard. It's also served combined with ginger pickled in sweet vinegar, resulting in an array of flavours you won't tire from down to the last bite.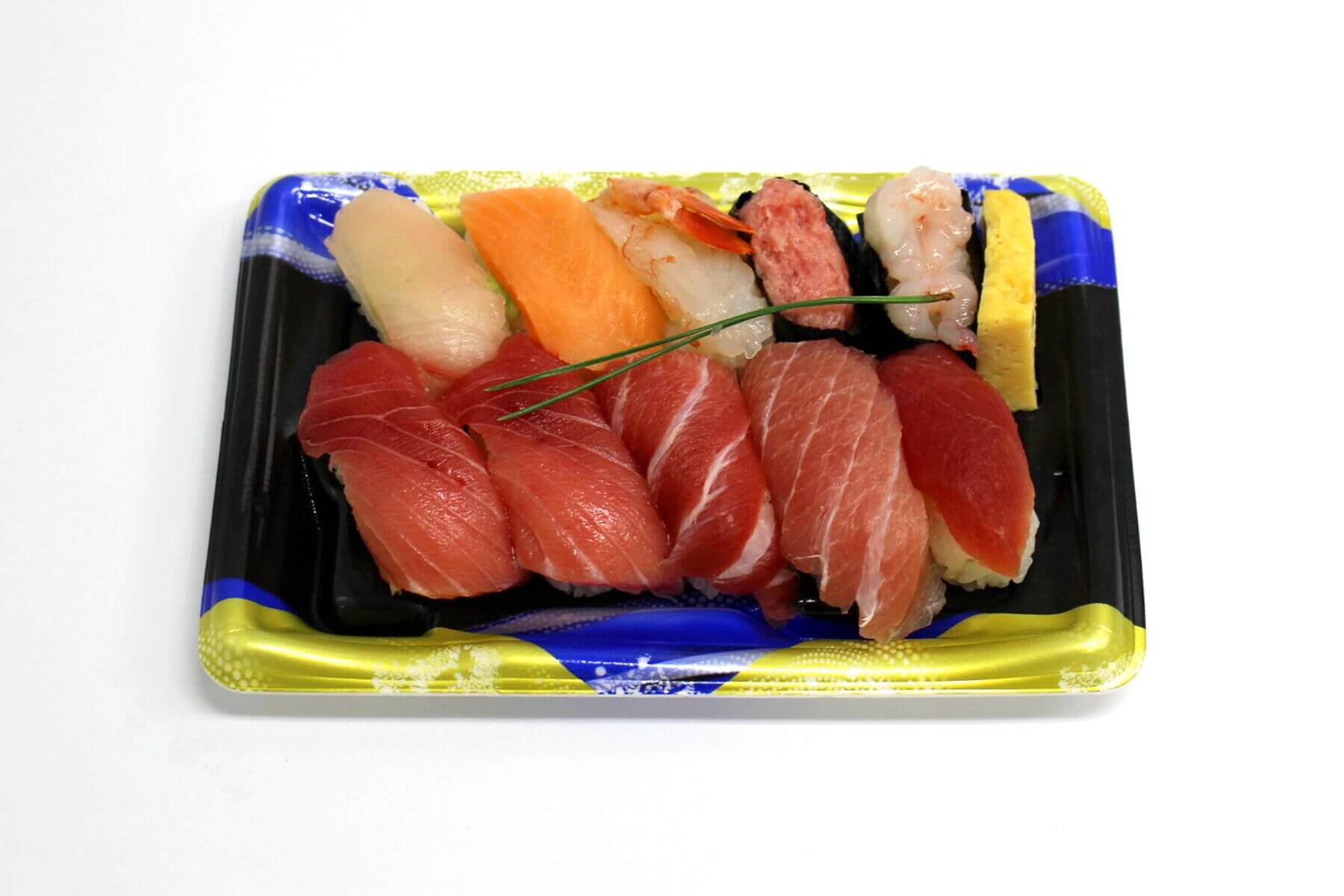 2nd Place: Jou Nigiri (¥1,550)
Shop: Tsukiji
This ten-piece sushi bento is made with fresh ingredients shipped directly from Takewaka Tsukiji. It is made in front of you by a sushi expert. The sushi includes medium fatty tuna, sweet shrimp, salmon, greater amberjack and more. It also comes with tamagoyaki.
*Please note that ingredients may change depending on stock.
The list includes a line-up of fantastic choices as gifts and souvenirs, so be sure to use it as reference.
Information
GRANSTA (Inside Ticket Gates)
Address: JR Tokyo Station, 1-9-1 Marunouchi, Chiyoda-ku, Tokyo
Opening Hours: 8:00am-10:00pm (Until 9:00pm on Sundays)
Website: http://www.tokyoinfo.com/shop/mall/gransta/
GRANSTA Marunouchi (Outside Ticket Gates)
Address: JR Tokyo Station, 1-9-1 Marunouchi, Chiyoda-ku, Tokyo
Opening Hours: 8:00am-10:00pm (Until 9:00pm on Sundays)
RECOMMENDED ENTRIES
Christmas Fair to be Held at Tokyo Station's Gransta Shopping & Dining Mall

Christmas is coming to early to Tokyo Station's Gransta and Gransta Marunouchi malls with Christmas Fair 2018 Tokyo Xmastation, an event that will run from November 12 to December 25 selling a range of fun and festive cakes.

Tokyo Station Building Cake: ¥88,000 (Tax Included)

The best pastry chefs at Gransta's branch of French patisserie chain Colombin have come together to recreate the Marunouchi building of Tokyo Station. The entire dessert is handmade and ready to welcome the holiday season.

*Reservations only.

*Can be taken home at room temperature.

Shop: Colombin (Gransta)

Reservation Window: November 12, 2018 – December 15, 2018

Pick-Up: Until December 21, 2018

Gran Christmas Cake: ¥3,240 (Tax Included)

Forma is known for its delicious cheesecakes, and this two-layered Christmas cake is a Forma original made with a mousse of unsalted cream cheese from Zao with added strawberry and another mellow-tasting mascarpone mousse.

Shop: Forma (Gransta)

Reservation Window: November 12, 2018 – December 18, 2018

Pick-Up: December 22, 2018 – December 25, 2018

General Sale: December 22, 2018 – December 25, 2018

Suica Penguin Architect's Tuile: ¥5,400 (Tax Included)

This cake is made in the image of the cute penguin mascot of Suica, a company that sells prepaid smart cards for transport and shopping. It's a fusion of chocolate mousse and Tonka bean cream.

Shop: DALLOYAU (Gransta)

Reservation Window: November 12, 2018 – December 17, 2018

Pick-Up: December 22, 2018 – December 25, 2018

General Sale: December 22, 2018 – December 25, 2018

The main visual for the 2018 Christmas Fair was designed by Japanese illustrator HONGAMA. The theme of the picture is 'Don't miss out on those cakes!' It features people dressed in Christmas outfits chasing after cakes in an effort to tell people to not forget to reserve their cake.

Finish your Christmas menu off with one of Grasta's delicious cakes!

Information

Christmas Fair 2018 Tokyo Xmastation

Location: Gransta (inside ticket gates) and Gransta Marunouchi (outside ticket gates)

Running: November 12, 2018 – December 25, 2018

Website: http://www.net-ekinaka.com/shop/r/r101003/

©Chiharu Sakazaki/ East Japan Railway Company /DENTSU Suica by East Japan Railway Company

Suica is a registered trademark of East Japan Railway Company.

LINE Stamp Character Usamaru Merchandise to be Sold at LINE CREATORS SHOP in Tokyo

The LINE CREATORS SHOP is a new permanent store for that will open along Tokyo Character Street in Tokyo Station Ichibangai on October 25.

LINE Creators are those who create their own stamps which are sold on the LINE Creators Market to be used on LINE, a messenger app in Japan similar to WhatsApp. Many characters have become popular through this service  including Butata, Plump Dog & Plump Cat, Penguin and Cat Days, Love Mode, not to mention Usamaru. More recently, these popular characters have even gotten their own stuffed toys and stationary and have partnered up with certain projectors.

Usamaru is particularly loved having won the top prize at the LINE Creators Stamp Awards. He drew much attention recently for collaborating with the Yukimi Daifuku ice cream brand.

The LINE CREATORS SHOP will be home to merchandise from the most popular LINE Creators. It will open along Tokyo Character Street in Tokyo Station's shopping complex Ichibangai. It's been a year since Tokyo Character Street expanded in summer 2017. In addition to the regular Usamaru merchandise, limited edition goods will also be sold at the LINE CREATORS SHOP.

Merchandise from even more LINE Creators will arrive at the store in near future. Be to sure to check it out if you're in Tokyo Station!

Information

LINE CREATORS SHOP
Location: Tokyo Character Street (Tokyo Station Ichibangai B1F, 1-9-1 Marunouchi, Chiyoda, Tokyo

Grand Opening: October 25, 2018

Opening Hours: 10:00-20:30 (All Week)

7 Tasty Places to Eat Breakfast at Tokyo Station

Tokyo Station is one of the busiest stations in Japan, home to many of the JR Lines as well as the Tokaido Shinkansen which runs between Tokyo and Shin-Osaka.

But Tokyo Station isn't just a simple station. It's a giant complex packed with many places to eat. Today, we're going to take a look at 7 places you can eat breakfast at Tokyo Station before departing on your journey.

Fruit Parlor Kajitsuen

Fruit Parlor Kajitsuen can be found in Kitchen Street which is a one-minute walk from the Yaesu North Exit ticket gates of Tokyo Station. As the name suggests, their menu is packed full of fresh fruity food. The breakfast menu has things like pancakes and toast, all of which arrive with fresh fruit. If you like to eat fruit in the morning then this is the place for you.

Rokurinsha

The popularity of Rokurinsha has never died down ever since it opened on Tokyo Ramen Street in 2009. It has gone on to become a leader in the tsukemen, or dipping noodle industry. The restaurant also serves three types of ramen in the morning. The irresistible soup is nice and light so can be enjoyed even in the early hours.

Yaesu Hatsufuji

This izakaya is located in Yaesu Shopping Mall and opens at 7am. They serve 7 different breakfast sets such as fried salmon, pork miso soup, fried eggs, and simmered meat and tofu. Their portions are big and they use great ingredients. If you want a Japanese-style breakfast then check this place out!

Tsukiji Sushi Say

Located in Gransta on floor B1F is Tsukiji Sushi Say, a sushi restaurant that has been around since 1889. Their recommended breakfast meal is sea bream with sesame sauce. The rich sauce replaces the usual soy sauce and covers a sea bream sashimi. It can be eaten as it is or covered with kombu and bonito dashi. Being able to eat fresh fish in the morning is a luxury!

Misogen

This looks like coffee, but it isn't. The drink is called 'Shijimi Expresso' and is made with clams from Lake Shinji in Shimane Prefecture together with flavoursome miso paste and served in an espresso cup. You get a small 70ml serving.

T's Tantan

Vegan food is hard to come by in Japan, but T's Tantan is a rare exception. Their vegan menu uses no meat, dairy or animal products. Enjoy a selection of vegan foods on their breakfast menu including shoyu ramen, tantanmen, soup and rice, and more. Their recommended meal is the 'Shiawase Tantan Soup Kake Gohan,' a mix of rice and grains and an original T's Tantan soup. Visit here if you want something healthy when you wake up.

Boulangerie La Terre

If you're looking for bread in the morning then we recommend this place. They bake lots of fresh bread nice and early. This fluffy looking bread is made with milk from Jersey cattle from the city of Aso in Kumamoto Prefecture. Its fresh sweetness and fluffy texture is loved by customers.

We hope you find this useful when staying in Tokyo. Start your day with a delicious breakfast at Tokyo Station.
RELATED ENTRIES
Cute Pikachu, Mew, Eeevee and Snorlax Blush & Powder Release in Pokémon Cosmetic Series

The next set of beauty items in the popular Pokémon Cosmetic Series has finally been revealed: the Pokémon Cheek and Pokémon Pressed Powder will be released on September 10. The line-up includes Pikachu, Eevee, Mew, and Snorlax.

Pokémon Cheek – ¥1,300 (Before Tax)

The Pokémon Cheek is a cream-type blush that spreads smoothly on your skin without any stickiness. It's comfortable on the skin and is durable. It also contains micropearls and so gives your skin a natural shine.

It comes in four colours: Pikachu Milky Pink, Eevee Rose Pink, Snorlax Coral Pink, and finally Mew Pearl White which brightens your natural skin tone. The blush comes as a stick and so is ncie and easy to apply and carry around.

Pokémon Pressed Powder – ¥1,500 (Before Tax)

The pressed powder comes with its very own powder puff featuring a cute original design. The powder is mixed with minerals that are gentle on the skin as well as collagen. It leaves your face looking smooth and natural without any unwanted shiny patches.

Pick from four different colours: Pikachu Pink which brightens natural skin colour, Eevee Mint which elevates transparency, Snorlax Yellow which conceals blemished, and Mew Purple which brings out transparency and shimmer.

When out there in the wild catching Pokémon, why not look good at the same time? Be sure to check out the Pokémon Cosmetic Series, and stay tuned for any new products that are released.

Information

Pokémon Cosmetic Series – Pokémon Cheek / Pokémon Pressed Powder

Release Date: September 10, 2019

Available: Pokémon Center,  ITS'DEMO, Tokyu Hands, Village Vanguard, and elsewhere

Official Website: https://lovisia.jp/pokemon/

Tokyo Station's Christmas Cakes Are a Must-Buy Present This Holiday Season

Two of Tokyo Station's shopping areas, GRANSTA and GRANSTA MARUNOUCHI―which are accessible inside the ticket gates and outside the ticket gates respectively―are set to hold the GRANSTA Christmas Fair from November 5 to December 25.

GRANSTA x Tokyo Staion Hotel

The main GRANSTA shopping area is joining hands with Tokyo Station Hotel for the very first time to release a line of hotel-original Christmas cakes.

Noel – ¥6,200 (Tax Included) @ Tokyo Station Hotel (*10 servings per day)

This pine tree stump chestnut cake was originally sold to support the reconstruction work of the Tokyo Station Marunouchi Building which was held until 2012. Topping the chestnut sweet potato base is a mix of chestnut mousse and coffee cream. This is topped with two types of chestnut pastes in a spiral shape to create the tree rings.

Bûche Chocolat Vanille – ¥5,500 (Tax Included) @ Tokyo Station Hotel (*10 servings per day)

The Bûche Chocolat Vanille is an exquisite yule log made with melt-in-the-mouth chocolate mousse and vanilla cream inside which hides sweet and sour, kirsch-soaked cherries and sauteed pears. The top of the log is temptingly lined with even more cherries to give it both that rich look and even richer taste.

Tokyo Station Marunouchi Building Cake Designs

GRANSTA will also sell cakes inspired by Tokyo Station. As well as the ones shown here, there are ones based on the bullet trains and more.

Station Building Fruit Cake – ¥4,320 (Tax Included) @ Colombin (*only 100 available)

Exclusive to GRANSTA comes this special Christmas fruit cake based on the station building. It would make great gift to bring to the Christmas party.

Cupola de Tokyo – ¥3,780 (Tax Included) @ Caffarel (*only 50 available / *design still a WIP so may differ from the photo)

This colourful Christmas cake draws inspiration from the gorgeous interior designs of the north and south domes of the Tokyo Station Marunouchi Building.

Suica Penguin Cakes

The adorable Suica Penguin is the mascot of Suica contactless smart cards used at train stations.

Suica Penguin Cake – ¥5,400 (Tax Included) @ Dalloyau (*only 100 available)

The main Suica Penguin cake is a combination of chocolate mousse and a cream made from tonka beans. This cute cake is sure to bring joy to any child this Christmas♡

Suica Penguin Chocolate Raspberry – ¥490 (Tax Included) @ Fairycake Fair (*30 servings per day)

Fairycake Fair has whipped up a chocolate cream-topped cupcake filled with raspberry jam. This one is for those who want something a bit smaller than a ginormous cake!

There are lots more cakes to look forward to, including ones in very limited quantities. If you're in Japan this Christmas season, be sure to pay a visit to GRANSTA and GRANSTA MARUNOUCHI in Tokyo Station.

©Chiharu Sakazaki / JR East / DENTSU Suica by JR East Suica

Information

GRANSTA

Address: JR East Tokyo Station Building Floors B1F & 1F (Inside Ticket Gates), 1-9-1 Marunouchi, Chiyoda Ward, Tokyo

Opening Hours: 8:00-22:00 (Until 21:00 on Sundays)

*Opening hours differ for select shops in GRANSTA

*The GRANSTA New Area opening hours are from 9:00-22:00(Until 21:00 on Sundays)

GRANSTA MARUNOUCHI

Address: JR East Tokyo Station Building Floors B1F (Inside Ticket Gates), 1-9-1 Marunouchi, Chiyoda Ward, Tokyo

Opening Hours: 10:00-22:00 (Until 21:00 on Sundays)

*Opening hours differ for select shops in GRANSTA MARUNOUCHI

GRANSTA Official Website (Japanese): https://www.tokyoinfo.com/shop/mall/gransta/

Tokyo Station Top Souvenir and Bento Rankings 2019

Tokyo Station is a hive of thriving shops and restaurants. If you are wondering where to start, exit the ticket barriers and head to GRANSTA Marunouchi to discover a new world of bento lunches, souvenir gifts and much more. Still stuck on where to go? Lucky for you, GRANSTA Marunouchi shoppers have voted for their favourite bento meals, sweet souvenirs and general souvenirs. We have summarised the top three winners of each category.

A total of 69 shops have risen to the challenge, submitting a total of 73 of their top items. This year, a total of 4,500 voters took part in the survey, which is 2,000 more than last year. There were 10 winners in each of the three categories of Bento Meals, Sweet Souvenirs, and General Souvenirs. Today, we are presenting you with the top three of each category. (The prices below are the prices after tax has been applied)

▶︎Bento Meals Category

1st place: Asakusa Imahan Sukiyaki (Tokyo-limited)

Asakusa Imahan was founded in the 28th year of the Meiji era (1895) and still serves delicious traditional Japanese food. The Sukiyaki Bento is filled with a range of nutritious vegetables and luxurious Japanese Black wagyu beef, which is a shop specialty. Enjoy the wonderful sukiyaki flavouring of the vegetables and meat. 

Price: ¥1,450 Shop: Asakusa Imahan (浅草今半)

2nd place: Salted Salmon Roe and Salmon Belly Bento 

*Limit of 150 sold per day.

Price: ¥1,280 Shop: Ekibenya Matsuri (駅弁屋 祭 )

Salmon belly flavoured with natural fat is fried and topped with salmon roe coated in a soy sauce dressing. This exquisite bento is full of flavours that go well together.

3rd place: Shoro Sando

*Limit of 200 sold per day 

Price: ¥648 Shop: Tsukiji Shoro (つきぢ松露 )

The faintly sweet flavour of the tamagoyaki seasoned and flavoured egg is the perfect match with the mayonaise.

▶︎ Sweet Souvenirs Top 3 

1st place: Maple Pie Sandwich Biscuit (Tokyo Station-limited)

Price: ¥1,944 (box of 8) Shop: The Maple Mania  

Maple cream is combined with maple sugar and sandwiched between two delicious and crispy pie crusts. The box takes on the appearance of a red brick, making it the perfect Tokyo Station souvenir. 

2nd place: Tokyo chocolate Sablé (Tokyo Station-limited)

Price: ¥1,080 (box of 12) Shop: Marché du Chocolat 

The packaging features a beautiful illustration of Tokyo Station. There are two chocolate sablé flavours: raspberry and hazelnut.

3rd place: My Captain Cheese Set (Tokyo Station-limited)

Price: ¥1,080 (box of 8 packets)  Shop: MY CAPTAIN CHEESE TOKYO 

Although having just opened in April 2019, this shop quickly made the rankings. From the outer packaging to the flavour, the efforts put into the making of this souvenir are clear. This brand new sweet cheese-flavoured treat is a new GRANSTA-limited souvenir.

▶︎ General Souvenirs

1st place: Karuizawa Royal Blend

Limit of 30 made per day 

Price: ¥1,122 (whole loaf)/ ¥ 561 (half loaf) Shop: BOULANGERIE ASANOYA 

The recipe used to bake this bread was deeply loved by the Kazoku; the rich and noble family class that existed during the Showa Era of Japan. This thick and fluffy loaf is made with lots of fresh cream for a rich flavour.

2nd place: Suica Penguin Mamegui Wrapping Cloth and Suica Baumkuchen cake (Tokyo Station-limited)

Prices: Mamegui Wrapping Cloth: ¥648/ Baumkuchen: ¥ 540  Shop: Mamegui (まめぐい)

The Suica penguin, who is the mascot on the Suica smart travel card, is printed on this round Baumkuchen cake. Wrap it in the hankerchief-sized tenugui cloth and it will be the perfect petit present for your friend.  

3rd place: Lemon and Shiikuwasha Lemon Vinegar (Tokyo Station-limited)

Price: ¥1,728 (250ml) Shop: Nomusu Ekisupuresu Tokyo (飲む酢エキスプレ・ス・東京)

This dessert vinegar has a refreshing lemon flavour. The slight bitterness of the Shiikuwasha vinegar makes it a wonderful dessert flavour. 

If you are overwhelmed by the vast selection of bento lunches or souvenirs, referring to these rankings is a safe option. Have fun shopping at Tokyo Station!

Tokyo Souvenirs Galore at Tokyo Station's New Gift Kiosk

Tourists and travellers using Tokyo Station this summer will be excited to hear that the all-new Gift Kiosk Tokyo souvenir shop will open at the Tokyo Station Shinkansen Yaesu Central Exit on August 7.

Gift Kiosk Tokyo's shelves are packed full of gifts and souvenirs aimed at travellers using the Shinkansen. This includes bundles of delicious sweets and desserts such as raw mooncake by Nakamuraya, Tokyo Souvenir Chocolate which comes in packaging featuring Tokyo's many iconic sites, and lots more.

Tokyo Chocolate Tokyo Souvenir :  ¥756 (Tax Included) 

The Tokyo Souvenir Chocolates are exclusive to Gift Kiosk and are a delicious retro-modern fusion combining 6 different chocolates and sweets made with traditional Japanese ingredients, offering an irresistible taste the likes of which you have never tried..

Nakamuraya's Raw Mooncake: Set of 5 – ¥756 (Tax Included) / Set of 8 – ¥1,188 (Tax Included)

Nakamuraya's chewy raw mooncake is made using traditional Japanese wagashi confection baking methods and is filled with sumptuous red bean paste. The paste is a blend of rich adzuki beans from Hokkaido and black sesame paste which has a strong flavour when combined with the beans. This is the first time it has been sold at Tokyo Station so all sweet tooths' eyes will be on this one.

As well as sweet treats, the store is full of drinks, bento boxes, sandwiches and other sundries. If you're passing through Tokyo Station, particularly if you're heading to another part of Japan using the Shinkansen, then be sure to stop by Gift Kiosk Tokyo.

Information

Gift Kiosk Tokyo

Business Hours: 6:30-22:30

*Photos are for illustrative purposes only

*Please be aware that items are subject to selling out

Official Website: https://www.kiosk.co.jp

2019 Top 10 Souvenirs Available at Daimaru Department Store, Tokyo

Looking for some delicious, well presented Japanese souvenirs? Head to Daimaru department store which is adjoined to Tokyo Station. On the first floor and basement floor lies a Japanese-style desserts and sweets area which contains approximately 70 delicious brands. Every day, approximately 30,000 desserts are sold to customers who are looking for souvenirs to bring to their family and friends. 

Now we have arrived at the summer holidays, there are many tourists who will soon reach the stage of panic where they are unsure of what souvenirs to bring back to their loved ones. Luckily, Daimaru Department store is a goldmine of beautifully presented Japanese-style sweet snacks made by top brands. Today, we present you with a list of the 10 fastest-selling souvenirs that were sold from July 2018 to June 2019. There is still plenty of time to get your hands on these souvenirs!

1st Place: N.Y.C. SAND: Caramel Sandwich Biscuits (box of 8) ¥1,080 (1st floor)

 As you take a bite, you will notice that the biscuit, chocolate and caramel will balance in perfect harmony just for a brief glorious moment. 

2nd place: Fukusaya: Fukusaya Cube (Cut into two) ¥270 (1st floor)

Have a small slice of luxury with this traditional recipe castella sponge cake which was specially made by experienced bakers. This is presented in a small, cute box. 

3rd place: Kamakura Toshimaya: Hato Sable (box of 10) ¥1,080 (1st floor)

This is a crispy dove-shaped shortbread biscuit which has a rich buttery flavour. This was first produced in the early 1900's during the Meiji period and is a souvenir limited to Tokyo.

4th place: Asakusa Mangando: Imokin ¥129 each (1st floor)

This baked treat is packed with the delicious flavour of sweet potatoes. The freshly baked scent is enough to draw you in. 

5th place: TOKYO BANANA STUDIO: Panda Banana Yoghurt (Box of 4) ¥515 (1st/basement floor) 

Children would just love to see the cute panda design. Wrap yourself in the mild banana yoghurt-flavoured cream.

6th place: Noix: Walnut cookie (Box of 4) ¥648 (1st floor)

This crunchy cookie is topped with a generous amount of caramelised walnuts.

7th place: Nenrinya: Mount Baum Shikkarime ¥756 (1st floor)

The outside of this baumkuchen is fragrant and crispy whilst the inside is soft and spongy. Take a bite to experience the wonderful texture of this European-style baked good. 

8th place: Azabujuban Agemochi-ya: Panchetta Agemochi (40g) ¥442 (1st floor)

The flavour of this baked mochi dough is like eating bacon cooked in an Italian style. This new flavour is a wonderful discovery that you should also try.

9th place: Sugar Butter Tree: SUGAR BUTTER SAND TREE (Box of 10) ¥690 (1st floor)

The crispy biscuit and melty white chocolate is a sublime combination that you will want to try again and again.

10th place:  Kanou Shoujuan: Ikkoten ¥270 each (1st floor)

A whole Japanese chestnut is smothered in a thick layer of Tamba Dainagon adzuki bean mix that is simmered lightly. This is especially delicious when eaten with tea. 

What do you think? When in desperate need of a souvenir for your family, friends or work colleagues back home, how about choosing one of the souvenirs listed above?

Information

2019 Souvenirs at Daimaru Department Store, Tokyo

Available Period: July 31 ー August 31.

Avaialble at: Daimaru Department Store Tokyo, Floor 1/Basement floor Hoppe Town

Daimaru Tokyo

Address: 1-9-1, Marunouchi, Chiyoda, Tokyo

Website: https://www.daimaru.co.jp/tokyo/

Most Popular Sweets & Chocolate Sold at Tokyo Station

Summer is here, and if you're travelling around Japan, chances are you'll be using Tokyo Station station at some point.

We recently covered 6 must-buy souvenirs at Tokyo Station. Today we'll be looking at the most popular Japanese and western sweets you can pick up there as ranked by sales.

Western Sweets & Snacks

1st Place: Maple Butter Cookie (Contains 18) – ¥1,900 (Tax Included) / Sold @ The Maple Mania

These cookies are made from maple sugar and fermented butter and baked with dark chocolate in the middle to make a crunchy cookie sandwich. They have been the most popular treat since they were released♡

2nd Place: Tokyo Station Waffles (10 Included) – ¥1,300 (Tax Included) / Sold @ R.L waffle cake

A flagship product of R.L. Waffle Cake, their fluffy waffles contain cream and fruit. These Tokyo Station exclusives have been improved this year and are now made with bamboo charcoal. This set of 10 plain waffles are available for a limited time only.

3rd Place: Tokyo Gianduja Chocolate Pie (Contains 8) – ¥1,080 (Tax Included) / Sold @ Caffarel

Chocoholics are going to love Caffarel's chocolate pies which are made lusciously with their gianduja chocolate. The pies enjoy repeat purchases from people who enjoy the crunchy outside of the pie and rich chocolate centre. They are enjoyed by people of all ages.

4th Place: Tokyo Kaminariya (Contains 8) – ¥1,062 (Tax Included) / Sold @ Tokyo Kaminariya

Tokyo Kaminariya is known for its sweet cone puffs which topped with fluffy cream, nuts and sesame seed bean paste. They are shaped like the god of thunder's horn and are cat tongue biscuits containing fragrant rice flour.

5th Place: Tokyo Station Assorted Cookies (Contains 20) – ¥1,965 (Tax Included) / Sold @ Tokyo Milk Cheese

This cookie assortment features the classic Salt & Camembert and Honey & Gorgonzola flavours. A perfect souvenir from Tokyo with its cute packaging!

Japanese Sweets & Snacks

1st Place: Kinpira Gobo (1 Bag) – ¥350 (Tax Included) / Sold @ Nishikihonrin

This crispy snack retains the original flavour of the ingredients and is made using 100% domestic wheat flour. It contains great burdock and spicy finely chopped vegetable flavours. It's a perfect little treat to yourself or someone you know and is a hit with foreign customers!

2nd Place: Mame Daifuku: ¥206 (Tax Included) / Sold @ Ginza Kanra

A hallmark product of Ginza Kanra, these soft daifuku contain whole adzuki beans grown by contracted farmers. Their simple flavour has transcended generations and is a beloved traditional Japanese dessert with all ages.

3rd Place: Panda no Tabi (Contains 5) – ¥1,080 (Tax Included) / Sold @ Keishindo

Keishindo's senbei shrimp rice cookies have various designs on them including cute pandas as well as famous sites in Tokyo such as Tokyo Tower and Kaminarimon. Exclusive to Tokyo Station, these are a fun and delicious choice.

4th Place: Wasanbon (Contains 9) – ¥756 (Tax Included) / Sold @ Kurio Shoten Gransta

Wasanbon is a type of traditional Japanese sugar. This product is made with traditional molasses which has been used since the store first opened. Using high quality sugar, Kurio Shoten has created a sweet and simple delicious snack.

5th Place: edocco Nami Ningyo Yaki – ¥1,080 (Tax Included) / Sold @ Hattendo & edocco

Ningyo yaki are little baked doll cakes, and these ones have a "raw" texture to them which is both moist and chewy, a texture enjoyed by Japanese people.

Did you enjoy this list? Be sure you get to try all the sweets and snacks you can in Japan and share them as souvenirs when you travel back home!

Six Recommended Souvenirs You Can Buy At Tokyo Station

It is already summer! As people return to their families in the countryside or embark on a special trip with friends, Tokyo station is just a thriving hive of busy bees. That is why today we will be introducing you to a variety of general souvenirs that you can buy at Tokyo Station and take to your friends and family. 

Souvenirs for Visitors to Japan

Tokyo Station Hand Towel (SHARED TOKYO): ¥1,404 (after tax )    ※ GRANSTA-limited 

This hand towel is decorated with classic illustrations of Tokyo Station's reliefs and clematis flowers. The flowers portray the message: "happiness of travellers"

Furoshiki Patchin (SHARED TOKYO ) 1 set: ¥2,484 (after tax) 

This is a beautiful shaped piece of wood with four holes. When you wrap your bento lunch inside a cloth, this piece of wood comes in handy when tying the corners of the cloth together. In moments, you can turn a normal piece of cloth into a useful bag. When you are going on a trip and have lots of luggage, this will come in very handy. 

Character-themed Souvenirs

Suica Penguin O-mikuji Fortunes (TRAINIART TOKYO): ¥594 each (after tax)

Perhaps you are familiar with the Suica card, which is a form of rechargeable contactless card used to pay for train fares in Japan. For fans of the adorable Suica Penguin, which is the mascot of the card, this gift is a must. Peel off the sticker on the bottom and a red string will be revealed. Pull the string and your fortune will be revealed to you!

Unusual Souvenirs

Stained Glass-Style Bookmark (Neue ): ¥1,188 (after tax) 

How about a luxurious stained glass-style book mark? This would make the perfect gift for any bookworm. Just having this would make you excited to get reading.

Bullet Train Souvenirs 

TOKYO STATION SOCKS (Happy Socks): ¥972 (children )/¥ 1,620 (prices after tax ) ※GRANSTA-limited 

The pop-coloured socks are perfect for pumping energy through any child's feet! There are also socks for adults which come in more mature colours which are easier to colour coordinate. These socks are easy to put on and are a great way to add a touch of cuteness to your look. 

Electric Pen: E6 Series Super Komachi Shinkansen /Electric Car Pen E5 Hayabusa (Neue): ¥648 (after tax)

 Tip the pen and the bullet train will zip to Tokyo Marunouchi Station. There's no doubt that train fans and children would love to get this present. 

We hope this article helps you choose a souvenir on your next visit to Tokyo station.

Information

Tokyo Station City Official Website: 

Tokyo Station's Pokémon Store & Tokyo Gourmet Zone Announce Collaborative Event

Tokyo Gourmet Zone in Tokyo Station's First Avenue shopping complex turned 1 year old on June 28. To celebrate its 1st anniversary, the station's Pokémon Store located along Tokyo Character Street is teaming up with Tokyo Gourmet Zone to host a Pokémon-themed event where you can meet Pikachu, get your hands on original merchandise, and more.

From July 13th to 15th at 11:00-15:00, if you order a soft drink or dessert at participating restaurants in Tokyo Gourmet Zone you can receive the above-pictured 1st anniversary lunch mat with a Pikachu design. These are limited to 1,000 per day on a first-come, first-served basis.

You can also get a photo with Pikachu on the same three days. Your photo will be printed with an original photo frame.

Over at the photo spot, you can get your photo taken next to 278 Pokémon plush toys. This is running right now until September 1 and includes Pokémon No. 001-251 in the Pokédex and all 28 forms of Unown.

Several restaurants at Tokyo Gourmet Zone are also serving special meals in celebration of the 1st anniversary. These are available now until July 31.

Head to Tokyo Gourmet Zone and help Pikachu in celebrating their first year!

©2019 Pokemon. ©1995-2019 Nintendo/Creatures Inc./GAME FREAK inc.

Pokémon, ポケットモンスター and ポケモン are registered trademarks of Nintendo, Creatures and Game Freak.

Information

Tokyo Gourmet Zone 1st Anniversary x Pokémon Tokyo Station

Running: June 28 – September 1, 2019

Location: Tokyo Station First Avenue Floor 2F (Tokyo Station Yaesu North Exit Floor 2F)

Official 1st Anniversary Website:  https://www.tokyoeki-1bangai.co.jp/tokyogourmetzone1st/

Photo With Pikachu Event

Running: July 13 – 15, 2019

Slots: ①11:00 / ②13:00 / ③15:00 / ④17:00 (30 minutes each)

Participation: Free

Hotel Ryumeikan Tokyo: A Michelin-Recognised Modern Ryokan in Front of Tokyo Station

The area surrounding Tokyo Station is home to many different types of hotels. One standout location is Hotel Ryumeikan Tokyo. This hotel, which featured in Michelin Guide Tokyo 2017, renovated 30% of its guest rooms as part of its 10th anniversary. Its concept is a modern-style ryokan (a traditional Japanese in) and it stands just so as the closest to Tokyo Station. Today, we will take a look at the hotel's design rooms.

Of its 38 rooms, 33 of them take on a ryokan style design. The rooms are fitted with small tatami flooring spaces where guests must take their shoes off on which sits a small chabudai, a short-legged table, on a raised floor. These elements have a nostalgic quality to them with Japanese guests and an inherently Japanese feel to them for foreign guests.

The carpet is decorated with a chrysanthemum design in a traditional Japanese dusky purple colour.

There are also kendama toys, books on Japanese confections and more to elevate that feeling of Japanese culture. There is plenty of space for tired bodies to relax after a long day trip.

The other 5 rooms are "Office Rooms" made with business workers in mind. They come with a big sofa and whiteboards to create a lounge-type space.

All of the bed mattresses are the highest quality models provided by long-standing bed makers Nishikawa. They aren't excessively soft which I really liked and ensure a long, deep and natural sleep.

Rooms come with three types of original tea blended by the staff so you can pick whichever caters to your mood that day.

The feature you must absolutely try however is the hotel's breakfast. It's served in a buffet style so there is plenty to choose from with everything from Japanese-style food to Western-style. The buffet is packed with vegetables too so you can get your daily intake nice and early.

All of the new rooms are double rooms and are priced from ¥27,000 per night. The price changes depending on the season to be sure to check the official website for more details.

If you're looking for a taste of Japan with that ryokan feel then be sure to check out Hotel Ryumeikan Tokyo.

New Pokémon Centre DX and West Japan's First Pokémon Café to open in Osaka

A new official Pokémon Centre DX and a new Pokémon Café will open in Osaka on September 20, 2019 in Daimaru Shinsaibashi's Main Building.

This will be the second Pokémon Centre to open in Osaka. The Pokémon café will adjoined to the shop and will be the first ever branch of the Pokémon café to have ever opened in West Japan. This is also the second permanent Pokémon café to open in Japan besides the Pokémon café in Nihombashi.

The new Pokémon Centre DX and Pokémon Café will be situated in a bustling tourist hotspot. On your visit, you can also take a gander around the Shinsaibashi shopping district or  the American Village (America-mura) which is full of entertainment. This area is thriving with department stores, special shops, big brands and so much more. Tourists from other parts of Japan and all over the world are constantly flocking to this giant marketplace.

As the worldwide exhibition event Expo 2025 will be held in Konohana Ward, Osaka, there is no doubt that Osaka is becoming more and more of a Tourist hotspot!

Osaka is a wonderful tourist destination. If you decide to visit, don't forget to include the Pokémon Centre DX and Pokémon Café on your itinerary!♪

©2019 Pokémon ©1995-2019 Nintendo/Creatures Inc./GAME FREAK inc.

Pocket Monsters, ポケットモンスター/ポケモン/Pokémon are registered trademarks of Nintendo/ Creatures Inc./GAME FREAK inc.

Information

Pokémon Centre Osaka DX &  Pokémon Café

Address: Daimaru Shinsaibashi Main Building, 9

1-7-1, Shinsaibashisuji, Chuo Ward, Osaka,

Grand Opening: September 20, 2019 (subject to change)

Closed: Dependent on the closing times of Daimaru Shinsaibashi Main Building.

Official Website: https://www.pokemon.co.jp/gp/pokecen/osaka/

3 New Shops Open In Tokyo Station selling Curry Buns, Souvenirs, Bentos and More

From 2012, East Japan Railway has been developing the shopping area in the north eastern part of Tokyo station. As part of this project, three new shops will be added to this shopping area from July 10, 2019. The shops include a highly praised bakery, which is adored by bread-lovers, and even a shop that sells a wide range of Japan's finest desserts, sweets, souvenirs and much more.

Zopf Curry bun shop (First Tokyo shop)

In a quiet remote part of Matsudo, Chiba lies what is known to many as the "sacred home of delicious bread". This shop is called Zopf, and it brings in masses of customers daily, selling up to 700 delicious breads every single day. Zopf's original recipe curry bun cannot be shaken from its holy heights. They are all deep fried at the station so your first bite is always crunchy and delicious.

HANAGATAYA, Gransta Tokyo Chuo Line area  ※New brand

HANAGATAYA Gransta Tokyo located in the Chuo Line passage contains a variety of carefully chosen popular Tokyo souvenirs, limited edition goods that cannot be purchased elsewhere, specially selected souvenirs and carefully-made bento lunches. The storefront will sell special branded goods which will regularly changed, displaying the latest and finest of Tokyo goods.

NewDays Gransta Tokyo Chuo Line Area

NewsDays convenience store never fails to serve the various needs of the busy people at the station. From food to items to services, quickly pop in here to solve all your last-minute problems!

Come explore the new souvenirs, delicious bento lunches and much more at Tokyo Station!

Information

3 new shops opening at Tokyo Station

Tokyo Station Northern Shopping Area

Address: JR Tokyo Station Basement floor 1/floor 1, outside the ticket barriers

(1-9-1, Marunouchi, Chiyoda, Tokyo)

More Information: http://www.tokyoinfo.com

Over 30 Matcha Desserts to be Sold at Daimaru Tokyo's Green Sweets Fair

Matcha is a huge part of Japanese food culture that has earned much love around the world. Its bitter taste is enjoyed in both traditional Japanese desserts and delicacies as well as those in the west too.

Daimaru Tokyo is currently holding the Green Sweets Fair until May 31 where you can enjoy over 30 different matcha desserts. Let's take a look at some of them.

<Nenrinya> Matcha Mound Baum: ¥1,836

This baumkuchen cake is left to mature after cooking over a long period of time. It's made with Uji matcha from Kyoto and has a strong matcha fragrance.

<YOKUMOKU> Cigar au Matcha (8 Pieces): ¥1,080

The round cigars are made with lots of Hokkaido butter and filled with matcha chocolate.

<Funabashiya> Matcha Rice Flour Dumpling Anmitsu: ¥583 (1 Pot)

Enjoy an assorted pot of rich matcha agar, specially-made strained bean paste, and rice flour dumplings.

<Ginza Mamehana> Soy Cream Animitsu Daifuku (Matcha/Brown Sugar Syrup): ¥1,029 (Box of 6)

These daifuku rice cakes come in two different flavours: one with brown sugar syrup soy cream and sliced agar and another with matcha, bean paste and agar.

There are plenty more where that came from, so head to Daimaru Tokyo for the Green Sweets Fair.