The latest rankings have been announced for the Top 10 most popular souvenirs and Top 5 most popular bento sold at Gransta.
Gransta is an indoor shopping facility inside Tokyo Station. It is made up of two facilities: Gransta is in the B1 area beneath the Central Passage of Tokyo Station inside the ticket gates, while Gransta Marunouchi is outside the Marunouchi underground ticket gates. Shops there sell everything from freshly made bento to side dishes, exclusive sweets and confections and more. There's even the huge miscellaneous and cosmetics zone where a range of goods are sold.
The top rankings for souvenirs and bento are as follows.
Souvenirs 
1st Place: Tokyo Station Set of 10 Waffles (¥1,300)
Shop: R.L Waffle Cake
This set of waffles contain five types of waffles available only at Tokyo Station together with five of R.L Waffle Cake's popular waffles. It comes in colourful packaging with the Marunouchi station building illustrated on it. The waffles are packed with a bunch of different creams including custard cream, chocolate cream, matcha cream, strawberry cream and more.
2nd Place: Gin no Budo Chocolate Sandwich (Almond)
Price: 8 Set – ¥712 / 12 Set – ¥1,080 / 18 Set – ¥1,620 / 24 Set – ¥2,160
Shop: Gin no Budou
This popular delectable can only be purchased at Tokyo Station. The most the shop has sold in a day is over 50,000. It's a sandwich-like confection made with smooth and melty milk chocolate and white chocolate together with the shop's own hard and crispy chocolate nuts.
Bento
1st Place: Spanish Bellota Iberico Pork on Rice (¥1,100)
Shop: Eashon
Taking the No. 1 spot in the bento category is Eashon's consistently popular pork bento. It's made using only the best Bellota Iberico pork from Spain. It has maintained the most sales of any other bento in Gransta for 10 consecutive years. Its special quality comes from the melt-in-the-mouth fat and sweet and spicy sauce which goes well with the rice. You can also get completely new flavours when eating it with mustard. It's also served combined with ginger pickled in sweet vinegar, resulting in an array of flavours you won't tire from down to the last bite.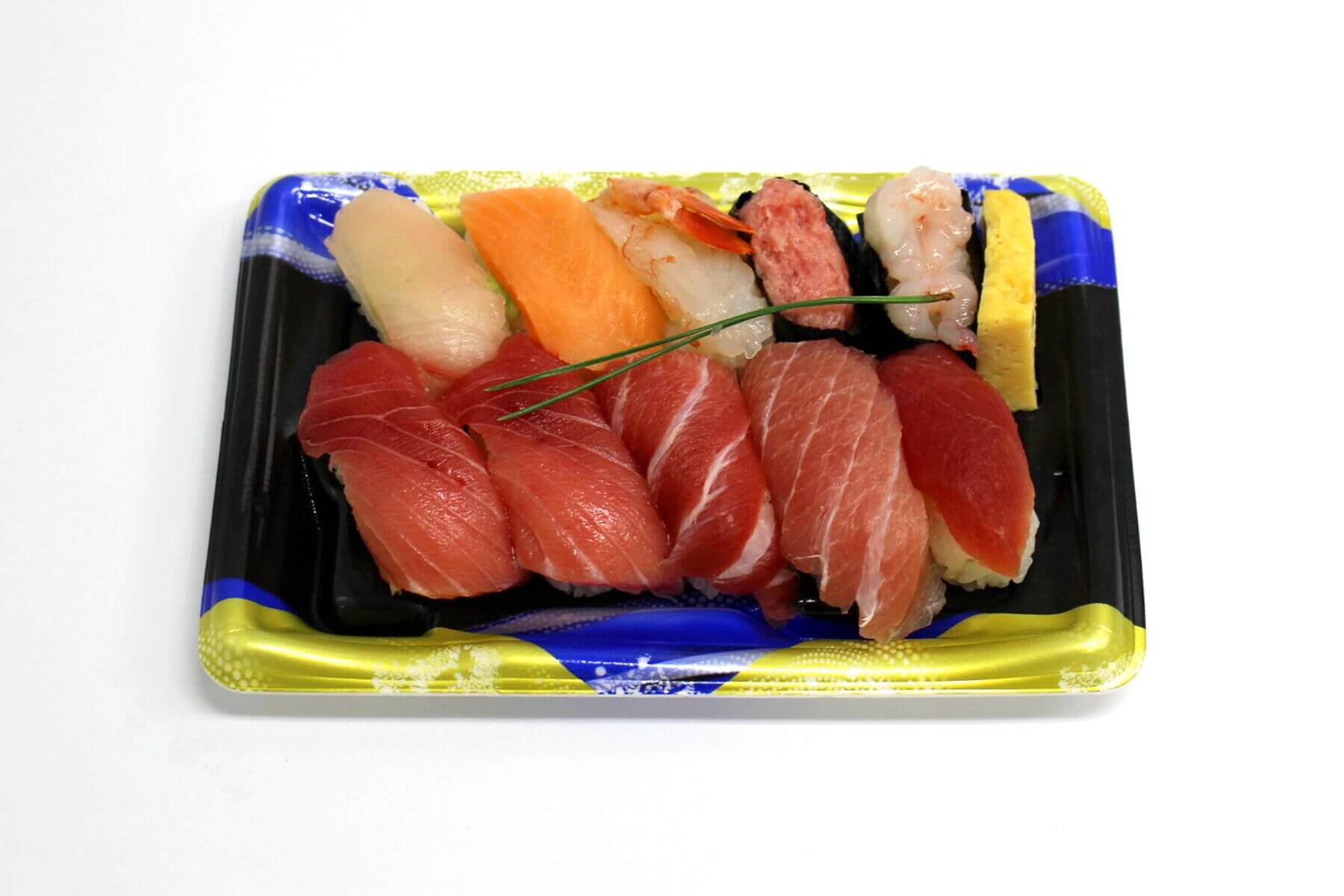 2nd Place: Jou Nigiri (¥1,550)
Shop: Tsukiji
This ten-piece sushi bento is made with fresh ingredients shipped directly from Takewaka Tsukiji. It is made in front of you by a sushi expert. The sushi includes medium fatty tuna, sweet shrimp, salmon, greater amberjack and more. It also comes with tamagoyaki.
*Please note that ingredients may change depending on stock.
The list includes a line-up of fantastic choices as gifts and souvenirs, so be sure to use it as reference.
Information
GRANSTA (Inside Ticket Gates)
Address: JR Tokyo Station, 1-9-1 Marunouchi, Chiyoda-ku, Tokyo
Opening Hours: 8:00am-10:00pm (Until 9:00pm on Sundays)
Website: http://www.tokyoinfo.com/shop/mall/gransta/
GRANSTA Marunouchi (Outside Ticket Gates)
Address: JR Tokyo Station, 1-9-1 Marunouchi, Chiyoda-ku, Tokyo
Opening Hours: 8:00am-10:00pm (Until 9:00pm on Sundays)