4 Best Evening Illumination Spots in Tochigi Prefecture
Tochigi Prefecture boasts a long list of spots officially designated as "Night View Inheritances of Japan" where illumination events, shrine and temple light-ups, mini lanterns and more are set up.
This is a list of 4 must-visit locations with illuminations events running until March 2019.
Ashikaga Flower Park – "Garden of Illuminated Flowers)
Ashikaga Flower Park is one of Japan's three main illumination spots. Its popularity has earned it the No. 1 spot for illuminations for two years in a row. The newly-built Ashikaga Flower Park Station at the park's west gate makes it easier than ever to access.
The wintry trees are decorated with colourful lights, brightening the beautiful flowers at nighttime. There is also a recreation of the park's symbolic great wisteria tree made entirely out of lights down to the flowers. It sways with the wind making it look like a real tree.
Address: 607 Hasamacho, Ashikaga, Tochigi Prefecture
Running: October 27, 2018 – February 5, 2019
Closed: December 31, 2018
TEL: 0284-91-4939
Website: http://www.ashikaga.co.jp/
Ashikagaorihime Shrine at Orihime Park
Another one of Japan's officially registered Night View Inheritance sites. Orihime Park offers a gorgeous view of the town's nightscape. The park's Ashikagaorihime Shrine is lit up making for a magical atmopshere. The shrine itself is famous for its associations with marriage, making it a popular date spot.
Address: 3890-17 Tomoecho, Ashikaga, Tochigi Prefecture
Open: All Year Round
Shrine Illumination: 5:00pm-midnight
TEL: 0284-22-0313
Website: http://orihimejinjya.com/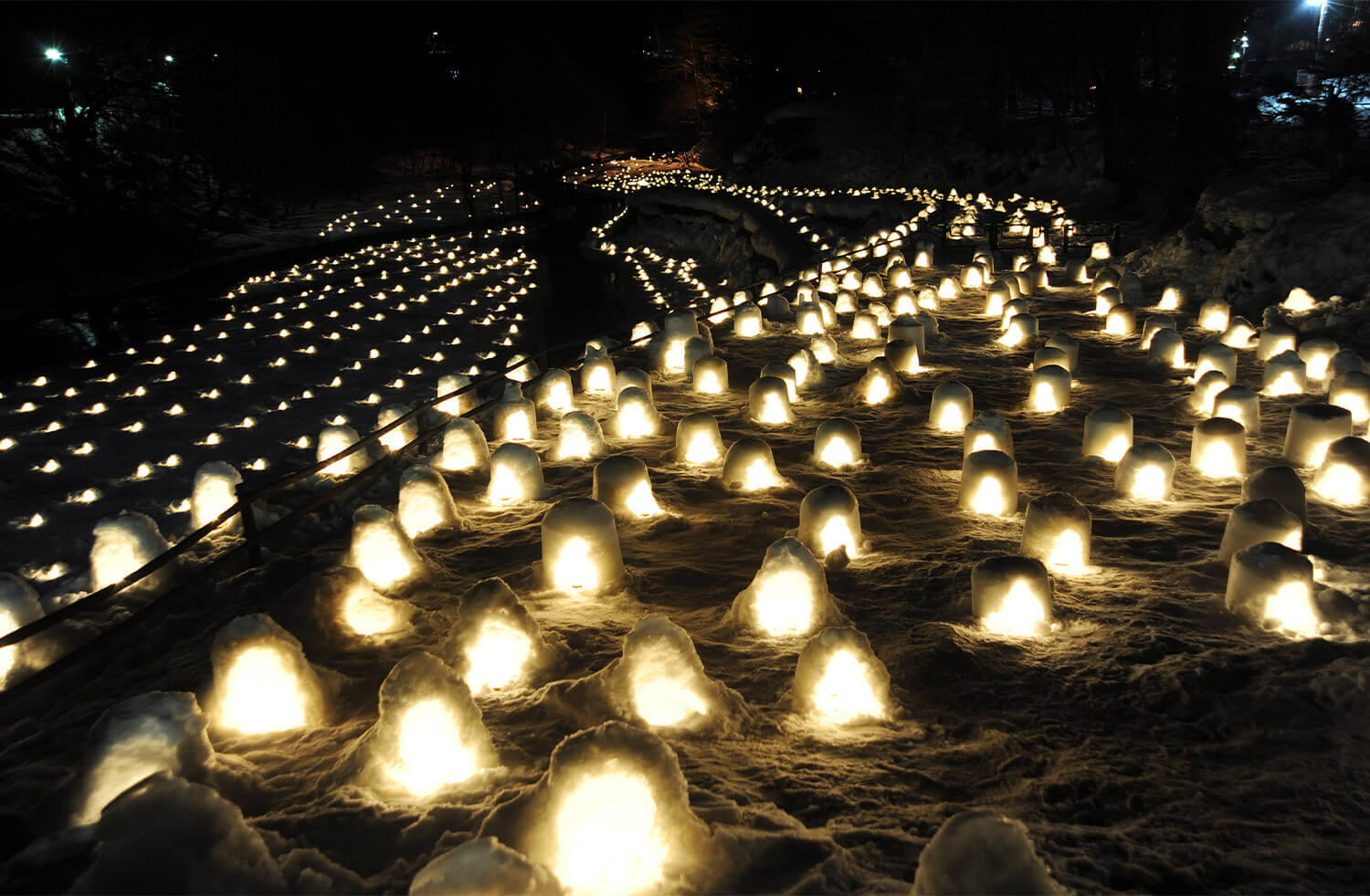 26th Yunishikawaonsen Kamakurasai
Taking place at Yunishigawa Onsen, this event was designated as a Night View Inheritance site in 2009. It sees hundreds of candles lit up across the entire area that create a mysterious atmosphere. It's also chosen as "one of the must-see places before you die."
Address: 1042 Yunishigawa, Nikko, Tochigi Prefecture
Running: January 26, 2019 – March 3, 2019
Candle Lighting: 5:30pm-9:00pm
*Subject to cancellation depending on weather conditions.
Closed: Wednesdays & Thursdays
TEL: 0288-22-1525
Website: https://www.tochigiji.or.jp/event/1064/
Okunikko Yumoto Onsen Snow Festival 2019
This event began in a desire make use of the abundant snow and light up nighttime Okunikko. Ice sculptures created by hotel chefs from inside and outside the prefecture will be set up on January 31. In February, around 500 snow lights will be set up at the hot springs, and illuminations will glow against the snowy walls.
Address: Yumoto, Nikko, Tochigi Prefecture
Running: February 2, 2019 – February 10, 2019
Illumination Time: 5:00pm-9:00pm
TEL: 0288-62-2570
Website: http://www.nikkoyumoto.com/
Tochigi Prefecture is easily accessible from Tokyo, so if you're in Japan then take advantage of this season to go and see some enchanting nighttime scenery.
RECOMMENDED ENTRIES
"Blue Grotto SHIBUYA", is the collaboration of fantastic illumination and beautiful tones at the Shibuya Koen dori

"Blue Grotto SHIBUYA" (Ao No Dokutsu) runs from Koendori street to Yoyogi Koen Keyaki Namiki street from November 30th(Fri) to December 31st(Mon).

Sound has been added to this year's light show performance, which was very popular last year. The sound of ringing bells accompanies the light show and makes you feel winter has come. Everyone can enjoy this illumination show with both their eyes and ears.

Ao no Dokutsu bolognaise  ¥460(tax included)

「Ao no Dokutsu Blue Parks」opens the same as last year, offering Nisshin Foods「Ao no Dokutsu bolognaise, blue champagne and hot blue lemonade inspired by the blue grotto.

There is a BLUE CUBE from the commercial of 「Ao no Dokutsu」as a photo spot. The

exterior is very sophisticated, and the inside is a completely different style from the outside with surfaces mirrored in blue decoration, creating a fantastic illusion. During the Christmas season, the illumination is linked with the sound of piano.

Everyone can enjoy this collaboration of light and sound「Ao no Dokutsu SHIBUYA」with family and friends!

Information

Ao no Dokutsu SHIBUYA
Area: From Yoyogi Koen Dori to Yoyogi Park Keyaki Namiki about 800m Illumination Time:
17:00 – 22:00 (subject to change)
Inside of the Yoyogi Park: November 30th(Fri) – December 31(Mon),2018 Shibuya Koen Dori: November 30th(Fri) 2018 -January 16th(Wed), 2019

Access :
1 minute walk from Shibuya station/ also accessible from JR Harajuku, MeijiJingumae and YoyogiKoenmae of Metro, Odakyu Yoyogi Hachiman

URL:http://shibuya-aonodokutsu.jp/

Ao no Dokutsu Blue Parks
Open time : November 30th (Fri) – December 31st(Mon), 2109
(Mon-Fri)10:00-20:00 (Fri-Sun and Holiday)10:00-21:00 (New Year's Eve)12:00-21:00

Best Tokyo Illuminations: December 2018 to February 2019

Every year during Japanese wintertime the streets are lit up with big, bright and beautiful illuminations. They are of course held all the way up to Christmas but can be enjoyed all the way into February. Here's our list of must-see Tokyo illuminations this year.

Keyakizaka Illuminations (Running until December 25)

Around 700,000 LED lights will decorate the trees of Keyakizaka street, bringing to light that charming feeling of Tokyo wintertime. This marks the 15th year of the street's illuminations, and this year's theme is "LIVE veil." Passersby will be greeted with the glow of crisp blue and snow white LED lights. The bridge located in the centre of Keyakizaka street will make for a great photo with Tokyo Tower in the background. These are the perfect illuminations to visit if you're sightseeing in Tokyo!

Full Details: https://www.moshimoshi-nippon.jp/128726

■Information

Roppongi Hills Christmas 2018
Location: Roppongi Hills (Roppongi Keyakizaka-dori, 66 Plaza, West Walk, Roppongi Hills Arena, Oyane Plaza, and elsewhere)

Website: http://www.roppongihills.com/

Marunouchi Bright Christmas 2018 (November 8 – December 25)

The Marunouchi area is currently hosing an event titled Marunouchi Bright Christmas 2018 in collaboration with famous Japanese singer Yuming who is celebrating her 46th anniversary this year since her debut. A Christmas tree called the "Knit Tree" made in collaboration with the singer is currently on display at the Marcube on the first floor of the Marunouchi building, the main vneue for this event. The tree is decorated with dazzling illuminations as Yuming's songs provide the soundtrack to the room.

■Information

Marunouchi Bright Christmas 2018

Running: November 8, 2018 – December 25, 2018

Locations: Marunouchi Building, Shin-Marunouchi Building, Nijubashi Square, Marunouchi Brick Square, Marunouchi Oazo, and elsewhere

 

Illumination Island Odaiba 2018 (November 16 – December 25)

Ten facilities in the Odaiba area including the shopping mall, hotels and transportation facilities are joining in with Illumination Island Odaiba 2018. Daiba Memorial Tree boasts as the biggest live tree in the city standing almost 20 meters high and 10 meters wide. The branches, which stretch an enormous 200 meters, are wrapped with 220,000 light, creating a captivating scene.

Megurogawa Minna no Illumi 2018 (November 9 – January 6)

Meguro River is famous for its cherry trees which line stretch 4km along the waters and bring beautiful cherry blossoms in spring. This winter, Megurogawa Minna no Illumi 2018 ('Meguro River: Illuminations for Everyone') is seeing the path along the river decorated with lights which will reflect off the water's surface. The Fuyu no Sakura® ('Winter Cherry Blossoms') flower viewing spot which was a huge hit last year has made an appearance again this year. People are enjoying the 'winter cherry blossoms'ーthe pink illuminationsーfrom the comfort of one of the three garden igloos which all have different interiors. Sitting in one of these means you don't have to worry about wind, rain or cold weather.

Full Details: https://www.moshimoshi-nippon.jp/137108

■Information

Megurogawa Minna no Illumi 2018

Locations: Meguro River / Gotanda Fureai Waterside Square (2-9 Higashi-Gotanda, Shinagawa, Tokyo)

Illumination Period: November 9, 2018 – January 6, 2019

Illumination Time: 17:00-22:00 (Will go ahead during rain)

*Closed during storms. Additionally, illumination time will begin at 17:30 on November 9 only.

Entry: Free

Access: 6-minutes on foot from Osaki Station and Gotanda Station via JR Lines

TEL: 03-5330-7675

Official Website: http://www.minna-no-illumi.com/

Shinjuku Minamilumi Illuminations (November 14 – February 14)

The Shinjuku Minamilumi illuminations have made their sixth return to the south exit of Shinjuku Station again this year. "Minamilumi" is a portmanteau of minami no illumination ('south illuminations') and minna de miru illumination ('illuminations to watch with everyone'). Each pedestrian area around the south exit is currently adorned with many different illuminations. Each location is within walking distance from the other, so you can spend a nice relaxing time strolling and seeing the different lights that will welcoming this year's winter.

Full Details: https://www.moshimoshi-nippon.jp/125425

■Information

Shinjuku Minamilumi Illuminations

Areas: Shinjuku Southern Terrace / Takashiyama Times Square / Shinjuku Maynds Tower / JR South Shinjuku Bldg. / JR Shinjuku Miraina Tower / Suica's Penguin Park

Closest Stations: Shinjuku Station (JR Line, Odakyu Line, Keio Line, Toei Shinjuku Line, Oedo Line) / Shinjuku-Sanchome Station (Fukutoshin Line)

Running: November 14, 2018 – January 14, 2019

Illumination Times: 5:00pm-12:00am

*4:30pm-12:00am in December.

*Illumination areas, content and details subject to change.

Omohara Beer Forest Illuminations (November 15 – February 28)

The Omohara Beer Forest―located on the sixth floor rooftop of Tokyu Plaza Omotesando Harajuku―is currently hosting an illumination event. The illuminations have brought a mix of natural light and gentle fairy lights to central Harajuku. 16,000 illuminations bask the surrounding space and trees with warm light. A space surrounded by trees will give rise to 16,000 illuminations with warm light. Opening hours have been extended to 11:00pm from the usual 9:00pm for the Christmas and New Year periods. A perfect place to stop by after work or shopping.

Full Details: https://www.moshimoshi-nippon.jp/135593

■Information

Omohara Illuminations

Running: November 15, 2018 – February 28, 2019

Location: Omohara Beer Forest (Tokyu Plaza Omotesando Harajuku 6F Rooftop, 4-30-3 Jingumae, Shibuya, Tokyo)

Time: 17:00-23:00 (Last Entries 22:30 – subject to changes during New Year's Holiday)

Website: https://omohara.tokyu-plaza.com/

Illuminations are a big part of Japan's winter culture, so take your friends and loved ones this year.

Enjoy Winter Illuminations at Gunma Flower Park

Yousei-tachi no Gakuen ('Academy of Faries') is an illumination festival at Gunma Flower Park currently running until January 14, 2019. A large firework display is set for November 24 where 3,650 fireworks will be launched into the sky.

Gunma Flower Park ranked in 10th place in Japan's 6th National Illumination Awards.

The park has been decorated with 1 million round lights for the event. Projection mapping is also being used and laser shows are taking place, all themed on fairies.  Attendees are invited to board the locomotive to ride around the illuminated park with a guide on board.

The colour red flows through the greenhouse which has been potted with poinsettias, cyclamens and Christmas roses. There is also a large fir tree to complete the Christmas garden decked out with ornaments and gorgeous lights.

The shops and restaurant are also serving up a range of items and food for the event, making it the perfect place to visit with that special someone to make some wintertime memories.

Information

Illumination Festa "Yousei-tachi no Gakuen"

Address: Gunma Flower Park, 2471-7 Kashiwaguramachi, Maebashi, Gunma Prefecture

Running: November 3, 2018 – January 14, 2019

Opening Hours: 9:00-21:00 *Last entries at 20:30 (at 20:00 on December 31)

Price: Adults (High School Students and above): ¥600 / Children (Junior High School Students and below): Free

*Free for those with a disability when accompanied by a guardian (proof required)

*In the case of bad weather, the event will be postponed until the following day.

Flower Park Official Website: http://www.flower-park.jp/

Event Page: http://www.flower-park.jp/illumination
RELATED ENTRIES
Izu Kogen Grand Illumination to Offer New Experiences for 8th Season

From November 11, 2022 until August 2023, Izu Granpal Park in Shizuoka Prefecture will host the 8th Izu Kogen Grand Illumination event!

The Izu Kogen Grand Illumination was ranked #1 in the Walker+National Illumination Ranking for six consecutive years and is beloved by visitors of all ages. This isn't just a collection of pretty lights–the Grand Illumination also includes a number of hands-on experiences for everyone to enjoy.

In 2021, the event won first place in the Ninth Illumination Awards for the second year in a row. Known as Japan's first 'hands-on illumination experience,' the park has continued to evolve year after year, adding more attractions and finding its unique style. These attractions include a zip line through the lights, Dinosaur Go-Karts, and more.

This year, the Flower Lantern Area and Sweets Lantern Area have been completely redesigned and upgraded to be even more three-dimensional and colorful. Come enjoy this incredible world of lights and have some fun with the whole family!

Information

Izu Kogen Grand Illumination ~8th Season~ (Hands-on)

Venue: Izu Granpal Park

Running: November 11, 2022 – August 2023

Official Site: https://granillumi.com

Midtown Christmas 2022 to Bring Gorgeous Lights and Sounds to Tokyo

From November 17 until December 25, Tokyo Midtown will hold the popular Midtown Christmas event for 2022!

Adults and children are sure to love this massive Christmas event. Each year, a massive Christmas tree appears in Tokyo Midtown, but this year's festivities will also throw some more unique pieces of art into the mix.

This year, visitors will see golden lights on the city's trees, as well as a pop-up Christmas tree inspired by party poppers. Lights and music will join together to make guests feel as though they've walked into an outdoor theater, and the popular ice skating rink will once again be open for everyone to enjoy. Why not enjoy the Christmas season in Tokyo's shimmering midtown?

Bubbles Fill the Air for a Limited Time at the Christmas Story Lights

A Massive Dome Filled with 300 Lights Invites Visitors to Celebrate the Season

Hands-on Experiences at the Party Popper Tree

Information

Midtown Winter Lights

Running: November 17 – December 25, 2022

Venue: Midtown Garden, Plaza 1F

Light Hours: 17:00-23:00

*Some event times and details are subject to change.

Admission: Free

Sponsored by Netflix

Keyakizaka Lights, a Tokyo Winter Tradition, to be Held Again in 2022

From November 11 until December 25, 2022, Roppongi Hills Christmas will cover Tokyo in glittering lights once again. The Keyakizaka Lights, one of Tokyo's most popular winter attractions, will also take place in 2022, with the 400-meter-long Keyakizaka street covered in over 800,000 blue and white LED lights.

For the first time in three years, the Mohri Garden will be covered in lights as well. The annual Christmas market will invite guests to experience an authentic German Christmas, and Christmas cakes and gourmet food unique to Roppongi Hills will be for sale. 

The Roppongi Hills Christmas event utilizes LED lights and has done so since the first event was held in 2003. Clean power will be used again this year, and the lights will be switched on from 5 PM until 11 PM each night. 

Information

Roppongi Hills Keyakizaka Lights

Running: November 10 – December 25, 2022 *Daily from 5:00 – 11:00 PM

*Lights may begin at a different time on November 10 only.

Location: Roppongi Keyakizaka Street

Official Site: https://www.roppongihills.com

NAKED Night Walk Art Project to Open at Famed Zuiganji Temple in Matsushima

Japanese creative company NAKED will hold a Night Walk event at Zuiganji Temple in Matsushima, located near one of the top three most scenic spots in Japan. The event will run from October 29 until November 23, 2022.

The NAKED Night Walk was created to revitalize hot spring resorts and other tourist spots during the pandemic. This special event will bring the illuminated experience to Zuiganji Temple, one of the Tohoku Region's most famous Zen temples. Guests will be invited to carry beautiful lanterns around the grounds, maintaining social distancing while enjoying the cool evening weather. These lanterns will cast one of three unique designs onto the ground below–a starry sky, a camellia flower, or a lotus. 

Guests can also enjoy NAKED's Flower Fortune Telling, pulling unique paper flowers from a massive wall, with each holding a personalized fortune. These flowers can then be tied to a nearby tree to further spread NAKED's art. You can also take home your flower as a souvenir!

The event will only run for a limited time. For more information including admission fees and hours, see the official website!

Information

NAKED Night Walk – Matsushima, Zuiganji Temple (National Treasure)

Address: Zuiganji Temple (Chonai-91 Matsushima, Miyagi District, Miyagi Prefecture)

Running: October 29 – November 23, 2022

Hours: Weekdays 17:00-20:00 / Fridays, Weekends, Holidays 17:00-21:00

Official Site: https://zuiganji.or.jp/

Kansai's Largest Illumination Event to Start Third Phase on October 8

The third phase of the popular illumination event at the English Garden Rosa & Berry Tawada will be held from October 8, 2022 until February 12, 2023! One of the largest light-up events in the Kansai region, this year's theme is 'Evolutionary Lights!' 

Let Time Pass in The Golden Forest

Visitors will be welcomed into a glorious forest of golden lights as they arrive in the main area. 

The clock tower rises in the center, and the spectacular production begins at the start of nightfall when the tower itself begins to glow and 100 trees are enveloped in golden light.




The White and Silver Garden of the Fairies

The area has undergone a major transformation, from the warm European-inspired colors of last year's event to a mysterious silvery-white color scheme. Visitors can also enjoy the popular light-up experience Miraculous Blue Roses and the Seven-Colored Prayer Tree.

※Details: Lights and effects are triggered in response to the sound of bells rung by visitors and special pedals stepped on as they explore the event.

Shaun the Sheep Area

A special Christmas display inspired by the new Shaun the Sheep movie, releasing in December 2022, will be on display.

*Images of the special display will be available in mid-September.

​SHAUN THE SHEEP AND SHAUN'S IMAGE ARE ™ AARDMAN ANIMATIONS LTD. 2022

Galactic Express Milky Way

The Milky Way is said to be a magnificent shade of blue. The Milky Way Galaxy Railroad, which requires a separate fee, runs through the area, inviting guests to explore a sea of stars. Why not take a trip through this glittering world of lights while taking some incredible photos?

Why not visit this incredible sea of lights this winter?

Information

Rosa & Berry Illumination 2022-2023 – Evolutionary Lights

Running: October 8, 2022 – February 12, 2023 *Closed on Tuesdays
Hours: 17:30-21:00 *Subject to change depending on the season
Venue: English Garden Rosa & Berry Tawada (Maibara, Shiga)

Official Site: https://www.rb-illumi.com/

Sumikko Gurashi Characters Appear at Lake Sagami Pleasure Forest

From November 12, 2022, until April 2, 2023, visitors to Lake Sagami Pleasure Forest in Kanagawa Prefecture will be able to enjoy an incredible light-up event featuring Sumikko Gurashi characters! The outdoor resort is only an hour from Tokyo and won't disappoint.


A World First! Illuminated Sumikko Gurashi Area

Visitors can enjoy riding the 250-meter-long Rainbow Lift for an aerial walk above the millions of lights. The adorable Sumikko Gurashi characters will be waiting for guests in a special themed area.

Goods Featuring Original Illustrations Available–with a Collab Menu!

The event will also offer goods decorated with newly-drawn art inspired by the Lake Sagami lights, with Sumikko and her friends enjoying the show. Along with merchandise, guests will also be invited to sample collaboration food and drinks at the park's restaurant Wild Dining. Each dish will also come with a bonus!

Come enjoy these incredible lights along with everyone's favorite Sumikko characters! With 6 million lights on display, this is one of the largest in the Kanto area. More details will be coming soon, so keep an eye out!

Information

Sumikko Gurashi x Lake Sagami Illumination

Running: November 12, 2022 – April 2, 2023

Special Site:

Light and Shadow 2022 Event at Hotel Gajoen Tokyo Attracts Over 10,000 Visitors

Hotel Gajoen Tokyo, which blends a hotel and a traditional Japanese museum, is celebrating summer in the spookiest way possible. From July 2 until September 25, guests can enjoy the 'Wa no Akari x Hyakudan Kaidan 2022 ~Light and Shadow: 100 Stories~' event, inspired by the tradition of telling ghost stories in summer to send a chill down your spine. Since opening, over 10,000 visitors have come to experience this once-in-a-lifetime event. 

Each of the seven exhibition areas is connected to the stairway, and each has its own theme pulled from the overarching theme of light and darkness. From Light of Passion to Midnight Light, guests will be surrounded on all sides. As you ascend the stairs, a festive atmosphere transforms into a more frightening one. Although the ghosts are out to play, guests are welcome to enjoy the many art pieces and crafts on display. 

Sokyu Room / Lights of Passion

This Kabuki stage is filled with the passion of women who are addicted to love, a common theme in many traditional plays. The eye-catching Japanese umbrellas and lanterns will no doubt leave an impression, and the wistful music is titled Red Thread. The tale depicted here tells the story of a woman who becomes a haunting specter clad in flames of passion, sobbing and laughing in time with the song. 

Still Water Room / Inverted Light

The three trees crowned with horse heads were created by the artist Eros Nakazato. Guests will feel as though they've been transported to the middle of a meadow as they explore this fantastical room covered in traditional paintings. In the work The Reverse of the Reverse, there are no wild horses on the earth, and those who have been tamed by humans sway in a beautiful and sad way. To make this scarier, the story has been reimagined as guests look through a crystal ball–now, humans are ruled by horses

Starlight Room / Midnight Light

Passing through a corridor of suspiciously flickering yokai lanterns, you will find that the clock has struck midnight. In the darkness, as most humans are asleep, specters are having a lively party. Playful cats dance and play and a number of artistic works by contemporary artists are on display. The music played fuses Japanese and ethnic instruments, some of which are interspersed with the voices of creatures of the night.

Experience this immersive art experience that will delight all five senses through light and shadows while you can!

Information

Wa no Akari x Hyakudan Kaidan 2022 ~Light and Shadow: 100 Stories~

Running: July 2 – September 25, 2022

Hours: 11:30-18:00 (Last entry at 17:30) *Closing at 17:00 on August 20 (Last entry at 16:30)

Venue: Hotel Gajoen Tokyo Hyakudan Staircase (Tangible Cultural Property Designated by the Tokyo Metropolitan Government)

Tickets/Details: https://www.hotelgajoen-tokyo.com/100event/wanoakari2022

Official Site: https://www.hotelgajoen-tokyo.com/

Hotel Gajoen Tokyo Opens Artistic Summer Ghost Story Event

Hotel Gajoen Tokyo, which blends a hotel and a traditional Japanese museum, is celebrating summer in the spookiest way possible. From July 2 until September 25, guests can enjoy the 'Wa no Akari x Hyakudan Kaidan 2022 ~Light and Shadow: 100 Stories~' event, inspired by the tradition of telling ghost stories in summer to send a chill down your spine. The art illumination exhibition promises to be a once-in-a-lifetime experience.

Jounen no Akari (Lights of Passion)

Bamboo Lights

Without light, there are no shadows. In this exhibition, light and shadow complement one another, portraying the popular 100 ghost stories in a new way. Last year's event received critical acclaim as guests found themselves moving breathlessly from room to room, exploring the many incredible pieces put on display. Along the dusk-lit promenade, goldfish lanterns lead guests to the start of their mysterious adventure. The atmosphere changes from room to room, with bamboo lights and shadows surrounding you from all sides. 

An Immersive Light Art Space

Odawara Wind Chimes at Dusk

Luxurious Cherry Blossom Hairpins

Glass Lamp, Iroshita Studio

Flower Arrangement, Rikou Otsuka

As you ascend the stairs, a festive atmosphere transforms into a more frightening one. Although the ghosts are out to play, guests are welcome to enjoy the many art pieces and crafts on display, from flower arrangements by master ikebana artist Rikou Otsuka and sculptures by some of Japan's most influential traditional creators. 

Enjoy Traditional Summer Ghost Stories with Light Art

Ghost Lanterns

Born from the Earth, Yasumaro Ozawa

Byakko, Yuji Nishijima

Inverted Light, Eros Nakazato

Mysterious music will drift through the air, making guests feel as though they've been transported into another world. The eerie space is lit by Ghost Lanterns made by a 200-year-old company in Fukuoka, and the venue is decorated with art blending ukiyo-e with contemporary styles. 

Culture and Crafts from Around Japan

Paper Lanterns from Ise

Bamboo Lights, Akarinowa

3D Knit Lights

Paper Fireworks

Summer fireworks have been recreated in colorful paper form by an artist in Nagaoka, Niigata Prefecture, and materials found in a neglected bamboo grove in Shizuoka Prefecture were used to create the many iconic lights seen throughout the unique exhibition. Local craftsmen are at the heart of the event, with pieces brought in from areas all around Japan.

Wa no Akari Room

A concept room featuring gently flickering lights and lanterns is available to book for a limited time. Why not come spend your summer in this otherworldly atmosphere?

Information

Wa no Akari x Hyakudan Kaidan 2022 ~Light and Shadow: 100 Stories~

Running: July 2 – September 25, 2022

Hours: 11:30-18:00 (Last entry at 17:30) *Closing at 17:00 on August 20 (Last entry at 16:30)

Venue: Hotel Gajoen Tokyo Hyakudan Staircase (Tangible Cultural Property Designated by the Tokyo Metropolitan Government)

Tickets/Details: https://www.hotelgajoen-tokyo.com/100event/wanoakari2022

Wa no Akari Room

Available: July 2 – August 31, 2022 (1 room available per day)
Details/Reservations: https://www.hotelgajoen-tokyo.com/stay/plan

Nissy (Takahiro Nishijima) Announces New Song, Tokyo Tower Collaboration

Nissy (Takahiro Nishijima) has announced that his new song, I Need You, will be released digitally on July 7, 2022. The jacket cover has also been revealed.

This love song depicts how it feels to warmly live each day with the person you care about. It's a relaxed mid-tempo number, a far cry from the cool sound heard on Nissy's third album HOCUS POCUS 3.

In addition, Nissy will also be collaborating with Tokyo Tower's popular summer event, the Milky Way Illumination. Approximately 21,000 LED bulbs found on the first floor of the main deck, a stunning 150 meters above Tokyo, will change color periodically to match the beat of the new song I Need You.

Along with the new track, Nissy will also be embarking on a five-dome tour, so keep an eye on his activities going forward!

ⓒTOKYO TOWER

Information

I Need You – Nissy
Streaming Release Date: July 7, 2022

Tokyo Tower Milky Way Illumination x Nissy Special Collaboration
Running: July 4 – August 16, 2022
*The Milky Way Illumination will take place from June 17 until September 4.
Address: Tokyo Tower Main Deck 1F North Floor (Towards the Imperial Palace/Marunouchi)
Light-up Hours: 9:30-22:00 (Until 22:30 on Saturdays) 

Details: https://www.tokyotower.co.jp/event/illumination/2022-amanogawa-illumination/

Official Site: https://nissy.jp

Kyary Pamyu Pamyu Visits Iwashita New Ginger Museum in Tochigi Prefecture

Iwashita Foods, a staple in Tochigi Prefecture for over 123 years, has teamed up with Kyary Pamyu Pamyu's LOCAL POWER JAPAN Project! The project was launched to energize Japan through the appeal of regional towns and cities, and the singer is teaming up with the company known widely throughout the region for its ginger. Along with a selection of collaboration goods, a meet-and-greet will be held at the Iwashita New Ginger Museum in Tochigi City! Guests will be able to meet the popular mascot character Iwashika-chan in a new Kyary-inspired outfit. 


The LOCAL POWER JAPAN PROJECT aims to bring attention and support to local industries and to inspire more tourism to rural areas that were hit hard by the pandemic. Kyary hopes to enliven local communities by collaborating with companies that have roots in the rural locations she is visiting on her current national tour. 

On January 16, 2022, Kyary embarked on the largest tour of her career, 'Kyary Pamyu Pamyu 10th ANNIVERSARY JAPAN TOUR 2022 CANDY WAVE.' The 30 stops on the new tour include many that Kyary has not visited before, and were chosen based on the singer's desire to perform for fans who may not typically be able to attend one of her shows.


The collaboration logos created for the project were inspired by Kyary's past releases while also keeping the spirit of the original company intact. T-shirts featuring these collaborative logos are available for a limited time, and a portion of the proceeds are given back to fund local development and social programs.

On May 21, Kyary Pamyu Pamyu stopped by the Iwashita Fresh Ginger Museum on the way to her Tochigi concert. The singer was given a tour of the facility by Iwashita Foods president Kazunori Iwashita. A video of Kyary's visit to the museum will be posted to YouTube soon!

The mascot character of Iwashita New Ginger, Iwashika-chan, appeared at Kyary's Tochigi concert held at Tochigi Prefectural Cultural Center in Utsunomiya on May 21, 2022. The adorable deer danced along with Kyary as Tsukematsukeru played to huge fanfare. 

Iwashita New Ginger goods inspired by Kyary Pamyu Pamyu are now on sale at the Iwashita New Ginger Museum and the Iwashita New Ginger Online Shop until June 20. There are limited quantities of T-shirts and other merchandise not available anywhere else, so don't miss out!

The Iwashita New Ginger Museum holds meet-and-greets with its mascot character Iwashika-chan every Saturday and Sunday, as well as on holidays. Typically, the deer appears in seasonal outfits, but during a few appearances in June, she'll appear in a special Kyary-inspired costume!

Information

Iwashita New Ginger x Kyary Pamyu Pamyu LOCAL POWER JAPAN Project Collaboration Goods

On Sale: May 25 – June 20, 2022

Iwashita New Ginger x Kyary Pamyu Pamyu LOCAL POWER JAPAN Project Collaboration T-Shirt

Available in limited quantities starting in late June 2022

Iwashita New Ginger Museum: https://shinshoga-museum.com/
Iwashita New Ginger Online Shop: https://www.shinshoga.shop/shopbrand/ct103

Kyary Collab Ver. Iwashika-chan Greeting

Dates: June 5 / June 12, 2022

Times: 11:00, 14:00 (Twice a day) 

*The greeting at 16:00 will feature the regular seasonal event costume.

Admission: Free

Details: https://shinshoga-museum.com/event/kpp-iwashika-greeting

NAKED's Popular Night Walk Returns to Illuminate Jozankei Onsen in Hokkaido

The JOZANKEI NATURE LUMINARIE -WATER LIGHT VALLEY- event is coming back in 2022! The event, which shows off the natural beauty of Jozankei's rivers, valleys, and forests, from June to October. Guests can enjoy an illuminated walk along the Toyohira River in the Jozankei area of Hokkaido and wander across the picturesque Futami Suspension Bridge. 

 

This year, the park area at the entrance to the event has been redesigned with new lights. A 2.5-meter-high blue dome will welcome guests with an image of water, and the trees and wisteria trellises will be decorated with twinkling golden lights.

Welcome Light Lake *Image from 2021

River Road

Forest Water Ripple

Nature Projection

Futami Valley

Visitors will encounter a variety of unique light art as they stroll through the rich nature of Jozankei guided by the elusive kappa, known to be the guardian Gods of the region. As visitors approach, the river begins to glow while flowers bloom in this interactive art experience. By using projection mapping across the Futami Suspension Bridge and an all-encompassing light show within the canyon, the event hopes to remind visitors that nature is important and worth preserving. 

How would you like to spend your summer deep in the illuminated nature of Hokkaido?

Information

JOZANKEI NATURE LUMINARIE – WATER LIGHT VALLEY

Address: Jozankei Futami Park – Futami Suspension Bridge
(Jozankei Onsen Nishi 4-chome, Minami-ku, Sapporo, Hokkaido)

Running: June 1 – October 23, 2022
Hours:
June – August: 19:00-21:00
September – October: 18:00-21:00

*Tickets available for guests of Jozankei Onsen only
Official Site: https://jozankei.jp/jozankei-nature-luminarie

Rose Garden ~Spring Rose Festival~ Opens at Ashikaga Flower Park in Tochigi

Starting May 9, Ashikaga Flower Park is celebrating spring with the Rose Garden ~Spring Rose Festival~ event. Since April, the Fujinohana Monogatari Ofuji Festival has been drawing guests to the park to see the symbolic wisteria. As the weather warms up, the rose festival will be held at the same time as the Great Wisteria Festival 2022, which is scheduled to end on May 22. 

Guests can enjoy the rainbow-colored world of wisteria and roses, which are at their best until the middle of May. From now until May 15, visitors can also see the flowers lit up each night.

Come visit Ashikaga Flower Park and enjoy 2,500 roses from 500 different varieties!

Information

Rose Garden ~Spring Rose Festival~

Dates & Hours: 

May 9 – May 15 / 8:00-20:30 (Includes Night Illuminations)

May 16 ~ / 9:00-18:00

Official Site: https://www.ashikaga.co.jp/