Miku Itō Releases Music Video for TV Anime 'Ueno-san wa Bukiyou' OP Theme
Miku Itō is a voice actress and singer who made her solo debut as an artist at 20-years-old in October 2016. Since then she has put out a constant string of albums and singles.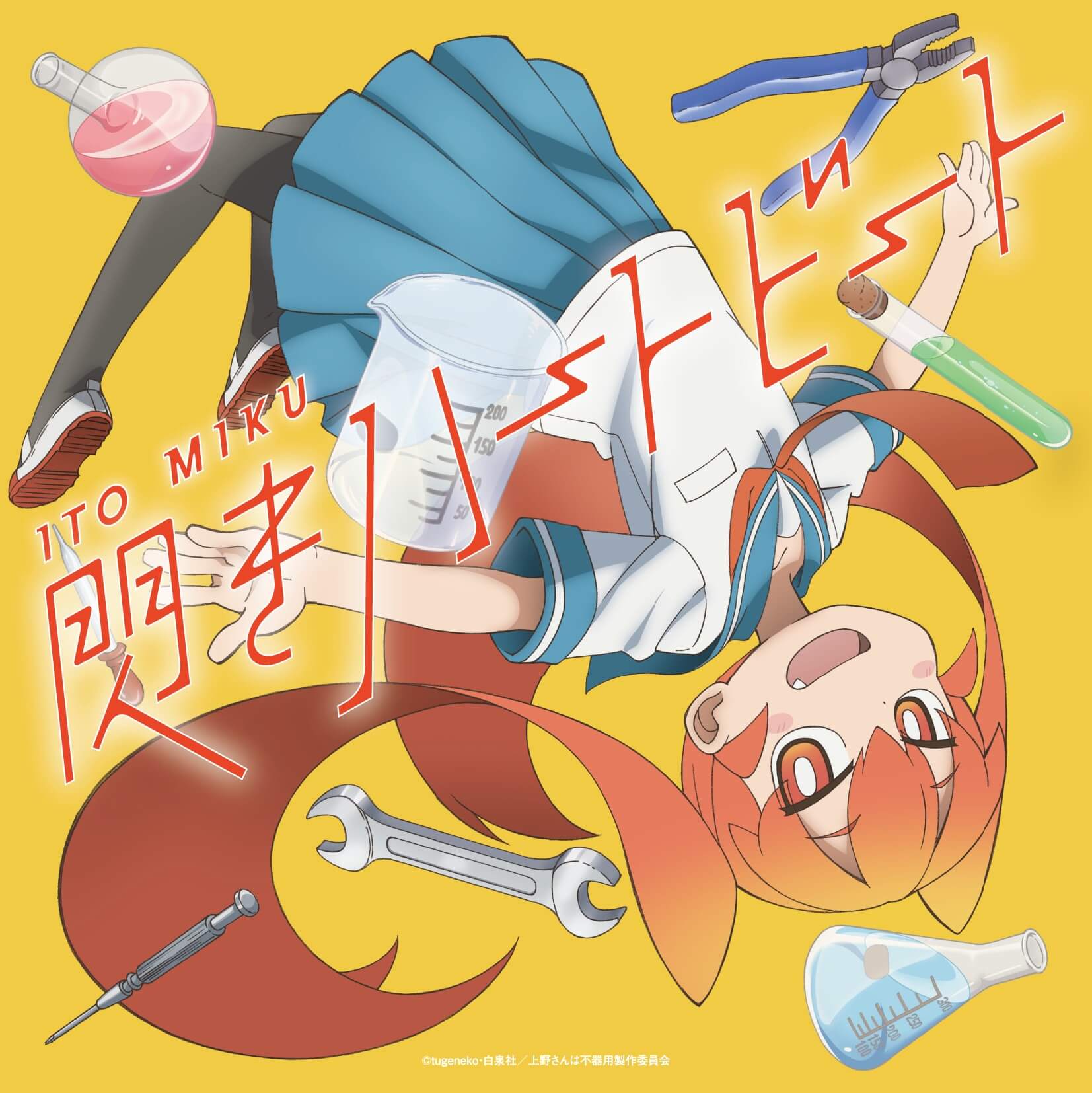 Her fifth single Hirameki Heartbeat will be used as the opening theme for the TV anime series Ueno-san wa Bukiyou which is set to begin airing in January 2019. A music video for the song was just released on December 19.
Fans of tugeneko's manga series as well as newcomers who will watch the anime adaptation can also check out the new promotional video for the anime over on the official website.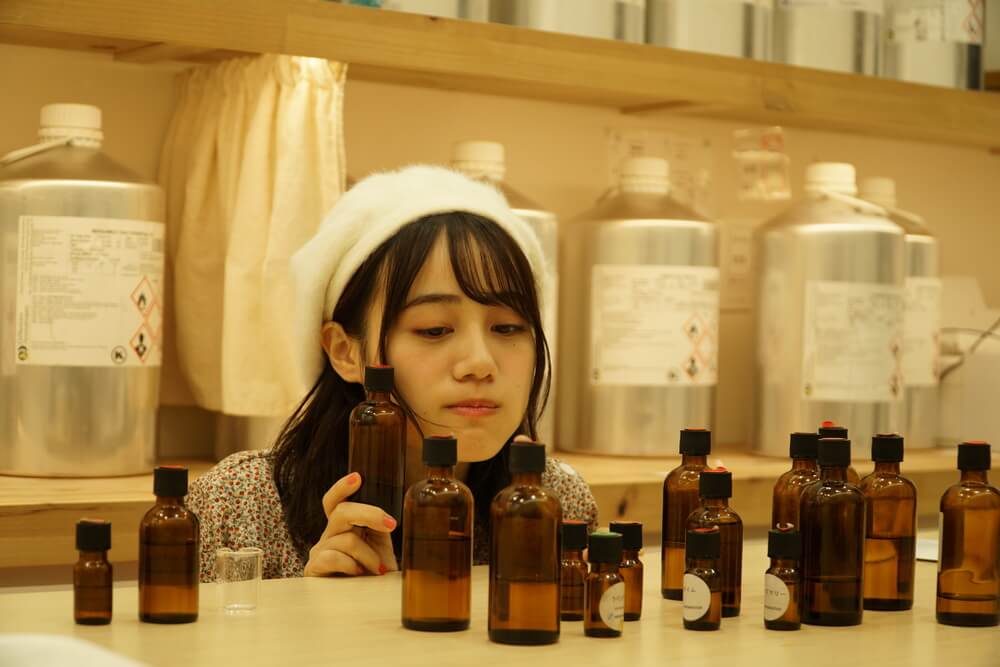 The music video was shot in Kyoto where we get to see the city's beautiful streets. The theme of the video is "manufacturing" which we see as Itō challenges herself to a range of different activities.
Q-TARO of Dengeki Qomolangma Tai choreographed the dance moves in the video, following his work on Itō's previous release Koi wa Movie.
Miku Itō – "Hirameki Heartbeat" Music Video
Miku Itō will appear on FRESH LIVE at 9pm (JST) every other week for her new regular show Fresh Hajimemashita.
Information
Hirameki Heartbeat
Release Date: January 16, 2019
Limited Edition (CD+DVD): ¥1,800 (+Tax) [COZC-1497/8]
Regular Edition (CD-Only): ¥1,200 (+Tax) [COCC-17542]
Miku Itō Official Website: http://columbia.jp/itomiku/
Ueno-san wa Bukiyou will air in January 2019 on TOKYO MX, BS11 and J:COM.
Official Website: http://www.miss-ueno.com
© tugeneko・Hakusensha / Ueno-san wa Bukiyou Production Committee
RELATED ENTRIES
TV Anime Adachi and Shimamura Opening Theme Performed by Akari Kito and Miku Ito

Adachi and Shimamura is a yuri light novel series written by Hitoma Iruma and illustrated by Non. The story centres on Adachi and Shimamura, who meet by chance on the second floor of the school gymnasium.  The two have a tendency to skip class and hang out with each other. The story follows the blossoming of their friendship. An anime adaptation is set to air this October.

The CD for the opening theme Kimi ni Aeta Hi ("The Day I Got To Meet You"), performed by Adachi and Shimamura's voice actresses Akari Kito and Miku Ito respectively, will hit shelves in Japan on October 28, 2020.

The lyrics for the opening theme, which paint a picture of the titular characters' relationship are written by Uqui while the song is composed by MAH, who is a former member of SHAKALABBITS (now Muvidat).

The CD is coupled with the song Merry Go Round, which like the title track is performed by the voice actresses from the perspective of the characters. The song is written and composed by singer-songwriter RIRIKO who has written songs for many an artist.

©2019 Hitoma Iruma/KADOKAWA/Adachi and Shimamura Production Committee

Miku Ito's Plunderer Anime Opening Theme CD Covers Unveiled

The official CD covers have been revealed for Miku Ito's upcoming 7th single Kokou no Hikari Lonely Dark which is being used as the second opening theme for the ongoing TV anime series Plunderer.

Limited Edition copies of the single are coupled with a DVD featuring the full music video for Kokou no Hikari Lonely Dark. The CD cover for this edition shines the spotlight on Miku Ito. Its concept imagines Ito in the middle of a journey searching for a ray of light.

Regular Edition copies of the single features characters from the Plunderer anime series.

The single was originally scheduled for release on May 27, 2020. However, due to the effects of the COVID-19 pandemic, the release has been postponed to June 17, 2020.2020

©2020 Suu Minazuki / KADOKAWA / Plunderer Production Committee

Information

Kokou no Hikari Lonely Dark

Release Date: June 17, 2020
Limited Edition (CD+DVD): ¥1,800 (Before Tax) [COZC-1659~60]
Regular Edition (CD Only): ¥1,200 (Before Tax) [COCC-17769]

Miku Ito Official Website: http://columbia.jp/itomiku/

Miku Ito Releases Plunderer Anime's Opening Theme 'Kokou no Hikari Lonely Dark' Music Video

A short version of Miko Ito's music video for Kokou no Hikari Lonely Dark was posted on the official Columbia Music Japan YouTube channel. The song is used as the second opening theme to the ongoing TV anime series Plunderer.

Miko Ito – "Kokou no Hikari Lonely Dark" (Short Size)

The full version of the music video, as well as the making-of, will be included with the DVD version of Miku Ito's upcoming 7th single of the same name, Kokou no Hikari Lonely Dark, which will be released on May 27, 2020.

The single will include the song Sweet Bitter Sweet Days, as well as the instrumental versions of both this and the title track..

Information

Kokou no Hikari Lonely Dark

Release Date: May 27, 2020
Limited Edition (CD+DVD): ¥1,800 (Before Tax) [COZC-1659~60]
Regular Edition (CD Only): ¥1,200 (Before Tax) [COCC-17769]

Miku Ito Official Website: http://columbia.jp/itomiku/

Plunderer Anime's Second Opening & Ending Theme Artists Announced

The popular ongoing TV anime series Plunderer is set to get a new opening theme by Miku Itō and ending theme by Rina Honnizumi, Ari Ozawa, and Shizuka Itoーwho voice Hina, Lynn and Nana in the anime series respectivelyーfrom April 1, 2020.

Plunderer is a manga series written and illustrated by Suu Minazuki. Serialised in Monthly Shōnen Ace, the series put out its 14th volume in December last year. The action fantasy series is set in a post-apocalyptic world ruled by "Counts" (i.e. numbers) which determine a person's existenceーwhether they are strong or weak. Hina sets off to find a certain person at the behest of her mother, and on her journey she meets Rihito. The mysteries of this world then begin to unravel and make themselves known.

The new opening theme is entitled Kokou no Hikari Lonely Dark, and it will be performed by Miku Itō who also sang the first opening theme Plunderer. The new ending theme is Reasons of Life which is being performed by three of the voice actors from the series. Both songs will be released on CD on May 27, 2020.

ⓒ2020 Suu Minazuki/KADOKAWA/Plunderer Production Committee

Ren Koseki's Top 5 Recommended 2019 Winter Anime

I think we can agree when it's this cold out, there's nothing better than sitting at home inside your warm room binging anime!

Hi everyone, I'm Ren Koseki, and these are my top 5 picks from the 2019 winter season anime list!

Kakegurui ××

The story of this series takes place in Hyakkaou Private Academy where the student hierarchy is determined by money sent to the student council. These contributions come from gambling carried out by the council in the school. The students become crazy and chaotic when it comes to gambling which leads to some very over-the-top scenes.

In the new season the gambling is taken to an extreme level by the student council who has overwhelming authority in the school. The cheating and mind games too continue as students bet their money. The first season aired in 2017 so I recommend watching that first. The new season introduces new characters crazed with unique personalities. You might think I'm talking about how crazy it is too much, but you have to see it to believe it!

Streaming

Netflix

©Homura Kawamoto・Tōru Naomura / SQUARE ENIX・"Kakegurui ××" Production Committee

Kaguya-sama: Love Is War

Kaguya Shinomiya is the vice president of Shuchiin Academy's student council while Miyuki Shirogane is the president. The two of them have feelings for each other but are too prideful to confess their love for one another, leading to a battle of romantic mind games to make the one another confess their love first. Since both of them are so smart this leads to some intellectual mind games, but their offence and defence and main goal being to make the one say they like the other is so pure. In any case there are lots of parts where the desperate two are so cute it's like medicine to the soul. It gets right into the story too and is really easy to watch.

Streaming

Netflix / Amazon Video / Hulu / Nico Nico Channel / Bandai Channel / GYAO!

©Aka Akasaka / Shueisha・Kaguya-sama: Love Is War Production committee

TOKYO MXにてご覧いただきありがとうございました✨

なんて幸せな一コマなんでしょう……。ちょっと懐かしい気持ちになった方も多いはず🎵#wataten pic.twitter.com/fay7gls8P8

— TVアニメ「私に天使が舞い降りた!」公式 (@watatentv) 2019年2月5日

Wataten!: An Angel Flew Down to Me

Miyako is a college student and otaku who meets the "angel" Hana, an elementary school student and friend of her younger sister's. She becomes captivated by Hana's cuteness the moment she sees her.

It's an anime that will warm your heart. All of the girls in it are cute! All of their personalities are different, so it's wonderful to get to take in different types of cuteness all at once. There are funny scenes too where she tries hard to close the distance between her and Hana despite being a shy otaku only for it to fail. This is probably something shy people can relate to. In any case, this anime with its cute girls is sure to make you feel warm and fluffy.

Streaming

Amazon Video / Hulu / Nico Nico Channel / GYAO!

©Nanatsu Mukunoki・Ichijinsha / Wataten Production Committee

Ueno-san wa Bukiyō

The romance-comedy series is set in the science classroom of junior high school. Ueno-san is the Science Club leader and in love with her fellow underclassman Tanaka, but he has no interest in her whatsoever soo get him to notice her, Ueno-san makes full use of her bizarre inventions. She tries and tries but it just irritates Tanaka more but it only makes her want to try even harder. Seeing her like that makes you cheer her on! Each episode is short so I think it's easy to get into.

Streaming

Nico Nico / AbemaTV / Docomo Anime Store

Official Website: http://www.miss-ueno.com

© tugeneko・Hakusensha / Ueno-san wa Bukiyō Production Committee

Dororo

The manga for this series is a shonen written by Osamu Tezuka The story is about a rōnin named Hyakkimaru whose father bartered away 48 of his body parts to 48 demons. Now with fake body parts, his goal is to defeat the 48 demons to retrieve his real parts together with the young thief Dororo. You can't help but be invested in seeing what happens as Hyakkimaru defeats the demons and becomes a little more human each time. The new series is also a remake of an older anime. Contrary to what you'd expect, it doesn't look old fashioned but modern, and the action and scenes are beautiful. The original work is unfinished so nobody knows how it's going to end. I can't wait!

Streaming

Amazon Prime Video

Official Website: https://dororo-anime.com/ 

Dororo ©Tezuka Production / Twin Engine

【キービジュアル公開】電撃祭ステージにて、「ブギーポップは笑わない」キービジュアルを公開しました!公式サイトもリニューアルしております!⇒https://t.co/N8SYWImRwU
"世界の敵"を斃すため浮かび上がる死神。その目に映るものは――。#boogiepop pic.twitter.com/BEZBV9sG2p

— TVアニメ『ブギーポップは笑わない』公式 (@boogiepop_anime) 2018年10月7日

This isn't part of my main list but I'm also currently checking out Boogiepop wa Warawanai! This is the type of series where you have to watch everything to understand the full story, so I omitted it from my line-up because it's difficult to explain, but I watch it every week. It's a really well made anime that makes you use your head!

Streaming

Netflix / Amazon / Huku / Nico Nico / Bandai Channel / PlayStation™ Video

©2018 Kouhei Kadono / KADOKAWA ASCII Media Works / Boogiepop wa Warawanai Production Committee

This ends my list of 2019 winter anime. I hope you enjoy!

Anime Songs Debuting in January 2019: Part 2

Japanese anime is popular worldwide, and one part of the watching-experience that makes a series so memorable is its opening and ending themes.

This is part two of our list of bands and artists providing music for ongoing series and soon-to-air series. Click here for part one.

Q-MHz & SKY-HI x Run with the Wind

Japanese music group Q-MHz which is composed of Aki Hata, Tomokazu Tashiro, Katsuhiko Kurosu and Tomoya Tabuchi (UNISON SQUARE GARDEN) are teaming up with AAA member Mitsuhiro Hidaka―who is also active as a solo rapper under the bane SKY-HI―to release a new digital single called Kaze Tsuyoku, Kimi Atsuku on January 23. The song will be used as the second opening song for the ongoing anime series Run with the Wind. It features a running-like melody coupled with SKY-HI's vocals and rapping.

Full Details: https://www.moshimoshi-nippon.jp/155436

Taichi Mukai x Run with the Wind

Japanese singer-songwriter Taichi Mukai released his second album PURE last month. The song Reset on his new album is used as the current ending theme for the ongoing anime series Run with the Wind and it has been announced that he is set to perform the second ending theme with his new song Michi. The series, currently on its 11th episode, is set to begin airing again on January 8, 2019.

Full Details: https://www.moshimoshi-nippon.jp/155274

Miku Itō x Ueno-san wa Bukiyou

Singer and voice actress Miku Itō's 5th single Hirameki Heartbeat will be used as the opening theme for the TV anime series Ueno-san wa Bukiyou which is set to begin airing in January 2019. The music video was shot in Kyoto where we get to see the city's beautiful streets. The theme of the video is "manufacturing" which we see as Itō challenges herself to a range of different activities.

Full Details: https://www.moshimoshi-nippon.jp/154889

Maneki Kecak x Okoshiyasu, Chitose-chan

Japanese idol group Maneki Kecak will release their long-awaited new single Itsuka Dokoka de / One Chance on March 20, 2019. The track Itsuka Dokoka de will be used as the new ending theme for the anime series Okoshiyasu, Chitose-chan which follows the adventures of the cute penguin Chitose-chan in Kyoto. It is described as a cute song that talks about the sights Chitose-chan sees while in Kyoto.

Full Details: https://www.moshimoshi-nippon.jp/153841

TV Anime Series 'Ueno-san wa Bukiyou' OP Theme to be Performed by Miku Itō

Voice actress and singer Miku Itō has announced details for her upcoming fifth single.

The title song Hirameki Heartbeat is set to be used as the opening theme song for the forthcoming anime adaptation of tugeneko's manga series Ueno-san wa Bukiyou which will air in January 2019.

The track is described as having a jaunty rhythm with lyrics that are both cute and a little melancholic.

Itō will also provide the voice for Yomogi Tanaka in the anime who is the younger sister of the main character Tanaka.

Information

Hirameki Heartbeat

Release Date: January 16, 2019

Limited Edition (CD+DVD): ¥1,800 (+Tax) [COZC-1497/8]

Regular Edition (CD-Only): ¥1,200 (+Tax) [COCC-17542]

Miku Itō Official Website: http://columbia.jp/itomiku/

Ueno-san wa Bukiyou will air in January 2019 on TOKYO MX, BS11 and J:COM.

Official Website: http://www.miss-ueno.com

© tugeneko・Hakusensha / Ueno-san wa Bukiyou Production Committee