The New Year is upon us! Themed food sold at character cafes of various kinds attracted much attention in 2018. Which characters are set to make an appearance in 2019?
Below are 8 cafés which we showed for December 2018 that are continuing service into January.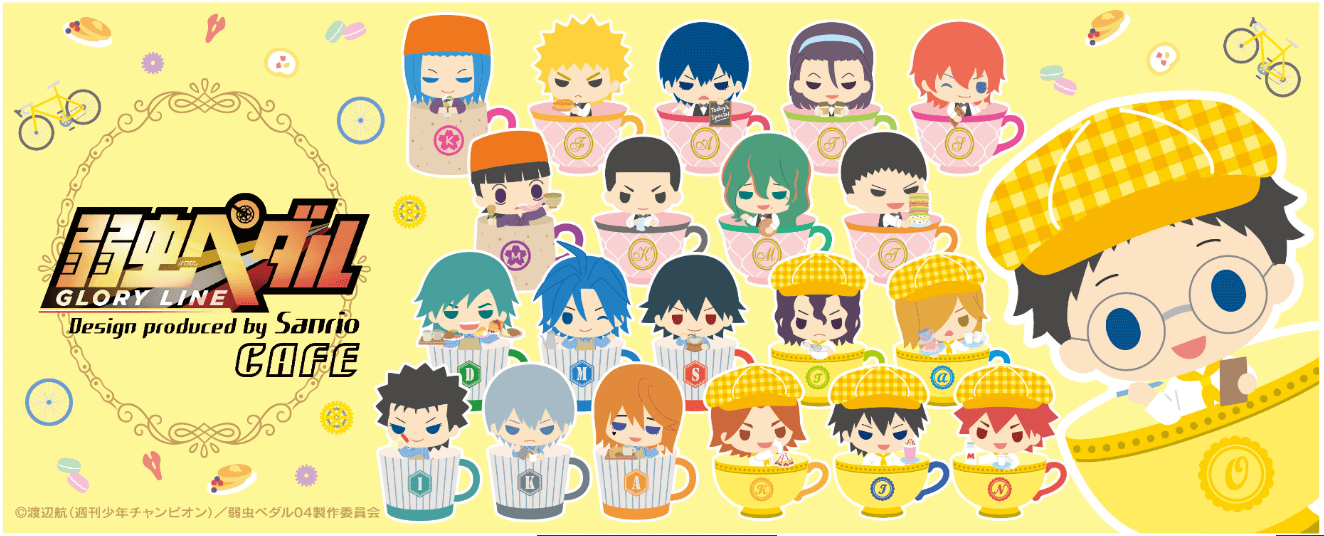 Yowamushi Pedal × 46 Shokudo Ikebukuro Store (1/9~2/13)
A café themed on the popular bicycle racing anime series Yowamushi Pedal is opening at 46 Shokudo in Ikebukuro. 21 characters from the series will make an appearance in the form of cute food and merchandise. You must book a table at the café in advance, but if there are seats available on the day then customers are allowed to enter. Those who book will receive one of for possible A4 stickers selected randomly, so don't miss out!"
Full Details: https://www.moshimoshi-nippon.jp/150992
Gomachan x Gudetama Café
For the first time ever, everybody's favourite lazy egg is collaboration with Goma-chan from the popular comedy manga Shonen Ashibe. The menu features many fun dishes, one of which is the "Gudetama & Goma-chan Stew," a chicken cream stew that takes on a light blue colour representing the ocean. It is filled with fish shaped carrots and stars which surround Goma-chan in the middle who is swimming with Gudetama on his back.
Full Details: https://www.moshimoshi-nippon.jp/155339
Hamtaro x Box Cafe & Space (January 5 – February 24)
To celebrate the 20th anniversary of the popular children's manga and storybook series Hamtaro two themed cafes will open for a limited time in Tokyo and Saitama. The menu features a line-up of cute and heartwarming meals inspired by the adorable Hamtaro. Fans can get their hands on some exclusive celebratory merchandise too as well as enjoy the Hamtaro themed decorations in the café.
Full Details: https://www.moshimoshi-nippon.jp/152845
GOT7 x GOT7 CAFÉ
The multinational boys group GOT7 are opening three cafés in Tokyo, Osaka and Nagoya where they are set to serve up a menu themed on the concept of their current tour: the four seasons. The dessert menu will include 6 parfaits inspired by each member. A range of café original merchandise as well as items featuring photos taken for the café will be sold too. Their music videos will also be playing as you dine, so this is a must-visit for GOT7 fans!
Full Details: https://www.moshimoshi-nippon.jp/155725
Captain Marvel Café (December 15 – March 31)
To celebrate the upcoming release of Captain Marvel, which is set to hit theatres on March 8, a themed cafe called MARVEL CAFE -HERO'S ORIGIN- is now open until March 31 at CAFE Lab. on floor 1F in the north building of Grand Front Osaka. It is part of the Marvel: Age of Heroes Exhibition currently taking place at KNOWLEDGE CAPITAL on floor B1F. The theme of the cafe is "Hero's Origin" which is a reference to the movie itself that will depict the origin of Captain Marvel and how she will play into the final Avengers film. Expect a range of food and drinks inspired by all the Marvel characters we have seen hit the big screen up to now. Check out the exhibition before enjoying a superhero meal at the Captain Marvel café.
Full Details: https://www.moshimoshi-nippon.jp/153576
How did you like this list? Be sure to enjoy all of the café collaboration cafes arriving in 2019!