Character cafés are an exciting experience in Japan which sees a café collaborate with well-known anime series, game series and various franchises by decorating the café interior with designs and illustrations based on them and meals and drinks inspired by them.
There are lots of themed collaborations happening this month, including Christmas ones. So many in fact that we've had to split the list into two parts! This is part one.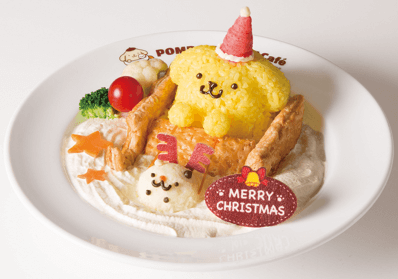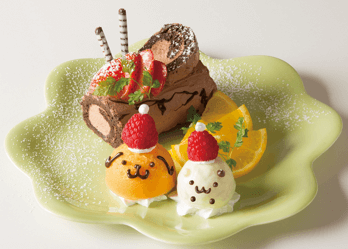 Pompompurin x Muffin Christmas Menu (November 1 – December 25)
Christmas has fallen on the Pompompurin Cafés in Harajuku and Umeda this month with a Pompompurin and Muffin Christmas themed menu being served. The menu includes a cream stew is topped with potato potage and fresh whipped cream that's uneven to make it look like white snow, a yule log on top of which sits a mango ice cream Pompompurin and vanilla ice cream Muffin who are both wearing raspberry winter hats while enjoying Christmas together, and much more. There's plenty of cute Christmas celebrations to be had at the Pompompurin Café this year.
Full Details: https://www.moshimoshi-nippon.jp/137629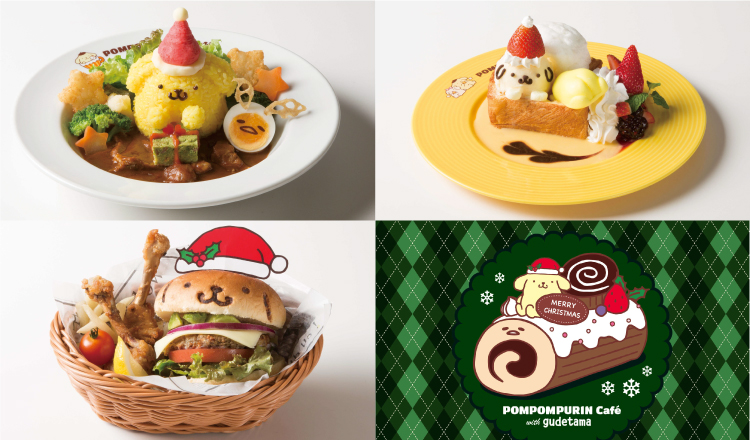 Pompompurin x Gudetama Christmas Menu (December 1 – December 25)
Four Christmas food items have arrived to the Yokohama and Nagoya branches of the Pompompurin Café, two of which are collaborations between Pompompurin and Gudetama! One of these is the "Purin Santa & Gude Reindeer's Xmas Beef Tongue Stew" which has been delivered to warm up both your heart and stomach this Christmas. This dish is a slowly cooked beef tongue stew cutely topped with our favourite Pompompurin who is wearing a Santa hat made from a walleye pollack roe mashed potato. Next to him his his trusty pal Gudetama the Reindeer who has lotus roots for antlers. Surrounding them are star shaped potatoes, carrots and assorted vegetables. A very special plate!
Full Details: https://www.moshimoshi-nippon.jp/147566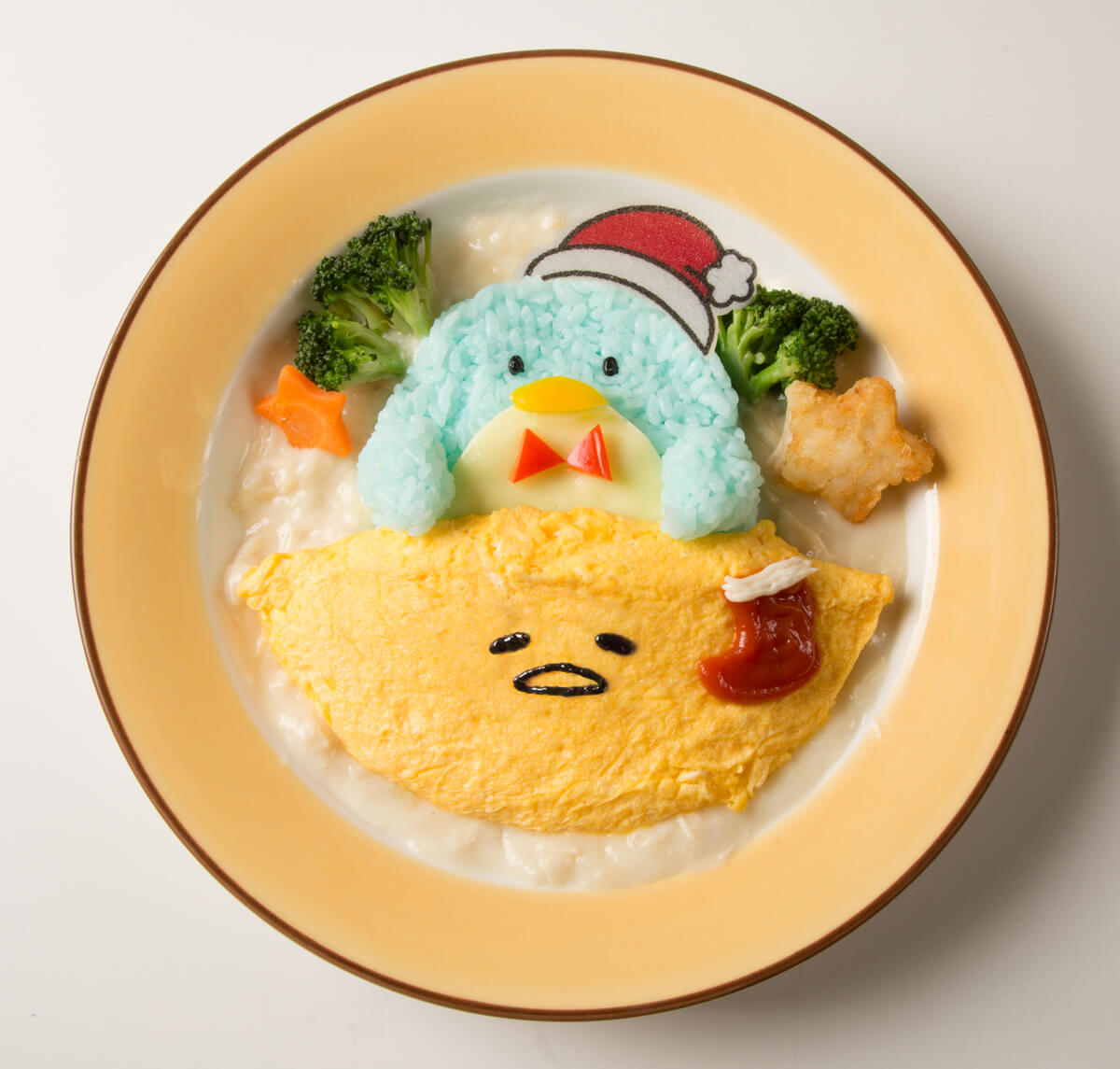 Gudetama Café x Tuxedosam Christmas Menu (December 1 – December 25)
Over at the Gudetama Café in Umeda, Osaka they are serving up a collaborative menu with the popular Sanrio character Tuxedosam. On the menu customers can look forward to tucking into a white stew featuring a Santa Tuxedosam sleeping under a fluffy Gudetama omelette. For dessert there are Gudetama pancakes crowned with ramune flavoured Tuxedosam sherbet. The sweet and sour mix of the colourful fruits and berry sauce match perfectly. There's other options too, and all of them are a must-have for Instagram feeds!
Full Details: https://www.moshimoshi-nippon.jp/146662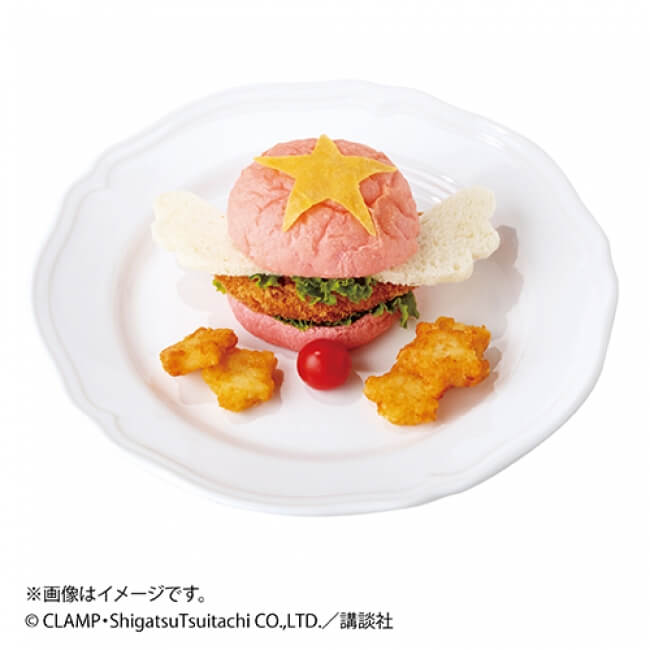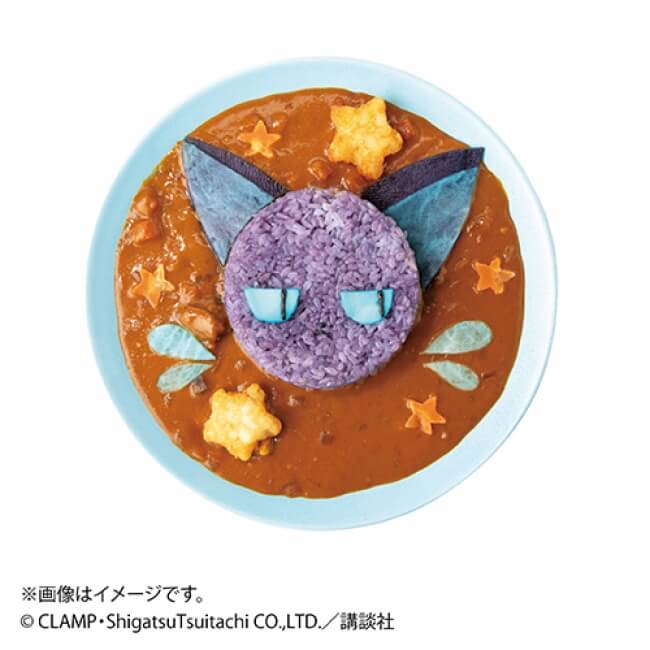 Cardcaptor Sakura x Cafe THE SUN (October 26 – January 3)
Cardcaptor Sakura Exhibition: Magical Art Museum is an ongoing event over at the Mori Arts Center Gallery which is located on the 52nd floor of Roppongi Hills Mori Tower. As part of the exhibition which celebrates the popular manga series, a themed cafe called "SAKURA Cafe&Parlor" has been set up where they are selling a range of original dishes inspired by the series including the Star Burger, Suppi's Manpuku Curry and more. Non-alcoholic cocktails are also being served with motifs of the Cards from the series.
Full Details: https://www.moshimoshi-nippon.jp/135915
Evangelion x Ikebukuro 46 Shokudou (November 16 – January 6)
EVANGELION STORE TOKYO-01 is celebrating its 7th anniversary and to celebrate, they have opened an Evangelion themed izakaya in Ikebukuro, Tokyo. The concept of the bar is an "izakaya for everyone." Fans of the series will instantly recognise the red entrance curtain and lamps in the bar as representing NERV from Evangelion. They can also enjoy some very reasonable prices on the menu. The bar has over 30 drinks and meals for fans to enjoy, and affordable lunch sets which are served until 4pm. Everything on the menu is packed with references to Evangelion.
Full Details: https://www.moshimoshi-nippon.jp/141872
BT21 x BOX CAFE & SPACE (November 1 – January 14)
The BT21 café is based on the BT21 character brand, a collaboration between South Korean boy band BTS and LINE FRIENDS, and it's back again in Tokyo and Osaka. The café is reservation-only. Customers who make a reservation can get their hands on a free clear file. The menu includes "RJ's Coconut Red Curry," "TATA's Hot Sandwich" and more as well as a line-up of 8 drinks based on each member's character.
Full Details: https://www.moshimoshi-nippon.jp/135570
Did you enjoy part one of this list? There are plenty of cute cafes to enjoy in Japan this winter. Look forward to part two!