Top 11 Character Cafés in Japan: December 2018 – Part 1
Character cafés are an exciting experience in Japan which sees a café collaborate with well-known anime series, game series and various franchises by decorating the café interior with designs and illustrations based on them and meals and drinks inspired by them.
There are lots of themed collaborations happening this month, including Christmas ones. So many in fact that we've had to split the list into two parts! This is part one.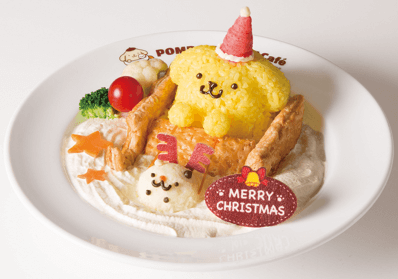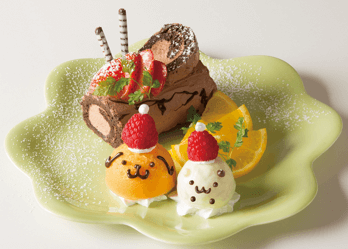 Pompompurin x Muffin Christmas Menu (November 1 – December 25)
Christmas has fallen on the Pompompurin Cafés in Harajuku and Umeda this month with a Pompompurin and Muffin Christmas themed menu being served. The menu includes a cream stew is topped with potato potage and fresh whipped cream that's uneven to make it look like white snow, a yule log on top of which sits a mango ice cream Pompompurin and vanilla ice cream Muffin who are both wearing raspberry winter hats while enjoying Christmas together, and much more. There's plenty of cute Christmas celebrations to be had at the Pompompurin Café this year.
Full Details: https://www.moshimoshi-nippon.jp/137629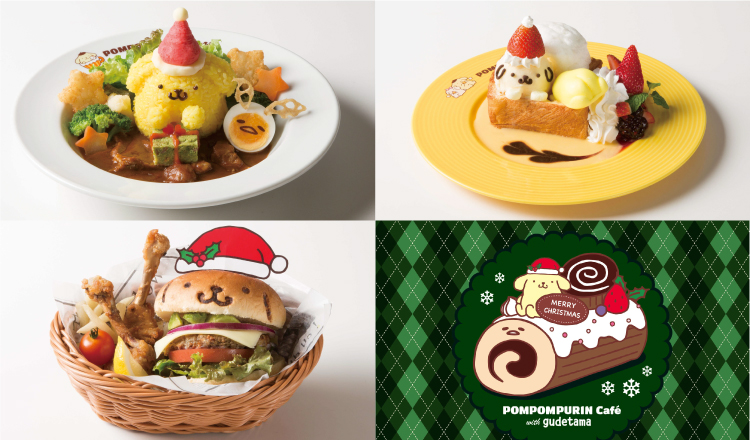 Pompompurin x Gudetama Christmas Menu (December 1 – December 25)
Four Christmas food items have arrived to the Yokohama and Nagoya branches of the Pompompurin Café, two of which are collaborations between Pompompurin and Gudetama! One of these is the "Purin Santa & Gude Reindeer's Xmas Beef Tongue Stew" which has been delivered to warm up both your heart and stomach this Christmas. This dish is a slowly cooked beef tongue stew cutely topped with our favourite Pompompurin who is wearing a Santa hat made from a walleye pollack roe mashed potato. Next to him his his trusty pal Gudetama the Reindeer who has lotus roots for antlers. Surrounding them are star shaped potatoes, carrots and assorted vegetables. A very special plate!
Full Details: https://www.moshimoshi-nippon.jp/147566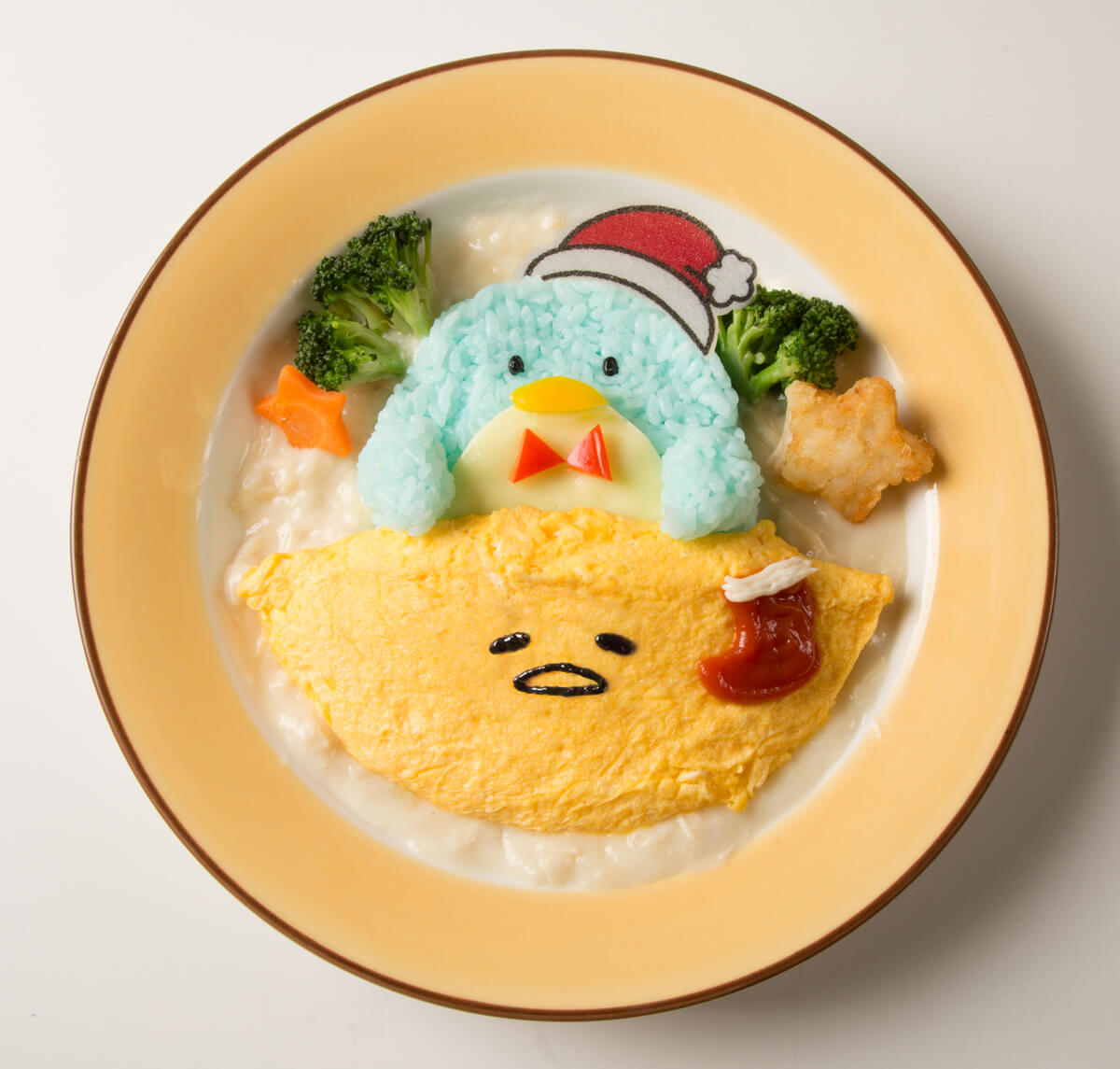 Gudetama Café x Tuxedosam Christmas Menu (December 1 – December 25)
Over at the Gudetama Café in Umeda, Osaka they are serving up a collaborative menu with the popular Sanrio character Tuxedosam. On the menu customers can look forward to tucking into a white stew featuring a Santa Tuxedosam sleeping under a fluffy Gudetama omelette. For dessert there are Gudetama pancakes crowned with ramune flavoured Tuxedosam sherbet. The sweet and sour mix of the colourful fruits and berry sauce match perfectly. There's other options too, and all of them are a must-have for Instagram feeds!
Full Details: https://www.moshimoshi-nippon.jp/146662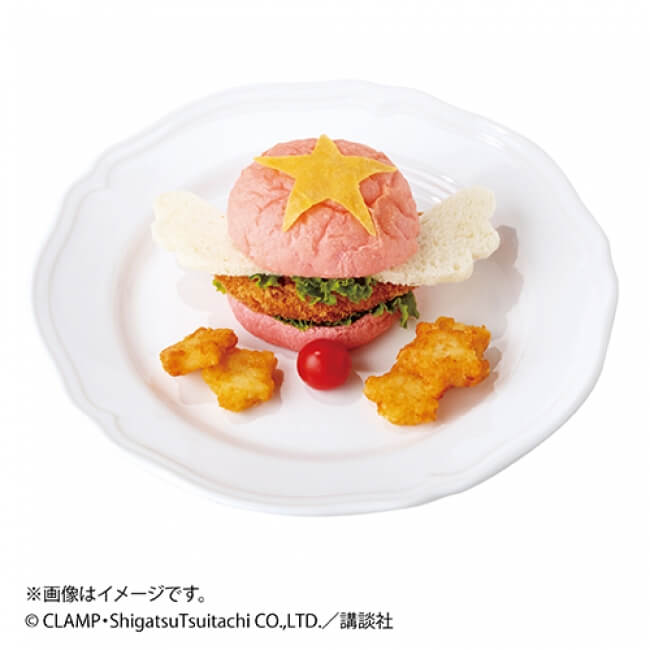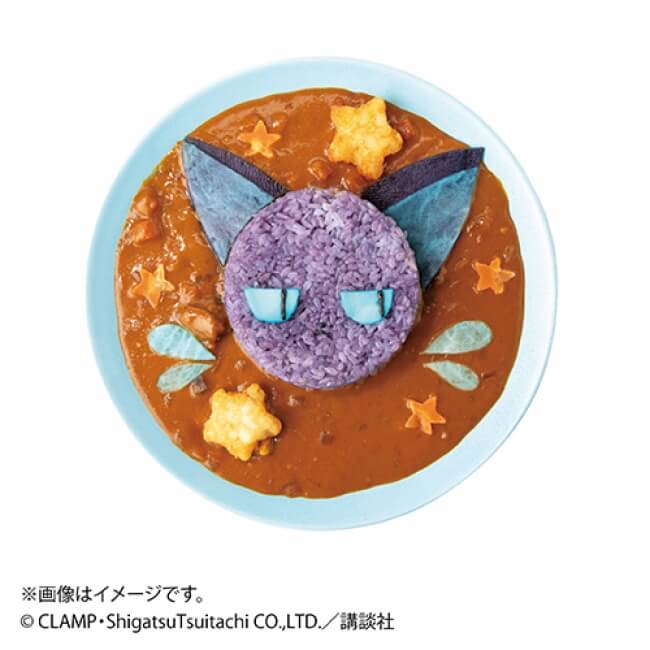 Cardcaptor Sakura x Cafe THE SUN (October 26 – January 3)
Cardcaptor Sakura Exhibition: Magical Art Museum is an ongoing event over at the Mori Arts Center Gallery which is located on the 52nd floor of Roppongi Hills Mori Tower. As part of the exhibition which celebrates the popular manga series, a themed cafe called "SAKURA Cafe&Parlor" has been set up where they are selling a range of original dishes inspired by the series including the Star Burger, Suppi's Manpuku Curry and more. Non-alcoholic cocktails are also being served with motifs of the Cards from the series.
Full Details: https://www.moshimoshi-nippon.jp/135915
Evangelion x Ikebukuro 46 Shokudou (November 16 – January 6)
EVANGELION STORE TOKYO-01 is celebrating its 7th anniversary and to celebrate, they have opened an Evangelion themed izakaya in Ikebukuro, Tokyo. The concept of the bar is an "izakaya for everyone." Fans of the series will instantly recognise the red entrance curtain and lamps in the bar as representing NERV from Evangelion. They can also enjoy some very reasonable prices on the menu. The bar has over 30 drinks and meals for fans to enjoy, and affordable lunch sets which are served until 4pm. Everything on the menu is packed with references to Evangelion.
Full Details: https://www.moshimoshi-nippon.jp/141872
BT21 x BOX CAFE & SPACE (November 1 – January 14)
The BT21 café is based on the BT21 character brand, a collaboration between South Korean boy band BTS and LINE FRIENDS, and it's back again in Tokyo and Osaka. The café is reservation-only. Customers who make a reservation can get their hands on a free clear file. The menu includes "RJ's Coconut Red Curry," "TATA's Hot Sandwich" and more as well as a line-up of 8 drinks based on each member's character.
Full Details: https://www.moshimoshi-nippon.jp/135570
Did you enjoy part one of this list? There are plenty of cute cafes to enjoy in Japan this winter. Look forward to part two!
RECOMMENDED ENTRIES
Entering the Magical Art Museum of Cardcaptor Sakura in Roppongi Hills

Hi, everyone. Minimaru here from the MOSHI MOSHI BOX Harajuku Tourist Information Center!

I went to check out the Cardcaptor Sakura Exhibition in Roppongi Hills. I was born in Hong Kong, and the Cardcaptor Sakura anime series aired there too. When I was a kid I would imitate Sakura everyday. I'm reading the new serialisation and watching the new anime too so I was really looking forward to visiting the exhibition.

The exhibition is located on the 52nd floor of Roppongi Hills Mori Tower in the Mori Arts Center Gallery and has been running since October 26. It is split into two different periods and is ongoing until January.

Without further ado, let's head into the world of Cardcaptor Sakura!

The moment you enter the exhibition you're met with an enormous book! This area is called The Library of Beginnings which is home to works by prominent artists from all fields. Each of them showcases the reason why Cardcaptor Sakura is such a popular series.

Next I entered the Flower Room. You're allowed to take your favourite flower stickers here and stick them anywhere you like.

We look lots of photos of the artistic flower-bloomed room.

The next area I entered was the Maze of Original Pictures. Photography here is off-limits. Be sure to visit the exhibition yourself too so you can see this area with your own eyes. There's around 200 original illustrations spanning across the series from the Clow Card arc to the Sakura Card and Clear Card arcs. I stayed in this area alone for half an hour!

Moving on, I visited the Tomoyo's Sieged Atelier area. All of Sakura's outfits are made by her best friend Tomoyo – she always appears wearing something different. This area is filled with all the different outfits made by Tomoyo across the series.

This one is of course my favourite!

A gigantic Cerberus was in the next area! He's so much bigger in the flesh, the picture doesn't do him justice!

You're allowed to take a photo with him so be sure you get one if you visit!

There's another important thing you need to know about. On weekdays until December 21 at 16:00-19:00 you're allowed to borrow Sakura's wand and magical outfit. Transform into a magical girl and take a photo with Cerberus!

The final area is the Card Room where Clow Cards, Sakura Cards and Clear Cards are on display.

It's an overwhelming experience seeing all of the cards lined up.

When you come out of the exhibition there is a Cardcaptor Sakura museum shop. They sell lots of exclusive and original merchandise you can't get anywhere else. Being a fan myself I couldn't contain myself and bought lots of things.

The exhibition really felt like Sakura had cast her magic on it. You're sure to enjoy your time there no matter how many times you go back, so don't miss out while it's still running!

Information

Cardcaptor Sakura Exhibition -Magical Art Museum-
Running: October 26, 2018 – January 3, 2019
First Period: October 26 – November 30 / Second Period: December 1 – January 3
*Select displays will be different for both periods.
Location: Mori Arts Center, Roppongi Hills Mori Tower 52F
Opening Hours: 10:00-20:00 (Last Entries 19:00)

Exhibition Page: http://ccsakura-official.com/ccsakuraten/

Tokyo Stroll: Indulge at Harajuku's Conveyor Belt Dessert Cafe 'MAISON ABLE Cafe Ron Ron'

MAISON ABLE Cafe Ron Ron is a new hot spot in Harajuku that has been popping up all over Japanese social media. It's so popular that it's common to see lines of people waiting outside to get in, and that's due to the fact that this is the world's first-ever all-you-can-eat conveyor belt dessert cafe!

MMN decided to visit the cafe to see what all the fuss was about. Unfortunately, it was raining on the day, but that didn't stop the smiles on girls' faces waiting outside for it to open which gleamed like a clear summer's day.

We visited the cafe with Japanese model Rinko Murata who has a weakness for sweet things and whose anticipation for this place was growing.

Upon entering the cafe you must first buy a ticket from the ticket machine. It costs ¥1,800 (tax included) for all-you-can-eat desserts and a drink.

This is the drink shelf. You can choose your favourite from a selection of colourful beverages that come in original bottles.

Rinko-chan picked out a photogenic-looking drink too!

If you stand against the pastel pink walls you can snap a cute photo from any angle!

Rinko-chan was quick in wanting to snap one. There are messages written over the walls too. It makes you want to take your dessert in hand and take lots of pictures.

The dessert lane stretches a sweet 38 meters. There are over 25 delights to choose from which appetisingly pass by one by one. They arrive crowning pastel coloured plates looking like precious gems and jewels. There's even light savoury food in addition to the sweet stuff.

You're allowed 40 minutes. Heaven begins as you sit down: pick, take a photo, tuck in and repeat.

Is this one an ice cream? It actually isn't – underneath the cone hides potato salad! This is one of the non-dessert light foods and is perfect for cleansing your palate. There's a meat ball burger, nikuman meat bun, popcorn and others too. (And keep in mind that items change depending on the season!)

All the sweets are bite-sized meaning you can enjoy lots of different kinds one after the other.

"Eating something this cute feels such a waste!" commented Rinko-chan.

Piling up the plates after you've finished is kinda fun too!

The shortcake dessert with the black cat wafer is the most popular. Only 10 of them come by in an hour. Rinko-chan was lucky enough to get her hands on one.

The cat has an iconic presence in the cafe. In fact, the "Ron Ron" in the cafe's name comes from French and refers to the purring sound a cat makes when it's happy.

There's a super cute girly powder room up on the second floor.

They have hair straighteners, makeup and other bits and bobs that customers are free to use. Use of the powder room isn't included within the time restriction of the all-you-can-eat service, so once you've filled your belly with treats you can hit it up, touch up your makeup and head out shopping.

If you're in Harajuku why not enjoy lots of desserts and a girly time over at MAISON ABLE Cafe Ron Ron?

MOSHI MOSHI NIPPON Social Media Campaign

Running: November 29, 2018 – December 4, 2018

We are giving away chekki photographs of Rinko Murata randomly to 2 lucky people who follow us on either our Instagram, Twitter or Weibo pages and share this article (or hit 'Like' on Instagram). Anyone from around the world can participate in this campaign, so get involved!

Writer: Ai Watanabe

Photographer: Haruka Yamamoto

Translator: Joshua Kitosi-Isanga

Information

MAISON ABLE Cafe Ron Ron
Address: 6-7-15 Jingumae, Shibuya, Tokyo
Business Hours: 11:00-19:00 (Last Orders 18:00)
TEL: 03-5468-8290
Price: ¥1,800 (Tax Included) w/drink [40 Minutes Allowed]

Website: https://cafe-ronron.com/

7 Christmas Desserts From Japan to Enjoy This Year♡

Christmas is fast approaching, which in Japan means that lots of festive cakes, drinks and other delectables are starting to pop up for the holiday season.

Here's our 7 recommendations to check out for Christmas 2018.

Christmas Fair 2018 Tokyo Xmastation

Christmas has arrived early at Tokyo Station's Gransta and Gransta Marunouchi malls with Christmas Fair 2018 Tokyo Xmastation which is running until December 25. They are selling a range of delicious Christmas cakes including one made in the image of the Tokyo Station building, another inspired by the Suica IC card penguin and much more. They are all a must-see♡

Full Details: https://www.moshimoshi-nippon.jp/141020

Afternoon Tea – "Strawberry Christmas Cake Parfait"

Afternoon Tea is set to release a string of new desserts for Christmas, beginning with the two apple desserts based on the apple Christmas tree ornaments which were released on November 6. This will be followed by a Strawberry flavoured "Christmas cake parfait" that is layered strawberries, pistachio cream, strawberry jam, chocolate sponge and berries. It's also mixed with a cream cheese gelato and elderflower jelly and is said to go perfectly with black tea!

Grand Hyatt Tokyo – 2018 Christmas Cakes

The luxury Grand Hyatt Tokyo hotel is now selling a line-up of exquisite Christmas cakes for a limited period. The menu features 9 cakes including 4 new entries to this year's range. The 'Sparkle' cake features an extravagantly adorned cake with a scrumptious row of eclairs on top that have been sprinkled with sparkly decorations. The 'Crystal Fruits Shortcake' has a beautifully and intricately crafted dome inside which sit jewels of colourful fruits. There's plenty more mouth-watering delectables where that came from too, so check the link below.

Full Details: https://www.moshimoshi-nippon.jp/139223

Harajuku & Umeda Pompompurin Café Christmas Menu

The Harajuku and Umeda branches of the Pompompurin Café are celebrating Christmas with a Pompompurin and Muffin character themed menu that is being served all the way up to Christmas Day. The menu items featured extravagant names such as "I'll Give You a Present ♪ Fluffy Snow Cream Stew," a cream strew topped with potato potage and fresh whipped cream that's uneven to make it look like white snow with Purin Claus and his little reindeer helper Muffin are handing out presents atop their Christmas sleigh. There's exclusive merchandise to get your hands on too.

Full Details: https://www.moshimoshi-nippon.jp/137629

Starbucks Christmas Beverages

The Starbucks holiday season began on November 1. The first line of Christmas drinks hitting the coffee chain this year are the Christmas Strawberry Cake Frappuccino® and Christmas Strawberry Cake Milk. To ensure you get that full strawberry texture, both delicious drinks are made with a sweet 'n sour strawberry sauce that leaves in plenty of the strawberry pieces. The standout feature of both is their gentle flavour which has that feeling of comfort milk has. They are also made to look like sponge cake. An enjoyable texture is also made by adding well-baked biscuits.

Be sure to check out the other Christmas treats you can enjoy at Starbucks this year too.

Full Details: https://www.moshimoshi-nippon.jp/137601

Krispy Kreme Christmas Doughnuts

Krispy Kreme released five Christmas themed doughnuts in Japan on November 14: Santa, Reindeer, Snowman, Milk Tea Box and Sprinkle Wreath. The Santa and Reindeer doughnuts take on a cute square shape as does the Milk Tea Box which is made to look like a Christmas present. These make for a perfect gift to hand out♡

Full Details: https://www.moshimoshi-nippon.jp/135400

Hilton Tokyo Odaiba – "Girls' Sweets Coffret Christmas Buffet"

Hilton Tokyo Odaiba brings a Christmas buffet this year called the "Girls' Sweets Coffret." It's inspired by the "Christmas Coffret" cosmetic sets that are sold during the Christmas season only which tickle the hearts of girls across Japan. The buffet is overlooked by a bright pink Christmas tree under which are all presents a girl could hope for including a dress, jewel box, flowers and more―all edible. A cute Santa Claus, reindeer and snowmen also decorate the table in all their delicious dessert glory. The colour palette is girly but stylish, with pink as the main colour and blacks and whites everywhere else. An absolute must-post on Instagram!

Full Details: https://www.moshimoshi-nippon.jp/134994

Did you enjoy this list? If you're in Japan this year be sure to eat all of the Christmas goodies you can find.
RELATED ENTRIES
Mister Donut Japan to Launch New Matcha Doughnut Series

Mister Donut Japan is set to release a new limited line of matcha doughnuts in collaboration with Gion Tsujiri and Toshi Yoroizuka at all branches in Japan from April 10, 2020.

Following the success of Mister Donut's previous collaborations with the two companies, named "misdo meets Gion Tsujiri" and "misdo meets Toshi Yoroizuka" respectively, this new collaboration sees all three companies come together for the first time to co-develop the matcha doughnuts. The triple team's matcha creations are the fitting way to celebrate Mister Donut's 50th anniversary as Gion Tsujiri brings the best Uji matcha from Kyoto and Uji-born pastry chef Toshihiko Yoroizuka brings his skill set.

Pon de Ring Uji Matcha Chocolate Almond

The classic chewy Pon de Ring laced with Uji matcha and coated in chocolate. It's finished with a sprinkling of Uji matcha powder and crunchy almonds.

Pon de Ring Uji Matcha Milk Crunch

The matcha-ness is turned up with this Pon de Ring, which is not only mixed with Uji matcha, but coated with Uji matcha chocolate. It's served with a snowfall of milk crunch pieces., highlighting the velvety texture of the doughnut while adding crunch.

Pon de Ring Uji Matcha & Chocolate Cream

This doughnut is made into a sandwich, with Uji matcha whipped cream and chocolate cream. The Uji matcha chocolate adds a richness to the overall flavour.

Pon de Ring Uji Matcha Doughnuts

Running: April 10, 2020 – Early June 2020

Available: At most Mister Donut branches in Japan

Tiramisu Chocolate Whip

The dough of these tiramisu doughnuts are combined with cocoa. This one is filled with chocolate whipped cream, a tiramisu, and milk crunch pieces for an amalgamation of tasty flavours and textures.

Tiramisu Uji Matcha Whip

The chocolate whipped cream of the previous doughnut is replaced with Uji matcha whipped cream for this luxurious delight. The cream is also embedded with almonds.

Uji Matcha Chocolate Pie

The name speaks for itself: a lovely layered pie of Uji matcha chocolate and chocolate cream.

Tiramisu Doughnuts & Chocolate Pie

Running: April 10, 2020 – Early May 2020

Available: At most Mister Donut branches in Japan

These Breathtaking Doughnuts Will Turn Your Home Into an Authentic Cafe Experience

With most of us cooped up indoors, that desire to go and relax in a cafe with some coffee and cake just keeps on growing. "gmgm," a doughnut shop in Koenji, Tokyo that specialises in "flower doughnuts," is very aware of this, and so they opened an online shop on Saturday to allow for people to enjoy that authentic cafe experience from their own home.

gmgm, the flower doughnut shop

Nana Yui, an artist of dried flower art, opened gmgm in June 2019 as the sister store to HANABAR, a bar in Ikebukuro, Tokyo where drinks are served topped with beautiful dried flower art. At gmgm, the beautiful flower art combines harmoniously with the antique furniture and decor. It's a popular doughnut shop whose doughnuts are beautiful enough to be given as gifts.

Earl Grey x Rose: ¥500

Cream Cheese Strawberry x Safflower: ¥500

The doughnuts gmgm is offering to ship out on their website include their five regular doughnut flavours and some limited-time flavours, all of which are nothing short of cute works of art.

Customers who order on the shop by April 30 will also receive a free dried flower and a tea turns blue. Those who order more than 8 will receive that plus a pressed viola flower you can eat.

You can also make ice cubes with flowers in them and set your table like in the cafe's photos for a really luxurious tea time!

Information

gmgm

Address: 3-60-10 Koenjiminami, Suginami, Tokyo

Opening Hours: [Weekdays] 14:00-20:00 / [Weekends & Public Holidays] 12:00-20:00

Closed: Mondays
TEL: 03-6877-0537

Official Website: https://www.gmgm.info

Grab These Adorable and Delicious-Looking Kirby Figures at Japan's Game Centres

The second batch in a series of Kirby figurines, based on the Kirby's Dream Land game series, began rolling out at game centres across Japan on March 26, 2020. They are part of the "Palcolce collection," a line of palm-sized figures themed around desserts.

Three figures make up the second batch of the series, which includes Kirby standing atop a Star Block shortcake holding a bright-red strawberry, another of Waddle Dee climbing a cupcake on chocolate ladder, and Kirby flying through the sky on a cheesecake Warp Star.

A third batch is also planned drop in the near future.

Collect all three from arcades throughout Japan to create a truly kawaii Kirby scene!

©Nintendo / HAL Laboratory, Inc. KB19-3661

Information

Kirby – Paldolce collection vol.2

Release Date: Rolling out March 26, 2020

Figures: 3

Available: Amusement centres throughout Japan (*select branches not participating)

Official Website:  https://bpnavi.jp/s/toru/pc/prizes/81933

Harajuku's Rilakkuma Fruits Cafe Entertains Customers With Projection Mapping

"HARAJUKU AR BOX -table projection mapping cafe-," a cafe in Harajuku whose name speaks for itself, has announced its second collaboration with Rilakkuma to bring the new Rilakkuma Fruits Cafe which will open for a limited time from April 3, 2020 to June 28, 2020.

The cafe's first collaboration with Rilakkuma was in December last year. It was called "Korilakkuma Cafe: another me in the mirror" and earned itself many fans for its cute food and decor, but especially for its interactive tables which used projection mapping technology to have Rilakkuma and friends running around people's tables.

Harajuku's Korilakkuma Cafe: another me in the mirror | Food Review: https://www.moshimoshi-nippon.jp/284456

Fruit is the theme of the new Rilakkuma Fruits Cafe, which follows that Chairoikoguma and the other characters have gathered lots of nutritious fruit to fill up the belly of hungry Rilakkuma.

Food

Rilakkuma's Fruit Salad – ¥1,590

Get your fill of refreshing fruit from this fruit salad plate which has Rilakkuma poking his cute face out from behind it all. When you order this dish, you'll need to touch the fruits that appear on the table to give them to Rilakkuma.

Korilakkuma's Apple Cheese Gratin – ¥1,690

A combination of hot apple and melted cheese, you'll find yourself addicted to the sweet and sour mix of flavours. Pick lots of apples with Rilakkuma and company with the projection mapping game. (*Serving April 3, 2020 – May 17, 2020 only)

Chairoikoguma's Orange Burger – ¥1,690

The bun of this hearty burger is branded with Chairokoguma's cute bear face. But what happens when you squeeze Rilakkuma's orange? (*Serving May 20, 2020 – June 28, 2020 only)

Desserts

Rilakkuma's Maku Maku Fruit Tree Parfait – ¥1,590

Korilakkuma's Maku Maku Strawberry Tree Parfait – ¥1,590 (Serving April 3, 2020 – May 17, 2020 only)

Kiiroitori's Maku Maku Peach Tree Parfait – ¥1,590 (Serving May 20, 2020 – June 28, 2020 only)

For dessert, you have a selection of fruit-topped parfaits to choose from featuring Rilakkuma, Korilakkuma, and Kiiroitori.

Drinks

Rilakkuma & Friends Maku Maku Drinks – ¥790 / With Glass – ¥1,990

Warm & Fluffy With Everyone Cafe Latte – ¥890

Pick between one of the cold beverages, or if it's a cold day, warm up with a hot drink. Feel warm and fluffy like Rilakkuma and his friends with a warm beverage after your parfait.

Exclusive Merchandise & Bonus Items

Pin Badges (9 Designs/Chosen Randomly) – ¥400

Acrylic Key Rings (8 Designs/Chosen Randomly) – ¥500

Get your hands on a selection of original merchandise too, including pin badges, acrylic key rings, and more.

Stickers (4 Designs/Chosen Randomly)

Coasters (4 Designs/Chosen Randomly)

Book a table online in advance and receive one of four possible stickers. Order a drink at the cafe and get one of the four coasters!

You're sure to get your five-a-day when you dine at the Rilakkuma Fruits Cafe, opening for spring on April 3, 2020 in Harajuku.

©2020San-X Co., Ltd. All Rights Reserved.

Information

Rilakkuma Fruits Cafe

Running: April 3, 2020 – June 28, 2020

Location: HARAJUKU AR BOX-table projection mapping cafe- (Lucessimo Bldg. Floor 2F, 4-28-28 Jingumae, Shibuya, Tokyo)

Table Bookings: Now Open

*Table Projection Mapping seats for two people are ¥2,960 (before Tax)

Official Website: https://rilakkuma-fruits-cafe.jp/

Pompompurin Celebrates 24th Anniversary With Birthday Menu at the Pompompurin Cafe

Sanrio's popular character Pompompurin is celebrating his 24th anniversary at three branches of the Pompompurin Cafe in Harajuku, Yokohama, and Umeda with a special birthday menu that will be served for the whole month of April.

A special celebratory menu for the floppy-eared golden retriever

The official date for Pompompurin's birthday is April 16. The birthday menu line-up includes two food items, a drink made in collaboration with popular Japanese picture book author Yukako Ohde, and some novelty gifts.

Birthday Menu

Happy Birthday Flower Bouquet Bisque – ¥1,590 (Before Tax)

This cute bisque soup has Pompompurin and Muffin holding a colourful boquet made from broccoli and mashed potatoes made to look like roses. It has a rich but mild flavour, and is both adorable and filling.

Happy Birthday Strawberry Mousse – ¥790 (Before Tax)

The strawberry mousse has a fluffy texture and refreshing, sweet taste. It can be eaten as it is or drizzled with the accompanying raspberry sauce.

Yukako Ohde x Pompompurin Lemonade – ¥550 (Before Tax)

Take a sip from this delicious lemonade from a straw adorned with a cute, warm illustration of Pompompurin by Yukako Ohde.

Exclusive Anniversary Novelty Gifts

Lunch Mat Design

Customers who dine at any of the three cafes during the anniversary celebration will receive a free lunch mat.

Coaster Designs

And those who order the lemonade will receive a coaster with designs illustrated by Yukako Ohde. The designs are different at each branch of the Pompompurin Cafe. You can also receive another special coaster if you spend over ¥1,000 each (tax included) at Pompompurin Cafe Umeda and KIDDY LAND Osaka Umeda. Simply show your receipts at the cafe.

©1996,2020 SANRIO CO., LTD. APPROVAL NO.S605291

Information

■Pompompurin Cafe Harajuku

Address: CUTE CUBE HARAJUKU 3F, 1-7-1 Jingumae, Shibuya, Tokyo

Opening Hours: 11:00-21:00 (Food Last Orders 20:00 / Drinks Last Orders 20:30)

Access: 3-minutes on foot from the Takeshita Exit at Harajuku Station

TEL: 03-5786-0770

■Pompompurin Cafe Yokohama

Address: Yokohama Sotetsu Square, 2-1-5 Minamisaiwai, Nishi-ku, Yokohama-shi

Opening Hours: 10:00-21:00 (Last Orders 20:30)

Access: 5-minutes on foot from West Exit at Yokohama Station via JR Line

TEL: 045-311-6750

■Pompompurin Cafe Umeda
Address: Hankyu Sanbangai South Wing B2F, 1-1-3 Shibata, Kita-ku, Osaka-shi
Opening Hours: Weekdays 11:00-22:00 (Last Orders 21:30) / Weekends & Holidays 10:00-22:00 (Last Orders 21:30)
Access: 3-minutes from Osaka Station via JR Line
TEL: 06-6292-7140

Pompompurin Cafe

Official Website: http://pompom.createrestaurants.com

McDonald's Japan Releases Citron and Pistachio Flavoured Macarons at McCafé by Barista Branches

McCafé by Barista branches of McDonald's in Japan released two new flavours in their macaron series on Wednesdayーpistachio and citronーwhich will be served for a limited time until the end of August this year.

 
The pistachio and citron flavours join McCafé by Barista's colourful macaron series alongside vanilla, raspberry, and chocolate, which cost just ¥150 each.

The pistachio flavour is filled with a pistachio powder-dusted pistachio cream, giving the crunchy macaron a deliciously nutty flavour and fragrance.


The citron macaron is filled with a refreshing and sour lemon cream. Both of the new flavours are the perfect treat for the start of spring and going into the summer season. They're even better with one of McCafé by Barista's high quality coffees.



McCafé by Barista is also serving the "Special Macaron Set" for ¥500 which comes with any two macarons of your choice and a medium hot or iced latte.

Information

Macaron Pistachio / Macaron Citron

Serving: March 25, 2020 – Late August 2020 (subject to change)

Available: McCafé by Barista in Japan

McDonald's Japan Official Website: http://www.mcdonalds.co.jp/

mūya: Tokyo's New Cafe Opening by 'Bread, Espresso &' Serving Fluffy Mū Bread

Bread, Espresso & is a cafe chain with 17 branches in Japan, including Omotesando. The company is set to open an entirely new cafeーspecialising in Bread, Espresso &'s popular mū breadーcalled mūya on April 17, 2020 in Asakusa Mizumachi.

Bread, Espresso &: https://www.moshimoshi-nippon.jp/254815

Mizumachi is a new shopping centre also opening on April 17, 2020. It's near Solamachi in Tokyo Skytree Town, and sits betwixt Kaminarimon and Tokyo Skytree.

mū

Mū is an original bread recipe baked up by Bread, Espresso & that's made with lots of butter, giving it a rich taste. The word means "soft" in French. When you break a piece off the fluffy loaf, that rich buttery smell fills your nose.

inside the cafe

The mū loaf is a cube shape, and the interior of the shop has cube designs all over it.

Customers sit at tables with chairs that stack up like cubes – a unique and original design.

French toast

Mū is the main dish at mūya, which can be served as it is, as a sandwich, as French toast, or even in a parfait.

When you're passing through Asakusa, be sure to pop into mūya to try the famous mū bread of Bread, Espresso &.

Information

mūya

Address: 1-2-12 Mukojima, Sumida City, Tokyo 131-0033
Opening Hours: 8:00-20:00
No Fixed Holidays

TEL: 03-6240-4880
Homepage: http://www.bread-espresso.jp/

Succulent Strawberry Drinks & Desserts Served Up at GELATO PIQUE CAFE

GELATO PIQUE CAFE branches in Japan began their "Strawberry Fair" on Wednesday serving up drinks and desserts made using seasonal strawberries.

What is GELATO PIQUE CAFE all about?
"Desserts for adults" is the concept at GELATO PIQUE CAFE, a cafe brand developed by GELATO PIQUE which specialises is comfy loungewear. The cafe, which has branches in Tokyo, Osaka, Nagoya, and elsewhere in Japan, serves comfort food and is interested in the health and happiness of its guests. Their menu is overflowing with ideas, with all options made using only the best selected ingredients.

The enticing line-up is nothing short of kawaii, and screams springtimeーfitting for the season as Japan celebrated Vernal Equinox Day yesterday, the first day of springーwith sweet and sour strawberries adorning their crepes, smoothies, gelatos, soft serve ice creams, and more.

Strawberry Mille Feuille Crepe – ¥830 (Before Tax)

Topped with a whole strawberry, this mille feuille-inspired seasonal crepe is made with an in-house crafted strawberry cream, mille feuille puff pastry, and vanilla gelato. The strawberries used are a mix, all grown in Kumamoto Prefecture, including yuubeni, koinozomi, koiminori, and others. Much love and care is put into growing strawberries in Kumamoto, making them sweet and delicious.

White Strawberry & Red Strawberry Gelato – ¥460 (Before Tax)

This two-coloured serving of gelato ice cream is made with sweet-smelling white strawberries and a brand of red strawberry from Fukuoka called amaou. No strawberry lover will be able to resist this pick.

Strawberry Smoothie – ¥590 (Before Tax)

Enjoy a cold strawberry smoothie made from seasonal strawbs, milk, and honey. Indulge in the refreshing sweetness of the strawberries, and enjoy the cute pink flavour of the beverage.

Strawberry Milk Soft Serve Ice Cream – ¥450 (Before Tax)

Or grab yourself a cone of soft serve ice cream to enjoy the combination of flavours: sweet and sour strawbs and sweet, creamy milk.You can also get a mix together with the light blue vanilla flavour.

Information

Strawberry Fair

Running: March 18, 2020 – May 31, 2020

Location: GELATO PIQUE CAFE (Participating Branches: atré EBISU, LUMINE Ikebukuro, Mitsui Outlet Park Makuhari, Mitsui Outlet Park Kisarazu, Mitsui Outlet Park Jazz Dream Nagashima, Gotemba Premium Outlets, Nagoya LACHIC, Mozo Wonder City, Namba Marui, Mitsui Outlet Park Hokuriku Oyabe)

Official Website: https://pique-cafe.com/

*Strawberry variety is subject to change depending on production conditions

Shirasagi Coffee: Ehime Prefecture's Cafe Releases Springtime Cherry Blossom Menu

Shirasagi Coffee, a cafe in Ehime Prefecture, has released a new seasonal menu full of strawberries and cherry blossoms to commemorate the spring season.

Shirasagi Coffee's logo features a heron, a reference to a legend that says the locals of Matsuyama in Ehime noticed that a white heron healed its injured leg by bathing in the hot springs of Dōgo Onsen, one of the oldest hot springs in  Japan. The cafe was renovated using furniture made from scrap wood from when Dōgo Onsen was built. It's an artistic cafe that has garnered much attention from both locals and tourists.

Thick-Cut Natural Yeast Toast

This thick-sliced bread is provided by Panya Uzu, a bread shop also in Matsuyama, Ehime. Perfect for breakfast or lunch, it's topped with a cherry blossom jam and mascarpone cheese cream.

Top: Cream Soda / Right: Cherry Blossom Tea Latte / Left: Cherry Blossom & Strawberry Mint Sour

This line-up of three drinks are made using seasonal strawberries grown in Ehime Prefecture.

Sweet Bavarois

Bavarois is a classic dessert at Shirasagi Coffee, and this one is made using matcha grown in the village of Shingu in Ehime and is coated in a cherry blossom cream.

Spring Madonna Parfait

This limited-time parfait is stacked with 12 different ingredients of varying textures and flavours, including cherry blossom, as well as Ehime strawberries, chestnuts, and matcha. It's the culmination of Ehime's springtime ingredients.

Takeout Drinks

Mini Parfait

The cafe also serves mini parfaits, drinks and other items for takeout. Pick something out and go and observe the cherry blossoms for Hanami at Dōgo Park.

Information

Shirasagi Coffee

Address: 2F, 12-1 Dōgoyunomachi, Matsuyama, Ehime Prefecture

Opening Hours: 08:00-18:00 (from 07:00 on weekends and public holidays)

No Fixed Holidays

Closest Station: Dogo Station via Iyotetsu

Official Website: https://shirasagicoffee.com/

*Open everyday until 22:30 from March 23, 2020

*Table reservations available on weekdays

*Breakfast-only until 11:00

Gluten-Free Vietnamese Bánh Mi Baguettes Sold at the New Bánh mi Tokyo

In Vietnamese cuisine, a Bánh mi is a baguette stuffed with various ingredients and served as a sandwich. It's a popular meal in Vietnam, and in recent years has seen an appearance in Japan.

Bánh mi Tokyo opened in Gaiemmae, Tokyo on March 16, 2020. They serve bánh mi with a Japanese taste, and their bread is made from 100% rice flour with no artificial flavourings or purified sugar.

Bánh mi are generally made with lard or margarine, but at Bánh mi Tokyo, they are made with with ingredients with good-quality oil content like rice koji sweet sake and nuts, which give them a richness and creaminess and remove things like trans-fats that are a burden on the body. This also greatly cuts calories and other fats too.

Mackerel Curry Bánh Mi

All bánh mi overflow with original flavours, from the chicken-filled "Standard Bánh Mi" to the "Mackerel Curry Bánh Mi" which is made with curry flavoured grilled mackerel, "Five Spice Char Siu Bánh Mi" stuffed with juicy pork belly, and more.

Bánh mi Tokyo also serves high-quality original coffees which are a must-try together with your bánh mi

Information

Bánh mi Tokyo

Address: 1F, 3-1-25 Jingumae, Shibuya, Tokyo)

Opening Hours

[Weekdays] Morning 8:30-9:30 / Lunch 11:00-15:00 (Last Orders 14:30) / Cafe 15:00-17:30 (Last Orders 17:00)

[Weekends & Holidays] Lunch 11:00-15:00 (Last Orders 14:30) / Cafe 15:00-18:30 (Last Orders 18:00)

*Please note that opening hours are subject to change as a result of the coronavirus. Check the cafe's official website for the latest information.

TEL: 070-4142-0868

Official Website: https://banhmi-tokyo.com/

MUUN SEOUL: Harajuku's Korean Cafe Serving Instagrammable 'Fatcaron' Macarons

MUUN SEOUL is a cafe located along Tonchan-dori Street in Harajuku that serves Instagram-worthy South Korean food.

Photo by Nagisa Kobayashi @popo_318

Photo by Nagisa Kobayashi @popo_318

The cafe sells "fatcarons," a South Korean-style macaron which have proven very popular with young women in Japan.

Photo by Taeco @taecostagram

Fatcarons are larger than the standard macaron. They are topped with things like strawberries, given marble textures, and more to give them a cute appearance. MOON SEOUL serves many different varieties, all of which are standout compared to normal macarons.

Photo by Sara @__sar310

But the fatcaron experience at MOON SEOUL isn't complete without ordering the drink above. It's strawberry milk flavoured, but the milk is whipped until it's fluffy, giving it a taste like no other strawberry milk you've tried. It also has sliced strawberries inside and on top, so if you love strawberries, you'll love this.

Photo by Yuina @popochan726

You can order your fatcarons for takeout too in a clear takeaway box so you can go have a dessert picnic with your friends, and get a great photo of them all together too.

Tea & Chocolate Brownie Released by Dandelion Chocolate and IYEMON SALON ATELIER

Dandelion Chocolate and IYEMON SALON ATELIER have joined sticky fingers to bake up their new "Tea & Cocoa Brownie" which is now being served at IYEMON SALON ATELIER KYOTO and Dandelion Chocolate Kyoto Higashiyama Ichinenzaka.

This collaboration came about to celebrate 1 year since IYEMON SALON ATELIER KYOTO opened. The chocolates fuse IYEMON SALON's tea with Dandelion Chocolate's organic, single origin bean to bar chocolate.

Tea & Cocoa Brownie (Uji Matcha/Houjicha) – ¥1,800 (Before Tax) *Contains 2 of each flavour

The two different flavoured brownies, Uji matcha and houjicha, are filled with a ganache made from Japanese tea and carefully selected chocolate from the Dominican Republic. The chocolate has a strong, rich flavour like that of coffee and cherries, but is still easy to get without it tasting overwhelming. The brownies are also vegan-friendly and gluten-free, containing no eggs, dairy products, wheat, or white sugar. They are the perfect accompaniment to both tea and a mild-tasting sake.

The vegan lifestyle is slowly gaining recognition in Japan, so don't miss this chance to treat yourself to some melt-in-the-mouth vegan delights.

©Dandelion Chocolate Japan