Yoshiki to Score Music for xXx 4 Movie Starring Vin Diesel
An event was held in Shanghai on January 21, 2019 for the fourth instalment of the xXx film franchise starring Vin Diesel. D.J. Caruso will return as director after having worked on the previous film, xXx: Return of Xander Cage. A TV series adaptation was also announced.
It was revealed at the event that Japanese singer-songwriter Yoshiki will score music for both the new film and the TV series.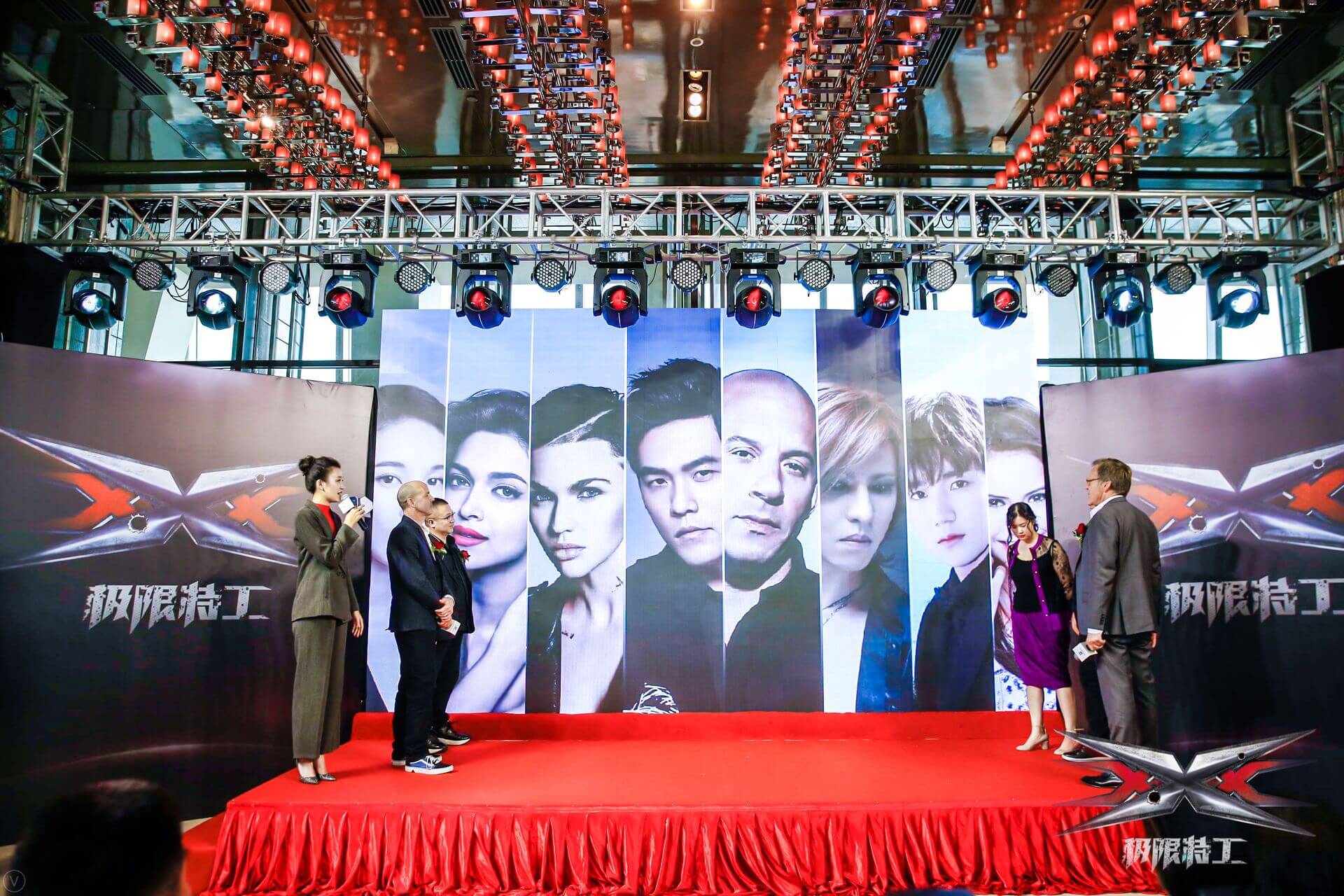 Yoshiki revealed at a conference in Japan on January 25 that not only will he write the music he will also be one of the producers for the TV series and make a cameo in xXx 4.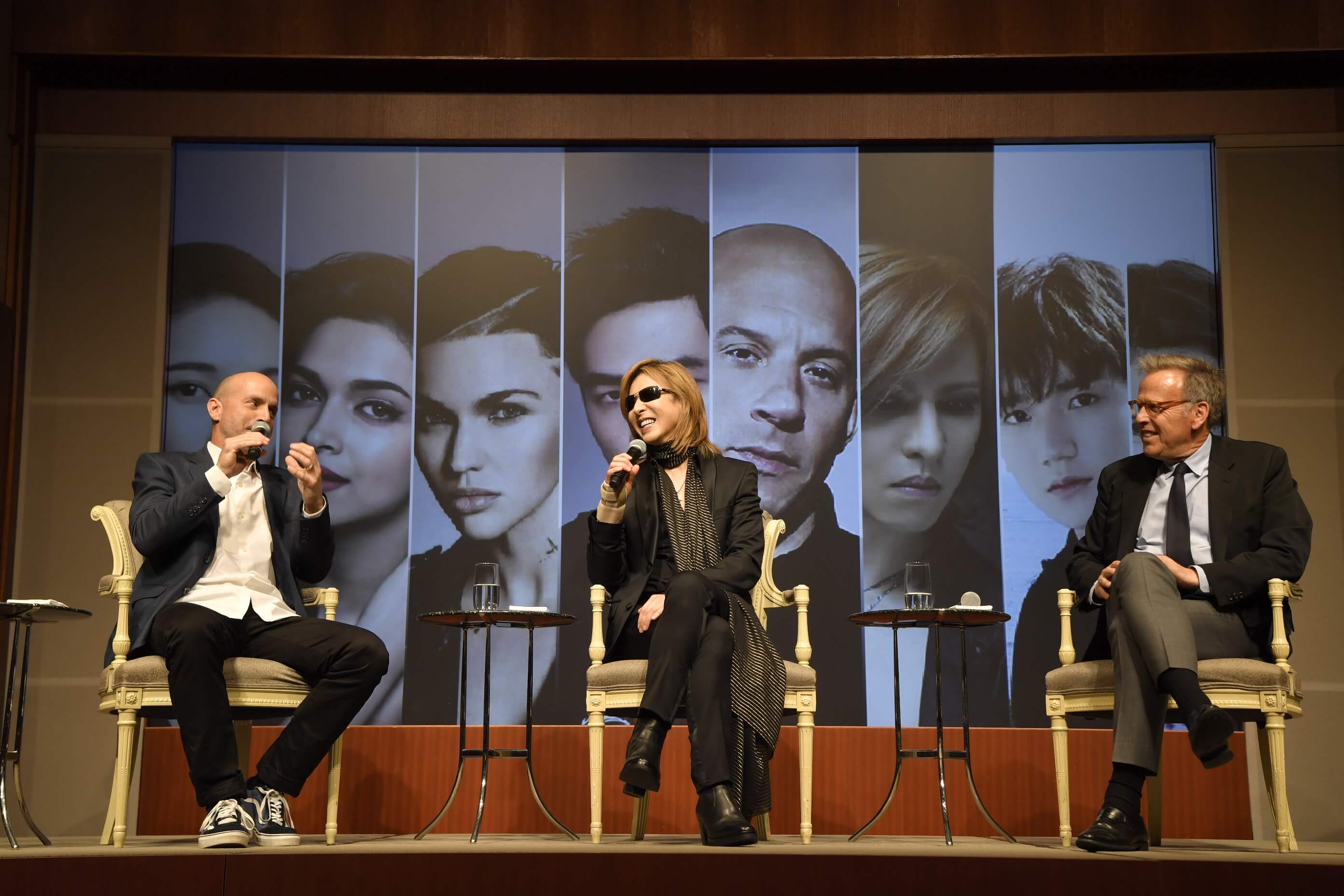 The xXx series has grossed $656,539,421 worldwide. It is estimated that the fourth film will earn $182 million. Casting is currently underway for the film and production is expected to begin in early 2019.
Yoshiki wrote the theme song for the 69th Golden Globes as well as the theme for Saw 4 (2007). He is also currently working on the next X Japan album.
"Yoshiki is a great friend of ours at THC and we are incredibly proud to be working with such a talent on two movies which are both global in scope," comments Nic Crawley, CEO of The H Collective which produces the xXx series.
RELATED ENTRIES
New Yoshikitty Merch Released to Commemorate Yoshiki's Premium Dinner Show in Tokyo

Starting August 11, Yoshiki will open his 'EVENING/BREAKFAST with YOSHIKI 2022 in TOKYO' event, consisting of 20 performances over 11 days, a new record for the artist. To celebrate the premium dinner show's opening at the Grand Hyatt Tokyo, some adorable new Yoshikitty goods will be available for guests to purchase!


Yoshiki has attracted attention from around the world for his dinner shows, each expressing his unique worldview through his piano performances and the addition of lasers, LED lights, drums, and the inclusion of fashion throughout.

The artist's new dinner show series will take place over 11 days with 20 stunning performances. Inspired by the theme of 'new entertainment to remind guests of the meaning of life,' tickets for the event sold out immediately.

The event will also feature four new items from the Yoshikitty Pastel Moon Series, a new iteration of Yoshiki's collaboration with Hello Kitty.

Yoshikitty Pastel Moon Series


Since the creation of the character in 2009, Yoshikitty has sported Yoshiki's debut hairstyle and purple eyeshadow, often appearing in the artist's stage costumes and fashion.

Yoshikitty has sported over 10 different designs over the years, and the new Pastel Moon Series shows the character in soft unicorn colors never seen before. 


In addition to the newly released items, don't miss the Lace Series, which features Yoshikitty, roses, and musical notes in luxurious black lace. Guests can also grab the Stick Diffuser, which contains rose essential oil directly imported from France!

Information

Yoshikitty Pastel Moon Series

Available: August 11-15 / August 19-21 / August 26-28
Where to Buy: Grand Hyatt Tokyo Ballroom
*Merchandise will only be available to purchase for those holding a dinner show ticket.
Yoshikitty Online Shop: https://yoshikitty.shop/

YOSHIKI x Hello Kitty Goods Now Available at the Yoshikitty Online Shop

Yoshikitty, a character formed in collaboration between Hello Kitty and rock legend YOSHIKI, now has an online shop!


Yoshikitty first debuted in 2009 as a collaboration between YOSHIKI of X JAPAN and Sanrio's popular character Hello Kitty. The character's first goods collection sold out immediately, with additional items also selling out online the same day. Yoshikitty's popularity isn't limited only to Japan, with global fans also anxious to snag some of this sought-after merchandise.



Since 2015, Yoshikitty has been nominated for the Sanrio Character Awards, rising in popularity year after year and keeping up with other beloved Sanrio personalities.

To commemorate the eighth consecutive year of her appearance in the Sanrio Character Awards, the Yoshikitty Online Shop has opened its doors. Fans can now purchase a number of exclusive items whenever they please!

Opening Announcement Video

https://www.youtube.com/watch?v=YFDArLVYAuw

Pouch (3 colors: Purple, Red, Blue): ¥2,600 each (Tax Included)

Cushion (3 colors: Purple, Red, Gray):  ¥4,400 each (Tax Included)

To celebrate the shop's opening, a new collection of lace goods is on sale now, featuring the character alongside roses and musical notes in elegant black lace. Items available include pouches, tote bags, and plenty of other goods perfect for both everyday use and formal occasions.

©️ 2022 SANRIO CO., LTD. APPROVAL NO.L630057    

©️ 2022 Japan Music Agency Co., Ltd.

BAND-MAID's Miku Kobato and SAIKI to Appear on YOSHIKI CHANNEL

BAND-MAID's guitarist and vocalist Miku Kobato and vocalist SAIKI will appear on YOSHIKI CHANNEL on February 25, 2022 at 19:30!

This will be BAND-MAID's second appearance on YOSHIKI CHANNEL, with their first in 2019. During their last broadcast, SAIKI and YOSHIKI had a very fun impromptu chat, so fans can look forward to that (likely) happening again! Don't miss this global chat between BAND-MAID and YOSHIKI, who both have made waves in Japan and the U.S. 

BAND-MAID released the official band scorebook for 'Unseen World' last month, which includes exclusive photos and interviews fully translated into English.

Be sure to keep an eye on the band during 2022!

Information

YOSHIKI×BAND-MAID Miku Kobato and SAIKI Special Talk

Streaming Date: February 25, 2022 at 19:30

YouTube Channel Membership (Worldwide, including Japan)

For Japanese Viewers: https://youtu.be/Vrpto_rJPYg

Simultaneous English Interpretation Broadcast: https://youtu.be/_SWwVSnDCak

Niconico Channel (Japan Only): 

Baccarat Crystal Commissions YOSHIKI to Design Piece for 180th Anniversary

X JAPAN leader YOSHIKI was one of eleven designers chosen to submit an original design for Baccarat, commemorating the 180th anniversary of the crystal manufacturer's Harcourt glass. The work was unveiled at Paris Fashion Week in Fall 2021. 

Baccarat is a manufacturer of fine crystal founded in 1764 in the Lorraine region of France. The company's iconic Harcourt glass features a hexagonal base with three-button feet and is known as a timeless and iconic symbol of the brand.

This year marks the 180th anniversary of the glass, which was first created during the time of Louis Philippe I. It's hard to believe that these pieces have been on the tables of royalty for almost two centuries!

YOSHIKIMONO, the kimono brand created by YOSHIKI, has been featured at Tokyo Fashion Week multiple times. In 2020, his works were shown at the Victoria and Albert Museum in the UK, along with the Tokyo National Museum.

Known for his blend of rock and classical music, YOSHIKI continues to express his individuality in both his sound and fashion taste. From the front, the glass looks to be on fire, while from the top, there is a sense that a poisonous flower is taking bloom. The work is a one-of-a-kind blend of east and west and was a new challenge for the performer.

Comment from YOSHIKI

"I am honored to have been chosen as a designer for the 180th anniversary of Baccarat's Harcourt glass. I'd like everyone to also keep an eye out for some new music coming soon. Thank you to all of the fans who continue supporting me in everything I do."

Yoshikitty Wins 1st Place in 4 Countries in 2021 Sanrio Character Ranking

Sanrio announced the winners of the 2021 Sanrio Character Ranking last week. While Cinnamoroll came in 1st place overall, Yoshikitty has captured the hearts of fans outside Japan by placing No. 1 in Italy, Germany, France, and Thailand. He ranked 11th overall. The character is inspired by Japanese musician and X Japan member Yoshiki.



Every year, Sanrio also partners with TANITA, an electronics company centred on health, on Sanrio-themed pedometers as part of the Sanrio Character Ranking. For the second year in a row, the Yoshikitty pedometer received the highest number of advance sales. To celebrate this achievement, Yoshikitty was also presented with the TANITA Award.

YOSHIKI met with Yoshikitty in LA during an online event for the announcement to express his gratitude to fans.

Congratulations, Yoshikitty!

YOSHIKI Comments On His Photobook 'XY' Hitting Number One On Oricon

LA-based musician, songwriter, and composer YOSHIKI released his first photobook in 28 years XY on November 20, 2020. There was much hype in the run up to its release with behind-the-scenes video footage being posted on YOSHIKI's official website.

Published by Kodansha, XY topped the Oricon charts with around 6,000 units sold in the first week. A follow-up interview with YOSHIKI where he will discuss the book will be released on Kodansha's website Gendai Business on December 1.

The photos for the book were taken by American photographer and visual artist Melanie Pullen at the iconic Paramour Estate in Los Angeles. The shoot is an artistic fusion of classical and rock aesthetics. The book is coupled with a DVD featuring a 30-minute behind-the-scenes compilation of the photo shoot which was carried out in 2019.

YOSHIKI | Comment

"I have had these conversations almost ever year, but this time my producers have allowed me to deliver a dream project of mine in good faith with this publication. The photographer and creative talent in LA all came together to lend their tremendous support."

"I'm the type of person to give 200% when I decide I'm going to do something, so of course for this shoot I put my all into it. It might sound strange for me to say this myself, but I think I have an inner wildness hidden away inside me. I was surprised how wonderfully Melanie, the photographer, captured that roughness in me."
"I believe that something can change drastically depending on the angle you look at it, whether it's music or a painting, whether you feel something gently or roughly even if it's the same piece of work."

"Right now we're living through a time of pain and sadness throughout the world, but I think that if we shift our perspective then a whole new world will reveal itself to us. I hope that XY will help seize those feelings for people."

Information

'XY' Premium Photobook
Price: ¥10,000 (Before Tax)
Publisher: Kodansha
Available: Bookstores and online in Japan

'XY' Photobook Promotional Exhibition
SHIBUYA TSUTAYA: November 20, 2020 – November 30, 2020
Tower Records Shibuya: November 20, 2020 – December 20, 2020
Tower Records Shinjuku: November 20, 2020 – December 3, 2020

Yoshiki Collaborates With Attack on Titan in New WONDA Coffee Commercial

Yoshiki has teamed up with Asahi Soft Drinks once again in their latest commercial for WONDA coffee which sees the musician animated into the world of Attack on Titan. The commercial hit Japanese television on Thursday.

Yoshiki becomes a Survey Corps member in the new commercial

The 3D CG animated commercial sees Yoshiki as a Survey Corps member who bites his hand to turn into a Titan like Eren, but the only thing he is attacking in the video is his drum kit. He treats himself to WONDA's "Morning Shot" coffee beverage after falling over his drums.

Check out the commercial below.

WONDA x Attack on Yoshiki Coffee Cans

Limited edition cans of the Morning Shot coffee will also be sold, featuring Attack on Titan designs. Each can also has a QR code which when scanned will take you to a website to enter the serial code written on the can to win one of the Yoshiki designs as pictured below.

Information

WONDA x Attack on Titan Collaboration Campaign

Running: November 1, 2020 – November 6, 2020

Yoshiki Can Shipping Date: Early December 2020

Winnters: 1,000 to be chosen

Official Website: https://www.asahiinryo.co.jp/

2020 Sanrio Character Awards: yoshikitty Places 1st Place in Three Countries

The final results for the 2020 Sanrio Character Ranking were announced on Tuesday, with Cinnamoroll placing number one overall. Yoshiki's collaboration character yoshiki ranked 1st place in France, Germany, and Brasil, as well as 2nd place in China and 6th place overall. This marks the 5th year that yoshikitty has ranked in the Top 10.

yoshikitty is a character based on the X Japan band member Yoshiki. The character has proven popular around the world, with merchandise so popular it never fails to sell out.

A special "Tanita Award" was also given to yoshikitty, and to celebrate, a limited-edition yoshikitty "Digital Health Meter" will be sold on the Tanita website. Costing ¥4,400 (tax included), it is now available to order until July 31, 2020, with a limited number of 100 models available.

Yoshiki thanked yoshikitty fans around the world on his official Twitter and Instagram pages for voting and making the character place so high again this year. He also said: "I wonder if I should composed a yoshikitty theme song too to express my gratitude to everyone (haha). I want to continue delivering wonderful music to you all to repay you, even just a little. Thank you." (translated from Japanese by MMN)

YOSHIKI Donates 10 Million Yen to National Center for Global Health and Medicine

YOSHIKI has donated 10 million yen (approx. $100 million) to Japan's National Center for Global Health and Medicine via YOSHIKI FOUNDATION AMERICA.

The National Center for Global Health and Medicine is a governmental medical institution researching infectious diseasesーincluding COVID-19ーas well as immunologic diseases, amongst other things. It is the only national polyclinic centre in Japan and has the biggest number of sickbeds in the country.

With the COVID-19 pandemic throwing the world into disorder, there are currently over 10,000 confirmed cases in Japan. It wouldn't be an exaggeration to see that Japan's medical care is on the verge of collapse. YOSHIKI donated the money in response to this situation to help support medical workers fighting on the front lines.

YOSHIKI | Comment

In the US, where I live, there are over 40,000 cases of deaths over the novel coronavirus. And I'm saddened to hear that the infection is spreading in Japan too. I still can't see any signs that it's being brought under control. The entertainment industry which I live for and all the industries out there, myself included, are feeling the effects financially and mentally. It's painful to see.

However, those we must all support the most right now in this situation are the people providing medical care to the patients affected by the coronavirus. I donated in the hopes that it can lend them strength, even if just a little.

And I hope that the thoughts of everyone worried while self-isolating now, and their actions, serves to lend strength to the people in the medical institutions a hundred timesーa thousand times more than what I donated […].

I also want to endeavour to support people as a musician too.

YOSHIKI donated $24,000 dollars to Meals on Wheels in Los Angeles last month to help support food shortages in the US. He also donated $100,000 to the COVID-19 Relief Fund which was created by The Recording Academy® and MusiCares© to help support struggling music artists who are having to postpone and cancel tours in response to the pandemic outbreak.

YOSHIKI Shows Off His Drum Skills in New WONDA Coffee Commercial

YOSHIKI has made another graceful return to Asahi Soft Drinks' commercial series to promote its coffee beverage 'WONDA.' The commercial began airing in Japan on April 14, 2020.

In the previous commercial, we saw YOSHIKI's beautiful handiwork on the piano. In the latest commercial, he takes to a golden drum set and displays his effortless skills as a drummer.


YOSHIKI throws his jacket to the side before taking his sticks in hand and getting in the zone. The messages that pop up on the commercial read, "I don't want to make any compromises. No matter what anyone says. We will become men that never throw away commitment."


This theme echoes with YOSHIKI too as will be seen in the behind-the-scenes video set to hit the air this Friday. YOSHIKI makes certain that the performance is perfect by having the staff retake the footage over and over as he earns rounds of applause for his performance.

Information

Wonda Coffee Commercial – "Kiwameta Hito" (15 Seconds)

Initial Broadcast: April 14, 2020

Asahi Soft Drinks Official Website: https://www.asahiinryo.co.jp/

"WONDA," "ワンダ", and "極" are registered trademarks of Asahi Soft Drinks Co., Ltd.

YOSHIKI Donates $100,000 to COVID-19 Relief Fund to Help Struggling Music Artists

Today, Japanese singer-songwriter, composer, and record producer YOSHIKI donated $100,000 to the COVID-19 Relief Fund through YOSHIKI FOUNDATION AMERICA, a non-profit public interest company managed by the artist himself.



The COVID-19 Relief Fund was created by The Recording Academy® and MusiCares© to help support struggling music artists who are having to postpone and cancel tours in response to the pandemic outbreak. YOSHIKI is a board member of The Recording Academy®, which is known for presenting the Grammy Awards.


YOSHIKI said: "In a time when we are being told to conduct self-control and restraint, I'm still called out by people on whether it's best to put shows on holdーfor the benefit of fans included. The financial damage of that is of course substantial. Many different industriesーnot just the entertainment industryーare on the verge of danger, as are people of varying positions [across society]. As someone in the world of music, I would hope there would be some way of offering help to those involved in the music industry around the world, Japan included, during this difficult time, and so I have donated to the COVID-19 Relief Fund. The danger of COVID-19 is a global problem, not just Japan. I pray from the bottom of my heart that this will all be over much quicker by everyone cooperating to conduct self-restraint and wait this out to lessen the spread of the virus, and that the entertainment industry can once again return to its thriving self."


 
Steve Boom, Chairman of the Board at MusiCares, also expressed his deep gratitude to the donations which go towards relieving the burden of musicians and those involved in music. He said that everyone's cooperation will ensure that the necessary funds and resources are there for people to continue their careers.

YOSHIKI continues to post information related to the coronavirus via his social media pages. On March 11, he interviewed Shinya Yamanaka, the director of the Center for iPS Cell Research and winner of the Nobel Prize in Physiology or Medicine. The interview can be seen below and has English subtitles.

Bono, will.i.am, Jennifer Hudson, & YOSHIKI Collaborate On '#SING4LIFE' to Spread Love During Coronavirus Pandemic

will.i.am posted a video on his official YouTube channel for a song entitled #SING4LIFE which features himself, U2's Bono, and Jennifer Hudson on vocals and YOSHIKI on piano.

Bono wrote the song after being inspired by the people of Italy who, despite being isolated due to the COVID-19 pandemic, were singing from their rooftops and balconies.

As soon as Bono wrote the song he uploaded his solo version to his Instagram page. He subsequently collaborated with will.i.am who got his longtime friend YOSHIKI on board, and Jennifer Hudson joined thereafter.



YOSHIKI answered the call to arms and wrote the score immediately, recording the piano just two hours later.

will.i.am described the song's intention on Instagram: "When you see empty streets…The empty streets shouldn't make you feel depressed or afraid…When you see empty streets during these times, try to feel love…The empty streets is a sign that humanity is doing the right thing."

He continues: "There are a lot of people feeling anxiety and worry and stress…So we #SING4LIFE to lift up their spirits ..We #SING4LIFE to bring them some type of JOY during these times."

He also thanked his collaborators: "thank you #BONO @U2 for kicking this off and writing a beautiful song…thank you @iamjhud and @yoshikiofficial for lending your talents and massive hearts."

YOSHIKI added his own comment on Instagram: "I know you are trying hard to restrain yourself to fight against this virus. I believe that your effort… everyone's effort, will affect the entire human race. We will overcome, we can do this together. I'm praying for your health and safety."



YOSHIKI decided to stay in Los Angeles instead of returning home to Japan due to the coronavirus outbreak. He has continued to offer his support through his social media pages to fans around the world.