Order Drinks Using Artificial Intelligence at Daikanyama's New Sake Bar YUMMY SAKE COLLECTIVE
YUMMY SAKE COLLECTIVE is a new sake bar in Daikanyama that held its grand opening on January 25, 2019.
It is both a bar and a shop that serves delicious Japanese sake casually without customers needing to be sake connoisseurs. You don't need to rely on background knowledge or visual information. It is a 'blind tasting' service in which you enter your intuitive thoughts which the AI responds to, choosing a sake to match your tastes.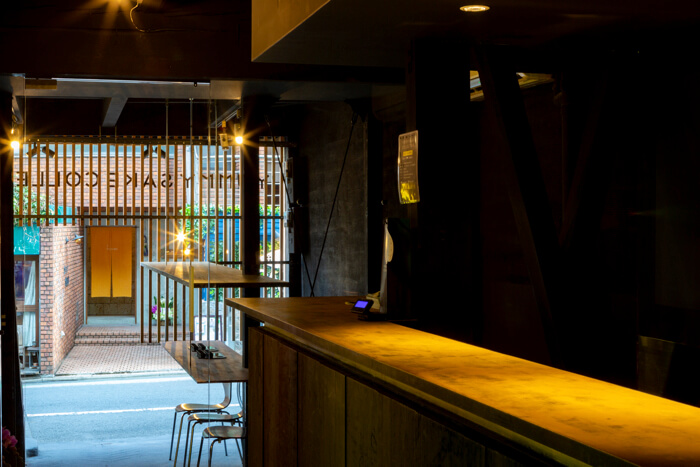 When going for drinks in Japan beginners to sake can find it difficult what beverage to go for, but this new AI service solves that problem. It enables anyone to easily pick the right drink for them.
The refrigerator show case in the bar houses around 90 brands of sake including rare selections not often seen served. Drinks are divided by onomatopoeia for customers to easily pick what sounds nicest to them. Drinks can be ordered from ¥700 and you can also buy bottles to keep and take away with you.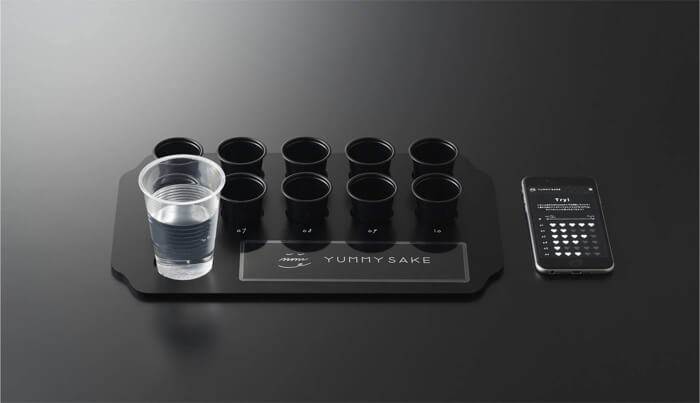 YUMMY SAKE – ¥2,000 (Before Tax)
Ordering the YUMMY SAKE service lets you try a blind taste test to compare 10 types of Japanese sake. You evaluate which you like and don't like based on 5 different ratings and the AI will pick your taste type. There are 12 categories you can be placed into all based on onomatopoeia. This means you will be prepared for when you go out to a bar, shop or event in Japan and can intuitively pick what sake you want without needing to know difficult sake slang or tehchnical rules.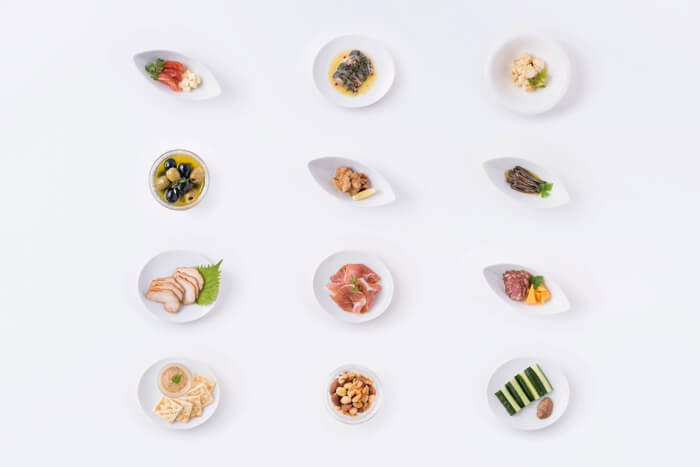 Snack Pairings – ¥500 Each (Before Tax)
Snacks will also be prepared to go with your drinks based on what taste type you are.
If you're looking to get into Japanese sake then look no further – start at YUMMY SAKE COLLECTIVE.
Information
YUMMY SAKE COLLECTIVE DAIKANYAMA
Opening Hours: Weekdays 17:00-23:00 / Weekends & Holidays 13:00-23:00
Address: 14-11 Daikanyamacho, Shibuya, Tokyo
Closed: New Year's Holidays
Access: 3-minutes on foot from Daikanyama Station / 8-minutes on foot from Ebisu Station
TEL: 03-6312-2448
Website: www.yummysakecollective.jp
RELATED ENTRIES
Tendo Mokko Rethinks Japanese Modernity With 'Japanese Modern / 80 Project' to Celebrate 80th Anniversary

In commemoration of Tendo Mokko's 80th anniversary, DAIKANYAMA TSUTAYA BOOKS is hosting the "Tendo Mokko & Japanese Modern" fair from July 7 to August 6 where the new products from the interior design brand is being sold. This includes a new book titled the same as the fair which details the brand's most famous furniture works. New furniture by Hiroshi Nakamura, Koichi Futatsumata, and Wataru Kumano is also being exclusively sold there.

Each participating artist's signed nameplate

Tendo Mokko is a Japanese furniture maker. After the Second World War, they made huge developments the country's architect and design culture in collaboration with architects and designers by creating products rooted in the climate and natural features of Japan. One of the spearheads of this movement was Kenmochi Isamu, a modernist designer who played a pivotal role in the development of Japanese industrial design after World War II. Through the history of Japanese architecture, Tendo Mokko has joined hands with countless famous designers to manufacture furniture.

Last year, the company turned 80 years old. As part of the commemoration, it is looking to dive deep into and rethink Japanese modernity at the Tendo Mokko & Japanese Modern fair where visitors can see their latest wares as well as learn about the process of developing new furniture and more. All of this, along with interviews, is also detailed in the book. Those who pre-order products at the fair will also receive one of the above-pictured nameplates depending on who designed it.

Tokyo Barbershop Founder Masaki Sakota Curates Art Exhibition

Masaki Sakota, the founder and head barber of Tokyo-based barbershop BARBER SAKOTA, has curated a line-up of five up-and-coming artists for their work to be displayed at Frame by Frame, an art fair currently taking place at DAIKANYAMA TSUTAYA BOOKS until July 2

Exhibition's main visual

BARBER SAKOTA t-shirt produced for the exhibition costing ¥6,600

The Frame by Frame exhibition is themed on photography, music, video content, science, art, and more, with each young artist selected by Masaki Sakota. The line-up includes Yuki Aizawa, Yu Todoroki, udai, Mayuka Katano & Kosuke Katano, SHOTA OKAMOTO, and more.

The exhibition also features a frame by frame display of products that have been exhibited on the shelves at BARBER SAKOTA since it first opened. The 'frames' were made by NOTEWORKS, a woodcraft company who has strong ties to BARBER SAKOTO and their sister stores.

Supporting Japanese Sake Breweries During the Pandemic With the WAX&WANE Project

WAX&WANE is the name of a new project that has launched in an effort to support ARCADE TOKYO, an 'online shopping arcade' stocking countless must-grab products from Tokyo, due to the impact COVID-19 has had on participating businesses having to close down, resulting in a drastic decrease in shipping and consumption.

12 breweries pour 12 unique sake beverages

Pair your drinks with foods outside Japanese cuisine to change things up

Bottle clothes with designs showcasing each sakes' personality

The project was launched on June 10 via the crowdfunding website CAMPFIRE as a way to pay back thanks to 12 sake breweries in Japan who produce sake you can't get anywhere else. It aims to spread the word of Japan's sake culture the world to preserve its future and create even more brands, thereby adding new value to sake.

As part of the project, tie dye creator YUKIDYE, who has worked with many different street brands, has produced a collection of tie dye cloths which take inspiration from each of the 12 sake flavours and the characteristics of each brand.


VTuber Yukihana Lamy Releases Her Own Sake Called 'Yuki-Yo-Zuki'

Yukihana Lamy, a Virtual YouTuber associated with hololive, launched her own Japanese sake project in February to bring her dream to life of making her very own sake by hand. That sake has now been released by the name of Yuki-Yo-Zuki, a premium brand daiginjo sake.

The sake was created in collaboration with Meiri Shurui, a Japanese sake brewery which has been around since the Edo Period. Every single ingredient in the drink was considered from scratch including the type of rice, the ratios, yeast, alcohol content, and so on. The sake is made by hand in a brewery located in Mito, Ibaraki.

Yuki-Yo-Zuki uses Fukushogun Daiginjo as its base, a sake that won Gold in the Sake category at IWC2020. It's made with a combination of Yamada Nishiki and Biyama Nishiki rice as well as ginjoka, the highest quality daiginjo, known for its light spicy kick and fruity notes. The bottle features an illustration of Yukihana Lamy drawn by Abara Heiki, an artist Lamy likes, with a fusion of black and silver inspired by the meaning of drink's name: 'Snowy Evening Moon.'

haccoba Craft Sake Brewery Re-Releases Limited Edition Hanauta Drops Sake

haccoba launched its new sake brewery, haccoba -Craft Sake Brewery-, in February. It released its first product last Monday: a limited restock of Hanauta Drops, a sake that uses unrefined sake brewing methods which first originated in the Tohoku region.

Hanauta Drops

©︎ Puddle Inc.

Humulus lupulus hop

The sake crafted by haccoba uses the same techniques found in traditional Japanese sake brewing, including the rice and yeast used, but throws in a variety of fruits and herbs during the fermentation process. This upholds the traditional culture of Japanese brewery which was formerly carried out in homes while adding some fun flair. The brand plans to make its main product a fusion of hops used in beer making and classic Japanese crafting methods.

The secret ingredient that was so enjoyed in Japanese homes in the past when making sake is the humulus lupulus, a type of hop that makes this brewing process to making beer. Hanauta Drops uses the very same technique. It also enjoys a blend of yellow koji mold which has a sweetness similar to refined Japanese sugar found in rice, and white koji mold for a lemony tang. The result is a refreshing experience with every sip thanks to the bubbles that occur naturally during fermentation.

Premium Japanese Sake Lounge Opens Inside JR Chiba Station

After the success of the hit Ikkon-Fugetsu event held at Perie Chiba Ekiue Hiroba last autumn, a permanent nihonshu Japanese sake lounge is set to open at JR Chiba Station on April 28, offering the same kind of atmosphere as inside a luxury airport lounge.

CHIBASAKE.COM SHOP with PERIE Onliine SHOP

A sake shop will also open at the same time at the lounge where customers can scroll through different drinks they'd like to purchase using their smartphone or tablet. You can purchase sake that you enjoyed drinking in the lounge as well as pick up exclusive and original beverages available online only at CHIBASAKE, sake from different regions across Japan, and more.

That's not all for customers' sake experience however. Umami is a big part of Japanese food culture, and so in order that all who visit can enjoy their drink to the fullest, Japanese wineglass makers RIEDEL, who have been in the business for 260 years, have provided their special junmaishu glasses which were developed over a period of eight years. Food will also be on the menu made with ingredients local to Chiba Prefecture, and more.

Information

Ikkon-Fugetsu

Grand Opening: April 28, 2021 @ 17:00

Address: Perie Chiba Floor 3F, 1-1-1 Shinchiba, Chuo-ku, Chiba-shi, Chiba

Opening Hours: [Weekdays] 17:00-22:00 / [Weekends & Holidays] 12:00-22:00

Official Website: https://ikkon-fugetsu.com/

The Ultimate Chocolate and Confectionery Indulgence is Here With LIFE IS PÂTISSIER's White Day Gifts

Japanese chocolate and baked goods bakery LIFE IS PÂTISSIER is now selling a collection of luxurious treats for White Day, the sequel to Valentine's Day in Japan, via their online store until March 14.

 

 LIFE IS PÂTISSIER is a takeout chocolate bakery that specialises in chocolate and baked confections. Some of their signature items include their pound cake and chocolate bonbons. They also serve sable biscuits, madeleines, and much more. They are based in Jiyugaoka, a neighbourhood in Meguro, Tokyo, where they enjoy plenty of customers both local and tourists. Due to the pandemic, they are currently operating entirely online.

 

LIFE IS PÂTISSIER White Day Gifts 2021

Leaf Caramel | ¥1,800 (Before Tax)

Crunchy chocolate caramel bites drizzled in even more sweet, melty caramel.

Macarons | ¥2,300 (Before Tax)

A rainbow-coloured collection of raspberry, pistachio, caramel, lemon, and chocolate macarons.

 

Madeleines (Contains 6) | ¥2,800 (Before Tax)

Refreshing madeleines made with a mix of Japanese and Italian lemons. Refrigerating them gives the outer icing a delicious crunchy texture.

Strawberry Milk Crunch | ¥900

Smashed cookies and caramel combined with strawberry chocolate and milk chocolate.

Special Box | ¥4,500 (Before Tax)

A very special collection of raspberry chocolate treats coated in dark chocolate.

Flower Swag | ¥3,200

A fragrant flower swag composed of an assortment of fresh flowers. Perfect for decorating walls and doors and overtime become dried flowers.

White Day Cards

LIFE IS PÂTISSIER is also offering White Day cards which people can couple with their gifts.

Tokyo's New Sake Ice Cream Shop Launches Crowdfunding Campaign to Ship Ice Cream Around Japan

SAKEICE is an ice cream shop that offers a new kind of ice cream experience, combining Japanese sake and alcohol together with the frozen treat. The shop opened in Akusaka, Tokyo in March this year.

However, due to the outbreak of the COVID-19 pandemic, the store has had to close temporarily. SAKEICE wants to cheer people up during these turbulent times with their ice cream, and has therefore announced the launch of a crowdfunding campaign so they can set up a website where people can order ice cream in Japan and have it delivered to them.

I tried out their ice cream

Otokoyama / Nihonshu Ice

SAKEICE's ice cream is laced with lots of Japanese alcohol. I tried the Otokoyama and the Nihonshu Ice, the latter of which is an original ice cream flavour exclusive to SAKEICE. They both contains around 4% alcohol. I were curious exactly how they would taste.

I started with the Nihonshu Ice. The moment the ice cream hits your tongue, your taste buds are met with its smooth texture, and your nose is filled with the full bodied flavour of nihonshu. The velvety texture on your tongue as it melts is to die for. The Otokoyama has a refreshing kick to it when compared to the Nihonshu Ice. It's creamy, but the aftertaste is refreshing, so we recommend it for people who aren't a fan of sweet treats. Both are sure to leave you feeling satisfied, and maybe a little flushed afterwards.

These ice creams contain alcohol, so keep that in mind when coming here with minors, kids, pregnant women, or if you're driving.

 

They have non-alcoholic flavours too!

Matcha / Cherry Blossom

Of course, they have non-alcoholic options too. I tried out the matcha and cherry blossom flavours.

The matcha one has an irresistible bitterness layered inside the sweetness. You get that real rich matcha taste too. The cherry blossom ice cream is a cute light pink colour and has a subtle sweetness to it. If you don't like alcohol then you'll definitely want to try one of delights.

Indulge in Dainty and Divine Handmade Macarons in a Peaceful and Picturesque Region of Tokyo

If you are a fan of delicious and dainty desserts then DOTORI is definitely for you. DOTORI, which specialises in handmade macarons, will be opening their new branch in the peaceful picturesque Tokyo district of Daikanyama on August 23 2019.

DOTORI makes and bakes their macarons daily. The macarons here are slightly bigger than your standard ones and are filled with a thick layer of cream. Enjoy the way it melts in your mouth beautifully.

DOTORI's divine macarons are not the only blessing to fall upon Daikanyama. The shop is also fully stocked with a variety of drinks that are a perfect match with the macarons. From Milk Bubble Tea and Coffee to Cheese Tea, there is a full lineup of delicious and original DOTORI drinks to discover. 

Surrounded by the white-themed interior, customers can soak in the beautiful and liberating view of lustrous green trees outside.

To celebrate the opening of the new shop, there will be a special five-day campaign running from August 23 to 27. The first 50 customers to order a drink on each day of the campaign will receive a free drink carrier with their order. (Limit of one per customer.)

Head to Daikanyama for the divine DOTORI experience you deserve.

Information

DOTORI Daikanyama 

Address: ACN Daikanyama building Floor 1, 18-6, Daikanyamacho, Shibuya-ku, Tokyo

Opening Hours: 12:00 ー 20:00

Closed: Tuesdays

Official Website: https://www.dotori.jp

*As the macarons are handmade, a limited number will be made each day. The shop will close once all these have been sold.

Ryuhei Maruyama and You Yokoyama From Kanjani Eight Sing Passionately About Sweet Sake

Morinaga Sweet Sake will release their new TV commercial for their chilled sweet sake "Hiyashi Amazake" on July 5th.

Hiyashi Amazake is made using a blend of carefully selected sake lees produced when making sake, malted rice, and Hakata salt. This drink will provide you with a refreshing aftertaste to keep you cool during the hot summer. To share the news of this wonderful drink with the rest of Japan, Ryuhei Maruyama and You Yokoyama from Japanese boyband Kanjani Eight will feature in the brand's new advert as promotional characters. Watch the two idols as they muster up all their passion to sing a song about their undying love for Hiyashi Amazake whilst dressed in Hiyashi Amazake-themed Yutaka, leaning against the trees.  

 

You just have to hear the intense rap, too. The boys manage to sing it all the way through to the end without breaking their serious face into fits of laughter.

 

Please check out the incredibly entertaining Hiyashi Amazake advert!

Information

Amazake bros. Summer 15-second version

Broadcast Date: July 5, 2019

Broadcasting Regions: To be broadcasted all over Japan

※ After 10 pm on June 24, you can watch the commercial on Morinaga's Brand Website.

https://www.morinaga.co.jp/amazake/

Hiyashi Amazake (Chilled Sweet Sake)

Release Date: To be announced

Release Region: All over Japan

Brand Website: https://www.morinaga.co.jp/amazake/

Former Japanese football player Hidetoshi Nakata attended opening ceremony for KitKat and sake pairing event currently being held in Roppongi!

A regional KitKat Pairing Bar called "Gotouchi no KitKat Pairing Bar" is currently running in Roppongi Hills, Tokyo. The pop-up bar features an AI's recommendations of regional KitKats with Japanese sake from among 1,650 combinations of pairings.

You can also witness the event vehicle covered in 15 varieties of Gotouchi KitKat prints at the event in Roppongi Hills.

The sake brands featured at the event are brands carefully selected by famous Japanese former football player Hidetoshi Nakata, who has been promoting sake to the world. He has built his expertise by visiting more than 350 breweries nationwide. Nakata was also present to kick off the event! Nestlé's managing executive officer Cedric Lacroix also makes an appearance.

Cedric Lacroix commented that the products created with the help of Nakata have a favourable reputation in Japan. He stated that he is incredibly pleased to be working with Nakata for the pairing bar, as he is full of knowledge in the field of sake.

Nakata stated:

"We don't have the mindset of creating a new product, but we intend to focus on the act of celebrating with people from the region by creating something new.

Besides the KitKat Nihonshu Masuizumi and Umeshu Tsuru-ume, there is now a third collaboration KitKat flavour being released!

You can experience 150 different pairings of KitKats and sake that have been carefully chosen by Nakata before they are on sale anywhere else! The AI will be introducing regional (Gotouchi) KitKats such as Kyushu Amaou strawberry and Gunma Asian skunk cabbage KitKat!

"The sweetness of the chocolate combined with the sharp aftertaste of the dry alcohol is very interesting. The taste differs from person to person so I would like everyone to try it for themselves", continued Nakata.

"Having chocolate with alcohol is quite a normal thing to do, however, both chocolate and Japanese sake have a long, deep-rooted culture in Japan. There's the impression that Japanese sake only goes well with traditional Japanese food (Washoku). Hopefully, this event helps people to discover this new combination of chocolate and Japanese sake", he continued passionately. 

The Gotouchi KitKat Pairing Bar will be running until national holiday Monday 29th April. Come try this brand new experience involving regional KitKat flavours and their matching Japanese sake!

Information

Gotouchi no Kit Kat Pairing Bar / ご当地キットカット ペアリング BAR

CRAFT SAKE WEEK at ROPPONGI HILLS

Address: Roppongi Hills Arena, 6-9-1, Roppongi, Minato Ward, Tokyo

Open daily from 19th ー 29th April 2019 (12 p.m. to 9 p.m.)

One order = 2 CRAFT SAKE WEEK event coins.

For one order, you can choose 1 type of Japanese sake (60 ml) from 110 varieties + one KitKat from 15 varieties.

※ The coins can be purchased at the CRAFT SAKE WEEK venue and can be used for purchasing food and drink.

 

CRAFT SAKE WEEK at ROPPONGI HILLS 2019

場所: Roppongi Hills Arena, 6-9-1, Roppongi, Minato Ward, Tokyo

Running: Friday 19/04 ー national holiday Monday 29/04/2019 (11-day event)

Event hours: 12:00 ー 21:00, last orders: 20:30

Participating breweries: 10 per day, 110 in total.

There are 15 restaurants in total.

※ Please refer to the website below for more information.

Price: CRAFT SAKE starter set ¥3,500 (Includes sake glass + 11 food & drink coins)

Additional food & drink coin sets:

10 coins ー ¥1,500 set

22 coins ー ¥3,000 set  

38 coins ー ¥5,000

※ After making your first purchase, you can return to purchase extra coins without the sake glass fee by reusing your glass.

Official website: http://craftsakeweek.com/rh/

This AI Chooses the Best KitKat Flavour to Pair With Your Sake

The Gotochi KITKAT Pairing Bar will be open at Roppongi Hills from April 19 to 29 serving KitKat and sake pairings chosen from 1,650 combinations by AI.

Japan is known for its KitKat flavours, with a total of 350 having been created to date, 40 of which are always available. Many of those flavours are made using ingredients from local regions across the country where they sold at those places' souvenir shops. Their unique flavour combinations and colours have tickled the fancy of Japanese people and foreigners alike.


The KITKAT Pairing Bar offers a new way for both locals and overseas visitors to enjoy eating KitKats by picking which flavour will go best for them when paired with sake.

You must answer 5 questions at the bar from which the AI will filter your tastes from 150 combinations chosen that day. There will be a total of 1,650 combinations available across the 11 day period.

Of course, you can purchase your local flavour KitKat there and then. The sake combinations were carefully selected and curated by Hidetoshi Nakata, a former soccer player and experienced sake expert who has tried well over 350 brands of sake all over Japan. The sake pairings are supervised by CRAFT SAKE WEEK.

Have the AI find your flavours!

Information

Gotochi KITKAT Pairing Bar

Running: April 19, 2019 – April 29, 2019

Time: 12:00-21:00

Location: CRAFT SAKE WEEK at Roppongi Hills (Roppongi Hills Arena, 6-10-1 Roppongi, Minato, Tokyo)

Menu: One 60ml Japanese sake from 110 varieties + One KitKat from 15 varieties

Price: 2 coins per order. Coins can be bought at CRAFT SAKE WEEK and can be used when eating and drinking at the venue.

CRAFT SAKE WEEK at ROPPONGI HILLS 2019

Location: Roppongi Hills Arena (6-10-1 Roppongi, Minato, Tokyo)

Date: April 19, 2019 – April 29, 2019

Time: 12:00-21:00 (Last Orders 20:30)

Participating Breweries: 110 in Total / 10 per day (subject to change)

Participating Restaurants: 15

Tickets: https://passmarket.yahoo.co.jp/event/show/detail/018hu6103wzsy.html

Official Website: http://craftsakeweek.com/rh/

"Sakenomy" – Official App: http://www.sakenomy.net/