Doll's Festival Themed Snoopy Ice Cream Arrives at Baskin-Robbins in Japan
To celebrate this year's Hinamatsuri―also known as the Doll's Festival and Girls' Festival―Japan's branches of Baskin-Robbins are holding a themed event from February 15 up until the day of the national festival, March 3.
Snoopy Doll Display: ¥1,740 (Tax Included) *Price may vary at certain branches
The Snoopy Hinadan Kazari doll display ice cream was a huge hit with ice cream lovers last year so it returns again this year even cuter. During Hinamatsuri people set up displays of ornamental dolls  and this ice cream box recreates that, incorporating traditional Japanese motifs in its design. Snoopy and Belle, made from sugar, take the form of the Emperor and Empress respectively, with Woodstock representing the three court ladies.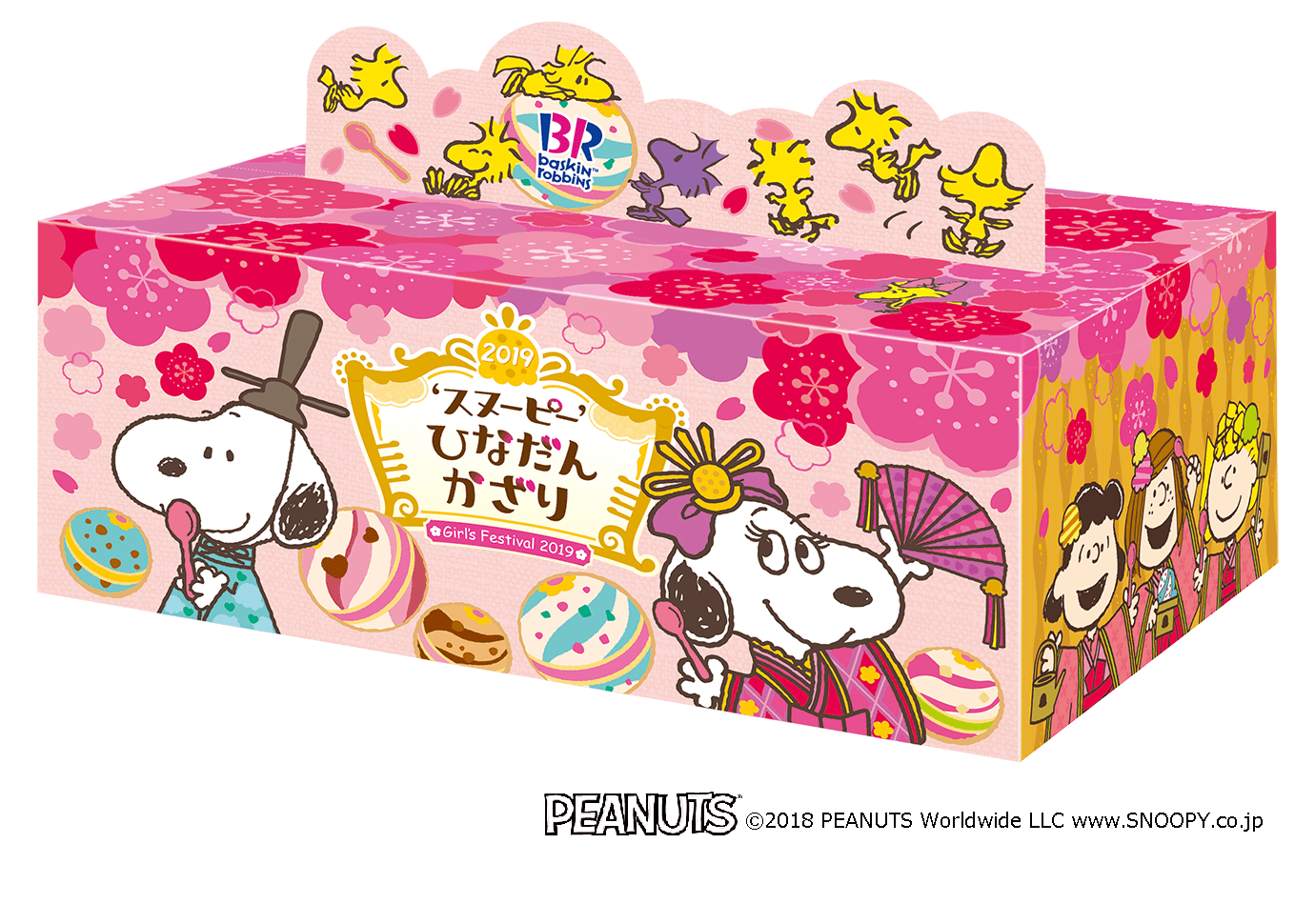 The box comes with an eye-catching pink and yellow design that's sure to make whoever you share it with happy.
Also, on March 3, the day of Hinamatsuri, each branch of Baskin-Robbins will be decorated entirely pink. Customers who go to the shop dressed in pink will receive a free scoop of ice cream.
Make Hinamatsuri even more fun this year by celebrating it with Snoopy and Belle.
Information
Baskin-Robbins Girls' Festival 2019
Running: February 15, 2019 – March 3, 2019
Official Website: https://www.31ice.co.jp/
RELATED ENTRIES
Snoopy and Charlie Brown Turn Into Confections at Japanese Convenience Stores

Bandai's character-inspired Japanese confectionery series Tabemas is releasing two new traditional Japanese wagashi confections inspired by the Peanuts comic series. Snoopy and Charlie Brown will arrive at Lawson convenience stores across Japan on January 19, 2021.

Tabemas Snoopy | ¥264 Each (Before Tax)

The cute confections capture the little details of the iconic characters, from Snoopy's doggo features and collar to Charlie Brown's hair and shirt. The Snoopy confection is filled with chocolate bean paste—a nod to his favourite chocolate chip cookies—while Charlie Brown is filled with custard bean paste as a nod to his trademark shirt. The packaging features exclusive art drawn for the Peanuts comic's 70th anniversary with Snoopy atop his dog house.

© 2021 Peanuts Worldwide LLC

Information

Tabemasu Snoopy / Charlie Brown
Release Date: January 19, 2021

Available: At the chilled sweets section of Lawson convenience stores in Japan (Excluding Natural Lawson and Lawson Store 100)

*Available while supplies last

*Stock date may differ from branch to branch

*Select stores not participatingProduct Page: https://www.bandai.co.jp/candy/tabemas/snoopy03/

SNOOPY MUSEUM TOKYO's PEANUTS Cafe Serves Up New Menu Items Inspired by the Comics

The PEANUTS Cafe at SNOOPY MUSEUM TOKYO rolled out new menu items on Saturday (January 16) as part of a new exhibition called "Snoopy to Kyoudai" (Snoopy and Siblings) featuring a sandwich and desserts inspired by scenes from the beloved Peanuts comics.

The New Menu Line-Up

Snoopy Flower Basket Sandwich | ¥1,400 (Before Tax)

This flower basket is based on a scene when Snoopy meets with his siblings who pay him a visit after he recovers from being unwell and they eat sandwiches together. The tasty sandwiches are stuffed with pastrami beef and veg so you too can get your fill like Snoopy. The basket also comes with mini corn dogs and crispy fries. This is one to share (or hog all to yourself!)

Olaf's Pancakes | ¥1,200 (Before Tax)

These pancakes are inspired by Olaf, who was first introduced in the ocmics as the winner of the Ugly Dog Contest. They are loaded with ice cream, fruit, a whole Japanese custard pudding, fresh cream, and a drizzle of caramel sauce.

Belle's Raspberry Milkshake | ¥900

A doughnut-topped raspberry milkshake like the one that appears in the comics. It's a nod to Belle, Snoopy's only sister.

©2021 Peanuts Worldwide LLC (短縮形 ©2021 Peanuts)

Information

PEANUTS Cafe SNOOPY MUSEUM TOKYO
Running: January 16, 2021 – July 11, 2021
Address: Minami-Machida Grandberry Park Park-Life Site, 3-1-1 Tsuruma, Machida, Tokyo
TEL: 042-850-7390
PEANUTS Cafe Official Website: http://www.peanutscafe.jp/snoopymuseum-tokyo/

Nana's Green Tea x Häagen-Dazs Release Chocolate Matcha Glass Dessert

Nana's Green Tea is serving up a brand-new dessert in collaboration with Häagen-Dazs for Valentine's Day at 77 branches in Japan. The dessert was released on January 6 and will be available up to February 14.

Matcha Chocolate Glass with Häagen-Dazs | ¥880 (Before Tax)

The dessert is a tempting sight to behold – not only is it delicious but visually appealing to the eye too, and layered with various textures so that every bite is a surprise.

The dessert is made with Häagen-Dazs' "Sweet Chocolate" ice cream coupled with Nana's Green Tea's own original matcha ice cream, soft and crunchy meringue sticks, crumbled cookies, white chocolate whipped cream, and matcha chiffon cake. Sat at the bottom waiting to be discovered is a sweet strawberry sauce for a tangy kick.

Information

Nana's Green Tea – Matcha Chocolate Glass With Häagen-Dazs
Serving: January 6, 2021 – February 14, 2021
Price: ¥880 (Before Tax)
Available: 77 Nana's Green Tea branches in Japan (Excluding DiverCity Tokyo Plaza, Tokyo Dome, and Iias Okinawa Toyosaki)
Official Website: http://www.nanasgreentea.com/

SCRAP x SNOOPY Puzzle Game Project Announces Extension Into 2021

TOKYO MYSTERY CIRCUS has announced an extension of its ongoing SCRAP x SNOOPY Puzzle Game Project.

The SCRAP x SNOOPY Puzzle Game Project invites visitors to join Snoopy and the Peanuts Gang for a whole bunch of puzzle-solving fun. There's also exclusive merchandise for Snoopy fans to get their hands on. The project was originally scheduled to end on December 31, 2020, but due to the COVID-19 pandemic, many people were unable to attend which resulted in demand for an extension.

There are three puzzle experiences for people to enjoy including "Snoopy and the Clue Solving Circus," "Snoopy and the Secret Recipe," and "Snoopy and the Mysterious Painting." Each has players getting their own puzzle-solving kit which they must use in conjunction with the phone app LINE. The puzzles have them running around TOKYO MYSTERY CIRCUS, Japan's first and biggest puzzle theme park.


Visitors can tuck into a range of Snoopy themed food as well as get their hands on over 30 pieces of original merchandise from tote bags to handkerchiefs, origami, and more.

Information

SCRAP x SNOOPY Puzzle Game Project

Event Page: https://mysterycircus.jp/snoopy/en/

TOKYO MYSTERY CIRCUS

Address: APM Bldg., 1-27-5 Kabukicho, Shinjuku, Tokyo, 160-0021

Opening Hours: Weekdays 11:30-23:00 / Weekends & Holidays 09:30-23:00

No Fixed Holidays.

Price: Free Entry (*Separate tickets required for games)

TOKYO MYSTERY CIRCUS x Snoopy Official Website: https://mysterycircus.jp/snoopy/en/

Yu Nagaba x Snoopy Clothing Collection to Release at UNIQLO

Japanese illustrator Yu Nagaba is collaboration with the popular Peanuts comics to release a collection of T-shirts from UNIQLO's graphic T-shirt brand UT. It is a follow up to his last year's collaboration with Snoopy and the Peanuts gang and will release at UNIQLO in Japan on January 1, 2021.

A heart-warming collection filled with positivity

Yu Nagaba himself is a fan of Peanuts and has used his iconic drawing style to capture the gang's positivity to create a collection that's sure to keep you uplifted throughout the day.

T-Shirts (6 Designs) ¥1,500 Each (Before Tax)

Kids Line-Up (Excerpt)

Merchandise Line-up 

The collection also includes a line-up of merch too like caps, umbrellas, bags, and more.

Yu Nagaba Interview (Japanese):

UNIQLO Harajuku's Enormous Snoopy by Yu Nagaba

Nagaba has also illustrated an enormous 1.5-meter canvas of Snoopy which will be put into the UNIQLO Harajuku store on December 26. The illustrator will also be present on January 9, 2021 to do signings. But that's not all—customers who spend over ¥5,000 (before tax) in the store between January 1-3 next year will also receive a Yu Nagaba original sign bag along with sweets. These are available on a first-come, first-served basis. Additionally, for every two Yu Nagaba x Peanuts items bought at all UNIQLO stores in Japan, customers will receive a special sticker.

Information

PEANUTS x Yu Nagaba UT
Release Date: January 1, 2021
Available: UNIQLO Japan stores / UNIQLO Japan online store
Product Page: https://www.uniqlo.com/jp/ja/spl/ut-graphic-tees/peanuts-yu-nagaba/

Yu Nagaba Signing
Date: January 9, 2021

Time: 11:00-13:00

Location: UNIQLO Harajuku
Attending: You must buy something from this collection by January 9, 2021 at 13:00 to attend

*More details will be announced on UNIQLO Harajuku's official website at a later date

Snoopy's PEANUTS Cafe in Japan Collaborates With Pake On Leopard Print Zipper Bags

Four branches of the Snoopy-themed PEANUTS Cafe, as well as its online shop, launched a collaboration with the Japanese zipper bag brand Pake® on Friday (November 27) to release a collection of leopard print zipper bags.

PEANUTS Cafe Nagoya Gets New Interior Design Artwork

As part of the collaboration, PEANUTS Cafe Nagoya has put up a colourful piece of framed artwork on the first floor. At first glance, it looks like simple leopard print, but if you look closely, you can see Snoopy floating around in that colourful world.

PEANUTS Cafe x Pake Zipper Bag "The Clandestine" | ¥1,100 (Before Tax)

PEANUTS Cafe and Pake's collaborative zipper bags come in blue and pink, both with leopard print backgrounds visible thanks to the clear bag allowing you to also see the items you put inside.

Snoopy art from an old-time Peanuts comic

The artwork used on the zipper bag is taken from a Peppermint Patty story published in January 1975 over several days. It's the scene when Patty's dad is late arriving home and can't sleep so is invited to Snoopy's room. She jumps onto his waterbed and he goes flying up and down.

© 2020 Peanuts Worldwide LLC

Information

PEANUTS Cafe x Pake
Participating Branches: PEANUTS Cafe Nakameguro / PEANUTS DINER Yokohama / PEANUTS Cafe Kobe / PEANUTS Cafe Snoopy Museum / PEANUTS Cafe Nagoya
PEANUTS Cafe Online Shop: https://www.peanutscafe.jp/online/

Japan's PEANUTS Cafe Reveals Snoopy Birthday Cake Orders For Online Shop

The PEANUTS CAFE Online Shop is opening orders for a cute Snoopy birthday cake on November 12, 2020.


Snoopy Birthday Cake: ¥5,000 (Before Tax) *Comes with 2 cake ornaments and 5 candles


These PEANUTS Cafe-original cakes are handmade individually a layer of raspberry compote and a layer of white chocolate mousse. They're topped with a cute Snoopy and Charlie Brown decoration and a speech bubble that reads "Happy Birthday!"

The cake is packed in a box with prints from the Peanuts comics on it. It's delivered in a cooler bag so it stays fresh.

Who better to celebrate your birthday with that the Peanuts gang?

© 2020 Peanuts Worldwide LLC

Information

Snoopy Birthday Cake

Release Date: November 12, 2020

PEANUTS Cafe Online Shop: https://www.peanutscafe.jp/online/

*Delivered within 7-10 days of ordering

*Arrives in a cooler bag and so cannot be delivered together with other items so please order separately

Cute and Cosy Snoopy Loungewear Made in Collaboration With Gelato Pique

Luxury loungewear and sleepwear brand Gelato Pique is teaming up with Snoopy to release a cosy new collection via their website and at Gelato Pique stores in Japan on November 12, 2020.

Gelato Pique is inviting people to spend the winter with Snoopy this year with their warm and fluffy 'SNOOPY meets GELATO PIQUE' collection which comes in a variety of comfy sizes for men, women, children, and babies.

SNOOPY meets GELATO PIQUE

Jacquard Series

Baby Moco Headband ¥2,200 | Jacquard Pullover ¥5,800 | Jacquard Long Pants ¥5,800 | Baby Moco Room Shoes ¥3,400 | Big Plush ¥8,800 | Jacquard Blanket ¥5,200

Jacquard Hoodie | ¥6,800

A fluffy series made with jacquard fabric and cute Snoopy prints all over. The hoodie even comes with Snoopy ears on top.

Border Series


Baby Moco Shawl Cardigan ¥7,200 | Baby Moco Long Pants ¥6,600

The shawl cardigan is perfect for the winter season, and the stripes have give the loungewear a casual and comfy look.

Snoopy Pattern Series


Shirt ¥6,300 | Pants ¥6,300

The Snoopy Pattern Series is the kind of thing you want to be wearing with some warm socks while sipping on something hot. Its simple design makes it perfect as a gift to someone under the Christmas tree.

Fleece Series


Fleece Pullover ¥5,600 | Fleece Long Pants ¥5,600

The Fleece Series is perfect for both relaxing and active days. The designs feature Snoopy and Charlie Brown chilling at home. The casual colours also mean you can wear either items together with something else, such as just donning the bottoms with something different on top.

© 2020 Peanuts Worldwide LLC

*All listed prices are pre-tax

Häagen-Dazs Reveals Chestnut Filling and Soy Flour Brown Sugar Syrup Mochi Ice Creams

Häagen-Dazs Japan is bringing back its Hana Mochi series of mini cup ice creams this year in two flavours: Chestnut Paste and Ginsen Soy Flour Brown Sugar Syrup, both of which will be released across Japan on September 29, 2020 for a limited time.

The Hana Mochi series takes Häagen-Dazs's smooth and rich ice creams and adds soft, chewy mochi to it. The Ginsen Soy Flour Brown Sugar Syrup was released last year and proved hugely popular, while the Chestnut Paste is a new mouth watering contender this time around.

The Ginsen Soy Flour Brown Sugar Syrup ice cream is made using dark roasted soy flour and is mixed with brown sugar syrup before being topped with mochi and a blend of yellow and black soybeans.

The new Chestnut Paste is a super sweet chestnut infusion and has an authentic Japanese wagashi confection taste to it. The ice cream is also laced with a chestnut sauce as well as salt to bring out the sweetness of the chestnut even more.

Both are the perfect flavours for autumn-time this year.

Information

Häagen-Dazs – Hana Mochi Series

Release Date: September 29, 2020

Price: ¥295 (Before Tax)

Available: Supermarkets, convenience stores, and department stores in Japan

Giant Pink Snoopy Placed Inside Rooms at Kobe's PEANUTS HOTEL Now Available as Plush Toys

Last year, the PEANUTS HOTEL celebrated its 1st anniversary by selling giant Snoopy plush toys, all of which sold out. The hotel is doing the same again this year, releasing two different sizes on September 4.

ROOM64: "Happiness is a warm puppy"

Lucy squirms when Snoopy kisses her, but she sure loves hugging him, because of his warmth. ROOM64 is inspired by this lovable comic, and uses millennial pink for the walls, chairs and even the fireplace. There's also a big pink Snoopy that you can hug any time you want. Lucy's iconic Lemonade stand stands next to a signboard that says, "1 cent for hugging a cute puppy". It is a room filled with humor and warmth.

PEANUTS HOTEL -ROOM64-


Guests will be able to buy plush toys of the giant puppy from ROOM64, because happiness is a warm puppy.

Small: ¥2,400 | Large ¥6,400 (Before Tax)

The small size Snoopy comes with a key chain so it can go on your bag, while the large Snoopy is perfect for sitting on your sofa or bed and for hugs. Both are super fluffy so you won't be able to resist.

© 2020 Peanuts Worldwide LLC

Houjicha Tea Brûlée Ice Cream Released by Baskin-Robbins Japan

Baskin-Robbins has created an exclusive flavour for Japan, the "Houjicha Brûlée," which was released on September 1 and will be served for a limited time only.

The ice cream is laced with rich and fragrant houjicha green tea and irresistibly mixed with caramel-infused brûlée. It's a fusion of Japanese and Western flavours here for the autumn season and is the first time Baskin-Robbins Japan has sold it.

The ice cream recreates that same burnt look that crème brûlée has. You get the full-bodied aroma of the houjicha tea balanced by the sweetness of the custard and caramel.

This is the choice of ice cream for autumn this year, so if you're in Japan to see the beautiful autumnal colours, don't miss out.

Information

Houjicha Brûlée
Price: Single Regular Size – ¥390

*Price may differ between stores
Available: September 1, 2020 until stock runs out

Baskin-Robbins Japan Official Website: https://www.31ice.co.jp/

Häagen-Dazs Releases Honey Sweet Potato Ice Cream in Japan

Häagen-Dazs Japan released its new "Honey Sweet Potato" flavour of mini cup ice cream on September 1, 2020. The ice cream is a combination of two types of potatoes with high sugar content.

Roasted sweet potato is a popular food eaten in Japan during the autumn season. By roasting them slowly, you allow the natural sweetness of the sweet potatoes to come through, giving them that distinct autumn-time flavour. And it's these potatoes that are used to make Häagen-Dazs's new ice cream.

Sweet and rich honey-loaded ice cream

Sweet potatoes are naturally very sweet and have a syrupy texture to them, something which has been recreated to make this ice cream. As you spoon the ice cream, the melty honey sauce laced throughout the ice cream trickles.

Preserving the natural sweetness of the sweet potato

Roasting the sweet potatoes actually draws out their natural sweetness. Combined with Häagen-Dazs's full-bodied milk, they have created a rich and subtly sweet ice cream.

Create your own Häagen-Dazs autumn recipe

Häagen-Dazs has also created a video using their vanilla flavour to showcase how to make your own ice cream dessert using pumpkin and cinnamon.