Doll's Festival Themed Snoopy Ice Cream Arrives at Baskin-Robbins in Japan
To celebrate this year's Hinamatsuri―also known as the Doll's Festival and Girls' Festival―Japan's branches of Baskin-Robbins are holding a themed event from February 15 up until the day of the national festival, March 3.
Snoopy Doll Display: ¥1,740 (Tax Included) *Price may vary at certain branches
The Snoopy Hinadan Kazari doll display ice cream was a huge hit with ice cream lovers last year so it returns again this year even cuter. During Hinamatsuri people set up displays of ornamental dolls  and this ice cream box recreates that, incorporating traditional Japanese motifs in its design. Snoopy and Belle, made from sugar, take the form of the Emperor and Empress respectively, with Woodstock representing the three court ladies.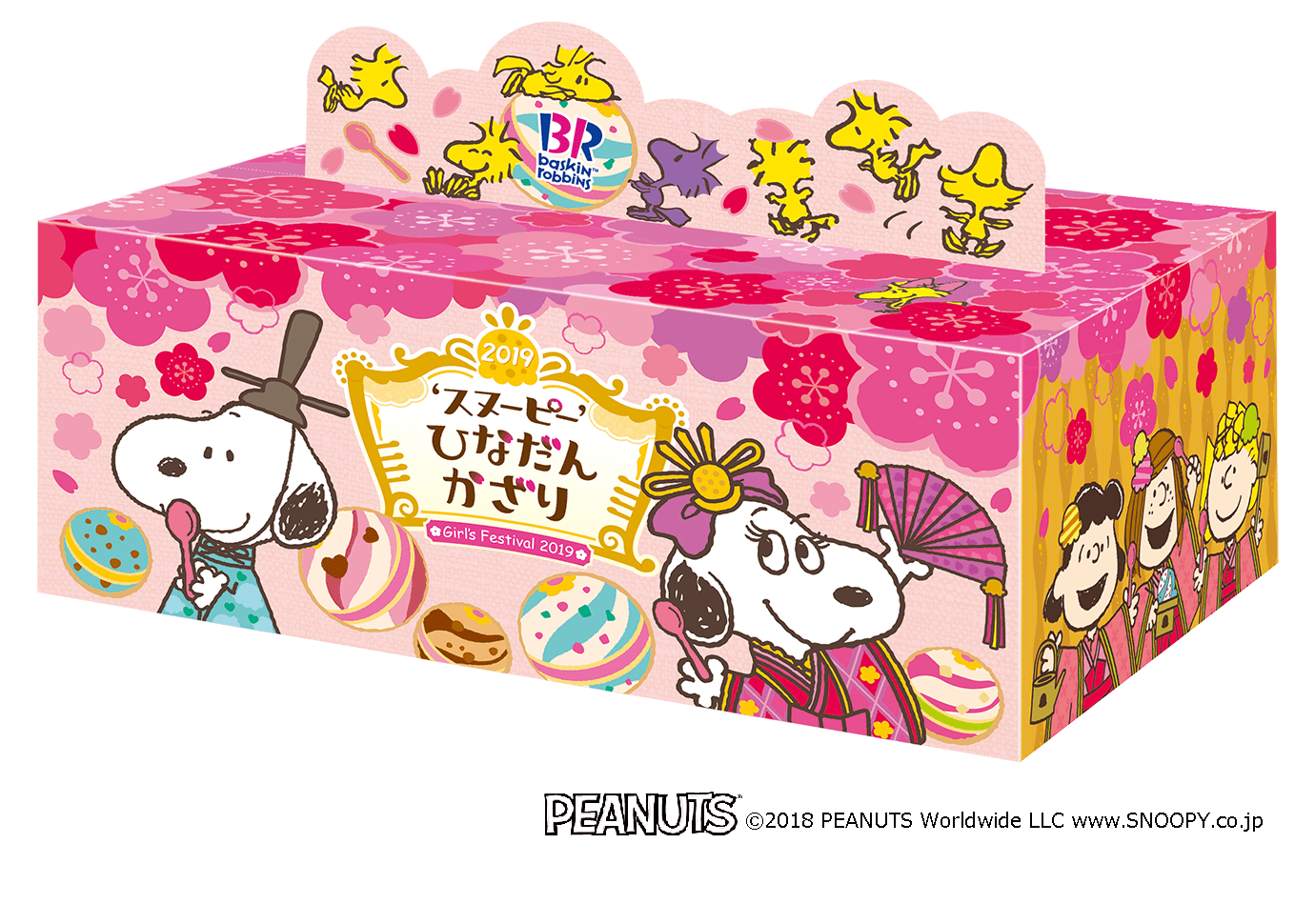 The box comes with an eye-catching pink and yellow design that's sure to make whoever you share it with happy.
Also, on March 3, the day of Hinamatsuri, each branch of Baskin-Robbins will be decorated entirely pink. Customers who go to the shop dressed in pink will receive a free scoop of ice cream.
Make Hinamatsuri even more fun this year by celebrating it with Snoopy and Belle.
Information
Baskin-Robbins Girls' Festival 2019
Running: February 15, 2019 – March 3, 2019
Official Website: https://www.31ice.co.jp/
RELATED ENTRIES
Snoopy Tea Brand SNOOTEA Launches Chocola Tea for the Holidays

Since its start in 2007, the Snoopy tea brand SNOOTEA has remained popular with Peanuts fans and tea fans alike. Typically, the brand has sold black tea in cute tins featuring Snoopy and his friends.

Starting November 7, fans can purchase a special Chocola tea made by tea blender Shuntarou Kumazaki. Blended to suit Japanese water and inspired by the world of Peanuts, it promises to be the perfect flavor for the holidays.

Made with cacao nibs, the flavor of standard black tea is punctuated with a chocolate aroma. The tea leaves themselves come from India, Sri Lanka, and Kenya, and are blended together in a balanced way to create an appealing taste that will have tea lovers coming back again and again. This blend is also perfect for making milk tea, and fans can even add whipped cream and marshmallows. This tea also goes well with strawberries, oranges, bananas, and other fruits, as well as nuts!

Snoopy and his friends dressed in winter attire will appear on each tin, adding to the festive holiday spirit. On the online store, customers can also find Darjeeling, Earl Grey, Apple Tea, and other varieties.

© 2022 Peanuts Worldwide LLC

The World of Peanuts to Take Over Grandberry Park this Winter

The limited-time Christmas event 'SNOOPY Merry Colorful Christmas' will be held at the Grandberry Park shopping mall from November 12 until December 25, 2022. The complex is directly connected to Manami-Machida Grandberry Park Station on the Den-en-toshi Line. 

This year's event is the most colorful one yet, focusing on diversity and individuality. Fans of Snoopy and friends are in for a treat, as the area around Grandberry Park will be illuminated in beautiful colors and decorated with unique Christmas decorations that will excite the whole family. 

Colorful Sculpture

Colorful Illuminations

Snoopy Ice Rink

Snoopy Happiness Float 2022

During the event period, a giant 8-meter-tall Christmas tree decorated with Peanuts-inspired ornaments will be set up for guests to enjoy. A huge and very colorful sculpture measuring 6 meters across and over 2 meters tall will also welcome visitors to this Christmas wonderland. In addition, colorful lights will be scattered around the entirety of Grandberry Park, and a special Christmas menu filled with cakes and hors d'oeuvres is sure to delight.

On December 10, the Snoopy Ice Rink will open at Oasis Plaza, and the Snoopy Happiness Float 2022, a giant Snoopy that has traveled across Japan, will return for another year of fun.

Come have a fun time this holiday season with Snoopy and friends! A series of events will be held over the next year to market the Colors of Peanuts marketing campaign throughout the country, so keep an eye out for more news!

*Sample images only.

Peanuts Cafe Offering Love-Themed Seasonal Menu

Peanuts Cafe Nakameguro and six other locations have begun selling love-themed desserts and drinks for a limited time! Be sure to stop in by March 14 to try these tasty treats based on your favorite characters.

Lucy's Ruby Chocolate Mousse / Sally's Pink Dress Hot Chocolate

Love Each Other Special Donut

Love Each Other Latte Art

USHIO CHOCOLATL Collaboration Chocolate

Love Each Other Chocolate Brownie

 

Join Snoopy, Lucy, Sally, and other Peanuts characters as they express love for their family and friends. Guests ordering one of these love-themed desserts or drinks will receive a special paper lunch mat perfect for posting on social media!

(C) 2022 Peanuts Worldwide LLC (短縮形 (C) 2022 Peanuts)

MINISTOP Ice Cream Specialty Store 'MINI SOF' to Launch My Melody Collaboration

MINI SOF, a shop specializing in soft-serve ice cream since 1980, is now offering products in collaboration with the popular Sanrio character My Melody! A limited number of sweets and goodies will be available until January 31, 2022, with New Year grab bags containing special coupons for sale until January 9, 2022.

W Rich Soft-Serve Ice Cream

My Melody Collaboration Campaign

2022 Lucky Bag

Blanket

Desktop Calendar

Tote Bag

Soft-Serve Vanilla Ice Cream (with Strawberries and Chocolate) with Original Glass

Pink

Purple

Double Rich Strawberry Waffle Cone Soft-Serve with My Melody Collaboration Sleeve

Sleeve Design 1

Sleeve Design 2

Sleeve Design 3

Double Rich Strawberry Shortcake

My Melody Original Pouch

Design 1

Design 2

My Melody Original Keychain

Acrylic Keychain Design 1

Acrylic Keychain Design 2

Participating Characters

My Melody

Kuromi

My Sweet Piano

Information

My Melody Collaboration Campaign

Running: December 30, 2021 – January 31, 2022
*MINI SOF limited-edition pouches and acrylic keychains will also be available.

2022 Lucky Bag

*Limited to two bags per person.

Available: December 30, 2021 – January 9, 2022

Coupon Expiration Date: January 31, 2022

Official Site: https://www.ministop.co.jp/minisof/

Peanuts Cafe and Peanuts Diner Locations to Offer Special Christmas Menu

Six Peanuts Cafe and Peanuts Diner locations across Japan are currently offering a special Christmas menu inspired by the world of Snoopy until December 25, 2021. 

Christmas Stew Set with Bonuses: ¥3,520 (Tax Included) 

Participating Locations: Peanuts Cafe Nakameguro, Snoopy Museum, Nagoya, Sunny Side Kitchen

Nagameguro:https://www.peanutscafe.jp/product_nakameguro_xmas2021/
Snoopy Museum:https://www.peanutscafe.jp/product_smt_xmas2021/
Nagoya:https://www.peanutscafe.jp/product_nagoya_xmas2021/
Sunny Side Kitchen:https://www.peanutscafe.jp/product_sunnysidekitchen_xmas2021/

Christmas Hamburger Set with Bonuses: ¥3,960 (Tax Included) 

Participating Location:Peanuts Diner Yokohama

Reserve:http://www.peanutsdiner.jp/product_yokohama_xmas2021/

Woodstock's Merry Christmas Plan: ¥4,950 per person (Tax Included)

Participating Location: Peanuts Cafe Nakameguro

Reserve:

https://www.peanutscafe.jp/product_nakameguro_sproom_xmas2021/
*Price per person based on two-person reservation. 

*Reservations can be made up to two days in advance.

Snoopy's I CAN'T WAIT Christmas Parfait: ¥1,430 (Tax Included)

Snowy Christmas Latte ~Cheesecake Flavor~: ¥880 (Tax Included) 

Those who order a special food set will receive a tote bag with an adorable Snoopy and Woodstock design. 

(C) 2021 Peanuts Worldwide LLC (短縮形 (C) 2021 Peanuts)

Information

Snoopy's Christmas Menu

Available: December 10 – December 25, 2021

Participating Locations: Peanuts Cafe Nakameguro, Peanuts Diner Yokohama, Peanuts Diner Kobe, Peanuts Cafe Snoopy Museum, Peanuts Cafe Nagoya, Peanuts Cafe Sunny Side Kitchen

Official Site: http://www.snoopy.co.jp/

LOVE LOVE Snoopy Exhibition Opens at the Seibu Ikebukuro Main Store

The LOVE LOVE Snoopy Exhibition ~Take Care with Peanuts~ has come to Japan for the first time, and will be open at the Seibu Ikebukuro main store until December 29, 2021. 

Heartfelt Market (Selected Merchandise)

Acrylic Keychain / Acrylic Character Charm

Memo Pad (A6-size) 

Clear Folder (A4-size)

Cushion

Fabric Posters

Candle

Crackers

Sprout Pencil

Fair-trade Cotton Tote Bag

The first 200 customers on each day who spend ¥5,000 or more (including tax) will receive a cotton gift bag (4 varieties) which changes daily. 

This Snoopy exhibition puts an emphasis on loving one's friends but also loving the environment. The event space brings together three themes: Loving yourself, loving each other, and loving the Earth. At the end of the exhibition, a 'tree of kindness' will be created from messages left by visitors. Visitors can also pick up some cute merchandise at the Heartfelt Market, which will feature over 1,000 items including special event goods. 

© 2021 Peanuts Worldwide LLC

Information

LOVE LOVE Snoopy Exhibition ~Take Care with Peanuts~

Open until December 29, 2021

Hours: 10:00-20:00

*Last admission 30 minutes before closing. 

*The exhibition will close at 16:00 on December 29. 

Location: Seibu Ikebukuro Annex 2F (Seibu Gallery)

Tickets: ¥500 (Free for high school students and under.) 

Official Site: http://www.snoopy.co.jp/

Tokyo's Grandberry Park Begins Peanuts Ice Skating Collaboration

From December 11, 2021 until February 27, 2022, visitors to Minami-machida's Grandberry Park in Tokyo can enjoy 'Snoopy's Ice Arena,' a special crossover event with beloved Peanuts characters.

Ice Arena Dancing & Skating

Collaboration Project Image (Top left: Ice Arena / Top right: PEANUTS Tokyu Line One-Day Pass with Original Design / Bottom: SNOOPY HAPPINESS FLOAT 2021)

 

The third installment of the Grandberry Park Winter Harmony event is the 'Ice Arena Dancing & Skating' collaboration with Peanuts! Snoopy's Ice Arena is back at Oasis Plaza for another year. 

Ice Arena (Top left: Reception Desk / Top right: Photo Spot (1) / Bottom: Photo Spot (2)

The skating rink is decorated with Snoopy and his friends having a good time, and photo spots are set up around the perimeter of the ice. 

Running: December 11, 2021 – February 27, 2022 *Closed on January 1, 2, 15

Hours: 13:00-20:00 (Weekdays), 11:00-20:00 (Weekends & Holidays) 

*Reception desk closes at 19:30 

*11:00-20:00 from December 27, 2021 until January 7, 2022

*11:00-18:00 on December 31

*Times and details may be changed or canceled at the discretion of the organizer in consideration of visitor safety.

Location: Oasis Plaza

Information

SNOOPY HAPPINESS FLOAT 2021 at Grandberry Park

SNOOPY HAPPINESS FLOAT, a truck carrying a giant 6-meter Snoopy, will return to Grandberry Park this year after traveling around the country. This year's theme is 'Love Each Other, and I Love Me.' Snoopy and Woodstock can be seen taking a break in the lush Park Plaza. 

Running: December 11, 2021 – May 8, 2022

Location: Park Plaza

Details: https://gbp.minamimachida-grandberrypark.com/winter_harmony/

PEANUTS Commemorative Train Ticket with Original Design

Sample of PEANUTS Tokyu Line One-Day Pass (Left: Adults / Right: Children)

These special commemorative one-day passes will be here for a limited time, and are available on a first-come, first-served basis! Once they're gone, they're gone. 

Available from Mid-December until February 27, 2022 *While supplies last. 

Where to Buy: WANDER COMPASS SHIBUYA (Inside Shibuya Station), Tokyu Line Ticket Gates at Yokohama Station, Nagatsuta Station, and Minami-machida Grandberry Park Station

Availablity: 4,000 (Adults) / 2,000 (Children) 

Price: ¥680 (Adults) / ¥340 (Children) 

Validity Period: Until March 31, 2022

Grandberry Park

Address: 4-1-3 Tsuruma, Machida, Tokyo

Access: Directly connected to Minami-machida Grandberry Park Station on the Tokyu Den-en-Toshi Line

Hours: 10:00-20:00 (Shop) / 11:00-22:00 (Restaurant) *Hours subject to change. 

Official Site: gbp.minamimachida-grandberrypark.com

TRUFULL TOKYO Releases First Truffle Ice Cream

Truffles aren't something most people eat every day, but TRUFULL TOKYO wants to change that. The casual truffle brand wants to combine this luxury ingredient with simple dishes to make it easier to chow down on this tasty treat more often, and now, their first product release has been announced! TRUFULL ICE CREAM, playfully created by a French chef, aims to give people a new view of what food can be.

The truffles aren't the only thing that makes this ice cream special. The milk used to create it is gathered at Zao Provence Farm in Miyagi prefecture in the morning and processed the exact same day! After the ice cream is made, it is mixed with plenty of French black truffles, making a flavor like no other. 

The upscale TRUFULL ICE CREAM, a perfect dessert for the discerning adult, is available at CARBON COFFEE in Fukuoka. 

Information

TRUFULL ICE CREAM
Release Date: November 15, 2021

Price: ¥500 for 120ml cup (Tax Included)

Where to Buy: CARBON COFFEE

Address: Royal Building 1F 1-2-34 Daimyo, Chuo-ku, Fukuoka

Official Online Store: Scheduled to Open November 15

Instagram: https://www.instagram.com/trufull_tokyo/ (@trufull_tokyo)

Official Site: https://trufulltokyo.com/

Baskin-Robbins to Collaborate with Pompompurin for a Limited Time

Sanrio character Pompompurin is taking over Baskin-Robbins locations throughout Japan for the entire month of November! 

Custard Pudding Flavor

Double Scoop

Double Scoop

Pompompurin's Friendly Sundae

Pompompurin's Smiley Sundae

Pompompurin's Variety Box Set

Pompompurin's Variety Box Set

Blanket

Sanrio Characters Ice Cream Cake

Hello Kitty

Pompompurin

Cinnamoroll

Pochacco

Backing Paper

Sanrio Characters Christmas Cake

Original Sanrio Freezer Bag

Pompompurin products will be available during the month of November, while Cinnamoroll will be the focus during December. 

The Custard Pudding features a blend of mild and rich custard ice cream and bittersweet caramel ice cream. Those ordering double scoops should check out the cup's design, available in two patterns: one features Pompompurin in a Baskin-Robbins uniform, while the other displays Sanrio characters relaxing and chowing down on ice cream together. Those wanting to enjoy their sweets at home can grab the variety box, packed with Sanrio goodness. A limited quantity of fluffy blankets will be available at participating locations.

Information

Pompompurin's Ice Cream Shop

Baskin-Robbins Ice Cream

Running: November 1 – November 30, 2021

Official Site: https://www.31ice.co.jp/

Love Live! Superstar!! Collaborates with ROLL ICE CREAM FACTORY, Available in 8 Stores Nationwide

The original roll ice cream speciality store ROLL ICE CREAM FACTORY will be collaborating with anime Love Live! Superstar!! for a limited time between September 25 and October 21 2021, available at eight stores nationwide. During the event, you will be able to buy character themed roll ice cream, drinks, and original merchandise. The collaboration start date varies by store.

Liella! themed roll ice cream

Drinks

Original goods

Social media campaign

Free original coasters (randomly picked from 12 designs)


Roll Ice Cream Factory is a dessert and roll ice specialty store from New York that opened in Harajuku in 2017. It's delicious and colourful, attracting plenty of customers with their products – the longest queue recorded by the shop was seven hours long!

 

 

 

Love Live! Superstar!!, which is based on Harajuku, is now collaborating with the Harajuku-Omotesando store Roll Ice Cream Factory. The multimedia project is the latest from the Love Live! School Idol series, with an anime airing every Sunday on NHK E TV from July 2021. This new collaboration is based on the theme colors and favorite foods of five Love Live! Superstar!! members, with a menu of limited roll ice cream and drinks available to order. From strawberry and vanilla to matcha, there is plenty of variety in the special menu. Each ice cream and cold drink comes with a collaboration pick.

 

 

For people thinking "I can't eat that much at once," vouchers are available to purchase which allow you to buy collaboration merchandise at any time throughout the campaign. In addition to the cold drinks, two hot drinks will be available for takeout and served in collaboration takeout bags. If you're feeling chilly, these drinks will warm you right up! You will also be offered a fun themed coaster to use during the campaign. A free collaboration coaster will be provided with every item on the collaboration menu, picked randomly from 12 designs. A selection of limited goods are also available in store and a social media campaign to win collaboration posters is currently ongoing, so be sure to check it out.

Information

Love Live! Superstars!! x Roll Ice Cream Factory

Availability: September 25 ~ October 21 2021

September 25: Harajuku-Omotesando, Osaka-Dotonbori

September 26: Shizuoka PARCO, Kobe MARUI

September 27: Ion Mall Tokushima,  Nagasaki Huisten Bosch, AMU PLAZA Kagoshima

September 28: AMU PLAZA Miyazaki

※The collaboration start date may vary depending on the store. 

 

 

Follow & Share Social Media Campaign

Availability: September 25 ~ October 21 2021

Five limited edition collaboration posters are available to give away.

Eight stores participating: Harajuku-Omotesando, Osaka-Dotonbori, Shizuoka PARCO, Ion Mall Tokushima, Kobe MARUI, Nagasaki Huisten Bosch, AMU Plaza Kagoshima)

Entry Details: Follow @rollicecreamfactory on Instagram or @ROLLICErCREAM_F on Twitter, then use the hashtag #Liellaロールアイス to enter.

Winners will be contacted via Instagram and Twitter direct messages.

Official site: https://rollicecreamfactory.com 

Three PEANUTS Collaboration Tea Cans Available From Senchado Tokyo

Single-origin Sencha speciality store Senchado Tokyo will be collaborating with PEANUTS for the PEANUTS ~Look To Tomorrow~ limited event, held between August 11 and 24, 2021.

"We're All Friends" Theme

"We're All friends" is the theme of the PEANUTS ~Look to Tomorrow~ collab, with PEANUTS & Friends themed goods available to purchase. Senchado Tokyo offers "teatime with friends" and "a solo teatime."

The collaboration has been produced and designed to offer a fun teatime at home, with joy in every option.

The collaboration item designs feature Snoopy reading while drinking tea, Snoopy relaxing in an empty cup, and Charlie Brown enjoying some tea while listening to records.

PEANUTS Collaboration Single-Origin Sencha Can: ¥1,977 (Tax Included)

PEANUTS Collaboration Hojicha Can: ¥1,836 (Tax Included)

PEANUTS Collaboration Genmaicha: ¥1,944 (Tax Included)

The Sencha is made using single-origin blend Uji Midori from Kyoto, while the Hojicha is made with stems shallowly roasted in far-infrared to bring out a dazzling fragrance. The Genmaicha blend uses single-origin Saemidori and brown rice.

Whether you're relaxing with a cup of tea or enjoying a toast with somebody precious, why not invite Snoopy to join your teatime?

。

UNDERSON UNDERSON x Peanuts x Gelato Pique Releasing New Snoopy Plushie

Lifestyle brand UNDERSON UNDERSON is teaming up with loungewear brand gelato pique and Peanuts to release a triple collaboration Snoopy plushie. The item will officially go on sale August 18. 

SNOOPY Triple Collaboration Plushie: ¥3,960 (Tax Included)

This adorable Snoopy plushie has a unique texture combining gelato pique's signature 'mini gelato' fabric with UNDERSON UNDERSON's WASHIFABRIC®, made from 99.9% Japanese washi paper. 

A perennial plant called 'abaca' is used to make UNDERSON UNDERSON's unique 'washi velvet' fabric. Taking only three short years to grow, this makes the fabric creation process sustainable with very little impact on the environment. 

Believe it or not, Snoopy's ears, collar, and spots are actually made from leftover cloth from UNDERSON UNDERSON Washi insoles! 

With soft grey coloring, this is one item sure to blend into any interior space!

© 2021 Peanuts Worldwide LLC( © 2021 Peanuts )