Grand Opening of Starbucks Reserve® Roastery Tokyo―4 Floors & Premium Coffee
The new Starbucks Reserve® Roastery Tokyo finally opened its doors at 7:00AM on February 28, 2019 as the 5th global branch of Starbucks Reserve Roastery®.
Roastery Tokyo boasts a line-up of over 100 unique coffee and tea beverages as well as a bounty of merchandise and a Princi® menu―an authentic Italian bakery by Starbucks and the branch to arrive in Japan. The building's top floor is home to the AMU Inspiration Lounge where Starbucks hopes to bring together people from all regions and in the near future turn it into coffee chain's first officially-recognised Speciality Coffee Association (SCA) training facility. The branch hopes to make it an opportunity for people to get hands on with Japanese culture, make connections and see the dexterity of its workers.

Roastery Tokyo is located in Naka-Meguro, a lively and creative region in the centre of Tokyo. The building's charming design is inspired by the famous cherry trees that line Meguro River and bloom in full during springtime.
Roastery Tokyo is the first Starbucks Roastery to be constructed in collaboration with a local architect from the ground up. It was designed by Japanese architect Kengo Kuma, who is professor in the Department of Architecture at the University of Tokyo, and Liz Muller, the Chief Design Officer of Starbucks who has served as Lead Designer on all 5 Roastery branches around the world.
The new branch is a fusion of traditional and modern with four unique floors littered with the skillful labour of workers in Japan. Customers can look forward to the ultimate search and discovery experience of coffee in a gorgeous and eye-catching space.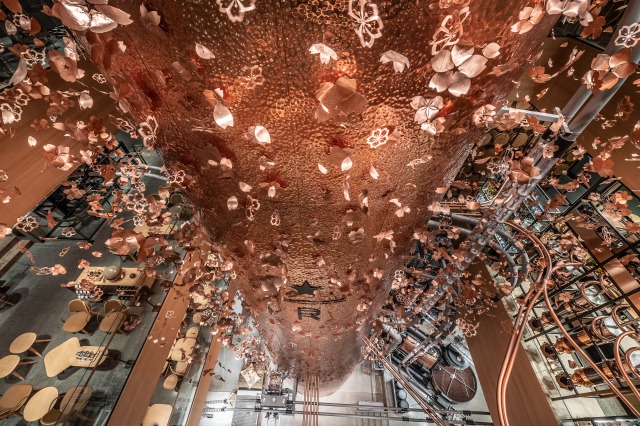 Upon entering Roastery Tokyo customers are greeted by the world's biggest Starbucks Roastery coffee cask which towers all 55 feet of the four-story coffee complex. The cask is made from copper which has light red tints to it and cherry blossom decorations crafted by Japanese artisans that change hues with the changing natural light throughout the day. The giant cask was made thorugh a Japanese technique called tsuchime, a hammering technique, whereby every person involved in the construction of Roastery Tokyo was given the chance to strike the cask once, giving it its unique quality and appearance.

Starbucks Reserve® Roastery Tokyo's coffee tour begins on the first floor, home to the main bar where customers can indulge in exquisite coffees and learn more about the delicious beverage by seeing how the unroasted coffee bean becomes a drink. It's a chance not only to see the roasting and serving process up close―where baristas pour their heart and soul into every cup―but also to experience coffee at its freshest with beverages such as the Barrel-Aged Cold Brew.
Ascending to the second floor brings you to the world's largest Teavana™ Bar.  This is where customers can enjoy coming into contact with the tradition of Japanese tea. Drinks such as the Pop 'n Tea Sakura Jasmine, a Jasmine tea adorned with vibrant pink ice candy, will offers an insight into unique Japanese ingredients through a combination of innovative flavours.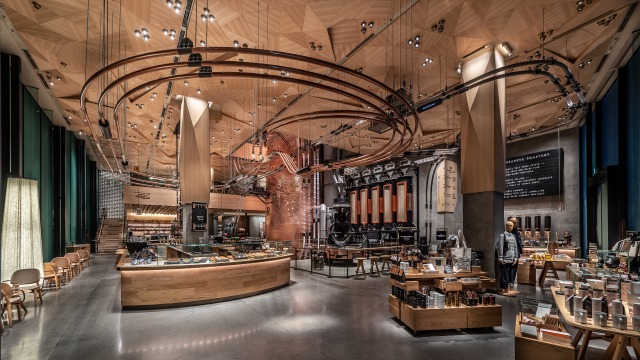 Going further up to the third floor brings you to Japan's first Arriviamo™ cocktail bar, a showcase of revolutionary mixology and cocktail craft. The two walls of spirits bring together the bar's menu which features such unique drinks as the "Nakameguro Espresso Martini," a combination of chestnut liqueur, creme de cacao, espresso which is served with "green bean to bar CHOCOLATE," a local brand of chocolate. Other exclusive options range from more cocktails to wines, beers and more.
Roastery Tokyo is an absolute must-visit for coffee lovers who are looking for the ultimate experience.
Information
Starbucks Reserve® Roastery Tokyo
Address: 2-19-2 Aobadai, Meguro, Tokyo
Business Hours: 7:00-23:00
No Fixed Holidays.
Access: 14-minutes on foot from Naka-Meguro Station / 14-minutes on foot from the East Exit of Ikejiri-Ōhashi Station
Official Website: https://www.starbucks.co.jp/roastery/
RECOMMENDED ENTRIES
Starbucks Japan Hands Out Coffee Cups With Heart Design

In line with Starbucks Japan's customisable Valentine's drinks the coffee chain is introducing coffee cups with hearts on them.

Available now until February 14, this limited time Valentine's design replaces the previous square boxes detailing the details of your drink. The cups are already pouring their way onto Japanese social media.

They are available in limited quantities, so you'll want to order your beverage ASAP for a chance to get one!

Starbucks to Open New Branch at Mojiko Station―An Important Intangible Cultural Property

Starbucks Coffee Japan has announced that it will open a new branch at Mojiko Station on March 10, 2019.

The new coffee shop will open on the station's first floor, a former waiting room for third class citizens during the Taisho Period. Mojiko Station was built in 1914 and was the first station to be designated as one of Japan's Important Intangible Cultural Property.

It underwent renovations for six years from 2012 to 2018 to be reconstruct its Taisho Period appearance. The newly painted pale yellow walls and ceiling of the former waiting room call to mind buildings from back then.

The concept of the Starbucks design is "Storyteller." Through the station it is housed in and the coffee it serves it aims to tell a part of the the region's history behind the zeal behind its pioneers.

The counter wall is decorated with iron plates that signify Japan's industrial revolution and the history behind industrial area of Kitakyushu's and its for the country's modernisation. The plates, which are head marks from the front of a train, are branded with the Starbucks logo.

The ceiling also makes use of train railway railing from Kyushu for its decoration, showing respect for the people and culture of Kyushu and the development of Kyushu's railroads. Some of the tables and chairs in the cafe too are made from chinaberry tree wood from Fukuoka Prefecture.

Experience history come alive through the contemporary at the new Starbucks at Mojiko Station.

Information

Starbucks Coffee Mojiko Station
Address: 1-5-31 Nishikaigan, Moji Ward, Kitakyushu, Fukuoka Prefecture
Grand Opening: March 10, 2019

Business Hours: 8:00-21:00

Starbucks Japan Official Website: https://www.starbucks.co.jp/
RELATED ENTRIES
Starbucks Japan Reveals Banana Almond Milk Frappuccino®︎ For Spring 2021

Dear readers, the time has finally come once again—the Spring season at Starbucks Japan officially begins on March 17, which means we can expect plenty of tasty-looking beverages to drool over. This begins with two coffee delights: the light and uplifting Banana Almond Milk Frappuccino®︎ and the subtly sweet Honey Oat Milk Latte, both of which will hit Starbucks branches across Japan this Wednesday.


Banana Almond Milk Frappuccino®︎ | ¥620 (Tall Size Only)

The Banana Almond Milk Frappuccino is exactly what it says on the cup. A bright, uplifting combination of naturally-sweet banana and the nutty flavour of almond milk. The drink is topped with Starbucks' first-ever almond milk whipped cream and finished with a topping of banana chips fried in coconut oil for texture.




Honey Oat Milk Latte | Short ¥430, Tall ¥470,  Grande ¥510,  Ventii®︎ ¥550

The Oat Milk Latte made a delicious appearance at Starbucks Japan last year for a limited time where coffee-loving customers could customise their beverage. This year, it arrives in a new flavour: added to the shot of espresso and oat milk is an irresistible squeeze of honey flavoured-sauce which has a slight fruity flavour to it.

 

This is just the start of the Spring season at Starbucks in Japan, there are sure to be even more drinks to come so stay tuned.

Information

Banana Almond Milk Frappuccino®︎ / Honey Oat Milk Latte

Running: March 17, 2021 – April 13, 2021

Where: Starbucks Japan (Select branches not participating)

Official Website: https://www.starbucks.co.jp/

Starbucks Japan to Release Koshu Inden Lacquer Coffee Cup Sleeve in Yamanashi

Starbucks Coffee Japan has announced that the 14th entry to their "JIMOTO made SERIES" will be a new 296ml coffee cup which comes with a koshu inden lacquer sleeve. The item will be released exclusively in Yamanashi Prefecture at 8 Starbucks branches.

JIMOTO made Series KOSHU – 296ml Cup With Koshu Inden Sleeve | ¥8,200 (Before Tax)

Inden no Yamamoto

The "JIMOTO made Series" is a collection of unique products by Starbucks Japan that incorporate the local resources and traditional craftsmanship from each region across the country, and as such are sold exclusively at branches in those regions. The line-up showcases the various designs particular to the regions. The series began in December 2015.

The new JIMOTO made Series KOSHU is made in collaboration with Japan's only shop—which is located in Yamanashi—that holds an official title to manufacture koshu inden, a traditional style of leathercraft in which the artisans use lacquer to pain designs on deerskin. The coffee cup sleeve's design incorporates numerous motifs related to Yamanashi Prefecture, such as the Takeda clan crest, the cherry blossoms of Mount Fuji, the Japanese bush warbler, and of course coffee beans as part of the collaboration with Starbucks.

Do you own any of the collectables in the JIMOTO made Series? Be sure to find out if a Starbucks you're visiting while in Japan is part of the series.

Information

Starbucks JIMOTO made Series KOSHU – 296ml Cup With Koshu Inden Sleeve

Japanese Product Name: 甲州印伝スリーブ付カップ 296ml
Released: January 27, 2021

Price: ¥8,200 (Before Tax)

Available: At the following Yamanashi Prefecture branches of Starbucks: Laza Walk, Kofu Wado-dori, Kofu River City, AEON Mall Kofu Showa Floor 1F,  AEON Mall Kofu Showa Floor 3F, Kofu Alps-dori, University of Yamanashi Hospital, Kofu Heiwa-dori
Official Website: https://www.starbucks.co.jp/jimoto/

Starbucks Japan's Valentine's Beverages Are a Loving Chocolatey Treat

Starbucks Coffee Japan is starting Valentine's Day early with a line-up of three chocolatey drinks inspired by the day of love that will begin being served in Japan from January 20, 2021.

The first two drinks to arrive are the Melty Raw Chocolate Frappuccino®︎ and Melty Raw Chocolate Mocha. The third and final drink, the Chocolate On The Chocolate Frappuccino®︎, will hit coffee branches on January 27.

Melty Raw Chocolate Frappuccino®︎ | Tall ¥590 (Tall size only)
Melty Raw Chocolate Mocha | Short ¥450 / Tall ¥490 / Grande ¥530 / Ventii®︎ ¥570

Coffee couples can look forward to sipping on the Melty Raw Chocolate Frappuccino®︎, a rich drink made with velvety fresh cream, smooth chocolate cubes, a drizzle of raw chocolate sauce, and topping of red-coloured chocolates shaped like love hearts. If they're looking for something to keep them snugged up warm and cosy this winter, then the Melty Raw Chocolate Mocha is the one to go for, a twist on the classic caffè mocha that contains chocolate cubes that slowly melt into the drink.

Chocolate On The Chocolate Frappuccino®︎ | Tall ¥620 (Tall size only)

If you're really craving chocolate during Starbucks's Valentine's season, then you'll want to order the Chocolate On The Chocolate Frappuccino®︎, a mountainous drink loaded with three kinds of chocolate. Crushed chocolate biscuit, chocolate cubes, brownie and cake-like chocolates, and more. Mix it all together for a tasty experience that's sure to have you falling in love – whether with the drink or your date!

Classic Chocolate Cake | ¥440


Ruby Chocolate Cake | ¥540

Valentine's Day wouldn't be complete without some delicious desserts. Starbucks has prepared a classic chocolate cake. Simple but tasty and pairs perfectly with a cup of Starbucks Caffè Verona. The ruby chocolate cake is love at first sight, a fruity delight that comes as Starbucks Japan's first dessert to be made with ruby chocolate – the fourth type of chocolate alongside milk, dark, and white.

Information

Starbucks Valentine
Running: January 20, 2021 – February 14, 2021
*Chocolate On The Chocolate Frappuccino®︎ available from January 27

Available: Starbucks Japan (Select branches not participating)

Starbucks Japan Reveals Earl Grey Honey Whip Frappuccino®and 3 New Tea Lattes

Starbucks Coffee Japan is pouring four new beverages into its ongoing winter beverage series starting on December 26: the Earl Grey Honey Whip Frappuccino®, Earl Grey Honey Whip Tea Latte, Chai & Whip Chocolate Tea Latte, and Houjicha Cream Tea Latte.

Fragrant Frappuccino® combining Earl Grey and sweet honey

Earl Grey Honey Whip Frappuccino®: Tall ¥590 (Tall Size Only)
Earl Grey Honey Whip Tea Latte (Hot Only): Short ¥450 / Tall ¥490 / Grande ¥530 / Venti® ¥570

Serving: December 26, 2020 – January 19, 2021

What better way to enjoy the winter season than with a cup of the Starbucks Earl Grey Honey Whip Frappuccino® or Earl Grey Honey Whip Tea Latte, both of which fuse the fragrant and elegant flavour of Earl grey with refreshing milk, sweet honey, and a topped of whipped cream. Both beverages are finished with a snow-dusting of white chocolate flakes.

Tea, tea, tea! Three tea lattes with distinct flavours

Earl Grey Honey Whip Tea Latte (Hot Only): Short ¥450 / Tall ¥490 / Grande ¥530 / Venti® ¥570

Chai & Whip Chocolate Tea Latte (Hot Only): Short ¥450 / Tall ¥490 / Grande ¥530 / Venti® ¥570

Houjicha Cream Tea Latte: Short ¥430 / Tall ¥470 / Grande ¥510 / Venti® ¥550
Serving: December 26, 2020 – January 19, 2021

As well as the Earl Grey Honey Whip Tea Latte, there's the spicy Chai & Whip Chocolate Tea Latte topped with white chocolate and nutmeg as well as the Houjicha Cream Tea Latte which contains houjicha tea, white chocolate syrup, and whipped cream dusted with brown sugar. The mix of tea and milk makes for a harmonious indulgence.

Butterscotch Latte returns for winter

Butterscotch Latte (Hot/Iced): Short ¥420 / Tall ¥460 / Grande ¥500 / Venti® ¥540
Serving: December 26, 2020 – March 16, 2021

Taking inspiration from Starbucks Reserve® Roastery Tokyo, all Starbucks branches in Japan will serve the Butterscotch Latte, using different ingredients from Roastery Tokyo, a combination of rich buttery and caramelly butterscotch sauce, a shot of espresso, and steamed milk.

Starbucks Japan Opens Nishitokyo Branch by 300-Year-Old Camphor Tree

Starbucks Coffee Japan opened a new branch on Thursday (November 25) in Nishitokyo, a western area of Tokyo, next to an ancient 300-year-old camphor tree. The coffee shop opens with a gorgeous wooden interior.

Starbucks Nishitokyo

Starbucks Nishitokyo was built on top of a long-standing cafe called Kusunoki in Musashino, Tokyo that was loved by locals for 40 years before closing down. The Starbucks branch, with its striking warm wooden decor, takes inspiration from an old 300-year-old tree that stands 23-meters tall and 7 meters in circumference. The old round pillars that kept the previous cafe Kusunoki standing have been kept in place and built around, incorporating a tall new triangular roof, lights, and the walls, and more—all as an homage to the old cafe. This way, memories of the beloved can be passed on while making way for a new chapter in history.

Starbucks's wooden decor

Starbucks Shinshu Zenkoji Nakamise-dori branch


Starbucks Shikishima Park branch

Starbucks Nishitokyo comes as the latest Starbucks branch to have entirely wooden decor, something which the company has been incorporating much of in Japan in recent years. The Shinshu Zenkoji Nakamise-dori branch is made using five different types of trees sourced in Nagano Prefecture. The Shikishima Park branch offers an incredible view of the park's flowers and trees, including the cherry blossoms when they bloom in spring.

Starbucks Japan is opening another wooden branch in Spring 2021 at Ise Grand Shrine.

An initiative to use wood grown in Japan

Starbucks Shinjuku Gyoen branch


Starbucks LINKS UMEDA branch

The number of shops and cafes using local wood in Japan is on the rise in response to the issue of using domestic wood from places outside of a local area. Starbucks Shinjuku Gyoen, for example, has walls, a ceiling, and drinks counter made from wood sourced in Tama, Tokyo, while Starbucks LINKS UMEDA has pillars made of wood taken from trees in Umeda, Osaka.

Information

Starbucks Coffee Nishitokyo
Address: 5-19-10 Shinmachi, Nishitokyo, Tokyo
Grand Opening: November 25, 2020
Opening Hours: 7:30-22:30
No Fixed Holidays

Official Website: https://www.starbucks.co.jp/

Starbucks Japan Announces New Branch Opening at Ise Grand Shrine

Starbucks Coffee Japan has announced the opening of a new branch at Ise Grand Shrine's Naiku Inner Shrine in Spring 2021. Ise Grand Shrine is an ancient shrine in Ise, Mie Prefecture with a history spanning almost 2,000 years.

The new coffee shop will opposite Oharaimachi-dori, a beautiful, stove-paved 800m road that continues from Uji Bridge along the Isuzu River. The two-floored cafe features wooden architecture while incorporating Starbucks essence in a way that does not make it look unnatural in this historical and traditional area. Its first floor is where you will find the bar counter ready to welcome guests with vim and vigour while the second floor will be the bustling seating area.


Starbucks hopes to act as a hub for the locals and visitors to the shrine where they can foster community over a cup of coffee. The cafe windows offer a beautiful view of the street together with the mountain range in the background. A must-visit for anyone travelling to Ise Grand Shrine.

Information

Starbucks Coffee Ise Naikumae
Address: 37-4 Ujiimazaikecho, Ise, Mie 516-0024
Grand Opening: Spring 2021
Opening Hours: 8:00-17:00
No Fixed Holidays
Official Website: https://www.starbucks.co.jp/

Starbucks Japan Reveals Matcha x Matcha White Chocolate Frappuccino®

Starbucks Coffee Japan has revealed that its second instalment of its limited-edition holiday season 2020 beverages will be the "Matcha x Matcha White Chocolate" and "Matcha x Matcha White Chocolate Frappuccino®" which customers can order from November 24. A new batch of festive Starbucks merch will also hit Japanese branches on November 30.

A harmonious fusion of matcha and sweet white chocolate

Matcha x Matcha White Chocolate Frappuccino® Tall ¥590 (Tall-size only)

Matcha x Matcha White Chocolate: Short ¥450 / Tall ¥490 / Grande ¥530 / Venti® ¥570 (Hot option only)

Matcha is one of Starbucks Japan's signature flavours and just to happens to have been in the spotlight in last year's holiday season drinks. This year sees marbling mixture of of rich matcha sauce and sweet white chocolate syrup with the Frappuccino®, finished with a squirt of whipped cream, brownie bits, and snowy powdered sugar. The hot version comes as a marriage of matcha and white mocha mixed together with steamed milk to warm the cockles of hearts during the cold months.

New holiday season merchandise

The theme of the second batch of merchandise is "Brilliant Season" which capture the bright and sparkly vibe of winter like with the snowflake-covered stainless steel bottle, a glass mug with beads in it that move around when shaken, a snow globe, and more. The perfect line-up for capturing the holiday season mood during your coffee break.

Starbucks Japan is currently serving the Berry x Berry No-Bake Cheesecake Frappuccino® and Berry x Berry White Mocha holiday season drinks for the holiday season until November 24 when they will be replaced by the Matcha x Matcha White Chocolate and Matcha x Matcha White Chocolate Frappuccino®. It is also serving the Starbucks® Christmas Blend, Gingerbread Latte, and Macadamia Toffee Latte until Christmas Day.

Information

Matcha x Matcha White Chocolate and Matcha

Matcha White Chocolate Frappuccino®

Running: November 1, 2020 – December 25, 2020

Available: Starbucks in Japan
Starbucks Japan Official Website: https://www.starbucks.co.jp/

Starbucks Japan Announces 2021 Fukubukuro Lucky Bag Orders

Starbucks Coffee Japan has announced that it is opening orders for its 2021 fukubukuro on November 16, 2020. Recipients will be chosen randomly.

Fukubukuro is a Japanese New Year custom where customers can buy bags filled with unknown contents, usually at a discounted price. Starbucks is also joining in with the annual tradition to deliver luck to its customers.

2021 Starbucks Fukubukuro | ¥7,500 (Tax Included)

Starbucks's fukubukuro are canvas tote bags made partly with recycled cotton. The contents are unknown but it is confirmed that there will be fukubukuro-exclusive items as well as original merchandise, drink tickets, and more. This year, they have also added a special coffee bean card which customers can exchange at Starbucks in Japan for a bag of coffee beans of their choice.

Information

2021 Starbucks Fukbukuro

Online Entries: November 16, 2020 – November 26, 2020

Winner Announcements: December 7, 2020

Shipping: January 1, 2021 – January 6, 2021

Starbucks Japan Official Website: https://www.starbucks.co.jp/luckybag/

Starbucks Reserve®︎ Roastery Tokyo is Serving a Special Roastery Holiday Season For 2020

Starbucks Coffee Japan has announced that the holiday season at Starbucks Reserve®︎ Roastery Tokyo is set to begin on November 13, 2020. "Special Roastery Holiday" is the theme this year, for which the specialist coffee branch will be serving a line-up of unique beverages for the holiday season, as well as decorating each of its three floors.

Eggnog Latte ¥900 | Butterscotch Chai Tea Latte ¥950 | Nakameguro Porthole Winter ¥4,200 | Strawberry Chai Nog ¥2,000 (Before Tax)

This autumn and winter, the Roastery is serving a variety of seasonal flavours for its "STARBUCKS RESERVE® CHRISTMAS 2020" line-up. Customers can look forward to the smell of warm cedar fragrance, orange marmalade, spices, and butterscotch. These beverages, each of which is served on a different floor at the coffee shop, are so beautiful they almost seem a waste to sip.

Bottom Right: Cornetti Lampone Chocolate ¥420 | Bottom Left: Maritozzo Lampone & Fragola ¥380 | Top Left: Holiday Panettone ¥5,400 | Top Right: Zuppa Inglese ¥580

Popular Italian bakery Princi® has baked up a selection of authentic Italian treats for the holiday season too, including a classic panettone.

Red Stainless Steel Tumbler 473ml ¥3,800 | Red Round Mug 355ml ¥2,500 | Small Red Tote Bag ¥2,300 | Round Tumbler 355ml ¥2,500 (Before Tax)

Starbucks Reserve®︎ Roastery Tokyo is also selling some limited-edition merchandise too both in-store and on their website so everyone can enjoy delicious drinks at home too.

Starbucks Japan Reveals Berry Berry Cheesecake Frappuccino® for the Holiday Season

Starbucks Coffee Japan is set to launch the Starbucks holiday season on November 1 with a selection of special drinks and products. The theme this year is "a Special Holiday with Starbucks Classics."

The coffee chain revealed three seasonal drinks for the holiday season this week including the Starbucks® Christmas Blend, Gingerbread Latte, and Macadamia Toffee Latte. Now they're showcasing the "Berry x Berry No-Bake Cheesecake Frappuccino®" and "Berry x Berry White Mocha" which will also be added to the seasonal menu.

Berry x Berry No-Bake Cheesecake Frappuccino® | Tall ¥590 (Before Tax)

Berry x Berry White Mocha | Short ¥450 | Tall ¥490 | Grande ¥530 | Venti® ¥570 (Before Tax)

Opening up the first holiday season door at Starbucks is the Berry x Berry No-Bake Cheesecake Frappuccino®, a sweet and sour combination of no-bake cheesecake and a tangy sauce made from strawberries, cranberries, and raspberries. The drink is inspired by the Cranberry Bliss Bars sold at Starbucks, indulging your mouth with a mouth-watering mixed berry fusion to bring a smile to your face at the first taste.

If you're looking for a hot beverage during the autumn and winter season, then the Berry x Berry White Mocha has you covered. This too contains the mixed berry sauce and is also laced with a white chocolate sauce. To finish, a shot of espresso and steamed pink for a rich kick to the sweetness. The espresso adds a deep flavour akin to caramel.

Starbucks Japan have also posted a special advent calendar on their official Instagram page which will run from November 1 up to Christmas Day where they will post various clips and videos. One video will be in collaboration with Japanese singer-songwriter Dai Hirai who is set to produce a new song for the event and perform it live online.

Information

Berry x Berry No-Bake Cheesecake Frappuccino®
Berry x Berry White Mocha
Running: November 1, 2020 – November 24, 2020

Available: Starbucks in Japan
Starbucks Japan Official Website: https://www.starbucks.co.jp/

Starbucks Japan Reveals Gingerbread Latte For the 2020 Holiday Season

Starbucks Coffee Japan is set to launch the Starbucks holiday season on November 1 with a selection of special drinks and products. The theme this year is "a Special Holiday with Starbucks Classics."

With less than two months to go before Christmas, the coffee chain is set to release a variety of seasonal beverages including the Starbucks® Christmas Blend, Gingerbread Latte, and Macadamia Toffee Latte. It will also release the first range of holiday season merchandise on November 6.

Hot and cosy drinks for the holiday season

Macadamia Toffee Latte: Short ¥440 | Tall ¥480 | Grande ¥520 | Venti ® ¥560

Gingerbread Latte: Short ¥420 | Tall ¥460 | Grande ¥500 | Venti ® ¥540

Winter White Chocolate: Short ¥400 | Tall ¥440 | Grande ¥480 | Venti ® ¥520

The spicy Gingerbread Latte is a must-have on the menu during the holiday season at Starbucks, one that latte lovers look forward to every year. And this year, coffee consumers in Japan have two new drinks to look forward to: the Macadamia Toffee Latte which is a crunchy combination of macadamia nuts and sweet toffee, and the snowy powdered sugar-topped Winter White Chocolate.

Starbucks® Christmas Blend and Cranberry Bliss Bar Pairing

From Left: Starbucks® Christmas Blend Espresso Roast | Starbucks® Christmas Blend | Starbucks® Christmas Blonde Roast – ¥1,520 Each (Before Tax)

A cup of Starbucks's Christmas Blend fills you with that cosy nostalgic feeling of the season. This year's recipe at Starbucks Japan is inspired by the one first sold in 1984 which has a rich, deep blend. It's a coffee combination of dark roast Sumatran, Papua New Guinean, Columbian, and Guatemalan coffee beans. There's also some aged Sumatra coffee in there to elevate the flavour.

Each cup is a complex mix that brings to mind herbs and spices, and hidden within all that a subtle sweetness.

Cranberry Bliss Bar | ¥270 (Before Tax)

Starbucks Japan is bringing back its signature Cranberry Bliss Bar dessert for the holiday season and pairing it with the Christmas Blend. The cake has orange in it which brings a tangy but fresh kick that matches heavenly with the spicy notes.

The First Merchandise Batch

The first batch of holiday season merchandise to drop at Starbucks Japan incorporates Christmas motifs like ribbons, candy canes, and reds and white colouring. The line-up includes a stainless steel bottle with a gingham checked pattern and gold dots to a stainless TOGO cup with a classic design reminiscent of a candy cane, notebooks, and more.

The holiday season is shaping up to be another cosy welcoming again this year at Starbucks Japan.

Information

Starbucks Japan Holiday Season 2020

Running: November 1, 2020 – December 25, 2020

Merchandise Batch 1: November 6, 2020 – December 25, 2020

Starbucks Japan Official Website: https://www.starbucks.co.jp/

Starbucks Japan to Release 2021 Diary Made From Recycled Milk Packs

Starbucks Coffee Japan is teaming up with KOKUYO, which is known for its hugely popular Campus notebooks, to release a 2021 diary at Starbucks branches in Japan and the Starbucks Japan online store on October 7, 2020. This is Starbucks' second collaboration with Campus.

In an effort to reduce waste, Starbucks has for a long time been recycling its coffee bean grounds, milk packs, and other items so that nothing goes to waste and everything is used to its fullest extent. The company began recycling its milk packs in 2010, and last August, released its first Campus notebook made from a combination of these packs as well as paper napkins and hand towels used in the stores.

2021 Starbucks Campus Scheduled Book | Colours: Black, White | ¥2,100

The new 2021 diary is made from recycled milk packs. Starbucks uses 1,000 tons of milk packs a year in Japan. Every day, all the milk packs are hand washed and dried by Starbucks Japan's partners and pressed into a shape so that they are easier to collect.

Each page of the month features a different design of Starbucks's coffee bean packs as well as stories, keywords related to taste, and other fun entries. The design for January 2021 is their Pike Place® Roast. Pike Place in Seattle, Washington is in fact where the very first Starbucks store opened. The left pages list the days and national holidays in Japan while the right pages have graph paper.

Information

2021 Starbucks Campus Scheduled Book

Release Date: October 7, 2020

Size: B6

Dates: December 2020 to December 2021

Pages: 176

Available: Most Starbucks stores in Japan and Starbucks Japan online
Official Website: https://www.starbucks.co.jp/