Travel Japan #8: An Early Afternoon at Okinawa's Beaches in Winter
Okinawa's ocean was transparent. It was early afternoon at a small beach in the middle of town.
It was outside swimming hours, but I couldn't help but step in. It was like a scene from heaven.
The white sand glistened in the ray of the sun. I wonder what kind of happiness I would find myself in if I were to live in a place like this.
The boundary between the sea and sky was unclear. It felt like if I were to keep walking I would arrive at the clouds.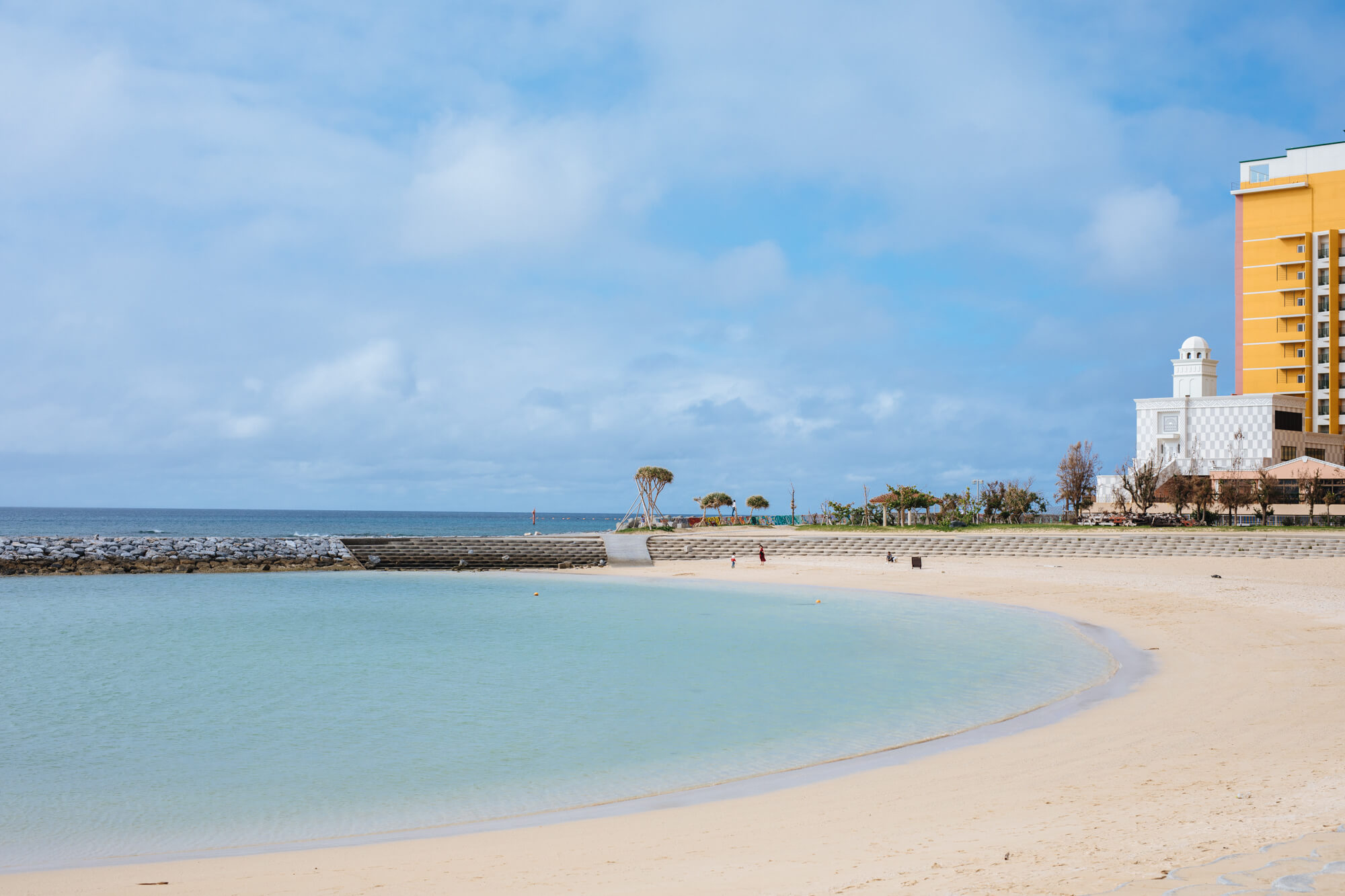 This beach exists among the ordinary lives of the people of Okinawa.
I wake up in the early morning and take a stroll across the sand, visiting each place. When evening comes I will see the sun set on this beach before returning home.
I believe that just having the ocean by you in your everyday life you can live a very  luxurious one.
I'm not even bothered about getting my pants wet. I feel like a child seeing the sea for the very first time.
The sea is calm and quiet. The waves washing ashore, too, are gentle. I feel released from anything and everything.
I lay out my vinyl sheet onto the sand and sit before the water, listening to the sounds of the waves.
I have with me the necessities for when conversing with the sun. Today's sunrays are light but one mustn't forget their sunscreen.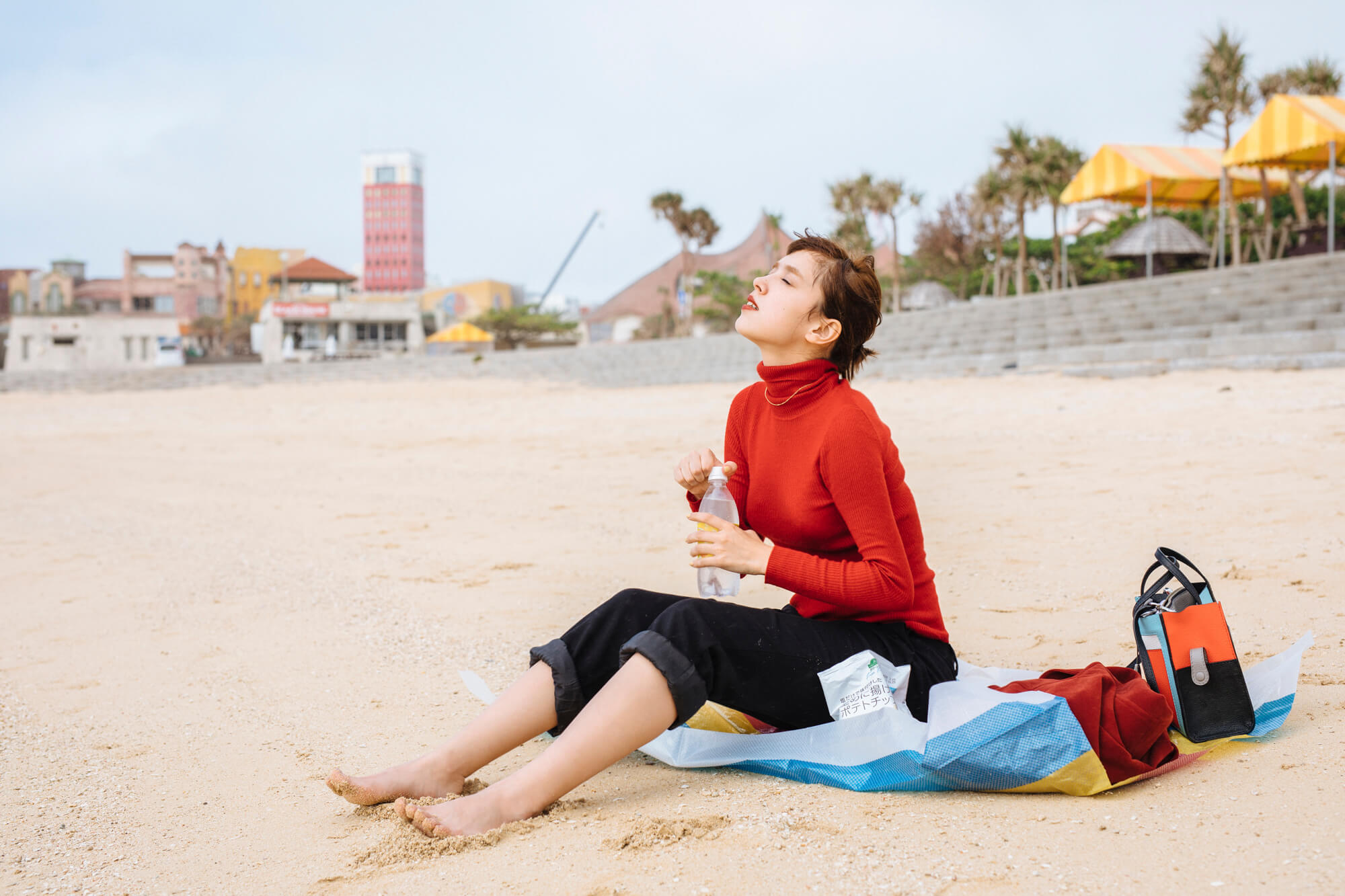 If I close my eyes I can see myself in the middle of the ocean and can walk across it.
If I dive into the transparent waters it's an emerald green. The view of the outside world from the bottom of the sea looks magical. If I grab ahold of the fish I'm sure to see an unknown world.
70% of the earth's surface is made up of water. The sea, which has given rise to infinite lives, has taught me the breadth of the world―too vast to comprehend―how small I am and how grand nature is.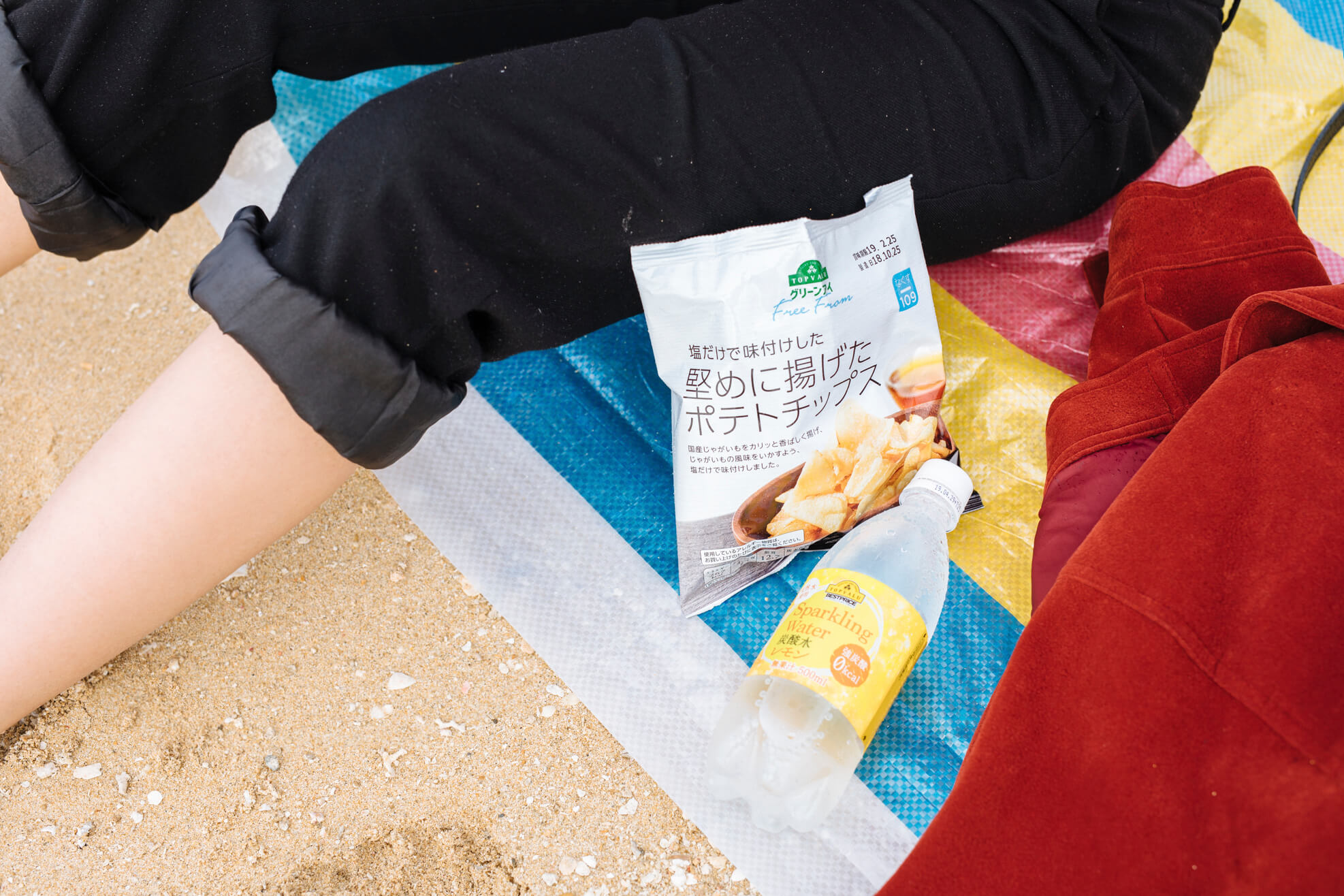 I enjoy my alone time on the beach. I wash down my potato chips with sparkling water which bubbles in my mouth like the sea waves.
This pure sea, with no murkiness, elucidates my feelings. I head back to land and walk the beach once more.
My throbbing heart, which cannot be captured in a photo, is left in the footprints on the sand.
Model / Mala Morgan
All the beach necessities you need are right there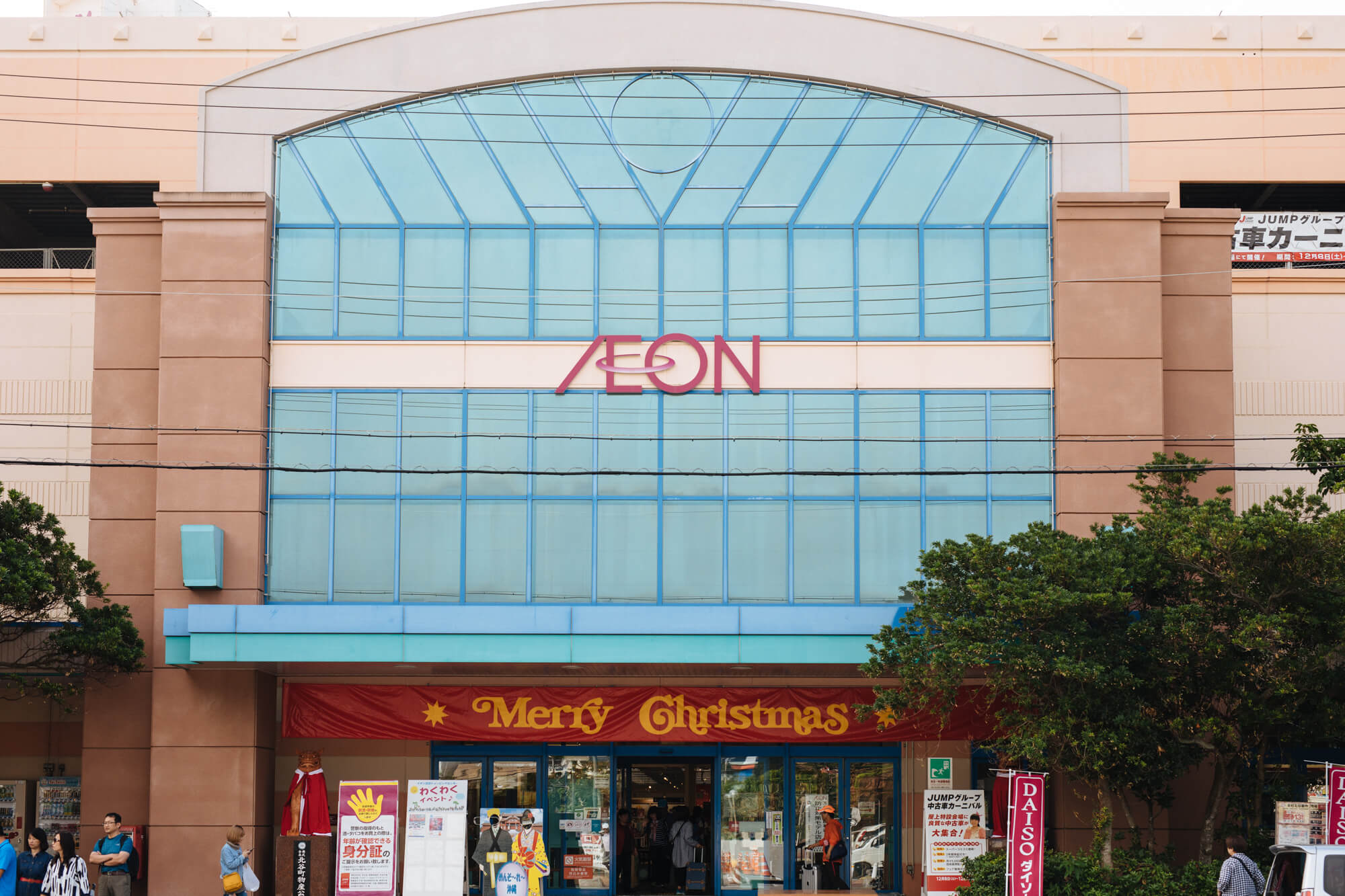 After arriving at the beach I first went shopping. I go to AEON Chatan, a 5-minute walk from Chatan Sunset Beach. You can get your hands on just about everything: from a hat and sunscreen to food and drinks. It's convenient because it means there's no need to pack lots of things before your trip.
AEON Chatan
Address: 8-3 Mihama, Chatan-cho, Nakagami District, Okinawa Prefecture
Business Hours: Food 7:00-Midnight / Cosmetics & Daily Necessities 10:00-Midnight
*Select stores have different opening hours.
TEL: 098-982-7575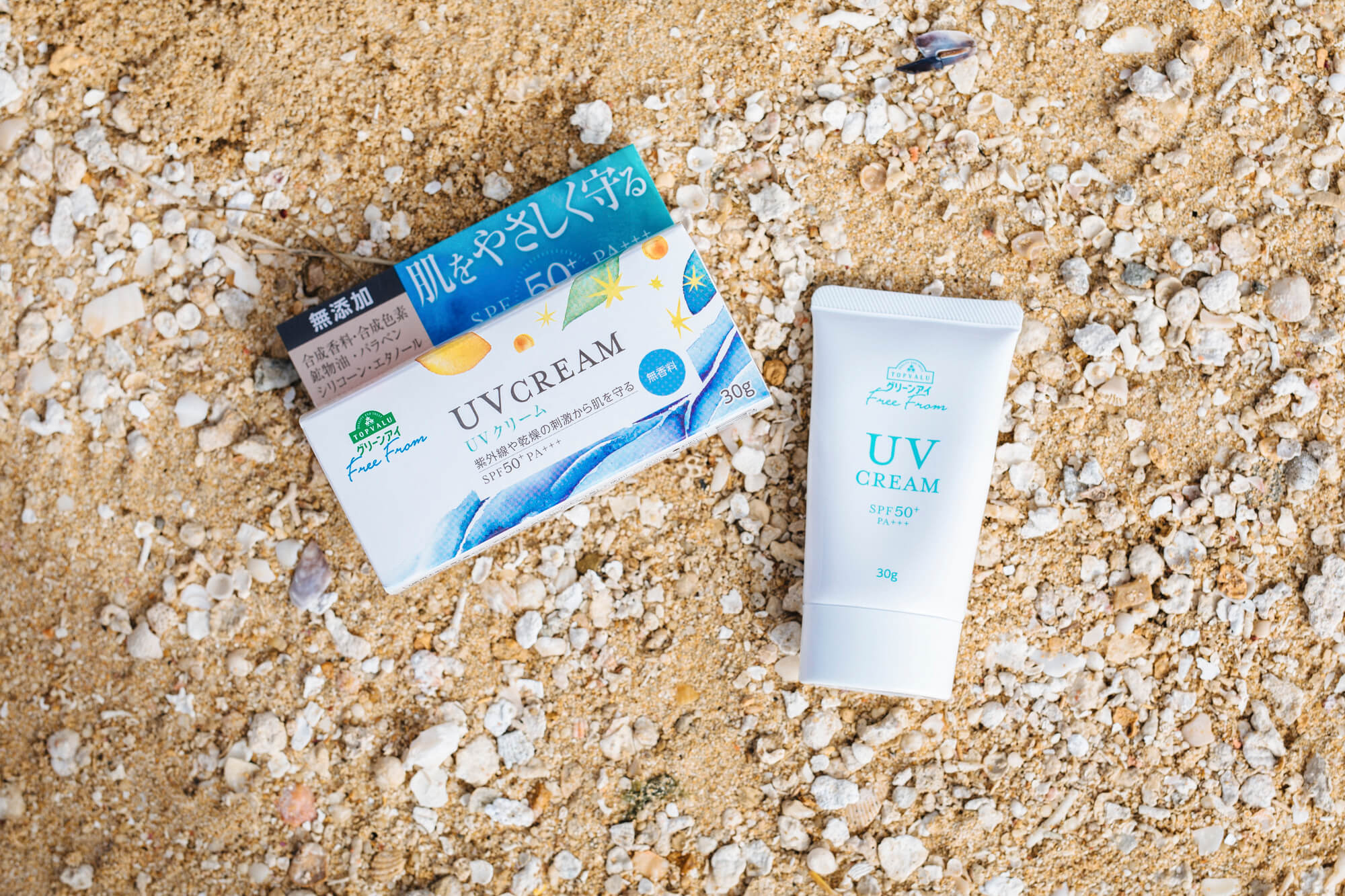 TOPVALU Free From UV Cream  ¥980 (Before Tax) / ¥1,058.40 (Tax Included) – 30g
TOPVALU's UV Cream protects your skin from ultraviolet rays and dryness. Even when it's out of season Okinawa's sunrays are like that of summer, so it's important to look after yourself during your trip. This slightly hard cream feels soft and dissolves on your skin. It's those moments of caring for your skin I like.
TOPVALU Green Eye Free From – Salted Fried Potato Chips  ¥78 (Before Tax) / ¥84.24 ― 55g
TOPVALU Best Price Lemon Sparkling Water ¥68 (Before Tax) / ¥73.44 (Tax Included)– 500ml
Sparkling water, potato chips and a break on the beach. The chips are seasoned simply with salt to bring out the flavour of the potatoes. They have a satisfying crunch.
When eating potato chips there's no better complement than sparkling water. This water has strong carbonation. The refreshing taste of the lemon and fizzy bubbles made it feel like summer again.
*Tax-inclusive prices are displayed up to the second decimal point.
*In the case that multiple items are purchased, the fraction below the decimal point will also be added to calculate the consumption tax.
We are handing out coupons for the products mentioned here. Be sure to use them the next time you visit ÆON for great discounts.
5% Coupon:https://www.welcome-aeon.com/coupon/web_coupon.html
ÆON Store Search: https://www.welcome-aeon.com/storesearch/index.html
Information
About ÆON Group
ÆON Group is a retail corporate group based in Japan that has established 21,742 branches (as of February 2018) in 13 countries across Asia.
Its private brand TOPVALU sells high-quality products at an affordable price. The TOPVALU GURINAI range for example stocks a myriad of products crafted with the utmost care through various production techniques, and of the ingredients used only the best are selected.
The GURINAI range is divided into three parts that give customers the opportunity to easily purchase organic products and ingredients. 'TOPVALU GURINAI Organic' offers organic foodstuffs marked with the official organic stamp of approval. 'TOPVALU GURINAI NATURAL' provides fresh meat that, as a general rule, is farmed using no chemicals. 'TOPVALU GURINAI free from' stocks processed foods with additives, raw materials and ingredients taken into strict consideration.
ÆON Group Private Brand TOPVALU: https://www.topvalu.net (Japanese only)
RECOMMENDED ENTRIES
Travel Japan #1: An Organic Morning Welcomes Me to Kyoto

Passing over the crystal blue ocean and through the snowy white clouds, I finally arrived in the country I had longed to visit.

The destination I chose is a town in located in the west of Japan, one steeped in history. The first morning to welcome me in Kyoto came through the steam of my mug which rose beautifully, almost transparent. It all appeared mysterious. Just what was I going to discover on this trip?

This is the story of one girl who came to visit Japan from her home country.

The morning coffee I will drink in my hotel room is like a good luck charm. It's a requisite ritual of all my mornings, something that gives me a bit of courage.

"I hope today is like no other."

Whispering this quietly to myself, I pour the hot water into the filter.

As the water slowly drips I smell the rich notes of the coffee.

The heat from the mug warms me up from the inside like a gentle caress.

Right now, in this moment, I want to tear the view outside the window and put it in my coat pocket.

I sip my coffee as I feel gratitude for the beautiful morning and anticipate the adventure that is about to begin.

The light, the warmth and the smell. Just quietly admiring this scene – that's my morning ritual.

"I have to get going already," I murmur. I look to myself in the future a little.

I wear a small handbag with my mint coloured coat. Let's put this morning scene in one of them, because it was a fitting and refreshing start to the start of my trip.

I swing my eyes to the view outside the window once more and leave my room.

"I feel that I'll have become a different me when I return to this room."

Model: Mala Morgan

These are the organic items for my morning in Japan.

TOPVALU GURINAI – Organic Original Blend Drip Coffee:¥298 (Before Tax) /¥321 (Tax Included) 64g(8g×8count)

The green items sold by AEON's private brand TOPVALU are good for both me as well as the environment. Organic drinks are like good luck charms that make your body healthy and beautiful from the inside. This organic drip coffee has a full-bodied flavour, and it's easy to make, making it perfect for mornings when travelling.

TOPVALU ORGANIC ORANGE 100 – 100% Straight Organic Orange Juice:¥298 (Before Tax) /¥321 (Tax Included) 750ml

If my body craves fruit the moment I wake up, I sometimes go for orange juice. The refreshing sour taste of 100% organic orange juice makes me feel a little indulgent. Organic oranges that have been squeezed within 24 hours of picking are rich and very delicious.

We are handing out coupons for the products mentioned here. Be sure to use them the next time you visit ÆON for great discounts.

🎁 5% Coupon:
https://www.welcome-aeon.com/coupon/web_coupon.html

ÆON Store Search: https://www.welcome-aeon.com/storesearch/index.html

Information

About ÆON Group

ÆON Group is a retail corporate group based in Japan that has established 21,742 branches (as of February 2018) in 13 countries across Asia.

Its private brand TOPVALU sells high-quality products at an affordable price. The TOPVALU GURINAI range for example stocks a myriad of products crafted with the utmost care through various production techniques, and of the ingredients used only the best are selected.

The GURINAI range is divided into three parts that give customers the opportunity to easily purchase organic products and ingredients. 'TOPVALU GURINAI Organic' offers organic foodstuffs marked with the official organic stamp of approval. 'TOPVALU GURINAI NATURAL' provides fresh meat that, as a general rule, is farmed using no chemicals. 'TOPVALU GURINAI free from' stocks processed foods with additives, raw materials and ingredients taken into strict consideration.

ÆON Group Private Brand TOPVALU: https://www.topvalu.net (Japanese only)

Travel Japan #2: A Peaceful Breakfast Basked in the Sun at Kyoto's Kamo River

I left my room, and what stood in front of me calling like some outside force was the riverbed of Kamo River, a symbol of Kyoto. My plan for the day is still a blank sheet. If I listen carefully I can hear the calm flow of the stream. Where I'm meant to go will become clear in my mind's eye, I'm sure of it.

I didn't know the reason, but I felt that if I inhaled the morning air with all I had I would come to know.

"Where should I go first?" Thinking that, I set off to begin the story of my trip with all the freedom in the world.

The surface of the river is like a mirror, reflecting Kyoto's changing seasons all year round. No matter the season, the world through that streaming looking glass is sure to be beautiful.

Standing under the bridge was like being in a hiding place. It made me think of the first time I felt excitement when I was little.

"I wonder what I'm searching for on this journey?"

These are the words I thought this to myself while walking back and forth. This was a city that I instantly grew attached to.

Is it something I want to find myself; or is it something I want somebody else to find for me? Someone I don't know from in a city I don't know in a country I don't know.

The answer can only be found by working up the courage to knock on the door. Hints are hidden amongst the people and scenery I have yet to encounter in Kyoto.

I laid out my blanket at the riverside and gazed across the Kamo River.

I took my breakfast out of my bag.

Bread and milk: my morning meal whenever and wherever I am. It's a very natural cycle just like the blue sky, white clouds and unchanging scene before me.

I feel myself becoming hydrated at the silky taste of my almond milk.

I stuff my cheeks slowly with bread and a Danish pastry while painting a picture of the day I will have today.

It was the flowing river that laid it out to me as if singing me a sing.

It said, "When you get going, still with that curiosity inside you, you'll meet a you who you haven't met before."

As if someone had gently flicked a switch in my mind, my half-asleep body began to move.

I decide to set off after eating my breakfast. The map of my trip lies in my heart.

Model/ Mala Morgan

Incorporate beautifying foods into your breakfast.

TOPVALU 35% Reduced Sugar Soy Flour Danish Panettone:¥128 (Before Tax) / ¥138 (Tax Included) *Includes 2

TOPVALU Fluffy Onion Cheese Bread:¥98(Before Tax) / ¥105 (Tax Included) *Includes 1

Food from ÆON's TOPVALU range makes my breakfast tasty and refreshing. The danish pastry is fermented over a long period of time before being folded repeatedly to give it its moist texture.. The crunchy texture brings a satisfied smile to your face when chowing them down.

This bread contains sliced onion and black peppered ham dressed with mayonnaise as well as a sprinkling of shredded and melted Gouda cheese. The fluffy bread is just heavenly.

TOPVALU Almond Milk (Left):¥88円 (Before Tax) / ¥95(Tax Included) – 200ml 

TOPVALU Sugar Free Almond Milk (Right):¥88円 (Before Tax) /¥95(Tax Included) – 200ml

Packed with vitamin E, the highlight of this almond milk is its low calorie count. Its subtle sweetness and smooth texture complements the bread perfectly.

We are handing out coupons for the products mentioned here. Be sure to use them the next time you visit ÆON for great discounts.

🎁 5% Coupon:
https://www.welcome-aeon.com/coupon/web_coupon.html

ÆON Store Search: https://www.welcome-aeon.com/storesearch/index.html

Information

About ÆON Group

ÆON Group is a retail corporate group based in Japan that has established 21,742 branches (as of February 2018) in 13 countries across Asia.

Its private brand TOPVALU sells high-quality products at an affordable price. The TOPVALU GURINAI range for example stocks a myriad of products crafted with the utmost care through various production techniques, and of the ingredients used only the best are selected.

The GURINAI range is divided into three parts that give customers the opportunity to easily purchase organic products and ingredients. 'TOPVALU GURINAI Organic' offers organic foodstuffs marked with the official organic stamp of approval. 'TOPVALU GURINAI NATURAL' provides fresh meat that, as a general rule, is farmed using no chemicals. 'TOPVALU GURINAI free from' stocks processed foods with additives, raw materials and ingredients taken into strict consideration.

ÆON Group Private Brand TOPVALU: https://www.topvalu.net (Japanese only)

Travel Japan #3: A Peaceful Mind and Time at Higashi Honganji Temple in Kyoto

I began my walk through the streets of Kyoto which since long ago have been at the height of prosperity in Japanese history. I understand the marvel and easing of the heart from strolling around the numerous majestic temples.

The fallen maidenhair tree leaves which had changed colour beautifully were spread across the ground like a carpet leading up to a sacred place. Each step felt precious and cleared my mind.

And there I stood before it, overwhelmed at its magnificence.

This is Higashi Honganji Temple. Inside is a portrait of Shinran, a Japanese Buddhist monk and founder of the Jōdo Shinshū sect of Buddhism. The temple grounds are home to historical architecture, every piece of which stirred my soul as somebody who does not know Japan.

Despite it being my first time here I felt like I had returned once more. I wonder why?

I gave a respectful bow to this temple and its long history while feeling the breath of the people who once lived here.

My heart feels at peace when placing my hands together.

The act of praying may be one that has you facing yourself.

I drank my genmaicha tea and hydrated myself from the dry air while strolling through the temple grounds.

Kyoto is a mysterious place. It has a tolerance to accept anything. It was like the old buildings were talking to me―like they knew me from long ago.

In response and in a trance, I snapped a photo with my camera.

I wanted to burn the beauty of this temple into my memory so I will never forget it.

I was captivated by the sight of the falling leaves. I stood under the maidenhair and gazed as they fluttered. I wonder if somebody else from another time stood here and felt the same as I did as they looked on at Kyoto in fall.

The just-right bitterness and gentle sweetness of my almond chocolate stirs my imagination. The yellow leaves of the maidenhair dyed the path a golden road.

The grand temple and the maidenhair tree. My existence at this moment piles on top of Kyoto's unimaginably long history as a single instant.

Model / Mala Morgan

Add rich taste to your walk

TOPVALU Almond Chocolate Bitter 70%: ¥198(Before Tax)  ¥213 (Tax Included) – 70g

A box of ÆON's private brand TOPVALU 70% almond dark chocolate is always hidden in my bag. The flavour is moderately sweet and has just the right amount of bitterness perfect for those times when I'm lost in thought. I feel that every time I taste the almond in this chocolate now I will remember the carpet of maidenhair leaves.

TOPVALU Organic Genmaicha: ¥78(Before Tax) ¥84 (Tax Included) – 500ml

This tea is made from 100% organic tea leaves grown in Kagoshima Prefecture. It is a refreshing blend of green tea and flavoursome rice. The healthy ingredients in this tea are good for the body and when they hit every nook and cranny inside me make me want to take a walk anywhere in Kyoto.

We are handing out coupons for the products mentioned here. Be sure to use them the next time you visit ÆON for great discounts.

5% Coupon:
https://www.welcome-aeon.com/coupon/web_coupon.html

ÆON Store Search: https://www.welcome-aeon.com/storesearch/index.html

Information

About ÆON Group

ÆON Group is a retail corporate group based in Japan that has established 21,742 branches (as of February 2018) in 13 countries across Asia.

Its private brand TOPVALU sells high-quality products at an affordable price. The TOPVALU GURINAI range for example stocks a myriad of products crafted with the utmost care through various production techniques, and of the ingredients used only the best are selected.

The GURINAI range is divided into three parts that give customers the opportunity to easily purchase organic products and ingredients. 'TOPVALU GURINAI Organic' offers organic foodstuffs marked with the official organic stamp of approval. 'TOPVALU GURINAI NATURAL' provides fresh meat that, as a general rule, is farmed using no chemicals. 'TOPVALU GURINAI free from' stocks processed foods with additives, raw materials and ingredients taken into strict consideration.

ÆON Group Private Brand TOPVALU: https://www.topvalu.net (Japanese only)

Travel Japan #4: Magic Items to Heal My Tired Skin and Body

After my stroll around Kyoto I head back to my hotel for a break and think back over my day. My curiosity is piqued – I want to know more about the history of this place.

Laid sprawled across my bed I picture myself walking through the city, the seasons changing, giving a sideways look at an elegant temple. The vivid cherry blossoms of spring, the cool riverbeds in summer, the autumnal orange hues, and the snow-beds of winter. All of these moments provide a spectacle that cannot be overlooked.

I feel that more wonderful things are still yet to occur. It's nighttime, and my mind wanders at these thoughts, so I can't sleep.

I take out the Kyoto guidebook from my baggage. I trace the path I traveled today in my head which vividly brings the sights I saw to my mind's eye.

I let my body sink gently into the bed and absorb myself in reading, checking all the nooks and crannies of the book.

This ancient city boasted by the island country of Japan, which I crossed the sky and sea to arrive at, is more wonderful than I expected. The orderly townscape makes me sit up and feel tense, in a good way.

My mind becomes clear. It feels as if I have been looking far into the distance for a long time.

"I feel the path I am heading for is beyond that beautiful landscape."

My heart beats fast at that hope.

I walked a lot today, so I give myself a treat.

I bask in the aromas of the cool sheets I place on my legs and heal my body to the core.

I add to that a touch of permeating organic oil that's both moist and gentle on the skin. When my skin is happy my heart too benefits.

The night is still young. I enjoy some me-time with my makeup-less skin and heart. Resting like this is another important part of travel.

I flick through the guidebook over and over again and visualise the routes of the places I want to visit. A magic-imbued miracle occurs and I feel this room directly connecting to the places I wish to go to.

Afterwards I enjoy a late-night retro movie. I am sure my coming to love alone-time is thanks to this trip. I also feel I have become a little stronger than I was. I try praising myself as my heart throbs at my favourite scenes which I watch over and over.

Model / Mala Morgan

Give your tired body the luxury time it deserves

TOPVALU Leg & Calf Adhesive Cooling Sheet


¥460 (Before Tax) / ¥496 (Tax Included) – 18 Sheets (14cm x 10cm)

On days where my legs become swollen from walking I like to massage my legs in the bath. I then use ÆON TOPVALU's calf sheets which refresh my legs with the power of their aroma and give them care for the next day. I step into a new world with this body.

TOPVALU GURINAI Organic  geo organics Moisturizing Lotion
¥1,800 (Before Tax) / ¥1,944 (Tax Included) – 150ml

TOPVALU GURINAI Organic geo organics Pure Oil Macadamia
¥1,800 (Before Tax) / ¥1,944 (Tax Included) – 27ml


This Geo Organics certified skin location uses orange fruit extract as its base which moisturises and is astringent. It steadily permeates the skin and leaves it glowing. I use it together with the organic certified Pure Oil Macadamia. It maintains a balance of normal bacterial flora of the skin and contains lots of palmitoleic acid which is said to enhance barrier function. The power of the macadamia nuts also grants lively skin. I don't want to mess up tending to my skin even when traveling.

We are handing out coupons for the products mentioned here. Be sure to use them the next time you visit ÆON for great discounts.

🎁 5% Coupon:https://www.welcome-aeon.com/coupon/web_coupon.html

ÆON Store Search: https://www.welcome-aeon.com/storesearch/index.html

Information

About ÆON Group

ÆON Group is a retail corporate group based in Japan that has established 21,742 branches (as of February 2018) in 13 countries across Asia.

Its private brand TOPVALU sells high-quality products at an affordable price. The TOPVALU GURINAI range for example stocks a myriad of products crafted with the utmost care through various production techniques, and of the ingredients used only the best are selected.

The GURINAI range is divided into three parts that give customers the opportunity to easily purchase organic products and ingredients. 'TOPVALU GURINAI Organic' offers organic foodstuffs marked with the official organic stamp of approval. 'TOPVALU GURINAI NATURAL' provides fresh meat that, as a general rule, is farmed using no chemicals. 'TOPVALU GURINAI free from' stocks processed foods with additives, raw materials and ingredients taken into strict consideration.

ÆON Group Private Brand TOPVALU: https://www.topvalu.net (Japanese only)

Travel Japan #5: Experiencing Everyday Life in Japan at a Supermarket in Kyoto

After getting to know some Kyoto history I wanted to know more about today's Kyoto. The enormous and modern terminal of Kyoto Station contrasts with the temples I'm so interested in. The two co-exist in harmony. I could see Kyoto Tower through the glass – it stood tall like it was watching over this ever-changing city. I will change my perspective today and walk the streets like the locals who live here in Kyoto.

My destination is undecided. It's nice to surrender yourself to the flow of the people once in a while and head towards your goal as in Amidakuji (Ghost Leg lottery). Because I've learnt on my trip that you can encounter wonderful things by chance on occasion.

The glass walkway is like a tunnel into the future.

I look at my reflection in the window and see I have become more of an adult.

Stood there I gaze for a long time up at Kyoto Tower. As I stare I think about how the city changes, people change, the days transition, but how there are also things I want to stay the same.

The next place I head to is Aeon Mall, a shopping centre close to Kyoto Station. This is a foreign supermarket to for me, so I get excited. It's like sifting through a toy box.

An ordinary day for the people living in this country is an extraordinary day for me.

Each and every thing in there is something I've never laid eyes on before.

I walk around, forgetting about the passage of time, and get a glimpse into the simple yet happy lifestyle of people.

There's a conveyor belt sushi restaurant in the mall, something I had been yearning for.

I wonder if my friends would laugh if I told them that the sushi coming round on a conveyor belt is like something out of a Tim Burton movie?

I feel like the protagonist of that film as I eat the sushi that rolls on by.

I visited a general store where everything is sold for ¥100.

I bought a letter set from here and wrote a letter to my precious friend.

To my beloved friend,

Japan is a really wonderful place.

I'm determined to absorb everything I see and experience in the limited time I have here.

I don't know what I will discover on this trip, what I am heading towards.

It's hard to describe in words, but I will continue my travels.

Model: Mala Morgan

Aeon Mall Kyoto: A Japan-packed shopping mall 10 minutes on foot from Kyoto Station

Aeon Mall Kyoto is just a 10-minute walk from Kyoto Station. Its shelves are lined with daily necessities, you can dine there, buy souvenirs and more. On Weekends and national holidays there are free shuttles bus that runs every 15 minutes from Kyoto Station's Hachijoguchi Exit which is very convenient for travellers with heavy luggage.

I really recommend visiting if ever you're in Kyoto.

Aeon Mall Kyoto

Address: 1 Nishikujō Toriiguchichō, Minami Ward, Kyoto

Business Hours: Different for each store. Please visit the mall's website below to check opening hours.

Website: http://kyoto-aeonmall.com/

KOHYO (Aeon Mall Kyoto – Sakura Building Floor 1F)

KOHYO is a supermarket that sells various Japanese goods. I get my hands on a range of daily necessities and ingredients as I feel with my own skin what it's like to real live life in Japan.

Business Hours: 9:00-22:00

Website: http://www.kohyo.co.jp/

Kaiten Sushi Uogashi (Aeon Mall Kyoto – Sakura Building Floor 4F)

Kaiten Sushi Uogashi is a conveyor belt sushi restaurant that sells over 20 types of seafood everyday. The ingredients change each day. I reconfirm that I really am in Japan as I tuck into my delicious sushi.

Business Hours: 10:00-22:00 (Last Orders 21:30)

Website: http://www.maruchu-sushi.com/

DAISO (Aeon Mall Kyoto – Kaede Building Floor 4F)

DAISO stocks new products every single day. There are ¥100-type stores in every country, but the ones in Japan really are something special! They have so many items that make for perfect souvenirs. It's an irresistible place for girls who love shopping so I've got to tell my friends about it.

Business Hours: 10-00-21:00

Website: http://www.daiso-sangyo.co.jp/

Information

About ÆON Group

ÆON Group is a retail corporate group based in Japan that has established 21,742 branches (as of February 2018) in 13 countries across Asia.

Its private brand TOPVALU sells high-quality products at an affordable price. The TOPVALU GURINAI range for example stocks a myriad of products crafted with the utmost care through various production techniques, and of the ingredients used only the best are selected.

The GURINAI range is divided into three parts that give customers the opportunity to easily purchase organic products and ingredients. 'TOPVALU GURINAI Organic' offers organic foodstuffs marked with the official organic stamp of approval. 'TOPVALU GURINAI NATURAL' provides fresh meat that, as a general rule, is farmed using no chemicals. 'TOPVALU GURINAI free from' stocks processed foods with additives, raw materials and ingredients taken into strict consideration.

ÆON Group Private Brand TOPVALU: https://www.topvalu.net (Japanese only)

Travel Japan #7: A New Adventure Begins on the Southern Island of Okinawa

I set off on the next part of my trip, crossing the ocean once more and heading in the direction of Okinawa. Okinawa is home to 150 islands, has a tropical climate and expansive beautiful blue beaches. I want to see another side of Japan completely different from Kyoto.

I wonder what the Ryukyu Kingdom will show me, which established and prospered an independent culture. When I arrive at the airport, I can already feel the breeze of the southern islands. It's a breeze that serves as a prologue to what feels like the start of a new story.

With my pink suitcase in hand, I let my imagination run wild as I picture the sights outside the airport. The pink on my suitcase sways to and fro like a little pink boat, and I'm the captain and sole rower of that boat.

I encountered a Shisa, a lion statue and god that protects Okinawa, so I locked eyes with it and expressed some words of gratitude.

It feels like something good is going to happen.

I don't want to leave this place yet. When I gaze at the aeroplane taking off…

…I get a feeling that I can do anything.

The sound of the engine, the force of the airframe seen up close.

My body still remembers the great speed at takeoff.

People can soar the skies; they can go anywhere in this world. I can feel strong thinking about just that.

As I look for the exit, I feel the calm flow of time here and it's different from the mainland.

I have plenty of time, so I don't have to rush. I can begin searching for my destination with relaxed steps.

The air of the islands in the south makes my heart feel calm so I notice how soft and gentle people's voices and facial expressions are. It makes me remember how nature and people's hearts are connected.

I take a seat on the bench and stuff my face with the nut and banana chip mix which is a replacement for my breakfast. My somewhat hazy head starts to become clearer and I see the next place I need to go.

There was a water tank next to the bench.

I wonder if the fish inside the tank remember the ocean. The colourful tropical fish inside this water tank, surrounded by tourists, live freely and in an environment with no threats.

"It's wonderful so live small and comfortably, but I want to see the big wide world."

I wait for the departure as I look at the beautiful fish. It wouldn't be an exaggeration to call them precious gems.

I say my goodbyes to the fish and head outside with a kick in my step. A new journey is about to begin. The Okinawan sky is smiling at me.

Model / Mala Morgan

A healthy morning travel breakfast

TOPVALU Smooth Zipper Carry Case M ¥9,800 (Before Tax) / ¥10,584 (Tax Included) – Pink

This carry case is an eye-catching pink colour which makes it easy to spot at the airport when you're claiming your baggage. It stands on excellent tyres that are quiet when the case is rolled. Its size also means it holds plenty of luggage. Because it has another fastener for expanding the case, you can rest easy that you won't have to leave anything behind when your luggage inevitably builds up during your trip. I want to pack my memories of Okinawa into it and head to the next town.

TOPVALU Nuts & Banana Chip Mix ¥158 (Before Tax) / ¥170.64 (Tax Included) – 31g

My breakfast today was a nuts and banana chip mix. It's healthy so I'm using them for support up to lunch and as a snack on my trip too. The combination of banana chips and the nuts, which are full of dietary fibres, is a more delicious mix than I had imagined. I'm getting addicted.

*Tax-inclusive prices are displayed up to the second decimal point.
*In the case that multiple items are purchased, the fraction below the decimal point will also be added to calculate the consumption tax.

We are handing out coupons for the products mentioned here. Be sure to use them the next time you visit ÆON for great discounts.

5% Coupon:https://www.welcome-aeon.com/coupon/web_coupon.html

ÆON Store Search: https://www.welcome-aeon.com/storesearch/index.html

Information

About ÆON Group

ÆON Group is a retail corporate group based in Japan that has established 21,742 branches (as of February 2018) in 13 countries across Asia.

Its private brand TOPVALU sells high-quality products at an affordable price. The TOPVALU GURINAI range for example stocks a myriad of products crafted with the utmost care through various production techniques, and of the ingredients used only the best are selected.

The GURINAI range is divided into three parts that give customers the opportunity to easily purchase organic products and ingredients. 'TOPVALU GURINAI Organic' offers organic foodstuffs marked with the official organic stamp of approval. 'TOPVALU GURINAI NATURAL' provides fresh meat that, as a general rule, is farmed using no chemicals. 'TOPVALU GURINAI free from' stocks processed foods with additives, raw materials and ingredients taken into strict consideration.

ÆON Group Private Brand TOPVALU: https://www.topvalu.net (Japanese only)
RELATED ENTRIES
Fall Into Autumn With an Enchanting Boat Ride Through Arashiyama in Kyoto

HOSHINOYA Kyoto has announced a special new serving for one group a day that lets them bask in the autumn colours of Arashiyama. The service, entitled "Asa no Momiji Bune" (Morning Autumn Colours Boat), will run from November 20 to December 6 this year.

A cosy autumn morning boat ride all to yourself

Sail down the tranquil Oi River, which runs right beside HOSHINOYA Kyoto, and bask in the surrounding sights of Arashiyama and Ogurayama as they burn aflame with autumnal colours. Wrapped in reds and yellows in every direction, this morning experience is a rare opportunity witness Japan's fall season like never before as you gaze at the crisp leaves of the trees and their reflection from the water's surface.

Sweet wagashi treats just for you

While on the boat, guests are treated to a cup of matcha and some seasonal Japanese wagashi confections, like hard candies shaped like HOSHINOYA Kyoto's logo and other colourful sweets made to look like maple leaves, ginkgo leaves, and more. These confections are made exclusively for the boat ride by Kameya Yoshinaga, a Japanese sweets shop that has been around since 1803, while the matcha is provided by Rishouen Chasho, a tea shop in Uji, Kyoto who have picked out specially selected leaves just for HOSHINOYA Kyoto.

The roofed Kingfisher boat

The boat guests will ride is owned by HOSHINOYA Kyoto and is called "Hisui" (Kingfisher). A switch can change the rooftop colour from white to transparent so you can look up and see the gorgeous blue sky.

If you're in Japan this autumn, and still need to find a hotel, why not treat yourself to a luxurious morning boat ride at HOSHINOYA Kyoto?

Information

Asa no Momiji Bune / 朝のもみじ舟 (Morning Autumn Colours Boat)
Running: November 20, 2020 – December 5, 2020

Time: 8:30-9:10

Boarding/Return: HOSHINOYA Kyoto

Price: ¥31,000 per group (tax, service charge, and hotel fee not included in price)

Includes: Boat ride, Japanese confections, matcha

Participation: Exclusive to HOSHINOYA Kyoto guests

Capacity: 1 group of 1-4 people per day

Reservations Required: Book at https://hoshinoya.com/kyoto/

Note: The boat ride will be cancelled during stormy weather

Premium Hotel MGallery to Open New Kyoto Yura Hotel Nijo Castle This November

MGallery, a collection of over 5,000 luxury boutique hotels in 110 countries worldwide, landed in Japan for the first time last year with the opening of the 5-star KYOTO YURA HOTEL MGallery in Kyoto. Now, the brand has announced the opening of the new "Kyoto Yura Hotel Nijo Castle MGallery" (Kyoto Yura Hotel Nijo-jo Bettei) which will open on November 28, 2020.

Situated just a short 1-minute stroll from Njio Castle Station, this small, 25 room hotel, aims to offer luxury at the highest level.

Kyoto Yura Hotel Nijo Castle MGallery was designed by Yukio Hashimoto, who has worked on countless hotels and facilities around the world. The hotel lobby and all guest rooms face a gorgeous Japanese-style garden where guests can enjoy its beautiful sights through all four seasons.

The hotel takes inspiration from Nijo Castle, a structure which has seen both the end of the shogun as well as the start of modern Japan. As you enter the hotel, from the front door through and through the main entrance, guests will find themselves in their own private domain before they reach the breathtaking Japanese garden in front of them. All 25 of the guest rooms are crafted with high quality, sophisticated interiors.

On the first floor of the hotel, guests will find a restaurant and bar. The restaurant cooks up creative French dishes made delicately with seasonal ingredients while the bar serves up MGallery's iconic "mixology" cocktails.

Kyoto Yura Hotel Nijo Castle MGallery also offers a range of activities which can't be experienced anywhere else, including private trips to local shrines and temples that the hotel has connections with.

Information

Kyoto Yura Hotel Nijo Castle MGallery (Japanese: 京都悠洛ホテル⼆条城別邸)

Grand Opening: November 28, 2020

Address: 180 Ichinochō, Nakagyō-ku, Kyoto

Shibuya's New Hotel sequence MIYASHITA PARK Connects the People to the City

sequence MIYASHITA PARK is a new mixed-use hotel set to open inside MIYASHITA PARK on August 1, 2020.

sequence's concept is to connect the people with the city. It offers a space for everyone whether they want a quiet time alone, whether they are sightseeing, having a work-do, celebrating a party or festival, and more. This is centred around the hotel's three notions: "SMART," "OPEN," and "CULTURE."

The hotel is inspired by the local concept of "PARK MIND" which offers guests a place to relax after a long, busy day, like in a park. It has collaborated with Tokyo-based designers and creators to bring this to life in room designs. Furniture and fittings are simple while still being of high quality.

The fourth floor entrance connects seamlessly to Miyashita Park and is home to a lobby lounge as well as the new VALLEY PARK STAND cafe and bar. Up on the fifth floor is the breakfast dining restaurant Dōngxī Restaurant & Sakaba. Up on the 18th floor, guests can enjoy a panoramic view of Shibuya, as well as dine at the entertainment restaurant SOAK whose design and concept mixes together history and the future, the West and the East. There is also art from artists coordinated by The Chain Museum.

Chawanmushi Recipe: Savoury Dessert Made With Carrots, Cream Cheese & Mirin

Together with soy sauce and miso, mirin is a fundamental condiment in the Japanese kitchen and for many recipes for Japanese food. It's a sweet rice wine that has lower alcohol content and higher sugar content when compared to sake, adding a sweet flavour to dishes.

Today, we're taking a look at a recipe that uses "Mikawa Mirin," a brand of mirin made from high quality rice, to make carrot and cream cheese chawanmushi. Chawanmushi is a savoury egg custard dessert eaten in Japan.

Carrot & Cream Cheese Chawanmushi

Chawanmushi is made using mirin and has a smooth texture to it as well as a subtly sweet flavour. It's the perfect accompaniment to a hot summer's day.

Ingredients (Serves 1)


●Chawanmushi
60g carrots
240ml dashi
20ml soy sauce
120ml Mikawa Mirin
8g sugar
18g cream cheese
1 egg

●Okra-an
Okra
30ml dashi
0.5g salt
3ml Mikawa Mirin

Method

We will start by making the chawanmushi.

1. Slice the carrots and boil them until they become soft.

2. Add the soy sauce, sugar, and lots of mirin and cook through the dashi.

3. Cook for approximately 20 minutes on a medium heat, then cool with ice. Add the cooled carrots, cream cheese, and 20ml of the dashi into a blender and bend.

4. Add the egg to the mix and steam the mix for 12 minutes on a medium heat.

While the chawanmushi is cooling, we'll make the okra-an.

5. Mix together the okra-an dashi, mirin, and salt together. Add watered potato starch and thinly sliced okra. Leave to cool in the refrigerator.

6. Add the okra-an to the cooled chawanmushi and tuck into your cute two-layered dessert.

Carrot & Cream Cheese Chawanmushi

The dessert is an enjoyable mix of the sticky texture from the okra-an and smooth chawanmushi. It's great to have not only at lunch or dinner, but at home parties with friends too.

–How's the taste?


Misa Kimura: "It works really well with the mirin. The chawanmushi is like a sweet treat. It's super easy to make too, so I think I'll be making it at home!"

Mirin is indispensable to any Japanese cupboard and can be used in many ways, whether it be a classic Japanese dish or a dessert like this one.

Mikawa Mirin 700ml: ¥1,122 (Tax Included)

This authentic brand of mirin is made using a traditional method of Japanese brewing which blends in the delicious taste of rice. It's so delicious that you just want to drink the whole bottle. A high quality mirin, it has a distinct sweetness, colour, and texture. It has a rich flavour, and the taste of the rice elevates the flavours of its ingredients.

Mikawa Mirin Official Website: http://www.mikawamirin.jp/
Official Online Store: http://mikawamirin.jp/product/product_step1.php?m=n
Official Facebook: https://www.facebook.com/mikawamirin

Recipe


This recipe was conceived by ITEMAE, a famous restaurant serving Japanese cuisine that is listed in the Michelin Guide.

Model: Misa Kimura
Photographer: Haruka Yamamoto

Information

ITEMAE
Address: 10-14 Kamiyamachō, Shibuya, Tokyo
Opening Hours: Lunch 11:30-15:00 (Weekdays Only) / Dinner 18:00-23:30
Closed: Sundays / New Year's Holiday
TEL: 050-5595-4795

Glamp Dome Kobe Tenku: Go Glamping With Hot Springs and Kobe's Night Sky

The new glamping facility Glamp Dome Kobe Tenku is set to open inside Minotani Green Sports Hotel in Kobe, Hyogo on August 7, 2020.

Located in the lush green abyss of Kobe's Minotani area, Glamp Dome is just 20-minutes from Kobe-Sannomiya. Guests can look forward to a glamorous camping experience inside on of the huge dome tents set up on site from which they can enjoy Kobe's sunset and subsequent night sky. The facility promises a luxury camping experience like no other.

Your dome tent and a private BBQ space

The half-dome tents are 7 meters in circumference. They are fitted with air conditioning and can be used throughout all four seasons. Each one has its own private BBQ space too so you can enjoy a close-knit meal together with friends and family without having to interact with other guests.

The Ginga Hot Spring's water is directly from the water source

Ginga Hot Spring's water spurts out from 1,200 meters underground. The facility offers a variety of bathing experiences, from the open-air hot spring to utaseyu where water falls onto your back, and more, as well as a resting area, sauna, and so on.

It is said that if water pH levels are over 7.5 then it is good for your skin. The water at Ginga Hot spring is 8.5, making the water quality very high.

The unique foot bath bar

At Glamp Dome Kobe Tenku, guests can enjoy a bar experience with pouring their own drinks while getting a foot bath from the facility's hot spring water sauce. Open from 19:00-21:00, there's also campfires, fire pits for private domes, and other services.

Glamp Dome Kobe Tenku also offers high quality ingredients for a gourmet camping BBQ experience, from premium Japanese black wagyu steak to seafood and more.

Menu
・Japanese black wagyu steak
・Domestic smoked beef
・Skillet of the day日
・Acqua pazza
・Dessert skillet
・Baguette

Hotel amenities

Glamp Dome Kobe Tenku also offers hotel-style amenities like towels, toothbrushes, hair dryers, gowns, and more. All domes are also fitted with Wi-Fi and plug sockets.

When Glamp Dome Kobe Tenku opens, it will also be bookable on Resort Glamping, a booking website for glamping facilities and resort villas across Japan. If you're ever travelling to Kobe, why not stay there in style with this very special glamping experience?

teamLab's Interactive Digital Art Exhibition to Open at Takeo Hot Springs in Kyushu This July

teamLab's annual digital art exhibition teamLab: A Forest Where Gods Live, which is held every year from summer to autumn at Mifuneyama Rakuen's Takeo Hot Springs, is collaborating with Rakan no Yu, a new sauna facility which opened at the Kyushu-based hot spring facility and won first place in Sauna Chelan 2019.

The exhibition will open in the 500,000 square meter Mifuneyama Rakuen Park on July 22, 2020 to both guests and non-guests of Mifuneyama Rakuen Hotel, Onyado Chikurintei, and other surrounding accommodations. Set tickets to enjoy both Rakan no Yu and the teamLab exhibition went on sale on July 20 and are limited to 40 people per day.


Drawing on the Water Surface Created by the Dance of Koi and Boats – Mifuneyama Rakuen Pond​
teamLab, 2015, Interactive Digitized Nature, 13min 24sec, Sound: Hideaki Takahashi

The water of Rakan no Yu is pure, low-alkali hot spring water with no colour, smell, or taste. It's known for its superior moisturising effect, leaving the skin nice and smooth. Rakan no Yu won first place in Sauna Chelan 2019. Sauna Chelan is considered the "Michelin" ranker of the sauna world.


In June 2020, a dry sauna and new baths were added to Rakan no Yu's women's open air baths. Guests can enjoy the meditation sauna, indoor and outdoor baths, hot springs, and more in both the men's and women's sections.

Ever Blossoming Life Rock
teamLab, 2017, Digitized Nature, Sound: Hideaki Takahashi

Universe of Water Particles on a Sacred Rock
teamLab, 2017, Digitized Nature

This year marks teamLab's sixth collaboration with Mifuneyama Rakuen. Their teamLab: A Forest Where Gods Live is held every year at the site, and this year they have 22 art pieces to showcase. Takeo Hot Springs opened in 1845 and is registered as a national monument.

Life is Continuous Light – Azalea Valley

teamLab, 2017, Interactive Digitized Nature, Sound: Hideaki Takahashi


Floating Resonating Lamps – One Stroke, Fire
teamLab, 2019, Interactive Installation, Murano Glass, LED, Endless, Sound: Hideaki Takahashi

teamLab's incredible interactive digital art will react to people's presence and movement throughout the 500,000 square meter space.

Information

teamLab: A Forest Where Gods Live

Running: Jul 22 – Nov 08, 2020

Hours
Jul 22 – Sep 13, 2020 19:00 – 22:30
Sep 14 – Oct 11, 2020 18:00 – 22:30
Oct 12 – Nov 8, 2020 17:00 – 22:30

*Enter from Entrance 1. Entrance 2 is only available 60 min after the opening.
* Last entry is 22:00.

Official Website: https://www.teamlab.art/e/mifuneyamarakuen/

Japan's Best Hot Springs and Spas For 2020 Ranked by Tripadvisor

Tripadvisor® has posted its list for this year's most popular hot springs and spas in Japan for day trips as ranked by its users over the past year.

This is the 9th run of this particular list, which is normally announced each winter, but due to the stress caused by the COVID-19 pandemic, travellers have been looking to find somewhere to relax, and so the website decided to release the list earlier this time. Tripadvisor® also ranked the best hot spring regions as well as foot baths.

This year's list has a diverse line-up of locations, from huge new facilities to old ones with history. Half of the places in the list are situated in the Kanto region of Japan—more than the previous lists. Those in the ranking are listed not only for the hot springs, but for the services on offer like massage, dining, rest, and more, all of which adds to them being great for day trips.

Hot Springs & Spas Popular With Japanese People For Day Trips – 2020 Edition

1st Place: Busshozan Onsen (Takamatsu, Kagawa)
2nd Place: Miharashi no Yu (Hashijo-machi, Tokyo)
3rd Place: Hōheikyō Hot Spring (Sapporo, Hokkaido)
4th Place: Shika no Yu (Nasu, Tochigi)
5th Place: Tenzan Tohji-kyo (Hakone-machi, Kanagawa)
6th Place: Hoshino Onsen Tombo-no-yu (Karuizawa, Nagano)
7th Place: Lamune Onsen (Taketa, Oita)
8th Place: Spadium Japon (Higashikurume, Tokyo)
9th Place: Maenohara Onsen Sayano Yudokoro (Itabashi, Tokyo)
10th Place: Miyazawako Onsen Kirari Bettei (Hanno, Saitama)
https://tg.tripadvisor.jp/news/ranking/best-public-bathes/

8th Place: Spadium Japon (Higashikurume, Tokyo)

Spadium Japon is a large-scale public bath facility with 15 different types of baths and saunas. It has transparent onsen, which is rare in the Kanto region, and the water is known for its sodium salt. Tripadvisor® users praise the facility for offering all-day services and how big it is, likening it to a theme park.

Special Mentions

Tripadvisor® also listed some special mentions of popular hot spring "chiku," or districts, where you can walk around and try out lots of different types of hot springs, as well as foot baths. The foot baths in Oita Airport and Kagoshima Airport are free to use, making them a great way to kill some time while waiting for departure.

Top 5 Hot Spring Chiku Popular With Japanese People

1st Place: Kinosaki Onsen (Toyooka, Hyogo)
2nd Place: Yu no Mine Onsen (Tanabe, Wakayama)
3rd Place: Kurokawa Onsen (Minamioguni, Kumamoto)
4th Place: Ginzan Onsen (Obanazawa, Yamagata)
5th Place Gero Onsen (Gero, Gifu)

Top 3 Foot Baths Popular With Japanese People

1st Place: Oita Airport Foot Bath (Kunisaki, Oita)
2nd Place: Lake Kussharo Sunayu (Teshikaga, Hokkaido)
3rd Place: Kagoshima Airport Foot Bath (Kirishima, Kagoshima)

HIKES IN JAPAN Releases Information Page For Foreign Travellers Climbing Japan's Mountains

Yama-kei Publishers, a Japanese media company which reports on nature in Japan, has posted an information page over on the English version of "HIKES IN JAPAN" for foreigners to read if they're thinking of climbing mountains in Japan. It has also added 11 new courses to its mountain climbing and hiking guide, bringing the number of courses up to 100.

Before the Hike: Trip Plan and Travel Accident Insurance

The website offers a trip plan that's required when hiking in the Japanese mountains and gives information on travel accident insurance you should sign up for in case of emergency.
https://hikesinjapan.yamakei-online.com/information/l.php

Manners and Precautions While Hiking

There are rules and proper manners that need to be followed when climbing mountains in Japan. Read and follow these 11 simple steps, including some that might be different to mountain climbing in your own country.

https://hikesinjapan.yamakei-online.com/information/m.php

Dangers on the Trail and Emergency Measures

Hiking is a lot of fun, but it can also be dangerous. There may also be dangers unique to Japan that you won't be able to anticipate from home. This section summaries the dangers of hiking in Japan that you need to be aware of, as well as what to do in case of an emergency.
https://hikesinjapan.yamakei-online.com/information/n.php

100 Mountain Climbing & Hiking Courses

HIKES IN JAPAN lists specially selected courses for hikers and mountain climbers with necessary information including when to travel, distances, how difficult a climb is, and so on.

If you're thinking of tackling Japan's mountains, then HIKES IN JAPAN will prove indispensable in your trip planning.

teamLab's Acorn Forest Exhibition to Open in Saitama's Higashi-Tokorozawa Park

teamLab's upcoming new digital art exhibition teamLab: Resonating Life in Acorn Forest is set to open in Higashi-Tokorozawa Park in Saitama on August 1, 2020. The interactive display will react to and change from the presence of people.

The Kadokawa Culture Museum calls the collection of oaks and other deciduous broadleaf trees of Musashino the "Musashino Woods." These Musashino Woods transition through the greens of spring and summer, display beautiful autumnal leaves from fall until early winter, and are home to ripe acorns in autumn.

Deciduous broadleaf forests were widespread in Japan during the Jomon Period. These forests were home to acorn-bearing trees, and acorns were a major food source for the Jomon people. During the Jomon Period, many people existed alongside the acorn forests, living easily with this abundant food source.

teamLab's Digitized Nature art project uses non-material digital technology to transform nature into art without having a physical impact on it.

teamLab: Resonating Life in the Acorn Forest will transform the acorn forests of Musashino into an interactive art space which changes due to the presence of people.

Autonomous Resonating Life – Liquified Light Color, Sunrise and Sunset / teamLab, 2020, Interactive Digital Installation, Sound: Hideaki Takahashi

With sunrise, the ovoids begin to reflect the world around them. When pushed down by a person or blown by the wind, the ovoids fall back and then rise releasing a resonating tone. The ovoids around it also respond one after another, continuing to resonate with the same tone.

As the sun sets, the ovoids shine by themselves. When an ovoid is pushed by a person or blown by the wind it falls down and then rises, a sound resonates out, and it emits a light color specific to the sound.

Resonating Trees / teamLab, 2014, Interactive Digitized Nature, Sound: Hideaki Takahashi

The trees shine brightly. The light of each tree is autonomous, slowly blinking.

The light transmitted from Autonomous Resonating Life – Liquified Light Color, Sunrise and Sunset causes the trees' lights to change color, and a tone specific to that color resonates out. The light of a tree is transmitted to the surrounding trees one by one, as the sound is continuously emitted.

When a light resonates from the trees in the distance, it signifies the presence of people. Perhaps people will become more aware of the existence of others in the same space.

Information

teamLab: Resonating Life in the Acorn Forest

Running: August 1, 2020 – Permanent

Address: Musashino Woods Park in Higashi-Tokorozawa Park (3-9, Higashi-Tokorozawa, Tokorozawa, Saitama)

Hours:
12:00 – 22:00
Daytime: 12:00 – 17:00 / Nighttime: 18:00 – 22:00

*Hours of exhibition varies depending on the season

Jan, Feb, Mar: 12:00 – 17:00 / 18:00 – 22:00
Apr, May, Jun: 12:00 – 18:00 / 19:00 – 22:00
Jul, Aug, Sep: 12:00 – 17:00 / 18:00 – 22:00
Oct, Nov, Dec: 12:00 – 16:00 / 17:00 – 22:00
*Last entry at 21:30

Tickets: On sale from July 22, 2020
https://kadcul.com/park

*Also available to buy at the exhibition

Official Website: http://acornforest.teamlab.art

Gaze at Japan's Setting Sun Over the Horizon at Oedo Onsen Monogatari Shiomiso

Oedo Onsen Monogatari Hotels & Resorts reopened "Oedo Onsen Monogatari Shiomiso" on July 10, 2020 after the hot spring hotel underwent some revamps.

To commemorate the reopening, the hotel is now holding a dinner buffet and all-you-can-drink plan until August 31, 2020.

Take a dip in the famous Senami Onsen

Oedo Onsen Monogatari Shiomiso is home to Senami Onsen, a hot spring which first opened back in 1904 after the area was excavated for oil and the hot water shot out from the ground. Also known by the name "Netsu no Yu" (Hot Water), the hot spring has continued to offer rich quantities of water for over 100 years. Japanese poet and pioneering feminist Yosano Akiko wrote a poem about the place in 1937.

The water is thick and transparent, and also has chloride in it, which helps prevent sweat from evaporating, leading to moisturised skin. You also don't feel cold after leaving the water, and the water has sterilising properties. It's the perfect place to enjoy a relaxing experience while gazing out across the Japanese sea at the evening  setting sun.

Choose the right room for your trip

There are a number of different rooms to pick from that cater to all kinds of travels, such as the ocean view Japanese-style rooms which accommodate 2-5 people, rooms with a terrace, Japanese-style rooms with open-air baths, and more.

All-you-can-drink summer drinks and a gourmet buffet

The new restaurant serves up a menu by legendary Japanese chef Takaharu Takashina, with seasonal ingredients sourced in Niigata Prefecture. The restaurant serves a Japanese and Western fusion buffet, a diverse breakfast assortment, and more. There's sushi, fried foods, fish from the Japan sea, exquisite rice, and much more to enjoy.

Affordable summer all-you-can-drink

The all-you-can-drink plan comes with evening buffet as a set and is running until August 31, priced at just ¥1,500. Cool down from the summer heat with a refreshing beer, highball, or other beverage to enjoy with your meal.

All-You-Can-Drink Plan

Running: Until August 31, 2020

Time: 60-minutes max in the evenings

Menu: Beer, Shochu, Highball, Sours, and more.

Information

Oedo Onsen Monogatari Shiomiso

Address: 2-9-36 Senamionsen, Murakami, Niigata

Price: From ¥8,980 (1 night for 2 people with buffet / consumption tax charged separately)

TEL: 0570-032268 (9:00-19:00)

Official Website: https://shiomiso.ooedoonsen.jp/

Take a Summer Trip to Karuizawa in Style at Hoshino Resorts BEB Karuizawa

"BEB" is a brand of hotel established by Hoshino Resorts which aims to support young people travelling by being cost-effective as well as make travelling more fun for the younger generation. This year, BEB5 Karuizawa is promoting a spending a fun and stylish summertime.

Enjoy the outdoors in a wide, open space

The indoor "Yagura Room" is fitted with spacious sofas and bed spaces where people can chat together, read a book, and enjoy their free time. There's also "TAMARIBA," a 24-hour public space with a garden, lounge, cafe, and library. A cool breeze sweeps through the tall windows, letting in cool air on a hot summer's day. Guests can kick back and enjoy some relaxation. The cafe even sells wine so guests can treat themselves to an evening drink or have a little drinking get-together with friends.

Summer resort rental items

Guests can experience the true thrill of summertime in Karuizawa with a selection of rental items including straw hats, a bug catching net, portable speakers, electric fans, and more. These can be rented from July 13, 2020 to August 31, 2020.

The lush green outdoors surrounds the hotel

BEB5 Karuizawa is located in one corner of the Karuizawa Hoshino Area which is home to a bright green forest. Located laong the bath is Harunire Terrace which is home to 16 unique shops, and there's even a hot spring which flows directly from the water source.

Hoshino Onsen Tonbo no Yu

There are plenty of things for guests to do outside, including participating in a nature tour hosted by wild flora and fauna specialists Picchio, having a picnic at the benches by the flowing water, and more.

Karuizawa is one of Japan's best places for a summer retreat. Just a one hour bullet train ride from Tokyo, it's an easy place to access from the country's capital.

Information

Hoshino Resorts BEB5 Karuizawa

Address: Hoshino, Karuizawa-machi, Kitasaku-gun, Nagano
TEL: 0570-073-022 (Hoshino Resorts Booking Centre)
Rooms: 73 (Check In 15:00 / Check Out 11:00)

Price: From ¥9,000 per night (1 room for 2 people, service charge and meal charged separately)
Official Website: https://hoshinoresorts.com/ja/hotels/beb5karuizawa/

Wine and Dine at Four Seasons Hotel Kyoto's Luxurious New 'Champagne Garden'

Four Seasons Hotel Kyoto opened its limited-time "Champagne Garden" on July 3 at its first floor outdoor terrace restaurant Brasserie. Running until September 6, customers can enjoy free-flow French Bollinger champagne and cocktails.

Four Seasons Hotel Kyoto opened back in October 2016 as a luxury hotel, home to the famous Sekisuien Gardens which have a history spanning back 800 years and are mentioned in the The Tale of the Heike epic. The hotel's first floor restaurant Brasserie has towering 9-meter tall windows that look out onto these gardens, while inside customers can enjoy dining in a stylish environment.

The champagne served in the Champagne Garden is produced by the French Champagne house Bolligner, a company that started by Jacques Bollinger in 1829. Fermented in oak barrels, the champagne has sophisticated and complex flavours. In 1884, Bolligner received a Royal Warrant from Queen Victoria.

At the Champagne Garden, guests can enjoy four different types of canapé made by the restaurant's head chef Koga together with a glass of Bolligner. They can also order rosé wine, cocktails, or soft drinks too, all of which are free-flow. And since the restaurant faces the garden, guests can enjoy the view of the greenery throughout all four seasons, in central Kyoto.

Four Seasons Hotel Kyoto reopened on July 1 after closing temporarily due to COVID-19. The hotel has launched its "Lead With Care" program which ensures guests and staff are at the top of the priority list for safety against the coronavirus.

Information

Four Seasons Hotel Kyoto – Champagne Garden
Running: July 3, 2020 – September 6, 2020

Location: Brasserie, Four Seasons Hotel Kyoto Floor 1F

Address: 445-3 Myōhōin Maekawachō, Higashiyama-ku, Kyoto
Time: 11:00-20:30
Price: ¥8,800 per person (90 minute window)
*15% service charge and 10% consumption tax charged separately

*Booking in advance recommended

TEL:  075-541-8288

Official Website: https://www.fourseasons.com/jp/kyoto/