livetune+ strikes again with the success of their first Asia tour in Taiwan and Thailand! Bring on Indonesia!
News update: 22/08 (Mon) 18:00
"kz" was the creator of the record-breaking widespread obsession with Hatsune Miku. As well as being the creator of Hatsune Miku's song "Tell Your World", which was used as the commercial song to promote the Hatsune Miku Google Chrome Theme, kz makes a major contribution to the well known and loved Vocaloid music industry with many more songs. Having teamed up with the increasingly popular Anna Yano, the new dream team has been formed to create "livetune+". Livetune+ flew to Taiwan to take part in the recent Manga Exhibition 2016 from 15th — 16th August, immediately followed by a trip to Thailand for their first Asia tour, performing on stage at "Anime Festival Asia Thailand 2016".
livetune+ performed at the "Manga Exhibition 2016" event in Taiwan and "AFA(Anime Festival Asia)", which is known as the largest anime festival in Asia. Over 600,000 fans gathered together at these venues over the 6 day period. Witnessing just one of the performances by livetune+ unfold grandly from start to finish makes it hard to believe that this was the unit's first ever public performance in a foreign country.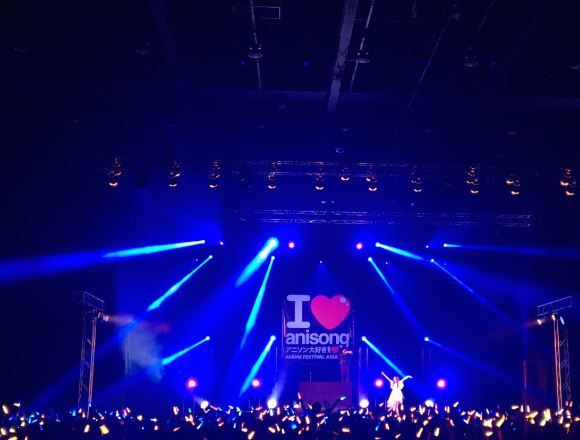 This time, kz(livetune) started both gigs with DJ play, performing the openings of "SEVENTH HAVEN", "Hand in Hand", "Tell Your World" and many more hits songs whilst keeping a carefree attitude which holds no regrets. Suddenly, he dropped the beat and the whole venue raved as one. Next,  "Restart", which is the introduction to livetune+'s EP "Sweet Clapper" was played and Anna Yano made her appearance on stage. The audience screamed wildly as if to say "We were waiting for you!!". With that, the duo continued their set list which consisted of "Milky Rally", "Sweet Clapper" and "Slow Pace". The fans were absorbed in the performance and became especially excited with the first ever live performance of "Cheers". However, livetune+ had more surprises for their audience — they sung the main hook of the song "Jump Up" in Thai, which energised the fans on a whole new level.
Having finished up in Taiwan and Thailand, the next stop for livetune+ is Indonesia on 16th September for Anime Festival Asia Indonesia 2016. This will be followed by the largest live showcase festival in Japan called FM802 MINAMI WHEEL 2016, which will be held in Osaka courtesy of FM802. The uplifting feeling carried in the beat of the sweet tunes by kz(livetune) combined with the cute and very sexy Anna Yano is the charm point of livetune+. They got power, good looks,  fine vocal skills and great music to offer to you! Don't take your eyes off the activity of livetune+ as they continue their activity in Japan and overseas!
▼Live performance information
Friday 26th August 30 VILLAGE VANGURD presents V.V Rosks~MIX JUICE~
Friday 16th September Anime Festival Indonesia 2016
Sunday 9th October FM802 MINAMI WHEEL 2016
▼Release information
livetune+「Sweet Clapper」
Now On Sale
Price:¥1,800 (base price)+tax
Limited edition:WPCL-12334
Regular eddition:WPCL-12335
▼「Cheers!」(Popular sale)
>>iTunes
https://itunes.apple.com/jp/album/cheers!-single/id1136780784?app=itunes&at=10l6Y8
>>Apple Music
https://itunes.apple.com/jp/album/cheers!-single/id1136780784?app=music&at=10l6Y8