Starbucks Releases Japan Spring Merchandise in 'You Are Here' Collection
Starbucks Japan released a Japanese spring edition of its 'You Are Here' collection on March 20, 2019.
The 'You Are Here' collection is a series of drinking vessels by Starbucks that captures and invites people to the beauty of countries around the world. With designs from over 20 countries and cities worldwide, this line of mugs and tumblers has become something of a collector's item for world travellers as each item is unique to each country.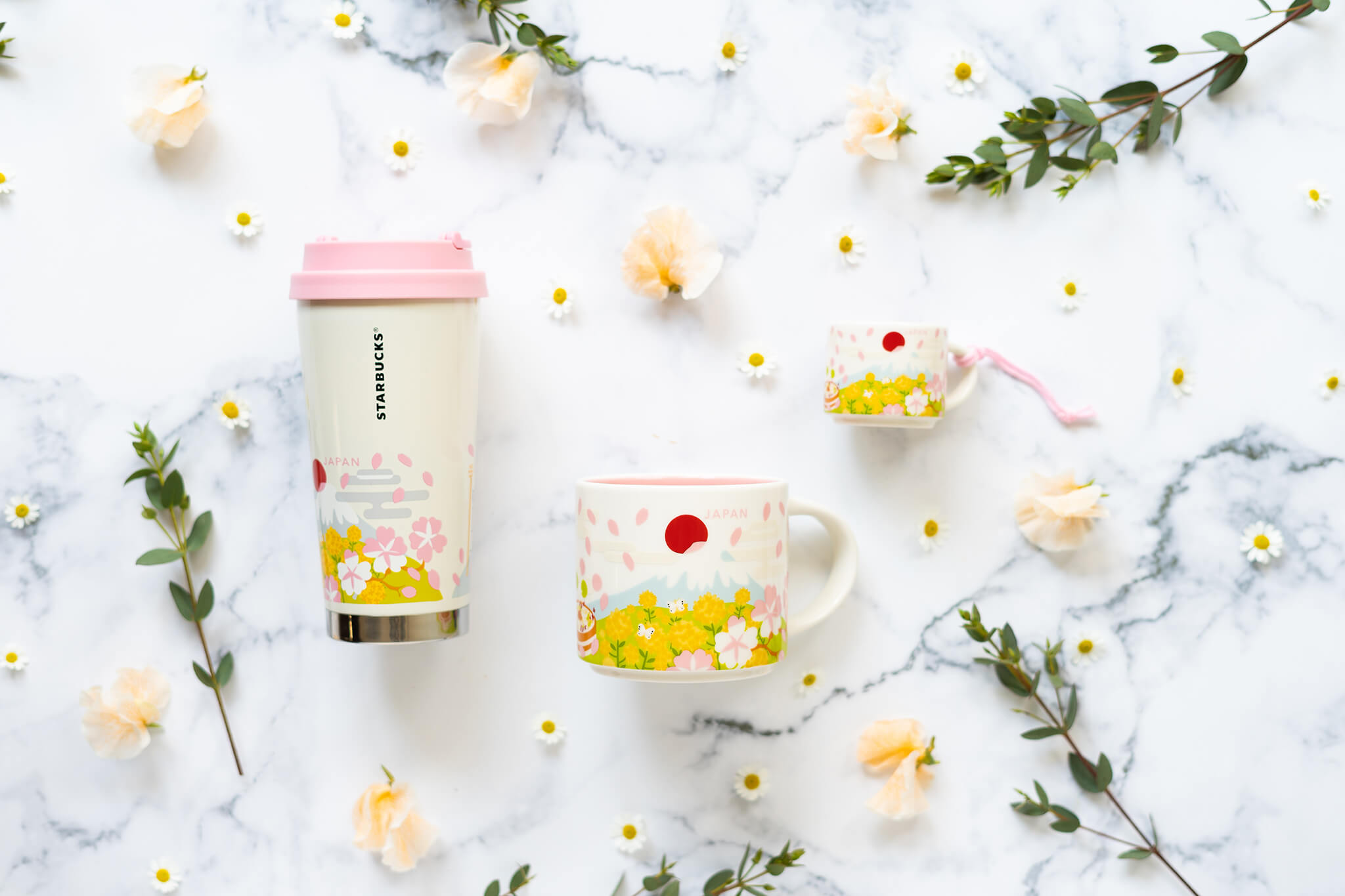 The cute mugs and tumbler capture the essence of Japanese springtime with the cherry blossoms fluttering in the wind across flower beds. Both come packaged in boxes making them perfect a souvenirs or for your collection if you are a You Are Here collector.
If you're looking for a cute and cuddly souvenir or gift from Japan then have a look at the Bearista Boy and Bearista Girl, a pair of bear baristas wearing a hakama and furisode respectively. Embroidered on the male bear's hakama family crest is a coffee cup. The girl's obi belt and head dress also have beautiful frills on them.
Stationery lovers won't want to miss out on getting their hands on the You Are Here Japan journal either. It's a simple lined notebook with a beautiful Japanese aesthetic design on the front with Mount Fuji, the rising sun flag and cherry blossoms.
Take home a part of Japan with you with this exclusive range of merchandise.
Information
You Are Here Japan Spring Collection
Released: March 20, 2019
You Are Here Japan Spring Collection Stainless Steel Tumbler – ¥4,000
You Are Here Japan Spring Collection Mug (414ml) – ¥1,800
You Are Here Japan Spring Collection Mug (59ml) – ¥1,200
Japan Bearista Boy / Japan Bearista Girl – ¥4,800 each
You Are Here Japan Japan Spring Collection Journal: ¥1,600
*All prices include tax
Starbucks Japan Website: https://www.starbucks.co.jp/
RELATED ENTRIES
Tokyo's New Starbucks Branch in Ginza is a Cafe Dream Come True For Workers and Business People

Starbucks Coffee Japan opened a new branch at CIRCLES Ginza on July 30, 2020 that will serve as a dream location for business people.

The dream coffee shop, split into two floors, offers a unique environment and service created in collaboration with Think Lab. Rather than your regular, more public Starbucks, this branch also lets customers reserve booths and meeting spaces. This includes the SMART LOUNGE™ aimed at business users, as well as solo working spaces by Think Lab.

Starbucks Coffee CIRCLES Ginza caters to both solo workers and co-workers, giving them a space to think and concentrate alone, or come together in groups to exchange ideas. Booths offer a place to host online meetings, the SMART LOUNGE lets groups arrange chairs and tables however they like, and the Think Lab—which you pay an extra fee to use—is the perfect spot for some quiet contemplation.

1st Floor: Quick TOGO experience

The first floor is for people who aren't looking to stay at the cafe long. They are looking for a quicker experience where they can order their Starbucks drink and food and head on out. The cafe offers cashless payments, which is notable as Japan is still very much a cash-based country, as well as the Starbucks mobile order and pay service where you pick what you want on your phone and then go and pick it up.

2nd Floor: A place where you can focus

Reserve a booth for video calls and more


There are four individual half-booths which can be reserved, each of which have a screen for video calls and online meetings. These can be used for 40 minutes and can be booked in advance. The booking system was co-developed by Starbucks and Vacan.

Tables for in-person group meetings

The window tables offer a place for meetings, discussions, and business negotiations for 2-12 people. It's a relaxing area where workers and clients can chat freely.

解放される"ひとり"のためのパーソナル空間

For those who want to work along, Starbucks has created a spacious area with individual booths where you don't have to meet eyes or be bothered by other people.

If you're working in Tokyo, and need a business-oriented location where you can enjoy a coffee, then look no further than Starbucks Coffee CIRCLES Ginza.

Information

Starbucks Coffee CIRCLES Ginza

Grand Opening: July 30, 2020

Address: CIRCLES Ginza, 3-7-6 Ginza, Chuo-ku, Tokyo
Opening Hours: 7:00-22:30
TEL: 03-6228-6715

Starbucks Japan Official Website: https://www.starbucks.co.jp/

Starbucks to Open New Branch Along Nakamise Street in Nagano Near Zenkoji Temple

Starbucks Coffee Japan is set to open a new branch in Japan on March 26, 2020. It will open along Nakamise-dori, a street that leads to Nagano's famous Zenkoji Temple.

It will open as the Kōshin'etsu region's first Starbucks Regional Landmark Storeーa Starbucks branch unique to Japan that's built as a symbol of that area which promotes that region's culture to customers. They enable coffee-loving visitors to discover or rediscover the wonder of a region's history, culture, craftsmanship, and industry, while building a connection with the region through those discoveries. The branches incorporate various local design elements into them.

The new branch, called Starbucks Coffee Shinshu Zenkoji Nakamise-dori, neighbours the Niou Gate of Zenkoji Temple. It's a place where you can sit down with a delicious cup of coffee and relax while feeling the history of the place. The coffee shop's design and decor also takes inspiration from local history and culture, their concept behind "Busy and Quiet, Light and Dark." It's situated a little away from the hustle and bustle of Nakamise-dori, and houses two spacious floors.

The sliding doors and skylight let in a soft light which also casts shadows in places, mimicking the beauty of shade found in a Japanese-style house. The ceiling and walls at the entrance are made from Japanese red pine, while the bar uses five different types of wood from Nagano Prefecture like hornbeam and katsura. The stone lanterns which were in the original building have been put at the entrance, and the great beams on the second floor have been left as they are. All of this preserves the feeling of the local region while small Starbucks touches are added here and there, resulting in a unique Starbucks experience.

Information

Starbucks Coffee Shinshu Zenkoji Nakamise-dori

Grand Opening: March 26, 2020

Address: 483 Motoyoshicho, Nagano, Nagano Prefecture

Opening Hours: 7:00-21:00

No Fixed Holidays

Starbucks Japan Official Website: https://www.starbucks.co.jp/

Starbucks Reserve Roastery Tokyo to Release Butterscotch Latte

Starbucks Coffee Japan is launching a new drinks promotion in Japan on March 13 entitled "New Latte Love Coffee." The first two drinks in the series will celebrate the 1st anniversary of the coffee wonderland Starbucks Reserve® Roastery Tokyo. The drinks are the Butterscotch Latte and Butterscotch Coffee Jelly Frappuccino®.

Left: Butterscotch Coffee Jelly Frappuccino® – Tall ¥590 (Before Tax) / Right: Butterscotch Latte – Short ¥420 Tall ¥460, Grande ¥500, Venti® ¥540 (Tax not included in drink prices)

The new beverages incorporate a butterscotch sauce which offers a rich and smooth buttery taste and sweet caramel. Each drink is carefully crafted with a shot of freshly-made espresso, the butterscotch sauce, and steamed milk.

The Frappuccino® version is filled with a Starbucks-original coffee jelly made using the coffee chain's "Espresso Roast" which goes perfectly with the milk of the cold drink. It's almost like a dessert in a cup, especially with the addition of the butterscotch sauce.

Starbucks Reserve® Roastery Tokyo is also widening its range of milks in line with the new beverages. Soy milk is already a standard there, but now customers can also enjoy oat milk for a limited time, as well as almond milkーthe latter of which will be put onto the regular menu.

Oat Milk Latte/Almond Milk Latte – ¥Short 390, Tall ¥430, Grande ¥470, Venti®︎ ¥510

The subtle sweetness of the oat milk used in the Oat Milk Latte goes perfect with the taste of the espresso. A Starbucks-original almond milk is also used for the Almond Milk Latte, adding a fragrant almond taste to the coffee beverage.

Enjoy your coffee with your milk of choice from six kinds: Starbucks Milk, Low-Fat, Fat-Free, Soy, Oat, and Almond.

Information

Butterscotch Latte

Running: March 13, 2020 – June 16, 2020

Butterscotch Coffee Jelly Frappuccino®︎

Running: March 13, 2020 – April 8, 2020

Oat Milk

Running: March 13, 2020 – April 8, 2020

Almond Milk

Release Date: March 13, 2020

Official site:https://www.starbucks.co.jp/

Starbucks Japan Reveals Cherry Frappuccino®ーThe Second Drink of Starbucks Sakura Season

Starbucks Japan has announced that the second drink in its Sakura Season series of springtime cherry blossom drinks will be released on February 26, 2020. Named the "Sakura Sakuranbo Frappuccino®" (Cherry Blossom Cherry Frappuccino®), this tasty-looking drink is exclusive to Japan.

Sakura Sakuranbo Frappuccino®—Savour the sweet and tangy fresh cherry pieces

Sakura Sakuranbo Frappuccino® – Tall ¥590 (Before Tax) / Available: February 26, 2020 – March 12, 2020

The new drink contains fresh and sweet cherry pieces. It uses a cherry blossom flavoured base together with strawberry milk, which adds a subtle flavour, and a sauce made from fresh cherries. Cherries in Japan also go by the name outou (桜桃), which has the Japanese kanji for sakura (cherry blossom) in it. This is because its roots come from the same family of roses.

The drink has a unique sweet and sour punch to it, and one sip is enough to make you feel like spring is here. Topped with pink, white, or blue Japanese sugar candies known as konpeitō, this drink truly offers a toast to a kawaii Japanese spring.

Customise your drink for free with "Sakura Toppings"

Free Sakura Toppings / Available: February 26, 2020 – March 12, 2020

For Sakura Season at Starbucks, customers can customise all drinks with two different colours of mochi pieces and dried raspberries shaped like cherry blossom petals. The coffee company highly recommend topping cappuccinos, white mochas, and matcha cream frappuccinos® with them. Make your drink your own!

Starbucks is also releasing a new range of merchandise, such as mugs and tumblers, with theme "Spring Misty-Rain," on February 26. These gorgeous designs are inspired by the light rainfall in spring which falls onto the cherry blossoms and grass and makes them glisten with the light. A new cherry blossom Starbucks Card will also be available to pick up for a limited time.

Sakura Season at Starbucks is always a popular time in Japan, so if you're planning a trip here for spring and are in need of a coffee top-up, then you're in for a real treat.

Starbucks Reserve®︎ Roastery Tokyo to Release Cherry Blossom Spring Drinks and Merchandise

Starbucks Reserve®︎ Roastery Tokyo boasts the most incredible location, sitting by the side of Nakameguro, one of Tokyo's most famous spots for seeing the cherry blossoms in spring.

This year, the coffee roastery's "Sakura Season" is set to begin on February 15, when its cherry blossom-inspired merchandise collection is released, along with a line-up of pink beverages and food.

The official Starbucks sakura merchandise ranges from tumblers and mugs to a key ring, handkerchief, and more, for a total of 10 items.

Strawberry Chia Oolong – ¥900

Poppun Sakura Jasmine Tea – ¥950

Floating Blossom – ¥900

Six beautiful beverages from last year's Sakura Season at Starbucks are also making a return from the Teavana™️ brand, made with delicate and soft cherries, hibiscus, and tea leaves as refreshing as green grass.

Clockwise From Left: Gianchetti & Sakura – ¥880 / Mini Panettone Sakura – ¥680 / Cornetti Sakura – ¥380 / Maritozzo Sakura – ¥540

Italian bakery Princi®︎ is also heading to Japan for the first time to serve up Italian food culture to people at Starbucks Reserve®︎ Roastery Tokyo. Enjoy the floral taste of cherry blossoms done in a Princi®︎ way.

Heading to Tokyo for Hanami and the cherry blossoms? Then make a stop at Starbucks Reserve®︎ Roastery Tokyo for this year's Sakura Season.

Information

Starbucks Reserve®︎ Roastery Tokyo Sakura Season

Release Date: February 15, 2020

Location: Starbucks Reserve®︎ Roastery Tokyo

*The Princi®︎ products will also be served at the Starbucks Reserve®︎ Store at Ginza Maronie-dori

Official Website: https://www.starbucks.co.jp/press_release/pr2020-3360.php

Starbucks Japan Unveils Cherry Blossom Milk Latte, Frappuccino & More For Sakura Season

Every year, Starbucks Coffee Japan serves up its seasonal "Sakura Season" drinks menu, a limited-time offering of special cherry blossom flavoured drinks for the spring. This year's Sakura Season at Starbucks begins on February 15, and they've revealed the first of several upcoming batches of drinks and merchandise.

Sakura Milk Pudding Frappuccino® & Sakura Milk Latte ー Japan Only

The first two drinks of the Sakura Season menu are a gorgeous light pink, reminiscent of cherry blossoms. They're available at Starbucks in Japan only.

The Sakura Milk Pudding Frappuccino® is made like a Japanese pudding, scented with fresh cherry blossom leaf extract. The milk base is mixed with a cherry blossom and strawberry sauce, and it's all topped off with cream and decorations made to look like flower petals. The pink gradation in the cup also calls to mind the beautiful dance of falling cherry blossom leaves.

The Sakura Milk Latte is a subtly sweet, no-coffee beverage made with a combination of cherry blossom and strawberry suace as well as warm milk. It's still cold out right now, so this is the perfect treat to warm you up for the coming spring.

Sakura Milk Pudding Frappuccino®: Tall ¥590 (Before Tax) *Tall size only

Sakura Milk Latte: Short ¥450 / Tall ¥490 / Grande ¥530 / Venti® ¥570 (Before Tax)

Running: February 15, 2020 – February 25, 2020

*The Sakura Milk Latte will be served until March 12, 2020

Available: At most Starbucks branches in Japan (while supplies last)

Reusable Cherry Blossom Cups ー Japan Only

Starbucks introduced its reusable cups to help reduce plastic waste, and now you can get them in these stylish new cherry blossom designs. If you're still using disposable plastic cups, then make that important step today and get your own reusable cup.

SAKURA 2020 Reusable Cup (473ml) & Bag Set – ¥2,800 (Before Tax)

SAKURA 2020 Reusable Cup (473ml) – ¥350 (Before Tax)

Release Dates:

SAKURA 2020 Reusable Cup (473ml) & Bag Set: February 15,  2020

SAKURA 2020 Reusable Cup (473ml): February 19, 2020

Available: At most Starbucks branches in Japan (while supplies last)

SAKURA Season Merchandise ー Batch ①

The theme of the first batch of Sakura Season 2020 merchandise is "Spring Breeze." The design captures the image of cherry blossom petals falling from the gentle spring breeze, the warm days, and hope. The line-up includes not only tumblers and mugs, but a picnic mat with a cherry blossom print, and more. Enjoy your coffee with one of the reusable cups or tumblers and feel good about doing your part to reduce plastic this spring.

Batch ①

Release Date: February 15, 2020

Available: At most Starbucks branches in Japan (while supplies last)

Starbucks's cherry blossom filter makes flowers blossom in your photos!

Experience the cherry blossoms early before they bloom with the Starbucks Sakura 2020 (Japanese: #スターバックスさくら2020) filter. You don't even have to download an app to use it.

To get access to the filter, simply scan the QR code in a Starbucks branch, tap the button, and take your springtime photo!

The filter lets you choose between the three most common cherry blossom trees in Japan: the Yoshino cherry, yae-zakura, and shidare-zakura.

Starbucks Sakura 2020 Filter (#スターバックスさくら2020)

Running: February 15, 2020 – March 12, 2020

Available: At most Starbucks branches in Japan

Starbucks Japan Reveals Spring Blend Releasing On Valentine's Day 2020

Nestlé has revealed that it is releasing a new seasonal coffee, the Starbucks® Spring Blend, on February 14 aka Valentine's Day.

Springtime and the cherry blossom season at is a popular time of the year every year at Starbucks in Japan. To beckon the cool breeze of the spring, the coffee chain is releasing three types of coffee at supermarkets and stores in Japan: the "Regular Coffee (Powder)," "Regular Coffee (Beans)," and "Starbucks Origami®︎ Personal Drip®︎ Coffee." The coffee is blend of beans from Latin America and East Africa, enjoying a balanced richness, and a flavour akin to milk chocolate and sweet orange, which can now be enjoyed at home or in the office.

Starbucks is also releasing a set of four bags of a Spring Blend of the Starbucks Origami®︎ Personal Drip®︎ Coffee, as well as a reusable cup. Pre-orders are now also open to get the "Starbucks® Spring Cheer Gift," a set that comes with the coffee, the cup, and a cup holder, which is perfect as a gift to yourself or your coffee-loving friends, familyーor even your special someone this Valentine's Day.

Information

Starbucks®︎ Spring Blend

Release Date: February 14, 2020
Prices:
・Starbucks®︎ Spring Blend 140g (Powder) – ¥665
・Starbucks®︎ Spring Blend 210g (Beans) – ¥998
・Starbucks Origami®︎ Personal Drip®︎ Coffee Starbucks®︎ Spring Blend (4 Bags) – ¥475
・Starbucks Origami®︎ Personal Drip®︎ Coffee Starbucks®︎ Spring Blend w/ Reusable Cup – ¥598

Starbucks Japan Official Website: https://shop.nestle.jp/front/contents/sbx/season/spring/

Starbucks To Release 'Sakura White Chocolate Cheesecake with Milk Pudding' Chilled Drink

Starbucks' Chilled Cup Series will release a new spring drink from February 11, 2020 called 'Starbucks Sakura White Chocolate Cheesecake with Milk Pudding' for a limited time. 

The Starbucks Sakura White Chocolate Cheesecake with Milk Pudding is blooming with the scent of cherry blossoms and the flavour of rich white chocolate cheesecake and creamy milk. The fun texture of the milk pudding makes for the perfect luxurious spring treat.

The drink is packed into a dome-headed cup reminiscent of Starbucks' classic and popular frappuccino®. The light pink colour of the scattered cherry blossom petals creates the warm and welcoming feeling of spring. 

Perk up with a refreshing cup full of the flavours of spring.  

Information

Starbucks Sakura White Chocolate Cheesecake with Milk Pudding

Price: ¥219

Selling From: February 11, 2020

Available At: Most convenience stores in Japan.

More Information: http://www.starbucks.co.jp/rtd/

Love At First Sip: Starbucks Japan To Release Valentine's 2020 Drink Series 'CHOCOLATE with'

Starbucks Japan has developed a new Valentine's drink series called 'CHOCOLATE with' to celebrate Valentine's Day 2020. Some drinks in this romantic series include the Chocolate with Almond Praline Frappuccino® and the White Chocolate with Latte®. The series will be launched on January 17, 2020 in most Starbucks cafés across Japan.

The 'CHOCOLATE with' series aims to spark a sense of anticipation for the next delicious flavour to fill the gap and hopes to tempt more people to surrender to the delicious flavour of chocolate. This fun series aims to be loved by all genders and all ages across Japan.

Left: CHOCOLATE with Passion Fruit Frappuccino®: Tall ¥590 *(Only available in Tall)
Middle: CHOCOLATE with Almond Praline Frappuccino®: Tall ¥590 *(Only available in Tall)
Right: White CHOCOLATE with Latte: Short ¥450, Tall ¥490, Grande ¥530, Venti® ¥570

The CHOCOLATE with Passion Fruit Frappuccino® is a chocolate-flavoured drink with refreshing yellow streaks of passion fruit sauce, chocolate chips and shaved chocolate for the topping. This Frappuccino® enjoys both a fruity flavour as well as comforting chocolate. *Contains less than 5% passion fruit juice.

The CHOCOLATE with Almond Praline Frappuccino® is made by mixing chocolate sauce with caramel and coffee for a creamy and deep base flavour. Crunchy and fragrant candied almonds and chocolate sauce top the drink, providing a very chocolatey experience perfect for any chocoholic.

The elegant and sweet White CHOCOLATE with Latte contains creamy and smooth couverture chocolate white flakes, espresso and warm milk, combined for a strong and relaxing flavour.

Right: CHOCOLATE Mousse with Latte (Hot): Short ¥390 Tall ¥430 Grande ¥470 Venti® ¥510
Left: CHOCOLATE Mousse with Drip Coffee (Hot): Short ¥340 Tall ¥380 Grande ¥420

These 'CHOCOLATE Mousse with' drinks are perfect for drip coffee and Starbucks latte fans. These Valentine's season-limited drinks are customisable so you can enjoy the delicious flavour of chocolate mousse in the form of a new Valentine's drink. The smooth chocolate mousse is light and melts in your mouth. By adding the drip coffee, the flavours merge together for a brand new and exciting flavour experience.

CHOCOLATE with Milk Tea Frappuccino®Tall ¥590 *(Only available in Tall)

On January 31, the CHOCOLATE with Milk Tea Frappuccino® with its delicious aroma, chocolatey flavour and fun textures will make its debut. The tea is made from a blend of several different kinds of tea. Milk and milk tea powder is added to enhance the flavour and then blended with white mocha syrup and chocolate chips. This is the perfect chance to enjoy chocolate and milk tea in one drink.

This year, Starbucks will also be selling Valentine's merchandise. This year's theme colours are pink and navy. A range of cute yet fancy designs decorate Starbucks' classic flasks and mugs and is bound to deliver a heart-warming experience with every sip. There are also pink Starbucks cards decorated with hearts and love letter-themed message card sets in the series. If you're looking for a causal-style gift for someone special, how about something from the Starbucks Valentines series rather than traditional chocolates?

Come try a drink from the CHOCOLATE with series for a new and exciting chocolate drink experience.

Information

Starbucks Japan CHOCOLATE with Drink Series

CHOCOLATE with Passion Fruit Frappuccino®

 CHOCOLATE with Almond Praline Frappuccino®  

White CHOCOLATE with Latte 

CHOCOLATE Mousse with Latte

CHOCOLATE Mousse with Drip Coffee

Selling: January 17 – February 14, 2020

CHOCOLATE with Milk Tea Frappuccino®

Selling: January 31 – March 31, 2020

*Available while stocks last

Available At: Most Starbucks cafés across Japan

Starbucks Japan Official Website: https://www.starbucks.co.jp

Starbucks Releases its First 2020 Drinks: Hōjicha Cream Frappucino® and Latte

Starbucks Coffee Japan will be celebrating New Year by releasing its first new drink of 2020 on January 9. The new, aromatic and creamy drinks to kick off the New Year are the Hōjicha Cream Frappucino® and the Hōjicha Cream Latte. 

Starbucks' new 2020 drinks are made with carefully roasted tea leaves that are packed with the wonderful flavours of Japan and full of rich aroma. The tea is combined with white mocha syrup and whipped cream for a deliciously creamy tea. The tea leaf mix used is Starbucks Japan's original blend which consists of five different types of tea. As the New Year's holiday period comes to an end and the streets fill up with busy people rushing to and from work and school, this drink provides a much-needed break from a busy life and will soothe you with one of Japan's favourite flavours.

Left: Hōjicha Cream Frappucino® Tall ¥570 (Before Tax) *Tall Size Only


Right: Hōjicha Cream Latte Short ¥430, Tall ¥470, Grande ¥510, Venti® ¥550 (Before Tax)

A layer of fragrant white mocha syrup lines the base of the cup to fully enhance the soothing aroma of the Hōjicha tea. Whipped cream is at the base of the drink and also floats on top. A final dusting of brown sugar accents the flavour. The strong tea aroma and milky flavour balance out in perfect harmony.

Looking for something warm? The Hōjicha Cream Latte is also milky Hōjicha tea flavoured with white mocha syrup and dusted with brown sugar. This smooth and creamy drink will warm your heart while the soothing tea aroma soothes your senses. 


Pop into Starbucks to enjoy the aroma of Hōjicha tea and a soothing creamy flavour this winter.

Information

 Hōjicha Cream Frappucino® and Hōjicha Cream Latte

Selling: January 9, 2020 – January 16, 2020 

* Available only while stocks last

Available at most Starbucks cafés across Japan 

Official Website: https://www.starbucks.co.jp

Starbucks Reserve® Roastery Tokyo Releases Merchandise in Collaboration With BEAMS

Starbucks Coffee Japan has collaborated with BEAMS Creative Lab (ビームス創造研究), which is led by Kazuyoshi Minamimagoe, Senior Creative Director at BEAMS, to release a collection of merchandise to celebrate the coming New Year. The items arrived at Starbucks Reserve® Roastery Tokyo on December 17.

Since opening on February 28, 2019, Roastery Tokyo has collaborated with BEAMS Creative Lab on three separate occasions to release collections of merchandise themed on "Play," "Travel," and "Go out!" respectively. They have proven popular with both Japanese and foreign customers. For this fourth collaboration, the theme is "Lucky Charms."

The line-up of items range from classic Japanese New Year's celebratory items like pochibukuro mini envelopes and a towel with a New Year's greeting design on it to Roastery Tokyo-exclusive Kewpie dolls coloured copper and silver like the roasters in the coffee shop.

Look over the past year and beckon the New Year with a cup of coffee at Starbucks and some festive goodies.

Information

Starbucks Reserve® Roastery Tokyo

Address: 2-19-2 Aobadai, Meguro, Tokyo

Business Hours: 7:00-23:00

No Fixed Holidays.

Access: 14-minutes on foot from Naka-Meguro Station / 14-minutes on foot from the East Exit of Ikejiri-Ōhashi Station

Official Website: https://www.starbucks.co.jp/roastery/

Starbucks Japan Reveals New Matcha White Chocolate Hot and Iced Drinks For Christmas

Starbucks Coffee Japan is celebrating Christmas 2019 with two new delicious beverages: the Matcha White Chocolate Frappuccino🄬 and Hot Matcha White Chocolate, both of which will be available to order between December 19 and 25 for this year only.

Both versions of this delightful holiday season drink are the perfect accompaniment to the winter days, combining richly fragrant matcha with smooth white chocolate. The Frappuccino🄬 enjoys the addition of maple syrup for a distinct sweetness which mixes gorgeously with the matcha and milkiness of the white chocolate.

The hot version is made with foamed milk which too is soaked in the full-bodied kick of the matcha. The fluffy texture of the foamed milk together with the sweet taste and velvety white chocolate is a combination sure to get you addicted.

If you're in Japan for Christmas this year, be sure to stop by Starbucks for a cup of Matcha White Chocolate.

Information

Matcha White Chocolate Frappuccino🄬

Tall: ¥570 (Tall size only)

Hot Matcha White Chocolate

Short: ¥430 / Tall: ¥470 / Grande: ¥510 / Venti®: ¥550

Running: December 19, 2019 – December 25, 2019

Available: At most Starbucks branches in Japan

Notes: Listed prices do not include tax. Both drinks contain less than 0.5% cocoa.

Starbucks Coffee Japan Official Website: https://www.starbucks.co.jp/