Starbucks to Open First Northern Okinawa Branch in Motobu
Starbucks will open a new branch in Okinawa's northern town of Motobu on March 22, 2019 in an effort to promote sustainable development of companies and to establish a place to promote that effort to people around the world who will visit.
The branch itself will be a permanent drive-through coffee shop at the Ala Mahaina Condo Hotel located near Kaiyohaku Park. The shop's design concept is "Coffee Yuntaku." Yuntaku is an Okinawan word which means to sit and chat together. Starbucks aims to create a place that establishes lots of communal ties to the region and its people by opening this new branch for both locals and tourists to enjoy.
As customers walk up to the two-storey concrete building they are greeted by Shisa, Okinawan gods of protection. Decorating the outside wall are panels made in the image of the threads woven in the Ryukyu Kasuri style of weaving. The foundation of the building is Ryukyu limestone made from the ocean and coral reefs. These adornments give this Starbucks branch a more local and regional.
Starbucks announced in July last year that it aims to abolish the use of plastic straws at all of its branches by the end of 2020. Plastic is used and thrown away in Japan too, so to cut the amount of plastic, Starbucks Motobu is arranging to contribute to the development of sustainable development companies. As part of the action to combat plastic waste, the branch will use plastic that has found its way into the ocean as material for creating original art.
Japanese artist Yodogawa Technique creates art from rubbish and driftage from both inside and outside Japan. Under his wing, the Okinawan baristas will work together with the locals to clean the beaches of plastic.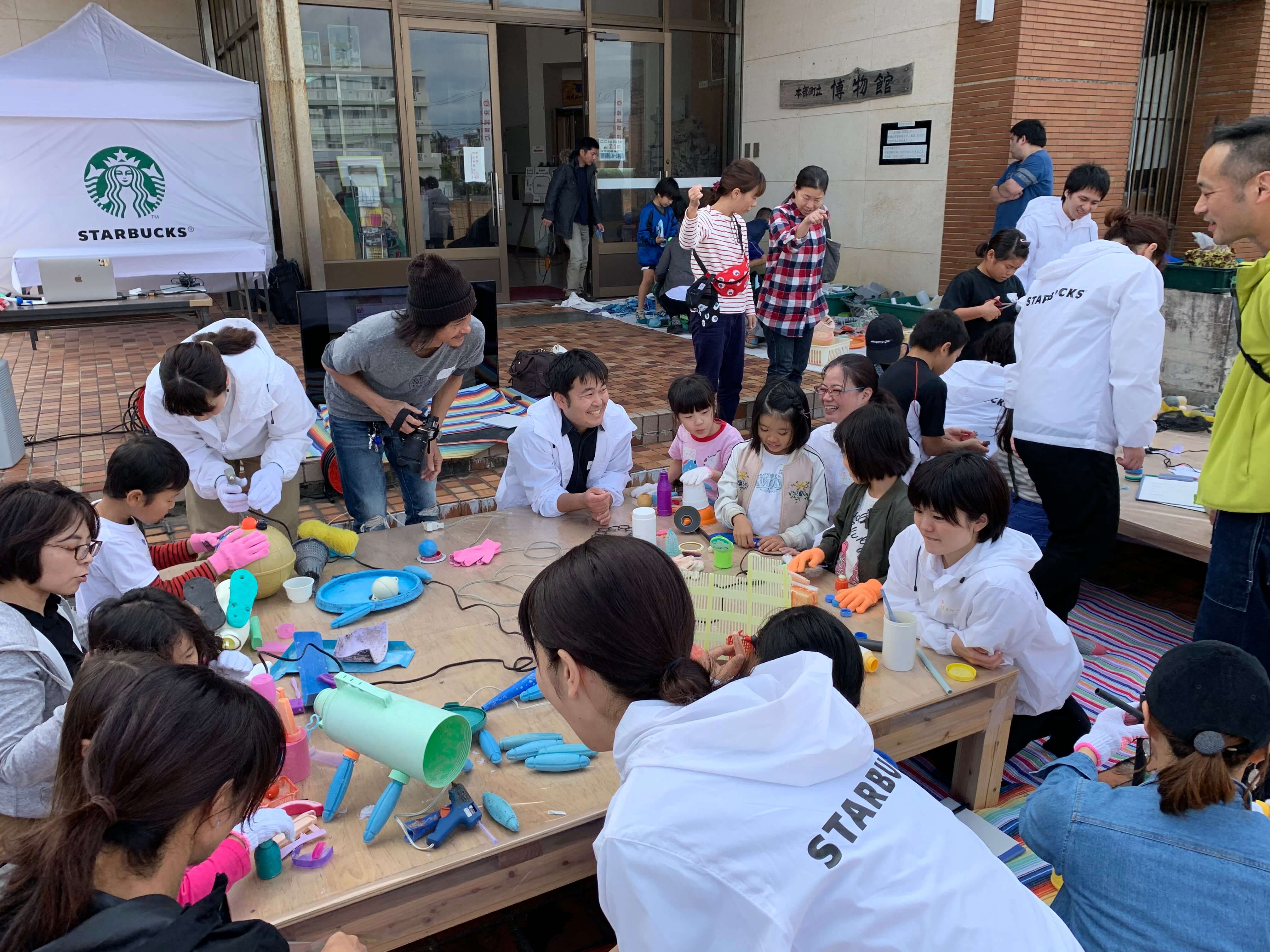 Yodogawa carried out a workshop with elementary school kids in Motobu to create little art pieces from plastic which were used to form one giant piece of fish art.
The tables on the first floor of the coffee shop are also made by Okinawan artisans using Okinawan pine.
If you're ever in Okinawa, be sure to stop by the community-driven Starbucks in Motobu.
Information
Starbucks Coffee Okinawa Motobu
Address: 1421-4 Yamagawa, Motobu, Kunigami District, Okinawa Prefecture
Grand Opening: March 22, 2019
Opening Hours: 7:00-22:00
No Fixed Holidays.
TEL: 0980-43-9865
Starbucks Official Website: https://www.starbucks.co.jp/
RELATED ENTRIES
Kanucha Resort in Okinawa Announces Spring and Summer Activity Program for 2020

Located in the city of Nago in Okinawa lies Kanucha Resort, a hotel resort which boasts 2.6 million square meters of land. The resort has revealed its spring and summer program which invites guests to enjoy everything Okinawa has to offerーnot just its breathtaking oceans.

What is Kanucha Resort?

Kanucha Resort sits on the east coast of Nago on the northern part of the Okinawa mainland. It's surrounded by the vast rolling sea and mother nature, and also faces Oura Bay, which is known for its coral reefs, which includes blue coral. Guest rooms come in nine styles, all of which incorporate gorgeous wooden decor. The resort has a bounty of restaurants, its own golf course, the beach, and over 70 activities to choose from, all of which makes Kanucha Resort a little town of its own. In the past winter months just gone, it also celebrate the 20th anniversary of Okinawa's largest illumination event, Stardust Fantasia.

Buggy Ride Tours & Buggy Adventure Tours

Experience a different side of Okinawa away from the beaches with an off-road ride through Yanbaru no Mori Forest on a quad bike.


Running: All Year

Time: 9:00-17:00

Meeting Locations: Buggy Ride Tour @ Dokidoki Yambarunture / Buggy Adventure Tour @ Matayoshi Coffee Farm

Ages: 4 years and older

Coral Snorkeling Tour in Banana Boats

Witness the tropical fish swimming around you, and gaze upon the gorgeous coral reefs, as you explore the waters below when you climb off the banana boat.

Running: July 23, 2020 – August 31, 2020

Time: 60 minutes

Ages: 5 to 65 years

Mangrove Kayak Tour Along the Kesaji River

The Okinawan mainland is home to many mangroves. See them together with the expand of Yanbaru's nature with a kayak ride along the Kesaji River.

Running: All Year

Time: Subject to change each day depending on how busy it is – please enquire directly

Courses: 150 Minutes (5 years and older) / 90 Minutes (3 years and older)

Star Sommelier to Space Walk

Hear about the moon and space with talks from Hoshi no Somurie® ("Star Sommeliers") and use a telescope to observe the stars at the planetarium.

Running: Monday-Thursday

Time: 20:00-20:50

Meeting Point: Leisure Counter

Oura Mangrove Kayak

Enjoy a round trip kayak ride around the Oura Mangrove which has been designated as an Important Cultural Property of Nago.

 

Running: All Year Round

Time: Please enquire directly

Ages: 3 years old and above (*For guests only)

Meeting Point: Wansaka Oura Park

For more details on the activities available at Kanucha Resort, visit their website here.

Information

Kanucha Resort

Address: 156-2 AbuNago, Okinawa

TEL: 0980-55-8880

FAX: 0980-55-8693
Reservations: 0980-55-8484 (9:00-18:00)

Access: 1 and a half hours by car from Naha Airport

Official Website: https://www.kanucha.jp/en/

Starbucks to Open New Branch Along Nakamise Street in Nagano Near Zenkoji Temple

Starbucks Coffee Japan is set to open a new branch in Japan on March 26, 2020. It will open along Nakamise-dori, a street that leads to Nagano's famous Zenkoji Temple.

It will open as the Kōshin'etsu region's first Starbucks Regional Landmark Storeーa Starbucks branch unique to Japan that's built as a symbol of that area which promotes that region's culture to customers. They enable coffee-loving visitors to discover or rediscover the wonder of a region's history, culture, craftsmanship, and industry, while building a connection with the region through those discoveries. The branches incorporate various local design elements into them.

The new branch, called Starbucks Coffee Shinshu Zenkoji Nakamise-dori, neighbours the Niou Gate of Zenkoji Temple. It's a place where you can sit down with a delicious cup of coffee and relax while feeling the history of the place. The coffee shop's design and decor also takes inspiration from local history and culture, their concept behind "Busy and Quiet, Light and Dark." It's situated a little away from the hustle and bustle of Nakamise-dori, and houses two spacious floors.

The sliding doors and skylight let in a soft light which also casts shadows in places, mimicking the beauty of shade found in a Japanese-style house. The ceiling and walls at the entrance are made from Japanese red pine, while the bar uses five different types of wood from Nagano Prefecture like hornbeam and katsura. The stone lanterns which were in the original building have been put at the entrance, and the great beams on the second floor have been left as they are. All of this preserves the feeling of the local region while small Starbucks touches are added here and there, resulting in a unique Starbucks experience.

Information

Starbucks Coffee Shinshu Zenkoji Nakamise-dori

Grand Opening: March 26, 2020

Address: 483 Motoyoshicho, Nagano, Nagano Prefecture

Opening Hours: 7:00-21:00

No Fixed Holidays

Starbucks Japan Official Website: https://www.starbucks.co.jp/

Starbucks Reserve Roastery Tokyo to Release Butterscotch Latte

Starbucks Coffee Japan is launching a new drinks promotion in Japan on March 13 entitled "New Latte Love Coffee." The first two drinks in the series will celebrate the 1st anniversary of the coffee wonderland Starbucks Reserve® Roastery Tokyo. The drinks are the Butterscotch Latte and Butterscotch Coffee Jelly Frappuccino®.

Left: Butterscotch Coffee Jelly Frappuccino® – Tall ¥590 (Before Tax) / Right: Butterscotch Latte – Short ¥420 Tall ¥460, Grande ¥500, Venti® ¥540 (Tax not included in drink prices)

The new beverages incorporate a butterscotch sauce which offers a rich and smooth buttery taste and sweet caramel. Each drink is carefully crafted with a shot of freshly-made espresso, the butterscotch sauce, and steamed milk.

The Frappuccino® version is filled with a Starbucks-original coffee jelly made using the coffee chain's "Espresso Roast" which goes perfectly with the milk of the cold drink. It's almost like a dessert in a cup, especially with the addition of the butterscotch sauce.

Starbucks Reserve® Roastery Tokyo is also widening its range of milks in line with the new beverages. Soy milk is already a standard there, but now customers can also enjoy oat milk for a limited time, as well as almond milkーthe latter of which will be put onto the regular menu.

Oat Milk Latte/Almond Milk Latte – ¥Short 390, Tall ¥430, Grande ¥470, Venti®︎ ¥510

The subtle sweetness of the oat milk used in the Oat Milk Latte goes perfect with the taste of the espresso. A Starbucks-original almond milk is also used for the Almond Milk Latte, adding a fragrant almond taste to the coffee beverage.

Enjoy your coffee with your milk of choice from six kinds: Starbucks Milk, Low-Fat, Fat-Free, Soy, Oat, and Almond.

Information

Butterscotch Latte

Running: March 13, 2020 – June 16, 2020

Butterscotch Coffee Jelly Frappuccino®︎

Running: March 13, 2020 – April 8, 2020

Oat Milk

Running: March 13, 2020 – April 8, 2020

Almond Milk

Release Date: March 13, 2020

Official site:https://www.starbucks.co.jp/

Okinawa's New Hot Spring Resort Lequ Okinawa Chatan Spa & Resort Opens

Lequ Okinawa Chatan Spa & Resort is the first hotel resort from Vessel Hotels. Operating on the concept of "Loving Yourself, Family, and the Town," the hotel opened in the town of Chatan in Nakagami, Okinawa on March 1, 2020.

Rooftop Infinity Pool & Cafe/Bar

Sat atop the hotel roof is a spa which houses an infinity pool that offers an unbroken view of Chatan as well as the picturesque sunset in the evenings. There's also a 3-meter high infinity pool, jacuzzis, and more, offering a luxurious space to relax.

Located to the side of the pool is a cafe and bar that serves a selection of original cocktails and fruity drinks as well as light food. When the sun sets and the evening settles, the pool lights are turned on, creating a relaxed atmosphere. Enjoy a cup of Japanese sake or one of the refreshing cocktails while staring down at nighttime Chatan.

Vessel Hotel's First Natural Hot Spring

Chatan Onsen hails as Vessel Hotel's first-ever natural onsen hot spring. The water is drawn from 1,400m underground, which provides relief and relaxation from a day of sightseeing and travelling. The hot spring has towering windows, and there's also a sauna for both men and women.

SPA SOLANI OKINAWA CHATAN – The Relaxation Salon

SPA SOLANI OKINAWA CHATAN is a "relaxation salon" which offers a Hawaiian-style spa experience using original products made using ingredients sourced in Okinawa. Oils are made with carefully-selected organic ingredients for that natural feeling. There are body treatments, messages, quick treatments, and more.

Filling Breakfasts at the Resort's Kitchen

Vessel Hotel has brought its "Happy Breakfast Project" to Lequ Okinawa Chatan Spa & Resort. Tuck into a variety of meals prepared with Okinawan ingredients, or try one of the household classic Okinawan breakfasts. Whatever you have, you are guaranteed the Okinawan experience to start your day off.

The restaurant's original souffle hamburger is made with a mix of Okinawan black cattle beef and Agu pork. The souffle is made in-house and prepared by the hotel guests' hands. Food is also served in Okinawan yamuchin porcelain.

Starbucks Japan Reveals Cherry Frappuccino®ーThe Second Drink of Starbucks Sakura Season

Starbucks Japan has announced that the second drink in its Sakura Season series of springtime cherry blossom drinks will be released on February 26, 2020. Named the "Sakura Sakuranbo Frappuccino®" (Cherry Blossom Cherry Frappuccino®), this tasty-looking drink is exclusive to Japan.

Sakura Sakuranbo Frappuccino®—Savour the sweet and tangy fresh cherry pieces

Sakura Sakuranbo Frappuccino® – Tall ¥590 (Before Tax) / Available: February 26, 2020 – March 12, 2020

The new drink contains fresh and sweet cherry pieces. It uses a cherry blossom flavoured base together with strawberry milk, which adds a subtle flavour, and a sauce made from fresh cherries. Cherries in Japan also go by the name outou (桜桃), which has the Japanese kanji for sakura (cherry blossom) in it. This is because its roots come from the same family of roses.

The drink has a unique sweet and sour punch to it, and one sip is enough to make you feel like spring is here. Topped with pink, white, or blue Japanese sugar candies known as konpeitō, this drink truly offers a toast to a kawaii Japanese spring.

Customise your drink for free with "Sakura Toppings"

Free Sakura Toppings / Available: February 26, 2020 – March 12, 2020

For Sakura Season at Starbucks, customers can customise all drinks with two different colours of mochi pieces and dried raspberries shaped like cherry blossom petals. The coffee company highly recommend topping cappuccinos, white mochas, and matcha cream frappuccinos® with them. Make your drink your own!

Starbucks is also releasing a new range of merchandise, such as mugs and tumblers, with theme "Spring Misty-Rain," on February 26. These gorgeous designs are inspired by the light rainfall in spring which falls onto the cherry blossoms and grass and makes them glisten with the light. A new cherry blossom Starbucks Card will also be available to pick up for a limited time.

Sakura Season at Starbucks is always a popular time in Japan, so if you're planning a trip here for spring and are in need of a coffee top-up, then you're in for a real treat.

Starbucks Reserve®︎ Roastery Tokyo to Release Cherry Blossom Spring Drinks and Merchandise

Starbucks Reserve®︎ Roastery Tokyo boasts the most incredible location, sitting by the side of Nakameguro, one of Tokyo's most famous spots for seeing the cherry blossoms in spring.

This year, the coffee roastery's "Sakura Season" is set to begin on February 15, when its cherry blossom-inspired merchandise collection is released, along with a line-up of pink beverages and food.

The official Starbucks sakura merchandise ranges from tumblers and mugs to a key ring, handkerchief, and more, for a total of 10 items.

Strawberry Chia Oolong – ¥900

Poppun Sakura Jasmine Tea – ¥950

Floating Blossom – ¥900

Six beautiful beverages from last year's Sakura Season at Starbucks are also making a return from the Teavana™️ brand, made with delicate and soft cherries, hibiscus, and tea leaves as refreshing as green grass.

Clockwise From Left: Gianchetti & Sakura – ¥880 / Mini Panettone Sakura – ¥680 / Cornetti Sakura – ¥380 / Maritozzo Sakura – ¥540

Italian bakery Princi®︎ is also heading to Japan for the first time to serve up Italian food culture to people at Starbucks Reserve®︎ Roastery Tokyo. Enjoy the floral taste of cherry blossoms done in a Princi®︎ way.

Heading to Tokyo for Hanami and the cherry blossoms? Then make a stop at Starbucks Reserve®︎ Roastery Tokyo for this year's Sakura Season.

Information

Starbucks Reserve®︎ Roastery Tokyo Sakura Season

Release Date: February 15, 2020

Location: Starbucks Reserve®︎ Roastery Tokyo

*The Princi®︎ products will also be served at the Starbucks Reserve®︎ Store at Ginza Maronie-dori

Official Website: https://www.starbucks.co.jp/press_release/pr2020-3360.php

Starbucks Japan Unveils Cherry Blossom Milk Latte, Frappuccino & More For Sakura Season

Every year, Starbucks Coffee Japan serves up its seasonal "Sakura Season" drinks menu, a limited-time offering of special cherry blossom flavoured drinks for the spring. This year's Sakura Season at Starbucks begins on February 15, and they've revealed the first of several upcoming batches of drinks and merchandise.

Sakura Milk Pudding Frappuccino® & Sakura Milk Latte ー Japan Only

The first two drinks of the Sakura Season menu are a gorgeous light pink, reminiscent of cherry blossoms. They're available at Starbucks in Japan only.

The Sakura Milk Pudding Frappuccino® is made like a Japanese pudding, scented with fresh cherry blossom leaf extract. The milk base is mixed with a cherry blossom and strawberry sauce, and it's all topped off with cream and decorations made to look like flower petals. The pink gradation in the cup also calls to mind the beautiful dance of falling cherry blossom leaves.

The Sakura Milk Latte is a subtly sweet, no-coffee beverage made with a combination of cherry blossom and strawberry suace as well as warm milk. It's still cold out right now, so this is the perfect treat to warm you up for the coming spring.

Sakura Milk Pudding Frappuccino®: Tall ¥590 (Before Tax) *Tall size only

Sakura Milk Latte: Short ¥450 / Tall ¥490 / Grande ¥530 / Venti® ¥570 (Before Tax)

Running: February 15, 2020 – February 25, 2020

*The Sakura Milk Latte will be served until March 12, 2020

Available: At most Starbucks branches in Japan (while supplies last)

Reusable Cherry Blossom Cups ー Japan Only

Starbucks introduced its reusable cups to help reduce plastic waste, and now you can get them in these stylish new cherry blossom designs. If you're still using disposable plastic cups, then make that important step today and get your own reusable cup.

SAKURA 2020 Reusable Cup (473ml) & Bag Set – ¥2,800 (Before Tax)

SAKURA 2020 Reusable Cup (473ml) – ¥350 (Before Tax)

Release Dates:

SAKURA 2020 Reusable Cup (473ml) & Bag Set: February 15,  2020

SAKURA 2020 Reusable Cup (473ml): February 19, 2020

Available: At most Starbucks branches in Japan (while supplies last)

SAKURA Season Merchandise ー Batch ①

The theme of the first batch of Sakura Season 2020 merchandise is "Spring Breeze." The design captures the image of cherry blossom petals falling from the gentle spring breeze, the warm days, and hope. The line-up includes not only tumblers and mugs, but a picnic mat with a cherry blossom print, and more. Enjoy your coffee with one of the reusable cups or tumblers and feel good about doing your part to reduce plastic this spring.

Batch ①

Release Date: February 15, 2020

Available: At most Starbucks branches in Japan (while supplies last)

Starbucks's cherry blossom filter makes flowers blossom in your photos!

Experience the cherry blossoms early before they bloom with the Starbucks Sakura 2020 (Japanese: #スターバックスさくら2020) filter. You don't even have to download an app to use it.

To get access to the filter, simply scan the QR code in a Starbucks branch, tap the button, and take your springtime photo!

The filter lets you choose between the three most common cherry blossom trees in Japan: the Yoshino cherry, yae-zakura, and shidare-zakura.

Starbucks Sakura 2020 Filter (#スターバックスさくら2020)

Running: February 15, 2020 – March 12, 2020

Available: At most Starbucks branches in Japan

Starbucks Japan Reveals Spring Blend Releasing On Valentine's Day 2020

Nestlé has revealed that it is releasing a new seasonal coffee, the Starbucks® Spring Blend, on February 14 aka Valentine's Day.

Springtime and the cherry blossom season at is a popular time of the year every year at Starbucks in Japan. To beckon the cool breeze of the spring, the coffee chain is releasing three types of coffee at supermarkets and stores in Japan: the "Regular Coffee (Powder)," "Regular Coffee (Beans)," and "Starbucks Origami®︎ Personal Drip®︎ Coffee." The coffee is blend of beans from Latin America and East Africa, enjoying a balanced richness, and a flavour akin to milk chocolate and sweet orange, which can now be enjoyed at home or in the office.

Starbucks is also releasing a set of four bags of a Spring Blend of the Starbucks Origami®︎ Personal Drip®︎ Coffee, as well as a reusable cup. Pre-orders are now also open to get the "Starbucks® Spring Cheer Gift," a set that comes with the coffee, the cup, and a cup holder, which is perfect as a gift to yourself or your coffee-loving friends, familyーor even your special someone this Valentine's Day.

Information

Starbucks®︎ Spring Blend

Release Date: February 14, 2020
Prices:
・Starbucks®︎ Spring Blend 140g (Powder) – ¥665
・Starbucks®︎ Spring Blend 210g (Beans) – ¥998
・Starbucks Origami®︎ Personal Drip®︎ Coffee Starbucks®︎ Spring Blend (4 Bags) – ¥475
・Starbucks Origami®︎ Personal Drip®︎ Coffee Starbucks®︎ Spring Blend w/ Reusable Cup – ¥598

Starbucks Japan Official Website: https://shop.nestle.jp/front/contents/sbx/season/spring/

5 Must-Visit Beautiful and Romantic Lantern Festivals in Japan | 2020 Edition

The season for Japan's enchanting and romantic lantern events has finally arrived, and the line-up this year is diverse, from events where lanterns are the main attraction to lantern-lined festivals and Japanese matsuri festivals.

Hankyu Travel International compiled a list of these events , and we've pulled out some of the best ones for you.

Hanamaki Hoshi Meguri no Yoru | Iwate Prefecture

This year marks the third run of "Hanamaki Hoshi Meguri no Yoru," an event held during winter for guests staying at Hanamaki Onsen. The event is comprised of many elements, including fireworks, folk entertainment, and more. People will also write wishes and messages or draw pictures on their lanterns before sending them up into the winter night sky. Afterwards, they can enjoy a dip in the hot springs at Hanamaki Onsen to warm themselves up and unwind from the day.

Running: January 26, 2020/February 22, 2020/February 11, 2020/February 16, 2020/February 24, 2020

Location: Namari Ski Center
Address: Nakadaira-36-1 Namari, Hanamaki, Iwate

▼Hanamaki Hoshi Meguri no Yoru Tour
https://www.hankyu-travel.com/kokunai/keyword/%E3%81%AF%E3%81%AA%E3%81%BE%E3%81%8D%E6%98%9F%E3%82%81%E3%81%90%E3%82%8A%E3%81%AE%E5%A4%9C/?p_baitai=9599

China Lantern Festival | Chiba Prefecture

Tokyo German Village is hosting its second China Lantern Festival, inspired by the typical traditional festivals held in China during spring. A selection of 30 lantern installations of varying sizes made by the world's biggest lantern maker Lantern Group have been set up in the 50,000 square meter area. Pieces include lanterns over 10 meters long and high, lanterns floating on the water, moving lanterns, and more.

Running: November 23, 2019 – April 5, 2020

Location: Tokyo German Village

Address: 419 Nagayoshi, Sodegaura, Chiba

▼Tokyo German Village Tour
https://www.hankyu-travel.com/kokunai/keyword/%E6%9D%B1%E4%BA%AC%E3%83%89%E3%82%A4%E3%83%84%E6%9D%91/?p_baitai=9599

Tsunan Yuki Matsuri | Niigata Prefecture

Since 2012, the people of Tsunan in Niigata have raised sky lanterns into the sky to pray for the revival from the disaster that the Tohoku earthquake brought in 2011. It is a two-day festival, with the first day of the event taking place at night, and the second being the main day of the festival. The festival is so popular that tickets never fail to sell out quickly every year. It brings with it a host of events, from the lanterns to the snowboard straight jumping tournament, the hanging of snow lanterns, snowmobile rides, and more.

Running: March 14, 2020 (There will also be a lantern event the night before on March 13, 2020)

Location: New Greenpia Tsunan

Address: 12300 Akinari, Tsunan, Nakauonuma-gun, Niigata

▼Niigata Tsunan Sky Lantern Festival Tour
https://www.hankyu-travel.com/chubu-hokuriku/niigata/lantern/?p_baitai=9599

Nagasaki Lantern Festival | Nagasaki Prefecture

This festival was originally held during the Chinese New year by the people of Nagasaki Chinatown, but in 1994 it was given the name "Nagasaki Lantern Festival." To date, it has been attended by over 1 million people. This year, around 15,000 lanterns of varying sizes are set to light the streets. Taking place across several areas, some standout pieces include the peach-coloured lanterns at Nagasaki Chinatown, the ceiling lanterns at Hamanomachi Arcade, the water lanterns at Nagashimagawa Park, and more. On weekends, there are also parades, traditional Chinese performance, and other exciting events. And if you head to Nagasaki Confucian Shrine (also known as Koshi-byo), you can offer a love lantern to pray for happiness in your relationship.

Running: January 24, 2020 – February 9, 2020
Locations: Nagasaki Chinatown/Central Park/Tojin Yashiki/and elsewhere
Address: Various places throughout the city of Nagasaki

▼Nagasaki Lantern Festival

Hankyu Travel International Tour: Hankyu Travel International

Nagasaki Tourism Page: https://travel.at-nagasaki.jp/en/what-to-see/62/

Ryukyu Lantern Festival 2019-2020 | Okinawa Prefecture

Murasaki Mura Ryukyu Kingdom Theme Park is known for having originally been used as the set for several historical drama series, and was subsequently turned into a theme park after filming was finished. The Ryukyu Lantern Festival welcomes a variety of different lanterns, including Chinese lanterns, paper lanterns, various Asian lanterns, and more, each of which bring a completely different atmosphere depending on the area you are in. This year sees the welcome return of the annual lantern contest where 45 individual lantern pieces are exhibited. There are also different street performances every day on the Night Lantern Stage, as well as projection mapping displays, the Night Lantern Cafe, and more.

Running: December 1, 2019 – March 31, 2020

Location: Murasaki Mura Ryukyu Kingdom Theme Park

Address: 1020-1 Takashiho, Yomitan, Nakagami-gun, Okinawa

Murasaki Mura Official Website: https://murasakimura.com/

Be part of one of Japan's many beautiful lantern festivals this year and witness some seriously breathtaking night scenes.

Starbucks To Release 'Sakura White Chocolate Cheesecake with Milk Pudding' Chilled Drink

Starbucks' Chilled Cup Series will release a new spring drink from February 11, 2020 called 'Starbucks Sakura White Chocolate Cheesecake with Milk Pudding' for a limited time. 

The Starbucks Sakura White Chocolate Cheesecake with Milk Pudding is blooming with the scent of cherry blossoms and the flavour of rich white chocolate cheesecake and creamy milk. The fun texture of the milk pudding makes for the perfect luxurious spring treat.

The drink is packed into a dome-headed cup reminiscent of Starbucks' classic and popular frappuccino®. The light pink colour of the scattered cherry blossom petals creates the warm and welcoming feeling of spring. 

Perk up with a refreshing cup full of the flavours of spring.  

Information

Starbucks Sakura White Chocolate Cheesecake with Milk Pudding

Price: ¥219

Selling From: February 11, 2020

Available At: Most convenience stores in Japan.

More Information: http://www.starbucks.co.jp/rtd/

Love At First Sip: Starbucks Japan To Release Valentine's 2020 Drink Series 'CHOCOLATE with'

Starbucks Japan has developed a new Valentine's drink series called 'CHOCOLATE with' to celebrate Valentine's Day 2020. Some drinks in this romantic series include the Chocolate with Almond Praline Frappuccino® and the White Chocolate with Latte®. The series will be launched on January 17, 2020 in most Starbucks cafés across Japan.

The 'CHOCOLATE with' series aims to spark a sense of anticipation for the next delicious flavour to fill the gap and hopes to tempt more people to surrender to the delicious flavour of chocolate. This fun series aims to be loved by all genders and all ages across Japan.

Left: CHOCOLATE with Passion Fruit Frappuccino®: Tall ¥590 *(Only available in Tall)
Middle: CHOCOLATE with Almond Praline Frappuccino®: Tall ¥590 *(Only available in Tall)
Right: White CHOCOLATE with Latte: Short ¥450, Tall ¥490, Grande ¥530, Venti® ¥570

The CHOCOLATE with Passion Fruit Frappuccino® is a chocolate-flavoured drink with refreshing yellow streaks of passion fruit sauce, chocolate chips and shaved chocolate for the topping. This Frappuccino® enjoys both a fruity flavour as well as comforting chocolate. *Contains less than 5% passion fruit juice.

The CHOCOLATE with Almond Praline Frappuccino® is made by mixing chocolate sauce with caramel and coffee for a creamy and deep base flavour. Crunchy and fragrant candied almonds and chocolate sauce top the drink, providing a very chocolatey experience perfect for any chocoholic.

The elegant and sweet White CHOCOLATE with Latte contains creamy and smooth couverture chocolate white flakes, espresso and warm milk, combined for a strong and relaxing flavour.

Right: CHOCOLATE Mousse with Latte (Hot): Short ¥390 Tall ¥430 Grande ¥470 Venti® ¥510
Left: CHOCOLATE Mousse with Drip Coffee (Hot): Short ¥340 Tall ¥380 Grande ¥420

These 'CHOCOLATE Mousse with' drinks are perfect for drip coffee and Starbucks latte fans. These Valentine's season-limited drinks are customisable so you can enjoy the delicious flavour of chocolate mousse in the form of a new Valentine's drink. The smooth chocolate mousse is light and melts in your mouth. By adding the drip coffee, the flavours merge together for a brand new and exciting flavour experience.

CHOCOLATE with Milk Tea Frappuccino®Tall ¥590 *(Only available in Tall)

On January 31, the CHOCOLATE with Milk Tea Frappuccino® with its delicious aroma, chocolatey flavour and fun textures will make its debut. The tea is made from a blend of several different kinds of tea. Milk and milk tea powder is added to enhance the flavour and then blended with white mocha syrup and chocolate chips. This is the perfect chance to enjoy chocolate and milk tea in one drink.

This year, Starbucks will also be selling Valentine's merchandise. This year's theme colours are pink and navy. A range of cute yet fancy designs decorate Starbucks' classic flasks and mugs and is bound to deliver a heart-warming experience with every sip. There are also pink Starbucks cards decorated with hearts and love letter-themed message card sets in the series. If you're looking for a causal-style gift for someone special, how about something from the Starbucks Valentines series rather than traditional chocolates?

Come try a drink from the CHOCOLATE with series for a new and exciting chocolate drink experience.

Information

Starbucks Japan CHOCOLATE with Drink Series

CHOCOLATE with Passion Fruit Frappuccino®

 CHOCOLATE with Almond Praline Frappuccino®  

White CHOCOLATE with Latte 

CHOCOLATE Mousse with Latte

CHOCOLATE Mousse with Drip Coffee

Selling: January 17 – February 14, 2020

CHOCOLATE with Milk Tea Frappuccino®

Selling: January 31 – March 31, 2020

*Available while stocks last

Available At: Most Starbucks cafés across Japan

Starbucks Japan Official Website: https://www.starbucks.co.jp

Starbucks Releases its First 2020 Drinks: Hōjicha Cream Frappucino® and Latte

Starbucks Coffee Japan will be celebrating New Year by releasing its first new drink of 2020 on January 9. The new, aromatic and creamy drinks to kick off the New Year are the Hōjicha Cream Frappucino® and the Hōjicha Cream Latte. 

Starbucks' new 2020 drinks are made with carefully roasted tea leaves that are packed with the wonderful flavours of Japan and full of rich aroma. The tea is combined with white mocha syrup and whipped cream for a deliciously creamy tea. The tea leaf mix used is Starbucks Japan's original blend which consists of five different types of tea. As the New Year's holiday period comes to an end and the streets fill up with busy people rushing to and from work and school, this drink provides a much-needed break from a busy life and will soothe you with one of Japan's favourite flavours.

Left: Hōjicha Cream Frappucino® Tall ¥570 (Before Tax) *Tall Size Only


Right: Hōjicha Cream Latte Short ¥430, Tall ¥470, Grande ¥510, Venti® ¥550 (Before Tax)

A layer of fragrant white mocha syrup lines the base of the cup to fully enhance the soothing aroma of the Hōjicha tea. Whipped cream is at the base of the drink and also floats on top. A final dusting of brown sugar accents the flavour. The strong tea aroma and milky flavour balance out in perfect harmony.

Looking for something warm? The Hōjicha Cream Latte is also milky Hōjicha tea flavoured with white mocha syrup and dusted with brown sugar. This smooth and creamy drink will warm your heart while the soothing tea aroma soothes your senses. 


Pop into Starbucks to enjoy the aroma of Hōjicha tea and a soothing creamy flavour this winter.

Information

 Hōjicha Cream Frappucino® and Hōjicha Cream Latte

Selling: January 9, 2020 – January 16, 2020 

* Available only while stocks last

Available at most Starbucks cafés across Japan 

Official Website: https://www.starbucks.co.jp