Go and See 10,000 Tulips at Karuizawa Lake Garden
Karuizawa Lake Garden is a natural garden that displays creative harmony between humans and nature. The garden is set to open for its 2019 business on April 19.
The natural garden is made up of 8 areas which blooms different beds of flowers across all four seasons, with a particular focus on roses. Across the 10,000m2 area are close to 400 varieties of English roses, perennial plants, herbs and more. Most of the flowers there bloom along the garden's waterfront.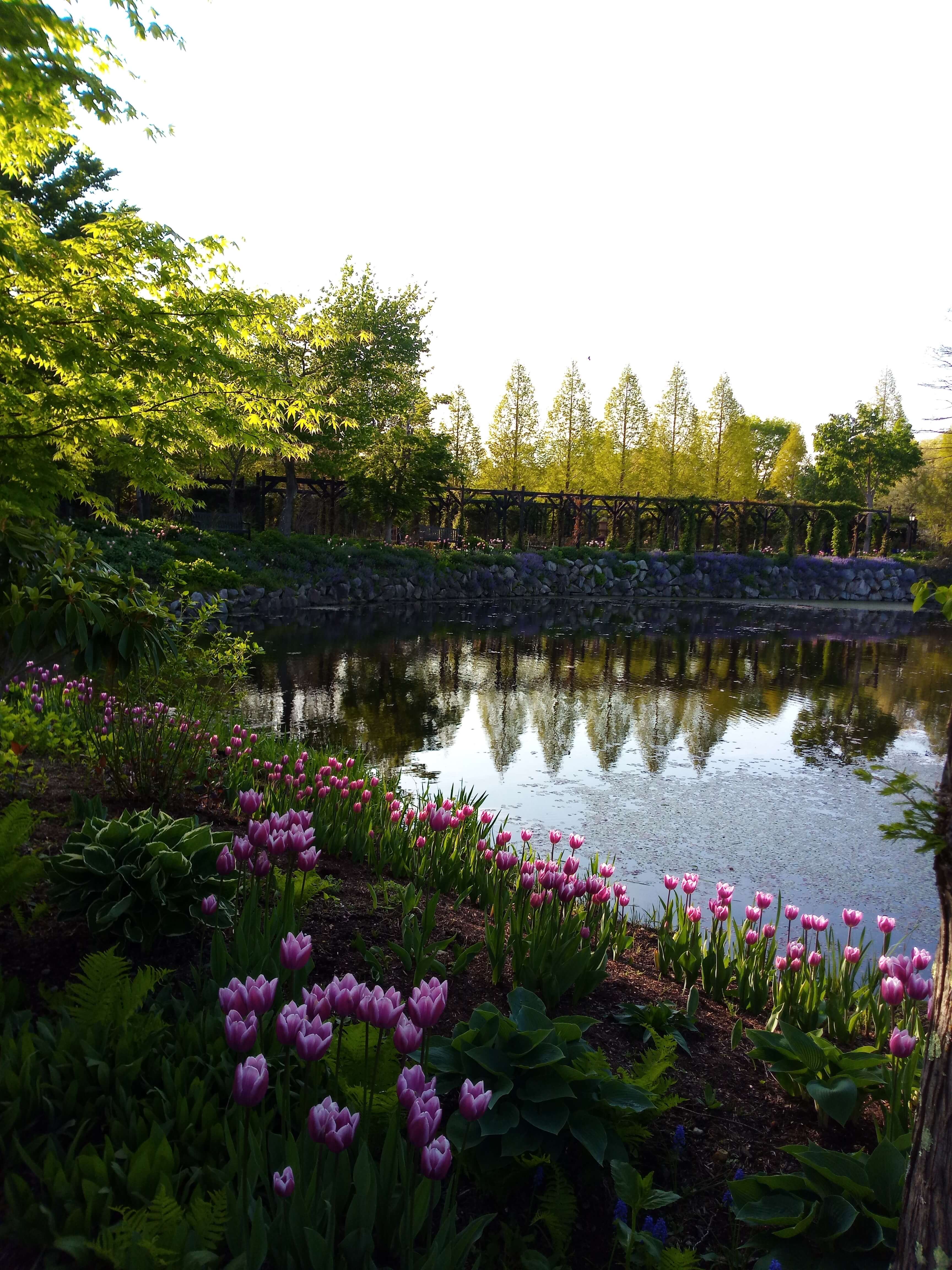 In April and May, when the garden's roses begin to bloom, around 10,000 tulips will join them. There will also be weeping cherries at the lake shore, and plenty of other springtime sights to behold.
Information
Karuizawa Lake Garden
Address: Lake New Town, Hotchi, Karuizawa, Kitasaku District, Nagano Prefecture
Open: April 19, 2019 – November 4, 2019 (Open on June 10 for Karuizawa Citizen's Day)
Price: Different depending on the season. Check the homepage for more details.
Garden Time: 09:00-17:00 (Last Entries 16:30)
*Opening times may differ depending on the season so please check the homepage for details.
*The garden will be closed one hour earlier every Wednesday of maintenance.
Official Website: http://www.karuizawa-lakegarden.jp/
Flower High Seasons
[Late April – Mid May] Bulb plants such as tulips and grape hyacinths
[Late July – August] Perennial plants such as lilies
[Mid August] Summer roses
[September – October] Autumn season. Autumn perennial plants and roses.
RELATED ENTRIES
Hoshinoya Karuizawa Unveils Special Anniversary Plan on the Ice

Each Hoshinoya location has its own unique theme, and all offer an extraordinary experience. Hoshinoya Karuizawa, a resort in Nagano Prefecture, has opened reservations for the Starry Winter Anniversary Plan, allowing couples to celebrate their love away from the hustle and bustle of the city beneath the dazzling winter sky. The staff at the resort will assist couples in celebrating the special day at various locations around the resort, and a custom-made photo tour will also be included!

Surrounded by rich nature at the foot of Mt. Asama, Karuizawa reaches low temperatures in winter, creating beautiful scenery dotted with icy trees and snow glistening in the sunlight. This plan is perfect for those who want to escape the stresses of the current pandemic. 

A Special Seat on the Ice

The Karuizawa Wild Bird Sanctuary is located directly beside Hoshinoya Karuizawa and houses the Kera Pond at the entrance. Used as an outdoor skating rink during the winter months, a large two-person seating area is erected on the ice which can only be reserved for couples. Lovebirds can enjoy champagne, dried fruits, and cheese as they gaze up at the starry sky. 

Guest Rooms Decorated for the Celebration

With rooms offering spectacular nature views, couples can enjoy herbal tea, sweets, and flower arrangements only included in this special plan. The flowers may be taken home, and the sweets include florentines made with miso, a specialty of the Shinshu area. They are said to be 'sweets that bring happiness,' and may be the key to many more happy years together!

Custom-Made Photo Tour

The landscape around the resort pays homage to traditional Japanese landscaping and includes terraced rice paddies, rivers, and unique vegetation. The custom-made photo tour is a private tour limited to one group, in which couples stroll around the grounds with a photographer to take photos at these spectacular locations. These will be made into an album with the Hoshinoya Karuizawa logo. 

Solo One-Day Hot Spring Plan Offers Complete Relaxation and Rejuvenation in Karuizawa

Karuizawa Hoshino Area, a place known for bringing nature and culture lovers together, will be offering a new one-day hot spring spa plan from November 4, 2021, until March 19, 2022. This is the perfect way to unwind from the stresses of the past year while getting away from crowds and responsibilities. Because it's only one day, it's perfect for those who can't take a long vacation, but who are still desperate for some relaxation! The package will include access to hot spring baths, body care, a choice of lunch and drinks, and plenty of skincare amenities.

Tonbo-no-Yu Hot Spring, open since the Taisho era, will serve as the main location for the getaway. The springs themselves are bicarbonate and chloride springs with soft and thick waters in which to achieve the perfect soak and detox. Getting out of the water will leave a veil of salt on your skin, moisturizing it and cleansing every inch of your body. The open-air bath is surrounded by trees, while the indoor baths offer excellent views through oversized windows. 

Five Luxuries to Enjoy on the One-Day Getaway

[Power Up] Proper Bathing Instructions for the Best Hot Springs Experience

For those looking to maximize their hot spring experience, a comprehensive bathing guide will be provided to all guests, including breathing exercises and techniques for a great facial massage. The plan includes rental towers, and guests can feel free to enter the springs as many times as they like. At the reception desk, guests will also be given a bottle of Apple Vinegar Water to help them stay properly hydrated while soaking. 

[New] Gentle Skin Care while Relaxing in the Spring

Those participating in the one-day plan will be given OSAJI amenities to use during their stay. The brand is made up of safe and organic products approved by dermatologists, to be applied before and after bathing. 

[Power Up] Improve Gut Health with Healthy Beverages

When guests get out of the bath, a warm brown rice amazake will be waiting, shown to improve the intestinal environment and boost natural immunity. By using brown rice, the drink contains larger amounts of Vitamin E and dietary fiber than traditional amazake. This tasty drink will be served at Cafe Hungry Spot, adjacent to the springs. 

Relieve Stiff Joints with Attentive Body Care

At Tokoyo, located within the Harunire Terrace in the Karuizawa Hoshino Area, guests will get a 30-minute body care treatment with their choice of foot massage or shoulder and neck massage. Unwind and let go of all of your stress. 

Choose From Six Different Restaurants for Lunch

For lunch, six restaurants in the Hoshino area are at your beck and call, from Japanese cuisine to Italian. There's no need to make reservations in advance; choose what you're craving the day of, and don't stress! 

Information

Solo One-Day Hot Spring Spa Plan

Running: November 4, 2021 – March 19, 2022 (Excluding Dec. 29 – Jan. 3 and Jan. 11 – 20)

Reservations: https://www.hoshino-area.jp (Reservations required by 18:00 the day before) 

Location: Tonbo-no-Yu, Karuizawa, Nagano

Experience a Front Row Seat of Karuizawa's Tranquil Forests at HOSHINOYA

HOSHINOYA Karuizawa has announced a special summer plan for guests called "Mori no Hotori cafe&Bar ~Suijo no Tokutoseki~" (Cafe & Bar by the Forest ~Special Seats on the Water~). The midsummer evening plan is available for one group per day and takes place at the hotel's cafe and bar which sits by a forest and faces the Kera-Ike Pond. It invites guests to relax under the starry night sky on the water and enjoy the sounds of nature while enjoying drinks and bites to eat.

Japan is known for its summer hot summers. However, Karuizawa enjoys a cooler climate, so evenings dip to around 20°C for a comfortable temperature.

Stargazing on top of the water

HOSHINOYA Karuizawa is connected directly to Karuizawa Wild Bird Sanctuary. At the entrance, by the Kera-Ike Pond, is the hotel's Mori no Hotori cafe&bar which is open all year. The cafe/bar fusion is surrounded by Karuizawa's lush forests, and it's here that guests can enjoy sitting on specially-prepared seats on the water. It will feel like they are walking on water as they approach their seats where they can take their shoes off and sit on the tatami mats to gaze at the stars.

Calm the heart with an enchanting performance

When you walk up the stairs that face Kera-Ike from HOSHINOYA Karuizawa, your ears will be met with the enchanting sound of crystal bowls which add a mysterious depth to the natural sounds of the forest, spiriting guests away to another wonderful world.

Indulgent drinks and food

Guests can pick from a range of drinks and bites to eat scented with fruits, wood, and other natural fragrances of the forest. There arw six drinks to choose from including a gin and tonic made with lindera umbellata, a type of camphor, as well as a whisky made with ripe fruits. Food includes chocolate made from lindera umbellata and kuma bamboo grass, cherry blossom and walut chips, and more.

Information

Cafe & Bar by the Forest ~Special Seats on the Water~

Japanese Plan Name: 森のほとりcafe&bar ~水上の特等席~

Running: July 1, 2021 – August 31, 2021
Book Here: https://hoshinoya.com/karuizawa/

*Bookings must be made 5 days in advance

Requirements: Must be aged 20+ years / HOSHINOYA Karuizawa guests only
Time: 20:00-21:00
Capacity: 1 group of two people per day

Notes: Will not take place if it rains

Official Website: https://hoshinoya.com/

Karuizawa's New Apple Farm Opens in Collaboration With Hoshino Resorts and Local Farmers

The Karuizawa-based hotel and hot spring complex Hoshino Onsen Tombo-no-yu joined hands with local apple farmers last year to help support apple cultivation for their apple hot springs. This is now being taken to the next level with the opening of Ringo Tsuchi, an apple farm that Tombo-no-yu staff helped to build. The farm opened on March 19, and locals will be able to visit part of the farm for free starting on April 26.

The project ties in with the global Sustainable Development Goals (SDGs) initiative, specifically the 12th goal: "Responsible Consumption and Production," which looks to ensure sustainable consumption and production patterns. Karuizawa is located in Nagano Prefecture which is ranked as the 2nd biggest producer of apples in Japan. When growing apples, those fruits which incur any kind of damage or grazing isn't shipped to the country's supermarkets or stores. It's these not-so-perfect apples that Tombo-no-yu uses for its apple hot spring experience. Though it may just be a small step towards that goes, it still goes a small incremental way towards achieving it.

Free entry to Ringo Tsuchi

The main raw materials at Ringo Tsuchi ("Apple Earth") are the apples used in the apple hot springs and fallen leaves from around the Hoshino area. In addition to compost and water, the materials are fermented, which adds the necessary nutrients to growing apples and creates soft and breathable soil. And since compost is added, it creates an environment where gardening tools can be used in the earth without any prior preparation.

The completion of Ringo Tsuchi

In the mid-October last year, work was carried out at Nomoto Kajuen Orchards in Mimakigahara Okubo, Nagano, to carefully select picked apples and not-so-perfect apples. These apples were used for the apple hot springs at Tombo-no-yu over a three day period from October 23 to 25. The apples are placed in both the male and female hot springs to float on the water.

After that three-day period, the apples were collected, washed, and cut to be used for compost. Since fermentation removes water content, the staff also had to add water twice a month to manage the compost.

Working with the locals

Katsuya Nomoto is a representative of Nomoto Kajuen Orchards, a farm that grows apples, prunes, and more. The farm takes advantage of the area's high altitude and takes pride in its work to cultivate produce that is healthy to the body and environment using soil microbes as an organic fertiliser. It's also officially recognised as a farm dedicated to supporting Nagano's environment, and carries out school trips for children to visit, creating ties with the local community.

Karuizawa Shiraito Falls Midwinter Light Up Arrives For 2020-2021

Shiraito Highland Way has announced that this year's Karuizawa Shiraito Falls Midwinter Light Up will run from December 19, 2020 to February 14, 2021.

The illumination event will take place at Karuizawa Shiraito Falls, a 3-meter tall waterfall that spans 70-meters in length. The lights will add a warmth to the cool evening and glow under a starry night sky.

The event creates a different atmosphere from the summer light-up, allowing visitors to enjoy the enveloping nature in a way that they normally can't and see beauty they may not have noticed in the area before. The waterfall is located in Jōshin'etsu-kōgen National Park, a protected area which means the lights will be set up in a way that's considerate to the park.

If you're in Japan this winter then don't miss out on this year's Karuizawa Shiraito Falls Midwinter Light Up which will be split into three sessions: the Christmas Session, New Year Session, and St. Valentine Session. More details below.

Information

Karuizawa Shiraito Falls Midwinter Light Up
Location: Karuizawa Shiraito Falls
Running: December 19, 2020 – February 14, 2021
・Christmas Session: December 19th-20th, 24th-27th (17:00-19:00)
・New Year Session: January 2nd-3rd,  8th-11th (17:00-19:00)
・St.Valentine Session: February 11th-14th (17:30-19:30)

Access: https://karuizawa-shw.com/access/
*Please see the website for the latest information

*Entry restrictions may be made depending on the number of visitors

Official Website: https://karuizawa-shw.com/

Kyukaruizawa Kikyo, Curio Collection by Hilton Ranks On Tripadvisor's Best Hotels List

Kyukaruizawa Kikyo, Curio Collection by Hilton, a hotel in Karuizawa, Nagano that is managed by Tokyu Resort Service Co., Ltd. made it onto Tripadvisor's 2020 Travellers' Choice Best of the Best and also ranked on the website's Top 20 best hotels in Japan for high quality service.

Travellers' Choice Best of the Best is Tripadvisor's highest recognition, presented annually to the top 1% of businesses across select categories.

Kyukaruizawa Kikyo hails as Hilton's first "Curio Collection by Hilton" in Japan. First open in 2018, the hotel's name "Kiyko" is a reference to both the flower of the same name and the Japanese word kikyo which means "to return to one's home" or "homecoming." The hotel is active alongside the community in working towards the Sustainable Development Goals and is committed to the Hilton CleanStay initiative to ensure the cleanest possible stay for guests.

Hilton's first Curio Collection hotel in Japan

Curio Collection by Hilton is an upscale hotel brand first established by Hilton in 2014. To date, the brand has around 70 establishments worldwide, supporting guests who are looking for unique and authentic hotel experiences.

Get away from the hustle and bustle of the city

Karuizawa is a popular resort area that's easily accessible from Tokyo. It's loved by some of the biggest names in the political, financial, and celebrity worlds. Guests can enjoy a free rides in a Mercedes-Benz from Karuizawa Station to the hotel.

Enjoy the sights while shopping and soaking up nature

The hotel is just a 5-minute walk from Old Karuizawa Ginza Street with shops offering all things Karuizawa. It's also the perfect spot to enjoy walking and cycling while taking in the sights of nature.

Information

Kyukaruizawa Kikyo, Curio Collection by Hilton
Address: Kyūkaruizawa-491-5 KaruizawaKitasaku-gun, Nagano
Access: 1 hour by Shinkansen from Tokyo Station

Official Website: https://www.kyukaruizawa-kikyo.com/

Experience a Crisp Japanese Autumn While Ice Skating in Karuizawa

This autumn, Karuizawa Hoshino Area is opening up the Kera-Ike Skate Rink for a limited time from October 16 where visitors can skate around the ice while soaking up the reds and yellows of the surrounding forest.

Karuizawa Hoshino Area is a resort managed by Hoshino Resorts. The middle of October is when Karuizawa's red maple trees blossom, while the beginning of November marks the incoming yellow karamatsu Japanese larches.

An ice skating rink enveloped in a forest

Kera-Ike Skate Rink is a frozen lake in the middle of a forest in Karuizawa. It's located ride by Karuizawa Wild Bird Sanctuary, so Hoshino Resorts had the idea to turn it into an ice rink so that people can enjoy the local wildlife while skating. For this year's opening of the ice rink, Hoshino Resorts has a range of art content related to Japanese autumn for people to enjoy too.

Reds, Yellows, and White

Karuizawa sits 1,000 meters above sea level, and so the autumn leaves begin showing from the middle of October. This is when the urushi Japanese lacquer trees and momiji maples dye the forest a bright-red. Following shortly after are the karamatsu Japanese larches which add a bright yellow to the red hues. Visitors can soak up the kaleidoscope of colours while skating across the pure white ice rink.

Beautiful autumn leaf themed content

The ice skating chairs are a popular item at Kera-Ike Skate Rink and are a great way for beginners and children to enjoy being on the ice. This year, the chairs have been pained in the same colours at the autumnal leaves.

Autumn leaf decorations on the windows

The rink-side cafe has six giant glass windows spanning 2.5 meters across. Each window has its own unique autumn leaf design on it.

Autumn Leaf Latte

The cafe will serve the perfect autumn-time beverage, a latte topped with momiji and kaede maple leaves designs made from pumpkin powder—a fitting flavour for the season.

Information

Kera-Ike Skate Rink
Running: October 16, 2020 – November 10, 2020
*Run period subject to change depending on the autumn leaves.
*The 2020-21 skate rink opening period runs until March 7, 2021. Closed November 26, 2020 and January 19-21, 2021.
Opening Hours: 10:00-16:00

Official Website: http://www.hoshino-area.jp/archives/area/skate

Take a Summer Trip to Karuizawa in Style at Hoshino Resorts BEB Karuizawa

"BEB" is a brand of hotel established by Hoshino Resorts which aims to support young people travelling by being cost-effective as well as make travelling more fun for the younger generation. This year, BEB5 Karuizawa is promoting a spending a fun and stylish summertime.

Enjoy the outdoors in a wide, open space

The indoor "Yagura Room" is fitted with spacious sofas and bed spaces where people can chat together, read a book, and enjoy their free time. There's also "TAMARIBA," a 24-hour public space with a garden, lounge, cafe, and library. A cool breeze sweeps through the tall windows, letting in cool air on a hot summer's day. Guests can kick back and enjoy some relaxation. The cafe even sells wine so guests can treat themselves to an evening drink or have a little drinking get-together with friends.

Summer resort rental items

Guests can experience the true thrill of summertime in Karuizawa with a selection of rental items including straw hats, a bug catching net, portable speakers, electric fans, and more. These can be rented from July 13, 2020 to August 31, 2020.

The lush green outdoors surrounds the hotel

BEB5 Karuizawa is located in one corner of the Karuizawa Hoshino Area which is home to a bright green forest. Located laong the bath is Harunire Terrace which is home to 16 unique shops, and there's even a hot spring which flows directly from the water source.

Hoshino Onsen Tonbo no Yu

There are plenty of things for guests to do outside, including participating in a nature tour hosted by wild flora and fauna specialists Picchio, having a picnic at the benches by the flowing water, and more.

Karuizawa is one of Japan's best places for a summer retreat. Just a one hour bullet train ride from Tokyo, it's an easy place to access from the country's capital.

Information

Hoshino Resorts BEB5 Karuizawa

Address: Hoshino, Karuizawa-machi, Kitasaku-gun, Nagano
TEL: 0570-073-022 (Hoshino Resorts Booking Centre)
Rooms: 73 (Check In 15:00 / Check Out 11:00)

Price: From ¥9,000 per night (1 room for 2 people, service charge and meal charged separately)
Official Website: https://hoshinoresorts.com/ja/hotels/beb5karuizawa/

SHISHI-IWA HOUSE in Nagano Prefecture Makes Travel + Leisure Magazine's "2020 It List"

SHISHI-IWA HOUSE, a "boutique resort" located in Karuizawa, Nagano, has made it into the "2020 It List" of American travel magazine Travel + Leisure.

Travel + Leisure is a New York-based travel magazine. "The Best New Hotels in the World (The It List)" shines a light on hotels around the world that have newly-opened or have been renovated that year.

The "2020 It List" has placed 72 establishments around the world in its ranking. Ten of these are located in Asia, with two being in Japan: SHISHI-IWA HOUSE and Aman Kyoto.

SHISHI-IWA HOUSE opened in February 2019. Described as a boutique resort, this hotel was built by internationally-acclaimed Japanese architect Shigeru Ban who won the 34th Pritzker Architecture Prize in 2014ーthe most prestigious award in modern architecture. The unique hideaway blends together nature and architecture, and is built in such a way as to strengthen the bonds between people.

The resort accommodation has two floors, and a unique structure which makes it look curved. It has ten individual rooms and three terraces. All the rooms enjoy a breathtaking view of the gardens which enjoy gorgeous scenery all year around. It's home to over 250 trees, including cherry blossoms, maples, and evergreens. You can also see Mount Asuma from all rooms.

Planning a trip to Nagano? Why not book to stay at this little hideaway?

Watch the Stars and Snow Glow at the Shiraito Falls Midwinter Light Up in Karuizawa

Throughout the year, Japanese people escape their busy city life to Karuizawa: a popular resort town hidden in the mountains near Nagano. From December 21, 2019 – February 15, 2020, Shiraito Falls located in Jōshin'etsu-kōgen National Park, Karuizawa will be holding the Shiraito Falls Midwinter Light Up, providing the perfect excuse for a soothing getaway.

The 3-metre-tall and 70-metre-wide Shiraito Falls does not freeze below freezing temperature as the water flows from a subterranean river of Mount Asama. The winter lighting will make the water glisten and the falling snow and starry night sky glow with the charm of winter. 

This light up event is a follow up from last year's illumination event. The Midwinter Light Up aims to make Shiraito Falls a beautiful tourist spot which can be enjoyed even on a winter night.

The Midwinter Light Up is one step ahead of the summer light up event which previously took place. To emphasise the beauty of nature, the illumination this time round will allows visitors to appreciate the starry night sky on a fine day and reveal the stunning natural scenery which is not visible during the daytime. 

As the Shiraito Falls light up event will take place in Jōshin'etsu-kōgen National Park, the event contents were created strictly abiding the guidelines and regulations from the Ministry of the Environment​. The quantity of light produced, its hues and even the way it is produced has been carefully considered, creating a light display that does not disrupt the natural environment. 

This breathtaking light display will give you an entirely new perspective on the breathtaking winter scenery of Shiraito Falls and would be the perfect experience to share with your family or friends. 

Information

Karuizawa Shiraito Falls Midwinter Light Up

Location: Shiraito Falls, Karuizawa

Running on 18 days between December 21, 2019 and February 15, 2020

The running period is split into the following sessions:

・Christmas Session December 21 – 24, 2019

・New Year Session January 4 – 5, 2020

・Spring Festival Session February 1 – 2, 2020, February 7 – 11, 2020, February 14 – 15, 2020

* There will be no light up event on days other than those stated above.

* The light up event on February 15 is a Valentine's Day special. This includes the display of an ice sculpture and the chance to meet Ruiza: Kauizawa's mascot. Visitors will also be given a gift.   

Openining Hours

・Christmas Session    17:00 – 19:00

・New Year Session     17:00 – 19:00

・Spring Festival Session   17:30 – 19:30

Price: There is no entry fee. However, there is a fee to cross the toll road. (The price is subject to change)

Natural Ice Area to Open at KERA-IKE Ice Rink in Karuizawa Hoshino Forest Area

The "Natural Ice" area is set to return to KERA-IKE Ice Rink, an outdoor ice skating area managed by Hoshino Resorts, again this winter, something made possible only by the cold winter weather and without cooling devices.

KERA-IKE Ice Rink is connected to the Karuizawa Wild Bird Sanctuary where countless wild birds and animals roam free. The ice rink opened for the winter season last Friday (October 18) and will run until March 8 next year.

The rink is formed of two areas: the "Man-made Area" which is made together with the cold air and the help of cooling devices, and the "Natural Area," which appears only during the coldest time of winter and sees the water freeze up naturally, allowing people to skate across 1,080 square meters of land. This Natural Area will open on December 20 and run until February 20, 2020.

Stroll across the forest's icy landscape

The freedom of skating across the natural ice is like taking a stroll through the forest. Enjoy skating around the little islands in the middle of the lake and finding the fallen leaves from the forest trees locked inside the ice.

Enjoy hot drinks with the sound of the wild birds as your soundtrack

Enjoy a coffee or hot chocolate at the neighbouring cafe. We recommend getting the Wild Bird Cafe Latte which comes with four different latte art designs of the wild birds you'll often spot around the ice rink. The drink can be enjoyed in the cafe or can be taken out so you can enjoy sipping it on the benches on top of the ice.

Wild Bird Cafe Latte – ¥600 (Tax Included)

 Coffee/Hot Chocolate – ¥500 (Tax Included)

Couples can enjoy the "Starry Sky Nighter Skate" Valentine's event

For Valentine's season, the ice rink has a special event in store for couples: the first ever "Starry Sky Nighter Skate." Not only do they get the luxury of skating after-hours, they can also bask under the radiance of Karuizawa's incredible star-filled sky. There will also be a guide providing commentary on the stars. After the event, all lights will be turned off to allow everyone to enjoy the pure light of the stars.

There will also be hot chocolate with heart-shaped marshmallows for the Valentine's event.

Starry Sky Nighter Skate

Running: February 10, 2020 – February 16, 2020

Time: 17:30-19:00 (Reception open 17:00)

Price: ¥3,500 per person (Includes skating fee, skate rental fee, drink, binoculars, and consumption tax)

Age: 18+ years

Reservations: By 17:00 the same day by telephone or online. Reservations are mandatory.

Capacity: 20 per day (Must book for at least 2 people)

Information

Kera-Ike Ice Rink Natural Area

Running: December 20, 2019 – February 20, 2020

*Man-made area running October 18, 2019 – March 8, 2020 (Except November 20, 2019, and January 7-9, 2020)

Time: 10:00-16:00

Price: General (Junior High Schol students and older) – ¥1,900 / Elementary School Students and younger – ¥1,300

Official Website: http://www.hoshino-area.jp/archives/area/skate

Autumn 2019: Maple Trees and Roses Adorn Karuizawa Lake Garden in Full Bloom

Karuizawa Lake Garden is a natural garden that displays creative harmony between humans and nature, where one can enjoy its bountiful selection of plants throughout all four seasons along with the lake across a 33,000m² area.

This year's autumn season at the garden is scheduled from October 12 to November 4 where you can enjoy the breathtaking scenery of the red and yellow leaves simultaneously alongside colourful roses.

Beautiful Japanese maple trees aren't the only thing you can enjoy during the fall season at Karuizawa Lake Garden. Soak in the sight of an abundance of autumnal plants and inhale the floral scent of the many roses. They will open across eight areas, including the main Rose Garden, by the waterside.

Welcome the autumntime this year at the incredible Karuizawa Lake Garden.

Information

Karuizawa Lake Garden Autumn Season

Running: October 12, 2019 – November 4, 2019

Address: Address: Lake New Town, Hotchi, Karuizawa, Kitasaku District, Nagano Prefectur

Autumn Season Opening Hours: 9:00-16:00 (Last Entries 15:30)

Official Website (Japanese): http://www.karuizawa-lakegarden.jp/