New Lifestyle Store AKOMEYA TOKYO in la kagū Opens in Kagurazaka
The new flagship store of AKOMEYA TOKYO named AKOMEYA TOKYO in la kagū opened its doors to the people of the capital in Kagurazaka on March 30, 2019.
The store stocks a diverse selection of items from rice and foodstuff to cooking tools, beauty care products, items to live a more luxurious life, and more. Rice is one of the main highlights of AKOMEYA TOKYO in la kagū whose core concept is "Spreading Happiness With One Bowl Of Freshly Cooked Rice."
Around 20 varieties of carefully selected rices from around Japan have been selected for selling in addition to the perfect condiments and ingredients to go with it, dashi and more―all of which made for great gifts. Customers are invited to select their own quantity of polished rice to take home.
Customers can look forward to a huge dining space serving up an incredible food experience expected of a flagship store.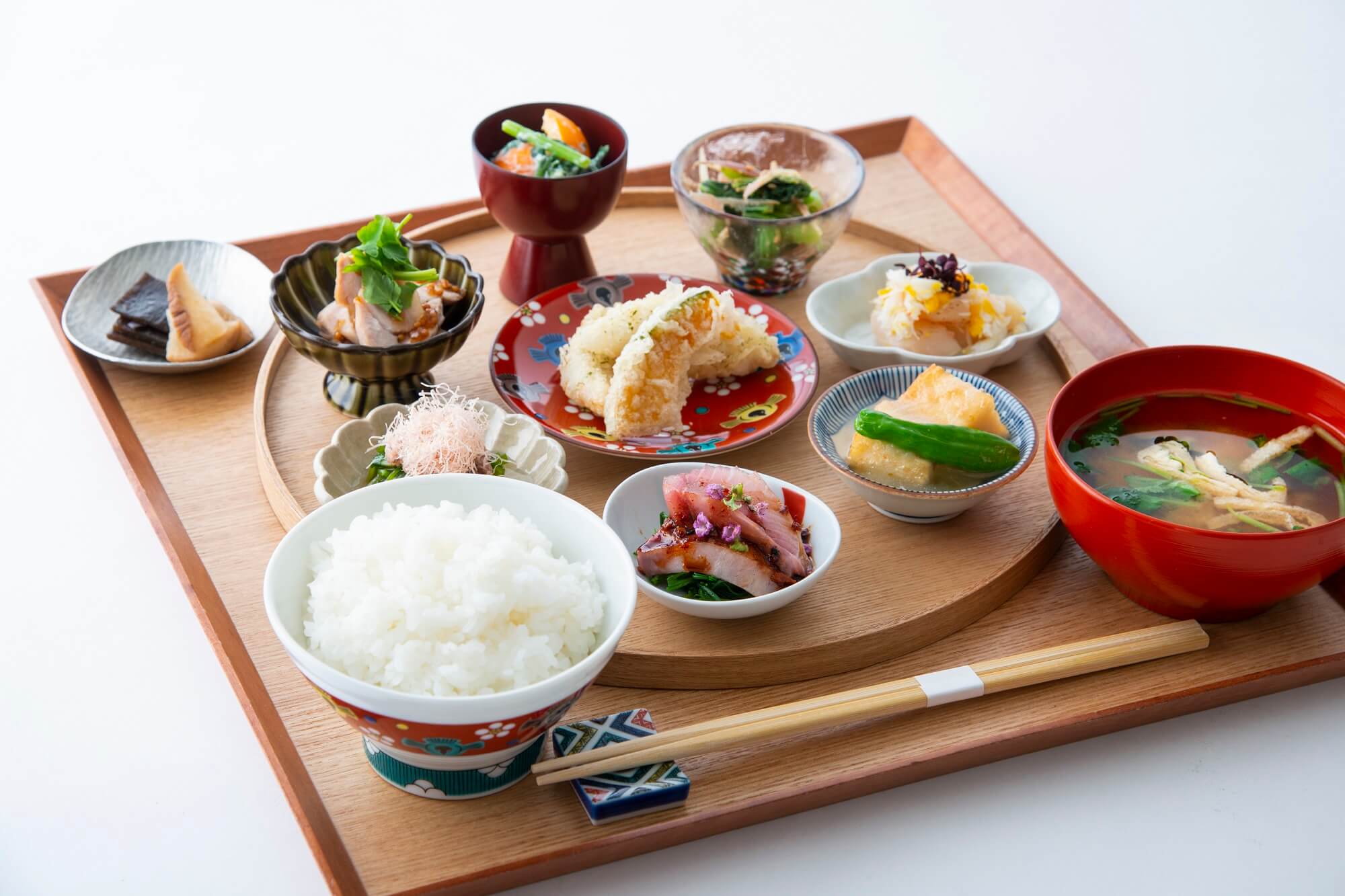 The company has also opened up their very first cafe establishment in the store called AKOMEYA Chaya which serves up drinks previously only available at their Ginza branch.
A separate cafe called Shiratama Salon Shinsaburou is also open in the store. It is managed by Shiratama Shinsaburou, a shop from Kumamoto with a history spanning over 380 years.
We mustn't forget the products on offer either.
Bean Barrel (300ml) – ¥2,500 (Before Tax)
This barrel of beans comes in a barrel branded with the store's name. The packaging encompasses traditional Japanese culture.
AKOMEYA Dashi Yaki Ago (8g x 5 Bags) – ¥480 (Before Tax)
This dashi is made from grilled dried flying fish and serves to elevate the flavours in your cooking even more. The fish comes from the city of Hirado near Nagasaki and has a unique taste.
Kaya Seichi Fukin – ¥500 (Before Tax)
A dish cloth that feels softer in your hands the more you use it. They are hand made in Nara Prefecture.
A selection of limited-edition products to celebrate the store opening are also available to purchase too.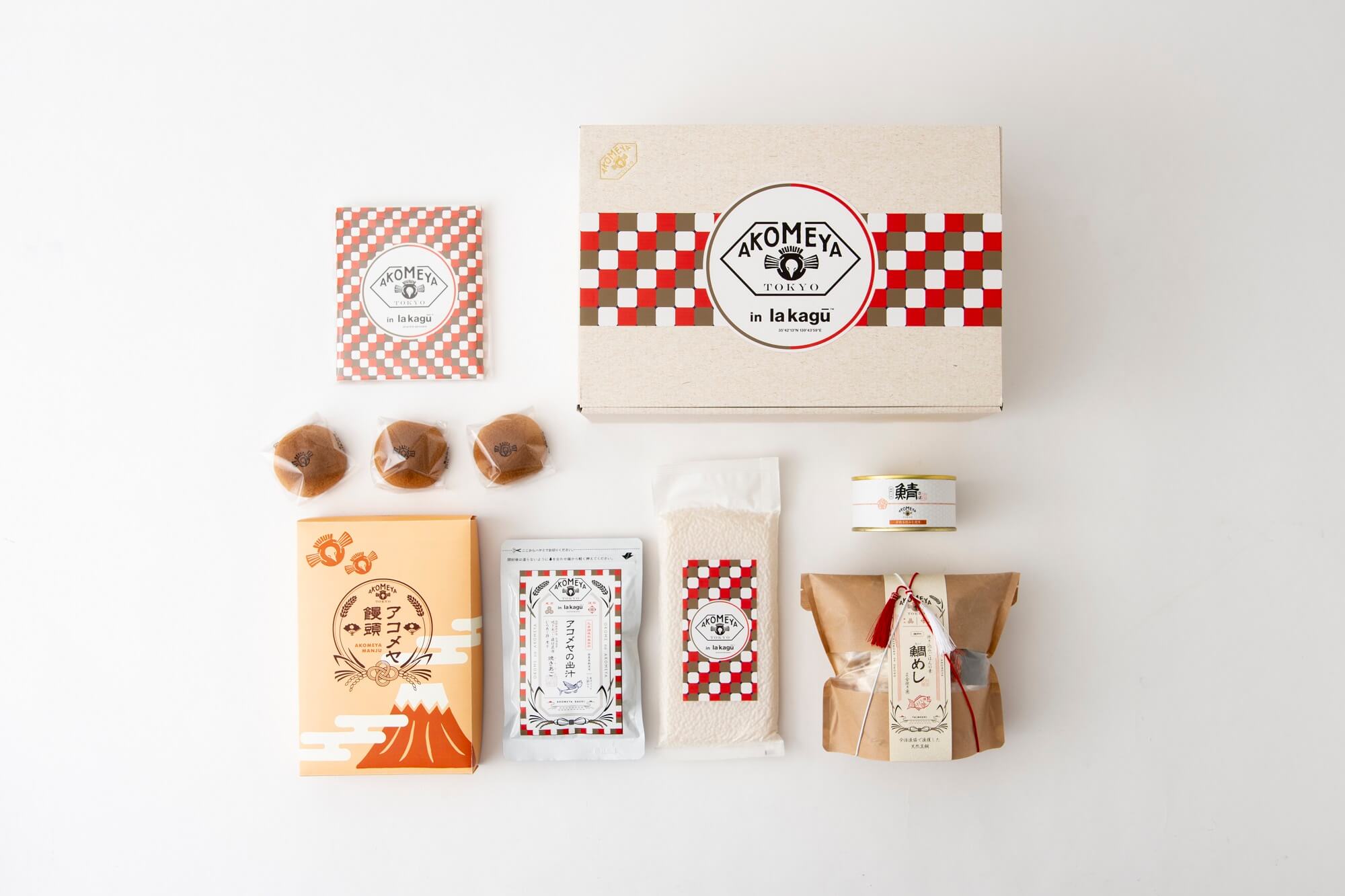 Ofukuwake Box (Stock: 200) – ¥3,000 (Before Tax)
Shiratama Salon Ofukuwake Box (Stock: 80) – ¥3,000 (Before Tax)
In line with the store's opening AKOMEYA TOKYO have also updated their official online store. Be sure to pay both the site and store a visit.
Information
AKOMEYA TOKYO in la kagu
Address: 67 Yaraicho, Shinjuku Tokyo (In front of Kagurazaka Station's 2nd Exit―"Yaraicho Exit"―via the Tozai Line)
Grand Opening: March 30, 2019
AKOMEYA TOKYO Official Online Shop: https://www.akomeya.jp/shop/default.aspx
RELATED ENTRIES
Solo Sauna Tune: Tokyo's New Privacy Guaranteed Finnish-Style Sauna

Solo Sauna Tune is a new sauna that offers "total privacy" which is set to open its first branch inside UNPLAN Kagurazaka in Tokyo this November.


Most sauna facilities in Japan cater to groups, but at Solo Sauna Tune, all guests are given their own space where they can undress, bathe, and relax in their own private room. This is especially desirable during the current pandemic where social distancing is paramount, and is a great opportunity for people not wanting to travel in groups.

The solo saunas are heated using sauna stoves imported from Finland. Adding water to the sauna stones lets guests control the amount of steam in the room so they can adjust as they like. There is also a Japanese white birch aroma provided to the löyly (Finnish for 'steam').

Guests can also cool off in cold water. The Chiller provides water at 15℃. There are also overhead showers for cooling down, and the showerheads can be adjusted to make the water come out like mist.

The relaxation area is coloured in a stylish black where guests can kick back for a while.


After using the sauna, guests can visit the powder room where there are a varieties of free amenities. There's also a café which serves craft beers, food, and other treats.

Information

Solo Sauna Tune
Address: UNPLAN Kagurazaka, 23-1 Tenjincho, Shinjuku-ku, Tokyo
Grand Opening November 2020

Opening Hours: TBA

Prices: TBA
Access: 3-minutes on foot from Kagurazaka Station / 7-minutes on foot from Edogawabashi Station / 9-minutes on foot from Ushigome-Kagurazaka Station

Official Website: https://www.solosauna-tune.com/

PEANUTS TRAILER SHOP: Official Men's Snoopy Shop to Open in Shinjuku

Sony Creative Products Inc., an agent of the Peanuts franchise in Japan, has announced that it will open an official men's shop called "PEANUTS TRAILER SHOP" in Yaraicho, Shinjuku on June 6, 2020.

Yaraicho is an ancient and historical area just a 3-minute walk from Kagurazaka Station via the Tokyo Metro Tōzai Line. PEANUTS TRAILER SHOP will open in a part of Yaraicho called "Oku Kagurazaka" which is home to a variety of stylish restaurants, galleries, and more. The shop is in fact inspired by American-style trailers.

The shop will sell cabinets and lockers from British furniture company Bisley; foldable chairs from US chair makers Clarin whose chairs have been used at Madison Square Garden, stadiums, schools, and elsewhere; clothes from Brittany, France-based company Le Minor; bags and wallets from Joe Porter; glasses from French tempered glass tableware and kitchenware manufacturer Duralex; and more.

So that everyone can enjoy a relaxing shopping experience, customers must book a slot in advance to shop at PEANUTS TRAILER SHOP which can be done via their official website.

©2020 Peanuts Worldwide

Information

PEANUTS TRAILER SHOP
Address: 41 Yuraicho, Shinjuku, Tokyo
TEL: 03-6280-8576
Opening Hours: 11:00-19:00
Closed: Wednesdays

Official Website: https://peanutstrailershop.jp

Indulge In The Best Melon Experience At Japan's First Melon Factory Antenna Shop

Tsugaru, Aomori is known for its delicious melons. On July 7, Japan's first melon factory called Melon to Roman will open its first ever antenna shop in Kagurazaka, Tokyo. Here, a range of delicious melon-themed desserts and drinks will be developed for customers to try out Aomori melon treats.

Recently, melons are becoming less and less popular in Japan. As a result, Melon to Roman was established to spread the love of melons countrywide.

The melon factory uses 10,400 tonnes of melons each year, meaning that Tsugaru alone creates 70% of Aomori's melon produce. The melon desserts at the antenna shop are made from Tsugaru's special melons. The aim of the antenna shop is to make Tsugaru more famous.

Melon Fruit Sandwich

A melon fruit sandwich is definitely a rare sight. The Melon Fruit Sandwich is made by filling raisin bread with melon pieces. Adults are bound to love its rich flavour. 

Melon Shaved Ice with Fluffy Mousse

The Melon Shaved Ice with Fluffy Mousse consists of fluffy shaved ice made from the juice of the melon. This is topped with a generous serving of foam made out of 100% melon juice.

Luxury Melon Parfait

The melon parfait is the masterpiece of the menu. It is made of three luxurious layers of fresh melon.

The antenna shop provides a number of ways to experience Aomori's melons with all your senses. Witness calligraphy written by original melon ink, listen to the stories of the journey of these melons, touch the drinks coasters that will make you feel like you are touching a melon, and sample different flavours of melon from the food and drinks tasting menus to immerse your sense of taste and smell in the world of melons. There has never been an antenna shop quite like this before. There will also be a video called "The Girl And The Melon" that will be shown at the antenna shop. Some adults might find this video quite emotional.

Immerse yourself fully in the miraculous world of melons and learn about a whole new perspective on melons.

Information

Location: 3-6-92, Kagurazaka, Shinjuku, Tokyo

Grand Opening: July 7, 2019  (11:30 ー 17:30)

Closed: Mondays, Tuesdays & New Year's period

Official Website: melon-roman.com

* Open from July 1

Experience Japanese Culture at Kagurazaka Summer Festival 2018

Kagurazaka Natsumatsuri, or the Kagurazaka Summer Festival, will take place at the Kagurazaka Frasco Gallery from July 27 to August 1. The event is aimed at foreign tourists in Japan and offers a chance to experience Japanese culture.

The Japanese National Tourism Organization (JNTO) revealed a record high number of inbound foreigners to Japan in 2017, standing at 28,691,000 (+19.3% from 2016). Furthermore, according to the Consumption Trend Survey for Foreigners Visiting Japan carried out by the Japan Tourism Agency, the main purpose for 24.8% of foreigners' visiting Japan that year was to experience 'Traditional/Modern Japanese Culture' and 'Nature/Scenery Sightseeing.' These statistics were particularly high for those coming from Europe and America.

However, for 'Experience Japanese History/Culture,' 'Nature Tours, Experience in Farming/Fishing Village,' 'Spectator Sport (Sumo, Soccer etc.)' and 'Seasons (Cherry Blossoms, Autumn Leaves, Winter etc.)' there was an average different of 9.5 points between people who were able to do these things and people who weren't able to (and would like to next time). This means that the present situation is there is a demand for outfitting more experience-based opportunities for foreign visitors coming to Japan.

SAMURAI MEETUPS is a non-profit organization who is planning the Kagurazaka Summer Festival. Since October 2014, the organization has held and managed over 150 experience-based traditional cultural events which 4,000 people from 36 countries have participated in. They have also offered support to the municipality in Narita in creating content for inbound foreigners and in terms of marketing and promotion.

For this event, they are renting out Frasco, a famous art gallery in Kagurazaka, where they will create a space to give foreigners a chance to get up close and involved with Japanese culture. They will serve sushi, udon, sake and coffee as well as teach calligraphy, decorate paper lanterns, sell small Japanese accessories and postcards, and much more. It will be packed full of Japanese culture. Additionally, by promoting tourist information related to Kagurazaka, the organization aims to use the opportunity to spread Japanese culture and local charms to the people of the world. They will also prepare content for the locals to enjoy to so they can create the opportunity for international exchange.

Experience what Japanese culture has to offer by getting to know the locals at Kagurazaka Natsumatsuri 2018!

■Information

Kagurazaka Natsumatsuri 2018

Address: Kagurazaka Frasco (6-16 Kagurazaka, Shinjuku, Tokyo)

Date: July 27, 2018 – August 1, 2018

Time: 11am-10pm

Official Homepage: https://sai-kagurazaka-event.storeinfo.jp

Sanuki Udon & Edomae Sushi Reception Party

Address: Kagurazaka Frasco (6-16 Kagurazaka, Shinjuku, Tokyo)

Date: July 29, 2018

Time: Slot 1 – 5pm-7pm / Slot 2 – 7:30pm-9:30pm

Price: ¥3,500 (Includes: Edomae sushi and udon, and the chance to see an udon performance)

No. of People: 25 people per slot. First-come, first-served.

Sign-Up Page: https://saikagurazakaevent.wixsite.com/reception

Sushi izakaya "Sugidama" flagship store opens in Kagurazaka!

Sushi izakaya Sugidama Flagship store "Sushi, Sake, Sakana Sugidama Kagurazaka" has now opened!

"Sushi, Sake, Sakana Sugidama Kagurazaka" is a new line of business of Sushiro Group. Along with freshness and flavour, a lot of care has been taken for the presentation of the sushi which go perfectly with Japanese sake.

As the name implies, it is also possible to enjoy some side dishes with your drink rather than sushi.

Taking things a step forward, there is the "Kiwamizushi" luxury menu.  You can also choose your favourite sushi and enjoy an assortment with the "Odozushi" menu. All sushi dishes on these two menus are ¥299+ tax. Besides this, you can also order items from the food menu that cost ¥399 and ¥499.

You can order alcoholic drinks for the reasonable price of ¥299. There are usually 15 varieties of Japanese sake available in half portions of 90ml – perfect for tasting and comparing!

You can also enjoy set meals and rice dishes during lunch!

Enjoy the flavours of Japanese food to your heart's content at Sushi, Sake, Sakana Sugidama Kagurazaka!

■Information

Sushi, Sake, Sakana Sugidama Kagurazaka

Address: Awatani Building 1st floor, 4-2, Kagurazaka, Shinjuku, Tokyo

Opening hours:

Monday — Friday 11:30 — 14:30/17:00 — 23:30

Weekends & national holidays: 11:30 — 23:30 ※ No regular closing hours

No regular closing days

The event titled, "Kagurazaka Machibutai / Oedomeguri 2017" which mixes traditional & modern styles will be held!

"Kagurazaka Machibutai / Oedo Meguri 2017" will be held in Kagurazaka, an area where traditional styles and modern styles merge, on the 11th of November (Sat.) <eve> and the 12th (Sun.) <actual festival).

Kagurazaka is an area where the cut-out map of the Edo Period and the map of Heisei Period overlap. Many places in Tokyo changed into a modern city but Kagurazaka is a mysterious place where you can feel the history of the Edo Period. The area is popular among various generations as a town where the culture of Edo/Tokyo and sophisticated atmosphere of Paris are merged.

In this event, many top artists related to traditional arts who have some kind of connection with Kagurazaka will gather with the help of the citizens of Kagurazaka.

Many events which you can experience traditional arts such as "Shinuchi Nagashi" where people play music while walking, mini lives of traditional artists are held at preppy restaurants, cafes and live houses and "ozashiki asobi" (games with geisha) will be held.

The two-day event is a festival where you can experience Japanese traditional arts in Kagurazaka, a historical town where persons from different generations and foreigners who are not familiar with traditional arts can enjoy these arts.

Why not have an awesome weekend at Kagurazaka, a town which has the atmosphere of the Edo Period and Paris?

■Information

"Kagurazaka Machibutai / Oedo Meguri 2017"

Date: Eve / 2017,11,11 (Sat.) 15:00 to 19:40

Festival / 2017,11,12 (Sun.) 11:30 to 18:00

※The events might be canceled depending on weather conditions

Venue: Kagurazaka area (Bishamonten Zenkoku Temple, Akagi Shrine, Tokyo Kagurazaka Cooperation / streets in Kagurazaka / historical spots in Kagurazaka

Fee: free (some places require a fee or reservations)

Official website:http://kaguramachi.jp/

Indulge in the harmonious flavour of sushi with the award-winning asatsuyu white wine at Kagurazaka Sushi Rin!

Treat your tastebuds to the flavour of real, authentic Edo-style sushi with wine and champagne at Kagurazaka Sushi Rin; home of US no.1 sauvignon blanc white wine "asatsuyu". You can experience the delicious pairing of asatsuyu white wine and the true flavour of Edo-style sushi with the "Kagurazaka course", which will be part of the menu until 30th September 2017.

Kagurazaka Sushi Rin is filled with a calm and relaxed atmosphere. A six-metre long, beautiful counter is the focal point of the room. The L-shaped counter is made of Hinoki cypress wood. A lot of care is taken to preserve the beautiful counter. Complete private rooms can also be reserved for the perfect date with that special someone.

The Kagurazaka course harmonises with KENZO ESTATE asatsuyu wine. The sushi chef, who holds the concept of traditional Edo-style close to heart, ensures that the flavours of the dishes are carefully prepared with precision and skill in order to compliment the beautiful flavour of the wine. Enjoy this carefully made course of harmonious flavours.

Asatsuyu won the hearts of 13,000 wine enthusiasts worldwide, as it was crowned king at the Vivino's 2016 Wine Style Awards in the California Sauvignon Blanc division. The fresh, tropical citrus taste of peach or pears, even the flavour of lychee, which harmonises with the flavour, will leave you feeling refreshed. All this can be enjoyed at Kagurazaka Sushi Rin.

The star of the show is the crab shell packed with delicious crab meat. Enjoy the different layers of textures that are obtained by using crab meat from the claws and from the abdomen. Take your tastebuds to a whole new level wih the two sauces – the crab miso and the crab vinegar. As crab is often enjoyed with champagne in foreign countries, the crab meat is a perfect match with asatsuyu wine, and the aroma is to die for!

Many have praised the Kagurazaka asatsuyu course.

"You can tell just by the wonderful aroma that there are no other sweet dishes out there quite like this one. The combination with asatsuyu wine is refreshing with a mellow aftertaste. This is the best matched food and drink combination and the taste lingers so you can indulge for longer. The chef has carefully prepared the food to harmonise with the beverages – you can taste the effort and precision and the flavours don't clash in any way."

This is your chance to enjoy the balance of carefully made Japanese-style food made by an expert chef, along with highly praised wine!

■Information

Kagurazaka Sushi Rin

Address: 2nd floor, Kagurazaka

3-chome Terrace, 3-6, Kagurazaka, Shinjuku, Tokyo

TEL : 03-5228-4200

Opening hours: Lunchtime (Weds & Sat only) 11:30~14:00 (Last orders: 13:30)

      Evening: 17:30~22:30 (Last orders: 22:00)

Closed: Sundays, national holidays that fall on a Monday

Seating:12 counter seats/6 seats per private room

Budget: Lunchtime – ¥4,000/Evening – ¥15,000~

Kagurazaka Sushi Rin homepage:

http://kenzoestate.jp/restaurant/jap/restaurant-2558.html

Access: 405m from Iidabashi station

※ Neighborhood car park available

≪ Kagurazaka Course≫

◇ 2~3 appetizers

◇ Mackerel Pike

◇ Crab

◇ 10 pieces of sushi

◇ Makimono hand-rolled sushi roll

◇ Half a bottle of asatsuyu

This course will be available until 30th September 2017

Price:¥16,000 per person (+ tax)

※ If more than two guests are attending, it is possible to reserve a table for an even number of guests.

【Tokyo Cafe】 Where all the matcha lovers gather…まっちゃんの旅 Part II

Hello again to all the Matchans!

Today I will be showing you a restaurant that's famous for their matcha fondue.

Japan is so amazing and unique. Who would've thought of starting a matcha fondue restaurant?

The restaurant is called Saryo, and it's about a 7 minute walk from Kagurazaka station.

You can enjoy eating inside or at the open roof terrace seats.

There was already a long line on the day I went, even though it was a weekday.

While waiting, the waitress handed us a menu and a blanket to keep us warm.

I thought they would only have matcha, but there were also regular meals on the menu too.

Of course my friend and I ordered the matcha fondue~!

We were able to order the set menu with drinks, but it was so hard for us to decide which drink to order.  I'm pretty sure the menu offered more than 30 different types of drinks to choose from.

My friend went with the sweet fruit tea, and I ordered the premium matcha latte.

The matcha latte tasted more bitter than I imagined, but it was very delicious.

Then came the matcha fondue!! The fondue sauce is made with matcha and white chocolate and it came with strawberries, shiratama rice balls, jello, ice cream and crackers.

The crunchy crackers and chewy shiratama balls were the best match with the deep bittersweet matcha. I couldn't stop dipping them in the fondue.

It also came with vanilla ice cream, but it melted really fast so I would recommend you to eat that first.

I wanted to try the matcha fondue itself so I started eating it with a spoon. I couldn't stop eating it as you can see…

Kagurazaka was pretty far from my home, but this long train ride still paid off handsomely when I came here!

Matcha hunting to be continued….

■Writer:Jessica

■SNS:@mintbaaby /Instagram

Information:

Name: Saryo

Address: 5-9 Tokyoto Shinjukuku Kagurazaka 162-0825

Telephone: 03-3266-0880

Open: 11:30am~22:00pm

—

■Related article:Where All the Matcha Lovers Gather…まっちゃんの旅

■Related article:Come and Try Yummy Soba

【Tokyo Cafe】Visit the café which has original menu that give you great impact 2 Kagurazaka"la kagu"

Kagurazaka is famous as a city that many French people live in. "la lakagu" which opened in front of Tozai line Kagurazaka train station attract public attention as a good spot.

"la kagu" is a commercial facility that renovated the building used as storage for books from Shincho company. This wide wood stairs and rusty looking building are supervised by Kuma Kengo who is famous for the aesthetic designer of the new national Olympic stadium which is going to be the main place for Tokyo Olympic in 2020. There are many fashion stores and variety stores inside the building which was renovated last summer. It is good that you can get good souvenirs. The food court that established together with this building has the café called "LA MADRAGUE" which is the first branch in Tokyo.

The main store of "LA MADRAGUE" in Kyoto is the café which passed down three traditions. This café was built in the site of a café called "Jun-kissa Seven" which closed and is being missed by many people, and their furniture is given by "Meikyoku Kissa MUSE." They also took over the egg sandwich recipe from western style restaurant called "Corona." This place which has both of retro and modern atmospheres is being loved by people in Kyoto for a long time. The owner, Yamazaki Sanshiro Hirotaka, opened this "Kissa MADRAGUE" with a wish of "protecting the traditional old-established caffe in the town." The town in Kagurazaka which has stone pavements, red-light district, so many foreigners, and long history is similar to Kyoto somehow. The reason why the owner who loves traditional café cultures chose this place as the next branches is obvious if you walk around the town in Kagurazaka.

The popular menu called "Corona's egg sandwich (850yen)"which many people wait in long lines for will definitely make you smile.   

The surprisingly thick egg is about 7centimeters, and it will be about 10centimeters tall when you add the bread. The eggs are so wobbly when you try to open up your mouth to eat. It has soft sweetness, smooth texture like you are eating clouds, and great flavor of dashi soup spread in your mouth. It is the traditional taste that has been passed down by the owner of "Corona", and Mr. Yamazaki who made the sandwich the specialty of this restaurant. The sweet taste and soft texture of the eggs makes me nostalgic somehow. They also do take-out, so it is good for sharing with your friends.

The unique menus that you only can eat at "La MADRAGUE" includes limited special menu for Kagurazaka store called "kagu rice (980yen)" which has curry sauce and runny egg on the top of ketchup rice, "MAD rice (980yen)"that you can choose the toppings as you like, and "spaghetti Neapolitan (900yen) "which has omelet under the spaghetti.  Each menu contains sweet and soft eggs.

It is good to sit down on the sofa inside, but you also can spend time at the terrace when it is good weather. I want you to enjoy the traditional café in Kagurazaka being away from the bustle of big cities.

*Prices do not include taxes.

■Information

LA MADRAGUE

Address: La Kagu 1F, 67 Yaraicho, Shinjuku, Tokyo

Kissa Madrague

Address: 706-5 Kami Matsuyacho, Nakagyo-ku, Kyoto

Yuriko Ueki(Writer)

—

■Related article:Visiting Japanese Coffee shop where you can encounter the foods which give you great impact. Vol.1