Starbucks Japan Reveals Red & White 'Strawberry Very Much Frappuccino®'
The first drink of last year's summer season at Starbucks was the hugely popular #STRAWBERRYVERYMUCHFRAPPUCCINO®.
This year, the drink is set to return to Starbucks branches across Japan on April 11 in two versions: the #STRAWBERRYVERYMUCHFRAPPUCCINO®__RED and #STRAWBERRYVERYMUCHFRAPPUCCINO®__WHIT.
Left: #STRAWBERRYVERYMUCHFRAPPUCCINO®__RED / Right: #STRAWBERRYVERYMUCHFRAPPUCCINO®__WHITE
The RED beverage is packed full of strawberry flavour, so much so that it is like eating actual strawberries. This includes the main base of the drink, the sauce and powder on top. One sip is a refreshing burst of sweet and sour strawberries in your mouth.
On the other side is the WHITE drink. The base of this drink includes white mocha syrup as well as a dollop of fresh strawberries. Enjoy together with the crunchy strawberry macaron.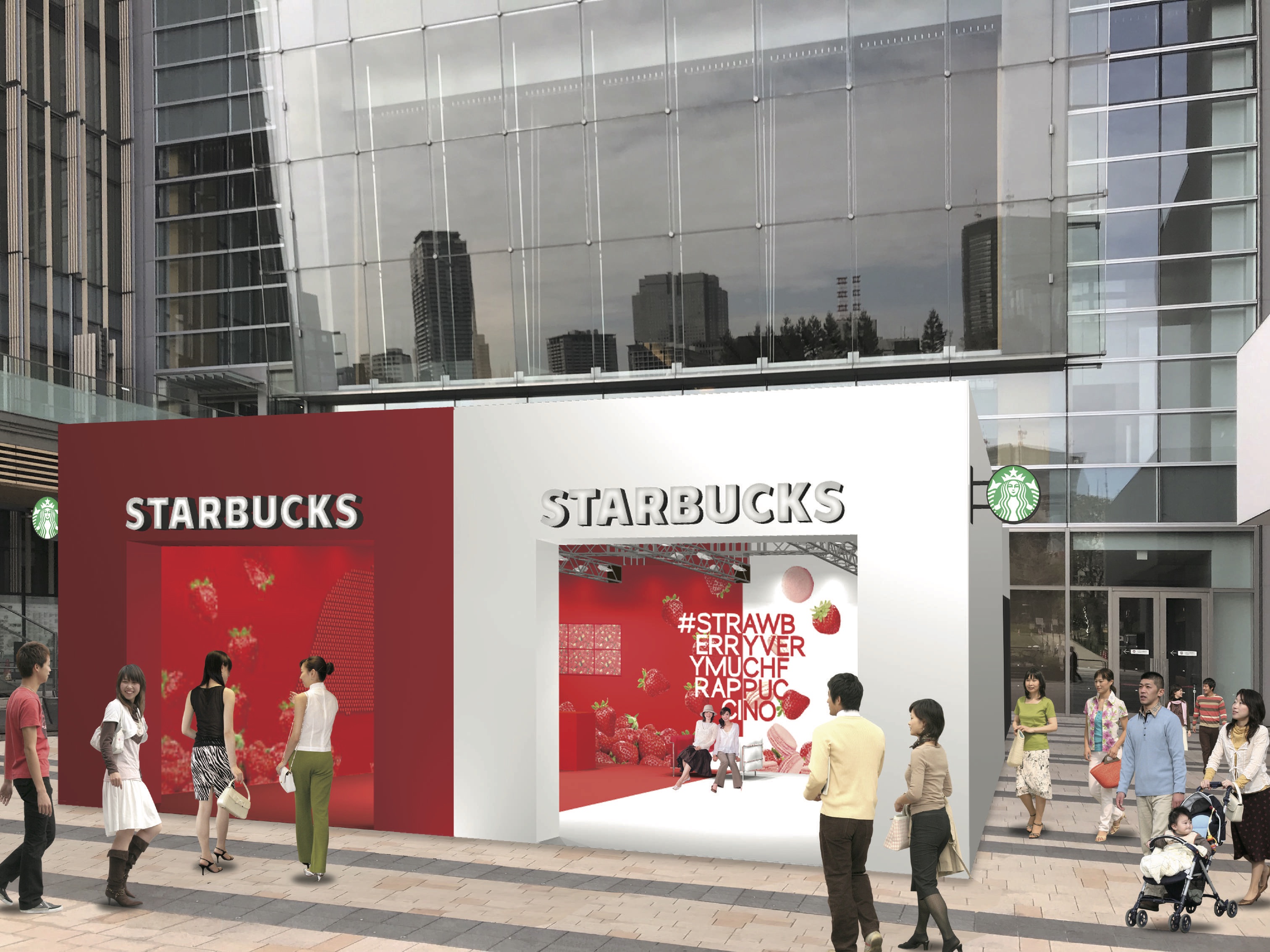 A pop-up shop selling just these drinks will open in the courtyard of Tokyo Midtown from April 10 to 13 so stop by if you're in the capital!
Information
#STRAWBERRYVERYMUCHFRAPPUCCINO®__RED
#STRAWBERRYVERYMUCHFRAPPUCCINO®__WHITE
Price: Tall ¥640 (Before Tax) *Tall size available only
Running: April 11, 2019 – May 14, 2019
Available: At most Starbucks branches in Japan
Starbucks Japan Official Website: https://www.starbucks.co.jp/
RELATED ENTRIES
Starbucks Reserve® Roastery Tokyo Collaborates With Traditional Kyoto Dollmakers

Starbucks Reserve® Roastery Tokyo released six new products on December 5 in collaboration with Shimada Koen Ningyo Kobo, a long-standing traditional maker of Japanese gosho-ningyo dolls.

Golden Cup, Shimada Koen Ningyo Kobo – ¥50,000 (Before Tax)

The relationship between Starbucks and Shimada Koen Ningyo Kobo began when Starbucks opened its branch at Kyoto Ninenzaka Yasaka Chaya in Kyoto, which is known for having tatami flooring, as the dollmaker's studio is located near it. There is a waving cat wearing a green apron at that Starbucks which was designed by the 5th generation of Shimada Koen.

Waving Cat, Shimada Koen Ningyo Kobo – ¥30,000 (Before Tax)

Shimada Koen specialises in making gosho-ningyo, dolls with distinct features such as stout forms, pure white skin, tiny legs and hands, a big face, and an overall cute appearance reminiscent of a child. In the Edo Period they were developed as gifts associated with the Court.

Bell Rat, Shimada Koen Ningyo Kobo – ¥3,500 (Before Tax)

The line-up of six dolls feature Starbucks Reserve® Roastery Tokyo motifs and are made with considered thought in mind, including the bonds between people and enjoying happiness throughout the yearーdesires upheld by Starbucks.

Information

Starbucks Reserve® Roastery Tokyo x Shimada Koen Ningyo Kobo Collaboration
Running: From December 5, 2019 until stock runs out

Sold At: Starbucks Reserve® Roastery Tokyo

Starbucks Reserve® Roastery Tokyo

Address: 2-19-2 Aobadai, Meguro, Tokyo

Business Hours: 7:00-23:00

No Fixed Holidays.

Access: 14-minutes on foot from Naka-Meguro Station / 14-minutes on foot from the East Exit of Ikejiri-Ōhashi Station

Official Website: https://www.starbucks.co.jp/roastery/

Starbucks Unleashes Festive Spirit with Santa Boots Chocolate Frappuccino®

Now it's December, we can unleash our festive spirits without anyone telling us "it's too early". The streets are glistening with Christmas decor and Christmas dinners, drinks and desserts are around every corner. Every year, Starbucks never fails to hype us up with their Christmas drinks and so without a moment to waste, I headed over to check them out. 

For many, the excitement of Christmas starts to unfold at one moment: opening the stocking. Starbucks has hit home once again with the Santa Boots Chocolate Frappuccino®, which not only takes on the appearance of a stocking stuffed with treats, but tastes as jolly as one too. The Frappuccino® was released on December 4, 2019 and is enough to leave you with a very merry belly. 

Once you place your order, you will be handed a sealed straw transformed with Christmas magic to become an edible cookie straw. This drink is the first of its kind for Starbucks and is on a whole new level of excitement. Just holding the straw in your hand waiting for your drink will have your heart racing in anticipation.

Here it is:

The small, bright red baubles of chocolate will immediately catch your attention. The Christmassy cup is literally a stocking packed with a range of delicious flavours and textures.

Now it's time to insert the straw. You will be surprised at just how strong and sturdy it is. Alternating between a few refreshing gulps and an odd chomp on the crispy straw creates a new kind of flavour experience. Rest assured that you are also provided with a regular straw so no need to worry about devouring the straw before finishing the drink.

The frappuccino® base contains a rich chocolate sauce and is sprinkled with crispy potato chips. There are also some potato chips on top of the drink to moderate sweetness and add texture. 

Not only will this fill your stomach, but just seeing the jolly drink will leave you fully topped up with the festive spirit. Sales will end once stock is depleted so make sure to try it asap if you are interested. 

Have a jolly Christmas filled with excitement and love. 

Information

Santa Boots Chocolate Frappuccino®

Only Available in Tall: ¥690 (Before Tax)

Selling: December 4 – 25, 2019

Available at most Starbucks Coffee shops across Japan 

* Sales will end once stock is depleted.

Starbucks Coffee Japan: https://www.starbucks.co.jp/

Starbucks Japan Unveils Santa Boots Chocolate Frappuccino® With Edible Straw

Starbucks Japan has revealed its drink in its line of holiday season beverages for 2019. The Santa Boots Chocolate Frappuccino® will be released at Starbucks branches across Japan on December 4, but will receive an early release at four branches in Shibuya on December 3.

The best moment during Christmastime is when you open a present. This drink is inspired by the candy and gift-stuffed stockings from childhood.

The drink contains everybody's favourite indulging ingredients: chocolate, cookies, and potato chips. The base of the drink is filled with dipping chocolate sauce and crunchy chocolate chips. The potato chips on top add a delicious salty flavour to the sweetness.

The drink is closed off with a squirt of snow-white whipped cream covered in red chocolate balls and an edible cookie straw. Suck up all of those delicious flavours through the straw and then enjoy munching on it afterwards, ensuring nothing goes to waste. A perfect beverage to enjoy this holiday season!

Information

Santa Boots Chocolate Frappuccino®

Price: Tall ¥690 (Before Tax) *Tall size only

Running: December 4, 2019 – December 25, 2019

Available: At most Starbucks branches in Japan

Shibuya Pre-Sale On December 3, 2019

・Starbucks Shibuya cocoti (cocoti SHIBUYA, 1-23-16 Shibuya, Shibuya Ward, Tokyo)

・Starbucks Shibuya MODI (1-21-3 Jinnan, Shibuya, Tokyo)

・Starbucks Shibuya Koen-dori (Shibuya Koen-dori JN Bldg. 1F, 1-7-5 Jinnan, Shibuya, Tokyo)

・Starbucks Shibuya Fire-dori (1-21-10 Jinnan, Shibuya, Tokyo)

Starbucks Coffee Japan Official Website: https://www.starbucks.co.jp/

Starbucks Japan's Second Holiday Season Drinks Shine Like Christmas Lights

Follow on from Merry Strawberry Cake Frappuccino®, Starbucks Coffee Japan has announced its second release in its series of holiday season beverages: the Nutty White Chocolate Frappuccino® and the Nutty White Mocha will hit most branches across Japan from November 22.

These two delicious drinks are the perfect holiday season treats, both capturing the moment when Christmas lights and illuminations twinkle. The coffee chain is also releasing its second batch of merchandise too.

The Nutty White Chocolate Frappuccino® is a combination of milky white chocolate and nutty hazelnuts with a sprinkling of roasted walnuts and crunchy shortbread for tantalising texture. It's finished with a squirt of whipped cream which has been topped with chocolates of three different colours and silver dragees to create that Christmas light sparkle. You're sure to feel the Christmas spirit with this order.

If it's a hot drink you desire for warming up during the chilly weather, then you won't be able to resist the Nutty White Mocha, a rich cup of coffee made with white chocolate and hazelnut syrup and a strong shot of espresso. The instant you take a sip from your cup, your taste buds will be treated to the nuttiness of the hazelnuts, and the subsequent milkiness of the white chocolate and full-bodied flavour of the espresso. The whipped cream represents a Christmas tree while the sauce is the ribbons and the dragees are the lights. A true capturing of Christmastime.

*This product uses chocolate that with less than 0.5% cocoa.

"Brilliant Season" is the theme of Starbucks' second batch of Christmas goods this holiday season. We see the return of the snow dome cup from last year as well as a snow dome tumbler, a cutlery set with teaspoons and forks, a journal, clear pouch, and moreーlots that can be used as gifts. There's plenty to plunge you into that Christmas mood as you stroll through the winter-kissed town amongst the warm Christmas lights. There's also a special stainless steel tumbler which changes colour depending on which angle the light touches it, as well as a sparkly holographic mug.

Warm yourself up this winter in Japan by stopping by your nearest Starbucks branch.

Information

Nutty White Chocolate Frappuccino®

Price: Tall ¥590 (Before Tax) (*Tall size only)

Release Date: November 22, 2019 (*Available while supplies last)

Available: At most Starbucks branches in Japan

Nutty White Mocha

Price: Short ¥450 / Tall ¥490 / Grande ¥530 / Venti® ¥570 (All Before Tax)

Running: November 22, 2019 – December 25, 2019

Available: At most Starbucks branches in Japan

2nd Merchandise Batch

Running: November 22, 2019 – December 25, 2019

Available: At most Starbucks branches in Japan at the online store (some products available in-store only) while supplies last

*Prices etc. can be found on the official website

Starbucks Coffee Japan Official Website: https://www.starbucks.co.jp/

Starbucks Japan Releases Merry Strawberry Cake Frappuccino

The holiday season has finally hit Starbucks in Japan, and for the first drink in their series of Christmas beverages, they are serving the new Merry Strawberry Cake Frappuccino which is made to look and taste like a strawberry cake. Customers can even customise their drinks with as much free strawberry sauce as they like.

Merry Strawberry Cake Frappuccino – Tall ¥590 w/ Free Strawberry Sauce (*Sauce not available with other drinks)

The drink is built on sponge cake flavoured base, on top of which sits ascending layers of bright-red strawberry sauce, whipped cream, and a sprinkling of freeze-dried strawberries, effectively creating a dessert that you can drink. One sip of this pink delight fills your mouth with the sweet and refreshing taste of fresh fruity strawberries.

We recommend customising yours with non-fat milk or soy milk. If you want to hold back on some of the sweetness, go for the non-fat milk option, and if you want something smoother, get the soy milk. Drizzle over additional strawberry sauce to your liking, and you've got yourself a festive treat for the season!

Information

Merry Strawberry Cake Frappuccino

Released: November 9, 2019

Available: At most Starbucks branches in Japan while supplies last

Official Website: https://www.starbucks.co.jp/

Starbucks® Releases Stylish Stainless Steel Bottle Produced By fragment design

Starbucks Coffee Japan will sell a stainless bottle set produced by fragment design – a design project produced by Hiroshi Fujiwara – from December 18, 2019. The set will consist of the Starbucks Ware® Stainless Steel Bottle fragment (500ml), fragment Coffee Essence Colombia coffee sticks and special design paper cups.

To purchase, enter the online lottery draw which starts on November 5. Those who are successfully chosen will have the opportunity to purchase the set from specified Starbucks cafes or from the online store. 

fragment design started collaborating with Starbucks back in 2012. The November 2019 collaboration will see the release of the first ever stainless steel vessel which comes with cups. The fragment design and Starbucks logos decorate a matte black-themed background, making for an artistic design that you will never get tired of seeing. The vacuum insulation of the bottle makes it highly effective at reducing heat transfer, retaining the original temperature of your hot or cold drink for longer. The material is highly durable and the bottle's capacity is equal to that of a Starbucks grande. The set comes with three Colombia coffee sticks and three original paper cups so you can enjoy the classic flavours of Starbucks just by pouring hot water. 

Starbucks Ware® is made using an original manufacturing method. The coffee in the set boasts Starbucks' high-quality and delicious flavour. The coffee sticks allow you to easily prepare a cup of your favourite coffee at any time and even when on the go. Just add hot water and milk to your liking to enjoy a cup of irresistible flavours. The cups feature the same black theme as the fragment design Stainless Steel Bottle. 

This is a great chance to enjoy the flavours of Starbucks anywhere and anytime in a stylish bottle.

Information

fragment design + Starbucks® Special Design Collaboration Set

Stainless Bottle Fragment 500ml

Product Specification:

Size: 7cm X 7cm X 22.5 cm (width, depth, height)

Capacity: 500ml 

Temperature Retention:

Can preserve a drink of 76°C or over or 8°C and below for 6 hours.

fragment/Starbucks Ware® Coffee Essence Colombia & Cup and Starbucks Ware® 3 Colombia Coffee Sticks + 3 Original Paper Cups

Total Price: ¥6,000 (¥6,590 Tax Included)

Stainless Steel Bottle: ¥5,500 (¥6,050 Tax Included)

fragment/ Starbucks Ware® Coffee Essence Colombia & Cup: ¥500 (¥540Tax Included)

* Not sold Separately 

Application Procedure:

Opens: November 5 – 20, 2019 (23:59)

Selling: December 18 – 25, 2019

* If you apply through a participating Starbucks Cafe, you can access the application website from November 5. 

Starbucks to Release Two Anniversary Drinks in Kyoto and Hyogo for Only 10 Days

Starbucks Coffee Japan is commemorating 20-years since opening their Kyoto and Hyogo Prefecture branches with a 10-day-limited anniversary project which will run from November 12 to November 21. The barristers of both prefectures rose to the challenge to come up with three anniversary drinks and a vote took place to decide on a winning drink for each prefecture. The winners were announced as the Kyoto Erai Matcha Matcha Frappuccino® and the Hyogo Bari Choco Haittou Frappuccino®.  

*  Update: Starbucks Coffee Japan has just announced that the 20-year commemoration drink sales period has been postponed. The new drink launch date and limited period is yet to be announced. For more information, please follow this link (Japanese only) : https://www.starbucks.co.jp/press_release/pr2020-3224.php 

One sip of the Kyoto anniversary drink will send your taste buds on a journey to Kyoto. The ideas for the drink originated from the Kyoto Porta West branch. The barristers of Kyoto took it in their hands to interpret the culture of Kyoto in the form of a Starbucks drink by infusing the essence of Kyoto's historical temples and elegant flavours. The taste of Starbucks' popular Matcha Cream Frappuccino® can be tasted in the drink. Just seeing the green colour is enough to trigger memories of the Zen Buddhist temple Saiho-ji, which is famous for its moss garden to the extent that it is even called "Koke-dera", meaning "moss temple".

The whipped cream creates a contrast with the green matcha which will definitely spark memories of Ryoan-ji Zen temple in some keen Kyoto travellers. The drink is dusted with matcha and dark mocha powder, creating the image of green and brown leaves. The milk base fully enhances the matcha flavour. A creamy cloud of whipped cream and dusting of bitter matcha are layered to create a wonderful flavour adventure which is bound to take your taste buds on a journey off the beaten track.

Stretching from the north to the south of the Japan, Hyogo Prefecture is the largest prefecture in the Kinki region and is home to many towns which are bursting with originality. Hyogo's barristers created their drink based on the concept of increasing love for Hyogo Prefecture's unique towns. The idea for the Hyogo Bari Choco Haittou Frappuccino® came from the barristers of the Himeji Minami branch. 

The Port of Kobe opened in 1868 and has since flourished as the gateway to the world. Foreign culture including western confectionary has since spread across Japan with Kobe as its starting point. Considering Kobe's history with western culture and the cold winter days that lie ahead, chocolate was chosen as the main flavour. Chocolate chips, chocolate sauce and chocolate whipped cream decorate the drink in diversity. The drink is even topped with chocolate sauce and dark mocha powder, making the perfect luxury Frappuccino® to tempt all chocoholics. After just one sip, you will immediately fall in love with the top-class chocolatey flavour. 

If you're in Kyoto or Hyogo, make sure to stop by a Starbucks to get your fill of cultural flavours.

Information

Kyoto Erai Matcha Matcha Frappuccino®

Price:¥590 (Tall, Before Tax)

Available at 33 Starbucks Cafes across Kyoto Prefecture 

*Sales will end once stock has been fully depleted.

Hyogo Bari Choco Haittou Frappuccino®

Price:¥590 (Tall, Before Tax)

Available at 54 Starbucks Cafes across Hyogo Prefecture

*Please be aware that not all Starbucks Cafes sell the Hyogo Bari Choco Haittou Frappuccino®. Sales will end once stock has been fully depleted.

Release: Please follow this link for updates on the new sales period and start date (Japanese only):https://www.starbucks.co.jp/press_release/pr2020-3224.php

Starbucks Japan Official Website: https://www.starbucks.co.jp/en/

Starbucks Japan Reveals Christmas Strawberry Cake Frappuccino

The holiday season at Starbucks in Japan is set to begin on November 1 when it will begin rolling out new drinks and products celebrating those special moments during Christmas, such as when making a toast at a party, or switching on the Christmas lights.

Merry Strawberry Cake Frappuccino – Tall ¥590 (Tall size only)

The first of the Starbucks holiday season beverages is the Merry Strawberry Cake Frappuccino. This drink is layered beautifully and temptingly like a cake in a cup, containing a strawberry sauce made from fresh strawberry pieces, a sponge cake crumble made with thinly crushed shortbread and sponge cake, and topped with whipped cream and freeze-dried strawberries.

Merry Strawberry Cake Milk – Short ¥450/Tall ¥490/Grande ¥530/Venti® ¥570

There's also a hot version, filled the same sweet and sour strawberry sauce and delicious sponge cake that melt together deliciously with the milk. This one's a no-coffee beverage made with lots of steamed milk. One sip will make your eyes widen at how fruity the strawberries are, as well as the richness of the fluffy whipped cream. It's like Christmas cake and hot milk in your mouth at the same time.

These two beverages are just the first release of drinks to come in Starbucks Japan's holiday season beverage line. Feel the Christmas spirit and warm yourself up this autumn and winter by stopping by Starbucks.

Information

Starbucks Japan Holiday Season Beverages – ① Merry Strawberry Cake Frappuccino/Milk

Running: November 1, 2019 – November 21, 2019

Available: Most Starbucks branches in Japan (*While supplies last)

Starbucks Japan Official Website: https://www.starbucks.co.jp/

Starbucks Japan Unveils Halloween Dark Night Frappuccino®

Starbucks Coffee Japan has announced a new beverage called the Halloween Dark Night Frappuccino® which will be released at Starbucks branches (*1) across Japan from 17:22 (*2)―the time of sunset when night begins―on October 18, 2019. The coffee chain is also releasing its new "Halloween Masquerade" filter on Instagram (*3).

*1. Select branches not participating.
*2. Roll out time may differ at select branches.
*3. Instagram is a service owned by Facebook, Inc. The above-mentioned filter is not backed or managed by Instagram in any way nor is it affiliated with the service.

The Halloween Dark Night Frappuccino® is themed on an evening masquerade party. It will go on sale when the sun sets at 17:22 on October 18. As the name suggests, the drink itself is black and mysterious like the night, blending together black cocoa powder with white chocolate brownie.

The jet black beverage also has a red hue to it which comes from a sweet and sour red berry sauce made from raspberries, cranberries and strawberries. It's topped with a squirt of fluffy whipped cream, sprinkled with black cocoa powder, and drizzled with more of that red berry sauce to create that Halloween aesthetic. The black cocoa adds a delicious bitterness to the sweetness of the brownie and the sweet and sour mixed berries, creating a mouth-watering flavour combination.

The Halloween Masquerade filter was developed by Starbucks for people's Instagram stories this Halloween. There are four masks to choose from which can be changed by just tapping on the screen. There are other cool Halloween effects on the filter to find too. Something might even pop out of your mouth if you open wide…

Starbucks Japan will also sell the above-pictured Halloween cup stands when the drinks go on sale. Limited in stock, the stands come in black and white, titled Halloween Red Night Frappuccino® or the Halloween Dark Night Frappuccino® respectively. You can buy them separately or as a set.

Experience a spooky masquerade party at Starbucks this Halloween.

Information

Halloween Dark Night Frappuccino®

Price: Tall Size Only – ¥590 (Before Tax)

Running: October 18, 2019 at 17:22 to October 31, 2019 (While supplies last)

Available: At most Starbucks Japan branches

 

Starbucks "Halloween Masquerade" AR Filter

Available: From October 16, 2019 at 10:30 (JST)

How to Use:
・Available from Starbucks Japan's official Instagram profile @starbucks_j

・Download the Instagram app on your phone and access via https://sbux.jp/masq

*The filter will be removed without notice on November 1, 2019

Cup Stands


Running: October 18, 2019 – October 31, 2019 (While supplies last)

Halloween Red Night Frappuccino® / Halloween Dark Night Frappuccino®

Price: ¥990 Each (Before Tax) *Fits Tall size drinks only, Frappuccino® drink sold separately at ¥590

Available: At most Starbucks Japan branches

Starbucks Coffee Japan Official Website: https://www.starbucks.co.jp/

Starbucks Brews The Perfect Potions to Possess Your Heart This Halloween

Starbucks Japan is opening the portal to a whole new realm of flavour from October 11, 2019. Premonitions reveal that two devilishly delicious masquerade-themed drinks are to emerge for the Halloween season and infiltrate the menus of Starbucks branches across Japan. The two drinks called Halloween Red Night Frappuccino® and Halloween Masquerade Raspberry Mocha, are sure to give you an out-of-body experience. 

Just one sip of the Halloween Red Night Frappuccino® will pull you into a masquerade party world. The mysterious full red appearance of this devilish drink is tinged red with a tangy sauce which is a blend of raspberries, cranberries and strawberries. White chocolate brownies have been blended to make the frappuccino base. This is topped with a ghostly cloud of whipped cream sprinkled with dark cocoa powder. Red sauce can be seen trickling down the sides of the cup, tainting the white whipped cream. You will immediately be tricked into treating yourself to this irresistible drink. 

Like a luxury dessert, not only do the colours of the frappuccino contrast, but the sweet fruity tang makes for the perfect contrast with the white chocolate brownie

If your regular Starbucks order is the White Mocha, then make way for your new Hallow-queen: The Halloween Masquerade Raspberry Mocha. This is made with a startling shot of espresso which has a sweet yet tangy mixed berry flavour. This is masked with a white mocha flavour. 

Starbucks has brewed the perfect potions to steal your heart this Halloween. Dare you try one?

* The above image is an illustration.

Information

Halloween Red Night Frappuccino®

Price: (Tall only) ¥590


Halloween Masquerade Raspberry Mocha

* Contains less than 5% raspberry juice

Price: Short ¥450/ Tall ¥490 / Grande ¥530 / Venti® ¥570 

*All prices stated before tax

Available: October 11, 2019 – October 31, 2019

*Sales will end once stock has been depleted.

Available at most Starbucks Cafes across the country 

Website: https://www.starbucks.co.jp/

Starbucks Japan's Autumn Beverage Line-Up Includes Golden Sweet Potato Frappuccino & Macchiato

Starbucks Japan has unveiled the second batch of drinks in its ongoing Artful Autumn @ Starbucks® promotion: the "Sweet Potato Gold Frappuccino®" and the "Sweet Potato Gold Macchiato." Both will go on sale on September 10.

The concept for this year's Artful Autumn is "Be Colourful," and that shines true with this golden, autumnal coffee line-up.

The Sweet Potato Gold Frappuccino® contains a rich syrup made from cured sweet potato. It retains the rich, full-bodied aroma, sweetness and deep flavour of the Japanese sweet potato (satsumaimo). The drink's main characteristic is the crunchy texture left behind from the potatoes. Its golden appearance comes from the honey and sweet potato blend sauce. This sauce swirls around the beverage which can be seen through the cup, giving it that artistic flavour required to be considered for the Artful Autumn selection. The cold coffee beverage is drizzled in this same sauce, rich in flavour and fragrance.

Each cup of the Sweet Potato Gold Macchiato is made delicately in a mix of foamed milk, sweet potato honey, and a shot of freshly extracted espresso. The combination of the sweet and rich sweet potato and full-bodied espresso roast coupled with the caramel-y flavour is a coffee match made in heaven. The hot beverage is topped with more of that incredible sauce drizzled in the classic way of a macchiato.

Warm yourself up this season with the latest in the Artful Autumn collection.

Information

Sweet Potato Gold Frappuccino®

Price: Tall ¥580 (*Only Tall size available)

Sweet Potato Gold Macchiato

Price: Short ¥440 / Tall ¥480 / Grande ¥520 / Venti® ¥560

Running: September 20, 2019 – October 10, 2019

Available: At most Starbucks branches in Japan

*Listed prices do not include tax

Starbucks Japan Official Website: https://www.starbucks.co.jp/

Starbucks Japan Releases Autumn Themed Mugs & Tumbler in 'You Are Here' Collection

The 'You Are Here' collection is a series of drinking vessels by Starbucks that captures and invites people to the beauty of countries around the world. With designs from over 20 countries and cities worldwide, this line of mugs and tumblers has become something of a collector's item for world travellers as each item is unique to each country.

Starbucks have drawn inspiration from Mount Fuji, sushi, cherry blossoms, daruma and other symbols for their Japanese designs. So far in the "Japan Seasonal" series we have seen Winter, Spring and Summer versions of this collection. The new Autumn version goes on sale today (August 30).

You Are Here Collection Mug JAPAN Autumn (59ml) – ¥1,200* / You Are Here Collection Stainless Tumbler JAPAN Autumn 473ml – ¥4,000 / You Are Here Collection Mug JAPAN Autumn (355ml) ¥1,800

The designs feature a red and yellow autumn-leaved Mount Fuji with susuki grass, the red rising sun, chestnuts, and other motifs associated with Japanese autumntime. The inside of the mugs are also completely yellow, completing that relaxed autumn vibe. Each item is packaged in a gift box making for perfect souvenirs or to add to your collection.

Taste Japanese autumn at home or the workplace by getting your hands on one of these beverage vessels.

*Listed prices do not include tax

Information

You Are Here – Japan Autumn Version

Running: August 30, 2019 – November 21, 2019
Available: At most Starbucks branches across Japan

Starbucks Japan Official Website: https://www.starbucks.co.jp/