P→★ (TEMPURA KIDZ) Animal Café Diary #5: Visiting Japan's First Micro Pig Cafe 'mipig cafe'
P→★ of Japanese pop dance and vocal group TEMPURA KIDZ loves animals, and this is his featured series in which he visits animal cafes around Tokyo. For diary entry No. 5, our P→★ heads to mipig cafe, Japan's first ever micro pig cafe that opened in Meguro just last month.
Micro pigs are a super small type of pig bred in the UK through selective breeding. They are smaller than miniature pigs. The concept of the cafe is "A Backwoods For Micro Pigs." The pigs are given a huge space to live and play around in. As soon as you enter the cafe they are there to greet you.
The building is four storeys high. Each floor has been made into a house for the micro pigs. The initial entry payment is ¥800 for 30 minutes and an extra ¥500 for every 30 minute extension. If you want a drink the prices start from ¥600. The cafe is very new and so is very popular right now, so if you're looking to visit we recommend making a reservation in advance. It's possible to get extensions on the day but you won't be able to if lots of reservations have been made.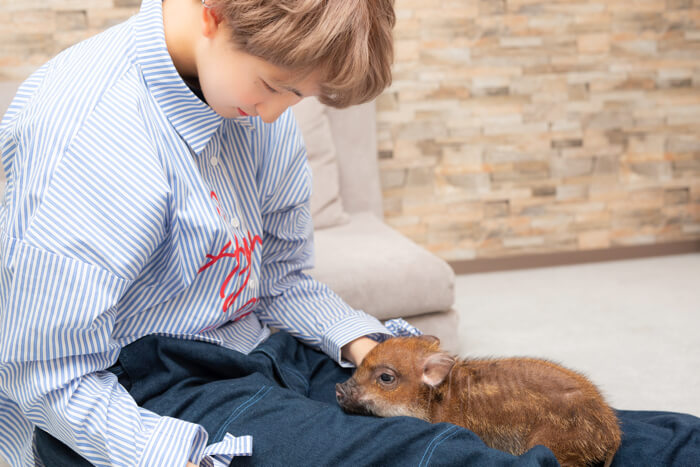 The pigs are very friendly with people. As soon as P→★ entered the room the pigs came right up to him. They climbed straight onto his lap.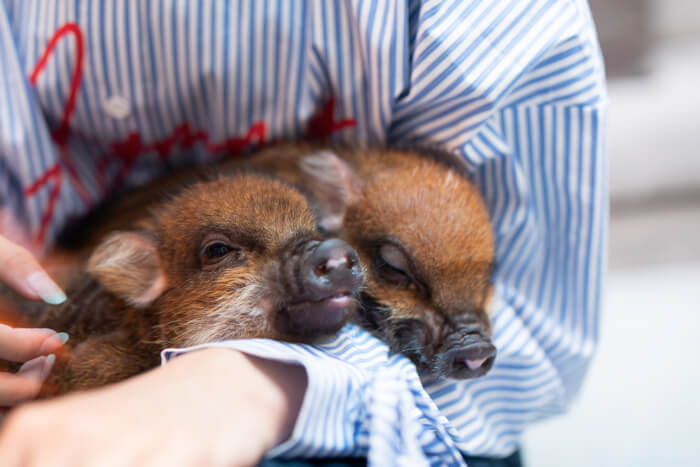 They stayed in P→★'s arms the entire time without moving. Perhaps it's because they feel safe and relaxed when embraced. P→★ was happy with it too: "I feel so peaceful♡. I want to stay here forever!" he announced.
Micro pigs aren't their own species, they are mix of different species, so even if the piglets are born at the same, their size and colour will be completely different. The four pigs in the photos above are all 4-month-old siblings. Currently there are 10 micro pigs at the cafe. Pigs are tidy and very intelligent animals, so with enough practice they can be trained like dogs. There are pigs in the mipig cafe that can turn around and sit on command.
Since the pigs are so friendly with humans, one meeting is enough to have you captive and want to stay with them. They will stay close to you and not move so there's plenty of opportunities for photos!
As well as drinks the cafe also serves food including cakes. They even serve "Tokusei Cheesecake" (¥850 before tax) from Hasegawa Minoru, a top dining restaurant in Japan. The restaurant is so popular that you have to make reservations up to 2 years in advance. And on weekends and holidays only the cafe sells 10 servings of their special "Pig Cake."
It's common in the US and UK for people to have pet pigs, but in Japan they're still mostly regarded as domestic animals. mipig raises their micro pigs in a way like cats and dogs are in Japan. They are also in contact with farms in the UK and sell micro pigs too. Although they are called micro pigs they can weigh up to 40kg when fully grown. There is a floor in the cafe where you can see a grown up micro pig as shown in P→★'s photo above. Perhaps you can add a new member to your family too. But since the pigs are popular right now it could take over a year for you to receive one.
How did you find the mipig cafe, P→★?
"Of all the animal cafes I have been to so far this one was the most fun! It was fun being able have contact with them the entire time. Now I want a micro pig of my own! They don't smell either, I could be with them forever. I wasn't able to get an extension because there were a lot of reservations, so I recommend booking a long stay when you make one! And the cheesecake was super tasty too, so definitely be sure to try it yourself!"
If you're in or planning a trip to Tokyo then be sure to get your reservations in for the newly-opened mipig cafe in Meguro ASAP!
Model: P→★(TEMPURA KIDZ)@0830_pika
Photo: Haruka  Yamamoto
Text: Sayoko Ishii
Translation: Joshua Kitosi-Isanga
Information
mipig cafe
Address: 4-11-3 Meguro, Meguro Ward, Tokyo
Access: 15-minutes on foot from Meguro Station / 1-minute on foot from Meguro Racecourse via the Tokkyu Bus from Meguro Station
Business Hours: 10:00-20:00
No Fixed Holidays.
Entry Fee: ¥800 (Before Tax) for 30 minutes (*¥500 for 30 minute extensions)
Official Website: https://mipig.cafe
RECOMMENDED ENTRIES
P→★ (TEMPURA KIDZ) Animal Café Diary #4: Feeling at Peace With Shiba Inu at the Harajuku Mame-Shiba Café

The long-awaited next entry to P→★'s Animal Café Diary is finally here!

P→★ of Japanese pop dance and vocal group TEMPURA KIDZ loves animals, and this is his featured series in which he visits animal cafés around Tokyo. For diary entry No. 4, our P→★ visits the Harajuku Mame-Shiba Cafe located along Harajuku's famous Takeshita Street.

Harajuku Mame-Shiba Café is Tokyo's first animal café for Mame-Shiba Inu. It's very easy to find being just a 3-minute walk from Harajuku Station and 5-minutes from Meiji-Jingumae Station so you can pop in during your Harajuku sightseeing.

There is also an owl cafe called Harajuku Owl's Forest in the same building on floor B1F which you can see in the picture above. P→★ also visited another owl cafe in Harajuku called Owl's Garden.

Upon stepping your paws into the Harajuku Mame-Shiba Café you are met by Mame-Shiba dogs wearing bandana around their necks. The café itself has retro style decor with Showa music providing your soundtrack. It also has tatami flooring so you will need to take your shoes off beforehand.

Tickets can only be bought at the café. It's ¥880 for an adult for for 30 minutes. Once you have your ticket you wait until your designated time. It's not uncommon for tickets to be sold out on the day so we recommend buying yours early in the day.

You can pick out one drink from the vending machine with your ticket. Pick from a range of teas, coffees and juices, sit down on the tatami mat and enjoy playing with the adorable Mame-Shiba. The café also as a retro TV and Japanese-style 'chabudai' tables for sitting on the floor.

The pups are very energetic in the morning and each enjoy living their own lives in their own way as they please. A popular site to see is the dogs basking in the sunlight that shines through the café windows.

Customers are prohibited from picking up and embracing the dogs, but like P→★ they may give you one instead! Stroking and interacting with the bouncy bunch however is fine.

Use toys to play with them, give them food and treats, and find your favourite Mame-Shiba Inu from the pack.

When noon draws in the dogs start going into nap mode. You'll see the number of them tumbling over for a sleep increase one by one. This makes it easy to snap some photos, so if you're looking to take lots of photos with them you should go at midday!

There's also merchandise on sale including items based on popular Shiba Inu characters like Chuken Mochi Shiba and Shibata-san. The most popular item is the key ring of Chuken Mochi Shiba laid sprawled.

P→★ was very happy with his trip: "My grandma had a Shiba Inu called Aka-chan when I was small. Since then I always come into contact with Shiba Inu! I prefer Mame-Shiba who have a bit of individuality compared to the cute ones that look like Chihuahuas. The café has Japanese taste, is spacious and relaxed. I had the best time!"

Harajuku Mame-Shiba Café brings in countless customers everyday from those who do not own pets to foreigners visiting Japan. Reservations cannot be made online or over the phone, so pop in to book when you're in Harajuku.

Information

Harajuku Mame-Shiba Café

Address: Harajuku Mame-Shiba Café Floor 3F, 1-6-10 Jingumae, Shibuya, Tokyo

Access: 3-minutes on foot from the Takeshita Exit of Harajuku Station via the JR Line / 5-minutes on foot from Exit 5 of Meiji-Jingumae Station via the Tokyo Metro Line

Business Hours: Weekdays 11:00-19:00 / Weekends & Holidays 10:30-19:30

No Fixed Holidays.

Price: ¥880 (13+ Years) / ¥580 (4-12 Years With Parent/Guardian) / Free (3 Years and Below With Parent/Guardian)

*You can also get a ticket for the owl cafe there. ¥1,400 for adults, ¥1,000 for children.

Website: http://owls-cats-forest.com/free/mameshiba-harajuku

Model: P→★(TEMPURA KIDZ)@0830_pika

Photography: Kayo Sekiguchi

Text: Sayoko Ishii

Translator: Joshua Kitosi-Isanga

P→★ (TEMPURA KIDZ) Animal Café Diary #3: Playing With Rabbits at Ra.a.g.f in Harajuku

P→★ of Japanese pop dance and vocal group TEMPURA KIDZ loves animals. This is the 3rd entry to his featured series in which he visits animal cafés around the city.

Ra.a.g.f in Harajuku was his destination this time around where he got to play with bunnies!

The café is just a 5-minute walk from Meiji Jingumae Station via Tokyo Metro lines, 8-minutes from Harajuku Station via the JR line, and within walking distance from all the lines at Shinjuku station, making it a perfect pit stop when sightseeing in Harajuku!

About 15 rabbits live in one room at the large apartment. You pick one that you think wants to play at let them roam around the room. The rule is that you let them out one at a time. They're a territorial animal, so if you let two out they will pick quarrels, and if they're male and female they will end up mating.

Pick a bunny from the cage that wants to play. It costs ¥800 for 30 minutes and ¥1,100 for 60 minutes – both options come with one drink. If you want to stay longer, it's ¥550 per 30 minutes.

The first bunny P→★ picked was the floppy-eared Roko-kun, a male Holland Lop.

The rabbits seek out feed so if you use the food provided they will move closer to you. It's ¥150 for a bunny snack. They have bad eyesight so it's best to hold it close to their face. They also know their own names, so try calling out to a bunch of them.

Rabbits are predatory so they're not good with being hugged. It's strictly forbidden to hold the rabbits in the café, so guide them to your lap with the snack.

Roko-kun kindly came and sat on P→★'s lap! Rabbits hate being touched under the chin and on the belly, so when petting them make sure to do it gently from their heads down their backs.

They seem to be getting along nicely! "He's cute, I want to keep him myself! So fluffy!" said P→★.

The next rabbit that P→★ met was the most handsome of the herd – Purittsu-kun, a male Netherland Dwarf. He's the most popular in the café because he looks just like Peter Rabbit.

Purittsu-kun likes to run around people. It was like he was intending to play with P→★. He was in good health today.

His special skill is handshakes. Try shaking his hands too by timing it when he puts his forefeet up when giving him his snack.

The final bunny of the day is Rakuda-chan, a female mini Rex rabbit. She seems to be the most popular amongst foreign customers. She's chubby around the chin and butt so she looks really fluffy.

She's good with people so she jumped straight onto P→★'s lap!

Rakuda-chan also loves getting a massage from the customers! If  you pet her from her forehead down to her butt she'll lie sprawled across the floor. She's the only rabbit in the café that does this, so she's got a lot of repeat customers!

P→★ was very satisfied having gotten to play with so many bunnies!

"When I was in elementary school I touched a lot of rabbits at Toby Zoo, so I'm super happy I got to pet a lot today! I was also surprised by how different it feels to touch a rabbit with long fur and one with short fur! Rakuda-chan is my favourite. She made me feel a lot better♡ "

There's a lot of other rabbit breeds at Ra.a.g.f too. The kind staff there will show you how to play with them all. "The lady there was really interesting, she attended to the rabbits like she was a nursery school teacher! Be sure to try going there yourself!" said P→★.

You can also buy the rabbits on sale there and they also have a rabbit hotel. There's even rabbit merchandise you can buy, so if you're a lover of bunnies then you absolutely have to visit!

■Information

Ra.a.g.f

Address: Mezon Harajuku 3F, 6-14-15 Jingumae, Shibuya, Tokyo

Opening Hours: Weekdays 12:00-19:30 (Last Entries 19:00) / Weekends & Holidays 11:00-20:00 Last Entries 19:30)

Closed: Every Tuesday

Access: 5-minutes on foot from Exit A7 of Meiji Jingumae Station via Tokyo Metro Line, 8-minutes on foot from Omotesando Exit of Harajuku Station via JR Line, 10-minutes on foot from Exit 13 of Shibuya Station via all lines

Website: https://raagf.com

Model: P→★(TEMPURA KIDZ)@0830_pika

Photo: Kayo Sekiguchi

Text: Sayoko Ishii

Translation: Joshua Kitosi-Isanga

P→★ Animal Café Diary #2: Making Friends with Owls & Hawks at Owl's Garden in Harajuku

P→★ from TEMPURA KIDZ loves animals. This is his featured series in which he visits animal cafés in the city.

In this second entry, he made a trip to Owl's Garden in Harajuku which houses not only owls, but hawks too!

The café can be found behind Tokyu Plaza, a very favourable location since you can stop by after shopping in Harajuku. It's a 6-minute walk from Harajuku Station or a 2-minute walk from Meiji-Jingumae Station. Today, P→★ is wearing an outfit inspired by Harry Potter!

The café interior is styled on an English garden. There are 12 owls and hawks that live there. It's full of natural light and greenery, making it a nice and comfortable place to relax.

There are several price plans. The Standard Plan is ¥1,500 which gets you 60 minutes inside. During that time, you're free to touch the birds, take photos of them and sit them on your arm as much as you like.

P→★ met with the owls first. You can gently touch the top of their head down to their back as well as their chest. This owl is a Chaco Owl.

If you want to hold the birds just ask the staff. You'll be given a glove to wear for the bird to sit on.

P→★ is now holding an American kestrel. This is the only falcon in the café. If you're careful not to move your hand it will stay relaxed on your hand.

This is a barn owl. Apparently lots of customers are captivated by its striking face.

"This one's so fluffy!" commented P→★.

P→★ was particularly interested in this Little Owl (that's the actual name of the species!) Its tiny size is enough to tug your heartstrings♡

Owls save energy and don't move around much, so they're perfect for snapping photos of. That goes for selfies too.

Next is to try out being a falconer. There's a number of cafés where you can come into contact with hawks but not that many where you can actually have one fly over to you, so some customers can spend several hours here.

You begin with your back against the wall and bring your hand up to the same height as your shoulders at the count of 3.

The hawk responded to the signal several meters way and flew right onto P→★'s hand.

It costs ¥500 for one turn which consists of two flights.

"It's like I've become a wizard!" The bird that flew to P→★ is the Harris's hawk. They are known for their intelligence. Hawks are often perceived as scary but they're actually very friendly to humans.

You can enjoy a drink at this café while playing with the owls and hawks. If you make a reservation you get a drink on the house, otherwise it's ¥100. It's better to make a reservation if you're planning to go there.

The earrings they sell there are popular. They're made from feathers that have fallen from the owls at the café. Be sure to find the feather of the bird you like there the most. They also sell a range of other merchandise including a photo collection of the owls.

P→★ was very satisfied with his experience. It was his first time coming into contact with them, and his first time having a hawk fly to him.

"After watching Harry Potter, I wanted to own my own owl. It was a lot of fun interacting with them today. My image of hawks has changed too! If I'm rich in the future I want to have my own pet owl. Until then, I'll be sure to come back here!"

P→★ sure enjoyed Owl's Garden. The café is arranged in a way that makes it easy to take photos. The natural lighting and greenery make it a great choice for Instagram. Be sure to make a reservation if you're interested.

Check out the time P→★ went to Harajuku Terrace Café in his first Animal Diary Café entry here.

■Information

Owl's Garden

Address: Ingresso 2F, 4-31-5 Jingumae, Shibuya, Tokyo

Opening Hours: 10:00am-7:00pm (Until 6:00pm on Tuesdays, Wednesday & Thursdays except on National Holidays)

No Fixed Holidays.

Access: 6-minutes on foot from Harajuku Station via JR / 2-minutes on foot from Meiji-Jingumae Station via Tokyo Metro

Website:https://owls-garden.jp

Model: P→★(TEMPURA KIDZ)@0830_pika

Photo: Kayo Sekiguchi

Text: Sayoko Ishii

Translation: Joshua Kitosi-Isanga
RELATED ENTRIES
TEMPURA KIDZ Members Announce Departure From Group After Their Concert in March

Four-member dance and vocal unit TEMPURA KIDZ announced on their official website on Thursday (February 18) that YU-KA, AO, and P→★ will depart from the group following their concert at Shibuya Veats on March 28, 2021.

TEMPURA KIDZ began their career as backup dancers for Japan's queen of pop Kyary Pamyu Pamyu where they were known as the "Kyary Kids." The original five-member line-up of YU-KA, AO, P→★, KARIN, and NaNaHo made their major debut in 2013. At the young ages of just 15, the group took their unmatched, high-energy dance performances across Japan and overseas. The big stage was ahead of them as they embarked on a world tour to perform in 17 cities throughout 13 countries, beginning with a performance at the Thai music festival TOFU MUSIC FES 2014 where they performed alongside the acclaimed K-pop artists 2NE1 and GOT7.

TEMPURA KIDZ at TOFU MUSIC FES 2014

TEMPURA KIDZ also performed at the world's largest indoor arena, Philippine Arena, in Manila, Philippines for the 2015 New Year's countdown event. In the performer line-up, TEMPURA KIDZ were just one act behind Chris Brown.

TEMPURA KIDZ at Philippine Arena in 2015

TEMPURA KIDZ have taken their exceptional dance skills around the world where they have hosted dance workshops to children at schools. One was hosted in Payatas in the Philippines as part of an Official Development Assistance (ODA) effort and was filmed to be shown on TV.

Over the course of their career, TEMPURA KIDZ have also lent their creative choreography to countless artists as well as for commercials and TV shows. In 2019, they performed their iconic "Puputto Fumutto Kaiketsu Dance" on Kōhaku Uta Gassen, an annual New Year's Eve television special in Japan. The dance was created by the group for the animation series Butt Detective.

In 2018, group member NaNaHo graduated for the group, leaving TEMPURA KIDZ with just four members: YU-KA , AO, P→★, and KARIN. However, YU-KA , AO, and P→★ will now be graduating from the group at their solo concert together at Shibuya Veats on March 28, 2021 to focus on their own individual careers.

YU-KA aims to become a performer on many different levels and so wants to focus on enhancing her current skill. AO wants to become an actress, and P→★ wants to challenge himself to many new things such as being a DJ, model, and performer to arm himself with a talented skill set. The remaining member KARIN will announce her plans in the near future.

This March will be the final time that the four members stand on stage together as TEMPURA KIDZ. Tickets went on sale on Thursday (February 18), including special tickets that include signings from the members and an invitation to their rehearsal.

Comment From TEMPURA KIDZ

"We want to convey our utmost gratitude to you all for supporting us for so long. On March 28, at our solo concert, YU-KA, AO, and P→★ will graduate from TEMPURA KIDZ. Each member has decided to pursue their own paths. This of course means a big change for TEMPURA KIDZ, but all four of us will go all out to put on a hugely successful final show for you that captures out past 8 years together. Truly, from the bottom of our hearts, we thank you. And remember, this isn't the end—we're working super hard to get off to a new start, so we ask you kindly for your continued support."

—From all the members of TEMPURA KIDZ

Each member of TEMPURA KIDZ also wrote their own handwritten letters to fans which you can read here. 

Japan's Snoopy Themed PEANUTS Cafe Reveals Charlie Brown Inspired Dessert

Six branches of the hugely-popular PEANUTS Cafe in Japan are welcoming a collection of tasty new seasonal menu items this Saturday which are set to be served until March 14.

The Limited-Time Line-Up

Brownie Charles's Brownie Chocolat | ¥950 (Before Tax)

Strawberry Whipped Hot Chocolate | Eat In ¥750 – Takeout ¥700 (Before Tax)

The collection includes a chocolate brownie inspired by the scene when Charlie Brown meets Peggy Jean for the first time. He is very nervous and mistakenly introduces himself as "Brownie Charlies." There's also a sweet strawberry hot chocolate topped with a squirt of whipped cream and drizzle of strawberry sauce.

(C) 2021 Peanuts Worldwide LLC

Information

PEANUTS Cafe Limited-Time Menu
Running: February 13, 2021 – March 14, 2021
Participating Branches: PEANUTS Cafe Nakameguro, PEANUTS DINER Yokohama, PEANUTS DINER Kobe, PEANUTS Cafe Kobe, PEANUTS Cafe Snoopy Museum, PEANUTS Cafe Nagoya
PEANUTS Cafe: http://www.peanutscafe.jp/
PEANUTS DINER: http://www.peanutsdiner.jp/
Snoopy Japan Official Website: http://www.snoopy.co.jp/

Starbucks Reserve®︎ Roastery Tokyo is Serving a Special Roastery Holiday Season For 2020

Starbucks Coffee Japan has announced that the holiday season at Starbucks Reserve®︎ Roastery Tokyo is set to begin on November 13, 2020. "Special Roastery Holiday" is the theme this year, for which the specialist coffee branch will be serving a line-up of unique beverages for the holiday season, as well as decorating each of its three floors.

Eggnog Latte ¥900 | Butterscotch Chai Tea Latte ¥950 | Nakameguro Porthole Winter ¥4,200 | Strawberry Chai Nog ¥2,000 (Before Tax)

This autumn and winter, the Roastery is serving a variety of seasonal flavours for its "STARBUCKS RESERVE® CHRISTMAS 2020" line-up. Customers can look forward to the smell of warm cedar fragrance, orange marmalade, spices, and butterscotch. These beverages, each of which is served on a different floor at the coffee shop, are so beautiful they almost seem a waste to sip.

Bottom Right: Cornetti Lampone Chocolate ¥420 | Bottom Left: Maritozzo Lampone & Fragola ¥380 | Top Left: Holiday Panettone ¥5,400 | Top Right: Zuppa Inglese ¥580

Popular Italian bakery Princi® has baked up a selection of authentic Italian treats for the holiday season too, including a classic panettone.

Red Stainless Steel Tumbler 473ml ¥3,800 | Red Round Mug 355ml ¥2,500 | Small Red Tote Bag ¥2,300 | Round Tumbler 355ml ¥2,500 (Before Tax)

Starbucks Reserve®︎ Roastery Tokyo is also selling some limited-edition merchandise too both in-store and on their website so everyone can enjoy delicious drinks at home too.

Stay Home With TEMPURA KIDZ: Polish Your Skills And Look to the Future During the Lockdown

Here at MOSHI MOSHI NIPPON, we post news and information about Japan in six languages. Our aim is to deliver a variety of content related to Japan for those who love and enjoy Japanese culture.

Right now, people across the globe are in self-isolation as a result of the coronavirus pandemic. The same goes for Japan too, so we've taken this opportunity to create a new series on the website to show how we're spending time at home here in Japan. The future is yet uncertain, and we hope for normality to return for all of us soon. We created a new articles series called Stay Home with which we hope to take your mind off the situation, even for just a little bit, to help you feel calmer. It might give you some tips on what you can do while spending time at home.

Today, we are joined by all four members of Japanese dance and vocal group TEMPURA KIDZ who have shared with us what they have been doing at home recently.

Stay Home With AO

1: Watching movies

I've been sipping on nice hot drinks while cosied up watching movies. One that I want to recommend that makes me cry is The Green Mile. For comedy is would be A Story of Yonosuke!

2: Reading

Reading at home! I don't make a lot of progress with reading, but I can concentrate better setting time aside to read at home alone rather than when I usually would on trains or in my spare time. So I've developed the ability to read a lot quicker now! I want to use this time to read lots and lots!

What's your secret to spending time at home?

It's all about putting the time in right now! I usually don't get this kind of time to enjoy chilling at home, so I'm consuming lots of media like movies, dramas, anime, and books. I think it's great time spent to power up my power as a human, by laughing and crying while increasing my knowledge and sensibility!

Please give a message to those reading this article

With more time spent at home because of the lockdown period, you might feel a sense of loneliness or anxiety, but it's important to increase your immunity, even a little, and make your mind and body strong! I hear that tears and laughter are a way of de-stressing and upping your immunity. Let's immerse ourselves in some kind of media and laugh and cry so we can eliminate stress, increase our immunity, and level ourselves up.

Stay Home With KARIN

1: Feeling better with candied fruit!

I'm lifting my mood at home by making candied fruit! It's super simple, you just need fruit, sugar, and water.

Though I'm at home indoors, it makes me feel like I'm at a stall at a Japanese festival, so it makes me happy!

It's really easy to do, so why not give it a go yourself?

What's your secret to spending time at home?

If you use your time at home wisely to try out things you normally don't have time for you're bound to discover something new. I think that's important.

Please give a message to those reading this article

Wash your hands, be aware that each and every person is a potential danger, and make the right decision until the fun days return. Let's all get through this together!

Stay Home With YU-KA

1: Dancing on TikTok at home!

I started using TikTok just recently. Since the lockdown means being at home everyday, I'm posting dance videos everyday as part of my daily routine!

They're super easy to make and post, I think it's the best kind of content to enjoy with everyone. Plus, you feel refreshed after moving your body about, and it lifts your mood!

2: I can't meet with the other members, but…

I'm also doing duet dances in my videos too! When the lockdown finally ends and I get to meet with everyone again, my happiness won't feel incomplete anymore.

Doing this means you can stay connected with people even if you're at home. It made me realise again what a convenient time we live in. I'm posting everyday, so I hope it kills a bit of time for everyone at home!

Check out my videos here: https://www.tiktok.com/@yuka_tempurakidz

What's your secret to spending time at home?

This period we're in now might actually be a great opportunity to do those things you've been neglecting everyday, or to challenge yourself to something new! You might also realise something you didn't before because of this very situation. It's made me reconsider the peaceful life I took for granted, so let's think of it as a plus because of the good time we've been granted!

Please give a message to those reading this article

Our want for the lives we loved together to continue will ensure that they return quicker. Let's pray for things to turn back to normal and work hard to get through this together!み

Stay Home With P→☆

1: Making music and editing YouTube videos

I'm set on making music and editing YouTube videos, and other things too. I'm using my time at home to do the things I normally wouldn't be able to because it takes time. I'm also absorbing myself in a lot of research and making things. Keeping myself busy by looking up the things I love relieves my stress and makes me feel great.

What's your secret to spending time at home?

Feeling positive trying out things you normally can't!

Please give a message to those reading this article

Make sure to properly self-isolate at home, and let's all look forward to and work towards when we can enjoy outdoors again! I'll work hard to deliver entertainment to everyone from home too!

Starbucks Reserve®︎ Roastery Tokyo to Release Cherry Blossom Spring Drinks and Merchandise

Starbucks Reserve®︎ Roastery Tokyo boasts the most incredible location, sitting by the side of Nakameguro, one of Tokyo's most famous spots for seeing the cherry blossoms in spring.

This year, the coffee roastery's "Sakura Season" is set to begin on February 15, when its cherry blossom-inspired merchandise collection is released, along with a line-up of pink beverages and food.

The official Starbucks sakura merchandise ranges from tumblers and mugs to a key ring, handkerchief, and more, for a total of 10 items.

Strawberry Chia Oolong – ¥900

Poppun Sakura Jasmine Tea – ¥950

Floating Blossom – ¥900

Six beautiful beverages from last year's Sakura Season at Starbucks are also making a return from the Teavana™️ brand, made with delicate and soft cherries, hibiscus, and tea leaves as refreshing as green grass.

Clockwise From Left: Gianchetti & Sakura – ¥880 / Mini Panettone Sakura – ¥680 / Cornetti Sakura – ¥380 / Maritozzo Sakura – ¥540

Italian bakery Princi®︎ is also heading to Japan for the first time to serve up Italian food culture to people at Starbucks Reserve®︎ Roastery Tokyo. Enjoy the floral taste of cherry blossoms done in a Princi®︎ way.

Heading to Tokyo for Hanami and the cherry blossoms? Then make a stop at Starbucks Reserve®︎ Roastery Tokyo for this year's Sakura Season.

Information

Starbucks Reserve®︎ Roastery Tokyo Sakura Season

Release Date: February 15, 2020

Location: Starbucks Reserve®︎ Roastery Tokyo

*The Princi®︎ products will also be served at the Starbucks Reserve®︎ Store at Ginza Maronie-dori

Official Website: https://www.starbucks.co.jp/press_release/pr2020-3360.php

Capy Neko Cafe: Japan's First Cat and Capybara Cafe Opens in Tokyo

Capy Neko Cafe is the newest animal cafe to hit Tokyo. Located in the neighbourhood of Kichijoji, right by the station, customers are able to interact with both cats and capybara at the same time.

Japan is famous for its host of animal cafes, from the ubiquitous cat cafes to more unique ones like the owl cafe. But Capy Neko Cafe stands out from the rest as being the first cafe in Japan to combine cats and capybara.

You might wonder whether it's actually safe to pet a capybara. They may be the largest rodent in the world, but they in fact loved to be pet by people. They are gentle creatures that get on with and can live alongside cats. At the cafe, you can take photos of the capybara who are sure to be chilling on the sofas as well as feed them. The comfy environment also means that they'll feel like your very own pet capybara at home.

▶︎Tawashi (Male)

Tawashi is a sensitive, affectionate, and gentle guy. He loves snacks, and he's sure to flop down if you start petting him on the butt. Part of his daily routine is having an afternoon nap on the sofa together with the cats.

▶︎Dan (Male)

The vice store manager of Capy Neko Cafe. He adores humans. He's the kind of guy who'll probably jump up onto you if you cover your lap with a blanket and sit on the sofa.

▶︎Emma (Female)

Another member with a soft spot for humans, Emma is reserved kitty who lets everybody eat their food first. She's a needy and spoiled girlーif she's on your lap, you're not getting up. She's siblings with Dan.

▶︎Cream (Male)

Cream is everybody's idol. He's unapologetically spoiled and a handsome guy with perfectly round black pupils.

This list is just a small taste of the many cute residents to meet at Capy Neko Cafe. The cafe is also active in finding families for their rescued cats. The number of people who want to own a cat in Japan are looking to rescues now instead of pet shops. At Capy Neko Cafe, you get the best of both worlds: you can meet and interact with a cat and see if they're a good match for you.

If you're interested in visiting Capy Neko Cafe, keep in mind that priority goes to those who have booked in advance. This can be done via their official website, so book first and look forward to kicking back and enjoying a cup of tea, coffee or soft drink before interacting with the cats and capybara!

Information

Capy Neko Cafe

Address: PLATANO Floor 2F, 1-5-10 Kichijōji Minamichō, Musashino, Tokyo

Business Hours: 12:00-18:00

Closed: Wednesdays

Official Website: https://capyneko.cafe/

Starbucks Reserve® Roastery Tokyo Releases Merchandise in Collaboration With BEAMS

Starbucks Coffee Japan has collaborated with BEAMS Creative Lab (ビームス創造研究), which is led by Kazuyoshi Minamimagoe, Senior Creative Director at BEAMS, to release a collection of merchandise to celebrate the coming New Year. The items arrived at Starbucks Reserve® Roastery Tokyo on December 17.

Since opening on February 28, 2019, Roastery Tokyo has collaborated with BEAMS Creative Lab on three separate occasions to release collections of merchandise themed on "Play," "Travel," and "Go out!" respectively. They have proven popular with both Japanese and foreign customers. For this fourth collaboration, the theme is "Lucky Charms."

The line-up of items range from classic Japanese New Year's celebratory items like pochibukuro mini envelopes and a towel with a New Year's greeting design on it to Roastery Tokyo-exclusive Kewpie dolls coloured copper and silver like the roasters in the coffee shop.

Look over the past year and beckon the New Year with a cup of coffee at Starbucks and some festive goodies.

Information

Starbucks Reserve® Roastery Tokyo

Address: 2-19-2 Aobadai, Meguro, Tokyo

Business Hours: 7:00-23:00

No Fixed Holidays.

Access: 14-minutes on foot from Naka-Meguro Station / 14-minutes on foot from the East Exit of Ikejiri-Ōhashi Station

Official Website: https://www.starbucks.co.jp/roastery/

Starbucks Reserve® Roastery Tokyo Collaborates With Traditional Kyoto Dollmakers

Starbucks Reserve® Roastery Tokyo released six new products on December 5 in collaboration with Shimada Koen Ningyo Kobo, a long-standing traditional maker of Japanese gosho-ningyo dolls.

Golden Cup, Shimada Koen Ningyo Kobo – ¥50,000 (Before Tax)

The relationship between Starbucks and Shimada Koen Ningyo Kobo began when Starbucks opened its branch at Kyoto Ninenzaka Yasaka Chaya in Kyoto, which is known for having tatami flooring, as the dollmaker's studio is located near it. There is a waving cat wearing a green apron at that Starbucks which was designed by the 5th generation of Shimada Koen.

Waving Cat, Shimada Koen Ningyo Kobo – ¥30,000 (Before Tax)

Shimada Koen specialises in making gosho-ningyo, dolls with distinct features such as stout forms, pure white skin, tiny legs and hands, a big face, and an overall cute appearance reminiscent of a child. In the Edo Period they were developed as gifts associated with the Court.

Bell Rat, Shimada Koen Ningyo Kobo – ¥3,500 (Before Tax)

The line-up of six dolls feature Starbucks Reserve® Roastery Tokyo motifs and are made with considered thought in mind, including the bonds between people and enjoying happiness throughout the yearーdesires upheld by Starbucks.

Information

Starbucks Reserve® Roastery Tokyo x Shimada Koen Ningyo Kobo Collaboration
Running: From December 5, 2019 until stock runs out

Sold At: Starbucks Reserve® Roastery Tokyo

Starbucks Reserve® Roastery Tokyo

Address: 2-19-2 Aobadai, Meguro, Tokyo

Business Hours: 7:00-23:00

No Fixed Holidays.

Access: 14-minutes on foot from Naka-Meguro Station / 14-minutes on foot from the East Exit of Ikejiri-Ōhashi Station

Official Website: https://www.starbucks.co.jp/roastery/

Meguro River Winter Sakura to be Illuminated Using 100% Recycled Oil Until January

This winter, MINNA no ILLUMI Executive Committee will be decorating Meguro River with an unmissable illumination display that will warm your heart. 100% of the energy for the illumination will be produced by recycled oil. The display will run from November 8, 2019 to January 5, 2020.

As Shinagawa Ward will also be lit up at the same time, visitors will be able to treat themselves to a glorious view of approximately 410 thousand sakura-coloured lights, creating a unique opportunity to witness Winter Sakura®. The beautiful illumination along the riverbanks of Meguro River will be the largest illumination project within Yamanote Line with a total length of 2.2km of riverbanks covered (counting both sides of the river). Enjoy the beautiful warm light reflecting off the river's surface.

The megurogawa MINNA no ILLUMINATION project was launched in response to the locals' desire, love and praise for riverside illumination displays. The project involves collecting waste oil from restaurants, cafés and households and recycling it as the sole energy source to power the illumination display. This project has become a symbol of winter and plays a significant role in strengthening bonds with the locals. 

Last year, approximately 5,500 litres of oil was collected from 11 places including restaurants, cafés and apartment blocks. This was converted by a power generator which supplied all the electricity necessary to run all the lights. This year, unused oil from local restaurants and apartment blocks will be recycled into biodiesel once again to run another Winter Sakura® light display which tourists flock to see. 

This year will also see the return of German Outdoor Dome Garden Igloos from last year. This creates the perfect spot to watch the Winter Sakura® without getting cold or being affected by rain or the wind. There will be three garden igloos at this year's event and each will have a unique colour theme. Each igloo will be 3.6 metres in diameter, 2.2m high and contain a ground area of 10m², allowing for plenty of space to relax.   

Igloo Availability: December 16 – 25, 2019 *Subject to change

Gotanda Fureai Mizube Hirobamade even made the news in overseas countries as a result of the illumination project. This is the perfect way warm your heart during the cold winter.

Information

meguro MINNA no ILLUMINATION 2019

Locations: Gotanda Fureai Mizube Hiroba (2 Chome-9-11 Higashigotanda, Shinagawa City, Tokyo)

Gotanda Minami Park and Meguro Riverside (2 Chome-8-8 Higashigotanda, Shinagawa City, Tokyo)

Running Dates: November 8, 2019 – January 1, 2020

Running Times: 17:00 – 22:00 

*The illumination project will still run in rainy weather but will be postponed in stormy weather.

Website: http://www.minna-no-illumi.com/ 

Website Opens: 10:00 on October 29, 2019

TEMPURA KIDZ Collaborate With Moe Shop to Release Tapioca-Themed Song 'Tapi Tapi'

Dance and vocal unit TEMPURA KIDZ―who have taken their boisterous personalities to 13 countries around the world―have just dropped a new song entitled Tapi Tapi in collaboration with French DJ and music producer Moe Shop.

This marks their second collaboration with Moe Shop, the first being the release of UKIYO back in June.

The bubble tea-inspired song takes on a future funk sound, a genre which Moe Shop is at the forefront of. The lyrics were written by singer-songwriter Aoi Yamazaki. It's a colourful pop dance anthem littered with the TEMPURA KIDZ members' unique character.

You're sure to be humming the words "tapi tapi" along to this catchy tune in which the members sing positive things like, "Let's drink tapioca and be happy" and "Something good'll happen if you live life smiling."

With the Olympics right around the corner, TEMPURA KIDZ are looking to continue their global activities to help spread Japanese culture to the world. Be sure to give Tapi Tapi a listen which is also available now on Spotify.

Harajuku To Open A Micro Pig Cafe Themed Around The Three Little Pigs

Japan is famous for its animal cafés. If you are looking for something less conventional, then mipig cafe ー a heavenly cafe where you can play endlessly with adorable micro pigs ー might be just what you are looking for. mipig will be opening its second cafe in Harajuku in November 2019.

With the concept of "becoming a home for micro pigs", mipig cafe opened their first cafe in Meguro on March 1st, 2019. After just half a year, over 30,000 people visited the cafe and reservations were full every day.

Check out our previous report on the Meguro mipig cafe here: P→★ (TEMPURA KIDZ) Animal Café Diary #5: Visiting Japan's First Micro Pig Cafe 'mipig cafe'

The concept for the Harajuku branch is "entering the world of a micro pig picture book" and therefore, the cafe decoration is based on the famous story "The Three Little Pigs". This is the perfect environment to play with the adorable little pigs and create some loving memories together.

Information

Information

mipig cafe Harajuku

Address: Barbizon76, 1 Chome-15-4 Jingumae, Shibuya, Tokyo

Reservations: Advanced reservation required. The reservation period will open from approximately the end of October. 

* For more information, please check mipig's official Instagram and Twitter accounts:

Instagram: (@jpmipig)

Twitter:(@mipigcafe)

Witness Beautiful Japanese Art at Hotel Gajoen Tokyo's 100 Step Staircase

Those interested in Japanese art should most definitely visit the hotel and museum Hotel Gajoen Tokyo which is now holding the 5th Wa no Akari x Hyakudan Kaidan art exhibition until September 1.

It is taking place at its Hyakudan Kaidan, or '100 Steps Staircase'―which was registered by Tokyo Prefecture as a Tangible Cultural Property in 2009 for its exceptional architecture and artistic beauty. This year's event has been made bigger and better with brand new exhibits.

Visitors will ride the exquisitely decorated elevator and first come to an Aomori Nebuta Festival-style float as pictured above with its bright colours and angry gaze. This piece was created specially for the event. It also gives off an original summery smell too.

As you follow the path deeper into the exhibition―having first taken off your shoes―you will come a line of cloth crafts. You can switch on the lights inside to light up each piece which radiate the natural colours of the material. There are many cloth work pieces on display to enjoy.

This is what it looks like when looking up the 100 Step Staircase from the bottom. You will come to several rooms when ascending the stairs with light displays in them.

This is the first room inside which is a display created by bamboo lighting artist NITTAKE from Nichinan, Miyazaki. The bamboo is beautiful on its own but even more so when the lights are turned on in a dark room as the entire room is turned into artwork itself.

Continuing on you come to the "Nagasaki Lantern Festival." You can see the lights before you even enter the room and they plunge you into that Japanese festival atmosphere. It's truly spectacular inside. It's different from the previous room which was dark with lights hanging from it. It's even more bright and colourful. It made me want to visit the real Nagasaki Lantern Festival which boasts 1 million visitors every year.

This room contains umbrella art using Japanese umbrellas from Yamaga, Kumamoto. The colours of the umbrellas turn the room into something magical. The room has a relaxing, soothing vibe to it that makes you want to gaze in silence.

Dangling further up the stairs are wind chimes which continue the summer vibes.

There are many unique art pieces too such as these goldfish from Yanai, Yamaguchi. There is artwork from around 40 individuals and groups so there is lots to be discovered. Take your time to admire each and every thing in there.

The stairs actually go up to 99. Once you have seen the final exhibition on the top floor it's time to return to the bottom where you take your shoes off.

Whether you're interested in art or Japanese culture, this exciting event is one not to be missed this summer.

Information

Wa no Akari x Hyakudan Kaidan 2019 ~Kokoro no Shikisai~

Location: Hotel Gajoen Tokyo (1-8-1 Shitameguro, Meguro Ward, Tokyo)

Running: July 6, 2019 – September 1, 2019

Opening Hours: [Mon-Thurs] 10:00-17:00 (Last Entries 16:30) / [Fri-Sat & August 11-18] 10:00-20:00 (Last Entries 19:30)

*Photography allowed (Tripods, flash and photography for business purposes forbidden)

Price: Same-Day ¥1,600 / Advanced ¥1,300 (Special Advanced Price of ¥1,100 Until July 5) / University & High School Students ¥1,200 / Elementary & Junior High School Students ¥600

*Student ID required. Preschoolers permitted free entry.

TEL: 03-5434-3140

Online Tickets: https://www.e-tix.jp/100event/#akari

Official Website: https://www.hotelgajoen-tokyo.com/100event/wanoakari2019