Wednesday 22nd May 2019 will mark seven years since Tokyo Skytree Town® was established. To celebrate, Skytree Town will hold a commemoration event and sell goods themed around the number "7", rainbows and the seven prismatic colours.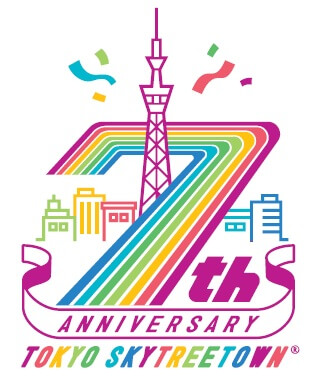 You can browse original merchandise and enjoy the original commemoration menu at Tokyo Skytree's official shop THE SKYTREE SHOP and the SKYTREE CAFE located on the observation deck (floor 350).
Tokyo Skytree 7-year commemoration medal keyring  ¥800 (price with tax) THE SKYTREE SHOP (Floors 1, 5 & 345) Available from Thurs 18/04
This is the standard 7-year commemoration medal keyring. As the date is carved into the medal, it's the perfect souvenir to remember your trip!
Tokyo Skytree 7-year commemoration rainbow candy ¥864 (price including tax) THE SKYTREE SHOP (Floors 1 & 5) Available from Thurs 18/04
These Skytree lollipops look just like Tokyo Skytree! They come in seven vivid colours to represent the commemoration event.
Tokyo Skytree 7-year commemoration memorial box ¥1,576  THE SKYTREE SHOP (Floors 1,5 & 345)  Available from: Thurs 18/04
This contains original petites gaufres biscuits filled with skyberry cream, crunchy chocolate and much more! Feelings of gratitude are packed into this limited edition 7-year commemoration collaboration box!
Rainbow peach float  ¥700 SKYTREE CAFE (Floor 350) Available: Tues 07/05 ー Weds 05/06
This 7-year commemoration soda is sprinkled with sugar stars and garnished with a logo cookie. The plum soda is topped with Skytree's highly popular sky soft cream and contains collagen ー a great source of protein!
As part of the 7-year commemoration event, Tokyo Solamachi will be running an event of gratitude called Kanshasai. From Tuesday 7th May, every shop in Tokyo Solamachi will be selling limited edition commemoration goods. From Wednesday 22nd May, Solamachi will be handing out "happy bags" which come with a shopping ticket scratch card. You should also try out the commemoration "happy menu"!
 Ginza Natsuno original scattered foil design heptagonal chopsticks ¥5,400 each  Ginza Natsuno (East Yard 4th floor)
To join in the 7-themed commemoration event, Ginza Natsuno is selling their famous scattered foil-design chopsticks. This rare chopstick design has seven corners at the end! The foil decoration colours represent the lighting of Tokyo Skytree®.
※ Wooden box + 2 sets of chopsticks: ¥10,800 (separate wooden box fee: ¥400)
There are also a number of lucky number "7" campaigns taking place. One campaign involves 7,777 customers receiving a prize, and another awards customers with a lucky number "7" a prize! For more detailed information on these 7-themed campaigns, please check out the official website!
Take a trip to Tokyo Skytree to join in the commemoration celebration and create more great memories!