Sumikko Gurashi and Tokyo Skytree Celebrate 10th Anniversary with First Collaboration Event
Sumikko Gurashi and Tokyo Skytree are teaming up to celebrate a huge milestone! Both are celebrating their 10th anniversary, and guests can come to enjoy a special event from August 10 until November 9, 2022.
Photo Spot
Visitors can take some memorable photos and videos at a number of photo spots featuring original artwork by Yuri Yokomizo, the creator of Sumikko Gurashi. It also seems like the characters are hiding around Tokyo Skytree, so guests should keep their eyes open…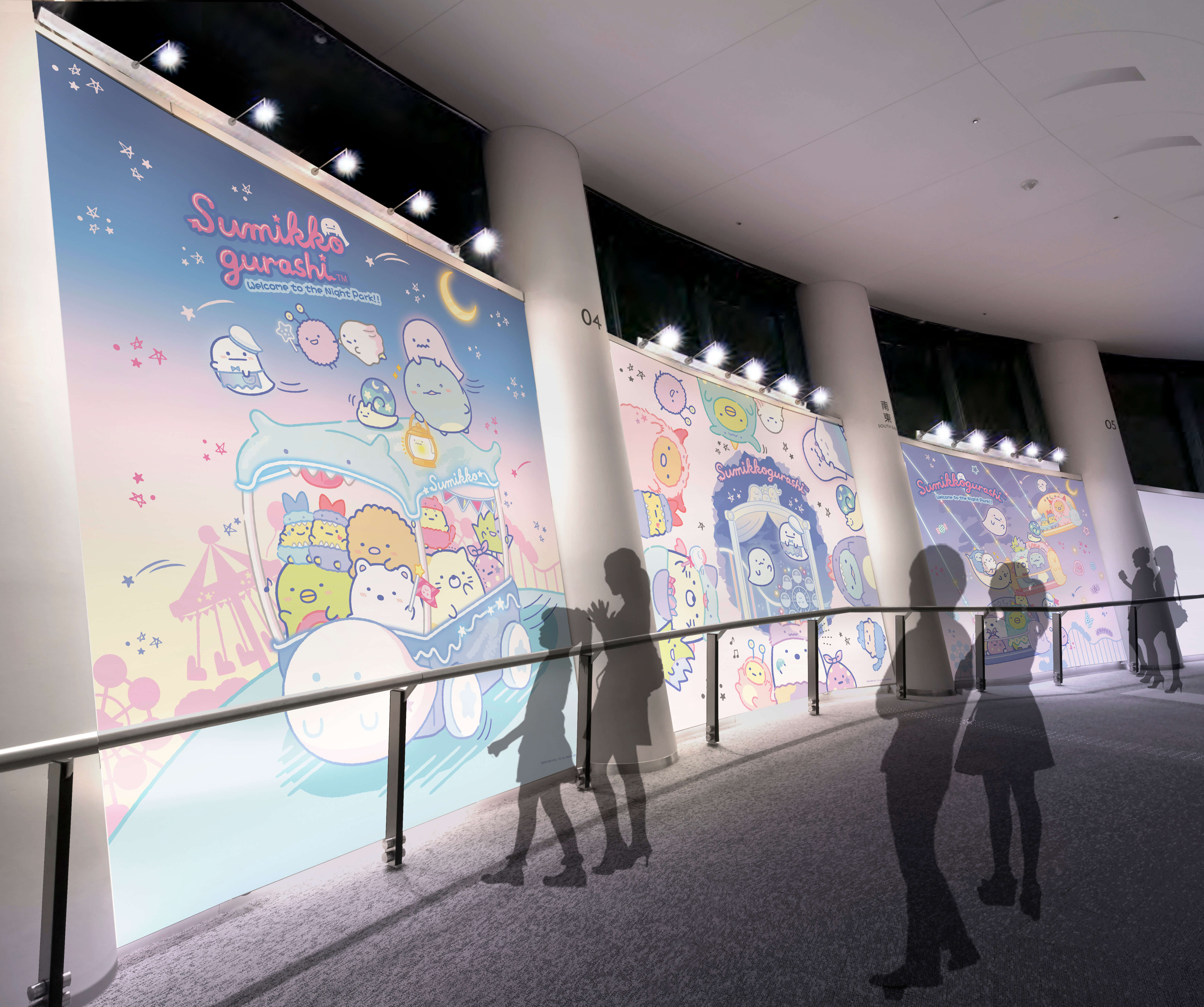 Special Screening at SKYTREE ROUND THEATER (R)
At night, the SKYTREE ROUND THEATER will broadcast an event-exclusive video. This will include a fireworks display similar to the Sumidagawa Fireworks Festival which was canceled this year. Enjoy it against the Tokyo backdrop! Messages sent to the Sumikko Gurashi Twitter account will also be screened.
Lighting
Standard Sumikko Gurashi Version
Spooky Night Park at Tokyo Skytree Version
Tokyo Skytree will be lit up in special colors to honor the adorable characters of Sumikko Gurashi. There will be two variations: a standard version and the Spooky Night Park version. Don't miss the special illumination at the end showing the characters in a big pile!
Exclusive Goods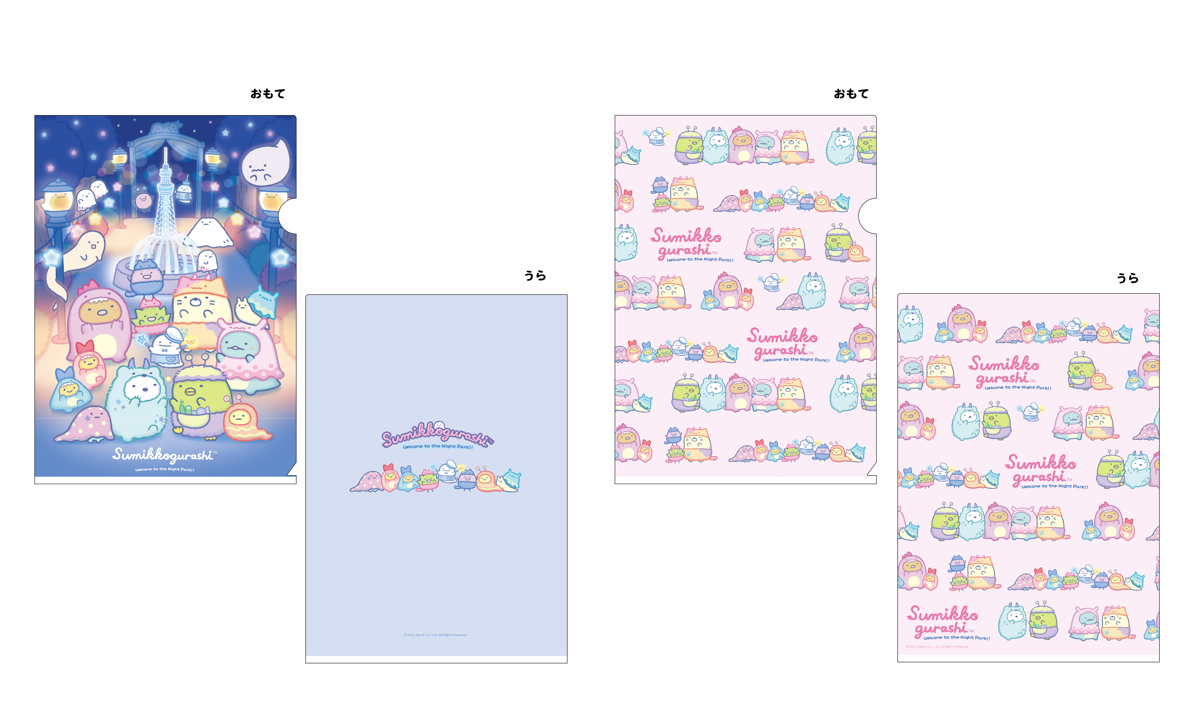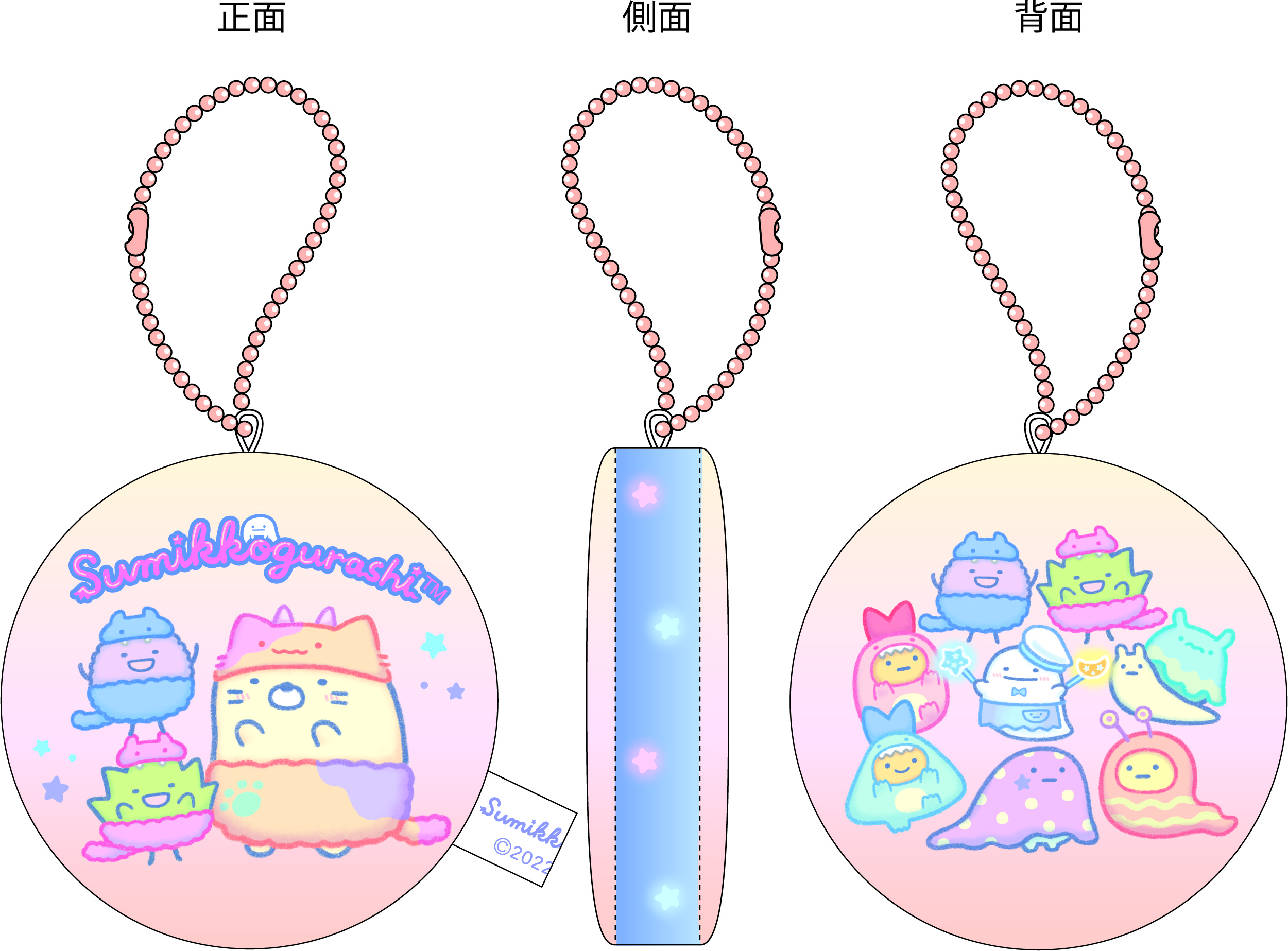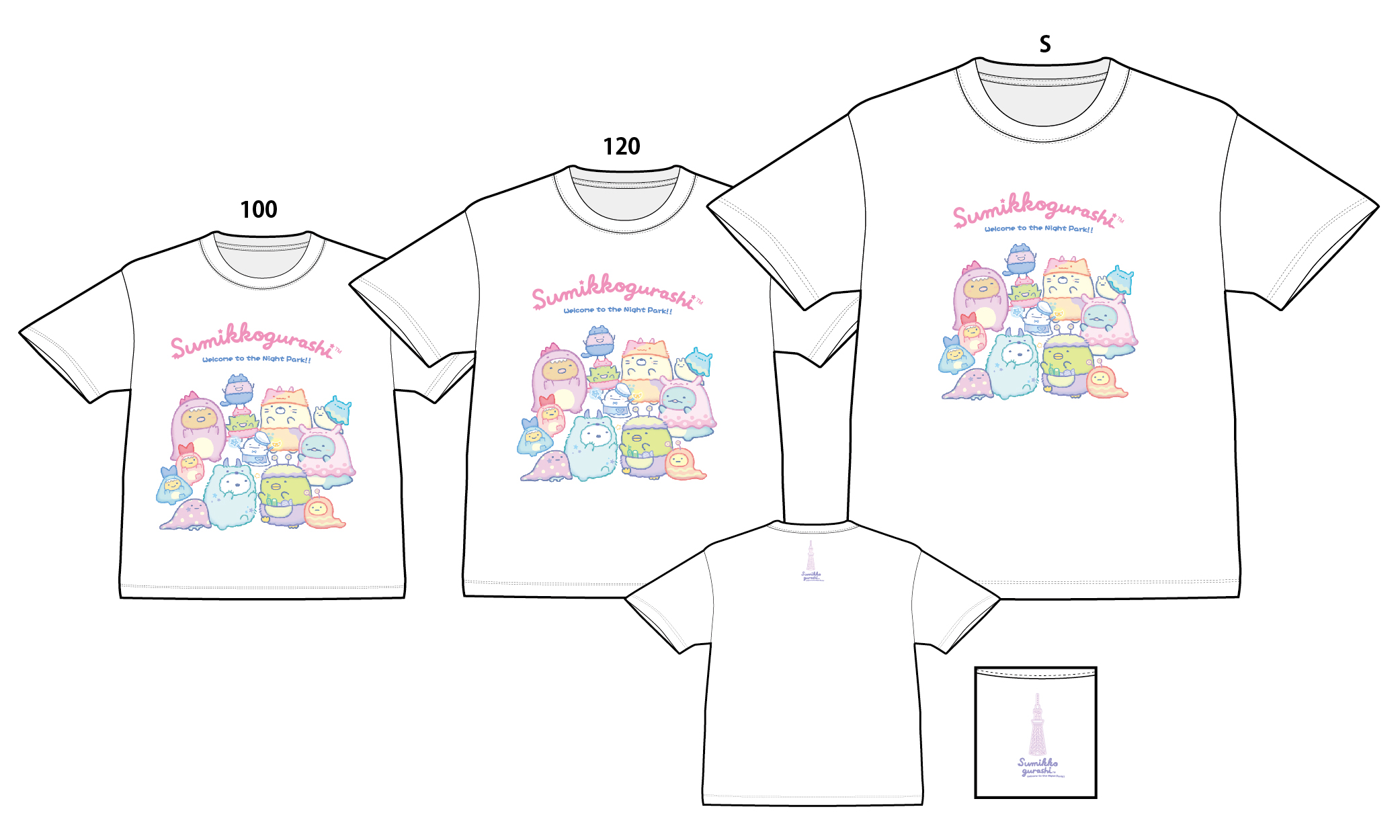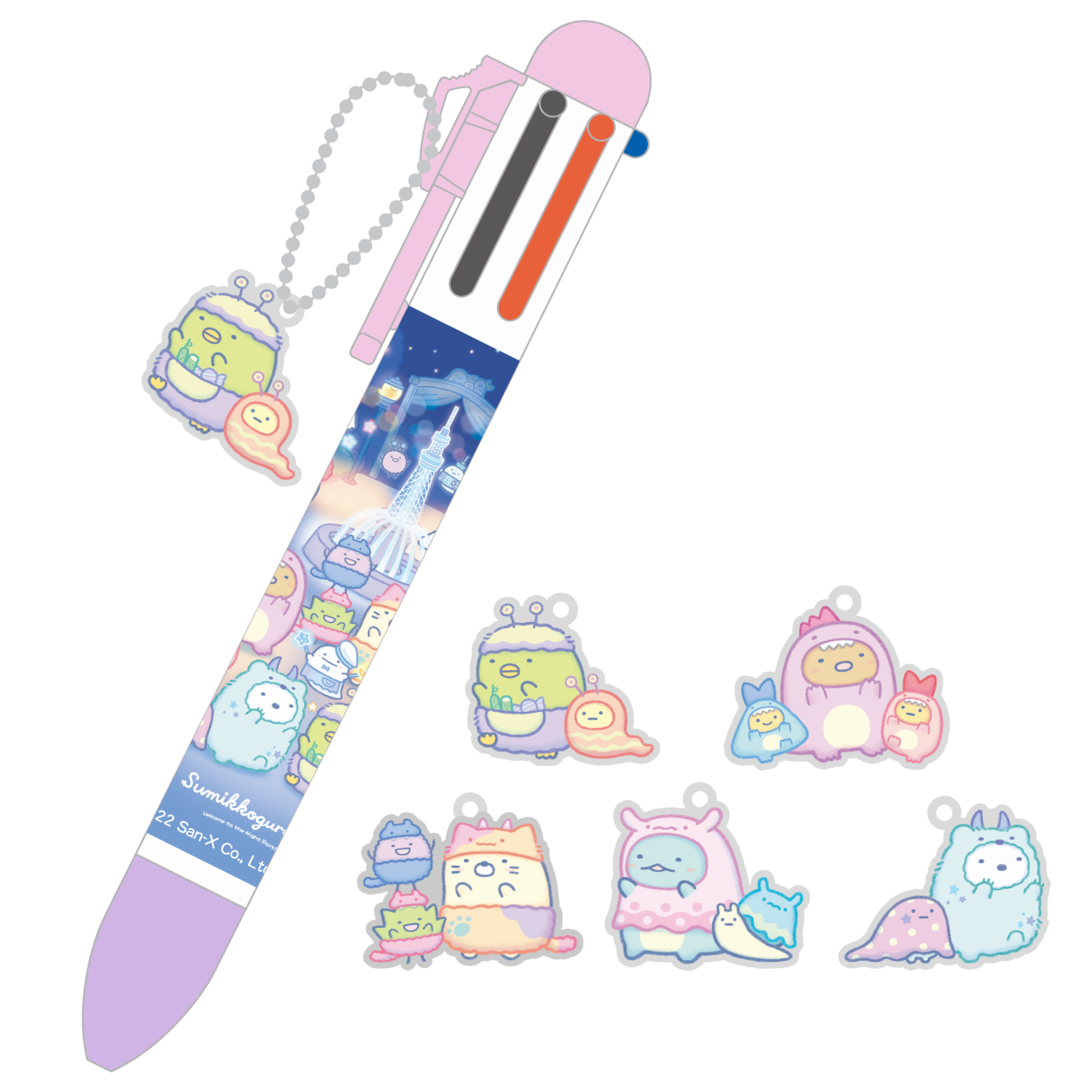 Collaboration Cafe Menu
At the store located on the Tembo Deck, limited edition goods will be on sale. Visitors can also enjoy some collaboration menu items while taking in the stunning view. 
Come enjoy the best view of Tokyo along with your favorite Sumikko Gurashi characters!
©2022 SAN-X CO., LTD. ALL RIGHTS RESERVED.
©TOKYO-SKYTREE
RELATED ENTRIES
Donut Shop Floresta Releases Sumikko Gurashi Donuts for a Limited Time

From August 6 until August 28, the handmade donut shop Floresta will be offering donuts inspired by characters from Sumikko Gurashi! These adorable treats will be available at Floresta locations and online.


For the first half of the event period, fans will be able to get two adorable donut and donut hole pairings featuring Neko & Zassou and Shirokuma & Furoshiki. During the second half, donut holes shaped like Tonkatsu and Ebifurai no Shippo will be on sale.

Part 1: August 6 – August 16
Donut & Donut Hole (2 varieties) / Neko & Zassou, Shirokuma & Furoshiki

Part 2: August 17 – August 28
Donut Holes (1 variety) / Tonkatsu & Ebifurai no Shippo

Although these sweet treats may be colorful, they were made with all-natural ingredients and are free of synthetic colors, fragrances, and preservatives. Each donut is made by hand by a skilled donut maker. 

 

Will you be grabbing these for yourself, or as a gift for a friend?

Sumikko Gurashi 10th Anniversary Cafe to Open in Tokyo and Osaka for a Limited Time

The characters of Sumikko Gurashi are celebrating an incredible decade! A 10th-anniversary cafe will open in Tokyo on July 1 and in Osaka on July 22 for a limited time.

Sumikko Gurashi characters have become popular with children and adults alike. Anyone who enjoys cute goods has likely been aware of these little critters as they've continued to become a global phenomenon. In November 2021, the second Sumikko Gurashi film premiered to celebrate the franchise's 10th anniversary, pulling in over a million viewers. 

Bonus for Guests Reserving a Spot in Advance / Purchase Bonus for Cafe Visitors

Menu at a Glance

10th Anniversary Celebration♪ Hamburger Plate

French Fry Bowl

Chilly☆Sumikko Shaved Ice

Sumikko Bouquet Parfait

Sumikko Milk Drink

Tapioca Orange Soda


Hot Cafe Latte

Takeout Menu

Sumi-cone Ice Cream (Limited Time Only)

Drink in Original Bottle

Original Goods

The cafe menu includes three unique items inspired by the popular characters Shirokuma, Penguin?, Tonkatsu, Neko, or Tokage. These treats range from parfait and ice cream to bowls of french fries and fluffy pancakes. Snap some photos of your favorite dishes for social media while you're there, and pick up some exclusive 10th-anniversary merchandise!

© 2022 San-X Co., Ltd. All Rights Reserved.

Information

Sumikko Gurashi 10th Anniversary Cafe

Dates/Venues:

Oshiage, Tokyo: BOX cafe&space Tokyo Solamachi

July 1 – September 4, 2022

Tokyo Skytree Town / Solamachi 1F (1-1-2 Oshiage, Sumida-ku, Tokyo)

Abeno, Osaka: Abeno contact

July 22 – August 28, 2022

Abeno Q's Mall 4F (1-6-1 Abenosuji, Abeno-ku, Osaka)

Online Shop

July 22, 12:00 – September 4, 23:59

https://sumikkogurashi-10th-cafe.jp/online_store


Official Site: https://sumikkogurashi-10th-cafe.jp



Enjoy Stamping Food and Other Items with New Sumikko Gurashi Branding Iron

You've heard of character-themed stamps, but what about character-themed branding irons? Hankos, an online hanko stamp shop, is now offering branding irons inspired by Sumikko Gurashi characters for use on food, small items, and more!

The Sumikko Gurashi Branding Iron Collection was created for fans asking for stamps that could be used on sweets and bread. By using heat, you can decorate anything with images of your favorite characters! Children and adults alike will love these useful items.

Shirokuma, Penguin?, Tonkatsu, Neko, and Tokage are the animals that appear in the new collection, along with five more cute creatures–Ebifurai no Shippo, Tapioca, Zassou, Yama, and Ajifurai no Shippo. 

Application Examples

Care Instructions

 

The branding stamp itself is 2.5 x 2.5 cm and made of brass. Enjoy stamping things like pancakes, bread, dorayaki, sponge cakes, omelets, and other foods, along with fabric, leather, and wood products! Anything can become a piece of Sumikko Gurashi merchandise with this handy-dandy item.

Ⓒ2022 San-X Co., Ltd. All Rights Reserved.

Information

Sumikko Gurashi Branding Iron Collection

Local Sumikko Gurashi and Rilakkuma Goods for Sale in Shimonoseki

The Daimaru location in Shimonoseki, Yamaguchi Prefecture, will soon begin selling limited edition Rilakkuma and Sumikko Gurashi goods! About 1,400 rare goods previously only available at 10 locations around Japan will be available in Shimonoseki from May 25 until May 30. Inspired by locales around the country, these adorable items will inspire you to travel when you can!

Limited Edition Sumikko Gurashi Goods

Ise Shop Exclusive

Dangling Stuffed Animal

Dangling Stuffed Animal

Jisho-ji Shop Exclusive

Dangling Stuffed Animal

Kyoto Kiyomizu-Zaka Shop Exclusive

Dangling Stuffed Animal

Shrine and Temple Stamp Book

Castella Manju

Dazaifu Shop Exclusive

Dangling Stuffed Animal

Rilakkuma's Teahouse & Rilakkuma's Bath Exclusive Goods

Arashiyama Shop Exclusive

Honey Castella Manju

Miyajima Shop Exclusive

Stuffed Animal

Roasted Mochi Pieces, Soy Sauce Flavor (with Can)

Kurokawa Shop Exclusive

Japanese Pattern Towels

Dogomachi Shop Exclusive

Stuffed Animals

Kusatsu Shop Exclusive

Stuffed Animal

With over 700 Sumikko Gurashi goods available, each symbolizing a specific locale with a cherry blossom theme, it won't be easy to choose which items you'll want to take home. Photo spots will also be set up at the venue, so come snap some pics for social media! Also, look forward to the Summer Bread and Sweets Festival 2022 in the adjacent venue!

Sumikko Gurashi Event to Take Place in Metaverse Entertainment Facility VARK

The 'Sumikko Gurashi ~Let's Go to the Magic Island!~ event is being held on the VARK application until September 30, 2022! By passing through a magical door in the Metaverse by using VARK, users can teleport to the world of Sumikko Gurashi and friends. 

Interior of Paid Area

Your Usual Sumikko

Sumikko Tea House

Stage

Camp

The VARK app can be downloaded for free on iOS and Android devices. Even those without a VR headset can enjoy this event! Admission to specific areas may require a fee, but the main island can be experienced for free. 

Come and meet Sumikko and friends, no matter where you are!

Information

Sumikko Gurashi ~Let's Go to the Magic Island!~
Running: March 23 – September 30, 2022
Platform: VARK
Supported Devices: iOS, Android, Meta Quest 2
Details: https://lp.vark.co.jp/sumikkogurashi-vark/


Rilakkuma & Sumikko Gurashi Festival to Open at Tokorozawa Sakura Town in Saitama

Popular Rilakkuma and Sumikko Gurashi characters will be taking over Tokorozawa Sakura Town in Saitama from April 16 until May 22 during the Rilakkuma & Sumikko Gurashi Festival! Guests will be greeted by the characters themselves, and will be able to participate in tons of fun activities, photo spots, and more!

The festival will have a full lineup of exclusive merchandise only available at Tokorozawa Sakura Town, from cute and useful items like clear folders to fans to use during the summer heat.

A limited collaboration menu with Kadokawa Shokudou will also be available during the event. The 'Rilakkuma & Sumikko Gurashi Festival Picnic Plate' is full of fun finger foods that are easy for both adults and children to eat and includes a special lunch mat. Guests can also participate in a commemorative photo session with the characters dressed in new costumes!

©2022 San-X Co., Ltd. All Rights Reserved.

World's Largest Conveyor Belt Sushi Restaurant Opens Near Skytree Oshiage Station

Kura Sushi is one of the most popular revolving sushi restaurants in the world, with many locations in the United States as well as Japan. Now, the new global Kura Sushi flagship store will open near Tokyo Skytree featuring in-store entertainment!

The restaurant takes up two stories and boasts the largest amount of floor space for a conveyor-belt sushi restaurant at 834 square meters. Kashiwa Sato, one of Japan's leading creative directors, designed the interior, which is filled with photo spots and a light-up lantern wall.

Seating is available in semi-private rooms, each with a curtain to offer a cozier atmosphere and protection against germs. Be sure to come and experience this massive location the next time you're in Tokyo!

Information

Kura Sushi Skytree Oshiage Station
Address: 1-8-23 Sumida-ku, Tokyo  1-2F
Hours: 11:00-23:00 *Last order at 22:30
No Parking

Sumikko Gurashi Hanko Collection Announced, Includes 9 New Characters

Internet-based hanko shop Hankoz has added nine new Sumikko Gurashi designs to its collection! These stamps are used as official signatures in Japan, so why not liven yours up with one of these cute characters?

All 29 Designs

All 3 Fonts

The Sumikko Gurashi collection includes 29 unique designs to choose from. Popular characters like Shirokuma, Penguin?,Tonkatsu, Neko, Tokage, Ebifurai no Shippo, Tabi, Yama, Mogura, Fukurou, Kinoko, and Furoshiki are available to decorate your name stamp! In addition to first names and surnames, customers can also add old-fashioned characters, pen names, or messages like 'OK' or 'Thank you!'

The Sumikko Gurashi Hanko Collection comes in two types: a self-inking type perfect for signing for packages, and a wood-carved type that can be registered with most financial institutions in Japan. Each stamp comes with a case that is also decorated with these popular characters!

Ⓒ2022 San-X Co., Ltd. All Rights Reserved.

Tokyu Hands to Hold Confection-Filled Valentine's Day Project

Starting January 8, Tokyu Hands stores in Tokyo are holding a special Valentine's Day event called Chocolino Chocoliya featuring a variety of sweets! These aren't just for giving to your sweetheart, but are perfect for friends and family too.

Products at a Glance

Tokyo Zoological Gardens Association / Ueno Zoo
Panda Set with Petit Gaufre & Chocolate Crunch: ¥1,188 (Tax Included) / Panda Baked Cookies: ¥997 (Tax Included)

Urusei Yatsura
Tote Bag: ¥1,760 (Tax Included) / Mug: ¥1,760 (Tax Included) / Star Chocolate: ¥486 (Tax Included)
Chocolate Assortment (5 pieces): ¥756 (Tax Included) / Chocolate Assortment (15 pieces): ¥1,620 (Tax Included)

Merry Chocolate Company
Merry Candy Chocolate Box: ¥378 each (Tax Included) / Assortment: ¥1,944 (Tax Included) 

 Mint Style

30-piece Handmade Kit Series: ¥1,620 each (Tax Included)

Mint Style

Make-at-Home Kit Series: ¥697 (Tax Included) 

Sumikko Gurashi

Silicon Mold Series: ¥935 (Tax Included)


This year's project includes confections that can only be purchased at the Ueno Zoo, where twin baby pandas were recently born. Chocolates with retro-style packaging and those with motifs from popular anime series will also be available, so be sure to swing by and have a look!

Curious George and Sumikko Gurashi McDonald's Happy Meals Now Available

McDonald's locations across Japan are now offering Curious George and Sumikko Gurashi Happy Meals for a limited time!

The Curious George set features six different toys that can be assembled and controlled by turning the gears. This year's theme is inspired by creativity, shape recognition, and teaching children how things work. When the colorful gears on the toy are turned, the force is transmitted to the swing, Ferris wheel, seesaw, and other items, causing George to swing and spin! The first set of toys include 'George's Seesaw,' featuring George and the Man in the Yellow Hat, and 'George's Swing,' featuring George happily swinging back and forth. The second set will include 'George's Ferris Wheel' and 'George's Rocket Ride.'

The Sumikko Gurashi includes six kinds of puzzles decorated with illustrations of popular characters. The theme of these toys is color and shape recognition, imagination, and communication. The front side of each puzzle shows Sumikko and Minikko, and the backside displays an illustration of a story related to a particular Sumikko character. By putting the pieces together one by one, children develop their ability to recognize shapes and move their fingers with increased dexterity. The inside of the case that comes with the puzzle is decorated with stories about Sumikko and her friends. To commemorate the 10th anniversary of Sumikko Gurashi, a new character called 'Deshi' will appear on the case as well, and by scanning the QR code on the back of the case, customers can play an original mini-game!

From January 8 until January 10, participating locations will also be giving away Curious George and Sumikko Gurashi stickers with the purchase of each set.

Sumikko Gurashi the Movie: The Magical Children of the Blue Moonlit Night Reveals Behind the Scenes Footage

Sumikko Gurashi the Movie: The Magical Children of the Blue Moonlit Night was released on November 5, 2021, and continues to draw huge crowds across Japan. Now, a new interview with the film's cast is shedding light on what it took to create such a massive hit. 

The previous film in the series came out two years ago. This time around, what was most important to the staff, and how did they manage to pull in such a huge audience? 

 

The previous film in the series came out two years ago. This time around, what was most important to the staff, and how did they manage to pull in such a huge audience? In this 3-part interview, readers will get the behind-the-scenes details on what happened after the previous film, as well as the many challenges facing the film's staff during the production of the new movie. 

Sumikko Gurashi the Movie: The Magical Children of the Blue Moonlit Night Special Interview
Part 1: https://www.asmik-ace.co.jp/special/7267
Part 2: https://www.asmik-ace.co.jp/special/7274
Part 3: https://www.asmik-ace.co.jp/special/7278

Be sure to check out these special staff interviews to get a glimpse at how this magical movie was created. 

Story


The Sumikkos go camping and meet Wan, Tsuu, Surii, Foh, and Faibu: five legendary wizard brothers who are said to arrive on the nights of the blue full moon. However, the youngest brother, Faibu, is not very good at using magic. What new adventures await the Sumikkos and their new friends?

©2021 日本すみっコぐらし協会映画部

HOLOLIVE x TOKYO SKYTREE TOWN(R)" to Launch Collaborative Cafe and Merchandise.

A limited time event featuring the VTuber group "Hololive" will be held at Tokyo Skytree Town(R) from December 17, 2021 to January 31, 2022. It will feature a variety of special activities, including a riddle-solving event, a photo spot on the Tokyo Skytree(R) Observation Deck, and a pop-up store and concept cafe in the official TV station store, Tree Village.

Concept Cafe

【Christmas Menu】Running: December 17~December 25.

【Winter Manu】Running: December 26~January 31, 2022.

【Member Motif Drink】Running: December 17~January 31, 2022.

Merchandise


The original merchandise limited to the event includes "acrylic stand" and "New Year's Eve udon set" featuring newly drawn illustrations of Sora Tokino and 10 other VTubers from "Hololive" in Christmas costumes and kimonos.



In addition, there will be a lottery to win a "life-size acrylic stand (installed on the watchtower deck)" with a special illustration for the 2nd anniversary. The products will be available at the event from December 17 and online from January 1, 2022.

Don't miss this special Christmas event with Horolive!

Ⓒ 2016 COVER Corp.
ⒸTOKYO-SKYTREE