Dining at the Colourful New Wreck-It Ralph Café in Harajuku
Hi, everyone. Ellie here from the MMN Editorial Team.
I paid a visit to the new limited-time Ralph Breaks The Internet café which just opened in Harajuku on April 19.
It's located on the first floor of Tokyu Plaza Omotesando which faces the road where Omotesando and Meiji-dori meet. Tokyu Plaza is a huge shopping complex located just a 5-minute walk from Harajuku Station.
When you ascend to the third floor you are immediately greeted by a cute entrance and a big ralph.
The first thing you see upon stepping into the café are all the purchasable items and merchandise lining the shelves!
The one I was most interested in was the icing cookies (¥750 before tax). I will show more merchandise later on. For now, let's get straight inside.
The decorations are cute and colourful and somehow girly♡
The café has huge windows so it gets some great sunlight. The natural lighting means you can take some really nice pictures.
There are plenty of spots to take photos dotted around the café.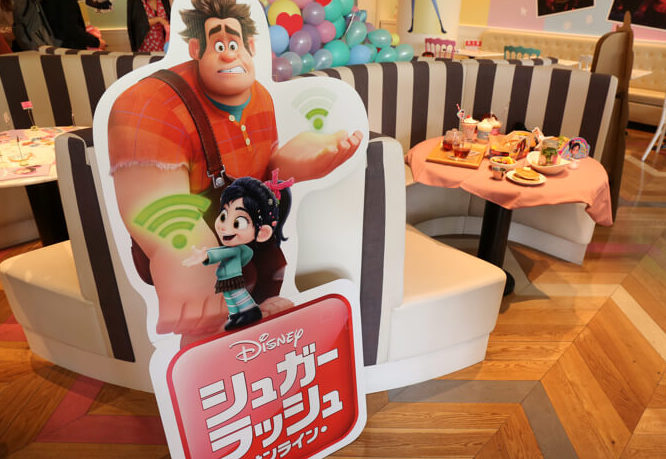 They even have sofas meaning you can enjoy your time with big groups or together with children!
This is what's on the menu. There are lots of items with movie references that fans won't be able to resist.
The flag stuck into the "Tabesugi Chuui! Pancakes" (¥1,390 before tax) and the lunch mats that you get can be taken home after you're finished.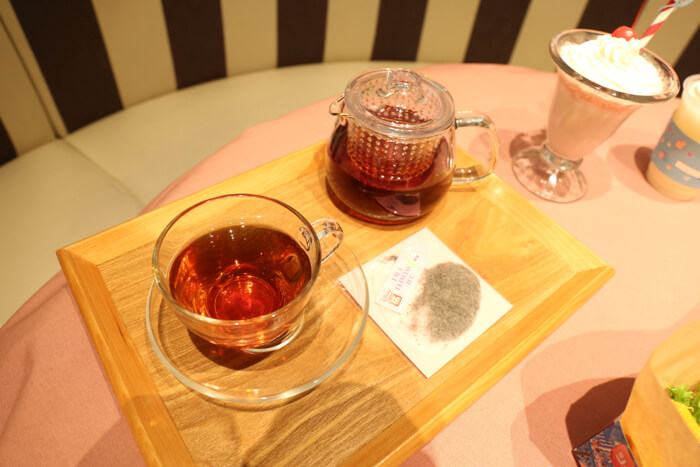 The "Tea Like Princess" (¥990 before tax) really makes you feel like a princess with the heart-shaped tea bag that comes with it♡
The "Happy Meal BOX" (¥1,590) comes with a hearty serving inside a box with a cute Vanellope illustration on it.
The "Heart Ippai Salad" (¥1,490) is a jar full of salad. What's unique about this salad though is that it's all cute into heart shapes. This will make eating the salad fun even for children who don't like vegetables!
Their pop design drinks are Instagrammable too.
While you enjoy your meal you can actually watch Ralph Breaks The Internet being played on the screens.
Here's a selection of the pieces of original merchandise they are selling.
There are plenty of items with the princess featured on them including the acrylic coasters (¥800 before tax) and acrylic key rings (¥750 before tax).
Customers can also get some free merch. If they make a reservation prior to arriving they will get one of six possible movie stills from the film. When arriving at the café they'll get one of ten original hologram stickers.
And for every item ordered on the menu they can get one of nine original coasters!
In any case, they have placed cute motifs and references at every turn. It was a truly satisfying food entertainment experience!
Be sure to visit the café yourself to see all the other menu items and merchandise I couldn't show today♡
©Disney
Information
Ralph Breaks The Internet – MovieNEX Release Celebration OHMYCAFE
Running: April 19, 2019 – June 2, 2019
Location: Tokyu Plaza Omotesando Harajuku Floor 3F (4-30-3 Jingumae, Shibuya, Tokyo)
Official Website: https://ohmycafe.jp/
RELATED ENTRIES
Mickey Mouse Exhibition 'THE TRUE ORIGINAL & BEYOND' to be Held in Roppongi

The Asahi Shimbun and Nippon TV are set to host an exhibition centred on Mickey Mouse at the MORI ARTS CENTER GALLERY in Roppongi, Tokyo, from October 30, 2020 to January 11, 2021, in celebration of 90 years since Mickey Mouse's screen debut. The exhibition will showcase works shown at the Mickey: The True Original Exhibition held in New York in 2018-2019.

 

Walt Disney's concepts and ideas are formed around innovation, creativity, imagination, and storytelling. And one character who walked that journey with him and continues to this day is none other than the iconic Mickey Mouse, who since making his first appearance in Steamboat Willie in 1928, has gone on to be a symbol of the Walt Disney Company loved by people the world over.

Mickey: The True Original Exhibition in New York

The Mickey: The True Original Exhibition held in New York looked at how Mickey Mouse has influenced art and pop culture over the years, covering everything from Steamboat Willie which hailed as Walt Disney's first black and white sound film to over 100 colour short animations, artwork, and more.

Keiichi Tanaami – "Mickey's Japan Tourism"

Javier Sanchez Medina – "Studio for Mickey's hands"

The exhibition was ran from November 2018 to February 2019 and saw installations from over 20 international artists including New York-based artist Daniel Arsham and Los Angeles-based artist and graphic designer Brian Roettinger.

Brian Roettinger – "(L)imitation of Sound"

DRx – "3000% Mickey Be@r"

The Tokyo exhibition will be a travel back through time, looking at Mickey Mouse from the past to the present. It will be split into three zones: "The Origin," "The True Original," and "Beyond."

The Beyond zone will welcome original artwork from five Japanese artists.

 

Original Merchandise – Pin Badge

Original Merchandise – Ballpoint Pen

The exhibition's museum shop will have exclusive Mickey Mouse merchandise for sale, as well as pre-sales on other items. See new official goods from works like Steamboat Willie and Fantasia as well as items designed by Japanese artists. It's a chance to see Mickey in a variety of different ways.

Free eco-bag

Visitors to the exhibition will also receive one of four original eco-bags for free upon arrival.

Information

MICKEY THE TRUE ORIGINAL & BEYOND
Running: October 30, 2020 – January 11, 2021

Time: 10:00-20:00

Venue: MORI ARTS CENTER GALLERY (Roppongi Hills Mori Tower Floor 52F)

Entry Price: General ¥2,800 / Junior & High School Students ¥2,000 / Elementary School Students ¥1,200 / Preschoolers – Free
Official Website: mtob.exhibit.jp

KAWAII MONSTER CAFE HARAJUKU Collaborates With Alice's Fantasy Restaurant For Halloween Fair

KAWAII MONSTER CAFE HARAJUKU is set to collaborate with Tokyo's three branches of Alice's Fantasy Restaurant to serve up a Halloween themed menu. It will be served from September 19 to October 31.

The Halloween season is right around the corner, and the KAWAII MONSTER CAFE is once again joining in with the spooky festivities. This year, the cafe has joined hands with Alice's Fantasy Restaurant to create a collaborative Halloween menu lineup.

Colourful Rainbow Pasta With Halloween Cream | ¥1,400

Colourful pasta served in rich pumpkin sauce and with a variety of different ghost creams.

Singing Alice's Caesar Salad | ¥1,360

Alice's Fantasy Restaurant's popular Caesar salad heads to KAWAII MONSTER CAFE, an assortment of purple carrots, pumpkin, and other tasty delights. Alice is also hidden in the pasta somewhere as a black witch.

Kingpin Choppy & Henchman Humpty Dumpty Curry | ¥1,300

KAWAII MONSTER CAFE's mascot is served wearing a silk hat and comes with his fellow henchman Humpty Dumpty.

Cheshire Cat Splatter Ice Cream | ¥1,100

Soft serve ice cream topped with crunchy cereal, cotton candy, and chocolate, all drizzled in a splattered sweet strawberry sauce.

Customers who post a photo of their foot onto social media with the hashtag #tokyohalloweencollection can enter for a chance to win some Halloween merchandise.

Harajuku's New Carbonara Restaurant Serves Pasta Japanese Style

A new spaghetti carbonara restaurant by the name of Nama Carbonara opened in Harajuku, Tokyo on September 17, 2020.

The restaurant opened in the same building as Harajuku's popular fresh cream shop MILK and bubble tea shop Mot Tram. The restaurant makes its own fresh flat pasta everyday and uses fresh, rich cream sourced from Hokkaido.

The current menu lineup consists of six dishes, from classic carbonara to Japanese twists. Let's take a look at some of them.

Classic Carbonara | ¥790

Walleye Pollack Roe Japanese Carbonara | ¥1,090

Freshly Grated Cheese & Bacon Carbonara | ¥1,090

Seafood, Avocado & Basil Carbonara | ¥1,190

Discover a brand new world of carbonara like never before at Nama Carbonara in Harajuku.

Information

Nama Carbonara (生カルボナーラ専門店 原宿店)

Grand Opening: September 17, 2020

Address: THE SHARE 1F, 3-25-18 Jingumae, Shibuya, Tokyo

Opening Hours: 11:00-19:00 (Last Orders 18:30)

TEL: 03-5772-8858

Official Website: http://www.opefac.com/

Anime Film Crayon Shin-chan: Crash! Rakuga Kingdom and Almost Four Heroes Promoted With Themed Cafe in Saitama

Crayon Shin-chan: Crash! Rakuga Kingdom and Almost Four Heroes was released on September 11, 2020 as the 28th animated feature film in the Crayon Shin-chan series. To promote the film, a themed cafe is set to open at BOX cafe&space in the city of Koshigaya in Saitama Prefecture from October 1 to November 1.

The cafe originally opened at TOKYO PARADE inside Shibuya PARCO back in March for a limited time, and now it's headed north of Tokyo to Saitama.

Shin-chan fans can look forward to a menu lineup of dishes, drinks, and desserts inspired by the film's theme of "drawing."

Rakuga Kingdom Cafe Crayon Shin-chan Curry | ¥1,390 (Before Tax)

The Shin-chan curry is a spicy yellow curry combined with coconut milk. The white sauce is inspired by the light blue colour of the smocks worn at Futaba Kindergarten in the series.

Rakuga Kingdom Cafe Buriburizaemon Curry | ¥1,390 (Before Tax)

This one's a spicy black masala curry centred on Buriburizaemon.

Uki Uki Da Zo Crayon Shin-chan Pancakes | ¥1,390 (Before Tax)

Pancakes toped with cream and a cute Shin-chab illustration. It's served with a wafer featuring pictures of other characters from the film.

Minna Suki ni Kakeba? Rakugaki Pudding Plate | ¥1,390 (Before Tax)

Two pudding tarts and a crepe which you can draw on with a chocolate pen to create your own cute illustrations like Shin-chan.


Shin-Chan's Miracle Colourful Jelly Soda ¥890 | Shiro's Cotton Candy Strawberry Milk ¥990 (Before Tax)

A soda served with jelly in five different colours and a strawberry milk topped with Shiro who's made from cotton candy. It becomes a sweet strawberry milk as soon as the cotton candy hits and melts into the drink.

Pin Badges (8 Designs) | ¥400 (Before Tax)


Canvas Art | ¥3,500 (Before Tax) *Limited edition

Bonus Items

The merchandise lineup features items with original artwork. There's also bonus items for customers who book a table in advance as well as order a drink.

Enter the Rakugaki Kingdom of drawing at the limited-time Crayon Shin-chan cafe.

ⒸYoshito Usui/Futabasha・Shinei・TV Asahi・ADK 2020

Information

Uki Uki Kaki Kaki Rakugaki Kingdom Cafe
Location: BOX cafe&space
Address: AEON LakeTown kaze LakeTown Gate 1F, 4-2-2 LakeTown, Koshigaya, Saitama

Running: October 1, 2020 – November 1, 2020

Table Reservations: ¥500 (Before Tax) *includes free merch

Cafe Official Website: https://shinchan-movie2020-cafe.jp/

Tangled Inspired Disney Princess Cake Revealed by Ginza Cozy Corner

Ginza Cozy Corner has revealed its new Disney princess cake based on the 2010 animated film Tangled which will be available to order at all branches in Japan from October 1, 2020.

Tangled Dress Cake | ¥3,500 (Before Tax)

The cake is centred on the golden-lock beauty Rapunzel, with her dress as the foundation for the cake. The cake is made with cream chess, strawberry jam, and blueberries, while Rapunzel's iconic hair is lemon flavoured.

Decorate the cake yourself

The cake comes with the parts for you to decorate yourself. This adds a whole new level of fun to parties!

Exclusive Rapunzel design box

This cake was actually sold earlier this year during the Hinamatsuri festival in Japan, with all 1,000 cakes being sold out. It is now returning on October 1 and is made-to-order only.

Information

<ラプンツェル>ドレスケーキ

店頭受付

予約受付:10月1日(木)より *4日前までの予約限定
引き渡し:10月5日(月)より

Online Orders

Order Here: Ginza Cozy Corner

Order Window: From October 1, 2020
Delivery Window: From October 6, 2020

Official Website: https://www.cozycorner.co.jp/

Kyary Pamyu Pamyu's Halloween Look Decorates Shiseido Beauty Square in Harajuku

Following her firework-inspired summer promotion look for Shiseido Beauty Square, Japanese pop icon Kyary Pamyu Pamyu has returned to the beauty facility with an all-new Halloween look, first revealed on Friday.


Kyary is serving a dark romantic world in Harajuku this Halloween, with Gothic hair and makeup that delivers us spook fantasy mixed with a bewitching, fairy tail-like sweetness. The look was brought to life thanks to Shiseido's top hair and makeup artist Tadashi Harada.

Kyary Pamyu Pamyu became the ambassador for Shiseido Beauty Square when it opened back in June. The concept of the beauty facility is centred on having people discovering their beauty, having fun, sharing experiences, and learning the latest in the scene

Information

Shiseido Beauty Square
Opened: June 18, 2020

Address: WITH HARAJUKU Floor 1F, 1-14-30 Jingumae, Shibuya, Tokyo

Opening Hours: 11:00-20:00

No Fixed Holidays
TEL: 03-5413-7717

Official Website: https://beautysquare.tokyo/

*Website available in English, Japanese, and Chinese

Aladdin Inspired Jewellery Collection by Q-pot. Looks Like Real Chocolate

Q-pot. have added Jafar from the Disney film Aladdin to the "Disney Villains" collection of their "Disney Story Dreamed by Q-pot." line of jewellery and accessory products. The items are available for a limited time from September 12 to 30 at Q-pot. stores in Japan and the brand's online shop.

Aladdin is an internationally-celebrated love story about the titular street urchin and Princess Jasmine. It has many memorable characters, including Genie who Aladdin summons from a magic lamp, as well as the iconic Jafar, the film's main antagonist who adds spice to the story. It is this Disney villain that Q-pot. has taken inspiration from for their popular accessory range which is made to look like sweets.

Jafar/Snake Chocolate

Necklace ¥10,500 (Before Tax) | Bag Charm ¥9,500 (Before Tax)

Chocolate is an addictive indulgence for many people, and so it makes the perfect inspiration for the Jafar jewellery, as the villain is known for the skilful manipulation of his Snake Staff. The red jewel in the middle is like a sweetly boiled cherry. It comes as either a necklace of charm for your bag.

Jafar Snake Ring (Japanese Ring Size 12) ¥13,000 (Before Tax)

Information

Disney Villains -Jafar ‐

Available: September 12, 2020 – September 30, 2020

Delivery/Collection: From Early December 2020

Sold At: Q-pot. ONLINE SHOP / Q-pot. Omotesando / Q-pot. Tokyo Skytree Town Solamachi / Q-pot. Takashimaya Shinjuku / Q-pot. LUCUA osaka

Product Page: http://www.Q-pot.jp/news/2020/09/1306.html

LUSH Harajuku Revamps With New 'Slow Bath' Concept

The Harajuku branch of UK cosmetics retailer reopened after a revamp on Friday with its all-new 'Slow Bath' concept. The branch first opened to the people of Tokyo in November 2018.


Since opening, LUSH Harajuku has delivered a LUSH-esque bath product lineup experience, since Japan is known for being a nation of bath lovers. That is now being taken to the next level with the Slow Bath revamp which will stock a wide variety of items for self care and indulgence.

Throw away the needless and make way for mind and body reconnection

LUSH Harajuku is a place that helps you discover new ways to design your daily routine, with face masks to refresh your skin, products to care for your hair, scents for your well-deserved bath time, and more.

Well-being is also a big part of the brand, teaching you to be kind to yourself while you're working everyday, and to look after your mind and body. LUSH Harajuku stocks not only bath bombs and bubble bars, but a selection of items to use while you're in the bath too for some much-needed self care.

Naked items are environmentally friendly

About 60% of LUSH's products are sold 'naked' without packaging in order to reduce on waste in the environment. This also lets the essential oils and natural smells of the products seep throughout and outside the doors of their stores, beckoning people with the pleasant fragrances.

LUSH's "Lush Labs" app also has a function called "Lush Lens." This lets customers scan any naked item which brings up information about that particular item such as what ingredients are used, as well as videos on how to use products and bath bombs fizzing.

If you're ever in Harajuku, be sure to stop by LUSH.

Information

LUSH Harajuku

Address: 1-13-11 Jingumae, Shibuya, Tokyo

Opening Hours: [Weekdays] 12:00-20:00 / [Weekends] 11:00-20:00

Official Website: https://jn.lush.com/  

5 Character Themed Cafés Running in September 2020 – MOSHI MOSHI NIPPON

Character cafés are an exciting experience in Japan which sees a café collaborate with well-known anime series, game series and various franchises by decorating the café interior with designs and illustrations based on them and meals and drinks inspired by them. Let's take a look at 5 must-visit cafés in September 2020.

KUROMI♡MY MELODY CAFE @ EGG&SPUMA, Shinjuku Lumine EST

Sanrio's beloved characters Kuromi and My Melody are taking over EGG&SPUMA in Shinjuku this summer with the new KUROMI♡MY MELODY CAFE which is open for a limited time from August 1, 2020 to October 31, 2020 and is split into two separate phases.

There is an adorable menu line-up including two-tiered afternoon tea set with lots of sweet treats, like waffles and ice cream, all topped with Kuromi and My Melody.

Full Details: https://www.moshimoshi-nippon.jp/340782

▼KUROMI♡MY MELODY CAFE

Location: EGG&SPUMA

Address: Shinjuku Lumine EST 8F, 3-38-1 Shinjuku, Shinjuku-ku, Tokyo

Running: August 1, 2020 – October 31, 2020

Opening Hours: 11:00-21:00 (Last Orders 20:00)

TEL: 03-6273-0255

Official Website: http://salt-group.jp/shop/egg-spuma/

© 1976,  2020 SANRIO CO., LTD. APPROVAL NO. L611679

PIXAR FEST @ OH MY CAFE, Harajuku Tokyu Plaza

OH MY CAFE, a chain of cafes in Japan, is holding a special Pixar-themed food event called 'PIXAR FEST' which is currently running in Tokyo and Osaka from August 28 and will open in Nagoya on September 4.

"Keep On Smiling" is the the concept of the event, which will serve up a whole range of different foods including a Lightning McQueen exclusive on September 5, a special drink inspired by Disney Pixar's Onward which released earlier this year, a collection of strawberry desserts centred on Lots-o'-Huggin' Bear to celebrate Toy Story's 25th anniversary, and more.

Full Details: https://www.moshimoshi-nippon.jp/351140

▼PIXAR FEST OH MY CAFE

Tokyo

OH MY CAFE TOKYO / August 28, 2020 – November 15, 2020
Address: Tokyu Plaza Omotesando Harajuku (Floor 3F), 4-30-3 Jingumae, Shibuya, Tokyo

Osaka

kawara CAFE&DINER Shinsaibashi / August 28, 2020 – November 17, 2020
Address: Shinsaibashi OPA (Floor 9F), 1-4-3 Nishishinsaibashi, Chuo Ward, Osaka, Osaka Prefecture

Nagoya

kawara CAFE&KITCHEN Nagoya PARCO / September 4, 2020 – November 24, 2020
Address: Nagoya PARCO South Building (Floor 5F), 3-29-1 Sakae, Naka Ward, Nagoya, Aichi Prefecture

Pixar Fest OH MY CAFE Official Website: https://pf2020.ohmycafe.jp/

©Disney/Pixar

Sanrio Character Collaboration Café @ POWDER ART CAFE HARAJUKU

POWDER ART CAFÉ HARAJUKU is collaborating with Sanrio until mid-January 2021.

At POWDER ART CAFE HARAJUKU, customers can draw their own designs on their orders, like latte art. They can also look forward to a super cute menu line-up inspired by the adorable character roster.

Full Details: https://www.moshimoshi-nippon.jp/338947

▼POWDER ART CAFE HARAJUKU

Address: IMON Bldg. B1F, 6-3-9 Jingumae, Shibuya, Tokyo

TEL: 03-6450-6037

Opening Hours: 11:00-21:00 (Last Orders 20:00)

Official Website: https://k-tanuma.com/company#04

© '76,'79,'89,'96,'01,'05,'20 SANRIO CO., LTD. APPROVAL NO.L611638

Miffy Café @ Tokyo Solamachi®

In commemoration of Miffy's 65th anniversary, the themed Miffy Café will open on the first floor of Tokyo Solamachi from September 11, 2020 for a limited time.

The menu will serve a healthy lineup of Netherlands cuisine—in line with the heritage of Miffy's Dutch creator Dick Bruna—and customers can get their hands on a selection of original Miffy merch.

Full Details: https://www.moshimoshi-nippon.jp/356067

▼Miffy Café

Address: TOKYO BOX cafe&space, Tokyo Solamachi 1F, 1-1-2 Oshiage, Sumida-ku, Tokyo

Running: September 11, 2020 – November 3, 2020

Reservation Fee: ¥500

Official Website:  https://miffy-skn-65.cafe.jp/

Illustrations Dick Bruna © copyright Mercis bv, 1953-2020  www.miffy.com

Hello Kitty Café @ Narita Airport

KADOKAWA opened a Hello Kitty themed cafe on the Narita Anime Deck—which is located on the Main Building second floor of Narita International Airport Terminal 2—earlier this year which will be open for limited time until October 2, 2020.

As well as themed food, drinks and merchandise, customers can take a Hello Kitty quiz, learn the history behind Hello Kitty, and more.

Full Details: https://www.moshimoshi-nippon.jp/336417

▼Narita Anime Deck – Hello Kitty Collaboration Cafe
Running: July 3, 2020 – October 2, 2020
Location: Narita Anime Deck Entertainment Cafe
Address: Narita International Airport Terminal 2 Main Building Floor 2F (1-1 Furugome, Narita, Chiba)
Opening Hours: 10:00-20:00 (Food Last Orders 19:30)

No Fixed Holidays

Narita Anime Deck Official Website: https://www.animedeck.jp/en/narita/

 

© 1976, 2020 SANRIO CO., LTD. APPROVAL NO. L611439

Did you enjoy this list? If you're in Japan for the end of summer and start of autumn, then be sure to visit all the character cafes you can.

KAWAII MONSTER CAFE HARAJUKU Celebrates 5th Anniversary With Monster Size Portions

KAWAII MONSTER CAFE HARAJUKU turned 5-years-old in August, and to celebrate the quirky cafe's anniversary, it is now serving monster-size portions until the end of September.

Livening up Tokyo with some Harajuku-style cuisine

Autumn is right around the corner in Japan, a time of outings and travel for many people. Due to the effects of COVID-19, however, people have had to cancel their plans. The KAWAII MONSTER CAFE wants the people of Tokyo to still enjoy themselves this autumn, and so is giving 39% off to all residents of Tokyo. All they need to do is show proof of address.

Super-sized burgers, parfaits & more

Giant King Chopper Burger | Regular Price: ¥12,000 (Before Tax), Resident Discounted Price: ¥7,320 (Before Tax) | Serves: 4-6

You and your friends are invited to challenge yourselves to a gorge on the Giant King Chopper Burger, based on the cafe's mascot character chopper. Served in five-colours in line with the cafe's 5th anniversary, this beast of a burger is a hearty mix of BLT, menchi-katsu, teriyaki chicken, the "MEAT MEAT MEAT" main dish from the dinner menu, and more. It's finished with colourful eggs around the side, and plenty of other hidden treats.

Giant Colorful Parfait | Regular Price: ¥10,000 (Before Tax), Resident Discounted Price: ¥6,100 (Before Tax) | Serves: 3-4

This piled-up parfait combines five of the cafe's popular desserts into one towering delight: "Chemical Cake," "Pink Cat Food," "Melty Pancake," "Little Monster," and "Colourful Poison Parfait."

Enormous, decorated servings fruits

Harajuku Decora Mango Parfait Bowl | Regular Price: ¥5,000 (Before Tax), Resident Discounted Price: ¥3,050 (Before Tax)

Where do you even start? There's mango-loaded ice cream, fat waffles, colourful gummies, chocolate, mango sherbet, panna cotta, cornflakes, fruit granola, mango sauce—the list goes on! If you're mango-mad, you'll definitely fall for this one.

Fluffy Marshmallow Watermelon Frappe | Regular Price: ¥5,000 (Before Tax), Resident Discounted Price: ¥3,050 (Before Tax)

Wrapped with marshmallow foam that's fluffy like a cloud and topped with chopped watermelon, pineapple, and assorted fruits, this is similar to shaved ice. It's also topped with nata de coco.

Frog Melon Cream Sods | Regular Price: ¥5,000 (Before Tax), Resident Discounted Price: ¥3,050 (Before Tax)

Celebrating 5 years of KAWAII MONSTER CAFE HARAJUKU, this frog's tongue is made of milk mousse, melon balls, strawberries, blueberries, and kiwi, which are just tumbling out of its mouth. It's served with a side of jumbo soft serve ice cream and melon soda. Arrange the beverage as you like to create your own fruit cocktail.

KAWAII MONSTER CAFE is also collaborating with YouTubers Briana Gigante and RinRinDoll on drinks and desserts.

90's Japan x Modern Harajuku Culture Come Together in SUPER LOVERS & #FR2's Collaboration

Japanese fashion brand SUPER LOVERS released a collaborative collection online on August 29 together with Tokyo-based brand #FR2's pink shop #FR2UME. The collection will also be sold at #FR2UME in-store from mid to late September this year.

SUPER LOVERS is an 80's inspired brand that was set up by Japanese designer Kousei Tanaka. The brand led Japanese street fashion into the 2000's and has since become one of Japan's top brands, influencing street fashion worldwide. SUPER LOVERS re-launched as a donation-style brand last year to support and giving back to the people of the world who have come to love SUPER LOVERS.

Their new collaboration with #FR2 features a design of the panda character Merry of LOVERS HOUSE as well as an original bunny character who is the face of #FR2. This 90's inspired collection includes T-shirts, hoodies, and even cycling pants.

Information

SUPER LOVERS x #FR2UME

Online Release: August 29, 2020

In-Store Release: Mid-Late September 2020

#FR2UME
Address: Harajuku V1 Bldg. 1F, 4-29-7 Jingumae, Shibuya, Tokyo
Opening Hours: 11:00-20:00

TEL: 03-6455-5422

Official Online Shop: https://ceno.jp/FR2UME/topics/SUPERLOVERS_FR2UME_200828

Miffy Café Opening in Tokyo Solamachi to Celebrate Miffy's 65th Anniversary

In commemoration of Miffy's 65th anniversary, the themed Miffy Café will open on the first floor of Tokyo Solamachi from September 11, 2020 for a limited time. The café will also see a collaboration with Japanese illustrator Shogo Sekine

The cafe is being produced by LEGS COMPANY, LTD. and will feature a casual yet grown-up feminine design. The menu will serve a healthy lineup of Netherlands cuisine—in line with the heritage of Miffy's Dutch creator Dick Bruna—and customers can get their hands on a selection of original Miffy merch.

Food

Terrine-Style Open Miffy Sandwich: ¥1,499

A cute open sandwich made to look like Miffy and served with a side of potato salad and avocado dip sauce, both of which go well with the salmon.

Stammpot Salad Plate: ¥1,499 | With Plate ¥2,499 *From September 19

Inspired by the traditional Dutch dish of stammpot, this plate is topped with sausages, salad, and a gravy sauce to mix.

Balloon Pannenkoek Pancakes: ¥1,599

Pannenkoek pancakes are a staple of the Dutch cuisine. These Miffy versions are topped with balloon-shaped mini tomatoes, eggs, and blueberries.

Desserts

Miffy & Giant Tree Mousse Cake: ¥1,299

Miffy is made from sponge cake and mousse, while the giant tree is a tower of cotton candy, granola, and assorted fruits.

Carrot Dessert Plate: ¥1,299 | With Plate ¥2,299 *From September 19

Served on a café-original plate, this dessert features a cream puff made to look like a carrot. It's served with a dollop of vanilla ice cream and an assortment of fruits.

Miffy Colourful Oat Milk Bowl: ¥1,299

A colourful serving made using fibre-loaded and low-calorie oat milk and a bunch of different fruits.

Drinks

Miffy's Orange Float: ¥899

Made using orange and Grenadine syrup and topped with a Miffy lemon sherbet.

Takeout

Carrot Cream Puff: ¥899

The same cream puff made to look like a carrot is available as a separate takeout option.

Acrylic Key Rings (6 Designs): ¥650 Each / Acrylic Magnets (8 Designs): ¥600 Each (All Before Tax)

Plush Toys (Floral/Blue): ¥3,000 Each

The stylish original and exclusive merchandise was made in collaboration with popular Japanese illustrator Shogo Sekine.

Illustrations Dick Bruna © copyright Mercis bv, 1953-2020  www.miffy.com

Information

Miffy Café

Address: TOKYO BOX cafe&space, Tokyo Solamachi 1F, 1-1-2 Oshiage, Sumida-ku, Tokyo

Running: September 11, 2020 – October 18, 2020

Reservation Fee: ¥500

Official Website:  https://miffy-skn-65.cafe.jp/