Japanese-style cafe Nana's green tea releases new spring & summer menu!
Nana's green tea released a new menu that is perfect for the spring/summer period. This new menu features drinks that were never seen before on the autumn/winter menu!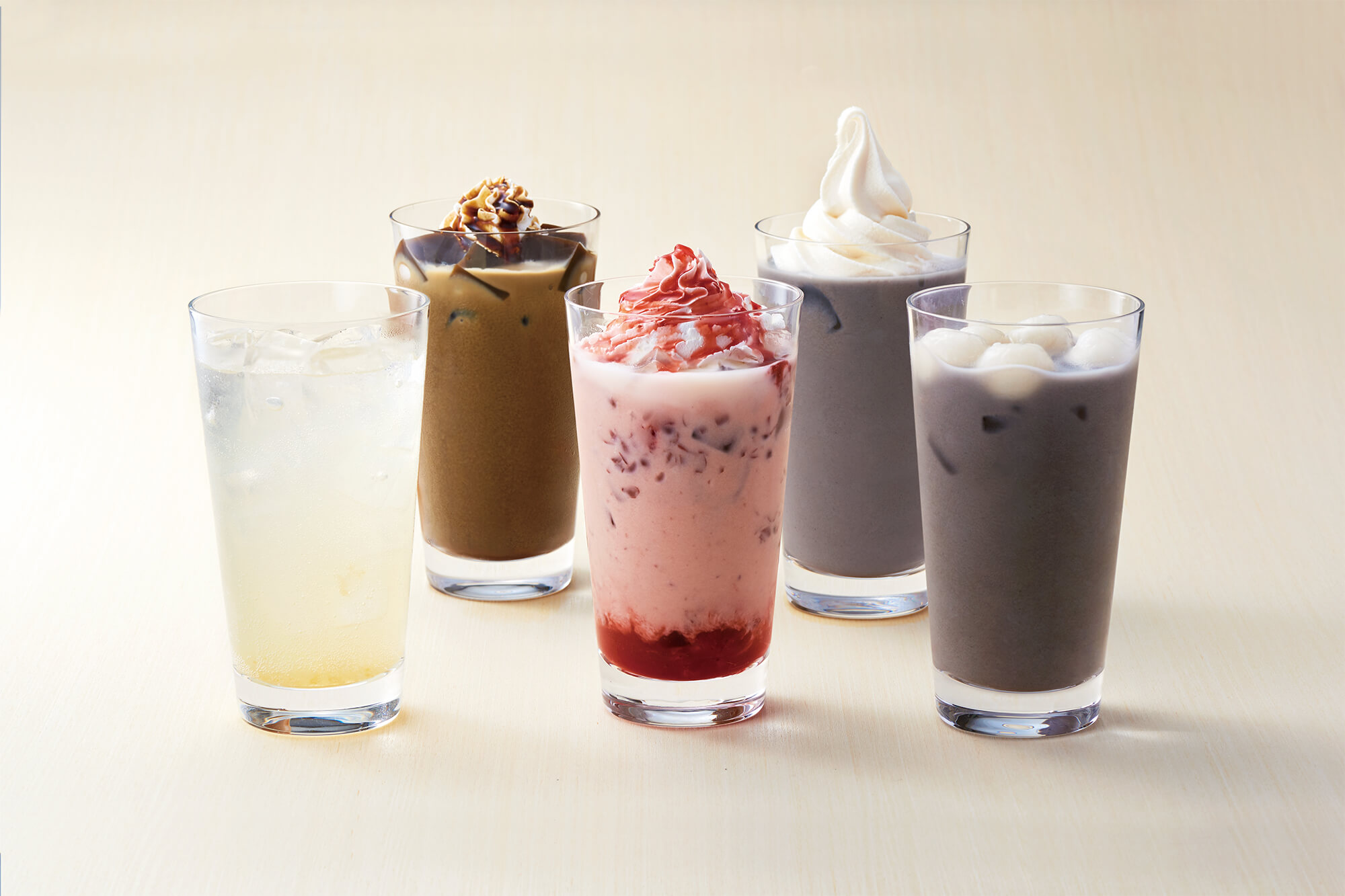 Order the adzuki bean strawberry cream latte to enjoy the grainy texture of the adzuki beans and the sweet acidity of the strawberries. Nana's original Tokachi adzuki beans and milk are the perfect latte combination. This is topped with sweet and acidic strawberries and strawberry sauce. The flavour changes as you mix it, so mix it how you like! Enjoy the balance of the simple sweetness of the adzuki latte and the sweet, tangy accent of the strawberries. The drink's appearance is also very beautiful! (Drink on the front row in the middle)
This black sesame seed shirotama latte contains lots of black sesame seed paste, creating a smooth texture as you drink it. This is mixed with milk and topped with chewy rice flour dumplings (shirotama). Take a big gulp of the black sesame seed and smooth dumpling latte and the delicious flavour will spread all over your mouth. You can enjoy this hot or iced. (Drink on the front row on the right)
The black sesame seed soft cream latte is making a comeback due to popular demand! Its delicious, rich flavour just fills your mouth. The latte is topped with soft cream. The syrupy, rich black sesame seed latte and refreshing, cool soft cream is the perfect combination.
 The Houjicha jelly latte is made from original houjicha tea that has been ground to a fine powder like matcha. Although a lot of houjicha is used, it is just the right amount so that you can't feel the grains but can enjoy the special and delicious aroma. Handmade houjicha, whipped cream and black syrup is the topping for the latte. The rich flavour of the houjicha latte combined with the refreshing, low-sugar houjicha jelly is a treat you can only enjoy for a limited period! (Drink on the left of the back row)
The lemon syrup for the lemon soda is made from lemons sourced from Akinada Tobishima Kaido (Hiroshima) and sugar sourced from Japanese sugar beet. You can enjoy the texture of lemon rind and the fresh sour flavour of lemon. This is the perfect fizzy drink to combat the humid rainy season and extremely hot summers. (Drink on the left of the front row)
Nana's green tea is serving up many photogenic and delicious drinks! Please come check it out!
Information
Drink prices (tax included in price)
Adzuki strawberry cream latte (HOT/ICED)
Medium: ¥600 Large: ¥680
Black sesame seed sweet dumpling latte (HOT/ICED)
Medium: ¥600 Large: ¥680
Black sesame seed soft cream latte (ICED)
Medium: ¥630 Large: ¥710
Houjicha jelly latte (ICED)
Medium: ¥630 Large: ¥710
Lemon rind lemon soda (ICED)
Medium: ¥600 Large: ¥680
Nana's green tea official website: http://www.nanasgreentea.com/
RELATED ENTRIES
Experience Old Time Kyoto in Autumn 2020 With Tea and Textiles

Kyoto, the ancient capital of Japan, is also called the birth place of Japanese culture, with a history spanning 1,200 years. Today, we're going to take a look at a number of upcoming events and seasonal items on sale in Kyoto for autumn 2020.

Celebrating 300 years of Tango Chirimen

This year marks 300 years since Tango Chirimen was established, a company located in Tango in northern Kyoto that specialises in a Japanese textile of flat woven silk known as 'chirimen.' There are many local chirimen brands around Japan, but it is the chirimen from Tango that has stood above the rest these past 300 years. The brand is now looking to the start of a new era for itself during its triple century milestone.

LIFE WITH THE QUALITY

Tango Chirimen is currently displaying a collaborative art exhibit at NEWoMan Shinjuku in Tokyo. This includes the entry display made in collaboration with Japanese artist Saki Tanaka, wall art made from woven fabrics, and more.

Running: Until September 30, 2020

Location: NEWoMan Shinjuku

Lineup: Display in collaboration with Saki Tanaka, wall art, and more

United Arrows x Tango Chirimen

United Arrows is also collaborating with the brand and incorporating their logo mark "TANGO OPEN" on a new men's t-shirt.

Product Name: BY Tango Broad Wide Form Tapered Shirt
Buy Here: https://store.united-arrows.co.jp/shop/by/goods.html?gid=52838245
Sold at: BEAUTY & YOUTH UNITED ARROWS stores and their official online store

Taste tea from Uji on Japanese Tea Day

It is generally considered that the first tea of the season in Japan is best enjoyed from the end of April and during May, but in fact Japanese tea is the perfect season to enjoy Japanese tea, specially since the country celebrates Japanese Tea Day (Nihoncha no Hi) on October 1 and 31.

Ujicha, or tea from Uji in Kyoto, boasts some of the most famous kinds of teas in Japan. This includes matcha, sencha, and gyokuro, all of which were first grown in southern Kyoto. Because of this, it is said that Ujicha marks the origins of Japanese tea. So when you visit Japan during autumn, why not celebrate Japanese Tea Day with some authentic tea from Uji?

Ujicha Tea Murie Online Course

The Ujicha Tea Murie Course has been held since 2015 in Kyoto, and this year, the course is heading online for the first time as a result of the pandemic. Learn how to make and serve Uji tea from a professional tea instructor as well as its history and more.

Running: Session 1: September 15, 2020 / Session 2: October 2, 2020 / Session 3: October 17, 2020

Book: Online
Requirements: Download and install Zoom
Official Website: https://www.pref.kyoto.jp/yamashiro/ocha/

Certified Ujicha tea cafes for an authentic experience

Tsujiri Rihei Ginza | Tsujiri Rihei Senju

Nakamura Tokichi Ginza

Tsujiri Rihei Ginza, Tsujiri Rihei Senju, and Nakamura Tokichi Ginza are all cafes in Tokyo that are officially recognised for serving authentic Ujicha tea which also includes proper preparation as well as teaching the history and culture behind the tea. These three cafes are also holding an Ujicha tea stamp rally as well as a Twitter hashtag campaign.

Luxurious Matcha Loaded Parfait Served Up at MICASADECO&CAFE KYOTO

MICASADECO&CAFE KYOTO had to shorten its menu due to the effects of COVID-19. Their legendary parfait too was taken off the list, but now has finally returned, and even more delicious looking than ever.

MICASADECO&CAFE KYOTO has tried to make the parfait as breathtaking as possible, and they've certainly captured that. It's vivid like the furisode long-sleeved kimono worn by the maiko of Kyoto, beautiful and dignified.

Uji Matcha Pudding & Raspberry Parfait | ¥1,250 (Tax Included)

This towering parfait is made up of many layers, one of which is a homemade Japanese-style pudding made with high quality matcha from Uji, Kyoto. It has a subtly sweet and deep flavour, and is taken to the next level with the matcha sauce it's served with.

The homemade raspberry jam brings a delightful sweetness too as well as adds that eye-catching aspect they're going for. As you spoon your way through, your taste buds are treated to an amalgamation of indulging flavours.

The lid that's sat on top of the parfait is actually a tuile biscuit. The best way to go about beginning your feast is to break the biscuit and then pour the matcha sauce inside.

Hidden within the parfait are also pieces of homemade matcha brownies made with lots of top grade matcha.

These parfaits will be served from September 14 but are limited in stock, so if you're in Kyoto this month, make sure you don't miss out.

McDonald's Japan Reveals Japanese Tea Infused Dessert Beverage Series

McDonald's Japan has announced the release of four limited-time drinks which will be sold at McCafé by Barista branches of McDonald's from September 2. The line-up includes the 'Houjicha Frappe Shiratama Kuromitsu Kinako,' 'Houjicha Frappe,' Matcha Frappe Shiratama Kuromitsu Kinako,' and 'Matcha Frappe.'

The beverage lineup is the perfect pink for an autumn-time dessert drink, each made with authentic flavours from Japan.

Houjicha Frappe Shiratama Kuromitsu Kinako | Regular ¥490, Large ¥530 (Tax Included)

Made using 100% Japanese houjicha powder and delicious milk, this houjicha frappe is topped with soy flour, sweet brown sugar syrup from Okinawa, chewy rice flour dumplings, and a squirt of whipped cream. This is the ultimate McDonald's Japanese dessert drink, laced with fragrant houjicha tea with a creamy texture.

Houjicha Frappe | Regular ¥450, Large ¥490 (Tax Included)

Houjicha frappe is used as the base for this one, and if inished with whipped cream and a dusting of houjicha powder. The subtly sweet houjicha and creaminess of the whipped cream is a deliciously perfect match.

Matcha Frappe Shiratama Kuromitsu Kinako | Regular ¥490, Large ¥530 (Tax Included)

Just like the houjicha variant, except this time it's a latte made with matcha and matcha powder from Uji, Kyoto. A truly all-star Japanese dessert drink.

Matcha Frappe | Regular ¥450, Large ¥490 (Tax Included)

The matcha frappe too is sprinkled with matcha powder from Uji, combined with full-bodied milk, and topped with whipped cream.

UK Matcha Company Matchaeologist Collaborate With HARIO On Matcha Products

UK-based matcha brand Matchaeologist is celebrating its second anniversary of selling products in Japan by collaborating with laboratory glassware brand HARIO Science on a matcha sets that come with a beaker with both company's names on them. The sets were released on August 20, 2020 and are limited in stock.

About Matchaeologist

Matchaeologist describes themselves as artisanal matcha green tea specialists who have expanded worldwide across Europe, the US, and Japan. Matcha has become a superfood outside of Japan and one of the new standard drinks alongside coffee.

Matchaeologist has a big fan base – with close to 150,000 followers on Instagram. Its matcha is grown in the world-famous Uji in Kyoto and is served in a "minimalist way for an epicurean tasting experience not unlike that of fine wine" in order to bring a modern perspective to the ancient tradition of the Japanese tea ceremony.

Matchaeologist x HARIO


Matchaeologist x HARIO Beaker – Matsu (20g Set) | ¥4,180

HARIO is a hugely popular brand that sells a variety of products from laboratory glassware to coffee making equipment. The collaboration with Matchaeologist introduces a sophisticated and minimalist HARIO beaker as a set with two of the matcha company's matcha blends: matsu and meiko.

Matchaeologist x HARIO Beaker (Meiko 20g Set) ¥3,180

Experience matcha in a completely unique way by preparing some in one of HARIO's high quality beakers.

Premium Uji Matcha Afternoon Tea Begins at Hotel Chinzanso Tokyo This September

Hotel Chinzanso Tokyo has announced a collaboration with Tsuji Rihei—a tea shop that first opened in 1860 in Uji, Kyoto—to serve up a new "Premium Uji Matcha Afternoon Tea" in its lobby lounge Le Jardin from September 1.

This will be the hotel's fifth serving of the Premium Uji Matcha Afternoon Tea, which first began in 2016. Last year saw 5,000 customers enjoy experience.

Hotel Chinzanso Tokyo actually began serving the afternoon tea from April 13 this year, but had to stop service in May as a result of COVID-19. September 1 will see its return.

The food and drinks in the afternoon tea are all made with a Japanese green tea known as Kuradashi. The first fresh leaves picked from springtime have been put to one side for the summer serving, so customers can enjoy an enrichened tea-sperience.

Top Tier – Desserts: Sencha Jelly, Genmaicha Egg Tart, Kabusecha Souffle Cake, Kyobancha Tiramisu

Middle Tier – Scones: Plain Scone, Gyokuro Scone, Hojicha Scone

Bottom Tier – Savoury: Tea Leaf & Walleye Pollack Open Sandwich, Lily Bulb Honey Ham Tart, Smoked Salmon & Plum Mayo Sandwich, Smoked Dick & Cheddar Cheese Japanese-Style French Toast

Drinks: Uji Tea (3 Flavours), Hotel Original Blend Tea (15 Flavours)

The afternoon tea set is three tiers of desserts, scones, and savoury snacks, all served with a tea of your choice. Summer 'falls' into autumn with this lovely selection of delights.

Information

Premium Uji Matcha Afternoon Tea
Running: September 1, 2020 – September 30, 2020
Serving: 12:00-18:00
Location: Le Jardin (Lobby Lounge), Hotel Chinzanso Tokyo
Price: ¥4,500 (with welcome drink ¥5,000 – 20 people per day)
TEL/Enquiries: 03-3943-0920 (10:00-21:00)

Official Website: https://hotel-chinzanso-tokyo.jp/restaurant/plan/ujichaafternoontea2020/

4 Refreshing Matcha Shaved Ice Flavours Released at Itohkyuemon in Kyoto

Kyoto's famous tea shop Itohkyuemon began serving four new Uji matcha and shaved ice mixed desserts on its menu yesterday (June 29). Itohkyuemon was founded in 1832 in the latter period of Edo. Ujitawara, the place in Kyoto where the shop is located, is famous for the tea served by Itohkyuemon which has been harvested by the Ito family for years.

Uji Matcha Parfait Ice: ¥1,490 (Tax Included) | Serving: Until Late September 2020 | Avaialble: Itohkyuemon JR Uji Station/Itohkyuemon Gionshijo

The Uji Matcha Parfait Ice uses a blend of matcha and milk-infused ice as its base. It's then topped with sweet treats like rice flour dumplings, red bean paste, ice cream, matcha jelly, and more to turn it into a parfait.

Uji Matcha Daifuku Ice: ¥1,290 (Tax Included) | Serving: Until Late September 2020 | Avaialble: Itohkyuemon JR Uji Station/Itohkyuemon Gionshijo

This Uji Matcha Daifuku Ice is an upgrade of the one Itohkyuemon served last year. It has a creamy custard base with matcha daifuku hidden in the shaved ice.

Fluffy Uji Kindokei Vanilla Ice Cream: ¥990, Matcha Ice Cream ¥1,090 (Tax Included) | Serving: Until Late September 2020 | Avaialble: Itohkyuemon JR Uji Station/Itohkyuemon Gionshijo


Fluffy Uji Kindokei Rice Flour Dumpling: ¥850, Rice Flour Dumpling & Vanilla Ice Cream ¥970, Rice Flour Dumpling Matcha Ice Cream ¥1,090 Serving: Until Late September 2020 | Avaialble: Itohkyuemon Uji Main Branch

These two "Kindokei" (Gold Watch) servings use more ice. At the main branch of Itohkyuemon they're more crunchy, while at the JR Uji Station and Gionshijo branches they're more fluffy.

Garrett Popcorn Releases its Richest Matcha Flavour in Japan

Chicago-based gourmet popcorn brand Garrett Popcorn Shops® is releasing its strongest matcha flavour to date alongside a new striped tin in Japan on June 1. Both are limited edition products and will be available while supplies last.

Named "Koi Matcha Kinako Kurumi" (Rich Matcha Soy Flour Walnut), the new matcha flavour is 40% stronger than the Matcha Caramel Crisp™ and blends together soybean flour and walnut for an aromatic crunch combination. The matcha holds a pleasant bitter flavour while the soybean flour is subtly sweet and gives off a rich, delightful smell.

The new tin takes Garret Popcorn's iconic striped design and throws in multiple colours and patterns for vivid effect. Combined with the new matcha flavour, it makes for the perfect home theatre accompaniment while you watch a movie.

Information

Koi Matcha Kinako Kurumi (Japanese Name: 濃抹茶きなこくるみ)

Available: Garret Popcorn Shops® branches in Japan (see below)

*Daily limited stock. Available while supplies last.

Running

Harajuku: June 1, 2020 – July 16, 2020

Shisui Premium Outlets: June 5, 2020 – July 16, 2020

Nagoya: Now until July 16, 2020名古屋店:発売中~7月16日(木)

LaLaport Expo City: June 1, 2020 – July 16, 2020

Prices/Sizes

Small: ¥620 / Medium ¥1,100 / Large ¥1,720 / Jumbo ¥3,450 / Quarter Tin ¥4,175 / 1 Gallon Tin ¥4,400 / 2 Gallon Tin ¥8,400

*Jumbo and 2 Gallon Tin sizes exclusive to the Shisui Premium Outlets and LaLaport Expo City branches of Garret Popcorn Shops®.

Official Website: http://jpgarrettpopcorn.com/

Famous Japanese Matcha Company Collaborates With Japan's Convenience Stores

With shops and businesses temporarily closed as a result of lockdown measures in Japan, Japanese convenience store chain FamilyMart decided that since people can't as easily get their hands on authentic matcha right now, they would collaborate with the famous matcha company Kanbayashi Shunsho Honten to stock some authentic matcha treats on its shelves. They were released at FamilyMart branches across Japan on May 19, 2020.

Umami Matcha Parfait

The parfait begins with a soft sponge bottom and is then layered with milk mousse and matcha mousse before being topped with matcha jelly, red bean paste, and other tasty accompaniments.

Umami Matcha Cheesecake Baumkuchen

The matcha baumkuchen is made using authentic Uji matcha and is baked to look like a cheesecake. You get the full rich matcha kick with this one.

Hidetoshi Kanbayashi (Kanbayashi Shunsho Honten) | Comment

"We use a blend of first-grade Uji matcha and top it with jelly and matcha mousse. We have made it in such a way that you can enjoy the full flavour and aroma of the matcha itself. Please enjoy."

Information

Kanbayashi Shunsho Honten Umami Matcha Parfait
Price: ¥298 (Tax Included)
Released: May 19, 2020
Available: FamilyMart convenience stores across Japan (except Okinawa)

Kanbayashi Shunsho Honten Umami Matcha Cheesecake Baumkuchen
Price: ¥298 (Tax Included)
Released: May 19, 2020
Available: FamilyMart convenience stores across Japan (except Okinawa)

FamilyMart Official Website: https://www.family.co.jp/

HARIO has created a completely new way of serving tea with its new clear lidless teapot.

The teapot substitutes a lid for a filter, allowing for you to place your tea leaves directly into the pot and not have to worry about any pieces falling into your cup. The spout is made from PCT resin which caters to high temperatures and gives it impact strength, heat resistance, and makes it transparent.

Clear Lidless Teapot: ¥2,000 (450ml) / ¥2,500 (700ml) (Before Tax)

As you pour the pot, the scent of the tea rises together with the steam. The pot is made from heat-resistant glass which means you can see the tea leaves as well as watch the colour of the water change. It's made so you can enjoy every sip of your tea's delicious flavour, right down to the last golden drop. Not only that, it's also smart and stylish, so is sure to elicit a comment or two when you're pouring tea for people.

Since you don't have to worry about any leaves pouring out, you can try out all kinds of different teas, whether it be Japanese tea, herb tea, and so on. It's great for iced tea too, especially with the weather warming up.

The teapot benefits from not being made up of many parts, so it's super easy to clean—you can get right down into the corners.

Make teatime even more fun while you're at home with this clever new invention!

Mister Donut Japan Launches Another New Matcha Doughnut Series

Mister Donut Japan is set to release yet another new limited line of matcha doughnuts in collaboration with Gion Tsujiri and Toshi Yoroizuka at all branches in Japan from May 15, 2020.

Last month, Mister Donut collaborated with Gion Tsujiri and Toshi Yoroizuka to release the "Matcha Itadaki Series." This time around, they're joining their sticky baking hands to bring the "Matcha Odoroki Series." The triple team's matcha creations are the fitting way to celebrate Mister Donut's 50th anniversary as Gion Tsujiri brings the best Uji matcha from Kyoto and Uji-born pastry chef Toshihiko Yoroizuka brings his creative ideas.

There are four treats in the line-up: the "Crisp Double Uji Matcha" and "Crisp Uji Match Chocolate" feature cookie and bagel dough bases, creating a crunchy and chewy mix, while the "Pon de Pie Uji Matcha" and "Pon de Pie Chocolate" feature Mister Donut's classic chewy Pon de Rings combined with a crunchy pie texture.

Crisp Double Uji Matcha – ¥230 (Before Tax)

A chewy and crunchy base laced with Uji matcha and topped with Uji matcha whipped cream and chocolate.

Crisp Uji Match Chocolate – ¥230 (Before Tax)

A chewy and crunchy base laced with Uji matcha and topped with Uji matcha chocolate and chocolate chips.

Pon de Pie Uji Matcha – ¥200 (Before Tax)

Enjoy both a chewy base and crunchy pie mix at the same time, topped with Uji matcha whipped cream.

Pon de Pie Chocolate – ¥200 (Before Tax)

Enjoy both a chewy base and crunchy pie mix at the same time, decorated with chocolate whipped cream.

The Matcha Odoroki Series sees the chefs' ideas shine through to create desserts that not only taste amazing but look gorgeous too, as well as taking into the account texture.

Information

Matcha Odoroki Series
Serving: May 15, 2020 until Early July 2020
Available: Most Mister Donut branches in Japan
Official Website: https://www.misterdonut.jp

Make Authentic Matcha at Home With the New Ippukubox Set

TAKAHASHI KOGEI has launched a new matcha making set called the Ippukubox which comes with everything you need to make authentic Japanese matcha.

For many of us, our time indoors has increased. When taking a break from remote work we head to the kitchen to make ourselves a drink. We've all had those moments when we're torn between making coffee, black tea, herbal tea, and so on. In those undecided moments, why not try making a cup of matcha instead?

The Ippukubox is a 15cm box which comes with all the necessary gear for making mathca: a chawan cup, chasen tea whisk, chashaku teaspoon, and a natsume tea caddy for preserving your matcha.

The inside of the box is lined with Echizen paper from Fukui Prefecture which not only makes it look beautiful, but protects your matcha tools from becoming damaged as a result of rubbing together.

Generally in Japan, when you think about making matcha, the traditional tea ceremony springs to mind which follows strict rules when it comes to making the drink. But the Ippukubox is made for personal use, and so you can add as much or as little matcha or hot water as you like, and practice making it even if you don't know the proper techniques. You can even add hot milk to make a matcha latte and enjoy a tasty treat with it.

The chawan teacup is Echizen ware from Fukui and was made specially for the Ippukubox. Its cute size makes it fit perfectly in the palm of your hand, but it's also spacious enough for using the whisk.

The outside design of the box is also made in such a way that it fits seamlessly into modern living and dining spaces. Each wooden box is handcrafted individually and is layered in a matte coating to protect the wood.

*This chawan teacup is different to the one included in the set

The lid of the box can even be used as a tray as pictured above to fit your drink and snack.

Information

Ippukubox
Release Date: May 15, 2020

Price: ¥13,000 (Before Tax)

Official Website: https://o-takahashikogei.com
*Please note that the Ippukubox does not come with matcha or snacks.

nana's green tea Releases Luxurious Gyokuro Tea Drink and Parfait You Can Take Out

Modern tea hosue nana's green tea has 81 branches across Japan. Alongside café-style food, their specialty is traditional desserts and drinks made from traditional teas such as matcha and hojicha. They are now selling a new parfait and chilled drink made from fresh gyokuro green tea for a limited time.

As the days grow gradually closer to summer, the menu blooms to life with the season's fresh green colours. The desserts at nana's green tea never fail to boast their own unique and unbeatable flavours. The new parfait and drink are made with a generous serving of  gyokuro, which is a fine and luxurious type of green tea recognised by its signature bright green appearance. The rich green tea is sourced from the long-established Kyoto tea-producer YAMAMASA KOYAMAEN.

YAMAMASA KOYAMAEN: Kyoto's Long-Established Uji Matcha Tea Producers

YAMAMASA KOYAMAEN are the owners of a tea plantation in Kyoto's renowned matcha region called Uji. With their passion for selling only the best flavour of tea above all else, they have contributed to the growth of Uji-grown tea since the end of the Edo period.

Gyokuro tea is produced with the same careful attention and care as matcha but with a different procedure. nana's green tea grind the leaves to a fine powder to fully extract its refined essence. From the flavour to the aroma, gyokuro tea provides a completely different experience to matcha. If you love Japanese tea, this is the perfect opportunity for you to explore the wonderful flavours of Uji tea.

Gyokuro Warabimochi Parfait

Gyokuro jelly made from 100% gyokuro Uji tea and white bean paste dusted in gyokuro powder dress this parfait in rich flavours. The warabimochi is also dusted in gyokuro powder to balance its sweetness. The sweetness of the warabimochi and the gentle and refined flavour of gyokuro tea will spread through your mouth. Finally, the parfait is laced in black sugar syrup for a refined accent. 

Gyokuro Jelly Frozen

Gyokuro tea and milk are mixed together to create an aromatic and vivid drink mixture. Chunks of soft gyokuro jelly can be seen at the bottom of the drink. Suck them up through your straw for a refreshing and fun texture. As the process of roasting gyokuro leaves is very difficult, it is a flavour that can be difficult to come across. This is the perfect way to enjoy a refined flavour in a casual way.

You can also order the parfait and drink to take out, making it the perfect luxurious treat to enjoy at home. If you love exploring tea, this is an unmissable opportunity.

Information

nana's green tea

Shop Locator: http://www.nanasgreentea.com/shop/

*Takeout availability varies from shop to shop and may be unavailable in certain regions. Please confirm this with the shop staff.