Japanese-style cafe Nana's green tea releases new spring & summer menu!
Nana's green tea released a new menu that is perfect for the spring/summer period. This new menu features drinks that were never seen before on the autumn/winter menu!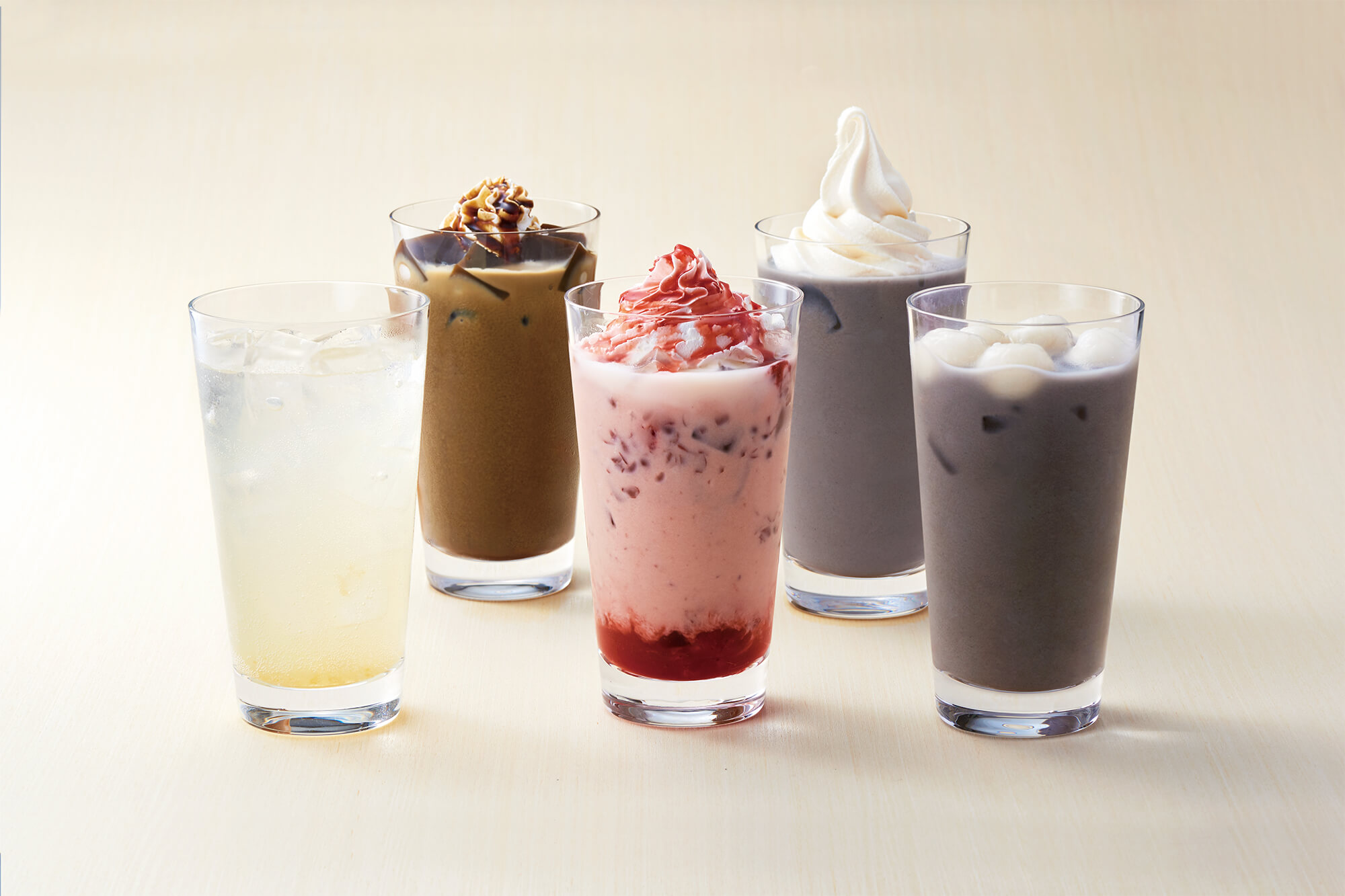 Order the adzuki bean strawberry cream latte to enjoy the grainy texture of the adzuki beans and the sweet acidity of the strawberries. Nana's original Tokachi adzuki beans and milk are the perfect latte combination. This is topped with sweet and acidic strawberries and strawberry sauce. The flavour changes as you mix it, so mix it how you like! Enjoy the balance of the simple sweetness of the adzuki latte and the sweet, tangy accent of the strawberries. The drink's appearance is also very beautiful! (Drink on the front row in the middle)
This black sesame seed shirotama latte contains lots of black sesame seed paste, creating a smooth texture as you drink it. This is mixed with milk and topped with chewy rice flour dumplings (shirotama). Take a big gulp of the black sesame seed and smooth dumpling latte and the delicious flavour will spread all over your mouth. You can enjoy this hot or iced. (Drink on the front row on the right)
The black sesame seed soft cream latte is making a comeback due to popular demand! Its delicious, rich flavour just fills your mouth. The latte is topped with soft cream. The syrupy, rich black sesame seed latte and refreshing, cool soft cream is the perfect combination.
 The Houjicha jelly latte is made from original houjicha tea that has been ground to a fine powder like matcha. Although a lot of houjicha is used, it is just the right amount so that you can't feel the grains but can enjoy the special and delicious aroma. Handmade houjicha, whipped cream and black syrup is the topping for the latte. The rich flavour of the houjicha latte combined with the refreshing, low-sugar houjicha jelly is a treat you can only enjoy for a limited period! (Drink on the left of the back row)
The lemon syrup for the lemon soda is made from lemons sourced from Akinada Tobishima Kaido (Hiroshima) and sugar sourced from Japanese sugar beet. You can enjoy the texture of lemon rind and the fresh sour flavour of lemon. This is the perfect fizzy drink to combat the humid rainy season and extremely hot summers. (Drink on the left of the front row)
Nana's green tea is serving up many photogenic and delicious drinks! Please come check it out!
Information
Drink prices (tax included in price)
Adzuki strawberry cream latte (HOT/ICED)
Medium: ¥600 Large: ¥680
Black sesame seed sweet dumpling latte (HOT/ICED)
Medium: ¥600 Large: ¥680
Black sesame seed soft cream latte (ICED)
Medium: ¥630 Large: ¥710
Houjicha jelly latte (ICED)
Medium: ¥630 Large: ¥710
Lemon rind lemon soda (ICED)
Medium: ¥600 Large: ¥680
Nana's green tea official website: http://www.nanasgreentea.com/
RELATED ENTRIES
Nana's Green Tea x Häagen-Dazs Release Chocolate Matcha Glass Dessert

Nana's Green Tea is serving up a brand-new dessert in collaboration with Häagen-Dazs for Valentine's Day at 77 branches in Japan. The dessert was released on January 6 and will be available up to February 14.

Matcha Chocolate Glass with Häagen-Dazs | ¥880 (Before Tax)

The dessert is a tempting sight to behold – not only is it delicious but visually appealing to the eye too, and layered with various textures so that every bite is a surprise.

The dessert is made with Häagen-Dazs' "Sweet Chocolate" ice cream coupled with Nana's Green Tea's own original matcha ice cream, soft and crunchy meringue sticks, crumbled cookies, white chocolate whipped cream, and matcha chiffon cake. Sat at the bottom waiting to be discovered is a sweet strawberry sauce for a tangy kick.

Information

Nana's Green Tea – Matcha Chocolate Glass With Häagen-Dazs
Serving: January 6, 2021 – February 14, 2021
Price: ¥880 (Before Tax)
Available: 77 Nana's Green Tea branches in Japan (Excluding DiverCity Tokyo Plaza, Tokyo Dome, and Iias Okinawa Toyosaki)
Official Website: http://www.nanasgreentea.com/

Matcha and Strawberry Parfaits Whipped Up at Saryo FUKUCHA in Kyoto

Saryo FUKUCHA in Kyoto is now serving up a very special selection of succulent strawberry and matcha parfaits until May 30, 2021. These exquisite delights will see only 10 made of each per day.

Saryo FUKUCHA is a cafe that was opened by FUKUJUEN in Kyoto Station in April 2019. This year, they have brought back their extremely popular strawberry and matcha parfaits : the Konome, Konoha, and Konoka. They have also introduced a new addition to the line-up: the Strawberry & Matcha Milk Parfait. Also on the menu is a strawberry matcha latte.

Matcha & Strawberry Parfaits


Konome | ¥1,350


Konoha | ¥1,450


Konoka | ¥1,550


Strawberry Matcha Milk Parfait | ¥800


Strawberry Matcha Latte | ¥650

Discover the taste of Japanese tea in a new way with Saryo FUKUCHA's matcha and strawberry parfaits and latte.

Information

Saryo FUKUCHA
Address: 901 Higashi Shiokojicho, Karasumadori Shiokoji Sagaru,, Shimogyo-Ku Kyoto Station Bldg. 2F, Kyoto 600-8216 Kyoto Prefecture
Opening Hours: 8:30-21:00 (Last Orders 20:30)
*The cafe is currently running on reduced opening hours as of December 25, 2020 due to COVID-19. Hours are now 08:30-19:00 (Last Orders 18:30) on weekdays and 08:30-20:00 (Last Orders 19:30) on weekends. Times are subject to change.
TEL: 075-744-0552

Official Website: https://fukucha-fukujuen.com/

Brown Sugar Syrup Matcha Latte Arrives at Tully's Coffee in Japan On Christmas Eve

Tully's Coffee Japan is adding a new seasonal drink to its menu on December 26: the "Brown Sugar Syrup & Soy Flour Matcha Latte."

Brown Sugar Syrup & Soy Flour Matcha Latte (Hot/Iced) | Tall ¥520 (Before Tax)

Matcha beverages at Tully's Coffee are all made with Uji matcha from Kyoto. The powder is prepared in-house at Tully's Coffee, ensuring that the original taste and fragrance of the matcha is fresh. Their new seasonal beverage takes their classic Uji Matcha Latte and sweetens it with brown sugar syrup and Hokkaido soy flour.

Brown Sugar Syrup & Soy Flour Matcha Suwakuru® (Frozen) | Tall ¥540, with tapioca +¥100 (Before Tax)

Adding tapioca pearls creates a perfect combination with the syrup and soy flour, creating a taste and texture that's like the traditional Japanese confection warabimochi.

Uji Matcha Kouign-amann | ¥290 (Before Tax)

Tully's Coffee is also baking up some seasonal treats, like a Japanese-style Kouign-amann and red bean paste-filled doughnuts.

Milk Red Bean Paste Doughnuts | ¥300 (Before Tax)

The doughnuts are also made with milk from Hokkaido.

2021 Year of the Ox Mug | ¥1,500 (Before Tax)

And to celebrate the upcoming Year of the Ox, the coffee chain is also rolling out a cute ox-themed mug.

Information

Brown Sugar Syrup & Soy Flour Matcha Latte
Release Date: December 26, 2020
Official Website: https://www.tullys.co.jp

Tokyo Tower to Begin Morning Tea Gathering On 150-Meter Main Deck

Tokyo Tower is set to host a special morning tea gathering on its 150-meter-high main deck, which overlooks central Tokyo, from November 21, 2020.

A peaceful morning cup of tea above Tokyo

Tokyo is a communications tower in the middle of Tokyo which has its own observation deck open to the public which offers an incredible view of the capital. During the day, the tower is very busy with visitors, and so this morning tea gathering aims to offer people a chance to enjoy the tower and its view in peace and quiet, before opening hours, with a cup of Japanese tea.

An open display showcasing Japanese crafts

The event is cooperating with the Japan-France Tea Ceremony Association who is providing specially-selected traditional Japanese tea-making and serving equipment, all of which were made by traditional Japanese artisans and have been passed down since the Edo Period for an authentic.

Open to foreigners even if you don't know Japanese or the etiquette of the Japanese tea ceremony

Don't worry if you can't speak Japanese or don't know the manners or proper etiquette when it comes to the Japanese tea ceremony – the event is open to all, and you can participate without sitting in the traditional seiza positioning. The staff can speak English, French, and Spanish, so foreign tourists won't miss out on anything.

Information

Morning Tea Gathering
Running: November 21, 2020 / December 5, 2020 / December 19, 2020 / January 9, 2021 / January 23, 2021 / February 6, 2021 / February 20, 2021
Time: Meeting at 8:15am / Entering at 8:30am
Meeting Point: Tokyo Tower Floor 1F Foot Town
Sign Up: アソビューサイト

Starbucks Japan Reveals Matcha x Matcha White Chocolate Frappuccino®

Starbucks Coffee Japan has revealed that its second instalment of its limited-edition holiday season 2020 beverages will be the "Matcha x Matcha White Chocolate" and "Matcha x Matcha White Chocolate Frappuccino®" which customers can order from November 24. A new batch of festive Starbucks merch will also hit Japanese branches on November 30.

A harmonious fusion of matcha and sweet white chocolate

Matcha x Matcha White Chocolate Frappuccino® Tall ¥590 (Tall-size only)

Matcha x Matcha White Chocolate: Short ¥450 / Tall ¥490 / Grande ¥530 / Venti® ¥570 (Hot option only)

Matcha is one of Starbucks Japan's signature flavours and just to happens to have been in the spotlight in last year's holiday season drinks. This year sees marbling mixture of of rich matcha sauce and sweet white chocolate syrup with the Frappuccino®, finished with a squirt of whipped cream, brownie bits, and snowy powdered sugar. The hot version comes as a marriage of matcha and white mocha mixed together with steamed milk to warm the cockles of hearts during the cold months.

New holiday season merchandise

The theme of the second batch of merchandise is "Brilliant Season" which capture the bright and sparkly vibe of winter like with the snowflake-covered stainless steel bottle, a glass mug with beads in it that move around when shaken, a snow globe, and more. The perfect line-up for capturing the holiday season mood during your coffee break.

Starbucks Japan is currently serving the Berry x Berry No-Bake Cheesecake Frappuccino® and Berry x Berry White Mocha holiday season drinks for the holiday season until November 24 when they will be replaced by the Matcha x Matcha White Chocolate and Matcha x Matcha White Chocolate Frappuccino®. It is also serving the Starbucks® Christmas Blend, Gingerbread Latte, and Macadamia Toffee Latte until Christmas Day.

Information

Matcha x Matcha White Chocolate and Matcha

Matcha White Chocolate Frappuccino®

Running: November 1, 2020 – December 25, 2020

Available: Starbucks in Japan
Starbucks Japan Official Website: https://www.starbucks.co.jp/

Cuzen Matcha Releases in US and Lets You Make Fresh Matcha at Home

World Matcha Inc. launched the Cuzen Matcha machine in the USA on October 21, 2020. The product arrives to the North American market after a hugely successful Kickstarter campaign where it achieved 235% of its funding goal. It has already received praise from some of the country's top chefs and hoteliers including Tartine's Chad Robertson and SingleThread's Kyle Connaughton.

Cuzen Matcha

Cuzen Matcha allows for any person to produce fresh matcha with the company's shade-grown whole organic leaves and award-winning technology. Users simply add fresh leaves grown in Kyushu to the machine, and with the press of a button, it instantly creates freshly-ground matcha, delivering the superior health benefits of matcha to everyone. Sustainability is also at the heart of the brand which incorporates sustainable tea farming, sustaining a tea-growing tradition, and wrapping it all up in sustainable packaging

Eijiro Tsukada (World Matcha Inc., Co-Founder and CEO)

"We have been helped by a lot of people and have put our trusts in them while developing Cuzen Matcha. Now we're launching it into the world to lots of people, even if it reaches only one. We will deliver fresh matcha in a way no one else is along with all of its health and lifestyle benefits. And I hope to create a more sustainable future together with our customers around the world." (Translated from Japanese by MMN)

Kawaii Bear Themed Cafe Menu Arriving at Tokyo's Q-pot CAFE. This Christmas

Q-pot CAFE. in Omotesando, Tokyo, has revealed its upcoming Q-pot CAFE. "KUMA"STMAS MENU which is set to be served from November 1 to December 25.

Happy Merry "KUMA"STMAS!

"KUMA"STMAS is a portmanteau of the Japanese word for bear (kuma) and Christmas. The cafe's cute menu is here to bring warmth and cosiness this holiday season.

Merry "KUMA"STMAS Plate w/ Drink – ¥2,060 (Tax Included)

A sweet assortment cute enough to tug your heartstrings.

Q-pot CAFE.'s pastry chefs take their time to delicately handmake the adorable bear's baby face oat milk cookie. The cookie is sat on top of a fluffy duvet of whipped cream, berry jam with fresh berries, and a chocolate génoise cake. It's a sweet and tangy combination of raspberry and strawberry.

The cookie-topped cake is also served with a rich pistachio cream Christmas tree.

Merry "KUMA"STMAS Bitter Caramel Milk Tea – ¥750 (Tax Included)

A warm and cosy beverage to heal your heart, mind, and soul. This baby bear looks sweet but has delightfully rich notes thanks to the caramel. The tea is one of the cafe's originals, the "Sweet Weekend," which has a refreshing after taste and goes perfectly with the caramel cream.

Merry "KUMA"STMAS Afternoon Tea Set | ¥2,400 per person (Tax Included) *Photo shows a set for two

If you love teddy bears, then this afternoon tea set is a dream come true.

Top Plate

The top plate is a delicate assortment of sweet and crunchy oat milk cookies, a glass dessert of fromage blanc and fresh orange jelly, velvet cupcakes topped with pistachio cream made to look like a Christmas tree, and creamy macarons.

Bottom Plate

The bottom plate is the savoury selection and comes with croissants stuffed with roast beef topped with honey mustard sauce, a rich potato potage, and skewers piercing olives, mini tomatoes, and pickles.

Special Novelty <Teddy Bear Message Card>

Customers who book a table in advance to the cafe will receive a free teddy bear message card. These are limited in stock, so if you're in Tokyo don't miss out.

Information

Q-pot CAFE. "KUMA"STMAS

Location: Q-pot CAFE. Omotesando

Running: November 1, 2020 – December 25, 2020

Opening Hours: 11:00-19:00 (Last Orders 18:30)

Online Bookings: Tabelog

TEL :03-6447-1218

Bookable Slots: 11:00/12:30/14:00/15:30/17:00

Taste Authentic Japanese Matcha at Asakusa's New Matcha Specialist Shop Kaminari Issa

Asakusa welcomed the newest and third branch of matcha dessert specialist shop Kaminari Issa on October 2, 2020, which opened its doors along Dempoin Street. The shop is just a 3-minute walk from Asakusa Station and 2-minutes from Kaminarimon.

Signature delights on Kaminari Issa's menu include the Okoicha Warabi Latte and Okoicha Gelato. Everything on the menu is made with rich, high quality matcha, from the matcha tea lattes to the matcha beer, parfaits, ice cream, dacquoise, and more. If you love matcha, and you're in Tokyo, this place is a must-visit.


There are plenty of items to get your hands on in this newest store, which also has its own eat-in space, tea leaf display, and more.

They even sell kits so you can make your own Okoicha Warabi Latte and Wakocha Brown Sugar Warabi Latte at home.

Information

Kaminari Issa Dempoin-dori
Address: 2-2-2 Asakusa, Taito-ku, Tokyo
Opening Hours: 10:00-18:00 (until 17:00 on Mondays)
TEL: 03-5830-6948
Access: 3-minutes on foot from Asakusa Station
Official Website: https://www.kaminari-issa.com/

Pokémon Cafe and Pikachu Sweets by Pokémon Cafe Reveal New Desserts Including Polteageist Tea Set

Pokémon Cafe and Pikachu Sweets by Pokémon Cafe are releasing a new teatime menu at their respective branches on October 24, 2020.

Pokémon Cafe

Polteageist & Sinistea Tea Party! Fruit Tea Set ~Apple Flavoured~ | ¥1,188 (Tax Included)


Polteageist & Sinistea Tea Party! Fruit Tea Set ~Strawberry Flavoured~ | ¥1,188 (Tax Included)

Pokémon Cafe is serving up two different fruit tea sets based on the Ghost-type Pokémon Polteageist and Sinistea. Customers are free to pour in their desired amount of fruit syrup which changes the colour of the tea. The sets come with a cute cookie too.

Pikachu Sweets by Pokémon Cafe

Left: Polteageist's Tea Party! Fruit Tea ~Mixed Berry Flavour~ / Right: Polteageist's Tea Party! Fruit Tea ~Peach Orange Flavour~ | ¥700 Each (Before Tax)

Pikachu Sweets by Pokémon Cafe is also going to serve up some Polteageist themed fruit teas as well as a selection of desserts like macarons and financier almond cakes which have Pokémon tail and ear designs.

After ordering one of the Polteageist fruit teas, customers can place their cups under the Polteageist tea pot as pictured above and activate the pot to dispense their drink, so it's like Polteageist  really pouring tea for you.

Left: Swirlix Strawberry Macaron | Middle: Pikachu Vanilla Macaron | Right: Galarian Ponyta Pistachio Macaron – ¥500 Each (Before Tax)

Treat yourself to one of the super cute Swirlix, Pikachu, or Ponyta macarons each with designs that tell you instantly which Pokémon they're inspired by.


Polteageist Fruit Tea and & Pikachu Macaron Set

Customers can order a tea and macaron combination set too.

Pikachu Parfaits

Pikachu Glass Parfait Set | ¥1,500 (Before Tax)

An adorable set of Pikachu parfaits, one being caramel banana flavoured and the other chocolate.

Pikachu Tea Party Assortment – Pika Pika Pikavee Set | ¥2,800 (Before Tax)

Another set to share between friends and family, this time with two Pikachu glass desserts as well as Pikachu and Eevee cupcakes.

Pikachu Tea Party Assortment – Ghost Type Set | ¥2,800 (Before Tax)

This set comes with the Pikachu glass desserts as well as Ghost-type Gengar and Litwick mousse cakes.

The Polteageist teapot and Sinistea teacup used at the Pokémon Cafe and Pikachu Sweets by Pokémon Cafe will also be released at Pokémon Center Online in Japan on December 5, 2020.

© 2020 Pokémon.©1995-2020 Nintendo/Creatures Inc./GAME FREAK inc.
Pokémon, ポケットモンスター, and ポケモン are registered trademarks of Nintendo, Creatures Inc., and GAME FREAK inc..

Information

Pokémon Cafe (Nihombashi, Tokyo)
Address: Nihombashi Takashimaya SC East Bldg. 5F, 2-1-2 Nihombashi, Chuo Ward, Tokyo
Business Hours: 10:30-22:00
No Fixed Holidays (Except when Nihombashi Takashimaya SC is closed)
Reservations: https://www.pokemoncenter-online.com/cafe/reservation.html

Pokémon Cafe (Shinsaibashi, Osaka)
Address: Daimaru Shinsaibashi Honkan 9F, 1-7-1 Shinsaibashisuji, Chuo Ward, Osaka, Osaka Prefecture
Business Hours: 10:00-21:30
No Fixed Holidays (Except when Daimaru Shinsaibashi is closed)
Reservations: https://www.pokemoncenter-online.com/cafe/reservation.html

Pikachu Sweets by Pokémon Café 

Address: Sunshine City Alpa Floor 2F, 3-1-2 Higashiikebukuro, Toshima City, Tokyo

Opening Hours: 10:00-20:00
Official Website: https://www.pokemoncenter-online.com/cafe/pikachu_sweets/

*Opening hours subject to change, please check in advance before travelling.

*Food served and duration subject to change without notice.

*Photos are for illustrative purposes only.

*Seat reservations are taken online only – phone reservations not available.

Food Review: CARRE AU CHOCOLAT matcha dessert made with Yamecha tea from Fukuoka

Matcha has become a common ingredient and flavour in people's lives outside of Japan. It's now easier than ever to get your hands on something matcha flavoured, whether it be desserts or the tea itself. Even in Japan, you'll find new matcha products released daily. Today, we're reviewing a particular matcha dessert made using the highest quality Japanese ingredients.

Marche co., ltd., a subsidiary of TAGPIC Inc., co-launched a luxury sweets brand called 'BRANCHE CHOCOLAT' on September 9, 2020, together with Riku Yakushijin who, as a chef at the introduction-only French restaurant Sugalabo, works as a Culinary Producer where he has honed the concept of 'food literacy.' Together, they have released their very first dessert together: the matcha-flavoured 'CARRE AU CHOCOLAT.'

About BRANCHE CHOCOLAT

BRANCHE CHOCOLAT is a high quality sweets brand based on the idea of wanting to expand the number of authentic and genuinely good sweets. The brand's name is a combination of the French words branche, meaning to 'connect' or 'tie,' and chocolat which of course is chocolate. Everything they do is totally calculated, using good quality Japanese ingredients while keeping in mind flavour, texture, and appearance, and taking into account the joy of sharing, the surprise when eating, and the moment you put something delicious into your mouth―and all of this without being predictable. By making their products into a distinct cube shape, it makes the dessert look stylish, easy to eat, and easy to photograph from every angle.

The First Product: Matcha 'CARRE AU CHOCOLAT'


GIFT BOX ¥5,478 (Tax Included) / ECO BOX ¥4,378 (Tax Included)

The first product in BRANCHE CHOCOLAT's line is the 'CARRE AU CHOCOLAT' which is made using yamecha from Fukuoka. Yamecha is a type of tea produced in Fukuoka that comes in many different forms depending on the variety and how the tea is ground, which can make for a whole range of different results from types that are beautiful in colour to very bitter flavours, very rich flavours, or very sweet flavours. And to ensure they get the absolute full potential out of the yamecha, BRANCH CHOCOLAT conceived over 50 recipes through trial runs and taste-testing. The end result had them arrive at the recipe we have here today which preserves the original flavour of the tea while enhancing it to be even more elegant in taste.

Tasting Time


When opening the dessert box, your gaze is arrested by the sparkle of the four-sided matcha dessert. A dessert that's cube-shaped looks good enough to snap a photo from any angle. As you fork into the chocolate, it's softer than Japanese ganache, and moister than a terrine.

Time to tuck in.

Your taste buds are met by the sweetness of the rich chocolate together with the bitter, full-bodied taste of the yamecha. It feels smooth in the mouth and just melts. You can really savour the matcha which penetrates all the way to your nose. This is a completely different dessert experience which is deep and rich in flavour yet has a lightness to it.

Underneath the chocolate is a traditional French confection known as pain de genes which has been thinly sliced which makes it feel a little like eating a cake when enjoyed with the chocolate. The simple flavour of the pain de genes and the sweetness of the chocolate are a perfect match for one another.

It's precisely because the CARRE AU CHOCOLAT uses high quality Japanese matcha that you can savour the sweetness, delicious taste, and the adequate amount of bitterness. This is a treat that any and all lovers of matcha and chocolate cannot afford to pass on. It's the perfect size to be enjoyed by 2-4 people, making it great for a special celebration, a home party, or if you want to share it with someone special.

Experience Old Time Kyoto in Autumn 2020 With Tea and Textiles

Kyoto, the ancient capital of Japan, is also called the birth place of Japanese culture, with a history spanning 1,200 years. Today, we're going to take a look at a number of upcoming events and seasonal items on sale in Kyoto for autumn 2020.

Celebrating 300 years of Tango Chirimen

This year marks 300 years since Tango Chirimen was established, a company located in Tango in northern Kyoto that specialises in a Japanese textile of flat woven silk known as 'chirimen.' There are many local chirimen brands around Japan, but it is the chirimen from Tango that has stood above the rest these past 300 years. The brand is now looking to the start of a new era for itself during its triple century milestone.

LIFE WITH THE QUALITY

Tango Chirimen is currently displaying a collaborative art exhibit at NEWoMan Shinjuku in Tokyo. This includes the entry display made in collaboration with Japanese artist Saki Tanaka, wall art made from woven fabrics, and more.

Running: Until September 30, 2020

Location: NEWoMan Shinjuku

Lineup: Display in collaboration with Saki Tanaka, wall art, and more

United Arrows x Tango Chirimen

United Arrows is also collaborating with the brand and incorporating their logo mark "TANGO OPEN" on a new men's t-shirt.

Product Name: BY Tango Broad Wide Form Tapered Shirt
Buy Here: https://store.united-arrows.co.jp/shop/by/goods.html?gid=52838245
Sold at: BEAUTY & YOUTH UNITED ARROWS stores and their official online store

Taste tea from Uji on Japanese Tea Day

It is generally considered that the first tea of the season in Japan is best enjoyed from the end of April and during May, but in fact Japanese tea is the perfect season to enjoy Japanese tea, specially since the country celebrates Japanese Tea Day (Nihoncha no Hi) on October 1 and 31.

Ujicha, or tea from Uji in Kyoto, boasts some of the most famous kinds of teas in Japan. This includes matcha, sencha, and gyokuro, all of which were first grown in southern Kyoto. Because of this, it is said that Ujicha marks the origins of Japanese tea. So when you visit Japan during autumn, why not celebrate Japanese Tea Day with some authentic tea from Uji?

Ujicha Tea Murie Online Course

The Ujicha Tea Murie Course has been held since 2015 in Kyoto, and this year, the course is heading online for the first time as a result of the pandemic. Learn how to make and serve Uji tea from a professional tea instructor as well as its history and more.

Running: Session 1: September 15, 2020 / Session 2: October 2, 2020 / Session 3: October 17, 2020

Book: Online
Requirements: Download and install Zoom
Official Website: https://www.pref.kyoto.jp/yamashiro/ocha/

Certified Ujicha tea cafes for an authentic experience

Tsujiri Rihei Ginza | Tsujiri Rihei Senju

Nakamura Tokichi Ginza

Tsujiri Rihei Ginza, Tsujiri Rihei Senju, and Nakamura Tokichi Ginza are all cafes in Tokyo that are officially recognised for serving authentic Ujicha tea which also includes proper preparation as well as teaching the history and culture behind the tea. These three cafes are also holding an Ujicha tea stamp rally as well as a Twitter hashtag campaign.

Luxurious Matcha Loaded Parfait Served Up at MICASADECO&CAFE KYOTO

MICASADECO&CAFE KYOTO had to shorten its menu due to the effects of COVID-19. Their legendary parfait too was taken off the list, but now has finally returned, and even more delicious looking than ever.

MICASADECO&CAFE KYOTO has tried to make the parfait as breathtaking as possible, and they've certainly captured that. It's vivid like the furisode long-sleeved kimono worn by the maiko of Kyoto, beautiful and dignified.

Uji Matcha Pudding & Raspberry Parfait | ¥1,250 (Tax Included)

This towering parfait is made up of many layers, one of which is a homemade Japanese-style pudding made with high quality matcha from Uji, Kyoto. It has a subtly sweet and deep flavour, and is taken to the next level with the matcha sauce it's served with.

The homemade raspberry jam brings a delightful sweetness too as well as adds that eye-catching aspect they're going for. As you spoon your way through, your taste buds are treated to an amalgamation of indulging flavours.

The lid that's sat on top of the parfait is actually a tuile biscuit. The best way to go about beginning your feast is to break the biscuit and then pour the matcha sauce inside.

Hidden within the parfait are also pieces of homemade matcha brownies made with lots of top grade matcha.

These parfaits will be served from September 14 but are limited in stock, so if you're in Kyoto this month, make sure you don't miss out.