Hoshino Resorts KAI Sengokuhara one of the few luxury hotels worldwide to be hand-picked by American travel magazine AFAR.
Hoshino Resorts KAI Sengokuhara was one of the 27 hotels worldwide to be specially selected for "The Stay List" in the April 10th 2019 edition of American travel magazine AFAR.
AFAR is targeted at upper-class North American travellers. "The Stay List" is the name of the magazine's list of hotels that are recommended by the magazine's writers and editors. The April 10th edition of the magazine's Stay List consists of just 27 hand-picked hotels from countries worldwide and Hoshino Resorts KAI Sengokuhara was one of them. KAI Sengokuhara was praised for its location amidst abundant nature whilst being close to the city. The magazine also admires its inspiration to the guests.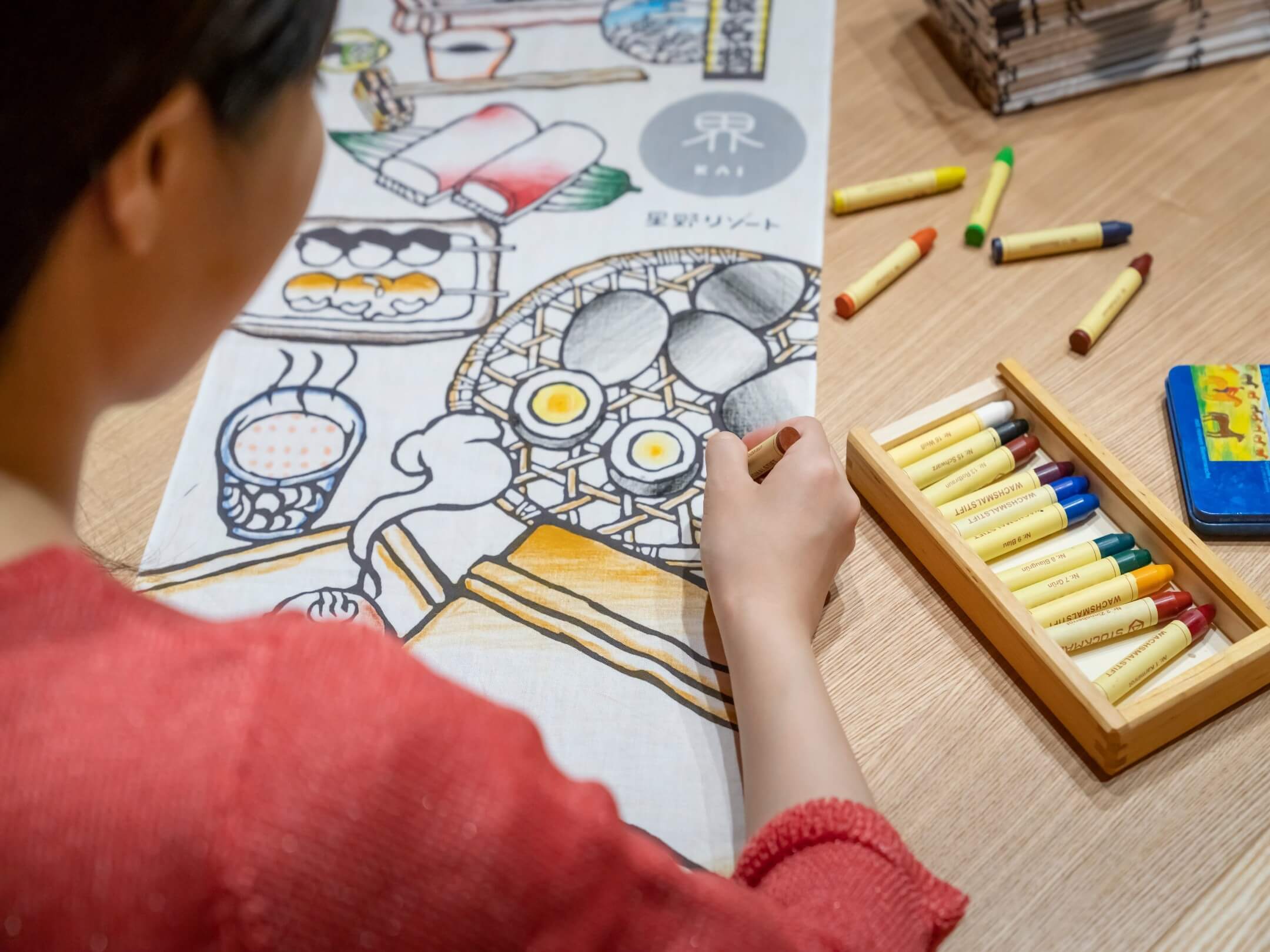 In July 2018, KAI Sengokuhara became the 15th hotel set up by Hoshino Resorts. With the concept of a "studio room-style hot spring" in mind, the hotel was built in the midst of the vast and magnificent nature. Each guest room was designed with an open-air bath with a large window through which the guests can enjoy the beauty of each season. The room design fuses western and Japanese-style designs with the tatami flooring and sofa combination. In addition, each room has pieces of art on display, each inspired by the surrounding nature. Guests can thoroughly enjoy food sourced from the mountains and the sea such as beef and abalone shellfish. Every night, there is a special event that the guests can get involved in called Go touchi gaku which involves decorating and colouring hand towels.
This hotel is highly rated by both the Japanese and foreigners. So, how about treating yourself?
Information
Hoshino Resorts KAI Sengokuhara
Address: Sengokuhara 817-359, Hakone, Ashigarashimo District, Kanagawa Prefecture 250-0631
TEL:0570-073-011
URL:https://kai-ryokan.jp/sengokuhara
Price:From ¥32,000 per night (price per guest in a 2 guest room, tax, service charge, dinner & breakfast included)
Access: 15-minute drive from Gōra station, Hakone Tozan Railway
RELATED ENTRIES
Hotel MIMARU Offering Christmas Room in Collaboration with Awesome Store

Lifestyle shop Awesome Store is collaborating with the MIMARU hotel chain to create a secluded and supremely cozy Christmas Room. The special room will only be available from December 1 until December 25, 2021. Each spacious room features a kitchen and is decorated with plenty of holiday goodness, making it the best place to spend the Christmas season with family and friends. 

Original tableware from Awesome Store will be left in each room, so guests can easily throw a Christmas party by having food delivered or grabbing takeout. There's no need to decorate, as the space will be completely overrun by ornaments and garlands. How would you like to spend Christmas here? 

Information

Awesome Store Christmas Room

Available: December 1 – December 25, 2021

Participating Hotels:
MIMARU Tokyo Akasaka

MIMARU Tokyo Nihombashi Suitengumae

MIMARU Tokyo Ueno Okachimachi

MIMARU Tokyo Ueno Inaricho

Reservations/Official Site: https://mimaruhotels.com/

Model Shibata Saki's Trip to Mie Prefecture to Air on BS12 for 2 Consecutive Weeks

On November 18 and November 25, national free broadcasting service BS12 will air 'NEXT TRIP: A Luxury Resort Trip to Ise and Shima.' The host for the excursion will be popular model Shibata Saki (nicknamed Shibasaki), who is a well-known figure to women of all ages.

NEXT TRIP is a new travel program that helps travelers figure out where to go next. The theme of the series is "Where should I go once the world settles down?" From visiting popular city spots to faraway resorts in Japan and abroad, the show aims to introduce people to locations they haven't discovered yet, showcasing what the world has to offer. Those watching should keep a lookout for spectacular scenery, gourmet local food, outdoor activities, and so much more. 

[Part 1] November 18, 2021, 9:00 – 'NEXT TRIP: A Journey to Ise'

In this episode, Saki Shibata travels to Ise, Mie Prefecture, first visiting Ise Shrine to pay her respects. The shrine is one of the holiest and important sites in the Shinto faith and was said to be established in the year 4 BCE. After visiting the Inner Shrine on a bright and sunny morning, Shibata travels to the ancient Okage Yokocho street to find some souvenirs and enjoy a local cafe to enjoy Ise's famous rice cakes and traditional Japanese sweets. For lunch, she visits a very retro western-style building. At the nearby Ise Ninja Kingdom, guests can wear ninja costumes, and Shibata does just that! As the day comes to an end, Shibata opts to stay at a luxurious ryokan, Ikyuu, and highlights the incredible dinner and other services the lodging offers.

Air Date: November 18, 2021 / 9:00-10:00

[Part 2] November 25, 2021, 9:00 – 'NEXT TRIP: A Luxury Resort Trip to Ise and Shima' 

The second part of the trip begins with cycling. Visiting the famous Married Couple Rocks on the coast of Futami, Shibata sets out for Shima. After enjoying the breathtaking view from the 'Mailbox in the Sky' on the Ise-Shima Skyline, she stays at a resort overlooking the Shima coast. Guests are welcome to take a leisurely stroll around the grounds and enjoy a luxury cruise or dinner. The sunset is something Saki Shibata will surely never forget.

 

Air Date: November 25, 2021 / 9:00-10:00

Where do you want to travel in Japan once the world settles down?

OMO7 Asahikawa Resort in Hokkaido Offers Polar Bear Valentine's Day Girls' Party Package

Not a fan of Valentine's Day? Want to get away from all the in-your-face romance and just have a good time with your gal pals? OMO7 Asahikawa by Hoshino Resort in Hokkaido is offering a limited-time polar bear-themed Valentine's Day Girls' Party package for all of February 2022. The single polar bear room, opened in November 2020, will be transformed into its Valentine's Day version. 

Valentine's Day has been popular in Japan for many years and is a day when women give gifts to men to express their feelings. However, in recent years, it has also become a less romantic event for some–people are buying chocolate for themselves, or giving candies to friends. The polar bear room is perfect for girlfriends who just want to relax and have a good time. Why a polar bear? The Asahikawa Zoo is nearby and is an incredibly popular attraction.

The Polar Bear Valentine Room, Only Available for One Party per Day

Decorated from top to bottom in cute bears, guests can also wear matching polar bear loungewear, perfect for those Instagram shots. This will be a girls' gathering you'll never forget!

Polar Bear-inspired Snacks for the Perfect Girls' Night

When girls get together, they just love to chat. But talking so much can make you hungry, so plenty of snacks will be waiting in the guest room! If you're not in the snacking mood, they also make wonderful souvenirs. 

Polar Bear Desserts, A Must-Have in Asahikawa

The area around OMO7 Asahikawa is lined with stylish cafes where you can take a break from your daily life. After enjoying the Valentine's Room, head out into the nearby neighborhood to Fukuyoshi Cafe for some polar bear sweets. The treats are included with the price of the room, so there's no reason to miss it!

Four New Pokemon Manhole Covers Appear in Katori City, Chiba Prefecture

On November 10, 2021, four new Pokemon-themed manhole covers were unveiled in Katori City, Chiba prefecture. These will be the first appearance of the Poke Lids project in both the city and prefecture and each will feature landscapes specific to the area. Pokemon featured in these new covers include Galarian Farfetch'd, Falinks, Florges, and Lotad. 

The Poke Lids project features completely original art, and each serves as a PokeStop in the mobile game Pokemon GO. Many are located in smaller towns and areas, and this has brought more tourism and attention to some of Japan's more charming hidden gems. Going on a pilgrimage to visit these locations has become a popular new fad, so be sure to try it out once Japan opens!

Poke Lid Locations in Katori

Galarian Farfetch'd Poke Lid: 109-14 Sawara, Katori, Chiba

Falinks Poke Lid: 1722-1 Sawara, Katori, Chiba

Florges Poke Lid: 4549-1 Sawara, Katori, Chiba

Lotad Poke Lid: 4053-3 Sawara, Katori, Chiba

©Pokémon. ©Nintendo/Creatures Inc./GAME FREAK inc.
ポケットモンスター・ポケモン・Pokémonは任天堂・クリーチャーズ・ゲームフリークの登録商標です。

Hoshinoya Tokyo Offers New Safe & Mask-Free Dining Experience Using 'Lantern Partitions'

Hoshinoya hotels each offer a unique experience with their own theme. The Otemachi-based Yoshinoya Tokyo has announced the new "Tokyo Lantern Dinner," which has been proposed to suit the 'New Normal' of the Covid-19 generation. The new dining option was opened to customers from October 13 2021 and blends the new rules of restaurant partitions and mask wearing with Japanese culture, using lantern partitions to allow customers to enjoy their food with peace of mind. Customers can remove their mask as they sit under the lantern partition, which lights up your face and meal with a soft glow, meaning you can safely enjoy conversation and see your partner's face as you talk and eat. Conveniently, the lantern also prevents splashing, making eating out in the Covid-19 era even easier! 

The Lantern Partition was Developed with a Long-Established Lantern Company

Nippon Cuisine ~Fermented~

The partition lanterns were created by Kojima Shoten, a long-established lantern shop based in Kyoto which was founded in the Kansei-Edo period. The original lantern-shape was crafted by the professionals, from the structure all the way to the painting. The unique shape of this elastic lantern allows customers to enter and exit freely, and part of the lantern has been made using a 0.15mm transparent vinyl meaning that face-to-face conversations can be held with ease. In addition, the lantern is equipped with a light that gently illuminates the face and food of the person seated beneath it.

 

 

Yoshinoya Tokyo usually only accepts dining reservations from those staying at the hotel, but customers can now invite non-guests specifically to enjoy the main meal together.  They have prepared a variety of options for meetings and events that previously couldn't meet up due to the Covid situation, such as meetings between families before marriage, anniversaries, birthdays, business dinners, and more. 

 

 

Hoshinoya Tokyo is a Japanese Inn that respectfully combines the comforts of the modern day with traditional Japanese culture. The dining room, located on the first basement floor, offers 'Nippon Cuisine' made using a combination of Japan's historical fermentation culture and French cooking techniques.  The menu includes a wide variety of ever-popular fermented foods and seasonings, such as soy sauce and miso, along with preserved foods such as pickles and salted fish. The lactic acidosis bacteria found in these foods is referred to as a "Good Bacteria," known for its positive effects on the body and its ability to regulate gut bacteria. 

The taste and nutritional value of each meal has increased due to fermentation and aging, using seasonal ingredients from around Japan and French cooking techniques to bring out the flavor, resulting in a new and original taste. 

 

Why not check out Hoshinoya Tokyo and experience this new-era Japanese dining experience for yourself?

Information

Tokyo Lantern Dinner

Available From: October 10 2022 

Reservations: https://hoshinoya.com/tokyo (Must be made at least five days in advance)

Capacity: One group per day

Hoshino Resort's Banta Cafe in Okinawa to Open Limited-Time Night Cafe During Winter

Located in wonderfully warm Okinawa, Hoshino Resort is the perfect getaway for those wanting a warmer winter. The Banta Cafe overlooks the ocean, offering unmatched views. From December 1, 2021, until January 31, 2022, the cafe will hold the 'Illumi-Banta: Night Lights by the Sea' event. Of course, Illumi-Banta is a portmanteau of the words 'Illumination' and 'Banta,' but the Okinawan word iyumibanta means 'a cliff overlooking the fish.' The entire location, from the top of the cliff all the way to the sea, will be bathed in otherworldly light. A special menu will also be available during the event period, serving up food perfect for eating as guests wander by the seaside. A number of Okinawan workshops will also bring local craftsmen to the site to show off their creations. Why bundle up when you can enjoy a warm winter by the ocean? 

A Fantastic World of Light and Ocean Life

Banta Cafe sits on a cliff above the water, and the waters beneath it hide gorgeous coral reefs. Watch the sea come to life, as the ocean, white sand beach, and rock formations are illuminated. The lights will change colors during the daily light show along with the tides, so don't miss it!

Light Show Times: 18:30, 20:00, 21:00 *Each show lasts about five minutes.

Playful Plant Shadows

On the large roof deck located at the entrance, large fern and palm leaves have been arranged to welcome guests along with other plants local to Okinawa. Using lights, the shadows from these plants reach massive heights on the 4-meter high Ryukyu limestone walls, and guests are encouraged to try making some fun shadow puppets for the perfect snapshot!

Enjoy a Lantern-Lit Night Picnic with the Strolling Soup Set

The night cafe will be selling a special Strolling Soup Set menu, inviting guests to venture out onto the sandy shore with a lantern in hand to enjoy a meal beside the sea. Guests can choose two of the available four soups along with a crispy baguette and herb butter. 

Hours: 18:00 – 20:30 (Last Order)

Price: Strolling Soup Set for Two, ¥2,600

Includes: Two types of soup and bucket for two people, lantern and basket rental

Four Types of Soup

・ Minestrone
Filled with colorful vegetables, such as tomato, bitter melon, and yellow carrot

・Clam Chowder

Packed with seafood flavor and a unique mix of Okinawan spices

・Consomme with Yushi Tofu
A lightly-salted soup made with Okinawa's fluffy Yushi Tofu and thick-cut bacon

・Yam and Cauliflower Potage
Creamy potage with white cauliflower and brightly colored yam

The Night Light Market, a Gathering of Proud Okinawan Artists

On Saturday nights from January 8 to January 29, the Night Light Market will bring various artists and craftsmen from Okinawa to the Hoshino Resort. These artists will be excited to share the culture of Okinawa and will offer a range of products made of locally sourced materials. Guests can even try their hand at local crafts at the indoor Gorogoro Lounge!

Running: Every Saturday Night from January 8 – January 29, 2022

Hours: 18:00-21:00

Wouldn't you prefer a warm Okinawan winter? 

Information

Illumi-Banta

Running: December 1, 2021 – January 31, 2022 (Closed from January 17-21)

Hours: Sunset – 21:30

Official Site: https://banta-cafe.com/

'Kyoto Yura Hotel M Gallery' New Halloween Menu Features Adorable Monster Motifs

The '1F Lounge & Bar 1867' at the Kyoto Yura Hotel M Gallery will be hosting a Halloween themed afternoon tea from October 1 2021, with tea sets and cocktails available. The premium hotel is owned by Accor, a Paris, France based group that owns over 5,000 hotels and resorts in 110 countries.

The Halloween-themed afternoon tea has been made by Jennie Chiu, a pastry chef who grew up in America, the home of Halloween. The afternoon tea features cute and playful monster motifs, including a witch-hat Mont Blanc, a Cassis and Chestnut Cake topped with a small ghost, and a spider-web topped Raspberry and Chocolate Mousse. For savory treats, Chef Nishimura Niki has prepared Foie Gras soaked in Salted Koji, plus two luxurious lobster dishes.

The creative Halloween cocktails were brainstormed by Yamazaki Sousei, who ranked in the Japan Top 10 category of bartending competition 'WORLD CLASS 2021.' The Halloween and apple pie inspired lineup was inspired by Scotland and the Celtic people, looking back to when Halloween was first celebrated. 

Enjoy some adult-only time in this retro-modern "family mansion" themed space. 

Information

Halloween Afternoon Tea Set

Availability: October 1 ~ October 31 2021

Location: Lounge & Bar 1867 

Serving Hours: 12:00 and 15:00 *Please reserve your table by 17:00 on the day prior to your arrival

Halloween Cocktails

Availability: October 1 ~ October 31 2021 

Price: ¥1,900
Location: Lounge & Bar 1867

Serving Hours/Opening Hours: 11:30 ~ 21:00 (L.O. 20:30) 

Official Site:  https://kyotoyurahotel-mgallery.com/ja

New 'Uramichi Oniisan' Collab Hotel Room Designed Using 'URA' and 'OMOTE' Motifs

Sunshine City Prince Hotel has revealed a new "Uramichi Oniisan" themed plan, available to reserve for a limited time between October 2 and December 31.

Hotel Staff Costume Illustration

 Pajama Costume Chibi Illustration


©Kuze Gaku・Ichijinsha / Uramichi Oniisan Production Comittee

Star Can Badge / Hotel Keychain / Mask Case (URA & OMOTE ) / Original Notepad / Hotel Key Card 

Cafe & Dining 'Chef's Palette' Original Drink with Bonus Coaster

'URA-Room' with Chibi Character Illustration

 

The 'Uramichi Oniisan' anime became a hit in Summer 2021, known for its cast of famous voice actors.

The new artwork produced for the hotel features the characters in hotel staff uniforms and pajamas, perfect for the hotel-themed collaboration. The 'OMOTE ROOM' is designed using the new illustrations, while the 'URA ROOM' uses the chibi characters. Each room features a sound clip from Uramichi Omoteda (CV: Kamiya Hiroshi). Original merchandise and drinks are available to guests, plus the famous "Bird Finding Game" is available to play in each room, making it a must-see for fans!

Dive into the 'Uramichi Oniisan' world with this new collaboration hotel room!

Kurobe Gorge Trekking Tour Offers Breathtaking Two-Day Trolley Journey

The Kurobe Gorge Trolley in Toyama will offer a special two-day journey through the fall foliage on October 29 and November 1, 2021. 

Atobiki Bridge

Okukane Bridge

Promenade

Babadani Jigoku

On the day of the tour, guests will enjoy a leisurely journey through nature as a Kurobe Gorge tour guide explains the features of the surrounding environment. 

Shirahama Marriott in Wakayama to Offer Panda-Themed Getaway

Adventure World, a zoo and theme park in Shirahama, Wakayama prefecture, is teaming up with the Nanki-Shirahama Marriott Hotel to celebrate the first birthday of baby panda Fuhin. This room plan will only be available from November 1, 2021, until March 31, 2022, and will include a fully themed room, an original mini-photo book of the panda's growth to date, and plenty of other Fuhin amenities and goods!

Fuhin 1st Anniversary Room

Collaboration Burger 'Marriott Panda Burger' 

The Fuhin 1st Anniversary Room is a mixed Japanese-Western style room with an ocean view. The walls, blankets, and tatami are all covered in panda imagery, while portions of the room's lighting are made from bamboo as a part of Adventure World's quest to create more sustainable products. The special 'COCOAR' app will also allow guests to enjoy a moving photo frame featuring Guhin by holding their smartphone over the word 'Fuhin' on the wall. 

The limited-time Marriott Panda Burger uses the same recipe as the normal burger, but with a panda-shaped bun created along with Adventure World staff. How would you like to come and celebrate Fuhin's birthday beside the sea? 

Your Favorite Panda Instagram Campaign

By taking a picture of one of the seven giant pandas at Adventure World (Eimei, Rauhin, Ouhin, Touhin, Yuhin, Saihin, Fuuhin) and posting it to Instagram with the two campaign hashtags (#推しパンダマリオット and #InsertFavoritePandasNameHere), 20 winners will be selected to receive special Adventure World goods!

Information

Kaedehama 1st Anniversary Room Stay

Address: Nanki-Shirahama Marriott Hotel

Reservations Open October 6, 2021

Running: November 1, 2021 – March 31, 2022

Details: https://www.shirahama-marriott.com/special/panda/

Official Site: www.MarriottHotels.com

Marriott Panda Burger

Available Starting November 1, 2021

Price: ¥3,270

Where: Nanki-Shirahama Marriott Hotel Lounge

Your Favorite Panda Instagram Campaign

Running: November 1, 2021 – January 31, 2022

How to Enter: 

① Install the Instagram App.

② Follow Adventure World (@adventureworld_official) and Nanki Shirahama Marriott Hotel (@nankishirahamamarriott).

③ Post a picture of your favorite panda along with the hashtag MyFavoritePandaMarriott (#推しパンダマリオット) and the second hashtag including your favorite's name along with a picture of your favorite panda!

The winners will be announced on the official Nanki-Shirahama Marriott Hotel Instagram page in February 2022. 

Kyoto's Kurodani Temple, Typically Closed to the Public, to Accept Visitors for Limited Time

Constructed in 1175, the Kurodani Temple is one of the head temples of the Jodo Sect of Buddhism. Though typically closed to the public, the grounds will open for a short period to allow guests to experience some beautiful autumn scenery beginning November 12, 2021. This temple is associated with the Shinsengumi and served as the headquarters of the Aizu Clan at the end of the Edo period, so those interested in history won't want to miss out on this incredible opportunity. 

[Night] Shiun Garden

[Day] Autumn Leaves at the Main Gate

[Day] Shiun Garden

[Night] Autumn Leaves at the Main Gate

Temple Grounds at Sunset

The Tiger's Room

Ohoujou Garden

Founders Hall

Live Koto Performance

Gokoushiyuiamidabutsu, 'Afro Buddha' 

Guests will be able to enjoy the gorgeous autumn temple scenery during both daytime and nighttime, with the night viewing also offering some traditional Japanese live music. Visitors can also see various temple treasures and historical items, as well as the Tiger Room, known for its painted doors. The unique and aptly named Afro Buddha will also be on display. After training for an extremely long period of time, the Buddha's hair piled up, giving him this strangely modern appearance. 

On a clear day, guests will be able to see clear to the Abeno Harukas building in Osaka. Vividly painted ceilings and other statues will completely surround visitors in spiritual history. At night, traditional Japanese music will be played at three different times in the front gardens. On Friday, Saturday, and Sunday, the temple will offer a Premium Plan, allowing interested guests to enter the grounds 30 minutes before general admission starts. (This will require reservations made on the official website.) This will also include a guided tour!

How would you like to experience this piece of Japanese history while surrounded by unforgettable autumn foliage? 

Information

Special Autumn Viewing

Kudodani Temple, Kyoto – The Head Temple of the Jodo Sect of Buddhism

Address: 121 Kurodanicho, Sakyo-ku, Kyoto

Night Viewing Details: https://www.kurodani.jp/lightup/

Day Viewing Details: https://www.kurodani.jp/sp_daytime/

Daytime Viewing

Running: November 12 – December 5, 2021

Hours: 10:00-16:30 (Final Admission at 16:00)

Special Viewing Areas: Mikado, Daihojo, the Gardens, two locations at the main gate

Night Viewing

Running: November 12 – December 5, 2021

Hours: 17:30-20:30 (Final Admission at 20:00)

Live traditional Japanese music will be performed in the garden located in front of the Main Hall at 17:45, 18:30, and 19:15

Halloween Sweets Buffet Coming to Haneda Excel Hotel Tokyu for Two Days Only

Moshi Moshi Nippon has delivered news on tons of Halloween treats this holiday season, but can there ever really be enough? Haneda Excel Hotel Tokyo has announced a special two-day-only Halloween Sweets Buffet on October 30 and 31 at the location's Flyer's Table restaurant on the second floor. 

Pumpkin Cheese Tart

Ghost Mousse

Black Cream Puff

 

Guests can enjoy a variety of spooky treats all incorporating fall flavors like chestnut, pumpkin, sweet potato, pear, and apple. Offerings include the Pumpkin Cheese Tart, a mildly-sweet cheese tart made with sour cream, cottage cheese, and cream cheese, and topped with pumpkin cream; the Ghost Mousse, a chestnut mousse made to look like a ghoul; and the Black Cream Puff, made with black cocoa and a cassis cream filling. 

 

At the demonstration corner, guests can see the Sweet Potato Mont Blanc being made. Those wanting something besides sweets can enjoy a selection of sandwiches decorated in Halloween style!