Taste Local Shaved Ice Around Japan at Hoshino Resorts KAI
Hoshino Resorts KAI is set to hold a shaved ice event titled KAI no Gotochi Kakigori 2019 at several branches of KAI from July 13 to August 31. The event will allow people to enjoy tasting the different syrups and toppings served with shaved ice in each local area.
Shaved ice is a staple of Japanese summertime. People in Japan have enjoyed the ice-based dessert for many years. It is even mentioned in The Pillow Book, a famous collection of poems, essays and observations by the court lady Sei Shōnagon.
KAI's line-up of original shaved ice both ensures you will pull through the hot weather as the dessert was designed for while enjoying a fun time. Each option incorporates local flavours. Let's take a look at some of them.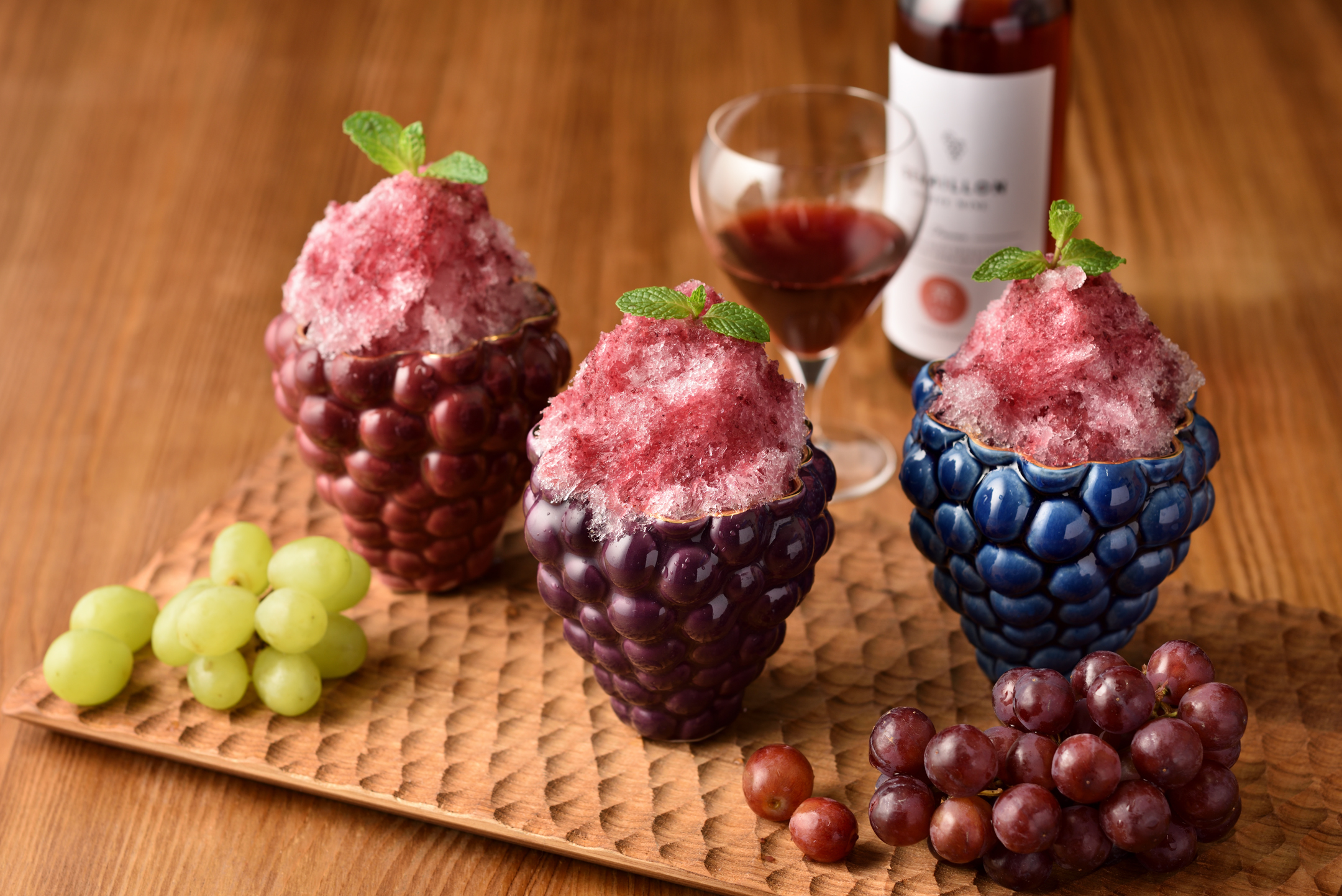 Wine Shaved Ice – KAI Matsumoto (Asama Onsen, Nagano Prefecture)
Kikyogahara located in Nagano Prefecture's city of Matsumoto is known as the birthplace of Nagano wine. At Hoshino KAI Matsumoto they serve around 50 types of wine from Kikyogahara. The shaved ice you can get at KAI Matsumoto is lathered in a syrup made from just one of those wines: the fruity Concorde. The shaved ice is served in handmade ceramic grape bowls. The alcohol has been removed from the syrup so that the shaved ice can be enjoyed by everyone.
Serving: 16:00-17:00
Location: Lobby (*Can be ordered by children)
NEW Hydrangea Shaved Ice – KAI Hakone (Miyanoshita Onsen, Kanagawa Prefecture)
Because the Hakone area is elevated hydrangea bloom for a longer period of time than other places. Trains along the Hakone Tozan Line are dubbed "Hydrangea Trains" when the flowers are blossomed as passengers can enjoy gazing at the flowers from their window seats. This shaved ice is made with blue hydrangea flavoured jelly and syrup to recreate the hydrangeas of Hakone.
Serving: 15:00-17:00 (Last Orders 16:30)
Location: Restaurant
NEW Hanairo Shaved Ice: KAI Ito (Ito Onsen, Shizuoka Prefecture)
The city of Ito has a warm climate and so locals and tourists can expect to enjoy seeing many different flowers sprout through all four seasons. The Hanairo ("flower colour") Shaved Ice captures the flowers that bloom around Ito from early to late summertime. The yellow represents the hypericum patulum, the pink the Abelia linnaea, and the blue the hydrangea that bloom in profusion by Matsukawa Lake.
Serving: 15:30-17:00 (Last Orders 16:30)
Location: Yuagari (the spot where you get out of the bath)
NEW Apple Shaved Ice – KAI Alps (Omachi Onsen, Nagano Prefecture)
Nagano is famous for its apple production. This shaved ice is made with three types of apple. Two types of syrup are concealed by ice: one that has an apple flesh-like texture and another made with fruity Bramley apples. Enjoy tasting the different flavours of each individual apple.
Serving: 15:00-18:00 (Last Orders 16:30)
Location: Irori (the sunken fireplace)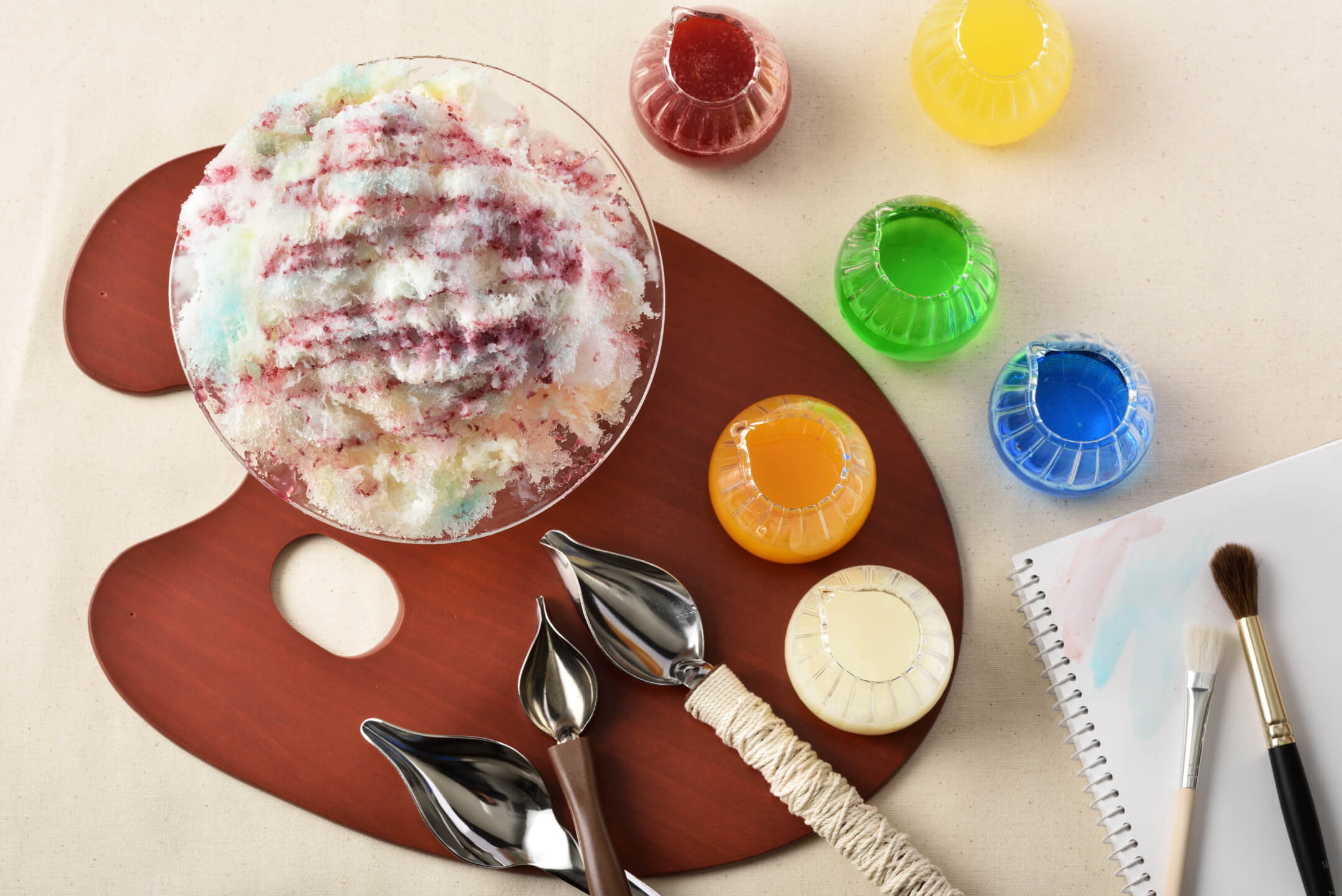 NEW Art Shaved Ice – KAI Sengokuhara (Sengokuhara Onsen, Kanagawa Prefecture)
Lots of art museums surround KAI Sengokuhara, and so to stick with the theme, this DIY shaved ice is served blank like a canvas and you get to decorate it yourself with different coloured syrups. Use spoons that look like brushes to paint on strawberry and orange coloured syrups to mix and match various flavours. The tools were handmade by glass artist Hiroshi Hamadate of ipada.
Serving: 15:00-17:00
Location: Restaurant and lobby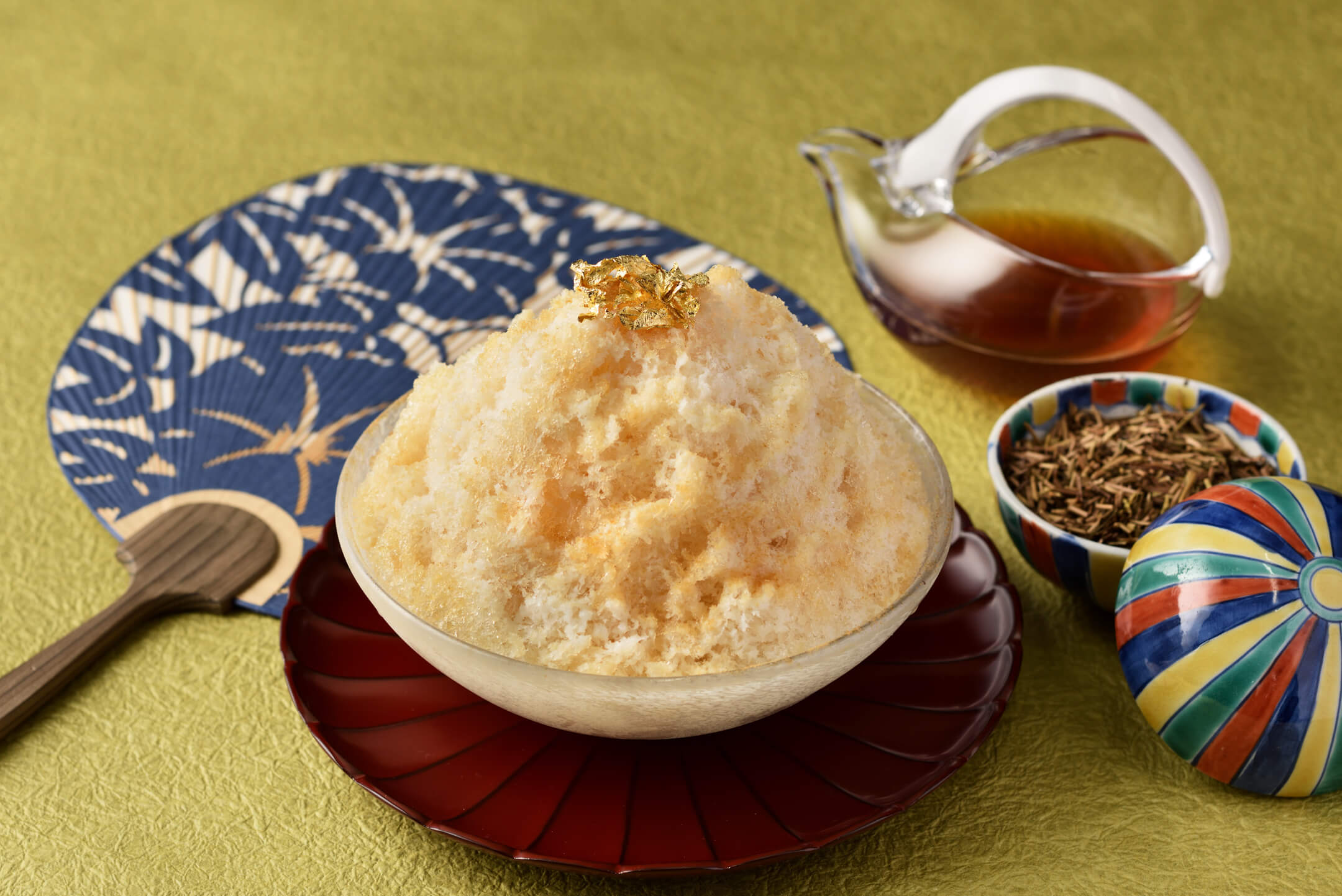 Kaga Bocha Tea Shaved Ice – KAI Kaga (Yamashiro Onsen, Ishikawa Prefecture)
Kaga Boach is a type of tea that has been adored since the Edo period for its aromatic smell and refreshing taste. This shaved ice is topped with Kaga Bocha syrup and gold leaf and is eaten from kutani-ware to give it a traditional feeling.
Serving: 18:00-20:30
Location: Travel Library
Blueberry Shaved Ice – KAI Kinugawa (Kinugawa Onsen, Tochigi Prefecture)
Tochigi is famous for its Ai Ichigo blueberries, and now you can enjoy them topped on shaved ice together with blueberry syrup. The prefecture is visited by many tourists and sightseers to go to pick blueberries in the summer. The syrup has pieces of fresh blueberry in it to retain the original sweet and sour flavour.
Serving: 15:00-16:30
Location: Restaurant
Cool yourself down this summer in Japan with one of these many tasty local shaved ices.
Information
KAI no Gotochi Kakigori 2019
Running: July 13, 2019 – August 31, 2019
Location: Respective Hoshino Resorts KAI branches
TEL: 0570-073-011 (KAI Reservation Centre)
Official Website: https://www.hoshinoresorts.com/en/brand/kai/
RELATED ENTRIES
Feel Like You're Living On Okinawa's Taketomi Island With HOSHINOYA's New 'Workation' Hotel Plan

HOSHINOYA Taketomi Island in Okinawa rolled out a new hotel plan on March 18 that's set to run until June 30 this year.

Taketomi Island can be said to be home to landscape of what Okinawa used to be, with the Ryukyuan red roof tiles of its buildings, stone walls, and alleys spread with coral sand. Someone plucks away at a three-stringed sanshinーthe Okinawan precursor to the mainland shamisenーas time flows with gentle ease on the island. Taketomi Island is rich in traditional culture which can be felt throughout.

The guest rooms at HOSHINOYA Taketomi Island emulate the island's traditional architecture. All guest rooms have south-facing windows that can be opened to let in the southern winds, which the local islanders say are lucky. HOSHINOYA Taketomi Island developed its new workation plan in response to the current situation when more people are having to do remote work and work from home. It enables people a private abode where they can work and relax simultaneously. And all the necessary amenities have been prepared for a workation.

The guest rooms at HOSHINOYA Taketomi Island are known as guest pavilions, which allow for you feel like you're living like a real islander. They are equipped with Wi-Fi, printers, pand photocopiers too, making it the perfect work environment. And you don't have to worry about hay fever as there are no Japanese cedar or cypress trees around.

The pavilions offer a beautiful view of the bright blue sky and sea. The beaches are also open from March, so you can take a dip in the springtime sea too while basking in the warm climate.

Information

Paikaji Workation

Running: March 18, 2020 – June 30, 2020
Price: From ¥278,460 (Before tax/service charge)

People: Up to 2 people per room

*70% off from the normal price. The above-listed price is calculated for 30 days of stay.

HOSHINOYA Taketomi Island

Address: Taketomi, Yaeyama District, Okinawa 907-1101

TEL: 0570-073-066

Official Website: https://hoshinoya.com/taketomijima/en/
*You must select the meal option if you require food

Witness Mount Fuji and Fully Bloomed Cherry Blossoms at HOSHINOYA Fuji

HOSHINOYA Fuji is offering a very special Hanami flower-viewing experience for guests from April 7 to 21 this year where they can observe the springtime cherry blossoms against the backdrop of Mount Fuji. Offers include cherry blossom desserts, a glamping experience inside a cabin eating curry while enjoying the scenery of the outdoors, a private outdoor dining dinner, and more.

HOSHINOYA Fuji hails as Japan's first luxury camping resort. Located on the hill overlooking Lake Kawaguchi near Mount Fuji. It offers the ultimate glamping experience, with a large outdoor terrace surrounded by nature, cabins that can be enjoyed throughout the year, and more. It's difficult to go out and enjoy the cherry blossoms on the streets right now, but if you'd still like to enjoy spring safely with your special someone, then HOSHINOYA Fuji has created a special springtime experience.

Sakura Apéro: Witness the cherry blossoms during sunset with desserts in hand

"Sakura Apéro" is a chance to take a breather and enjoy all the beauties nature has to offer. It is held in the cabin area of HOSHINOYA Fuji under the towering cherry blossom trees. Sit back, relax, and enjoy an evening treat of cherry blossom flavoured bean paste rice cake, a cup of matcha milk or a matcha cocktail, and a front row seat of the cherry blossoms as the sun sets.

Hanami on the terrace

HOSHINOYA Fuji's cabina area is built in such a way so that guests can enjoy an outdoor experience. One third of the cabin has a terrace area with an enormous window that looks out into the natural landscape. A fireplace and kotatsu is available so you can still enjoy the outdoors even inside while relaxing with a comfortable stay into the late nights. Some of the cabins offer a view of the surrounding cherry blossom trees, inviting spring into your room.

Curry made on one of Mount Fuji's lava plates

At HOSHINOYA Fuji, guests can enjoy outdoor cooking in luxury be it in one of the cabins or the dining restaurant in the forest. Those who want to relax in a cabin are recommended the "Glamping Curry" at the terrace. You grill beef and vegetables yourself on a Mount Fuji lava plate and can combine five spices of your choice to create your own original flavour. In the outdoor dining area, which is exclusive to groups of guests, game meat is also served, such as boar and deer, as well as seasonal vegetables prepared in a dutch oven. For dessert, there's cherry blossom flavoured ice cream. You can also make your own strawberry sauce using fresh strawberries over a fire to pour over your ice cream before topping it with matcha crumbles.

Due to the ongoing situation surrounding the coronavirus, all guest rooms and public areas at all HOSHINOYA facilities are being thoroughly cleaned in line with the recommended guidelines to ensure the health and safety of guests and staff. Alcohol gel is available at all HOSHINOYA facilities, and staff's health and hygiene are being consistently examined.

Information

HOSHINOYA Fuji

Address: 1408 Ōishi, Fujikawaguchiko, Minamitsuru-gun, Yamanashi

Official Website: https://www.hoshinoya.com/

Hoshino Resorts to Open New KAI Poroto Ryokan in Hokkaido in Winter 2021

Hoshino Resorts, which manages 42 ryokan inside and outside Japan serving Japanese tradition and culture, signed a partnership agreement with the town of Shiraoi in Hokkaido on June 28, 2018, which would have them open a hot spring ryokan there. It has been revealed that the new facility will be named Hoshino Resorts KAI Poroto.

Hoshino Resorts KAI Poroto. Built by Japanese architect Hiroshi Nakamura, the site will open its doors in winter 2021 as the 19th branch of Hoshino Resorts's hot spring ryokan brand KAI, of which it operates 16 in Japan. It will be the third branch of KAI in Hokkaido, following from Hoshino Resorts RISONARE Tomamu in Shimukappu village and Hoshino Resorts OMO7 Asahikawa.

Hot springs in Shiraoi, Hokkaido include moor springs, a type of organic spring water that is rare globally. KAI Poroto faces Poroto Lake, which is enveloped in nature and home to creatures such as wild birds. All rooms at the ryokan enjoy a view of the lake, as well as a chance to see the trees and flowers bloom and change in different colours throughout the seasons.


KAI's aim is to offer Japanese hospitality that can only be experienced in that town or city, and during that season, as well as to give guests a comfortable experience in a Japanese-style accommodation. At KAI Poroto, they are set to offer a completely new experience tied to Ainu culture in collaboration with the Upopoy National Ainu Museum and Park currently in development in Shiraoi.

Upopoy is scheduled to open at Lake Poroto on April 24, 2020. "Upopoy" is a word in the Ainu language that means "singing in a large group." The museum is the first national museum in Japan to be dedicated to the indigenous Ainu people. It will serve as the national center for the revival and development of Ainu culture, something which is on the verge of extinction, and it will do this by showcasing Ainu culture and history through exhibitions, hands-on programmes, performances, and more.

Hiroshi Nakamura is the architects that designed Hoshino Resorts KAI Poroto. "Poroto" is also a word in Ainu to mean "large lake." The ryokan's lobby, which is decorated with Japanese white birch, offers a view of the lake and Mount Tarumae. There are also small bath houses called kashi which have been made using Ainu architectural methods, as well as open-air baths that have you feeling like you're taking a dip in the lake.

Information

Hoshino Resorts KAI Poroto

Address: 1-1018-1 Wakakusacho, Shiraoi, Shiraoi District, Hokkaido

Construction Work Start: Mid-May 2020 (subject to change)
Grand Opening: Winter 2021 (subject to change)

Official Website: https://kai-ryokan.jp/

Goldfish Bar to Open at HOSHINOYA Kyoto For a Limited Time This Summer

HOSHINOYA Kyoto's Salon & Bar KURA is being transformed into the new Kingyo Bar ("Goldfish Bar") for a limited time from July 1, 2020 to August 31, 2020. HOSHINOYA is a chain of luxury ryokan managed by Hoshino Resorts with the Kyoto branch located in Arashiyama, Kyoto.

The gorgeous new Kingyo Bar submerges guests amongst schools of fish, and takes on the Japanese custom of "cooling off," with goldfish bowls hanging gracefully from the ceiling. Customers will be able to feel cooled off as they observe the goldfish during the summer evenings deep in Arashiyama.

Enjoy the cool evenings of Arashiyama

HOSHINOYA Kyoto's goal is for people to fully enjoy the ancient capital's summertime, hence the revamp of Salon & Bar KURA into Kingyo Bar. Fish bowls will dangle from the ceiling, which will swim elegantly, their forms illuminated by the warm light of the lamps. Customers can enjoy watching the goldfish dance while sipping on one of the bar's original cocktails.

Arashiyama is known for its history as a summer resort for the Imperial Household during the Heian Period. Since ancient times, watching goldfish has long been a creative way of cooling down from the heat of summer amongst the people of Kyoto, and you'll get to do just that at Kingyo Bar.

See traditional crafts come to life as you admire the fish

The goldfish suspended on long string in their fishbowls are strung in such a way to meet your gaze. Enjoy the twinkling light reflecting from the bowls while the goldfish, with their cute round bodies and long fins, swim around in their cool water.

Sip on cocktails

Two original cocktails will be served: the Ukikusa ("Floating Weed") and the Kyo-kago ("Kyoto Fawn"). The Ukikusa includes a crushed jelly made from Japanese pepper tree buds and mint and is topped off with a lemon liqueur and sparkling wine. The flavour and fragrance of the wine comes through after the refreshing notes of citrus fruits and herbs. The Kyo-kago includes a yoghurt granita and a strawberry and red shiso liqueur. This is combined with Bikkuri Gyoten, a foamed junmaishu.

Catch shadow goldfish to take home

Try your hand at catching goldfish with this fun game. Japanese paper is layered over the top of a fish tank to create a shadow effect. Goldfish scooping is a staple of Japanese summer festivals, and this version puts a spin on the game.

Information

Kingyo Bar

Running: July 1, 2020 – August 31, 2020
Price: Free Entry / Drinks from ¥1,000 (tax and service charge charged separately)
Reservations: Not required
Location: Salon & Bar KURA (HOSHINOYA Kyoto)
Opening Hours: 21:00-23:30
For: Guests of HOSHINOYA Kyoto only

Official Website (English): https://hoshinoya.com/en/

HOSHINOYA Guguan Chosen as Best New Hotel in the World by Travel + Leisure Magazine

HOSHINOYA Guguan, a ryokan in Taiwan managed by Japanese ryokan operator Hoshino Resorts, was picked as one of Travel + Leisure's "The Best New Hotels in the World (The It List)" on February 20, 2020.

Travel + Leisure is a New York-based travel magazine. "The Best New Hotels in the World (The It List)" shines a light on hotels around the world that have newly-opened or have been renovated that year.


HOSHINOYA Guguan opened on June 30, 2019 as the first Taiwan-based luxury hot spring resort produced by Hoshino Resorts, which manages 41 branches outside Japan. It is also the second overseas branch of the company's "HOSHINOYA" brand, whose concept is "taking a break from the modern world." It's located on the outskirts of Taichung in Guguan which is home to natural hot springs. There, it co-exists and blends in naturally with the landscape. All guest rooms have open-air baths, so guests can enjoy the warm water together with the breeze in a spacious environment. They also offer various programs for guests to enjoy Guguan's culture and natural environment.

If you're planning a trip to Taichung, why not consider staying with HOSHINOYA Guguan?

Information

HOSHINOYA Guguan

Address: 424, Taiwan, Taichung City, Heping District, 東關路一段溫泉巷16號
TEL: 0570-073-066 (HOSHINOYA Booking Centre)

Official site:https://hoshinoya.com/

Japanese Hanami 2020: Soak Up the Pink Springtime Cherry Blossoms at Hoshino Resorts KAI

KAI, a hot spring ryokan brand managed by Hoshino Resorts, has announced an exciting new experience at 14 of its branches called "Otsu na Hanami Tabi" (A Chic Flower-Viewing Trip) which will run from March 15, 2020 to May 31, 2020.

The service offers a new kind of Hanami, or flower-viewing, experience for guests that doesn't stop at just admiring the cherry blossoms, but enables them to enjoy both local history and customs too. Guests will be provided with a wicker basket of delicious Hanami goodies to enjoy, just like they did in the past.

We've picked five of the Hoshino Resorts KAI hot spring inns that we think our readers will be most interested in. Let's take a look!

Hoshino Resorts KAI Tsugaru | Aomori

Hoshino Resorts KAI Tsugaru is located in the town of Owani, which sits in southern Tsugaru in Aomori Prefecture. They are offering an exciting experience this May: "Shidare-zakura Hitorijime Taizai," which lets a single group have exclusive access to an area of seven shidare-zakura weeping cherry trees blooming in the inn's spacious garden, which sit far away from guest rooms. Those lucky enough to experience this service can sip on cider and tuck into some delicious apple pie while listening to a Tsugaru-style shamisen performance, known as tsugaru-jamisen.

Shidare-zakura Hitorijime Taizai

Running: May 1, 2020 – May 7, 2020

Price: ¥5,000 per person

No. of People: 1 group per day (2-4 people per group)

Booking: 0570-073-011 (KAI Reservation Centre)

Note: The tsugaru-jamisen performance will take place 15:30-16:30

Hoshino Resorts KAI Kawaji | Tochigi


Feel what it's like to live the life of someone living in a satoyamaーa village centred around an agricultural lifestyleーby waking up with the sunrise to start work early. Your morning job will be making tea at the watermill. You will use traditional and ancient tools like the suribachi mortar and the houroku pan to make tea grown from tea leaves in the area which you can enjoy a cup of to start your Hanami. As well as making tea, you'll be able to enjoy a quiet breakfast while gazing at the Yoshino cherry trees, so you can get that real satoyama spring experience.

Running: April 18, 2020 – April 25, 2020

Hoshino Resorts KAI Izumo | Shimane

Hoshino Resorts KAI Izumo is located in Tamatsukuri Onsen in Shimane Prefecture, where all guest rooms have their own open-air bath. The hot spring ryokan's "Sakura Koraku" experience gives you a chance to try wariko sobaーa style of soba noodles originating in Shimane's city of Matsueーunder the cherry blossom trees.

Sakura Koraku

Running: April 1, 2020 – April 20, 2020

Time: 15:00-19:00

Price: ¥500 for one Hanami picnic set for two people (5 sets prepared per day)

Booking: Hoshino Resorts KAI Izumo front reception

Notes: Rickshaw will run from April 1, 2020 to April 7, 2020 costing ¥1,300 per person. 30 minute ride. 5 groups per day (2 people per group).

Hoshino Resorts KAI Kaga | Ishikawa

Head to one of Kaga's famous weeping cherry blossom tree spots to enjoy a cup of Japanese tea prepared yourself. This plan offers the chance to experience Ishikawa culture in a spot that has been loved by locals for decades.

Running: April 1, 2020 – April 30, 2020

Hoshino Resorts KAI Aso | Kumamoto

Hoshino Resorts KAI Aso stands in Aso-Kuju National Park. Gaze at the five peaks of Mount Asoーthe largest active volcano in Japanーwhile sipping on water drawn from one of Japan's 100 famous water sources. Change up the water of the water to your liking: carbonate it, add syrup, and so on. You'll also get some refreshing fruits that have sat in carbonated water. Sit amongst the colourful flowers, like tulips and baby blue eyes, while soaking up the beautiful sights of Aso.

Tansan Ohanami

Running: April 20, 2020 – May 31, 2020

Price: ¥3,000 per person

No. of People: 3 groups per day (two people per group)

Booking: 0570-073-011 (KAI Booking Centre)

Note: In the case of rain, Tansan Ohanami will not run on that day

This is just 5 of the 14 Hoshino Resorts KAI branches offering a chic Hanami experience. If you're travelling to Japan this spring, be sure to check out what they're offering.

Experience Tokyo's Cherry Blossoms at Night With Rickshaw and Boat Rides

HOSHINOYA Tokyo, a ryokan accommodation in the centre of Tokyo, has announced an exciting new plan for guests this spring season. Titled "Tokyo Yozakurabune Asobi," the plan gives guests the chance to enjoy city's cherry blossoms under the night sky from the seat of a rickshaw and from a boat ride. It's running from March 25 to April 10 this year.

Observe Tokyo's nightscape and cherry blossoms from the Sumida River

The departing site for the boat ride is located at Nihombashi Pier, just a 5-minute car ride from HOSHINOYA Tokyo. This 60-minute night cruise begins at the pier before floating across the Sumda River. Passengers will be able to to set their gaze on a multitude of Tokyo's many beautiful cherry blossom spots, including along the coast of Tsukuda and along Oyokogawa River, amongst others.

While aboard the boat, you can enjoy tucking into a spring coloured hanami bento box and sipping on sparkling Japanese sake. Your meal will provide the perfect accompaniment to the enchanting sights your eyes will be treated to, from the dusk-basked cherry blossoms to the reflection of the city lights on the water surface.

Hanami flower viewing on a boat – a tradition since the Edo Period

When Tokyo was known as Edo, its former name used until 1868, the city thrived as a Mizu no Miyako, or "Water Metropolis" due to its sophisticated water transportation system which enabled the carrying of people and goods. During this time, the people of Edo enjoyed the waterside in many different ways. One of these was Fune Asobi, or "pleasure boating," where people would enjoy the nature along the shore throughout the four seasons. In spring, cherry blossoms would bloom along the Sumida River where some of the official buildings of the Tokugawa Shogunate were located. The Bakufu also incentivized pleasure trips of the masses, and so people would enjoy Hanami, or flower-viewing, from the boats.

HOSHINOYA Tokyo has recreated this experience to not only pay homage to the activities of Edo, but to let people enjoy a luxurious time away from everyday life.

1: Peer at the nighttime cherry blossoms and Tokyo's evening scenes from your pleasure boat

Your boat ride will take you to the best spots to see the cherry blossoms on that particular day. As night falls, you'll also get to see some of Tokyo's most famous tourist spots light up, like Tokyo Skytree and Eitai Bridge. Riverboat Mizuha, who operate the boat, will provide guests with a guide who will give them an insight into the history of the bridges, towns, and surrounding sights.

2: Overhead cherry blossoms fill your vision on the rickshaw

Experience Hanami like never before with HOSHINOYA Tokyo's rickshaw ride. Your journey begins at the ryokan and ends at Nihombashi Pier. This one-way 30-minute trip will take you to some  breathtaking cherry blossom sites, including Edozakura-dori Street which is home to many historical buildings such as the Bank of Japan.

 

3: Hanami bento and sake provided by a longstanding shop

In the evening, enjoy tucking into a decorative Hanami bento made by Shin-Kaika, a long-standing restaurant in Kanda Myoujinshita by Kanda Myoujin Shrine. The colourful and light-tasting assortment includes cherry blossom pink sea bream kombu, as well as sushi rice seasoned with kurozu. Your meal will also be paired with delicious sparkling Japanese sake. On the way back, you can also enjoy matcha and tea-flavoured confections.

Optional: Rent a springtime kimono and have it fitted on you

For those looking to spend and even more special time out this spring in Japan, they can rent a silk kimono and have it fitted onto them. You select it beforehand and it is put on you at HOSHINOYA Tokyo. They will also do your hair and makeup. And if you have it all fitted early, you can spend the day walking around Tokyo seeing the cherry blossoms. You must book to choose and have a kimono fitted.  Prices start upward from ¥50,000 per person.

Information

Tokyo Yozakurabune Asobi

Running: March 25, 2020 – April 10, 2020
Time: 17:30-19:15 (Boat ride is 60-minutes)
Meeting Place: Nihombashi Pier
No. of People: 1 group per day of 2-4 people
Price: Two People ¥102,000 / Three People ¥132,000 / Four People ¥142,000 (Tax, service charge and accommodation price not included)
Includes: Night Cruise, Rickshaw Ride, Hanami Bento, Sparkling Sake, Tea Sweets, Matcha
Bookings: Must be made up to 14 days before your selection date from the official website
Note: Exclusive to guests of HOSHINOYA Tokyo
*Schedule and content subject to change

*Depending on the bloom rate of the cherry blossoms, there is a chance they may not be seen on certain days

*Price of transport from the pier to HOSHINOYA Tokyo not included

Official Website: https://hoshinoya.com/tokyo/en

3 Breathtaking New Rooms to Open at Hoshino Resorts OMO7 Asahikawa

Hoshino Resorts OMO7 Asahikawa, a branch of Hoshino Resorts' hotels for tourists and travellers, has announced that it is opening three new room types to guests from April 1 to make their stay and travels that much better. They are the "Double Room," "Superior Room," and "Family Room."

OMO7 Asahikawa opened in Hokkaido April 2018 as the first branch of Hoshino Resorts's "OMO" brand of city tourism hotels. The hotel offers not only a great sleep, but enjoys the benefit of its location with must-see sights surrounding it, and all of this to make guests' stay the best it can be.


The hotel's Studio Rooms, formerly named the DANRAN Room before the renovation, have received praise from guests that have stayed there for offering everything they needed while being compact, as well as it being easy to kick back and relax in them. It was revealed that in 2019, the average number of people staying in a single room at Hoshino Resorts OMO7 Asahikawa was higher than the average of that in other city hotels in Asahikawa, as well as the hotel being popular for catering to tourist and sightseers' needs.

The hotel has now renovated 111 of its rooms in response to it being used by a lot of people because of its catering towards tourists' needs. It has also added the three new types of roomsーDouble, Superior, and Familyーwhich incorporate the well-received functionality of the Studio Rooms. That's 226 room renovations out of the hotel's 237 rooms.

All beds have storage space underneath them. Those travelling in big groups like families will especially benefit from this if they have a lot of luggage as they can save on plenty of space in rooms.

New rooms are furnished with new sofas and tables for maximum comfort amongst friends and family where they can talk about their trip while enjoying local drinks and snacks.

Also, in the Superior Rooms and Family Rooms, where there is a small amount of guests, beds can be folded and turned into spacious sofas.

The OMO brand promises "a reasonable price for your travels," and this rings true: the new Family Rooms start at ¥5,500, allowing an affordable stay so you can spend more on the local sights.

Room bookings will open on February 3, 2020, so if you're visiting Hokkaido, be sure to check out Hoshino Resorts OMO7 Asahikawa.

Winter is Coming: Warm Up With Hot Pot at Hot Spring Hotel Hoshino Resorts KAI

The cold weather is here, and it's only set to get colder. When winter falls in Japan, one of the best things people like to do is cook hot pot. Hoshino Resorts is offering the same service for guests this winter at 14 branches of their 'KAI' onsen ryokan (hot spring Japanese inn) brand hotels up and down Japan, with each hot pot filled with the taste of local cuisine.

Winter is truly the best time to eat hot pot for Japanese people, as they huddle around the table nice and toasty and tuck into their piping hot dinner. We're showcasing 9 of the hot pots you can enjoy at Hoshino Resorts KAI this winter season.

Hoshino Resorts KAI Tsugaru: "Gyu Shabu" – Dashi made delicious with plentiful dried tuna

KAI Tsugaru is situated in Aomori, and this hot pot is made one with one of the prefecture's most famous ingredients: tuna, which is caught during the autumn and winter seasons. The main player of this beef shabu hot pot is its dashi which is made from the sweet juices of tuna which go deliciously well with the beef. If you're looking for a hot pot that's a little different from the usual options, you'll love this one.

Running: September 1, 2019 – February 29, 2020 (Except December 29-January 1)
Plan Name: Ooma no Gaguro Zukushi Kaiseki (大間のまぐろづくし会席)
Price: From ¥24,000
Reservations: https://www.hoshinoresorts.com/en/resortsandhotels/kai/tsugaru.html

Hoshino Resorts KAI Kaga: "Kani Sukinabe" – Zuwai-gani snow crab

At KAI Kaga, which is located in Yamashiroonsen, Ishikawa, this hot pot they have cooked up is made in a kombu dashi and is filled with legs of zuwai-gani snow crab and a variety of winter vegetables like bok choy and edible chrysanthemums.

The dish makes full use of the delicious flavour of the crab. It's also served in kunitani-ware made by a young craftsman and Yamanaka lacquer ware, adding to the originality of this hot pot.

Running: November 7, 2019 – March 10, 2020 (Except December 29-January 6)
Plan Name: Katsu Kani Zukushi no Tagu Zuki Kani Kaiseki (活蟹づくしのタグ付き蟹会席)
Price: From ¥47,000
Reservations: https://www.hoshinoresorts.com/en/resortsandhotels/kai/kaga.html

Hoshino Resorts KAI Alps: "Yuki Nabe" – Thawing of spring

The hot pot at KAI Alps in Nagano includes fluffy cotton candy which is based on the snowy mountains of the alps. When you pour the soup over, the cotton candy melts, symbolising the thawing of spring, to reveal the beef and vegetables. The cotton candy adds a light sweetness to the soup as well as fun visual effect.

Running: December 1, 2019 – May 31, 2020 (Except December 31-January 3)
Plan Name: Yuki Nabe Kaiseki (雪鍋会席)
Price: From ¥25,000
Reservations: https://www.hoshinoresorts.com/en/resortsandhotels/kai/alps.html

 

Hoshino Resorts KAI Kinugawa: "Ise Ebi & Roast Beef Ryujin Nabe" – The dragon god's hot pot

KAI Kinugawa in Tochigi has created a hot pot based around the legend of the Ryuokyo dragon god, capturing its malevolence. It's cooked over stones heated to almost 800℃.The soup bubbles as the pot begins to boil and cooks the seafood and other local ingredients from Tochigi, making sure to draw every last delicious drop of flavour from them.

Running: December 1, 2019 – February 29, 2020 (Except December 28-January 4)
Plan Name: Ise Uni to Gyuu Roosu no Ryuujin Nabe Kaiseki (伊勢海老と牛ロースの龍神鍋会席)
Price: From ¥31,000
Reservations: https://www.hoshinoresorts.com/en/resortsandhotels/kai/kinugawa.html

Hoshino Resorts KAI Sengokuhara: "Uni & Beef Sukinabe" – Satisfying spices from the mountains and seas

KAI Sengokuhara in Kanagawa has created a hot pot that's made with lots of ingredients from the mountains and the seas. By using a bounty of uni, which goes incredibly well with beef, it adds a rich sweetness to the overall flavour. There is also a secret flavour hidden under it all: syrup made from the ao mikan citrus which grows in the city of Odawara. This not only adds an exquisite sourness to the hot pot, but also serves to elevate the sweetness of the uni.

Running: June 1, 2019 – February 29, 2020
Plan Name: Uni to Gyuu no Sukinabe Kaiseki (雲丹と牛のすき鍋会席)
Price: From ¥46,000
Reservations: https://www.hoshinoresorts.com/en/resortsandhotels/kai/sengokuhara.html

Hoshino Resorts KAI Ito: "Sankai Nabe" – Soaking up the mountains and seas of Ito

Shizuoka is home to KAI Ito, where guests can enjoy yet another hot pot lavish with ingredients from the mountains and the seas, like splendid alfonsino―which Ito enjoys an abundance of―as well as seasonal vegetables and beef. There are two soups to combine these ingredients with: a bouillabaisse which contains a dashi made from fish from Ito filled with splendid alfonsino and vegetables, and a beef soup.

Running: October 1, 2019 – February 29, 2020 (Except December 31-January 3)
Plan Name: Sankai Nabe (山海鍋)
Price: From ¥25,000
Reservations: https://www.hoshinoresorts.com/en/resortsandhotels/kai/ito.html

Hoshino Resorts KAI Enshu: "Tecchiri" – A taste of the Torafugu tiger pufferfish

KAI Enshu is another hot spring inn, located in Hamamatsu in Shizuoka. Their "Tecchiri" is made with Torafugu tiger pufferfish. None of the flavour of the fugu is wasted in this hot pot, and that is proven as the entire thing is made right in front of customers' eyes. The zōsui is made with a KAI Enshu-original blend of sencha green tea called souka (爽華), which ensures that element of locality is included in the dish as Shizuoka is famous for its tea.

Running: October 5, 2019 – March 31, 2020 (Except December 29-January 3)
Plan Name: Fugu Zukushi Kaiseki (ふぐづくし会席)
Price: From ¥31,000
Reservations: https://www.hoshinoresorts.com/en/resortsandhotels/kai/enshu.html

Hoshino Resorts KAI Izumo: "Kani Sukinabe" – Collaboration between Katsu Matsubagani & Shijimi

KAI Izumo is situated in Tamatsukuri Onsen, an onsen hot spring in Tamayu, Shimane. Their "Kani Sukinabe" is made with rich snow crab crab which has an exquisite sweetness and is soft in texture. From beginning to end, this hot pot is a crab party in your mouth.

Running: November 7, 2019 – March 10, 2020 (Except December 31-January 4)
Plan Name: Tagu Zuki Katsu Matsubagani Zukushi Kaiseki (タグ付き活松葉蟹づくし会席)
Price: From ¥45,000
Reservations: https://www.hoshinoresorts.com/en/resortsandhotels/kai/izumo.html

Hoshino Resorts KAI Aso: "Netakuri Nabe" – Rich miso and cheese

The base of the soup in KAI Aso, located in Kumamoto, is a mix of milk from Jersey cattle and miso. It contains wagyu Japanese beef and seasonal vegetables. Its appearance is based on the Aso Caldera region of Kumamoto Prefecture and its incredibly vast grasslands.

Running: September 1, 2019 – February 29, 2020 (Except December 29-January 3)
Plan Name: Wagyuu to Caciocavallo o Tanoshimu Netakuri Nabe (和牛とカチョカヴァロを楽しむねたくり鍋)
Price: From ¥46,000
Reservations: https://www.hoshinoresorts.com/en/resortsandhotels/kai/aso.html

Below is a video which showcases each of these local hot pot dishes, so be sure to check it out if you're not already watering at the mouth


All of these hot pots are made with only the best local ingredients as expected of KAI, and all are available for the rest of winter only. Guests can experience the local regions not only through the food, but in the tableware each hotel uses. If you're in Japan this winter, be sure to book with one of the many Hoshino Resorts KAI branches and stay warm with a delicious serving of hot pot.

Cosy Up in the Snow Huts This Winter at Hoshino Resorts KAI

Hoshino Resorts is once again bringing its kamakura snow huts to two of its KAI hotelsーa brand of hot spring hotels. You'll catch them at Hoshino Resorts KAI Tsugaru and Hoshino Resorts KAI Alps from February 1 to 29 next year.

KAI Tsugaru: Beautiful Koginzashi Stitched Lanterns Light Your Way

Koginzashi is a type of sashiko stitch work famous in the Tsugaru region. Japanese kogin designer Iemasa Yamahata has designed 50 beautiful Kogin lanterns for Hoshino Resorts' KAI Tsugaru hot spring hotel, which is hidden away in the town of Owani in southern Tsugaru, Aomori.

When you arrive at KAI Tsugaru, follow the lanterns along the snow and you'll arrive at the kamakuraーa type of Japanese igloo built in northern Japan for winter festivals. Multiple objects, big and small, have been designed with koginzashi, so guests can enjoy this beautiful art form.

Cosy up inside your secret snow hut and enjoy some tasty chocolate with cute koginzashi designs made by a local Japanese confectionery shop. Order a hot cocktail too made using apples grown in Aomoriーa prefecture famous across the country for its apples. There's a non-alcoholic cocktail option too.

You'll also find an original card game inside the huts created by the KAI Tsugaru staff. It's called "Kogin Awase" and works like the card game Pairs. What could be better than sat warm inside an igloo, eating sweets and drinking while playing a card game?

KAI Alps: Enjoy Life as a Yukinko Snow Child

Turn back into a child and experience young life in the snow country of the Shinano Province (now Nagano Prefecture) with the Shinshū Kamakura Yukinko Experience.

In the harsh cold and knee-deep snow environment of Shinano, people would take anti-snow measures by wearing things like the straw raincoat known as a mino, a traditional winter coat called a hanten, and other things. Guests can do the same and dress up to become a child of the snow, known as a Yukinko. You'll forget about the snow before you even realise it.

In old Japanese houses, friends and family would gather around an iroriーa sunken fireplace. You'll find these dotted around the public space at KAI Alps too, where you can sit around and enjoy the crackling and warmth of the fire. There will also be hand warmers and shiruko sweet porridge too so you can rest assured you won't go cold.

Experience life in the snow at Hoshino Resorts KAI this winter.

Information

KAI Tsugaru – "Kogin Kamakura"

Running: February 1, 2020 – February 29, 2020 (Subject to change depending on snowfall)

Time: 18:20-18:45/18:50-19:15/19:50-20:15/20:20~20:45

Price: ¥1,500 per person (includes snow hut entry, confections, and 1 drink)

*Alcoholic/non-alcoholic cocktail options available

Reservations: Available from the front desk on the day

*Reservations mandatory

KAI Tsugaru

Address: Kamibotanmori-36-1 Ōwani, Ōwani-machi, Minamitsugaru District, Aomori Prefecture

Website: https://www.hoshinoresorts.com/resortsandhotels/kai/tsugaru.html

KAI Alps – "Shinshū Kamakura Yukinko Experience"

Running: February 1, 2020 – February 29, 2020 (Subject to change depending on snowfall)

Time: Kamakura Light-Up 17:00-21:00 / Yukinko Dress-Up 15:00-21:00 / Winter Stroll Preparations 20:00-21:00

No. of People: 4

Price: Free

Reservations: Not required

KAI Alps

Address: 2884-26 Taira, Ōmachi-shi, Nagano Prefecture

Website: https://www.hoshinoresorts.com/resortsandhotels/kai/alps.html

Hoshino Resorts KAI Official Website: https://www.hoshinoresorts.com/brand/kai/

Chat and Eat Japanese Sweets With a Real Maiko at Hoshinoya Kyoto

Hoshinoya Kyotoーa Japanese inn in Arashiyama where all rooms offer a river viewーhas announced a new event titled "Maiko Salon" which will run next year from February 4 to March 4 which offers female guests the chance to chat with a maiko (an apprentice geisha).

Maiko Salon is a women-only get-together that offers female guests to chat casually with a real maiko. The clothes that a maiko wears, including the kanzashi ornate hairpin, kimono, obi sash, obidome sash clip, okobo footwearーeverything, from head to toeーis carefully crafted by an expert artisan. This is why maiko have been called "walking pieces of traditional craftsmanship." At the Maiko Salon, you have the opportunity to wear such craft made in Kyoto and enjoy a sophisticated womanly party.

For example, the table runners are made with Nishijin-ori, a type of fabric made in Kyoto's district of Nishijin that has a history spanning over 1,000 years. The walls will also be decorated with obi cloth art panels with Maiko motifs.

Learn all about the Hanamachi geisha district through womanly conversation

Being entertained by geisha, known in Japanese as Ozashiki Asobi, is associated with maiko and geisha serving and entertaining men, and as being very private and inaccessible without being introduced by someone else. But since 2018, Hoshinoya Kyoto has been holding this women-only occasion for women to learn more about the culture in a casual environment. It's a chance to learn more about maiko and their lifestyle through womanly topics like skincare, makeup and so on. There will also be a dance performance, after which attendees can ask about the practises of a maiko, what they think of their work, and so on.

Edible Kanzashi Ornate Hairpins

An original Japanese confection made to look like kanzashi ornate hairpins has been whipped up in 5 flavours by Kameya Yoshinaga, a long-standing Japanese confectionery maker which first opened almost 200 years ago. Enjoy together with sparkling wine during your time with the maiko.

Information

Maiko Salon

Running: February 4, 2020 – March 4, 2020 (Not running on select days)

Price: Free

Bookings: Not required

Location: Salon & Bar Kura (Hoshinoya Kyoto)

Time: 16:00-17:00 (Maiko dance held twice daily)

Includes: Conversation with maiko, maiko performance, Japanese confection, sparkling wine

For: Guests at Hoshinoya Kyoto only (Men can also participate)

Notes: Times and days subject to change on certain days. The confections are also subject to change.

Hoshinoya Kyoto Official Website: https://hoshinoya.com/en/

Hoshino Resorts to Open New Facilities in Okinawa, Hawaii & 3 More Places

Hoshino Resorts opened HOSHINOYA Guguan in Taiwan in June and Iriomotejima Hotel in Okinawa in October this year. It will also open Risonare Nasu in November. The hotel chain has now just announced that it will open 5 more new facilities in 2020, pushing the number of locations they manage up to 45 next year.

Iriomotejima Hotel

Risonare Nasu

Hoshino Resorts prides itself on offering a hotel experience that makes use of local regions as well as offering unique experiences. With their catalogue of facilities now set to increase, the company has a released a video detailing the five new hotels.

The five new hotels will open in Hawaii, Nagato in Yamaguchi Prefecture, Tsuchira in Ibaraki Prefecture, Kohama Island in Okinawa Prefecture, and mainland Okinawa.

The Hawaii hotel, named Hoshino Resorts Surf Jack Hawaii, describes itself as an "ohana-friendly retro boutique hotel with a satisfying Waikiki experience."

Nagato, Yamaguchi will give rise to the 16th hotel in Hoshino Resorts' brand of KAI hotels, named KAI Nagato. It will open in the Yumoto Hot Spring area and be inspired by Yamaguchi's traditional tea houses as well as buke samurai culture. Look forward to bathing in the hot springs of this traditional Japanese inn, steeped in history and culture.

Over in Ibaraki Prefecture, Hoshino Resorts will open Japan's biggest cycling resort, named Hoshino Resort BEB5 Tsuchiura, which we covered earlier this month. It will act as a "base camp" to enjoy cycling, with its core concept being "more an izakaya and less travel-focused where you can enjoy a laid-back time with friends." It hopes to put a new spin on travel by combining the worlds of cycling and accommodation.

Okinawa is getting three new hotels. Hoshino Resorts Risonare Kohama will feature 60 rooms each their own private villas. Its concept is "a private beach resort on a remote island swimming with the manta rays" and will offer a beach and resort-like experience to guests with views of the white sand and blue ocean.

HOSHINOYA Okinawa will be inspired by gusuku which refers to castles in the Ryukyu Islands that feature stone walls, with the hotel itself being enveloped in one. The hotel will be surrounded by the gorgeous ocean and coast, offering that quintessential Okinawan resort experience.

The tables at Hoshino Resorts Banta Cafe will offer a breathtaking view of Okinawa's grand seas, with a menu serving food and drink made with Okinawan ingredients.

2020 is looking to be a big year for Hoshino Resorts as it begins expansion. If you're travelling to Japan, why not check if one of their hotels is near where you're looking to stay?