Taste Local Shaved Ice Around Japan at Hoshino Resorts KAI
Hoshino Resorts KAI is set to hold a shaved ice event titled KAI no Gotochi Kakigori 2019 at several branches of KAI from July 13 to August 31. The event will allow people to enjoy tasting the different syrups and toppings served with shaved ice in each local area.
Shaved ice is a staple of Japanese summertime. People in Japan have enjoyed the ice-based dessert for many years. It is even mentioned in The Pillow Book, a famous collection of poems, essays and observations by the court lady Sei Shōnagon.
KAI's line-up of original shaved ice both ensures you will pull through the hot weather as the dessert was designed for while enjoying a fun time. Each option incorporates local flavours. Let's take a look at some of them.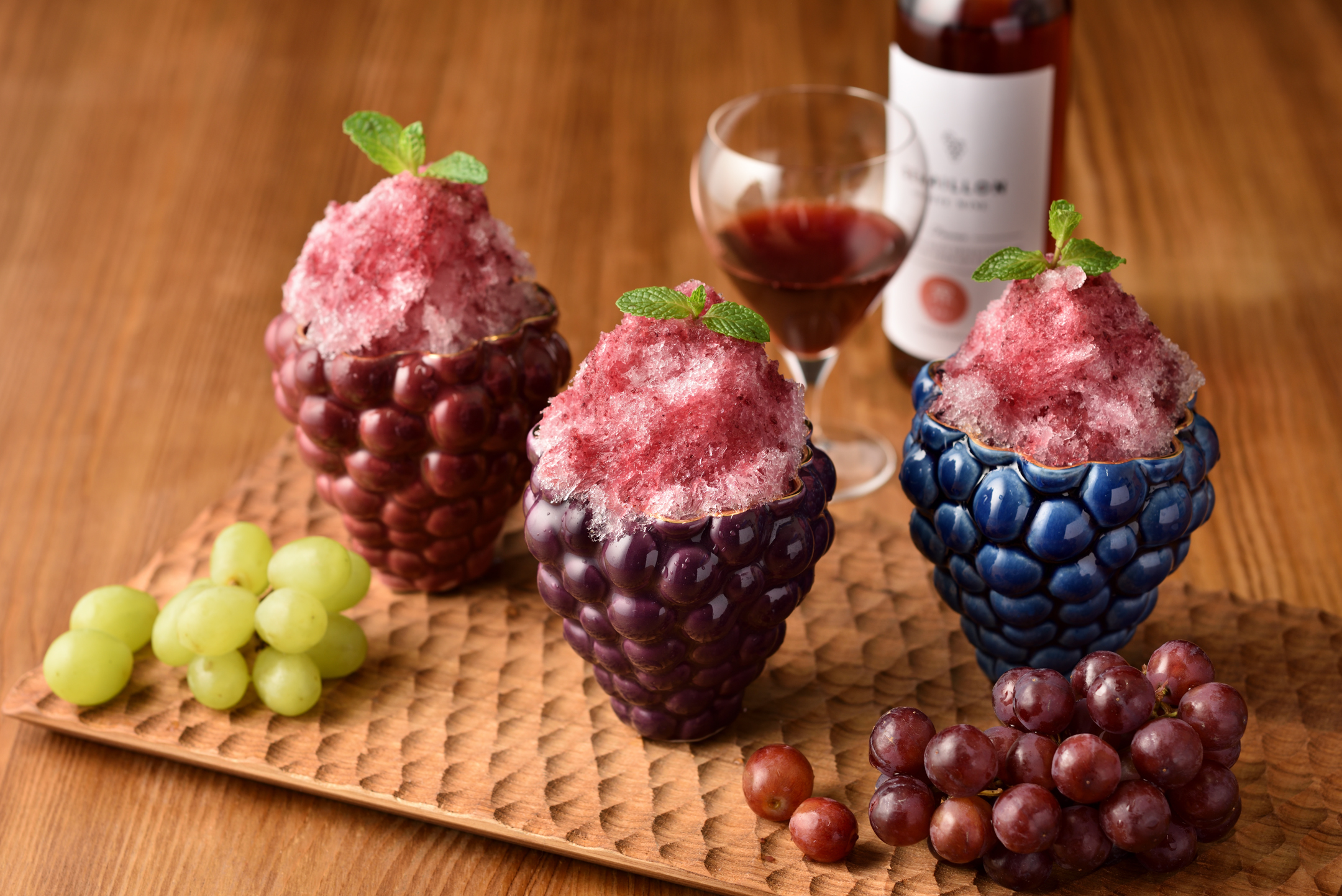 Wine Shaved Ice – KAI Matsumoto (Asama Onsen, Nagano Prefecture)
Kikyogahara located in Nagano Prefecture's city of Matsumoto is known as the birthplace of Nagano wine. At Hoshino KAI Matsumoto they serve around 50 types of wine from Kikyogahara. The shaved ice you can get at KAI Matsumoto is lathered in a syrup made from just one of those wines: the fruity Concorde. The shaved ice is served in handmade ceramic grape bowls. The alcohol has been removed from the syrup so that the shaved ice can be enjoyed by everyone.
Serving: 16:00-17:00
Location: Lobby (*Can be ordered by children)
NEW Hydrangea Shaved Ice – KAI Hakone (Miyanoshita Onsen, Kanagawa Prefecture)
Because the Hakone area is elevated hydrangea bloom for a longer period of time than other places. Trains along the Hakone Tozan Line are dubbed "Hydrangea Trains" when the flowers are blossomed as passengers can enjoy gazing at the flowers from their window seats. This shaved ice is made with blue hydrangea flavoured jelly and syrup to recreate the hydrangeas of Hakone.
Serving: 15:00-17:00 (Last Orders 16:30)
Location: Restaurant
NEW Hanairo Shaved Ice: KAI Ito (Ito Onsen, Shizuoka Prefecture)
The city of Ito has a warm climate and so locals and tourists can expect to enjoy seeing many different flowers sprout through all four seasons. The Hanairo ("flower colour") Shaved Ice captures the flowers that bloom around Ito from early to late summertime. The yellow represents the hypericum patulum, the pink the Abelia linnaea, and the blue the hydrangea that bloom in profusion by Matsukawa Lake.
Serving: 15:30-17:00 (Last Orders 16:30)
Location: Yuagari (the spot where you get out of the bath)
NEW Apple Shaved Ice – KAI Alps (Omachi Onsen, Nagano Prefecture)
Nagano is famous for its apple production. This shaved ice is made with three types of apple. Two types of syrup are concealed by ice: one that has an apple flesh-like texture and another made with fruity Bramley apples. Enjoy tasting the different flavours of each individual apple.
Serving: 15:00-18:00 (Last Orders 16:30)
Location: Irori (the sunken fireplace)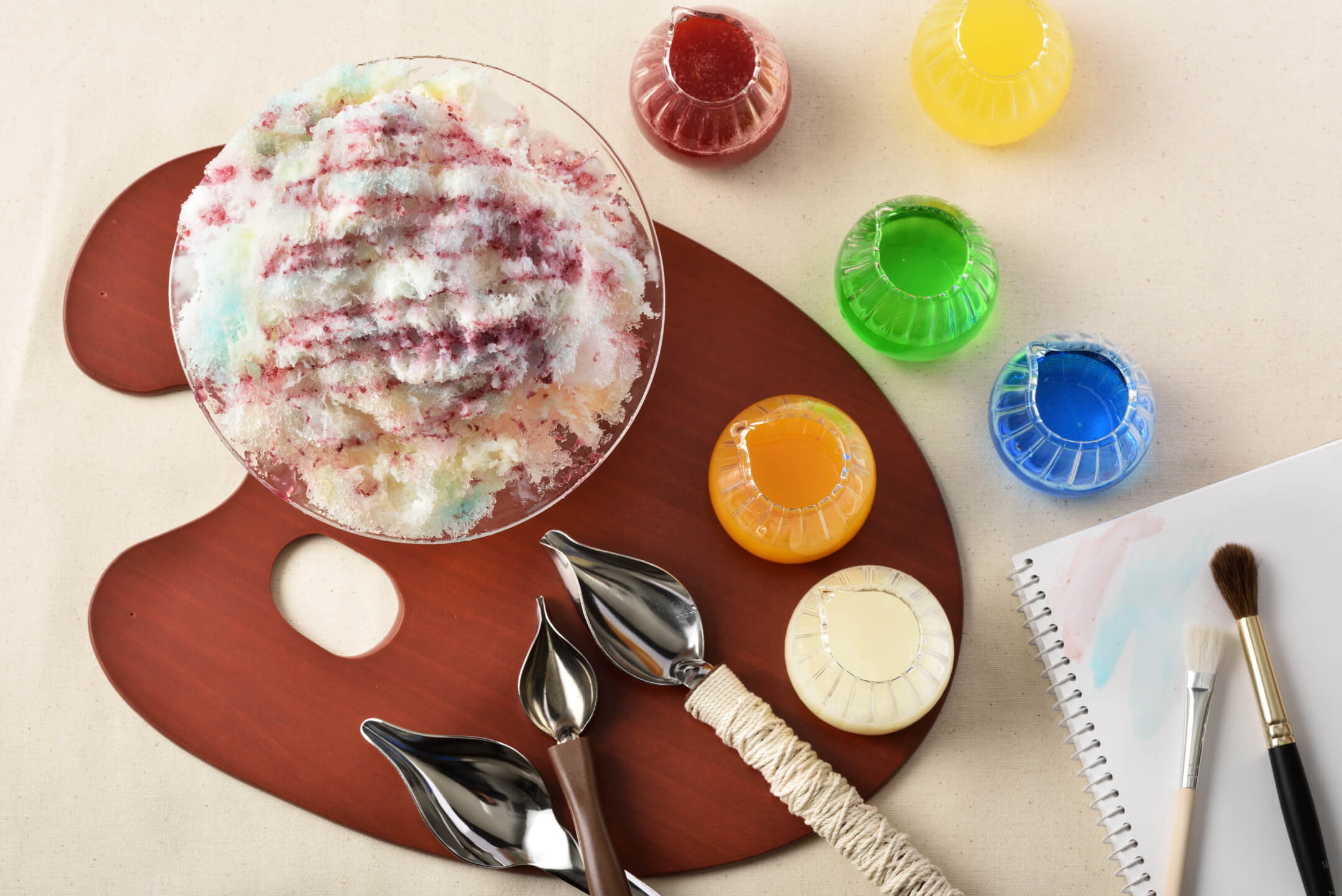 NEW Art Shaved Ice – KAI Sengokuhara (Sengokuhara Onsen, Kanagawa Prefecture)
Lots of art museums surround KAI Sengokuhara, and so to stick with the theme, this DIY shaved ice is served blank like a canvas and you get to decorate it yourself with different coloured syrups. Use spoons that look like brushes to paint on strawberry and orange coloured syrups to mix and match various flavours. The tools were handmade by glass artist Hiroshi Hamadate of ipada.
Serving: 15:00-17:00
Location: Restaurant and lobby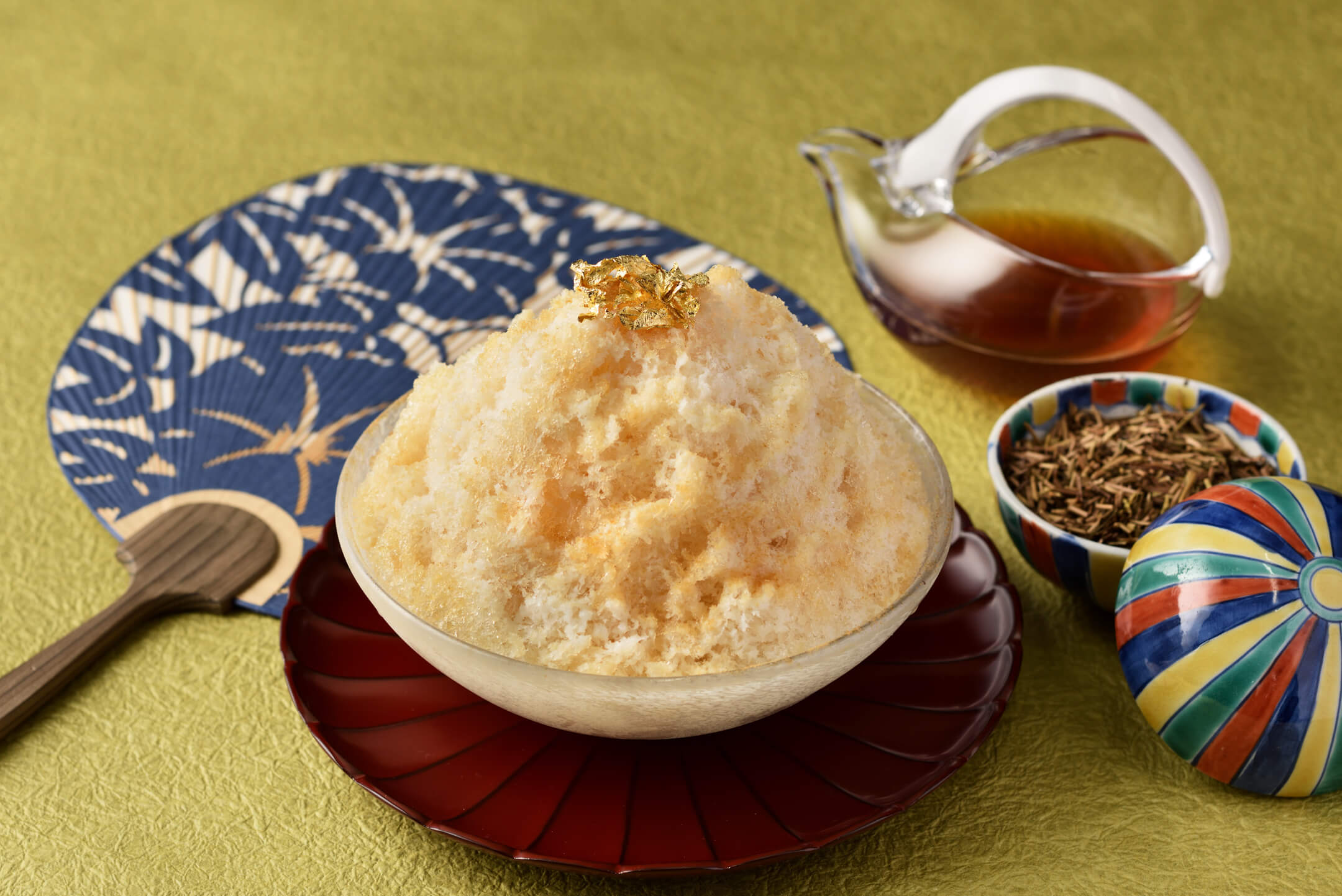 Kaga Bocha Tea Shaved Ice – KAI Kaga (Yamashiro Onsen, Ishikawa Prefecture)
Kaga Boach is a type of tea that has been adored since the Edo period for its aromatic smell and refreshing taste. This shaved ice is topped with Kaga Bocha syrup and gold leaf and is eaten from kutani-ware to give it a traditional feeling.
Serving: 18:00-20:30
Location: Travel Library
Blueberry Shaved Ice – KAI Kinugawa (Kinugawa Onsen, Tochigi Prefecture)
Tochigi is famous for its Ai Ichigo blueberries, and now you can enjoy them topped on shaved ice together with blueberry syrup. The prefecture is visited by many tourists and sightseers to go to pick blueberries in the summer. The syrup has pieces of fresh blueberry in it to retain the original sweet and sour flavour.
Serving: 15:00-16:30
Location: Restaurant
Cool yourself down this summer in Japan with one of these many tasty local shaved ices.
Information
KAI no Gotochi Kakigori 2019
Running: July 13, 2019 – August 31, 2019
Location: Respective Hoshino Resorts KAI branches
TEL: 0570-073-011 (KAI Reservation Centre)
Official Website: https://www.hoshinoresorts.com/en/brand/kai/
RELATED ENTRIES
Tokyo's Craft Chocolate Shop nel Releases Cacao Kintoki Shaved Ice Desserts

nel craft chocolate tokyo, a craft chocolate shop located in Nihonbashihamacho, Tokyo, released two chocolate shaved ice desserts last Wednesday for the hot summer season. The desserts are also being sold at Saryo Tsukikage, a restaurant inside the hot spring ryokan Yuen Bettei Daita in Setagaya.


Left: Cacao Kintoki | Right: White Cacao Kintoki

Cacao kintoki is a type of shaved ice made with specially-selected cacao beans from Vietnam. It uses a 'bean to bar' method where the shaved ice is made from scratch, roasting the beans fresh to create the dessert.

The two new treats at nel use a chocolate base and add cacao pulp to the mix, adding a natural fruity flavour derived from the bean. Each is also served with a special cacao sauce for extra flavour. The white cacao version is made by combining with in-house white chocolate. It also comes with an Okinawan passion fruit and cacao pulp sauce, resulting in a sour kick and refreshing taste.

Saryo Tsukikage

The open-air baths at Yuen Bettei Daita

A special matcha version of this shaved ice can also be enjoyed while bathing in the open-air baths at Yuen Bettei Daita. It's made with nel's homemade white chocolate as well as dark chocolate, cacao pulp, and specially-selected yame matcha from Shimokita Chaen Ōyama, a cafe in Setagaya.

Enjoy Breakfast Fruits While Gazing at Mount Fuji at this Glamping Experience

HOSHINOYA Fuji, a hotel which opened as Japan's first glamping resort, has announced the Glamping Fruits Breakfast summer plan which is set to run from June 20 to August 31.

HOSHINOYA Fuji is located in Japan's prefecture of Yamanashi, a place that enjoys a bounty of fruit cultivation. Yamanashi has been called the "Fruit Country," offering a variety of different fruits. In fact, it has been the biggest producer of peaches, grapes, and plums in Japan for over 10 year. The glamping masters of HOSHINOYA Fuji have had knowledge bestowed on them from the growers of these sweet gems who have advised on the safety and best ways to prepare land for fruit growing, characteristics of fruits grown throughout the year, and other means of support. Now, guests at HOSHINOYA Fuji are set to serve these fruits to guests at breakfast this summer.

Dine outdoors from a terrace with a breathtaking view

Guests will enjoy their breakfast out on a sofa on a private terrace that overlooks Mount Fuji and Lake Kawaguchi. With the support of the hotel's Glamping Master, food will be prepared outdoors using a skillet and burner. The main dish is roasted peaches made with bacon and fresh herbs. The salty bacon and sweet peach make for a delightful combination. Best of all, ingredients and condiments are all prepared for guests in advance so they can enjoy a hands-free outdoor experience.

Indulge in high quality fruits

Eight varieties of fruit are available during the breakfast experience including peaches, Shine Muscat, pione, and more. And only the tastiest fruit is served to customers.

An optional tour is available with the plan which offers guests a chance to depart HOSHINOYA Fuji early in the morning to visit a peach farm in the city of Fuefuki. Guests are given exclusive access to the farm where they can learn all about how the peaches are grown from the farmers. At the end, they can tuck into some freshly-picked peaches with a glass of sparkling wine in hand.

Information

Glamping Fruits Breakfast
Running: June 20, 2021 – August 31, 2021
Location: HOSHINOYA Fuji / Fuefuki Peach Farm
Time: 7:30-10:00
Capacity: One group of up to 3 people per day
Bookings/Details: https://hoshinoya.com/fuji/ (Bookings must be made 2 weeks in advance)
Note: Ingredients and menu subject to change

Relax With Cows and Sheep at Hoshino Resorts Tomamu in Hokkaido

Hokkaido's largest hotel resort Hoshino Resorts Tomamu is set to open its enormous new 100-hectare farm area this summer for a limited time between July 1 and September 30. Guests are invited to sit and lay amongst the farm's animals during the warm season.

Relax in nature

The farm area was originally an agricultural ground home to around 700 cows. Hoshino Resorts Tomamu wanted to bring the space back to its origins for people to enjoy, and so it is now operating as 100s hectares of farmland. The resort has offered a range of limited-time experiences on the land in the past, such as the Cow & Daytime Nap Hammocks where people can doze on hammocks and count the sheep, as well as the Pasture Lounge, and more.

What to expec

Inhale the smells of nature while laying on some comfy beds

Guests are invited to kick back and relax on a warm and cosy bed spanning 30 meters. Its large size means you don't have to come into close contact with everyone, enabling you to enjoy yourself withour worry. Cushions and blankets are also prepared.


Soak up the sights and sounds of the farm

The cows on the grass

Hammocks for a siesta snooze

Yagi the Postman

Information

Farm Beds

Running: July 1, 2021 – September 30, 2021

Price: Free

Time: 10:00-16:00

Location: Hoshino Resorts Tomamu Farm Area

Note: Accessible to hotel and daytrip guests 

*Will not run if the weather is bad

Official Website: https://www.snowtomamu.jp

Experience Japan's Rainy Season Hydrangea With This Special Hotel Plan

Hoshino Resorts KAI Hakone has announced a special hydrangea-themed hotel plan for Japan's rainy season which will run from June 12 to July 4.

Hydrangeas bloom before guest room benches

At KAI Hakone, there is a special guest room with an outdoor bench seating area which looks out into the green forest. Hydrangeas will bloom, providing a gorgeous backdrop as guests enjoy the sounds of the Sukumogawa River.

Hydrangea accessory kit

Guests will be given an accessory kit in their rooms to make their own flower accessories from hydrangea leaves and wooden mosaics. These accessories can be fitted to yukata, used as piercings, and more to serve a Japanese summer vibe.

Enjoy hydrangea sweets and shaved iced

Guests can turn their rooms into a little tearoom with the wooden mosaic plaques provided on which they can tuck into a range of hydrangea-flavoured sweets and desserts along with a cup of matcha. The shaved ice is a KAI Hakone-original made with jelly and syrup coloured purple with hydrangea.

The hydrangea is perhaps the most celebrated flower in all of Hakone, arriving in early summer. It's hailed in a variety of ways, one of the most popular being the Hydrangea Train, a nickname given to the train that runs from Odawara Station to Gora Station. Passangers are treated to an incredible view out the train window as their vision is filled with vivid hydrangea flowers.

This year marks the second that KAI Hakone is offering its seasonal hydrangea plan. If you're able to visit during this time, don't miss out.

Deliciously Luxurious Matcha Shaved Ice to be Served in Shinjuku This Summer

This summer, Southern Tower Dining and Lounge South Court—both of which are located inside Odakyu Hotel Century Southern Tower—are serving up a fluffy matcha shaved ice dessert called Wa -Nagomi- from June 1 to September 30.

Southern Tower's Famous Fluffy Light Snowfall Wa -Nagomi- Shaved Ice | Eat In ¥1,470, Takeout ¥700

The matcha-flavoured shaved ice has a texture as light and fluffy as snow. As you spoon through the dessert your taste buds are met with a range of delicious tastes and textures like the Japanese rice flour confection known as gyuhi, winter melon syrup, black soybean flour ice cream, and cream.

The dessert can also be ordered for takeout. The black soy bean flour ice cream adds a crunchy cereal-like texture to the soft shaved ice, and with the takeout option, there's also chocolate-coated wheat bran and brown sugar syrup.

Information

Wa -Nagomi-

Japanese Name: 和 -なごみ-

Serving: June 1, 2021 – September 30, 2021

Where: Southern Tower Dining / Lounge South Court (Odakyu Hotel Century Southern Tower Floor 20F)

Address: 2-2-1 Yoyogi, Shibuya, Tokyo

Opening Hours:

[Southern Tower Dining] 11:30-16:00 (Last Orders 15:00) / 17:30-22:00 (Last Orders 21:00)

[Lounge South Court] 10:00-23:30 (Last Orders 22:30)

Southern Dining Official Website: https://www.southerntower.co.jp/restaurant_lounge/st_dining/bar_lunch/

HOSHINOYA Tokyo's New Hotel Plan Lets Guests Cool Down in the Summer With an Edo Period Stay

HOSHINOYA Tokyo is shining the spotlight on Japan's Edo period culture once again this summer with a new hotel stay experience, Edo Suzumi ("Edo Cooling Down"), which will run from June 1 to August 31.

Air cons are common in Japan, but they didn't exist during the Edo Period. The people of Edo therefore had to find alternatives for cooling down during the hot Japanese summer heat. HOSHINOYA Tokyo's new hotel plan will showcase just this by preparing special guest rooms for cooling off, making tsuri shinobu ornamental plans, making tea with both Japanese and Chinese ingredients, and more. Desserts made with sweet sake, something which townsfolk enjoyed drinking during the cool summer evenings, will also be served when the sun sets.

Edo Suzumi: 3 Things to Look Forward to

1. Guest rooms specially prepared with the Edo Period in mind

Guest rooms will be decorated with cool indigo-dyed cloth. They will also feature a number of things that the people of Edo observed to cool down during the summer blaze, such as goldfish, tsuri shinobu, seasonal flower prints, and more. The colour blue reminds one of water and so when seen it is said to make one feel cooler by reducing the pulse, number of breaths, and blood pressure.

Guests will be able to make their very own tsuri shinobu, a decorate hanging fern made from moss and bamboo which is suspended like a wind chime to create the same refreshing sensation during summer.

2. HOSHINOYA Tokyo's new Suzumi Seats cool you off in the evenings

In the evenings, water will be sprayed on the hotel plaza floor, in the same area as where the new Suzumi Seats are. During the Edo Period, people would lay out suzumidai seats and sit outdoors in the evenings when the temperature drops. At HOSHINOYA Tokyo, guests can do the same while enjoying a sweet sake parfait made with seasonal peach compote and edamame mousse. Sweet sake has a good balance of glucose and amino acid, and so people during Edo times would drink it to replenish nutrients and cool down their body.

3. New tea blends with Japanese and Chinese ingredients

Ice was a valuable resource during the Edo Period, and so it's said that many people would drink hot drinks during the summer and cool off by sweating. Various ingredients were sold for making tea in the towns, such as loquat, liquorice, cinnamon, and more, which would be mixed together. Guests will be able to try making their own original tea blends.

Summer cooling was a big part of Edo culture and a way of life that was experienced using all of the senses, such as hanging chimes and ferns, observing goldfish, and more. This unique life can now be experienced at HOSHINOYA Tokyo this summer.

Information

Edo Suzumi

Japanese Plan Title: 江戸涼み滞在

Running: June 1, 2021 – August 31, 2021

Where: HOSHINOYA Tokyo
Bookings: https://hoshinoya.com/tokyo/ (Must be made 14 days in advance)

Price: From ¥59,000 (1 room for 2 people. Tax, service charge, and accommodation not included)

Capacity: 1 group of up to 2 people per day

Notes: For guests of HOSHINOYA Tokyo staying in the Kiku (菊) rooms
Official Website: https://hoshinoya.com/en/

Get Wet at This Rain Themed Event at Hoshino Resorts RISONARE Yatsugatake

Hoshino Resorts RISONARE Yatsugatake is calling for the rain this summer with the announcement of its Yatsugatake Fure Fure Sky event. The event will see over 1,000 fure fure bozu strung up—small handmade dolls to pray for the rain—along the 150-meter main street Green Pepper Avenue. The dolls act as the opposite of the more well known teru teru bozu dolls which are used to prevent rainy days.

Rain is something that's always on the mind of travellers who hope for a dry trip when they reach their destination. This event however takes advantage of the rainy days to turn it into something to be enjoyed.

Yatsugatake Fure Fure Sky: 3 Things to Enjoy

The grand spectacle of the rain and over 1,000 dolls

Colourful fure fure bozu will line Green Pepper Avenue which serve as gorgeous decorations. There are eight colours to be spotted which represent the Yatsu in Yatsugatake meaning "eight" in Japanese.

Enjoy the sight and sound of the rainfall in the Rainy Domes

Sit inside your very own dome along Green Pepper Avenue and enjoy the sounds of the tapping rain. This is an experience that is best enjoyed when it rains, meaning praying for the rain is a must. It's a chance to enjoy the rain without getting wet while sipping on wine and tucking into some light food.

Times: 11:00-16:00
Price: Free

Location: Green Pepper Avenue

Snap some photos in the rain wearing a Fure Fure Poncho

Inside the activity centre, visitors can rent their very own Fure Fure Poncho. This means they can head out in the rain and enjoy the sounds of the rain hitting their poncho, which is available in three different colours and all sizes for the family.

Times: 9:00-18:00

Price: Free

Location: Activity centre

Notes: Exclusive to Hoshino Resorts RISONARE Yatsugatake guests

Information

Yatsugatake Fure Fure Sky

Running: June 1, 2021 – July 11, 2021
Times: 9:00-18:00


Price: Free

Location: Green Pepper Avenue (Japanese Name: ピーマン通り)

Official Website: https://risonare.com/yatsugatake/

Go Diving in Fuji Five Lakes' Lake Mototsu in Summer 2021

This summer, glamping resort HOSHINOYA Fuji is offering guests a diving experience into the crystal clear Lake Mototsu, the third largest of the Fuji Five Lakes. The diving tour comes as a chance for people to reconnect with nature during the troubling COVID-19 times – to unwind and refresh.

A magical scene of lava, large trees, and freshwater fish

Lake Mototsu is one of Japan's most popular freshwater diving spots. There are restrictions in place for for boats when riding across the beautiful lake, which shimmers crystal clear because of water welling rather than flowing. Divers will be able to spot lake prawns, tachysurus nudiceps, and other lake life which sprouted during the Jōgan eruption in 864. Lava poured from Mount Fuji and created a space for the lake to form. Other sights under the lake include towering trees standing silently over 10-meters in height, water spurting up from holes, and more.

An expert guide will take you to the diving spots

The lava belt

Water swells from the holes

Submerged trees sit silently

Divers will be taken on a tour by a well-versed guide with 21 years in the industry who will lead them to spots based on guests' interests. The experience welcomes both beginner and veteran divers.

An afternoon nap in the forest tents

Due to the breathing control and water pressure that diving exerts, rest is important, and so HOSHINOYA Fuji has prepared a place for divers to enjoy an afternoon nap. They can enjoy the sounds of the forest as they lay suspended between the trees in a hammock-like tent.

Information

Freshwater Diving

Running: July 1, 2021 – August 31, 2012

Where: HOSHINOYA Fuji

Times: 11:00-18:00
Capacity: One group per day (up to two people)

Price: ¥35,000 per person (doesn't include tax, service charge, or accommodation fee)
Bookings: https://hoshinoya.com/fuji/  *Must be made 3 weeks in advance

Enjoy a Picnic Under Okinawa's Starry Night Sky on Taketomi Island

HOSHINOYA Taketomi Island, a hotel resort in Okinawa, is bringing back its night time picnic plan this year where guests can sit on sofas by the beachside with the gorgeous starry sky overhead. The plan is called "Hoshi Furu Yoru no Teingaara Picnic" (Starry Night Milky Way Picnic). Teingaara (てぃんがーら) is Okinawan for the Japanese word for Milky Way (Ama no Gawa, 天の川). It will run from June 1 to August 31.

Gaze at the Milky Way beside the tranquil seaside

Aiyaru Beach is just a five-minute walk from HOSHINOYA Taketomi Island, and it's here where guests can enjoy a breathtaking view of the Milky Away. The beach is situated away from any hustle and bustle, and not many people visit at night, allowing for a chance to enjoy the sound of the waves. Plus, there aren't many days when people have picnics when the moon is out, meaning guests can enjoy a more quiet and private picnic under the moonlight on a comfy sofa.

A fancy picnic inspired by the Milky Way

Tuck into a very special picnic based on the Milky Way made with Taketomi Island's famous Japanese leek, papaya, purple yam, and other delicious veggies as well as island tofu cream and miso. The set comes with a sparkling wine which captures the deep hues of the night sky.

A conversation with the stars

An expert on the Ishigaki Island and the stars will take guests on a journey through the stars, offering commentary on the island's beauty and culture.

In March 2018, the Yaeyama Islands, which includes Taketomi Island, were recognised by the non-profit organisation International Dark‑Sky Association as Japan's first International Dark Sky Park for its distinguished quality of starry nights. The Yaeyama Islands have a lower latitude than Tokyo meaning many more stars can be seen in the sky. Summertime is the best season for enjoying its stars too.

Information

Hoshi Furu Yoru no Teingaara Picnic"

Japanese Plan Name: 星降る夜のてぃんがーらピクニック

Running: June 1, 2021 – August 31, 2021

Closed: June 20-25, July 19,-24, August 7-22.

Times: 20:00-21:30

Price: ¥30,000 per group (does not include tax, service charge, or accommodation fees)

Capacity: 1 group of two people per day
Bookings: https://hoshinoya.com/taketomijima/

*Bookings must be made 14 days in advance

*Picnic will not run if the weather is bad

*Picnic ingredients subject to change depending on stock

Hoshino Resorts OMO3 Kyoto To-ji Opens For Business

The all-new Hoshino Resorts OMO3 Kyoto To-ji hotel opened its doors on April 15, 2021, welcoming guests to the surrounding area home to To-ji, Kyoto's famous Shingon Buddhist temple. The hotel's concept is "The Heart's Trip Through Time and Space," and aims to showcase to guests the sights and wonders of the To-ji area. The temple itself, which is listed as a UNESCO World Heritage Site, is just a 5-mintue walk from the hotel.

To-ji has a long history dating back to 796 when it was founded. Its 1,200 year or so history has spanned multiple periods of Japanese history. In 823, the Emperor Saga honoured the Japanese monk Kukai and bestowed the temple to him. Kukai made To-ji the central seminary of esoteric Buddhism and built various buildings such as the pagoda and halls. Since then, To-ji has been the headquarters of this esoteric sect of Japanese Buddhism. It is a hot spot for tourists and a sight many have most likely seen when looking up must-visit locations around Kyoto.

Inside the hotel

A delightful assortment of menu items

A stroll around To-ji

National Treasure morning walk

Two artworks: "Mandala Art" and "Hohoemi Wall"

Sand table for writing characters

Deepen your knowledge at the Shinbashira book table

OMO Hotels introduce their guests to the local area's secrets, allowing them to jump right in to all that's on offer. It acts as a resort of sorts with the hotel at the centre and the local sights within walking distance. To enjoy all there is to see, OMO offers the Go-KINJO tour guide service which comes in two forms: Go-KINJO Map and Go-KINJO Activity. Both have guests led by an OMO Ranger who are experts in the area and will take guests to see various locations while providing commentary.

On their tour, guests can learn all there is to know about the To-ji area, both past and present. That includes information about famous local stores not listed in guidebooks. It's an opportunity to discover the true To-ji area from when the temple was built to today by actually walking around seeing the sights yourself.

HOSHINOYA Tokyo Recreates an Edo Period Festival For Summer 2021

This summer, the Japanese ryokan inn HOSHINOYA Tokyo is once again hosting its "Tokyo Midsummer Night's Banquet" event which brings Edo period culture to the modern day in the form of a traditional festival with entertainment and food.

Tokyo Midsummer Night's Banquet: 4 Things to Enjoy

1. The new HOSHINOYA Tokyo Sake Bar

For a limited time only, the new HOSHINOYA Tokyo Sake Bar is opening on the first floor of the inn which will serve an izakaya-style experience to guests who can expect to enjoy Japanese sake together with various otsumami foods to enjoy with alcohol provided by restaurants nearby in Kanda, Nihonbashi, and Ningyocho. There will be old-timey noren entry curtains, lanterns, and other little decorations to give it that Japanese summer festival vibe. Staff will also be clad in traditional happi coats.

2. HOSHINOYA Ennichi

At the inn lobby and entrance, guests will be welcomed straight into the heart of the summer festival experience coupled with Edo culture. When evening settles in, the calm atmosphere will be transformed with the sound of lively music reminiscent of a Japanese matsuri orchestra. Guests can enjoy a range of activities from Edo times, such as 'fishing' for a flower as pictured above.


Location: HOSHINOYA Tokyo lobby and plaza

Times: 17:00-21:00

Price: Free

3. A very special menu for guests staying at the inn

Enjoy a range of Edo period foods like conger eel, refreshing cold sea bream chazuke perfect for the summer weather, and more. Food is served in guest rooms so they can enjoy a private dining experience.

Location: Guest Rooms

Times: 17:00-21:00

 4. Rental yukata service for that real Japanese summer vibe

Use the inn's rental kimono service to pick out a summery yukata and obi sash to look beautiful and get into Japanese summer festival mode. Guests can walk in and around the inn as well as around the local district of Otemachi.

Time: 10:00-18:00
Price: ¥5,000 per person

Bookings: Mandatory
Book Here: https://hoshinoya.com/tokyo/

Information

Tokyo Midsummer Night's Banquet

Running: July 1, 2021 – August 31, 2021

Where: HOSHINOYA Tokyo

Conditions: Guests only

Official Website/Yukata Rentals: https://hoshinoya.com/tokyo/

Stay in a Penguin Themed Hotel Room at Hoshino Resorts OMO7 Asahikawa

Hoshino Resorts OMO7 Asahikawa opened its Penguin Room on April 6, a single new guest room themed around penguins designed in collaboration with Asahikawa Zoo.

Penguin Room Feature ①

Guests are immediately greeted with penguins galore as the enter their room, with penguin plushies by the bedside, on the ceiling, and pretty much everywhere else. It will be like staying with a family of penguins for the duration of their stay.

Penguin Room Feature ②

After a visit to Asahikawa Zoo, guests can head back to their hotel room where a variety of fun penguin-related items are stocked including games, all of which will remind them of their time at the zoo.

Penguin Room Feature ③

The room is also decorated with boards featuring photos and information of animals at Asahikawa Zoo. The boards are handwritten by the zoo staff, something they do every spring season.

Hoshino Resorts OMO7 Asahikawa previously collaborated with Asahikawa Zoo when a polar bear themed room. Now, penguin lovers can have their dream come true as they spend their time surrounded by penguin decorations in their room. The hotel is just a 30-minute car ride from Asahikawa Zoo, so why not make a plan to experience both if you're visiting Hokkaido this spring?