Shinagawa Prince Hotel's NINE BAR DJ Music Receives New Theme Everyday
DINING & BAR TABLE 9 TOKYO is a fabulous dining and bar venue located on the top floor of Shinagawa Prince Hotel. The establishment is known for its "DJ TIME" where a DJ plays music, and it has just been announced that the experience is set to be revamped on May 29 where the theme will change each day.
Ever since its grand opening, the bars of TABLE 9 TOKYO have been leaders of today's Tokyo with its night scene as its opening hours roll out until 4:00am. It is home to 3 different bars, NINE BAR being one of them, and each enjoys a huge attendance rate including many non-Japanese guests.
The bar and lounge is a place for adults to sit down, enjoy a drink and listen to music. The idea to have a theme change each day is a way for the bar to expand its services by having more options to choose from when it comes to the music.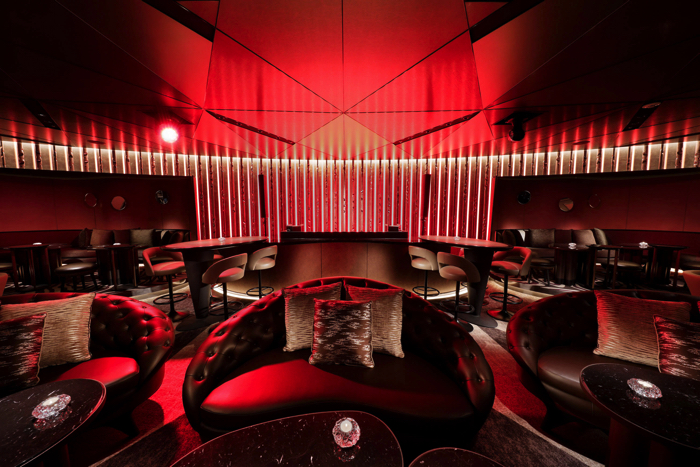 The first week will begin with jazzy music, and there will be disco music on Wednesday and Thursday for which a new standing area has been set up in front of the DJ booth. On Friday night guests can enjoy getting down to some energetic dance music while on the weekends the playlist will span a wide variety of genres.
Enjoy a sophisticated night out in Tokyo at NINE BAR.
Information
DINING & BAR TABLE 9 TOKYO – NINE BAR –
Location: DINING & BAR TABLE 9 TOKYO (Shinagawa Prince Hotel Main Tower Floor 39F)
Business Hours: NINE BAR 5:00pm-4:00am (DJ TIME 9:00pm-11:45pm *Except Sundays and Mondays)
Charge: Cover Charge ¥1,080 / DJ TIME – Plus Charge Of ¥1,080
TEL: 03-5421-1114
Website:  https://www.princehotels.co.jp/shinagawa/restaurant/contents/table9tokyo/ninebar/
DJ TIME Daily Themes
Tuesday: "After hours lounge" – Chill at the start of a busy week with a selection of relaxing jazz music
Wednesday & Thursdays: "Disco NINE" – Disco sounds loved across the globe ★Standing Area available
Friday: "TGIF" – Celebrate the end of the week with some feel-good, energetic Friday night dance music
Saturday: "SIN CITY" – Weekend lounge with a variety of genres aimed at couples and girls
For details on the DJ schedule visit the official NINE BAR website: https://www.princehotels.co.jp/shinagawa/restaurant/contents/table9tokyo/ninebar/
RELATED ENTRIES
Winter is Coming But Hotel Chinzanso Tokyo's Yuzu Lemon Afternoon Tea Will Warm You Up

Hotel Chinzanso Tokyo will begin serving its new citrus fruit-packed Yuzu Lemon Afternoon Tea on November 1 at the Le Jardin, the hotel's lobby lounge which offers a view of the beautiful garden.

You'll see yuzu and lemons throughout the year, but it is said that winter is the best season to enjoy them. Both lemons and yuzu are said to have a relaxation effect, and so Hotel Chinzanso Tokyo will beckon guests through its cosy doors with the afternoon tea set's refreshing citrus fragrance, inviting them to an early wonderful winter at the beginning of November.

The set includes an assortment of sweets including a yuzu and lemon flavoured savarin, a lemon cheesecake that squeezes out all the juicy nectar of the citrus fruit, and more. The lemons and yuzu are the citrus kingpins of this afternoon tea.

The seasonal scones are a mix of yuzu and vanilla scones and silky white chocolate scones to relieve some of the sourness. Enjoy together with a mix of dips including salted clotted cream for even more flavour.

On the savoury side of things there is a tempting mix of bites and nibbles, including the use of spicy ginger to warm up your cold body.

Welcome the winter early this year and do it in style with Hotel Chinzanso Tokyo's new afternoon tea set.

Information

Yuzu Lemon Afternoon Tea

Running: November 1, 2019 – November 30, 2019 (*Reservations available only on weekdays)

Time: 12:00-18:00
Location: Le Jardin, Hotel Chinzanso Tokyo

Price: Yuzu Lemon Afternoon Tea ¥4,000 / With Welcome Drink ¥4,500 (Tax and service charge not included in price)

Le Jardin Webpage: https://www.hotel-chinzanso-tokyo.com/dining/le-jardin/

Hotel Chinzanso Tokyo

Address: 2-10-8 Sekiguchi, Bunkyo Ward, Tokyo

Official Website: https://www.hotel-chinzanso-tokyo.com/

Kyoto's Capsule Hotel Anshin-Oyado Now Offering Plan to Take Guests to Sacred Sword Locations

Capsule hotel Anshin-Oyado Premiere Kyoto Shijo Karasuma introduced a new plan on September 6 which gives guests the chance to go and see sacred places across Kyoto associated with Japanese swords.

October 4th is known as "Japanese Sword Day" in Japan. In Kyoto alone, the number of people visiting from distant places to see sacred sword places, as well as collect goshuin stamps from shrines and temples, is on the increase-as is the number of people staying at Anshin-Oyado Premiere Kyoto Shijo Karasuma. That's where this new guest plan comes into play.

The plan will take guests around different parts of Kyoto, so the hotel as prepared three options to cater to all guests' needs: one that offers a rental bicycle, a ticket to use the subway or bus, or the normal plan. You will receive a map which shows you the most efficient way to get around all the locations. There is also a QR code on the map which not only shows where you can park your bicycle if you go for that option, but also where to collect goshuin stamps.

Moreover, to really slash home those sword memories, guests will be lent a free selfie-stick which also acts as a tripod. There is also a separate powder room for guests wanting to dress up in full sword cosplay gear too which can be used until checkout.

Guests can also rent a portable power bank for their phone so they don't have to worry about their battery running out when snapping photos amongst other amenities, and have free use of the massage chairs, foot baths, open-air baths, and more to rest up after their long pilgrimage around Kyoto seeing the different swords.

Information

Sacred Sword Site Plan

Running: September 6, 2019 – Late December 2019 (subject to change)

Target: Guests staying at Anshin-Oyado Premiere Kyoto Shijo Karasuma

Information (Japanese): http://ur0.work/UmQa

 

Anshin-Oyado Premiere Kyoto Shijo Karasuma

The Fanciest Egg and Rice Dish You've Ever Seen Will Be Sold at Grand Hyatt Tokyo

Towering over the bustling city of Tokyo is the capital's luxury hotel Grand Hyatt Tokyo. Starting from October 1, the hotel's restaurant Shunbou, which serves Japanse-style cuisine, is introducing an all-new exquisite serving of TKG, or tamago kake gohan ("egg on rice").

The dish will be made with shinmai, or "new rice," which refers to the new rice harvested for the current year. It's topped with rich egg―a simple combination but incredibly delicious and loved by people in Japan. Normally TKG stops there, but Grand Hyatt Tokyo is taking it to the next level with a topping of caviar to create the most exquisite egg on rice you have ever seen.

Rice: The best of the best

The rice served at the hotel is harvested in the city of Nanyō in Yamagata Prefecture. It's a special kind of rice known as Tsuyahime, and the hotel makes strict selections of the harvested rice, ensuring they serve the best possible rice to guests. This rice is served only at Grand Hyatt Tokyo making it even more special.

Nanyō is blessed with rich soil. The farms have been using organic fertiliser for well over 10 years, meaning their beautiful harvests are reduced in agricultural chemicals and chemical fertilisers unlike many other farms. The rice's taste quality value has also been listed as over 80, much higher than your average rice.

Sturgeon Caviar

The caviar used in this dish is from the Sturgeon fish from Kagawa prefecture. Everything from the food to the temperature of the water for the fish is considered from when they are a young age, allowing for the best possible caviar. They are seasoned with the perfect salt quantity and are additive free, allowing for a creamy and velvety taste and texture that just melts in your mouth the moment it hits your tongue.

Rich Egg Yolk

The eggs served on the rice are from what is known as one of the country's best egg specialist shops in Kyoto. To ensure the perfect egg, the shop takes great care in the fodder and water given to the chickens from the time they are chicks. This takes away the unpleasant raw smell characteristic of eggs, and is also a healthier lifestyle for the chickens themselves. The eggs are also packed with nutrients that are said to be lacking in the people of today including vitamins, DHA, niacin, and so on.

To top it all off, the hotel has created their own original blend of dashi soy sauce just for this dish.

Information

Shunbou's Special New Rice Tamago Kake Gohan

・Freshly boiled new rice

・2 eggs

・Caviar (15 grams)

・Specially-made dashi soy sauce

*From December onward the dish will be served with Shunbou Original Caviar

Restaurant: Shunbou, Grand Hyatt Tokyo

Available: From October 1, 2019

Serving Times: Lunch 11:30-14:00 (Until 15:00 On Weekends & Holidays) / Dinner 18:00-21:30

Price: ¥20,000 (before tax and service charge)

Official Website: https://www.tokyo.grand.hyatt.co.jp/en/restaurants/shunbou-restaurant/

Tokyo's Revolutionary Buena Àrte Hostel to Open in Ryōgoku Area On September 14

Buena Àrte Hostel is a revolutionary new hostel set to open in the Ryōgoku area of Tokyo on September 14, 2019.

In response to the increase in the number of foreigners staying in Tokyo, and especially in anticipation of the Tokyo 2020 Olympics and Paralympics-when numbers are expected to skyrocket-Japan's capital is well underway in developing more accessible accommodation options for foreign travellers, from hotels to hostels.

Hostels in particular are a huge focus for the city, and so more and more of them are opening. Catered to younger people and travellers, hostels are a much cheaper accommodation option when compared to hotels, and thus are likely to increase the number of days in which people will stay.

However, what is considered much more valuable for foreign travellers is the level of comfort, cleanliness, and safety. Buena Àrte Hostel is all of these and more, meaning even somebody travelling on their own can feel safe and secure. With over 200 pieces of art adorning its walls, it is the world's first art-centred capsule hotel, focusing on "fun, comfort, and encounters."

The hostel has collaborated with globally-active artists and up-and-coming illustrators to bring their art to the walls of the communal spaces, restaurant, and even bedrooms. A lot of the pieces you can buy too.

Found in over 160 of the bedrooms are illustrations drawn by artists who want to convey the fun and excitement of travel. These illustrations are exclusive as they were drawn for the hostel and so there is only one of each in the world. There are around 60 rooms without illustrations yet, so the hostel is asking for submissions. If your illustration is picked, the hostel will offer you a free night with breakfast and dinner as thanks. You can find more details on the official website.

Buena Àrte Hostel has its own cafe and restaurant on the first floor, the Buena Cafe & Dining Bar, where guests including foreign tourists can enjoy authentic Japanese cuisine. The "Washoku Plate" is a meal set aimed at those arriving from overseas so they can enjoy a filling portion of Japanese-style cuisine. It includes everything from sukiyaki to tempura, kushikutsu, and more. It also includes Japanese sake. The bar sells other drinks too including wine, whisky and highball.

The closest station to Buena Àrte Hostel is Ryōgoku Station. Ryōgoku is a district of Tokyo filled with Japanese tradition. It is home to Ryōgoku Kokugikan, which is considered the holy ground of sumo wrestling, as well as the Sumida Hokusai Museum which houses works by the famous ukiyo-e painter Hokusai, the Japanese Sword Museum, the traditional Japanese garden Former Yasuda Garden, the Edo-Tokyo Museum-the list goes on. And all of these places and more are within 10-minutes' walking distance from Buena Àrte Hostel.

©2003-2019 valuepress CO,LTD. ALL RIGHT RESERVED.

Information

Buena Àrte Hostel

Address: 2-9-11 Yokoami, Sumida, Tokyo

Grand Opening: Buena Arte Hostel – September 14, 2019 / Buena Cafe & Dining Bar – September 20, 2019

Opening Hours: Breakfast 7:00-10:00 / Lunch 11:00-15:00 / Afternoon Tea 15:00-17:00 / Dinner 17:00-23:00

Access: 6-minutes on foot from Ryōgoku Station's JR Line Building West Exit / 5-minutes on foot from Ryōgoku Station's Toei Ōedo Line Building A1 Exit

TEL: 03-6658-8489

Official Website: http://buenaarte.com/

*No car park

*Children aged 6 years and under not permitted; those aged 6+ must share a room with parents or guardians and are charged the same price as adults

Tokyo's Anime & Game Concept Hotel Announces Collaboration With Granblue Fantasy

Sunshine City Prince Hotel is currently collaborating with the anime and game media franchise King of Prism and the video game DREAM!ing to rave reviews on the hotel's IKEPRI25 floor.

The hotel has just announced that its third collaboration will be with the popular RPG video game Granblue Fantasy which will arrive in early November.

IKEPRI25 is located on the hotel's 25th floor and operates as a "concept floor." Decked out with 20 rooms and 4 lounges, the floor is every anime, manga and game fan's paradise as it themes its room on many different titles. The floor is produced in co-operation with Tokyo Otaku Mode Inc.

Granblue Fantasy is a fantasy role-playing game for Android, iOS, and web browser. It launched in 2014 and is available to play in both English and Japanese. The game features music by legendary composer Nobuo Uematsu who is known worldwide for his work on the Final Fantasy series. A new title, Granblue Fantasy Versus, developed by Arc System Works (Guilty Gear series; BlazBlue series).

Further details on the concept room will be announced in the near future, so stay tuned.

©Cygames, Inc.

Creepy-Cute Halloween Menu Spooks This October at Hotel Chinzanso Tokyo

The Bistro is a restaurant at Hotel Chinzanso Tokyo which offers casual dining in a warm and welcoming spacious environment. This October, the restaurant is set to serve up at "creepy-cute" Halloween menu with bone-chilling designs and delicious flavours.

The first dreadful dish is the pain de campagne which is made to look like real lips and fingers. The pork and foie gras pâté fingers are complete with a balsamic jelly coffin while the caprese lips are a mix of tomato and mozzarella cheese.

Next on the menu is a meaty meal made to look like squashed eyeballs. The eyeballs are made from small onions and are filled with blueberries to give them a very creepy and realistic look. They are served with beef cheek which has been marinated in red wine for three days before being cooked.

For dessert, look forward to meeting a seriously cute purple sweet potato mont blanc monster.

Making a return this year is a cooking lesson where a chef will teach you how to make a Halloween themed afternoon tea made up of sweets, scones and more. This is a rare chance to ask questions to a professional chef.

There will also be a children's event which is held every year and welcomes more than 200 kids. They can dress up and join in the stamp rally where they will be given a map to find all the stamp locations dotted around the hotel while gathering snacks. After the rally ends they can enjoy some Halloween desserts in the hotel's cafe Foresta.

Information

The Bistro Halloween ~Grown-Up's Halloween Dinner~

Running: October 1, 2019 – October 31, 2019

Time: 17:00-22:00
Location: The Bistro at Hotel Chinzanso Tokyo

Price: ¥6,390 (Tax and service charge excluded from price)

Event Page (Japanese): https://hotel-chinzanso-tokyo.jp/restaurant/plan/725d0986cd17bf2.html

Halloween Afternoon Tea Cooking Lesson
Date: October 16, 2019
Location: Camellia (Banquet Building Floor 3F)
Times:

[Slot 1] Sign-up from 11:00 / Lesson 11:30 / Dining 12:45-14:15

[Slot 2] Sign-up from 15:00 / Lesson 15:30 / Dining 16:45-18:15

Price: ¥6,800 (Tax and service charge included in price)

Bookings: Open from September 2, 2019

Capacity: 30 people per slot (Bookings done via online payment)
Bookings (Japanese): https://hotel-chinzanso-tokyo.jp/restaurant/plan/615d09977613e3e.html

Children's Halloween Stamp Rally & Cafe 2019
Date: October 30, 2019 – October 31, 2019
Times:

[Slot 1] Stamp Rally from 11:30 / Cafe Desserts 12:00-13:30

[Slot 2] Stamp Rally from 14:30 / Cafe Desserts 15:00-16:30

Price: Parent & Child Dessert Set ¥2,500 (Tax and service charge included in price)

*The stamp rally is free to participate in. Up to 3 children per adult. It costs ¥500 for an additional single children's dessert.
*For children aged 0 to preschool age. Costumes can be full outfits or part outfits.

*Stamp rally participation only is not permitted.

Location: Foresta at Hotel Chinzanso Tokyo
Bookings: Open from September 2, 2019
Capacity: 90 people per slot (Includes children) *Please book 3 days in advance
Bookings (Japanese): https://hotel-chinzanso-tokyo.jp/restaurant/plan/655ca72f362a69c.html

The Peninsula Tokyo Hotel Now Offers Restaurant IPPUDO's Ramen as Room Service

The Peninsula Tokyo is teaming up with tonkotsu ramen specialist restaurant chain IPPUDO―which has restaurants across the world―to offer their ramen as room service at their hotel.

The hotel and restaurant first came together in autumn last year to begin plans for their collaboration, which comes in response to many guests at the hotel asking staff where a great place to eat tonkotsu ramen is, and even some expressing their desire to dine at IPPUDO.

IPPUDO is a prominent ramen chain in Japan and so is sure to please the palates of all guests.

The ramen is boiled fresh in the kitchen and is delivered to guest rooms in a soup together with what looks like a jewellery box, but instead of being filled with rings and necklaces it's packed full of delicious ingredients to add to your broth, including walleye pollock roe―which is a staple with tonkotsu ramen―as well as mustard greens, red pickled ginger, cloud ear mushroom, seaweed, and more. Topping the broth is boiled egg, fried garlic, sesame seeds, BBQ sauce specially prepared by the hotel's restaurant Hei Fung Terrace, XO sauce which originates from The Peninsula Hong Kong, and more.

Enjoy the ultimate ramen room service now at The Peninsula Tokyo.

Kyo no Ondokoro Nishijin Bettei: A Traditional Kyoto Townhouse Transformed Into a New Hotel

Wacoal Corp, the owners of Kyo no Ondokoro―a chain of traditional townhouses turned into hotels―are opening a new branch in the Nishijin area of Kyoto on October 1, 2019.

Kyo no Ondokoro Nishijin Bettei will be the fifth branch of their hotel chain. It was designed by Akira Minagawa―the owner of Japanese clothing label Minä Perhonen―and architect Yoshifumi Nakamura.

The Nishijin area is located a little distance away from the city centre meaning one can avoid the hustle and bustle of the busy streets. The hotel is renovated from a luxurious 95 year old townhouse which was originally set up by merchants in Nishijin silk fabrics to house guests.

It has been renovated to make it feel as if guests are living there and thus feel like they are living in Kyoto.

The first floor features a fully-equipped kitchen with wine cellar as well as a spacious dining area where one can cook up and feast on meals made with ingredients and produce from Kyoto.

Dotted throughout are various art pieces selected by Minagawa to elevate that at-home feeling.

The townhouse also offers lots of convenient services including bagging storage, transport service, guidebooks catered to each season, and more. Staff can also offer information about shops and restaurants in the surrounding areas, and they can also sign you up to food plans packed with Kyoto flavours, and more.

If you want to feel like you're living in Kyoto then book now with Kyo no Ondokoro Nishijin Bettei.

Information

Kyo no Ondokoro Nishijin Bettei

Address: 265-1 Tatekameyacho, Kamigyo Ward, Kyoto, Kyoto Prefecture

Grand Opening: October 1, 2019

Price: ¥150,000 per night (Before Tax)

Capacity: 8 people

Bookings: Open from September 2, 2019 (*Open now on select websites)

Check-In: From 16:00 (Wacoal Shin-Kyoto Building front desk open 10:00-17:00)

Check-Out: By 11:00

Kyo no Ondokoro Official Website: https://www.kyo-ondokoro.kyoto/

MOSHI MOSHI ROOMS Opens Origami Themed Accommodation 'ORIGAMI' in Harajuku

The second room of the ASOBISYSTEM-produced home sharing facility MOSHI MOSHI ROOMS has finally opened. Named "ORIGAMI," the room is available via Airbnb, and is a joint-effort between ASOBISYSTEM, which promotes Harajuku culture to the rest of the world, and Rokuyon, which manages unique accommodations in Shibuya.

MOSHI MOSHI ROOMS SAKURA 

MOSHI MOSHI ROOMS is an accommodation service that offers concept rooms brimming with originality which you won't find at any other hotel, hostel or home sharing facilities. The first room, SAKURA, opened in December last year, proving popular with travellers around the world with its cherry blossom theme.

Joining as the second room in the series is 'ORIGAMI,' a room based entirely on the Japanese art of paper folding which covers the entire room at every turn.

Living Room

The cosy living room is decked out with benches and stools, furnished in the style of a Japanese tea house. Dangling overhead are lights which brighten the room with their warm colour. The light shades are in fact traditional Japanese umbrellas which help bring that quaint Japanese atmosphere alongside the colourful folding fans, matcha-making tea set, and more.

Bedroom

The picturesque room is floored with tatami where you can sit and relax on a zaisu―a traditional chair with no legs used for sitting on tatami mats. The paper lanterns and sliding doors elevate an exciting air in the room. The stairs leading upstairs are made up of chests of drawers which you can use to store your luggage.

Both the upstairs and downstairs are fitted with mattresses spreading 2.6 meters wide which can accommodate up to 6 people in total. The mattresses are by Nishikawa which offer dreamy comfort and a high quality sleep. The mattresses can also be switched out for a different type depending on what kind of feel you are looking for.

Powder Room

The Powder Room is equipped with amenities including cotton swabs, cotton pads, and hairbands. Seat yourself comfortably at the wide table and get ready for your day or night out.

Shower Room

The Shower Room also has everything you need including shampoo, conditioner, and body soap. As well as a shower, there is also a Japanese-style Washlet toilet.

Everything Else & The Amenities

ORIGAMI has all of the living essentials. If you're looking to cook while staying here, the kitchen has a microwave, refrigerator, plates, pans and more. There is even a washing machine.

Guests can also rent a kimono haori. Be sure to take lots of pictures!

4F Entrance – Staircase

The ORIGAMI room begins from the staircase leading from the third floor to the fourth floor. The door is actually made of tatami mats.

Building Entrance

Our building is very easy to spot at the ground floor entrance with the giant neon sign that reads "MOSHI MOSHI NIPPON" in Japanese as well as the MOSHI MOSHI ROOMS logo on the wall.

Rooftop

Guests are free to use the rooftop which offers a panoramic view of Harajuku.

Like SAKURA, ORIGAMI is available to book on Airbnb only. Whether you're coming from overseas and in need of a room, are doing a staycation, or just want a place to get together with the girls, then book now with MOSHI MOSHI ROOMS.

Information

MOSHI MOSHI ROOMS -SAKURA-

Address: 2-18-7 Jingumae, Shibuya, Tokyo

Access: 8-minutes on foot from Meiji-Jingumae (Harajuku) Station via the Chiyoda and Fukutoshin lines

Occupancy: 1-6 people

Price: ¥40,000 (does not include handling and service charges) *1 room 1 night

*Accommodation prices are subject to change depending on the period. For full details please check the Airbnb website

Official Website: https://rooms.moshimoshi-nippon.jp

ORIGAMI Bookings: https://bit.ly/2Ug3nVv

SAKURA Bookings: https://bit.ly/2NwrA8x

Try This Mino Traditional Culture and Tea Tasting Experience Hotel Plan in Gifu

The Mino region of Gifu is famous for its traditional pottery called Mino Ware, its Gifu lanterns, and much more. Recently, an empty building located in front of Minokamo station in Gifu prefecture was renovated by a company called IDENTITY, who transformed it into a community building called MINGLE. MINGLE is now home to the Japanese tea shop Minokamo Chapo. This tea shop proudly represents the culture of tea and pottery that still remains in the Mino region. In order to share this wonderful culture, they are now offering a new accommodation plan to provide guests with the chance to experience the world of Japanese tea and the rich culture of Mino.

You can also experience tasting and comparing different Japanese teas that are offered by Minokamo Chapo. During your stay, you will also encounter lots of Mino Ware, and be surrounded by a traditional Mino interior decorated with Mino washi paper.

1st floor: Café and Bar

You can order the Japanese tea tasting selection at the counter. This space is used as the Minokamo Chapo tea shop from 11 am to 4 pm on weekends and national holidays.

2nd floor: Rooms


The rooms are approximately 22m2. On top of this space, there is also a shower room and toilet in their own separate rooms.

3rd floor: Lounge

This is an area of free space for the guests. There are future plans to decorate this space with paintings and pottery according to the season.

The interior of the guest rooms are also packed with the wonders of the Mino region, so we are going to introduce you to a few of its special features. 

Upon entering your room, you will be greeted by the warm light of an Akari lantern. This is a kind of lantern which is recognized as a traditional craft of Gifu prefecture. This lantern design was created by famous artist Isasmu Noguchi, who named it Akari which means "light".

In the bathroom, you will spot a few stylish mugs which belong to the brand "3rd-ceramics".  

 The rooms are affixed with paper sliding doors (shoji) and bear beautiful Mino washi paper that is a traditional turquoise-blue colour. 

This is the perfect place to enjoy a traditional experience like no other. 

Information

Accommodation Plan:

MINGLE Address: 2689-14, Otemachi, Minokamo, Gifu

【Standard Prices】

ーGeneral Reservationsー

3 Guests ¥13,890(¥4,630 per guest)

2 Guests ¥11,260(¥5,630/ per guest)

ーReservations Made a month in advanceー

3 Guests ¥11,190(¥3,730/ per guest)

2 Guests ¥9,460(¥4,730/ per guest)

※ The fee for 1 guest is the same as that of 2 guests.

◆Reservation Website:

Booking.com (English also available): https://www.booking.com/hotel/jp/mingle-minokamo.ja.html

Instagram: https://www.instagram.com/minocamo_mingle/

Phone Number: 080-4210-7117 

MinoKamo Chapo: https://mchaho.com/

New Hotel Renovation Hakone Yutowa in Gora Caters to Millennials and Families

Hakone Yutowa is a new hotel in the town of Gora, Hakone that opened on August 11, 2019. This hotel renovation is aimed at millennials (those in their 20s and earlier 30s) and families, offering various different rooms include your typical hotel-type as well as condos. There are also multiple shared public spaces full of fun and relaxation.

Part of the enjoyment at Hakone Yutowa is getting to walk around the site leisurely finding all the little things it has to offer, from the hot spring with its own hot spring source to a communal room so stylish you can't help reaching for your camera to snap photos. The hotel aims to offer guests "an experience in remote Hakone you can't get anywhere else" and it does so by presenting a new style of hotel accommodation.

Hakone Yutowa is about a five-minute stroll along a flat-level path from Gora Station, which is accessed via the Hakone Tozan Railway, meaning it can be accessed easily by those without a car. "Yutowa" is has a combination of meanings: the yu in Japanese means "hot water" which conjures up not only the hot springs but also a warm and welcome stay at the hotel. It is also word play with the word "you." The to means "and" in Japanese and wa is "circle" like a circle of friends. In other words, at Hokone Yutowa, you'll be spending a nice time together with someone special.

The hotel is split into three buildings: the East Wing, West Wing, and Condominium Wing. Each offers "a new style of travel accommodation."

New Style ①

Spa Lounge Nakaniwa and Lively Lounge are two public spaces in the hotel that anyone is free to use at their leisure. Nakaniwa is home to a footbath at the outdoor wooden deck which makes use of the hotel's natural spring source, as well as an open-air fire. Lively Lounge houses around 700 books which guests can pick from before finding a little spot to sit down and relax.

New Style ②

There are two types of rooms: Hotel and Condominium. The Condominium rooms are the first hotel rooms of their kind to be offered in the Gora area. These fancy rooms have their own hot spring bath with a beautiful view. The water in the bath flows directly from the hot spring source.

New Style ③

The all-inclusive plan includes breakfast and dinner as well as free drinks and free use of the communal spaces. Guests do not need to worry about any extra fees as everything is included. There are also other baths available in the hotel including one that makes use of colourful lights.

If you're looking for a hotel with freedom in Japan then take your family, friends or loved one to Hakone Yutowa.

Keio Plaza Hotel Tokyo Offers Luxurious Accommodation Plan & Tea Ceremony Experience For Families

Keio Plaza Hotel Tokyo, a highly prestigious and magnificent 4-star hotel located in Shinjuku, is now serving an all-new "luxurious" family package which includes a tea ceremony experience and much more. It is currently running from July 20 to September 1.

The rooms offered in the accommodation plan are the hotel's popular Wide Twin Rooms located on the Premier Grand club floor. Use of the Club Lounge is included in the package. The Wide Twin Rooms include two roomy queen-size beds which span 1.53 meters wide which allow parents to sleep comfortably with their children. Rooms also feature their own bathroom facilities.

The package also includes a check-in simulation for children aged 6-12 years where they can get a feel for what it's like to check-in. They will fill in their own check-in cards with parents and receive a ticket for the tea ceremony experience. They will be able to take their card home with them and take a commemorative photo.

The tea ceremony experience will be held on the hotel's 10th floor in the "Shofuan," an authentic tearoom that has been in the hotel since it opened in 1971. Parents and children will receive proper instruction from the tea ceremony teacher before pouring their own tea, allowing them to learn about traditional Japanese culture and etiquette. They will receive a special certificate of completion at the end.

If you're travelling to Japan as a family this summer then enjoy it in luxury at Hotel Keio Plaza Tokyo.

Information

Tea Ceremony Experience and Luxurious Accommodations for Families

Running: July 20, 2019 – September 1, 2019
Price: ¥18,450 per person for the Wide Twin Rooms on the Premiere Grand Club Floor *Usage for 2-4 people (Includes use of the Club Lounge, breakfast, and includes service charge and tax)

Package Includes:

①Tea Ceremony experience for overnight guests (1.5 hours required, children of preschool age or younger cannot participate but are welcome to watch)

②Simulated Club Lounge check-in experience for children and special commemorative photographs available between 2:00p.m. to 5:00p.m.

③Amenity items for mother use (skin care products etc.)

④Commemorative certificates of stays and tea ceremony completion, and photographs presented to guests

⑤Complimentary late check-out at 12:00p.m. (Normal check-out time is 11:00a.m.)

⑥Complimentary use of Sky Pool facilities

Enquiries & Reservations: +81-35322-8000

Keio Plaza Official Website: https://www.keioplaza.com/