Visit Japanese Family Homes and Learn to Cook Authentic Japanese Food With airKitchen
airKitchen is an online service gaining popularity by inviting foreigners travelling to Japan to experience what it's like to cook at home there.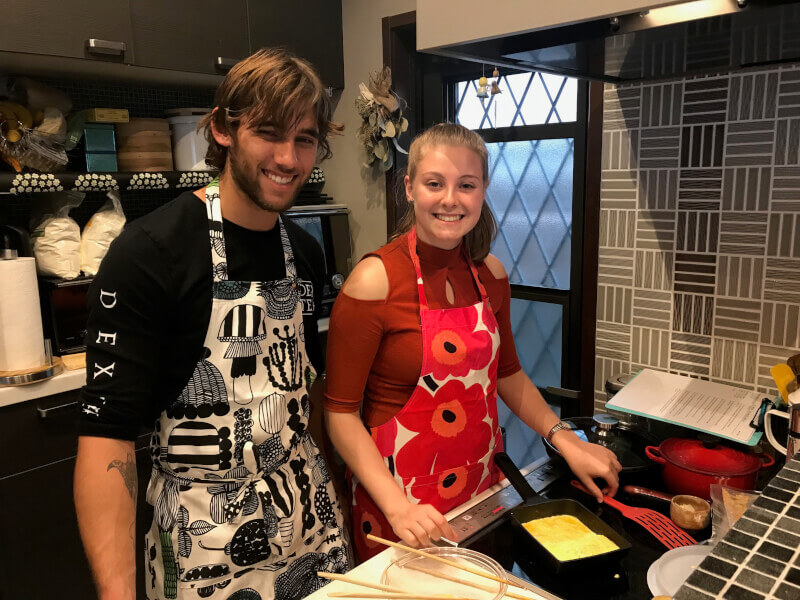 The number of foreign visitors to Japan has been on the rise in recent years, and with the Tokyo Olympics right around the corner, that number is predicted to continue increasing. One shift happening amongst travellers to the country is their desire for more experience consumption over material consumption. This shift has been noted by the Japanese government and companies who are pushing to offer more experience-based content to foreigners.
One such company doing just this is the online platform service airKitchen whose popularity is only continuing to increase. By using the website, foreigners can choose from a long list of Japanese hosts who will teach them how to make many different Japanese dishes in their very own homes. Bookings and payment can both be done via the company's official website. airKitchen launched in April 2018 and by April this year it already has over 4,000 users.
airKitchen's popularity can be accredited to it satisfying overseas visitors' desire to experience everyday Japanese life. They will cook authentic Japanese food in a common Japanese-style kitchen. In 2013, Washoku ("Japanese Food") was registered as a UNESCO Intangible Cultural Heritage. The appeal of Japanese food is on the rise and is sure to become even more popular.
airKitchen Introductory Video
Some of the most popular foods taught on the website include gyoza, bento and sushi. A total of three hours are allotted for each experience which includes both the cooking and eating time. The price for each service varies but the average is ¥5,000 per person. The biggest ratio of nationalities come from Europe and Australia and range from couples to families.
If you're travelling to Japan, why not book with airKitchen yourself and get a taste of everyday Japanese home life?
RELATED ENTRIES
You Can Take Your Pets to These Hotels and Accommodations in Japan

Online travel booking website Rakuten Travel has released this year's list for the most popular hotels and accommodations you can stay at with pets in Japan. The list is based off travellers' reviews taken from the website. This list has been updated and published every year since 2014, making this its 6th run.

Placing number one on the list for the first time is Yutsura, a ryokan Japanese-style inn which opened in Shizuoka in April 2018 and can be rented by one person or group for one night. Up to six people in a single group can stay there along with up to 5 small dogs weighing 5kg or less. It's highly favoured amongst travellers who want to take their dogs on the road due to the extent the inn caters for pets. Guests can enjoy having the dogs in their rooms as well as feed their pets there, all without being a bother to other guests.

Nipponia Sawara Merchant Town Hotel in Chiba Prefecture came in second place. You can feel the history of this hotel accommodation which is renovated from a traditional storehouse and townhouse. It allows up to three pets in a room which collectively weigh 25kg. There are three types of rooms to choose from, including one with a dog park. It also offers various services, including a free night for one dog, snacks and amenities for dogs, and more.

In third place is Dog Pension R65 in Shizuoka Prefecture which allows not only big and small dogs, but cats and other pets too. It offers large footbaths for dogs to use, dog parks, and many other services that cater to pets. The hotel also offers cottage-type accommodation rooms separate from the main building too if you're looking to spend some peaceful time away with your beloved companion.

If you're looking to travel around Japan with your pet, be sure to check if a hotel allows animals. Check the link below for the full Top 10 list.

Matcha Desserts in Sapporo You Just Have To Try

We've previously covered the best spots to try delicious matcha desserts in Kyoto. Now, with the help of expert dessert Instagrammer Kei, we are going to introduce you to some of the most delicious spots to try matcha desserts in Sapporo, Hokkaido.

If you want to discover more delicious cafés, desserts and drinks in Hokkaido, make sure to check out Kei's Instagram (@607keih).

 

KotoniSand, Nishi Ward

Macchan French Toast: ¥1200

 From dinners to desserts, this café serves up lots of meals based on their delicious thick-sliced bread. Bread flavours include plain, matcha and even coffee. You can order to go or enjoy the eat-in-limited menu. This fluffy french toast is soaked in matcha liqueur and is full of flavour even before trying it with the toppings. Take a bite of it with the red bean paste for a flavour adventure. A limited number of these are sold per day so if you want to try it, make sure to get there early. 

▼KotoniSand

Address: 1-1-1 Yamanote 5 Jō, Nishi-ku, Sapporo, Hokkaido

Opening Hours: 11:00-18:00
Closed: Tuesdays
Official Website: https://kotonisand.business.site

Ame no hi to yuki no hi, Minami Ward

Gelato Futatsu: ¥450

Located before Jozankei's onsen hotspot is a café called Ame no hi yuki no hi. It serves delicious pizzas and a variety of gelato flavours depending on the season. Their matcha ice cream is delicious. They even allow you to order two or three flavours at once so you can enjoy a mix and match of combinations. 

▼Ame no hi to yuki no hi

Address: 2-4-1, Jozankeionsennishi, Minami Ward, Sapporo, Hokkaido 

Opening Hours: 10:00-17:30
Closed: Thursdays
Official Website: https://www.amenohitoyukinohi.com

KANON pancakes, Shiroishi Ward

Matcha Tiramisu Pancake: ¥1500

This is a famous pancake shop in Kikusui. Tuck into a stack of fluffy pancakes inside the relaxing and soothing restaurant. The Matcha Tiramisu Pancakes are soaked with liqueur, creating a texture that is softer and moister than their standard pancakes. In addition to the matcha liqueur, the pancake is also dusted with matcha powder for a richer matcha flavour. Finally, they are drizzled with delicious brown sugar syrup and topped with walnuts.

▼KANON pancakes

Address: 5-5-18 Kikusui 3 Jo, Shiroishi Ward, Sapporo,

Opening Hours: 10:00-17:00 (Last Orders: 16:00)
No Regular Holidays
Official Website: https://kanon-pancakes.com

Any cafe, Kita Ward

Matcha Kintoki: ¥1350

This shop uses gluten-free ingredients in their food. This pancake dish is made using unpolished rice powder, three pieces of Turkish delight, red bean paste, rice flour dumplings, and cream made from Hokkaido-produced mascarpone and fresh cream. The cream is full of the bitter and delicious flavour of matcha, making the pancake sweet and very delicious. 

▼Any cafe

Address: 3-2-24 Kita 18 Jonishi, Kita Ward

Opening Hours: 11:00-18:30 (Last Orders: 18:00)
Closed: Tuesdays

Official Instagram: https://www.instagram.com/any_cafe_sapporo/

If you are looking for delicious matcha desserts in Sapporo, let this article help you decide where to go. When your food cravings kick in, make sure to visit Kei's Instagram which is full of the most delicious meals, drinks and desserts in Hokkaido. 

Original Article Contents and Photos by: Kei (@607keih )

Tour Tokyo, Pick Strawberries and Enjoy Afternoon Tea On The ichigosan bus

From their popular AWAPA Foam Party event where you can dance in a club filled with foam to their BATHTUB CINEMA event where you can watch a movie with your friends in a bathtub, Afro&Co. never fails to bring us new and creative ways to have fun. They are now collaborating with Saga prefecture to run the 'ichigosan bus': a sightseeing bus which will introduce you to wonderful spots in Tokyo with an unexpected strawberry twist to celebrate the first anniversary of Saga prefecture's strawberry farm 'ichigosan'. Enjoy strawberry picking inside the bus and then tuck into a strawberry-tastic afternoon tea set and much more. The bus will be running for a five day period from January 1 to 19, 2020.

ichigosan Afternoon Tea

ichigosan Panna Cotta

The ichigosan bus commemorates one-year since Saga Prefecture launched their new brand of delicious succulent strawberries called 'ichigosan'. The collaboration hopes to spread the delicious flavour of ichigosan strawberries to as many people as possible with the five-day-limited strawberry-tastic bus tour. Hop on the red double-decker bus, which looks just like a London tour bus, to enjoy strawberry picking on floor one and an original strawberry afternoon tea set prepared by a chef from Royal Garden Cafe Aoyama on floor two.

ichigosan Crêpe

ichigosan Tart

This three-experience-in-one tour bus introduces you to the newest famous spots in the city, offers you a fun strawberry picking experience and even comes with a delicious strawberry afternoon tea set. You can book tickets in advance online and there are two kinds of tickets available for on-the-day purchases. As this is the best season to enjoy ichigosan strawberries in Japan, make the most of it on this tour and you will be berry pleased.

Information

ichigosan bus

Running: January 15 – 19, 2020

Operating Times: 11:00 – 18:30

Arrival and Departure Point: Royal Garden Cafe Aoyama

(2 Chome-1-19 Kitaaoyama, Minato City, Tokyo)

Bus Tour Time: 55 Minutes

5 Tours per Day

Price: Tickets are sold in pairs, ¥3,800 Per Person

Tickets: Reserve online or purchase on the day. There are two kinds of same-day tickets. (Subject to change)

Official Website: https://www.saga-ichigosan.jp/ichigosanbus2020/

Beautiful and Delicious Lunches You Have to Try in Fukuoka

With the help of moe, we've covered the best food spots in Fukuoka to enjoy a beautiful scenery, for desserts and much more. Today, we're joined by food Instagrammer moe again to introduce you to the top lunch spots in Fukuoka. 

cafe mii, Asakura

Curry Plate

cafe mii is one of those places that very few people know but is very delicious. The curry plate is full of spices and is accompanied by fried vegetables and many other side dishes. As Asakura is known for its delicious vegetables, this is the perfect opportunity to get your fill. The café is relaxing and the perfect spot to enjoy a quiet lunch.

▼cafe mii

Opening Hours: 11:00-17:00 (Last Orders: 14:30)

Closed: Wednesdays
Address: Floor 2, 531-2 Tonta, Asakura, Fukuoka
Website: https://www.instagram.com/cafe_mii/

Cosses, Chihaya

Plate Lunch

Cosses is a bakery shop full of pastries and desserts. The Plate Lunch includes a hamburger steak, soup, salad, yoghurt and much more. The thick bread that comes with the set perfectly completes it. The wide shop is full of delicious bread and pastries that would be perfect to bring back to your family.

▼Cosses

Opening Hours: 10:00-21:00 (Last Orders: 19:30)
No Regular Holidays

Address: Namiki Square Floor 1, 4-21-45, Chihaya, Higashi-ku, Fukuoka

Official Website:http://cosses.orto-cafe.com/

Chocolate Bar, Hirao

Chicken Curry Risotto

Whether you're looking for lunch, dinner or a casual snack, this is the place to go. When you order the Chicken Curry Risotto, you can choose how spicy you want it. Risotto and curry is quite a rare combination, but it is very tasty. After your lunch, you can choose to have a gâteau au chocolat from the main menu. 

 

▼Chocolate Bar

Opening Hours: 

Lunch Menu:  11:30-15:00 (Last Orders: 15:00)

Café Menu: 14:00-17:00 (Closed from 17:00 to 18:00)

Dinner Menu: 18:00-22:00 (Closed from 22:00)
Closed: Sundays
Address: 1-11-22 Takamiya, Minami-ku, Fukuoka

Official Website: https://www.facebook.com/CHOCOLATE-BAR-726314500885075/

Filipepe, Kego

Dry-Cured Ham and Creamy Lemon Spaghetti

Filipepe is a hidden Italian restaurant. The Dry-Cured Ham and Creamy Lemon Spaghetti is covered in a refreshing lemon cream sauce. The thinly-sliced cured ham and creamy pasta make the perfect combination. The tongue-tantalizing menu also includes fish, meat and much more.

▼Filipepe

Opening Hours:

Lunch: 11:30-14:00 (Last Orders: 14:00)

Dinner: 18:00-21:00 (Last Orders: 21:00)
No Regular Holidays
Address: Floor 3, 3-1-28 Kego, Chuo Ward, Fukuoka,
Website: https://www.facebook.com/Filipepe-フィリペペ-699810910145678/

Good up coffee, Hairo

Homemade Red Bean Paste on Toast

Good up coffee's homemade red bean paste on toast is often greeted by a long queue of customers. The fluffy bread is like a giant cushion and is filled with a generous serving of red bean paste. The butter melts, creating a moderate salty touch to the meal. This is a very popular shop and often sells out so if you want to try it, make sure to get there early.

▼Good up coffee

Opening Hours:

Monday, Tuesday, Friday, Saturday: 12:00-20:00

Wednesday and Sunday: 12:00-18:30
Closed: Thursdays
Address: 1-chōme-15-18 Takasago, Chuo-ku, Fukuoka
Official Website: https://www.instagram.com/good_up_coffee/

KURASUKOTO, Hairo

Lunch Plate

Fukuoka's famous and popular café KURASUKOTO serves parfaits, doughnuts, puddings and other famous desserts as well as delicious lunches. Choose to have meat or fish for your lunch plate and it will be served with lots of healthy vegetables. The café also sells small miscellaneous goods too.

▼KURASUKOTO

Opening Hours:11:30-18:00
Closed: Mondays and Sundays
Address: Floor 2, 1-11-21 Hirao, Chuo Ward, Fukuoka
Official Website: https://www.kurasukoto.com/shop-hirao/

Eureka, Sakurazaka

Duck and Lotus Root Ragout Pasta

Bistro and café Eureka is an isolated restaurant located out of the way in a residential area. The Duck and Lotus Root Ragout Pasta is available in the lunchtime menu and is served with tasty relishes made from pomegranate and Japanese persimmon. Duck and lotus root is cooked in a delicious ragout sauce with tagliatelle. The meal comes with relishes so your stomach will be left completely satisfied.

▼Eureka

Opening Hours:Monday-Thursday: 12:00-20:00 (Last Orders: 19:00)

Friday and Saturday: 12:00-22:00(Last Orders: 21:00)
Closed: Sundays
Address: 1-4-19 Sakurazaka, Chuo-ku, Fukuoka

Official Website:https://www.instagram.com/eureka.sakurazaka

Yamamoto no Hamburg, Ropponmatsu

Hamburger

The Kanto region's popular hamburger restaurant Yamamoto no Hamburg has opened in Fukuoka. Here, you can enjoy a burger served in a large curry bowl fit for a curry soup. The hamburger is surrounded by a hearty serving of sauce and is even topped with a mince cutlet. There is a bottle of Chinese red chile oil on the table for a satisfying meal. 

▼Yamamoto no Hamburg

Opening Hours:

Lunch: 11:30-15:30 (Last Orders: 14:30)

Dinner: 17:30-22:30 (Last Orders: 21:30)
No Regular Holidays
Address: Ropponmatsu Kobo Floor 1, Chuo Ward, Fukuoka

Official Website:  http://www.yamahan.tokyo/news/

 If you're stuck on where to get lunch in Fukuoka, or love looking at gorgeous food, let moe's Instagram be your guide. 

Original article contents and photos by: moe

Sanrio Puroland to Run "Sweets Puro very berry sweets Party" Next Year

Sanrio Puroland (Puroland) will be running its popular dessert-themed event "Sweets Puro very berry sweets Party" from January 10 to March 10, 2020. 

Puroland's restaurants will be selling Sweets Puro-limited desserts full of a variety of berries. Restaurant Yakata on floor 4 will be serving a berry and chocolate-themed dessert buffet on select days.

As the first dessert buffet to be held since Puroland's renovation, there will be a photo session allowing customers to take photos of the food and characters too. 

The event will also see the return of the evening main show "Miracle Illusion☆Happiness", which was last performed in September 2019 and ended with guests longing for more. Hello Kitty and her beloved boyfriend Dear Daniel will also appear in adorable angel costumes. This is a wonderful chance to enjoy delicious desserts, fantastic illumination and beautiful projection mapping.

The "My Melody Strawberry Illuminations Ichigo Ichie" is another Sweets Puro-limited event to be returning this year following its popularity. This event will run from January 10 to February 14, 2020. From February 15 to March 10, 2020, Hello Kitty's cute singing voice will echo throughout Puroland as she performs at the illumination show "SPARKLE!! Sweet Lights".

After the illumination show, Puro Village will be illuminated entirely in sweet pink illumination. 

Meet the characters dressed in berry-themed costumes at the "Very Berry Character Hug Time" event and enjoy the Valentine's Day and White Day-themed event "Special Sweets Greeting" (fee applies). 

You also can't miss the dessert house photo spot and dessert-themed character merchandise, which will be available for a limited time only. 

Puroland will be bursting with sweet goodness that you just can't miss next year.

©1976, 2009 SANRIO CO., LTD.©1976, 1990, 1993, 1996, 1999, 2001, 2004, 2010, 2019 SANRIO CO., LTD.

7 Ways to Start Your Morning with Delicious Food in Fukuoka

Our website has loads of information on delicious desserts and food to try in Fukuoka. Today we'll be looking at the best places to try a traditional "Morning" according to expert Instagrammer moe. "Morning" is a typical breakfast enjoyed by the Japanese and is a great way to start the day. moe has been travelling from head to toe of Fukuoka, taste-testing different breakfasts and photographing them. Here are the findings. 

Full Full Kaze no Mori, Kashii-Kaenmae

Croque Madame Set and French Toast Set

Full Full recently opened at Kashii-Kaenmae. The Croque Madame Set or the French Toast Set is the perfect way to start your day. For the croque madame, their delicious bread made from special whole wheat flour is topped with tomatoes, bacon, white sauce and a sunny-side-up egg. The french toast is made from the same round bread used to make their popular Mentai France which is a baguette topped with creamy fish roe. The fluffy bread is topped with a crispy sweet sugar coating that is scorched like a crème brûlée.

▼Full Full Kaze no Mori

Opening Hours: 8:00-18:00 (Café Last Orders)
Closed: Tuesdays
Address: 7 Chome-4-2 Kasumigaoka, Higashi Ward, Fukuoka

Official Website: https://www.full-full.jp/

BAKERY TATSUYA, Minami

Simple yet stylish, BAKERY TATSUYA is white on the interior and exterior. There is space to eat-in so it is possible to enjoy your freshly baked goods upon purchase. There is so much variety that you will be spoilt for choice.

▼BAKERY TATSUYA

Opening Hours: 9:00-17:00
Closed: Mondays, every first and third Tuesday of the month.

Address: 2 Chome-45-29 Hanahata, Minami Ward, Fukuoka

Official Website: https://www.facebook.com/BakeryTatsuya

amam dacotan, Ropponmatsu

Fig Fruit Sandwich and Salted Milk Gelato Croissant 

amam dacotan's crusty bread is so delicious that it appeared on TV. The shop is packed with different varieties of bread. Alongside the takeout menu there is also an eat-in-limited menu. The Salted Milk Gelato Croissant is an exquisite balance of sweetness and saltiness that you just have to try.

▼amam dacotan

Opening Hours: 10:00-19:00 (Sales end once stock is depleted)

Closed: Wednesdays
Address: 3-chōme-7-6 RopponmatsuChūō-ku, Fukuoka

Website: https://www.instagram.com/amam_dacotan/

Siro coffee, Josei

Red Bean Jam and Butter Sandwich with a Japanese Tea Latte

The simple and stylish interior of Siro Coffee has earned its Instagram fame. Treat yourself to a warm red bean paste and butter sandwich to enjoy the sweetness of the paste as it fuses with the saltiness of the butter. Everything is packed into a neat and beautiful small bun. The rich Japanese tea latte is the perfect way to finish off a refreshing meal. 

▼Siro coffee

Opening Hours: 12:00-19:00
Closed: Wednesdays and the first and third Tuesday of the month.
Address: 2-12-16 Josei, Sawara Ward, Fukuoka
Official Website: https://www.instagram.com/siro_coffee/

Shirogane Sabo, Hirao

Platinum Salad Morning

Shirogane Sabo's classic pancakes can be simply enjoyed as they are for a buttery flavour or enhanced as you please by adding maple syrup or honey. The Platinum Salad Morning comes with juice, the platinum salad, classic pancakes and coffee. Shirogane Sabo can get quite crowded so it is best to reserve a time slot if you are set on going.

▼Shirogane Sabo
Opening Hours:

Weekdays: 10:00-22:00(Last Orders: 21:00)

Weekends and National Holidays: 8:00-22:00(Last Orders 21:00)
Address: 1 Chome-11-7 Shirogane, Chuo Ward, Fukuoka

No closing days.
Website: http://s-sabo.com/

Bread, Espresso & Hakata &, Fukuoka Ekimae

Teppan French Toast

Mu-Mentai

A Bread, Espresso & Hakata & opened in Hakata. This branch serves the Fukuoka-limited Mu-Mentai where you can enjoy a heap of creamy fish roe covered in butter and cream. The bread and sandwiches start to sell out past lunchtime so make sure you get there early if you are interested. 

▼Bread, Espresso & Hakata &

Opening Hours:8:00-20:00
No Regular Holidays
Address: 2-8-12 Hakataekimae, 1F, Hakata, Fukuoka
Website: https://www.instagram.com/bread.espresso.and.hakata/

Blue Jam, Sawara

Croissant d'Amande Choco Banana 

Blue Jam uses carefully-selected natural ingredients in their bread and pastries. The luxurious Croissant d'Amande Choco Banana is a three-in-one almond, banana and chocolate croissant. The melon pan here is also delicious.

▼Blue Jam

Opening Hours:8:00-18:00 (Last Orders: 17:30)
Closed: Sundays
Address: 3-1-41 Tamura, Sawara Ward, Fukuoka
Official Website: http://www.bluejam-fukuoka.com/

 So, what do you think? moe's Instagram is full of the most delicious lunches you have ever seen. If you're struggling on where to go for breakfast in Fukuoka, let moe's Instagram be your guide. 

Original Article Information and Photos by:  moe

Winter is Coming: Warm Up With Hot Pot at Hot Spring Hotel Hoshino Resorts KAI

The cold weather is here, and it's only set to get colder. When winter falls in Japan, one of the best things people like to do is cook hot pot. Hoshino Resorts is offering the same service for guests this winter at 14 branches of their 'KAI' onsen ryokan (hot spring Japanese inn) brand hotels up and down Japan, with each hot pot filled with the taste of local cuisine.

Winter is truly the best time to eat hot pot for Japanese people, as they huddle around the table nice and toasty and tuck into their piping hot dinner. We're showcasing 9 of the hot pots you can enjoy at Hoshino Resorts KAI this winter season.

Hoshino Resorts KAI Tsugaru: "Gyu Shabu" – Dashi made delicious with plentiful dried tuna

KAI Tsugaru is situated in Aomori, and this hot pot is made one with one of the prefecture's most famous ingredients: tuna, which is caught during the autumn and winter seasons. The main player of this beef shabu hot pot is its dashi which is made from the sweet juices of tuna which go deliciously well with the beef. If you're looking for a hot pot that's a little different from the usual options, you'll love this one.

Running: September 1, 2019 – February 29, 2020 (Except December 29-January 1)
Plan Name: Ooma no Gaguro Zukushi Kaiseki (大間のまぐろづくし会席)
Price: From ¥24,000
Reservations: https://www.hoshinoresorts.com/en/resortsandhotels/kai/tsugaru.html

Hoshino Resorts KAI Kaga: "Kani Sukinabe" – Zuwai-gani snow crab

At KAI Kaga, which is located in Yamashiroonsen, Ishikawa, this hot pot they have cooked up is made in a kombu dashi and is filled with legs of zuwai-gani snow crab and a variety of winter vegetables like bok choy and edible chrysanthemums.

The dish makes full use of the delicious flavour of the crab. It's also served in kunitani-ware made by a young craftsman and Yamanaka lacquer ware, adding to the originality of this hot pot.

Running: November 7, 2019 – March 10, 2020 (Except December 29-January 6)
Plan Name: Katsu Kani Zukushi no Tagu Zuki Kani Kaiseki (活蟹づくしのタグ付き蟹会席)
Price: From ¥47,000
Reservations: https://www.hoshinoresorts.com/en/resortsandhotels/kai/kaga.html

Hoshino Resorts KAI Alps: "Yuki Nabe" – Thawing of spring

The hot pot at KAI Alps in Nagano includes fluffy cotton candy which is based on the snowy mountains of the alps. When you pour the soup over, the cotton candy melts, symbolising the thawing of spring, to reveal the beef and vegetables. The cotton candy adds a light sweetness to the soup as well as fun visual effect.

Running: December 1, 2019 – May 31, 2020 (Except December 31-January 3)
Plan Name: Yuki Nabe Kaiseki (雪鍋会席)
Price: From ¥25,000
Reservations: https://www.hoshinoresorts.com/en/resortsandhotels/kai/alps.html

 

Hoshino Resorts KAI Kinugawa: "Ise Ebi & Roast Beef Ryujin Nabe" – The dragon god's hot pot

KAI Kinugawa in Tochigi has created a hot pot based around the legend of the Ryuokyo dragon god, capturing its malevolence. It's cooked over stones heated to almost 800℃.The soup bubbles as the pot begins to boil and cooks the seafood and other local ingredients from Tochigi, making sure to draw every last delicious drop of flavour from them.

Running: December 1, 2019 – February 29, 2020 (Except December 28-January 4)
Plan Name: Ise Uni to Gyuu Roosu no Ryuujin Nabe Kaiseki (伊勢海老と牛ロースの龍神鍋会席)
Price: From ¥31,000
Reservations: https://www.hoshinoresorts.com/en/resortsandhotels/kai/kinugawa.html

Hoshino Resorts KAI Sengokuhara: "Uni & Beef Sukinabe" – Satisfying spices from the mountains and seas

KAI Sengokuhara in Kanagawa has created a hot pot that's made with lots of ingredients from the mountains and the seas. By using a bounty of uni, which goes incredibly well with beef, it adds a rich sweetness to the overall flavour. There is also a secret flavour hidden under it all: syrup made from the ao mikan citrus which grows in the city of Odawara. This not only adds an exquisite sourness to the hot pot, but also serves to elevate the sweetness of the uni.

Running: June 1, 2019 – February 29, 2020
Plan Name: Uni to Gyuu no Sukinabe Kaiseki (雲丹と牛のすき鍋会席)
Price: From ¥46,000
Reservations: https://www.hoshinoresorts.com/en/resortsandhotels/kai/sengokuhara.html

Hoshino Resorts KAI Ito: "Sankai Nabe" – Soaking up the mountains and seas of Ito

Shizuoka is home to KAI Ito, where guests can enjoy yet another hot pot lavish with ingredients from the mountains and the seas, like splendid alfonsino―which Ito enjoys an abundance of―as well as seasonal vegetables and beef. There are two soups to combine these ingredients with: a bouillabaisse which contains a dashi made from fish from Ito filled with splendid alfonsino and vegetables, and a beef soup.

Running: October 1, 2019 – February 29, 2020 (Except December 31-January 3)
Plan Name: Sankai Nabe (山海鍋)
Price: From ¥25,000
Reservations: https://www.hoshinoresorts.com/en/resortsandhotels/kai/ito.html

Hoshino Resorts KAI Enshu: "Tecchiri" – A taste of the Torafugu tiger pufferfish

KAI Enshu is another hot spring inn, located in Hamamatsu in Shizuoka. Their "Tecchiri" is made with Torafugu tiger pufferfish. None of the flavour of the fugu is wasted in this hot pot, and that is proven as the entire thing is made right in front of customers' eyes. The zōsui is made with a KAI Enshu-original blend of sencha green tea called souka (爽華), which ensures that element of locality is included in the dish as Shizuoka is famous for its tea.

Running: October 5, 2019 – March 31, 2020 (Except December 29-January 3)
Plan Name: Fugu Zukushi Kaiseki (ふぐづくし会席)
Price: From ¥31,000
Reservations: https://www.hoshinoresorts.com/en/resortsandhotels/kai/enshu.html

Hoshino Resorts KAI Izumo: "Kani Sukinabe" – Collaboration between Katsu Matsubagani & Shijimi

KAI Izumo is situated in Tamatsukuri Onsen, an onsen hot spring in Tamayu, Shimane. Their "Kani Sukinabe" is made with rich snow crab crab which has an exquisite sweetness and is soft in texture. From beginning to end, this hot pot is a crab party in your mouth.

Running: November 7, 2019 – March 10, 2020 (Except December 31-January 4)
Plan Name: Tagu Zuki Katsu Matsubagani Zukushi Kaiseki (タグ付き活松葉蟹づくし会席)
Price: From ¥45,000
Reservations: https://www.hoshinoresorts.com/en/resortsandhotels/kai/izumo.html

Hoshino Resorts KAI Aso: "Netakuri Nabe" – Rich miso and cheese

The base of the soup in KAI Aso, located in Kumamoto, is a mix of milk from Jersey cattle and miso. It contains wagyu Japanese beef and seasonal vegetables. Its appearance is based on the Aso Caldera region of Kumamoto Prefecture and its incredibly vast grasslands.

Running: September 1, 2019 – February 29, 2020 (Except December 29-January 3)
Plan Name: Wagyuu to Caciocavallo o Tanoshimu Netakuri Nabe (和牛とカチョカヴァロを楽しむねたくり鍋)
Price: From ¥46,000
Reservations: https://www.hoshinoresorts.com/en/resortsandhotels/kai/aso.html

Below is a video which showcases each of these local hot pot dishes, so be sure to check it out if you're not already watering at the mouth


All of these hot pots are made with only the best local ingredients as expected of KAI, and all are available for the rest of winter only. Guests can experience the local regions not only through the food, but in the tableware each hotel uses. If you're in Japan this winter, be sure to book with one of the many Hoshino Resorts KAI branches and stay warm with a delicious serving of hot pot.

Sai Sai Jaran Jaran #8: SILENT SIREN's Ainyan Becomes a Wine Connoisseur at Fukagawa Winery Tokyo in Monzennakacho

Sai Sai Jaran Jaran is a featured series here on MOSHI MOSHI NIPPON from the members of the all-female band SILEN SIREN (aka Sai Sai) who visit various hot spots in Japan and experience different things, the Sai Sai way.

Band bassist Ainyan enjoys a beer or cocktail, but she wants to step into the world of wine, so we will join her on her journey today as she goes to learn all about wine from the very basics.

It's a clear sky today. Great weather for going for a drink during the day, am I right?

We visited Fukagawa Winery Tokyo in Monzennakacho, an area located in Shitamachi, Tokyo. We were looking forward to going there because it offers the full wine experience, allowing visitors to see wine brewing up close to learn all about it.

This experience is offered twice a day on weekends and national holidays at 14:00 and 16:00.

Fukagawa Winery Tokyo opened in Tokyo in 2016 as a winery where the ordinary person could go and see wine being made to fully understand its process. It has expanded its circulation in recent years and is now able to take in grapes from across Japan, including Tokyo, to craft many different wines.

On the day we visited we saw the staff bottling up the wine. On average, the winery ships out around 30,000 bottles a year.

The corks have illustrations of "Wine Man" on them, a character created by Fukagawa Winery Tokyo. Ainyan was fairly fond of him!

Time to see how the winery works!

When you step inside, the scent of grapes is the first thing to hit your senses.

The one in charge of Fukagawa Winery Tokyo is Kousuke Ueno, who was kind of enough to show us around. He taught us the process of wine making, as well as what types of grapes and tools they use.

"This machine separates the grapes and stalks using the propellers. This method has been used for 150 years," explained Ueno.

There are periods when visitors can observe this machine being used to separate the grapes. It takes place between mid-August to November, so follow Fukagawa Winery Tokyo's social media for announcements and details.

"Wow! It smells so good!" said Ainyan. We got to see a bucket where Cabernet Sauvignon was being made. They put in whole grapes with the skin on and add natural yeast for the fermentation process. The sweet smell of the grapes fills the air and makes you want to have a glass.

Now for what Ainyan has been waiting for: taste-testing time! She learned everything about the wine making process, so it was time to taste and compare some different wines.

The winery allows taste-testing until 17:00. You can try 3 types for ¥700. And of course, if there's one you tried that you really liked, you can buy it there and then. So sip, scrutinise, and select!

"Please try this one first. It is wine, but it's like a lemon sour," explained Ueno, recommending that Ainyan first try the Yamanashi  Delaware Sparkling.

Soak up all the notes of the drink by having a good smell first before taking a small sip. "Smells really good. This sourness really is like a lemon sour! I wonder why?" said Ainyan.

This wine uses premature grapes which gives the wine a sour taste. The sourness of this wine can play the part of lemons, so it's best paired with fried foods or meals with chicken in them.

The second drink was the Yamagata Delaware Muroka. It's an unfiltered wine made from completely ripened Yamagata Delaware grapes.

Unfiltered means that the filtration process to take out visible solids and such is not used. This gives it a slightly cloudy appearance and an exquisite taste that's somewhere between wine and juice.

Left: Unfiltered Yamagata Delaware / Right: Filtered Yamagata Delaware

For the third glass, Ainyan ordered the filtered Yamagata Delaware to test the difference between it and the unfiltered version.

"The filtered one has a good balance of flavours and is refreshing. The unfiltered one has a smooth juiciness to it. They're both delicious, but I like the unfiltered one more!" said Ainyan.

Her fourth glass was an unfiltered red wine: the East Bay Assemblage Red B.

The grapes used are a combination from Hokkaido, Nagano, and Aomori. It really is an assemblage!

"The red wine has such a different taste and colour depending on the type too! This dark red wine is close to what I usually drink!" said Ainyan with a happy smile.

At the end of the session, Ainyan had tried 10 wines and bought two bottles! She was delighted with her experience, saying: "I was surprised how different each and every one of the wines I tried at Fukagawa Winery Tokyo were. I think I'm getting hooked on the appeal of unfiltered, natural wines."

With Christmas and New Year around the corner, now is the season to indulge in wine. If you're in Tokyo this December, pay a visit to Fukagawa Winery Tokyo for a full wine experience.

Writer:Yuki Yokoo

Photographer:Kayo Sekiguchi

SILENT SIREN

SILENT SIREN is a four-member all-female band consisting of vocalist & guitarist Sumire "Suu" Yoshida, drummer Hinako "Hinanchu" Umemura, bassist Aina "Ainyan" Yamauchi, keyboardist Yukako "Yukarun" Kurosaka.

The band made their major debut in November 2012 with their single Sweet Pop! The band is known to fans by their nickname "Sai Sai." They are especially popular with middle school girls in Harajuku and have over 540,000 follows on their official LINE account.

In 2015, they performed their first solo concert at Nippon Budokan, making them the fastest Japanese all-female band in history to perform there after their major debut. In 2016, they performed a headline show at Yokohama Arena, and embarked on a world tour consisting of 6 shows in 5 countries.

At the end of 2016, they changed label to Universal Music and revamped their band logo and how they write their band name. In 2017, they wrapped up their 5th anniversary tour with their first two-day concert series at Nippon Budokan.

In 2018, they embarked on their biggest Japan tour to date "Tenkaippin presents SILENT SIREN LIVE TOUR 2018 ~"Girls will be Bears" TOUR~ consisting of 33 shows. They also performed at big music festivals and at countless events, as well as performed their annual New Year's solo concert at Yokohama Cultural Gymnasium.

In 2019, they began celebrations of 7 years since their debut and 10 years as a band. They released their final album of the Heisei era and 6th album in total 31313 on March 13 ,2019 and promoted it on their tour SILEN SIREN LIVE TOUR 2019 "31313" ~Sai Sai 10th Anniversary~ supported by Tenkaippin. They also performed at numerous summer festivals and events.

On December 30, 2019, they will performed their annual New Year's concert "SILENT SIREN Nenmatsu Special Live 2019 HERO" at Yokohama Cultural Gymnasium.

In 2020, they will celebrate 10 years since forming the band with a show at Yamanakako Communication Plaza Kirara on September 20, 2020.

SILENT SIREN Official Website: https://silent-siren.com/

Information

Fukagawa Winery Tokyo

TEL: 03-5809-8058

Address: Takahata Bldg. 1F, 1-4-10 Furuishiba, Koto Ward, Tokyo

Opening Hours: Weekdays 15:00-22:00 / Weekends & Public Holidays 12:00-22:00

Closed: Tuesdays

Winery Observations: Weekends & Public Holidays at 14:00 and 16:00 for 20 minutes each. Must book in advance.

Official Website: https://www.fukagawine.tokyo/

Rakuten Travel Reveals Japan's Top Hot Spring Locations For Women Travelling Solo

Travel booking website Rakuten Travel has revealed the 2019 ranking for Japan's most popular onsen, or "hot spring" sites for women travelling alone. Taking the crown at No. 1 is Hakodate Yunokawa Onsen in Hokkaido.

Night view of Hakodate

The Le Havre lounge in Hakodate Kokusai Hotel

Hakodate Yunokawa Onsen placed at No. 3 in last year's ranking. It rated highly amongst women for it being so close to Hakodate Airport, as well as it being easy to access local tourist and sightseeing spots by train from there like the Hakodate Morning Market (Hakodate Asaichi) and Mount Hakodate, which is listed as one of Japan's Three Night Views. The area also offers a variety of accommodation options, from long-standing traditional ryokan inns to business hotels.

Dogo Onsen

In second place is Dogo Onsen, a hugely popular hot spring location with Dogo Yamanote Hotel having ranked number one in Rakuten Travel's list for the most leisurely accommodations for women travelling solo.

Rose Bath at Dogo Yamanote Hotel

In recent years, the number of plans for women travelling solo as well as services for renting open air baths for one person have been on the increase. Dogo Onsen is a 25-minute train journey from Matsuyama Station via the JR line and a 40-minute bus ride from Matsuyama Airport.

Hakone Tozan Railway

Hakone Yumoto Onsen ranks at No. 3. Despite the effects of the earthquake, the hot spring has enjoyed solid popularity, with Rakuen Travel having given travel coupons and offering special plans to help raise money and support the area. It's only about an hour and a half's train ride from Shinjuku Station, it offers plans to stay at local hotels, and it's easy to set up a travel plan to visit there, which is what has led to its popularity.

Yugawara Onsen in Kanagawa came in 4th place, while Yufuin Onsen in Oita came in 5th. Use this list as reference when planning which hot springs to visit in Japan.

Akasaka Yuuga: The New Japanese Restaurant in Tokyo's Gourmet Warzone Akasaka

Akasaka is known as a warzone when it comes to gourmet restaurants, but a new contender has arrived. Akasaka Yuuga opened this month in Akasaka Ni-chome, Tokyo. This restaurant serves Japanese style cuisine featuring carefully selected flavours taken from across the country.

Yuuga gets most of their fish from Choshi Port, which boasts the best fish yield in Japan, as well as other carefully chosen seafood from across Japan in addition to seasonal vegetables. They bring out the full flavour of their ingredients, all of which are matched to the current season. They even serve Japanese black beef.

Their concept centres on how recognised and loved Japanese food is internationally. The restaurant makes full use of Japan's traditional food culture and prepares food using a variety of cooking methods. Everything in the restaurant is carefully considered to ensure diners enjoy their meal experience with all five senses, from not only the food but the decor and hospitality too. There are also counter seats available for customers who want to watch their food being prepared while they talk, whether to their friends or with the skilled chefs, offering an unforgettable dining experience for Japanese people and foreigners alike. There are also private eating booths for those who want to eat with friends, family, or celebrate a special day.

Nijushisekki

Nijushisekki refers to the days that divide the solar year into twenty four equal sections and highlight the longest days of sun in summer, the shortest days in winter, and the days being the same in spring and autumn.

The dishes at the restaurant reflect these regular changes; the dishes are not bound strictly by Japanese cuisine, but make use of various cooking and preparation methods, with thought and consideration put into every dish.

Japanese Black Beef

Yuuga prides itself not only on seasonal vegetable and fish-filled menu, which is both a feast for the belly and eyes, but on the beef used in its course meals too.

Yuuga serves Japanese black beef which comes from a rare breed of cow which is difficult to rear. It has a distinct rich flavour and low melting point which gives it a melt-in-the-mouth texture.

Courses

There are three courses to choose from that cater to customers desires, costing ¥8,000, ¥12,000, and ¥20,000 respectively. This includes appetisers, and customers can choose from a range of wines from around the world select by sommeliers, as well as champagne, whisky, and of course sake and shochu.

Information

Akasaka Yuuga

Address: Yamaguchi Bldg. 1F, 2-14-8 Akasaka, Minato Ward, Tokyo

Business Hours: 17:00-23:00 (Last Orders 22:00)

Closed: Sundays & Public Holidays

Official Website: http://yuuga.ku-shin.jp

WASHOKU: Asakusa's Newest Restaurant For Experiencing Japanese-Style Cuisine

Asakusaーone of the hottest spots in Tokyo for sightseeing, ever-bustling with Japanese and foreign tourists and travellers alike. This ancient district is famous not only for its sights, like Sensō-ji (the oldest temple in Tokyo) and the Nakamise-dōri shopping street leading up to it, but for its bountiful offering of gourmet restaurants.

Today, we're taking a look at Taikenkei Dining -WASHOKU-, a restaurant which opened in Asakusa on November 19 this year. If you're looking for the full package when it comes to experiencing Japanese food culture, WASHOKU has customers covered. Not only do they serve food, like traditional Kyoto obanzai, but they offer cultural experience plans too where you can learn to make sushi or dress up in a kimono and walk the old streets of Asakusa.

WASHOKU's concept when it comes to both lunch and dinner centres around enjoying Japanese-style food that is colourful. And that rings tantalisingly true with their kaleidoscopic obanzai, which is formed of 12 vivid bite-sized delights. Obanzai is a traditional style of Japanese cuisine that comes from Kyoto, made up of mostly seafood and vegetables. The obanzai served at WASHOKU was conceived under the guidance of nutritionists, and so is packed full of healthy nutrients for the body. Not only that, the ingredients selected are all domestic to Japan, and are of a very high quality.


The obanzai I ate included fried beni haruka sweet potato which is sourced from Ishida Farmsーa sweet potato growerーin Katori, Chiba. It had a moist texture and rich sweetness. When I sank my teeth into it, I was flushed with feelings of the fall season.

Other foods in the assortment included sashimi, scallop and yuzu, saikyo-yaki Kyoto-style grilled fish, and more. Each mouthful of the selection offered its own distinct and unique flavours.

The obanzai is served with miso soup too with which you get to choose a miso ball from a variety of flavours to put into your bowl. I went for the sesame seed miso ball.

The miso ball is made from miso paste and various ingredients. Once placed into the hot water, it melts and turns into miso soup. The sweet light-brown miso was perfect for warming up my chilly self.

Dinner also features a dessert menu, as well as courses with an all-you-can-drink option, so I recommend these options for people who want to relax and take their time with their dining experience.

As I mentioned earlier, WASHOKU also offers a variety of experience-based plans. This includes a sushi class where you can learn to make your own hand-rolled sushi.

There are two types of "temari" hand rolled sushi you can make: the regular type, which makes use of tuna, salmon and other classic sushi toppings, and the high quality type, which uses more high-end ingredients like uni sea urchin eggs, caviar, gold leaf, and more. And for foreign customers, the restaurant has prepared a handout detailing the history of Asakusa and recipes, as well as souvenirs for them to take home.

The MMN team of course had to have a go at making our own sushi, but it proved quite difficult. You have to get the right amount of sushi rice to roll, then actually roll it perfectly into a ball before topping with your ingredients. But the sushi I made was actually really delicious! To attend this class you have to book in advance, so if you've never tried making your own sushi before or have an need some guidance, then we can't recommend it enough.

As well as food-related experiences, WASHOKU provides customers with three different plans to experience Japanese culture. The first of these is the rickshaw ride, where you board a rickshaw pulled by a runner and are taken around the various sites of Asakusa. The 'Excursion Around Asakusa Course' takes you to the most popular spots around Kaminarimon, while the 'Sky Tree Course' takes you all the way to the Sumida River, and you also get to see Tokyo Skytree and various other attractions in Asakusa.

The Edo Kiriko plan gives you the opportunity to cut your own Japanese glass to drink from. You can drink from your glass if you reserve the plan with lunch or dinner.

Finally, you can rent a kimono. Select your favourite from the shop and have a professional dresser get you readyーwith both your kimono and your hair. After you're dolled up, you can take a stroll around Asakusa to get a real feel for Japanese culture.

All three of these plans are just ¥3,500 per person, and all require reservations which you can book online.

So, if you're looking for a taste of Japanese food and culture, why not take a trip to WASHOKU when visiting Asakusa for an all-in-one experience?

Information

Taikenkei Dining -WASHOKU-

Address: 2113 Kaminarimon Bldg. Floors 5F-6F, 2 Kaminarimon, Taito Ward, Tokyo

Opening Hours: Lunch 11:00-15:00 / Dinner 15:00-17:00

No Fixed Holidays

Access: 1-minute on foot from Exit 4 of Asakusa Station via the Tokyo Metro Ginza Line / 2-minutes on foot from Exit A3 of Asakusa Station via the Toei Asakusa Line

Official Website (English): https://washoku.site/en/

IOC and Airbnb Announce Global Olympic Partnership & Olympian Experiences

The International Olympic Committee (IOC) and Airbnb have announced a major long-term partnership to support the Olympic Movement which will run from 2020-2028. During this period, Airbnb will offer unique accommodation and experiences, and experience tours hosted by Olympians and athletes will also take place.

The partnership will create hundreds of thousands of new Airbnb hosts over the the nine-year period from July next year, allowing for visitors to enjoy longer stays, accommodating families, and more. This will enable community residents to generate extra income while accommodating overseas visitors and proving them with local experiences. In turn, it means those visiting from overseas will be able to engage more with the local culture and community. Both occupied and vacant homes will be utilised.

The IOC and Airbnb will also launch Airbnb Olympian Experiences which will provide direct earning opportunities for athletes by promoting sports, allowing for people to train together with elite athletes and Olympians.

At the press conference for the announcement of the partnership, gold medalist Saori Yoshida said: "A lot of athletes today devote themselves completely to the games, so a lot of them struggle to find their next career after retiring. These Athlete Experiences will widen the activities of all athletes; not only retired competitors, but those who weren't able to make it as far as the Olympics too. I'm very thankful for that. I believe it will raise the standard of the games for kids, and will serve to brighten and bring excitement to the whole of Japan. I hope that these efforts bring a tremendous boost to the sports world and will have everyone taking an interest in sports."

Tokyo 2020 will officially launch next summer, and with this partnership, people may just be able to enjoy the Olympic Games together with the athletes themselves, allowing for fans to feel closer to the games and the Olympians.

Airbnb's involvement also gives visitors from overseas to enjoy Japan and the Olympics in an unprecedented way. If you're travelling to Japan for Tokyo 2020, be sure to book with Airbnb.