Kofukudo has been selling delicious and elegant Japanese sweets for over 140 years. From June 14, they will release a new season-limited flavour of their popular *daifuku. The season-limited sweet will be called Sakuranbo Daifuku. (Cherry Daifuku).
*Daifuku is a type of round, sweet mochi dough that is traditionally filled with a sweet filling such as red bean paste.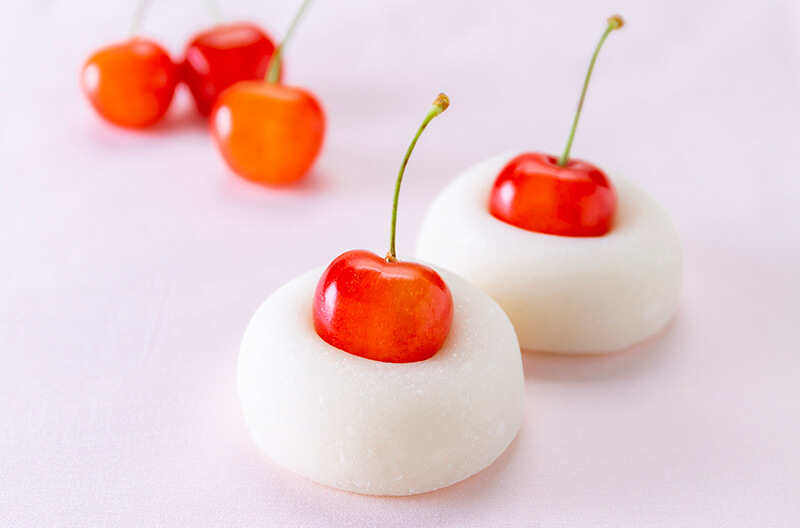 Cherry Daifuku: ¥270 each (after tax)
These daifuku are made using the seasonal Sato Nishiki cherries which are at their peak harvest time in June. This means that this is the only season where you can truly enjoy the beautiful flavour of this cherry. After extensive trial and error, a wonderfully balanced daifuku was created. The white bean jam has a mild sweet scent of cherry. Paying the slightest attention to detail, the sweet was carefully crafted in order to fully extract the fresh and juicy flavour of the cherries whilst preserving their high quality sweetness. A cherry casually sits on top of the white mochi of the daifuku. You just won't be able to resist taking pictures of this cute treat. 
This is perfect to set out on the dining table at a party. These seasonal sweet treats would also make the perfect gift when visiting a friend.
Take a light bite of luxurious daifuku to experience the best of traditional Japanese sweets.
Information
Sakuranbo Cherry Daifuku
Price: ¥270 each (after tax)
※ This product may not be available at all Kofukudo shops. The limited sales period, the contents of the product and the price may vary from shop to shop.
Kofukudo Official Website: https://www.kakiyasuhonten.co.jp/cate/brand/?c=001006001