Kaori's Easy Recipe: Learn to Make Winnie the Pooh S'more Cookies
With just a small bit of ingenuity, turn everyday food into something cute using Kaori's easy recipe! With a few simple ideas, an ordinary recipe magically transforms into a cute dish.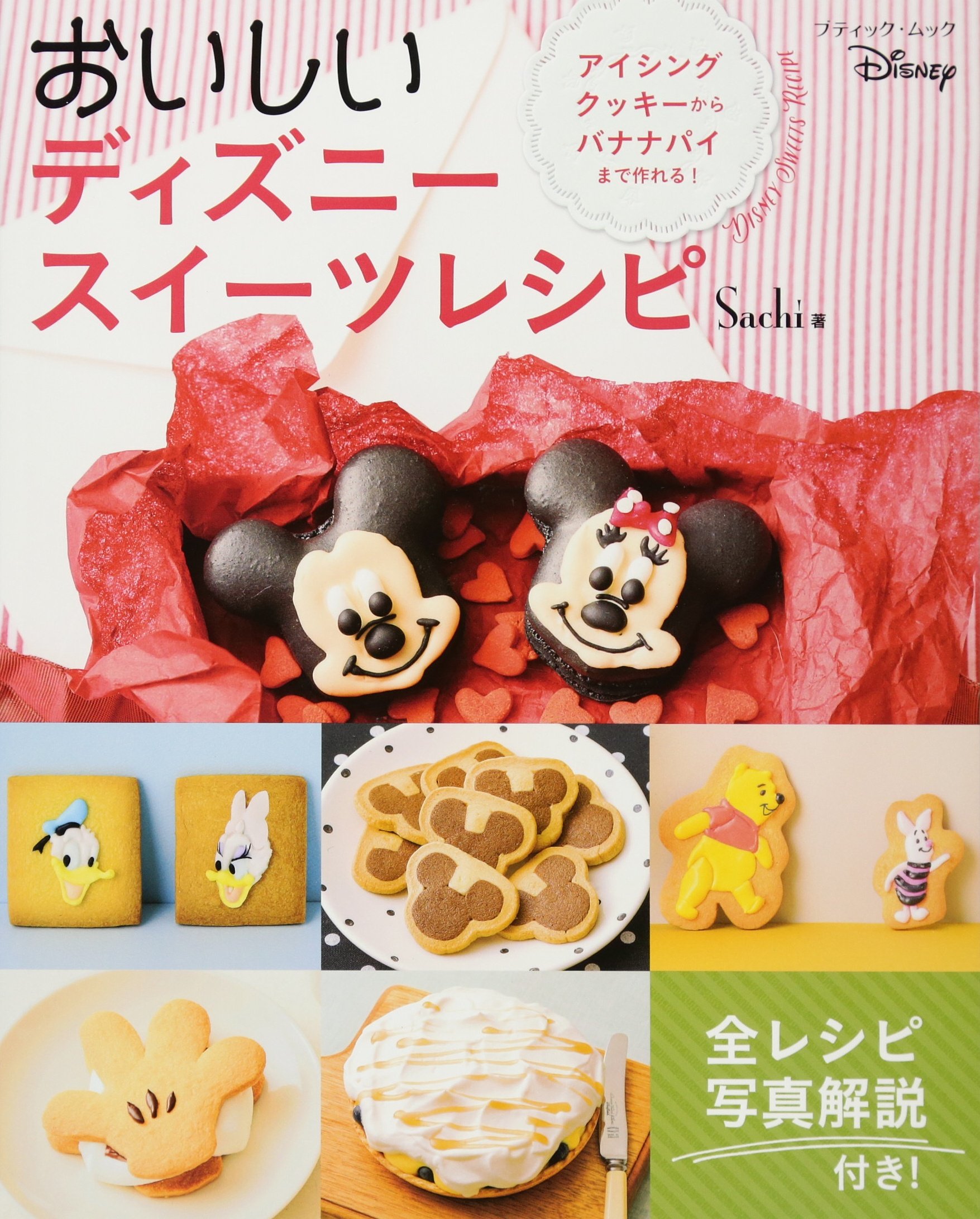 In this edition, we'll be using a recipe from the Disney dessert cookbook Oishii Disney Sweets Recipes. In the book, there is a recipe for making s'more cookies of Mickey's gloves, but I decided to shake things up a bit and make Winnie the Pooh ones instead. The glove recipe is super cute as well, so if you can get your hands on the book I definitely recommend trying that out too.
A s'more is a marshmallow wedged between chocolate and cookies. The cookie dough isn't overly sweet so it's extremely delicious even if you pack full with marshmallows and chocolate.
Ingredients
Cookie Dough
100g unsalted butter
80g powdered sugar
A pinch of salt
20g egg yolk (1 medium egg)
190g sifted wheat flour
S'mores
Marshmallows
Chocolate
Chocolate Pen
1.
Allow the unsalted butter to come to room temperature then knead in a bowl well. Slowly add the the powdered sugar, egg yolk and sifted flour in that order while mixing.
2.
Once the mix comes together, line it across a baking sheet and flatten evenly. Once flat, put in the refrigerator and chill in the refrigerator from at least an hour to overnight. In the recipe book it says to use a round dough cutter but I actually own a Winnie the Pooh cutter so I used that. Cut the dough to the size of your liking. Line them on a baking tray and bake at 160℃ for approximately 20 minutes.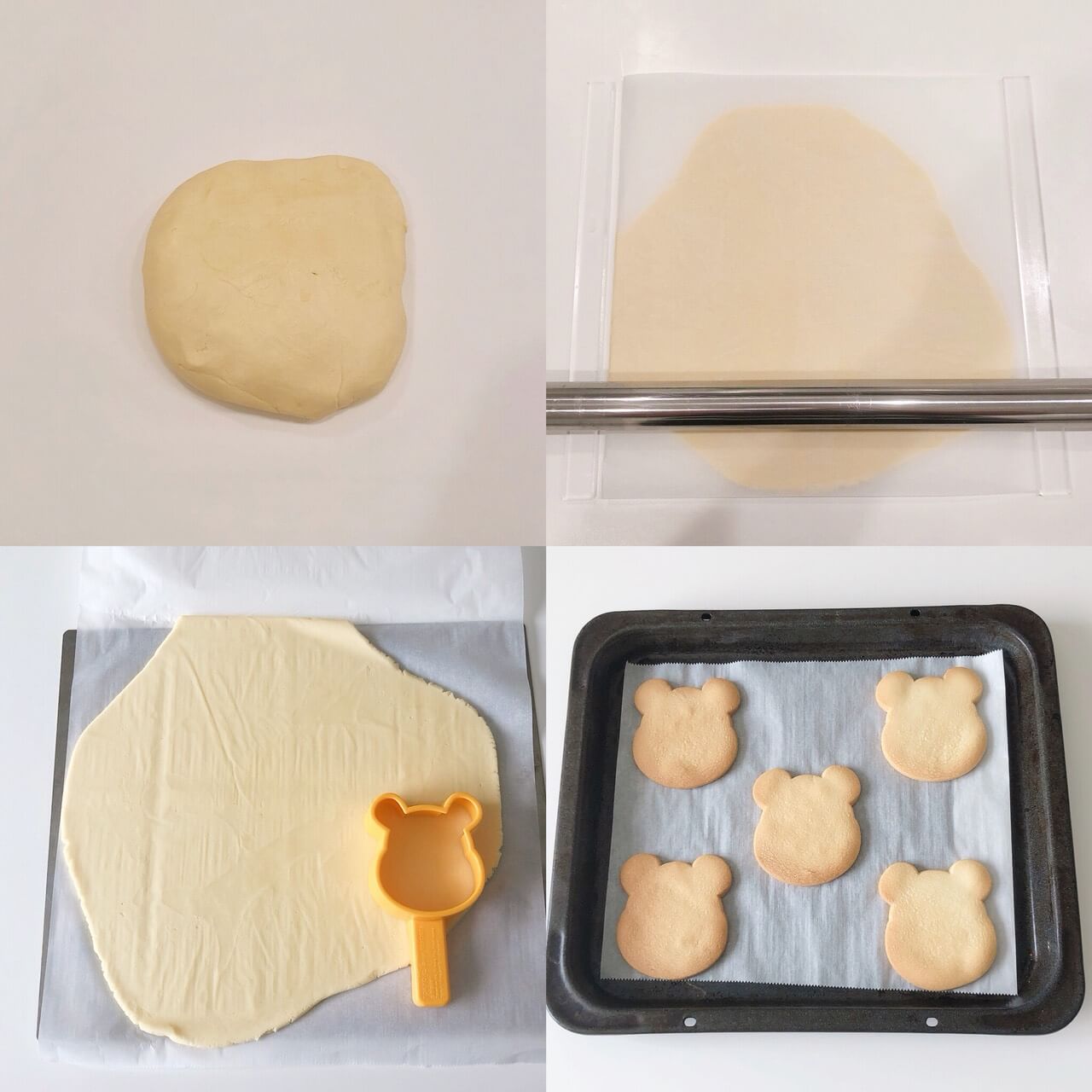 3.
Once baked, leave to cool. Next, start drawing on the face. I made a video to show how I did it so check it out below.
4.
Place the marshmallows on the side of your cookie without the face and melt in a 500w microwave for 20 seconds. Place the chocolate on the warm marshmallows and then pop the face back on. The marshmallows and chocolate are more delicious when melted, so I recommend eating them as soon as you take them out of the microwave.
It was fun to put in the amount of chocolate and marshmallows that I wanted.
They are perfect for parties too!
Kaori invites you into her world of character-themed food dishes in her recipe series. Be sure to check out her Instagram where she has uploaded many pictures of her character dishes!
©️Disney
Profile
Kaori Kubota (@kaopan27)
I live in Hokkaido and I love to make character themed foods, desserts and pastries♡
I want to see my family smile, so I enjoy putting in a bit of effort to make character foods and changing food into something cute♡
You can see more of my character foods and character bento boxes on my Instagram page→@kaopan27
Information
Oishii Disney Sweets Recipes (Japanese Title: おいしい ディズニー スイーツレシピ)
Price: ¥1,200 (Tax Included)
Available: Amazon Japan, Rakuten and elsewhere
RECOMMENDED ENTRIES
Kaori's easy recipe – Learn how to make "Winnie the Pooh Chinese Red Bean Steamed Buns."

With just a small bit of ingenuity, turn everyday food into something cute using Kaori's recipe series! With a few simple ideas, an ordinary recipe magically transforms into a cute dish.

 This time, I will introduce to you, "Winny the Pooh's anman" (rice cake with bean jam stuffed inside).

1: Ingredients (5 to 6 pieces)

➀

Cake flour / 75g

Bread flour / 75g

Sugar / 1 tablespoon

Salt / one pinch

Dry east / 1 teaspoon

Skim milk / 1 tablespoon

Baking powder / 1 teaspoon

Salad oil / 1 tablespoon

Warm water / 85cc

➁

Colored powder / little bit

Bean jam / 250g~300g

2: Put the yellow powder into the warm water and mix it.

Add a little at a time checking the color.

 

3: Roll the bean jam into small balls, 50g each

4: Add the ingredients noted in ① and knead them together in a mixing machine.

If you want to knead the dough with your hands, knead it until it looks like the photo noted below.

5: Divide the dough into 5/6 sections without performing primary fermentation. Two sections will be used to make the ears.

Flatten the dough which will become the face and put the bean jam in the center.  Make the center of the dough thick so that the bean jam can be wrapped easily.

Wrap the bean jam into the dough.

Be careful that the bean jam does not stick to the edge of the dough.

Roll the dough into balls. (In the photo the closed part is shown at top)

6: Place the dough on a cooking sheet and attatch the ears.

Let the dough rise for 20 to 30 minutes and then using a steamer steam it for 15 minutes.

7: Now let's draw the face.

This time, I used chocolate, but it is ok to use colored powder or black cocoa.

Draw the nose and then draw the eyes and the eyebrows.

Draw the nose and eyes using the round side of a toothpick and draw the eyebrows using the sharp side of the toothpick. Be careful not to make a hole in the dough.

Lastly, add some red powder to some water and using a cotton swab draw the cheeks♡

It is surely a suitable menu for this cold autumn/winter season!

Kaori also invites you into her world of character-themed rice dishes in her recipe series! Please check out her Instagram where she has uploaded many pictures of her character dishes!

■profile

Kaori Kubota (@kaopan27)

I live in Hokkaido and I love to make character-shaped meals, desserts and breads.

I enjoy making character foods because I want to see my family smiling,

The character foods and character bento boxes are introduced in my Instaglam page→@kaopan27

Kaori's Easy Recipe: Learn to Make Disney Tsum Tsum Chocolate Covered Cookies

With just a small bit of ingenuity, turn everyday food into something cute using Kaori's easy recipe! With a few simple ideas, an ordinary recipe magically transforms into a cute dish.

In this recipe, we'll learn how to make a recipe from the book Disney Tsum Tsum Sweets Recipes pictured above.

As well as the characters pictured on the front cover, others include Winnie the Pooh, Donald Duck and Daisy Duck. We'll make the ears from marble chocolate than our usual chocolate plastic. The middle is like a sandwiched cookie, so you get a deliciously crunchy texture♡

1. Ingredients

Silicone cupcake case (my cupcake sections are 6cm)

White chocolate

Matcha chocolate

Marble chocolate

Chocolate plastic (also called "modelling chocolate")

Chocolate pen

Oreo cookies

Pink, yellow, blue and green food colouring

2. Melt the chocolates separately over a bain marie and pour them into separate sections of the cupcake case, about halfway in each.

3. Place Oreo cookies into each like so.

4. Cover the cookies with the remaining chocolate and chill in the refrigerator until set.

5. Once fully set, the final step is to decorate with our chocolate plastic, marble chocolate and chocolate pen.

Sully's purple ears are made with chocolate plastic.

Pooh's ears are made from marble chocolate.

To see how I fully decorated my cookies check out the video I made below!

Lining them up like Disney Tsum Tsum toys makes them look really cute! All of the recipes I used this time are from the Japanese recipe book Disney Tsum Tsum Sweets Recipes (Japanese Title: ディズニーツムツムのスイーツレシピ). It shows how to create lots of different characters!

Kaori invites you into her world of character-themed food dishes in her recipe series. Be sure to check out her Instagram where she has uploaded many pictures of her character dishes!

Kaori Kubota (@kaopan27)
I live in Hokkaido and I love to make character themed foods, desserts and pastries♡

I want to see my family smile, so I enjoy putting in a bit of effort to make character foods and changing food into something cute♡

You can see more of my character foods and character bento boxes on my Instagram page→@kaopan27

©Disney

Kaori's Easy Recipe: Learn to Make Hello Kitty No-Bake Cheesecake

With just a small bit of ingenuity, turn everyday food into something cute using Kaori's easy recipe! With a few simple ideas, an ordinary recipe magically transforms into a cute dish.

In this recipe you'll learn how to make a no-bake cheesecake by simply combining and mixing! This easy recipe can be followed by anyone and can be easily changed into a character cake of your choosing. Chocolate plates are hard to make but if you follow these steps you'll be able to make your own in no time!

Ingredients

200g cream cheese

200g fresh cream

70g sugar

1 tbsp lemon juice

10g gelatin

20 crackers (I used Ritz crackers)

50g unsalted butter

Preparation

・Add 5 tbsp water into the gelatin. Head it in the microwave for 40 seconds before combining with the cream cheese.

・Melt the unsalted butter in the microwave

・Let the cream cheese come to room temperature and then wrap the bowl in cling film before leaving to soften in the microwave.

1.

①Blitz 10 crackers in a food processor and then pour in your melted unsalted butter. Add the other 10 crackers and blitz again.

Add the mix into a cake tin. Wrap a potato masher in cling film like the photo below and press the mix.

*By pressing multiple times with force at this stage it will prevent the biscuit from breaking later when the cake is cooked.

2.

①Blitz the cream cheese and sugar in the food processor to combine.

②Transfer the combined cream cheese and sugar into a bowl and add the lemon juice, fresh cream and the microwaved gelatin.

③Once fully mixed pour it on top of your cracker in the cake tin. Put into the refrigerator to fully cool and solidify. Your no-bake cheesecake is done!

Next we need to draw Hello Kitty's face. I made a video so check that out below too.

1: Get a picture of Hello Kitty (or character of your choice) and affix see-through baking paper on top with sellotape.

2: Trace the lines of the picture with a chocolate pen that has been warmed.

*The fatter your lines the less likely it is to break when you put it on the cake.

3: Once you've finished drawing, place it into the refrigerator to harden. Once both the cheesecake and chocolate have cooled you can begin decorating.

4: Place the hardened chocolate on top of the cheesecake.

*Don't worry if your chocolate breaks a little when putting it on top. You can join the broken lines back up once you've placed it on so nobody will know.

5: Once the framework is on add the eyes and nose making sure to check the sizes and balance. Finally, fill in the ribbon and clothing with either strawberry sauce or strawberry jam that has been mixed with a bit of water.

And you're done!

Kaori invites you into her world of character-themed food dishes in her recipe series. Be sure to check out her Instagram where she has uploaded many pictures of her character dishes!

Information

Kaori Kubota (@kaopan27)
I live in Hokkaido and I love to make character themed foods, desserts and pastries♡

I want to see my family smile, so I enjoy putting in a bit of effort to make character foods and changing food into something cute♡

You can see more of my character foods and character bento boxes on my Instagram page→@kaopan27
RELATED ENTRIES
Support Japan's Cherry Farmers During Lockdown by Eating Q-pot CAFE.'s Cherry Parfait

Q-pot. and Q-pot CAFE. introduced a special cherry parfait to its menu on June 27 to help support cherry farmers whose work has been affected by COVID-19.

Due to less people travelling and sightseeing around Japan as a result of the lockdown and self-isolation practices, orders for cherries are being cancelled, and many festivals across Japan too are being cancelled, all of which is having a huge affect on the country's cherry industry.

The current season is the best time to enjoy Japan's juicy cherries, and so Q-pot CAFE. has teamed up with a cherry farm in Yamagata, a prefecture famous for its cherries.

Cherry Cherry Parfait (w/Drink): ¥1,850 (Tax Included)

The "Cherry Cherry Parfait" is topped with snow-white whipped cream, crunchy meringue, and cherries for a gorgeous contrast of red and white.

The cherries used are considered a high-grade type called "satonishiki" which has been dubbed the "King of Cherries." They sit gracefully atop their kingdom of sweet ingredients including salt milk ice cream, chocolate, cherry jam, sponge cake, and panna cotta.


The cherry farmers are taking all the necessary safety precautions against COVID-19 while they continue to delivery delicious cherries to the people of Japan.

Information

Cherry Cherry Parfait
Location: Q-pot CAFE. Omotesando
Serving: From June 27, 2020 while supplies last
*Due to an event taking place between July 21, 2020 – September 4, 2020, customers must book a table in advance to dine at Q-pot CAFE. Omotesando. The regular menu will not be served.

Official Website: http://www.q-pot.jp

Brown Bear & Other Tasty Shaved Ice Recipes Arrive at Tokyo's Terrace Dining TANGO for Summer

For this year's summer season only, Tokyo-based Italian restaurant Terrace Dining TANGO is serving three original shaved ice desserts from July 1 to August 31.

Terrace Dining TANGO is a restaurant located in The Place of Tokyo, a wedding venue that faces Tokyo Tower. Every summer, the restaurant serves special limited-time shaved ice. They use water with absolutely no impurities that is frozen slowly over a period of 48 hours. This is turned into fluffy shaved ice which the restaurant's patissiers drizzle in specially-made sauces. This year includes their popular brown sugar syrup-drizzled brown bear shaved ice which is always well received for its cute appearance, as well as their regular strawberry milk flavour, and a new apricot kernel and mango sauce shaved ice.

Brown Bear w/Brown Sugar Syrup: ¥950 (Before Tax/Service Charge)

An original shaved ice conceived by Terrace Dining TANGO which never fails to put smiles of the faces of its customers every year. This year they are adding a Japanese taste to it with a houjicha tea syrup sauce. Inside the fluffy shaved ice is condensed milk and chewy tapioca. If you let the shaved ice melt it becomes like bubble tea with the tapioca pearls.

Strawberry Milk: ¥850 (Before Tax/Service Charge)

A classic serving of TANGO's strawberry milk shaved ice, doused in a specially-made strawberry syrup and rich condensed milk. Hidden in the centre is a condensed milk cream, strawberry jelly, and fresh strawberries.

Apricot Kernel Milk w/Mango Sauce: ¥850 (Before Tax/Service Charge)

This shaved ice is topped with melt-in-the-mouth apricot kernel cream and lots of fruity mango sauce for a sweet and sour punch.

Terrace Dining TANGO is a great place to visit after going to Tokyo Tower, so if you're in Tokyo this summer then cool yourself off with some refreshing shaved ice.

Information

Terrace Dining TANGO

Address: 1F, 3-5-4 Shibakoen, Minato Ward, Tokyo

Opening Hours:

[Weekdays] 11:30-15:00 (Last Orders 14:00), 17:00-23:30 (Last Orders 22:30)

[Saturdays] 11:30-16:00 (Last Orders 15:00), 17:00-23:30 (Last Orders 22:30)

[Sundays/Holidays] 11:30-16:00 (Last Orders 15:00), 17:00-22:30 (Last Orders 21:30)

No Fixed Holidays
TEL: 03-5733-6866

Official Website:  https://tabelog.com/tokyo/A1307/A130704/13144857/

Cute Bear Pancakes Whipped Up at IMADA KITCHEN in Tokyo's SHIBUYA109

IMADA KITCHEN in SHIBUYA109 has teamed up with Hattendo Cafe to co-create the new "Torokeru Kuma-san Pancakes" (Melty Mr. Beat Pancakes) which will be served from July 1, 2020 to August 30, 2020.

IMADA KITCHEN is a food project that aims to create original food in Shibuya. Together with Hattendo, a Hiroshima brand known for its incredible cream pastries, they have created a super cute bear design pancake. Bear designs are popular with young girls in Japan.

Torokeru Kuma-san Pancake: ¥450 (Before Tax)

The fluffy pancakes are filled with melt-in-the-mouth, handmade custard cream, meaning a single bite lets you enjoy both the moist texture of the pancake and the melty drizzle of the custard cream. Your mouth is instantly filled with flavours of maple syrup and egg, which when combined with the accompanying berries makes for a sweet amalgamation of deliciousness.

Torokeru Koro Tama Kuma Sandwich: ¥450 (Before Tax)

Normally, you would have to go to Hiroshima to try Hattendo Cafe's "Torokeru Koro Tama Kuma Sandwich," but now it will be available to try at IMADA KITCHEN. Made with the cafe's "cream bread," this moist sandwich is filled with egg salad, korokke, and cabbage for a hearty meal.

4 Refreshing Matcha Shaved Ice Flavours Released at Itohkyuemon in Kyoto

Kyoto's famous tea shop Itohkyuemon began serving four new Uji matcha and shaved ice mixed desserts on its menu yesterday (June 29). Itohkyuemon was founded in 1832 in the latter period of Edo. Ujitawara, the place in Kyoto where the shop is located, is famous for the tea served by Itohkyuemon which has been harvested by the Ito family for years.

Uji Matcha Parfait Ice: ¥1,490 (Tax Included) | Serving: Until Late September 2020 | Avaialble: Itohkyuemon JR Uji Station/Itohkyuemon Gionshijo

The Uji Matcha Parfait Ice uses a blend of matcha and milk-infused ice as its base. It's then topped with sweet treats like rice flour dumplings, red bean paste, ice cream, matcha jelly, and more to turn it into a parfait.

Uji Matcha Daifuku Ice: ¥1,290 (Tax Included) | Serving: Until Late September 2020 | Avaialble: Itohkyuemon JR Uji Station/Itohkyuemon Gionshijo

This Uji Matcha Daifuku Ice is an upgrade of the one Itohkyuemon served last year. It has a creamy custard base with matcha daifuku hidden in the shaved ice.

Fluffy Uji Kindokei Vanilla Ice Cream: ¥990, Matcha Ice Cream ¥1,090 (Tax Included) | Serving: Until Late September 2020 | Avaialble: Itohkyuemon JR Uji Station/Itohkyuemon Gionshijo


Fluffy Uji Kindokei Rice Flour Dumpling: ¥850, Rice Flour Dumpling & Vanilla Ice Cream ¥970, Rice Flour Dumpling Matcha Ice Cream ¥1,090 Serving: Until Late September 2020 | Avaialble: Itohkyuemon Uji Main Branch

These two "Kindokei" (Gold Watch) servings use more ice. At the main branch of Itohkyuemon they're more crunchy, while at the JR Uji Station and Gionshijo branches they're more fluffy.

Cute and Dreamy Tanabata Inspired Confections Arrive at Q-pot CAFE. in Omotesando

Q-pot CAFE. is celebrating Japan's Tanabata festival with a limited-time menu which was introduced on June 27.

Romantic Star Plate w/Drink: ¥2,060 (Tax Included)

This starry delight is plated with a fromage blanc filled with ganache cream and peach jelly. There's star-shaped meringue macarons filled with cream, creamy blueberry and blackcurrant panna cotta, star-shaped chocolate to represent the Tanabata deities Orihime and Hikoboshi, and a luxurious Q-pot CAFE. macaron.

さらに、レモンの皮を練り込み、サクッと焼き上げた星型クッキーには短冊のようにグラサージュショコラで願い事を込めて・・・クッキーを残さず口にすれば、願いもきっと叶うはず!


Romantic Peach & Elderflower Soda: ¥750 (Tax Included)

Refresh yourself with a summery glass of this peach and elderflower soda which is filled with blue, purple, and pink transparent jelly which twinkle like a kaleidoscope.

Bottled Drinks (Takeout Only): ¥1,296 Each (Tax Included) *Limited quantity available / *¥100 off if you take your own bottle

Enjoy a takeout bottle of "Aurora Lychee Tea Soda" with its romantic pink, purple, and blue gradation. This herb tea changes colour like magic, and contains marrow cheese plant, lychee puree, and Blue Curacao. The twinkling pearl powder makes it glow like an aurora.

There is also bottled Strawberry Tea Soda, Ginger Ice Milk Tea, and Honey Lemon Vinegar Soda.

If you're in Tokyo this summer, head to Q-pot CAFE. to enjoy a round of pastel-coloured Tanabata confections and drinks.

Information

Q-pot CAFE. Omotesando
Address: 3-4-8 Jingumae, Shibuya, Tokyo
Running: June 27, 2020 – July 20, 2020
*From July 21, 2020 to September 4, 2020 the cafe will be reservation-only in line with an event, and the regular menu will not be available.
*For the time-being, reservations can be made by telephone call only. Web reservations are currently not available.

Official Website: http://www.q-pot.jp

10 Refreshing Shaved Ice Flavours Arrive at i-ZA Kamakura

Japanese cafe Komachi Chaya and bakery, cafe and restaurant Dear Bread Kamakura have collaborated to release 10 cool shaved ice flavours at i-ZA Kamakura, a shopping centre that's just a 1-minute walk from Komachi Street in Kamakura.

10 Tasty Shaved Ice Recipes Combining Japanese & Western Flavours

Komachi Chaya, which is located on the 2nd floor of i-ZA Kamakura, has a diverse line-up including a hydrangea-inspired shaved ice. All of their options are made using in-house made syrup. Dear Bread Kamakura, which is located on the 1st floor of i-ZA Kamakura, is introducing a rich new shaved ice made using specially-made foam.

Hydrangea: ¥1,420 / With Rice Flour Dumpling Ice Cream ¥1,630 (Tax Included)

This vivid blue shaved ice is inspired by Kamakura's famous hydrangea flowers. It comes with lemon syrup which changes the shaved ice into a beautiful purple. You can pick two syrups from six to combine and create new and tasty flavours.

Whole Strawberry Sagahonoka: ¥1,100 / With Rice Flour Dumpling Ice Cream ¥1,310 (Tax Included)

The Sagahonoka has a super sweet taste and is made with an unheated strawberry syrup. It's topped with fat and juicy strawberries and served with condensed milk.

Komachi Chaya is serving a total of 7 flavours. As well as the ones above, there's an Uji matcha flavour, a plum pick made from two types of plums, and more.

Strawberry Milk Foam: ¥1,200 (Before Tax)

Dear Bread Kamakura's shaved ices are made using foam. The strawberry one is made using in-house strawberry syrup and is topped with milk foam, giving it a cute appearance like light snowfall. The combination of strawberry and cream also gives it a taste similar to shortcake.


Brown Sugar Syrup Matcha: ¥1,200 (Before Tax)

Doused in a rich and sweet brown sugar syrup and covered in a matcha flavoured foam made with Uji matcha from Kyoto, this fluffy shaved ice has a slight bitter bite from the matcha which is balanced against the sweet syrup and red bean paste.

Dear Bread Kamakura will also serve a mango flavour made with two different homemade syrups instead of foam.

i-ZA Kamakura is maintaining social distancing measures as a precaution against COVID-19. The shopping complex has expanded its wooden deck terrace seating area as well as its eating-in space so customers can feel at ease.

Information

i-ZA Kamakura
Address: i-ZA Kamakura 1F, 1-6-15 Komachi, Kamakura, Kanagawa
Access: 1-minute on foot from Kamakura Station via the JR Line and Enoshima Electric Railway

Official Website: https://i-za-kamakura.com/

Tokyo's New Shaved Ice Cafe 'Kakigoori Parlor Floche' Opens in LUMINE EST Shinjuku

A new shaved ice shop by the name of Kakigoori Parlor Floche is now open on the 8th floor food arena "The PARK SHINJUKU" inside LUMINE EST Shinjuku for a limited time until August 31, 2020.

Kakigoori Parlor Floche is inspired by floche, a cake served at a Japanese cafe in the 70s and 80s which they have turned into shaved ice. Its luxurious taste is similar to a cake, with an appearance that's sure to have you smiling when it arrives at the table. It's topped generously with cream, creating a cake x shaved ice fusion.

"Floche" is a French word meaning fluffy, a fitting name for a shop specialising in serving sweet and fluffy shaved ice. They have prepared three different flavours: Tiramisu, Shortcake, and Japone.

Shortcake: ¥980 (Before Tax)

Tiramisu: ¥830 (Before Tax)

Japone: ¥880 (Before Tax)

If you're in Tokyo this summer, don't miss out on this delicious and refreshing line-up.

Information

Kakigoori Parlor Floche
Opening Hours: 11:00-21:00 (Last Orders 20:00)
Address: LUMINE EST Shinjuku 8F, 3-38-1 Shinjuku, Shinjuku-ku, Tokyo
TEL: 03-6457-4566
No Fixed Holidays

Official Website: https://www.potomak.co.jp/shop/6392/

Houjicha Milk Tea and Genmaicha Milk Tea Made With Japanese Tea Leaves Serving at Gong cha

Gong cha's limited-time "Houjicha Milk Tea" and "Genmaicha Milk Tea" beverages are popular each year, and they returned once again on June 17.

Japanese Tea

Gong cha's menu item "Japanese Tea" was released in 2018 exclusively for Japan, and is enjoyed every year during its annual limited-time run. Made using tea leaves from Japan, its authentic taste and aroma has people begging for more when the year's run is up.

2 Flavours This Year

Houjicha Milk Tea (Regular Size: ¥470) / Recommended Topping: Milk Foam (+¥70) | Serving: From June 17, 2020 for a limited time

The Houjicha Milk Tea is the iconic drink of Gong cha's "Japanese Tea" series. It's a blend the best high quality houjicha and kukicha tea leaves, both of which are grown in Shizuoka Prefecture. Roasting and using them together gives a sweet and deeply rich aroma. Add milk foam as a topping and you've got yourself a rich milk tea.

Genmaicha Milk Tea (Regular Size: ¥470) / Recommended Tapioca (+¥70) | Serving: From June 17, 2020 for a limited time

The Genmaicha Milk Tea is an original blend of Japanese genmai rice and tea leaves from Shizuoka Prefecture. This milk tea keeps the original delicious flavour of the tea and wafts a fragrant rice aroma.

McDonald's Set To Release Refreshing Hokkaido Melon Frappés To Kick Off Summer

Devoted to selling authentic coffee, McDonald's Japan's McCafé by Barista coffee service is all set for the hot summer days ahead with delicious Hokkaido melon drinks. The Hokkaido Melon and Milk Frappé is making a return to the menu along with the brand new Hokkaido Melon Choco Frappé. The drinks will appear on the menu from June 24, 2020 for a limited period.

Enjoy the luscious flavour and fragrance of Hokkaido melons in the form of a refreshing frappé. Although the Hokkaido Melon and Milk Frappé has returned to the McDonald's menu year after year since 2018, this year marks the debut of the Hokkaido Melon Choco Frappé.

Hokkaido Melon and Milk Frappé M Size: ¥470, L Size: ¥540


Vibrant Hokkaido melon is pureéd into a fruit sauce (2% fruit content). This is mixed with milk to bring out its full-bodied fragrance. The juicy, melt-in-the-mouth sweetness will leave you wanting more. The whipped cream topping is drizzled with more melon sauce. Mix the drink to enjoy the delicious combination of juicy melon and sweet cream.

Hokkaido Melon and Choco Frappé M Size: ¥490, L Size: ¥560


Enjoy a sweet smoothie of rich and juicy melon punctuated with notes of Belgian couverture chocolate sauce (54% Belgian chocolate) and whipped cream. With 2% fruit content Hokkaido melon pureé as the base of the smoothie, milk is added to create a mellow flavour. Crunchy chocolate Oreo® pieces are sprinkled on top along with a drizzle of chocolate sauce, adding a hint of bitter chocolate flavour.

As the weather gets hotter, make sure to cool down with a refreshing cool drink. If you've never tried Hokkaido melon, now's your chance!

Information

Hokkaido Melon and Milk Frappé
Hokkaido Melon and Choco Frappé
Release Date: June 24, 2020 – Around the End of August, 2020
Available At: McDonald's Cafés in Japan with a McCafé by Barista

McDonald's Official Website: https://www.mcdonalds.co.jp/

Toy Story 4 Inspired Cupcakes Baked Up at Ginza Cozy Corner in Japan

Ginza Cozy Corner is following up the release of its teeny tiny Disney cupcakes with a new batch of Toy Story 4 themed cupcakes which will release at all branches around Japan on June 22, 2020.

Toy Story 4 was a hit across the globe when it released last year, becoming the highest-grossing instalment of the film series and at the time, the fifth highest-grossing animated film of all time. The iconic world of Toy Story has now been recreated in the form of nine colourful cupcakes.

Toy Story Collection (9 Cupcakes): ¥2,700 (Tax Included)

Everybody's favourite cowboy Woody has his own cupcake, featuring his signature hat and shirt design. Buzz Lightyear's trademark colour of green and white is expressed with grape jam an cream cheese, while Bo Peep's cupcake is topped with an edible Giggle McDimples and ramune and cheese cream flavoured roll cake. There's also a mint and lemon flavoured Ducky & Bunny cream tart, chocolate crunch-littered chocolate cream Slinky cupcake, and more.

The cupcakes are packaged in a super cute Toy Story box too.

Information

Toy Story Collection (9 Cupcakes)
Available: June 22, 2020 – July 16, 2020

Ginza Cozy Corner Official Website: https://www.cozycorner.co.jp/

Mister Donut Reveals Chewy New Pull Apart Doughnuts

Mister Donut is releasing three new pull-apart doughnuts in Japan called "Pon de Chigiri Pan" on June 19, 2020.

Since 2017, Mister Donut Japan has been catering to customers for all parts of the day. In November of that year, they began introducing more light foods like pies and toast, and in February 2018 they released hot dogs and pasta, amongst other things.

The "Pon de Chigiri Pan" is a popular item sold at Mister Donut, but is not a permanent order on the menu, instead coming in limited batches. This will be the 4th release. The doughnuts feature the iconic "Pon de Ring" shape and are super chewy because of the yeast used. Eight layers are topped on top of each other which are baked in the oven, resulting in a soft, even chewier doughnut that can be pulled apart.

Pon de Chigiri Sugar: ¥150 (Before Tax)

Layered with a sweet glaze and topped with a sprinkling of granulated sugar.

Pon de Chigiri Three Cheese: ¥180 (Before Tax)

A mix of Cheddar, Gouda, and Camembert cheeses are used to adorn this doughnut in both cheese sauce and shredded cheese forms.

Pon de Chigiri Walleye Pollack Mayo Sauce: ¥180 (Before Tax)

Topped with a mentai walleye pollack mayonnaise sauce.

Information

Pon de Chigiri Pan
Release Date: June 19, 2020
Available: Most Mister Donut branches across Japan
Official Website: https://www.misterdonut.jp

Hilton Osaka Serves Up Hello Kitty and My Melody Themed Summer Buffet

The Folk Kitchen on the 2nd floor of Hilton Osaka is set to serve up the "Summer Sweets Buffet Festival ~Hello Kitty & My Melody Collaboration Tea Party~" from June 19, 2020 to September 13, 2020. The menu is made up of 25 colourful and summery desserts, as well as 7 vegan desserts made without any eggs, milk or animal products.

The buffet is a step up from last year's "Fashionable Hello Kitty Dessert Buffet" which we covered.


This year's summer buffet tea party combo is a sweet amalgamation of finger licking and lip smacking flavours. In the middle of the "Ice Cream Cup Cheesecake" is a moist baked cheesecake topped with cream cheese—and all of this hugged by a crunchy cone.

Then there's the "Lollipop Mousse Green Apple," a vivid green iced candy with a fresh apple mousse filled with apple jam for a mix of sweet and sour flavours. The "Vegan Melon Cream Soda Jelly" is a melon flavoured jelly topped with a cream made from fizzy lime foam. If you're wanting cake, then there's the fluffy "Pineapple Chiffon Cake" topped with lots of cream.


The "Pudding à la Mode" is topped with a chocolate My Melody picture, of which there are several designs.

The vegans too have their fair share of refreshing summertime bites to enjoy too, like the "Vegan Peach Bellini" which uses agar-agar instead of gelatin. It's a delightful combination of muscat grape jelly and peach jam. The "Vegan Chocolate Chip Cupcakes" have a fresh kick to them thanks to the fruity pineapple and soy milk combo. Other delights include the "Soy Milk Cream Fruit Bun," "Vegan Piña Colada Panna Cotta," and more.

The buffet also includes 5 savoury food dishes too like cold corn soup, curry, salad, and more.

On the 1st floor cafe and bar MYPLACE of Hilton Osaka, customers can order the above-pictured Hello Kitty & My Melody afternoon tea which is served in a jewellery box-like set.

Information

Summer Sweets Buffet Festival ~Hello Kitty & My Melody Collaboration Tea Party~
Location: Folk Kitchen (Hilton Osaka Floor 2F)
Running: June 19, 2020 – September 13, 2020

Time: 15:00-16:30

Prices
[Weekdays] ¥3,950 per person / ¥1,950 for those ages 4-11 years
[Weekends/Holidays] ¥4,250 per person / ¥2,100 for those ages 4-11 years
*Comes with drink of choice from tea, coffee, hot chocolate, and others

*Listed prices do not include 10% consumption tax or service charge

Official site:https://www.hiltonosaka.com/plans/restaurants/sweets/folkkitchen_2006

Summer Sweets Buffet Festival ~Hello Kitty & My Melody Afternoon Tea Set~
Location: MYPLACE (Hilton Osaka Floor 1F)
Running: June 19, 2020 – September 13, 2020
Time: From 12:00 until it sells out (limited quantity per day)

Price: ¥3,500 per person

*Comes with drink of choice from tea or coffee

*Listed prices do not include 10% consumption tax or service charge

Reservations: 06-6347-7111

Photos are for illustrative purposes only. Menu line-up and opening hours subject to change.

Hilton Osaka Official Website: https://www.hiltonosaka.com/