Tokyo's Pokémon Cafe Reveals Lugia & Ho-Oh Food Dishes
The Pokémon Cafe in Nihonbashi, Tokyo has revealed that it will serve up Lugia and Ho-Oh inspired dishes from July 20 to September 6. The two Legendary Pokémon feature in the Pokémon Gold & Silver video game released for the GameBoy in 1991.
Lugia & Whirl Islands Shaved Ice Dessert Plate: ¥1,922 (Tax Included)
If you're a Pokémon Silver fan you can expect to enjoy this Lugia cake which comes served with lemon flavoured shaved ice which has been made to look like the Whirl Islands where Lugia resides.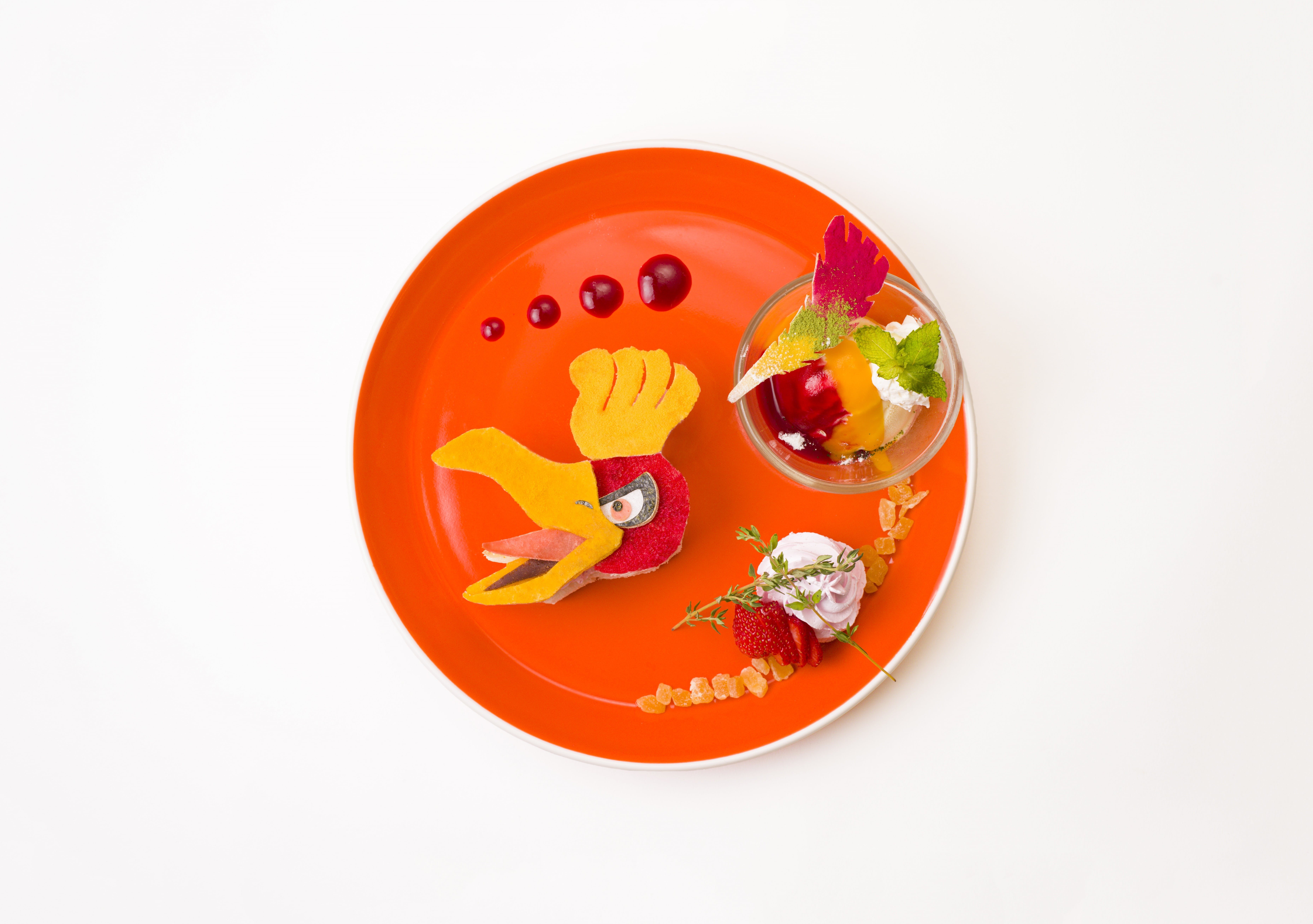 Ho-Oh & Rainbow Wing Ice Cream Dessert Plate: ¥1,922 (Tax Included)
Those who owned Pokémon Gold will be throwing their Poké Balls at the Ho-Oh cake and ice cream that looks like the Rainbow Wing, a legendary artifact associated with Ho-Oh.
© 2019 Pokémon.©1995-2019 Nintendo/Creatures Inc./GAME FREAK inc.
Information
Pokémon Cafe
Address: 2-1-2 Nihombashi | Nihombashi Takashimaya SC East Bldg. 5F, Chuo 103-0027, Tokyo Prefecture
Business Hours: 10:30-22:00
Official Website (& Reservations): https://www.pokemoncenter-online.com/cafe/
RECOMMENDED ENTRIES
Pokémon Cafe celebrates 1 year anniversary with new limited edition menu!

Nihombashi's Pokémon Cafe will be celebrating its one-year anniversary from Thursday 14th March to Friday 26th April with the release of a special limited edition menu!

From the moment the Pokémon Cafe first opened, it was bustling with Japanese people and foreigners from all around the world. 14th March 2019 will mark a year since the cafe first opened. The special menu includes the "Eraberu Pokemon Latte", where you can choose from 151 varieties of limited edition designs for your latte art! There is also a campaign that fans just cannot miss out on!

Sakura Afro Pikachu Marshmallow Cake  ¥1,706 (price including tax)

A fluffy cake with a generous serving of marshmallows which goes perfectly with the strawberries!

Bulbasaur Vegetable Burger ¥1,490 (price including tax)

This is a rather hearty serving and is full of vegetables and nutrition!

Choose your own Pokémon Latte! Sakura Afro Pikachu ¥756 (price including tax)

Limited edition latte art! Enjoy cherry blossom-viewing with this cute Pikachu latte.♡

If you order a drink, you will receive a Pokémon Cafe original clear drink coaster with a special design! There are six designs but it seems that one is a secret rare design that you could be lucky enough to get!

Between Wednesday 14th March and Friday 26th April 2019, there will be a campaign to celebrate the cafe's one-year anniversary. This will be held at both the Pokémon Cafe and Pokémon Center Tokyo DX.

During the campaign, you can buy "Sakura Afro Pikachu Candyfloss" or the "Sakura Afro Pikachu Smoothie" to take out. You can purchase these even if you haven't booked a table at the Pokémon Cafe.

Join in the one-year commemoration and enjoy the new limited edition menu ♪

Information

Pokémon Cafe address:Nihombashi Takashimaya East Building SC (5th floor), 2-11-2 Nihombashi, Chuo-ku, Tokyo
Opening hours:10:30 ー 22:00
Closed when Nihombashi Takashimaya East Building is closed.

Reservations:https://www.pokemoncenter-online.com/cafe/

New Pokémon Centre DX and West Japan's First Pokémon Café to open in Osaka

A new official Pokémon Centre DX and a new Pokémon Café will open in Osaka on September 20, 2019 in Daimaru Shinsaibashi's Main Building.

This will be the second Pokémon Centre to open in Osaka. The Pokémon café will adjoined to the shop and will be the first ever branch of the Pokémon café to have ever opened in West Japan. This is also the second permanent Pokémon café to open in Japan besides the Pokémon café in Nihombashi.

The new Pokémon Centre DX and Pokémon Café will be situated in a bustling tourist hotspot. On your visit, you can also take a gander around the Shinsaibashi shopping district or  the American Village (America-mura) which is full of entertainment. This area is thriving with department stores, special shops, big brands and so much more. Tourists from other parts of Japan and all over the world are constantly flocking to this giant marketplace.

As the worldwide exhibition event Expo 2025 will be held in Konohana Ward, Osaka, there is no doubt that Osaka is becoming more and more of a Tourist hotspot!

Osaka is a wonderful tourist destination. If you decide to visit, don't forget to include the Pokémon Centre DX and Pokémon Café on your itinerary!♪

©2019 Pokémon ©1995-2019 Nintendo/Creatures Inc./GAME FREAK inc.

Pocket Monsters, ポケットモンスター/ポケモン/Pokémon are registered trademarks of Nintendo/ Creatures Inc./GAME FREAK inc.

Information

Pokémon Centre Osaka DX &  Pokémon Café

Address: Daimaru Shinsaibashi Main Building, 9

1-7-1, Shinsaibashisuji, Chuo Ward, Osaka,

Grand Opening: September 20, 2019 (subject to change)

Closed: Dependent on the closing times of Daimaru Shinsaibashi Main Building.

Official Website: https://www.pokemon.co.jp/gp/pokecen/osaka/

Pokémon cafe celebrates release of new Pokémon movie Detective Pikachu with new limited menu!

The Pokémon cafe is celebrating the release of the new movie Pokémon: Detective Pikachu with the release of a limited menu only available from Saturday 27th April to Sunday 30th June!

The movie is based on the Nintendo 3DS game Detective Pikachu, which is focussed around Pikachu, who is loved across the world and across generations of people. The film is the first ever live action Hollywood Pikachu film! Pikachu is voiced by Ryan Reynolds, who starred in the American hit film Deadpool. Justice Smith, who starred in Jurassic World: Fallen Kingdom plays the role of Pikachu's partner Tim, and the role of Detective Yoshida is played by Ken Watanabe.

Detective Pikachu & Psyduck collaboration ¥2,570 (price after tax)  

Psyduck from the movie stands by Pikachu!

Detective Pikachu Thunderbolt!? Float drink ¥1,274 (price after tax) 

There's popping candy inside! What a shocking surprise!

Detective Pikachu: Choose your Pokémon latte!  ¥756 each (price after tax) 

The Pokémon from the movie make a comeback in latte form and their designs look so accurate!

For every drink you order, you will receive an original Pokémon cafe clear coaster! The limited edition designs are only available from Saturday 27th April ー Friday 31st May. You can either pick a limited edition design or be given one in a lottery draw!

Celebrate the release of the film during this special time at the Pokémon cafe!

©1995-2019 Nintendo/Creatures Inc./GAME FREAK inc.c. Pocket Monsters, Pokémon, Pokémon is a product of Nintendo, Creatures and Game Freak.

© 2019 Legendary and Warner Bros. Entertainment Inc. All Rights Reserved.
© 2019 Pokémon.

Information

Pokémon cafe

Address: Nihombashi Takashimaya S.C. East Building  (5th floor) 2-11-2 Nihombashi, Chuo-ku, Tokyo, Japan
Opening hours: 10:30 ー 22:00
Closed according to Nihombashi Takashimaya S.C. East Building hours.

Official website (where you can make reservations):  https://www.pokemoncenter-online.com/cafe/

Pokémon: Detective Pikachu movie official website: https://meitantei-pikachu.jp/

 
RELATED ENTRIES
Pikachu Snack Collaboration Launched For Kara Mucho & Suppa Mucho Potato Chips

Japanese snack food manufacturing company KOIKE-YA has collaborated with Pokémon to release two Pikachu-inspired flavours for its Kara Mucho and Suppa Mucho potato chips, two of the most popular potato snack products in Japan. The packages were released across Japan on July 13, 2020.

Kara Mucho was first launched in 1984. Over 35 years on, both the spicy Kara Mucho and sour Suppa Mucho have become two of Japan's leading potato chip snacks. The new collaboration brings together the worlds of these nationally-loved snacks and Pokémon.

Pokémon Kara Mucho 10,000 Volt Pepper

10,000 volts of Pikachu strike your tongue with these hot potato chips which are sprinkled with electrifying kasho and kosho pepper.

Pokémon Suppa Mucho Denko Sekka Lemon

A sour, tangy combination of vinegar and lemon lend a refreshing bite to this flavour.

Both snacks also have their own unique packaging featuring a cute Pikachu. There is also a rare version of the packaging that people should be on the lookout for where a different Pokémon has taken on the appearance of Pikachu.

©Nintendo・Creatures・GAME FREAK・TV Tokyo・ShoPro・JR Kikaku
©Pokémon

Shockingly Cute Pikachu Designs Featured On Cola Flavoured Puré Gummies

Japanese confectionery company KANRO has joined pika-paws with Pikachu for the second time to feature the beloved Pokémon on the cola flavour their Puré gummies. They will be released in Japan from July 21, 2020 in limited quantities.

The collaboration brings together delicious Puré gummies, which are always by people's sides in Japan to support them, and Pikachu, your cute Pokémon partner. It is their second collaboration, following the one back in June.

The flavour in question is the "Electric Tropica," a mix of pineapple, mango and banana juice together with some Pikachu electricity which comes from the cola flavour. The combination of gelatin and pectin gives the gummies their satisfyingly chewy flavour. The candies themselves are Pikachu-shaped, while the packaging comes in four different Pikachu designs which scream summertime.

Additionally, the packaging of the regular lemon, grape, and muscat flavours of Puré will also feature Pikachu paw prints on them for a limited time.

©2020 Pokémon. ©1995-2020 Nintendo/Creatures Inc./GAME FREAK inc.

Information

Puré Gummy Pokémon Electric Tropica 2
Release Date: July 21, 2020 (date may differ from store to store)

Price: ¥150 (Tax Included)

Special Site: https://www.kanro.jp/pure/pure_pika/

Enjoy Miffy and a Glass of Wine at Dick Bruna TABLE Opening in Kobe This July

Dick Bruna TABLE is a new wine bar set to open in Kobe, Japan on July 17, 2020 where customers can enjoy various wines from around the world. The bar is themed around the popular children's author and graphic designer Dick Bruna (1927-2017) who is known for his popular character Miffy.

The first bar of its kind to be centred on Bruna, table bookings for both the bar and cafe spaces opened on July 1. Customers who book before July 16 will receive two free original Dick Bruna TABLE coasters.

Dick Bruna TABLE is split into 4 floors. The first floor is the takeout counter, the second the merchandise shop and a cafe which is designed to be like a Dick Bruna studio, the third is the wine bar which is made to look like an old cafe in Utrecht, the city where Dick Bruna lived, and the fourth is the event space where exhibitions and parties will take place. There's also a special VIP room on the top floor.which include a takeout counter, merchandise shop, cafe, wine bar, and event space.

Takeout Counter & Entrance

Entrance

The staircase that leads from the first floor takeout counter to the second floor is like a gallery with various Dick Bruna artworks scattered around. There are plenty of chances snap some photos.

Cafe & Shop


The cafe and shop are like a studio dedicated to Dick Bruna's many works. They have a warm welcoming atmosphere to them thanks to the old wooden beams and white walls and lights. The merchandise area and cafe areas blend seamlessly into one.

The wine bar, inspired by old cafes in Dick Bruna's beloved home of Utrecht, serves authentic wine. The brick tiles are reminiscent of the streets of Utrecht and, together with the old wood, give it an inviting vibe. The bar also houses many paperbacks bound and designed by Dick Bruna.

Event Space & VIP Room


The event space is painted a simple white. It can be used for art exhibitions, workshops, parties, and more.

Head to Dick Bruna TABLE to enjoy both the cute world of Dick Bruna's characters as well as a delicious glass of wine.か

IIIustrations Dick Bruna © copyright Mercis bv,1953-2020 www.miffy.com © Dick Bruna 

Information

Dick Bruna TABLE
Address: 3-1-1 Sannomiyacho, Chuo-ku, Kobe
Opening Hours:
[Weekdays] 11:00-15:00 (Last Orders 14:00) / 17:00-23:00 (Last Orders 22:00)
[Saturdays] 11:00-23:00 (Last Orders 22:00)
[Sundays/Public Holidays] 11:00-21:00 (Last Orders 20:00)

Official Website: https://dickbrunatable.com/

Sanrio Characters Come Together at Tokyo's New POWDER ART CAFE HARAJUKU

The new limited-time character cafe POWDER ART CAFE HARAJUKU is set to open in Harajuku, Tokyo from July 15, 2020 to mid-January 2021.

From July 15 to mid-October, the cafe will be centred on the Top 10 characters of this year's Sanrio Character Ranking, an annual event where fans around the world can vote for their favourite Sanrio characters. The cafe will subsequently celebrate the 45th anniversaries of both My Melody and Little Twin Stars until mid-January next year.

At POWDER ART CAFE HARAJUKU, where the customers can draw their own designs on their orders, like latte art, Sanrio fans can look forward to a super cute menu line-up inspired by the adorable character roster.

My Melody Sweet & Sour Strawberry Shaved Ice


Tuxedo Sam Seafood Coquille Plate

If you're visiting Harajuku any time up to January next year, be sure to stop by POWDER ART CAFE HARAJUKU to make your own kawaii Sanrio character dishes.

Information

POWDER ART CAFE HARAJUKU

Address: IMON Bldg. B1F, 6-3-9 Jingumae, Shibuya, Tokyo

TEL: 03-6450-6037

Opening Hours: 11:00-21:00 (Last Orders 20:00)

Official Website: https://k-tanuma.com/company#04

Tanabata and Milky Way Inspired Food and Drink Arrives at PLANETARIA TOKYO

KONICA MINOLTA PLANETARIA TOKYO, a twin-dome planetarium in Tokyo's Yurakucho district, introduced a new menu at its Cafe Planetaria on July 1, 2020.

A cafe where you can taste the stars

Cafe Planetaria's concept is that customers happened upon it during a trip through the galaxy. It is the only cafe in space—one where you can delight in cocktails that shine bright like a nebula, or tuck into finger food that's like fragments of planets.

The new menu hopes to serve customers a day they won't forget after they have gaze upon the starry night sky.

How best to enjoy Cafe Planetaria

Cafe Planetaria's menu can be enjoyed at DOME 1 inside the planetarium so you can enjoy cocktails and food while watching the starlit show. It's open to those who aren't using the planetarium too, so if you're looking for a quick stop-off on your time through the galaxy and don't have time for stargazing you can enjoy the galactic delights too.

Nebula Soft Serve Ice Cream: ¥550 (Tax Included)

This purple soft serve ice cream is inspired by nebula imagery.

Moon Parfait: ¥770 (Tax Included)

A colourful parfait topped with the moon and sweet-tasting planets.

Mercury (Cocktail): ¥880 (Tax Included)

Part of the planetary cocktail series.

Observe "Tokyo's Milky Way"

PLANETARIA TOKYO has brought back its planetarium work Tokyo no Amanogawa o Wasurenai (Never Forget Tokyo's Milky Way). The show makes use of works left behind by Japanese novelist Kenji Miyazawa, poets Chūya Nakahara and Yumeji Takehisa, and others, to bring viewers back to a time when you used to be able to see the Milky Way in the city of Tokyo. When the city lights switch off for the night, the former Milky Way will shine its radiant brilliance. Viewers will be able to see the same sight that so many artists and writers saw when creating works about Tokyo's starry sky.

Make a wish upon a falling star

A popular service at PLANETARIA TOKYO that is also free is getting to see falling stars in real time with a system set up by Meteor Broadcaster. They are shown across a giant 12m long screen. On the Gregorian calendar, Tanabata is celebrated on July 7, but on the old Japanese lunisolar calendar it will fall on August 25 this year. If you're in Tokyo around that time, why not visit the planetarium and make a wish?

Online shop to enjoy the Milky Way at home

Gallery Planetaria is a concept shop in PLANETARIA TOKYO whose concept is based around being a secret shop hidden away somewhere in the galaxy. Their online shop is selling plenty of fun items that you can only get on this side of the galaxy. The service is available in Japan only, but check out their website to see what they've got in stock.

Gallery Planetaria Online Shop
https://planetaria.theshop.jp/

Starry Sky Guide: Summer – At Home Version (Narrated by Yoshimasa Hosoya)

PLANETARIA TOKYO has posted an at-home version of their summertime starry sky guide which was shown at the venue. It's narrated by Japanese voice actor and narrator Yoshimasa Hosoya and features a 360° VR experience. Check it out here.

Information

KONICA MINOLTA PLANETARIA TOKYO
Address: Yurakucho Marion 9F, 2-5-1 Yurakucho, Chiyoda Ward, Tokyo
Opening Hours: 10:30-22:00 (Reception closes 21:00)

*No Fixed Holidays

*Open until 22:30 (reception closes 21:30) on weekends and public holidays

Official Website: https://planetarium.konicaminolta.jp/planetariatokyo/

Hamtaro Cafe 2020 to Open in Tokyo, Saitama, and Osaka

LEGS COMPANY has announced that it will open three cafes based on the popular Japanese character Hamtaro in Tokyo and Saitama on July 30 and Osaka on July 31.

Hamtaro is a manga and storybook series created and illustrated by Ritsuko Kawai. The series began serialisation in 1997 and an anime adaptation first broadcast back in 2000. More than 20 years later, Hamtaro continues to enjoy much popularity in Japan.

Hamtaro Cafe 2020 will be themed around sunflowers and the sea, and will serve up a fun experience perfect for the hot summer. The Ham-Hams have come out of their Clubhouse to pay a visit to the seaside and enjoy the sun. There will be sunflower and ocean themed food, drinks, and desserts for everyone to munch on.

Yakisoba On Beach Hut Sunflower Bread: ¥1,499

A plate of yakisoba and egg arranged to look like a sunflower, with Hamtaro sat right in the middle.

Cone Cappy Hide and Seek Ice Cream Parfait: ¥1,399

Cappy is wearing a cone on his head and is hiding amongst the ice cream, chocolate banana, and fresh mint.

Ham Ham Glass Drinks: Drink Only – ¥789 Each / With Glass – ¥1,789 Each

There are two drinks to choose from: the orange flavoured Hamtaro and the yogurt flavoured Bijou.

Vinyl Pouch: ¥1,300


Mascot Keyring Hamtaro: ¥1,550

The cafe will also sell a range of exclusive merchandise too, which is scheduled to be available for online purchase as well in Japan.

Ham-Ham Fans (14 Designs)


Original Coasters (15 Designs)

Those who dine at the cafe will receive a free Ham-Ham fan, and if you order a drink you'll get a coaster too.

©Ritsuko Kawai / Shogakukan

Information

Hamtaro Cafe 2020

Booking Price: ¥500 (4 people max per booking) *Comes with free gift

Tokyo: TOKYO BOX cafe&space / July 30, 2020 – September 6, 2020

(Address: Tokyo Solamachi Floor 1F East Yard 8, Tokyo Skytree Town, 1-1-2 Oshiage, Sumida-ku, Tokyo)

Saitama: BOX cafe&space / July 30, 2020 – September 27, 2020
(Address: AEON Laketown kaze Lake Town Gate 1F, 4-2-2 Koshigaya, Saitama)

Osaka: Shinsaibashi contact / July 31, 2020 – August 16, 2020

(Address: 1-6-24 Kitahorie, Nishi-ku, Osaka-shi, Osaka Prefecture)

Official Website: https://hamutarocafe.sho.jp/

Hello Kitty Cafe to Open in Narita Airport's Anime Deck This July

KADOKAWA is set to open a Hello Kitty themed cafe on the Narita Anime Deck—which is located on the Main Building second floor of Narita International Airport Terminal 2—for a limited time from July 3, 2020 to October 2, 2020.

The Narita Anime Deck

The Narita Anime Deck opened inside Narita International Airport Terminal 2 in November 2019. It's an entertainment facility where travellers from around the world can experience and enjoy Japanese anime culture in various forms such as with character merchandise, food, events, and a variety of photo spots.

Hello Kitty Cafe

The facility has collaborated with numerous anime series to open up limited-time cafes since it opened. This time around it is joining paws with Hello Kitty, a face known to all across the globe. As well as themed food, drinks and merchandise, customers can take a Hello Kitty quiz, learn the history behind Hello Kitty, and more.

An Original Food Menu


Hello Kitty's Lovely♡ Pink Curry: ¥1,500


Hello Kitty's Gurakoro Burger: ¥1,500


Hello Kitty's Strawberry Pancake: ¥1,400


Hello Kitty's Strawberry Parfait: ¥1,200

An Original Drinks Menu

The incredible drinks menu is diverse, including lattes where you can get 46 different latte art designs of Hello Kitty from 1974-2019. It could be fun to pick your birth year, or a year where you have fond memories.

Hello Kitty's Colourful Tapioca Drinks (Matcha Milk/Strawberry Milk/Milk Tea): ¥720 Each

 
Hello Kitty's Marshmallow Coffee: ¥800


Hello Kitty's Latte (46 Designs): ¥720 Each

Novelties

For every item you order from the collaboration menu, you can also receive one of 46 possible original coasters once again featuring a different design of Hello Kitty between the years 1974-2019.

1st Line-Up: July 3, 2020 – August 2, 2020


2nd Line-Up: August 3, 2020 – September 2, 2020


3rd Line-Up: September 3, 2020 – October 2, 2020

If you're travelling through Narita Airport anytime this year up to October, then be sure to head on up to the Narita Anime Deck to dine at the Hello Kitty Cafe.

© 1976, 2020 SANRIO CO., LTD. APPROVAL NO. L611439

Mobile Game BanG Dream! Girls Band Party Gets Themed Cafe in Tokyo, Osaka, & Nagoya

LEGS COMPANY is opening three cafes in Tokyo (Ikebukuro), Osaka (Umeda), and Aichi (Nagoya) based on the popular mobile game Game BanG Dream! Girls Band Party for a limited time from July 31, 2020.

Game BanG Dream! Girls Band Party is a rhythm and adventure mobile game that was released in Japan in 2017. It is part of Bushiroad's "BanG Dream!" music media franchise which is centred on all-female bands.

Since summer 2017, LEGS COMPANY has opened themed cafes based around the game every year. 2017 saw the cafes focus on the vocalists of the bands in the game. In 2018, it was the keyboardists and DJs, and last year the drummers. Each theme brought with it illustrations and decorations created specifically for the cafes, as well as a food menu inspired by the characters, original merchandise, and more.

This year marks the 4th run of the annual summer cafe which will hit Tokyo, Nagoya, and Osaka. The theme this time around focuses on the seven main bands from the game. Seven characters from the bands, including one from a new band, will welcome fans in the form of kawaii-packed dishes, drinks, and desserts.

Yamabuki Bakery's Mini Croissant Plate (Poppin'party): ¥1,590 (Before Tax)


Kitazawa Butcher's Stamina Croquette Curry (Hello, happy world!): ¥1,490 (Before Tax)

All of the main dishes on the menu are colourful and vivid, plated with hearty portions of delicious and nutritional goodies.

Strawberry Rock Parfait (Afterglow): ¥1,290 (Before Tax)


Colourful Doughnut Sandwich (Pastel*Palettes): ¥1,290 (Before Tax)

This gourmet dessert is topped with fruit, so gorgeous it seems a waste to eat.

Grape: ¥890


Ramune: ¥890

There are colourful drinks too with each colour representing a different band. Support your favourite band by getting a glass!

Pin Set 2020 ver. (7 Designs): ¥3,100


Canvas Art (7 Designs): ¥3,500 Each


Birthday Pins (4 Designs): ¥650 Each

Fans can get their hands on plenty of exclusive merchandise too, and there's even birthday items and food available too.

Online Birthday Cake (4 Designs): ¥3,850 Each (+¥950 shipping fee)


Cushions (22 Designs): ¥3,800 Each

You can even order your own special birthday cake in Japan from the cafe, and they're not short on exclusive merchandise.

©BanGDream! Project ©Craft Egg Inc. ©bushiroad All Rights Reserved.

Information

Game BanG Dream! Girls Band Party Cafe 2020
Tokyo

IKEBUKURO BOX cafe&space / July 31, 2020 – September 6, 2020
Address: Matsumoto Kiyoshi Ikebukuro Part 2 (Floor 4F), 1-22-8 Higashi-Ikebukuro, Toshima-ku, Tokyo

Osaka

UMEDA BOX cafe&space / July 31, 2020 – September 6, 2020
Address: Umeda LOFT (Floor 1F), 16-7 Chayamachi, Kita-ku, Osaka, Osaka Prefecture

Aichi

NAGOYA BOX cafe&space / July 31, 2020 – August 30, 2020
Address: LACHIC (Floor B1F), 3-6-1 Sakae, Naka-ku, Nagoya, Aichi Prefecture

Booking Price: ¥650 (Before Tax) *Max 4 people per booking, comes with gift

Game BanG Dream! Girls Band Party Cafe 2020 Official Website: https://bang-dream-cafe.jp/

New Kaguya-sama: Love Is War Themed Menu Arrives in Akihabara

Royal Host, a family restaurant in Akihabara, is collaborating with the popular TV anime series Kaguya-sama: Love Is War to serve two different menu line-ups. The first is currently running right now until July 5, which we covered recently. This time we'll be taking a look at the upcoming second menu which will be served from July 6.

Kaguya-sama: Love Is War is a romantic comedy manga series written and illustrated by Aka Akasaka. A 12-episode anime adaptation premiered in January. The series's collaboration with Royal Host last year was such a success that the restaurant chain decided to bring it back again.

2nd Collaboration Menu


Five items make up this second Kaguya-sama: Love Is War x Royal Host menu.

~I Wanna Feed Miyuki Shirogane~ Kaguya Shinomiya's Handmade Pasta: ¥1,800 (Before Tax)

A tomato cream pasta topped with salted salmon roe and seafood, and served with a side of salad and garlic bread.

~Save the Student Council~ Student Council Member's Bonding Curry: ¥1,800 (Before Tax)

Butter rice topped with curry, spinach, melted cheese, boiled egg, and spicy onion rings. Served with a side of salad and mango dessert.

~Kaguya Shinomiya is Happy~ Kawaii Strawberry Parfait: ¥800 (Before Tax)

Bright-red sweet and sour strawberry sorbet topped with fresh strawberries.

~I Wanna Befriend Kei Shirigane~ Blue Lychee: ¥500 (Before Tax)

Lychee-flavoured soda topped with whipped cream.

~I Wanna Make Ai Hayasaka Feel Better~ Lonely Person's Cheesecake: ¥580 (Before Tax)

A slice of cheesecake drizzled in blueberry sauce.

When you order from this second collaboration menu you will receive a free and exclusive coaster.

Mug: ¥1,580 (Before Tax)


Before Tax: ¥3,500

There's also a selection of exclusive merchandise for fans to get their hands on too, like a mug, cushion, or acrylic stand.

©Aka Akasaka / Shueisha・Kaguya-sama: Love Is War Production Committee

Information

Royal Host Akihabara
Address: 4-5-4 Sotokanda, Chiyoda Ward, Tokyo

1st Collaboration Menu : June 13, 2020 – July 5, 2020

2nd Collaboration Menu: July 6, 2020 – July 30, 2020

Time: 11:00-22:00 (Last Orders 22:00)

Official Website: http://www.royal-holdings.co.jp/

Cute and Dreamy Tanabata Inspired Confections Arrive at Q-pot CAFE. in Omotesando

Q-pot CAFE. is celebrating Japan's Tanabata festival with a limited-time menu which was introduced on June 27.

Romantic Star Plate w/Drink: ¥2,060 (Tax Included)

This starry delight is plated with a fromage blanc filled with ganache cream and peach jelly. There's star-shaped meringue macarons filled with cream, creamy blueberry and blackcurrant panna cotta, star-shaped chocolate to represent the Tanabata deities Orihime and Hikoboshi, and a luxurious Q-pot CAFE. macaron.

さらに、レモンの皮を練り込み、サクッと焼き上げた星型クッキーには短冊のようにグラサージュショコラで願い事を込めて・・・クッキーを残さず口にすれば、願いもきっと叶うはず!


Romantic Peach & Elderflower Soda: ¥750 (Tax Included)

Refresh yourself with a summery glass of this peach and elderflower soda which is filled with blue, purple, and pink transparent jelly which twinkle like a kaleidoscope.

Bottled Drinks (Takeout Only): ¥1,296 Each (Tax Included) *Limited quantity available / *¥100 off if you take your own bottle

Enjoy a takeout bottle of "Aurora Lychee Tea Soda" with its romantic pink, purple, and blue gradation. This herb tea changes colour like magic, and contains marrow cheese plant, lychee puree, and Blue Curacao. The twinkling pearl powder makes it glow like an aurora.

There is also bottled Strawberry Tea Soda, Ginger Ice Milk Tea, and Honey Lemon Vinegar Soda.

If you're in Tokyo this summer, head to Q-pot CAFE. to enjoy a round of pastel-coloured Tanabata confections and drinks.

Information

Q-pot CAFE. Omotesando
Address: 3-4-8 Jingumae, Shibuya, Tokyo
Running: June 27, 2020 – July 20, 2020
*From July 21, 2020 to September 4, 2020 the cafe will be reservation-only in line with an event, and the regular menu will not be available.
*For the time-being, reservations can be made by telephone call only. Web reservations are currently not available.

Official Website: http://www.q-pot.jp

A Cafe With a View: Okinawa's New Seaside Cafe 'Hoshino Resorts Banta Cafe' Opens This July

Hoshino Resorts's new cafe Hoshino Resorts Banta Cafe will open in the village of Yomitan in Okinawa on July 1, 2020, offering a spectacular view.

The cafe is split into four distinct areas which overlook the the beach from atop a cliff. Customers are invited to take in the breathtaking scenery with a delicious dessert made from ingredients like mangoes, pineapple, and sugar—or a tasty meal.

An incredible beach cafe overlooking the sea

Banta Cafe runs along the western coast of Yomitan, a village in central Okinawa which is about an hour's drive from Naha Airport. The cafe gets its name from iyumibanta which in Okinawan dialect refers to the cliffs you climb to spot the shadows of fish in the water, and is also the name they give to enormous rocks. The cafe is located atop one of these iyumibanta, or cliffs, making Banta Cafe a fitting name. From the cliff, customers can enjoy a panoramic view of the horizon which stretches across infinity. According to Hoshino Resorts, Banta Cafe sits as the largest beach cafe in Japan, spanning 1600㎡.

4 Unique Areas to Pick From

Having four distinct areas to choose from means you can select where you want to go depending on your mood on the day. Let's take a look at each of them.

Rooftop Deck: A panoramic view welcomes you

Beyond the entrance is the Rooftop Deck which offers an unbroken view of the horizon. With the comfortable shadow cast by the eaves of the roof, and the sound of the rolling waves and wind, it feels like you're sitting on the deck of a boat.

Beach Terrace: Kick back and enjoy the sea breeze

The Beach Terrace is located along a footpath that leads from the top of the cliff down to the beach. This spacious area sits nice and close to the sea. The Okinawan Ryukyu-tatami flooring has cushions for you to sit on as well as cabanas, so you can sit and chat with people while enjoying the view of the ocean, offering the real Okinawan experience.

Rocky Terrace: Lose yourself in the green wild of nature

The Rocky Terrace is enveloped in plants and vegetation that has grown naturally—it's like a hideaway created by nature. The area has a wooden deck and rocking chairs for people to kick back and relax in, and there are tables with towering rocks that offer shade too.

Goro Goro Lounge: Lay down on a sofa and look out to the sea

The final area is the Goro Goro Lounge where an entire wall is made up of open windows. Here, you can relax and lay down nice and comfy on the sofas. There are long tables by the sofas too, perfect for pulling out a map or guidebook and planning the rest of your trip.

A true Okinawan cafe experience


Bubbly Jelly Soda

The cafe's "Bully Jelly Soda" is inspired from a traditional bubbly Okinawan tea called bukubuku cha. It's flavoured with lemongrass and mint and contains different jellies like mango and hibiscus.

Chulato

This gelato ice cream gets its name from the Okinawan word for delicious which is chura. Choose from a variety of classic Okinawan flavours like pineapple and guava and top your ice cream with purple yam and bitter melon chips, chinsuko, and more.

Food Menu


The food lineup is to die for, with tasty bites like pizza toast topped with bitter melon, pork and egg rice ball which is a soul food of Okinawa, hot dogs filled with juicy sausages, shrimp fritters served with mango sauce, fried chicken, and plenty of other finger food.

Witness the magnificent sunset during business hours


Banta Cafe is home to a gorgeous beach with coral. The sea is cobalt blue as far as the eyes can see, there are strangely shaped rocks worn by the waves, and in the evenings is an incredible view of the sunset which can be enjoyed with a cocktail in hand.

Hoshino Resorts Olu Grill


Banta Cafe will also have its own separate grilled food restaurant called Olu Grill. Olu is another Okinawan word which means "blue," in this case referring to the blue ocean. From fried steak served with an original sauce made from Okinawan awamori liquor and kurozu black vinegar to seafood and juicy burgers, there's plenty to fill you up.

Information

Hoshino Resorts Banta Cafe / Olu Grill
Grand Opening: July 1, 2020
Address: 560 Gima, Yomitan, Nakagami District, Okinawa Prefecture
Access: 60-minutes by car from Naha Airport / 90-minutes by limousine bus from Naha Airport

Hoshino Resorts Banta Cafe
Opening Hours: 10:00 until sunset
TEL: 098-921-6810
Official Website: https://banta-cafe.com/
*Breakfast service available from mid-July 2020. Serving hours will be 7:00-9:30

Hoshino ResortsOlu Grill
Opening Hours: [Dinner] 17:00-21:00 (Last Orders 20:30)
TEL: 098-921-6811
Official Website: https://banta-cafe.com/olu-grill/
*Reservations required. Lunch service available from mid-July 2020. Serving hours will be 11:00-15:00.

Mew and Snorlax Charge Your iPhone With These Pokémon Cable Bites

Two new Mew and Snorlax "Cable Bites" have been added to the popular iPhone accessory series and will be released in Japan in late June.

A common problem iPhone users face is their phone cable disconnecting so they can't charge. The Cable Bite series was developed to tackle this issue.  Leave it to your Pokémon to look after your cable and look super cute while doing it.

Cable Bite Pokémon Mew: ¥680 (Before Tax)


Cable Bite Pokémon Snorlax: ¥680 (Before Tax)

Take your Pokémon with your wherever you go with the Pokémon Cable Bite series.