Indulge In The Best Melon Experience At Japan's First Melon Factory Antenna Shop
Tsugaru, Aomori is known for its delicious melons. On July 7, Japan's first melon factory called Melon to Roman will open its first ever antenna shop in Kagurazaka, Tokyo. Here, a range of delicious melon-themed desserts and drinks will be developed for customers to try out Aomori melon treats.
Recently, melons are becoming less and less popular in Japan. As a result, Melon to Roman was established to spread the love of melons countrywide.
The melon factory uses 10,400 tonnes of melons each year, meaning that Tsugaru alone creates 70% of Aomori's melon produce. The melon desserts at the antenna shop are made from Tsugaru's special melons. The aim of the antenna shop is to make Tsugaru more famous.
Melon Fruit Sandwich
A melon fruit sandwich is definitely a rare sight. The Melon Fruit Sandwich is made by filling raisin bread with melon pieces. Adults are bound to love its rich flavour. 
Melon Shaved Ice with Fluffy Mousse
The Melon Shaved Ice with Fluffy Mousse consists of fluffy shaved ice made from the juice of the melon. This is topped with a generous serving of foam made out of 100% melon juice.
Luxury Melon Parfait
The melon parfait is the masterpiece of the menu. It is made of three luxurious layers of fresh melon.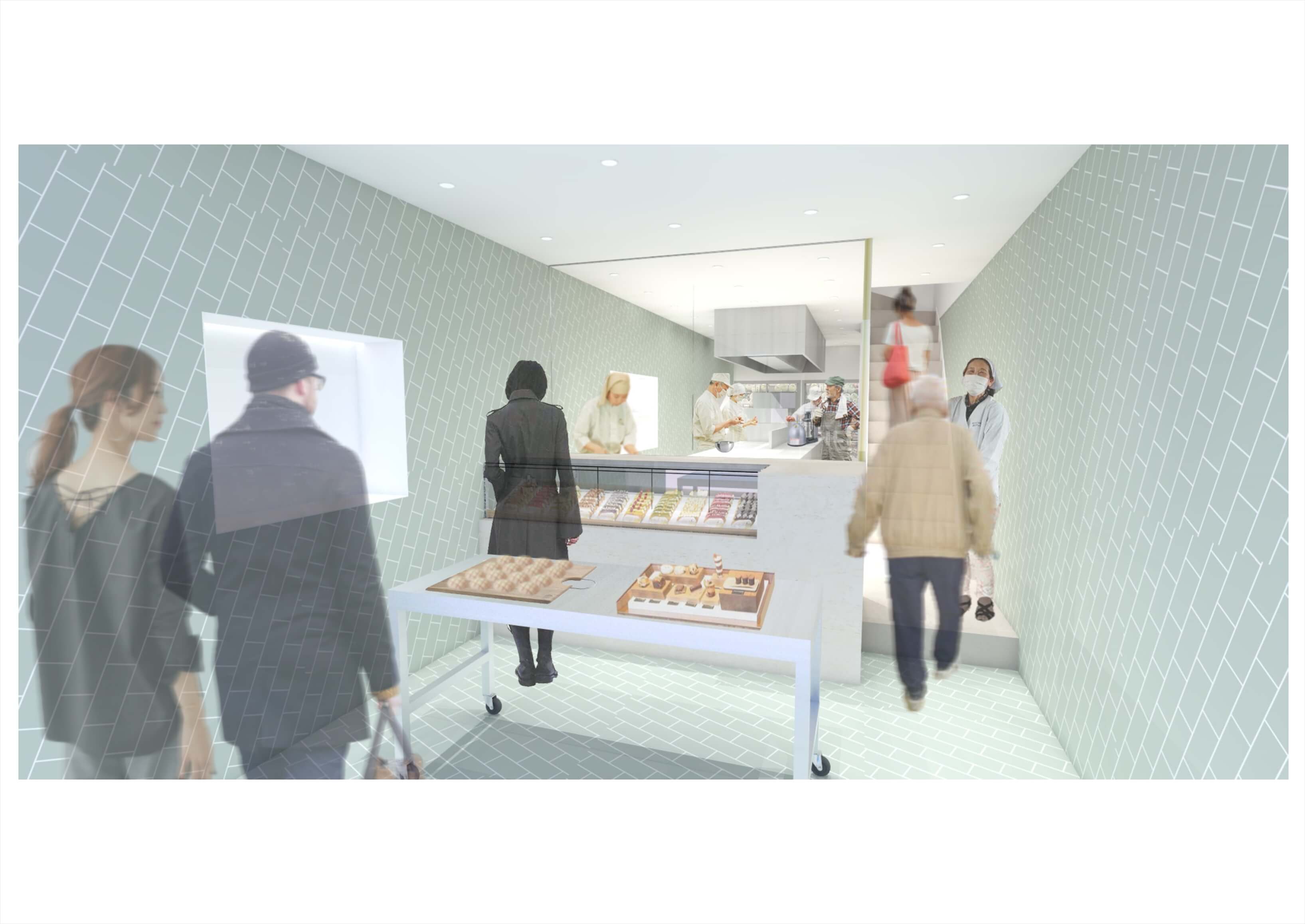 The antenna shop provides a number of ways to experience Aomori's melons with all your senses. Witness calligraphy written by original melon ink, listen to the stories of the journey of these melons, touch the drinks coasters that will make you feel like you are touching a melon, and sample different flavours of melon from the food and drinks tasting menus to immerse your sense of taste and smell in the world of melons. There has never been an antenna shop quite like this before. There will also be a video called "The Girl And The Melon" that will be shown at the antenna shop. Some adults might find this video quite emotional.
Immerse yourself fully in the miraculous world of melons and learn about a whole new perspective on melons.
Information
Location: 3-6-92, Kagurazaka, Shinjuku, Tokyo
Grand Opening: July 7, 2019  (11:30 ー 17:30)
Closed: Mondays, Tuesdays & New Year's period
Official Website: melon-roman.com
* Open from July 1
RECOMMENDED ENTRIES
Treat Yourself To Some Afternoon Teatime In Tokyo

Hello, my name is Banako and I am a MOSHI MOSHI Friend!

Today I'm going to introduce you to a café called Chansonnier Acorite, which is located close to Mejiro Station; an area bustling with life. Just a minute walk from the station and you will be surrounded by European interior decor and utensils, and gorgeous cakes that are the talk of the town!

To get there, exit the station, turn left and go down the stairs and you will immediately find it.

I ordered the cake set that even allows you to choose your own plate. (¥1,280)

This set comes with one cake of your choice and a drink. Don't forget to choose your own plate!

It was so hard to choose from these beautiful plates, yet having a choice definitely sparked delight. These plates were specially selected and have been imported all the way from Europe.

You can see the delicious cakes through the showcase. From there, you can choose which one you want. The cakes vary depending on the season and time of day.

I ordered the most popular cake and drink combination; the Rose Chiffon Cake and a Hot Tea.

The Rose Chiffon Cake looked beautiful and tasted just as good as it looked. The fluffy sponge cake was topped with some moderately sweet cream and faintly fragranced rose petals.

This could be easily consumed by anyone ー even those who don't really like sweet desserts. This place is full of fun little details, such as the cute teacup that matched the plate I chose and the unique and playful design of the teapot.

After finishing the delicious meal, I had kiwi and strawberry tea. It had a refreshing yet slightly sour taste and was very easy to finish.

Besides cakes, there is also a breakfast menu, and a beef stew set menu of which only 20 meals are served per day. Recently, the café has been creating original collaboration menus by cooperating with models and illustrators.

This place is both close to the station and is loved by many regular customers. If you are looking for comfortable spot where you can relax for hours, look no further. 

Come heal yourself and relax with some delicious afternoon tea at Chansonnier Acorite.

Information

Café Chansonnier Acorite

Address: Floor B1 Planet Mejiro, Mejiro, Toshima, Tokyo

Opening Hours: 8:00 ー 23:00

No regular holidays

Opening hours and holidays may change so please ensure to check in advance.

Access: 1-minute walk from Mejiro station (JR Yamanote line)

Website: https://www.acorite.com/

Satisfy Your Strawberry Cravings at Strawberry Fetish, Shibuya109

Along with the renovation of department store SHIBUYA109, Japan's first ever shop dedicated to candy-coated strawberries will be opening on the food and drinks floor (basement floor 2). The strawberry sweets shop, appropriately named Strawberry Fetish, will open on June 28, 2019.

Candy-Coated Strawberry Stick: ¥400 (after tax)

The theme here is "strawberry evolution". These strawberry treats are perfect for adults as well as children.

Long Candy-Coated Strawberry Stick: ¥600 (after tax)

Black Candy-Coated Strawberry Stick: ¥200 (after tax)

These candied strawberry treats are an upgraded version of the candied strawberries that are often served at Japanese festivals. From different toppings to different lengths, the menu consists of a wide variety candied strawberry sticks.

Enjoy the crunchy and crispy sound as your teeth break through the carefully crafted candy coating. With just one treat, you can enjoy both delicious crunchiness as well as an elegant yet cute appearance. 

Strawberry X Milk: ¥550 (after tax)

Strawberry X Strawberry: ¥650 (after tax) 

There are also many other strawberry flavoured items on the menu. If you love strawberries, you just have to pop by.

Information

Strawberry  Fetish

Address: Shibuya109 (Basement floor 2), 2-29-1 Dogenzaka, Shibuya City, Tokyo

Opening hours: 10:00 ー 22:00

No regular closing days

Shibuya109

Address: 2-29-1 Dogenzaka, Shibuya City, Tokyo

Website: https://www.shibuya109.jp/

Gion Tsujiri, Kyoto Releases Mouthwatering Summer-Limited Peach X Matcha Milkshake

For a limited period, popular Ujicha and Matcha (green tea) sweets shop Gion Tsujiri will release the Summer-Coloured Matcha Milkshake.

Summer-Coloured Matcha Milkshake: ¥700 (after tax)

Specially-selected, rich-flavoured matcha and mild milk is deliciously blended to make a matcha milkshake. This is topped with fresh fruity peach whipped cream and a generous serving of juicy yellow peach pieces. This summer-limited drink is the perfect balance of sweet and sour.

Gion Tsujiri stays true to its traditional sweet-making values whilst developing new ways to enjoy them. Make sure you pop by!
RELATED ENTRIES
Report: Kyary Pamyu Pamyu's Tasty Time in Gastropolis Kobe – Sweets Edition

Kobe is filled with famous sightseeing spots like the nostalgic Ijinkan neighborhood and port. The city is packed with fashionable shops and restaurants and is highly regarded for its selection of tasty sweets!

The port city, with over 150 years of history, has fostered a unique and diverse culinary culture.

Recently, Kyary Pamyu Pamyu began starring in a series of promotional videos for the Gastropolis Kobe project. The artist traveled to the city to partake in plenty of delicious treats, and MOSHI MOSHI NIPPON went along for the ride! Here are some of the singer's favorite spots around town.

Kobe, known as a city where East meets West, is lined with sweets shops that are unique to the area.

The tea salon TOOTH TOOTH Dekoboko Sabo opened in 2019 in the Kobe City Museum and offers a menu that mixes Western food and sweets with tea and ingredients from traditional Japanese cuisine. Kyary ordered the Dekoboko Sabo Afternoon Tea Set, a collection of western sweets blended with the essence of traditional Japanese flavors. Guests are invited to enjoy their tea and sweets in a one-of-a-kind space filled with Meiji period flare and retro Western furniture. Those interested will need to make a reservation, so be sure to remember the next time you're in Kobe.

TOOTH TOOTH Decoboco Sabo

Address: 24 Kyomachi, Chuo Ward, Kobe (Inside the Kobe City Museum)

Hours: 9:30-17:30 (Last Order at 16:30) 

Closed Mondays

Official Site: https://toothtooth.com/restaurant/decoboco-sabo

The next stop was Kobe Nankin-machi, one of the three major Chinatowns in Japan. Kobe MILK is known nationwide for its Apricot Pudding, which is made with local ingredients. The raw apricot pudding is mixed with milk brought from the foot of Mt. Rokko and other ingredients from Hyogo Prefecture. Of course, Kyary ordered some, and was amazed by its fluffy texture. You can only enjoy it in Kobe–also, the shop sells other puddings mixed with seasonal fruits, so don't miss those either!

Kobe MILK

Address: Shin-Motomachi Building 1F (1 Motomachi-dori, Chuo-ku, Kobe)

Hours: Weekdays 9:30-19:00 / Weekends 9:30-19:30

Official Site: https://kobe-milk.com

For Kyary's final stop, the singer visited the Moore House, a cafe located in a building with over 100 years of history. Guests are surrounded by greenery, and the Western-style building is incredibly elegant. The Strawberry Mille-feuille Kyary ordered was created by an expert patissier and based on the strawberry mille-feuille recipe from the legendary French restaurant Maxim's de Paris in Ginza. A generous amount of custard cream complements the crispy pie crust and enhances the sweetness of the fresh strawberries. We'd recommend it with a glass of champagne–if you're of age.

Kitano Ijin-kan Moore House

Address: 2-9-3 Kitanocho, Chuo-ku, Kobe

Hours: 11:00-17:00

Closed Tuesdays

Official Site: https://www.kitanomoore.com/cafe/

The streets of Kobe are packed with sweets that you can only enjoy if you visit. Why not come experience these incredible spots like Kyary did?

Kobe Sweets Trailer: https://youtu.be/Sx9B1ZdAvlI

Hoshino Resorts KAI Tsugaru in Aomori Prefecture to Hold Special Snow and Sake Event

Hoshino Resorts KAI Tsugaru, a hot-spring hotel located in Owani, Aomori Prefecture, will hold a special snow and sake event from February 1 until February 28, 2022. Hotel guests will be invited to enjoy drinks before dinner with a special winter twist–under a kamakura! A kamakura is the Japanese equivalent of an igloo, and local sake will be cooled by the snow as guests enjoy a glass while taking in the gorgeous scenery.

Famed author Osamu Dazai described the seven types of snowfall found in the Tsugaru region in his work Tsugaru. To allow visits to enjoy the many different types of snow in Aomori, seven unique sakes will be prepared and depending on the snowfall each day, the sake guests are served will change. This unique experience is sure to leave an impression. Who would you like to bring along?

Tsugaru Snow Lanterns

Seven lanterns designed by Iemasa Yamahata will be placed on the inside of the kamakura. Each has a different color and pattern and each is based on one of the seven types of snow: powdery snow, large snowflakes, grainy snow, watery snow, granular snow, sleet,  and crusted snow.

Information

Tsugaru Snow Festival

Running: February 1 – February 28, 2023
Price: ¥1,000 per set (Tax Included, 20 sets available per day)
Included: 1 glass of local sake, 2 scallop snacks
Venue: Hoshino Resorts KAI Tsugaru, Water Garden
Hours: 16:30-18:00
*Only available to hotel guests.
https://hoshinoresorts.com/ja/hotels/kaitsugaru/

ANNA'S by Landtmann in Shibuya Scramble Square Now Offering Halloween Sweets

ANNA'S by Landtmann, a cafe located inside +Q Beauty on the 6th floor of Shibuya Scramble Square, has begun selling two Halloween cakes! These spooky sweets will be available until October 31, 2022.

Halloween Mont Blanc

Halloween Poison Apple

Guests will be able to snag the Halloween Mont Blanc and Halloween Poison Apple cakes, available for ¥580 each including tax. The Mont Blanc is filled with pumpkin custard and Chantilly cream. The Poison Apple is a sweet and sour cake featuring a blend of chocolate mousse covered in red glaze and applesauce with apple pulp.

Which of these two adorable cakes would you like to enjoy this autumn?

Second Sylvanian Families Sweets Buffet to Open with a Christmas Theme

Keio Plaza Hotel in Tokyo will hold a special Christmas-themed Sylvanian Families buffet starting November 1, 2022. This is the second Sylvanian Families event following the previous Halloween-themed buffet, which became extremely popular. Some guests even bring their own Sylvanian Families dolls!

Starting in November, visitors can enjoy a full lineup of 20 scrumptious dishes inspired by the cake shop found in Sylvania Village. Some sweets are also inspired by the many beloved characters found in the series, and anyone wanting to get into the Christmas spirit won't want to miss this exclusive event. For those without a sweet tooth, some light lunches will also be available.

The restaurant will also erect a decorative display of Sylvanian Families enjoying a Christmas party and a sweet diorama made exclusively of desserts by the pasty chef. Guests can enjoy tea time while getting lost in this magical world, so get excited about the Christmas season!

1. Sweets Inspired by the World of Sylvanian Families

2. Become Enthralled by a Wonderful Winter World of Sweets

3. Exclusive! Sweets Diorama and Sylvanian Families Photo Spot

4. Light Meals Perfect for Winter and Burgers Featuring Original Illustrations

5. A Special Plan to Enjoy the Buffet with Sylvanian Families Babies

Information

Sweets Collection with Sylvanian Families

Running: November 1 – December 31, 2022

Venue: Keio Plaza Hotel's Jurin Restaurant

Price: ¥5,500 (Adults) / ¥3,000 (Children 4-12) *Children under 3 free

Details/Reservations: https://www.keioplaza.co.jp/event/autumn-sweets/#event02

Hilton Tokyo Odaiba to Hold Second Touken Ranbu ONLINE Collaboration Sweets Buffet

From October 21 until November 30, 2022, Hilton Tokyo Odaiba will hold the Touken Ranbu ONLINE Special Buffet ~Black & White~ event! This second collaboration with the popular series will be held Grillogy Bar and Grill on the second floor.

Dessert Menu

Drink Menu

Drink Order Bonus: Original Coaster (8 varieties)

At the buffet, guests can enjoy luxurious dishes inspired by characters from the sword-centered game and anime series. The desserts blend Japanese and Western cuisine, and special cocktails will be available during the first phase, each coming with a special coaster as a bonus! In addition, original goods will be on sale at the venue, so don't miss it!

Information

Touken Ranbu ONLINE Special Buffet ~Black & White~

Running: October 21 – November 30, 2022

Reservation Start Dates and Times: 

Lottery Opens: September 16, 12:00~

General Reservations Open: October 6, 12:00~

*Lottery reservations and general reservations will be open
for the first and second runs.

*Please see the official website for the full reservation schedule.

Venue: Hilton Tokyo Odaiba 2F Restaurant, Grillogy Bar and Grill

*Reservations required

Tickets/Details: https://odaiba.site/

Online Shop: https://touken-yorozuya.com/

Yokohama Royal Park Hotel to Hold Halloween Sweets Fair in October

From October 1 until October 31, Yokohama Royal Park Hotel will hold a special Halloween Fair at its delicatessen and lounge Coffret. In addition to six playful sweets from the Halloween Frankenstein to the Halloween Mummy, two types of autumn bread featuring pumpkin and purple sweet potato will be available, allowing guests to enjoy the taste of the season!


Halloween Frankenstein

Halloween Cat

Halloween Mont Blanc

Halloween Mummy

Halloween Pudding

Halloween Pound Cake

Pumpkin Cream Fondue / Halloween Anpan

  

Come enjoy this Halloween with some cute and silly sweets!

Information

Halloween Fair

Running: October 1 – October 31, 2022
Venue: Coffret Delicatessen and Lounge, 1F
Hours: Lounge 10:00-20:00 (*Cakes served starting at 11:00) /
Delicatessen 11:00-20:00
Reservations: 045-221-1111 (Representatives available 11:00-20:00)

Tsujiri Reveals Colorful Autumn Parfait Using Purple Sweet Potatoes

Tsujiri, a staple of Uji, Kyoto, has announced an exclusive autumn menu! Guests can enjoy the Tsujiri Soft Autumn Parfait, the Kyo Latte Smoothie with Purple Sweet Potato, and the Kyo Latte with Hojicha at the Kyoto location and three other stores starting September 1, 2022.

Tsujiri Limited Time Autumn Menu

These three limited-time items are filled with fall flavors. The Tsujiri Soft Autumn Parfait is filled with Uji green tea carefully selected by tea masters and topped with purple sweet potato paste, sweet potato nectar, and other gorgeous goodies.

The Kyo Latte Smoothie with Purple Sweet Potato features an autumn-only flavor combining purple sweet potato bean paste, cream, and sweet potato nectar with Tsujiri's matcha green tea smoothie. The Hojicha version is made with luxurious Uji Hojicha and milk for a soothing experience.

Enjoy autumn with these tasty treats filled with seasonal flavors!

Information

Tsujiri Kyoto Store
Address: 215 Nakanocho, Kyoto 

Tsujiri Kyoto Tower Sando
Address: Kyoto Tower Sando Building 1F (721-1 Higashishiokojicho,
Shimogyo-ku, Kyoto)

Tsujiri arde! Shin-Osaka
Address: arde! Shin-Osaka, JR Shin-Osaka Station 2F (5-16-1 Nishinakajima, Yodogawa-ku, Osaka)

*The autumn menu is not available at the Uji location or the Naha Airport location.

Q-pot CAFE to Offer Cute Halloween Sweets to Celebrate 10th Anniversary

Q-pot CAFE in Omotesando will be offering up some Halloween treats to celebrate the location's 10th anniversary! Guests will be able to sample these special sweets from September 3 until October 31, 2022.

Happy Halloween! Afternoon Tea Set

The festive Happy Halloween afternoon tea features pink Jack-o'-lantern macarons and other Halloween-inspired sweets.

Fluffy Floating Ghost Plate (Drink Included)

The adorable ghost is made from fluffy milk mousse covered with gyuhi, a typical ingredient in Japanese sweets made from rice flour. Inside is blackcurrant and redcurrant jelly with an incredibly sweet and sour flavor.

Black Devil Tea Mocha

Featuring large devil wings, this tasty and eye-catching beverage is a mix of black tea, chocolate, and milk. When the cocoa cream melts, the taste changes to something creamy and cozy, perfect for the autumn months.

Shimmering Blueberry & Grapefruit Soda

This refreshing sweet and sour drink combines blueberries and pink grapefruit along with soda and pearl powder.

Come enjoy Halloween while celebrating the cafe's 10th anniversary!

Information

Q-pot CAFE 10th Halloween Menu

Location: Q-pot CAFE Omotesando

Running: September 3 – October 31, 2022

Hours: 11:00-19:00 (Last Order at 18:30)

Details/Reservations: http://www.Q-pot.jp/news/2022/08/1746.html

Pastel Collaborates with My Melody and Kuromi for Autumn Puddings

Pastel, a sweets brand known for its smooth pudding, has announced a collaboration with the Sanrio characters My Melody and Kuromi! Fans can snag some tasty treats from September 1 to October 31, 2022.

This year's collaboration is based on a sweet circus. Fall is full of wonderful events like Halloween, and the company is ready to celebrate with these colorful desserts.

New items include limited edition puddings featuring illustrations of My Melody and Kuromi and sweet and sour treats made with strawberries that will crackle and pops in your mouth!

My Melody Mini Pudding: ¥430 (Tax Included)

Left 2 Puddings: September 1 – September 30 / Right 2 Puddings: October 1 – October 30, 2022

Kuromi Mini Pudding: ¥430 (Tax Included)

Left 2 Puddings: September 1 – September 30 / Right 2 Puddings: October 1 – October 30, 2022

Pastel's original mini puddings are topped with whipped cream and finished with a My Melody illustration in cocoa powder. Enjoy the smooth texture and soft whipped cream!

My Melody's Merry-go-Round Pudding: ¥600 (Tax Included)
Top: September 1 – September 30 / Bottom: October 1 – October 30, 2022

This exclusive pudding was inspired by My Melody. Smooth pudding is topped with sponge cake and diced strawberries, sweet and sour strawberry cream, and colorful marshmallows.

Kuromi's Circus Pudding: ¥600 (Tax Included)

Top: September 1 – September 30 / Bottom: October 1 – October 30, 2022

Smooth chocolate pudding is accented with raspberry sauce and finished with fluffy cream. This treat is perfect for fall, and the chocolate that crackles in your mouth is sure to amaze and delight!

Come enjoy some autumn sweets decorated with your favorite Sanrio characters!

© 2022 SANRIO CO., LTD. APPROVAL NO. L632735

*AEON Mall Shin-Rifu South Building, AEON Mall Okazaki, and THE OUTLETS HIROSHIMA will only offer mini-puddings of each character.
*All images are sample images.

Creepy-Cute Halloween Sweets Available for a Limited Time at Hyatt Centric Kanazawa

Halloween is on the way, and the Hyatt Centric Kanazawa hotel is prepping some spooky sweets to celebrate! From October 1 until October 31, a Monster Halloween Cake Set will be available at the hotel's restaurant FIVE – Grill and Lounge. Guests can also enjoy a Halloween lunch and dinner menu featuring a chic menu filled with black, red, and purple dishes. Visitors who come in costume will gain access to some special offers as well!

Halloween Lunch / Dinner Course

Poached Eggs with Black Chaudfroid Sauce

Grilled Beef Tenderloin with Beet Variation

 

The courses were inspired by an adult Halloween party and will be available for four days only. Each dish contains colors perfect for the season, like haunting black and bloody red punctuated with a purple-tinted memory of moonlight. While the dishes may look strange, they are made with the finest ingredients. 

Monster Halloween Cake Set

Witch's Mont Blanc Pudding

Mummy Macaron

Denture Parfait

Jack-o'-Lantern Cream Puff

Frankenstein Brownie

Gyuhi Ghost

Spider Web Mousse

GO FOR KOGEI 2022 Collaboration 5×5 Cake Set

A special cake set featuring everything from Frankenstein to spider webs will get you in the Halloween mood. The lineup includes Witch's Mont Blanc Pudding topped with purple sweet potato cream, and the adorable Jack-o'-Lantern cream puff filled with–you guessed it–pumpkin cream. Come enjoy some other playful treats like the Mummy Macaron filled with apricot and the Denture Parfait with berries and marshmallows. On weekdays from October 3 until October 21, the cakes will be served on a special Kutani ware in collaboration with GO FOR KOGEI 2022. This 5×5 set will be limited to five servings per day. Kutani ware is a style of traditional Japanese porcelain found in Ishikawa Prefecture.

Halloween Cocktail


This year's Halloween cocktail is the rock-themed Back in Black. With a tequila base, you're sure to have some extra fun after downing this classy beverage. 

Come enjoy some spooky and cute Halloween sweets while you can!

Information

Monster Halloween 

Hyatt Centric Kanazawa
FIVE – Grill & Lounge
Address: Hyatt Centric Kanazawa 3F (1-5-2 Hirooka, Kanazawa, Ishikawa)
Official Site: http://fivegrillandlounge.jp

Lunch / Dinner Menu

Available: October 28 – October 31, 2022
Hours:
Lunch: 11:30-14:30 (Last Order at 14:00)
Dinner: 17:30-21:00 (Last Order at 20:30)
Details/Reservations: https://bit.ly/FIVEHalloween 

Monster Halloween Cake Set
Available: October 1 – October 31, 2022
*On weekdays from October 3 to October 21, the 5×5 cake set, made in collaboration with GO FOR KOGEI 2022, will only be offered in a limited number of 5 per day. (Advance reservations required.)
Hours: 12:00-17:00 (Last Order at 16:30)
Details/Reservations: https://bit.ly/FIVEHalloween 

Halloween Cocktail
Available: October 24 – October 31, 2022
Hours: 17:00-24:00 (Last Order at 23:30)

*Menu subject to change depending on availability.

Sanrio Characters Autumn Sweets Buffet to be Held at Hilton Nagoya

From August 18 until November 3, visitors to the Hilton in Nagoya will be able to enjoy a special autumn buffet featuring the popular Sanrio characters Kuromi, Cinnamoroll, and Hello Kitty. 

These three characters are some of Sanrio's most loved. Kuromi is the self-proclaimed rival of My Melody, while the fluffy Cinnamoroll won first place in this year's Sanrio Character Awards. Hello Kitty has been beloved by audiences worldwide for decades, and her iconic ribbon really shines in this buffet collaboration. Themed around an autumn harvest festival in a dark forest, the event includes 27 varieties of sweets and seven savory items. From sweet potatoes and pumpkins to chestnuts and apples, guests will be able to taste the fall season!

Kuromi's Dark Forest Cake

Autumn Cinnamoroll Cake

Hello Kitty's Ribbon Cake

Crazy Mushrooms / Praline and Gianduja Truffles / Tonka Bean & Chocolate Caneles

 

Kuromi's Dark Forest Cake is a traditional German black forest cake featuring decorations inspired by the character's black hood and a pink skull. The Autumn Cinnamoroll Cake is made with rice flour and is inspired by the adorable puppy's fluffy appearance. Hello Kitty's Ribbon Cake is topped with apple compote simmered with strawberries and red wine. 

At the popular Live Station, guests can also enjoy an artistic performance by the chef himself. Visitors can also find and harvest their own Crazy Mushrooms and Truffles. 

Kuromi's Autumn Soup

Pumpkin Mont Blanc

Hello Kitty's Apple

Pastry Chef Mamoru Watanabe's specialty autumn sweets and Sanrio Characters-inspired goodies will invite you into a cute and dark forest world. Kuromi's Autumn Soup is made with Japanese chestnuts and chicken consomme poured over panna cotta made with purple sweet potatoes. The Pumpkin Mont Blanc includes four layers of milk chocolate cream, chocolate crumble, pistachio cream, and pumpkin Mont Blanc cream.

Praline Paris-Brest

Hojicha Basque Cheesecake

Green Tea Tiramisu

Come enjoy the taste of autumn with your favorite Sanrio characters!

© '22 SANRIO CO., LTD. APPR. NO. L632215

Fruit-Filled Afternoon Tea Inspired by Japanese Folktale Momotaro Announced

Kawagoe Prince Hotel, located in an Edo-period castle town in northwest Tokyo, will begin offering a special afternoon tea set starting July 1, 2022. Inspired by the Japanese folktale Momotaro, the summer fruit-filled tower of treats will be available until August 31, 2022.

Top Plate

Middle Plate

Bottom Plate

Savory

 

The top plate of the three-tiered set features tasty peach and cheese mousse, peach meringue, macadamia nut chocolate, and Kibi Dango put together to resemble the hero of the story, Momotaro. On the middle tier, visitors will find sweets inspired by the many animals found in the story, from the monkey and dog to the pheasants. Guests can enjoy many summer fruits including mango and kiwi. 

Those who come to the store in a yukata (summer kimono) and follow the official Kawagoe Prince Hotel Instagram will receive a special fruit platter.

Come enjoy the world of Momotaro as you wander around this historical Japanese town!