Treat Yourself to Grand Hyatt Tokyo's Luxurious And Refreshing Desserts and Cocktails
Towering over the busy streets of the heart of the city is the dynamic and luxurious hotel Grand Hyatt Tokyo. Here, you can indulge in grand premium cakes made with generous amounts of fruit that were carefully selected by the chef. You can also purchase small souvenirs such as verrine, which are coloured with the fresh and vibrant colours of summer. There is also a bar which serves cocktails made from Japanese sake sourced from the Tohoku region. The fresh and fruity cocktails menu is changed every Monday.
Fiorentina Pastry Boutique (First floor )
Grand Premium Shortcake Melon (Left): ¥1,800 Grand Premium Shortcake Peach (Centre): ¥1,800 Grand Premium Shortcake Mango (Right ): ¥2,000 (prices before tax)
Carefully selected fruit has been used to make this new, premium signature cake. The pastry team consists of worldwide western confectionary competition winners. The team has developed a lineup of world class desserts for the Fiorentina Pastry Boutique. Specially selected branded fruits and rich, flavourful Jersey milk whipped cream are used to make these premium cakes.
This summer menu features three cakes made from the three major summer fruits; peach, mango and melon. A three-layered spongecake contains a centre of Jersey milk Crème brûlée and fruits. The luxurious taste of these specially-selected ingredients is enough to surprise you.
Lychee, Watermelon, Rose and Berry Verrine: ¥800 (before tax)
The fun texture of the watermelon combined with the soft rose mousse is an excellent contrast with the lychee and raspberry jelly. The luxurious rose fragrance will spread all the way through your mouth on your first bite.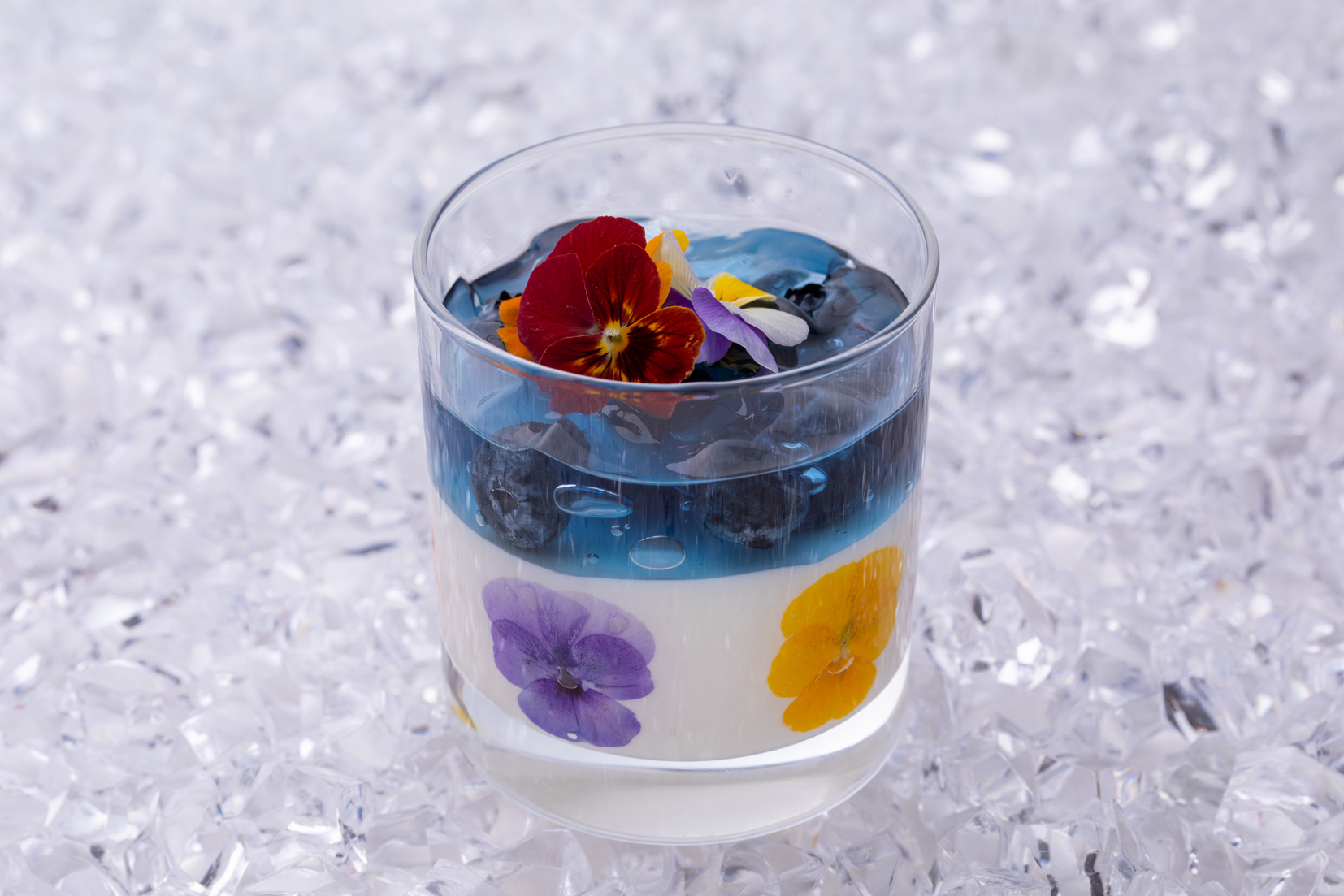 Blueberry and Lavender Verrine: ¥800 (before tax)
Colourful jelly is sprinkled with vibrant blue Butterfly-pea flowers. This rests on a bed of lavender-scented panna cotta. These flavours and colours compliment the blueberries perfectly. This refreshing verrine sprinkled with beautiful and delicious edible flowers is truly irresistible.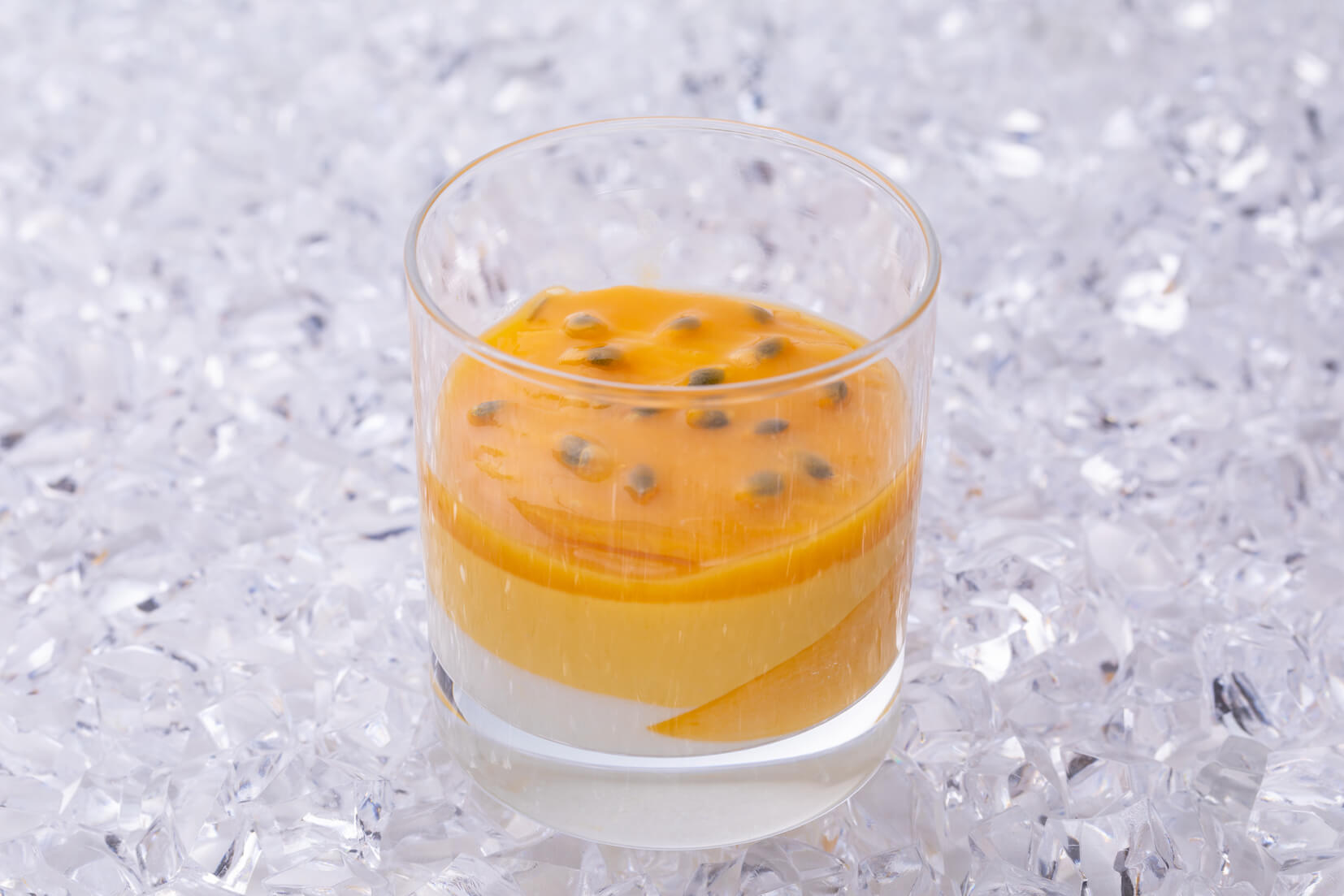 Mango Verrine: ¥800 (before tax) 
A coconut blancmange verrine is topped with Fiorentina's popular mango pudding and fresh mango for a southern country vibe. The verrine is garnished with a drizzle of passion fruit sauce and seeds to accent the flavour.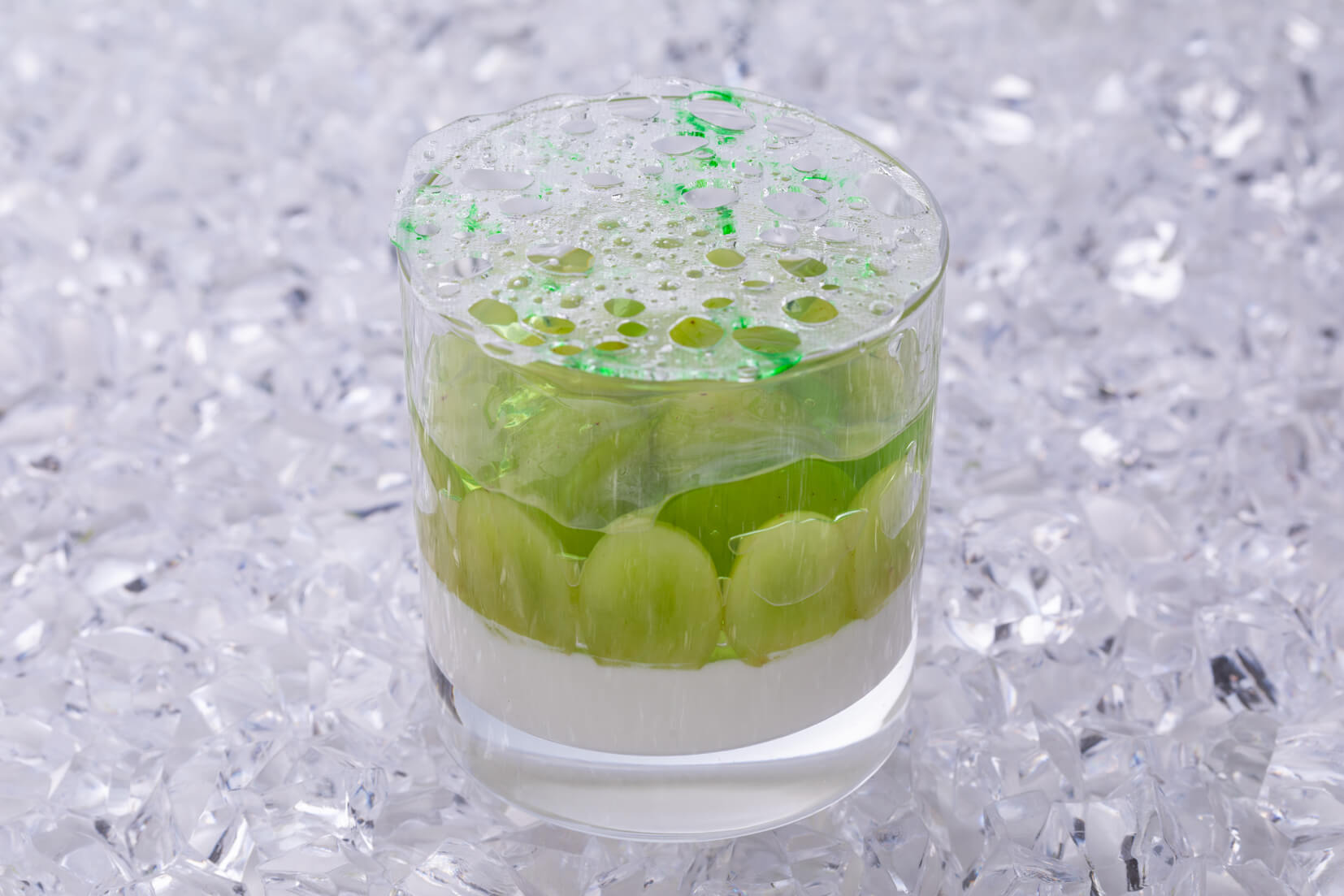 Muscat Verrine: ¥800
Iced wine jelly is set over blancmange and shine muscat, creating a sophisticated verrine dessert. Enjoy the delicious thin layer of crunchy candy that has been carefully shaped to top the verrine.

Dragon Fruit Verrine: ¥800 (before tax)
A layer of fresh and fruity orange and grapefruit jelly rests on top of the Dragon Fruit and orange mousse. The balance of sweetness and sourness makes for a rare yet harmonious verrine.
Summer Icing Biscuits Assortment (size: 10cm): ¥850, box of 4: ¥1,200 (before tax )
From the baking to the decorating, each of these cookies are fully handmade and decorated. These are a popular choice of souvenir. Now, a summer edition series has been released. The assortment shown above is just one example from the series.
 Chinaroom (6th floor)
Chinaroom serves Chinese regional dishes, an authentic Yum Cha tea service and Chinese steamed cakes that are made with a generous amount of egg. They are now serving a brand new Chinese parfait that is made with a wide range of ingredients.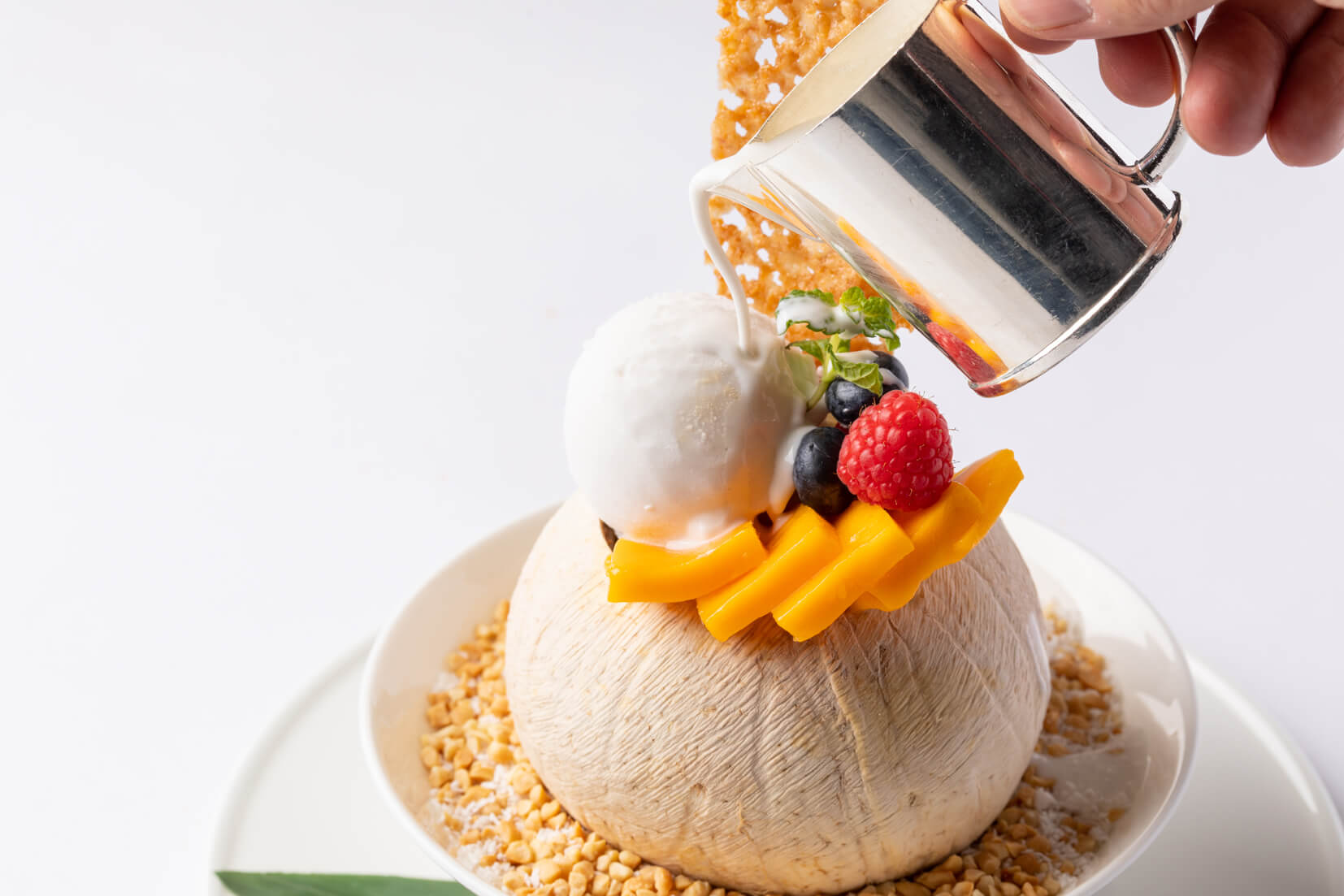 Chinaroom Chinese Parfait: ¥1,800 (before tax )
Using a coconut husk as a bowl, mango pudding and steamed Chinese cake is served with fresh mango, coconut ice cream, fresh cream, raspberries and mint. Enjoy the refreshing sweetness of the coconut ice cream and the rich mango pudding. The fluffy steamed pudding adds a gentle touch of texture so irresistible you will not be able to stop taking big mouthfuls. The sweetness is not too overpowering.
Sprinkled around the coconut bowl is roughly smashed pieces of coconut and peanuts. This adds an exciting texture and aftertaste to your dessert experience. This dessert is the perfect way to cool your tastebuds after eating some hot and spicy noodles. ※ It is not possible to order just the dessert only.  
Maduro, (4th floor Jazz Lounge)
Maduro is the perfect place for adults to relax with friends. This chic jazz lounge is a place where you can enjoy cocktails made with premium seasonal fruits throughout the year. Sweet, ripe mangos, peaches that you can enjoy down to the skin, and a wide range of fruits are used to make frozen cocktails, martinis and much more. Come enjoy a Maduro-style cocktail! 
Mango Frozen Champagne (left): ¥2,500, Mango Daiquiri: ¥2,300 (centre ), Mango Mojito: ¥2,300  (right), all prices before tax  
The mango daiquiri rum-based cocktail is made with ripe mangos sourced from Miyazaki Prefecture. The mangoes are puréed and used plentifully so that the real sweetness can be tasted. Combined with the sweetness of the rum, the flavour is strengthened.
The mango frozen champagne also uses ripe mangos sourced from Miyazaki prefecture. Champagne is poured over the carbonated ice to create this cocktail, creating a pleasant bubbly texture with a fruity aftertaste.
 The mango mojito is a mango version of Maduro's signature cocktail mojito. Miyazaki prefecture mangos were used to make this mojito. Lots of mint is added for a touch of freshness. The sweetness of the mango will spread through your mouth. This is the perfect summer cocktail.
Come try Grand Hyatt's exquisite range of refreshing cocktails and desserts this summer.
Information
Fiorentina Pastry Boutique
Address: Grand Hyatt Tokyo 1st floor (lobby)
6-10-3, Roppongi, Minato Ward, Tokyo
Opening Hours: 9:00 ー 22:00 ※ Cakes and tarts sold from 10:00 to 22:00
TEL: 03-4333-8713 (direct connection)
Chinaroom
Address:  Grand Hyatt Tokyo 6th floor
6-10-3, Roppongi, Minato Ward, Tokyo
Opening Hours: Lunch: 11:30-14:30(Weekends/ national hols: until 15:00) Dinner: 18:00-21:30
TEL: 03-4333-8785 (direct connection)
Maduro
Address: Grand Hyatt Tokyo 4th floor
6-10-3, Roppongi, Minato Ward, Tokyo
Opening Hours: 19:00 ー 25:00 (Fridays/ Saturdays: until 26:00)
TEL: 03-4333-8783(direct connection)
Grand Hyatt Tokyo Official Website: https://www.hyatt.com/ja-JP/hotel/japan/grand-hyatt-tokyo/tyogh
RECOMMENDED ENTRIES
Feel the Spirit of Japanese Culture With Hotel Gajoen Tokyo's Yukata Plan

Japanese museum and hotel Hotel Gajoen Tokyo is currently offering its new "Yukata Plan" until September 30. The plan includes a yukata service, lunch or dinner, and a chance to witness the Hyakudan Kaidan, or '100 Step Staircase,' which was registered by Tokyo Prefecture as a Tangible Cultural Property in 2009 for its exceptional architecture and artistic beauty.

The plan lets guests wear a beautiful and colourful yukata allows them to get a feel for the Japanese spirit. After enjoying a special food course specially prepared by the hotel's chef, you will head on over to observe the Hyakudan Kaidan, something offered in the hotel's popular summer plan. Yukata are available for men, women and children, making it perfect for groups, couples and families. What's more is that you can take home the yukata, obi sash and geta shoes you choose.

Once you chance into your yukata you can stroll to some of Meguro's famous spots such as Meguro River as well as Ryūsenji temple and Ōtori-jinja Shrine, both of which are just a 10-minute walk from the hotel.

Enjoy a real Japanese time this summer at Hotel Gajoen Tokyo.

Information

Yukata Plan

Prices

Lunch: Adults ¥13,500 / Children ¥10,000

Dinner: Adults ¥16,000 / Children ¥10,000 (Each price includes price for 1 person, tax and service charge)

*Those who order the dinner plan will receive an original Gajoen senko hanabi firework

Hotel Gajoen Tokyo: http://www.hotelgajoen-tokyo.com/

Top 5 Tokyo Beer Gardens to Cool You Down This Summer

Hi, readers! It's Midori, from MMN's editorial team.

When thinking about summer, one of the first things that springs to mind are beer gardens! Drinking a cold beer outdoors on a hot summer's day is a special kind of delicious. More and more beer garden events appear in Japan every year, the vibe and atmosphere is different for each depending on where you are.

Today, I've compiled for you 5 must-visit beer gardens in Tokyo for summer 2019.

Heineken Kirin Beer Garden: Enjoy a lamb BBQ at Kichijoji Daiichi Hotel

This beer garden is being hosted in a BBQ style. Enjoy a two-hour all-you-can-drink course with either a Jingisukan BBQ or oil ponzu fondue as well as a selection of à la carte that go perfectly with the beer on offer. Look out for the lamb BBQ as well, a hugely popular choice every year at the hotel.

▼Kichijoji Daiichi Hotel – "Heineken Kirin Beer Garden"

Location: Kichijoji Daiichi Hotel Floor 8F Garden Terrace (Entrance at floor 7F)

Address: 2-4-14 Honcho, Kichijoji, Musashino, Tokyo
Running: May 24, 2019 – September 1, 2019 (*Closed on Mondays between May 24 – June 30)
Time: 17:00-21:30 (Last Orders 21:00)

Website: https://www.hankyu-hotel.com/hotel/dh/kichijojidh/

Honoo Bulgogi vs. Tamashii Hot Pot: Ikebukuro Tobu Beer Garden

The Tobu Department Store in Ikebukuro is set to serve up its popular bulgogi nabe on the building rooftop. This year also sees the introducing of a new hot pot. Women can also enjoy a discount price on the bulgogi nabe even cheaper than previous years. There is also an happy hour service where all customers can enjoy reduced prices. If you're looking for affordable prices then look no further!

▼Honoo Bulgogi vs. Tamashii Hot Pot: Ikebukuro Tobu Beer Garden

Location: Tobu Department Store Ikebukuro Floor 16F Rooftop

Address: 1-1-25 Nishi-Ikebukuro, Toshima Ward, Tokyo
Running: April 24, 2019 – September 1, 2019
Time: 17:00-23:00 (Last orders for à la carte and drinks at 22:00)
Reservations: Via telephone or online. Reservations must be for 2+ people.

Website: http://www.tobu-dept.jp/ikebukuro/

Beer Garden With an Unbroken View Of the Sea at InterContinental Yokohama Grand

InterContinental Yokohama Grand is bringing its hugely popular beer garden Hama Beer back to Yokohama Minato Mirai again this year. Look forward to tucking into some authentic delights at the hotel terrace with a panoramic view of the Yokohama sea. They also serve a variety of non-alcoholic cocktails too. I recommend this one if you're looking for a romantic, slightly more adult beer garden experience.

▼InterContinental Yokohama Grand Beer Garden

Location: InterContinental Yokohama Grand Floor 1F Outdoor Terrace (*Location will change if it rains)

Address: 1-1-1 Minato Mirai, Nishi Ward, Yokohama, Kanagawa Prefecture
Running: June 14, 2019 – September 16, 2019 (*Except on days when there are scheduled events)

Time: [Mon-Thur] 18:00-21:00 / [Fri-Sun & Hols] 17:00-21:30

Website: https://www.interconti.co.jp/yokohama/

Machida MODI at Renewed "Sky Beer Garden" With Projection Show

The Sky Beer Garden atop Machida MODI has reopened after renovations. A projection show is taking place on the building wall as part of the beer garden. On the official homepage, people can also sign up to have a message projected onto the wall. 7 people will be randomly selected per day. This would be perfect as a surprise to that special someone! You can also enjoy the beer garden at a discounted price if you follow them on Instagram.

▼Sky Beer Garden

Location: LUGAR HA AMOR
Address: Machida MODI Rooftop, 6-2-6 Haramachida, Machida, Tokyo
Running: April 27, 2019 – September 29, 2019

TEL: 042-812-2580

Website: https://www.0101.co.jp/723/

SKY PARADISE BEER GARDEN: Delicious steak and more at Isetan Shinjuku

At Isetan Shinjuku's stylish SKY PARADISE BEER GARDEN visitors can enjoy steak from Steak NO.1 STEAK THE FIRST. The drinks menu also includes beverages other than beer, so if you're not a beer person then I definitely recommend this one. It is being held on the rooftop too so you can enjoy dining in the warm late afternoon and evening outdoors in Tokyo.

▼SKY PARADISE BEER GARDEN

Location: Isetan Shinjuku Rooftop

Address: 4-14-1 Shinjuku, Shinjuku Ward, Tokyo
Running: June 12, 2019 – September 16, 2019
Time: [Mon-Thur] 16:00-22:00 / [Fri-Sun & Hols] 11:30-22:00 (Last Orders – Food 21:00/Drink 21:30)
TEL: 03-6890-0199 (11:30-20:00)

Website: https://www.isetan.mistore.jp/shinjuku.html

There are many different unique beer gardens being held this year, so pick the one that suits you most and cool yourself off this summer in Tokyo♡

Keio Plaza Hotel is expanding their yukata experience service plan "Easy Kimono". The plan, which allows guests to wear Japanese traditional clothing called yukata, was originally a weekday-limited plan. Now, the plan will be expanded to include the weekends and national holidays. The plan was launched in June 2017 through a collaboration with Keio Department Store's dressing rooms. Keio Plaza Hotel's objective is to spread Japanese culture and offer guests the opportunity to fully experience Japan. The hotel also offers tea ceremony and Ikebana flower arranging classes.

There are two yukata plans on offer: a standard plan available for men and women and a women-limited premium plan which includes top quality cotton yukata that have a mature feel to them. Both plans come with wooden clogs, an ornate kanzashi hairpin, a drawstring purse and a map of wonderful locations to take a stroll in Shinjuku. Head to the third floor lobby in the South Building of the hotel to arrive at the Keio Department Store Dressing Rooms. Here, you can choose your favourite yukata. Once you put it on, the staff will take a commemorative photo with a camera or your smartphone.

You can rent these yukata for a maximum of six hours, during which time you can take as many selfies as you want, enjoy a meal in Tokyo, and have a relaxing stroll around the streets of Shinjuku. This luxurious plan is a chance to experience the great feeling of wearing a yukata.

Information

Easy Kimono Yukata Wearing Plan (aimed at overseas foreigners)

Reservations: Everyday from 10:00am ー 4:00 pm

Returns: No later than 6:00pm on the day of rental.

(Arrangement/dressing takes approximately 30 ー 40 minutes)

Prices

Standard plan

1 person: ¥5,400 (after tax)

Women (up to 170cm tall, medium size) :  Selection of 30 yukata patterns

Men (Up to 185 cm tall, medium, large, extra large size): Selection of 6 yukata patterns

Premium plan (women-limited) 

1 person: ¥7,560 (after tax)

Women (up to 170cm tall, medium size) : Selection of 15 top-quality cotton yukata patterns

* Extended rental: ¥2,160 (after tax). Extended rental returns are expected by 12:00pm the following day.

Reservations can be made on the Hotel's Official Website: (English website only) https://www.keioplaza.com/offers/easykimono.html

Hotel Gajoen Tokyo to Hold Japanese Art Exhibition at Hyakudan Kaidan

Hotel Gajoen Tokyo is both a museum and a hotel which celebrated its 90th anniversary in December 2018. The establishment is set to hold its 5th Wa no Akari x Hyakudan Kaidan art exhibition at its Hyakudan Kaidan, or '100 Steps Staircase'―which was registered by Tokyo Prefecture as a Tangible Cultural Property in 2009 for its exceptional architecture and artistic beauty.

The event will run from July 6 to September 1 and will feature all-new exhibits from 40 independent artists and groups from around Japan: from Aomori in the north to Kagoshima in the south.

Bamboo Artwork by NIITAKE

Participating in the exhibition for the first time is bamboo artist NIITAKE from Nichinan, Miyazaki. His pieces will include entrancing room installations as well as a colourful collaboration with the Nagasaki Lantern Festival which enjoys an incredible one million visitors.

emullenuett: The Sand Art Duo

emullenuet are an up-and-coming duo who create artwork out of sand. The two of them have created some pieces just for this exhibition such as Japanese ranma transoms.

Edo Furin Wind Chimes

This dramatic exhibit will include lacquer work, glass work, metal carving and more by Tokyo Teshigoto―a group backed by the city of Tokyo which is a collaboration between contemporary designers and traditional Edo techniques which aims to pass down theses kills to the next generation. Summertime furin which chimes will also line the showcase with their delicate designs and sounds. Other contemporary artists will also display their work with Japanese-style paper, allowing for visitors to see cultural assets established during the early Showa period.

Aomori Nebuta

This year's exhibition will also see the return of some legends who have enjoyed popularity at previous runs of the event. As you descend the huge mother-of-pearl raden elevator you will be welcomed by an overwhelming assortment of standout pieces.

Ishimaki Kokeshi

Other popular names include Tadaharu Kawamura, a sculptor who works with natural materials such as leaves, shells and Japanese lantern cherries, and Takatoshi Hayashi who is known for their kokeshi dolls.

Information

Wa no Akari x Hyakudan Kaidan 2019 ~Kokoro no Shikisai~

Location: Hotel Gajoen Tokyo (1-8-1 Shitameguro, Meguro Ward, Tokyo)

Running: July 6, 2019 – September 1, 2019

Opening Hours: [Sun-Thurs] 10:00-17:00 (Last Entries 16:30) / [Fri-Sat & August 11-18] 10:00-20:00 (Last Entries 19:30)

*Photography allowed (Tripods, flash and photography for business purposes forbidden)

Price: Same-Day ¥1,600 / Advanced ¥1,300 (Special Advanced Price of ¥1,100 Until July 5) / University & High School Students ¥1,200 / Elementary & Junior High School Students ¥600

*Student ID required. Preschoolers permitted free entry.

TEL: 03-5434-3140

Online Tickets: https://www.e-tix.jp/100event/#akari

Visit the Abandoned Hotel, Tenjō-ji Temple & More at Mount Maya in Kobe

A new category added to the Cool Japan Award―which is run by the Cool Japan Association―is "National Park," which was claimed by Mount Maya in Kobe in May this year for its nighttime scenery.

Mount Maya is one of the major peaks of the Rokkō Mountains in Nada, Kobe and stands at a towering 702m high. Located close to the main city of Kobe, those who reach its apex will be able to see many different sights such as Kobe, Osaka, the Kii Peninsula, and Akashi-Kaikyo Bridge. Maya is popular not just with tourists and sightseers, but Kobe locals too who visit it with families to eat bento, or those who take their special somebodies to observe the nightscape.

Located on Mount Maya is Tenjō-ji, a temple which the mountain's name has its origins in. This year marks the run of a special event which is held at the temple once every 33 years. Visitors can also go on a guide walk to an abandoned hotel which is normally off limits to the public.

Let's take an in-depth look at all the exciting things one can do at Mount Maya.

Tenjō-ji Temple, Mount Maya

The originator of Mount Maya's name

Tenjō-ji can be found wrapped in nature at the peak of Mount Maya in its National Park. Visitors can enjoy all weathers atop the mountain as the seasons change, but if you go on a clear day, you'll be able to observe as far as Awaji Island, Akashi-Kaikyo Bridge, and Shōdoshima. The history of this temple―the only one in Japan to have been built by Maya-bunin―dates back to the year 646 when the high priest of India accepted Emperor Kōtoku's request to build it. Maya-bunin, the mother of Buddha, is prayed to as a guardian of safe childbirth and child rearing. This is where Mount Maya gets its name.

The door to three hidden Buddhist statues opened once every 33 years

Once every 33 years, a door is opened at the palace to reveal three hidden Buddhist idols: the Eleven-Faced Avalokitesvara, Acala, and Vaiśravaṇa. For the duration of its opening this August, Buddhist sermons will be given three times a day (10:30/12:00/14:00), and visitors will be able to obtain an exclusive goshuin stamp.

Running: August 1, 2019 – August 15, 2019

Time: 10:00-16:00 (Until 17:00 for this event)

Tour guide walk to Mount Maya's historic ruins

~Stroll around and trace the history of Mount Yama~

As well as the temple, Mount Yama formerly bustled with people looking to dine and as well as stay in the accommodation there. After the war and earthquake disasters, a campaign began to restore life to Mount Maya, one part of which is a tour guide walk to the historic ruins.

This includes a trip to the former Tenjō-ji temple site as well as the abandoned hotel which is off limits to the general public.

Mount Maya's Nightscape

~An internationally recognised landscape~

Mount Maya has been awarded the Cool Japan Award 2019 in the new National Park category for its gorgeous evening view from which one can see Kobe's streets, the port and more.

If you're planning a trip to Kobe be sure to use this article as reference!

Information

Tenjō-ji Temple – Mount Maya
Address: 2-12 Mayasanchō, Nada, Kobe, Hyogo

Opening Hours: 9:00-17:00
No Fixed Holidays.
TEL: 078-861-2684

Official Website: http://www.mayasan-tenjoji.jp/

Little Twin Stars Themed Hotel Room Opens at Keio Plaza Hotel Tama

Two new guest rooms opened at Keio Plaza Hotel Tama on June 15 themed on the Sanrio characters My Melody and the Little Twin Stars (Kiki & Lala).

This year's Sanrio Character Awards were held earlier this month. Both My Melody and the Little Twin Stars proved their popularity with fans as they came in 4th and 6th place respectively. With that in mind, what does Keio Plaza Hotel Tama have in store for fans of the characters in their new guest rooms? I'm here to let you in on the full scoop.

Keio Plaza Hotel is about a 30-minute train ride from Shinjuku and a 3-minute walk from Keio-Tama-Center Station. It's also close to the city of Chofu where the Rugby World Cup will be held this fall as well as located in West Tokyo, an area enjoyed by foreign tourists.

There are two of each rooms available and they will be permanent rooms at the hotel. The hotel already has four Hello Kitty Rooms which were introduced in November 2014 and renovated with the opening of the new My Melody and Little Twin Stars Rooms, making for a total of eight Sanrio character rooms at the hotel. Today, we'll be taking a look at the Little Twin Stars Room.

For the My Melody Room, click here here: https://www.moshimoshi-nippon.jp/225795

Little Twin Stars Room

© 1976, 2019 SANRIO CO., LTD. APPROVAL NO. G601079

The door to the Little Twin Stars Room bears a cute ☆ above the room number.

© 1976, 2019 SANRIO CO., LTD. APPROVAL NO. G601079

Stepping into the magical room you will see Kiki and Lala on the wall riding a unicorn and making their way to the amusement park in the clouds. Floating around the entire room are pink stars and white, fluffy clouds.

© 1976, 2019 SANRIO CO., LTD. APPROVAL NO. G601079

The star-shaped cushions are inspired by the star on the back of Kiki. Guests can fall into a magical dream together with Kiki and Lala who are sleeping with their unicorn atop a cloud on the foot throw at the bottom of the bed.

© 1976, 2019 SANRIO CO., LTD. APPROVAL NO. G601079

The curtains in all of the rooms are blackout curtains so you can have a peaceful, undisturbed sleep until morning.

© 1976, 2019 SANRIO CO., LTD. APPROVAL NO. G601079

When you flip on this floor lamp at nighttime you'll be greeted by an illuminated illustration of Kiki and Lala.

© 1976, 2019 SANRIO CO., LTD. APPROVAL NO. G601079

The hotel has left no part of this fairy tale-like room untouched, with its pink bath tub and drawing of the Little Twin Stars on bathroom mirror too.

© 1976, 2019 SANRIO CO., LTD. APPROVAL NO. G601079

And don't forget the Little Twin Stars Room amenities either, exclusive to guests. The plush toys are branded with an original Sanrio Character Room logo.

© 1976, 2019 SANRIO CO., LTD. APPROVAL NO. G601079

The designs of the toothbrushes are different in each room.

© 1976, 2019 SANRIO CO., LTD. APPROVAL NO. G601079

Even the cup coasters that come with the room feature original desgins exclusive to Keio Plaza Hotel Tama.

© 1976, 2019 SANRIO CO., LTD. APPROVAL NO. G601079

The adorable door signs feature Kiki and Lala sleepy for guests to not be disturbed and energetic for the room to be cleaned.

© 1976, 2019 SANRIO CO., LTD. APPROVAL NO. G601079

Be sure to snap photo of the framed cute Kiki and Lala picture too before you leave.

The Little Twin Stars Room was a world full of pink dreams.  It's sure to be popular with children♡

Next time we will look at the renovated Hello Kitty Room, so stay tuned!

Writer: Ellie (MMN Editorial Team)

Photographer: Kayo Sekiguchi

Translator: Joshua Kitosi-Isanga

Information

Sanrio Character Rooms

My Melody Room: 2 Rooms Available

Little Twin Stars Room: 2 Rooms Available

Hello Kitty Room: 4 Rooms Available

Price

1 Room/1 Person: ¥59,400 (Price for one person, service charge and tax included)

1 Room/2 People: ¥29,700 (Price for one person, service charge and tax included)

1 Room/3 People: ¥21,780 (Price for one person, service charge and tax included)

Sanrio Character Rooms Accommodation Plan: https://www.keioplaza.com/tama/sanrio/index.html

Keio Plaza Hotel Tama

Address: 1-43 Ochiai, Tama, Tokyo

Official Website: https://www.keioplaza.com/tama/
RELATED ENTRIES
Solo Sauna Tune: Tokyo's New Privacy Guaranteed Finnish-Style Sauna

Solo Sauna Tune is a new sauna that offers "total privacy" which is set to open its first branch inside UNPLAN Kagurazaka in Tokyo this November.


Most sauna facilities in Japan cater to groups, but at Solo Sauna Tune, all guests are given their own space where they can undress, bathe, and relax in their own private room. This is especially desirable during the current pandemic where social distancing is paramount, and is a great opportunity for people not wanting to travel in groups.

The solo saunas are heated using sauna stoves imported from Finland. Adding water to the sauna stones lets guests control the amount of steam in the room so they can adjust as they like. There is also a Japanese white birch aroma provided to the löyly (Finnish for 'steam').

Guests can also cool off in cold water. The Chiller provides water at 15℃. There are also overhead showers for cooling down, and the showerheads can be adjusted to make the water come out like mist.

The relaxation area is coloured in a stylish black where guests can kick back for a while.


After using the sauna, guests can visit the powder room where there are a varieties of free amenities. There's also a café which serves craft beers, food, and other treats.

Information

Solo Sauna Tune
Address: UNPLAN Kagurazaka, 23-1 Tenjincho, Shinjuku-ku, Tokyo
Grand Opening November 2020

Opening Hours: TBA

Prices: TBA
Access: 3-minutes on foot from Kagurazaka Station / 7-minutes on foot from Edogawabashi Station / 9-minutes on foot from Ushigome-Kagurazaka Station

Official Website: https://www.solosauna-tune.com/

YUEN BETTEI DAITA: Tokyo's New Onsen Ryokan Opening in Shimokitazawa

UDS HOTELS is set to open YUEN BETTEI DAITA, a new onsen ryokan (hot spring Japanese inn), in Shimokitazawa, Tokyo, on September 28, 2020. The hotel is just a 1-minute walk from Setagaya-Daita Station and an 8-minute walk from Shimokitazawa Station.

YUEN BETTEI DAITA sits in a quiet location surrounded by old, historical Japanese houses and is basked in nature. It houses 300 guest rooms and has open-air baths, a spa, and offers traditional Japanese food the tea ceremony.

The inn is equipped with considerate facilities and has a relaxed atmosphere. It caters to modern day needs while still promising a traditional Japanese inn experience. And it doesn't have to be just used as a hotel either – guests can just spend the day there in the hot springs if they like, allowing locals to get away from the hustle and bustle of the big city and their busy Tokyo lives.

The Design

YUEN BETTEI DAITA bases itself on the appearance of residences seen back in Tokyo back in the day. The hotel has taken in furniture and materials that were inherited in a thatched-roof residence in Setagaya which has over a 100 year history, which gives a nod to the history and culture of traditional Japanese architecture, while still incorporating more modern techniques in the wooden roofing and other areas. All of this combines to create a sophisticated Japanese culture-imbued space.

Guest Rooms

There are 35 guest rooms in total, each coming in one of seven types ranging from 19㎡-32㎡. The rooms open up into a tatami and seating area. Guests are provided with yukata and leather-soled geta shoes, and are treated to Japanese tea and confections from local shops.。

Open-air onsen baths (1st Floor)

The large open-air baths receive water from Odakyu Hotel de Yama's own water source in Hakone. Guests can enjoy looking at a traditional Japanese garden while they bathe and listen to the sound of the water from Mount Fuji. The female baths also have scented mist saunas while the male baths have dry saunas.

Cooking & Tea Ceremony (1st Floor)

Kappou Tsukikage

Enjoy seasonal vegetables harvested from the local farms in Setagaya as well as Japanese sake and wine chosen to pair perfectly with the dishes.

Saryou Tsukikage

Guests can also experience the Japanese ceremony with local tea. Daita was once rich with tea farms, and so guests can look forward to enjoying delicious and authentic tea.

SOJYU spa

If guests want to relax the hotel's SOJYU spa offers full body massage, original essential oil treatments, and much more. The spa will also be open to non-guests from spring next year.

Information

YUEN BETTEI DAITA
Grand Opening: September 28, 2020

*Baths and eating facilities are open to non-guests from October 12, 2020

Address: 2-31-26 Daita, Setagaya-ku, Tokyo

Access: 1-minute on foot from Setagaya-Daita Station / 8-minute on foot from Shimokitazawa Station
TEL: 03-5431-3101

Official Website: https://www.uds-hotels.com/yuenbettei/daita

Kirby Café Launches Autumn Menu in Tokyo and Fukuoka

The Kirby Café in Tokyo and Fukuoka released three new dishes for autumn last Friday (September 18).

The menu items are made with seasonal flavours like pumpkin, sweet potato, and chestnut.

Filling Autumn Plate – Salmon Cream Pasta & Pumpkin Salad Sandwich | ¥1,480 (Before Tax)

One plate packed with fall flavours including a rich salmon cream pasta and pumpkin salad sandwich. If you look closely, you'll spot cute pieces of Waddle Dee cheese.

Fallen Leaf Waterfall☆Mont Blanc and Baumkuchen With Friends | ¥1,280 (Before Tax)

Rick, Kine, and Coo feature on this tasty-looking dessert plate which is a baumkuchen piled with a chestnut mont blanc cream.

Kirby's Hot Sweet Potato Sticks | ¥1,080 (Before Tax)

Crunchy on the outside, hot in the middle, and seasoned with fresh rosemary. Kirby is a pro at inhaling food, but don't burn yourself with these!


Information

Kirby Café TOKYO
Address: Tokyo Skytree Town Solamachi Floor 4F (1-1-2 Oshiage, Sumida, Tokyo)
Opening Hours: 10:00-22:00 (Last Orders 21:00)

Kirby Café HAKATA

Address: Canal City Hakata North Bldg. B1F, 1-2-1 Sumiyoshi, Hakata, Fukuoka, Fukuoka Prefecture

Opening Hours: 11:00-23:00 (Last Orders 22:00)

Book Here: https://kirbycafe.jp

Kirby Café Official Twitter: https://twitter.com/kirbycafe.jp

Review: Miffy Café at Tokyo Solamachi®

In commemoration of Miffy's 65th anniversary, the new Miffy Café opened on the first floor of Tokyo Solamachi on September 11, 2020 and will remain open for a limited time. The café is also collaborating with Japanese illustrator Shogo Sekine.

We visited the café to check out the themed menu, merchandise, and other fun things on show to see.

Stepping into the café is like stepping into a picture book world. It's really colourful in there. My mother read Miffy to me when I was a child, so I was hit with a real sense of nostalgia when I entered the café. No matter your age, you're sure to enjoy your time there – that's the kind of fun atmosphere they have created.

Terrine-Style Open Miffy Sandwich | ¥1,499

I ordered the terrine-style open Miffy sandwich and Miffy orange float from the themed menu.

The open sandwich arrives in the shape of Miffy, so it almost seems a waste to eat, but it was really cute and delicious. Simply the best. It's filled with potato salad, an avocado sauce, and salmon.

Miffy Orange Float | ¥899

The ice cream that tops the orange float is made to look like Miffy too!

Snapping a photo while drinking the float is pretty Instagrammable, so it's a must when visiting.

All of the items on the menu have Miffy somewhere on them, meaning anything you order is guaranteed to be kawaii. They have takeout too, which is great if you don't have much time to hang around or just don't want to dine inside.

Speaking of which, each table in the café is separated with an acrylic board to protect customers during the pandemic, and all of them have super cute designs. Another photo opportunity for sure!

The café sells original merchandise too. The fashion items and illustrations with English on them were designed by popular Japanese illustrator Shogo Sekine. There's a whole range of different goodies, from plush toys to fashion and more.

Don't you feel happy just looking at all these colours? You'll find yourself spoilt for choice on what to buy.

The Miffy Café is open until October 18. You can book a table too, so if you're in Japan during this time, be sure to visit the café website below.

Illustrations Dick Bruna © copyright Mercis bv, 1953-2020  www.miffy.com

Model & Writer:Eri Tanioku

Photo: Haruka Yamamoto

Translator: Joshua Kitosi-Isanga

Information

Miffy Café

Address: TOKYO BOX cafe&space, Tokyo Solamachi 1F, 1-1-2 Oshiage, Sumida-ku, Tokyo

Running: September 11, 2020 – October 18, 2020

Reservation Fee: ¥500

Official Website:  https://miffy-skn-65.cafe.jp/

Ojamajo Doremi Cafe 2020 ~FRUITS PARLOR~ to Open in Tokyo, Osaka & Aichi

Japanese company LEGS has announced the opening of the limited-time Ojamajo Doremi Cafe 2020 ~FRUITS PARLOR~. The themed cafes will open in Tokyo on October 29, Osaka on October 30, and Aichi on October 23.

Ojamajo Doremi is an original magical girl created by Toei Animation that ran from February 1999 to January 2003. To celebrate the series's 20th anniversary last year, LEGS opened a different Ojamajo Doremi limited-time themed cafe in collaboration with Cafe&Kitchen which welcomed lots of magical girl fans.

This year once again welcomes Etoile et Griotte as the art director for the fruit parlor-inspired cafe.

Ojamajo Doremi Cafe 2020 ~FRUITS PARLOR~ celebrates the 20th anniversary of Ojamajo Doremi Sharp is the second series in the Ojamajo Doremi series. Fans will be able to get their hands on a range of exclusive magical merchandise as well as tuck into pastel coloured fruity food.

FOOD

Doremi's Cheese Steak Doria in Cherry Sauce | ¥1,699


Steak is Doremi-chan's favourite food, so it was a must-have on the menu. The cream cheese is coloured like Doremi, and there's a cute musical note topping too. It comes with a cute lunch mat that looks like Doremi's skirt.

Hazuki's Omurice in Porcino & Orange Cream Sauce | ¥1,399


The omelette is made to look like Hazuki's yellow skirt. Enjoy together with the delicious porcino sauce and orange combination.

Onpu's Waffles With Crepe & Mascarpone | ¥1,299

Blueberry sauce-drizzled and mascarpone-topped waffles served with a mashed potato skirt. The sweet and sour mix is to die for.

DESSERT

Aiko's Blueberry Float | ¥999

A fresh blueberry float inspired by Ai-chan. Mix everything together to create a different flavour.

Momoko's Lemon Cheesecake Parfait | ¥1,399

A fresh lemon cheesecake packed parfait with lots of enjoyable flavours and textures.

Rhythm Tap Tart | ¥1,300


Inspired by the Rhythm Taps seen in the series, the tart imagines Doremi's transformation scene in Ojamajo Doremi Sharp.

DRINK

Onpu Melody Drink (5 Flavours) | ¥1,099


A rainbow line-up of colourful Onpu drinks available for takeout.

Movie Theater Menu

Girls Meet Sushi | ¥1,299


Inspired by the meat sushi that Sora and the gang eat in the animated film Majo Minarai wo Sagashite. Comes with an original postcard.

Exclusive Merchandise

Acrylic Keyrings (6 Designs) – ¥600 Each

Letter Set (1 Design) – ¥1,200 | Folder Set (2 Designs) – ¥700

A selection of super kawaii cafe-original merchandise is available for fans to grab.

Bonus Items


Those who book a table in advance, order a drink, or spend more than ¥2,000 at the cafe will receive one of six possible A5 folders.

Become a magical girl like Doremi at the Ojamajo Doremi Cafe 2020.

©Toei Animation


Information

Ojamajo Doremi Cafe 2020
Tokyo Cafe
Running: October 29, 2020 – December 6, 2020
Location: SHIBUYA BOX cafe&space
Address: Shibuya LOFT 2F, 21-1 Udagawacho, Shibuya, Tokyo

Osaka Cafe
Running: October 30, 2020 – November 23, 2020
Location: Abeno Q's Mall 4F
Address: Abeno Contact, 1-6-1 Abenosuji, Abeno Ward, Osaka

Aichi Cafe
Running: October 23, 2020 – November 23, 2020
Location: NAGOYA BOX cafe&space
Address: LACHIC B1F, 3-6-1 Sakae, Naka-ku, Nagoya, Aichi

Mickey Mouse Exhibition 'THE TRUE ORIGINAL & BEYOND' to be Held in Roppongi

The Asahi Shimbun and Nippon TV are set to host an exhibition centred on Mickey Mouse at the MORI ARTS CENTER GALLERY in Roppongi, Tokyo, from October 30, 2020 to January 11, 2021, in celebration of 90 years since Mickey Mouse's screen debut. The exhibition will showcase works shown at the Mickey: The True Original Exhibition held in New York in 2018-2019.

 

Walt Disney's concepts and ideas are formed around innovation, creativity, imagination, and storytelling. And one character who walked that journey with him and continues to this day is none other than the iconic Mickey Mouse, who since making his first appearance in Steamboat Willie in 1928, has gone on to be a symbol of the Walt Disney Company loved by people the world over.

Mickey: The True Original Exhibition in New York

The Mickey: The True Original Exhibition held in New York looked at how Mickey Mouse has influenced art and pop culture over the years, covering everything from Steamboat Willie which hailed as Walt Disney's first black and white sound film to over 100 colour short animations, artwork, and more.

Keiichi Tanaami – "Mickey's Japan Tourism"

Javier Sanchez Medina – "Studio for Mickey's hands"

The exhibition was ran from November 2018 to February 2019 and saw installations from over 20 international artists including New York-based artist Daniel Arsham and Los Angeles-based artist and graphic designer Brian Roettinger.

Brian Roettinger – "(L)imitation of Sound"

DRx – "3000% Mickey Be@r"

The Tokyo exhibition will be a travel back through time, looking at Mickey Mouse from the past to the present. It will be split into three zones: "The Origin," "The True Original," and "Beyond."

The Beyond zone will welcome original artwork from five Japanese artists.

 

Original Merchandise – Pin Badge

Original Merchandise – Ballpoint Pen

The exhibition's museum shop will have exclusive Mickey Mouse merchandise for sale, as well as pre-sales on other items. See new official goods from works like Steamboat Willie and Fantasia as well as items designed by Japanese artists. It's a chance to see Mickey in a variety of different ways.

Free eco-bag

Visitors to the exhibition will also receive one of four original eco-bags for free upon arrival.

Information

MICKEY THE TRUE ORIGINAL & BEYOND
Running: October 30, 2020 – January 11, 2021

Time: 10:00-20:00

Venue: MORI ARTS CENTER GALLERY (Roppongi Hills Mori Tower Floor 52F)

Entry Price: General ¥2,800 / Junior & High School Students ¥2,000 / Elementary School Students ¥1,200 / Preschoolers – Free
Official Website: mtob.exhibit.jp

TOKYO MYSTERY CIRCUS Announces Escape Game Based On J-Pop Group Perfume

TOKYO MYSTERY CIRCUS, the world's first and Japan's biggest puzzle-themed theme park, has announced a new escape game centred on the Japanese pop group Perfume. Titled "Escape From The Room Next To Perfume," the game is set to hit the indoor theme park on September 22, 2020.

An escape game is a real-life interactive experience that has players solving puzzles to escape a room. The story of the Perfume game puts players on the same team as Perfume. As players wait in anticipation, an LED display made to look like a window opens to reveal the Perfume members, who greet players and encourage them on their escape. And so begins the game.

There are various items and pieces of information in the room for players to solve the puzzle, including dance poses by Perfume which give hints for the next step. It's an interactive experience that makes it feel like Perfume are really there with you.

Perfume fans can get their hands on a range of exclusive merchandise too, like a sticker set, folder, and message cards. These items will be sold at the TMC GOODS SHOP at Tokyo Mystery Circus as well as the online stores SCRAP GOODS SHOP and Perfume's own A!SMART.

Information

Escape From The Room Next To Perfume

Start Date: September 22, 2020

Location: TOKYO MYSTERY CIRCUS
Address: APM Bldg., 1-27-5 Kabukicho, Shinjuku-ku, Tokyo

Official Website:  https://mysterycircus.jp/perfume/

Tokyo's Pokémon Café Adds Eevee Frappe to the Menu

The Pokémon Café in Ikebukuro, Tokyo, is adding an apple flavoured Eevee frappe to its ever-growing Pikachu Sweets by Pokémon Café menu. The frappe will be available from October 2 to December 4.

Eevee Apple Pie Frappe

The sweet tang of the apple combines with the caramel to create a tasty dessert drink, topped with whipped cream, crunchy piece bits, and a cute Eevee tail cookie.

Buy the separate Eevee sleeve to put on your drink to make a fully complete and adorable Eevee frappe♡

© 2020 Pokémon.©1995-2020 Nintendo/Creatures Inc./GAME FREAK inc.
Pokémon, ポケットモンスター and ポケモン are registered trademarks of Nintendo, Creatures Inc. and GAME FREAK inc.

KAWAII MONSTER CAFE HARAJUKU Collaborates With Alice's Fantasy Restaurant For Halloween Fair

KAWAII MONSTER CAFE HARAJUKU is set to collaborate with Tokyo's three branches of Alice's Fantasy Restaurant to serve up a Halloween themed menu. It will be served from September 19 to October 31.

The Halloween season is right around the corner, and the KAWAII MONSTER CAFE is once again joining in with the spooky festivities. This year, the cafe has joined hands with Alice's Fantasy Restaurant to create a collaborative Halloween menu lineup.

Colourful Rainbow Pasta With Halloween Cream | ¥1,400

Colourful pasta served in rich pumpkin sauce and with a variety of different ghost creams.

Singing Alice's Caesar Salad | ¥1,360

Alice's Fantasy Restaurant's popular Caesar salad heads to KAWAII MONSTER CAFE, an assortment of purple carrots, pumpkin, and other tasty delights. Alice is also hidden in the pasta somewhere as a black witch.

Kingpin Choppy & Henchman Humpty Dumpty Curry | ¥1,300

KAWAII MONSTER CAFE's mascot is served wearing a silk hat and comes with his fellow henchman Humpty Dumpty.

Cheshire Cat Splatter Ice Cream | ¥1,100

Soft serve ice cream topped with crunchy cereal, cotton candy, and chocolate, all drizzled in a splattered sweet strawberry sauce.

Customers who post a photo of their foot onto social media with the hashtag #tokyohalloweencollection can enter for a chance to win some Halloween merchandise.

UNIQLO TOKYO Begins Knitwear Focused Exhibition

UNIQLO TOKYO, the global flagship store of UNIQLO, is now holding an exhibition themed on its knitwear at its first floor LifeWear Square area until October 11, 2020. It's a consolidation of everything that goes into wearing the symbolic style of their LifeWear lineup, covering the art, science, and craftsmanship behind the items.

About UNIQLO TOKYO

UNIQLO TOKYO opened back in June this year in Ginza, Tokyo, as the country's biggest store and global flagship store. UNIQLO TOKYO is the embodiment of UNIQLO's "LifeWear," clothing that the company has created to "improve everyone's life."

SCIENCE: 3D knit installations by Rhizomatiks Architecture

Rhizomatiks Architecture have created a range of installations including mannequins centred on knitwear. Customers will be able to see knitwear being made by the machines right before their eyes.

CRAFTSMANSHIP: Tools used in the manufacturing process

See the strict standards and measures taken to carefully craft each and every UNIQLO cashmere sweater, from the processes carried out to the materials and tools used in the manufacturing process, samples, and more.

ART: Styling

See the headpieces created by Shiseido's top hair and makeup artist Tadashi Harada for displaying the knitwear. Each and every one was made with care and attention for the 20 mannequins.

Hotel New Otani Tokyo, Osaka & Makuhari Now Serving Rich Chestnut Pancakes For Autumn

The Tokyo, Osaka, and Makuhari branches of Hotel New Otani are now serving seasonal autumn versions of their specially made pancakes at their coffee shop and all-dining restaurant SATSUKI until November 30, 2020

Fantastically fluffy pancakes

Hotel New Otani has been serving its special pancakes for the past 10 years which have become a favourite amongst guests.

The hotel's pastry chefs have whisked up a variety of flavours in line with the changing seasons this past decade using strictly-selected ingredients including strawberry, melon, mango, chestnut, and more.

A marriage of rich chestnut and fluffy pancake

Hotel New Otani Specially Made Chestnut Pancakes 2020 | ¥2,800 (Before Tax/Service Charge)


Chestnuts are the flavourful theme for autumn 2020's pancakes, made with strictly-selected chestnut astringent skin, sweet bean jelly, and topped with a chestnut macaron.
The pancakes are served with melt-in-the-mouth Italian ricotta. There are two different doughs, one made from coffee flour which has high nutritional value, and the hotel's original "White Cereal" which is a combination of millets and amaranth.
The pancakes are cooked on a low heat for about 5 minutes on each side so they rise to a fluffy 5cm thickness and become startlingly smooth.

Strawberries for winter

For this year's winter, the hotel will be serving strawberry pancakes.

Enjoy a selection of seasonal pancakes when staying at Hotel New Otani.

Information

Hotel New Otani Tokyo
Location: SATSUKI, Hotel New Otani Tokyo Main Lobby
Address: 4-1 Kioicho, Chiyoda-ku, Tokyo
Bookings/Enquiries: 03-5275-3177 (10:00-21:00)
Official Website: https://www.newotani.co.jp/tokyo/restaurant/satsuki/

Hotel New Otani Makuhari
Location: SATSUKI, Hotel New Otani Makuhari
Address: 2-120-3 Hibino, Mihama-ku, Chiba, Chiba Prefecture
Bookings/Enquiries: 043-299-1848 (07:00-21:00)
Official Website: https://www.newotani.co.jp/makuhari/restaurant/satsuki/

Hotel New Otani Osaka
Location: SATSUKI, Hotel New Otani Osaka
Address: 1-4-1 Shiromi, Chuo-ku, Osaka, Osaka Prefecture
Bookings/Enquiries: 06-6949-3234 (07:00-20:00)
Official Website: https://www.newotani.co.jp/osaka/restaurant/satsuki/

Sip Sparkling Wine and Other Drinks Among Tokyo's Nightscape With Sarabeth's HIGH TEA TERRACE NIGHT

The Tokyo branch of New York-based restaurant chain Sarabeth's has announced a special autumn event that goes by the name 'HIGH TEA TERRACE NIGHT.' Set to run from September 23 to October 31, customers will be able to sit on a rooftop terrace in the evening with Tokyo's towering cityscape surrounding them while drinking sparkling wine and other all-you-can-drink free-flow alcoholic beverages—high tea style.


High tea refers to post-dinner evening tea time. At Sarabeth's, customers can look forward to dining on a special set menu for grown-ups with alcohol and other treats.


High Tea Style Set Menu With Free Drink | ¥5,000 (Before Tax)

Served on an afternoon tea stand, tuck into six different appetisers, meatball sliders, and truffle flavoured French fries. For the main dish, there's steak made in a red wine sauce and boletus mushrooms. Free drinks include sparkling wine, red and white wine, beer, high balls, cocktails, soft drinks, and more.

Feel the evening breeze of autumn while indulging in a special high tea experience in Tokyo.

Information

Sarabeth's Tokyo – HIGH TEA TERRACE NIGHT

Running: September 23, 2020 – October 31, 2020

Location: Sarabeth's Tokyo

Address: 1-8-2 Marunouchi, Chiyoda-ku, Tokyo

Serving Hours: 17:00-20:30
TEL: 03-6206-3551
*Free -flow drinks are all-you-can-drink for 90 minutes

*Reservations required by 16:00

Official Website: http://www.sarabethsrestaurants.jp/