Treat Yourself to Grand Hyatt Tokyo's Luxurious And Refreshing Desserts and Cocktails
Towering over the busy streets of the heart of the city is the dynamic and luxurious hotel Grand Hyatt Tokyo. Here, you can indulge in grand premium cakes made with generous amounts of fruit that were carefully selected by the chef. You can also purchase small souvenirs such as verrine, which are coloured with the fresh and vibrant colours of summer. There is also a bar which serves cocktails made from Japanese sake sourced from the Tohoku region. The fresh and fruity cocktails menu is changed every Monday.
Fiorentina Pastry Boutique (First floor )
Grand Premium Shortcake Melon (Left): ¥1,800 Grand Premium Shortcake Peach (Centre): ¥1,800 Grand Premium Shortcake Mango (Right ): ¥2,000 (prices before tax)
Carefully selected fruit has been used to make this new, premium signature cake. The pastry team consists of worldwide western confectionary competition winners. The team has developed a lineup of world class desserts for the Fiorentina Pastry Boutique. Specially selected branded fruits and rich, flavourful Jersey milk whipped cream are used to make these premium cakes.
This summer menu features three cakes made from the three major summer fruits; peach, mango and melon. A three-layered spongecake contains a centre of Jersey milk Crème brûlée and fruits. The luxurious taste of these specially-selected ingredients is enough to surprise you.
Lychee, Watermelon, Rose and Berry Verrine: ¥800 (before tax)
The fun texture of the watermelon combined with the soft rose mousse is an excellent contrast with the lychee and raspberry jelly. The luxurious rose fragrance will spread all the way through your mouth on your first bite.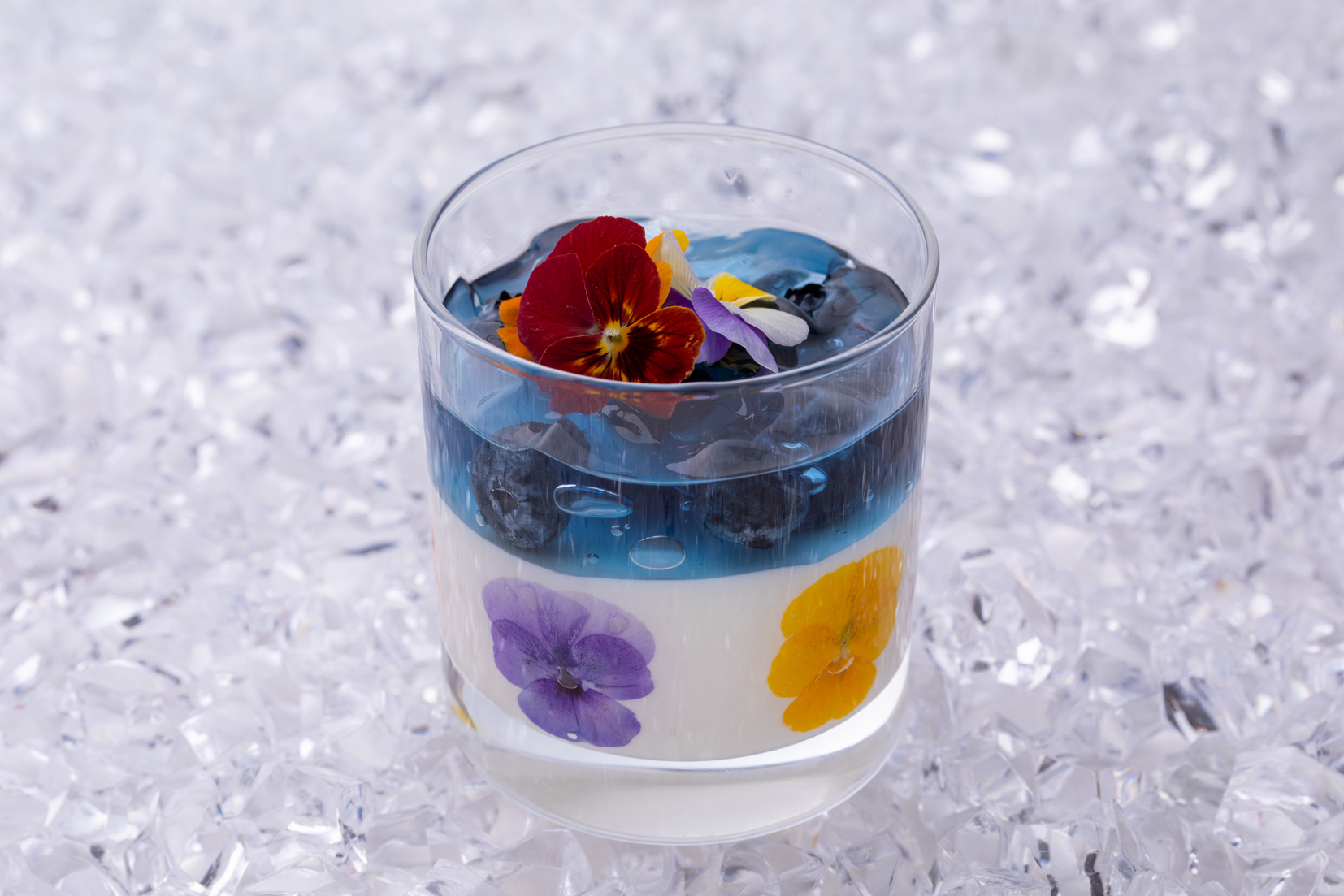 Blueberry and Lavender Verrine: ¥800 (before tax)
Colourful jelly is sprinkled with vibrant blue Butterfly-pea flowers. This rests on a bed of lavender-scented panna cotta. These flavours and colours compliment the blueberries perfectly. This refreshing verrine sprinkled with beautiful and delicious edible flowers is truly irresistible.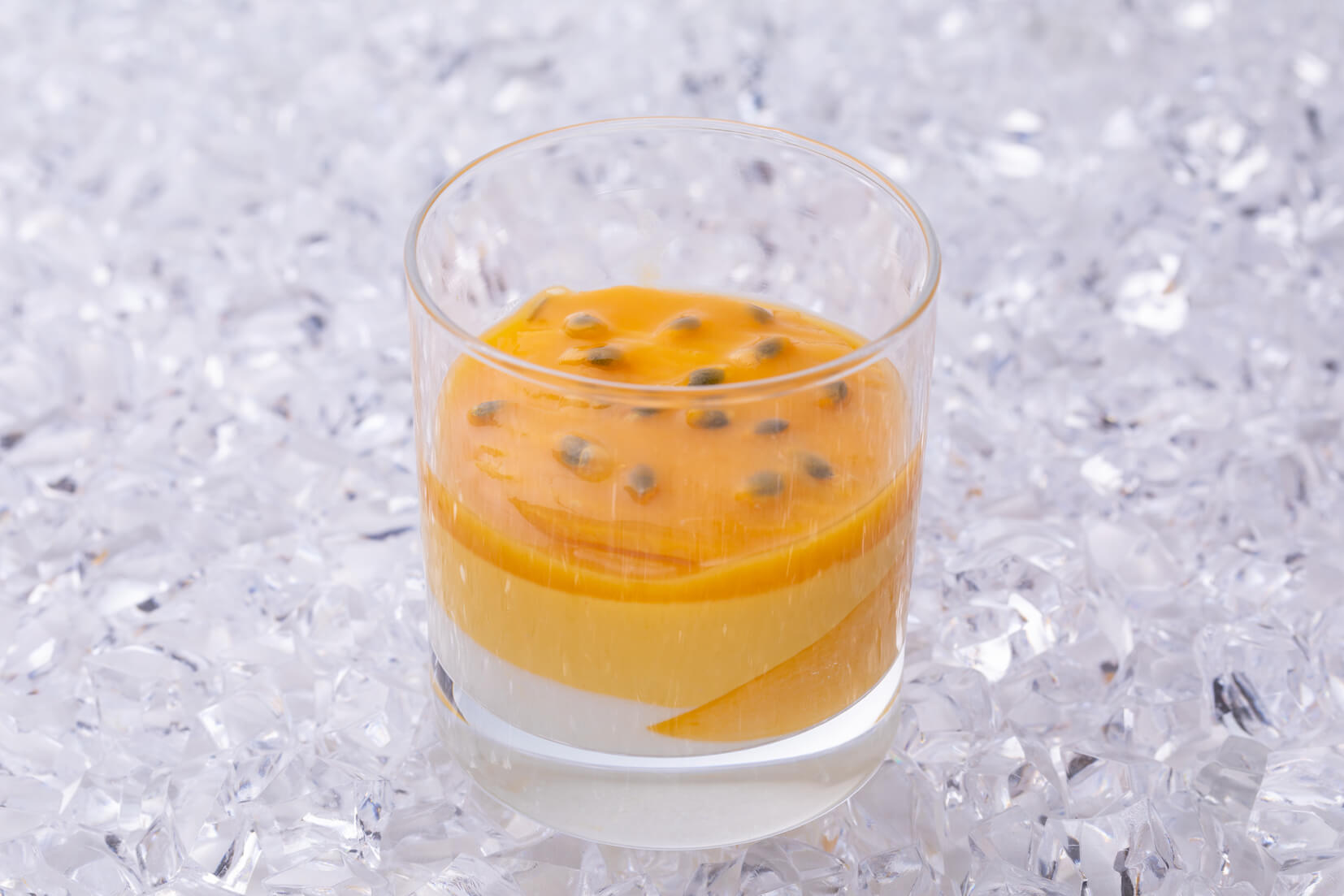 Mango Verrine: ¥800 (before tax) 
A coconut blancmange verrine is topped with Fiorentina's popular mango pudding and fresh mango for a southern country vibe. The verrine is garnished with a drizzle of passion fruit sauce and seeds to accent the flavour.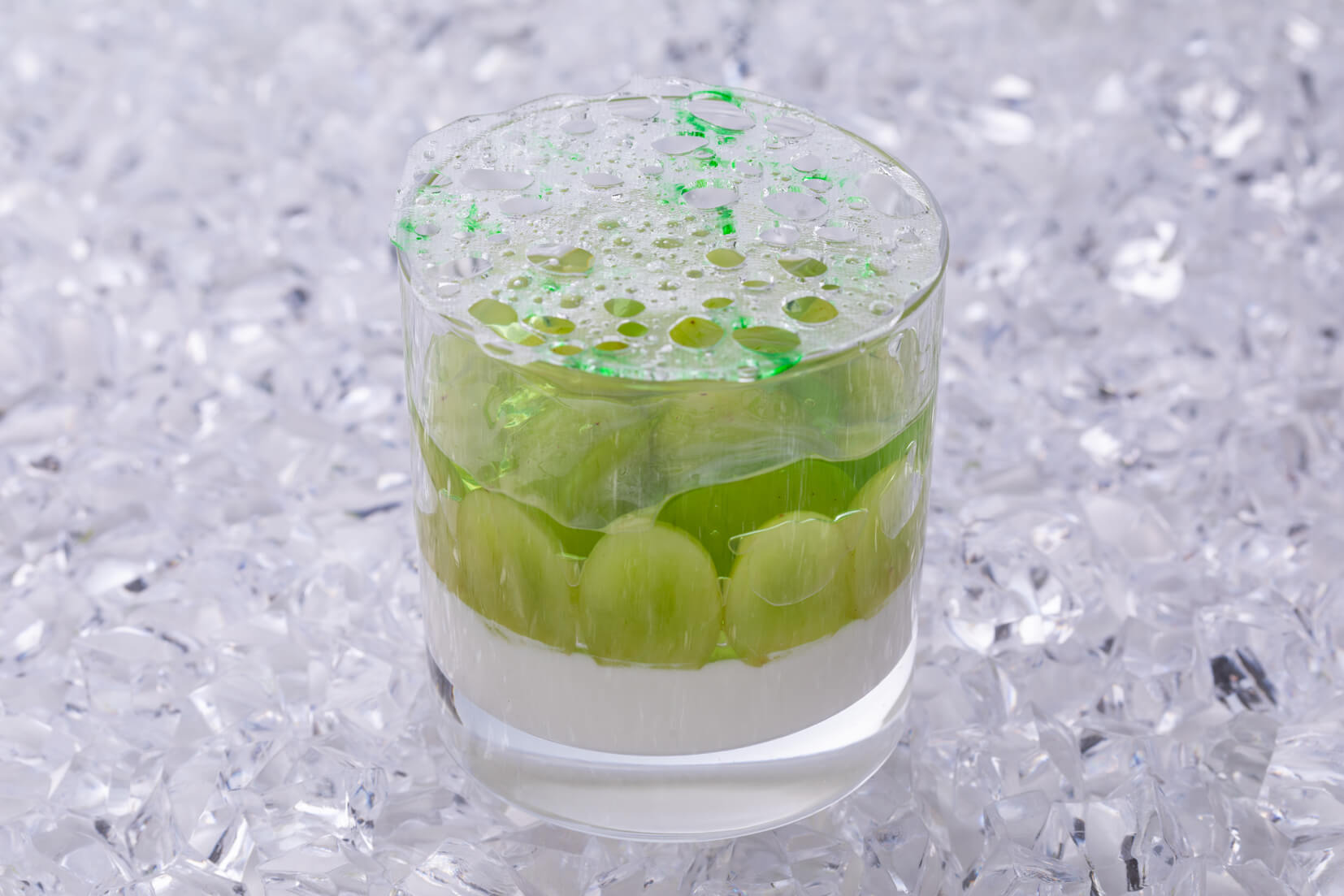 Muscat Verrine: ¥800
Iced wine jelly is set over blancmange and shine muscat, creating a sophisticated verrine dessert. Enjoy the delicious thin layer of crunchy candy that has been carefully shaped to top the verrine.

Dragon Fruit Verrine: ¥800 (before tax)
A layer of fresh and fruity orange and grapefruit jelly rests on top of the Dragon Fruit and orange mousse. The balance of sweetness and sourness makes for a rare yet harmonious verrine.
Summer Icing Biscuits Assortment (size: 10cm): ¥850, box of 4: ¥1,200 (before tax )
From the baking to the decorating, each of these cookies are fully handmade and decorated. These are a popular choice of souvenir. Now, a summer edition series has been released. The assortment shown above is just one example from the series.
 Chinaroom (6th floor)
Chinaroom serves Chinese regional dishes, an authentic Yum Cha tea service and Chinese steamed cakes that are made with a generous amount of egg. They are now serving a brand new Chinese parfait that is made with a wide range of ingredients.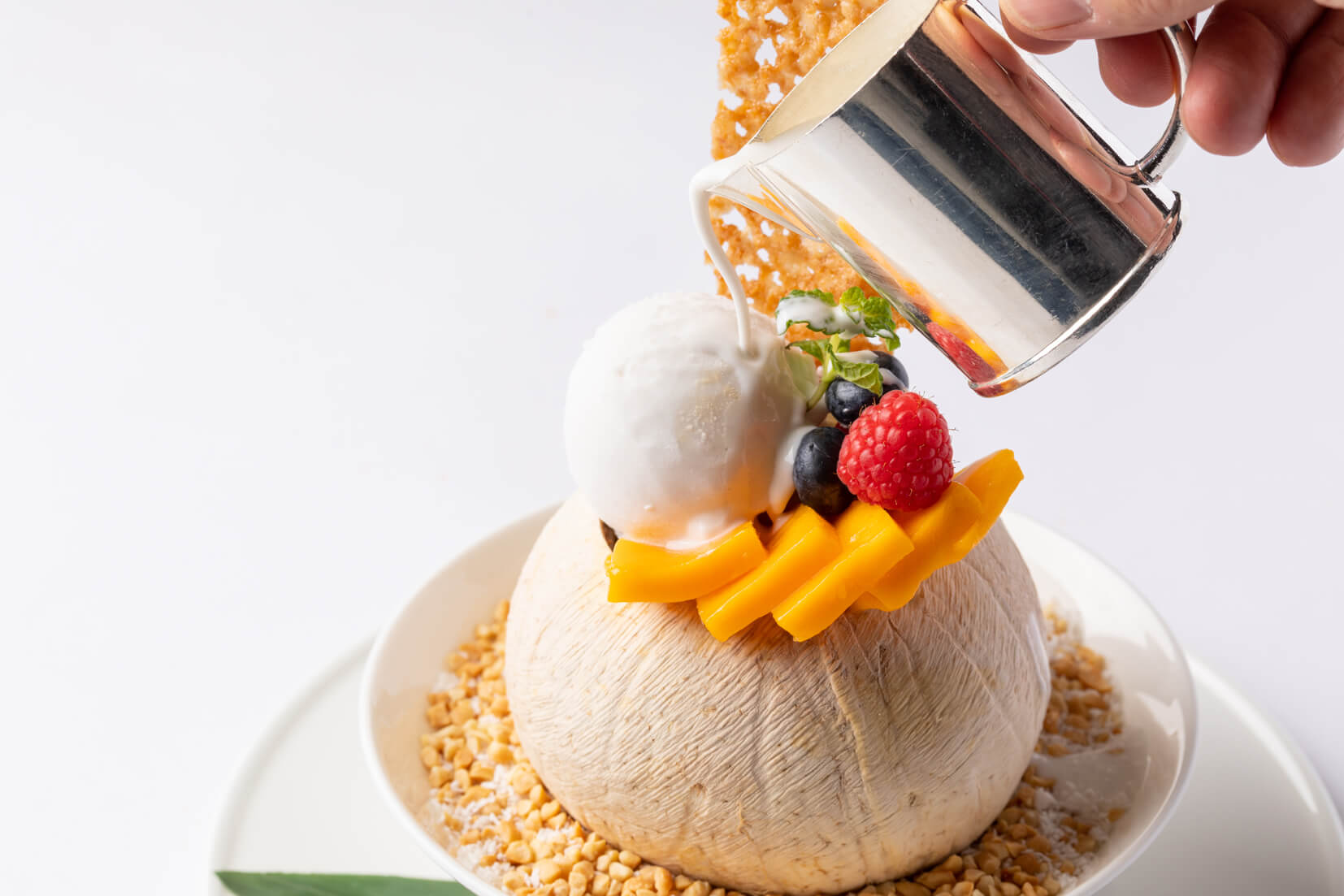 Chinaroom Chinese Parfait: ¥1,800 (before tax )
Using a coconut husk as a bowl, mango pudding and steamed Chinese cake is served with fresh mango, coconut ice cream, fresh cream, raspberries and mint. Enjoy the refreshing sweetness of the coconut ice cream and the rich mango pudding. The fluffy steamed pudding adds a gentle touch of texture so irresistible you will not be able to stop taking big mouthfuls. The sweetness is not too overpowering.
Sprinkled around the coconut bowl is roughly smashed pieces of coconut and peanuts. This adds an exciting texture and aftertaste to your dessert experience. This dessert is the perfect way to cool your tastebuds after eating some hot and spicy noodles. ※ It is not possible to order just the dessert only.  
Maduro, (4th floor Jazz Lounge)
Maduro is the perfect place for adults to relax with friends. This chic jazz lounge is a place where you can enjoy cocktails made with premium seasonal fruits throughout the year. Sweet, ripe mangos, peaches that you can enjoy down to the skin, and a wide range of fruits are used to make frozen cocktails, martinis and much more. Come enjoy a Maduro-style cocktail! 
Mango Frozen Champagne (left): ¥2,500, Mango Daiquiri: ¥2,300 (centre ), Mango Mojito: ¥2,300  (right), all prices before tax  
The mango daiquiri rum-based cocktail is made with ripe mangos sourced from Miyazaki Prefecture. The mangoes are puréed and used plentifully so that the real sweetness can be tasted. Combined with the sweetness of the rum, the flavour is strengthened.
The mango frozen champagne also uses ripe mangos sourced from Miyazaki prefecture. Champagne is poured over the carbonated ice to create this cocktail, creating a pleasant bubbly texture with a fruity aftertaste.
 The mango mojito is a mango version of Maduro's signature cocktail mojito. Miyazaki prefecture mangos were used to make this mojito. Lots of mint is added for a touch of freshness. The sweetness of the mango will spread through your mouth. This is the perfect summer cocktail.
Come try Grand Hyatt's exquisite range of refreshing cocktails and desserts this summer.
Information
Fiorentina Pastry Boutique
Address: Grand Hyatt Tokyo 1st floor (lobby)
6-10-3, Roppongi, Minato Ward, Tokyo
Opening Hours: 9:00 ー 22:00 ※ Cakes and tarts sold from 10:00 to 22:00
TEL: 03-4333-8713 (direct connection)
Chinaroom
Address:  Grand Hyatt Tokyo 6th floor
6-10-3, Roppongi, Minato Ward, Tokyo
Opening Hours: Lunch: 11:30-14:30(Weekends/ national hols: until 15:00) Dinner: 18:00-21:30
TEL: 03-4333-8785 (direct connection)
Maduro
Address: Grand Hyatt Tokyo 4th floor
6-10-3, Roppongi, Minato Ward, Tokyo
Opening Hours: 19:00 ー 25:00 (Fridays/ Saturdays: until 26:00)
TEL: 03-4333-8783(direct connection)
Grand Hyatt Tokyo Official Website: https://www.hyatt.com/ja-JP/hotel/japan/grand-hyatt-tokyo/tyogh
RECOMMENDED ENTRIES
Feel the Spirit of Japanese Culture With Hotel Gajoen Tokyo's Yukata Plan

Japanese museum and hotel Hotel Gajoen Tokyo is currently offering its new "Yukata Plan" until September 30. The plan includes a yukata service, lunch or dinner, and a chance to witness the Hyakudan Kaidan, or '100 Step Staircase,' which was registered by Tokyo Prefecture as a Tangible Cultural Property in 2009 for its exceptional architecture and artistic beauty.

The plan lets guests wear a beautiful and colourful yukata allows them to get a feel for the Japanese spirit. After enjoying a special food course specially prepared by the hotel's chef, you will head on over to observe the Hyakudan Kaidan, something offered in the hotel's popular summer plan. Yukata are available for men, women and children, making it perfect for groups, couples and families. What's more is that you can take home the yukata, obi sash and geta shoes you choose.

Once you chance into your yukata you can stroll to some of Meguro's famous spots such as Meguro River as well as Ryūsenji temple and Ōtori-jinja Shrine, both of which are just a 10-minute walk from the hotel.

Enjoy a real Japanese time this summer at Hotel Gajoen Tokyo.

Information

Yukata Plan

Prices

Lunch: Adults ¥13,500 / Children ¥10,000

Dinner: Adults ¥16,000 / Children ¥10,000 (Each price includes price for 1 person, tax and service charge)

*Those who order the dinner plan will receive an original Gajoen senko hanabi firework

Hotel Gajoen Tokyo: http://www.hotelgajoen-tokyo.com/

Top 5 Tokyo Beer Gardens to Cool You Down This Summer

Hi, readers! It's Midori, from MMN's editorial team.

When thinking about summer, one of the first things that springs to mind are beer gardens! Drinking a cold beer outdoors on a hot summer's day is a special kind of delicious. More and more beer garden events appear in Japan every year, the vibe and atmosphere is different for each depending on where you are.

Today, I've compiled for you 5 must-visit beer gardens in Tokyo for summer 2019.

Heineken Kirin Beer Garden: Enjoy a lamb BBQ at Kichijoji Daiichi Hotel

This beer garden is being hosted in a BBQ style. Enjoy a two-hour all-you-can-drink course with either a Jingisukan BBQ or oil ponzu fondue as well as a selection of à la carte that go perfectly with the beer on offer. Look out for the lamb BBQ as well, a hugely popular choice every year at the hotel.

▼Kichijoji Daiichi Hotel – "Heineken Kirin Beer Garden"

Location: Kichijoji Daiichi Hotel Floor 8F Garden Terrace (Entrance at floor 7F)

Address: 2-4-14 Honcho, Kichijoji, Musashino, Tokyo
Running: May 24, 2019 – September 1, 2019 (*Closed on Mondays between May 24 – June 30)
Time: 17:00-21:30 (Last Orders 21:00)

Website: https://www.hankyu-hotel.com/hotel/dh/kichijojidh/

Honoo Bulgogi vs. Tamashii Hot Pot: Ikebukuro Tobu Beer Garden

The Tobu Department Store in Ikebukuro is set to serve up its popular bulgogi nabe on the building rooftop. This year also sees the introducing of a new hot pot. Women can also enjoy a discount price on the bulgogi nabe even cheaper than previous years. There is also an happy hour service where all customers can enjoy reduced prices. If you're looking for affordable prices then look no further!

▼Honoo Bulgogi vs. Tamashii Hot Pot: Ikebukuro Tobu Beer Garden

Location: Tobu Department Store Ikebukuro Floor 16F Rooftop

Address: 1-1-25 Nishi-Ikebukuro, Toshima Ward, Tokyo
Running: April 24, 2019 – September 1, 2019
Time: 17:00-23:00 (Last orders for à la carte and drinks at 22:00)
Reservations: Via telephone or online. Reservations must be for 2+ people.

Website: http://www.tobu-dept.jp/ikebukuro/

Beer Garden With an Unbroken View Of the Sea at InterContinental Yokohama Grand

InterContinental Yokohama Grand is bringing its hugely popular beer garden Hama Beer back to Yokohama Minato Mirai again this year. Look forward to tucking into some authentic delights at the hotel terrace with a panoramic view of the Yokohama sea. They also serve a variety of non-alcoholic cocktails too. I recommend this one if you're looking for a romantic, slightly more adult beer garden experience.

▼InterContinental Yokohama Grand Beer Garden

Location: InterContinental Yokohama Grand Floor 1F Outdoor Terrace (*Location will change if it rains)

Address: 1-1-1 Minato Mirai, Nishi Ward, Yokohama, Kanagawa Prefecture
Running: June 14, 2019 – September 16, 2019 (*Except on days when there are scheduled events)

Time: [Mon-Thur] 18:00-21:00 / [Fri-Sun & Hols] 17:00-21:30

Website: https://www.interconti.co.jp/yokohama/

Machida MODI at Renewed "Sky Beer Garden" With Projection Show

The Sky Beer Garden atop Machida MODI has reopened after renovations. A projection show is taking place on the building wall as part of the beer garden. On the official homepage, people can also sign up to have a message projected onto the wall. 7 people will be randomly selected per day. This would be perfect as a surprise to that special someone! You can also enjoy the beer garden at a discounted price if you follow them on Instagram.

▼Sky Beer Garden

Location: LUGAR HA AMOR
Address: Machida MODI Rooftop, 6-2-6 Haramachida, Machida, Tokyo
Running: April 27, 2019 – September 29, 2019

TEL: 042-812-2580

Website: https://www.0101.co.jp/723/

SKY PARADISE BEER GARDEN: Delicious steak and more at Isetan Shinjuku

At Isetan Shinjuku's stylish SKY PARADISE BEER GARDEN visitors can enjoy steak from Steak NO.1 STEAK THE FIRST. The drinks menu also includes beverages other than beer, so if you're not a beer person then I definitely recommend this one. It is being held on the rooftop too so you can enjoy dining in the warm late afternoon and evening outdoors in Tokyo.

▼SKY PARADISE BEER GARDEN

Location: Isetan Shinjuku Rooftop

Address: 4-14-1 Shinjuku, Shinjuku Ward, Tokyo
Running: June 12, 2019 – September 16, 2019
Time: [Mon-Thur] 16:00-22:00 / [Fri-Sun & Hols] 11:30-22:00 (Last Orders – Food 21:00/Drink 21:30)
TEL: 03-6890-0199 (11:30-20:00)

Website: https://www.isetan.mistore.jp/shinjuku.html

There are many different unique beer gardens being held this year, so pick the one that suits you most and cool yourself off this summer in Tokyo♡

Keio Plaza Hotel is expanding their yukata experience service plan "Easy Kimono". The plan, which allows guests to wear Japanese traditional clothing called yukata, was originally a weekday-limited plan. Now, the plan will be expanded to include the weekends and national holidays. The plan was launched in June 2017 through a collaboration with Keio Department Store's dressing rooms. Keio Plaza Hotel's objective is to spread Japanese culture and offer guests the opportunity to fully experience Japan. The hotel also offers tea ceremony and Ikebana flower arranging classes.

There are two yukata plans on offer: a standard plan available for men and women and a women-limited premium plan which includes top quality cotton yukata that have a mature feel to them. Both plans come with wooden clogs, an ornate kanzashi hairpin, a drawstring purse and a map of wonderful locations to take a stroll in Shinjuku. Head to the third floor lobby in the South Building of the hotel to arrive at the Keio Department Store Dressing Rooms. Here, you can choose your favourite yukata. Once you put it on, the staff will take a commemorative photo with a camera or your smartphone.

You can rent these yukata for a maximum of six hours, during which time you can take as many selfies as you want, enjoy a meal in Tokyo, and have a relaxing stroll around the streets of Shinjuku. This luxurious plan is a chance to experience the great feeling of wearing a yukata.

Information

Easy Kimono Yukata Wearing Plan (aimed at overseas foreigners)

Reservations: Everyday from 10:00am ー 4:00 pm

Returns: No later than 6:00pm on the day of rental.

(Arrangement/dressing takes approximately 30 ー 40 minutes)

Prices

Standard plan

1 person: ¥5,400 (after tax)

Women (up to 170cm tall, medium size) :  Selection of 30 yukata patterns

Men (Up to 185 cm tall, medium, large, extra large size): Selection of 6 yukata patterns

Premium plan (women-limited) 

1 person: ¥7,560 (after tax)

Women (up to 170cm tall, medium size) : Selection of 15 top-quality cotton yukata patterns

* Extended rental: ¥2,160 (after tax). Extended rental returns are expected by 12:00pm the following day.

Reservations can be made on the Hotel's Official Website: (English website only) https://www.keioplaza.com/offers/easykimono.html

Hotel Gajoen Tokyo to Hold Japanese Art Exhibition at Hyakudan Kaidan

Hotel Gajoen Tokyo is both a museum and a hotel which celebrated its 90th anniversary in December 2018. The establishment is set to hold its 5th Wa no Akari x Hyakudan Kaidan art exhibition at its Hyakudan Kaidan, or '100 Steps Staircase'―which was registered by Tokyo Prefecture as a Tangible Cultural Property in 2009 for its exceptional architecture and artistic beauty.

The event will run from July 6 to September 1 and will feature all-new exhibits from 40 independent artists and groups from around Japan: from Aomori in the north to Kagoshima in the south.

Bamboo Artwork by NIITAKE

Participating in the exhibition for the first time is bamboo artist NIITAKE from Nichinan, Miyazaki. His pieces will include entrancing room installations as well as a colourful collaboration with the Nagasaki Lantern Festival which enjoys an incredible one million visitors.

emullenuett: The Sand Art Duo

emullenuet are an up-and-coming duo who create artwork out of sand. The two of them have created some pieces just for this exhibition such as Japanese ranma transoms.

Edo Furin Wind Chimes

This dramatic exhibit will include lacquer work, glass work, metal carving and more by Tokyo Teshigoto―a group backed by the city of Tokyo which is a collaboration between contemporary designers and traditional Edo techniques which aims to pass down theses kills to the next generation. Summertime furin which chimes will also line the showcase with their delicate designs and sounds. Other contemporary artists will also display their work with Japanese-style paper, allowing for visitors to see cultural assets established during the early Showa period.

Aomori Nebuta

This year's exhibition will also see the return of some legends who have enjoyed popularity at previous runs of the event. As you descend the huge mother-of-pearl raden elevator you will be welcomed by an overwhelming assortment of standout pieces.

Ishimaki Kokeshi

Other popular names include Tadaharu Kawamura, a sculptor who works with natural materials such as leaves, shells and Japanese lantern cherries, and Takatoshi Hayashi who is known for their kokeshi dolls.

Information

Wa no Akari x Hyakudan Kaidan 2019 ~Kokoro no Shikisai~

Location: Hotel Gajoen Tokyo (1-8-1 Shitameguro, Meguro Ward, Tokyo)

Running: July 6, 2019 – September 1, 2019

Opening Hours: [Sun-Thurs] 10:00-17:00 (Last Entries 16:30) / [Fri-Sat & August 11-18] 10:00-20:00 (Last Entries 19:30)

*Photography allowed (Tripods, flash and photography for business purposes forbidden)

Price: Same-Day ¥1,600 / Advanced ¥1,300 (Special Advanced Price of ¥1,100 Until July 5) / University & High School Students ¥1,200 / Elementary & Junior High School Students ¥600

*Student ID required. Preschoolers permitted free entry.

TEL: 03-5434-3140

Online Tickets: https://www.e-tix.jp/100event/#akari

Visit the Abandoned Hotel, Tenjō-ji Temple & More at Mount Maya in Kobe

A new category added to the Cool Japan Award―which is run by the Cool Japan Association―is "National Park," which was claimed by Mount Maya in Kobe in May this year for its nighttime scenery.

Mount Maya is one of the major peaks of the Rokkō Mountains in Nada, Kobe and stands at a towering 702m high. Located close to the main city of Kobe, those who reach its apex will be able to see many different sights such as Kobe, Osaka, the Kii Peninsula, and Akashi-Kaikyo Bridge. Maya is popular not just with tourists and sightseers, but Kobe locals too who visit it with families to eat bento, or those who take their special somebodies to observe the nightscape.

Located on Mount Maya is Tenjō-ji, a temple which the mountain's name has its origins in. This year marks the run of a special event which is held at the temple once every 33 years. Visitors can also go on a guide walk to an abandoned hotel which is normally off limits to the public.

Let's take an in-depth look at all the exciting things one can do at Mount Maya.

Tenjō-ji Temple, Mount Maya

The originator of Mount Maya's name

Tenjō-ji can be found wrapped in nature at the peak of Mount Maya in its National Park. Visitors can enjoy all weathers atop the mountain as the seasons change, but if you go on a clear day, you'll be able to observe as far as Awaji Island, Akashi-Kaikyo Bridge, and Shōdoshima. The history of this temple―the only one in Japan to have been built by Maya-bunin―dates back to the year 646 when the high priest of India accepted Emperor Kōtoku's request to build it. Maya-bunin, the mother of Buddha, is prayed to as a guardian of safe childbirth and child rearing. This is where Mount Maya gets its name.

The door to three hidden Buddhist statues opened once every 33 years

Once every 33 years, a door is opened at the palace to reveal three hidden Buddhist idols: the Eleven-Faced Avalokitesvara, Acala, and Vaiśravaṇa. For the duration of its opening this August, Buddhist sermons will be given three times a day (10:30/12:00/14:00), and visitors will be able to obtain an exclusive goshuin stamp.

Running: August 1, 2019 – August 15, 2019

Time: 10:00-16:00 (Until 17:00 for this event)

Tour guide walk to Mount Maya's historic ruins

~Stroll around and trace the history of Mount Yama~

As well as the temple, Mount Yama formerly bustled with people looking to dine and as well as stay in the accommodation there. After the war and earthquake disasters, a campaign began to restore life to Mount Maya, one part of which is a tour guide walk to the historic ruins.

This includes a trip to the former Tenjō-ji temple site as well as the abandoned hotel which is off limits to the general public.

Mount Maya's Nightscape

~An internationally recognised landscape~

Mount Maya has been awarded the Cool Japan Award 2019 in the new National Park category for its gorgeous evening view from which one can see Kobe's streets, the port and more.

If you're planning a trip to Kobe be sure to use this article as reference!

Information

Tenjō-ji Temple – Mount Maya
Address: 2-12 Mayasanchō, Nada, Kobe, Hyogo

Opening Hours: 9:00-17:00
No Fixed Holidays.
TEL: 078-861-2684

Official Website: http://www.mayasan-tenjoji.jp/

Little Twin Stars Themed Hotel Room Opens at Keio Plaza Hotel Tama

Two new guest rooms opened at Keio Plaza Hotel Tama on June 15 themed on the Sanrio characters My Melody and the Little Twin Stars (Kiki & Lala).

This year's Sanrio Character Awards were held earlier this month. Both My Melody and the Little Twin Stars proved their popularity with fans as they came in 4th and 6th place respectively. With that in mind, what does Keio Plaza Hotel Tama have in store for fans of the characters in their new guest rooms? I'm here to let you in on the full scoop.

Keio Plaza Hotel is about a 30-minute train ride from Shinjuku and a 3-minute walk from Keio-Tama-Center Station. It's also close to the city of Chofu where the Rugby World Cup will be held this fall as well as located in West Tokyo, an area enjoyed by foreign tourists.

There are two of each rooms available and they will be permanent rooms at the hotel. The hotel already has four Hello Kitty Rooms which were introduced in November 2014 and renovated with the opening of the new My Melody and Little Twin Stars Rooms, making for a total of eight Sanrio character rooms at the hotel. Today, we'll be taking a look at the Little Twin Stars Room.

For the My Melody Room, click here here: https://www.moshimoshi-nippon.jp/225795

Little Twin Stars Room

© 1976, 2019 SANRIO CO., LTD. APPROVAL NO. G601079

The door to the Little Twin Stars Room bears a cute ☆ above the room number.

© 1976, 2019 SANRIO CO., LTD. APPROVAL NO. G601079

Stepping into the magical room you will see Kiki and Lala on the wall riding a unicorn and making their way to the amusement park in the clouds. Floating around the entire room are pink stars and white, fluffy clouds.

© 1976, 2019 SANRIO CO., LTD. APPROVAL NO. G601079

The star-shaped cushions are inspired by the star on the back of Kiki. Guests can fall into a magical dream together with Kiki and Lala who are sleeping with their unicorn atop a cloud on the foot throw at the bottom of the bed.

© 1976, 2019 SANRIO CO., LTD. APPROVAL NO. G601079

The curtains in all of the rooms are blackout curtains so you can have a peaceful, undisturbed sleep until morning.

© 1976, 2019 SANRIO CO., LTD. APPROVAL NO. G601079

When you flip on this floor lamp at nighttime you'll be greeted by an illuminated illustration of Kiki and Lala.

© 1976, 2019 SANRIO CO., LTD. APPROVAL NO. G601079

The hotel has left no part of this fairy tale-like room untouched, with its pink bath tub and drawing of the Little Twin Stars on bathroom mirror too.

© 1976, 2019 SANRIO CO., LTD. APPROVAL NO. G601079

And don't forget the Little Twin Stars Room amenities either, exclusive to guests. The plush toys are branded with an original Sanrio Character Room logo.

© 1976, 2019 SANRIO CO., LTD. APPROVAL NO. G601079

The designs of the toothbrushes are different in each room.

© 1976, 2019 SANRIO CO., LTD. APPROVAL NO. G601079

Even the cup coasters that come with the room feature original desgins exclusive to Keio Plaza Hotel Tama.

© 1976, 2019 SANRIO CO., LTD. APPROVAL NO. G601079

The adorable door signs feature Kiki and Lala sleepy for guests to not be disturbed and energetic for the room to be cleaned.

© 1976, 2019 SANRIO CO., LTD. APPROVAL NO. G601079

Be sure to snap photo of the framed cute Kiki and Lala picture too before you leave.

The Little Twin Stars Room was a world full of pink dreams.  It's sure to be popular with children♡

Next time we will look at the renovated Hello Kitty Room, so stay tuned!

Writer: Ellie (MMN Editorial Team)

Photographer: Kayo Sekiguchi

Translator: Joshua Kitosi-Isanga

Information

Sanrio Character Rooms

My Melody Room: 2 Rooms Available

Little Twin Stars Room: 2 Rooms Available

Hello Kitty Room: 4 Rooms Available

Price

1 Room/1 Person: ¥59,400 (Price for one person, service charge and tax included)

1 Room/2 People: ¥29,700 (Price for one person, service charge and tax included)

1 Room/3 People: ¥21,780 (Price for one person, service charge and tax included)

Sanrio Character Rooms Accommodation Plan: https://www.keioplaza.com/tama/sanrio/index.html

Keio Plaza Hotel Tama

Address: 1-43 Ochiai, Tama, Tokyo

Official Website: https://www.keioplaza.com/tama/
RELATED ENTRIES
Top 5 Delicious Must-Eat Parfaits in Fukuoka

This time, we're here to present a sweet assortment of parfaits in Fukuoka that are sure to get your mouths watering. We are joined by Instagrammer

moe

who has provided us with photos and descriptions of this tasty line-up.

green bean to bar CHOCOLATE in Imaizumi

 

Let's begin with the Chocolate Glass Parfait, an extravagant parfait which is made with cocoa beans from various different regions, offering plenty of flavour. It's a refreshing parfait topped with chocolate tea granita jelly. It's also drizzled in a chocolate sauce which is made with cocoa beans and imbued with berries. If you're a chocoholic then this one will provide the hit you need!

▼green bean to bar CHOCOLATE

Address: Nishitetsu Tenjin CLASS 1F, 1-19-22 Imaizumi, Chuo Ward, Fukuoka, Fukuoka Prefecture

Opening Hours: 11:00-21:00

Closed: Wednesdays

Patisserie Georges Marceau in Watanabedori

A floral fragrance dances around this beautiful parfait, which one would expect the refreshing peach to be the centerpiece, only to find out that other fruits come through the flavour assortment too like lychee and raspberry. As well as fruits, the parfait includes sherbet, panna cotta, and other refreshing combinations.

▼Patisserie Georges Marceau

Address: 1F, 5-8-19 Watanabedori, Chuo Ward, Fukuoka, Fukuoka Prefecture

Opening Hours: 10:00-20:00 (Until 19:00 on Sundays)

No Fixed Holidays

Oyatsu cafe Hibi to in Hirao

This classic strawberry parfait contains double-sized cornflakes. I would change nothing about its taste or appearance, which also matches the atmosphere of the cosy and beautiful cafe.

▼Oyatsu cafe Hibi to (Japanese: おやつcafe日々to)

Address: Maison Sansou 2F, 2-17-21 Hiaro, Chuo Ward, Fukuoka, Fukuoka Prefecture

Opening Hours: 11:00-20:00

No Fixed Holidays

Kurasukoto in Hirao

Left: Coffee Jelly Parfait / Right: Strawberry Parfait

Coffee jelly is a bitter flavour more suited to the adult palate. It goes perfect with the condensed milk and caramel nut-topped smooth ice cream cake. Piled with juicy strawberries and blueberries, you're sure to enjoy your fill with this strawberry parfait.

▼Kurasukoto

Address: 2F, 1-11-21 Hiaro, Chuo Ward, Fukuoka, Fukuoka Prefecture

Opening Hours: 11:30-18:00 (Food Last Orders 17:15 / Dessert Last Orders 17:30)

Closed: Sundays & Mondays

momotose in Hirao

Strawberries, kumquat, and flower petals adorn this piece of parfait art. The combination of the sour fruits and sweet ice cream is a match made in heaven. As well as parfaits, momotose also sells other delicious desserts too like roll cake.

▼momotose

Address: 1F, 3-19-20 Hiaro, Chuo Ward, Fukuoka, Fukuoka Prefecture

Opening Hours: Lunch 11:00-15:00 / Tea 14:00-18:00 / Dinner 18:00-21:00

No Fixed Holidays

Winter is Coming But Hotel Chinzanso Tokyo's Yuzu Lemon Afternoon Tea Will Warm You Up

Hotel Chinzanso Tokyo will begin serving its new citrus fruit-packed Yuzu Lemon Afternoon Tea on November 1 at the Le Jardin, the hotel's lobby lounge which offers a view of the beautiful garden.

You'll see yuzu and lemons throughout the year, but it is said that winter is the best season to enjoy them. Both lemons and yuzu are said to have a relaxation effect, and so Hotel Chinzanso Tokyo will beckon guests through its cosy doors with the afternoon tea set's refreshing citrus fragrance, inviting them to an early wonderful winter at the beginning of November.

The set includes an assortment of sweets including a yuzu and lemon flavoured savarin, a lemon cheesecake that squeezes out all the juicy nectar of the citrus fruit, and more. The lemons and yuzu are the citrus kingpins of this afternoon tea.

The seasonal scones are a mix of yuzu and vanilla scones and silky white chocolate scones to relieve some of the sourness. Enjoy together with a mix of dips including salted clotted cream for even more flavour.

On the savoury side of things there is a tempting mix of bites and nibbles, including the use of spicy ginger to warm up your cold body.

Welcome the winter early this year and do it in style with Hotel Chinzanso Tokyo's new afternoon tea set.

Information

Yuzu Lemon Afternoon Tea

Running: November 1, 2019 – November 30, 2019 (*Reservations available only on weekdays)

Time: 12:00-18:00
Location: Le Jardin, Hotel Chinzanso Tokyo

Price: Yuzu Lemon Afternoon Tea ¥4,000 / With Welcome Drink ¥4,500 (Tax and service charge not included in price)

Le Jardin Webpage: https://www.hotel-chinzanso-tokyo.com/dining/le-jardin/

Hotel Chinzanso Tokyo

Address: 2-10-8 Sekiguchi, Bunkyo Ward, Tokyo

Official Website: https://www.hotel-chinzanso-tokyo.com/

Take A Tasty Trip to Tokyo Kaikan to Indulge in Mouthwatering Marron Chantilly Desserts

Kiyotaka Katsume (勝⽬ 清鷹) is the first ever confectioner of the 70-year-old Tokyo Kaikan. This autumn, Tokyo Kaikan is selling Mont Blanc Marron Chantilly dessertsーwhich were invented by Katsumeーfor a limited period only.

Earl Grey Marron Chantilly: ¥908

The Earl Grey Marron Chantilly is only available from October 1 to October 31. The flavour and aroma of earl grey tea leaves has been fully extracted to add to the flavour of the cream.

Premium Marron Chantilly: ¥1,500

The premium Marron Chantilly is only available from September 1 to October 31. Japanese chestnuts sourced from Kasama are shredded with whipped cream for a light and fluffy texture. This is a paradise for anyone who loves chestnuts.

Pumpkin Marron Chantilly¥908

The Halloween-themed desserts at Tokyo Kaikan are a big hit every year. This year, the Pumpkin Marron Chantilly will be taking to the scene to deliver the very best flavours of Halloween. Just looking at this Halloween-coloured dessert is enough to make your mouth water. It is such a shame that it is only selling from October 18 to 31.  

Dig into one of these delicious Marron Chantilly desserts surrounded by the luxurious atmosphere of Tokyo Kaikan. 

5 Must-Try Desserts On Fukuoka's Beach-Lined City Of Itoshima

Itoshima is a city located in the western part of Fukuoka and is known for its many gorgeous and picturesque locations-especially its beaches.

Today, we are joined once again by Instagrammer

moe

who is here to show us the best delicious drinks and desserts to enjoy while gazing out at Itoshima's breathtaking beaches and rural landscapes.

OYATSU-STAND in Nishi-ku

Left: Tapioca Milk Ryokucha Green Tea / Right: Tapioca Milk Houjicha (¥600 Each)

What better way to enjoy a refreshing green bubble tea than with a sun-kissed blue sky and ocean right in front of you? As well as ryokucha and houjicha, there are plenty of other thirst-quenching flavours to choose from as well, including Japanese tea latte.

▼OYATSU-STAND

Address: 2198-3 Kota, Nishi-ku, Fukuoka

Business Hours: 10:30am until sunset

No Fixed Holidays

Itoshima Sabo in Nishi-ku

Specially-Made Single Classic Pancake – ¥500

You'll find yourself reaching for your camera to snap a picture of this Instagram-worthy pancake, branded with the cafe's name Itoshima Sabo in Japanese. They serve everything from breakfasts to full course meals.

▼Itoshima Sabo

Address: 2915-1 Kota, Nishi-ku, Fukuoka

Business Hours: 10:00-21:00

No Fixed Holidays

KUROKI in Nijoishizaki

KUROKI is a French restaurant that serves up a variety of courses. This fluffy homemade roll cake is filled with rich and smooth cream. You can order it as a set together with a meal too. Don't forget, this place is reservation-only!

▼KUROKI

Address: 459-3 Nijoishizaki, Itoshima, Fukuoka

Business Hours: Lunch 12:00-17:00 (Reservation Only) / Dinner 18:00~ (Reservation Only)

Closed: Sundays

Sumi Cafe in Hon

Salted Milk Houjicha Purin – ¥500

Sumi Cafe is a long-standing cafe that can be found by following a narrow road along the countryside. This irresistible salted milk houjicha purin is combined with astringent chestnut and candied chestnut to make a luxurious dessert.

▼Sumi Cafe

Address: 1454 Hon, Itoshima, Fukuoka

Business Hours: 12:00-17:00 (Lunch Last Orders 15:30 / Cafe Menu Last Orders 16:30)

Closed: New Year's Holiday

Loiter Market in Shimakeya

Left: Salt & Caramel / Right: Milk & Strawberry (¥400 Each)

Made with organic ingredients, Loiter Market's gelato is served in cute pastel colours. The salt and caramel is a must-try, it's made with salt sourced in Itoshima.

▼Loiter Market

Address: 166-3 Shimakeya, Itoshima, Fukuoka

Opening Hours: 12:00-17:00

No Fixed Holidays

Did you enjoy these picks? If you're looking for even more desserts to try in Fukuoka then be sure to check out

moe's

Instagram page which is filled with just that!

Häagen-Dazs Release New Soybean Flour Brown Sugar Syrup and Zunda Mochi Ice Creams

Häagen-Dazs Japan has announced that it will release two new flavours from its popular hanamochi ice cream series on September 17: "Soybean Flour Brown Sugar Syrup" and "Zunda."

Soybean Flour Brown Sugar Syrup Hanamochi

The soybean flour brown sugar syrup hanamochi was released back in 2015 and returned again in 2017. This year, Häagen-Dazs is bringing is back even more delicious than before. They have blended together a variety of soybean flours to elevate the ingredient's original flavour.

The top of the mochi is sprinkled with a blend of lightly roasted black and yellow soybeans. By roasting them, the original taste and fragrance of the soybean comes through tenfold. Dark roasted soybean has also been combined with milk for a velvety texture, and the entire thing is drizzled in a rich original brown sugar syrup sauce which further enrichens the soybean flavour.

Zunda Hanamochi

Zunda is sweet soybean paste made from mashed edamame beans and a flavour that has been gaining popularity in Japan in recent years. Häagen-Dazs is incorporating the flavour for the first time in their hanamochi series.

The lumpy texture of the crushed edamame goes deliciously well with the chewy mochi, taking the original authentic taste and texture of edamame to a whole new level. Mixing it with soybeans and rich milk turns it into a smooth ice cream in your mouth. The sauce also contains a sprinkle of salt to bring out the flavour of the zunda.

The packaging has also been updated, inspired by their flavours and topped with a golden lid, giving it a modern-Japanese appeal. Don't miss out on these two new flavours.

Information

Soybean Flour Brown Sugar Syrup Hanamochi (Limited Edition)

Price: ¥319 (Tax Included)

Release Date: September 17, 2019

Available: At supermarkets, convenience stores, and department stores across Japa

Product Page: https://www.haagen-dazs.co.jp/hanamochi_1909/

Zunda Hanamochi (Limited Edition)

Price: ¥319 (Tax Included)

Release Date: September 17, 2019

Available: At supermarkets, convenience stores, and department stores across Japa

Product Page: https://www.haagen-dazs.co.jp/hanamochi_1909/

Kusatsu Onsen's Emerald Green Pudding is a Must-Try After a Dip in the Hot Springs

Kusatsu Onsen is a hot spring resort in Gunma Prefecture that is one of Japan's three principle hot spring locations. The site opened its new Japanese custard dessert (known as 'purin') shop, Kusatsu Onsen Pudding, on August 24, which serves the most incredibly smooth purin you have ever tried, each inspired by the hot springs.

Once you've stepped out of the nice warm hot springs of Kusatsu Onsen you can refresh yourself with a delicious purin packed full of love from the shop which has created a flavour you can only try by travelling to Gunma and going there. Each and every dessert is made fresh in the shop to further elevate its exclusivity as a local speciality.

Kusatsu Onsen Pudding also makes sure to use local and regional ingredients where it can to help support manufacturers and producers. Their purin is also made with a special type of milk sourced from in Gunma known as Haruna milk. The milk is made as delicious as can be by ensuring cows are raised on a healthy natural diet of grass on green pastures in Gunma bathed in plenty of sunlight.

Yuhata Purin

The Yuhata purin is inspired by the hot spring areas where mineral deposits are harvested, its jelly taking on a gorgeous emerald green colour. It's lemon and lime flavoured, the perfect flavour to enjoy when stepping out of the hot water, and one which goes surprisingly well with purin.

Yumomi Purin

The staple purin of the store, this purin is based on yumomi, a method used for cooling the hot water with paddles from which cold water gushes forth. This velvety delight is made with lots of fresh cream and high-quality vanilla beans from Madagascar for added punch.

Furomage

A pun on the word fromage, with furo in Japanese meaning "bath," the Furomage purin uses a rich cream cheese base which has a seriously smooth texture. It's topped off with strawberry jelly for the perfect combination, packing a perfect balance between sweet and sour.

Yuhata Soft (Milk/Yuhata/Mixed)

Choose from the Yuhata soft serve ice cream which is ramune flavoured and inspired by the flowing water of the hot springs or the Haruna milk-mixed vanilla flavoured Milk soft serve. If you can't pick, then choose mixed for a bit of both. A satisfyingly refreshing pick for when you're done in the hot springs.

The shop has plans to sell purin made using bamboo steamers in the near future, so you're pudding can be steamed like yourself after a dip in the water! The wooden spoons used to eat the desserts are also made in the image of the paddles used in yumomi too.

Kyoto's Capsule Hotel Anshin-Oyado Now Offering Plan to Take Guests to Sacred Sword Locations

Capsule hotel Anshin-Oyado Premiere Kyoto Shijo Karasuma introduced a new plan on September 6 which gives guests the chance to go and see sacred places across Kyoto associated with Japanese swords.

October 4th is known as "Japanese Sword Day" in Japan. In Kyoto alone, the number of people visiting from distant places to see sacred sword places, as well as collect goshuin stamps from shrines and temples, is on the increase-as is the number of people staying at Anshin-Oyado Premiere Kyoto Shijo Karasuma. That's where this new guest plan comes into play.

The plan will take guests around different parts of Kyoto, so the hotel as prepared three options to cater to all guests' needs: one that offers a rental bicycle, a ticket to use the subway or bus, or the normal plan. You will receive a map which shows you the most efficient way to get around all the locations. There is also a QR code on the map which not only shows where you can park your bicycle if you go for that option, but also where to collect goshuin stamps.

Moreover, to really slash home those sword memories, guests will be lent a free selfie-stick which also acts as a tripod. There is also a separate powder room for guests wanting to dress up in full sword cosplay gear too which can be used until checkout.

Guests can also rent a portable power bank for their phone so they don't have to worry about their battery running out when snapping photos amongst other amenities, and have free use of the massage chairs, foot baths, open-air baths, and more to rest up after their long pilgrimage around Kyoto seeing the different swords.

Information

Sacred Sword Site Plan

Running: September 6, 2019 – Late December 2019 (subject to change)

Target: Guests staying at Anshin-Oyado Premiere Kyoto Shijo Karasuma

Information (Japanese): http://ur0.work/UmQa

 

Anshin-Oyado Premiere Kyoto Shijo Karasuma

The Fanciest Egg and Rice Dish You've Ever Seen Will Be Sold at Grand Hyatt Tokyo

Towering over the bustling city of Tokyo is the capital's luxury hotel Grand Hyatt Tokyo. Starting from October 1, the hotel's restaurant Shunbou, which serves Japanse-style cuisine, is introducing an all-new exquisite serving of TKG, or tamago kake gohan ("egg on rice").

The dish will be made with shinmai, or "new rice," which refers to the new rice harvested for the current year. It's topped with rich egg―a simple combination but incredibly delicious and loved by people in Japan. Normally TKG stops there, but Grand Hyatt Tokyo is taking it to the next level with a topping of caviar to create the most exquisite egg on rice you have ever seen.

Rice: The best of the best

The rice served at the hotel is harvested in the city of Nanyō in Yamagata Prefecture. It's a special kind of rice known as Tsuyahime, and the hotel makes strict selections of the harvested rice, ensuring they serve the best possible rice to guests. This rice is served only at Grand Hyatt Tokyo making it even more special.

Nanyō is blessed with rich soil. The farms have been using organic fertiliser for well over 10 years, meaning their beautiful harvests are reduced in agricultural chemicals and chemical fertilisers unlike many other farms. The rice's taste quality value has also been listed as over 80, much higher than your average rice.

Sturgeon Caviar

The caviar used in this dish is from the Sturgeon fish from Kagawa prefecture. Everything from the food to the temperature of the water for the fish is considered from when they are a young age, allowing for the best possible caviar. They are seasoned with the perfect salt quantity and are additive free, allowing for a creamy and velvety taste and texture that just melts in your mouth the moment it hits your tongue.

Rich Egg Yolk

The eggs served on the rice are from what is known as one of the country's best egg specialist shops in Kyoto. To ensure the perfect egg, the shop takes great care in the fodder and water given to the chickens from the time they are chicks. This takes away the unpleasant raw smell characteristic of eggs, and is also a healthier lifestyle for the chickens themselves. The eggs are also packed with nutrients that are said to be lacking in the people of today including vitamins, DHA, niacin, and so on.

To top it all off, the hotel has created their own original blend of dashi soy sauce just for this dish.

Information

Shunbou's Special New Rice Tamago Kake Gohan

・Freshly boiled new rice

・2 eggs

・Caviar (15 grams)

・Specially-made dashi soy sauce

*From December onward the dish will be served with Shunbou Original Caviar

Restaurant: Shunbou, Grand Hyatt Tokyo

Available: From October 1, 2019

Serving Times: Lunch 11:30-14:00 (Until 15:00 On Weekends & Holidays) / Dinner 18:00-21:30

Price: ¥20,000 (before tax and service charge)

Official Website: https://www.tokyo.grand.hyatt.co.jp/en/restaurants/shunbou-restaurant/

Tokyo's Revolutionary Buena Àrte Hostel to Open in Ryōgoku Area On September 14

Buena Àrte Hostel is a revolutionary new hostel set to open in the Ryōgoku area of Tokyo on September 14, 2019.

In response to the increase in the number of foreigners staying in Tokyo, and especially in anticipation of the Tokyo 2020 Olympics and Paralympics-when numbers are expected to skyrocket-Japan's capital is well underway in developing more accessible accommodation options for foreign travellers, from hotels to hostels.

Hostels in particular are a huge focus for the city, and so more and more of them are opening. Catered to younger people and travellers, hostels are a much cheaper accommodation option when compared to hotels, and thus are likely to increase the number of days in which people will stay.

However, what is considered much more valuable for foreign travellers is the level of comfort, cleanliness, and safety. Buena Àrte Hostel is all of these and more, meaning even somebody travelling on their own can feel safe and secure. With over 200 pieces of art adorning its walls, it is the world's first art-centred capsule hotel, focusing on "fun, comfort, and encounters."

The hostel has collaborated with globally-active artists and up-and-coming illustrators to bring their art to the walls of the communal spaces, restaurant, and even bedrooms. A lot of the pieces you can buy too.

Found in over 160 of the bedrooms are illustrations drawn by artists who want to convey the fun and excitement of travel. These illustrations are exclusive as they were drawn for the hostel and so there is only one of each in the world. There are around 60 rooms without illustrations yet, so the hostel is asking for submissions. If your illustration is picked, the hostel will offer you a free night with breakfast and dinner as thanks. You can find more details on the official website.

Buena Àrte Hostel has its own cafe and restaurant on the first floor, the Buena Cafe & Dining Bar, where guests including foreign tourists can enjoy authentic Japanese cuisine. The "Washoku Plate" is a meal set aimed at those arriving from overseas so they can enjoy a filling portion of Japanese-style cuisine. It includes everything from sukiyaki to tempura, kushikutsu, and more. It also includes Japanese sake. The bar sells other drinks too including wine, whisky and highball.

The closest station to Buena Àrte Hostel is Ryōgoku Station. Ryōgoku is a district of Tokyo filled with Japanese tradition. It is home to Ryōgoku Kokugikan, which is considered the holy ground of sumo wrestling, as well as the Sumida Hokusai Museum which houses works by the famous ukiyo-e painter Hokusai, the Japanese Sword Museum, the traditional Japanese garden Former Yasuda Garden, the Edo-Tokyo Museum-the list goes on. And all of these places and more are within 10-minutes' walking distance from Buena Àrte Hostel.

©2003-2019 valuepress CO,LTD. ALL RIGHT RESERVED.

Information

Buena Àrte Hostel

Address: 2-9-11 Yokoami, Sumida, Tokyo

Grand Opening: Buena Arte Hostel – September 14, 2019 / Buena Cafe & Dining Bar – September 20, 2019

Opening Hours: Breakfast 7:00-10:00 / Lunch 11:00-15:00 / Afternoon Tea 15:00-17:00 / Dinner 17:00-23:00

Access: 6-minutes on foot from Ryōgoku Station's JR Line Building West Exit / 5-minutes on foot from Ryōgoku Station's Toei Ōedo Line Building A1 Exit

TEL: 03-6658-8489

Official Website: http://buenaarte.com/

*No car park

*Children aged 6 years and under not permitted; those aged 6+ must share a room with parents or guardians and are charged the same price as adults

Tokyo Station's Christmas Cakes Are a Must-Buy Present This Holiday Season

Two of Tokyo Station's shopping areas, GRANSTA and GRANSTA MARUNOUCHI―which are accessible inside the ticket gates and outside the ticket gates respectively―are set to hold the GRANSTA Christmas Fair from November 5 to December 25.

GRANSTA x Tokyo Staion Hotel

The main GRANSTA shopping area is joining hands with Tokyo Station Hotel for the very first time to release a line of hotel-original Christmas cakes.

Noel – ¥6,200 (Tax Included) @ Tokyo Station Hotel (*10 servings per day)

This pine tree stump chestnut cake was originally sold to support the reconstruction work of the Tokyo Station Marunouchi Building which was held until 2012. Topping the chestnut sweet potato base is a mix of chestnut mousse and coffee cream. This is topped with two types of chestnut pastes in a spiral shape to create the tree rings.

Bûche Chocolat Vanille – ¥5,500 (Tax Included) @ Tokyo Station Hotel (*10 servings per day)

The Bûche Chocolat Vanille is an exquisite yule log made with melt-in-the-mouth chocolate mousse and vanilla cream inside which hides sweet and sour, kirsch-soaked cherries and sauteed pears. The top of the log is temptingly lined with even more cherries to give it both that rich look and even richer taste.

Tokyo Station Marunouchi Building Cake Designs

GRANSTA will also sell cakes inspired by Tokyo Station. As well as the ones shown here, there are ones based on the bullet trains and more.

Station Building Fruit Cake – ¥4,320 (Tax Included) @ Colombin (*only 100 available)

Exclusive to GRANSTA comes this special Christmas fruit cake based on the station building. It would make great gift to bring to the Christmas party.

Cupola de Tokyo – ¥3,780 (Tax Included) @ Caffarel (*only 50 available / *design still a WIP so may differ from the photo)

This colourful Christmas cake draws inspiration from the gorgeous interior designs of the north and south domes of the Tokyo Station Marunouchi Building.

Suica Penguin Cakes

The adorable Suica Penguin is the mascot of Suica contactless smart cards used at train stations.

Suica Penguin Cake – ¥5,400 (Tax Included) @ Dalloyau (*only 100 available)

The main Suica Penguin cake is a combination of chocolate mousse and a cream made from tonka beans. This cute cake is sure to bring joy to any child this Christmas♡

Suica Penguin Chocolate Raspberry – ¥490 (Tax Included) @ Fairycake Fair (*30 servings per day)

Fairycake Fair has whipped up a chocolate cream-topped cupcake filled with raspberry jam. This one is for those who want something a bit smaller than a ginormous cake!

There are lots more cakes to look forward to, including ones in very limited quantities. If you're in Japan this Christmas season, be sure to pay a visit to GRANSTA and GRANSTA MARUNOUCHI in Tokyo Station.

©Chiharu Sakazaki / JR East / DENTSU Suica by JR East Suica

Information

GRANSTA

Address: JR East Tokyo Station Building Floors B1F & 1F (Inside Ticket Gates), 1-9-1 Marunouchi, Chiyoda Ward, Tokyo

Opening Hours: 8:00-22:00 (Until 21:00 on Sundays)

*Opening hours differ for select shops in GRANSTA

*The GRANSTA New Area opening hours are from 9:00-22:00(Until 21:00 on Sundays)

GRANSTA MARUNOUCHI

Address: JR East Tokyo Station Building Floors B1F (Inside Ticket Gates), 1-9-1 Marunouchi, Chiyoda Ward, Tokyo

Opening Hours: 10:00-22:00 (Until 21:00 on Sundays)

*Opening hours differ for select shops in GRANSTA MARUNOUCHI

GRANSTA Official Website (Japanese): https://www.tokyoinfo.com/shop/mall/gransta/

Gamers! Rally Your Teammates For A New Quest: TOKYO GAME SHOW

The TOKYO GAME SHOW is in a league of its own. It is a mecca for gamers who cannot get enough of Japanese games and entertainment. This is where Japan's major game publishers from all kinds of platforms unite to put on an enormous exhibition. 

This includes the opportunity to explore games that are yet to be released as well as hear new announcements about the direction developers are steering the future of gaming. There's no lagging behind. This is a major event for the gaming industry, raking in leagues of heroes every year. 

On August 28, a total of 2,417 game booths were announced, which is the largest number the event has ever seen in its history. This event is home to games on a range of platforms including for console, smartphone and PC. The enormous variety of genres includes the most cutting-edge and latest trends including Esports, VR and much more.

For those of you who love cosplay, this event is your chance to finally meet your fantasy. The outside area of Hall 9 will have a Cosplaying Area Stage where two events will take place: a cosplay fashion show and a gathering. 

On Saturday 14th, Hall 1 event stage will hold the Cosplay Collection Night@2019 event where participants and event staff will take over the stage in game character cosplay. Spectating is free, so feel free to watch as each cosplayer dominates the entire stage, showing off their excellent craftsmanship and skills as they walk the runway and strike a pose definitely worth saving in your highlights! 

On Sunday 15th at 2:30 pm, cosplayers will take to the stage in units of two or more to put on a dance or combat show that you just cannot critically miss out on. 

Schedule:

September 14 (Sat)  From 12:00 ー Cosplay Runway  From 15:30 ー Cosplay Runway

September 15 (Sun) From 13:30 ー Cosplay Runway From 14:30 ー Cosplay Dance and Combat Shows From 15:30 ー Cosplay Runway

The Gathering is where cosplayers can interact with one another and have photos taken ー the perfect opportunity to send those friend requests. On September 14, a gathering dedicated to the Final Fantasy Tales Series will take place on the Cosplay Area Stage. On September 15, there will be gatherings for the Dynasty Warriors and Samurai Warriors series.

Schedule:

September 14  13:00-13:30 Final Fantasy Series Gathering  14:00-15:00 Final Fantasy Tales Series Gathering 

September 15 12:30-13:00 Dynasty Warriors and Samurai Warriors Series Gathering

More information on the exhibitions, booths and events will be announced on the morning of September 12 so please check it out. 

There is no better way to multi kill your time than to spend the entire day at TOKYO GAME SHOW 2019 ー get your tickets and GLHF!

Information

TOKYO GAME SHOW 2019

Event Information

Business Days*: September 12 & 13, 2019 (10:00~17:00)

*Business Days are open to industry and press only.

Public Entry*: September 14 & 15, 2019  (10:00~17:00)

*Doors may open at 9:30 am according to conditions on the day.  

Venue: Makuhari Messe (Mihama Ward, Chiba)

Exhibition Halls 1-11/ Event Hall/ International Conference Hall

Entry Fee: Advanced tickets: ¥1,500 (after tax)

On The Door: ¥2,000 (after tax)

Those under Elementary School age can enter for free (public entry days only)

Official Website: https://expo.nikkeibp.co.jp/tgs/2019/en/

Tokyo's Anime & Game Concept Hotel Announces Collaboration With Granblue Fantasy

Sunshine City Prince Hotel is currently collaborating with the anime and game media franchise King of Prism and the video game DREAM!ing to rave reviews on the hotel's IKEPRI25 floor.

The hotel has just announced that its third collaboration will be with the popular RPG video game Granblue Fantasy which will arrive in early November.

IKEPRI25 is located on the hotel's 25th floor and operates as a "concept floor." Decked out with 20 rooms and 4 lounges, the floor is every anime, manga and game fan's paradise as it themes its room on many different titles. The floor is produced in co-operation with Tokyo Otaku Mode Inc.

Granblue Fantasy is a fantasy role-playing game for Android, iOS, and web browser. It launched in 2014 and is available to play in both English and Japanese. The game features music by legendary composer Nobuo Uematsu who is known worldwide for his work on the Final Fantasy series. A new title, Granblue Fantasy Versus, developed by Arc System Works (Guilty Gear series; BlazBlue series).

Further details on the concept room will be announced in the near future, so stay tuned.

©Cygames, Inc.