Asakusa is located in Tokyo and is home to many famous tourist and sightseeing spots such as Sensō-ji Temple and the Kaminarimon Gate. It's also a place lined with restaurants serving up an array of gourmet dishes.
We have covered many popular cafés and local specialties in Asakusa in MOSHI MOSHI NIPPON. Today, we will take a look at a sushi restaurant called Oniku no Osushi which opened recently where customers can eat sushi served with Japanese wagyu beef. It is the first big name restaurant from the Gion district of Kyoto to arrive in the country's Kanto region. Since opening its doors, it has been much-talked-about and has enjoyed the hustle and bustle of hungry customers.
The restaurant is about an 8-minute walk from Akasaka Station via the subway and just a 2-minute walk via Tsukuba Express. You'll know the restaurant when you see it as the outside of it incorporates a wooden design. Inside, too, wooden planks and pillars decorate the interior.
Matsusaka beef is a brand of beef in Japan made from the meat of Japanese Black cattle that are reared under strict conditions in Matsusaka, Mie. At Oniku no Osushi, customers are able to eat this beef in the form of sushi marbled and with a rare texture.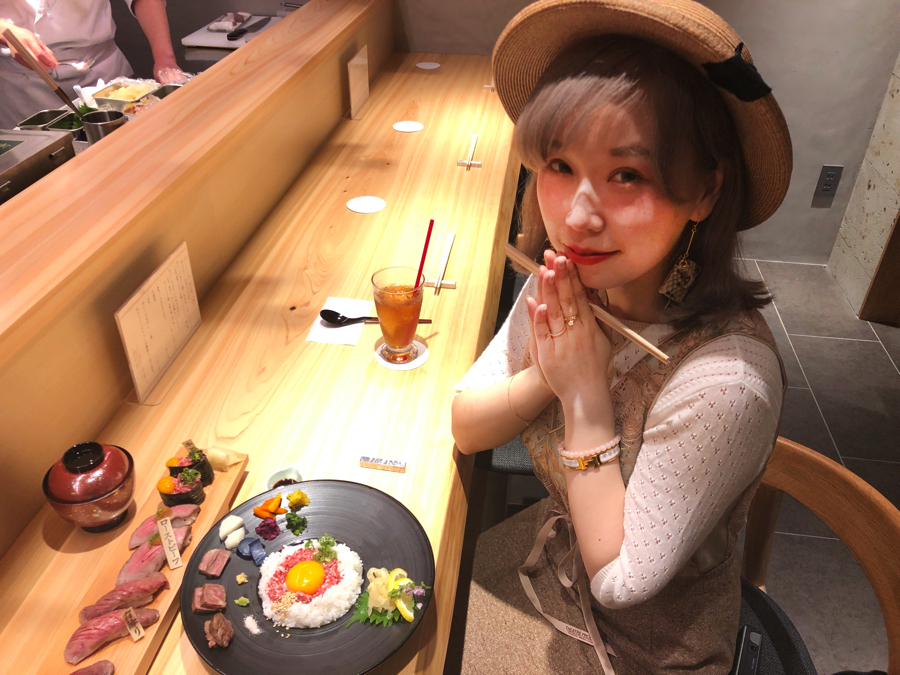 I dined together with Chinese model and talent Etsuna. She loves eating out but this was her first time eating rare meat on sushi. We ordered the restaurant's popular Oniku no Osushi platter and the Gyusen Don (served only at lunchtime).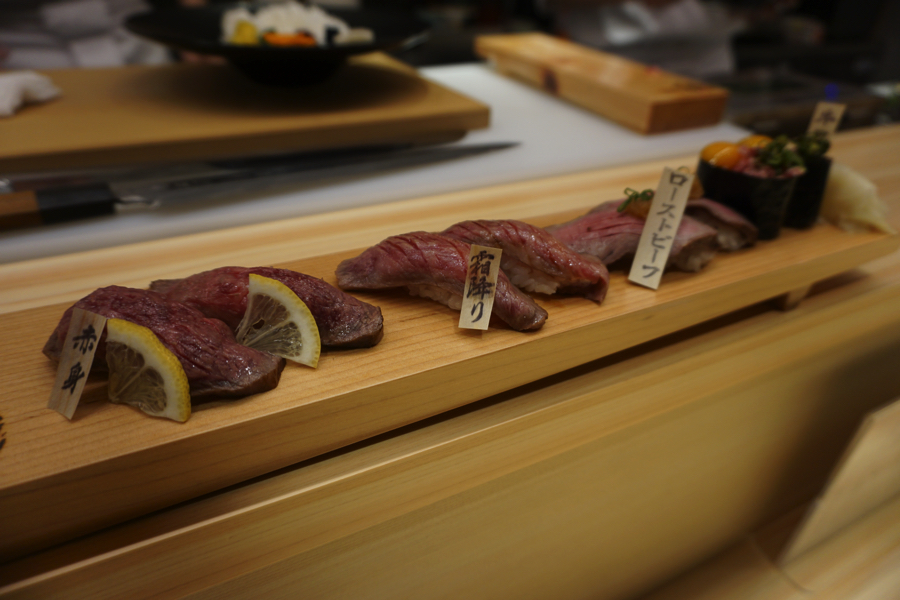 Oniku no Osushi Platter (8 Pieces): ¥5,000
The meat sushi platter comes with eight pieces including two pieces each of lean beef, salted beef, roast beef, and fatty gunkan beef. Excluding the gunkan beef it's recommended eating each piece from the left as pictured above. Everything is already flavoured so you can eat them as they are.
The gunkan beef is best enjoyed while it is still frozen so I started with that. The cold beef just melts as it enters you mouth. It tastes sweet and has a fatty texture to it. The egg yolk mixes together with the beef on your tongue and gives it an even smoother taste.
The meat of the lean beef, salted beef and roast beef sushi is soft and each is layered with refreshing grated lemon and daikon. When you bite into the succulent meat your taste buds are treated to the sweetness of the fat and the meats' rich flavours. I was able to taste the distinct qualities of each type.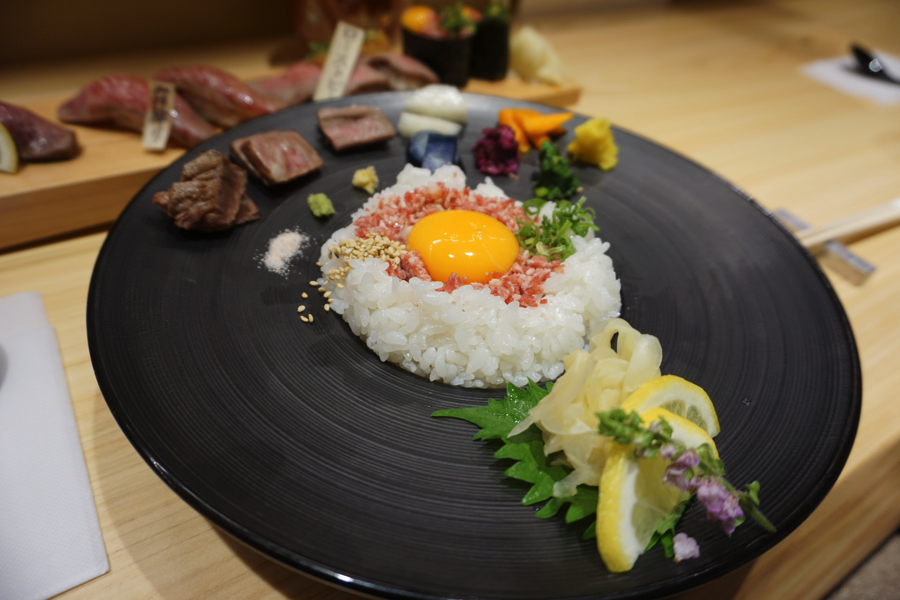 Gyusen Don (w/ Cold Miso Soup): ¥2,480
The Gyusen Don is served at lunchtime only. It contains Matsusaka Gyusen® flakes and Kyoto-style tsukemono pickled vegetables, condiments and bite-sized meat pieces. The presentation of the dish is beautiful! You add soy sauce to it and mix with the egg yolk, and it's simple irresistible! We made sure to snap a final photo before tucking in.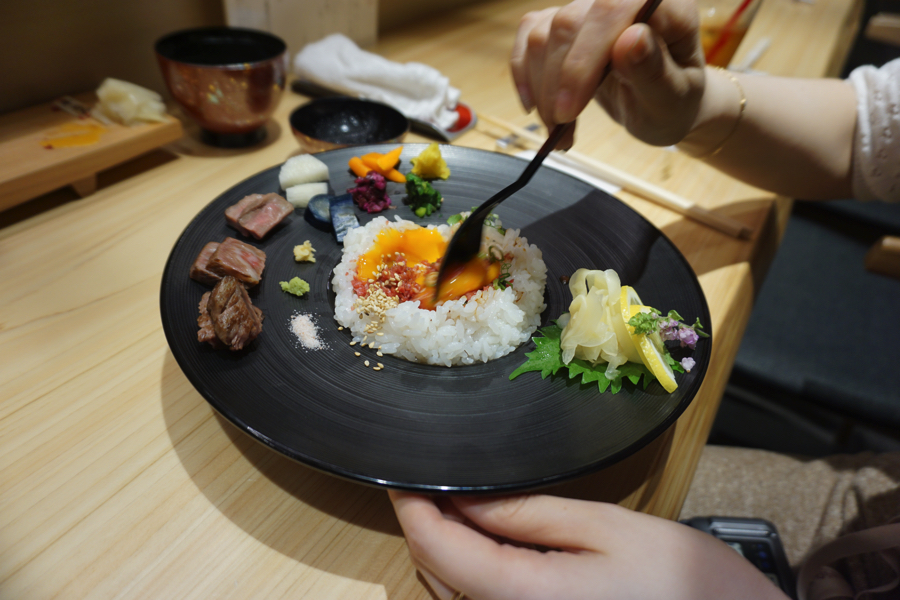 The beef of this dish melts in your mouth just like the gunkan beef and blends well with the egg yolk to create a velvety flavour. The dish also has condiments and pickled vegetables too adding to the variety of tastes. If you add wasabi or ginger the flavours are elevated even further, especially when eaten with the Kyoto-style pickled vegetables which creates a spicy tang.
The miso soup that the dish is served with is also Kyoto-style. Wheat starch and pickled vegetables are added to the sweet white broth to create a mellow flavour that goes well with the dish.
Etsuna gave high praise to the dish too: "It was so delicious. I think there are still a lot of foreigners that don't know about meat sushi yet, so I think it'll get popular soon. It's a bit pricey there are a lot of foreign travelers who want to eat tasty Japanese food, so I recommend it to them."
Asakusa is famous for its takeaway food to be eaten while walking, but Oniku no Sushi serves up an Asakusa-exclusive gourmet experience too.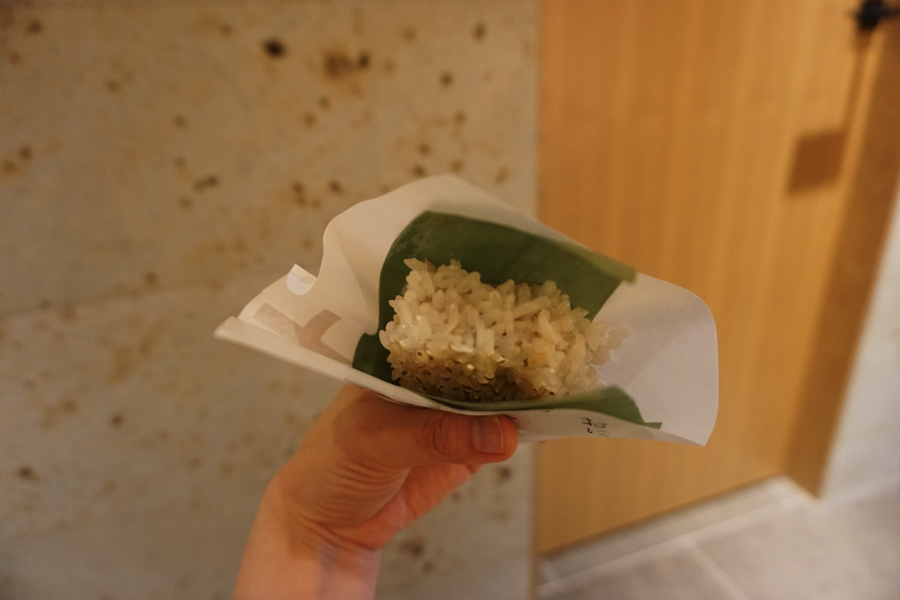 Steamed Rice & Meat: ¥500
If you're walking around Asakusa and are feeling peckish, then you should go for steamed rice and meat (おにくの飯蒸し). It's packed full of beefy flavour.
What did you think of this little Asakusa lunch trip? Of course, Oniku no Osushi has an evening slot for dinner too, so if you'd like to try some Matsusaka beef then be sure to pay a visit.
Writer: Sayuri Mizuno (MMN Editorial Department)
Model: 悦奈(Etsuna)
Information
Information
Oniku no Osushi (Asakusa Branch)
Address: 2-6-14 Asakusa, Taito, Tokyo
Business Hours: 11:30-15:00 / Dinner 18:00-21:00
Closed: Tuesdays
TEL: 03-5811-1939
Access: 7-minutes on foot from Sensō-ji's Kaminarimon Gate / 2-minutes on foot from Asakusa Station via Tsukuba Express