Mogu Mogu Nippon | Indulging in Oniku no Osushi's Matsusaka Beef Don in Asakusa
Asakusa is located in Tokyo and is home to many famous tourist and sightseeing spots such as Sensō-ji Temple and the Kaminarimon Gate. It's also a place lined with restaurants serving up an array of gourmet dishes.
We have covered many popular cafés and local specialties in Asakusa in MOSHI MOSHI NIPPON. Today, we will take a look at a sushi restaurant called Oniku no Osushi which opened recently where customers can eat sushi served with Japanese wagyu beef. It is the first big name restaurant from the Gion district of Kyoto to arrive in the country's Kanto region. Since opening its doors, it has been much-talked-about and has enjoyed the hustle and bustle of hungry customers.
The restaurant is about an 8-minute walk from Akasaka Station via the subway and just a 2-minute walk via Tsukuba Express. You'll know the restaurant when you see it as the outside of it incorporates a wooden design. Inside, too, wooden planks and pillars decorate the interior.
Matsusaka beef is a brand of beef in Japan made from the meat of Japanese Black cattle that are reared under strict conditions in Matsusaka, Mie. At Oniku no Osushi, customers are able to eat this beef in the form of sushi marbled and with a rare texture.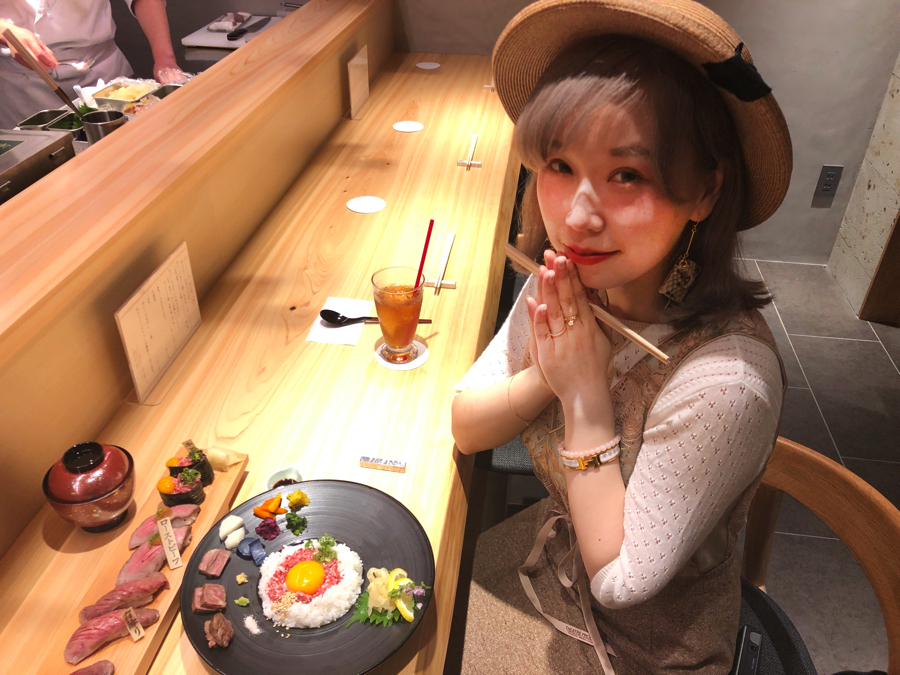 I dined together with Chinese model and talent Etsuna. She loves eating out but this was her first time eating rare meat on sushi. We ordered the restaurant's popular Oniku no Osushi platter and the Gyusen Don (served only at lunchtime).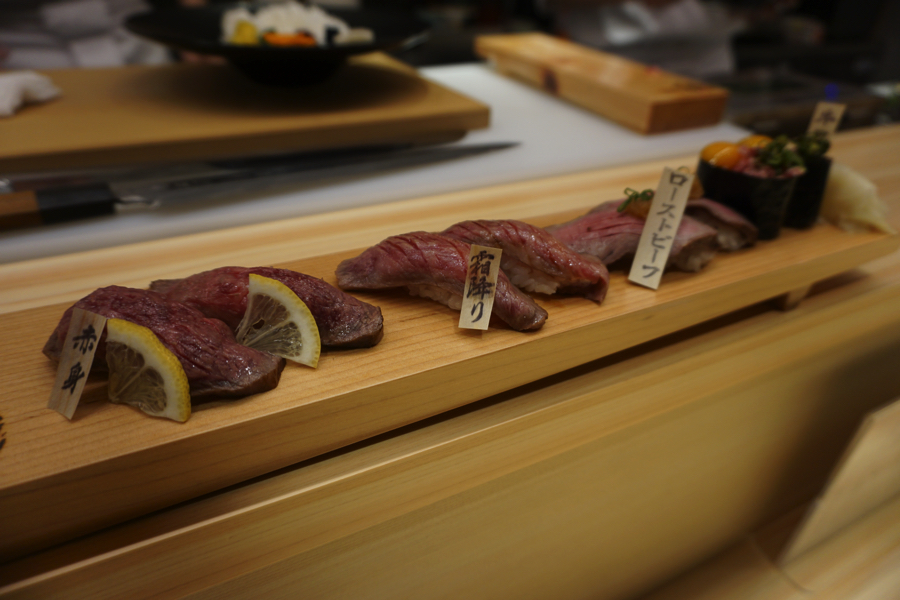 Oniku no Osushi Platter (8 Pieces): ¥5,000
The meat sushi platter comes with eight pieces including two pieces each of lean beef, salted beef, roast beef, and fatty gunkan beef. Excluding the gunkan beef it's recommended eating each piece from the left as pictured above. Everything is already flavoured so you can eat them as they are.
The gunkan beef is best enjoyed while it is still frozen so I started with that. The cold beef just melts as it enters you mouth. It tastes sweet and has a fatty texture to it. The egg yolk mixes together with the beef on your tongue and gives it an even smoother taste.
The meat of the lean beef, salted beef and roast beef sushi is soft and each is layered with refreshing grated lemon and daikon. When you bite into the succulent meat your taste buds are treated to the sweetness of the fat and the meats' rich flavours. I was able to taste the distinct qualities of each type.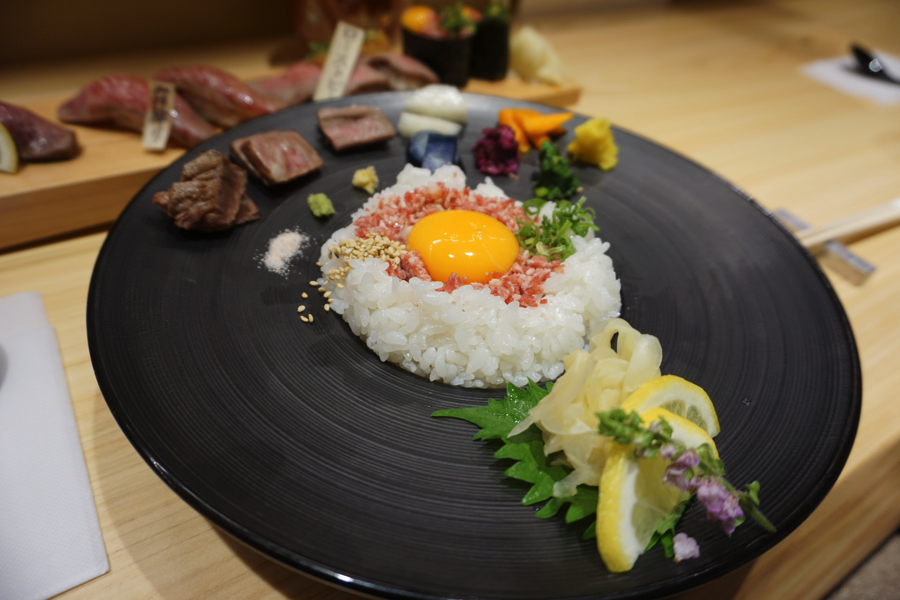 Gyusen Don (w/ Cold Miso Soup): ¥2,480
The Gyusen Don is served at lunchtime only. It contains Matsusaka Gyusen® flakes and Kyoto-style tsukemono pickled vegetables, condiments and bite-sized meat pieces. The presentation of the dish is beautiful! You add soy sauce to it and mix with the egg yolk, and it's simple irresistible! We made sure to snap a final photo before tucking in.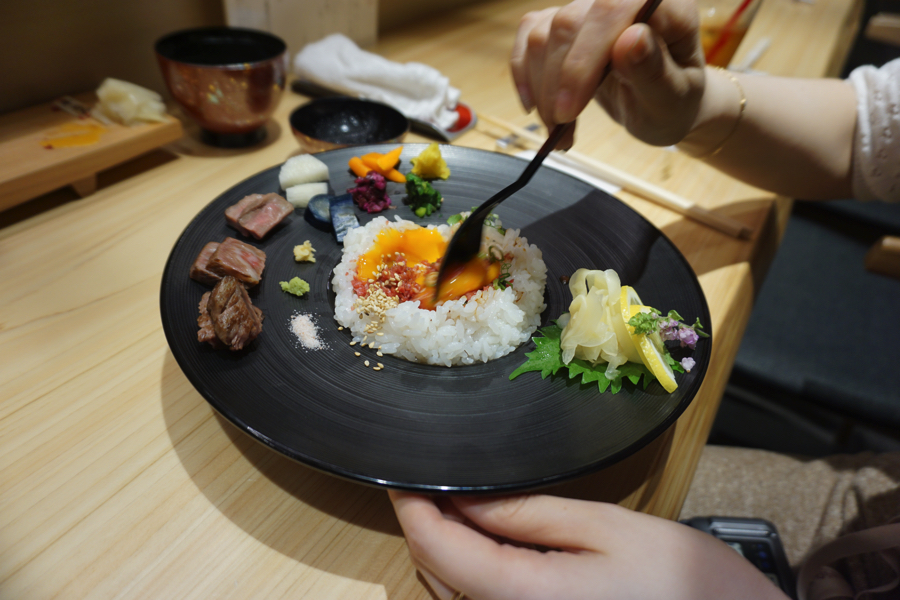 The beef of this dish melts in your mouth just like the gunkan beef and blends well with the egg yolk to create a velvety flavour. The dish also has condiments and pickled vegetables too adding to the variety of tastes. If you add wasabi or ginger the flavours are elevated even further, especially when eaten with the Kyoto-style pickled vegetables which creates a spicy tang.
The miso soup that the dish is served with is also Kyoto-style. Wheat starch and pickled vegetables are added to the sweet white broth to create a mellow flavour that goes well with the dish.
Etsuna gave high praise to the dish too: "It was so delicious. I think there are still a lot of foreigners that don't know about meat sushi yet, so I think it'll get popular soon. It's a bit pricey there are a lot of foreign travelers who want to eat tasty Japanese food, so I recommend it to them."
Asakusa is famous for its takeaway food to be eaten while walking, but Oniku no Sushi serves up an Asakusa-exclusive gourmet experience too.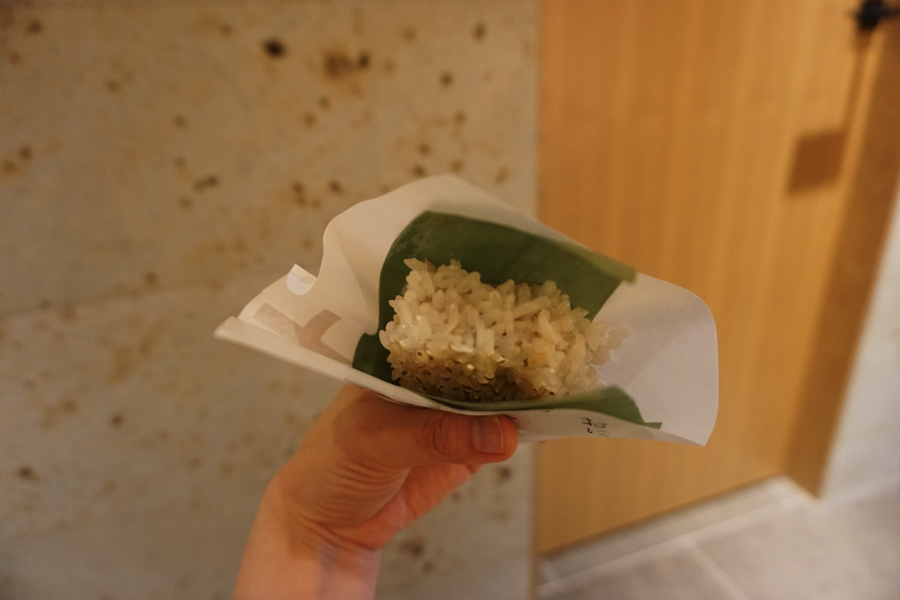 Steamed Rice & Meat: ¥500
If you're walking around Asakusa and are feeling peckish, then you should go for steamed rice and meat (おにくの飯蒸し). It's packed full of beefy flavour.
What did you think of this little Asakusa lunch trip? Of course, Oniku no Osushi has an evening slot for dinner too, so if you'd like to try some Matsusaka beef then be sure to pay a visit.
Writer: Sayuri Mizuno (MMN Editorial Department)
Model: 悦奈(Etsuna)
Information
Information
Oniku no Osushi (Asakusa Branch)
Address: 2-6-14 Asakusa, Taito, Tokyo
Business Hours: 11:30-15:00 / Dinner 18:00-21:00
Closed: Tuesdays
TEL: 03-5811-1939
Access: 7-minutes on foot from Sensō-ji's Kaminarimon Gate / 2-minutes on foot from Asakusa Station via Tsukuba Express
RECOMMENDED ENTRIES
Asakusa Bubble Tea Shop BOBA365 Reveals New Matcha Latte & Dorayaki

BOBA365, a bubble tea shop which just opened in Asakusa in November last year, has announced it is releasing a new drink and dessert on March 1, 2019.

Yaki Brûlée Matcha Latte – Regular Size ¥700 (Tax Included)

The new Yaki Brûlée Matcha Latte is an upgrade of BOBA365's most popular beverage, the Tapioca Matcha Latte Kiwami. It's a combination of bitter matcha from Shizuoka Prefecture and milk. It has just the right amount of sweetness to create an even deeper flavour than the store's original matcha latte. Matcha is said to be good for health and beauty, and so to make it even more delicious, BOBA365 has burnt the top of the drink like a crème brûlée. There are five layers of flavour to indulge in with just one sip.

Thick Dorayaki Matcha Kiwami: ¥480 (Tax Included)

The original Tapioca Matcha Latte Kiwami has also be turned into a delicious dorayaki dessert packed with a generous serving of cream laced with matcha from Shizuoka Prefecture.

BOBA365 has announced it will release more new items in the near future, but for now enjoy the Yaki Brûlée Matcha Latte and Thick Dorayaki Matcha Kiwami.

Information

BOBA365

Address: 2-5-9 Asakusa, Taito Ward, Tokyo

Business Hours: 11:00-21:00

No Fixed Holidays.

Access: 3-minutes on foot from Asakusa Station via TSUKUBA EXPRESS / 10-minutes on foot from Asakusa Station via all other lines

BOBA365 Official Website: https://peraichi.com/landing_pages/view/boba365

TV Anime 'Sarazanmai' to be Set in Asakusa, New Story Details Revealed

Sarazanmai is an upcoming TV anime series set to begin airing in April 2019. The series director Kunihiko Ikuhara appeared alongside Junichi Suwabe who voices Keppi at Animate Girls Festival 2018 which was held on November 10 and 11 where he unveiled details surrounding the story and setting.

Kunihiko Ikuhara has wanted to create stories since he was a child. Today, he is a creative artist and anime director who has directed hit anime series such as Revolutionary Girl Utena (1997) and Mawaru Penguindrum (2011).

During his talk, Ikuhara spoke about how he wanted to create a story on the legend of the kappa, a yokai of Japanese folklore that has webbed hands and feet and a shell on its back similar to a turtle. As he explained this, he also dropped that the story will be set in Asakusa, Tokyo. "[Asakusa is] next to the Sumida River. I wanted these young boys' story to be in a place where one can feel life," he commented.

The theme of the story is "connecting." We live in a world where we can connect to anyone at any time with a mobile phone, but there's a lack of actually wanting to connect. "If we carry on connecting in this way, where would we end up? If we lose sight of connecting [with others], would it really become like that? Is connecting a necessity or not? These are things I wanted to explore," explained the director.

A radio show titled Purezanmai based on the anime series was also announced to begun airing in January 2019.

Two important characters in the series, the police duo Reo Niiboshi voiced by Mamoru Miyano and Mabu Akutsu voiced by Yoshimasa Hosoya, also have their own Twitter account which they will be posting on frequently until March 31, 2019.

Comment: Junichi Suwabe (Voices "Keppi")

"This anime is an original series so there's a lot I can't talk about, but what I can say is that since it begins in April 2019 it will straddle the new era*. The old era will go and a new one will come. Even though it will be very new for the new era, I think it will be a wonderful and nostalgic series. I hope people look forward to it."

*Translator's Note: He is talking about the end of the Japanese Heisei Period which is set to end while the anime is airing.

Comment: Kunihiko Ikuhara (Director)

"Even now the staff are working diligently on the series. I hope to connect with everyone during this time where it's hard to know what it means to connect and where we would end up if we did. Please look forward to Sarazanmai!"

Information

TV Anime "Sarazanmai"

Initial Broadcast: April 2019

Official Website: http://sarazanmai.com

Radio Show "Purezanman"

Hosts: Kunihiko Ikuhara (Director), Junichi Suwabe (voice of Keppi)

Channel: A&G+

Time/Date: Every Saturday at 21:00 (JST) on A&G TRIBAL RADIO AGSON

Reo & Mabu Twitter
Running: Until March 31, 2019

Matcha Café Yanagi Chaya to Open Near Sensoji Temple in Asakusa

Shin Nakamise Shopping Street in Asakusa runs perpendicular to Nakamise Shopping Street, and it's there that the new Japanese tea café Yanagi Chaya will open on July 6, 2018.

Asakusa is one of Japan's most famous tourist destinations and is packed with tourists from both inside and outside of Japan every single day. Yanagi Chaya will open nearby Sensoji Temple which is a significant sightseeing spot for tourists, hailing as the oldest temple in Tokyo. The café's ideal location means that those strolling around Asakusa can pop in for drinks and desserts.

The shop is positioned so it takes in a lot of light, so it's nice and bright. It's also spacious, giving it a welcoming vibe. Its simple wooden décor lets one feel at one with the warmth of nature while also being surrounded by that Japanese omotenashi, or 'hospitable' atmosphere.

Uji Matcha Tiramisu – ¥600

Uji Matcha Rice Flour Dumplings – ¥790

The menu is packed full of matcha items. You could tuck into a boxed Uji matcha tiramisu which MACCHA HOUSE, another shop, is famous for and was even featured on news media. Or you could chew on some Uji matcha rice flour dumplings which are all individually handmade instore and made white syrup and a matcha paste created on site that mixes together strained bean paste and matcha. There's plenty more on the menu too where that came from.

Both the tiramisu and dumplings are something you'll want a photo of. There's also an original takeout matcha drink you can sip on which is made from a matcha called Tomo no Mori by Mori no Han who've been around since 1836. It's served in Yanagi Chaya's own bottles so you can take it around Asakusa with you as you explore the sites.

Yanagi Chaya should be put on your list of places to visit in Asakusa. Enjoy yourself some delicious matcha sweets.

■Information

Yanagi Chaya

Address: Hashimoto Bldg. 1F, 1-30-6 Asakusa, Taito, Tokyo

Opening: July 6, 2018

Opening Hours: 10am-6pm (Last Orders 5pm)

No Fixed Holidays.

TEL: 03-5830-8317

FAX: 03-5830-8318

*All prices listed are pre-tax.
RELATED ENTRIES
Eat All the Sushi You Can in the VR Game No Sushi, No Life Available On Steam

DMM VR lab released a new 3D VR game last week on Steam and DMM.com titled No Sushi, No Life.

The game is set in the year 20XX in a sushi bar in Neo Tokyo City. The aim of the virtual reality game is simple: to eat as much sushi as you can. Players must grab all the sushi coming their way and wolf it down. Their reflexes are tested as more sushi plates speed toward them on the conveyor belt. If a plate of sushi falls to the floor, it's game over. As players eat more sushi the conveyor belt will run faster and faster. Can you survive the culinary onslaught?

Taste Authentic Japanese Matcha at Asakusa's New Matcha Specialist Shop Kaminari Issa

Asakusa welcomed the newest and third branch of matcha dessert specialist shop Kaminari Issa on October 2, 2020, which opened its doors along Dempoin Street. The shop is just a 3-minute walk from Asakusa Station and 2-minutes from Kaminarimon.

Signature delights on Kaminari Issa's menu include the Okoicha Warabi Latte and Okoicha Gelato. Everything on the menu is made with rich, high quality matcha, from the matcha tea lattes to the matcha beer, parfaits, ice cream, dacquoise, and more. If you love matcha, and you're in Tokyo, this place is a must-visit.


There are plenty of items to get your hands on in this newest store, which also has its own eat-in space, tea leaf display, and more.

They even sell kits so you can make your own Okoicha Warabi Latte and Wakocha Brown Sugar Warabi Latte at home.

Information

Kaminari Issa Dempoin-dori
Address: 2-2-2 Asakusa, Taito-ku, Tokyo
Opening Hours: 10:00-18:00 (until 17:00 on Mondays)
TEL: 03-5830-6948
Access: 3-minutes on foot from Asakusa Station
Official Website: https://www.kaminari-issa.com/

Japan's Hello Kitty Themed Hotel Rooms Open at Asakusa Tobu Hotel in Tokyo

Tobu Hotel Management are set to welcome Tokyo's only hotel rooms based around Sanrio's popular character Hello Kitty at Asakusa Tobu Hotel when the hotel official opens for business on October 8, 2020.

There are two different room types, of which there are three rooms for each for a total of 6 rooms: "Cherry Blossom Maiden" and "Japanese Modern," both centred around Hello Kitty.

The Cherry Blossom Maiden room brings together Japanese cherry blossoms with Hello Kitty dressed as a cute maiden. Decorated in pastel pink, this room is all things kawaii, and even comes with a raised flooring area to add to that Japanese vibe.

On the other side of the kawaii coin is the Japanese Modern room. The design here combines Asakusa-style colours with traditional Japanese elements, resulting in a stylish interior.

Reservations for the Hello Kitty Rooms open on August 24 at 10:00 (JST) via the hotel's official website. If you're staying in Japan anytime after October 8, make sure to book your room ASAP!

Information

Hello Kitty Rooms
Official Website Reservations: August 24, 2020 @ 10:00am (JST)
Telephone Reservations: August 31, 2020 @ 10:00am (JST)

*Other guest rooms already available for bookings
Official Website: https://www.tobuhotel.co.jp/asakusa/
TEL: 03-5809-7320 (Weekdays 10:00-18:00)

Asakusa Tobu Hotel
Address: 1-1-15 Asakusa, Taito-ku, Tokyo
Grand Opening: October 8, 2020

Access

30 seconds on foot from Asakusa Station via the Tobu Skytree Line side

1 minute on foot from Asakusa Station via the Tokyo Metro Ginza Line side
3 minutes on foot from Asakusa Station via the Toei Asakusa Line side
1 minute on foot from Kaminarimon

Chawanmushi Recipe: Savoury Dessert Made With Carrots, Cream Cheese & Mirin

Together with soy sauce and miso, mirin is a fundamental condiment in the Japanese kitchen and for many recipes for Japanese food. It's a sweet rice wine that has lower alcohol content and higher sugar content when compared to sake, adding a sweet flavour to dishes.

Today, we're taking a look at a recipe that uses "Mikawa Mirin," a brand of mirin made from high quality rice, to make carrot and cream cheese chawanmushi. Chawanmushi is a savoury egg custard dessert eaten in Japan.

Carrot & Cream Cheese Chawanmushi

Chawanmushi is made using mirin and has a smooth texture to it as well as a subtly sweet flavour. It's the perfect accompaniment to a hot summer's day.

Ingredients (Serves 1)


●Chawanmushi
60g carrots
240ml dashi
20ml soy sauce
120ml Mikawa Mirin
8g sugar
18g cream cheese
1 egg

●Okra-an
Okra
30ml dashi
0.5g salt
3ml Mikawa Mirin

Method

We will start by making the chawanmushi.

1. Slice the carrots and boil them until they become soft.

2. Add the soy sauce, sugar, and lots of mirin and cook through the dashi.

3. Cook for approximately 20 minutes on a medium heat, then cool with ice. Add the cooled carrots, cream cheese, and 20ml of the dashi into a blender and bend.

4. Add the egg to the mix and steam the mix for 12 minutes on a medium heat.

While the chawanmushi is cooling, we'll make the okra-an.

5. Mix together the okra-an dashi, mirin, and salt together. Add watered potato starch and thinly sliced okra. Leave to cool in the refrigerator.

6. Add the okra-an to the cooled chawanmushi and tuck into your cute two-layered dessert.

Carrot & Cream Cheese Chawanmushi

The dessert is an enjoyable mix of the sticky texture from the okra-an and smooth chawanmushi. It's great to have not only at lunch or dinner, but at home parties with friends too.

–How's the taste?


Misa Kimura: "It works really well with the mirin. The chawanmushi is like a sweet treat. It's super easy to make too, so I think I'll be making it at home!"

Mirin is indispensable to any Japanese cupboard and can be used in many ways, whether it be a classic Japanese dish or a dessert like this one.

Mikawa Mirin 700ml: ¥1,122 (Tax Included)

This authentic brand of mirin is made using a traditional method of Japanese brewing which blends in the delicious taste of rice. It's so delicious that you just want to drink the whole bottle. A high quality mirin, it has a distinct sweetness, colour, and texture. It has a rich flavour, and the taste of the rice elevates the flavours of its ingredients.

Mikawa Mirin Official Website: http://www.mikawamirin.jp/
Official Online Store: http://mikawamirin.jp/product/product_step1.php?m=n
Official Facebook: https://www.facebook.com/mikawamirin

Recipe


This recipe was conceived by ITEMAE, a famous restaurant serving Japanese cuisine that is listed in the Michelin Guide.

Model: Misa Kimura
Photographer: Haruka Yamamoto

Information

ITEMAE
Address: 10-14 Kamiyamachō, Shibuya, Tokyo
Opening Hours: Lunch 11:30-15:00 (Weekdays Only) / Dinner 18:00-23:30
Closed: Sundays / New Year's Holiday
TEL: 050-5595-4795

Inari Sushi Restaurant Tsurigitsune to Open in Osaka International Airport's North Terminal

Japanese food and confectionery company Bijuu is opening a new restaurant called Tsurigitsune inside Osaka International Airport's North Terminal on August 5, 2020. The restaurant will specialise in inari sushi, a type of sushi packed into pouches of deep-fried tofu.

Bijuu is known for producing and selling such products as Kyoto's famous coarse sweet red bean paste-filled yatsuhashi otabe crackers.

Tsurigitsune will serve "Kyo Dashi Oinari," a type of inari sushi made with fried tofu Saga Tofu Morioka—a long-standing tofu shop in Sagano, Kyoto—soaked in lots of sumptuous Kyoto-style dashi. The restaurant will also serve a special type of sweet otabe cracker which cannot be eaten anywhere else.


Kyo Dashi Oinari (Includes 15) | ¥3,240 (Tax Included)

The dashi that the Kyo Dashi Oinari are soaked in take up all the delicious flavour of kombu, sababushi smoked mackerel, iwashibushi pilchard, and katsuobushi dried bonito, all of which serve to add that authentic Kyoto flavour.


Tanto Otabeyasu | ¥930 (Tax Included) *Served 6:30-10:00

As well as Kyo Dashi Oinari, Tsurigitsune's menu includes a line-up of dishes that celebrate the flavour of dashi, including soba, dashimaki tamago omelette, and more.

If you're travelling to Osaka, why not get an authentic Kyoto experience too by dining at Tsurigitsune?

Information

Tsurigitsune
Grand Opening: August 5, 2020
Address: Osaka International Airport North Terminal 2F Boarding Area, 3-555 Hotarugaike NishimachiToyonaka, Osaka
Opening Hours: 6:30-20:20 (Last Orders 19:50)
TEL: 06-6836-9217

Official Website: http://www.bijuu.co.jp/tsurigitsune/

Flower Miffy Juice Garden Asakusa Now Open and Serving Adorable Drinks

The new "Flower Miffy Juice Garden" opened as a permanent addition to Flower Miffy Asakusa on July 21, 2020. Flower Miffy is a Miffy-themed flower and merchandise shop.

Colourful Jelly Soda – Gerbera/Tulip/Sunflower/Lavender: ¥580 Each (Before Tax)

Four new Miffy drinks are being served for the opening of Flower Miffy Juice Garden. Each is a soda beverage is filled with colourful jelly, elderflower syrup made from real flowers, and a soft, bouncy kind of jelly. Each drink itself looks like a colourful bouquet.

Miffy Cream Soda: ¥680 (Before Tax)

Flower Miffy Juice Garden will also introduce the "Miffy Cream Soda" on Saturday August 1 which is a colourful jelly soda topped with ice cream, a Miffy wafer, and flower-shaped chocolate.

Lemonade: ¥480 (Before Tax)


Apple Juice: ¥480 (Before Tax)

Other available drinks include sweet and sour lemonade made using lemons grown in the Seto Inland Sea, 100% apple juice, and other cute delights.

Information

Flower Miffy Juice Garden Asakusa
Address: Aiso Bldg. 1F, 2-19-7 Kaminarimon, Taito-ku, TOkyo

Opening Hours: [Weekdays] 11:30-18:00 / [Weekends & Holidays] 10:30-18:00

Official Website: https://www.benelic-flower.com/
*Please note that the opening hours of Flower Miffy Asakusa and Juice Garden Asakusa are different

Japan's New Eel Burger is Made in Collaboration With the Theatrical Entertainment Sushi Bar Teruzushi

Matsuya Foods, Gastroduce Japan, and Teruzushi have all joined hands to cook up the new "Eel Burger" which will be sold exclusively in Japan via Matsuya Food Court on Rakuten and Matsuya PayPay Mall starting from 8:00pm (JST) on July 4, 2020.

Like all countries around the world, Japan's food industry is suffering at the hands of the COVID-19 pandemic, with less customers dining in restaurants and eateries. That's where Matsuya Foods comes in, which has launched an effort to collaborate with fellow restaurants to release exquisite dishes online. That begins with the "Eel Burger," the first of many foods to come.

Teruzushi is a sushi bar famous for its "theatrical entertainment" style of sushi serving which has earned it the spotlight in the news and on social media in Japan. They serve high-grade sushi which can have the average person easily spending over ¥30,000 during their visit.

The restaurant, located in Fukuoka, is also famous for its "Unagi Burger," which uses 220g of eel that is prepared in the kabayaki-style and wrapped around sushi rice. That itself is then wrapped in high quality domestic seaweed, resulting in a unique burger-style of sushi. The Eel Burger is an amalgamation of flavours and textures, with the crunchy seaweed complementing the soft eel.

KAIKA TOKYO by THE SHARE HOTELS: Asakusa's New Artist Lounge and Hotel Fusion

KAIKA TOKYO by THE SHARE HOTELS is set to open on July 15, 2020 as the 8th branch of THE SHARE HOTELS, a chain of renovated hotels which aim to find and share new beauty of the local area.

KAIKA TOKYO is renovated from a 7-floor 1966 warehouse building and is comprised of an artist lounge and a hotel. It aims to become a new hub for contemporary art in Japan.

The name "KAIKA" is derived from several Japanese words, all of which are read as kaika: "開架" which means open-access i.e. giving open access to the warehouse, "開化" which means enlightenment i.e. to spread and make known Japan's art culture, and "開花" which means blossom, i.e. to bring out the talent of future artists.

Sumida is a city popular amongst local and foreign tourists for its many art and cultural facilities. It is a promoter of art and culture in many ways, and KAIKA Tokyo aims to be a part of that process. One way in which it will do this will be with the new "KAIKA TOKYO AWARD." The judge for awarding the prize is Yūji Akimoto—the director of and lecturer at Tokyo University of the Arts—and Japanese artist Noritaka Tatehana. The prize itself will be having your art piece displayed inside KAIKA TOKYO. To commemorate the grand opening, an exhibition by Noritaka Tatehana himself entitled FORM AND COLOR will be displayed until August 16, 2020.

The downstairs lounge which is accessible to guests will include the art storage area as well as the KAIKA TOKYO AWARD winning pieces. There are also appliances and amenities for guests to freely use too, like kettles, microwaves, plates, cutlery, washing machine, and a vending machine.

Rooms have a relaxed vibe to them thanks to the colours and materials used. There are 73 rooms in total split across 10 different types which can cater to 2, 4, and even 6 people.

The 1st floor bar lounge is open to non-guests during the evenings where they sell Japanese tea cocktails, coffee, Japanese finger food, and more. The coffee served uses single-origin beans from a local cafe in Sumida, Tokyo. The bar is open 19:00 to midnight, with last orders ringing in at 23:30.

Information

KAIKA Tokyo by THE SHARE HOTELS
Grand Opening: July 15, 2020
Address: 2-16-5 Honjo Sumida Ward, Tokyo
Access: 8-minutes on foot from Asakusa Station / 9-minutes on foot from Honjo-Azumabashi Station / 9-minutes on foot from Kuramae Station

Official Website: https://www.thesharehotels.com/kaika/

Stock Your Kitchen With Japanese Kitchenware Tools by SALON adam et rope'

SALON adam et rope' has launched its new "Nihon no Daidokoro Dougu" (Japanese Kitchen Tools) collection which features a curated selection of Made In Japan kitchenware and cookware items from high quality Japanese brands.

Kasane

Top: ¥12,000 / Middle: ¥12,000 / Bottom: ¥9,000 (Before Tax)

Traditionally, Japanese knives were made by men with men in mind, but these Kasane knives are made by women to fit with the modern age. They are made in such a way to feel comfortable in smaller hands. The handles are made from rare natural wood from the cerasus jamasakura trees of Gifu Prefecture which give them a texture that changes as you continue to use the knives. The blades themselves are made from high-carbon stainless steel which gives them superior sharpness and durability. The blade edge is the result of a new technology developed by Sumikama called "Zero Edge" which makes them thin and sharp.

Kaji Donya

 
Left: ¥1,300 / Middle: ¥2,000 / Right: ¥2,800 (Before Tax)

Left: ¥1,000 / Middle: ¥1,200 / Right: ¥2,000 (Before Tax)

These handy stackable containers are made by Kaji Donya, a company based in Tsubame, Niigata. The height of each one is the same which makes them super convenient when stacking inside fridges.

Ceramic Grill: ¥1,400 (Before Tax)

The ceramic grill is a longtime seller at SALON. If you're grilling bread on it, it leaves the outside crispy and the inside nice and soft. It uses far-infrared rays which means the water content of the ingredients grilled on it is not lost, allowing for the full tasty flavour to stay locked in and the food plump and juicy.

Father's Day: Otokomae Tofu Celebrates Dad's Around the World With New Tofu Product

Japanese tofu company Otokomae Tofu is celebrating Father's Day this year by releasing its new "Chichi no Hi Tofu" (Father's Day Tofu) at supermarkets around Japan for a limited time between June 15 and June 21.

When you pour soy sauce over the Father's Day Tofu, a message of gratitude appears on the tofu's surface in Japanese. This is a unique, one-of-a-kind tofu experience. There are four messages in total which translate to: "Manly," "Thanks always, dad. I love you, live a long life," "You work so hard papa, I love you," and "Dad."

Giving your dad some Father's Day Tofu is sure to make for a Father's Day to remember!

Information

Chichi no Hi Tofu (Father's Day Tofu)

Running: June 15, 2020 – June 21, 2020

Price: ¥158 (Before Tax)

Available: Supermarkets in Japan (Except Hokkaido and Okinawa)

Otokomae Tofu Official Website: http://otokomae.com

McDonald's Japan: Chicken Tatsuta Mentai Cheese & Other Japanese Flavoured Foods Coming to the Menu

McDonald's Japan is introducing some mouth-watering new foods to its menu including two which incorporates chicken tatsuta: the "Chicken Tatsuta Mentai Cheese" which is made with walleye pollack roe, and the bite-sized "Hitokuchi Tatsuta"ーthe latter of which is arriving to the side menu.

It is also introducing the "Rice Chicken Tatsuta" burger following the success of the "Rice Burger" which was released at stores for the first time earlier back in February of this year.


These new menu items will be released on May 13, 2020 at all McDonald's branches in Japan for a limited time.

Chicken Tatsuta Mentai Cheese

Chicken tatsuta is a popular Japanese dish which combines a soft, soy ginger-soaked chicken patty with spicy sauce and stuffs it inside a bun. McDonald's new "Chicken Tatsuta Mentai Cheese" adds spicy walleye pollack roe mayo and smooth white cheddar cheese to the equation. It will be available all day round, including for the morning menu.

Hitokuchi Tatsuta

Rice Chicken Tatsuta

The "Rice Chicken Burger" will be available in the evenings only.

Japanese actor Toshiyuki Nishida is appearing in the TV commercials to promote the "Hitokuchi Tatsuta" while comedian Nobuyuki Hanawa and actor Katsumi Takahashi appear in the "Rice Chicken Tatsuta" commercials which feature a re-recording of the song SWEET MEMORIES ~Amai Kioku~ by Seiko Matsuda.

Tokyo's New Sake Ice Cream Shop Launches Crowdfunding Campaign to Ship Ice Cream Around Japan

SAKEICE is an ice cream shop that offers a new kind of ice cream experience, combining Japanese sake and alcohol together with the frozen treat. The shop opened in Akusaka, Tokyo in March this year.

However, due to the outbreak of the COVID-19 pandemic, the store has had to close temporarily. SAKEICE wants to cheer people up during these turbulent times with their ice cream, and has therefore announced the launch of a crowdfunding campaign so they can set up a website where people can order ice cream in Japan and have it delivered to them.

I tried out their ice cream

Otokoyama / Nihonshu Ice

SAKEICE's ice cream is laced with lots of Japanese alcohol. I tried the Otokoyama and the Nihonshu Ice, the latter of which is an original ice cream flavour exclusive to SAKEICE. They both contains around 4% alcohol. I were curious exactly how they would taste.

I started with the Nihonshu Ice. The moment the ice cream hits your tongue, your taste buds are met with its smooth texture, and your nose is filled with the full bodied flavour of nihonshu. The velvety texture on your tongue as it melts is to die for. The Otokoyama has a refreshing kick to it when compared to the Nihonshu Ice. It's creamy, but the aftertaste is refreshing, so we recommend it for people who aren't a fan of sweet treats. Both are sure to leave you feeling satisfied, and maybe a little flushed afterwards.

These ice creams contain alcohol, so keep that in mind when coming here with minors, kids, pregnant women, or if you're driving.

 

They have non-alcoholic flavours too!

Matcha / Cherry Blossom

Of course, they have non-alcoholic options too. I tried out the matcha and cherry blossom flavours.

The matcha one has an irresistible bitterness layered inside the sweetness. You get that real rich matcha taste too. The cherry blossom ice cream is a cute light pink colour and has a subtle sweetness to it. If you don't like alcohol then you'll definitely want to try one of delights.