Mogu Mogu Nippon | Indulging in Oniku no Osushi's Matsusaka Beef Don in Asakusa
Asakusa is located in Tokyo and is home to many famous tourist and sightseeing spots such as Sensō-ji Temple and the Kaminarimon Gate. It's also a place lined with restaurants serving up an array of gourmet dishes.
We have covered many popular cafés and local specialties in Asakusa in MOSHI MOSHI NIPPON. Today, we will take a look at a sushi restaurant called Oniku no Osushi which opened recently where customers can eat sushi served with Japanese wagyu beef. It is the first big name restaurant from the Gion district of Kyoto to arrive in the country's Kanto region. Since opening its doors, it has been much-talked-about and has enjoyed the hustle and bustle of hungry customers.
The restaurant is about an 8-minute walk from Akasaka Station via the subway and just a 2-minute walk via Tsukuba Express. You'll know the restaurant when you see it as the outside of it incorporates a wooden design. Inside, too, wooden planks and pillars decorate the interior.
Matsusaka beef is a brand of beef in Japan made from the meat of Japanese Black cattle that are reared under strict conditions in Matsusaka, Mie. At Oniku no Osushi, customers are able to eat this beef in the form of sushi marbled and with a rare texture.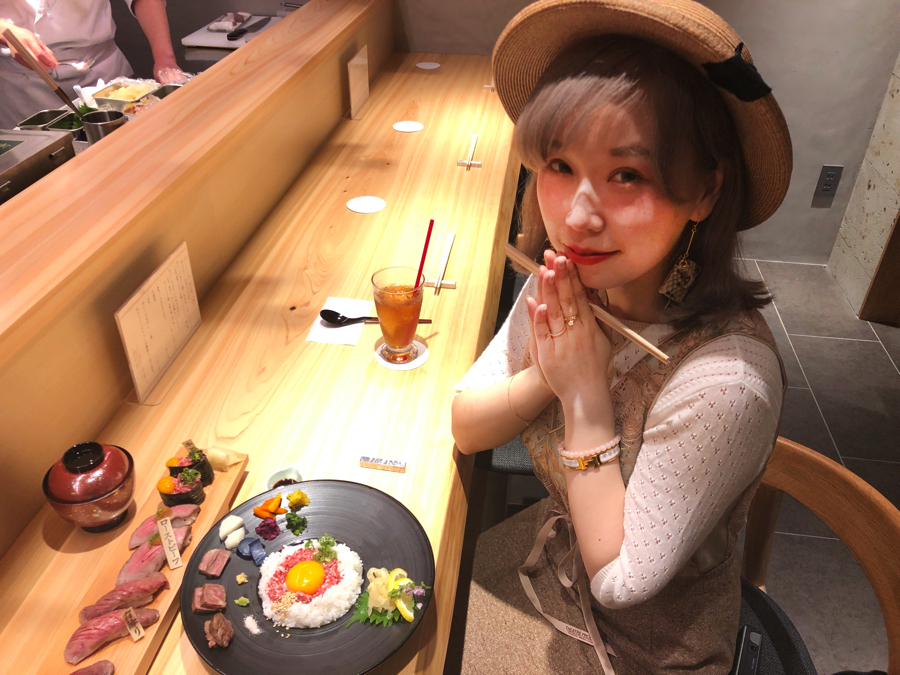 I dined together with Chinese model and talent Etsuna. She loves eating out but this was her first time eating rare meat on sushi. We ordered the restaurant's popular Oniku no Osushi platter and the Gyusen Don (served only at lunchtime).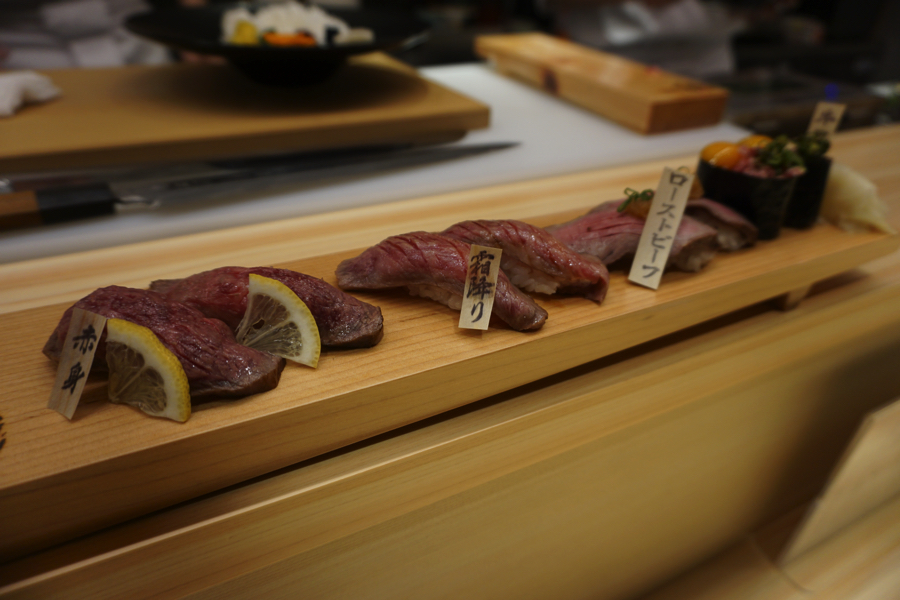 Oniku no Osushi Platter (8 Pieces): ¥5,000
The meat sushi platter comes with eight pieces including two pieces each of lean beef, salted beef, roast beef, and fatty gunkan beef. Excluding the gunkan beef it's recommended eating each piece from the left as pictured above. Everything is already flavoured so you can eat them as they are.
The gunkan beef is best enjoyed while it is still frozen so I started with that. The cold beef just melts as it enters you mouth. It tastes sweet and has a fatty texture to it. The egg yolk mixes together with the beef on your tongue and gives it an even smoother taste.
The meat of the lean beef, salted beef and roast beef sushi is soft and each is layered with refreshing grated lemon and daikon. When you bite into the succulent meat your taste buds are treated to the sweetness of the fat and the meats' rich flavours. I was able to taste the distinct qualities of each type.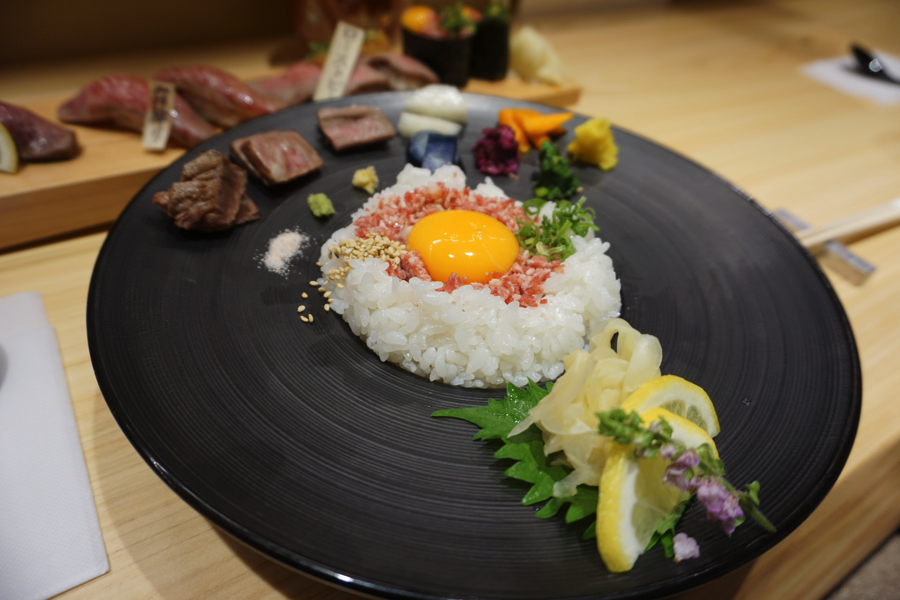 Gyusen Don (w/ Cold Miso Soup): ¥2,480
The Gyusen Don is served at lunchtime only. It contains Matsusaka Gyusen® flakes and Kyoto-style tsukemono pickled vegetables, condiments and bite-sized meat pieces. The presentation of the dish is beautiful! You add soy sauce to it and mix with the egg yolk, and it's simple irresistible! We made sure to snap a final photo before tucking in.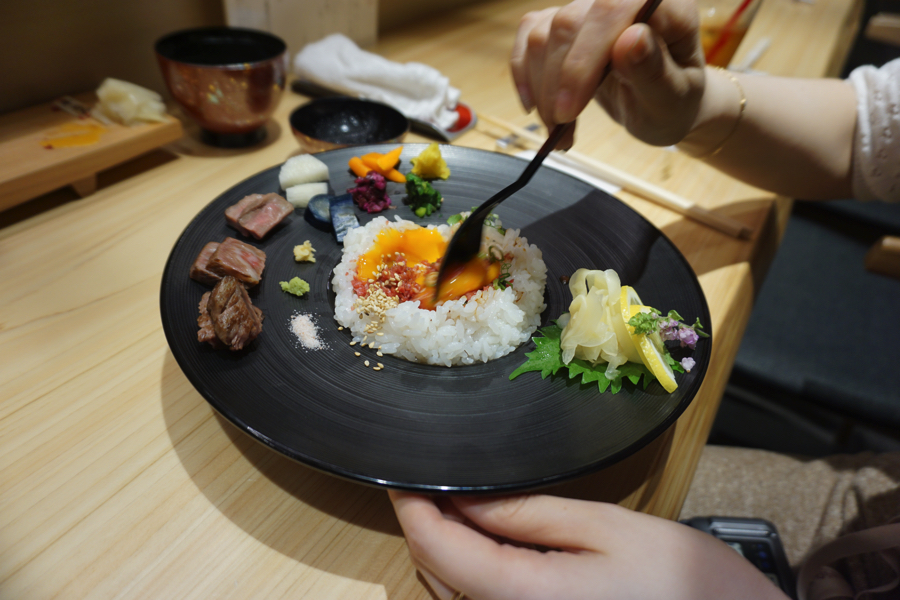 The beef of this dish melts in your mouth just like the gunkan beef and blends well with the egg yolk to create a velvety flavour. The dish also has condiments and pickled vegetables too adding to the variety of tastes. If you add wasabi or ginger the flavours are elevated even further, especially when eaten with the Kyoto-style pickled vegetables which creates a spicy tang.
The miso soup that the dish is served with is also Kyoto-style. Wheat starch and pickled vegetables are added to the sweet white broth to create a mellow flavour that goes well with the dish.
Etsuna gave high praise to the dish too: "It was so delicious. I think there are still a lot of foreigners that don't know about meat sushi yet, so I think it'll get popular soon. It's a bit pricey there are a lot of foreign travelers who want to eat tasty Japanese food, so I recommend it to them."
Asakusa is famous for its takeaway food to be eaten while walking, but Oniku no Sushi serves up an Asakusa-exclusive gourmet experience too.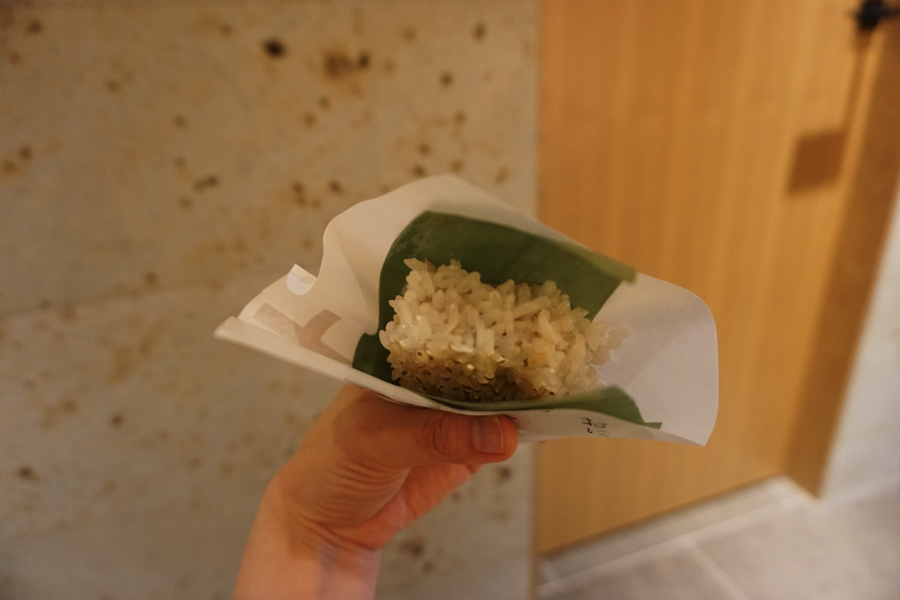 Steamed Rice & Meat: ¥500
If you're walking around Asakusa and are feeling peckish, then you should go for steamed rice and meat (おにくの飯蒸し). It's packed full of beefy flavour.
What did you think of this little Asakusa lunch trip? Of course, Oniku no Osushi has an evening slot for dinner too, so if you'd like to try some Matsusaka beef then be sure to pay a visit.
Writer: Sayuri Mizuno (MMN Editorial Department)
Model: 悦奈(Etsuna)
Information
Information
Oniku no Osushi (Asakusa Branch)
Address: 2-6-14 Asakusa, Taito, Tokyo
Business Hours: 11:30-15:00 / Dinner 18:00-21:00
Closed: Tuesdays
TEL: 03-5811-1939
Access: 7-minutes on foot from Sensō-ji's Kaminarimon Gate / 2-minutes on foot from Asakusa Station via Tsukuba Express
RECOMMENDED ENTRIES
Asakusa Bubble Tea Shop BOBA365 Reveals New Matcha Latte & Dorayaki

BOBA365, a bubble tea shop which just opened in Asakusa in November last year, has announced it is releasing a new drink and dessert on March 1, 2019.

Yaki Brûlée Matcha Latte – Regular Size ¥700 (Tax Included)

The new Yaki Brûlée Matcha Latte is an upgrade of BOBA365's most popular beverage, the Tapioca Matcha Latte Kiwami. It's a combination of bitter matcha from Shizuoka Prefecture and milk. It has just the right amount of sweetness to create an even deeper flavour than the store's original matcha latte. Matcha is said to be good for health and beauty, and so to make it even more delicious, BOBA365 has burnt the top of the drink like a crème brûlée. There are five layers of flavour to indulge in with just one sip.

Thick Dorayaki Matcha Kiwami: ¥480 (Tax Included)

The original Tapioca Matcha Latte Kiwami has also be turned into a delicious dorayaki dessert packed with a generous serving of cream laced with matcha from Shizuoka Prefecture.

BOBA365 has announced it will release more new items in the near future, but for now enjoy the Yaki Brûlée Matcha Latte and Thick Dorayaki Matcha Kiwami.

Information

BOBA365

Address: 2-5-9 Asakusa, Taito Ward, Tokyo

Business Hours: 11:00-21:00

No Fixed Holidays.

Access: 3-minutes on foot from Asakusa Station via TSUKUBA EXPRESS / 10-minutes on foot from Asakusa Station via all other lines

BOBA365 Official Website: https://peraichi.com/landing_pages/view/boba365

TV Anime 'Sarazanmai' to be Set in Asakusa, New Story Details Revealed

Sarazanmai is an upcoming TV anime series set to begin airing in April 2019. The series director Kunihiko Ikuhara appeared alongside Junichi Suwabe who voices Keppi at Animate Girls Festival 2018 which was held on November 10 and 11 where he unveiled details surrounding the story and setting.

Kunihiko Ikuhara has wanted to create stories since he was a child. Today, he is a creative artist and anime director who has directed hit anime series such as Revolutionary Girl Utena (1997) and Mawaru Penguindrum (2011).

During his talk, Ikuhara spoke about how he wanted to create a story on the legend of the kappa, a yokai of Japanese folklore that has webbed hands and feet and a shell on its back similar to a turtle. As he explained this, he also dropped that the story will be set in Asakusa, Tokyo. "[Asakusa is] next to the Sumida River. I wanted these young boys' story to be in a place where one can feel life," he commented.

The theme of the story is "connecting." We live in a world where we can connect to anyone at any time with a mobile phone, but there's a lack of actually wanting to connect. "If we carry on connecting in this way, where would we end up? If we lose sight of connecting [with others], would it really become like that? Is connecting a necessity or not? These are things I wanted to explore," explained the director.

A radio show titled Purezanmai based on the anime series was also announced to begun airing in January 2019.

Two important characters in the series, the police duo Reo Niiboshi voiced by Mamoru Miyano and Mabu Akutsu voiced by Yoshimasa Hosoya, also have their own Twitter account which they will be posting on frequently until March 31, 2019.

Comment: Junichi Suwabe (Voices "Keppi")

"This anime is an original series so there's a lot I can't talk about, but what I can say is that since it begins in April 2019 it will straddle the new era*. The old era will go and a new one will come. Even though it will be very new for the new era, I think it will be a wonderful and nostalgic series. I hope people look forward to it."

*Translator's Note: He is talking about the end of the Japanese Heisei Period which is set to end while the anime is airing.

Comment: Kunihiko Ikuhara (Director)

"Even now the staff are working diligently on the series. I hope to connect with everyone during this time where it's hard to know what it means to connect and where we would end up if we did. Please look forward to Sarazanmai!"

Information

TV Anime "Sarazanmai"

Initial Broadcast: April 2019

Official Website: http://sarazanmai.com

Radio Show "Purezanman"

Hosts: Kunihiko Ikuhara (Director), Junichi Suwabe (voice of Keppi)

Channel: A&G+

Time/Date: Every Saturday at 21:00 (JST) on A&G TRIBAL RADIO AGSON

Reo & Mabu Twitter
Running: Until March 31, 2019

Matcha Café Yanagi Chaya to Open Near Sensoji Temple in Asakusa

Shin Nakamise Shopping Street in Asakusa runs perpendicular to Nakamise Shopping Street, and it's there that the new Japanese tea café Yanagi Chaya will open on July 6, 2018.

Asakusa is one of Japan's most famous tourist destinations and is packed with tourists from both inside and outside of Japan every single day. Yanagi Chaya will open nearby Sensoji Temple which is a significant sightseeing spot for tourists, hailing as the oldest temple in Tokyo. The café's ideal location means that those strolling around Asakusa can pop in for drinks and desserts.

The shop is positioned so it takes in a lot of light, so it's nice and bright. It's also spacious, giving it a welcoming vibe. Its simple wooden décor lets one feel at one with the warmth of nature while also being surrounded by that Japanese omotenashi, or 'hospitable' atmosphere.

Uji Matcha Tiramisu – ¥600

Uji Matcha Rice Flour Dumplings – ¥790

The menu is packed full of matcha items. You could tuck into a boxed Uji matcha tiramisu which MACCHA HOUSE, another shop, is famous for and was even featured on news media. Or you could chew on some Uji matcha rice flour dumplings which are all individually handmade instore and made white syrup and a matcha paste created on site that mixes together strained bean paste and matcha. There's plenty more on the menu too where that came from.

Both the tiramisu and dumplings are something you'll want a photo of. There's also an original takeout matcha drink you can sip on which is made from a matcha called Tomo no Mori by Mori no Han who've been around since 1836. It's served in Yanagi Chaya's own bottles so you can take it around Asakusa with you as you explore the sites.

Yanagi Chaya should be put on your list of places to visit in Asakusa. Enjoy yourself some delicious matcha sweets.

■Information

Yanagi Chaya

Address: Hashimoto Bldg. 1F, 1-30-6 Asakusa, Taito, Tokyo

Opening: July 6, 2018

Opening Hours: 10am-6pm (Last Orders 5pm)

No Fixed Holidays.

TEL: 03-5830-8317

FAX: 03-5830-8318

*All prices listed are pre-tax.
RELATED ENTRIES
Dine On Fancy Authentic Japanese Food Casually at SHARI in Ginza

SHARI is a restaurant located on the second floor of Mitsui Garden Hotel Ginza-gochome, a new hotel that opened on September 26 located within walking distance from Ginza Station and Higashi-Ginza Station. This restaurant serves authentic and fancy Japanese-style food as well as luxurious Kobe beef, gozen set meals, and much more.

Ginza is known as the expensive, upmarket part of Tokyo, and when talking about small local restaurants there the pricing threshold tends to be rather high, but at SHARI customers can enjoy proper Japanese cuisine in a more casual manner and at a much more affordable price, with the typical set lunches starting at just ¥1,200.

Sophisticated is the word that springs to mind upon entering this restaurant, as your eyes meet the gorgeous mix of wood on black. As well as table seats, they also have counter seats too, allowing for you to enjoy a little luxury on your own if you so wish.

There is an additional restaurant inside the main restaurant itself that goes by the name Teppanyaki Mitaki, a tiny six-seater restaurant that serves Kobe beef, a type of wagyu beef and one of the top three beefs in Japan.

SHARI Gozen – ¥3,000 (Before Tax)

I ordered the SHARI Gozen which is served during lunchtime. This set comes with six small bowls, each filled with different colourful foods. It's a cute-looking set♡

There's lots of meat and fish included in the set. For meat, they have steak made with domestic beef. It's succulent and drizzled in a rich sauce that fills your mouth deliciously with a single bite. With the sashimi, the restaurant makes sure to serve fish that's in reason. There were 3 types of fish so it was a very satisfying meal.

The set can also be served with a variety of deep-fried foods, stewed foods, and cold fishes, as well as rice, miso soup, desserts and more. No matter what you order you can rest assured you'll be full afterwards.

SHARI is a chic and stylish restaurant with great food, plus it's located in Ginza. And you can enjoy all of this at a super low price!

Lady's Gozen – ¥2,600 (Before Tax)

I have to recommend the Lady's Gozen if you're looking to enjoy fish and vegetables. It comes with two varieties of sashimi and one fried fish, all in season, as well as an assortment of fried food, savoury egg custard, and four side dishes.

It also comes with rice and sushi rolls as well as a dessert like the SHARI Gozen.

The whole dinner menu is lined with Japanese food, including sashimi, tempura, fried food and more. There's also various courses, including the Teppanyaki Mitaki course which is priced from ¥12,000. It comes with Kobe beef of course in addition to various other high quality ingredients.

Shu – ¥1,000 (Before Tax)

I also recommend this Japanese-style cocktail for those thinking of staying late. It's inspired by the colours used in kabuki theatre―a Bloody Mary combining shichimi, nihonshu, and tomato juice. The rim of the glass is lined with more shichmi for a spicy and refreshing kick when you sip.

Check out the cute glass it comes in too.

From affordable lunches to dinner courses made with top quality ingredients, SHARI can be enjoyed throughout the entire day with its diverse menu line-up. Be sure to pay a visit to tuck into authentic Japanese cuisine in the luxury district of Ginza.

Writer: Sayuri Mizuno (MOSHI MOSHI NIPPON)

Translator: Joshua Kitosi-Isanga

Information

SHARI

Address: Mitsui Garden Hotel Ginza-gochome (Floor 2F), 5-13-15 Ginza, Chuo Ward, Tokyo

Opening Hours: Morning 6:30-10:30 (Last Entries 10:00) / Lunch 11:30-15:00 (Last Orders 14:00) / Evening 17:30-23:00 (Last Orders 22:00)

Closures: Morning – None / Lunch & Evening – Mondays (If Monday falls on a Public Holiday, closed the following day)

Access: 4-minutes on foot from Ginza Station's A5 Exit / 1-minute on foot from Higashi-Ginza's A1 and 4 Exits

*¥500 service charge during dinnertime. 10% service charge instead for Teppanyaki Mitaki. Smart-casual dress code. Preschoolers not permitted entry.

Official Website: http://shari-the-tokyo.jp/shari/

The Fanciest Egg and Rice Dish You've Ever Seen Will Be Sold at Grand Hyatt Tokyo

Towering over the bustling city of Tokyo is the capital's luxury hotel Grand Hyatt Tokyo. Starting from October 1, the hotel's restaurant Shunbou, which serves Japanse-style cuisine, is introducing an all-new exquisite serving of TKG, or tamago kake gohan ("egg on rice").

The dish will be made with shinmai, or "new rice," which refers to the new rice harvested for the current year. It's topped with rich egg―a simple combination but incredibly delicious and loved by people in Japan. Normally TKG stops there, but Grand Hyatt Tokyo is taking it to the next level with a topping of caviar to create the most exquisite egg on rice you have ever seen.

Rice: The best of the best

The rice served at the hotel is harvested in the city of Nanyō in Yamagata Prefecture. It's a special kind of rice known as Tsuyahime, and the hotel makes strict selections of the harvested rice, ensuring they serve the best possible rice to guests. This rice is served only at Grand Hyatt Tokyo making it even more special.

Nanyō is blessed with rich soil. The farms have been using organic fertiliser for well over 10 years, meaning their beautiful harvests are reduced in agricultural chemicals and chemical fertilisers unlike many other farms. The rice's taste quality value has also been listed as over 80, much higher than your average rice.

Sturgeon Caviar

The caviar used in this dish is from the Sturgeon fish from Kagawa prefecture. Everything from the food to the temperature of the water for the fish is considered from when they are a young age, allowing for the best possible caviar. They are seasoned with the perfect salt quantity and are additive free, allowing for a creamy and velvety taste and texture that just melts in your mouth the moment it hits your tongue.

Rich Egg Yolk

The eggs served on the rice are from what is known as one of the country's best egg specialist shops in Kyoto. To ensure the perfect egg, the shop takes great care in the fodder and water given to the chickens from the time they are chicks. This takes away the unpleasant raw smell characteristic of eggs, and is also a healthier lifestyle for the chickens themselves. The eggs are also packed with nutrients that are said to be lacking in the people of today including vitamins, DHA, niacin, and so on.

To top it all off, the hotel has created their own original blend of dashi soy sauce just for this dish.

Information

Shunbou's Special New Rice Tamago Kake Gohan

・Freshly boiled new rice

・2 eggs

・Caviar (15 grams)

・Specially-made dashi soy sauce

*From December onward the dish will be served with Shunbou Original Caviar

Restaurant: Shunbou, Grand Hyatt Tokyo

Available: From October 1, 2019

Serving Times: Lunch 11:30-14:00 (Until 15:00 On Weekends & Holidays) / Dinner 18:00-21:30

Price: ¥20,000 (before tax and service charge)

Official Website: https://www.tokyo.grand.hyatt.co.jp/en/restaurants/shunbou-restaurant/

Roppongi Hills Renovates Food Court Revealing Mouthwatering Michelin Guide Restaurants

Looking for a delicious Michelin-approved food experience? You surely cannot go wrong with heading to Roppongi Hills; a large-scale development project located in Tokyo, which is known for its nightlife and and shopping. Roppongi Hills is also home to the shopping mall Metro Hat, which is currently renovating its food court on basement floor 2. The foodcourt will have its grand opening on October 29th. 

The renovation will introduce seven new restaurants to the food court. Some of these include ramen shops and Yakitori restaurants which are bringing brand new rare dishes and flavours to the table.

Let's look at our recommendations:

Ginza Kagari (銀座 篝)

Chicken Soba: ¥900 (before tax)

Ginza Kagari is known for their notorious never-ending queues. In 2016 and 2017, it earned a place in the Michelin Guide Tokyo and even became popular overseas. One of their specilaties is their chicken soba. The broth is packed with the goodness and flavour of the entire chicken and even the bones. The flavour of the broth is exquisite and rich. The salt kaeshi sauce which is made from a mix of soy sauce, mirin and sugar goes perfectly with the soup. The salt mixture in the sauce consists of a range of natural salts which contain the natural goodness of the sea and perfectly enhance the flavours of the soup.

Location: Metro Hat Hollywood Plaza Floor B2

Opening Hours: 11:00 ー 23:00 (L.O: 22:00)
Website: https://www.roppongihills.com/en/  (The website is scheduled to open during mid October)

Yakitori Kokorikoan (焼鳥 ここりこ庵)

Yakitori (chicken skewer): ¥200 (before tax)

You must not miss out on Kokorikoan's Chicken Skin Hotpot ー a dish that is rare even to Tokyo. This dish is the perfect opportunity to discover a new kind of flavour and a new way to enjoy food. This restaurant prepares their dishes using special and rare cuts of chicken and chicken that is freshly ground in the morning. The chicken is flavored using traditional flavorings such as tare sauce and salt as well as flavorings that are not so conventional in Japan such as balsamic vinegar, herb vinegar, madeira wine, brandy and much more. Each cut of meat is prepared with the most careful methods and best seasonings to fully bring out the flavours. 

Location: Metro Hat/ Hollywood Plaza Floor B2
Opening Hours: Lunch: 11:00 ー 15:30 (L.O.15:00)  Dinner: 17:00 ー 23:00 (L.O.22:00)

Website: https://www.roppongihills.com/en/ (The website is scheduled to open during mid October) 

 Pintokona (ぴんとこな)

As a cheap place to enjoy authentic sushi, Pintokona has become a very popular restaurant. Now, it is having a fresh renewal. This sushi is made by using seasonal ingredients from around Japan. From November 1 to 30, there will be an exciting new menu that includes fresh fish from Miyazaki and authentic shochu (Japanese spirit). There will also be a fair that you also should not miss out on. 

Location: Metro Hat/ Hollywood Plaza Floor B2
Opening Hours: Lunch: 11:00 ー 15:30 (L.O: 15:00) Dinner: 17:00 ー 23:00 (L.O: 22:00)

Website: https://www.roppongihills.com/en/ (The website is scheduled to open during mid October) 

AFURI(アフリ)

Yuzu Orange and Salt Ramen: ¥1000 (before tax) 

Popular ramen shop AFURI sells a ramen with a translucent gold-coloured soup made using the natural spring water that gushes from the foot of Mount Afuri (Mount Oyama) located in the Tanzawa Mountain Range of the Kanto Region. Carefully selected chicken bones, pot herbs, kombu (kelp) and katsuobushi (fermented and smoked fish) is boiled in the water to add to the flavour. The whole wheat flour used to make the noodles creates a wonderfully fresh, chewy texture. The chashu roast pork pieces are freshly barbecued upon each order, creating a fresh and delicious flavour. AFURI also sells vegan ramen which is particularly popular among foreigners.

We have a full report on our heavenly trip to AFURI so if you are curious to find out more, please check out our this article: Introducing AFURI—Harajuku's Michelin-Starred Ramen Restaurant

Location: Metro Hat/ Hollywood Plaza Floor B2
Opening Hours: 11:00 ー 23:00 (L.O:22:00)
Website: https://www.roppongihills.com/shops_restaurants/restaurants/00100.html

There are just so many popular shops and restaurants at Metro Hat that you will be spoilt for choice. We hope you enjoy exploring the rich culture of Roppongi. 

Tokyo Stroll: The Café That You Want to Visit to See Someone #11 – 'Hatoya' in Asakusa

In this edition of The Café That You Want to Visit to See Someone, I visited Hatoya which is located in Asakusa Shin-Nakamise Arcade.

The streets of Tokyo's historical district of Asakusa are packed to end with cafés. You can be spoiled for choice, but Hatoya stood out to me in particular as it's an especially old café. Business there began back in 1927 but the actual building was built back in the Taisho period, meaning its history spans more than 90 years ago!

The outside appearance of the shop is smart and chic so it's very easy to spot. I couldn't tell by looking from the outside, but the inside is full of old decorations and odds and ends which make you feel the history of the café.

One reason why I wanted to visit this place so much is because I was drawn to their logo. It's really retro-kawaii so I just couldn't resist!

You should take some photos too if you visit.

It was time to head inside. It's really comfy and cozy in there; the atmosphere was nice and relaxed.

Framed on the wall is a map of the Asakusa area during the Taisho era. Hatoya became famous back then because people could buy coffee for a mere 5 sen (a single sen is one-hundredth of a yen).

When business first began at Hatoya, because the café was opposite the stage door of a theatre, all of the famous actors and actresses would pop in. Some include famous Japanese comedian Roppa Furukawa and film actor Kiyoshi Atsumi who played Tora-san in the film series Otoko wa Tsurai yo.

I ordered the café's popular hotcakes which cost ¥600. They have been making these same hotcakes since before the war.

They were nice and fluffy and had a deliciously gorgeous brown colour. The flavour was out of this world when the butter melted from the heat of the hotcakes and mixed together with the syrup.

The portion might look like a lot but they are fluffy and have a light flavour so can be finished with no problem.

And is the café's signature milkshake (¥500).

It's so refreshing that you can knock it back all in one go. It has a simple flavour but it tasted so good!

I also ordered the ¥600 cream soda, my favourite beverage.

I've been to many cafés, and have covered many in this series, but this is the first I have dined at with such a deep history. I found myself enthralled by the stories of the owner who has continued to treasure the café and maintained it all the same since it opened. I feel like I have learned about a world I never knew about. The next time I go to Hatoya with a friend I'll be sure to let them in on its history. I encourage you to visit too!

Writer/Model: Ema Tanioku
Photographer: Haruka Yamamoto
Design: Yuko Abe (ASOBISYSTEM)

TALENT PROFILE

Ema Tanioku

"Emaeri" is the nickname for models Ema and Eri Tanioku, who are Aomoji fashion model twins. Ema and Eri Tanioku specialise in twin fashion coordination. Over the years their fanbase has increased due to their cute looks. Ema Tanioku spreads Harajuku culture within Japan as well as overseas and works as a Harajuku Tourism Ambassador. Starting off as a model, Ema has broadened her talent range from fashion magazines to TV, and from playing the lead role in dramas to movies.

Experience Tasting Mount Koya's Famous Sesame Tofu at ONAKA PECO PECO in Tsukiji

ONAKA PECO PECO by Rurubu Kitchen is a cafe located in Tsukiji, a district in Chuo, Tokyo. They serve rice balls filled with locally sourced ingredients from various locations in Japan. In the evenings, the rice balls can be enjoyed with delicious sake.

If you visit the cafe right now you'll be able to try sesame tofu (goma tofu) made by the long-running restaurant Kadohama. Sesame tofu is a meibutsu―or "local speciality"―of Mount Koyo.

While it is possible to buy sesame tofu on Kadohama's online store, the only places you can eat them out at is at their restaurant on top of Mount Koya or at select branches of department stores such as Mitsukoshi or Isetan. We visited ONAKA PECO PECO by Rurubu Kitchen for a taste of this exquisite collaboration.

Mount Koya is located in the Ito district of northern Wakayama Prefecture and is home to the town of Koya. The region is encased an abundant mountainous landscape. The Japanese Buddhist monk Kūkai opened the sacred mountain around 1,200 years ago. In 2004, Mount Koya which was registered as a World Heritage Site by UNESCO in 2004 under the "Sacred Sites and Pilgrimage Routes in the Kii Mountain Range" category. It has since become a popular tourist destination with Japanese and foreign travellers alike.

Here is the heavenly menu lineup at ONAKA PECO PECO which is packed full of Kadohama's sesame tofu.

There are five items which are made with the sesame tofu: an onigiri rice ball, crab soup, cold tofu, pork shabu shabu, and a drink.

Time to tuck in and try this famous food which has been enjoyed for many years!

White Vegetables & Steamed Pork Shabu w/ Koji Sesame Tofu Sauce – ¥800

This dish is garnished with a generous serving of fresh white vegetables and succulent meat. It includes lotus root, enoki mushrooms, cauliflower, and pork. It also comes with a white sauce made with sesame tofu, shio koji, and sesame oil. The sauce has a mild flavour in which you can get the full glorious taste of the tofu. It's smooth and refreshing so is a perfect pick for the hot summer.

Sesame Tofu & Plum Cheese-Loaded Rice Ball – ¥250

This rice ball is a flavourful combination of a sesame tofu and plum paste and lots of cheese.

This fat rice ball is wrapped in paper like a hamburger. The rich taste of the tofu and cheese reduces the sourness of the plum, giving it a gentler flavour.

Sesame Tofu & Egg Crab Soup – ¥400

The soup is an amazing combination with the rice ball. It has a miso soup base filled with green onion, enoki mushrooms, and crab. The elastic-y tofu is cut into big satisfying chunks. Its rich, creamy flavour combined with the crab is to die for.

Sesame Tofu & Sweet Sake Jelly Drink – ¥350

The cute white-coloured beverage is a healthy mix of sesame tofu paste and sweet sake. It retains the pulpy texture of the tofu and the aftertaste is super refreshing.

You can order the drink for takeout so you can take a stroll around the streets of Tsukiji.

Kadohama Sesame Tofu – Eat In: ¥300 / Takeout: From ¥240

If you're looking to enjoy the sesame tofu on its own then you've got to try it with either the wasabi and soy sauce or brown sugar. You can also order this to take away too. Each box contains one piece of tofu.

The cafe is also selling exclusive merchandise as part of the collaboration. The collection includes a t-shirt, sacoche bag, and cap. Each item has a simple design making them easy to incorporate into looks.

Easy access to Kadohama's sesame tofu―which is made using traditional cooking methods that have been passed down generations at Mount Koya―can only be enjoyed at ONAKA PECO PECO by Rurubu Kitchen. If you're in Tokyo this summer, then take a trip to Tsukiji district to try this healthy and nutrient-packed tofu.

Model: Ririka Satsuki

Writer: Sayuri Mizuno (MMN Editorial Team)

Photographer: Haruka Yamamoto

Translator: Joshua Kitosi-Isanga

Information

ONAKA PECO PECO by Rurubu Kitchen

Address: 4-7-3 Tsukiji, Chuo Ward, Tokyo (Along Harumi-dori)

Opening Hours: 10:00-14:00 / 17:00-22:00 (Last orders at 22:00)

Closed: Sundays

Access: 10-minutes on foot from Ginza Station / 7-minutes on foot from Higashi-Ginza Station / 5-minutes on foot from Tsukiji Station

Official Website: http://onakapecopeco.com/

Moomin Stand in Asakusa Releases Strawberry Daifuku Milk Drink

On July 16 this year, a new branch of Moomin Stand―a drinks shop inspired by the Finnish children's books The Moomins―opened in Asakusa, one of the most popular tourist spots in Tokyo.

Moomin Stand serves original fruity beverages, drinks with rich milk bases and more, all with chewy tapioca-like pearls.

Moonmin Stand is produced by Moomin Café. The first branch opened in Kichijoji and proved popular with women in their 20s and 30s, high school and university students, and families with children. It continues to enjoy flurries of customers; you're guaranteed to be lining up on weekends.

Strawberry Daifuku Milk – ¥700 (Before Tax)

The newly-released Strawberry Daifuku Milk drink is exclusive to the Asakusa branch. Its mix of sweet and sour strawberry flavour with the chewy pearls gives a texture reminiscent to daifuku, a traditional Japanese confection which takes mochi and stuffs it with a sweet filling. The drink has a delicious white bean paste base and is topped off with fresh pieces of strawberry.

The café interior is decorated with beautiful illustrations from The Moomins making for plenty of great photo opportunities. There is also a bar to lean on as well as spaces on the wall to rest your back on to relax with your drink after walking around.

All drinks also come with a cute Hattifattener straw toy that bites onto straws and pens which you can take home with you.

After you've taken a stroll around Asakusa and seen the Kaminari gate, Nakamise Shopping Street and Sensō-ji temple, why not stop off at Moonmin Stand for refreshments?

Information

Moomin Stand Asakusa

Address: 1-1-12 Asakusa, Taito Ward, Tokyo

Opening Hours: 11:00-19:00
Moomin Stand Branch List: http://www.benelic.com/moomin_cafe/moominstand/

Stawberry Daifuku Milk (Cold)
Price: ¥700 (Before Tax)
Released: July 16, 2019
*Comes with Hattifattener straw toy

Mogu Mogu Nippon | Convenience Store: 4 Icy and Not-So-Pricey Frozen Treats This Summer

The real heat of summer has finally hit us. As a result, it is getting harder to resist those delicious ice creams in the convenience store that are so easy to get hold of. Convenience stores are constantly refreshing their frozen dessert flavours and it is just too hard to decide which one to go for.

Wondering what tastes good? Don't break a sweat. Dessert-eating professional Yukko is here to help. Check out her Instagram which has plenty of information on the most irresistible frozen desserts at convenience stores.

CREAM CHEESE MACARON ICE 

Seven Eleven sells a macaron ice cream sandwich series which is massively popular every year. You just have to head there now to try the Kiri® cream cheese filling macarons which are collaboration-limited!

Just by looking at the refreshing colour of the macaron is enough to splash life back into your parched body. Sinking your teeth into the crispy macaron sure is fun.

The luxurious ice cream filling is made using 100% Kiri® cream cheese. The ice cream covers a juicy core of passion orange sauce that is thick like treacle. Its sharp, citrusy flavour is bound to instantly revitalise you. The rich cream cheese makes for the perfect balance. 

▼ CREAM CHEESE MACARON ICE 
Price: ¥257 (after tax)
Available at: Most Seven Elevens countrywide (excluding Okinawa)

Strawberries & Condensed Milk Shaved Ice

 This is part of Seven Eleven's flavoured ice series. 

When you open it, you will be instantly hit by the revitilizing red colour of the strawberries. The strawberry sauce is sweet yet sour and the ice is crunchy. Allow it a bit of time to melt first and the texture will turn syrupy.

The sweet and sour strawberry sauce is a perfect match with the condensed milk flavoured ice, which is both slightly sweet and refreshing. This is a flavour that adults will love just as much as children.

▼ Strawberries & Condensed Milk Shaved Ice
Price: ¥149 (after tax)
Available at: Convenience Store: Most Seven Elevens countrywide.

White Peach Shaved Ice with Peach Pieces

This is yet another dessert from Seven Eleven's ice Series, and this one is bursting with peachy goodness! Despite being just ¥300, it is full of flavour.

Open the lid and you will discover that it is full of delicious fruity pieces of white peach. 

Starting from the top, there are large pieces of peach followed by white peach jelly, white peach shaved ice and then white peach sauce. The peach will immediately melt in your mouth the moment you take a bite. Its juiciness will spread all over your tongue and you will be enlightened with the true refreshing taste of summer. 

White Peach Shaved Ice with Peach Pieces
Price: ¥300 (after tax)
Available at: Seven Eleven

Essel Super Cup Mango 

Having heard all the stories about just how delicious this ice cream is, I just had to try it for myself.

There are four layers to this ice cream. The moment you open the lid, the tropical fruity mango sauce layer will be enough to revitalize you. Once you make it through the mango sauce which is enriched with mango fruit pieces, you will make it to the layer of tofu ice cream. Dig a little deeper and you will arrive at a layer of passion fruit sauce.

If you reach the very bottom, you will hit the mango-flavoured ice cream. If you wait a little while for the ice cream to melt before digging your spoon in, you will be able to truly appreciate the rich-flavoured mango. This ice cream even has a special ingredient; mango pulp. This mango pulp enhances the flavour in an extraordinary way. The discovery of this new flavour will fascinate you to no end. The passion fruit sauce at the bottom has an element of crunchiness to it that resembles sorbet. The mango and mango pulp is an exquisite accent to the flavour, making it deliciously moreish as well as refreshing. 

▼Essel Super Cup Mango 
Price: ¥238 (after tax)
Available at: Convenience stores and supermarkets across the country.

All these convenience store ice creams are just too delicious to miss out on. There are many frozen desserts that will always be available, however, those listed above won't always be around, so try them while you can!

Mogu Mogu Yukko introduces lots of desserts and sweets that are easily found in convenience stores and supermarkets on her Instagram so please check out her other posts.

Writer and Photographer: Mogu Mogu Yukko

Top 6 Most Fancy Lunches in Fukuoka – MOSHI MOSHI NIPPON

Situated  on the northern shore of Kyushu is Fukuoka Prefecture, a hot spot for tourists and travellers both Japanese and foreign, particularly those visiting from parts of Asia such as China, Taiwan and South Korea.

When it comes to amazing Japanese food, Fukuoka is high on the list, home to a bounty of restaurants including some seriously stylish and kawaii ones.

Today, we are joined by foodie and Instagrammer moe who travels up and down Fukuoka dining at its many cafes for a bite of lunch or dessert. Using photos she has snapped on her days out, moe has listed 6 must-try fancy lunches you can order in Fukuoka.

Niku to Wain Haneushi in Ropponmatsu

Niku to Wain Haneushi is famous for its Saga beef which is matured on the bone in house for no less than two months. In the evenings they serve delicious steak for dinner, but during the day they whip up a seriously gorgeous and very affordable lunch menu. Their menchi-katsu, which is a breaded and deep fried ground meat patty, is served hot and fresh and retains the succulent juices of the meat. The next thing I'm looking forward to trying is their beef tongue.

▼Niku to Wain Haneushi (Japanese: 肉と葡萄酒 跳牛)

Address: 1-4-30 Ropponmatsu, Chuo Ward, Fukuoka, Fukuoka Prefecture

Business Hours: Lunch 11:00-15:30 / Dinner 17:30-22:30

Closed: Tuesdays

Official Website: http://www.haneushi.com/

Shinobumeshi in Ropponmatsu

In the backstreets of Ropponmatsu is Shinobumeshi whose dishes provide a good balance of different foods. Their menu changes each day. The meal in the photo is their tender seafood katsu set. The katsu is deliciously crunchy and the okara soy pulp is to die for. It also comes with three little plates so your belly is sure to be full afterwards!

▼Shinobumeshi (Japanese: しのぶめし)

Address: 1-7-36 Ropponmatsu, Chuo Ward, Fukuoka, Fukuoka Prefecture

Business Hours: 11:30 until all food is gone

Closed: Thursdays and Fridays

Official Website: http://shinobumeshi.com/muscat1b/

moku in Hakozaki


The building that moku is located in is a refurbished traditional house. It's a fancy and stylish looking cafe but they have kids chairs and a kids menu too making it the ideal choice for families with children.

I ordered the seafood caponata with sauce aurore. This pasta dish is packed full of healthy vegetables and fresh seafood that is bound to delight your tastebuds.

▼moku (Japanese: 杢moku)

Address: Spital Hakozaki, 1-32-31 Hakozaki, Higashi Ward, Fukuoka, Fukuoka Prefecture

Business Hours: 11:30-22:00
No Fixed Holidays

Official Facebook Page: https://www.facebook.com/moku777

Shokudo Chez Moi in Befu, Jonan

Chez Moi is a European style restaurant that centres on French cuisine. The vegetables used in making their dishes are sourced in various places in Fukuoka Prefecture including the city of Fukuoka, Itoshima in the west, Asakura in the south central region, and elsewhere. This lunch plate gleams vibrant colours, with the centrepiece being the chestnut pork which is surrounded by lots of different veggies that are fun to pick to enjoy their individual flavours.

The dessert plate too is a cute work of art♡

▼Shokudo Chez Moi

Address: 6-8-2 Torikai, Jonan Ward, Fukuoka, Fukuoka Prefecture

Business Hours: Lunch 11:45-15:00 / Dinner 18:00-22:00

Closed: Sundays

Official Website: https://www.shokudochezmoi.com/

Café 62 Banchi in Nishitetsu Hirao


Famous for its homemade brad, Café 62 Banchi is located in a renovated room of an apartment. Pictured above is the "One Plate Lunch" which has a good balance of nutrients and is fun to pick at from the many choices on the plate.

▼Café 62 Banchi

Address: Itani Bldg. 201, 2-17-3 Ogusu, Minami Ward, Fukuoka, Fukuoka Prefecture

Business Hours: Lunch 11:30-17:00 / Dinner 17:00-22:00

Closed: The 1st Tuesday of every month

Official Website: https://www.cafe62.com/

Papparayray in Akasaka


Papparayray is popular for its rainbow coloured desserts which are piled with floral flowers and multicoloured fruits. My photo shows off their avocado and rolled oat salad. Rolled oats sit deliciously under the hearty bed of avocado. And the simple salt and olive oil seasoning is simply exquisite. No matter what vegetable is on your plate at this place, it's sure to be fit for the gods.

▼Papparayray

Address: Akasaka 2-2-22, Chuo Ward, Fukuoka, Fukuoka Prefecture

Business Hours: 11:30-18:00 (Lunch served 11:30-14:00)

Closed: Sundays & Mondays

Official Website: http://papparayray.petit.cc/

moe's Instagram is jam packed full of even more tempting food and desserts. If you're looking for even more recommendations on where to eat in Fukuoka then make sure you give her a follow.

Photo & Text: moe

Translation: Joshua Kitosi-Isanga

Mogu Mogu Nippon | Convenience Store: Top 3 Refreshing Summertime Drinks

Hi, everyone! I'm Heir from MOSHI MOSHI NIPPON's editorial team.

Our office is based in Harajuku, Tokyo's hub for fashion and youth culture. When summertime rolls around and brings the sweltering weather with it, it's ubiquitous to see people walking the streets of Harajuku with bubble tea or iced coffee in their hands to cool down.

Personally, I really love the drinks sold at convenience stores and can drink them whenever. They are cheap and tasty with many new drinks stocking the shelves all the time. There were a lot of popular drinks that began sales in June.

Today, I want to recommend three of these cool beverages to you, all of which saw much attention on Japanese social media.

1. Coffee Beverage | Starbucks Iced Orange Brûlée Latte

This chilled Starbucks drink was released on June 11 and comes in a very summery flavour: Iced Orange Brûlée Latte. Lattes mixed with fruit are always my weakness. This drink is extremely tasty, mixing full-bodied coffee with velvety milk, orange and crème brûlée. Its cute packaging and refreshing flavour make it the perfect choice for the start of summer.

Released: June 11, 2019

Price: ¥200 (Before Tax)

Available: At convenience stores, supermarkets and department stores in Japan

Product Page: https://www.starbucks.co.jp/beverage/rtd/4901777338579/

2. Carbonated Beverage | Gabunomi Soda Float

From the popular Gabunomi drink series comes the new Soda Float flavour. Its packaging alone is enough to cool you down. The drink itself is a cute blue colour which is what made me want to buy it. It's soda mixed with a creamy ice cream float which has an authentic flavour. As is always the case with Gabunomi, they have the perfect balance of sweetness in their carbonated beverages. This drink just makes you want to buy one and head to the seaside!

Released: June 24, 2019

Price: ¥140 (Before Tax)

Available: At convenience stores, supermarkets and department stores in Japan

Product Page: https://www.pokkasapporo-fb.jp/products/soda/gabunomi/JE88.html

3.  Carbonated Beverage | Coca Cola Clear Lime

Clear Coca Cola became a topical drink on social media around the world when it was first released last summer. This summer, the drink is receiving a lime upgrade. By combining the colourless Coke with lime flavour, you can feel super refreshed during the hot and dry weather. Be sure to pick up a bottle if you're in Japan this summer!

Released: June 10, 2019

Price: ¥140 (Before Tax)

Available: At convenience stores, supermarkets and department stores in Japan

Product Page: https://www.cocacola.jp

Mogu Mogu Nippon | Convenience Store: 3 Seven Eleven Matcha Desserts

If you are wondering what Japan is particularly good at, matcha desserts is definitely one of them. However, you don't have to go to a shop that specialises in matcha sweets to get your fill. Matcha desserts can be easily obtained from the convenience store and once you start, it is hard to stop. 

Today, Instagrammer Yukko is going to introduce you to three delicious matcha desserts that you can get from Seven Eleven.

Dorayaki Pancakes Filled With Matcha Cream ¥278 (before tax)

Seven Eleven is always selling some kind of delicious matcha cream-filled dorayaki. This time, the name has been changed slightly. This dorayaki is just ¥3 more expensive than last time, however it looks just as good as it always has. You just will not be able to resist buying it. 

As you take your first bite of this high-quality snack, the scent of the matcha will reach you first, followed by the flavour of the matcha which spreads instantly through your mouth. The matcha is rich yet so light that it will instantly melt on your tongue. The pancakes sandwiching the large creamy matcha filling are both fluffy and thick. Cut it in half and you will not be able to resist. 

This is a wonderful snack to sink your teeth into while you walk. If you want to keep your hands clean, you could even use a spoon to scoop out the filling. Enjoy it in your own unique way as it is tasty no matter how you choose to enjoy it!

Matcha and Matcha Parfait ¥278

As the name implies, this matcha parfait is the perfect opportunity to taste a variety of matcha flavours in one single tub. From the bottom, the cup is filled with matcha jelly, followed by matcha mousse, milk mousse and matcha whipped cream. Within the layers of matcha whipped cream you will discover a goldmine of matcha jelly and a dorayaki pancake core. 

The matcha flavour of the jelly is quite weak, however its wobbly and springy texture contributes to the deliciousness of the parfait. The moderately sweet whipped cream combined with the matcha flavour is perfectly balanced. The milk mousse has a rich, milky flavour. It may be sweet, however the matcha mousse underneath it is slightly bitter, so enjoy them together for a delicious overall flavour. 

The fluffy matcha mousse and rich matcha is unbelievably delicious. The dorayaki centre is soft, fluffy and thick which accents the flavour. Overall, the parfait is not overpoweringly sweet and the matcha flavour is gentle on your tongue.  

Uji Matcha Cream Mochi: ¥110 (before tax )

Uji Matcha Cream Mochi is a soft, thin and chewy dough that is rolled out thin and then wrapped around a large spoon of uji matcha cream. This is always a popular pick. Last time, they served the uji matcha chocolate mochi. I wonder how the Uji Matcha Cream Mochi will taste!

This time, the mochi has a slightly more springy texture. The outside is chewy, yet the inside is gooey. This mochi cake is bursting with matcha so you can really enjoy the matcha flavour. The bitter matcha flavour is perfectly balanced with a touch of sweetness. This dessert even come with a fork so that you don't have to get your hands dirty. 

I know, it is hard to choose which matcha dessert to try. Convenience stores are always refreshing the varieties of goods they sell, so if you are particularly attracted to any of the desserts mentioned above, it is probably best to try them before they are replaced.

Mogu Mogu Yukko introduces lots of desserts and sweets that are easily found in convenience stores and supermarkets on her Instagram so please check out her other posts:

Photos and Text: Mogu Mogu Yukko

Mogu Mogu Nippon | Convenience Store: Häagen-Dazs Mini Cup Houjicha Latte Ice Cream

This is the first article of a new series here on MOSHI MOSHI NIPPON we are calling Mogu Mogu Nippon ("Gobbling Japan").

It's no secret that we here at MMN love eating. At any time of the day someone in the office is eating or drinking something. We have a particular weakness for new products and limited edition seasonal items that are released here in Japan. From time to time, someone will buy something and share it amongst everyone!

In Mogu Mogu Nippon, we will showcase a selection of food, sweets and more that we want to recommend to you―our readers. For this first entry, we are heading to the convenience store to review the Häagen-Dazs Mini Cup Houjicha Latte.

Here in Japan, Häagen-Dazs regularly scoops out a variety of limited edition ice cream flavours, many of which are tea flavoured.

The one we recommend is their Houjicha Latte. This flavour was first released back in 2017 and has gone on to become hugely popular. Demand for this limited edition product to return has been huge (and I'm one of those people!). If you love tea, especially Japanese tea, then you'll find this one irresistible.

Matcha and matcha flavoured products are enjoying a boom around the world today. Like matcha, there are a lot of houjicha items sold here in Japan.

The Houjicha Latte Häagen-Dazs ice cream is on sale right now for a limited time. I ate mine during snack time.

Upon opening the lid you are met with a spiralling marble-like pattern in your ice cream which are two different types of houjicha. The ice cream is rich and has a full-bodied milk flavour. This is coupled with the fragrance and delicious taste of the tea making for a seriously refreshing ice cream. The balance between the flavours is perfect, so you get richness but your taste buds are also left feeling refreshed.

The ice cream isn't overly sweet and has just the right amount of bitterness from the houjicha. The sweetness of the milk fills your mouth and harmonises it all.

We recommend the Häagen-Dazs Mini Cup Houjicha Latte to those looking to eat a dessert made in Japan. You can pick up a cup at most convenience stores across the country, so be sure to give it a try if you're here for summer, especially if you've never tried houjicha sweets or desserts before!

Information

Häagen-Dazs Mini Cup Houjicha Latte (Limited Edition)

Available: At most major convenience stores, supermarkets and department stores in Japan

Price: ¥272 (Before Tax)

Product Page: https://www.haagen-dazs.co.jp/houjicha_latte/

Take a Tour of Traditional Asakusa in a Hello Kitty Rickshaw

How about a relaxing trip around traditional Tokyo in a Hello Kitty-themed rickshaw? To commemorate the opening of Sanrio Gift Gate in Asakusa, the shop has planned human-run rickshaw tours to take place on Saturday 15, Sunday 16th, Saturday 22nd, and Sunday 23rd June 2019.

This is the second time the Hello Kitty Rickshaw event will be run. The wheels and roof are decorated with special Hello Kitty designs. Hop in, sit back and enjoy a touristic ride around Asakusa. The rickshaw puller will be your tour guide, introducing you to all the tourist spots of Asakusa and taking photos for you.

To take part, you have to book in advance. The advanced reservation period starts on June 8th at Sanrio Gift Gate Asakusa. Reservations will be accepted on a first-come-first-serve basis. You can also make reservations by telephone. If you are interested in this wonderful experience, please check out the store information website.

© 1976, 2019 SANRIO CO., LTD. 

Information

Sanrio Gift Gate Asakusa

Address: 1-17-5 Asakusa, Taito-ku, Tokyo

TEL: 080-9432-7505

Access: Three-minute walk from Tokyo Metro (subway) Asakusa station

Opening hours: 9am ー 7 pm

No regular holidays. 

※ Opening hours are subject to change so please refer to the official websites below for more information.

Shop information: https://www.sanrio.co.jp/shop/sh7940100/

English version: https://www.sanrio.co.jp/english/store/sh7940100/

※ Please pay for your rickshaw ride before your time slot.

※ The counter may get crowded so we recommend to not book too late.