3 Must-Try Summertime Bubble Teas at Tokyo Disneyland & DisneySea
Bubble tea continues to be ever popular in Japan this summer, especially at Tokyo Disneyland and Tokyo DisneySea which not only is selling its much-loved classics but a selection of new refreshing beverages too. Let's take a look at three of these drinks new this July that not only enjoyable to drink but fun to look at too.
Coffee Tapioca Latte
The Coffee Tapioca Latte is appearing as part of Tokyo DisneySea's special event Disney Pirates Summer. The colour of this coffee flavoured delight is reminiscent of the Black Pearl from the 2003 Pirates of the Caribbean movie. It's not overly sweet and so is perfect for those who prefer more adult flavours. Enjoy the event with a cup of this pirate brew in hand.
Running: July 8 – September 1, 2019
Price: ¥500
Available: Mamma Biscotti's Bakery, Tokyo DisneySea
Fantastic Flight Drink (Lychee Tapioca)
Inspired by the new Soaring: Fantastic Flight attraction arriving at Tokyo DisneySea on July 23, this drink contains lemon jelly and lychee flavoured chewy tapioca pearls. Lychee flavoured tapioca pearls are for sure a rarity―have you ever seen them?
Running: July 8 – September 1, 2019
Price: ¥450
Available: Zambini Brothers' Ristorante, Tokyo DisneySea
Sparkling Tapioca Tea (Mango & Citrus)
For a limited time only, this refreshing Sparkling Tapioca Tea will be served up at Tokyo Disneyland, a black tea with mango flavoured tapioca and grapefruit jelly. A perfect summertime sip for the hot weather with its refreshing black tea taste and fruity fragrance.
Running: July 8 – September 1, 2019
Price: ¥600
Available: Tomorrowland Terrace, Tokyo Disneyland (Serving at 14:00-17:00 only)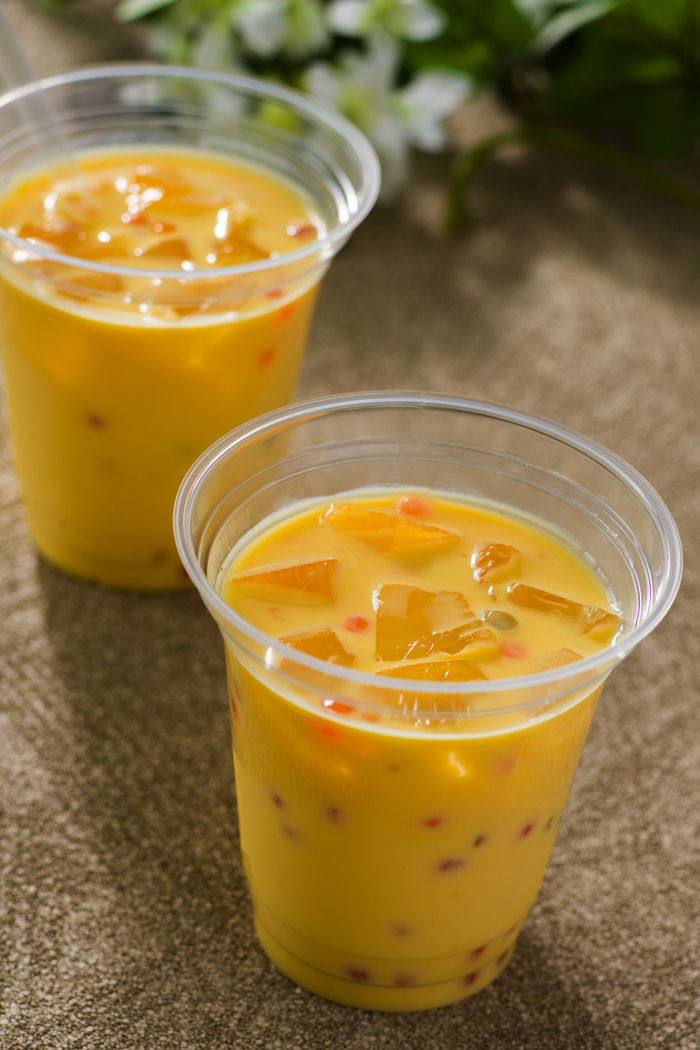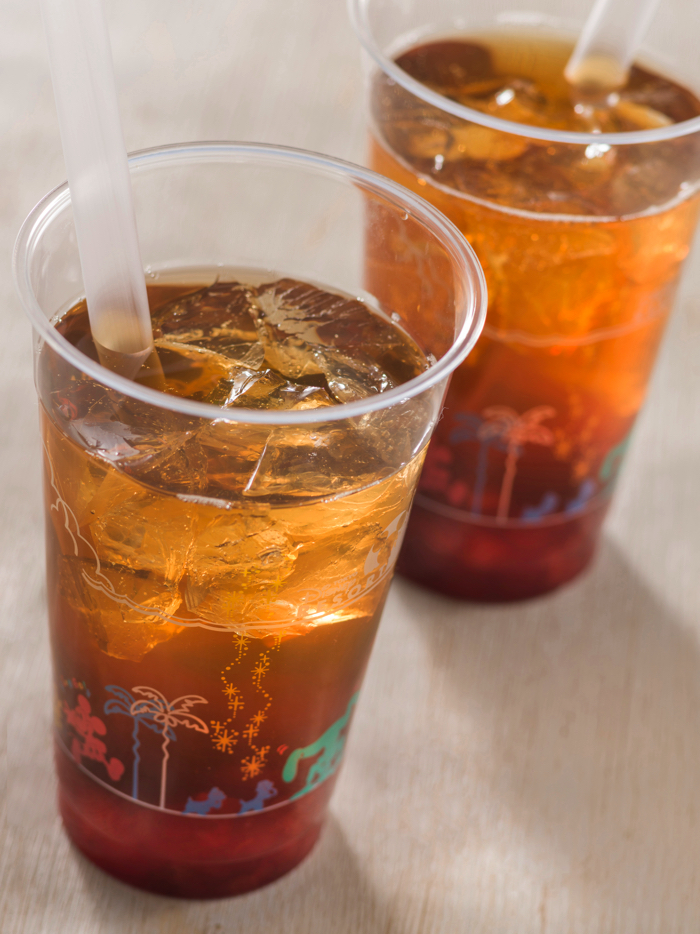 There are plenty of other new bubble tea drinks apart from these ones too, some of which are on sale right now, such as the Tapioca Mango Drink with its foundation of tiny chewy tapioca balls, the subtly sweet Strawberry Tapioca Tea with fresh strawberries pieces in it as well as large-grained tapioca balls, and more.
If you're heading to either park be sure to order a cup of bubble tea!せ
Information
Tokyo Disney Resort
RELATED ENTRIES
CoCo Fresh Tea & Juice Releases Valentine's Day Chocolate CoCo Dinosaur Beverages

Tastea Trustea Japan released two new beverages on Friday (February 5) for Valentine's Day at CoCo Fresh Tea & Juice in Japan: the CoCo Dinosaur and Tapioca CoCo Dinosaur.

CoCo Dinosaur ¥520 / Tapioca CoCo Dinosaur ¥580

The two teach beverages are made with a rich chocolate sauce and fresh milk. They are topped with chocolate and brown sugar syrup for a sweet combination of flavours and textures. An enjoyable beverage that is both refreshing and Instagram-worthy for Valentine's Day.

Information

CoCo Fresh Tea & Juice
Serving: February 5, 2021 – End of February 2021
Where: All 12 branches of CoCo Fresh Tea & Juice in Japan
CoCo Fresh Tea & Juice Japan Official Website: https://cocofreshtokyo.amebaownd.com/

My Melody and Kuromi Bubble Tea to be Served at Pearl Lady in Japan

Bubble tea chain Pearl Lady, which is celebrating its 17th anniversary this year, is teaming up with Sanrio for the second time to release two new drinks themed on the popular characters My Melody and Kuromi on October 16, 2020. My Melody and Kuromi are also celebrating their 45th and 15th anniversaries respectively.

Black Lemonade | Strawberry Milk Tea (w/ Novelty) – ¥500 Each (Tax Included)

The two beverages are Sweet Strawberry Milk Tea, which is inspired by the cute My Melody, and Black Lemonade, which is based on her rival Kuromi.

When ordering either of the drinks at Pearl Lady, customers will also get one of 6 possible badges as pictured above. One of the designs is a secret, so you'll need some luck if you want that one.

Review: Tokyo Disneyland's New Big Hero 6 Attraction and Minnie's Style Studio

Tokyo Disneyland® is set to open its all-new Beauty and the Beast area of the park tomorrow on September 28, 2020. It's opening in line with the new Big Hero 6 attraction, Minnie Mouse area where guests can meet Minnie, and the park's new popcorn shop.

MOSHI MOSHI NIPPON was granted early access to the news areas, so here's our review!

Check out our review of the new Beauty and the Beast area too here: https://www.moshimoshi-nippon.jp/362152

The Happy Ride with Baymax: The world's first Big Hero 6 attraction

The Happy Ride with Baymax ride has guests joining one of the personal healthcare companion robots on an exciting cart ride.

The park is limiting the number of people allowed on the attraction at once due to the pandemic. To board the attraction, guests need to download the app after entering the park.

Big Pop: Tokyo Disneyland's first popcorn shop

Tokyo Disneyland's first permanent popcorn shop opens in Tomorrowland.

This space-themed shop serves up a whole range of flavours like cookie cream, caramel and cheese, and strawberry milk. There's also four different popcorn baskets to choose form, including Big Hero 6 and Beauty and the Beast designs.

Minnie's Style Studio: Meet Minnie Mouse

This studio imagines Minnie Mouse as an international fashion designer who designs outfits, shoots photos, and more. Guests can meet Minnie Mouse at her studio if they book in advance.

©Disney

Review: Tokyo Disneyland's New Beauty and the Beast Area

Tokyo Disneyland® is set to open its all-new Beauty and the Beast area of the park tomorrow on September 28, 2020. It's opening in line with the new Big Hero 6 attraction, Minnie Mouse area where guests can meet Minnie, and the park's new popcorn shop.

MOSHI MOSHI NIPPON was granted early access to the Beauty and the Beast area – here's our review!

Check out our review of the new Big Hero 6 attraction and Minnie's Style Studio too here: https://www.moshimoshi-nippon.jp/362221

The world of Beauty and the Beast brought to life

The area connects Belle's village to Beast's castle by way of the forest. At the entrance to the village, guests will immediately spot the cottage of Maurine, Belle's father and the vilage inventor. Beyond that is Gaston's water fountain as well as a restaurant inspired by Gaston's bar. There are also other shops that Belle visits in the film, such as the bookshop. It's like stepping into the magical world itself.

When you leave the village and head through the forest, you are met by the spectacle that is Beast's castle, coloured in a cute pink. There's a large-scale attraction inside called "Enchanted Tale of Beauty and the Beast."

The Tokyo Disneyland-original attraction "Enchanted Tale of Beauty and the Beast"

The attraction, located inside the towering 30m-tall castle, features magical cups that guests board. The cups dance in rhythm to music from the film as they take guests through iconic moments seen in the Disney classic.

There are many surprises and discoveries to be found inside the castle.

The park is limiting the number of people allowed on the attraction at once due to the pandemic. To board the attraction, guests need to download the app after entering the park.

Village shops based on the movie

The Village Shops area features a line of shops inspired by those seen in Belle's town, each of which sells various items from clothing to accessories and souvenirs.

There are around 100 pieces of merchandise for fans to sift through.

The shops are also carrying out measures against COVID-19, showcasing the items in a display only so they cannot be touched when entering the store. Guests must use the sign-up system on the app beforehand if they want to enter the shop.

La Taverne de Gaston

All the little details have been captured to recreate Gaston's bar, making it like a snippet right out of the film.

Big Bite Croissant

 

Very Cheers

Sweet Gaston

The menu features a line-up dishes, drinks, and desserts, like sausage croissants with, French toasted cheese sandwiches, soft drinks made to look like beer, and more. The bar also requires booking on the app prior to visiting.

Le Fou's Churros (Apple Caramel)

Le Fou's is located next to La Taverne de Gaston where you can get your fingers on snacks like apple caramel churros.

And don't miss up on visiting the new popcorn wagon either which serves popcorn in a Beauty and the Beast bucket.

The new Beauty and the Beast area is a must-visit for any fan of the film, or for people who want to feel like a Disney princess.

©Disney

Sweet Potato Milk Bubble Tea Pours Into Chun Shui Tang For Autumn

Chun Shui Tang, a chain of Taiwanese bubble tea stores, is adding a new limited-time drink to the menus of all branches in Japan on September 16: the "Tapioca Sweet Potato Milk Tea."

Tapioca Sweet Potato Milk Tea | ¥650 (Before Tax)

The beverage is made with annouimo sweet potatoes grown on the island of Tanegashima in Kagoshima Prefecture. The potatoes are known for their high sugar content, adding a delicious natural sweetness to the tea. It's blended with a high grade sugar syrup and topped off with whipped cream and sweet potato chips to create a dessert drink.

Those who order the drink via the Smatapi (スマタピ) app from September 9 can get the drink early before its general release on September 16.

In Japan for the autumn season? Enjoy the tasty autumn flavour of sweet potato with the Tapioca Sweet Potato Milk Tea.

Information

Tapioca Sweet Potato Milk Tea

Release Date: September 16, 2020

*Mobile pre-sales available from September 9 to those who order using the Smatapi (スマタピ) app

Available: All Chun Shui Tang shops in Japan

Chun Shui Tang Japan Official Website: https://www.chunshuitang.jp/

Houjicha Milk Tea and Genmaicha Milk Tea Made With Japanese Tea Leaves Serving at Gong cha

Gong cha's limited-time "Houjicha Milk Tea" and "Genmaicha Milk Tea" beverages are popular each year, and they returned once again on June 17.

Japanese Tea

Gong cha's menu item "Japanese Tea" was released in 2018 exclusively for Japan, and is enjoyed every year during its annual limited-time run. Made using tea leaves from Japan, its authentic taste and aroma has people begging for more when the year's run is up.

2 Flavours This Year

Houjicha Milk Tea (Regular Size: ¥470) / Recommended Topping: Milk Foam (+¥70) | Serving: From June 17, 2020 for a limited time

The Houjicha Milk Tea is the iconic drink of Gong cha's "Japanese Tea" series. It's a blend the best high quality houjicha and kukicha tea leaves, both of which are grown in Shizuoka Prefecture. Roasting and using them together gives a sweet and deeply rich aroma. Add milk foam as a topping and you've got yourself a rich milk tea.

Genmaicha Milk Tea (Regular Size: ¥470) / Recommended Tapioca (+¥70) | Serving: From June 17, 2020 for a limited time

The Genmaicha Milk Tea is an original blend of Japanese genmai rice and tea leaves from Shizuoka Prefecture. This milk tea keeps the original delicious flavour of the tea and wafts a fragrant rice aroma.

Tokyo Disneyland and Tokyo DisneySea Release Their Own Spotify Music Playlist

Tokyo Disneyland and Tokyo DisneySea launched their first ever music playlists on all major streaming websites on Friday, including on Spotify and Apple Music.

Music from Tokyo Disneyland features everything from famous ballads and show music from the park to Tokyo Disneyland's nostalgic anniversary theme song, a "Ride Through Mix" that has you feeling like you're on the park's attractions, and more. It's a magic-filled Tokyo Disneyland musical fantasy.

Music from Tokyo DisneySea follows the same course as the Tokyo Disneyland playlist, except it also has the theme songs of the park's seven ports. It's packed full of imagination the likes of which you can only experience at Tokyo DisneySea.

New songs are set to be added from both parks each season, so you can feel like you're at Tokyo Disneyland and Tokyo DisneySea from your own home all year round!

Matcha Bubble Tea and Japanese-Style Milano Sandwich to be Released at Doutor Coffee Shop

Doutor Coffee Shop is getting with the Japanese spring vibes with the unveiling of its new Uji Matcha Milk Bubble Tea and Milano C Smoked Chicken & Soft Boiled Egg which will hit branches of the cafe up and down Japan on March 19, 2020.

Tapioca ~Uji Matcha Milk~ / From ¥417 (Before Tax)〜

This tasty bubble tea is made with slightly bitter Uji matcha and subtly sweet milk and is finished with a serving of chewy tapioca pearls.

Milano C Smoked Chicken & Soft Boiled Egg ~Miso Ginger Sauce~ / From ¥382 (Before Tax)〜

This Japanese-style Milano sandwich is made with chicken that has been smoked with cherry blossom chips, a soft-boiled egg, and red onions. It's drizzled with a miso ginger sauce which gives a sweet and spicy flavour to the sandwich.

Spring is right around the corner in Japan, so be sure to enjoy all the seasonal goodies that are to come!

Information

Tapioca ~Uji Matcha Milk~

Milano C Smoked Chicken & Soft Boiled Egg ~Miso Ginger Sauce~

Release Date: March 19, 2020

Official Website: https://www.doutor.co.jp/

Japan Coronavirus: Tokyo Disneyland® and DisneySea® To Close Temporarily Until March 15

Tokyo Disneyland and DisneySea will be temporarily closed until March 15 to reduce the spread of the new coronavirus. Japan's Coronavirus Countermeasures Taskforce has advised that there is a high risk of spreading the infection at large-scale sports and culture events and facilities where large numbers of people travel from across the country and congregate in one area. As many facilities and events in Tokyo are being restricted, postponed and even cancelled over the next two weeks, Tokyo Disneyland and DisneySea announced that both parks will close temporarily from February 29 – March 15, 2020.

The parks plan to reopen on March 16, 2020, however this will be decided following consultation with concerned administrative agencies and will be announced on their official website. If you have already purchased tickets which are valid during the parks' closing dates, please refer to the links below.

Baymax Themed Food Flies Into Tokyo Disneyland Ahead Of New Big Hero 6 Attraction

The world is about to get its first Big Hero 6 themed park attraction, "The Happy Ride with Baymax," at Tokyo Disneyland when it opens on April 15, 2020.

In promotion of the exciting new ride, Tokyo Disneyland has announced it will serve six different Baymax inspired menu items starting from April 8ーa week before The Happy Ride with Baymax's grand opening.

Baymax Curry – ¥1,480 @ Center Street Coffeehouse

When you think of Baymax, you think of his white, chubby round face and body. Well, that image has been brought to life in this curry dish, with Baymax's cute appearance recreated in the form of white rice. The dish takes inspiration from the spicy chicken wings made by Hiro's auntie, Cass.

Special Pancake Set – ¥1,080 @ Center Street Coffeehouse / Time Served: 13:00-18:00 (Not serving June 1, 2020 – September 2, 2020)

Like the curry, this pancake set is also sold at Center Street Coffeehouse. It comes with two thick pancakes topped with Baymax's faceーwhich is a Japanese 'manju' steamed cakeーassorted berries, strawberry sauce, and other delicious delights, mixing together Japanese and western flavours.

Sparkling Tapioca Tea (Cheese Cream & Berries) – ¥600 @ Tomorrowland Terrace / Time Served: 14:00-17:00

BB Popcorn w/Basket – ¥2,600 @ The Big Pop

There's also a dessert-style drink at Tomorrowland Terrace which is a berry flavoured ice tea packed with dollops of cheese cream, as well as popcorn which comes with a popcorn basket of Baymax riding. This will be sold at the new popcorn shop, The Big Pop, which is opening on April 15.

Tuck into some cute and delicious Baymax food at Tokyo Disneyland before The Happy Ride with Baymax opens for business.

©Disney

Tokyo Disneyland® Celebrates Opening Of New Park Area With Special Menu Line-Up

Tokyo Disneyland's new biggest area is set to open on April 15, 2020, which will house four new exciting facilities: the new Beauty and the Beast attraction, the Fantasyland Forest Theatre, the Baymax's Happy Ride attraction, and the Minnie's Style Studio.

To celebrate the new area's opening, several restaurants and eateries in Tokyo Disneyland will serve up some special menu items. Participating restaurants are calling this special menu line-up "New Dreams, More Fun!" Let's take a look.

Sparkling Drink (Mixed Fruits) – ¥450 @ Boiler Room Bites and elsewhere

Boiler Room Bites and other eateries in the park are serving these colourful sparkling drinks packed full of fresh fruit pieces. The cups have special designs of Disney characters like Mickey mouse, Minnie  Mouse, and Baymax.

Special Set – ¥990 @ Refreshment Corner

The special set being served at Refreshment Corner is inspired by Beauty and the Beast. It includes an apple cinnamon hot dog (contains nuts), a unique combination of juicy sausage, cinnamon, caramel, and nuts.

Blue Bayou Course – ¥5,200 @ Blue Bayou Restaurant

Another Beauty and the Beast-inspired dish is this special full course served at the Blue Bayou Restaurant. Buffet-style eatery Crystal Palace Restaurant will also serve up new dishes themed on each of the four new facilities of the new area starting on June 1, with a new one being introduced with each season.

©Disney

Disney Easter 2020: Usapiyo Returns to Tokyo DisneySea® With Cute Food & Drink Line-Up

Tokyo DisneySea's special springtime "Disney Easter" event will begin on March 27, and this year will once again see the arrival of the adorable yellow chick with rabbit ears Usapiyo to deliver a cute and fun Easter to guests in 2020. 

Lots of newborn Usapiyo will stumble their way out of eggs again this year. Since they have just been born, they follow people, copy them, and try their hardest. These cute bunny-chicks will show just how charming they are in the "Tip-Top Easter" entertainment show, where they will captivate the Disney cast.

In line with the arrival of the newborn Usapiyo chicks, a line-up of 19 menu items will be served from March 20, 2020, all of which are Easter themed with motifs like Usapiyo and eggs.

Special Set – ¥1,980 @ Horizon Bay Restaurant

Sparkling Orange Jelly Drink w/Souvenir Cup – ¥950 @ Sebastian's Calypso Kitchen

Head to Horizon Bay Restaurant at Tokyo DisneySea to order the special hamburger set, which has an Usapiyo cheese topping. Feeling thirsty? Then pay a visit to Sebastian's Calypso Kitchen for a refreshing orange jelly drinkーyou even get to keep the cup! The Usapiyo food and beverages available this Disney Easter are almost too cute to eat or drink.

Special Set – ¥1,070 @ Mamma Biscotti's Bakery

Strawberry Mont Blanc w/Souvenir Plate – ¥800 @ Mamma Biscotti's Bakery

If you're wanting something lighter, then order the egg, cheese and roast pork sandwich at Mamma Biscotti's Bakery. You get to take the plate home too.

There's lots of other Usapiyo and Easter treats to discover at this year's Disney Easter at Tokyo DisneySea.

*Please note that this menu line-up is subject to change without notice, and stock is available while supplies last for certain orders

©Disney