5 Best Cute and Stylish Cafes in Fukuoka
Sat on the northern shore of Kyushu is Fukuoka Prefecture, a hot spot for tourists both Japanese and foreign, particularly those visiting from parts of Asia such as China, Taiwan and South Korea.
Fukuoka has its fair share of famous tourist destinations and a delicious collection of gourmet restaurants, but did you know it's also home to lots of different cute and stylish cafes? Today, Instagrammer moe takes us on her trip around Fukuoka's plethora of popular coffee shops and shows 5 must-visit locations.
10 Coffee Brewers
A popular coffee shop also based in in Ōita Prefecture, 10 Coffee Brewers has another branch in Fukuoka's Daimyo district. The mouthwatering beverage you see in the photo above is a vanilla smoothie with tapioca pearls and a shot of espresso. Topped with Oreo cookies, marshmallows and cream, this crave-inducing coffee delight offers a mix of tasty treats and textures that are sure to fill you up after a cup♡
▼10 Coffee Brewers
Address: 1-10-18 Daimyo, Chuo Ward, Fukuoka
Opening Hours: 11:30-19:00
Closed: Mondays
Official Instagram Page: https://www.instagram.com/10coffee.fuk/
green bean to bar CHOCOLATE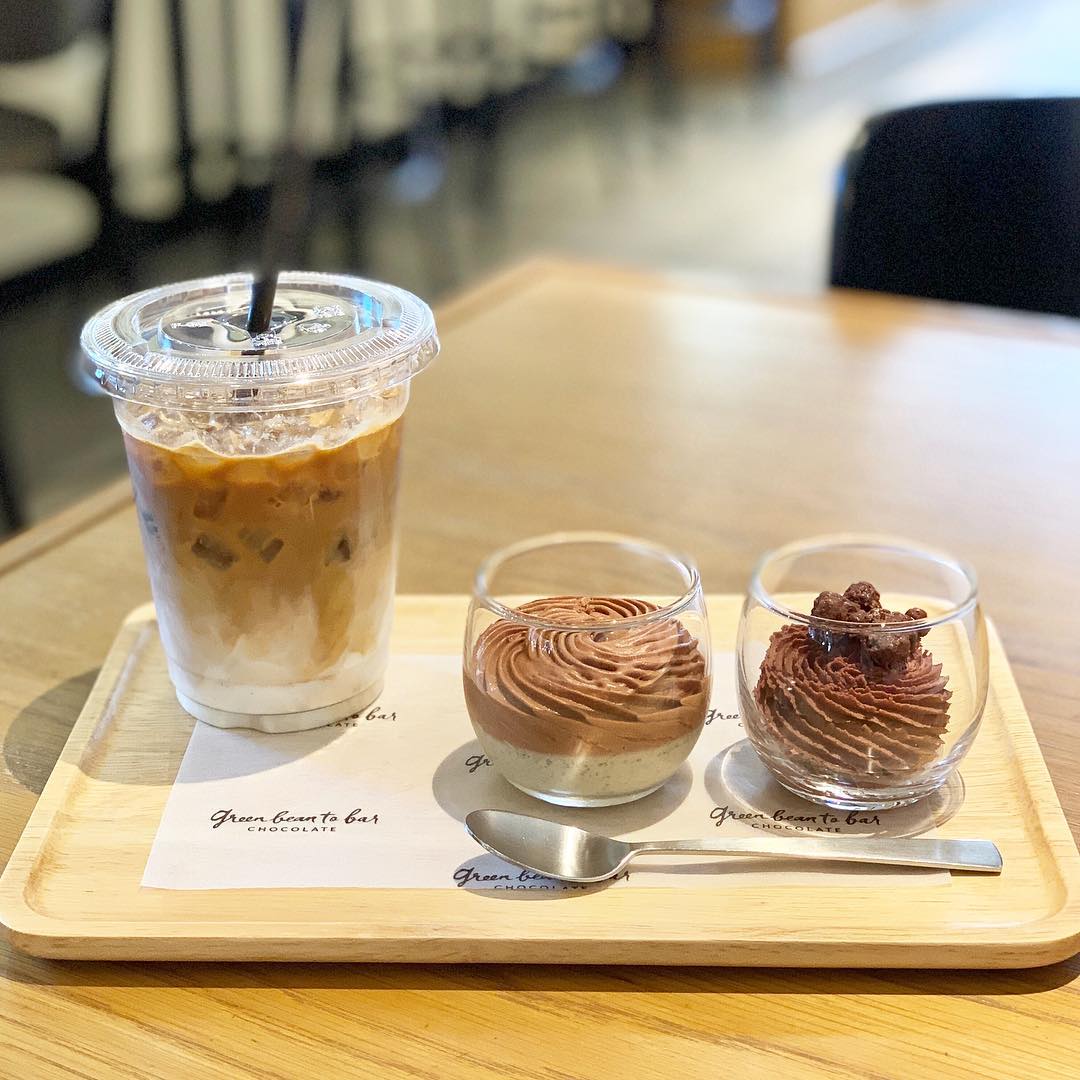 I ordered two different mousses together with my coffee, both exclusive to this Fukuoka branch of the cafe chain. On the left is the Vietnam x Hojicha and on the right is the Tanzania With Crumble. The cacao beans in both are sourced in separate locations. You can order several different flavours to combine with your mousse. As well as hojicha there is sesame seed, mikan and more. The mousse is crafted with a beautiful spiral shape that screams Instagram-worthy at whatever angle you point your camera at. You can even order them for takeout♡
▼green bean to bar CHOCOLATE
Address: Nishietsu Tenjin CLASS Floor 1F, 1-19-22 Imaizumi, Chuo Ward, Fukuoka
Opening Hours: 11:00-21:00
Closed: Wednesdays
Official Website: https://greenchocolate.jp/
COFFEE & CAKE STAND LULU
LULU's beverages are served in simple and stylish cups. The drink on the left is the Houjicha Latte and the one on the right is a LULU Latte. Though the Houjicha Latte is a pure white colour it still has that proper houjicha taste to it. Their puddings are a must-try too and can be ordered for takeout but they were all sold out on this day. Their bouncy puddings are really popular, so if you see them on sale there you should definitely pick one up!
▼COFFEE & CAKE STAND LULU
Address: 2-3-26 Yakuin, Chuo Ward, Fukuoka
Business Hours: Weekdays 9:00-18:00 / Weekends & Holidays 11:00-19:00
Closed: Thursdays
Official Facebook Page: https://www.facebook.com/COFFEE-CAKE-STAND-LULU-1045325205611217/
NO COFFEE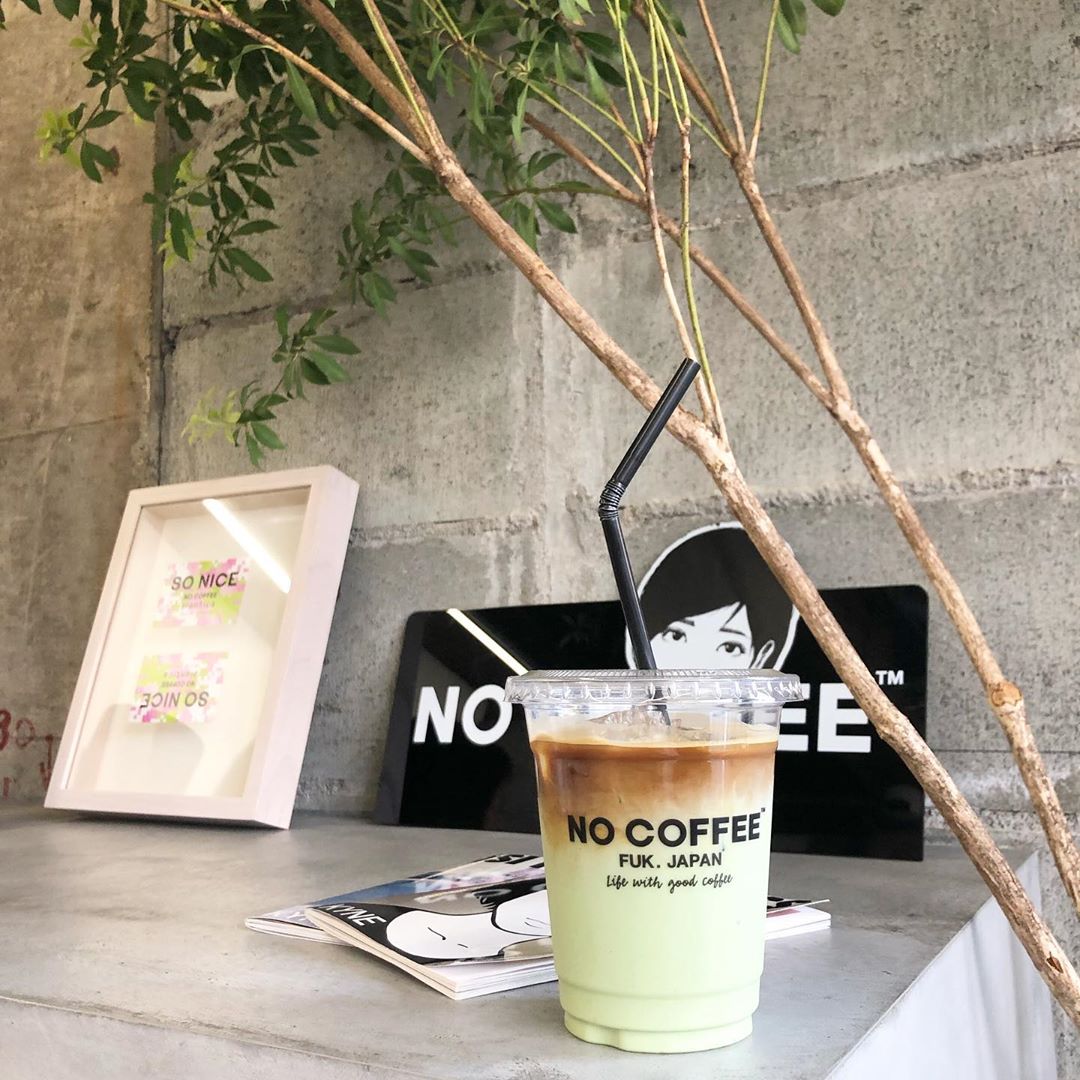 NO COFFEE promotes a coffee lifestyle with their contemporary decor and drinks. The drinks in the photos are the matcha latte with espresso and frozen banana mocha.
The matcha latte mixes sweet matcha latte with a shot of full-bodied espresso to create a refreshing combination. The frozen banana mocha is my personal favourite and a perfect choice for when the weather's hot. The cafe is also a concept shop that sells a variety of miscellaneous items.
▼NO COFFEE
Address: 3-17-12 Hirao, Chuo Ward, Fukuoka
Business Hours: 10:00-19:00
Closed: Mondays (except on national holidays in which case the cafe will close on the following Tuesday)
Official Website: https://nocoffee.net/
W/O STAND
Last on the list is W/O STAND, a coffee chain that's popular not only in Tokyo but in Fukuoka too. The hypnotic drink in the photo is a caramel macchiato. It's common to see the illustration on the cup on Instagram in Japan. The picture is different depending on which branch you visit. Their menu is huge too so you'll definitely want to go back more than once to get coffee.
▼W/O STAND
Address: ARKCUBE103, 1-3-5 Daimyo, Chuo Ward, Fukuoka, Fukuoka Prefecture
Business Hours: 11:00-19:00
No Fixed Holidays
Official Instagram Page: https://www.instagram.com/without_stand_fukuoka/
Did you enjoy this list? Which cafe do you want to visit the most?
moe has many more photos of drinks, desserts and food she has tried in Fukuoka on her Instagram page too. If you're planning a trip to Fukuoka when travelling to Japan, be sure to follow moe's Instagram.
Photos & Text: momo
Translation: Joshua Kitosi-Isanga
RECOMMENDED ENTRIES
COFFEE♥STORY is a video series by coffee company UCC Ueshima Coffee Co., Ltd. that shows the process by which coffee is made before it ends up in a cup between your palms.

The second video in the series was just released in YouTube and celebrates cold brew coffee, a big contender in Japan's coffee culture. Check it out below.

The fire surrounding cold brew coffee was lit in New York and has become a popular way of drinking coffee in Japan.

Did you know that cold brew coffee was actually one of the elements that helped brew a coffee culture in Japan? After Japan's first cafe arrived in Tokyo during the Meiji period (1868-1912), coffee spread up and down Japan in various forms. When the Showa period (1912-1926) rolled around, cafes introduced tools to make cold brew coffee served in tall glasses and it has been enjoyed ever since. American third wave coffee shop owners in Japan who knew of this method took these utensils back to their own country and reinvented what is now known as cold brew coffee.

Japan went on to establish its own cafe culture. It is said that Japanese people were not only the "world's first" to create cold brew coffee, but instant coffee and canned coffee too.

COFFEE♥STORY#02 explores this story with footage of traditional and beautiful Japanese houses and gardens. Be sure to check it out.

Information

UCC COFFEE♥STORY Official Website

Roasted COFFEE LABORATORY Sets the Latest Shibuya Culture Trend With New Summer Drinks

As we approach summer, coffee shop Roasted COFFEE LABORATORY is releasing three new drinks on Tuesday May 28.

Tapioca Cherry Latte ¥600 + tax

As we're approaching summer, the griotte cherry season is also upon us and the Tapioca Cherry Latte is making full use of this seasonal fruit! The cherry provides an element of sourness to contrast the homemade syrup, which is poured over the carefully balanced ice latte. With the first sip, you are immediately hit by the refreshing sourness of the cherry, which spreads all over your mouth. The slight bitterness of the iced latte accents the flavour. Your taste buds will be embraced by a gentle creaminess… and then surprised by the chewy tapioca pearls! It's filling, delicious and fancy ー this is full satisfaction in a cup!

Left: Espresso Tonic (¥550) / Right: Espresso Lime Freezing (¥620)

The Espresso Tonic contains strong espresso coffee which is accented by the sharpness of the tonic water. The agave syrup creates an overall bittersweet flavour. The drink is topped with aromatic, fresh mint.  

The Espresso Lime Freezing consists of ice and frozen lime which is topped with espresso for a fresh yet bittersweet flavour. This icy drink is the perfect way to combat the heat of the summer and get refreshed!

*This is not available at the Tokyu Department store (Toyoko) branch.

Roasted COFFEE LABORATORY was established in Jinnan, Shibuya in 2016 as a joint roastery and coffee shop. Holding the reputation of "MADE IN SHIBUYA" up high, Roasted COFFEE LABORATORY is a place where you can indulge in the high quality freshness of home-roasted coffee beans, homemade desserts and meals that are overflowing with originality, music, art, and events that are coloured with a mixed variety of culture. The roastery has established its roots firmly in Shibuya, the home of street culture, making it the perfect place for it to thrive. They define the culture of "today"and never fail to come up with something new daily to entice your curiosity.

This is your chance to get on top of the latest trends and enjoy a moment of supreme bliss to yourself!

Vegan Food and Incredible Coffee Served at New Coffee Shop alt.coffee roasters in Kyoto

alt.coffee roasters is a new coffee shop opening near Nijō Castle in Kyoto on March 16, 2019. They are set to serve hand drip coffee that bursts with the the original fruity flavour of the coffee beans and emits an unending and irresistible aroma along with a selection of vegan food made with ingredients sourced in Japan, and more.

The coffee served at alt.coffee roasters uses light roast beans which ooze a rich aroma and maintain tantalising flavours. Using the hand drip coffee method means that the great taste stays even when served cold.

The reason alt. is obsessed with light roasts is because they believe the closer the flavour is to the original bean the more delicious it is―and since the taste of every bean is completely different depending on where they are grown, they intend to bring out those flavours to the absolute max. Keeping closer to the original flavour also means the coffee can be enjoyed bitterless.

In Japan, dark roasts are the most popular. Coffee in Japan equals bitter, and so alt. wishes to provide a new way of enjoying coffee to people, hence why they also serve it in wine glasses. It is served black and has a sweet flavour even without sugar.

Pour Over Coffee: ¥500

Flat White: ¥450

The cafe is all about single origin coffee and uses fair-trade beans from Ethiopia which has a history with coffee spanning over 1,000 years. Only the best beans are selected by the farmers. A range of different coffees will be sold including flat whites.

Homemade Fruit Granola: ¥780

Homemade Open Bagel Sandwich With Domestic Vegetables: ¥780

The food menu includes a homemade and gluten-free bagel made using seasonal ingredients farmed in Japan, vegan desserts made with original recipes, and more.

Indulge in fantastic coffee and a great meal at alt.

Information

alt.coffee roasters

Grand Opening: March 16, 2019

Address: 28-4 Shinsenenchō, Nakagyō Ward, Kyoto, Kyoto Prefecture

Business Hours: 8:30-17:00 (Last Orders 16:45) *No fixed holidays

Access: 5-minutes on foot from Nijōjō-mae Station via the Tozai Subway Line / 8-minutes on foot from Nijō Station via the JR Sagano Line / 10-minutes on foot from Ōmiya Station (Kyoto) via the Hankyu Kyoto Main Line

Official Website: http://altcoffee-roasters.com
RELATED ENTRIES
Tanabata and Milky Way Inspired Food and Drink Arrives at PLANETARIA TOKYO

KONICA MINOLTA PLANETARIA TOKYO, a twin-dome planetarium in Tokyo's Yurakucho district, introduced a new menu at its Cafe Planetaria on July 1, 2020.

A cafe where you can taste the stars

Cafe Planetaria's concept is that customers happened upon it during a trip through the galaxy. It is the only cafe in space—one where you can delight in cocktails that shine bright like a nebula, or tuck into finger food that's like fragments of planets.

The new menu hopes to serve customers a day they won't forget after they have gaze upon the starry night sky.

How best to enjoy Cafe Planetaria

Cafe Planetaria's menu can be enjoyed at DOME 1 inside the planetarium so you can enjoy cocktails and food while watching the starlit show. It's open to those who aren't using the planetarium too, so if you're looking for a quick stop-off on your time through the galaxy and don't have time for stargazing you can enjoy the galactic delights too.

Nebula Soft Serve Ice Cream: ¥550 (Tax Included)

This purple soft serve ice cream is inspired by nebula imagery.

Moon Parfait: ¥770 (Tax Included)

A colourful parfait topped with the moon and sweet-tasting planets.

Mercury (Cocktail): ¥880 (Tax Included)

Part of the planetary cocktail series.

Observe "Tokyo's Milky Way"

PLANETARIA TOKYO has brought back its planetarium work Tokyo no Amanogawa o Wasurenai (Never Forget Tokyo's Milky Way). The show makes use of works left behind by Japanese novelist Kenji Miyazawa, poets Chūya Nakahara and Yumeji Takehisa, and others, to bring viewers back to a time when you used to be able to see the Milky Way in the city of Tokyo. When the city lights switch off for the night, the former Milky Way will shine its radiant brilliance. Viewers will be able to see the same sight that so many artists and writers saw when creating works about Tokyo's starry sky.

Make a wish upon a falling star

A popular service at PLANETARIA TOKYO that is also free is getting to see falling stars in real time with a system set up by Meteor Broadcaster. They are shown across a giant 12m long screen. On the Gregorian calendar, Tanabata is celebrated on July 7, but on the old Japanese lunisolar calendar it will fall on August 25 this year. If you're in Tokyo around that time, why not visit the planetarium and make a wish?

Online shop to enjoy the Milky Way at home

Gallery Planetaria is a concept shop in PLANETARIA TOKYO whose concept is based around being a secret shop hidden away somewhere in the galaxy. Their online shop is selling plenty of fun items that you can only get on this side of the galaxy. The service is available in Japan only, but check out their website to see what they've got in stock.

Gallery Planetaria Online Shop
https://planetaria.theshop.jp/

Starry Sky Guide: Summer – At Home Version (Narrated by Yoshimasa Hosoya)

PLANETARIA TOKYO has posted an at-home version of their summertime starry sky guide which was shown at the venue. It's narrated by Japanese voice actor and narrator Yoshimasa Hosoya and features a 360° VR experience. Check it out here.

Information

KONICA MINOLTA PLANETARIA TOKYO
Address: Yurakucho Marion 9F, 2-5-1 Yurakucho, Chiyoda Ward, Tokyo
Opening Hours: 10:30-22:00 (Reception closes 21:00)

*No Fixed Holidays

*Open until 22:30 (reception closes 21:30) on weekends and public holidays

Official Website: https://planetarium.konicaminolta.jp/planetariatokyo/

Hamtaro Cafe 2020 to Open in Tokyo, Saitama, and Osaka

LEGS COMPANY has announced that it will open three cafes based on the popular Japanese character Hamtaro in Tokyo and Saitama on July 30 and Osaka on July 31.

Hamtaro is a manga and storybook series created and illustrated by Ritsuko Kawai. The series began serialisation in 1997 and an anime adaptation first broadcast back in 2000. More than 20 years later, Hamtaro continues to enjoy much popularity in Japan.

Hamtaro Cafe 2020 will be themed around sunflowers and the sea, and will serve up a fun experience perfect for the hot summer. The Ham-Hams have come out of their Clubhouse to pay a visit to the seaside and enjoy the sun. There will be sunflower and ocean themed food, drinks, and desserts for everyone to munch on.

Yakisoba On Beach Hut Sunflower Bread: ¥1,499

A plate of yakisoba and egg arranged to look like a sunflower, with Hamtaro sat right in the middle.

Cone Cappy Hide and Seek Ice Cream Parfait: ¥1,399

Cappy is wearing a cone on his head and is hiding amongst the ice cream, chocolate banana, and fresh mint.

Ham Ham Glass Drinks: Drink Only – ¥789 Each / With Glass – ¥1,789 Each

There are two drinks to choose from: the orange flavoured Hamtaro and the yogurt flavoured Bijou.

Vinyl Pouch: ¥1,300


Mascot Keyring Hamtaro: ¥1,550

The cafe will also sell a range of exclusive merchandise too, which is scheduled to be available for online purchase as well in Japan.

Ham-Ham Fans (14 Designs)


Original Coasters (15 Designs)

Those who dine at the cafe will receive a free Ham-Ham fan, and if you order a drink you'll get a coaster too.

©Ritsuko Kawai / Shogakukan

Information

Hamtaro Cafe 2020

Booking Price: ¥500 (4 people max per booking) *Comes with free gift

Tokyo: TOKYO BOX cafe&space / July 30, 2020 – September 6, 2020

(Address: Tokyo Solamachi Floor 1F East Yard 8, Tokyo Skytree Town, 1-1-2 Oshiage, Sumida-ku, Tokyo)

Saitama: BOX cafe&space / July 30, 2020 – September 27, 2020
(Address: AEON Laketown kaze Lake Town Gate 1F, 4-2-2 Koshigaya, Saitama)

Osaka: Shinsaibashi contact / July 31, 2020 – August 16, 2020

(Address: 1-6-24 Kitahorie, Nishi-ku, Osaka-shi, Osaka Prefecture)

Official Website: https://hamutarocafe.sho.jp/

Chocolate-Piled Shaved Ice & Other Summer Season Delights at BEL AMER Kyoto Villa

Kyoto-based chocolate bar BEL AMER Kyoto Villa is serving up the perfect line of new chocolatey bites for summer 2020.


The entire line-up is a delight to look at, from a mountain of chocolate piled on top of shaved ice, a summertime mango and melon dessert, and more.

Chocolate Noir Shaved Ice x Matcha: ¥1,540 (Tax Included)

Shaved ice is the quintessential summertime dessert in Japan, and since this one is being served at a shop specialising in chocolate, what better way to serve it than drizzled in a mountain of the stuff? The shaved ice is covered in rich chocolate cream and chocolate sauce and is topped with chocolate nibs. It's also served with a side of matcha sauce which you can pour over yourself, creating a delicious harmony of flavours.


Mille-Feuille au Chocolat Exotic With 196℃ Chocolate Ice Cream: ¥1,650 (Tax Included)

This summertime dessert is made with lots of mango and melon. In the centre of it all is even more mango, as well as pineapple and coconuts, for a flavourful layered experience. Served on the side is ice cream made from BEL AMER Kyoto Villa's own original couverture chocolate.

Summer Pavlova: ¥1,320 (Tax Included)

This piece of art of a dessert is a must for lovers of matcha and melon. It's made from fluffy meringue topped with white chocolate, matcha mousse, and chocolate cream, which itself is then topped with refreshing melon and grapes for a refreshing kick.


Chocolate Croquette Sandwich: ¥990 (Tax Included)

BEL AMER Kyoto Villa is also serving up a very unique dish indeed which mixes together chocolate and croquette—a flavour that actually works, combining sweetness and bitterness. The croquette is made from potatoes. The brioche sandwich also contains cheese and bacon.

These are just some of the delights on show at BEL AMER Kyoto Villa this summer. If ever you're in Kyoto, be sure to stop by, especially in the summer.

Information

BEL AMER Kyoto Villa Bettei Sanjo

Address: 66 Sanjodori Sakaimachi Higashi Iru Kitagawa Masuyacho, Nakagyo-Ku, Kyoto

TEL: 075-221-7025

Official Website: https://www.belamer-kyoto.jp

3 Gourmet Cheesecakes From Popular Cheesecake Shops in Japan

The cheesecake—a popular dessert with a flavour that is both rich and refreshing. The number of shops in Japan specialising in cheesecakes has been on the rise recently, all of whom are baking up their own unique versions. Here are three summertime cheesecakes available online in Japan from three popular cheesecake shops.

Mr. CHEESECAKE

This summer, Mr. CHEESECAKE has whipped up a seasonal "Hirami Lemon" flavoured cheesecake which they are selling in limited quantities via their official LINE account from July 12 to 19. The cheesecake is packaged in a special box featuring an illustration of the summertime ocean.

Made with refreshing hirami lemons, the cheesecake has a sour and slightly bitter kick to it. By combining Japanese sansho pepper and olive oil, the sourness of the hirami lemon is elevate to new heights. Mint is also added to up the refreshing flavour, and salt from Okinawa heightens the sweetness of the cheesecake.

Mr. CHEESECAKE hirami lemon

Price: ¥5,400 (Tax Included)
Official Website: https://mr-cheesecake.com/

Neko Neko Cheesecake

Neko Neko Cheesecake, a cheesecake shop which opened in Tokyo in May, serves cat-shaped cheesecakes. This summer-only cheesecake is made using setonai lemons. It was released on Friday and will be sold in limited quantities only.

​The cheesecake has lemon jelly in the middle and is topped with sliced lemons grown in the Seto Inland Sea area that are baked together with the cake. It's finished with a smear of lemon jam and cream, making for a real summertime treat.

Neko Neko Cheesecake ~Setonai Lemon~
Online

Release Date: July 1, 2020

Price: Single ¥3,800 / Lemon & Plan ¥5,980

Online Store: https://hbantique.official.ec

In-Store

Release Date: July 3, 2020

Price: Single ¥2,200

Available: Neko Neko Cheesecake in Jiyugaoka, Tokyo

LeTAO

Confectionery shop LeTAO has released their popular "Melon Double" cheesecake again this summer.

A popular cheesecake released every year by LeTAO, the Melon DOuble is a sweet baked cheesecake made with individual layers of melon puree and mascarpone cream cheese. The refreshing sweetness of the melon goes hand in hand with the cheese.

Melon Double ~Hokkaido Melon~
Price: ¥1,728 (Tax Included) *Shipping fee ¥890
Available: Until August 31, 2020
Product Details: https://shop.letao.jp/item/F695.html

Gourmet Shaved Ice Served Up at the New VERMICULAR PREMIUM SHAVED ICE SALON in Nagoya

For this summer only, a limited-time gourmet shaved ice shop called "VERMICULAR PREMIUM SHAVED ICE SALON" is opening up inside VERMICULAR VILLAGE in Nagoya from July 2 to September 13.

The exquisite shaved ice options are topped with fruit confitures which are made without any water involved, allowing for the original flavour of the fruits to come through, as well as adzuki beans cooked with Vermicular cookware, and more. The shaved ice is served inside Vermicular's high quality mini pots, which have been kept cool, meaning the ice doesn't melt when it's put inside, meaning it stays nice and fluffy until the end.

There are three to pick from, and underneath each the shaved ice is a blancmange which goes hand in hand with the shaved ice flavours.

Strawberry, Pistachio, & Condensed Milk: ¥1,300 (Before Tax)

This ice pot is topped with a strawberry jam which was made using no water, and pistachios—which go really well with the fruity confiture. At the very bottom is a condensed milk blancmange, making it delicious down to the last spoonful.

Nishio Matcha, Adzuki Beans, Brown Cane Sugar Warabimochi, & Houjicha: ¥1,500 (Before Tax)

Next is a matcha flavoured shaved ice pot made with adzuki beans and matcha grown in Nishio, Aichi. Sat at the bottom of the pile is a houjicha tea blancmange and brown cane sugar warabimochi.

Mango, Passion Fruit, & Coconut: ¥1,300 (Before Tax)

Lastly is a mango and passion fruit sauce covered shaved ice with coconut milk and a topping of fresh mango. At the bottom is a coconut blancmange.

Information

VERMICULAR VILLAGE
Address: 2-4 Funatocho, Nakagawa Ward, Nagoya, Aichi

Bookings: https://www.tablecheck.com/shops/the-foundry/reserve

Enquiries: VERMICULAR RESTAURANT THE FOUNDRY (052-355-6800)

Dining: 50 minutes max

*Photos are for illustrative purposes only

Summer 2020 Parfait Fair Begins at Shiseido Parlour in Tokyo

Shiseido Parlour began its annual "Midsummer Parfait Fair" at its Ginza, Tokyo branch on Wednesday which will run until August 30 and be divided into two different slots serving different parfaits. The cafe is serving up a selection of parfaits made from ice cream and local seasonal fruits under the trust that the chefs and farmers have built over the years.

2020 Midsummer Parfait Fair: Slot ① July 1, 2020 – July 31, 2020


Furano, Hokkaido – Furano Melon Parfait: ¥2,100 (Tax Included)

This parfait is made using Furamon melon which is grown in Hokkaido's city of Furano between the mountains where there is a major temperature difference. The melon is ripened after being harvested and so make it nice and soft, giving a sweet and juicy flavour and fragrance.

Sakai Nouen, Wakayama – Arakawa Peach Parfait: ¥2,300 (Tax Included)

The "Arakawa" peach is a brand of peach grown in Wakayama Precture. The peaches are grown until their nearly completely ripe while in the tree, giving them a soft texture. Inside the sweet flavour is a sour kick, both of which explode with the juiciness of the peach in the parfait.

Yaeyama Islands, Okinawa – Apple Mango Parfait: ¥2,700 (Tax Included)

The "apple mango" is a type of mango grown in the hot climate of Okinawa. The mango has a super soft, melt-in-the-mouth texture and a sour tinge which elevates its rich sweetness.

Hatake Kobo, Nagano Prefecture – Koihime Strawberry Parfait: ¥2,000 (Tax Included)

The "koihime" is a type of summer strawberry grown in-house by Shiseido Parlour. The strawberries get plenty of water, air, and sunlight so they grow into red jewels packed full of sweetness.

The second slot of the 2020 Midsummer Parfait Fair will run from August 1 to August 30.

Information

Shiseido Parlour Ginza

Address: Tokyo Ginza Shiseido Bldg. (Floor 3F), 8-8-3 Ginza, Chuo Ward, Tokyo

TEL: 03-5537-6231 (No reservations required)

Opening Hours:

[Tue-Sat] 11:00-21:00 (Last Orders 20:30)

[Sun & Hols] 11:00-20:00 (Last Orders 19:30

Closed: Mondays, New Year Holidays

Official Website: https://parlour.shiseido.co.jp/

Hello Kitty Cafe to Open in Narita Airport's Anime Deck This July

KADOKAWA is set to open a Hello Kitty themed cafe on the Narita Anime Deck—which is located on the Main Building second floor of Narita International Airport Terminal 2—for a limited time from July 3, 2020 to October 2, 2020.

The Narita Anime Deck

The Narita Anime Deck opened inside Narita International Airport Terminal 2 in November 2019. It's an entertainment facility where travellers from around the world can experience and enjoy Japanese anime culture in various forms such as with character merchandise, food, events, and a variety of photo spots.

Hello Kitty Cafe

The facility has collaborated with numerous anime series to open up limited-time cafes since it opened. This time around it is joining paws with Hello Kitty, a face known to all across the globe. As well as themed food, drinks and merchandise, customers can take a Hello Kitty quiz, learn the history behind Hello Kitty, and more.

An Original Food Menu


Hello Kitty's Lovely♡ Pink Curry: ¥1,500


Hello Kitty's Gurakoro Burger: ¥1,500


Hello Kitty's Strawberry Pancake: ¥1,400


Hello Kitty's Strawberry Parfait: ¥1,200

An Original Drinks Menu

The incredible drinks menu is diverse, including lattes where you can get 46 different latte art designs of Hello Kitty from 1974-2019. It could be fun to pick your birth year, or a year where you have fond memories.

Hello Kitty's Colourful Tapioca Drinks (Matcha Milk/Strawberry Milk/Milk Tea): ¥720 Each

 
Hello Kitty's Marshmallow Coffee: ¥800


Hello Kitty's Latte (46 Designs): ¥720 Each

Novelties

For every item you order from the collaboration menu, you can also receive one of 46 possible original coasters once again featuring a different design of Hello Kitty between the years 1974-2019.

1st Line-Up: July 3, 2020 – August 2, 2020


2nd Line-Up: August 3, 2020 – September 2, 2020


3rd Line-Up: September 3, 2020 – October 2, 2020

If you're travelling through Narita Airport anytime this year up to October, then be sure to head on up to the Narita Anime Deck to dine at the Hello Kitty Cafe.

© 1976, 2020 SANRIO CO., LTD. APPROVAL NO. L611439

Mobile Game BanG Dream! Girls Band Party Gets Themed Cafe in Tokyo, Osaka, & Nagoya

LEGS COMPANY is opening three cafes in Tokyo (Ikebukuro), Osaka (Umeda), and Aichi (Nagoya) based on the popular mobile game Game BanG Dream! Girls Band Party for a limited time from July 31, 2020.

Game BanG Dream! Girls Band Party is a rhythm and adventure mobile game that was released in Japan in 2017. It is part of Bushiroad's "BanG Dream!" music media franchise which is centred on all-female bands.

Since summer 2017, LEGS COMPANY has opened themed cafes based around the game every year. 2017 saw the cafes focus on the vocalists of the bands in the game. In 2018, it was the keyboardists and DJs, and last year the drummers. Each theme brought with it illustrations and decorations created specifically for the cafes, as well as a food menu inspired by the characters, original merchandise, and more.

This year marks the 4th run of the annual summer cafe which will hit Tokyo, Nagoya, and Osaka. The theme this time around focuses on the seven main bands from the game. Seven characters from the bands, including one from a new band, will welcome fans in the form of kawaii-packed dishes, drinks, and desserts.

Yamabuki Bakery's Mini Croissant Plate (Poppin'party): ¥1,590 (Before Tax)


Kitazawa Butcher's Stamina Croquette Curry (Hello, happy world!): ¥1,490 (Before Tax)

All of the main dishes on the menu are colourful and vivid, plated with hearty portions of delicious and nutritional goodies.

Strawberry Rock Parfait (Afterglow): ¥1,290 (Before Tax)


Colourful Doughnut Sandwich (Pastel*Palettes): ¥1,290 (Before Tax)

This gourmet dessert is topped with fruit, so gorgeous it seems a waste to eat.

Grape: ¥890


Ramune: ¥890

There are colourful drinks too with each colour representing a different band. Support your favourite band by getting a glass!

Pin Set 2020 ver. (7 Designs): ¥3,100


Canvas Art (7 Designs): ¥3,500 Each


Birthday Pins (4 Designs): ¥650 Each

Fans can get their hands on plenty of exclusive merchandise too, and there's even birthday items and food available too.

Online Birthday Cake (4 Designs): ¥3,850 Each (+¥950 shipping fee)


Cushions (22 Designs): ¥3,800 Each

You can even order your own special birthday cake in Japan from the cafe, and they're not short on exclusive merchandise.

©BanGDream! Project ©Craft Egg Inc. ©bushiroad All Rights Reserved.

Information

Game BanG Dream! Girls Band Party Cafe 2020
Tokyo

IKEBUKURO BOX cafe&space / July 31, 2020 – September 6, 2020
Address: Matsumoto Kiyoshi Ikebukuro Part 2 (Floor 4F), 1-22-8 Higashi-Ikebukuro, Toshima-ku, Tokyo

Osaka

UMEDA BOX cafe&space / July 31, 2020 – September 6, 2020
Address: Umeda LOFT (Floor 1F), 16-7 Chayamachi, Kita-ku, Osaka, Osaka Prefecture

Aichi

NAGOYA BOX cafe&space / July 31, 2020 – August 30, 2020
Address: LACHIC (Floor B1F), 3-6-1 Sakae, Naka-ku, Nagoya, Aichi Prefecture

Booking Price: ¥650 (Before Tax) *Max 4 people per booking, comes with gift

Game BanG Dream! Girls Band Party Cafe 2020 Official Website: https://bang-dream-cafe.jp/

Support Japan's Cherry Farmers During Lockdown by Eating Q-pot CAFE.'s Cherry Parfait

Q-pot. and Q-pot CAFE. introduced a special cherry parfait to its menu on June 27 to help support cherry farmers whose work has been affected by COVID-19.

Due to less people travelling and sightseeing around Japan as a result of the lockdown and self-isolation practices, orders for cherries are being cancelled, and many festivals across Japan too are being cancelled, all of which is having a huge affect on the country's cherry industry.

The current season is the best time to enjoy Japan's juicy cherries, and so Q-pot CAFE. has teamed up with a cherry farm in Yamagata, a prefecture famous for its cherries.

Cherry Cherry Parfait (w/Drink): ¥1,850 (Tax Included)

The "Cherry Cherry Parfait" is topped with snow-white whipped cream, crunchy meringue, and cherries for a gorgeous contrast of red and white.

The cherries used are considered a high-grade type called "satonishiki" which has been dubbed the "King of Cherries." They sit gracefully atop their kingdom of sweet ingredients including salt milk ice cream, chocolate, cherry jam, sponge cake, and panna cotta.


The cherry farmers are taking all the necessary safety precautions against COVID-19 while they continue to delivery delicious cherries to the people of Japan.

Information

Cherry Cherry Parfait
Location: Q-pot CAFE. Omotesando
Serving: From June 27, 2020 while supplies last
*Due to an event taking place between July 21, 2020 – September 4, 2020, customers must book a table in advance to dine at Q-pot CAFE. Omotesando. The regular menu will not be served.

Official Website: http://www.q-pot.jp

New Kaguya-sama: Love Is War Themed Menu Arrives in Akihabara

Royal Host, a family restaurant in Akihabara, is collaborating with the popular TV anime series Kaguya-sama: Love Is War to serve two different menu line-ups. The first is currently running right now until July 5, which we covered recently. This time we'll be taking a look at the upcoming second menu which will be served from July 6.

Kaguya-sama: Love Is War is a romantic comedy manga series written and illustrated by Aka Akasaka. A 12-episode anime adaptation premiered in January. The series's collaboration with Royal Host last year was such a success that the restaurant chain decided to bring it back again.

2nd Collaboration Menu


Five items make up this second Kaguya-sama: Love Is War x Royal Host menu.

~I Wanna Feed Miyuki Shirogane~ Kaguya Shinomiya's Handmade Pasta: ¥1,800 (Before Tax)

A tomato cream pasta topped with salted salmon roe and seafood, and served with a side of salad and garlic bread.

~Save the Student Council~ Student Council Member's Bonding Curry: ¥1,800 (Before Tax)

Butter rice topped with curry, spinach, melted cheese, boiled egg, and spicy onion rings. Served with a side of salad and mango dessert.

~Kaguya Shinomiya is Happy~ Kawaii Strawberry Parfait: ¥800 (Before Tax)

Bright-red sweet and sour strawberry sorbet topped with fresh strawberries.

~I Wanna Befriend Kei Shirigane~ Blue Lychee: ¥500 (Before Tax)

Lychee-flavoured soda topped with whipped cream.

~I Wanna Make Ai Hayasaka Feel Better~ Lonely Person's Cheesecake: ¥580 (Before Tax)

A slice of cheesecake drizzled in blueberry sauce.

When you order from this second collaboration menu you will receive a free and exclusive coaster.

Mug: ¥1,580 (Before Tax)


Before Tax: ¥3,500

There's also a selection of exclusive merchandise for fans to get their hands on too, like a mug, cushion, or acrylic stand.

©Aka Akasaka / Shueisha・Kaguya-sama: Love Is War Production Committee

Information

Royal Host Akihabara
Address: 4-5-4 Sotokanda, Chiyoda Ward, Tokyo

1st Collaboration Menu : June 13, 2020 – July 5, 2020

2nd Collaboration Menu: July 6, 2020 – July 30, 2020

Time: 11:00-22:00 (Last Orders 22:00)

Official Website: http://www.royal-holdings.co.jp/

Brown Bear & Other Tasty Shaved Ice Recipes Arrive at Tokyo's Terrace Dining TANGO for Summer

For this year's summer season only, Tokyo-based Italian restaurant Terrace Dining TANGO is serving three original shaved ice desserts from July 1 to August 31.

Terrace Dining TANGO is a restaurant located in The Place of Tokyo, a wedding venue that faces Tokyo Tower. Every summer, the restaurant serves special limited-time shaved ice. They use water with absolutely no impurities that is frozen slowly over a period of 48 hours. This is turned into fluffy shaved ice which the restaurant's patissiers drizzle in specially-made sauces. This year includes their popular brown sugar syrup-drizzled brown bear shaved ice which is always well received for its cute appearance, as well as their regular strawberry milk flavour, and a new apricot kernel and mango sauce shaved ice.

Brown Bear w/Brown Sugar Syrup: ¥950 (Before Tax/Service Charge)

An original shaved ice conceived by Terrace Dining TANGO which never fails to put smiles of the faces of its customers every year. This year they are adding a Japanese taste to it with a houjicha tea syrup sauce. Inside the fluffy shaved ice is condensed milk and chewy tapioca. If you let the shaved ice melt it becomes like bubble tea with the tapioca pearls.

Strawberry Milk: ¥850 (Before Tax/Service Charge)

A classic serving of TANGO's strawberry milk shaved ice, doused in a specially-made strawberry syrup and rich condensed milk. Hidden in the centre is a condensed milk cream, strawberry jelly, and fresh strawberries.

Apricot Kernel Milk w/Mango Sauce: ¥850 (Before Tax/Service Charge)

This shaved ice is topped with melt-in-the-mouth apricot kernel cream and lots of fruity mango sauce for a sweet and sour punch.

Terrace Dining TANGO is a great place to visit after going to Tokyo Tower, so if you're in Tokyo this summer then cool yourself off with some refreshing shaved ice.

Information

Terrace Dining TANGO

Address: 1F, 3-5-4 Shibakoen, Minato Ward, Tokyo

Opening Hours:

[Weekdays] 11:30-15:00 (Last Orders 14:00), 17:00-23:30 (Last Orders 22:30)

[Saturdays] 11:30-16:00 (Last Orders 15:00), 17:00-23:30 (Last Orders 22:30)

[Sundays/Holidays] 11:30-16:00 (Last Orders 15:00), 17:00-22:30 (Last Orders 21:30)

No Fixed Holidays
TEL: 03-5733-6866

Official Website:  https://tabelog.com/tokyo/A1307/A130704/13144857/

Cute Bear Pancakes Whipped Up at IMADA KITCHEN in Tokyo's SHIBUYA109

IMADA KITCHEN in SHIBUYA109 has teamed up with Hattendo Cafe to co-create the new "Torokeru Kuma-san Pancakes" (Melty Mr. Beat Pancakes) which will be served from July 1, 2020 to August 30, 2020.

IMADA KITCHEN is a food project that aims to create original food in Shibuya. Together with Hattendo, a Hiroshima brand known for its incredible cream pastries, they have created a super cute bear design pancake. Bear designs are popular with young girls in Japan.

Torokeru Kuma-san Pancake: ¥450 (Before Tax)

The fluffy pancakes are filled with melt-in-the-mouth, handmade custard cream, meaning a single bite lets you enjoy both the moist texture of the pancake and the melty drizzle of the custard cream. Your mouth is instantly filled with flavours of maple syrup and egg, which when combined with the accompanying berries makes for a sweet amalgamation of deliciousness.

Torokeru Koro Tama Kuma Sandwich: ¥450 (Before Tax)

Normally, you would have to go to Hiroshima to try Hattendo Cafe's "Torokeru Koro Tama Kuma Sandwich," but now it will be available to try at IMADA KITCHEN. Made with the cafe's "cream bread," this moist sandwich is filled with egg salad, korokke, and cabbage for a hearty meal.