5 Best Cute and Stylish Cafes in Fukuoka
Sat on the northern shore of Kyushu is Fukuoka Prefecture, a hot spot for tourists both Japanese and foreign, particularly those visiting from parts of Asia such as China, Taiwan and South Korea.
Fukuoka has its fair share of famous tourist destinations and a delicious collection of gourmet restaurants, but did you know it's also home to lots of different cute and stylish cafes? Today, Instagrammer moe takes us on her trip around Fukuoka's plethora of popular coffee shops and shows 5 must-visit locations.
10 Coffee Brewers
A popular coffee shop also based in in Ōita Prefecture, 10 Coffee Brewers has another branch in Fukuoka's Daimyo district. The mouthwatering beverage you see in the photo above is a vanilla smoothie with tapioca pearls and a shot of espresso. Topped with Oreo cookies, marshmallows and cream, this crave-inducing coffee delight offers a mix of tasty treats and textures that are sure to fill you up after a cup♡
▼10 Coffee Brewers
Address: 1-10-18 Daimyo, Chuo Ward, Fukuoka
Opening Hours: 11:30-19:00
Closed: Mondays
Official Instagram Page: https://www.instagram.com/10coffee.fuk/
green bean to bar CHOCOLATE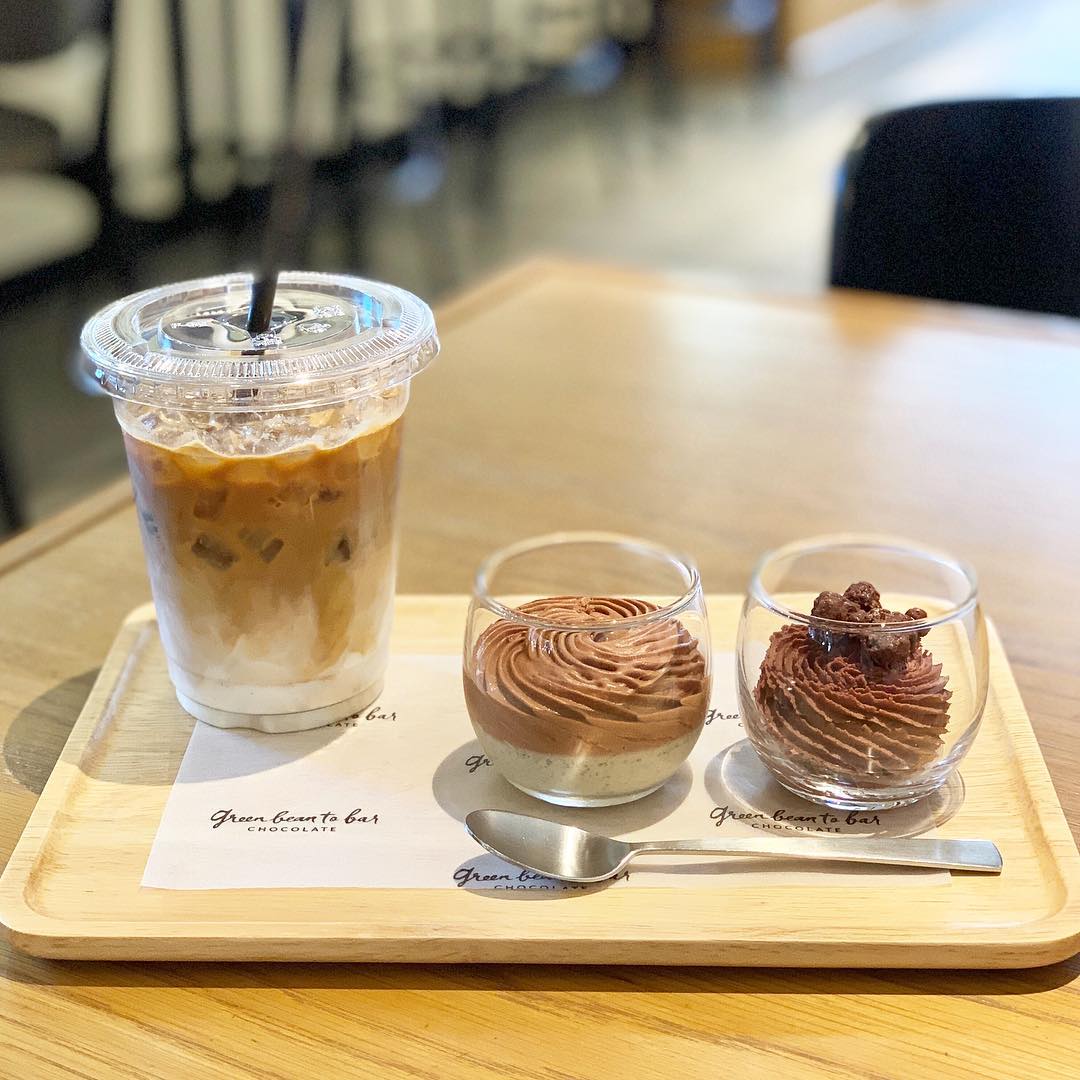 I ordered two different mousses together with my coffee, both exclusive to this Fukuoka branch of the cafe chain. On the left is the Vietnam x Hojicha and on the right is the Tanzania With Crumble. The cacao beans in both are sourced in separate locations. You can order several different flavours to combine with your mousse. As well as hojicha there is sesame seed, mikan and more. The mousse is crafted with a beautiful spiral shape that screams Instagram-worthy at whatever angle you point your camera at. You can even order them for takeout♡
▼green bean to bar CHOCOLATE
Address: Nishietsu Tenjin CLASS Floor 1F, 1-19-22 Imaizumi, Chuo Ward, Fukuoka
Opening Hours: 11:00-21:00
Closed: Wednesdays
Official Website: https://greenchocolate.jp/
COFFEE & CAKE STAND LULU
LULU's beverages are served in simple and stylish cups. The drink on the left is the Houjicha Latte and the one on the right is a LULU Latte. Though the Houjicha Latte is a pure white colour it still has that proper houjicha taste to it. Their puddings are a must-try too and can be ordered for takeout but they were all sold out on this day. Their bouncy puddings are really popular, so if you see them on sale there you should definitely pick one up!
▼COFFEE & CAKE STAND LULU
Address: 2-3-26 Yakuin, Chuo Ward, Fukuoka
Business Hours: Weekdays 9:00-18:00 / Weekends & Holidays 11:00-19:00
Closed: Thursdays
Official Facebook Page: https://www.facebook.com/COFFEE-CAKE-STAND-LULU-1045325205611217/
NO COFFEE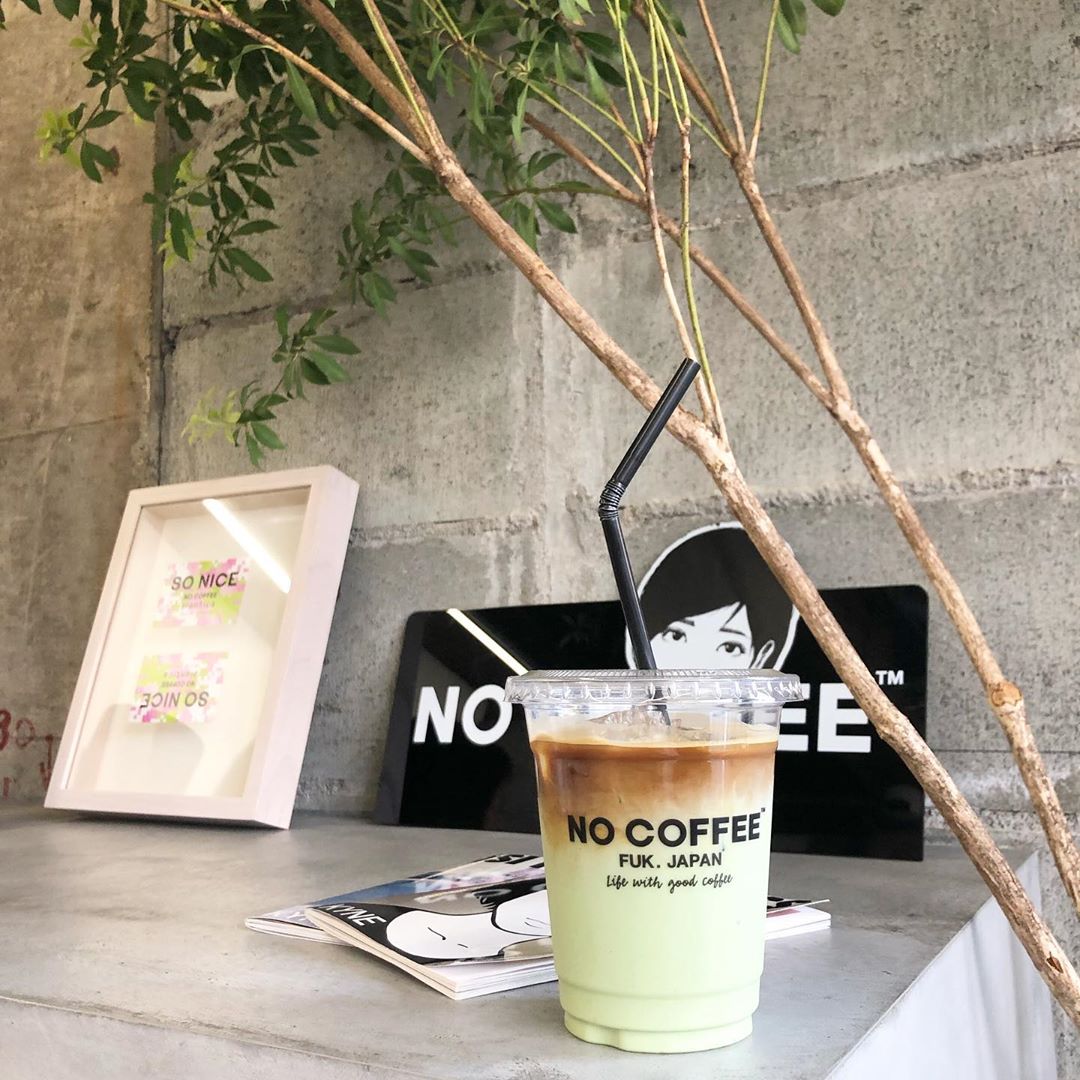 NO COFFEE promotes a coffee lifestyle with their contemporary decor and drinks. The drinks in the photos are the matcha latte with espresso and frozen banana mocha.
The matcha latte mixes sweet matcha latte with a shot of full-bodied espresso to create a refreshing combination. The frozen banana mocha is my personal favourite and a perfect choice for when the weather's hot. The cafe is also a concept shop that sells a variety of miscellaneous items.
▼NO COFFEE
Address: 3-17-12 Hirao, Chuo Ward, Fukuoka
Business Hours: 10:00-19:00
Closed: Mondays (except on national holidays in which case the cafe will close on the following Tuesday)
Official Website: https://nocoffee.net/
W/O STAND
Last on the list is W/O STAND, a coffee chain that's popular not only in Tokyo but in Fukuoka too. The hypnotic drink in the photo is a caramel macchiato. It's common to see the illustration on the cup on Instagram in Japan. The picture is different depending on which branch you visit. Their menu is huge too so you'll definitely want to go back more than once to get coffee.
▼W/O STAND
Address: ARKCUBE103, 1-3-5 Daimyo, Chuo Ward, Fukuoka, Fukuoka Prefecture
Business Hours: 11:00-19:00
No Fixed Holidays
Official Instagram Page: https://www.instagram.com/without_stand_fukuoka/
Did you enjoy this list? Which cafe do you want to visit the most?
moe has many more photos of drinks, desserts and food she has tried in Fukuoka on her Instagram page too. If you're planning a trip to Fukuoka when travelling to Japan, be sure to follow moe's Instagram.
Photos & Text: momo
Translation: Joshua Kitosi-Isanga
RECOMMENDED ENTRIES
COFFEE♥STORY is a video series by coffee company UCC Ueshima Coffee Co., Ltd. that shows the process by which coffee is made before it ends up in a cup between your palms.

The second video in the series was just released in YouTube and celebrates cold brew coffee, a big contender in Japan's coffee culture. Check it out below.

The fire surrounding cold brew coffee was lit in New York and has become a popular way of drinking coffee in Japan.

Did you know that cold brew coffee was actually one of the elements that helped brew a coffee culture in Japan? After Japan's first cafe arrived in Tokyo during the Meiji period (1868-1912), coffee spread up and down Japan in various forms. When the Showa period (1912-1926) rolled around, cafes introduced tools to make cold brew coffee served in tall glasses and it has been enjoyed ever since. American third wave coffee shop owners in Japan who knew of this method took these utensils back to their own country and reinvented what is now known as cold brew coffee.

Japan went on to establish its own cafe culture. It is said that Japanese people were not only the "world's first" to create cold brew coffee, but instant coffee and canned coffee too.

COFFEE♥STORY#02 explores this story with footage of traditional and beautiful Japanese houses and gardens. Be sure to check it out.

Information

UCC COFFEE♥STORY Official Website

Roasted COFFEE LABORATORY Sets the Latest Shibuya Culture Trend With New Summer Drinks

As we approach summer, coffee shop Roasted COFFEE LABORATORY is releasing three new drinks on Tuesday May 28.

Tapioca Cherry Latte ¥600 + tax

As we're approaching summer, the griotte cherry season is also upon us and the Tapioca Cherry Latte is making full use of this seasonal fruit! The cherry provides an element of sourness to contrast the homemade syrup, which is poured over the carefully balanced ice latte. With the first sip, you are immediately hit by the refreshing sourness of the cherry, which spreads all over your mouth. The slight bitterness of the iced latte accents the flavour. Your taste buds will be embraced by a gentle creaminess… and then surprised by the chewy tapioca pearls! It's filling, delicious and fancy ー this is full satisfaction in a cup!

Left: Espresso Tonic (¥550) / Right: Espresso Lime Freezing (¥620)

The Espresso Tonic contains strong espresso coffee which is accented by the sharpness of the tonic water. The agave syrup creates an overall bittersweet flavour. The drink is topped with aromatic, fresh mint.  

The Espresso Lime Freezing consists of ice and frozen lime which is topped with espresso for a fresh yet bittersweet flavour. This icy drink is the perfect way to combat the heat of the summer and get refreshed!

*This is not available at the Tokyu Department store (Toyoko) branch.

Roasted COFFEE LABORATORY was established in Jinnan, Shibuya in 2016 as a joint roastery and coffee shop. Holding the reputation of "MADE IN SHIBUYA" up high, Roasted COFFEE LABORATORY is a place where you can indulge in the high quality freshness of home-roasted coffee beans, homemade desserts and meals that are overflowing with originality, music, art, and events that are coloured with a mixed variety of culture. The roastery has established its roots firmly in Shibuya, the home of street culture, making it the perfect place for it to thrive. They define the culture of "today"and never fail to come up with something new daily to entice your curiosity.

This is your chance to get on top of the latest trends and enjoy a moment of supreme bliss to yourself!

Vegan Food and Incredible Coffee Served at New Coffee Shop alt.coffee roasters in Kyoto

alt.coffee roasters is a new coffee shop opening near Nijō Castle in Kyoto on March 16, 2019. They are set to serve hand drip coffee that bursts with the the original fruity flavour of the coffee beans and emits an unending and irresistible aroma along with a selection of vegan food made with ingredients sourced in Japan, and more.

The coffee served at alt.coffee roasters uses light roast beans which ooze a rich aroma and maintain tantalising flavours. Using the hand drip coffee method means that the great taste stays even when served cold.

The reason alt. is obsessed with light roasts is because they believe the closer the flavour is to the original bean the more delicious it is―and since the taste of every bean is completely different depending on where they are grown, they intend to bring out those flavours to the absolute max. Keeping closer to the original flavour also means the coffee can be enjoyed bitterless.

In Japan, dark roasts are the most popular. Coffee in Japan equals bitter, and so alt. wishes to provide a new way of enjoying coffee to people, hence why they also serve it in wine glasses. It is served black and has a sweet flavour even without sugar.

Pour Over Coffee: ¥500

Flat White: ¥450

The cafe is all about single origin coffee and uses fair-trade beans from Ethiopia which has a history with coffee spanning over 1,000 years. Only the best beans are selected by the farmers. A range of different coffees will be sold including flat whites.

Homemade Fruit Granola: ¥780

Homemade Open Bagel Sandwich With Domestic Vegetables: ¥780

The food menu includes a homemade and gluten-free bagel made using seasonal ingredients farmed in Japan, vegan desserts made with original recipes, and more.

Indulge in fantastic coffee and a great meal at alt.

Information

alt.coffee roasters

Grand Opening: March 16, 2019

Address: 28-4 Shinsenenchō, Nakagyō Ward, Kyoto, Kyoto Prefecture

Business Hours: 8:30-17:00 (Last Orders 16:45) *No fixed holidays

Access: 5-minutes on foot from Nijōjō-mae Station via the Tozai Subway Line / 8-minutes on foot from Nijō Station via the JR Sagano Line / 10-minutes on foot from Ōmiya Station (Kyoto) via the Hankyu Kyoto Main Line

Official Website: http://altcoffee-roasters.com
RELATED ENTRIES
The Perfect Souvenir: Kyoto's Famous OTABE Confections in Velvety Matcha Chocolate

If you're in Kyoto looking for a delicious elegant souvenir for your people back home then BijuuCo.,ltd. is your port of call. Their irresistible desserts vary from their well known sweet bean paste-filled Yatsuhashi to their Kyo-Baum. They will be releasing the mouthwatering Matcha Chocolate OTABE from November 20, 2019.

The rich aroma of the matcha chocolate will be the first thing to entice you. The matcha Yatsuhashi is made from specially selected water and Koshihikari rice, which is famed as Japan's best rice. The soft and chewy texture of the Yatsuhashi dough gently embraces a velvety, melt-in-the-mouth matcha chocolate ganache filling. These OTABE confections are bursting with the flavours of Kyoto and are only available to purchase for a limited period.

OTABE combined with Kyoto's famous matcha chocolate is matcha match made in heaven. If you're ever in Kyoto, you must try it.

Information

Matcha Chocolate OTABE

Selling: November 20, 2019 to the start of May, 2020

Price: Box of 10 (2 packs of 5): ¥660 Before Tax

Eat within 11 days of production.

Purchasable from souvenir shops in Kyoto and Kyoto Station. 

Official Website: http://www.otabe.kyoto.jp/

Take a Look at Daimaru Tokyo's Delicious Seasonal Sweets Line-Up

With the weather getting colder and colder, don't you just want to snuggle up indoors under a nice warm blanket and eat tasty sweets and snacks? well, if you're in Tokyo this autumn, head to Hoppe Town on the first floor of Daimaru Tokyo where they're selling a bunch of different seasonal sweets from November 20 to 26. We're going to showcase a select few.

Cookie Doumei Assorted Box

Contains 10 (5 Types, 2 Each) – ¥1,900 @ Cookie Doumei (Floor 1F)

Enjoy a box of assorted cookies made by a UK-based cookie brand with a recipe like that mother uses. These simple baked cookies are made with wheat flour from Japan, fruits, spices, and chocolate.

Premium Chocolate (Dark/Matcha)

Contains 5 – ¥1,080 Each @ Dari K (Floor B1F) *Available until December 3, 2019

These crunchy and buttery biscuit sandwiches come in two flavours: a dark chocolate and salt, and a matcha made with freshly powdered matcha from Kyoto. These biscuits only appear a few times in Tokyo throughout the year at events, so don't miss out on this rare opportunity.

Chocolate Canelé

¥345 Each @ Le Soeur (Floor 1F)

Bearing a crunchy exterior and chewy inside, these rich chocolatey canelé are topped with almond for added texture. Change it up and put them in the fridge to set for a crispier texture.

Caramel & Raspberry

Contains 5 – ¥675 @ Caramel Verger (Floor B1F) *Available until December 3, 2019

These crunchy chocolate cookies are filled with a mix of dried fruits, caramel and cornflakes. The sourness of the berries coupled with the smoothness of the caramel is to die for!

Premium Natural Sweets

Contains 10 – ¥1,500 @ Lady Bear (Floor B1F)

These raw chocolates from Lady Bear get their natural sweetness from a delicious agave syrup. Delicious, tempting, irresistible.

Baked Mallow Crystal Cherry

Contains 4 – ¥1,382 @ Baked Mallow (Floor 1F) *Available until November 30, 2019

Graham crackers covered in couverture chocolate with high cocoa content and stuffed with fluffy marshmallow and a whole juicy Amarena cherry. What's not to like? These are available in a very limited number, don't miss out!

Which of these six tasty treats are most tempting to you?

Information

Seasonal Sweets

Running: November 20, 2019 – November 26, 2019

Location: Hoppe Town, Daimaru Tokyo Floor 1F  (1-9-1 Marunouchi, Chiyoda Ward, Tokyo)

Daimaru Tokyo Official Website: https://www.daimaru.co.jp/tokyo/

McDonald's Japan to Release Hot Cinnamon Melts Dessert For Wintertime

Roll up to McDonald's in Japan from November 20 to enjoy the return of the delicious Cinnamon Melts dessert, coming to all branches across the country.

McDonald's Melts series is a popular dessert in Japan. It introduced the new Double Chocolate Melts earlier this year. Customers have been waiting for the return of the elusive Cinnamon Melts since 2017, the first time the flavour made an appearance in seven long years. Well, their wish has finally come true. Look forward to tucking into soft pastry glazed with cinnamon sugar and drizzled in a sweet cream cheese syrup.

When customers open a box of these delicious delights, their noses are met with the tempting cent of cinnamon. Served warm, they are the perfect choice for tackling the harsh cold weather.

Compare their test with the Double Chocolate Melts which were released on November 6 and are still available for a limited time, or pair them with a cup of Premium Roast Coffee which the fast food chain revamped this year with a richer and more delicious flavour.

Information

Cinnamon Melts
Price: ¥300 (Tax Included)

Running: November 20, 2019 – Late January 2020 (Subject to change)

Available: At most McDonald's branches in Japan

*Price may vary from branch to branch and for McDelivery

Double Chocolate Melts

Price: ¥330 (Tax Included)

Running: Now Until Late January 2020 (Subject to change)

Available: At most McDonald's branches in Japan

*Price may vary from branch to branch and for McDelivery

McDonald's Japan Official Website: http://www.mcdonalds.co.jp/

Instagram-Worthy New York Christmas Lunch and Dessert Buffet Jollies Up Omotesando, Tokyo

BAR & GRILL DUMBO is a restaurant heavily inspired by the Brooklyn neighbourhood town of Dumbo in New York. They will be adding a sprinkle of New York Christmas magic to the menu from November 7 – December 25, 2019 with the Christmas New York lunch and dessert buffet.

The buffet table will be filled with irresistibly cute and delicious desserts. From the Statue of Liberty to Brooklyn Bridge, the background is lined with skyscrapers and New York's most iconic landmarks. 

The S'more Bar is the perfect opportunity to toast your own marshmallows. Sandwich your molten marshmallow between two crackers to enhance your New York Christmas experience. 

Put your icing skills to the test at the Iced Biscuits Corner where you can enjoy decorating your own biscuits to your liking.

There is more than just desserts, however. You must try the Christmas gratin, which is garnished with a jolly green Christmas tree made from romanesco broccoli. There is also a DUMBO Caesar Salad in the shape of a wreath, a delicious Roast Turkey Breast dish and much more. 

Make sure to pop down to Omotesando for a jolly New York-style Christmas celebration.

Information

Christmas in New York Lunch and Dessert Buffet

Running: November 7 – December 25, 2019

Location: BAR & GRILL DUMBO, The Strings Omotesando Floor 2

Address: The Strings Omotesando, 3 Chome-6-8 Kitaaoyama, Minato City, Tokyo

Running: 15:00 – 16:30 (90-minute time slot)

Buffet Photography Times: 14:45 – 15:00

Prices: Adults:¥4,500/ Children: ¥2,250 *Tax and Service Charge Included)

Reservations: www.strings-hotel.jp/omotesando/event/sweetsbuffet/

Make Your Own Matcha Drink and Try Black Bean Butter Toast in Nakameguro, Tokyo

If you're looking for a cool café experience in Tokyo then head to Nakameguro for a goldmine of craft beer taprooms, coffee roasters and restaurants. One café to consider adding to your list of must-go places is music café and wine bar epulor. The café has added a number of exquisite and unique items to its menu this November including a matcha drink, black bean paste and butter toast and craft cola.

Take a seat and admire the walls of old records which create a soothing artistic atmosphere while sipping your cup of the café's specialty hand drip coffee or sommelier-selected wine as the music of old records fills the air. When you have finished, feel free to take a gander at the gallery corner to appreciate the cafés art. 

The November menu introduces a high-quality matcha by UK brand Matchæologist®, providing the opportunity to make and enjoy your own matcha drink. From the high-quality rich flavour to the contemporary design of the tea vessel, Matchæologist® lives up to its reputation as artisanal matcha green tea specialists.

Fans of epulor's popular Red Bean Paste and Butter Toast are in for a treat as the café is now serving up the Black Bean Paste and Butter Toast. The bread is a charcoal bread from the bakery Lotus baguette, which uses only natural yeast, Japan-produced wheat and no additives. The binchotan charcoal used to prepare the bread is a traditional charcoal which has been used since the Edo period. The appearance is just as striking as its taste. 

The café has also started to sell Japan's craft cola TOMO COLA. The cola is spiced with flavours from around the world including kola nut, nutmeg, Japanese herbs and Japanese citrus fruits. This natural cola contains no additives so you can indulge in the taste of nature and enjoy a unique flavourful experience of Japan. 

epulor is the perfect spot to enjoy a luxurious moment of relaxation during your busy day while immersing yourself in an artistic and cultural experience. 

Information

epulor

Address: ESCENARIO AOBADAI Floor 1, 1-19-10,Aobadai, Meguro, Tokyo

Opening Hours: 11:00 – 24:00

Closed: Mondays

Website: http://www.epulor.jp/

Krispy Kreme Celebrates the Year of the Rat With Cute New Year's Doughnuts

Krispy Kreme Doughnuts Japan is releasing three new end-of-year doughnuts on December 26. They will be available for a limited time only.

2020 is the Year of the Rat in the Chinese zodiac, and so Krispy Kreme has taken that theme to create its own adorable rat doughnut. Lathered in caramel chocolate, this cute doughnut is filled with rock salt caramel cream. Its eyes, tail and large round ears are made of  dark chocolate while its nose is made of coffee chocolate.

The second New Year's doughnut in the series is the Lucky Strawberry Ring (¥230), which gets its deep crimson colour from the sweet and sour nappage made from strawberry puree and milky white chocolate. It's finished with sprinkles of freeze-dried strawberries and gold leaf for that festive touch.

The Snowman Chocolate (¥230) is a cute snowman shaped doughnuts filled with a rich chocolate cream and covered in a milky snow white chocolate coating. Together with the Lucky Strawberry Ring, you get a festive mix of red and white which are symbolic colours of the New Year in Japan.

The three doughnuts are also available to purchase in a box set called Good Luck Zodiac Dozen which comes with twelve doughnuts including four Original Glazed®, the chain's most popular doughnut.

Welcome the new year with some delicious and kawaii doughnuts from Krispy Kreme Japan.

Information

New Year's Doughnuts

Available: December 26, 2019 to Mid-January 2020 (subject to change)

Official Website: https://krispykreme.jp/

BAKE CHEESE TART will be baking up another fresh flavour which will be released in BAKE CHEESE TART shops across the country from November 15. The new featured flavour is of a Japanese Satsuma sourced from Shizuoka prefecture called Mikka Mikan. The brand new Mikan Cheese Tart will be sold at BAKE CHEESE TART shops countrywide. 

The Mikka Mikan Satsumas used for the cheese tart are sourced from Shizuoka, which is renowned for its deep history of producing Mikka Mikans, which are a kind of Satsuma Mandarin (Unshu Mikan). The Mikka Mikans are used to make a purée and powder which is then mixed with an original recipe cheese mousse for the tart.

This flavour first arrived at BAKE CHEESE TART's PARCHÉ branch in Shizuoka to celebrate its grand opening back in November 2018. The tart was intended to be a delicacy limited to the Shizuoka branch and to only be sold for a limited time. However, following its immense popularity, the Mikka Mikan Cheese Tart is going to be released again this winter for a limited time. 


The mild and fresh cheese mousse is perfectly balanced with the tangy sweetness of the Mikka Mikans. The subtle sweetness of the biscuit base makes for the perfect match with the soft cheese mousse which will melt in your mouth. 


BAKE CHEESE TART is also running an Instagram campaign involving the hashtag #おすそわけタルト. Those who purchase the Mikan Cheese Tart and post a photo of it on Instagram during the limited time period have the chance to enter a prize draw for a BAKE CHEESE TART coupon.

Warm up your heart with a soft and sweet, freshly-baked cheese tart and join in the campaign fun. 

Information

Mikan Cheese Tart

Price: ¥280 each (Tax Included)

Selling: November 15, 2019 – November 30, 2019

Available at: BAKE CHEESE TART shops across Japan *Not available at ASSE Hiroshima and SAN-A PARCO CITY branches.

More Information: https://cheesetart.com/en/

Instagram Campaign Information #おすそわけタルト

Running: November 15 – November 30, 2019

Prize: A coupon for 6 freshly-baked cheese tarts from BAKE CHEESE TART (20 winners)

* For more information on application requirements and how to apply, please refer to BAKE CHEESE TART's social media websites.

BAKE CHEESE TART Official Website: https://cheesetart.com/en/

Sleigh Bells Ring at Tokyo Disneyland This Year With Plenty Of Food & Merchandise to Go Around

Jolly faces are all around at Tokyo Disney Resort right now as Disney Christmas kicked off last Friday. It's set to sleigh its way up to Christmas Day this year.

The editorial team at MOSHI MOSHI NIPPON jumped ahead and got a taste of the festive fun at the parks recently, so we're going to showcase some more of the seasonal food and merry merchandise you can get your hands on this Christmas at Tokyo Disneyland.

Food that makes you want to kick back and enjoy a nice break

 

Special Set – ¥1,500 @ Grandma Sara's Kitchen

Grandma Sara's has created the perfect hot lunch for warming up cold guests this year, adorned with a clam and seafood tomato cream, cheese and white sauce. Dip your bread into the rich sauce and tuck in! For dessert, you get a cranberry cake inspired by the look of a snow-tipped Christmas tree.

Hot drinks of all kinds

'Tis the season to stay warm, and so Tokyo Disneyland has devised a line-up of tasty drinks to warm the cockles of your heart, with flavours ranging from ruby chocolate to matcha and tapioca cheese teaーa unique flavour that's all the rage right now.

We actually covered these drinks in detail last Monday, so check out our report here.



Deck the halls with these dessert & souvenir sets

Cranberry & Tea Cake With Souvenir Cup – ¥800 @ Sweetheart Cafe and elsewhere

Strawberry Dessert With Souvenir Cup – ¥800 @ Sweetheart Cafe and elsewhere

Head to the Sweetheart Cafe to enjoy some desserts which come with cute take-home souvenirs, like cups and plates. The cranberry and tea cake is a subtly sweet cake with a fragrant tea flavour and filled with sweet and sour cranberries.

The strawberry dessert is like strawberry shortcake with ascending layers of cake batter, cream, and strawberries. It's topped with holly to give it that Christmas-y finish.

Chocolate Doughnut – ¥380 @ Cleo's and elsewhere

The chocolate doughnuts at Cleo's are completely lathered in a chocolate danish-like dough and custard cream.

The doughnuts even come in this cute Mickey and Minnie packaging, who are dressed ready and for giving gifts to guests.

If you pay an extra ¥700 you can get this adorable pouch featuring Mickey, Minnie, Donald and Daisy as snowmen.

Have a merry little Christmas with these holiday season goodies

Headband – ¥1,800

Fun Cap – ¥3,000 / Plush Toy Wristband – ¥1,700

Feel happy simply by placing these Mickey & Minnie headband ears and getting into party mode. The park has also developed a Christmas version of the Pluto fun cap so he has reindeer antlers and holly attached. Both items were previously available in a pre-sale on the park app, so depending on the shop you visit, they may have none left in stock. But if you see one, be sure to grab it quick!

There's also a Mickey version of the Minnie Mouse plush toy wristband. Wear one and have your friend or loved one wear the other!

Popcorn Basket – ¥2,400 @ The Gazebo (Popcorn Wagon)

Pick up some popcorn served in a Christmas present basket decorated with cute illustrations of Mickey and company celebrating Christmas.

It comes strung with a ribbon decorated with green, red and white colouring like a candy cane.

Spend a Disney Christmas this winter at Tokyo Disneyland where you can stay warm with some comfort food and dress up!

Model: Yuna Yabe

Writer: Sayuri Mizuno (MOSHI MOSHI NIPPON)

Translator: Joshua Kitosi-Isanga

Butter Sandwich Shop PRESS BUTTER SAND Releases Uji Matcha Flavour at Tokyo Station

The butter sandwich specialists over at PRESS BUTTER SAND are bringing their famous Uji matcha flavour butter sandwiches to their Tokyo Station branch on November 13.

Known as the Uji Matcha Butter Sand, this tasty snack was developed to celebrate the grand opening of the Kyoto Station branch of PRESS BUTTER SAND. Due to high demand, they've decided to take the product to Tokyo for a limited time.

The exterior is made with butter cream and carefully selected Uji matcha. You get the full rich flavour of the matcha and delicious taste of the butter at once. The sandwich itself is filled with bitter matcha butter cream and sweet caramel butter for a sumptuously smooth combination that marries temptingly with the crunchy cookie exterior.

The sandwich biscuits come in packaging that features navy Kyoto-esque artwork inspired by the characteristic cultivation method for Uji matcha which blocks out sunlight. The sandwiches themselves are individually packaged in matcha green packets to contrast with the box.

Don't miss out on a chance to enjoy the flavours of Kyoto while in Tokyo. Available at Tokyo Station only.

Information

Uji Matcha Butter Sand

Price: Box of 5 – ¥1,150 (Tax Included) / Box of 9 – ¥2,070 (Tax Included)

Shop: PRESS BUTTER SAND Tokyo Station

Available: November 13, 2019 – November 30, 2019

Official Website: https://buttersand.com

Tokyo's Instagram-Worthy Christmas Cakes Are a Must-Grab This Holiday Season

With Halloween now out of the way, it's time to plunge ourselves into that Christmas spirit! We've compiled a list of some of the most delicious-looking and Instagrammable Christmas cakes available to buy in Tokyo this year that make for the perfect Christmas party accompaniments.

Noel Tokyo Station Hotel @ Tokyo Station

Noel – ¥6,200 (Tax Included) @ Tokyo Station Hotel

This chestnut cake is inspired by the pine pillars that supported the Tokyo Station Marunouchi station building until it was restored. It has a chestnut and sweet potato base and is layered with chestnut mousse and coffee mousse to recreate the rings of a tree which are used to tell a tree's age.

*10 served per day

*Reservation Window: November 5 – December 17, 2019

*Delivery Window: December 22-25, 2019

*Online reservations available. Exclusive to GRANSTA.

More Details: https://www.moshimoshi-nippon.jp/267999

pon pon×Chris.P @ Tokyo Solamachi

Crispy Cakes (Happy Wreath/Santa/Reindeer) – ¥508 Each @ pon pon×Chris.P (East Yard Floor 2F) [Available From November 15]

These tiny crispy cakes are another great little bite to eat. The cute Santa version is cookie and milk flavoured and has marshmallows as the fluff of his hat.

More Details: https://www.moshimoshi-nippon.jp/269015

Café Cova Milano @ GINZA SIX

Panettone Babbo Natale – ¥7,407 @ Café Cova Milano

Cova's panettone is made with a secret recipe that has been handed down since the beginning of the 19th century.

More Details: https://www.moshimoshi-nippon.jp/265169

Tokyo Disney Resort

Christmas Cake: ¥1,480 / Available at: Tokyo DisneySea (Horizon Bay Restaurant), Tokyo Disneyland (Queen of Hearts Banquet Hall)

There's lots going on at Tokyo Disney Resort this year, at both Tokyo Disneyland and Tokyo DisneySea. Don't miss out on this cute Mickey and Minnie Mouse Christmas cake!

More Details: https://www.moshimoshi-nippon.jp/266495

Which is your favourite from the list? Christmas cakes are a must-have on Christmas Day, so make sure you pick one up before the big day!

Tokyo Stroll: The Café That You Want to Visit to See Someone #12 – 'J-COOK' in Gaiemmae

In this edition of The Café That You Want to Visit to See Someone, I visited J-COOK in Gaiemmae, a place I visited one time while off work which ended up in me wanting to absolutely feature it in the series!

It's just a 5-minute stroll from Gaiemmae Station.

The cafe enjoys lots of sunlight, which is brightened further by all the plants scattered through the shop. The cafes I have visited to date are often a little darker with only a little light seeping through the windows to create a certain atmosphere, and they are wonderful, but this was the first I have ever visited with so might light and so many plants. The air felt clear, adding to the level of comfort in the cafe, perhaps because there are so many plants adorning the interior.

The cafe also has a space with a slightly more darker light and atmosphere on the left side. I haven't sat in that area yet, so I think I'll try it out on my next visit.

When I come to J-COOK, my eyes always wander over to the marzipan creations (¥450).

These ones here were actually all individually handmade by the owner's husband from the early morning.

If you look really closely, you'll notice all the dog designs are different. When ordering, get to pick out which one you want, so try finding your perfect pup!

I had mine together with an iced coffee (¥450). The sweet marzipan is a delicious combination with the bitterness of the coffee.

I also got some potted cream (¥450). It's kind of like a Japanese custard pudding with just a moderate amount of sweetness.

I had mine with a bit of brandy which had fragrant vanilla notes. They've had this brandy for 33 years since the store first opened.

The cream was sensational, and the gentle notes linger afterwards.

They have a lot of different homemade soups too which are perfect for the coming cold weather. I got the New Orleans-style gumbo soup. It's spicy with clam and okra in it.

Relaxing jazz music plays in the cafe while you sit and enjoy your drink and meal.

J-COOK is a wonderful little cafe run by a husband and wife. When I first came, the wife came and talked to me. She's super friendly, and although it was our first meeting, she made me feel really comfortable and welcome. She must be full of happiness, which in turn naturally gives people who visit the strength to be positive and work hard.

I reckon their smiles have saved a lot of people.

I can't wait to visit again!

Writer/Model: Ema Tanioku

Photographer: Haruka Yamamoto

Design: Yuko Abe (ASOBISYSTEM)

Translator: Joshua Kitosi-Isanga

Information

J-COOK

Address: 3-36-26 Jingumae, Shibuya, Tokyo

Opening Hours: [Tue-Sat] 8:00-22:00 (Last Orders) / [Sun] 11:00-18:00 (Last Orders 17:30)

Closed: Mondays

Official Twitter: @jcookjp

Adorable Mini Penguin and Polar Bear Confections to Arrive in Family Mart

Tabemas is a Japanese confectionery series of small, traditional sweets designed to look like characters. For the first time, Tabemas is collaborating with the popular fictional character series Sumikko Gurashi to release Shirokuma and Penguin? sweets. The new confections will be sold in the chilled desserts corner of Family Mart convenience stores across Japan from November 12, 2019.

The lovable characters who have been transformed into delicious sweets are Shirokuma: the shy polar bear who tends to get cold easily; and Penguin?, who has no confidence in their identity as a penguin. 

The series name "Tabemas" means "edible mascot" and as the name suggests, these are traditional nerikiri confections which are made from bean paste and soft mochi, creating an adorable plump appearance.  Shirokuma's body is white with pink ears whereas Penguin? has a pea-green body with a white stomach and yellow feet and beak. Both confections are kneaded with the characters' charm and stand joining their tiny hands, staring at you with their adorable round eyes. 

Both confections are filled with the mild flavour of red bean paste. To match the colour schemes of the characters, the white Shirokuma is milk-flavoured and the pale green Penguin? is apple-flavoured. The flavours of these confections are just as irresisitble as their appearance. You're bound to be taking lots of photos of them for your next social media post in no time!

As these confections are in limited supply, make sure to buy them as soon as possible if you are interested.

(C)2019 San-X Co., Ltd. All Rights Reserved.

Information

Tabemas Confectionery Series: Sumikko Gurashi

Confections: Shirokuma (Milk), Penguin? (Apple)

Recommended Retail Price: ¥369 each (Before Tax)

Release Date: November 12, 2019

Available at: The chilled desserts section of Family Mart convenience stores across Japan.

* These are in limited supply and sales will end once all stock has been depleted.

*The days on which the Tabemas Confectionery series is sold may vary from store to store.

* Some Family Marts may not sell the Tabemas series.

More Information on the Tabemas Sumikko Gurashi Series (Japanese Only):https://www.bandai.co.jp/candy/products/2019/4549660424444000.html