5 Best Cute and Stylish Cafes in Fukuoka
Sat on the northern shore of Kyushu is Fukuoka Prefecture, a hot spot for tourists both Japanese and foreign, particularly those visiting from parts of Asia such as China, Taiwan and South Korea.
Fukuoka has its fair share of famous tourist destinations and a delicious collection of gourmet restaurants, but did you know it's also home to lots of different cute and stylish cafes? Today, Instagrammer moe takes us on her trip around Fukuoka's plethora of popular coffee shops and shows 5 must-visit locations.
10 Coffee Brewers
A popular coffee shop also based in in Ōita Prefecture, 10 Coffee Brewers has another branch in Fukuoka's Daimyo district. The mouthwatering beverage you see in the photo above is a vanilla smoothie with tapioca pearls and a shot of espresso. Topped with Oreo cookies, marshmallows and cream, this crave-inducing coffee delight offers a mix of tasty treats and textures that are sure to fill you up after a cup♡
▼10 Coffee Brewers
Address: 1-10-18 Daimyo, Chuo Ward, Fukuoka
Opening Hours: 11:30-19:00
Closed: Mondays
Official Instagram Page: https://www.instagram.com/10coffee.fuk/
green bean to bar CHOCOLATE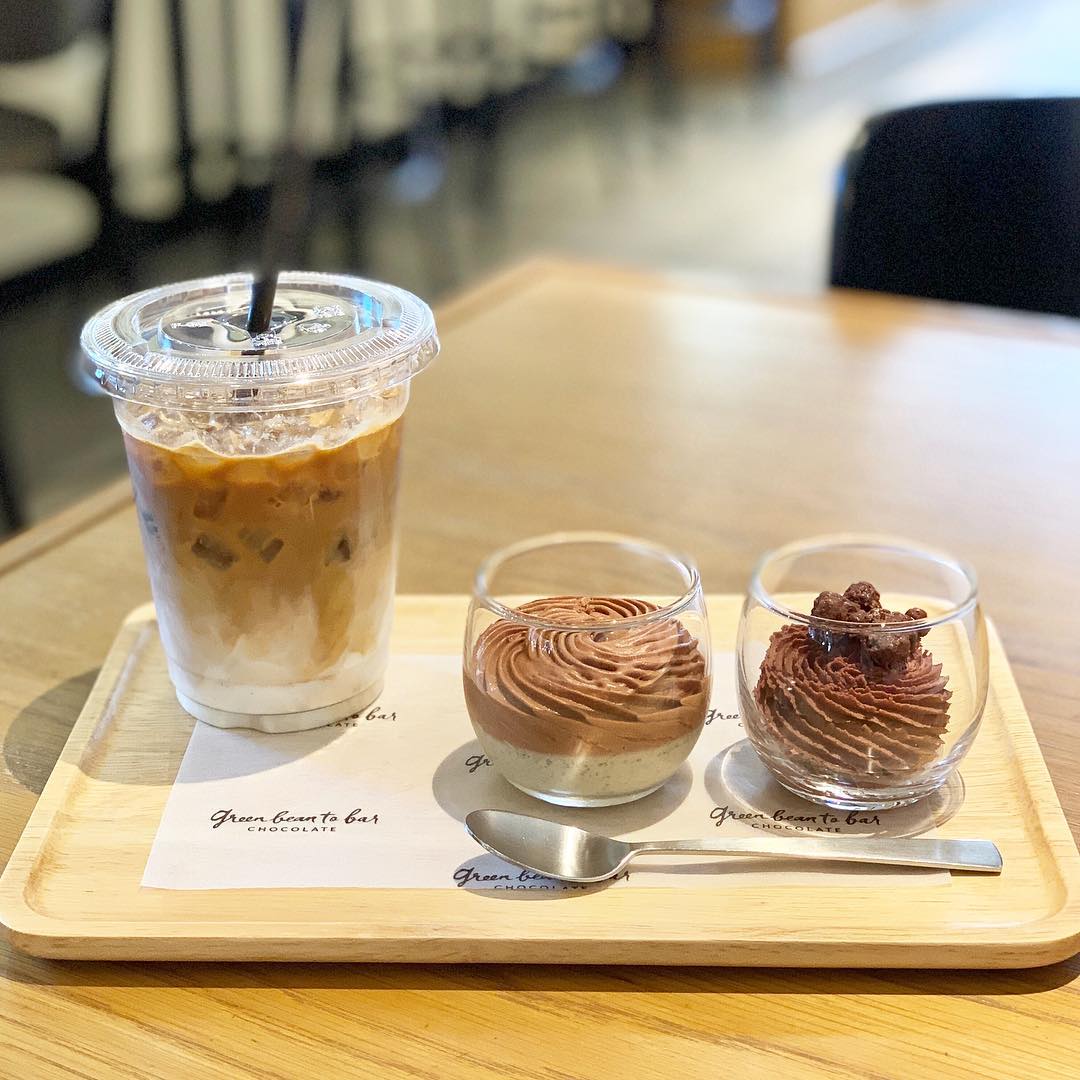 I ordered two different mousses together with my coffee, both exclusive to this Fukuoka branch of the cafe chain. On the left is the Vietnam x Hojicha and on the right is the Tanzania With Crumble. The cacao beans in both are sourced in separate locations. You can order several different flavours to combine with your mousse. As well as hojicha there is sesame seed, mikan and more. The mousse is crafted with a beautiful spiral shape that screams Instagram-worthy at whatever angle you point your camera at. You can even order them for takeout♡
▼green bean to bar CHOCOLATE
Address: Nishietsu Tenjin CLASS Floor 1F, 1-19-22 Imaizumi, Chuo Ward, Fukuoka
Opening Hours: 11:00-21:00
Closed: Wednesdays
Official Website: https://greenchocolate.jp/
COFFEE & CAKE STAND LULU
LULU's beverages are served in simple and stylish cups. The drink on the left is the Houjicha Latte and the one on the right is a LULU Latte. Though the Houjicha Latte is a pure white colour it still has that proper houjicha taste to it. Their puddings are a must-try too and can be ordered for takeout but they were all sold out on this day. Their bouncy puddings are really popular, so if you see them on sale there you should definitely pick one up!
▼COFFEE & CAKE STAND LULU
Address: 2-3-26 Yakuin, Chuo Ward, Fukuoka
Business Hours: Weekdays 9:00-18:00 / Weekends & Holidays 11:00-19:00
Closed: Thursdays
Official Facebook Page: https://www.facebook.com/COFFEE-CAKE-STAND-LULU-1045325205611217/
NO COFFEE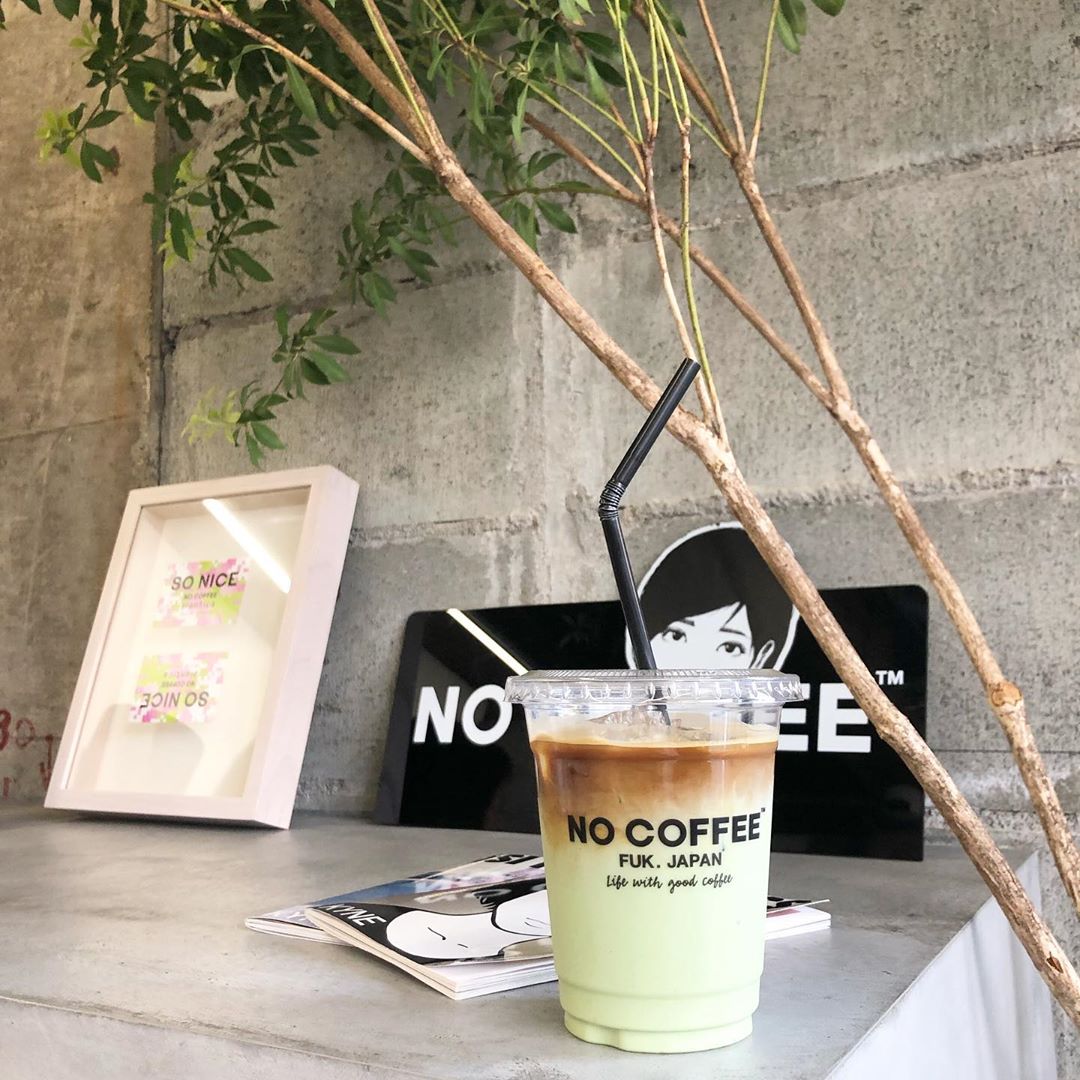 NO COFFEE promotes a coffee lifestyle with their contemporary decor and drinks. The drinks in the photos are the matcha latte with espresso and frozen banana mocha.
The matcha latte mixes sweet matcha latte with a shot of full-bodied espresso to create a refreshing combination. The frozen banana mocha is my personal favourite and a perfect choice for when the weather's hot. The cafe is also a concept shop that sells a variety of miscellaneous items.
▼NO COFFEE
Address: 3-17-12 Hirao, Chuo Ward, Fukuoka
Business Hours: 10:00-19:00
Closed: Mondays (except on national holidays in which case the cafe will close on the following Tuesday)
Official Website: https://nocoffee.net/
W/O STAND
Last on the list is W/O STAND, a coffee chain that's popular not only in Tokyo but in Fukuoka too. The hypnotic drink in the photo is a caramel macchiato. It's common to see the illustration on the cup on Instagram in Japan. The picture is different depending on which branch you visit. Their menu is huge too so you'll definitely want to go back more than once to get coffee.
▼W/O STAND
Address: ARKCUBE103, 1-3-5 Daimyo, Chuo Ward, Fukuoka, Fukuoka Prefecture
Business Hours: 11:00-19:00
No Fixed Holidays
Official Instagram Page: https://www.instagram.com/without_stand_fukuoka/
Did you enjoy this list? Which cafe do you want to visit the most?
moe has many more photos of drinks, desserts and food she has tried in Fukuoka on her Instagram page too. If you're planning a trip to Fukuoka when travelling to Japan, be sure to follow moe's Instagram.
Photos & Text: momo
Translation: Joshua Kitosi-Isanga
RECOMMENDED ENTRIES
COFFEE♥STORY is a video series by coffee company UCC Ueshima Coffee Co., Ltd. that shows the process by which coffee is made before it ends up in a cup between your palms.

The second video in the series was just released in YouTube and celebrates cold brew coffee, a big contender in Japan's coffee culture. Check it out below.

The fire surrounding cold brew coffee was lit in New York and has become a popular way of drinking coffee in Japan.

Did you know that cold brew coffee was actually one of the elements that helped brew a coffee culture in Japan? After Japan's first cafe arrived in Tokyo during the Meiji period (1868-1912), coffee spread up and down Japan in various forms. When the Showa period (1912-1926) rolled around, cafes introduced tools to make cold brew coffee served in tall glasses and it has been enjoyed ever since. American third wave coffee shop owners in Japan who knew of this method took these utensils back to their own country and reinvented what is now known as cold brew coffee.

Japan went on to establish its own cafe culture. It is said that Japanese people were not only the "world's first" to create cold brew coffee, but instant coffee and canned coffee too.

COFFEE♥STORY#02 explores this story with footage of traditional and beautiful Japanese houses and gardens. Be sure to check it out.

Information

UCC COFFEE♥STORY Official Website

Roasted COFFEE LABORATORY Sets the Latest Shibuya Culture Trend With New Summer Drinks

As we approach summer, coffee shop Roasted COFFEE LABORATORY is releasing three new drinks on Tuesday May 28.

Tapioca Cherry Latte ¥600 + tax

As we're approaching summer, the griotte cherry season is also upon us and the Tapioca Cherry Latte is making full use of this seasonal fruit! The cherry provides an element of sourness to contrast the homemade syrup, which is poured over the carefully balanced ice latte. With the first sip, you are immediately hit by the refreshing sourness of the cherry, which spreads all over your mouth. The slight bitterness of the iced latte accents the flavour. Your taste buds will be embraced by a gentle creaminess… and then surprised by the chewy tapioca pearls! It's filling, delicious and fancy ー this is full satisfaction in a cup!

Left: Espresso Tonic (¥550) / Right: Espresso Lime Freezing (¥620)

The Espresso Tonic contains strong espresso coffee which is accented by the sharpness of the tonic water. The agave syrup creates an overall bittersweet flavour. The drink is topped with aromatic, fresh mint.  

The Espresso Lime Freezing consists of ice and frozen lime which is topped with espresso for a fresh yet bittersweet flavour. This icy drink is the perfect way to combat the heat of the summer and get refreshed!

*This is not available at the Tokyu Department store (Toyoko) branch.

Roasted COFFEE LABORATORY was established in Jinnan, Shibuya in 2016 as a joint roastery and coffee shop. Holding the reputation of "MADE IN SHIBUYA" up high, Roasted COFFEE LABORATORY is a place where you can indulge in the high quality freshness of home-roasted coffee beans, homemade desserts and meals that are overflowing with originality, music, art, and events that are coloured with a mixed variety of culture. The roastery has established its roots firmly in Shibuya, the home of street culture, making it the perfect place for it to thrive. They define the culture of "today"and never fail to come up with something new daily to entice your curiosity.

This is your chance to get on top of the latest trends and enjoy a moment of supreme bliss to yourself!

Vegan Food and Incredible Coffee Served at New Coffee Shop alt.coffee roasters in Kyoto

alt.coffee roasters is a new coffee shop opening near Nijō Castle in Kyoto on March 16, 2019. They are set to serve hand drip coffee that bursts with the the original fruity flavour of the coffee beans and emits an unending and irresistible aroma along with a selection of vegan food made with ingredients sourced in Japan, and more.

The coffee served at alt.coffee roasters uses light roast beans which ooze a rich aroma and maintain tantalising flavours. Using the hand drip coffee method means that the great taste stays even when served cold.

The reason alt. is obsessed with light roasts is because they believe the closer the flavour is to the original bean the more delicious it is―and since the taste of every bean is completely different depending on where they are grown, they intend to bring out those flavours to the absolute max. Keeping closer to the original flavour also means the coffee can be enjoyed bitterless.

In Japan, dark roasts are the most popular. Coffee in Japan equals bitter, and so alt. wishes to provide a new way of enjoying coffee to people, hence why they also serve it in wine glasses. It is served black and has a sweet flavour even without sugar.

Pour Over Coffee: ¥500

Flat White: ¥450

The cafe is all about single origin coffee and uses fair-trade beans from Ethiopia which has a history with coffee spanning over 1,000 years. Only the best beans are selected by the farmers. A range of different coffees will be sold including flat whites.

Homemade Fruit Granola: ¥780

Homemade Open Bagel Sandwich With Domestic Vegetables: ¥780

The food menu includes a homemade and gluten-free bagel made using seasonal ingredients farmed in Japan, vegan desserts made with original recipes, and more.

Indulge in fantastic coffee and a great meal at alt.

Information

alt.coffee roasters

Grand Opening: March 16, 2019

Address: 28-4 Shinsenenchō, Nakagyō Ward, Kyoto, Kyoto Prefecture

Business Hours: 8:30-17:00 (Last Orders 16:45) *No fixed holidays

Access: 5-minutes on foot from Nijōjō-mae Station via the Tozai Subway Line / 8-minutes on foot from Nijō Station via the JR Sagano Line / 10-minutes on foot from Ōmiya Station (Kyoto) via the Hankyu Kyoto Main Line

Official Website: http://altcoffee-roasters.com
RELATED ENTRIES
OIMON: The New Local Kagoshima Sweets Brand Established by BAKE

BAKE Inc., a confectionery company that manages the freshly-baked cheese tart chain BAKE CHEESE TART and cream puff chain CROQUANTCHOU ZAKUZAKU, has announced the launching of a new brand.

Named "OIMON," the brand will specialise in creating sweets made from local sweet potatoes, with the first branch opening at the new Gohobi Street zone inside Amu Plaza Kagoshima, a shopping complex connected directly to the JR side of Kagoshima-Chūō Station, on March 13, 2020.

What is OIMON?

OIMON is a new shop specialising in sweet potato confectionery whose concept is "Tradition x Innovation." Its first branch is opening in Kagoshima, a prefecture that produces sweet potatoes and shochu from its warm climate. These traditional ingredients and methods will be combined with both Kagoshima's contemporary food and food culture and BAKE Inc.'s design, flavours and preparation methods to create a new kind of local Kagoshima confectionery

Sweet potato cakes aplenty with Kagoshima flavour

Freshly-Baked Mini Mikan Sweet Potato Cake: Single Serving – ¥237 / Box of 5 – ¥1,188 / Box of 10 – ¥2,376 (Tax Included)

Freshly prepared in-store, you can pick from a single serving as well as a box of 5 or 10. The mini sweet potato cakes are inspired by gane, something taken from traditional Kagoshima cuisine. Gane refers to julienned sweet potatoes, but it also means "crab" in the Kagoshima dialect because the way it's cut looks like a crab. The sliced sweet potatoes are wrapped and baked in a sweet potato paste to bite-size pieces.

The cakes are also soaked in caramel sauce, and their surface lathered in "Kosama Gin," a craft gin made using lots of mikan oranges grown on Sakurajima in Kagoshima. Enjoy the delicious milky taste of the caramel coupled with the crunchy gane texture. The sweet potato paste is laced with powder made from the mikan oranges, adding a fresh and fruity flavour.

OIMON will promote Kagoshima to the rest of Japan

The brand colouring is a mix of beige and pink, reminiscent of Japanese sweet potatoes. OIMON went for a minimalist design to convey the simplicity of sweet potatoes. The logo is made up of round slices, also like round slices of sweet potato. The entire design conveys the fact that this is something from and exclusive to Kagoshima.

Information

OIMON

Grand Opening: March 13, 2020

Address: Amu Plaza Kagoshima Main Building 2F, 1-1 Chuocho, Kagoshima, Kagoshima Prefecture

Opening Hours: [Mon-Thurs] 10:00-20:30 / [Fri-Sun, Holidays & Day Before Holidays] 10:00-21:00

TEL: 099-210-5695 

Official Website: https://oimon.jp

Van Gogh & Monet Inspired Tarts to be Released by Qu'il Fait Bon in Japan

Japanese fruit tart masters Qu'il Fait Bon is promoting the upcoming London National Gallery Exhibition, which is set to arrive at Tokyo's National Museum of Western Art on March 3, 2020, with the release of two new art-inspired tarts, which will be available at Qu'il Fait Bon from the same day.

The National Gallery in London is a world famous art museum that houses countless artworks from across the generations. The museum is well-known for its collection of high quality European paintings, and the first time ever, it's taking 61 these works for large scale exhibitions in Tokyo and Osaka this year.

Orange & Mango Tart – "Sunflowers"

One Piece – ¥736

Whole Tart (25cm) – ¥7,365

This first tart is inspired by Vincent van Gogh's famous Sunflowers series. The beautifully layered floral dessert contains matcha and honey flavoured almond cream, mango pudding, fresh orange and mango pieces, and meringue. The honey used is Bulgarian sunflower honey. Together with the beautiful, swirling meringue and the cross-section of the sliced cake, the tart strongly depicts Gogh's gorgeous Sunflowers work.

Available:

Qu'il Fait Bon (Grand Maison Ginza) / Serving: March 3, 2020 – Mid April 2020

Qu'il Fait Bon (Grand Front Osaka) / August 11, 2020 – Mid September 2020

Green Fruit & Peach Mousse Tart – "The Water Lily Pond"

One Piece – ¥732

Whole Tart (25cm) – ¥7,322

The second tart is themed on Claude Monet's The Water Lily Pond. A lily bed of fresh fruits sip atop a peach mousse, which has a gentle fragrance.

Available:

Qu'il Fait Bon (Grand Maison Ginza) / Serving: April 8, 2020 – Mid May 2020

Qu'il Fait Bon (Grand Front Osaka) / July 7, 2020 – Mid August 2020

Make a day of art by heading to the London National Gallery Exhibition and finishing it off with a delicious artistic tart at Qu'il Fait Bon.

Information

London National Gallery Exhibition

Tokyo Exhibition

Running: March 3, 2020 – June 14, 2020

Location: National Museum of Western Art (Ueno Park, Tokyo)

Osaka Exhibition

Running: July 7, 2020 – October 18, 2020

Location: The National Museum of Art, Osaka (Nakanoshima, Osaka)

Official Website: https://artexhibition.jp/london2020/

Disney Princess Inspired Cupcakes Released at Ginza Cozy Corner in Japan

Disney princesses around the world won't be able to resist the nine new cupcakes released at Ginza Cozy Corner last week in Japan.

The cupcake collection is being released to celebrate Hinamatsuri, a festival held annually in Japan on March 3, which prays for the well-being and healthy maturity of girls. The line-up can be enjoyed by child and adult Disney fans alike, and includes not only Disney princesses, but other female characters in the Disney cast. This includes Minnie Mouse, Belle, Snow White, Cinderella, Aurora, Ariel, Jasmine, and more.

Disney Girl's Collection (Contains 9) – ¥2,700 (Tax Included)

These cute cupcakes look like they have come straight out of a Disney character toy box. They not only look pretty, but sound delicious too, like the raspberry Minnie cupcake, lemon-flavoured Belle cake, cheesecake Cinderella, and more.

Celebrate Hinamatsuri in Disney-style by picking up a box of these cupcakes at Ginza Cozy Corner.

Kirby Café HAKATA to Open Permanently in Fukuoka's Canal City Hakata

The second permanent Kirby Café, themed entirely on Nintendo's popular video game series Kirby's Dream Land, is set to open in Canal City Hakata in Fukuoka on March 12, 2020.

Kirby Café HAKATA has its own story that the cafe is based around. One day, Kirby motioned Whispy Woods to help him collect the tools needed to open another Kirby café. Together with Whispy Woodsーwho appears in the cafeーKirby will serve hospitality to his customers.



The food menu includes the same stone oven baked pizzas serve at Kirby Café TOKYO.

Kirby Café Stone Oven Baked Dessert Pizza ~Whispy's Caramelised Apples~: ¥1,380 (Before Tax)

Kirby Café Stone Oven Baked Dessert Pizza ~Waddle Dee's Freshly-Picked Chocolate Bananas~: ¥1,280 (Before Tax)

As well as standard savoury pizzas, the café includes a selection of dessert pizzas made with fresh fruit. The flavours of the dessert pizzas here are exclusive to the Hakata branch of Kirby Café.



Kirby's Home: ¥1,980 (Before Tax)

Kirby's High-Spirit Helping Parfait: ¥1,580 (Before Tax)


There are lots of cute food dishes and desserts to enjoy at Kirby Café. Kirby's Dream Land home has also been turned into a dessert, and there's also a cute parfait which Kirby himself helped make.



Kirby Café Hakata Exclusive T-Shirt – Kirby & Home: ¥3,400 (Before Tax)


Fans can also pick up a selection of new and exclusive Kirby merchandise, and an original Kirby Café soundtrack created by HAL Laboratory will play in the café.

Priorities are given to those who book a table in advance, which can be done on the café's official website starting on February 25, 2020.

Get sucked into the world of Kirby and inhale your food like he does at the all-new Kirby Café HAKATA.


Information

Kirby Café HAKATA

Grand Opening: March 12, 2020

Address: Canal City Hakata North Bldg. B1F, 1-2-1 Sumiyoshi, Hakata, Fukuoka, Fukuoka Prefecture

Opening Hours: 11:00-23:00 (Last Orders 22:00)

Official Website: https://kirbycafe.jp/hakata/
*Kirby Café is a character café managed by BENELIC CO.,LTD. under the license of WARPSTAR Inc., a copyright management company entrusted by Nintendo / HAL Laboratory, Inc.

Fermented Food Cafe 'Tsuke x Koji Haccomachi' to Open in Kyoto's Sanjo Area

Tsuke x Koji Haccomachi is a new cafe opening in the Sanjo area of Kyoto on February 22, 2020, that is centred entirely on fermented foods.

The name "Haccomachi" derives from the Japanese word Hakko (Hacco), meaning fermented, and Komachi (Comachi), meaning a beautiful woman. The cafe hopes for people to incorporate fermented foods into their livesーsomething which is rooted in Japanese food cultureーand live comfortably.

The cafe's logo showcases the making of kōjiーa type of mould used in the fermentation process of certain food products in Japan, like soybeans. The logo hope to pass down this long upheld tradition.

Hakko fermentation is a major part of Japan's food culture. Since ancient times, the sweetness and umami brought about by the enzymes in the fermentation process have served to accompany many foods in the country, such as miso, soy sauce, mirin, rice vinegar, and so onーall traditional condiments used in the Japanese kitchen that are still fundamental today.

The menu at Tsuke x Koji Haccomachi features a line-up of fermented foods made in Kyoto, including those from Kyoto-based soybean makers Fujiwara Shokuhin, Sawai Shoyu Honten which has produced the same high quality soy sauce for decades, sake brewery Kitagawa Honke which has been around since the Edo Period, and more.

A Small Look at the Menu

Lunch Menu

Haccomachi Special – Fermented Lunch Plate: ¥1,690

This lunch plate is an assortment of hors d'oeuvre made with fermented condiments, tandoori chicken that has been pickled to elevate the umami, marlin fish, soup, and more.

Dinner Menu

Spare Ribs On The Bone in Miso Yuan Yaki: ¥1,490

This hearty portion of spare ribs are marinated in a miso, mirin, and soy sauce mix. Taste the full umami flavour of the juicy meat.

Namerō Miso Salmon in Yoghurt Sauce: ¥770

The salmon is served namerō style, a type of tataki or pounding method, in miso. The yoghurt has both a refreshing and rich flavour.

Homemade Komekoji Rice Malt Sweet Sake Yoghurt: ¥470

The splitting of the sour yoghurt serves to elevate the sweetness of the sake. This is a drink that even those who don't like sweet sake are sure to enjoy.

Cafe Menu

Miso Pound Cake w/ Vanilla Ice Cream: ¥550

The miso pound cake is a collaboration with Japanese confectionery company Sarasa, which has 6 branches of cafes and shops in Kyoto. It's made using komekoji rice malt powder provided by an old-fashioned Japanese shop (菱六もやし). The umami of the miso is intensified, and the cake stays moist thanks to the powder. It's served with a dollop of refreshing vanilla ice cream.

Blackcurrant & Vanilla Sweet Sake Affogato: ¥550

A unique spin on the affogato dessert which has you pouring hot sweet sake over tangy and refreshing blackcurrant sherbet and rich vanilla ice cream. Enjoy the mix of the hot sake and the cool ice cream.

Discover the Japanese tradition of fermentation at Tsuke x Koji Haccomachi, opening February 22, 2020.

Information

Tsuke x Koji Haccomachi

Grand Opening: February 22, 2020
Address: 78-1 Masuyacho, Shitagaru Yanaginobamba Sanjo-dori, Nakagyo Ward, Kyoto,
Opening Hours: [Weekdays] 11:00-15:00 & 17:00-22:00 / [Weekends & Holidays] 11:00-22:00

Closed: Wednesdays
Official Website: https://haccomachi.jp/

This Week's Dessert: Indulging in a Seasonal Parfait at Kinoshita Chaen in Ise

One thing I do at least once a week without fail is treat myself out to some delicious food or dessert. I find it very important time well spent in order to live a happy, fulfilling life.

This week, a business trip took me out of Tokyo to the city of Ise in Mie Prefecture. When the trip was over, I had some spare time to kill before my train arrived, so I went inside a cafe called Kinoshita Chaen which is close to Ise Grand Shrine.

You can arrive at Kinoshita Chaen in just three minutes on foot is walking from Ise Grand Shrine, or five mintues from Ise Station. The exterior design of the building takes on a Western style, which I found to be both cute and retro. You can feel the warm and welcoming atmosphere of the cafe as soon as you step inside. The decor is decked out with all things wooden.

The cafe has been around since the Meiji Period. It serves drinks and desserts all made using tea, and offers both eat-in and takeout services.

I ordered their seasonal-exclusive parfait. 90% of the people in there were ordering it, so I thought it must be popular!

Strawberry & Parfait Puree Parfait w/ Japanese Black Tea – ¥1,300 (Tax Included)

This super cute parfait is completely stuffed to the top with strawberries♡

You can snap cute photos of it no matter the angle♡

When I spooned the caramel puree, soft custard reveal itself. You get a delicious pairing of the bitter flavour and crunchy texture of the caramel with the subtly sweet custard.

The next ingredient to show itself was the mascarpone cream, which combines with the rest of the flavours perfectly. Once your mouth is satisfied with the sweetness of the flavour combinations, you're next met with Ise matcha gelato.

The matcha gelato is a great palate cleanser for the sweet ingredients when eaten on its own. When eaten together with the sweet puree, you get a completely different kind of delicious flavour. I recommend trying it together with the puree, mascarpone cream, and the crunchy pie which is the next layer.

Moving on from the sweetness and bitterness, the next layer is fresh strawberry sherbet, which is a combination of sweet and sour. To finish, you're brought back to the subtle sweetness once more with white chocolate mousse, strawberries, and mixed berry jelly.

The final bites of a parfait can generally be hard to get down because you grow tired of the flavour, but the ones sold at Kinoshita Chaen are on another level. The various flavours and textures mean you won't grow tired as you spoon through the many layersーyou'll find yourself savouring every last bite.

The Japanese black tea that came with it was luxurious. The cafe actually caters the type of tea they serve to each seasonal parfait. Enjoy a cup together with your parfait.

Matcha Soy Flour Dumpling Cream – ¥830

I didn't get to order them this time, but I'm really taken by the matcha soy flour shiratama dumplings… The dumplings are made in-house and are topped with brown sugar syrup from Okinawa and Ise matcha. The bitterness of the matcha together with the rich sugar syrup is sure to be delicious with some chewy dumplings. I'll definitely be trying them when I next visit.

I cannot recommend a trip to Kinoshita Chaen enough. Offering an exemplary menu of Ise flavours, their drinks and sweets maintain the culture and tradition of Japanese tea while keeping up to date with current trends in the world of sweets.

Today's Souvenir

Houjicha Teabags – ¥400 (1 Pack) 

On the days you get to eat delicious sweets, you've got to share the happiness with friends and family. I bought some houjicha tea bags made with tea leaves grown in Mie Prefecture. They have various other teas too, and the packaging is really cute, so they're perfect as gifts for friends and family.

Information

Kinoshita Chaen (Ise Branch)

Address: 1-1-31 Iwabuchi, Ise, Mie Prefecture

Opening Hours: 10:30-17:30 (Last Orders 17:00)

Closed: Wednesdays (Except Obon, New Year's, and public holidays)

TEL: 0596-24-6747

Official Website: https://www.kinoshitachaen.com/

Yellow Coloured Minnie Mouse Cafes to Open in Tokyo, Osaka, Nagoya & Fukuoka

A new line of Minnie Mouse cafes are set to open in Tokyo and Osaka from February 28, 2020 and Nagoya and Fukuoka from February 29, 2020 for a limited time. Named "OH MY! MINNIE MOUSE," the cafes are an official collaboration between Disney and the Japanese cafe chain OH MY CAFÉ.

The cafe takes on the theme of Minnie Mouse being a living, breathing icon of today with a positive lifestyle. This is represented through the yellow colouring of the cafe, which features her iconic polka dots as well as ribbon taking on a yellow colour. Tuck into a cute menu line-up and get your hands on some cafe-exclusive Minnie Mouse merchandise.

Original Menu

Cheerful Burger – ¥1,990

This healthy burger is packed full of vegetables with a black bun made in the image of Minnie's silhouette. Feel as energised as Minnie with one bite of this tasty burger.

Beef Hash Ribbon Rice – ¥1,390

Inspired by Minnie Mouse's iconic ribbon, this hearty dish is a beef stroganoff plated with rice and veg. The ribbon is so cute it almost seems a waste to eat!

Fruit Sandwich – Single ¥990/ With Plate ¥2,790

An absolute must-order if you're wanting a dessert. This sandwich is piled with fresh fruits creamy yoghurt, sprinkled with poppy seeds, and doused in lemon juice.

Fizzy Lemon Squash – Single ¥690 / With Coaster ¥1,390

Charge yourself up with this fizzy lemonade and its refreshing aftertaste.

Relaxing Chamomile Tea – Single ¥490 / With Mug ¥2,090

Kick back and relax after your meal with a cup of chamomile tea♡

Original Merchandise

Heart Badge (8 Designs/Chosen Randomly) – ¥500

Folder – ¥350

Lunch Mat (6 Designs/Chosen Randomly) – ¥650 (*Table reservation required)

Those who book a table in advance will be given one of six possible lunch mats chosen randomly.

If you're in Japan for the spring, then why not stop by the OH MY! MINNIE MOUSE cafe for a Disney treat?

©Disney

Information

OH MY!MINNIE MOUSE

Locations/Dates

Tokyo: OH MY CAFE TOKYO (Tokyu Plaza Omotesando Harajuku Floor 3F, 4-30-3 Jingumae, Shibuya, Tokyo)

Running: February 28, 2020 – April 12, 2020

Osaka: kawara CAFE&DINER Shinsaibashi (Shinsaibashi OPA Floor 9F, 1-4-3 Nishi-Shinsaibashi, Chuo Ward, Osaka, Osaka Prefecture)

Running: February 28, 2020 – April 19, 2020

Nagoya: kawara CAFE&KITCHEN Nagoya PARCO (Nagoya PARCO South Building Floor 5F, 3-29-1 Sakae, Naka Ward, Nagoya, Aichi Prefecture)

Running: February 29, 2020 – April 26, 2020

Fukuoka: Kawara CAFE & KITCHEN KITTE Hakata (KITTE Hakata Floor 9F, 9-1 Hakataekichuogai, Hakata Ward, Fukuoka)

Running: February 29, 2020 – March 28, 2020

"OH MY! MINNIE MOUSE" OH MY CAFE Booking Website: https://mm.ohmycafe.jp/

Grab Tokyo Souvenirs at Roppongi Hills' New Food & Gift Area

The new "Food & Gift Area" at Roppongi Hills is set to open in the North Tower on Floor B1F on April 10 where you can get your hands on a huge range of exclusive gifts and souvenirs, as well as quick and delicious food. It will house a total of 19 stores; that's 12 shops selling Japanese confections and other picks perfect as gifts to yourself or someone else, and 7 eateries offering takeout and eat-in options.

In the gift area, 12 storesーa mix of new establishments as well as well-known businesses setting up shop in Tokyo for the first timeーwill open their doors, such as the New Style Ginza Sembikiya cafe, Kashi no Kirokujo which sells exquisite cakes that are hard to get your hands on, and more. And there's a whole range of Roppongi Hills exclusives too, like artistic yokan sweet bean jelly inspired by Tokyo's streets, castella with the Roppongi Hills logo on it, senbei rice crackers, assorted sliced mochiーthe list goes on.

Gift Area – Roppongi Hill Exclusives

Tokyo Enbo – ¥4,320 (Tax Included) @ Wagashi Yui

Recreated are the landmarks of Tokyo in the morning sun, with the beautiful silhouettes of the city's skyrise buildings formed into sweet bean jelly. Try and find Roppongi Hills in this picturesque perfection.

Ukeian Castella Wasanbon – ¥2,160 (Tax Included) @ Ukeian

This castella cake is made rich and moist thanks to the eggs laid by specially-bred chickens. It's made with wasanbon fine-grained Japanese sugar,  which gives it a tantalizing smell. The logo stands out too, giving it a beautiful appearance in addition to the delicious flavour.

Roppongi Hills Sanmaido (5 Included) – ¥702 (Tax Included) @ Ginza Matsuzaki Senbei

The senbei rice crackers have a gentle flavour, handcrafted one by one by the shop's master chefsーincluding the Roppongi Hills logo design of these tile-shaped rice crackersーby adding eggs and sugar to wheat flour.

Kinanomiya Sando (Exclusive Packaging/3 Included) – ¥540 (Tax Included) @ KISSHOKARYO

KISSHOKARYO Japan Premium "Miyabi" – ¥1,870 (Tax Included) @ KISSHOKARYO

Munch down on these delicious chocolate cookies made with high quality soy flour, almonds, and oat milk.

They're also serving a special Japanese parfait for eating-in, made with specially-selected Uji matcha from Kyoto and homemade soy flour.

Sankaku Box Sando – ¥1,080 (Tax Included) @ New Style Ginza Sembikiya

Roppongi Hills Exclusive Melon Parfait – ¥2,700 (Tax Included) @ New Style Ginza Sembikiya

Added to the thick and fluffy bread is fresh fruit and subtly sweet cream to make a refreshing sandwich. The chocolate sandwich in the left of the picture is exclusive to Roppongi Hills.

The must-try is the melon parfait, which is made with melons grown in Shizuoka that have been specially selected by the shop.

Cake Shop Miracle Collaboration Set – ¥3,456 (Tax Included) @ Kashi no Kirokujo

This set is an assortment made by four long-standing cake makers: Akasaka Kakiyama, Obusedo, Ganyudo, and Nanohana.

Roppongi Lingotto – ¥3,240 (Tax Included) @ Bicerin

Caffe mocha al Bicerin – ¥660 (Tax Included) @ Bicerin

Served in a limited-edition Roppongi Hills box, the "Roppongi Lingotto" bears the shopping complex's logo, and is a popular gift that was even served to members of the Japanese government at the G7 Ise-Shima and G20 Osaka summits.

When dining in, you can order a rich bicerin which is a mix of espresso, milk, and chocolate sauce topped with whipped cream that's shaped to look like a hill.

Raw Pound Cake Assortment – ¥1,700 (Tax Included) @ Pavlov

Choose from seven adorable small-size cakes, including cream vanille, pistachio fruits rouges, chocolate orange, very berry, Kyoto matcha, caramel nuts, and mont blanc.

Roppongi Exclusive GIFT – ¥918 (Tax Included) @ Jiichiro

Wrapped in special Roppongi Hills packaging, this box contains an assortment of Jiichiro treats from their popular baumkuchen to rusk, gateau chocolat, and more.

In the Food Area, seven restaurants will open serving quick, authentic food. A number of popular restaurants are also making an appearance, like Kyu Yamutei which is famous for its Osaka spice curry, as well as THAI STREET FOOD by KRUNG SIAM. The menu line-ups will include dishes exclusive to Roppongi Hills.

Food Area – Roppongi Hill Exclusives

Curry-Gear MAX – ¥1,650 (Tax Included) @ Kyu Yamutei

This curry combines unique ingredients and spices. The ingredients and roux are switched up every month, and you can pick from one to four rouxs.

Khao Soi No-Broth Mazemen Noodle Curry – ¥1,200 (Tax Included) @ THAI STREET FOOD by KRUNG SIAM

This mazemen noodle curry is a spin on the hugely popular khao soi Chiang Mai ramen, made without any broth. It has the full-bodied aroma and spiciness that comes with Thai-style curry. Change up the flavour with a topping of homemade pepper.

Fisherman's Seafood Spaghetti alla Pescatora – ¥1,848 (Tax Included) @ Pasta & Pizza Uota

Piled with plenty of seafood, this luxurious and specially-made tomato pasta wastes no flavour of the fish used for its rich sauce.

Brioche Vendée N – ¥864 (Tax Included) @ Boulangerie Bonheur

A traditional brioche from Vendée in France. It's combined with orange flower water and contains raisins soaked in Kirsch. The center is moist and just melts in your mouth.

Seafood & Eel Dashi Chazuke – ¥1,320 (Tax Included) @ Dashi Chazuke En

Another exclusive to Roppongi Hills is this chazuke, filled with all the flavours and sea like tuna, porgy, eel, and more. Try it as it is first and then pour over the broth.

Spring Vegetables & Fried Fish Lunch Box – ¥900 (Tax Included) @ Dexee Deli

A set of seasonal vegetables like edible chrysanthemums, asparagus, and cabbage, combined with fried fish, rice, and bamboo shoots.

Find a whole world of food, desserts and gifts at Roppongi Hills' new Food & Gift Area.

Information

Roppongi Hills Food & Gift Area

Address: 6-10-1 Roppongi, Minato Ward, Tokyo

Grand Opening: April 10, 2020

Official Website: https://www.roppongihills.com/

5 Must-Eat Cherry Blossom Foods & Desserts at Hotels in Tokyo

We're keeping the cherry blossom theme running here on MOSHI MOSHI NIPPON as we approach spring. Today, we're showcasing something for those planning a trip to Tokyo for the cherry blossom and Hanami season: 5 must-try cherry blossom foods and desserts served at hotels across Tokyo.

Sakura Strawberry Afternoon Tea at InterContinental Tokyo Strings


Sakura Strawberry Afternoon Tea – ¥4,800

The fraisier is a strawberry cake said to represent the coming of spring in France. At Rhythmos, a cafe and bar at InterContinental Tokyo Strings, it's served in a glass so you can see all the delicious insides, from the round-sliced strawberries to the beautiful green pistachio mousseline cream. The pure white crémet d'Anjou has a fluffy texture and is mixed with refreshing and sour strawberry and raspberry sauce which elevates the flavour of the fromage blanc.

Other treats to pick from include the cherry blossom ganache tart which has a faint cherry blossom fragrance, cherry blossom and strawberry cream-stuffed macarons, strawberry daifuku, and more―all with spring flavours and colours.

The savoury line-up too offers some elegant and unique items. There's the sandwich wraps which include cherry blossom leaf-topped grilled chicken with a lining of shredded dried plum, strawberry ceviche with grilled scallops, and much more.

▶︎Sakura Strawberry Afternoon Tea

Running: March 1, 2020 to April 30, 2020

Location: Rhythmos Café and Bar (InterContinental Tokyo Strings)

Time: 14:00-18:00 (Last Orders 16:30)

Price: ¥4,800 per person

Official Website: https://intercontinental-strings.jp/?updatelang=yes

InterContinental Tokyo Strings

Address: 2-16-1 Konan, Minato Ward, Tokyo

Official Website: https://intercontinental-strings.jp/?updatelang=yes

For more details, check out our previous article here: Cherry Blossom Themed Menu to be Served at InterContinental Tokyo Strings in Spring 2020

Cherry Blossom Afternoon Tea at Hotel Chinzaso Tokyo


Cherry Blossom Afternoon Tea

On the top plate is a collection of four pink and white desserts. This includes some tempting macarons which are filled with a cherry blossom ganache. The macarons themselves are vanilla flavoured, packed with cherry blossom cream, and have prints of delicate cherry blossom flowers on them.

On the lower tier are crunchy pie sandwiches filled with a cream cheese that is laced with cherry blossom leaves, while the bottom tier is an assortment that includes refreshing shrimp, grapefruit and asparagus sandwiches, and more.

▼Cherry Blossom Afternoon Tea

Running: February 17, 2020 – April 12, 2020
Time: 12:00-18:00
*On weekdays between January 6, 2020 to February 28, 2020, the afternoon tea will be served from 14:30-18:00 due to the holding of the sweets buffet
Location: Le Jardin at Hotel Chinzaso Tokyo
Prices: Cherry Blossom Afternoon Tea ¥4,000 / With Welcome Drink ¥4,500

Hotel Chinzaso Tokyo

Address: 2-10-8 Sekiguchi, Bunkyo Ward, Tokyo

Official Website (English): https://www.hotel-chinzanso-tokyo.com/

For more details, check out our previous article here: Cherry Blossom Afternoon Tea in Japan: Hotel Chinzaso Tokyo's Beautiful Floral Menu

Sakura Picnic Basket at Grand Hyatt Tokyo's Steak House "The Oak Door"


Sakura Picnic Basket – ¥5,500

The Oak Door is noted for its use of high quality ingredients prepared in a dynamic way. This spring, they have the perfect pick to give you that feeling that the Japanese Hanami season is here with a cherry blossom picnic basket. This stylish selection has the lot: food, dessert, glasses, and cutlery. The burgers bear pink buns which are stuffed with prime beef patties, pastrami beef, and veg. They also have skewered vegetables too like radishes. Seeking that springtime sensation? Then order your very own Sakura Picnic Basket!

▼Sakura Picnic Basket at Grand Hyatt Tokyo's Steak House "The Oak Door"

Running: March 1, 2020 – Mid April 2020
Time: 9:00〜22:00

Price: ¥5,500

Location: The Oak Door (Grand Hyatt Tokyo Floor 6F)

Grand Hyatt Tokyo

Address: 6-10-3 Roppongi, Minato, Tokyo

Official Website (English): https://www.hyatt.com/en-US/hotel/japan/grand-hyatt-tokyo/tyogh/offers

Gorgeous Springtime Cherry Blossom Set at Keio Plaza Hotel

At eight of Keio Plaza Hotel's restaurantsーwhose menus span traditional Japanese dishes, French food, Chinese cuisineーthey are cooking up their own unique cherry blossom servings.


"Kadode" Lunch & Dinner – ¥15,500 @ Soujuan

A traditional kaiseki-style Japanese course consisting of a bounty of luxury ingredients like Japanese Black wagyu beef, caviar, and more.


"contente" French Lunch – ¥9,000 @ Duo Fourchettes

You need only look at the dishes served at Duo Fourchettes to understand the level of quality and beauty that goes into their dishes. This French lunch line-up is packed with plenty of seasonal spring ingredients, and there's even a succulent strawberry-packed dessert to indulge in.

▼Gorgeous Springtime Cherry Blossom Set at Keio Plaza Hotel

Running: March 1, 2020 – April 30, 2020
Prices:
"Kadode" Lunch & Dinner – ¥15,500 @ Soujuan
"contente" French Lunch – ¥9,000 @ Duo Fourchettes

Keio Plaza Hotel
Address: 2-2-1 Nishi-Shinjuku, Shinjuku, Tokyo

Official Website (English): https://www.keioplaza.com/

Spring Sakura Sweets & Pastries at Grand Nikko Tokyo Daiba

At the "Bakery & Pastry Shop," which is managed directly by the hotel, they have a beautiful choice of desserts perfect for Hanami flower-viewing.


Sakura Opera – ¥610

This three-layered cake is made up of matcha joconde biscuit, adzuki and cherry blossom butter cream, and strawberry jelly. It's also topped with white chocolate by French premium chocolate company Valrhona.


Spring Milk Cream – ¥320

The pastry of these eclairs are made with plenty of milk and are filled with a homemade cherry blossom milk cream. The cherry blossom petals on top are pickled in salt to give a slight salty bite, contrasting deliciously with the sweetness of the cream.

▼Spring Sakura Sweets & Pastries at Grand Nikko Tokyo Daiba

Running: March 1, 2020 – April 30, 2020
Time: 10:00-20:00
Location: Bakery & Pastry Shop at Grand Nikko Tokyo Daiba
Prices:
Sakura Opera – ¥610
Spring Milk Cream – ¥320

Grand Nikko Tokyo Daiba
Address: 2-6-1 Daiba, Minato Ward, Tokyo
Official Website (English): https://www.tokyo.grandnikko.com/eng/

Which of these picks has your mouth watering the most? If you're travelling to Tokyo for the springtime cherry blossoms, why not book at one of these hotels and start your trip with a delicious sakura treat?

Garrett Popcorn Reveals Cherry Blossom Pink Strawberry & White Chocolate Popcorn Flavour

American gourmet popcorn brand Garrett Popcorn Shops® has revealed its new cherry blossom pink coloured, strawberry and white chocolate flavoured popcorn "Very Berry White Chocolate," along with the new "Garrett Sakura Tin"ーboth of which will be released tomorrow on February 15 in limited quantities.

Very Berry White Chocolate: Small ¥580/Medium ¥1,030/Large ¥1,670/Jumbo ¥3,300/Quarter Tin ¥1,700/1 Gallon Tin ¥4,300/2 Gallon Tin ¥8,250

Also released for spring last year to overwhelming popularity, the "Very Berry White Chocolate" popcorn takes Garrett Popcorn's fruity, sweet and sour "Strawberry Caramel Crisp™" flavour, coats it in sweet white chocolate, and sprinkles it with strawberry flakes to create a truly succulent strawberry treat, which is made even more delicious with the milk white chocolate. Its pink colour also brings to mind images of Japan's cherry blossoms.

Garrett Sakura Tin/Quarter Tin: From ¥1,130

The Garrett Sakura Tin has been sold every spring since 2014, and makes a return once again for 2020, covered in beautiful cherry blossoms in full bloom.

The pink-on-pink combination is a great Valentine's Day present, for a springtime movie nightーwhatever takes your fancy!

Information

Garrett Sakura Tin

Running: February 15, 2020 – April 15, 2020 (Available while supplies last)

Available: At all Garrett Popcorn Shops® branches in Japan

*Limited quantities sold per day. Available while supplies last.

*Jumbo and 2 Gallon sizes available at Shisui Premium Outlets and LaLaport Expo City branches only.

Official Website: http://jpgarrettpopcorn.com/

Tokyo's GINZA SIX Reveals Colourful Spring Dessert Line-Up

GINZA SIXーthe largest shopping complex in Ginzaーhas unveiled some of the incredible desserts arriving for this spring only.

Ginza is famous for its host of restaurants which serve up gorgeously gourmet food throughout the four seasons, and so you can expect GINZA SIX's line-up to be something special. Let's take a look.

Strawberry Sweet Afternoon Tea – ¥4,200 (Before Tax) @ THE GRAND GINZA

"Shun'un" pecial Make Maruto Parfait – ¥2,300 (Before Tax) @ Nakamura Tokichi Honten Ginza

Strawberry Mix Candy – ¥593 (Before Tax) @ Candy Art Museum by PAPABUBBLE

The line-up of delectable treats at GINZA SIX won't just satisfy your sweet tooth, but your eyes too due to their delightful appearanceーlike the strawberry and roses littered afternoon tea, or the strawberry candy which is made using only the best available strawberries. The shops and restaurants at GINZA SIX have ensured to prepare sweets that will bring spring to mind Japanese springtime and the pink cherry blossoms.

Matcha Ganache – ¥1,800 (Before Tax) @ Tsujiri

Matcha & Tamba Azuki Bean Cake – ¥2,600 (Before Tax) @ Marlowe

Kurozu Vinegar Raw Chocolate – ¥1,500 (Before Tax) @ Shoubunsu Vinegar Brewery

Other tantalising treats include more Japanese-tasting selections, like cookies injected with a rich matcha ganache, raw chocolate doused with kurozu vinegar, gluten-free pound cake made with freshly-made Uji matcha, and more.

Of course, since this is a spring line-up, there are flowery fusions to find too, like candy topped with edible flowers and rose flavoured frozen fruit bars.

Rose & Raspberry – ¥520 (Before Tax) @ PALETAS

Spring Edible Flower Lollipops – ¥555 (Before Tax) @ Candy Art Museum by PAPABUBBLE

Aya Farm Saku Mango Selection – ¥3,800 (Before Tax) @ Aya Farm

If you're in Tokyo for spring, the cherry blossoms and hanami, then be sure to stop by GINZA SIX to indulge yourself this season.

Information

GINZA SIX

Address: 6-10-1 Ginza, Chuo Ward, Tokyo

Opening Hours: Shops/Cafes (B2F-5F) 10:30-20:30 / Restaurants (6F, 13F) 11:00-23:00

*Business hours differ from shop to shop.

No Fixed Holidays (But shops and restaurants will be closed on January 1, 2020)

Access: Directly connected to Ginza Station via the Tokyo Metro Ginza Line, Marunouchi Line and Hibiya Line.

TEL: 03-6891-3390

Official Website: http://ginza6.tokyo/

Krispy Kreme Doughnuts Unveil Fruity Barbapapa Doughnut Line-Up

Krispy Kreme Doughnuts Japan has announced its second doughnut collaboration with internationally popular French character Barbapapa, which is celebrating its 50th anniversary this year. Three new doughnuts are being released as part of the "Fruity Barbapapa" series on February 26.

Barbapapa x Strawberry: ¥290

The shape-shifting Barbapapa comes in a strawberry flavour. The fluffy doughnut is coated in a sweet and sour strawberry chocolate and is filled with fresh strawberry pieces.

Barbapapa x Apple: ¥290

Barbabravo is one of Barbapapa's sons, and he comes in a bright-red apple flavour.  He's coated with caramel and is filled with a tangy apple nappage and smooth, rich apple cream.

Barbazoo x Mango: ¥290

The nature-loving Barbazoo, another one of Barbapapa's sons, comes in a bright yellow colour and is mango flavoured. It's made from delicious alphonso mango and filled with a rich cream puree for a tropical treat.

Recommended Dozen (12 Included): ¥2,000

Recommended Half Dozen (6 Included): ¥1,250

Recommended Box (3 Included): ¥840

Get them in a box of three, six, or twelve, and enjoy the cute and wonderful world of Barbapapa in doughnut form!3

*Limited-edition box available while supplies last. Mercedes me Tokyo HANEDA branch of Krispy Kreme Doughnuts not participating.