5 Best Cute and Stylish Cafes in Fukuoka
Sat on the northern shore of Kyushu is Fukuoka Prefecture, a hot spot for tourists both Japanese and foreign, particularly those visiting from parts of Asia such as China, Taiwan and South Korea.
Fukuoka has its fair share of famous tourist destinations and a delicious collection of gourmet restaurants, but did you know it's also home to lots of different cute and stylish cafes? Today, Instagrammer moe takes us on her trip around Fukuoka's plethora of popular coffee shops and shows 5 must-visit locations.
10 Coffee Brewers
A popular coffee shop also based in in Ōita Prefecture, 10 Coffee Brewers has another branch in Fukuoka's Daimyo district. The mouthwatering beverage you see in the photo above is a vanilla smoothie with tapioca pearls and a shot of espresso. Topped with Oreo cookies, marshmallows and cream, this crave-inducing coffee delight offers a mix of tasty treats and textures that are sure to fill you up after a cup♡
▼10 Coffee Brewers
Address: 1-10-18 Daimyo, Chuo Ward, Fukuoka
Opening Hours: 11:30-19:00
Closed: Mondays
Official Instagram Page: https://www.instagram.com/10coffee.fuk/
green bean to bar CHOCOLATE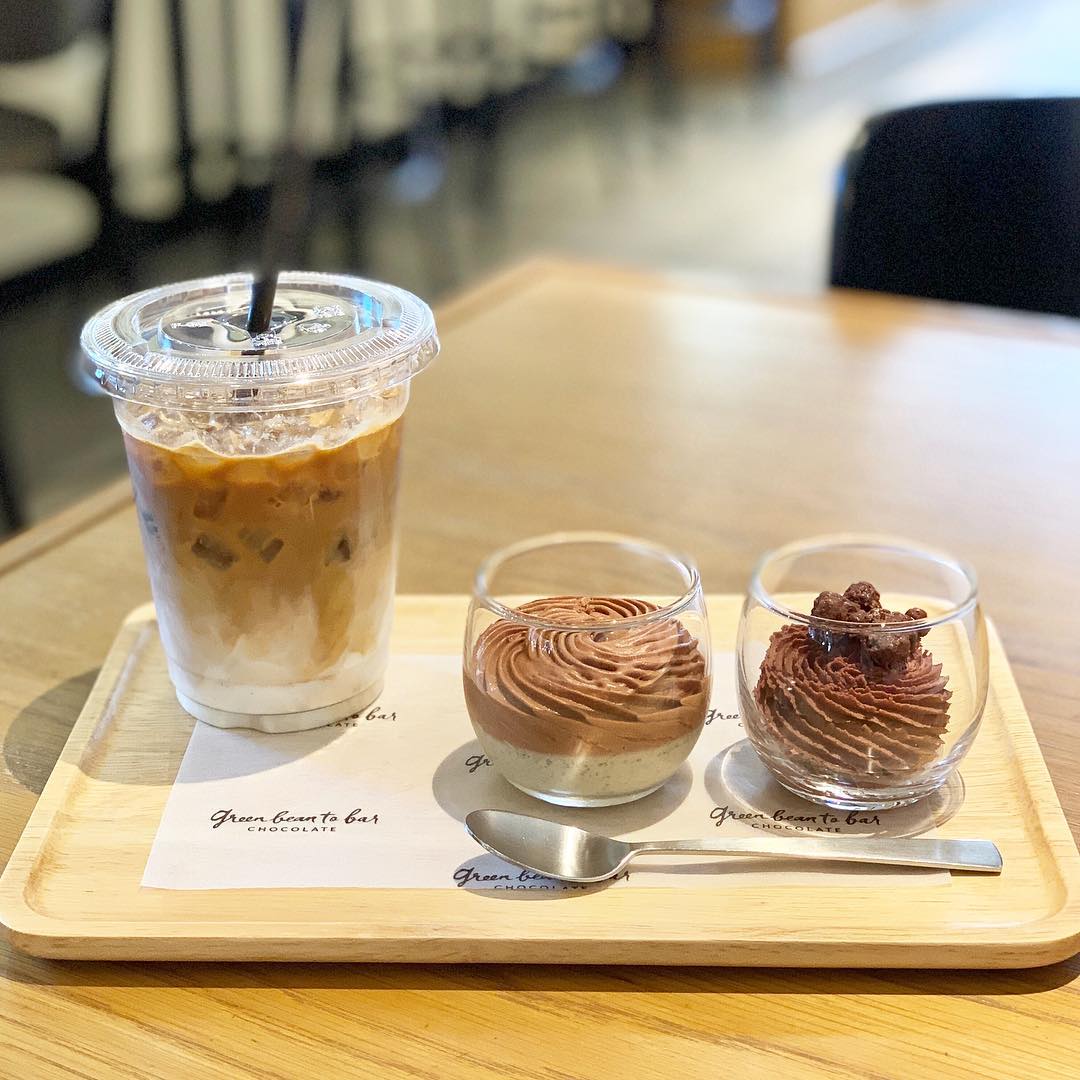 I ordered two different mousses together with my coffee, both exclusive to this Fukuoka branch of the cafe chain. On the left is the Vietnam x Hojicha and on the right is the Tanzania With Crumble. The cacao beans in both are sourced in separate locations. You can order several different flavours to combine with your mousse. As well as hojicha there is sesame seed, mikan and more. The mousse is crafted with a beautiful spiral shape that screams Instagram-worthy at whatever angle you point your camera at. You can even order them for takeout♡
▼green bean to bar CHOCOLATE
Address: Nishietsu Tenjin CLASS Floor 1F, 1-19-22 Imaizumi, Chuo Ward, Fukuoka
Opening Hours: 11:00-21:00
Closed: Wednesdays
Official Website: https://greenchocolate.jp/
COFFEE & CAKE STAND LULU
LULU's beverages are served in simple and stylish cups. The drink on the left is the Houjicha Latte and the one on the right is a LULU Latte. Though the Houjicha Latte is a pure white colour it still has that proper houjicha taste to it. Their puddings are a must-try too and can be ordered for takeout but they were all sold out on this day. Their bouncy puddings are really popular, so if you see them on sale there you should definitely pick one up!
▼COFFEE & CAKE STAND LULU
Address: 2-3-26 Yakuin, Chuo Ward, Fukuoka
Business Hours: Weekdays 9:00-18:00 / Weekends & Holidays 11:00-19:00
Closed: Thursdays
Official Facebook Page: https://www.facebook.com/COFFEE-CAKE-STAND-LULU-1045325205611217/
NO COFFEE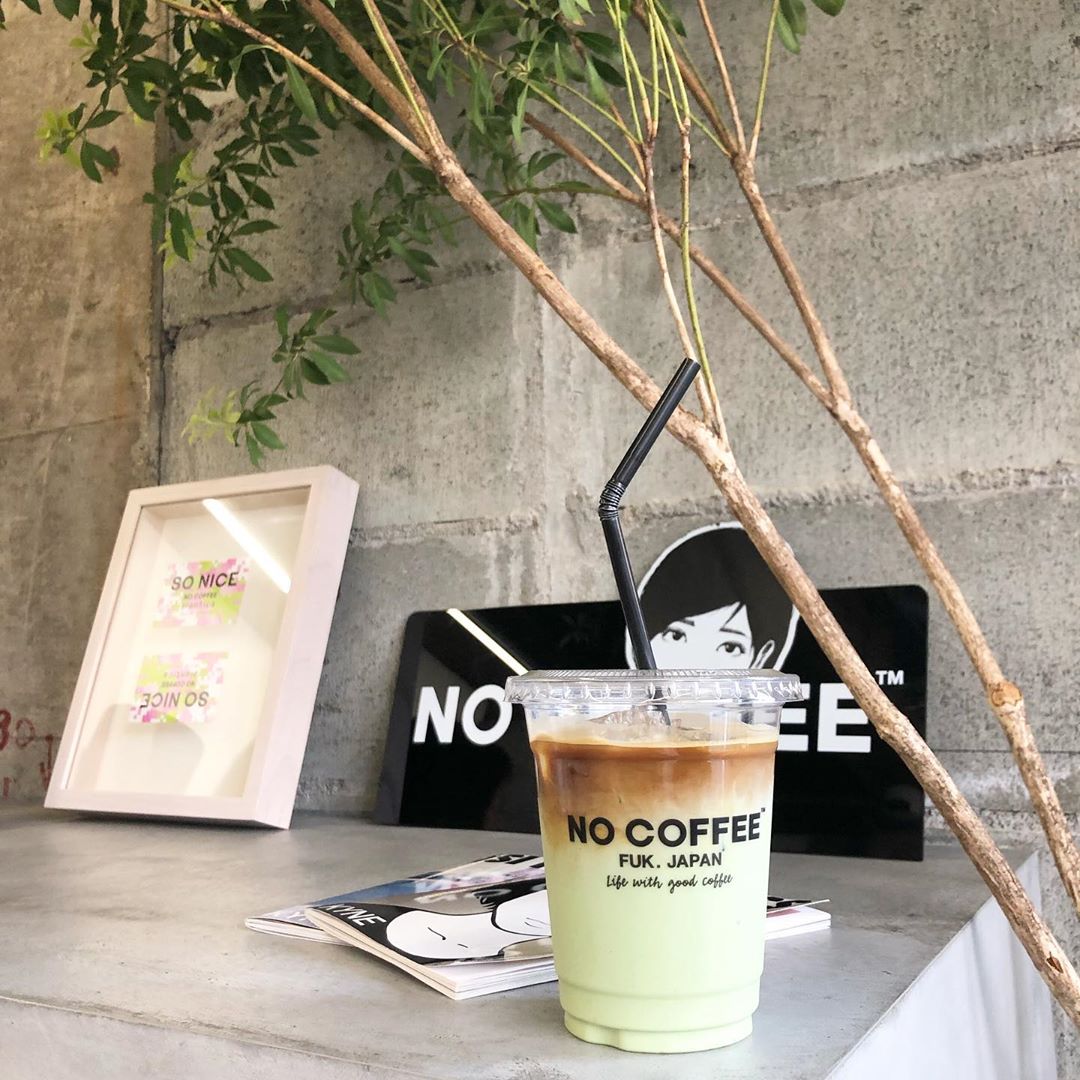 NO COFFEE promotes a coffee lifestyle with their contemporary decor and drinks. The drinks in the photos are the matcha latte with espresso and frozen banana mocha.
The matcha latte mixes sweet matcha latte with a shot of full-bodied espresso to create a refreshing combination. The frozen banana mocha is my personal favourite and a perfect choice for when the weather's hot. The cafe is also a concept shop that sells a variety of miscellaneous items.
▼NO COFFEE
Address: 3-17-12 Hirao, Chuo Ward, Fukuoka
Business Hours: 10:00-19:00
Closed: Mondays (except on national holidays in which case the cafe will close on the following Tuesday)
Official Website: https://nocoffee.net/
W/O STAND
Last on the list is W/O STAND, a coffee chain that's popular not only in Tokyo but in Fukuoka too. The hypnotic drink in the photo is a caramel macchiato. It's common to see the illustration on the cup on Instagram in Japan. The picture is different depending on which branch you visit. Their menu is huge too so you'll definitely want to go back more than once to get coffee.
▼W/O STAND
Address: ARKCUBE103, 1-3-5 Daimyo, Chuo Ward, Fukuoka, Fukuoka Prefecture
Business Hours: 11:00-19:00
No Fixed Holidays
Official Instagram Page: https://www.instagram.com/without_stand_fukuoka/
Did you enjoy this list? Which cafe do you want to visit the most?
moe has many more photos of drinks, desserts and food she has tried in Fukuoka on her Instagram page too. If you're planning a trip to Fukuoka when travelling to Japan, be sure to follow moe's Instagram.
Photos & Text: momo
Translation: Joshua Kitosi-Isanga
RECOMMENDED ENTRIES
COFFEE♥STORY is a video series by coffee company UCC Ueshima Coffee Co., Ltd. that shows the process by which coffee is made before it ends up in a cup between your palms.

The second video in the series was just released in YouTube and celebrates cold brew coffee, a big contender in Japan's coffee culture. Check it out below.

The fire surrounding cold brew coffee was lit in New York and has become a popular way of drinking coffee in Japan.

Did you know that cold brew coffee was actually one of the elements that helped brew a coffee culture in Japan? After Japan's first cafe arrived in Tokyo during the Meiji period (1868-1912), coffee spread up and down Japan in various forms. When the Showa period (1912-1926) rolled around, cafes introduced tools to make cold brew coffee served in tall glasses and it has been enjoyed ever since. American third wave coffee shop owners in Japan who knew of this method took these utensils back to their own country and reinvented what is now known as cold brew coffee.

Japan went on to establish its own cafe culture. It is said that Japanese people were not only the "world's first" to create cold brew coffee, but instant coffee and canned coffee too.

COFFEE♥STORY#02 explores this story with footage of traditional and beautiful Japanese houses and gardens. Be sure to check it out.

Information

UCC COFFEE♥STORY Official Website

Roasted COFFEE LABORATORY Sets the Latest Shibuya Culture Trend With New Summer Drinks

As we approach summer, coffee shop Roasted COFFEE LABORATORY is releasing three new drinks on Tuesday May 28.

Tapioca Cherry Latte ¥600 + tax

As we're approaching summer, the griotte cherry season is also upon us and the Tapioca Cherry Latte is making full use of this seasonal fruit! The cherry provides an element of sourness to contrast the homemade syrup, which is poured over the carefully balanced ice latte. With the first sip, you are immediately hit by the refreshing sourness of the cherry, which spreads all over your mouth. The slight bitterness of the iced latte accents the flavour. Your taste buds will be embraced by a gentle creaminess… and then surprised by the chewy tapioca pearls! It's filling, delicious and fancy ー this is full satisfaction in a cup!

Left: Espresso Tonic (¥550) / Right: Espresso Lime Freezing (¥620)

The Espresso Tonic contains strong espresso coffee which is accented by the sharpness of the tonic water. The agave syrup creates an overall bittersweet flavour. The drink is topped with aromatic, fresh mint.  

The Espresso Lime Freezing consists of ice and frozen lime which is topped with espresso for a fresh yet bittersweet flavour. This icy drink is the perfect way to combat the heat of the summer and get refreshed!

*This is not available at the Tokyu Department store (Toyoko) branch.

Roasted COFFEE LABORATORY was established in Jinnan, Shibuya in 2016 as a joint roastery and coffee shop. Holding the reputation of "MADE IN SHIBUYA" up high, Roasted COFFEE LABORATORY is a place where you can indulge in the high quality freshness of home-roasted coffee beans, homemade desserts and meals that are overflowing with originality, music, art, and events that are coloured with a mixed variety of culture. The roastery has established its roots firmly in Shibuya, the home of street culture, making it the perfect place for it to thrive. They define the culture of "today"and never fail to come up with something new daily to entice your curiosity.

This is your chance to get on top of the latest trends and enjoy a moment of supreme bliss to yourself!

Vegan Food and Incredible Coffee Served at New Coffee Shop alt.coffee roasters in Kyoto

alt.coffee roasters is a new coffee shop opening near Nijō Castle in Kyoto on March 16, 2019. They are set to serve hand drip coffee that bursts with the the original fruity flavour of the coffee beans and emits an unending and irresistible aroma along with a selection of vegan food made with ingredients sourced in Japan, and more.

The coffee served at alt.coffee roasters uses light roast beans which ooze a rich aroma and maintain tantalising flavours. Using the hand drip coffee method means that the great taste stays even when served cold.

The reason alt. is obsessed with light roasts is because they believe the closer the flavour is to the original bean the more delicious it is―and since the taste of every bean is completely different depending on where they are grown, they intend to bring out those flavours to the absolute max. Keeping closer to the original flavour also means the coffee can be enjoyed bitterless.

In Japan, dark roasts are the most popular. Coffee in Japan equals bitter, and so alt. wishes to provide a new way of enjoying coffee to people, hence why they also serve it in wine glasses. It is served black and has a sweet flavour even without sugar.

Pour Over Coffee: ¥500

Flat White: ¥450

The cafe is all about single origin coffee and uses fair-trade beans from Ethiopia which has a history with coffee spanning over 1,000 years. Only the best beans are selected by the farmers. A range of different coffees will be sold including flat whites.

Homemade Fruit Granola: ¥780

Homemade Open Bagel Sandwich With Domestic Vegetables: ¥780

The food menu includes a homemade and gluten-free bagel made using seasonal ingredients farmed in Japan, vegan desserts made with original recipes, and more.

Indulge in fantastic coffee and a great meal at alt.

Information

alt.coffee roasters

Grand Opening: March 16, 2019

Address: 28-4 Shinsenenchō, Nakagyō Ward, Kyoto, Kyoto Prefecture

Business Hours: 8:30-17:00 (Last Orders 16:45) *No fixed holidays

Access: 5-minutes on foot from Nijōjō-mae Station via the Tozai Subway Line / 8-minutes on foot from Nijō Station via the JR Sagano Line / 10-minutes on foot from Ōmiya Station (Kyoto) via the Hankyu Kyoto Main Line

Official Website: http://altcoffee-roasters.com
RELATED ENTRIES
Beasty Coffee by amadana Opens Flagship Store Beasty Coffee [ cafe laboratory ] in Shibuya

Coffee brand Beasty Coffee by amadana, which uses the same coffee-making equipment and by the the top baristas in the country, as well as has delivered high quality coffee beans like them, is opening its new flagship store Beasty Coffee [ cafe laboratory ] in Shibuya on September 27.

Beasty Coffee [ cafe laboratory ] boasts inventory of stock developed by the company themselves, including its own hand-drip coffee tools, as well as original coffee bean blends, an espresso machine, and coffee roaster. The coffee house will also host workshops and other experimental activities, creating a new way to enjoy your cafe experience.

The cafe itself is renovated from a buckwheat noodle restaurant which was deep-rooted in the local area. It has a Japanese-style aesthetic with a modern approach, using mortar as its main decoration.

The furniture is walnut wood, which looks gorgeous in both Japanese and western-style decor, while the entrance has a stylish sliding door with a black frame. There is also a partition inside the cafe. All of this makes for a calm and relaxed atmosphere.

Drip Coffee

Lemonade

If you're interested in ordering the hand drip coffee, there are three types to choose from. They also sell an in-house original lemonade, is a mix of lemon, which uses no preservatives, and herb tea.

The espresso machine comes in a navy colour, which is the brand's main colour, with which the baristas can make customers coffees like cappuccino using original blends.

Behind the partitions sits two coffee roasting tester machines where the cafe will research making original blend coffees day to day to create coffee that people will love.

When you heard about a cafe that is set on creating delicious coffee every time, you want to become a repeat customer. If you're a coffee lover then make sure you pop into Beasty Coffee [ cafe laboratory ] when it opens in Shibuya, Tokyo on September 27.

Information

Beasty Coffee [ cafe laboratory ]

Address: 1-19-3 Tomigaya, Shibuya, Tokyo

Grand Opening: September 27, 2019

TEL: 03−6804−8101

Business Hours: 9:00-19:00

Closed: Mondays

Official Website: http://beastycoffee.com/

Kaori's Easy Recipe: Learn to Make Pumpkin and Cream Cheese Pound Cake For Halloween

With just a small bit of ingenuity, turn everyday food into something cute using Kaori's easy recipe! With a few simple ideas, an ordinary recipe magically transforms into a cute dish.

In this recipe, I will show you how to make the perfect treat for Halloween: a pumpkin and cream cheese pound cake, finished with cute bats and a ghost. This is a super easy recipe that can be made by simply putting everything into a blender and baking it in the oven. By the end of you you will have yourself a Halloween-themed rich pound cake as soft as Japanese pudding.

1: Ingredients (Makes one 22cm pound cake)

150g cream cheese

250g cooked pumpkin (skin and seeds removed)

50g-60g sugar

1 egg

150ml fresh cream

20g soft wheat flour

2: Blend all of the ingredients together in a blender

3: Once the mix takes on a smooth texture, pour into a cake tin and bake at 180℃ for 40 minutes. Once cooked, remove from the oven and leave to cool, then leave in the fridge overnight.

4: Once the cake has set, slice a piece and add your dollop of fresh cream for your ghost and decorate.

To see how I did the toppings, check the video I made above. Once your cute toppings are done, your cake is ready to enjoy!

Kaori invites you into her world of character-themed food dishes in her recipe series. Be sure to check out her Instagram where she has uploaded many pictures of her character dishes!

Profile

Kaori Kubota (@kaopan27)
I live in Hokkaido and I love to make character themed foods, desserts and pastries♡

I want to see my family smile, so I enjoy putting in a bit of effort to make character foods and changing food into something cute♡

You can see more of my character foods and character bento boxes on my Instagram page→@kaopan27

New Food Truck Taiyaki Tainoya to Open in Shinjuku Serving Fish-Shaped Cakes

Taiyaki Tainoya is a food truck set to open in front of the first floor entrance of Flags on September 20 which is connected directly to Shinjuku Station's south-east exit.

  

Taiyaki – ¥200 (Tax Included)

The truck will sell taiyaki, a classic Japanese confection which comes in the form of a crispy fish-shaped cake filled with bean paste. The cakes sold here will be made using Tokachi beans from Hokkaido which have a distinct luxurious sweetness to them.

The taiyaki here are made with takeout and gift-giving in mind, so they have been made nice and crunchy so they don't fall apart or become mushy.

The bean paste isn't overly sweet so is easy to enjoy. The beans, which have a strong aroma, are cooked in sugar beet from Hokkaido, and contain a hint of moshio, which is salt you get from burning seaweed.

The sweet bean paste has such a smooth texture that you wouldn't believe that's what it is. If you're a lover of adzuki bean paste or aren't good with sweet things, then this is a bean paste you're going to love.

For an extra ¥30, you can have the taiyaki packed in a cute gift box if you're thinking of giving it to someone. There are six colours to choose from for all occasions, be it a home party or for clients. They are also wrapped with noshi paper and contain message cards. There are seven of these to pick, so you can write your own words to the person.

If a simple taiyaki isn't enough for you, you can also top it with a rich soft-serve ice cream. Pick between Hokkaido Vanilla or Uji Matcha flavours.

If you're getting off at Shinjuku Station, be sure to head out the south-east exit of the JR Line section to find Taiyaku Tainoya.

Information

Taiyaku Tainoya

Address: 3-37-1 Shinjuku, Shinjuku Ward, Tokyo (1st floor entrance of Flags at Shinjuku Station's south-east exit)

Grand Opening: September 20, 2019

TEL: 080-4179-2365

Opening Hours: 11:00-3:00

No Fixed Holidays

Poop-Themed Exhibition to Teach People All About Poop in Fukuoka

Fukuoka PARCO and Higashiyama Zoo and Botanical Gardens are collaborating to hold a poop-themed exhibition entitled "Poop Exhibition: Poop Academy Cultural Festival in Fukuoka" on floor B1F of the south building of Fukuoka PARCO from September 27 to October 27.

There will be many elements to the exhibition. The first of these is the language section where sentences written in Japanese will be draped all across one room, each with references to poop.

Above photo taken from the Ikebukuro exhibition

In the "Outdoor Lesson" corner, there will be cased displays of different animal droppings with descriptions, enabling people to see the different shapes and sizes poop comes in.

In the "Poop Arithmetic 3rd Year Students" corner is a photo spot where you can pose like the Poop Maths Teacher as shown on the right.

At the end of the exhibition there's an exam room where you can take a test based on what you have learned from the exhibition.

There'll even be a range of original and exclusive merchandise.

Postcard Set (5 Designs) – ¥400

Folders – ¥300

Toilet Roll – ¥348 / Character Tape Cutter – ¥700 / Leather Futon Books (2 Designs) – ¥500 Each

Japan is having a poop craze right now, with the opening of the Unko Museum in Yokohama which is also set to arrive in Shanghai next month.

*Photos are for illustrative purposes only. Listed prices are pre-tax. Event content subject to change.

Information

Poop Exhibition: Poop Academy Cultural Festival in Fukuoka

Running: September 27, 2019 – October 27, 2019

Opening Hours: 10:00-20:30 (Until 18:00 on October 27; last entries 30 minutes before closing times)

Location: Fukuoka PARCO South Building Floor B1F

Entry Price: ¥600 (Free entry for preschoolers)

*POCKET PARCO members get ¥100 off

Event Page: https://art.parco.jp/fukuoka/detail/?id=297

Sensuously Scrumptious Mont Blanc Parfait Arrives at GINZA SIX Tsujiri

The Ginza branch of long-standing Uji tea shop Tsujiri has unveiled a seasonal treat that will be available this autumn only. It was released on September 18 and will be served until October 31.

Tsujiri Ginza is the only branch of Tsujiri in the Kanto region of Japan, aiming to offer a "new kind of matcha experience" to the people of Tokyo. This autumnal mont blanc parfait dessert is made from an aromatic chestnut cream made in France, matcha soft serve ice cream made by the Uji matcha experts at Tsujiri, and fluffy fresh cream, creating a seasonal mix of flavours.

Once you're done shopping around the extravagant town of Ginza, why not treat yourself to a tasty matcha-packed delight?

Information

Tsujiri Ginza

Address: GINZA SIX Floor B2F, 6-10-1 Ginza, Chuo Ward, Tokyo

Opening Hours: 10:30-20:30

TEL: 03-6263-9988

Tsujiri Official Website: http://www.tsujiri.jp

Top 5 Delicious Must-Eat Parfaits in Fukuoka

This time, we're here to present a sweet assortment of parfaits in Fukuoka that are sure to get your mouths watering. We are joined by Instagrammer

moe

who has provided us with photos and descriptions of this tasty line-up.

green bean to bar CHOCOLATE in Imaizumi

 

Let's begin with the Chocolate Glass Parfait, an extravagant parfait which is made with cocoa beans from various different regions, offering plenty of flavour. It's a refreshing parfait topped with chocolate tea granita jelly. It's also drizzled in a chocolate sauce which is made with cocoa beans and imbued with berries. If you're a chocoholic then this one will provide the hit you need!

▼green bean to bar CHOCOLATE

Address: Nishitetsu Tenjin CLASS 1F, 1-19-22 Imaizumi, Chuo Ward, Fukuoka, Fukuoka Prefecture

Opening Hours: 11:00-21:00

Closed: Wednesdays

Patisserie Georges Marceau in Watanabedori

A floral fragrance dances around this beautiful parfait, which one would expect the refreshing peach to be the centerpiece, only to find out that other fruits come through the flavour assortment too like lychee and raspberry. As well as fruits, the parfait includes sherbet, panna cotta, and other refreshing combinations.

▼Patisserie Georges Marceau

Address: 1F, 5-8-19 Watanabedori, Chuo Ward, Fukuoka, Fukuoka Prefecture

Opening Hours: 10:00-20:00 (Until 19:00 on Sundays)

No Fixed Holidays

Oyatsu cafe Hibi to in Hirao

This classic strawberry parfait contains double-sized cornflakes. I would change nothing about its taste or appearance, which also matches the atmosphere of the cosy and beautiful cafe.

▼Oyatsu cafe Hibi to (Japanese: おやつcafe日々to)

Address: Maison Sansou 2F, 2-17-21 Hiaro, Chuo Ward, Fukuoka, Fukuoka Prefecture

Opening Hours: 11:00-20:00

No Fixed Holidays

Kurasukoto in Hirao

Left: Coffee Jelly Parfait / Right: Strawberry Parfait

Coffee jelly is a bitter flavour more suited to the adult palate. It goes perfect with the condensed milk and caramel nut-topped smooth ice cream cake. Piled with juicy strawberries and blueberries, you're sure to enjoy your fill with this strawberry parfait.

▼Kurasukoto

Address: 2F, 1-11-21 Hiaro, Chuo Ward, Fukuoka, Fukuoka Prefecture

Opening Hours: 11:30-18:00 (Food Last Orders 17:15 / Dessert Last Orders 17:30)

Closed: Sundays & Mondays

momotose in Hirao

Strawberries, kumquat, and flower petals adorn this piece of parfait art. The combination of the sour fruits and sweet ice cream is a match made in heaven. As well as parfaits, momotose also sells other delicious desserts too like roll cake.

▼momotose

Address: 1F, 3-19-20 Hiaro, Chuo Ward, Fukuoka, Fukuoka Prefecture

Opening Hours: Lunch 11:00-15:00 / Tea 14:00-18:00 / Dinner 18:00-21:00

No Fixed Holidays

Kenshi Yonezu's New Single 'Uma to Shika' Achieves Record-Breaking Sales

17.September.2019 | MUSIC

Kenshi Yonezu released his new single Uma to Shika on September 11 and it has soon become a new record-breaking sensation. The song served as the main theme for the TBS Sunday drama No Side Game, which just aired its last episode. The Oricon Weekly Single Rankings revealed that the single has so far been sold 412,000 times, which is Yonezu's largest sale yet.

The first ever solo Japanese artist to make over 400,000 sales within the first week of a release was achieved by Tomohisa Yamashita in June 2006 with his song Daite Señorita. After 13 years and 3 months, a new record has been set by Yonezuー the perfect way to start the brand new Reiwa Era.   

The Download Chart shows that the rank for Uma to Shika is remaining steady. The Oricon Digital Single Ranking Chart shows that the single was downloaded 74,178 times in just one week, earning the top place. Since the single's advanced sales which started on August 12, the single has remained at No.1 for five whole consecutive weeks. 

In the drama No Side Game, Hayato Kimijima (played by Yo Oizumi) works as the general manager of the company's rugby team named Astros. He puts up a rigorous fight to keep the team from falling apart so that they can face off against their arch rival team known as the Cyclones. Despite suffering an injury, team player Jo Hamahata, who carries the spirit of the team, rises to the challenge of the fierce battle with every ounce of energy to ensure victory, gambling his sports career by wagering everything on his last shot.

The team members, staff and even the team supporters joined forces as one to ensure the team's win, putting every ounce of their body and soul into the match. The theme drama's theme song Uma to Shika is perfect for summing up this heated moment. The overwhelming feelings of the drama resonate in Yonezu's song and has even stretched out to inspire many viewers. Many fans are still sending in messages about their lingering feelings towards the final episode. 

Information

Uma to Shika Commemoration Event

Fukuoka

Location: Tenjin Kirameki Square

Dates and Times: Saturday, September 21 (10:00-20:00)

Sunday, September 22 (10:00-20:00)

Osaka

Location: NAMBA PARKS Canyon Court

Dates and Times: Saturday, September (11:00-21:00)

Sunday, September 29 (11:00-21:00)

 

Official Twitter Account: @tabi_dekajake

 

Important Event Information:

* Please refrain from sending enquiries directly to the venues.

*As the commemoration exhibitions will be held outdoors in a public location, please act with consideration for others who are passing by. 

* Events will be cancelled in the case of stormy weather. Announcements will be made on the event's official Twitter mentioned above. 

*If there are many attending this event, please cooperate as staff control the crowds by placing rules and guiding the queues. 

Kenshi Yonezu: New Single 'Uma to Shika'

Release Date: September 11, 2019

Product Information:

First Press No Side Limited Edition (CD+Whistle Pendant+Leather Cover): ¥1,900 (Before Tax) [SECL-2493~94]

First Press Limited Edition Version with DVD: (CD+DVD, Paper Cover): ¥1,500 (before tax) [SECL-2495~96]

Regular Edition: (CD only): ¥1,000 (before tax) [SECL-2497]

 

Kenshi Yonezu 'Uma to Shika' Special Edition Website: https://reissuerecords.net/umatoshika/

Kenshi Yonezu 'Uma to Shika' Streaming Links: https://smej.lnk.to/JCJ0B

Official Website: http://reissuerecords.net/

This Week's Breakfast: French Toast at Bread, Espresso & in Omotesando

Once thing I do at least once a week without fail is treat myself out to some delicious food or dessert. It's very important time well spend in order to live a happy life.

Today, I went out for breakfast. I got up a little earlier than usual and headed to my favourite cafe, Bread, Espresso & which is located in Omotesando.

It's really easy to get to: it's just a 5-minute walk from the A2 exit of Omotesando Station. Mornings are quiet in Omotesando, you don't see many people walking around, so it feels like a completely different place compared to its busy streets during the day.

When you enter the cafe, the smell of freshly-baked bread is the first thing to hit your senses. I sat down on one of the comfy sofa-seats and ordered myself the French toast breakfast set.

There's plenty of space between tables, so it's an environment that's easy to kick back and relax in.

Inside and outside the cafe are cute signs with that day's recommended menu items written on them. Next time I visit I think I'll try one of the lunchtime desserts. That's what I daydreamed about while waiting for my French toast to arrive.

French Toast Set w/Drink – ¥800

The French toast has a subtly sweet scent. It's made with one of the cafe's popular foods: the butter-loaded bread known as "Muu."

The toast's crusts were nice and crunchy while the middle part was fluffy. The soft bread just melts in your mouth when taking a bite, and your taste buds are treated to the sweet flavour of the egg.

The toast is delicious as it is, and you can totally leave it at that and enjoy your morning breakfast. But if you want to take it to the next level then you can drizzle the accompanying honey over the toast, giving the sweetness an even richer flavour.

I'm usually not good with the characteristic sweet taste that honey has, or the bitterness layered into the overall flavour, but this honey was on the milder side so I really enjoyed it.

After my food, I enjoyed the cappuccino the barista beautifully made for me which comes as part of the set.

My 1-hour morning was spent even more relaxed than usual here. It's much different from lunchtime which is a much busier and hurried time, so I could sink in my chair and really enjoy my drink too.

Waking up early and enjoying a relaxing breakfast. That's all I did, but it helped ease my busy mind and soul. I'm a simple person, and I think I'll be able to face my week and work hard at it after this.

Today's Presents

Futsu Furu Fig Sandwich – ¥420

Futsu Uni Fruits – ¥400

I wanted to share the happiness between friends and family on this fine day where I got to eat a delicious breakfast. These sandwiches are packed full of fruits―seasonal fruits which are best enjoyed right now. If you're wondering what other sandwiches they sell then be sure to visit.

Writer: Sayuri Mizuno (MOSHI MOSHI NIPPON)

Translator: Joshua Kitosi-Isanga

Information

Bread, Espresso &

Address: 3-4-9 Jingumae, Shibuya, Tokyo

Business Hours: 8:00-20:00

No Fixed Holidays

Winter is Coming But Hotel Chinzanso Tokyo's Yuzu Lemon Afternoon Tea Will Warm You Up

Hotel Chinzanso Tokyo will begin serving its new citrus fruit-packed Yuzu Lemon Afternoon Tea on November 1 at the Le Jardin, the hotel's lobby lounge which offers a view of the beautiful garden.

You'll see yuzu and lemons throughout the year, but it is said that winter is the best season to enjoy them. Both lemons and yuzu are said to have a relaxation effect, and so Hotel Chinzanso Tokyo will beckon guests through its cosy doors with the afternoon tea set's refreshing citrus fragrance, inviting them to an early wonderful winter at the beginning of November.

The set includes an assortment of sweets including a yuzu and lemon flavoured savarin, a lemon cheesecake that squeezes out all the juicy nectar of the citrus fruit, and more. The lemons and yuzu are the citrus kingpins of this afternoon tea.

The seasonal scones are a mix of yuzu and vanilla scones and silky white chocolate scones to relieve some of the sourness. Enjoy together with a mix of dips including salted clotted cream for even more flavour.

On the savoury side of things there is a tempting mix of bites and nibbles, including the use of spicy ginger to warm up your cold body.

Welcome the winter early this year and do it in style with Hotel Chinzanso Tokyo's new afternoon tea set.

Information

Yuzu Lemon Afternoon Tea

Running: November 1, 2019 – November 30, 2019 (*Reservations available only on weekdays)

Time: 12:00-18:00
Location: Le Jardin, Hotel Chinzanso Tokyo

Price: Yuzu Lemon Afternoon Tea ¥4,000 / With Welcome Drink ¥4,500 (Tax and service charge not included in price)

Le Jardin Webpage: https://www.hotel-chinzanso-tokyo.com/dining/le-jardin/

Hotel Chinzanso Tokyo

Address: 2-10-8 Sekiguchi, Bunkyo Ward, Tokyo

Official Website: https://www.hotel-chinzanso-tokyo.com/

Take A Tasty Trip to Tokyo Kaikan to Indulge in Mouthwatering Marron Chantilly Desserts

Kiyotaka Katsume (勝⽬ 清鷹) is the first ever confectioner of the 70-year-old Tokyo Kaikan. This autumn, Tokyo Kaikan is selling Mont Blanc Marron Chantilly dessertsーwhich were invented by Katsumeーfor a limited period only.

Earl Grey Marron Chantilly: ¥908

The Earl Grey Marron Chantilly is only available from October 1 to October 31. The flavour and aroma of earl grey tea leaves has been fully extracted to add to the flavour of the cream.

Premium Marron Chantilly: ¥1,500

The premium Marron Chantilly is only available from September 1 to October 31. Japanese chestnuts sourced from Kasama are shredded with whipped cream for a light and fluffy texture. This is a paradise for anyone who loves chestnuts.

Pumpkin Marron Chantilly¥908

The Halloween-themed desserts at Tokyo Kaikan are a big hit every year. This year, the Pumpkin Marron Chantilly will be taking to the scene to deliver the very best flavours of Halloween. Just looking at this Halloween-coloured dessert is enough to make your mouth water. It is such a shame that it is only selling from October 18 to 31.  

Dig into one of these delicious Marron Chantilly desserts surrounded by the luxurious atmosphere of Tokyo Kaikan. 

Starbucks' Halloween Sweet Caramel Pudding Latte is Bound to Possess Your Heart

The Sweet Caramel Pudding Latte will be infiltrating Starbucks'® Chilled Cup line of beverages from September 24 for a limited period.

The ghostly touch of sweet and smooth caramel pudding is accented with a dark base note of strong coffee. If you are looking for a creamy and luxurious flavour, this is the perfect autumn treat.

Starbucks never fails to raise our spirits with their adorable themed designs. This Halloween, the cup design been invaded with an army of ghosts, pumpkins and more Halloween-themed illustrations. The heavenly golden lid adds a touch of luxury to the design and is a premonition for the sweet and rich caramel that awaits underneath. 

The Sweet Caramel Pudding Latte from the Starbucks' Chilled Cup series is bound to send chills down your spine this Halloween!

Information

Starbucks® Sweet Caramel Pudding Latte  

Price: ¥200 (200ml cup)

Release Date: September 24, 2019 

Available at: Most convenience stores across Japan. 

Product Information: http://www.starbucks.co.jp/rtd/

* Information will be published on September 24th. 

5 Must-Try Desserts On Fukuoka's Beach-Lined City Of Itoshima

Itoshima is a city located in the western part of Fukuoka and is known for its many gorgeous and picturesque locations-especially its beaches.

Today, we are joined once again by Instagrammer

moe

who is here to show us the best delicious drinks and desserts to enjoy while gazing out at Itoshima's breathtaking beaches and rural landscapes.

OYATSU-STAND in Nishi-ku

Left: Tapioca Milk Ryokucha Green Tea / Right: Tapioca Milk Houjicha (¥600 Each)

What better way to enjoy a refreshing green bubble tea than with a sun-kissed blue sky and ocean right in front of you? As well as ryokucha and houjicha, there are plenty of other thirst-quenching flavours to choose from as well, including Japanese tea latte.

▼OYATSU-STAND

Address: 2198-3 Kota, Nishi-ku, Fukuoka

Business Hours: 10:30am until sunset

No Fixed Holidays

Itoshima Sabo in Nishi-ku

Specially-Made Single Classic Pancake – ¥500

You'll find yourself reaching for your camera to snap a picture of this Instagram-worthy pancake, branded with the cafe's name Itoshima Sabo in Japanese. They serve everything from breakfasts to full course meals.

▼Itoshima Sabo

Address: 2915-1 Kota, Nishi-ku, Fukuoka

Business Hours: 10:00-21:00

No Fixed Holidays

KUROKI in Nijoishizaki

KUROKI is a French restaurant that serves up a variety of courses. This fluffy homemade roll cake is filled with rich and smooth cream. You can order it as a set together with a meal too. Don't forget, this place is reservation-only!

▼KUROKI

Address: 459-3 Nijoishizaki, Itoshima, Fukuoka

Business Hours: Lunch 12:00-17:00 (Reservation Only) / Dinner 18:00~ (Reservation Only)

Closed: Sundays

Sumi Cafe in Hon

Salted Milk Houjicha Purin – ¥500

Sumi Cafe is a long-standing cafe that can be found by following a narrow road along the countryside. This irresistible salted milk houjicha purin is combined with astringent chestnut and candied chestnut to make a luxurious dessert.

▼Sumi Cafe

Address: 1454 Hon, Itoshima, Fukuoka

Business Hours: 12:00-17:00 (Lunch Last Orders 15:30 / Cafe Menu Last Orders 16:30)

Closed: New Year's Holiday

Loiter Market in Shimakeya

Left: Salt & Caramel / Right: Milk & Strawberry (¥400 Each)

Made with organic ingredients, Loiter Market's gelato is served in cute pastel colours. The salt and caramel is a must-try, it's made with salt sourced in Itoshima.

▼Loiter Market

Address: 166-3 Shimakeya, Itoshima, Fukuoka

Opening Hours: 12:00-17:00

No Fixed Holidays

Did you enjoy these picks? If you're looking for even more desserts to try in Fukuoka then be sure to check out

moe's

Instagram page which is filled with just that!