5 Best Cute and Stylish Cafes in Fukuoka
Sat on the northern shore of Kyushu is Fukuoka Prefecture, a hot spot for tourists both Japanese and foreign, particularly those visiting from parts of Asia such as China, Taiwan and South Korea.
Fukuoka has its fair share of famous tourist destinations and a delicious collection of gourmet restaurants, but did you know it's also home to lots of different cute and stylish cafes? Today, Instagrammer moe takes us on her trip around Fukuoka's plethora of popular coffee shops and shows 5 must-visit locations.
10 Coffee Brewers
A popular coffee shop also based in in Ōita Prefecture, 10 Coffee Brewers has another branch in Fukuoka's Daimyo district. The mouthwatering beverage you see in the photo above is a vanilla smoothie with tapioca pearls and a shot of espresso. Topped with Oreo cookies, marshmallows and cream, this crave-inducing coffee delight offers a mix of tasty treats and textures that are sure to fill you up after a cup♡
▼10 Coffee Brewers
Address: 1-10-18 Daimyo, Chuo Ward, Fukuoka
Opening Hours: 11:30-19:00
Closed: Mondays
Official Instagram Page: https://www.instagram.com/10coffee.fuk/
green bean to bar CHOCOLATE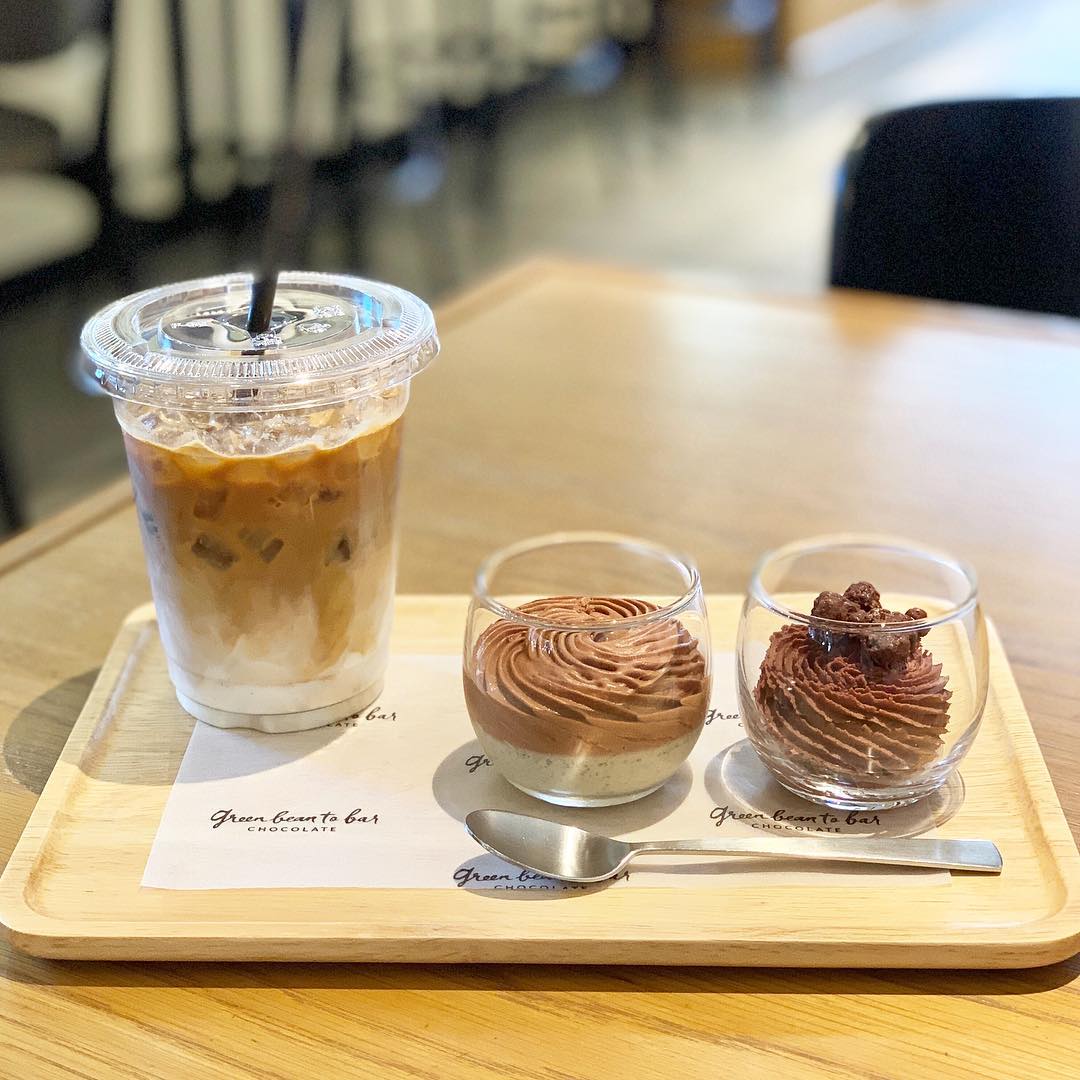 I ordered two different mousses together with my coffee, both exclusive to this Fukuoka branch of the cafe chain. On the left is the Vietnam x Hojicha and on the right is the Tanzania With Crumble. The cacao beans in both are sourced in separate locations. You can order several different flavours to combine with your mousse. As well as hojicha there is sesame seed, mikan and more. The mousse is crafted with a beautiful spiral shape that screams Instagram-worthy at whatever angle you point your camera at. You can even order them for takeout♡
▼green bean to bar CHOCOLATE
Address: Nishietsu Tenjin CLASS Floor 1F, 1-19-22 Imaizumi, Chuo Ward, Fukuoka
Opening Hours: 11:00-21:00
Closed: Wednesdays
Official Website: https://greenchocolate.jp/
COFFEE & CAKE STAND LULU
LULU's beverages are served in simple and stylish cups. The drink on the left is the Houjicha Latte and the one on the right is a LULU Latte. Though the Houjicha Latte is a pure white colour it still has that proper houjicha taste to it. Their puddings are a must-try too and can be ordered for takeout but they were all sold out on this day. Their bouncy puddings are really popular, so if you see them on sale there you should definitely pick one up!
▼COFFEE & CAKE STAND LULU
Address: 2-3-26 Yakuin, Chuo Ward, Fukuoka
Business Hours: Weekdays 9:00-18:00 / Weekends & Holidays 11:00-19:00
Closed: Thursdays
Official Facebook Page: https://www.facebook.com/COFFEE-CAKE-STAND-LULU-1045325205611217/
NO COFFEE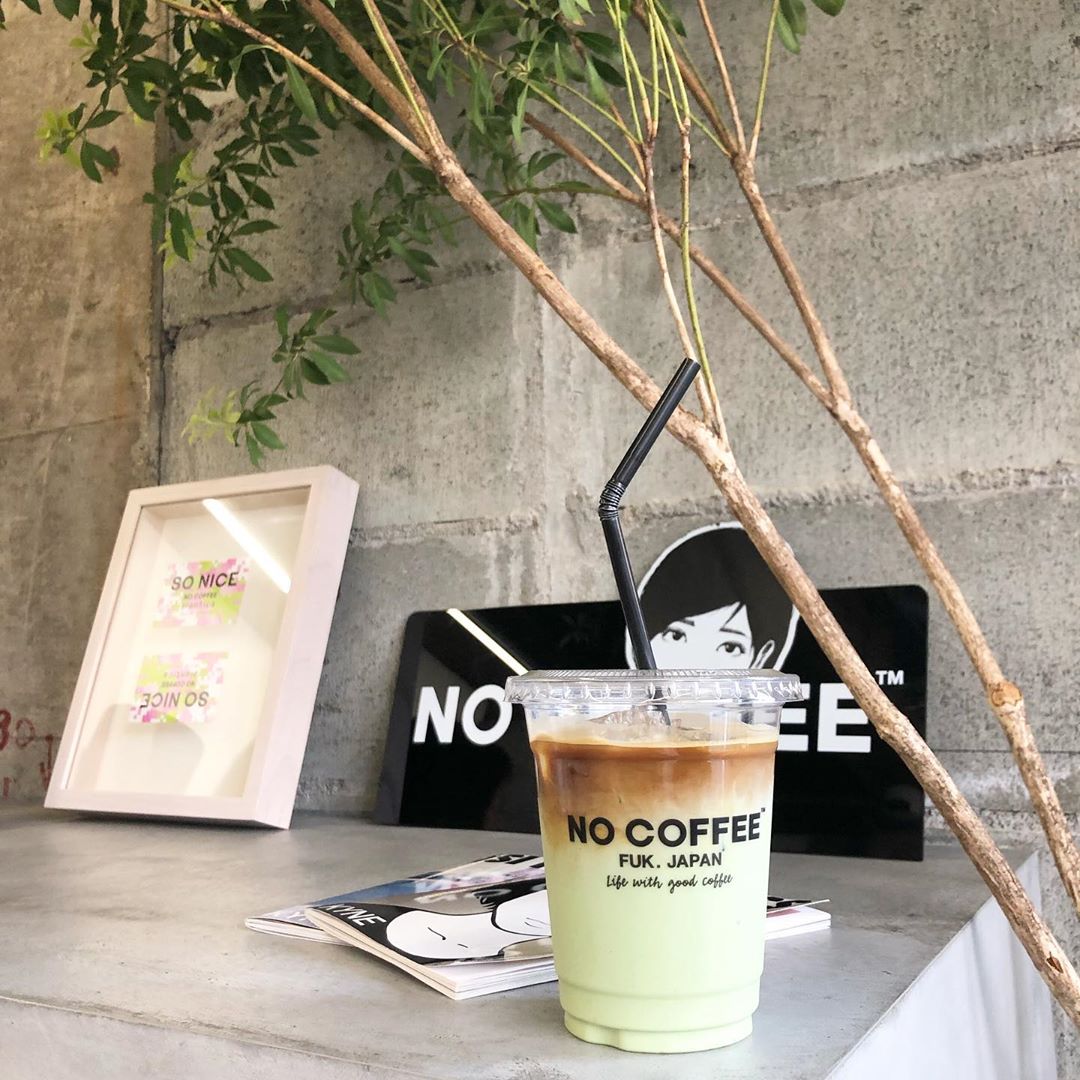 NO COFFEE promotes a coffee lifestyle with their contemporary decor and drinks. The drinks in the photos are the matcha latte with espresso and frozen banana mocha.
The matcha latte mixes sweet matcha latte with a shot of full-bodied espresso to create a refreshing combination. The frozen banana mocha is my personal favourite and a perfect choice for when the weather's hot. The cafe is also a concept shop that sells a variety of miscellaneous items.
▼NO COFFEE
Address: 3-17-12 Hirao, Chuo Ward, Fukuoka
Business Hours: 10:00-19:00
Closed: Mondays (except on national holidays in which case the cafe will close on the following Tuesday)
Official Website: https://nocoffee.net/
W/O STAND
Last on the list is W/O STAND, a coffee chain that's popular not only in Tokyo but in Fukuoka too. The hypnotic drink in the photo is a caramel macchiato. It's common to see the illustration on the cup on Instagram in Japan. The picture is different depending on which branch you visit. Their menu is huge too so you'll definitely want to go back more than once to get coffee.
▼W/O STAND
Address: ARKCUBE103, 1-3-5 Daimyo, Chuo Ward, Fukuoka, Fukuoka Prefecture
Business Hours: 11:00-19:00
No Fixed Holidays
Official Instagram Page: https://www.instagram.com/without_stand_fukuoka/
Did you enjoy this list? Which cafe do you want to visit the most?
moe has many more photos of drinks, desserts and food she has tried in Fukuoka on her Instagram page too. If you're planning a trip to Fukuoka when travelling to Japan, be sure to follow moe's Instagram.
Photos & Text: momo
Translation: Joshua Kitosi-Isanga
RECOMMENDED ENTRIES
COFFEE♥STORY is a video series by coffee company UCC Ueshima Coffee Co., Ltd. that shows the process by which coffee is made before it ends up in a cup between your palms.

The second video in the series was just released in YouTube and celebrates cold brew coffee, a big contender in Japan's coffee culture. Check it out below.

The fire surrounding cold brew coffee was lit in New York and has become a popular way of drinking coffee in Japan.

Did you know that cold brew coffee was actually one of the elements that helped brew a coffee culture in Japan? After Japan's first cafe arrived in Tokyo during the Meiji period (1868-1912), coffee spread up and down Japan in various forms. When the Showa period (1912-1926) rolled around, cafes introduced tools to make cold brew coffee served in tall glasses and it has been enjoyed ever since. American third wave coffee shop owners in Japan who knew of this method took these utensils back to their own country and reinvented what is now known as cold brew coffee.

Japan went on to establish its own cafe culture. It is said that Japanese people were not only the "world's first" to create cold brew coffee, but instant coffee and canned coffee too.

COFFEE♥STORY#02 explores this story with footage of traditional and beautiful Japanese houses and gardens. Be sure to check it out.

Information

UCC COFFEE♥STORY Official Website

Roasted COFFEE LABORATORY Sets the Latest Shibuya Culture Trend With New Summer Drinks

As we approach summer, coffee shop Roasted COFFEE LABORATORY is releasing three new drinks on Tuesday May 28.

Tapioca Cherry Latte ¥600 + tax

As we're approaching summer, the griotte cherry season is also upon us and the Tapioca Cherry Latte is making full use of this seasonal fruit! The cherry provides an element of sourness to contrast the homemade syrup, which is poured over the carefully balanced ice latte. With the first sip, you are immediately hit by the refreshing sourness of the cherry, which spreads all over your mouth. The slight bitterness of the iced latte accents the flavour. Your taste buds will be embraced by a gentle creaminess… and then surprised by the chewy tapioca pearls! It's filling, delicious and fancy ー this is full satisfaction in a cup!

Left: Espresso Tonic (¥550) / Right: Espresso Lime Freezing (¥620)

The Espresso Tonic contains strong espresso coffee which is accented by the sharpness of the tonic water. The agave syrup creates an overall bittersweet flavour. The drink is topped with aromatic, fresh mint.  

The Espresso Lime Freezing consists of ice and frozen lime which is topped with espresso for a fresh yet bittersweet flavour. This icy drink is the perfect way to combat the heat of the summer and get refreshed!

*This is not available at the Tokyu Department store (Toyoko) branch.

Roasted COFFEE LABORATORY was established in Jinnan, Shibuya in 2016 as a joint roastery and coffee shop. Holding the reputation of "MADE IN SHIBUYA" up high, Roasted COFFEE LABORATORY is a place where you can indulge in the high quality freshness of home-roasted coffee beans, homemade desserts and meals that are overflowing with originality, music, art, and events that are coloured with a mixed variety of culture. The roastery has established its roots firmly in Shibuya, the home of street culture, making it the perfect place for it to thrive. They define the culture of "today"and never fail to come up with something new daily to entice your curiosity.

This is your chance to get on top of the latest trends and enjoy a moment of supreme bliss to yourself!

Vegan Food and Incredible Coffee Served at New Coffee Shop alt.coffee roasters in Kyoto

alt.coffee roasters is a new coffee shop opening near Nijō Castle in Kyoto on March 16, 2019. They are set to serve hand drip coffee that bursts with the the original fruity flavour of the coffee beans and emits an unending and irresistible aroma along with a selection of vegan food made with ingredients sourced in Japan, and more.

The coffee served at alt.coffee roasters uses light roast beans which ooze a rich aroma and maintain tantalising flavours. Using the hand drip coffee method means that the great taste stays even when served cold.

The reason alt. is obsessed with light roasts is because they believe the closer the flavour is to the original bean the more delicious it is―and since the taste of every bean is completely different depending on where they are grown, they intend to bring out those flavours to the absolute max. Keeping closer to the original flavour also means the coffee can be enjoyed bitterless.

In Japan, dark roasts are the most popular. Coffee in Japan equals bitter, and so alt. wishes to provide a new way of enjoying coffee to people, hence why they also serve it in wine glasses. It is served black and has a sweet flavour even without sugar.

Pour Over Coffee: ¥500

Flat White: ¥450

The cafe is all about single origin coffee and uses fair-trade beans from Ethiopia which has a history with coffee spanning over 1,000 years. Only the best beans are selected by the farmers. A range of different coffees will be sold including flat whites.

Homemade Fruit Granola: ¥780

Homemade Open Bagel Sandwich With Domestic Vegetables: ¥780

The food menu includes a homemade and gluten-free bagel made using seasonal ingredients farmed in Japan, vegan desserts made with original recipes, and more.

Indulge in fantastic coffee and a great meal at alt.

Information

alt.coffee roasters

Grand Opening: March 16, 2019

Address: 28-4 Shinsenenchō, Nakagyō Ward, Kyoto, Kyoto Prefecture

Business Hours: 8:30-17:00 (Last Orders 16:45) *No fixed holidays

Access: 5-minutes on foot from Nijōjō-mae Station via the Tozai Subway Line / 8-minutes on foot from Nijō Station via the JR Sagano Line / 10-minutes on foot from Ōmiya Station (Kyoto) via the Hankyu Kyoto Main Line

Official Website: http://altcoffee-roasters.com
RELATED ENTRIES
Enjoy a Cup of High Quality Japanese Tea in the Morning at This New Cafe in Nagoya

Mirume Shinryoku Sabo is a new cafe and tea-lover paradise that opened in Nagoya on May 10, 2021, serving high quality bottled Japanese tea, desserts, and other delicious delights.

Daifuku : Eat-In ¥250 (Tax Included)

Ise Tea Sweet Bean Jelly: Eat-In ¥250 / Store ¥500 (Tax Included)

Ise Tea Cheesecake: Eat-In ¥350 / Store ¥3,300 (Tax Included)

Mirume Shinryoku Sabo is the newest cafe to be opened by Shinryoku Sabo, an award-winning tea company in Mie Prefecture. The cafe's tea experience includes using a kyuusu, which is a type of small teapot, to brew Isecha green tea. Customers can learn the best way to prepare tea from an in-house instructor of Japanese tea, who will also provide backstory on the tea leaves used. Their deliciously brewed cup can be paired with a variety of desserts like daifuku, maju, cheesecake, and more.

The cafe also sells the "Morning Bottle," its signature bottled cold-brew tea which is prepared on the day in the early morning. Bottles can be returned to the cafe to be reused, allowing for no waste. Since the tea is cold-brewed, it also contains little caffeine.

Information

Mirume Shinryoku Sabo
Address: 1-36-57 Nagono, Nishi Ward, Nagoya, Aichi 451-0042, Japan
Opening Hours: [8:00-10:00] Morning Bottle only / [11:00-22:00] Cafe & Store
Closed: Wednesdays

TEL: 052-551-3366

Official Site:https://www.shinryokusabo.co.jp/

Häagen-Dazs Dessert Buffet Whipped Up at Keio Plaza Hotel

Keio Plaza Hotel in Shinjuku, Tokyo, is welcoming Häagen-Dazs through its doors who have prepared a very special dessert buffet for the hotel's "Summer Trip with Häagen-Dazs" service. The sweet treat line-up will be served from June 1 to September 30 along with a range of savoury foods from around the world – an inviting prospect to those unable to travel during the pandemic.

Sweets Collection with Häagen-Dazs ~Ice Cream Holic~ | General ¥4,800, Children (Aged 4-12)

The first entry to the Summer Trip with Häagen-Dazs is the "Sweets Collection with Häagen-Dazs ~Ice Cream Holic~" dessert buffet. To protect customers, all desserts are ordered and served like a course rather than going to pick up the food yourself. This marks the third year of the dessert buffet, and this time it's inspired by ice cream shops in New York, the home of Häagen-Dazs. Ice cream will be served in a cool and refreshing variety of ways.

Experience that feeling of picking out a flavour from the ice cream store with a line-up of eight flavours including classics such as vanilla and strawberry as well as the new rich royal milk tea. Each serving is customisable with numerous toppings.

Other menu items include mini ice cream croissants, ice cream sodas, ice cream cake, and more. There's also a line-up of savoury food too if you want to line your belly before dessert: fried chicken, burgers, hot dogs, fries, and so on.

While the buffet is on, the hotel restaurant itself will be transformed into an ice cream theme park with summery tropical fruit colouring as well as designs and decor inspired by ice creams and cones.

Information

Sweets Collection with Häagen-Dazs ~Ice Cream Holic~

Running: June 1, 2021 – September 30, 2021

Bookings; Now Open

Location: Jurin (Keio Plaza Hotel Floor 2F)

Address: 2-2-1 Nishi-Shinjuku, Shinjuku-ku, Tokyo

Slots: 15:00-17:00 (Last Orders 16:30) / 15:30-17:30 (Last Orders 17:00)

Jurin Official Page: https://www.keioplaza.com/restaurants/coffee.html

Deliciously Luxurious Matcha Shaved Ice to be Served in Shinjuku This Summer

This summer, Southern Tower Dining and Lounge South Court—both of which are located inside Odakyu Hotel Century Southern Tower—are serving up a fluffy matcha shaved ice dessert called Wa -Nagomi- from June 1 to September 30.

Southern Tower's Famous Fluffy Light Snowfall Wa -Nagomi- Shaved Ice | Eat In ¥1,470, Takeout ¥700

The matcha-flavoured shaved ice has a texture as light and fluffy as snow. As you spoon through the dessert your taste buds are met with a range of delicious tastes and textures like the Japanese rice flour confection known as gyuhi, winter melon syrup, black soybean flour ice cream, and cream.

The dessert can also be ordered for takeout. The black soy bean flour ice cream adds a crunchy cereal-like texture to the soft shaved ice, and with the takeout option, there's also chocolate-coated wheat bran and brown sugar syrup.

Information

Wa -Nagomi-

Japanese Name: 和 -なごみ-

Serving: June 1, 2021 – September 30, 2021

Where: Southern Tower Dining / Lounge South Court (Odakyu Hotel Century Southern Tower Floor 20F)

Address: 2-2-1 Yoyogi, Shibuya, Tokyo

Opening Hours:

[Southern Tower Dining] 11:30-16:00 (Last Orders 15:00) / 17:30-22:00 (Last Orders 21:00)

[Lounge South Court] 10:00-23:30 (Last Orders 22:30)

Southern Dining Official Website: https://www.southerntower.co.jp/restaurant_lounge/st_dining/bar_lunch/

Retro Looking Tram Turns Into Cafe in Fukuoka's City of Omuta

Tram No. 204, a tram that used to run in the city of Omuta, Fukuoka, has been placed in front of the west entrance of Omuta Station as a symbol and turned into 'hara harmony coffee,' a new cafe.

The cafe opened on March 28, 2021.

A little look at the menu

Coffee (Hot/Iced)

Fruit Sandwiches (Kiwi/Pineapple/Strawberry/Strawberry & Anko)

hara harmony coffee serves coffee, fruit sandwiches, and other items from Coffee Salon Hara, a now-closed cafe that was loved by the people of Omuta for many years. They will also introduce alcohol to the menu as well as a night-time service in the near future. The cafe even sells souvenirs.

Roll up to the retro tram for a nostalgia trip and cup of coffee.

Tokyo's New Museum Cafe is a Haven For Fans of Architecture

Japanese company Banc, which specialises in setting up hotels and other sites, held the grand opening of the new Architecture Cafe Sumika, a new museum/cafe in Shinjuku, Tokyo, on April 28.

A peek inside

A recreation of Fallingwater, a house designed by the architect Frank Lloyd Wright 

Painting by chalk artist Misuzu Wakai

Architectural designs recreated at the new museum cafe

Villa Savoye (Le Corbusier)
Fallingwater (Frank Lloyd Wright)
Casa Ligornetto (Mario Botta)
Sky House (Kiyonori Kikutake)
Maison a Bordeaux (Rem Koolhaas)
Malin Residence "chemosphere" (John Lautner)
Eames House (Charles and Ray Eames)
Silver Hat (Toyo Ito)
Fisher House (Louis Kahn)
Mailam House (Paul Rudolph)
The Glass House (Lina Bo Bardi)
Steel House (Kengo Kuma)

A little look at the menu

<Miho Chef Chocolatier> Premium Gateau Chocolate: ¥1,200 / Raw Marble Chocolate: ¥1,000 / Raw Dami Chocolate ¥450

<Ten no Ya> Egg Sandwich: ¥750

Architecture Cafe Sumika aim sto be a cosy space for architecture lovers who can enjoy thinking about their ideal home, talking about their favourite architect, and thinking about how architecture changes with the times. The cafe has recreated 12 architectural marvels from 12 different renowned architects, each at which sits at a different table.

 

The cafe, which is located in Shinjuku Sanchome, employs a spacious cafe area with high ceilings that can be enjoyed by both lovers of architects and cafe enthusiasts where they can relax with a cup of tea, coffee, a soft drink, or even alcohol, the latter of which is served at bar hours from 18:00, completely changing the atmosphere into a night museum. There's also a tasty food menu to tuck into.

If you're looking to speak to someone about architecture and real estate, Architecture Cafe Sumika also houses its own resident experts. Customers can also enjoy a range of other works by architects and interior designers.

In celebration of the cafe's opening, a competition is being held to create a jungle gym for children where entrees can win cash prizes, the top being ¥300,000. More details below.

Information

Architecture Cafe Sumika

Address: 6th Sanwa Bldg Floor 4F, 3-6-7 Shinjuku, Shinjuku-ku, Tokyo
Opening Hours: Cafe 10:00-18:00 / Bar 18:00-04:00 (Last Orders 03:00)
No Fixed Holidays
TEL: 03-5315-0396
Official Website: https://sumika-shinjuku.com/

1st Architect Contest

Submission Period: June 20, 2021 – June 27, 2021
Winner Announcement: June 28, 2021
Winning Work Display Period: July 1, 2021 – August 30 2021

Submission Entry: Children's Jungle Gym

Size: Max 60cm x 60cm x 40cm

Colouring: Any

Cash Prizes: Winner ¥300,000 (1 Person) / Runner-Ups ¥100,000 (7 People)
Submissions: Must be made by June 19, 2021

How Winners Are Selected: Entrants will be posted on the cafe's official Instagram – the most popular from the votes will be selected

Royal Park Hotel Begins Serving Limited-Time Desserts For Golden Week

For this year's Golden Week, Royal Park Hotel in Tokyo is serving up a limited-time selection of two desserts on its first floor cafe and bakery IKI: the Koinobori Roll Cake and Animal Sweets & Pastries, both of which are available now until May 5. It's also selling two different mont blancs for Mother's Day and Father's Day.

Carp streamer-inspired roll cake and animal pastries

Koinobori Roll Cake – ¥2,160 (Tax Included)

Animal Sweets & Pastries: Sheep Cheesecake, Bear Tiramisu, Rabbit Mousse – ¥540 Each / Piglet Pastry, Dog Pastry, Chick Pastry – ¥324 (Tax Included)

This line-up of takeout desserts and pastries are made at the hotel's own cafe and bakery IKI, all of which have been made to celebrate Children's Day which falls on May 5 every year. This includes a moist chocolate and strawberry carp streamer roll cake which is popular at IKI every year. There's also a cute selection of animal delights including the light and fluffy Sheep Cheesecake, mascarpone cream and coffee Bear Tiramisu, and a sweet and tangy Rabbit Mousse made from assorted berry mousse and jelly, as well as three pastries made to look like a chick, dog, and piglet.

Serving: April 29, 2021 – May 5, 2021

Happy Father's Day & Happy Mother's Day Specials

Mother's Day Mont Blanc / Father's Day Mont Blanc – ¥1,944 Each (Tax Included)

The Mother's Day Mont Blanc is a wonderfully light combination of strawberry jelly, fresh strawberries, white chocolate mousse, and strawberry cream. The Father's Day version is made with a fresh mascarpone cream, a mont blanc base that's made from chestnut and blackcurrant jam, chocolate cream, and caramelised nuts.

Mother's Day Mont Blanc: May 7, 2021 – May 9, 2021

Father's Day Mont Blanc: June 18, 2021 – June 20, 2021

 

Monthly Breads: May & June

Each mother, IKI releases limited-time breads or pastries. For May, customers can enjoy the rich Edamame & Bacon Parmesan France and the bitter Chocolate Cream Cornet. In June, there's an Orange Cream Cornet made with sliced orange peel, and the Tomato Rustic which is crunchy on the outside and soft in the middle, combining tomato and cheese. There's also Shokupan made with matcha and large-grained adzuki beans.

Edamame & Bacon Parmesan France / Chocolate Cream Cornet (Dark Chocolate) – ¥302 Each (Tax Included)

Orange Cream Cornet – ¥302 / Tomato Rustic – ¥302 / Shokupan (Matcha & Adzuki Bean) – ¥648 (Tax Included)

May Monthly Bread: May 6, 2021 – May 31, 2021

June Monthly Bread: June 1, 2021 – June 30, 2021

Information

Royal Park Hotel Golden Week Desserts

Start Date: April 29, 2021

Where: IKI

Address: royal Park Hotel, 2-1-1 Nihonbashikakigarachō, Chuo-ku, Tokyo

Official Website: https://www.rph.co.jp/event/GWevent2021.html

Shiseido Parlour Releases Creamy BOUQUET DE FRAISES Biscuit Cake

The Ginza branch of Shiseido Parlour in Tokyo released its new BOUQUET DE FRAISES biscuit cake on Friday. The dessert is inspired by Shieido Parlour's strawberry parfait and is made to be held in one hand. It comes with three kinds of creams, and each is a crunchy and customisable delight decorated like a bouquet.

BOUQUET DE FRAISES | ¥540 (Tax Included)

The buttery cone is a cat tongue biscuit and is filled with cream shanty, cream patissiere, and strawberry jam. The bouquets are also topped with fresh strawberries.

BOUQUET DE FRAISES (Box of 10) | ¥5,724 (Tax Included) | Reservation-only

Umbrella Installation Decorates Cafe in Chiba

This cafe will keep your dry while you enjoy your coffee as it brings together the Japanese rainwear brand Wpc. and community space Tsubakimori Komuna with the limited-time cafe Wrapping komuna ~blooming~ which is now running until the end of May.

Tsubakimori Komuna first opened five years ago and recently received huge renovation work, reopening in January of this year. Wrapping komuna ~blooming~ sees the return of the colourful umbrella installation which was featured as part of its reopning.

The theme of the installation is "blooming" and features six different colours of umbrella representing different drinks such as strawberry milk, ramune, and soda. The umbrellas twinkle as the light filters through the trees at different angles, creating a gorgeous atmosphere at the cafe which itself is built like a treehouse.

Information

Tsubakimori Komuna x Wpc. Wrapping komuna~blooming~

Running: April 16, 2021 – May 31, 2021

Where: 1-21-23 Tsubakimori, Chuo-ku, Chiba-shi, Chiba

Access: 3-minutes on foot from Chibakoen Station / 9-minutes on foot from JR Chiba Station
Opening Hours: [Mon-Sat] 11:00-21:00 / [Sun] 07:00-18:00

Official Website: https://www.tsubakimorikomuna.com/

New Doraemon and Korosuke Dessert Gets Served at the Fujiko F. Fujio Museum

The Kawasaki-based Fujiko F. Fujio Museum, which is dedicated to the Japanese manga writing duo who created Doraemon, is now serving up its new Doraemon Korosuke Chiffon Sandwich which was added to the menu on Wednesday.

Doraemon Korosuke Chiffon Sandwich | ¥1,280 (Tax Included)

The new arrival sees Doraemon and Korosuke turned into chiffon sandwiches with the beloved blue robot cat made from chocolate and filled with banana cream and his friend filled with mango cream.

Check out some of the other items available on the menu at the museum too.

Doraemon Arrabbiata | ¥1,230 (Tax Included)

French Toast de Anki Bread | ¥980 (Tax Included)

Fork into the Doraemon Arrabbiata with tomato sauce and a Doraemon face made from egg sheets, or a French toast inspired by Doraemon's Copying Tost, one of his many Secret Gadgets.

ⒸFujiko-Pro

Information

Doraemon Korosuke Chiffon Sandwich

Released: April 21, 2021

Where: Fujiko F. Fujio Museum

Address: 2-8-1 Nagao, Tama Ward, Kawasaki, Kanagawa 214-0023, Japan

Opening Hours: 10:00-18:00

Official Website: http://fujiko-museum.com/english/

Detective Conan Turns Into Confections at Japanese Convenience Stores

In promotion of the latest entry to the Detective Conan anime film series, Detective Conan: The Scarlet Bullet, which was released on March 18, Bandai released two traditional Japanese wagashi sweets from its Tabemas confection series at 7-Eleven convenience stores in Japan on April 23.

Tabemas Detective Conan 2021

Conan Edogawa

Shuichi Akai

'Tabemas' is an abbreviation of the Japanese words taberareru masukotto, meaning 'mascots that you can eat.' It is a Japanese confectionery series that combines well-known characters and Japanese sweets made from ingredients like red bean paste, sugar and rice flour. The sweets are also made with a dough called "nerikiri" which is used in making traditional Japanese wagashi sweets.

The sweets feature titular character Conan Edogawa and FBI agent Shuichi Akai from the new film, recreating their looks in adorable detail and making the custard and chocolate flavoured respectively. The colours of the confections are naturally-derived from the ingredients used, meaning no artificial colourings are used.

(C)青山剛昌/小学館・読売テレビ・TMS 1996

Information

Tabemas Detective Conan 2021

Released: April 23, 2021

Price: ¥278 Each (Tax Included)

Available: The chilled desserts corners of 7-Eleven convenience stores in Japan

Tabemas:  https://www.bandai.co.jp/candy/tabemas/

*Available while supplies last

*Stock date may differ from branch to branch

*Select stores not participating

SEGA to Open Love Live! Themed Cafe in Akihabara and Around Japan

GENDA SEGA Entertainment is set to open a themed cafe in collaboration with Love Live! Nijigasaki High School Idol Club on April 29, 2021.

A completely original menu themed on the characters

Fans can tuck into a very special menu inspired by the members of the Nijigasaki High School Idol Club with drinks, desserts, and food. The cafe will run over the course of three periods each of which will also include their own unique menu items.

Drinks | ¥660 Each (Tax Included)

Period ①: Hamburger Plate / Yaki Udon | ¥1,320 Each (Tax Included)

Nikujaga Plate / Clam Chowder | ¥1,320 Each (Tax Included)

Period ②: 1st Year Banana Parfait / 2nd Year Strawberry Parfait / 3rd Year Grape Parfait | ¥1,100 Each (Tax Included)

Period ③ menu exclusives to be revealed

Get some freebies simply by ordering

Period ①: Drinks Coaster / Food Coaster / Parfait Costers

Period ②: Drinks Coaster / Food Coaster / Parfait Costers

Period ③ exclusive freebies to be revealed

Character birthday cards

Kanon Shibuya – May 1, 2021 / Sarah Kazuno – May 4, 2021

Ai Miyashita – May 30, 2021 / Nozomi Tojo – June 9, 2021

Mari Ohara – June 13, 2021

Merchandise to add to your collection

Releasing: April 29, 2021

Acrylic Stands | ¥1,320 Each (Tax Included)

Art Panels | ¥660 Each (Tax Included)

Releasing: May 15, 2021

Chibi Key Rings | ¥770 Each (Tax Included)

Bonus merch for every ¥2,000 spent

Bromides | Available April 29, 2021 – May 14, 2021

Bromides | Available May 15, 2021 – May 28, 2021

©2013 プロジェクトラブライブ! ©2017 プロジェクトラブライブ!サンシャイン!!
©2020 プロジェクトラブライブ!虹ヶ咲学園スクールアイドル同好会 
©2021 プロジェクトラブライブ!スーパースター!!
©GENDA SEGA Entertainment Inc.

Information

SEGA x Love Live! Nijigasaki High School Idol Club Collaboration Cafe
Running: April 29, 2021 – June 13, 2021

Where: SEGA Collaboration Cafe Akihabara 3 (SEGA Akihabara 3 Floor 7F) / SEGA Collaboration Cafe Stand / SEGA Akihabara 4 / Nanbasennichimae / Sendai / Okayama / Fukuoka Tenjin / Sasashima
 

Schedule

Period ①: April 29, 2021 – May 14, 2021

Period ②: May 15, 2021 – May 28, 2021

Period ③: May 29, 2021 – June 13, 2021

Cafe Details: https://sega-collabocafe.com/top/nijigasaki03.html

Love Live! Official Website: https://www.lovelive-anime.jp/nijigasaki/

Mini Pixar Cakes by Ginza Cozy Corner Includes Toy Story, The Incredibles, Finding Nemo, and More

Japan's confectionery shop Ginza Cozy Corner are releasing a new collection of petite Pixar cakes at all branches on April 23.

The cakes comes in time for celebrating Children's Day in Japan, as well as making a perfect snack for Golden Week and for kids and parents to enjoy together. Pixar fans have nine to enjoy in the collection such as the Little Green Men from Toy Story, Nemo and Dory from Finding Nemo and Finding Dory, Sully from Monster's Inc., the Pixar Ball, and more.

Pixar Collection (9 Included) | ¥2,700 (Tax Included)

Flavours include the strawberry mousse Lightning McQueen, the Jack Jack raspberry jelly and mango cream, the Buzz Lightyear blueberry jam and cheese mousse, and more.

Pixar Cake Assortment (6 Included) | ¥540 (Tax Included)

The packaging also features cute artwork of everyone's favourite Pixar characters. Choose between the whole nine cake box collection or this assortment of six white chocolate and strawberry cookies.

Pixar Sweets Box (10 Included) | ¥918 (Tax Included)

There's also a 10-piece box of six cookies and four madeleines.