From Wine to Hydrangeas Taste the Regional Shaved Ice Flavours of Japan at Hoshino Resorts KAI
Hoshino Resorts hot spring ryokan brand KAI is offering guests the opportunity to explore different regional shaved ice desserts that are served with delicious regional syrups and toppings. Shaved ice is a traditional summer dessert that was even mentioned in the famous work The Pillow Book, which was written by Sei Shonagon during her time as Empress Consort Teishi's court lady during the 990s and early 1000s of the Heian period.
The concept of KAI expresses both originality and the thirst for experimenting to make something new. The event offers a range of original flavours, embracing the Japanese tradition of eating flavoured shaved ice to battle the heat of summer. From wine-flavoured shaved ice in Nagano, to Hydrangea shaved ice at Hakone, this is the perfect opportunity to try a range of shaved ice desserts that are full of vibrant colours. These regional flavours are sure to spark your curiosity for discovery in that region. 
Wine Shaved Ice: Hoshino Resorts KAI Matsumoto (Asama Onsen, Nagano)
The cone-shaped region of Kikyogahara, which is located next to Matsumoto city, is well known for its wine production. This area produces around 50 different kinds of Kikyogahara wine. The flavoured syrup for this shaved ice comes from concord grape wine sourced from Kikyogahara. Each porcelain bowl for the dessert is handmade. Customers can enjoy the smooth, rounded feel of the grape pattern on the bowl as they dig into their dessert. As the alcohol is burned out of the dish, even those who do not like alcohol can enjoy this mature dessert. From the carefully prepared wine syrup to the handmade bowl, you will be able to feel all the hard work put into the making of these luxurious desserts. This is the perfect way to cool off after a hot day.
Hydrangea Shaved Ice: Hoshino Resorts KAI Hakone
Due to the altitude differences at Hakone, you can enjoy the beautiful hydrangeas for an even longer time than other areas of Japan. There is a Hydrangea train (Ajisai Densha) that runs up the mountains providing passengers with the beautiful view of blooming flowers, creating the perfect summer memories. Observing the large groups of flowers in full bloom fills you with such a refreshing feeling. Their beautiful colours are expressed in the colour of this hydrangea shaved ice.  
Strawberry Shaved Ice: Hoshino Resorts KAI Nikko (Chuzenji Onsen, Tochigi)
Tochigi prefecture has been Japan's no.1 producer of strawberries for 50 years straight. This shaved ice is served in a strawberry-shaped bowl and is served with sweet yet slightly sour strawberry syrup and a topping of bittersweet matcha sauce. Here, you can enjoy a cool evening up 1,300 metres high overlooking beautiful scenery from inside the establishment whose spectacular interior that boasts Tochigi's traditional art of Kanuma Kanoko craft.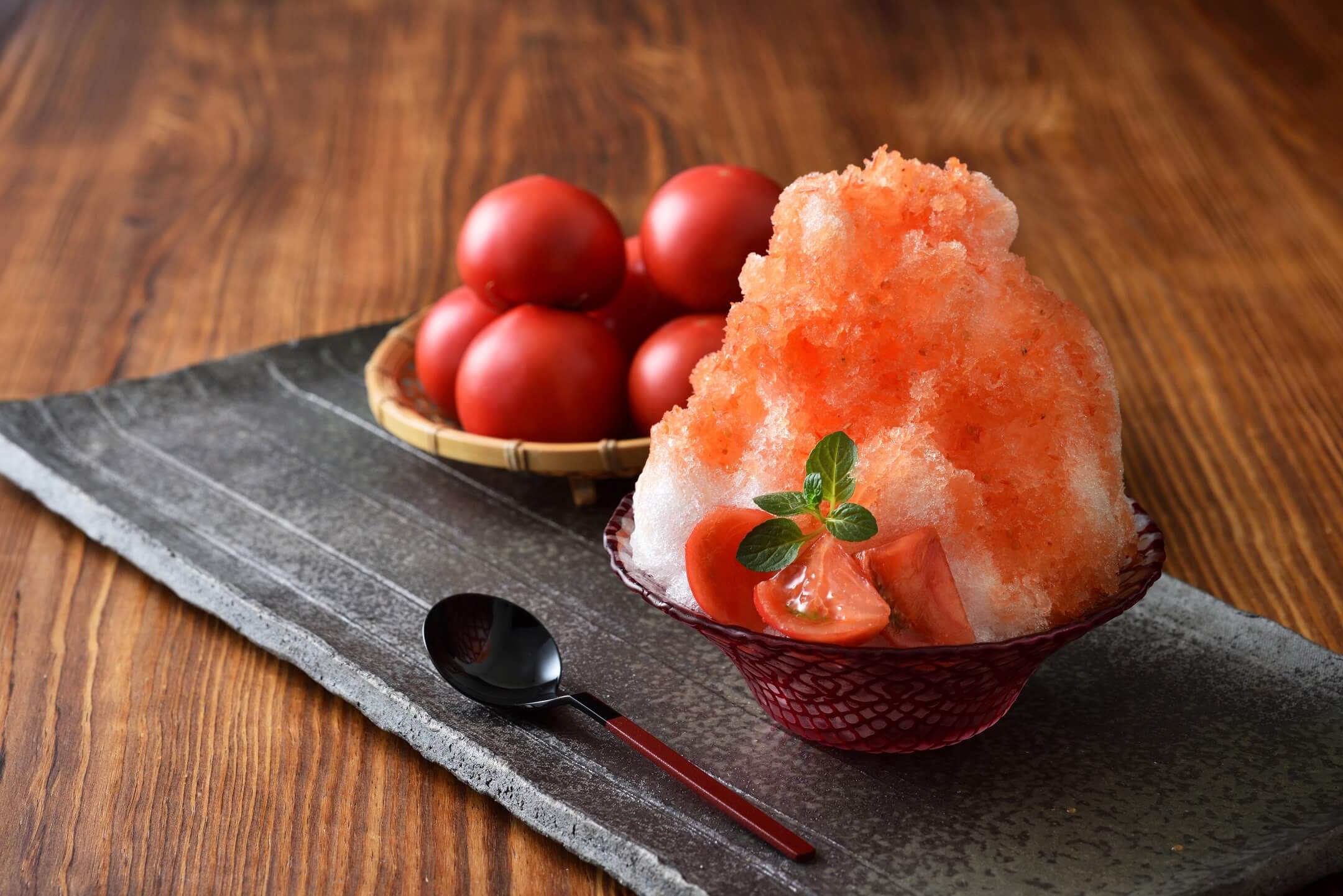 Tomato Flavoured Shaved Ice: Hoshino Resorts KAI Aso (Sonomoto, Oita)
As tomatoes thrive during the summer, this tomato shaved ice is the perfect way to cool down. This shaved ice is sweet and slightly sour and the vibrant red colour is enough to refresh you. Tomatoes are low in calories and contain an abundant range of healthy nutrients. They are also high in vitamin C which is good for your skin and is known for helping prevent illness. Tomatoes are also a good supply of vitamin E, which is good at slowing the effects of aging. Take a seat on the terrace and enjoy your shaved ice as a refreshing breeze rolls by. This is the perfect way to enjoy a cool summer with a healthy and delicious dessert. 
Neputa Shaved Ice: Hoshino Resorts KAI Tsugaru (Owani Onsen, Aomori)
The Neputa Shaved Ice represents the Hirosaki Neputa Festival that takes place in the summer at the old castle town of Hirosaki. To represent Tsugaru Vidro coloured glass, which is an important part of Tsugaru culture, red, blue and green coloured jelly pieces decorate the top of the shaved ice. These colours also represent the vibrant colours of Neputa festival. This Instagram-worthy dessert shows off the best of the fresh colours of Tsugaru. 
Information
Kai Regional Shaved Ice Desserts 2019
Running: July 13, 2019 – August 31, 2019
Entry: Free
Hoshino Resorts Kai Official Website: https://kai-ryokan.jp/
RECOMMENDED ENTRIES
Hoshino Resorts KAI Sengokuhara one of the few luxury hotels worldwide to be hand-picked by American travel magazine AFAR.

Hoshino Resorts KAI Sengokuhara was one of the 27 hotels worldwide to be specially selected for "The Stay List" in the April 10th 2019 edition of American travel magazine AFAR.

AFAR is targeted at upper-class North American travellers. "The Stay List" is the name of the magazine's list of hotels that are recommended by the magazine's writers and editors. The April 10th edition of the magazine's Stay List consists of just 27 hand-picked hotels from countries worldwide and Hoshino Resorts KAI Sengokuhara was one of them. KAI Sengokuhara was praised for its location amidst abundant nature whilst being close to the city. The magazine also admires its inspiration to the guests.

In July 2018, KAI Sengokuhara became the 15th hotel set up by Hoshino Resorts. With the concept of a "studio room-style hot spring" in mind, the hotel was built in the midst of the vast and magnificent nature. Each guest room was designed with an open-air bath with a large window through which the guests can enjoy the beauty of each season. The room design fuses western and Japanese-style designs with the tatami flooring and sofa combination. In addition, each room has pieces of art on display, each inspired by the surrounding nature. Guests can thoroughly enjoy food sourced from the mountains and the sea such as beef and abalone shellfish. Every night, there is a special event that the guests can get involved in called Go touchi gaku which involves decorating and colouring hand towels.

This hotel is highly rated by both the Japanese and foreigners. So, how about treating yourself?

Information

Hoshino Resorts KAI Sengokuhara

Address: Sengokuhara 817-359, Hakone, Ashigarashimo District, Kanagawa Prefecture 250-0631

TEL:0570-073-011

URL:https://kai-ryokan.jp/sengokuhara

Price:From ¥32,000 per night (price per guest in a 2 guest room, tax, service charge, dinner & breakfast included)

Access: 15-minute drive from Gōra station, Hakone Tozan Railway

HOSHINOYA Kyoto Tops the MICHELIN Guide Kyoto Osaka + Tottori 2019

HOSHINOYA Kyoto is a hotel resort managed by Hoshino Resorts where all rooms boast a gorgeous river view.

The establishment has topped the MICHELIN Guide Kyoto Osaka + Tottori 2019 which was released on October 12, earning five red pavilions―a symbol used to indicate the comfort and quality of a hotel―the highest number a place can receive. This marks the 7th year in a row the establishment has received this rating.

The guidebook lists restaurants, hotels and inns considered outstanding by Michelin. Restaurants are rated by the number of stars they receive while hotels and inns are ranked by the pavilion symbol.

HOSHINOYA Kyoto opened in December 2009 and has 25 rooms. It's a 10-minute boat ride from Togetsu-kyo Bridge, a famous tourist destination in Arashiyama, Kyoto. The hotel is situated deep within Arashiyama which is accessible upstream a river accessible via the hotel's boat.

The concept of the hotel for guests is "a private residence at the waterside." Rooms are decked in design and appearance to look like they are from 100 years ago. They offer an unbroken view of the river along with trees and nature which change colour as the seasons go by. The hotel even offers activities and holds events catered to each passing season.

Comment: Taro Hirooka (HOSHINOYA Kyoto, General Manager)

"I feel extremely honoured for the establishment to have been selected for the 7th time in a row for 5 red pavilions for 2019. It's all thanks to the support from our regular guests and the gift of help from locals in the region. I thank you from the bottom of my heart. We will not act out of pride for this – together with the staff, we shall devote ourselves to ensuring that everybody who lives in the historical location of Arashiyama in Kyoto can better feel its charms and attraction." (Translated from Japanese)

Information

HOSHINOYA Kyoto

Address: 11-2 Arashiyama Genrokuzanchō, Nishikyō Ward, Kyoto, Kyoto Prefecture

Access: 10-minutes on foot from Hankyu Arashiyama Station / 30-minutes by car from Kyoto Minami Interchange

Price: From ¥81,000 (Includes 1 room for 1 night, tax and service charge. Doesn't include meals.)

TEL: 0570-073-066

Website: http://hoshinoya.com/

Sip champagne and cruise along the riverside with Hoshinoya Tokyo's guest plan!

Enjoy a refreshing morning overlooking a beautiful riverside scenery whilst sipping champagne and tucking into freshly baked goods when you stay at Hoshinoya Tokyo hotel. The hotel is running their Tokyo summer morning boat plan "Tokyo natsu no asa no fune asobi" again this year. The plan will run from 1st June to 10th September.

The Tokyo summer boat departs from Kachidoki Bridge, Harumi (Chuo Ward). This is just a 10-minute drive from Tokyo. The boat travels from Sumida river to Kameji river, stopping by "Cawaii Bread and Coffee", which is located along the riverside. A wooden box containing the morning breakfast sets are carried off the boat and into the shop. After customers enjoy the beautiful Hamarikyu Gardens​, they can sip champagne and enjoy their freshly baked bread alongside salad, cheese and other ingredients that are fresh off the farm.

Edo no Machi (Edo Town) was born as the "town of water" because it specialised in high-quality boats that carried people and goods. The rivers became the heart of Edo no Machi as markets and shops started building around them. The area started to overflow with prosperity and many people visited to enjoy themselves. You can enjoy the wealth of Edo no Machi throughout the seasons from this boat!

Enjoy freshly chilled champagne

The breakfast includes freshly baked crispy croissants and danish pastries from "Cawaii Bread and Coffee", which is located along Hatchobori Kamejima river. The breakfast also comes with cheese and yoghurt sourced from Kibichuo, Okayama, jams made in Japan, and much more!

You can still see many features along the canal that remain from the old days of the Edo period. You will be accompanied by a very knowledgeable guide on the boat, who will explain the unseen to you as you travel, giving you the chance to uncover a whole new side to Tokyo.

Hoshinoya Tokyo

Gaze upon Toyosa market from the boat and learn about the history of Tsukuda market ー  there is just so much to tickle your curiosity!

Treat yourself to an elegant boat ride and delicious breakfast!

Information

Tokyo natsu no asa no fune asobi

Running: 1st June ー 10th September 2019 (Not running on Mondays, Tuesdays & Wednesdays).

Running time: 07:00 ー 09:00 (90-minute ride).

Prices: 2 people ¥103,000, 3 people ¥118,000, 4 people ¥132,000 (+ additional 10% tax & service charge, accomodation fee not included).

Reservations: Reserve 14 days prior to travel on the official website.

This is only available to Hoshinoya Tokyo guests only.

* Guests are responsible for making their own way to the departure point.

* The schedule and contents of the boat trip plan are subject to change.

 

Hoshinoya official website: https://hoshinoya.com/

Hotel Ryumeikan Tokyo: A Michelin-Recognised Modern Ryokan in Front of Tokyo Station

The area surrounding Tokyo Station is home to many different types of hotels. One standout location is Hotel Ryumeikan Tokyo. This hotel, which featured in Michelin Guide Tokyo 2017, renovated 30% of its guest rooms as part of its 10th anniversary. Its concept is a modern-style ryokan (a traditional Japanese in) and it stands just so as the closest to Tokyo Station. Today, we will take a look at the hotel's design rooms.

Of its 38 rooms, 33 of them take on a ryokan style design. The rooms are fitted with small tatami flooring spaces where guests must take their shoes off on which sits a small chabudai, a short-legged table, on a raised floor. These elements have a nostalgic quality to them with Japanese guests and an inherently Japanese feel to them for foreign guests.

The carpet is decorated with a chrysanthemum design in a traditional Japanese dusky purple colour.

There are also kendama toys, books on Japanese confections and more to elevate that feeling of Japanese culture. There is plenty of space for tired bodies to relax after a long day trip.

The other 5 rooms are "Office Rooms" made with business workers in mind. They come with a big sofa and whiteboards to create a lounge-type space.

All of the bed mattresses are the highest quality models provided by long-standing bed makers Nishikawa. They aren't excessively soft which I really liked and ensure a long, deep and natural sleep.

Rooms come with three types of original tea blended by the staff so you can pick whichever caters to your mood that day.

The feature you must absolutely try however is the hotel's breakfast. It's served in a buffet style so there is plenty to choose from with everything from Japanese-style food to Western-style. The buffet is packed with vegetables too so you can get your daily intake nice and early.

All of the new rooms are double rooms and are priced from ¥27,000 per night. The price changes depending on the season to be sure to check the official website for more details.

If you're looking for a taste of Japan with that ryokan feel then be sure to check out Hotel Ryumeikan Tokyo.
RELATED ENTRIES
Hoshinoya Tokyo to Offer New Year's Kabuki Plan Inspired by Edo Period Theater Teahouse

Hoshinoya Tokyo, a traditional ryokan in Otemachi, has announced the New Year's Kabuki Plan, a two-day, one-night stay from January 5 until January 7, 2023. During the Edo Period, citizens enjoyed watching Kabuki plays during the New Year's holidays, often sipping tea at connected teahouses. This event will invite visitors to experience what this was like, complete with traditional food and decorations.

Watching Kabuki was a chic way for those in Edo to ring in the new year. Theater teahouses were also a popular gathering place–along with arranging tickets, the teahouses offered plot notes, tea, sweets, boxed lunches, snacks, and other drinks.*

*Hiroshi Fujita, Yoshihide Tomizawa (2012) / The Updated Kabuki Dictionary, Kashiwa Shobo

Relax Before Enjoying Tea and a Play

Guests are invited to relax in the Ochanoma (Living Room) Lounge, decorated to look like a traditional teahouse with fans, ukiyo-e prints, and formal curtains. Hanabiramochi, or rice cakes with flower petals, will be served with green tea. These rice cakes are said to date back to the New Year's tradition of eating hard foods like daikon and rice cakes in the hopes of prolonging one's life. Characterized by its curious burdock root aroma, the cakes are sweetened with white miso bean paste. 

Enjoy a Post-Viewing Mont Blanc Shaped like Soba with Sweet Dessert Wine

At theater teahouses in the Edo period, sake, snacks, and desserts were served one after another. During this special event, a menu inspired by this practice and prepared by Hoshinoya Tokyo Executive Chef Noriyuki Hamada will be served! Soba noodles were often served after a play in the past. Inspired by this tradition, Mont Blanc made with chestnut paste and sponge cake will be served up to look like this popular dish. Paired with a dessert wine aged in oak barrels, the sweet will be served in a traditional lacquerware basket. In addition, the dish will be paired with Wasabi Pralines, Shichimi Meringue, and Ginger Pate de Fruits. 

Take a Rickshaw to the Kabuki-za Theater

Guests will be taken on an Edo-style tour on their way to the Kabuki-za Theater. Passing through the Nihonbashi area, the first stop will be the Fukutoku Shrine. It's said that Hidetada Tokugawa paid a visit to and praised the shrine on New Year's Day in 1614. The next shrine on the docket, Hodo Inari Jinja, was enshrined in Edo Castle during the Edo period to protect the heir to the Tokugawa family. It's said that the shrine provides blessings for child rearing, matchmaking, and business prosperity. 

This tour will provide a more elegant way to explore Tokyo as guests enjoy exposition from their chauffeur. To make the rickshaw ride even more enjoyable, guests can rent kimonos for an extra charge.

Would you like to take a step back in time this New Year?

Information

New Year's Kabuki Plan

Running: January 5 – January 7, 2023

Capacity: 1 couple per day (1-2 people)

Price: ¥110,000 per person, ¥180,000 for 2 people (Including Tax & Service charge, excluding accommodation charge)

*Reservation required at least 14 days in advance

**Exclusive experience for Hoshinoya Tokyo guests

Report: Kyary Pamyu Pamyu's Tasty Time in Gastropolis Kobe – Sweets Edition

Kobe is filled with famous sightseeing spots like the nostalgic Ijinkan neighborhood and port. The city is packed with fashionable shops and restaurants and is highly regarded for its selection of tasty sweets!

The port city, with over 150 years of history, has fostered a unique and diverse culinary culture.

Recently, Kyary Pamyu Pamyu began starring in a series of promotional videos for the Gastropolis Kobe project. The artist traveled to the city to partake in plenty of delicious treats, and MOSHI MOSHI NIPPON went along for the ride! Here are some of the singer's favorite spots around town.

Kobe, known as a city where East meets West, is lined with sweets shops that are unique to the area.

The tea salon TOOTH TOOTH Dekoboko Sabo opened in 2019 in the Kobe City Museum and offers a menu that mixes Western food and sweets with tea and ingredients from traditional Japanese cuisine. Kyary ordered the Dekoboko Sabo Afternoon Tea Set, a collection of western sweets blended with the essence of traditional Japanese flavors. Guests are invited to enjoy their tea and sweets in a one-of-a-kind space filled with Meiji period flare and retro Western furniture. Those interested will need to make a reservation, so be sure to remember the next time you're in Kobe.

TOOTH TOOTH Decoboco Sabo

Address: 24 Kyomachi, Chuo Ward, Kobe (Inside the Kobe City Museum)

Hours: 9:30-17:30 (Last Order at 16:30) 

Closed Mondays

Official Site: https://toothtooth.com/restaurant/decoboco-sabo

The next stop was Kobe Nankin-machi, one of the three major Chinatowns in Japan. Kobe MILK is known nationwide for its Apricot Pudding, which is made with local ingredients. The raw apricot pudding is mixed with milk brought from the foot of Mt. Rokko and other ingredients from Hyogo Prefecture. Of course, Kyary ordered some, and was amazed by its fluffy texture. You can only enjoy it in Kobe–also, the shop sells other puddings mixed with seasonal fruits, so don't miss those either!

Kobe MILK

Address: Shin-Motomachi Building 1F (1 Motomachi-dori, Chuo-ku, Kobe)

Hours: Weekdays 9:30-19:00 / Weekends 9:30-19:30

Official Site: https://kobe-milk.com

For Kyary's final stop, the singer visited the Moore House, a cafe located in a building with over 100 years of history. Guests are surrounded by greenery, and the Western-style building is incredibly elegant. The Strawberry Mille-feuille Kyary ordered was created by an expert patissier and based on the strawberry mille-feuille recipe from the legendary French restaurant Maxim's de Paris in Ginza. A generous amount of custard cream complements the crispy pie crust and enhances the sweetness of the fresh strawberries. We'd recommend it with a glass of champagne–if you're of age.

Kitano Ijin-kan Moore House

Address: 2-9-3 Kitanocho, Chuo-ku, Kobe

Hours: 11:00-17:00

Closed Tuesdays

Official Site: https://www.kitanomoore.com/cafe/

The streets of Kobe are packed with sweets that you can only enjoy if you visit. Why not come experience these incredible spots like Kyary did?

Kobe Sweets Trailer: https://youtu.be/Sx9B1ZdAvlI

Enjoy a Hot Footbath Inside an Igloo with a Glass of Sweet Sake at Hoshino Resorts KAI Alps

Starting February 1, 2023, visitors to Nagano will be able to experience an unforgettable winter experience at Hoshino Resorts KAI Alps. The Kamakura Footbath will invite guests to soak their feet in a warm bath as they sit in a traditional Japanese igloo while sipping local amazake and enjoying the snowy scenery. 

Soak your Feet Inside a Hot Footbath Inside a Kamakura

During February when snowfall is the heaviest, these kamakura, or igloos, can be spotted in the hotel's courtyard. A private footbath is available inside each structure, which will keep guests from experiencing the cold wind. According to many, having a cool body and warm feet is the perfect recipe for a good night's sleep and good health.

Taste Amazake from a Local Brewery

Kurazukuri Amazake is brewed at Hokuan Brewery in Omachi, Nagano. Made exclusively from home-grown, expertly polished sake rice, the sweet beverage has a delicate flavor similar to wagashi. Why not warm your body from the inside out with this traditional drink?

Enjoy the Winter Landscape Illuminated by Bamboo Lights

Around each kamakura are a sea of bamboo lanterns, popular in the area. Guests can gaze out at the cold winter landscape beneath the awesome peaks of the Japanese Alps while pondering what the spring will bring. 

Information

Kamakura Footbath

Running: February 1 – 28, 2023
Price: ¥2,000 (Tax Included)
Reservations: https://hoshinoresorts.com/ja/hotels/kaialps/activities/9929/

*Reservations are required by noon the day before.
Time Slots: 18:00-18:45 / 19:00-19:45 / 20:00-20:45

Capacity: Up to 3 guests per session
*Must be staying at the hotel.
**Bookings may be canceled due to weather. 

Hoshino Resorts KAI Tsugaru in Aomori Prefecture to Hold Special Snow and Sake Event

Hoshino Resorts KAI Tsugaru, a hot-spring hotel located in Owani, Aomori Prefecture, will hold a special snow and sake event from February 1 until February 28, 2022. Hotel guests will be invited to enjoy drinks before dinner with a special winter twist–under a kamakura! A kamakura is the Japanese equivalent of an igloo, and local sake will be cooled by the snow as guests enjoy a glass while taking in the gorgeous scenery.

Famed author Osamu Dazai described the seven types of snowfall found in the Tsugaru region in his work Tsugaru. To allow visits to enjoy the many different types of snow in Aomori, seven unique sakes will be prepared and depending on the snowfall each day, the sake guests are served will change. This unique experience is sure to leave an impression. Who would you like to bring along?

Tsugaru Snow Lanterns

Seven lanterns designed by Iemasa Yamahata will be placed on the inside of the kamakura. Each has a different color and pattern and each is based on one of the seven types of snow: powdery snow, large snowflakes, grainy snow, watery snow, granular snow, sleet,  and crusted snow.

Information

Tsugaru Snow Festival

Running: February 1 – February 28, 2023
Price: ¥1,000 per set (Tax Included, 20 sets available per day)
Included: 1 glass of local sake, 2 scallop snacks
Venue: Hoshino Resorts KAI Tsugaru, Water Garden
Hours: 16:30-18:00
*Only available to hotel guests.
https://hoshinoresorts.com/ja/hotels/kaitsugaru/

ANNA'S by Landtmann in Shibuya Scramble Square Now Offering Halloween Sweets

ANNA'S by Landtmann, a cafe located inside +Q Beauty on the 6th floor of Shibuya Scramble Square, has begun selling two Halloween cakes! These spooky sweets will be available until October 31, 2022.

Halloween Mont Blanc

Halloween Poison Apple

Guests will be able to snag the Halloween Mont Blanc and Halloween Poison Apple cakes, available for ¥580 each including tax. The Mont Blanc is filled with pumpkin custard and Chantilly cream. The Poison Apple is a sweet and sour cake featuring a blend of chocolate mousse covered in red glaze and applesauce with apple pulp.

Which of these two adorable cakes would you like to enjoy this autumn?

Second Sylvanian Families Sweets Buffet to Open with a Christmas Theme

Keio Plaza Hotel in Tokyo will hold a special Christmas-themed Sylvanian Families buffet starting November 1, 2022. This is the second Sylvanian Families event following the previous Halloween-themed buffet, which became extremely popular. Some guests even bring their own Sylvanian Families dolls!

Starting in November, visitors can enjoy a full lineup of 20 scrumptious dishes inspired by the cake shop found in Sylvania Village. Some sweets are also inspired by the many beloved characters found in the series, and anyone wanting to get into the Christmas spirit won't want to miss this exclusive event. For those without a sweet tooth, some light lunches will also be available.

The restaurant will also erect a decorative display of Sylvanian Families enjoying a Christmas party and a sweet diorama made exclusively of desserts by the pasty chef. Guests can enjoy tea time while getting lost in this magical world, so get excited about the Christmas season!

1. Sweets Inspired by the World of Sylvanian Families

2. Become Enthralled by a Wonderful Winter World of Sweets

3. Exclusive! Sweets Diorama and Sylvanian Families Photo Spot

4. Light Meals Perfect for Winter and Burgers Featuring Original Illustrations

5. A Special Plan to Enjoy the Buffet with Sylvanian Families Babies

Information

Sweets Collection with Sylvanian Families

Running: November 1 – December 31, 2022

Venue: Keio Plaza Hotel's Jurin Restaurant

Price: ¥5,500 (Adults) / ¥3,000 (Children 4-12) *Children under 3 free

Details/Reservations: https://www.keioplaza.co.jp/event/autumn-sweets/#event02

New Planetarium Project in Oita Prefecture Highlights Sushi, Not Stars

In Saiki City, located in the southernmost part of Oita Prefecture, visitors will find a unique project. For a limited time, guests can enjoy a sushi-netarium, where sushi–not stars–will be featured in the sky. Saiki City, where the event takes place, is a treasure trove of seafood thanks to the Bungo Channel and boasts the largest catch in Oita Prefecture. It's also known as Oita's premier sushi destination, with more than 350 varieties of ocean delicacies to enjoy each year. Saiki Sushi, made from fresh local fish, is known for its firm texture and for having just the right amount of fat. To promote this tasty dish throughout Japan, the interactive sushi-netarium promotion was created!

A Planetarium Experience Featuring Soothing Music and a Sky Filled with Sushi

The sushi-netarium is said to have a relaxing effect comparable to that of Beppu Onsen, the most famous tourist attraction in Oita. Those taking part will be able to see not only a sky filled with sushi, but a sushi meteor shower and the Gari Borealis. As you watch, it might become impossible not to crave sushi! Visitors will be able to take part in this special viewing at certain locations in Beppu City and at Oita Airport from September 22 until November 30. In a public announcement, the city invited guests to eat plenty of tasty local food and soak in the Beppu Onsen before enjoying the sushi-netarium to wrap up a wonderful day. 

The Beautiful 'Sushi Projector'

Check out these impressive projectors made exclusively for the sushi-netarium! These original sushi projectors in the shape of Saiki sushi are the only five such projectors in the world and come in the shapes of tuna, yellowtail, octopus, egg, and shrimp. 

Come enjoy this strange sushi-centric activity in the south of Japan! Participating facilities are listed on the website below.

Hilton Tokyo Odaiba to Hold Second Touken Ranbu ONLINE Collaboration Sweets Buffet

From October 21 until November 30, 2022, Hilton Tokyo Odaiba will hold the Touken Ranbu ONLINE Special Buffet ~Black & White~ event! This second collaboration with the popular series will be held Grillogy Bar and Grill on the second floor.

Dessert Menu

Drink Menu

Drink Order Bonus: Original Coaster (8 varieties)

At the buffet, guests can enjoy luxurious dishes inspired by characters from the sword-centered game and anime series. The desserts blend Japanese and Western cuisine, and special cocktails will be available during the first phase, each coming with a special coaster as a bonus! In addition, original goods will be on sale at the venue, so don't miss it!

Information

Touken Ranbu ONLINE Special Buffet ~Black & White~

Running: October 21 – November 30, 2022

Reservation Start Dates and Times: 

Lottery Opens: September 16, 12:00~

General Reservations Open: October 6, 12:00~

*Lottery reservations and general reservations will be open
for the first and second runs.

*Please see the official website for the full reservation schedule.

Venue: Hilton Tokyo Odaiba 2F Restaurant, Grillogy Bar and Grill

*Reservations required

Tickets/Details: https://odaiba.site/

Online Shop: https://touken-yorozuya.com/

Yokohama Royal Park Hotel to Hold Halloween Sweets Fair in October

From October 1 until October 31, Yokohama Royal Park Hotel will hold a special Halloween Fair at its delicatessen and lounge Coffret. In addition to six playful sweets from the Halloween Frankenstein to the Halloween Mummy, two types of autumn bread featuring pumpkin and purple sweet potato will be available, allowing guests to enjoy the taste of the season!


Halloween Frankenstein

Halloween Cat

Halloween Mont Blanc

Halloween Mummy

Halloween Pudding

Halloween Pound Cake

Pumpkin Cream Fondue / Halloween Anpan

  

Come enjoy this Halloween with some cute and silly sweets!

Information

Halloween Fair

Running: October 1 – October 31, 2022
Venue: Coffret Delicatessen and Lounge, 1F
Hours: Lounge 10:00-20:00 (*Cakes served starting at 11:00) /
Delicatessen 11:00-20:00
Reservations: 045-221-1111 (Representatives available 11:00-20:00)

Tsujiri Reveals Colorful Autumn Parfait Using Purple Sweet Potatoes

Tsujiri, a staple of Uji, Kyoto, has announced an exclusive autumn menu! Guests can enjoy the Tsujiri Soft Autumn Parfait, the Kyo Latte Smoothie with Purple Sweet Potato, and the Kyo Latte with Hojicha at the Kyoto location and three other stores starting September 1, 2022.

Tsujiri Limited Time Autumn Menu

These three limited-time items are filled with fall flavors. The Tsujiri Soft Autumn Parfait is filled with Uji green tea carefully selected by tea masters and topped with purple sweet potato paste, sweet potato nectar, and other gorgeous goodies.

The Kyo Latte Smoothie with Purple Sweet Potato features an autumn-only flavor combining purple sweet potato bean paste, cream, and sweet potato nectar with Tsujiri's matcha green tea smoothie. The Hojicha version is made with luxurious Uji Hojicha and milk for a soothing experience.

Enjoy autumn with these tasty treats filled with seasonal flavors!

Information

Tsujiri Kyoto Store
Address: 215 Nakanocho, Kyoto 

Tsujiri Kyoto Tower Sando
Address: Kyoto Tower Sando Building 1F (721-1 Higashishiokojicho,
Shimogyo-ku, Kyoto)

Tsujiri arde! Shin-Osaka
Address: arde! Shin-Osaka, JR Shin-Osaka Station 2F (5-16-1 Nishinakajima, Yodogawa-ku, Osaka)

*The autumn menu is not available at the Uji location or the Naha Airport location.

Anime 'The Vampire Dies in No Time' Inspires Concept Room in Shin-Yokohama

Shin Yokohama Prince Hotel will be offering a special room and collaboration menu inspired by the popular anime series The Vampire Dies in No Time from September 22 until November 30, 2022. Reservations will open on the hotel's official website starting September 12 at 1:00 PM. 

The Vampire Dies in No Time follows the hilarious adventures of the vampire Draluc and the vampire hunter Ronaldo. Set in the city of Shin-Yokohama, it makes sense that this collaboration would be taking place!

Original Goods

Collaboration Menu

Guests and fans of the series will be able to enjoy a fully-decorated room and collaboration menu inspired by characters from the popular anime series.

The concept room, located on an upper floor overlooking the Shin-Yokohama cityscape, is decorated with illustrations of Draluc, Ronaldo, and other characters. The guest-only goods feature newly-drawn illustrations. 

Sweets plates and drinks will be served at the restaurant on the top floor of the hotel. Guests can enjoy desserts shaped like Ronaldo's red hat and Draluc's ashes, so don't miss it!

©盆ノ木至(秋田書店)/製作委員会すぐ死ぬ

Information

Shin-Yokohama Prince Hotel x The Vampire Dies in No Time
Available: September 22 – November 30, 2022

Collaboration Menu

Available: September 22 – November 30, 2022
Venue: Top of Yokohama Bar & Lounge (42F)
Hours: Weekdays 4:00-7:00 PM / Weekends & Holidays 2:00-5:00 PM
Reservations Open: September 12, 1:00 PM
https://www.princehotels.co.jp/shinyokohama/plan/contents/94

HOTEL SHE, KYOTO Invites Guests to Stay in a Gallery for a Limited Time

Art subscription service Casie is collaborating with HOTEL SHE, KYOTO! A special art exhibition titled GALLERY HOTEL SHE, will be held from September 17 until October 16, inviting guests to enjoy the once-in-a-lifetime experience of staying in a gallery overnight!

During the event period, guests of HOTEL SHE, KYOTO will be able to select their favorite piece of artwork from an on-site gallery. The piece will then be hung in their guestroom, and visitors can spend the night appreciating it at their own pace. This is a great way to learn more about art appreciation, and guests can enjoy discussing the art world with their friends and family. 

 

"Although we may view art in museums and other venues, it is rare to have the opportunity to select and display a work of art of our own choice," the project description reads. "Through this unique experience, we aim to provide guests the chance to actively engage with art and inspire them to make art a part of their daily life going forward."