From Wine to Hydrangeas Taste the Regional Shaved Ice Flavours of Japan at Hoshino Resorts KAI
Hoshino Resorts hot spring ryokan brand KAI is offering guests the opportunity to explore different regional shaved ice desserts that are served with delicious regional syrups and toppings. Shaved ice is a traditional summer dessert that was even mentioned in the famous work The Pillow Book, which was written by Sei Shonagon during her time as Empress Consort Teishi's court lady during the 990s and early 1000s of the Heian period.
The concept of KAI expresses both originality and the thirst for experimenting to make something new. The event offers a range of original flavours, embracing the Japanese tradition of eating flavoured shaved ice to battle the heat of summer. From wine-flavoured shaved ice in Nagano, to Hydrangea shaved ice at Hakone, this is the perfect opportunity to try a range of shaved ice desserts that are full of vibrant colours. These regional flavours are sure to spark your curiosity for discovery in that region. 
Wine Shaved Ice: Hoshino Resorts KAI Matsumoto (Asama Onsen, Nagano)
The cone-shaped region of Kikyogahara, which is located next to Matsumoto city, is well known for its wine production. This area produces around 50 different kinds of Kikyogahara wine. The flavoured syrup for this shaved ice comes from concord grape wine sourced from Kikyogahara. Each porcelain bowl for the dessert is handmade. Customers can enjoy the smooth, rounded feel of the grape pattern on the bowl as they dig into their dessert. As the alcohol is burned out of the dish, even those who do not like alcohol can enjoy this mature dessert. From the carefully prepared wine syrup to the handmade bowl, you will be able to feel all the hard work put into the making of these luxurious desserts. This is the perfect way to cool off after a hot day.
Hydrangea Shaved Ice: Hoshino Resorts KAI Hakone
Due to the altitude differences at Hakone, you can enjoy the beautiful hydrangeas for an even longer time than other areas of Japan. There is a Hydrangea train (Ajisai Densha) that runs up the mountains providing passengers with the beautiful view of blooming flowers, creating the perfect summer memories. Observing the large groups of flowers in full bloom fills you with such a refreshing feeling. Their beautiful colours are expressed in the colour of this hydrangea shaved ice.  
Strawberry Shaved Ice: Hoshino Resorts KAI Nikko (Chuzenji Onsen, Tochigi)
Tochigi prefecture has been Japan's no.1 producer of strawberries for 50 years straight. This shaved ice is served in a strawberry-shaped bowl and is served with sweet yet slightly sour strawberry syrup and a topping of bittersweet matcha sauce. Here, you can enjoy a cool evening up 1,300 metres high overlooking beautiful scenery from inside the establishment whose spectacular interior that boasts Tochigi's traditional art of Kanuma Kanoko craft.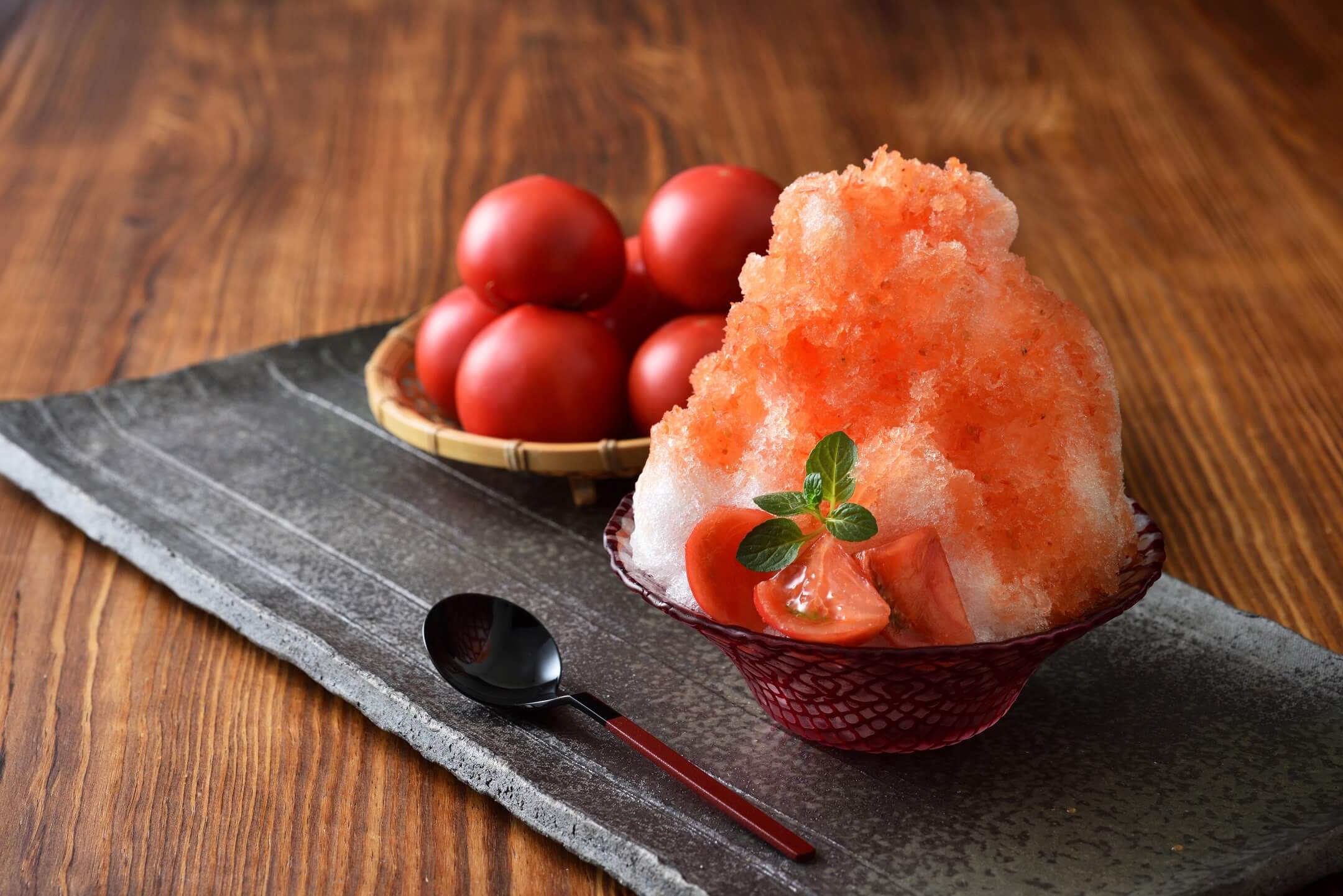 Tomato Flavoured Shaved Ice: Hoshino Resorts KAI Aso (Sonomoto, Oita)
As tomatoes thrive during the summer, this tomato shaved ice is the perfect way to cool down. This shaved ice is sweet and slightly sour and the vibrant red colour is enough to refresh you. Tomatoes are low in calories and contain an abundant range of healthy nutrients. They are also high in vitamin C which is good for your skin and is known for helping prevent illness. Tomatoes are also a good supply of vitamin E, which is good at slowing the effects of aging. Take a seat on the terrace and enjoy your shaved ice as a refreshing breeze rolls by. This is the perfect way to enjoy a cool summer with a healthy and delicious dessert. 
Neputa Shaved Ice: Hoshino Resorts KAI Tsugaru (Owani Onsen, Aomori)
The Neputa Shaved Ice represents the Hirosaki Neputa Festival that takes place in the summer at the old castle town of Hirosaki. To represent Tsugaru Vidro coloured glass, which is an important part of Tsugaru culture, red, blue and green coloured jelly pieces decorate the top of the shaved ice. These colours also represent the vibrant colours of Neputa festival. This Instagram-worthy dessert shows off the best of the fresh colours of Tsugaru. 
Information
Kai Regional Shaved Ice Desserts 2019
Running: July 13, 2019 – August 31, 2019
Entry: Free
Hoshino Resorts Kai Official Website: https://kai-ryokan.jp/
RECOMMENDED ENTRIES
Hoshino Resorts KAI Sengokuhara one of the few luxury hotels worldwide to be hand-picked by American travel magazine AFAR.

Hoshino Resorts KAI Sengokuhara was one of the 27 hotels worldwide to be specially selected for "The Stay List" in the April 10th 2019 edition of American travel magazine AFAR.

AFAR is targeted at upper-class North American travellers. "The Stay List" is the name of the magazine's list of hotels that are recommended by the magazine's writers and editors. The April 10th edition of the magazine's Stay List consists of just 27 hand-picked hotels from countries worldwide and Hoshino Resorts KAI Sengokuhara was one of them. KAI Sengokuhara was praised for its location amidst abundant nature whilst being close to the city. The magazine also admires its inspiration to the guests.

In July 2018, KAI Sengokuhara became the 15th hotel set up by Hoshino Resorts. With the concept of a "studio room-style hot spring" in mind, the hotel was built in the midst of the vast and magnificent nature. Each guest room was designed with an open-air bath with a large window through which the guests can enjoy the beauty of each season. The room design fuses western and Japanese-style designs with the tatami flooring and sofa combination. In addition, each room has pieces of art on display, each inspired by the surrounding nature. Guests can thoroughly enjoy food sourced from the mountains and the sea such as beef and abalone shellfish. Every night, there is a special event that the guests can get involved in called Go touchi gaku which involves decorating and colouring hand towels.

This hotel is highly rated by both the Japanese and foreigners. So, how about treating yourself?

Information

Hoshino Resorts KAI Sengokuhara

Address: Sengokuhara 817-359, Hakone, Ashigarashimo District, Kanagawa Prefecture 250-0631

TEL:0570-073-011

URL:https://kai-ryokan.jp/sengokuhara

Price:From ¥32,000 per night (price per guest in a 2 guest room, tax, service charge, dinner & breakfast included)

Access: 15-minute drive from Gōra station, Hakone Tozan Railway

HOSHINOYA Kyoto Tops the MICHELIN Guide Kyoto Osaka + Tottori 2019

HOSHINOYA Kyoto is a hotel resort managed by Hoshino Resorts where all rooms boast a gorgeous river view.

The establishment has topped the MICHELIN Guide Kyoto Osaka + Tottori 2019 which was released on October 12, earning five red pavilions―a symbol used to indicate the comfort and quality of a hotel―the highest number a place can receive. This marks the 7th year in a row the establishment has received this rating.

The guidebook lists restaurants, hotels and inns considered outstanding by Michelin. Restaurants are rated by the number of stars they receive while hotels and inns are ranked by the pavilion symbol.

HOSHINOYA Kyoto opened in December 2009 and has 25 rooms. It's a 10-minute boat ride from Togetsu-kyo Bridge, a famous tourist destination in Arashiyama, Kyoto. The hotel is situated deep within Arashiyama which is accessible upstream a river accessible via the hotel's boat.

The concept of the hotel for guests is "a private residence at the waterside." Rooms are decked in design and appearance to look like they are from 100 years ago. They offer an unbroken view of the river along with trees and nature which change colour as the seasons go by. The hotel even offers activities and holds events catered to each passing season.

Comment: Taro Hirooka (HOSHINOYA Kyoto, General Manager)

"I feel extremely honoured for the establishment to have been selected for the 7th time in a row for 5 red pavilions for 2019. It's all thanks to the support from our regular guests and the gift of help from locals in the region. I thank you from the bottom of my heart. We will not act out of pride for this – together with the staff, we shall devote ourselves to ensuring that everybody who lives in the historical location of Arashiyama in Kyoto can better feel its charms and attraction." (Translated from Japanese)

Information

HOSHINOYA Kyoto

Address: 11-2 Arashiyama Genrokuzanchō, Nishikyō Ward, Kyoto, Kyoto Prefecture

Access: 10-minutes on foot from Hankyu Arashiyama Station / 30-minutes by car from Kyoto Minami Interchange

Price: From ¥81,000 (Includes 1 room for 1 night, tax and service charge. Doesn't include meals.)

TEL: 0570-073-066

Website: http://hoshinoya.com/

Sip champagne and cruise along the riverside with Hoshinoya Tokyo's guest plan!

Enjoy a refreshing morning overlooking a beautiful riverside scenery whilst sipping champagne and tucking into freshly baked goods when you stay at Hoshinoya Tokyo hotel. The hotel is running their Tokyo summer morning boat plan "Tokyo natsu no asa no fune asobi" again this year. The plan will run from 1st June to 10th September.

The Tokyo summer boat departs from Kachidoki Bridge, Harumi (Chuo Ward). This is just a 10-minute drive from Tokyo. The boat travels from Sumida river to Kameji river, stopping by "Cawaii Bread and Coffee", which is located along the riverside. A wooden box containing the morning breakfast sets are carried off the boat and into the shop. After customers enjoy the beautiful Hamarikyu Gardens​, they can sip champagne and enjoy their freshly baked bread alongside salad, cheese and other ingredients that are fresh off the farm.

Edo no Machi (Edo Town) was born as the "town of water" because it specialised in high-quality boats that carried people and goods. The rivers became the heart of Edo no Machi as markets and shops started building around them. The area started to overflow with prosperity and many people visited to enjoy themselves. You can enjoy the wealth of Edo no Machi throughout the seasons from this boat!

Enjoy freshly chilled champagne

The breakfast includes freshly baked crispy croissants and danish pastries from "Cawaii Bread and Coffee", which is located along Hatchobori Kamejima river. The breakfast also comes with cheese and yoghurt sourced from Kibichuo, Okayama, jams made in Japan, and much more!

You can still see many features along the canal that remain from the old days of the Edo period. You will be accompanied by a very knowledgeable guide on the boat, who will explain the unseen to you as you travel, giving you the chance to uncover a whole new side to Tokyo.

Hoshinoya Tokyo

Gaze upon Toyosa market from the boat and learn about the history of Tsukuda market ー  there is just so much to tickle your curiosity!

Treat yourself to an elegant boat ride and delicious breakfast!

Information

Tokyo natsu no asa no fune asobi

Running: 1st June ー 10th September 2019 (Not running on Mondays, Tuesdays & Wednesdays).

Running time: 07:00 ー 09:00 (90-minute ride).

Prices: 2 people ¥103,000, 3 people ¥118,000, 4 people ¥132,000 (+ additional 10% tax & service charge, accomodation fee not included).

Reservations: Reserve 14 days prior to travel on the official website.

This is only available to Hoshinoya Tokyo guests only.

* Guests are responsible for making their own way to the departure point.

* The schedule and contents of the boat trip plan are subject to change.

 

Hoshinoya official website: https://hoshinoya.com/

Hotel Ryumeikan Tokyo: A Michelin-Recognised Modern Ryokan in Front of Tokyo Station

The area surrounding Tokyo Station is home to many different types of hotels. One standout location is Hotel Ryumeikan Tokyo. This hotel, which featured in Michelin Guide Tokyo 2017, renovated 30% of its guest rooms as part of its 10th anniversary. Its concept is a modern-style ryokan (a traditional Japanese in) and it stands just so as the closest to Tokyo Station. Today, we will take a look at the hotel's design rooms.

Of its 38 rooms, 33 of them take on a ryokan style design. The rooms are fitted with small tatami flooring spaces where guests must take their shoes off on which sits a small chabudai, a short-legged table, on a raised floor. These elements have a nostalgic quality to them with Japanese guests and an inherently Japanese feel to them for foreign guests.

The carpet is decorated with a chrysanthemum design in a traditional Japanese dusky purple colour.

There are also kendama toys, books on Japanese confections and more to elevate that feeling of Japanese culture. There is plenty of space for tired bodies to relax after a long day trip.

The other 5 rooms are "Office Rooms" made with business workers in mind. They come with a big sofa and whiteboards to create a lounge-type space.

All of the bed mattresses are the highest quality models provided by long-standing bed makers Nishikawa. They aren't excessively soft which I really liked and ensure a long, deep and natural sleep.

Rooms come with three types of original tea blended by the staff so you can pick whichever caters to your mood that day.

The feature you must absolutely try however is the hotel's breakfast. It's served in a buffet style so there is plenty to choose from with everything from Japanese-style food to Western-style. The buffet is packed with vegetables too so you can get your daily intake nice and early.

All of the new rooms are double rooms and are priced from ¥27,000 per night. The price changes depending on the season to be sure to check the official website for more details.

If you're looking for a taste of Japan with that ryokan feel then be sure to check out Hotel Ryumeikan Tokyo.
RELATED ENTRIES
Grab a Takeout Hydrangea Parfait at Itohkyuemon in Kyoto

Itohkyuemon, one of Kyoto's most famous green tea shops which established in the latter part of the Edo Period, is now serving a takeout hydrangea parfait at its main branch in Uji, Kyoto.

Uji, the city where Itohkyuemon is based, is home to Mimuroto Temple which is famous for its hydrangea. The temple bustles with sightseers and tourists during Japan's rainy season who flock to gaze upon the gorgeous flowers. The tea shop's limited-time hydrangea parfait was first released in 2013 and has gone to become their most popular seasonal parfait every year. So that lots of people can continue to enjoy the popular dessert, Itohkyuemon is offering the parfait as a takeout option so customers don't have to eat indoors.

The parfait is made with matcha and hydrangea mashed sweet potato and hydrangea-coloured crushed jelly, and is topped with leaf-shaped matcha cookies, blueberries, and other colourful treats that bring to mind Uji's rainy season.

Krispy Kreme Releases Summer Edition Doughnuts For a Limited Time Only

Krispy Kreme Doughnuts Japan is releasing two new doughnuts themed popular seals in the aquarium and a floating ring from June 23 until July 22. 

Seal Custard

Watermelon Slim Ring 

Seal Custard is a seal motif donut. The surface of the fluffy dough coated with white chocolate and filled with custard cream using Hokkaido milk and vanilla beans. The charm point is a mouth drawn with milky and rich white chocolate on the face drawn with bitter chocolate. The charm point is a mouth drawn with a bitter chocolate on a face coated with milky and rich white chocolate.

Watermelon Slim Ring is a ring donut coated with white chocolate motif a large floating ring with a red pattern drawn with a juicy watermelon glaze. The colorful contrast of red and white gives you a summer-like breeze and sweetness. 

Why don't you try the adorable donuts that are perfect for the summer?

Information

Seal Custard /Watermelon Slim Ring 

Running: June 23, 2021- July 22, 2021
Available: Krispy Kreme Doughnuts Japan

Official Site:https://krispykreme.jp/

Demon Slayer: Kimetsu no Yaiba Turns Into Confections at Japanese Convenience Stores

Bandai's character-inspired Japanese confectionery series Tabemas released a new collection of traditional Japanese wagashi confections and tarts inspired by the Demon Slayer: Kimetsu no Yaiba anime series at Lawson convenience stores across Japan on June 15.

Tabemas Demon Slayer

'Tabemas' is an abbreviation of the Japanese words taberareru masukotto, meaning 'mascots that you can eat.' It is a Japanese confectionery series that combines well-known characters and Japanese sweets made from ingredients like red bean paste, sugar and rice flour.

Their line-up of three confections are based on Tanjiro, Nezuko, and Zenitsu from the series, each of which captures their charm points in terms of colour and design. Tanjiro is chocolate flavoured, Nezuko is strawberry, and Zenitsu is custard.





Tabemas Demon Slayer: Kimetsu no Yaiba 2021 | ¥285 Each (Tax Included)

Demon Slayer Tarts

Tabemas has also baked up some no-baked cheesecake tarts featuring designs of Tanjiro, Nezuko, Zenitsu, Inosuke, Tomioka, Kyojuro, and Shinobu.


Demon Slayer: Kimetsu no Yaiba Tarts | ¥249 Each (Tax Included)

©︎ 吾峠呼世晴/集英社・アニプレックス・ufotable

Information

Tabemas Demon Slayer: Kimetsu no Yaiba 2021

Released: June 15, 2021

Available: At the chilled sweets section of Lawson convenience stores in Japan

*Natural Lawson and Lawson Store 100 stores not participating

Kokonoe Honpo Tamazawa, a wagashi Japanese traditional confectionery maker that has been around since 1675, released its new emoji-themed 'EMOCHI' collection as part of the WA!GASHI Project on Wednesday, a day which also happened to be Wagashi Day.

EMOCHI | Pick Your Own Set of 3 | ¥1,512 (Tax Included)

EMOCHI | Recommended Set of 3 – A | ¥1,512 (Tax Included)

EMOCHI | Recommended Set of B – A | ¥1,512 (Tax Included)

EMOCHI | Recommended Set of 3 – C | ¥1,512 (Tax Included)

EMOCHI | Full Set of 10 | ¥3,996 (Tax Included)

Kokonoe Honpo Tamazawa is a 346-year-old confectionery company based in Sendai, renowned for their wagashi-making skills and original techniques while they use to constantly innovate on their sweets. This new collection of sweets with a smile features emoji in three flavours: white bean paste, yuzu bean paste, and miso bean paste.


The collection links how emoji are used to communicate feelings through text in the form of texts and emails like how wagashi, or traditional Japanese sweets, are often used to express gratitude as part of Japan's culture of gift-giving.



There are 10 emoji to pick from, perfect for giving as a gift to someone to send a message or as a treat for yourself, and each comes with one of eight message cards.

Kyoto Tower Hotel Celebrates 110th Anniversary of Randen Tramway Service With Special Hotel Plan

In commemoration of the Randen tramway service's 110th anniversary, Kyoto Tower Hotel introduced an exclusive new one-night hotel plan on Friday at one of its rooms. The Kyoto Tower Hotel Train Room is a themed guest room experience and celebration of Randen's long history.

A look at the Randen Kitano Line

Randen tram photos decorate the guest room

Old train tickets and platform signs

A tatami area, train handles, and train priority seat

Randen Train Room souvenirs for guests

Randen was founded in 1910 and remains the only tramline in Kyoto. It's part of Keifuku Electric Railroad and runs from Shijo-Omiya to Arashiyama. The Randen Train Room is a trainspotter and train otaku's paradise. Inside, guests will find historical photos of trams that have run as part of the Randen service, as well as other train-related motifs like a Randen priority seat chair, carriage handles, and more. There's also a little tatami seating area which is perfect for sitting on and planning your next day's trip, putting out souvenirs you've picked up, or just relaxing. Guests can also watch a DVD on the TV that looks at footage of Randen trains, and even listen to a CD that has train sounds on it.

Information

Randen Train Room

Location: Kyoto Tower Hotel (Room 820)

Running: June 11, 2021 – June 10, 2022

Benzaiten Daifuku Opens New Fruit Confectionery Store Inside GINZA SIX

Benzaiten opened its first store in 2019 and since then has opened over 50 branches up and down Japan. The confectionery brand, which specialises in fruit-filled daifuki, has now opened a new store inside Tokyo's luxury shopping centre GINZA SIX.

Yellow Papaya | ¥950 (Tax Included)

Tayo no Tamago Red Mango | ¥1,500 (Tax Included)


Fig | ¥1,000 (Tax Included)


Kiwi | ¥650 (Tax Included)

Benzaiten has over 10 types of fresh seasonal fruits ordered in from the market every day to make their daifuku with, most of which use the entire fruit. They are very particular about the mochi used to make the daifuku to ensure the original delicious flavour of the fruit is maintained and maximises. They use two layers of high quality white bean paste and habutai to hand-prepare the daifuku every day.

Information

Benzaiten GINZA SIX
Address: GINZA SIX (Floor B2F), 6-10-1 Ginza, Chuo-ku, Tokyo
TEL: 03-6804-3382
Opening Hours: 11:00-19:00

Official Website: https://benzaiten-daifuku.jp/

Butter no Itoko x Samantha Thavasa Open Second Store Together at Tokyo Skytree

Butter no Itoko and Samantha Thavasa opened their second collaborative store branch in the desserts area of Tokyo Skytree Solamachi last Tuesday.

Butter no Itoko is a Nasa-based confectionery company co-developed by Chus and Shinrinno Bokujo, a company specialising in milk from Jersey cattle. It opened a store in collaboration with Samantha Thavasa last year at Haneda Airport Terminal 2.

Samantha Thavasa Exclusive Butter no Itoko Salted Caramel

Banana Smoothie

Solamachi Exclusive Samantha Thavasa x Butter no Itoko Eco Bag

The new store will sell a whole range of tasty treats including the salted caramel Butter no Itoko which was first released at the Haneda Airport branch, Shinrinno Bokujo's soft service ice cream, updated 90 Banana Smoothies, and more. There's also a limited-edition complete box of milk, chocolate, red bean paste butter, and salted caramel Butter no Itoko youc na get your hands on which were first released in April.

If you spend over ¥3,000 on desserts at the new store, you can also get your hands on the exclusive eco bag. These are available on a first-come, first-served purchase.

Information

Butter no Itoko x Samantha Thavasa Tokyo Skytree Town Solamachi

Grand Opening: 10:00-22:00 (currently operating on reduced hours at 10:00-20:00)
Address: Tokyo Skytree Town Solamachi Floor 1F East Yard 9, 1-1-2 Oshiage, Sumida, Tokyo, 131-0045, Japan
Samantha Global: https://samantha-global.com/

Butter no Itoko Official Website: https://butternoitoko.com/

Ace Hotel Kyoto Commemorates 1st Anniversary With Yu Nagaba Exhibition

Ace Hotel Kyoto marked its 1st anniversary on June 11 since opening. In celebration of hitting the milestone, the hotel is collaborating with Japanese artist Yu Nagaba by displaying his work at its gallery until June 30. The works displayed are of the sights and people that Nagaba saw and penned in a memo pad while staying at Ace Hotel Kyoto. All of the illustrations were made for this exhibition and so they are being exhibited for the first time. One of the pieces is also being sold at stickers in the hotel's shop.

Yu Nagaba's work

Yu Nagaba | Comment

"After I heard whispers that Ace Hotel was setting up in Kyoto, I hoped I could do something, so I was happy to take part in this project, but I also spent my time wondering what I could draw, and no ideas came to mind. After pondering I went to find inspiration by deciding to stay at Ace Hotel. I drew what came to mind during my time there as I walked the streets of Kyoto and spent time at the hotel. I drew a total of 49 illustrations in my memo pad. I painted six of my favourites on canvas. I hope people can get a feel for my experiences of Kyoto in these pieces."

Information

Ace Hotel Kyoto x Yu Nagaba

Running: June 7, 2021 – June 30, 2021

Location: Ace Hotel Kyoto (Floor 1F Gallery Space)

Entry: Free
Official Website: https://www.acehotel.com/kyoto/

Pompompurin's 25th Anniversary Celebrated With Limited Edition Dessert at FamilyMart

Sanrio teamed up with the convenience store chain FamilyMart to commemorate the 25th anniversary of their popular character Pompompurin with a special soufflé and macarons that hit shelves up and down Japan on June 8.

Pompompurin Soufflé Pudding | ¥276 (Before Tax)

Pompompurrin & Cinnamoroll Macarons | ¥350 (Before Tax)

Pom's Kitchen Campaign

The Japanese pudding-style soufflé is made with smooth and velvety custard and caramel. It's sold in a cup in three different original designs. Also available as part of the celebration is a set of macarons made to look like Pompompurin as well as Cinnamoroll, another one of Sanrio's most popular characters. They are wearing cute king and queen crowns respectively.

A campaign is also being held where you can win some special Pompompurin merchandise by posting a photo of a rice dish inspired by Pompompurin on social media. More details can be found on the campaign website below.

Morinaga's Milk Caramel Turns Into Delicious Desserts at MINISTOP

MINISTOP Japan released three new desserts in collaboration with Morinaga on Tuesday: the Morinaga Milk Caramel Baumkuchen, Morinaga Milk Caramel Pound Cake, and Morinaga Milk Caramel Roll Cake.

Morinaga Milk Caramel Baumkuchen

Morinaga Milk Caramel Pound Cake

Morinaga Milk Caramel Roll Cake

Morinaga's "Milk Caramel" is a long-selling product that has been sold for over 100 years. The triple dessert release coincides with Milk Caramel Day, a day by Morinaga that falls on June 10 to commemorate the flavour. The tasty caramel delights make as the perfect accompaniment during coffee breaks, when working, when studying, or just as a little treat.

The desserts are now available at all MINISTOP convenience stores in Japan.

Information

MINISTOP x Morinaga Milk Caramel
Released: June 8, 2021

Available: MINISTOP Japan

Official Website: https://www.ministop.co.jp/

Experience a Bath Like Never Before in a Luxurious Private Space at Yadoru KYOTO HANARE

Yadoru KYOTO HANARE is a hotel in Kyoto that blends seamlessly into the town, offering a stay experience that's like living there. For guests who use their baths, they have introduced a new selection of five ingredients to be put into the bath like bath salts. Each comes with a different effect, enhancing your bathing experience beyond getting clean.

Yadoru KYOTO HANARE is continuing to enforce precautions against the spread of COVID-19 so guests can enjoy getting away from home to relax and unwind safely. The hotel has and continues to enjoy many guests during this time who are seeking out some healing. One of the biggest selling points for guests is the hotel's bathing experience. With that in mind, they have set up the Yadoru YUAMI service which allows guests to try a variety of bathing products made by local Kyoto businesses.

'Yuami' is an old Japanese expression for getting in the bath. The word 'yadoru' in the hotel's name is also an old phrase meaning 'to stay at a lodging on your travels.' Yadoru KYOTO HANARE is wanting to have its site feel even more like a traditional Kyoto townhouse for guests to experience, so they are now using the word 'YUAMI' as part of their services.

With Yadoru YUAMI, guests can pick from five different bath products, each wrapped in pouches. Each offers a completely different bathing experience with different benefits and fragrances.

1. Sake Lees

Sake lees from Kyoto's long-standing and historical sake brewery Sasaki Shuzou. Massage the lees in the bathtub while they are still in the pouch to create a milky white water that fills the bathroom with the fragrant smell of sake lees. The ingredients in the lees have a moisturising effect, improve blood circulation, and leave skin looking beautiful.

2. Gyokuro Green Tea

The Kyoto Distillery stands as Japan's first establishment specialising in gin. One of their gins is called Ki no Bi, a Japanese craft gin. Its smell and taste is the result of a combination of 11 kinds of botanical products including gyokuro green tea, junpier berry, and hinoki cypress, all of which are featured individually on this list. Gyokuro is a type of high-grade Japanese green tea and contains theanine which stimulates relaxing, making it perfect for unwinding after a long day.

3. Juniper Berry

Juniper berry is an indispensable ingredient in making craft gin. This bathing product is made with the type that's actually used in making Ki no Bi craft gin. When submerged in the water, the air is filled with the woody, relaxing, and inviting scent of gin.

4. Hinoki Cypress

This bathing powder is also made with the same hinoki cypress used in Ki no Bi which, when put in the water, emits the smells of a forest. Hinoki cypress contains phytoncide which has a relaxation effect, calming the autonomic nervous system and blood pressure.

5. Matcha

Matcha is the quintessential flavour of Kyoto. Guests who check in at Yadoru KYOTO HANARE are offered a cup. They can also bathe in it with Yadoru YUAMI.

Information

Yadoru YUAMI

Release Date: June 1, 2021

Price: ¥1,000 (Before Tax)

Location: Yadoru KYOTO HANARE (Participating Branches: Washi no Yado/Kanade no Yado/Mizunoe no Yado/Roji no Yado)


Book by Telephone: 03-4510-8671
Book by E-mail: kyoto@yadoru.me

*Exclusive to Yadoru KYOTO HANARE guests

McDonald's Japan Releases Pikachu Desserts

Mc Donald's Japan released its new Sweets Trio Fruchu menu on Friday which features a line-up of three fruit-flavoured Pikachu items: the Yellow Peach McShake, Chocolate Banana McFlurry, and Hot Apple Custard Pie.


The menu items comes in limited-edition cups and packaging featuring the adorable Pikachu.




Yellow Peach McShake | Small ¥120 – Regular ¥200 (Tax Included)

A fruity and refreshing summery McShake made with sweet and sour yellow peach with that satisfying creamy McShake texture. Available in small and medium, both sizes come with three different cup designs each for a total of six.

Chocolate Banana McFlurry | ¥290 (Tax Included)

The Chocolate Banana McFlurry is served in an ice cream cup with a fresh squirt of milky rich soft serve and drizzled with banana and chocolate sauces. The ice cream is finished with a sprinkle of crunchy yellow cornflakes. Another perfect choice for cooling down in the hot summer weather. There are three possible cup designs to receive.

Hot Apple Custard Pie | ¥150 (Tax Included)

The apple custard pie is served hot with a crunchy outside and filled with custard cream made with fresh apple and vanilla beans and seasoned with caramel and cinnamon. There are three possible packaging designs to receive.



McDonald's Japan is also serving a Pikachu-style Happy Meal as part of the collaboration which come with one of six possible toys.