From Wine to Hydrangeas Taste the Regional Shaved Ice Flavours of Japan at Hoshino Resorts KAI
Hoshino Resorts hot spring ryokan brand KAI is offering guests the opportunity to explore different regional shaved ice desserts that are served with delicious regional syrups and toppings. Shaved ice is a traditional summer dessert that was even mentioned in the famous work The Pillow Book, which was written by Sei Shonagon during her time as Empress Consort Teishi's court lady during the 990s and early 1000s of the Heian period.
The concept of KAI expresses both originality and the thirst for experimenting to make something new. The event offers a range of original flavours, embracing the Japanese tradition of eating flavoured shaved ice to battle the heat of summer. From wine-flavoured shaved ice in Nagano, to Hydrangea shaved ice at Hakone, this is the perfect opportunity to try a range of shaved ice desserts that are full of vibrant colours. These regional flavours are sure to spark your curiosity for discovery in that region. 
Wine Shaved Ice: Hoshino Resorts KAI Matsumoto (Asama Onsen, Nagano)
The cone-shaped region of Kikyogahara, which is located next to Matsumoto city, is well known for its wine production. This area produces around 50 different kinds of Kikyogahara wine. The flavoured syrup for this shaved ice comes from concord grape wine sourced from Kikyogahara. Each porcelain bowl for the dessert is handmade. Customers can enjoy the smooth, rounded feel of the grape pattern on the bowl as they dig into their dessert. As the alcohol is burned out of the dish, even those who do not like alcohol can enjoy this mature dessert. From the carefully prepared wine syrup to the handmade bowl, you will be able to feel all the hard work put into the making of these luxurious desserts. This is the perfect way to cool off after a hot day.
Hydrangea Shaved Ice: Hoshino Resorts KAI Hakone
Due to the altitude differences at Hakone, you can enjoy the beautiful hydrangeas for an even longer time than other areas of Japan. There is a Hydrangea train (Ajisai Densha) that runs up the mountains providing passengers with the beautiful view of blooming flowers, creating the perfect summer memories. Observing the large groups of flowers in full bloom fills you with such a refreshing feeling. Their beautiful colours are expressed in the colour of this hydrangea shaved ice.  
Strawberry Shaved Ice: Hoshino Resorts KAI Nikko (Chuzenji Onsen, Tochigi)
Tochigi prefecture has been Japan's no.1 producer of strawberries for 50 years straight. This shaved ice is served in a strawberry-shaped bowl and is served with sweet yet slightly sour strawberry syrup and a topping of bittersweet matcha sauce. Here, you can enjoy a cool evening up 1,300 metres high overlooking beautiful scenery from inside the establishment whose spectacular interior that boasts Tochigi's traditional art of Kanuma Kanoko craft.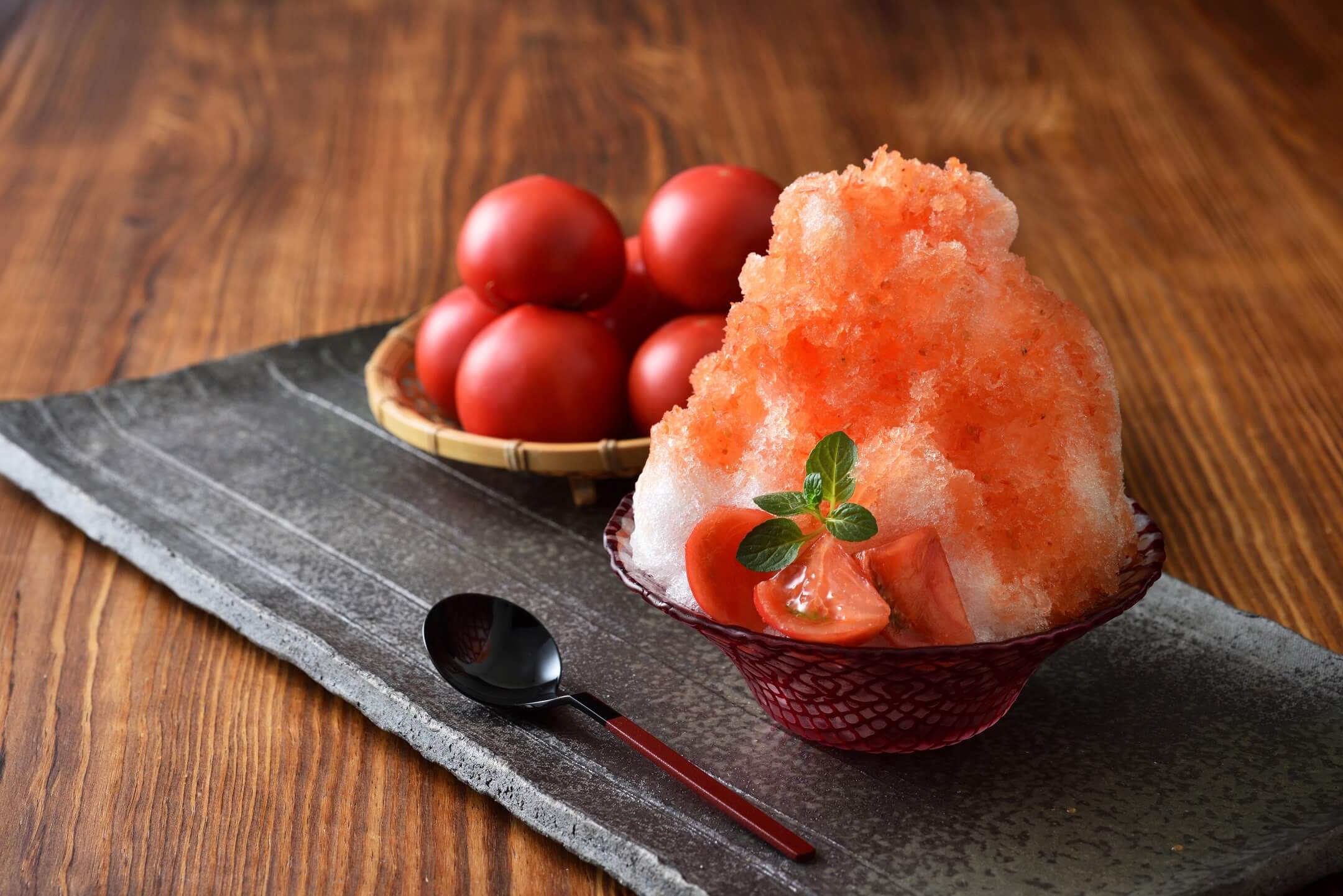 Tomato Flavoured Shaved Ice: Hoshino Resorts KAI Aso (Sonomoto, Oita)
As tomatoes thrive during the summer, this tomato shaved ice is the perfect way to cool down. This shaved ice is sweet and slightly sour and the vibrant red colour is enough to refresh you. Tomatoes are low in calories and contain an abundant range of healthy nutrients. They are also high in vitamin C which is good for your skin and is known for helping prevent illness. Tomatoes are also a good supply of vitamin E, which is good at slowing the effects of aging. Take a seat on the terrace and enjoy your shaved ice as a refreshing breeze rolls by. This is the perfect way to enjoy a cool summer with a healthy and delicious dessert. 
Neputa Shaved Ice: Hoshino Resorts KAI Tsugaru (Owani Onsen, Aomori)
The Neputa Shaved Ice represents the Hirosaki Neputa Festival that takes place in the summer at the old castle town of Hirosaki. To represent Tsugaru Vidro coloured glass, which is an important part of Tsugaru culture, red, blue and green coloured jelly pieces decorate the top of the shaved ice. These colours also represent the vibrant colours of Neputa festival. This Instagram-worthy dessert shows off the best of the fresh colours of Tsugaru. 
Information
Kai Regional Shaved Ice Desserts 2019
Running: July 13, 2019 – August 31, 2019
Entry: Free
Hoshino Resorts Kai Official Website: https://kai-ryokan.jp/
RECOMMENDED ENTRIES
Hoshino Resorts KAI Sengokuhara one of the few luxury hotels worldwide to be hand-picked by American travel magazine AFAR.

Hoshino Resorts KAI Sengokuhara was one of the 27 hotels worldwide to be specially selected for "The Stay List" in the April 10th 2019 edition of American travel magazine AFAR.

AFAR is targeted at upper-class North American travellers. "The Stay List" is the name of the magazine's list of hotels that are recommended by the magazine's writers and editors. The April 10th edition of the magazine's Stay List consists of just 27 hand-picked hotels from countries worldwide and Hoshino Resorts KAI Sengokuhara was one of them. KAI Sengokuhara was praised for its location amidst abundant nature whilst being close to the city. The magazine also admires its inspiration to the guests.

In July 2018, KAI Sengokuhara became the 15th hotel set up by Hoshino Resorts. With the concept of a "studio room-style hot spring" in mind, the hotel was built in the midst of the vast and magnificent nature. Each guest room was designed with an open-air bath with a large window through which the guests can enjoy the beauty of each season. The room design fuses western and Japanese-style designs with the tatami flooring and sofa combination. In addition, each room has pieces of art on display, each inspired by the surrounding nature. Guests can thoroughly enjoy food sourced from the mountains and the sea such as beef and abalone shellfish. Every night, there is a special event that the guests can get involved in called Go touchi gaku which involves decorating and colouring hand towels.

This hotel is highly rated by both the Japanese and foreigners. So, how about treating yourself?

Information

Hoshino Resorts KAI Sengokuhara

Address: Sengokuhara 817-359, Hakone, Ashigarashimo District, Kanagawa Prefecture 250-0631

TEL:0570-073-011

URL:https://kai-ryokan.jp/sengokuhara

Price:From ¥32,000 per night (price per guest in a 2 guest room, tax, service charge, dinner & breakfast included)

Access: 15-minute drive from Gōra station, Hakone Tozan Railway

HOSHINOYA Kyoto Tops the MICHELIN Guide Kyoto Osaka + Tottori 2019

HOSHINOYA Kyoto is a hotel resort managed by Hoshino Resorts where all rooms boast a gorgeous river view.

The establishment has topped the MICHELIN Guide Kyoto Osaka + Tottori 2019 which was released on October 12, earning five red pavilions―a symbol used to indicate the comfort and quality of a hotel―the highest number a place can receive. This marks the 7th year in a row the establishment has received this rating.

The guidebook lists restaurants, hotels and inns considered outstanding by Michelin. Restaurants are rated by the number of stars they receive while hotels and inns are ranked by the pavilion symbol.

HOSHINOYA Kyoto opened in December 2009 and has 25 rooms. It's a 10-minute boat ride from Togetsu-kyo Bridge, a famous tourist destination in Arashiyama, Kyoto. The hotel is situated deep within Arashiyama which is accessible upstream a river accessible via the hotel's boat.

The concept of the hotel for guests is "a private residence at the waterside." Rooms are decked in design and appearance to look like they are from 100 years ago. They offer an unbroken view of the river along with trees and nature which change colour as the seasons go by. The hotel even offers activities and holds events catered to each passing season.

Comment: Taro Hirooka (HOSHINOYA Kyoto, General Manager)

"I feel extremely honoured for the establishment to have been selected for the 7th time in a row for 5 red pavilions for 2019. It's all thanks to the support from our regular guests and the gift of help from locals in the region. I thank you from the bottom of my heart. We will not act out of pride for this – together with the staff, we shall devote ourselves to ensuring that everybody who lives in the historical location of Arashiyama in Kyoto can better feel its charms and attraction." (Translated from Japanese)

Information

HOSHINOYA Kyoto

Address: 11-2 Arashiyama Genrokuzanchō, Nishikyō Ward, Kyoto, Kyoto Prefecture

Access: 10-minutes on foot from Hankyu Arashiyama Station / 30-minutes by car from Kyoto Minami Interchange

Price: From ¥81,000 (Includes 1 room for 1 night, tax and service charge. Doesn't include meals.)

TEL: 0570-073-066

Website: http://hoshinoya.com/

Sip champagne and cruise along the riverside with Hoshinoya Tokyo's guest plan!

Enjoy a refreshing morning overlooking a beautiful riverside scenery whilst sipping champagne and tucking into freshly baked goods when you stay at Hoshinoya Tokyo hotel. The hotel is running their Tokyo summer morning boat plan "Tokyo natsu no asa no fune asobi" again this year. The plan will run from 1st June to 10th September.

The Tokyo summer boat departs from Kachidoki Bridge, Harumi (Chuo Ward). This is just a 10-minute drive from Tokyo. The boat travels from Sumida river to Kameji river, stopping by "Cawaii Bread and Coffee", which is located along the riverside. A wooden box containing the morning breakfast sets are carried off the boat and into the shop. After customers enjoy the beautiful Hamarikyu Gardens​, they can sip champagne and enjoy their freshly baked bread alongside salad, cheese and other ingredients that are fresh off the farm.

Edo no Machi (Edo Town) was born as the "town of water" because it specialised in high-quality boats that carried people and goods. The rivers became the heart of Edo no Machi as markets and shops started building around them. The area started to overflow with prosperity and many people visited to enjoy themselves. You can enjoy the wealth of Edo no Machi throughout the seasons from this boat!

Enjoy freshly chilled champagne

The breakfast includes freshly baked crispy croissants and danish pastries from "Cawaii Bread and Coffee", which is located along Hatchobori Kamejima river. The breakfast also comes with cheese and yoghurt sourced from Kibichuo, Okayama, jams made in Japan, and much more!

You can still see many features along the canal that remain from the old days of the Edo period. You will be accompanied by a very knowledgeable guide on the boat, who will explain the unseen to you as you travel, giving you the chance to uncover a whole new side to Tokyo.

Hoshinoya Tokyo

Gaze upon Toyosa market from the boat and learn about the history of Tsukuda market ー  there is just so much to tickle your curiosity!

Treat yourself to an elegant boat ride and delicious breakfast!

Information

Tokyo natsu no asa no fune asobi

Running: 1st June ー 10th September 2019 (Not running on Mondays, Tuesdays & Wednesdays).

Running time: 07:00 ー 09:00 (90-minute ride).

Prices: 2 people ¥103,000, 3 people ¥118,000, 4 people ¥132,000 (+ additional 10% tax & service charge, accomodation fee not included).

Reservations: Reserve 14 days prior to travel on the official website.

This is only available to Hoshinoya Tokyo guests only.

* Guests are responsible for making their own way to the departure point.

* The schedule and contents of the boat trip plan are subject to change.

 

Hoshinoya official website: https://hoshinoya.com/

Hotel Ryumeikan Tokyo: A Michelin-Recognised Modern Ryokan in Front of Tokyo Station

The area surrounding Tokyo Station is home to many different types of hotels. One standout location is Hotel Ryumeikan Tokyo. This hotel, which featured in Michelin Guide Tokyo 2017, renovated 30% of its guest rooms as part of its 10th anniversary. Its concept is a modern-style ryokan (a traditional Japanese in) and it stands just so as the closest to Tokyo Station. Today, we will take a look at the hotel's design rooms.

Of its 38 rooms, 33 of them take on a ryokan style design. The rooms are fitted with small tatami flooring spaces where guests must take their shoes off on which sits a small chabudai, a short-legged table, on a raised floor. These elements have a nostalgic quality to them with Japanese guests and an inherently Japanese feel to them for foreign guests.

The carpet is decorated with a chrysanthemum design in a traditional Japanese dusky purple colour.

There are also kendama toys, books on Japanese confections and more to elevate that feeling of Japanese culture. There is plenty of space for tired bodies to relax after a long day trip.

The other 5 rooms are "Office Rooms" made with business workers in mind. They come with a big sofa and whiteboards to create a lounge-type space.

All of the bed mattresses are the highest quality models provided by long-standing bed makers Nishikawa. They aren't excessively soft which I really liked and ensure a long, deep and natural sleep.

Rooms come with three types of original tea blended by the staff so you can pick whichever caters to your mood that day.

The feature you must absolutely try however is the hotel's breakfast. It's served in a buffet style so there is plenty to choose from with everything from Japanese-style food to Western-style. The buffet is packed with vegetables too so you can get your daily intake nice and early.

All of the new rooms are double rooms and are priced from ¥27,000 per night. The price changes depending on the season to be sure to check the official website for more details.

If you're looking for a taste of Japan with that ryokan feel then be sure to check out Hotel Ryumeikan Tokyo.
RELATED ENTRIES
Taste Authentic Japanese Matcha at Asakusa's New Matcha Specialist Shop Kaminari Issa

Asakusa welcomed the newest and third branch of matcha dessert specialist shop Kaminari Issa on October 2, 2020, which opened its doors along Dempoin Street. The shop is just a 3-minute walk from Asakusa Station and 2-minutes from Kaminarimon.

Signature delights on Kaminari Issa's menu include the Okoicha Warabi Latte and Okoicha Gelato. Everything on the menu is made with rich, high quality matcha, from the matcha tea lattes to the matcha beer, parfaits, ice cream, dacquoise, and more. If you love matcha, and you're in Tokyo, this place is a must-visit.


There are plenty of items to get your hands on in this newest store, which also has its own eat-in space, tea leaf display, and more.

They even sell kits so you can make your own Okoicha Warabi Latte and Wakocha Brown Sugar Warabi Latte at home.

Information

Kaminari Issa Dempoin-dori
Address: 2-2-2 Asakusa, Taito-ku, Tokyo
Opening Hours: 10:00-18:00 (until 17:00 on Mondays)
TEL: 03-5830-6948
Access: 3-minutes on foot from Asakusa Station
Official Website: https://www.kaminari-issa.com/

Disney's Fantasia Gets Sweets Collection by Tokyo Banana

GRAPESTONE is releasing a new sweets collection at Disney SWEETS COLLECTION by Tokyo Banana, which is located in Tokyo Station, in collaboration with the Disney classic Fantasia. The confections will be released in limited quantities from October 30, 2020.

© Disney Disney SWEETS COLLECTION by Tokyo Banana JR Tokyo Station

Disney SWEETS COLLECTION by Tokyo Banana opened on the JR Line side of Tokyo Station in November of last year. The shop is a joint-collaboration with Tokyo Banana—the official souvenir sweet of Tokyo—and Disney. The shop sold over 100,000 products in the first week of its opening, and caught the attention of Disney fans on social media who described the shop and the packaging of their sweets as cute.

Disney Fantasia Chocolate Sandwich (Contains 28) | ¥3,024 (Tax Included)

The cute packaging features Mickey Mouse as The Sorcerer's Apprentice in the 1940 animated film Fantasia. The light and crunchy cat tongue cookies at filled with chocolate banana milk shake flavoured cream

The confections serve as the perfect gift or souvenir from Japan to yourself or any fan of Disney.

© Disney

Information

Disney Fantasia Chocolate Sandwich
Running: October 30, 2020 – Mid December 2020

Available: Disney SWEETS COLLECTION by Tokyo Banana JR Tokyo Station

Purchasing: 70 available per day, max 2 per person
Official Website: https://www.tokyobanana.jp/disney/index.html

Hoshino Resorts KAI Poroto to Open in Hokkaido in January 2022

Hoshino Resorts, Japan's premiere hotel management company boasting over 40 properties both inside and outside Japan is set to its new onsen ryokan (hot spring Japanese style inn) Hoshino Resorts KAI Poroto in January 2022 following the completion of a partnership agreement with Shiraoi, Hokkaido on June 28, 2018.

KAI Poroto comes as the 19th property for the KAI brand, following KAI Nagato (opened in March 2020), KAI Kirishima (scheduled to open in January 2021), and KAI Beppu (scheduled to open in summer 2021). It will also be the third KAI property to open in Hokkaido, following RISONARE Tomamu in Shimukappu and OMO7 Asahikawa in Asahikawa. The new property will be designed by Japanese architect Hiroshi Nakamura.

(Hiroshi Nakamura & NAP)

Guests will be able to enjoy Shiraoi onsen water at KAI Poroto. The water comes from a "moor spring" which contains organic minerals derived from plants. This type of water is rare throughout the world. KAI Poroto faces the shores of Lake Poroto and is surrounded by the natural forests of Hokkaido where many species of wild bird live. All guest rooms boast a lake view where changes in scenery throughout the seasons can be enjoyed.

KAI Poroto will is cooperating with both the town of Shiraoi as well as "Upopoy", the National Ainu Museum and Park, which has the aim of becoming a "symbolic space for ethnic harmony". The facility will respect Ainu culture and provide a place of accommodation for guests to experience it.

Upopoy: A symbolic space for ethnic harmony

A symbolic space for ethnic harmony by the name of "Upopoy opened in Shiraoi, Hokkaido on July 12, 2020. This national centre serves as a base for the reconstruction and development of Ainu culture, which is in danger of survival. The main facilities are the National Ainu Museum and the National Ainu Park. The National Ainu Museum is the first national museum in Japan centred around indigenous Ainu people and the history and culture of the people as expressed through their perspective. This is expressed in a variety of different exhibits. The National Ainu Park is a field museum, where Ainu culture can be taught through a number of programs. Experiences on-site include the Ainu traditional dance, which is registered as UNESCO intangible cultural heritage, wood carving, and embroidery workshops, as well as food and traditional performing arts experiences. "Upopoy" means "to sing (in large numbers)" in the language of Ainu.

Designed by Hiroshi Nakamura

Japanese architect Hiroshi Nakamura is behind the design of KAI Poroto. "Poroto" means a large lake in the Ainu language and KAI Poroto boldly draws this lake into its premise. In the lobby of the birch forest, guests will be greeted by a magnificent view of the lake, which leads to Mount Tarumae. Guests can also relax in the lounge while watching the flames in the fireplace, something which was at the centre of Ainu people's lives. On the surface of the lake, a bathhouse called Kashi, which is built using traditional Ainu construction methods, stands like a village. The open-air bath makes one feel as if you are immersed in the lake. The design has been created in a way that is modern, inspired by the lifestyles, nature, and family of Ainu people.

Cute Pika-Pika Pikachu Designs Featured On Lemon Flavoured Puré Gummies

Japanese confectionery company KANRO has once again joined pika-paws with Pikachu for the third time to feature the beloved Pokémon on the lemon flavour their Puré gummies. They will be released in Japan from October 27, 2020 in limited quantities.

Pikachu Puré Gummies – Third Collaboration

Following the success of the first two collaborations in June and July this year, with buyers expressing how cute they are in Japanese social media, KANRO is at it again, this time with their lemon flavour. There will be eight different Pikachu packet designs for this third collaboration, each with an attractive neon sign logo. The combination of gelatine and pectin is what gives Puré gummies their chewy texture.

Puré Gummy Lemon Pokémon (56g) | ¥130 (Tax Included)

In a packet of these gummies you'll find two shapes: the classic Puré heart shape and Pikachu shape, so you'll always be in for a surprise each time you reach into the bag.

Puré Gummy Pikachu Video

KANRO has released yet another promotional video for this third collaboration. The video for the first collaboration garnered 1 million views in just three days. Check out the adorable video below.

Pika Puré Merchandise Campaign

KANRO is also holding a campaign on their official Twitter page from October 28-30 where you can win a free Pika Puré eco bag.

Additionally, 210 random people who buy Puré gummy products in Japan from October 27 to December 20 will be chosen to win additional merchandise. 10 people will get a big cushion and 200 a big blanket. To enter, purchase select Puré products in Japan and send your receipt to the company via the LINE messaging app.

©2020 Pokémon ©1995-2020 Nintendo/Creatures Inc./GAME FREAK inc.
Pokémon, ポケットモンスター, and ポケモン are registered trademarks of Nintendo, Creatures Inc., and GAME FREAK inc..

Pokémon Cafe and Pikachu Sweets by Pokémon Cafe Reveal New Desserts Including Polteageist Tea Set

Pokémon Cafe and Pikachu Sweets by Pokémon Cafe are releasing a new teatime menu at their respective branches on October 24, 2020.

Pokémon Cafe

Polteageist & Sinistea Tea Party! Fruit Tea Set ~Apple Flavoured~ | ¥1,188 (Tax Included)


Polteageist & Sinistea Tea Party! Fruit Tea Set ~Strawberry Flavoured~ | ¥1,188 (Tax Included)

Pokémon Cafe is serving up two different fruit tea sets based on the Ghost-type Pokémon Polteageist and Sinistea. Customers are free to pour in their desired amount of fruit syrup which changes the colour of the tea. The sets come with a cute cookie too.

Pikachu Sweets by Pokémon Cafe

Left: Polteageist's Tea Party! Fruit Tea ~Mixed Berry Flavour~ / Right: Polteageist's Tea Party! Fruit Tea ~Peach Orange Flavour~ | ¥700 Each (Before Tax)

Pikachu Sweets by Pokémon Cafe is also going to serve up some Polteageist themed fruit teas as well as a selection of desserts like macarons and financier almond cakes which have Pokémon tail and ear designs.

After ordering one of the Polteageist fruit teas, customers can place their cups under the Polteageist tea pot as pictured above and activate the pot to dispense their drink, so it's like Polteageist  really pouring tea for you.

Left: Swirlix Strawberry Macaron | Middle: Pikachu Vanilla Macaron | Right: Galarian Ponyta Pistachio Macaron – ¥500 Each (Before Tax)

Treat yourself to one of the super cute Swirlix, Pikachu, or Ponyta macarons each with designs that tell you instantly which Pokémon they're inspired by.


Polteageist Fruit Tea and & Pikachu Macaron Set

Customers can order a tea and macaron combination set too.

Pikachu Parfaits

Pikachu Glass Parfait Set | ¥1,500 (Before Tax)

An adorable set of Pikachu parfaits, one being caramel banana flavoured and the other chocolate.

Pikachu Tea Party Assortment – Pika Pika Pikavee Set | ¥2,800 (Before Tax)

Another set to share between friends and family, this time with two Pikachu glass desserts as well as Pikachu and Eevee cupcakes.

Pikachu Tea Party Assortment – Ghost Type Set | ¥2,800 (Before Tax)

This set comes with the Pikachu glass desserts as well as Ghost-type Gengar and Litwick mousse cakes.

The Polteageist teapot and Sinistea teacup used at the Pokémon Cafe and Pikachu Sweets by Pokémon Cafe will also be released at Pokémon Center Online in Japan on December 5, 2020.

© 2020 Pokémon.©1995-2020 Nintendo/Creatures Inc./GAME FREAK inc.
Pokémon, ポケットモンスター, and ポケモン are registered trademarks of Nintendo, Creatures Inc., and GAME FREAK inc..

Information

Pokémon Cafe (Nihombashi, Tokyo)
Address: Nihombashi Takashimaya SC East Bldg. 5F, 2-1-2 Nihombashi, Chuo Ward, Tokyo
Business Hours: 10:30-22:00
No Fixed Holidays (Except when Nihombashi Takashimaya SC is closed)
Reservations: https://www.pokemoncenter-online.com/cafe/reservation.html

Pokémon Cafe (Shinsaibashi, Osaka)
Address: Daimaru Shinsaibashi Honkan 9F, 1-7-1 Shinsaibashisuji, Chuo Ward, Osaka, Osaka Prefecture
Business Hours: 10:00-21:30
No Fixed Holidays (Except when Daimaru Shinsaibashi is closed)
Reservations: https://www.pokemoncenter-online.com/cafe/reservation.html

Pikachu Sweets by Pokémon Café 

Address: Sunshine City Alpa Floor 2F, 3-1-2 Higashiikebukuro, Toshima City, Tokyo

Opening Hours: 10:00-20:00
Official Website: https://www.pokemoncenter-online.com/cafe/pikachu_sweets/

*Opening hours subject to change, please check in advance before travelling.

*Food served and duration subject to change without notice.

*Photos are for illustrative purposes only.

*Seat reservations are taken online only – phone reservations not available.

Shibuya's L'OCCITANE CAFE Reveals Spooky Parfait For Halloween 2020

L'OCCITANE CAFE Shibuya is getting ready for Halloween with the reveal of its sweet potato and apple parfait which will be served from October 21 to 31. The Tokyo-based cafe is centred on the food culture and lifestyle of Provence in southern France.

Sweet Potato and Apple Parfait | ¥1,280 (Tax Included)

The seasonal treat is a mix of purple sweet potato and regular sweet potato, baked apples, apple sherbet, and vanilla ice, all topped off with whipped cream, roasted nuts, and almond tuile biscuits in the shape of ghosts and a pumpkin.

Information

Sweet Potato and Apple Parfait
Serving: October 21, 2020 – October 31, 2020

L'OCCITANE CAFE Shibuya
Address: 2-3-1 Dogenzaka, Shibuya, Tokyo
Opening Hours:
[Sun-Thur] 11:00~22:00 (Last Orders 21:00)
[Fri-Sat] 11:00-23:00 (Last Orders 22:00)
TEL:03-5428-1563
Access: Straight ahead of Shibuya Station's 5th Exit (Inokashira Exit)
L'OCCITANE Japan Official Website: https://jp.loccitane.com/

My Melody and Kuromi Bubble Tea to be Served at Pearl Lady in Japan

Bubble tea chain Pearl Lady, which is celebrating its 17th anniversary this year, is teaming up with Sanrio for the second time to release two new drinks themed on the popular characters My Melody and Kuromi on October 16, 2020. My Melody and Kuromi are also celebrating their 45th and 15th anniversaries respectively.

Black Lemonade | Strawberry Milk Tea (w/ Novelty) – ¥500 Each (Tax Included)

The two beverages are Sweet Strawberry Milk Tea, which is inspired by the cute My Melody, and Black Lemonade, which is based on her rival Kuromi.

When ordering either of the drinks at Pearl Lady, customers will also get one of 6 possible badges as pictured above. One of the designs is a secret, so you'll need some luck if you want that one.

Gaze at the Starry Sky in a Hot Swimming Pool This Winter at HOSHINOYA Okinawa

HOSHINOYA Okinawa has announced its new "Hoshizora Hot Pool" experience where guests will be able to stay warm in the hotel's warmed-up swimming pool while gazing up at the winter night sky. It will run from December 1, 2020 to February 28, 2020.

Okinawa enjoys a mild winter each year; it's uncommon for the temperature to dip below 15℃. Winter is a time where all of us enjoy being in the warmth of indoors, but in Okinawa you can enjoy being outside even during the cold season. And that's where Hoshizora Hot Pool comes in as the end of the year approaches, a time when there are many events and celebrations to be had.

The outdoor pool at HOSHINOYA Okinawa can be heated and so is perfect during the winter season. Guests are invited to soak in the infinity pool, where you can hear the sounds of the waves, and where it looks like the sea and sky become one. Almost all 88 of the constellations can be seen in Okinawa, and since the sky is clear during the winter nights, it's the opportune time to be turning your gaze skyward.

Glowing lanterns make for a romantic atmosphere

When the sun sets, lanterns are lit by the poolside and breathe a warmth light to the cool evenings. The lights sway back and forth, reflecting off the water to create a magical atmosphere.

Hot cocktails by the pool

Guests will also be able to order from the bar once the lanterns are lit from the evening with a selection of refreshing drinks made with fresh fruits to hot cocktails to warm the body.

Float beneath the starry sky to the sounds of the waves

Guests can enjoy floating in the pool as an endless tapestry of stars unravels itself overhead. The Hoshino Resorts Banta Cafe will be open for business in the evening too. Guests can order some fruity desserts, rent lanterns, and more.

Information

Hoshizora Hot Pool
Address: 474 Gima, Yomitan, Nakagami District, Okinawa
Running: December 1, 2020 – February 28, 2021
Price: Free (Drinks from the bar however must be paid for)

Time: Open 24 hours (But only adults can use the pool after sunset)

Bar Opening Hours: Sunset until 22:00

*Available to HOSHINOYA Okinawa guests only

Irumi Banta
Opening Hours: 19:00-22:00 (Last Orders 21:00

Price: Dessert Set for Two = ¥2,728 (Before Tax)

*Available to guests and non-guests

Official Website: https://hoshinoya.com

Rilakkuma Book Cafe Themed Afternoon Teas in Osaka Will Serve Bear-Huggingly Kawaii Food

Major bookstores across Japan are rolling out the Rilakkuma Book Fair where fans can get their hands on short Rilakkuma fairy tails, exclusive merchandise, and more.


In line with the event, Fruits Parlor & Bakery Season & Co., a cafe in Umeda, Osaka, is serving up a special menu with the theme "Rilakkuma Book Cafe" from October 30 to November 30. This includes a afternoon teas which also celebrates the cafe's 1st anniversary, more exclusive merchandise, and novelties for customers who order from the Rilakkuma menu.

Rilakkuma Zukin Afternoon Tea | ¥4,000 (Before Tax) *Reservation-only

A special afternoon tea featuring 13 different goodies from desserts to a sandwich, quiche, and more. It comes with a fruit iced tea welcome drink too.

Rilakkuma Yuki Hime Afternoon Tea | ¥4,000 (Before Tax) *Reservation-only

A different afternoon tea that serves up 12 items. This also comes with a fruit iced tea.

Rilakkuma's Honey Apple Smoothie | ¥800 (Before Tax)

A honey apple smoothie topped with refreshing vanilla ice cream, smooth fresh cream, and a Rilakkuma jelly candy.

Rilakkuma's Royal Chocolate Milk Tea | ¥1,200 (Before Tax)

Classic royal milk tea served with chocolate Rilakkumas. Eat on their own or dip into your tea!

The cafe is now taking reservations for the afternoon teas. Bookings must be made two days in advance by telephone or the official website.

Information

Rilakkuma Book Cafe
Running: October 30, 2020 – November 30, 2020
Reservations: https://season-co.shop/rilakkuma2020/

Fruits Parlor & Bakery Season & Co.
Address: LINKS UMEDA 1F, 1-1 Ofukacho, Kita-ku, Osaka
Opening Hours: 9:30-22:00 (Last Orders 21:30)
TEL: 06-6743-4212
Official Website: https://season-co.shop

Demon Slayer Confections Slash Their Way Into Lawson Convenience Stores in Japan

Bandai Candy's character-inspired Japanese confectionery series Tabemas collaborating with the popular TV anime series Demon Slayer: Kimetsu no Yaiba to release two confections themed on the show's main characters Tanjiro Kamado and Nezuko Kamado as well as a collection of tarts. The sweet treats will hit the chilled desserts corner of Lawson convenience stores in Japan on October 20, 2020.

Tabemas x Demon Slayer


Tabemas x Demon Slayer: Kimetsu no Yaiba (Tanjiro Kamado/Nezuko Kamado) – ¥264 Each (Before Tax)

The tarts feature all the little details of the beloved characters, from the scar on Tanjiro's forehead and his earrings to the bamboo pipe in his sister Nezuko's mouth and her hair adornment. It also captures the designs of their clothes. Both are filled with Japanese red bean paste with Tanjiro being chocolate flavoured and Nezuko strawberry flavoured.

Demon Slayer Tarts


Demon Slayer Tarts | ¥231 (Before Tax)

An assortment of biscuit base tarts laced with caramel mousse. The tart designs feature a range of popular characters from the anime series including the Kamado siblings, Zenitsu, Inosuke, Shinobu, and Tomioka.

Demon Slayer: Kimetsu no Yaiba is a manga series by Koyoharu Gotouge serialised in Weekly Shonen Jump. The popular series has over 100 million copies in circulation and spawned a hit anime series last year. The upcoming anime film Demon Slayer: Kimetsu no Yaiba the Movie: Mugen Train, which is being animated by ufotable, is set for release tomorrow on October 16, 2020 will serve as a direct sequel to the 2019 anime series.

©Koyoharu Gotouge/Shueisha・Aniplex・ufotable

Snow Fireworks to Light Up the Winter Skies of Miyazaki at Phoenix Seagaia Resort

Phoenix Seagaia Resort, a resort located in Miyazaki Prefecture whose brand slogan claims them as the most beautiful in all of Japan, has announced a heart-warming new experience for the winter season.

Seagaia's Snow Fireworks

Miyazaki doesn't see a lot of snowfall, but this winter, the prefecture is welcoming an all-new fireworks festival which will launch fireworks into the sky that falls like pure white snow. Phoenix Seagaia Resort is also offering a guest plan which combines a stay at the resort with front row seats to the fireworks.

Running: December 4, 2020 – February 27, 2021 (Fridays and Saturdays only + January 10, 2021)
Time: 20:00 (Approx 3 minutes)
Bookings: https://bit.ly/3lurZWK

Starlight Winter Illuminations

THE LIVING GARDEN is the garden area of Sheraton Grande Ocean Resort exclusive to guests. This winter, the garden will be lit up with 30,000 LED lights and lanterns to create a magical, starry sky-like atmosphere by both of the garden's pools.

Running: November 1, 2020 – February 28, 2021
Location: THE LIVING GARDEN, Sheraton Grande Ocean Resort
Illumination Times: Sunset to 23:00

Price: Free (Exclusive to Sheraton Grande Ocean Resort guests)

A Cosy Menu For a Warm Stay

Gazebos by the waterside at THE LIVING GARDEN

S'mores

Sheraton Grande Ocean Resort will also serve s'mores, hot cocktails, and other treats at THE LIVING GARDEN with gazebos and fire pits. Enjoy fluffy marshmallow s'mores served with nuts and salted chocolate.

Running: November 6, 2020 – February 28, 2021 (Excluding Wednesdays & Thursdays)

Times: 19:30-23:00 (Last Orders 22:30)

Location: KUROBAR, THE LIVING GARDEN, Sheraton Grande Ocean Resort

Ashikaga Flower Park Turns On the Lights For 'The Garden of Illuminated Flowers'

Ashikaga Flower Park in Ashikaga, Tochigi, has announced an illumination event for the autumn and winter seasons called "The Garden of Illuminated Flowers ~Flower Fantasy 2020~" which will run from October 17, 2020 to February 7, 2021.

The annual event is being held a week later than usual in order to implement the necessary precautions against COVID-19 and to ensure visitors are divided from one another so that they can enjoy the event as always safely. Masks will need to be worn and visitors must sanitise their hands as well as have their temperature checked with the on-site thermal camera before entering the park.

Held for the 19th time this year, the event was ranked among the Top 3 biggest light-up events in Japan in 2017 alongside Sapporo White Illuminations and Huis Ten Bosch Illuminations. It was also ranked top by night view critics in Japan as best the illumination event for four consecutive years.

So, why is this event adored so much?


The Miraculous Great Wisteria

Due to COVID-19, people were unable to enjoy the blossoming wisteria during this year's spring season, but now they can be enjoyed in autumn and winter in the form of illuminations.

Illuminated Water Lilies

Water lilies are enjoyed from summer through autumn. These water lily lights by the waterside are like little individual flower spirits.

Illuminated Rose Garden

A panoramic spectacle of vivid red rose lights. A special blue light-up will also take place to give gratitude to frontline workers who will be busy this season.


A Flower Story of Illuminated Wisteria

The multicoloured wisteria that bloom from mid-April to mid-May at the park are also being represented as dazzling illuminations which will reflect off the water surface to create a magical atmosphere.

Snow World

Santa Claus will be at the park from late November to late December to hand out presents to children.

Enter a romantic world of Japanese illuminations at Ashikaga Flower Park.