Get Drenched With Zootopia Characters This Summer At Tokyo Disneyland
Every year, Disneyland puts on a show where everyone gets soaked. This year's show features Nick and Judy from Zootopia. With Cinderella's Castle as the main stage, large quantities of water is sprayed everywhere. I headed over to check out the commotion as soon as possible with Instagrammer Kanako.
This summer, the event Judy and Nick's Jumpin' Splash is taking place four times every day. It is possible to apply to experience the fun at the centre stage area close to the castle, however, winners are chosen at random. You can apply for all of the showings except the first one of the day. You can apply by smartphone app or by heading to Tomorrowland Hall.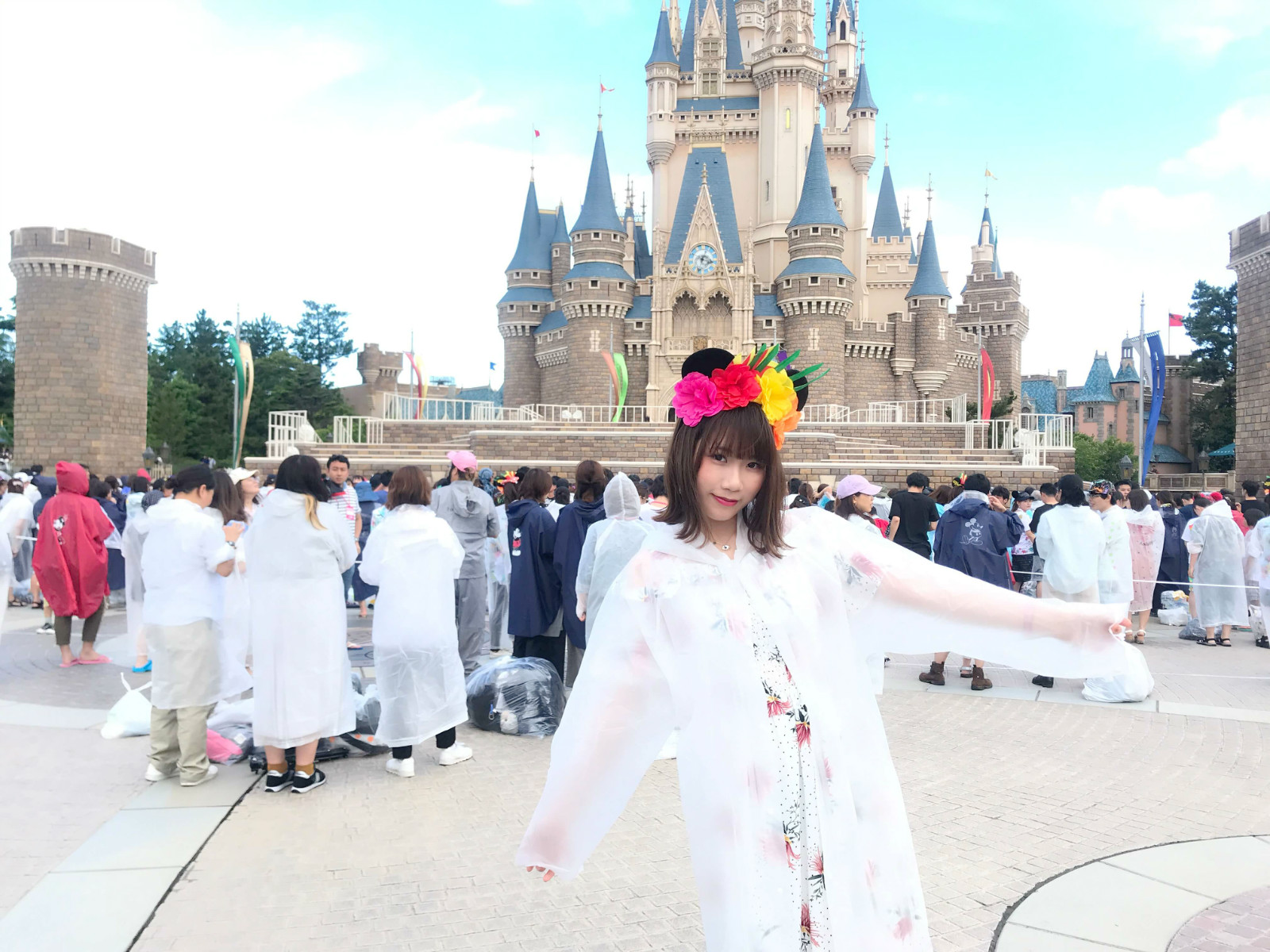 If I still haven't made myself clear, the central viewing area will be splashed with lots of water, so if you are going to take part, make sure you wear a raincoat. You can buy one from the shops when you get to Disneyland. 
While the movie's theme song "Try Everything" plays, Judy and Nick take to the stage and dance. 
Just when everyone gets into the dancing…
Everyone gets soaked by water that surges out from Cinderella's Castle! We were carelessly standing right in the middle of the danger zone so we were mercilessly drenched. I recommend you keep clear of the centre of the area and wear your raincoat as tight as you can!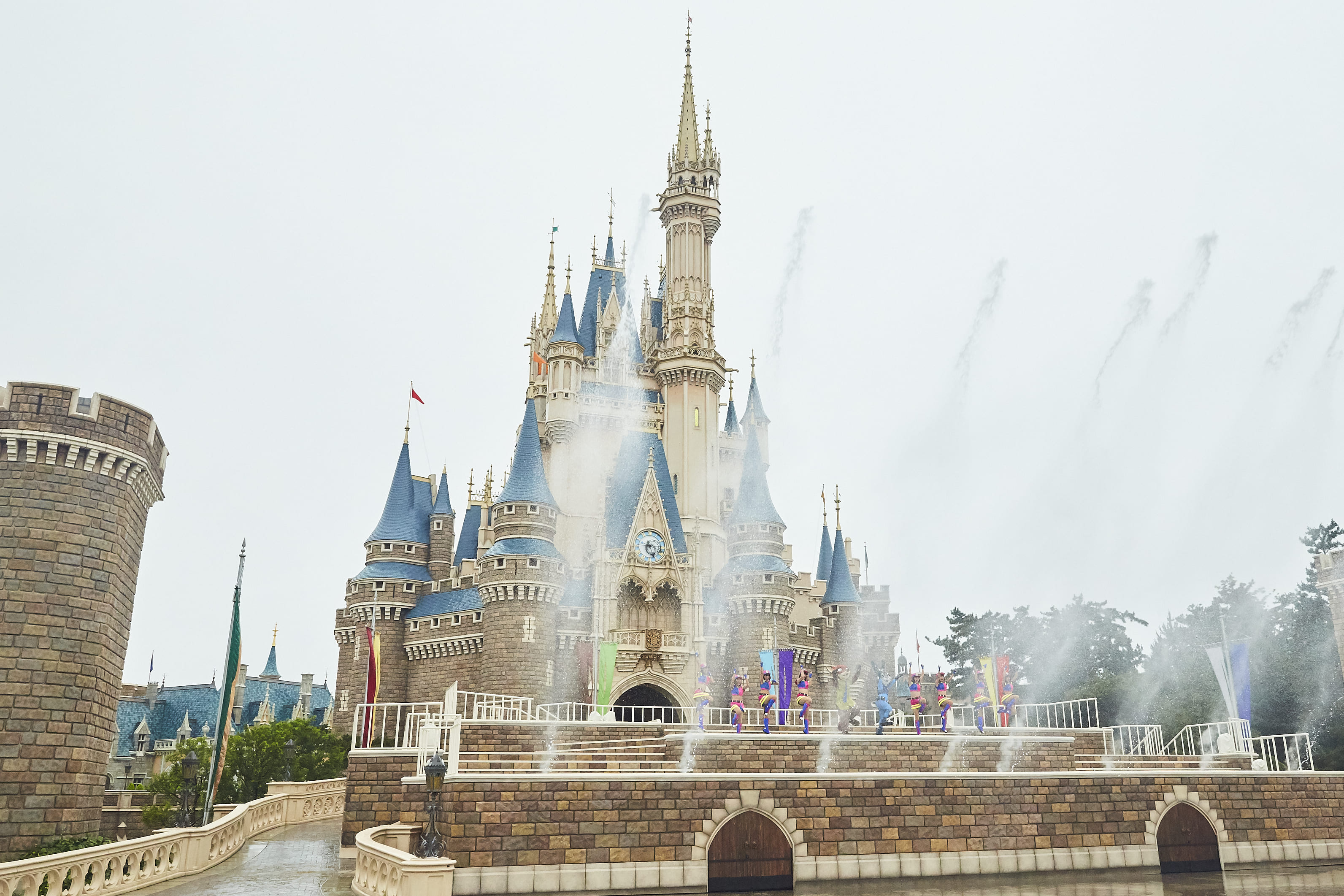 For the latter half of the show, the dancers grabbed hoses and continued to drench us. Everything was happening in the moment. It was all an exciting blur that was over in what felt like seconds. 
This show showered away the summer heat within seconds. You can enjoy getting soaked in the centre of the action or watch other people getting soaked from a safe distance. There are only three chances to take part each day. This is a limited chance to make extra special memories, so please apply!
It's not as bad as it seems. If you wear your raincoat properly, your clothes will not get wet, so there is no need to worry about ruining your glamorous look if that is the reason you don't want to take part. 
Plunge straight into the summer fun at Tokyo Disneyland!
© Disney
RECOMMENDED ENTRIES
Tokyo DisneySea's Disney Pirates Summer Event Merchandise & Food Pre-Sale Announced

Tokyo DisneySea's®︎ special event "Disney Pirates Summer" will begin next week on July 9.

The event is themed around the internationally beloved Disney film franchise Pirates of the Caribbean and will include a show featuring Captain Jack Sparrow and Captain Barbossa, exclusive merchandise, a themed menu and more.

Today we will look at some of the merchandise and menu items that are set to roll out at the park early on July 8, one day before the event starts.

T-Shirts: ¥2,600 / Wristband: ¥900 / Bandanas (From Left): ¥1,500, ¥1,720, ¥2,500 @ Emporio, Tokyo DisneySea

Pirates Ear Hat: ¥2,000 @ Emporio, Tokyo DisneySea

Fashion Glasses: ¥2,000 @ Emporio, Tokyo DisneySea

Fans of the films can look forward to getting their hands on a "Get Wet" t-shirt as well as a range of dress-up items like the Mickey Mouse ear hat, glasses and more. Blend in with the event by picking up some pirate gear!

Toy: ¥2,000 @ Emporio, Tokyo DisneySea

You can also get your hands on a Mickey Mouse version of the popular game Pop-Up Pirate. Slide the swords into the barrel and try not to make Mickey pop up!

Mug: ¥2,000 @ Emporio, Tokyo DisneySea

Marshmallows: ¥900 @ Valentina's Sweets

Other pirate goods include a tankard, marshmallows packaged in a pirate ship box and more to make your Caribbean experience even more fun.

No pirate can hunt to find treasure without a meal in their belly. Check out some of the items on the special pirate menu whipped up exclusively for Disney Pirates Summer.

Cafe Portofino's Special Set: ¥1,880

Cafe Portofino in Mediterranean Harbor is serving this special set containing potato and roast beef salad linguine with an olive caper tomato sauce topped with a yellowfin sole fritter, lychee pudding and lemon jelly with mixed fruits, and a soft drink of your choice. Lots of food for a great price.

Cafe Portofino's Alcoholic Rum & Mango Sherbet Sparkling Cocktail: ¥680

To refresh and keep you cool on your sail is this alcoholic cocktail which has a rum base is mixed with mango sherbet and peach.

New York Deli's Special Set: ¥1,230

New York Deli in American Waterfront is also serving up a special set: a sandwich containing pork and shrimp in a lemon marinade, French fries, and a soft drink of your choice. Another cool choice for summertime.

New York Deli's Alcoholic Vodka & Orange Jelly Sparkling Cocktail: ¥680

The sandwich at New York Deli goes perfectly with this sparkling cocktail so be sure to give them a try.

Become a pirate this summer and Tokyo DisneySea.

©Disney

Disney Resort Celebrates Toy Story 4 Release With Exciting Events, Decorations, Food and More!

The brand new movie Toy Story 4 will be released in Japan on July 12 and to celebrate, Tokyo Disney Resort launched the event Funtime with Toy Story 4, which started on June 14 and will run until September 1. 

In the movie, Forky meets Woody and the gang, who have been Bonnie's toys for quite some time now. However, Forky does not think of himself as Bonnie's most precious toy, but rather a used fork that should have been binned a long time ago. As a result, he tries to run away. 

Tokyo Disney Resort is inviting excited Toy Story fans to plunge right into the world of the movie with their immersive event called "Find Forky". 

To escape from Woody and the gang, Forky has run all the way to Tokyo DisneyLand. Woody and friends need your help to rescue him! When you arrive at Tokyo Disneyland, get your hands on a Find Forky map and use the hints around the park to guide you to his whereabouts. 

When you head to the hint locations, you might discover that Forky was just there a moment ago! Where could he be?

If you use the map hints to find Forky, you will also arrive at messages written by Woody and the gang. When you find these messages, make sure to talk to the Toy Story staff at the park and you will receive an original sticker for your discovery.

There is also Toy Story 4 food all around the park. We have already released an article detailing all the irresistible Toy Story 4 food. All the food is very colourful, cute and full of summer vibes. These foods and drinks are perfect to satisfy you on a hot summer's day.

Tokyo Disneyland®

Tokyo DisneySea®

Both Disneyland and DisneySea are full of Toy Story 4 decorations. Both parks feature illustrations of Forky having a fun time playing with Woody and the gang. 

You also cannot miss the special Toy Story 4 goods that have designs of the characters having a blast together. 

The general merchandise shop Emporio even has a beautiful Toy Story 4 popup illustration. I spotted Forky playing hide-and-seek here too!

Here's a product lineup that caught my eye. Look at the Little Green Men wearing a Mickey hat! This sunscreen is essential to protect yourself from sunburn ー an essential Disney item for an intense Disney Resort summer. 

There is also a wide range of sweets on sale so make sure to take your time to decide which you like the best.

As there's quite a bit of time to wait for the movie to be released, come get yourself hyped up at Tokyo Disney Resort. Forky, Woody and the gang are waiting for you. ♪

©Disney

©Disney/Pixar

Tokyo Disney Resort® Announces Disney Halloween 2019

Tokyo Disneyland® and Tokyo DisneySea® are set to host their special Disney Halloween event again this year from September 10 to October 31. Additionally, several park facilities and services will hold their own Halloween programs this year, including at the Disney Hotel, on the Disney Resort Line, at IKSPIARI, and elsewhere.

The theme at Tokyo DisneySea this year is "a dark and bewitching Halloween." Guests are invited to a mysterious but showy Halloween festival. The park's first ever "Festival of Mystique" show will be held at Porto Paradiso where an evil power will creep. Mickey Mouse and the other Disney cast will work to recover Halloween from this wicked power.

The theme at Tokyo Disneyland is "ghosts" where guests will be pulled into a spooky and exciting ghostly Halloween experience. At the "Spooky Boo! Parade," Mickey and Minnie will don all-new ghost costumes and beckon guests to join them in the spine-chilling and enticing celebrations. When the sun sets and evening covers the sky, Halloween music, visuals and lights will arise from the World Bazaar, and a new photo spot will be present for guests to take a picture together with the ghosts.

Cloak: ¥2,500

Headband: ¥1,800 / Light-Up Pendant: ¥1,500

Guests can also pick up a selection of dark and bewitching merchandise based on the Festival of Mystique show

Special Set: ¥1,880

Popcorn Soda & Doughnuts: ¥600

And of course, expect to tuck into a deliciously spooky menu too.

©Disney

3 Must-Try Summertime Bubble Teas at Tokyo Disneyland & DisneySea

Bubble tea continues to be ever popular in Japan this summer, especially at Tokyo Disneyland and Tokyo DisneySea which not only is selling its much-loved classics but a selection of new refreshing beverages too. Let's take a look at three of these drinks new this July that not only enjoyable to drink but fun to look at too.

Coffee Tapioca Latte

The Coffee Tapioca Latte is appearing as part of Tokyo DisneySea's special event Disney Pirates Summer. The colour of this coffee flavoured delight is reminiscent of the Black Pearl from the 2003 Pirates of the Caribbean movie. It's not overly sweet and so is perfect for those who prefer more adult flavours. Enjoy the event with a cup of this pirate brew in hand.

Running: July 8 – September 1, 2019

Price: ¥500

Available: Mamma Biscotti's Bakery, Tokyo DisneySea

Fantastic Flight Drink (Lychee Tapioca)

Inspired by the new Soaring: Fantastic Flight attraction arriving at Tokyo DisneySea on July 23, this drink contains lemon jelly and lychee flavoured chewy tapioca pearls. Lychee flavoured tapioca pearls are for sure a rarity―have you ever seen them?

Running: July 8 – September 1, 2019

Price: ¥450

Available: Zambini Brothers' Ristorante, Tokyo DisneySea

Sparkling Tapioca Tea (Mango & Citrus)

For a limited time only, this refreshing Sparkling Tapioca Tea will be served up at Tokyo Disneyland, a black tea with mango flavoured tapioca and grapefruit jelly. A perfect summertime sip for the hot weather with its refreshing black tea taste and fruity fragrance.

Running: July 8 – September 1, 2019

Price: ¥600

Available: Tomorrowland Terrace, Tokyo Disneyland (Serving at 14:00-17:00 only)

There are plenty of other new bubble tea drinks apart from these ones too, some of which are on sale right now, such as the Tapioca Mango Drink with its foundation of tiny chewy tapioca balls, the subtly sweet Strawberry Tapioca Tea with fresh strawberries pieces in it as well as large-grained tapioca balls, and more.

If you're heading to either park be sure to order a cup of bubble tea!せ

Information

Tokyo Disney Resort
RELATED ENTRIES
Jaw-dropping dance group that will leave you speechless! The new wave Harajuku style artists TEMPURA KIDZ

TEMPURA KIDZ, the dance and vocal unit who'd have anyone's eyes glued to them, with their colourful outfits and energetic dance moves. Although their members are all teenagers, they all have true and serious experience on stage. I'd like to introduce this 5-member group to you, one who if you'd have the chance to see, you wouldn't be able to pull your eyes away.

Word spreads even before their debut

Their performances have no boundaries, and their appearance is surreal and comical. The group began their activities in November 2012. Immediately after posting their video "CIDER CIDER" onto YouTube before their debut, it quickly amounted to 40,000 views, a number which continued to rise. As of October 2016, the video has been played more than 1.6 million times, and continues to be recognised worldwide.

Members include NaNaHo, AO, KARIN, YU-KA, and P→★, the only male member in the group. Not only do they dance, they continuously make funny faces throughout, their on-stage fashion is always called cute. They also seem to have a lot of teenage fans from the same generation.

TEMPURA KIDZ: Their career begins

TEMPURA KIDZ are the original, first wave dancers for Harajuku queen Kyary Pamyu Pamyu. They have also performed as back-up dancers for a string of big name artists. They made their major debut on March 6th, 2013 with their single "ONE STEP". They released their second single "Happy Natsu Matsuri" in July of the same year, and followed that up almost one year later with their third single "LOLLiPOP". It doesn't stop there, as on September 16th, 2015 TEMPURA KIDZ finally released their first album, "Tenkomori".

They began to perform overseas a lot, in places like Thailand, the Philippines, Myanmar, and Taiwan. You could have call them veteran performers already at this point. The group also have songs where each member performs solo routines. The audience really enjoys their fun and catchy dance moves.

Diverse experience establishes the backbone of their expressive power

TEMPURA KIDZ have come a long way already, having performed at festivals and events both in Japan and abroad, appearing on TV programs, performing in TV commercials, and more. They are also in charge of the choreography for educational programs as well as for a lot of other artists. Moreover, members YU-KA, NaNaHo and AO have begun to use vocals, bringing a whole new dimension to their performances as a group.

Their expressiveness doesn't stop their however, as TEMPURA KIDZ have collaborated with numerous other artists. Artists such as Sayosaku from MONGOL 800, as well as HIFANA, TeddyLoid, CHI-MEY, ORESKABAND, and YMCK were producers for the group's first mini-album "Minna no Dance Uta" which was released on March 12th, 2014 and includes arrangements of nostalgic children's' songs such as "Computer Obaachan" and "Sakura Sakura". In the same year, they also released their digital single "Miira Killer" together with electro rap unit Charisma.com.

Their next big step will be their performance at "MOSHI MOSHI NIPPON FESTIVAL 2016 in TOKYO" which will be held at Tokyo Metropolitan Gymnasium on Saturday November 26th and Sunday November 27th. There will be lots of Harajuku style artists performing there including Kyary Pamyu Pamyu and Natsume Mito. This is most definitely their home ground. There is no doubt they will enchant all with their protean dancing.

And just what will TEMPURA KIDZ bring us next? Anticipation will not die down as they lead Japanese culture and continue to gain international recognition.

Original Text: Noriko Ishimizu

TEMPURA KIDZ Official Website: http://tempurakidz.asobisystem.com/

MOSHI MOSHI NIPPON FESTIVAL 2016 in TOKYO: http://fes16.moshimoshi-nippon.jp/

−−−

■Related article:Worldwide famous and popular Japanese artists including Kyary Pamyu Pamyu and CAPSULE to perform at MOSHI MOSHI NIPPON FESTIVAL!

WORLD ORDER Scheduled to Join "MOSHI MOSHI NIPPON FESTIVAL 2015"‼︎

Japanese techno-pop dance unit WORLD ORDER will join MOSHI MOSHI NIPPON FESTIVAL 2015 in SINGAPORE (Sep, 5 and 6) and MOSHI MOSHI NIPPON FESTIVAL 2015 in PARIS(Oct, 3 and 4).

WORLD ORDER is a seven-piece Tokyo-based dance performance group formed in 2009. They are known for their looks that resemble hardworking Japanese businessmen – or "salarymen" – and highly detailed choreography that goes perfectly well with their synth-driven dance tunes. It didn't take long for the world to take notice of the band's talent – with many eager fans in Asia, North America and Europe, WORLD ORDER finally announced these long-awaited concerts in Singapore and France!

"We are very excited to perform to our international fans!" says a member of WORLD ORDER, who have been receiving a lot of messages from excited fans in other countries. On top of their regular performance, the group will prepare a special performance that consists of six members for those two locations.

By touring around the world, the MOSHI MOSHI NIPPON Festival team aims to promote the latest in Japanese pop culture. The team will be on the road throughout the year and will regularly announce more J–pop related events. Be sure to keep your eyes peeled for more exciting news!

—————————————————————————————————–

MOSHI MOSHI NIPPON FESTIVAL 2015 in SINGAPORE

Date: Sept. 5 (Sat.) and 6 (Sun.), 2015

Location: Singapore

Venue:*SCAPE The Ground Theatre / *SCAPE Playspace

Ticket information:

Early Bird (Aug 6 to Aug 12): S$78/day

Normal (Aug 13 onwards): S$88/day

Admission to Exhibition Grounds and Day Stage Activities are free.

Artists:

Sept. 5: CAPSULE / Yasutaka Nakata (CAPSULE) / WORLD ORDER / TEMPURA KIDZ

Sept. 6: Nagi Yanagi / kz(livetune)feat. ANNA YANO / Hachioji P / TEMPURA KIDZ and more…

—————————————————————————————————–

「MOSHI MOSHI NIPPON FESTIVAL 2015 in PARIS」

Date: Oct. 3 (Sat.) and 4 (Sun.) 2015

Location: Paris, France

Venue: Le TRIANON

Oct. 3: CAPSULE / Yasutaka Nakata (CAPSULE) / BOOM BOOM SATELLITES

Oct. 4: WORLD ORDER / Charisma.com / TEMPURA KIDZ

—————————————————————————————————–

ABOUT MOSHI MOSHI FESTIVAL