Snoopy Themed PEANUTS HOTEL Celebrates 1st Anniversary
To celebrate the 1st anniversary of the PEANUTS HOTEL, which opened on August 1, 2018, the hotel has released a collection of original commemorative merchandise.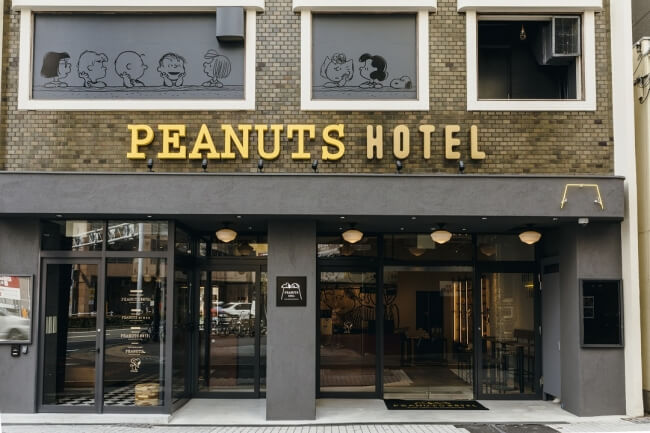 The PEANUTS hotel is home to 18 rooms each with its own unique design. The merchandise collection is themed on each of these rooms.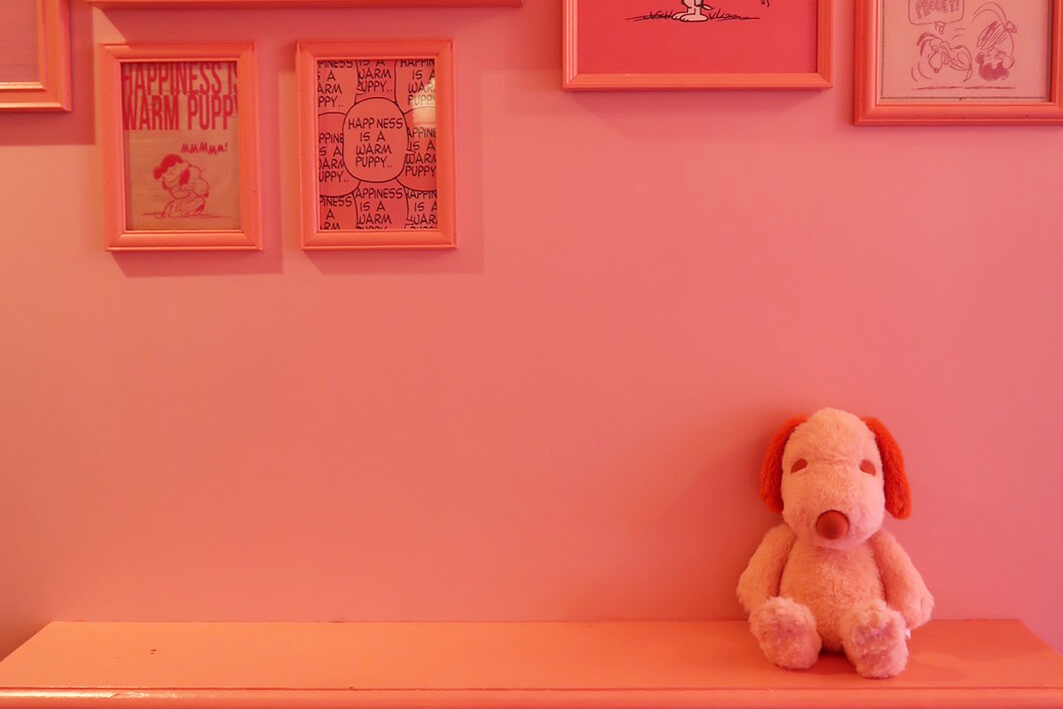 PEANUTS HOTEL "Happiness is a warm puppy.." (Room 64) – ¥3,500
The theme of Room 64 is "Happiness is a warm puppy," so the PEANUTS HOTEL has made that a reality by creating a huggable Snoopy plush toy which is so cute and soft you'll never want to let him go. He is a smaller version of the big Snoopy you can hug in Room 64, meaning you can take him anywhere with you!
PEANUTS HOTEL 1ST ANNIVERSARY Postcards (5 Designs / 2 Included With Each) – ¥2,200
The hotel's postcard sets are popular with guests, and to celebrate the 1st anniversary, it is selling limited edition designs. Using special manufacturing methods, the hotel has released sets themed on Rooms 44, 57, 61 and 62. They are packaged in a beautiful box that looks like the outside of the hotel and its windows. They are great for both sending to someone with a message or for simply using them as decoration in your own room.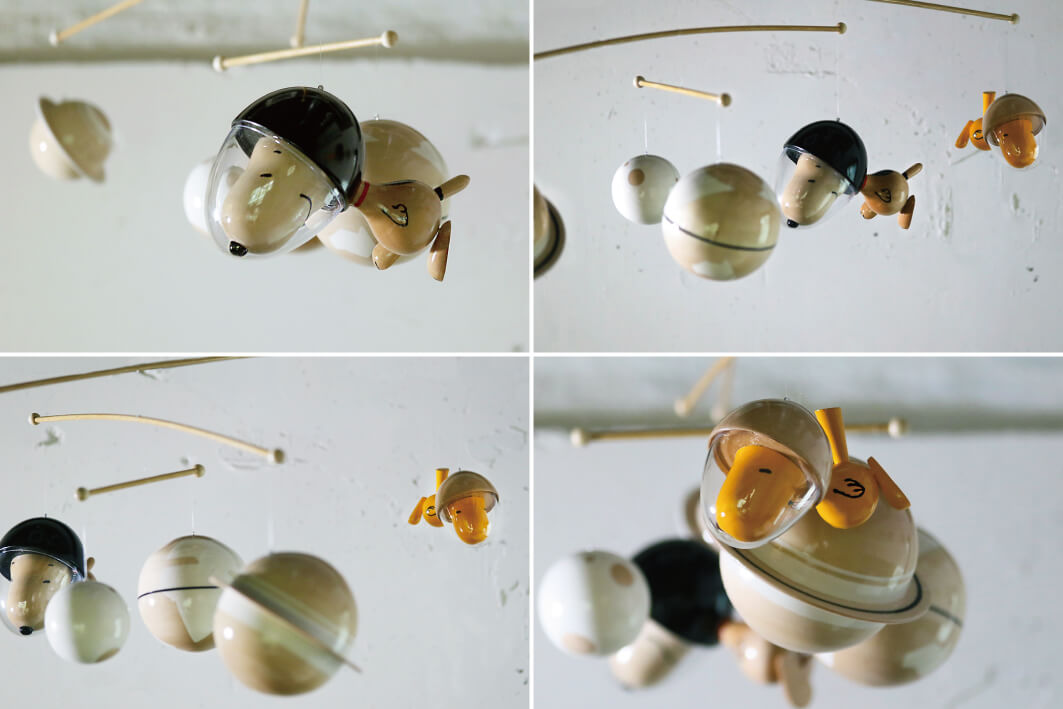 PEANUTS HOTEL x tegoto "solarsystem" (Room 42) – ¥49,000 (Only 30 Available)
PEANUTS HOTEL has teamed up with the internationally popular product brand tegoto to release mobiles inspired by Astronaut Snoopy which is the theme of Room 42. Each mobile is handcrafted individually and features Snoopy, Woodstock and the planetary system. Perfect for both kids and adults alike!
*Only 30 available. Each comes with its own unique handwritten serial number.
PEANUTS Cafe Nakameguro and PEANUTS DINER Yokohama are also joining in the celebration with their own pop-up corner which will run for the whole month of August. For this limited time only, they will sell items which are usually exclusive to the PEANUTS HOTEL.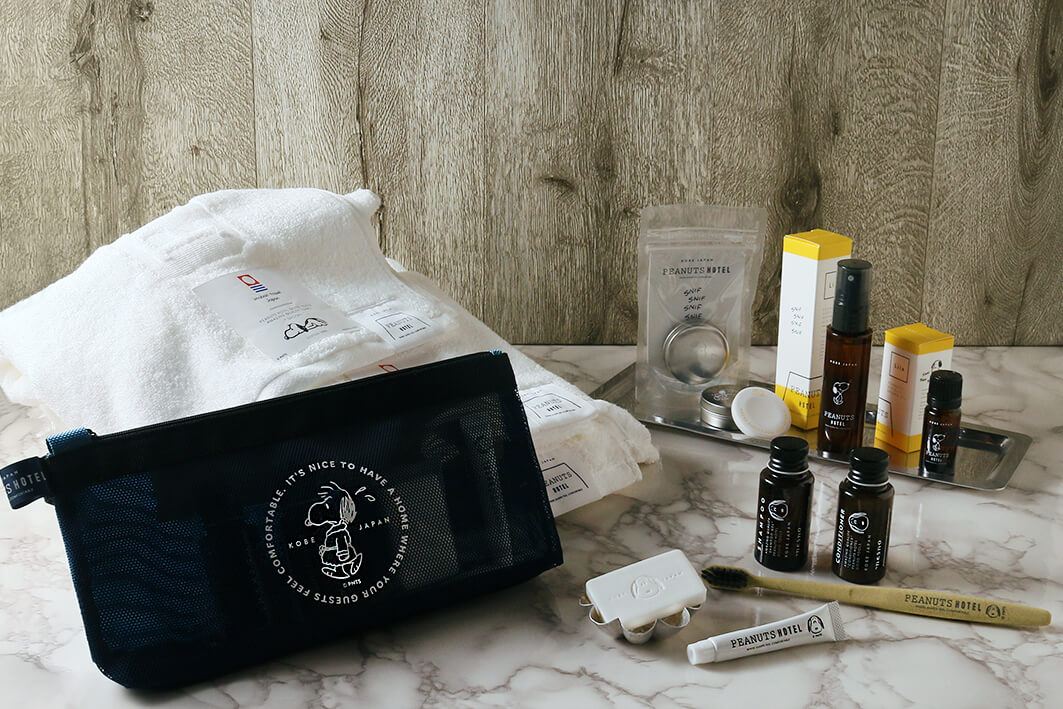 "Lila" Aroma Essential Oils – ¥2,300 / Aroma Air Mist – ¥2,200 / Aroma Stone Diffuser – ¥2,200 / PEANUTS HOTEL Bath Towel – ¥3,200, Face Towel – ¥1,800, Amenity Set – ¥3,400 / Compression Bag (Contains 5) – ¥1,500
These items are also available over on the PEANUTS Cafe Online Shop. Join Snoopy and his friends in celebrating the 1st anniversary of the PEANUTS HOTEL by picking up some cute merch!
*All listed prices are pre-tax.
© 2019 Peanuts Worldwide LLC
RECOMMENDED ENTRIES
Astronaut Snoopy Soars Up Tokyo Skytree For FIRST BEAGLE IN SKYTREE® Event

Tokyo Skytree is set to hold an event titled FIRST BEAGLE IN SKYTREE® from July 18 to October 14 in collaboration with the astronaut version of Snoopy which appeared in the original comic 50 years ago in March this year.

Strap on your space suits and get ready to head up the tallest tower in the world as its top floor, the Tembo Galleria―towering at 450 meters high―is transformed into a Snoopy space station. Learn about outer space with Snoopy and his friends, dine on food and drink themed on everybody's favourite beagle, and more.

Join snoopy as he makes his galactic debut as the first beagle in space. As you step into Shuttle 2 (the elevator) head up into the stars, you and your fellow astronauts will glimpse pictures an decorations taken from the Astronaut Snoopy graphic novel. While you watch the number of meters rolling up on the monitor as you soar higher and higher, you can rest assured the excitement of stepping out will surge simultaneously.

You've made it. You step out of the elevator into the Skytree Space Station where Snoopy and the gang will be ready to meet you. Be sure to snap a commemorative photo with them with the spacey background on the windows so you never forget this day. Once that's all done it's time to start your astronaut mission.

Continue up a further 110 meters to reach the peak of the Tembo Galleria and gaze at the wall decorations all along which celebrate Astronaut Snoopy's 50th anniversary with commentary. There's plenty of great opportunities for photos here too.

After learning about space, it's time to experience space yourself! Step into this area and take a photo that looks like you're floating in space with Snoopy. Nearby there are also boards with various commentaries on them regarding JAXA's work including the Akatsuki space probe, the Hayabusa2 asteroid explorer, astronaut gear for outside the space shuttle, sokol suits, space stations, and more.

It's finally time to depart for space exploration. At the space station's highest point (451.2m) you will find a special spaceship photo spot with beautiful illuminated half-globes and an illustration of the door to space behind you. Depart into the starry expanse with Snoopy, Charlie Brown and all the other characters of Peanuts.

Every astronaut needs a good meal to keep them going. Head back down to the SKYTREE CAFE on the Tembo Deck on floor 340F and enjoy a selection of themed desserts, drinks and more. You'll even get a free gift! Look forward to the Planet Bagel filled with avocado and basil, a Moon Surface Tiramisu, the Iced Charlie Brown Whipped Cream & Caramel Latte, and more.

Expect to sift through all the exclusive merchandise they'll have on offer too. All of this is available for a limited time only, so don't miss this chance to celebrate Snoopy as the FIRST BEAGLE IN SKYTREE®.

©2019 Peanuts Worldwide LLC 

©TOKYO-SKYTREE

Information

FIRST BEAGLE IN SKYTREE®

Running: July 18, 2019 – October 14, 2019

Location: Tokyo Skytree Tembo Deck and Tembo Galleria

Content

1. Decorations in Tembo Galleria

2. Original limited-edition merchandise at THE SKYTREE SHOP

3. Original limited-time menu at SKYTREE CAFE on floor 340 of the Tembo Deck

4. Stamp rally around Tokyo Skytree

5. Event for children's summer break research projects

Tokyo Skytree Official Website: http://www.tokyo-skytree.jp/en/

Snoopy Japan Website: http://www.snoopy.co.jp/

Snoopy Merchandise From the Peanuts Hotel in Kobe to be Sold in Tokyo & Yokohama

Original merchandise from the Peanuts Hotel in Kobe will be sold at the Peanuts Cafe in Nakameguro and Peanuts Diner in Yokohama from August 22 to September 2.

The Peanuts Cafe in Nakameguro is themed on the American comic strip series Peanuts by Charles M. Schulz that features the popular character Snoopy. It's based on the American style cafes of the west coast and has a fun, witty atmosphere to it.

The first floor has a neon sign and the walls are decorated in strips from the comic. When you climb the stairs it's as if you're entering the secret lair of a Peanuts collector as you are greeted by antique toys lined up together.

They serve a variety of comfort foods and desserts inspired by the characters from the series including Snoopy and Woodstock.

Yokohama is home to the Peanuts Diner, a spacious restaurant where you can enjoy your meal with an ocean view.

They sell a range of exclusive Peanuts Diner merchandise. You can even purchase the crockery and mugs they use at the restaurant, as well as t-shirts. It's a comfortable seaside diner where you can enjoy immersing yourself in the world of Peanuts whenever and whoever you visit with.

Both the cafe and diner are now selling merchandise from the newly-opened Peanuts Hotel including items to celebrate its opening, stationery, cute t-shirts and more.

Peanuts Hotel Open Commemoration Bag – ¥1,500 (Pre-Tax)

The simple design of the Peanuts Hotel bag is modern and stylish. The size is not too big and not too small.

Peanuts Hotel: Patisserie Tooth Tooth – Kobe Pound Cake – ¥1,500 (Pre-Tax)

Peanuts Hotel has teamed up with Patisserie Tooth Tooth, a confectionery shop in Kobe, to release this Kobe pound cake. It has a light flavour and is baked with lots of rich butter. There are 4 flavours to choose from each inspired by the unique characters in the world of Peanuts. They make for a delicious souvenir and gift.

Get your hands on these exclusive Snoopy hotel items and enjoy the world of Peanuts at home♡

■Information

PEANUTS Cafe – Nakameguro

Address: 2-16-7 Aobadai, Meguro-ku, Tokyo

Opening Hours: 10:00am-10:00pm

Sales Period: August 22, 2018 – September 2, 2018 (*Select items subject to change)

TEL: 03-6455-1541

Official Website: http://www.peanutscafe.jp/

PEANUTS DINER – Yokohama

Address: 2F Marine & Walk Yokohama, 1-3-1 Shinko, Naka-ku, Yokohama-shi, Kanagawa Prefecture

Opening Hours: 10:00am-11:00pm (Last Orders 10:00pm)

Sales Period: August 22, 2018 – September 2, 2018 (*Select items subject to change)

TEL: 045-323-9555

Official Website: http://www.peanutsdiner.jp

PEANUTS HOTEL

Address: 1-22-26 Nakayamatedori, Chuo-ku, Kobe-shi, Hyogo Prefecture

Official Website: https://www.peanutshotel.jp/

*The Peanuts Hotel bath towel, face towel and "Lila" aroma series are limited to the hotel and are not included in this commemoration sale at the cafe or diner.

A concept hotel of Snoopy, PEANUTS HOTEL will open in Kobe

A concept hotel called PEANUTS HOTEL which incorporates the designs of the unique characters of Snoopy and other Peanuts characters will open in Kobe in the summer of 2018.

Kobe is one of Japan's most popular tourist destinations boasting its magnificent views of the mountains and the sea. The city has a "retro" feel to it due to its unique history opening its port to the world during the Meiji Era. Accordingly, through the blending of Western and Eastern cultures, Kobe formed its exotic atmosphere. Today, more than 1 million foreign tourists visit Kobe every year.

Charles M. Schulz, the writer of Peanuts, had his studio in Santa Rosa, California. It could be said that there are many similarities between Santa Rosa and Kobe, that is the beautiful scenery and the retro yet modern atmoshphere.

The loveable Peanuts characters will be there to greet you at PEANUTS HOTEL. The mid-century furniture and Japan's high-quality design make for a very comfortable atmosphere. In addition, the Peanuts characters add a touch of humor and fun to the scene. On the first floor of the hotel you will find "PEANUTS Café" which is a very popular café in the Nakameguro, Tokyo. Here, you can enjoy a coffee time or a meal and they also sell Peanuts related goods.

Here is a hotel where all generations can enjoy by together feeling the "roots" of the "Peanuts world." A place where all kinds of people can connect and build community – this is what PEANUTS HOTEL is all about. They hope that heart-warming relationships can be nurtured by the casual and friendly atmosphere of this concept hotel.

Why not enjoy this "retro" and Kobe-like hotel. Come experience this "Peanuts world" in Kobe.

■Information

PEANUTS HOTEL

Open date: summer of 2018

Number of rooms: 18

Official website: To be opened later

<1st floor facility>

Name: PEANUTS Café

Open date: summer of 2018

Seat number: approx. 40 seats

Official website: http://www.peanutscafe.jp/
RELATED ENTRIES
Hotel Gracery Taipei in Taiwan Offers the Japan Experience with New HANDS CONCEPT ROOM

Hotel Gracery Taipei, which can be found inside Taiwan's TOKYU HANDS Tailung, have opened the new 'HANDS CONCEPT ROOM' which offers the experience of visiting Japan without having to get on a plane.

'Take a Vacation to HANDS' Room

'Go Camping at HANDS' Room

Coupon

TOKYU HANDS Tailung have created two new concept rooms, the 'Take a Vacation to HANDS' room and the 'Go Camping at HANDS' room. While it is difficult to visit Japan at the moment, these rooms provide an authentic Japanese experience which allows guests to experience the culture and feel the charms of Japan.

 

The 'Take a Vacation to HANDS' room is based on Mount Fuji, Japanese railways, and vending machines, which are popular even in Taiwan. Popular tourist spots are also recreated using famous characters. 

The 'Go Camping at HANDS' room is inspired by glamping, which has become popular in Taiwan, using outdoor equipment to create a fun, indoor camping experience.

 

 

The guest-limited service also offers guests two 10% coupons, one that can be used while shopping at TOKYU HANDS Tailung and one that can be used for accommodation. During the campaign period, guests who spend over 5,000 Yuan at TOKYU HANDS Tailung will be entered into a lottery to win a one-night stay in the new themed rooms.

 

 Try Japanese-inspired indoor camping with the new 'HANDS CONCEPT ROOM!'

 

Information

Hotel Gracery Taipei 'HANDS CONCEPT ROOM'

Address: No. 89 Section 2, Zhongxiao East Road, Zhongzheng District, Taipei City, Taiwan

Official Site: https://gracery.com/taipei/ 

Art Gallery Cafe WHAT CAFE to Open New Collaborative Exhibition with the DELTA Project

A new collaborative exhibition is coming to WHAT CAFE in Tokyo! The WHAT CAFE x DELTA EXHIBITION -EXPANSION- will run from September 25 until October 24, and will give guests some incredible pieces to ponder while sipping some warm coffee. 

WHAT CAFE is an art and culture facility opened with the goal of supporting artists with promising futures in the industry. Guests can wander the gallery while enjoying a meal or beverage, with some art being available for purchase.

Flash FINCH – Ji-hae Park

Combination-cut in 2 – Saki Matsumura

Galloping on a Free-floating Planet – Yui Suzuki

real screen – Takuro Sugiyama

This exhibition was inspired by WHAT CAFE's interest in the activities of DELTA, an art project that helps plan and organize art fairs and exhibitions around Japan. It's mission is to create a new place connecting galleries, artists, and collectors, while also breaking the norm and making a space that is more accessible. The WHAT CAFE x DELTA EXHIBITION -EXPANSION- will feature 60 works by 17 cutting-edge artists carefully selected from seven different galleries based in Tokyo, Osaka, and Kyoto. The showing will ask visitors to expand their minds and become more flexible when pondering the meaning behind each of the pieces on display.

Does this art-gallery-meets-cafe sound like your kind of place? 

Hotel New Otani Announces Second PAUL & JOE Collaboration

Hotel New Otani Tokyo has collaborated with PAUL & JOE for the second time to offer a new accomodation plan, which will be available for one-night stays between December 1 2021 and January 4 2022.  The rooms will not be available between December 31 and January 2.

This collaboration room will allow you to surround yourself in the world of PAUL & JOE, a Parisian brand PAUL & JOE that is extremely popular with young women in their 20s and 30s. The initial collaboration was so popular that within just 10 days, all of the available dates within three months were sold out. This Christmas edition will only be available for one month, so be sure to book while you can.

The pink and ivory room features the brand's icon; Designer Sophie's beloved cats, Nunet and Gypsy. The decorations also feature Crisantemo flower motifs.

Not only is the wallpaper covered in PAUL & JOE motifs, but even the smaller pieces such as cushions, curling irons, and brushes are themed too. In addition, to celebrate the festive season, the room will include a special Christmas tree, allowing you to enjoy a special Christmas with somebody special, sharing a view of Tokyo Tower.

The second round of cosmetics is focused on the 2021 CHRISTMAS COLLECTION. The 'Lipstick Treatment' features adorable cats wearing Santa hats, while the 'Lipstick Limited' comes in a luxurious Christmas red – and also features cats in hats! Plus, the new 'Wrapping Hand Cream' will wrap your hands in a fresh moisturising texture. In addition, the best-selling 'Moisturizing Foundation Primer,' which was renewed on September 1, and the P&J skincare selection (oil, lotion, cleansing), each must-haves for the upcoming dry season, have been miniaturized into take-home samples in a limited edition pouch, especially for hotel customers.

Alongside the limited cosmetic samples, there will be matching pajamas and slippers available for purchase and take home, with a that will take you even deeper into the PAUL & JOE world. While these cat-and-floral print PJs are perfect for a girls-only gathering, a men's line has also been released due to popular demand, ideal for spending a romantic Christmas in matching pajamas.

 

 

Why not spend a wonderful Christmas in this PAUL & JOE room?

Information

PAUL & JOE Room ~Christmas~

Reservation Dates:

Friday & Saturday Rooms: September 14 2021~

Weekday & Sunday Rooms: Late October 2021

Room Duration: December 1 2021 ~ January 4 2022

※Unavailable between Dec. 31 and Jan. 21

Location: Hotel New Otani Tokyo

Reservations: https://www.newotani.co.jp/tokyo/stay/plan/paul-joeroom/  *Reservations can only be made online

Rihga Royal Hotel x YOURS BOOK STORE New Accommodation Plan to Discover Your New Favorite Book

Osaka's Rihga Royal Hotel is collaborating with book direction brand YOURS BOOK STORE to produce a one-room one-day accommodation plan titled "Once in a Lifetime ~ Professionals Choose Your Book~." The limited-time plan will be available between September 15 and November 30, 2021.

The lounge on the executive floor, known as The Presidential Towers, was reformed in March 2020 to include a library of 1,000 books, with themes including Osaka, refreshing, relaxing, and children's books. It was then that the room plan collaboration with YOURS BOOK STORE, who was involved in the initial book selection, was proposed.

In the "Once in a Lifetime ~ Professionals Choose Your Book~" accommodation plan, a professional will discuss with the guest to learn more about their taste, with the book director offering 3 personalized book choices per person. The guest can also take full advantage of the hotel library.

Following your trip, a book chosen especially for guests will be sent to your home, with a message card describing how your books were selected. This unique accommodation plan allows you to bask in the afterglow of your trip while waiting to see what kind of book you receive.

Why not check out this unique plan where you can receive your own personalized book recommendation?

Enjoy Contemporary Art in Nature with the 'Rokko Meets Art -Art Walk 2021-'

The Kobe Tourism Bureau will be opening the limited time 'Rokko Meets Art -Art Walk 2021-' tour on Kobe City's Rokko Sanjo between September 11 and November 24 2021.

Rokko Mountain was developed as a leisure spot by foreign residents during the Meiji Era, and is still beloved to this day for its magnificent views and abundant nature.

The 'Rokko Meets Art -Art Walk-' tour opened in 2010 in order to convey the charms of Mt. Rokko to as many people as possible while introducing them to contemporary art. Over 400 artist groups have exhibited since its opening, with visitors being able to enjoy the innovative works and scenery which changes with the art.

The 'Rokko Meets Art -Art Walk-' is not only for art fans but also for those who wish to visit Mt. Rokko for sightseeing and leisure, allowing each visitor to experience art with their five senses as the seasons change.

Some pieces are modified by the artist throughout the exhibition period, allowing you to feel the changes of the works each time you visit. Due to the Covid-19 travel restrictions, opportunities to come into contact with nature and art have greatly decreased. In response, the 'Rokko Meets Art -Art Walk-' has started a variety of projects, including online exhibitions and workshops.

Experience this fun combination of nature and contemporary art for yourself at the 'Rokko Meets Art -Art Walk 2021-!'

Information

Rokko Meets Art -Art Walk 2021-

Duration: September 11 ~ November 23 2021

Opening Hours: 10:00 ~ 17:00

Location: 12 spots throughout Rokko Sanjo

Satellite Venue: Arima Onsen Area

JR Sannomiya Station Square Special Exhibition: 'Rokko Meets Art -Art Walk-' Selection

Tickets・Official Site:  https://www.rokkosan.com/art2021/

Blue Bottle Coffee Opens New Cafe Inside SHIROIYA HOTEL in Gunma

Initially announced in July of this year, Blue Bottle Coffee Japan will open their newest shop on the premises of the SHIROIYA HOTEL in Maebashi, Gunma Prefecture on September 17, 2021. The new shop is part of a recent initiative to revitalize the city, and make Maebashi an inspiring art and culture destination.

Shiroiya Cafe Limited Menu

Blue Bottle Coffee x Nakamata Fuwafuwa Wanuki Coffee Cream & Anko

Shiroiya Cafe Limited Item


Blue Bottle Coffee x Nakamata Maebashi City Tote Bag (Limited quantities available)

SHIROIYA the PÂTISSERIE×BLUE BOTTLE COFFEE 


Grapefruit and Coffee Tart

Maebashi was once a large manufacturer of silk, and was crucial to Japan's modernization. In 2016, a number of creative minds from both Japan and abroad gathered in the city with the goal of revitalizing the town center. With that in mind, they first renovated the 300-year-old Shiroiya Ryokan, opening the SHIROIYA HOTEL in December 2020. Blue Bottle Coffee was a perfect fit for the project, with a continued goal of fostering community and using their proceeds to help develop towns and cities.

Blue Bottle Coffee Shiroiya Cafe as designed by Keiji Ashizawa Design, also responsible for designing cafes in Minatomirai and Shibuya. Keeping with a comfortable theme, the cafe is designed to let in ample amounts of light. Historic bricks from Maebashi were a key material used in the flooring. Both the SHIROIYA HOTEL and the new Blue Bottle Cafe feature art pieces by Yoshio Shirakawa, an artist from the area.

The Blue Bottle Coffee x Nakamata Fluffy Wanuki Coffee Cream & Anko is only available at the Shiroiya Cafe, and is a collaboration with Wamukashi Nakamata, a confectionary shop in town. A special Maebashi-themed tote bag will also be on sale in limited quantities.

To commemorate the opening of the Shiroiya Cafe, the PÂTISSERIE, located inside the hotel, will serve a limited-time Grapefruit and Coffee Tart.

Would you like to visit Maebashi on your next trip to Japan?

Information

Blue Bottle Coffee Shiroiya Cafe

Opening Date: September 17, 2021

Address: SHIROIYA HOTEL, 2-2-15 Honmachi, Maebashi, Gunma

Hours: 8:00-19:00 (Opens at 10:00 on opening day.)

Official Site: https://store.bluebottlecoffee.jp/

Hyatt Centric Kanazawa Reveals Halloween Inspired Menu for October

All-day restaurant FIVE – Grill & Lounge, located within the Hyatt Centric Kanazawa hotel, will begin serving up a selection of Halloween-inspired treats beginning October 1, including cake sets, parfaits, muffins, and various lunch and dinner items.

Guests will also be able to enjoy some mischievous cocktails and mocktails inspired by witches and ghosts!

Halloween Cake Set 

Black Sesame Pudding

Mummy Macaron

Ghostly Mousse

Pumpkin Ice Cream Sandwich

Coffin Tart

Monster Cream Puff

Halloween Parfait Set

Halloween Dinner/Lunch Course

Halloween Muffin Box

Halloween Cocktails 

Spooky Night

Hallo-Wine Sangria

I sWitch (Mocktail)

The Halloween Cake Set is filled with ghoulish treats, each one displaying incredible attention to detail. In the Halloween Parfait Set, guests can enjoy a tower of different sweets, including black currant and chocolate. Themed with creepy eyeball decorations throughout, it offers a variety of overlapping textures and tastes guests will want to savor until the last bite.

 

When thinking of Halloween, the colors orange and purple instantly come to mind. For the Halloween Dinner/Lunch Course, the menu's creators went with a more dark theme, envisioning a ghost appearing at any moment. The entire restaurant will be decorated in black and gray, creating a truly haunting dining experience.

Don't miss out on the Halloween Muffin Box, a set of mini-muffins made with fresh autumn ingredients, and offering a much cuter feel. Quantities are limited!

The gin-based Spooky Night cocktail is refreshing, with a bold blue color and red-rim on the glass, sure to turn your mouth bright crimson. Hallo-Wine Sangria, house-made with autumn fruits, has a unique design, with a skeleton rising from the glass! For those wanting a mocktail, the I sWitch asks guests to pour the accompanying red syrup over the cotton candy, changing both the appearance and flavor of the drink as if by witchcraft!

Which of these treats would you be after?

Kumagaya City, Saitama Bath Cafe Hareniwa no Yu Opens After Rebranding

Cafe BIVOUAC, located in Kumagaya, Saitama Prefecture, will reopen Bath Cafe Hareniwa no Yu on September 18, 21, after a full rebranding.

The space aims to be 'a garden that clears a guest's body and mind.' Visitors can enjoy a full bath and sauna, freshly-picked vegetables at the Haruniwa Dining Room, and a lush green lounge in which to relax and unwind.

The Haruniwa Dining Room, run by The Farm, a resort in Chiba Prefecture, offers healthy dishes filled with fresh local vegetables from Kumagaya with carefully-selected main ingredients.

In addition, a collaboration with fashion brand 'niko and…' will also begin upon reopening, offering the perfect comfy clothes to wear while enjoying the property.  The lineup  includes an original bath bag and sauna hat, each sold exclusively at Hareniwa no Yu.

Information

Bath Cafe Hareniwa no Yu (Cafe BIVOUAC)

Open: September 18, 2021

Address: 939 Kubojima, Kumagaya-shi, Saitama

Phone: 048-533-2614

Official Site: https://ofurocafe-bivouac.com/

Healing 'Panda' Sweets Available at Gelato Pique Café for a Limited Time

A selection of healing monotone panda sweets will be available at the Gelato Pique Café between September 6 and September 25. The collection is titled "everyday PANDA! ~Sweets Time with Pandas~."

Menu


Panda Crepe

Panda Gelato

Panda Float

Goods

Gelato Pique Café Original Panda Glass/Mug
Available from September 6


Gelato Pique Panda Motif Eco Bag / Panda Motif Hand Towel
Online reservations open September 2, available instore from September 8


In 2021, the Gelato Pique Café announced two rounds of animal themed sweets, proving hugely popular on social media. For Easter they released "Bunny Sweets" with rabbit ears motifs, while a series of "Polar Bear Sweets" was released during the Summer. Now, a selection of "Panda Sweets" is the latest to join the animal collection. 

 

The chocolate and banana Panda Crepe is filled with a healing ganache and banana,  while the Panda Gelato has cocoa biscuits studded around the pandas neck, along with rounded eyes and ears. The "healing monotone" Panda Float combines the Gelato Pique Café's original Guatemalan coffee blend with Royal Blue Bourbon.

 

Along with this "everyday PANDA!" Fair, we have a large lineup of panda goods that will make you happy just by having them.  Goods that are perfect for presents, souvenirs, and rewards for yourself can be purchased at each gelato pique cafe store and EC site, so please look forward to that too!

There is a huge lineup of panda goods that will brighten your day releasing alongside the "everyday PANDA" fair, which make perfect gifts for friends – or yourself! You can view the goods lineup in store and on the Gelato Pique website.

The Guests are Actors Too in the HOTEL SHE, OSAKA's 'Theatre While You Stay' Performance

The HOTEL SHE, OSAKA has announced a new form of evening entertainment that allows the guests to take part in their 'Theatre While You Stay' performances of The Indigo Restaurant, held between November 11 and 30 2021. Tickets sales start on September 3.

 

The food and drink menu can be enjoyed from the comfort of your room.

All guest rooms come furnished with a record player.


The boutique hotel brand HOTEL, SHE are leading hotels into the new era with their contemporary services, collaborating with poet Saihate Tahi to create the "Poet Hotel" and live-streaming a performance by artist SIRUP.

The 'Theatre While You Stay' is a form of evening entertainment where guests can enjoy and take part in a stage show that is set in the hotel, both planned and produced by HOTEL, SHE.

They were inspired by the "immersive theatre" technique which has become popular in New York's Broadway, allowing you to freely move around the hotel in your role as you enjoy the show, breaking the boundaries between audience and performer – You aren't just watching the show, but becoming a part of it.

The term "immersive theatre" was coined in London during the early 2000s and refers to a form of theatre that is based on the audience experience. It breaks down the traditional roles of the audience and performers, creating a new relationship between the guests and the show.

 

 

Set throughout the entire hotel building, the lobby, guest rooms, corridors, and courtyard are full of mysterious sounds and lights. The "story experience" starts as you check in, with no set start or end time.  All phones, mobile devices and watches that tell the time are confiscated upon checking in, causing the guests to lose their sense of time and wander the hotel throughout the long evenings. 

 

After watching, the whole story is gradually revealed by talking about the scenes that each experienced while drinking cocktails in the bar lounge and guest rooms.  We want you to enjoy the limited food menu and sweets based on Asian dishes such as Taiwan.

After the show, you can enjoy cocktails in the bar lounge and discuss the scenes you watched as the story is gradually revealed. The delicious limited-time menu is full of sweet Asian dishes and desserts from Taiwan and beyond.

Information

Theatre While You Stay – The Indigo Restaurant

Duration: November 11 ~ November 30 2021 

※Cancelled on November 18 and 25. 

Check In: 19:30 ~ 20:00 (VIP TWIN ROOM Check In is 19:15 ~ 20:00)

Check Out: 12:00 the following morning 

Location: HOTEL SHE, OSAKA

Address: 1-2-5 Ichioka, Minato-ku, Osaka City, Osaka

Ticket Sales:

Primary Ticket Sales (Lottery): September 3 at 20:00 ~ September 12 at 23:59

Secondary Ticket Sales (Lottery): September 14 at 18:00 ~ September 20 at 23:59

General Ticket Sales (First-Come, First-Serve): Undecided

Tickets/Official Site: http://aiirohanten.com/

RIHGA Royal Hotel Osaka to Offer Extremely Limited Halloween Accommodations

The RIHGA Royal Hotel Osaka has announced a spectacularly limited Halloween accommodation plan, titled 'A Terrifying Banquet in the Mysterious Lord's Castle.' Only one lucky person per day can book the decorated room, which features in-room meals and more treats to discover. Reservations are open through October 28, and the room will be available from September 10 until October 31.

'A Terrifying Banquet' Dining Table

Living Room

Skeletons in hotel uniform, ready to greet guests in the front room

This spooky setup will be held in the Fontainebleau suite, themed as a French palace. Guests will enjoy a western dinner course in the comfort (or discomfort) of the room. Decorated with black cats, ever-watchful owls and skeletons, guests can also look forward to taking plenty of photos at a designated photo spot on the sofa.

As the COVID-19 pandemic continues to keep people in their homes, the hotel created this room as a way to experience a new kind of cozy Halloween getaway. Visitors will enjoy plenty of other perks, including free parking, soft drink coupons, and breakfast the following morning.

Would you be able to sleep in this room filled with skeletons and specters?

Information

Special Halloween Room: 'A Terrifying Banquet in the Mysterious Lord's Castle'

Reservations Open: September 1 – October 28, 2021

Room Available: September 10 – October 31, 2021

*Reservations accepted until 8:00AM, 3 days in advance.

Official Site: https://www.rihga.co.jp/osaka/stay/plan/halloween2021

Marvel Superhero Cafe to Open in Osaka for Limited Time

A limited-time Marvel themed cafe is coming to Umeda, Osaka from September 16 until October 17. Produced by OH MY CAFE, the concept is centered on themes such as power, courage, talent, justice, and friendship, and the menu will be filled with items inspired by the many heroes of the Marvel universe.

The cafe menu features original items representing the worlds of Spider-Man, Iron Man, Captain America, Thor, and Black Widow. All dishes are healthy, low-sodium, and low-sugar. Various original pieces of merchandise will also be available for fans of American comics!

Menu

Marvel Paprikash: ¥1,759 (Tax Included)

<Spider-Man> The Best Chicken Sandwich in Queens: ¥1,650 (Tax Included)

<Captain America> American Tomato Pasta: ¥1,979 (Tax Included)

<Thor> Hammer Curry in the Desert: ¥2,089 (Tax Included)

<Black Widow> Jet-Black Squid Ink Gratin: ¥1,869 (Tax Included)

<Iron Man> Evening Donut-style Bagel Sandwich: ¥1,979 (Tax Included)

<Captain America> Ramune Soda: ¥1,209 (+¥770 for coaster) (Tax Included)

<Iron Man> Cherry Soda:  ¥1,209 (+¥770 for coaster) (Tax Included)

Marvel Cafe Latte: ¥989 (+¥1,650 for mug) (Tax Included) 

Marvel Tea Bottle: ¥769 (Tax Included) / Bottle and Charm: ¥1,320 (Tax Included)

Customers who make a reservation in advance will receive one random original mask case (7 designs). 

Original Merchandise

 

Acrylic Keyring (6 designs): ¥825 (Tax Included)

Square Pins (13 designs, random): ¥495 (Tax Included) / Marvel Case: ¥1,100 (Tax Included)

A5-size Clear Folder (7 designs, random): ¥385 (Tax Included)

Tote Bag: ¥1,100 (Tax Included) / Marvel Bandana Handkerchief: ¥1,650 (Tax Included)

Menu Art Series A4-size Clear Folder: ¥440 (Tax Included) / Menu Bandana Handkerchief: ¥1,650 (Tax Included) / Acrylic Magnets (6 designs): ¥715 (Tax Included)

Avengers: Endgame Clear Folders (5 designs, random): ¥550 (Tax Included) / Avengers: Infinity War Postcards (8 designs, random): ¥275 (Tax Included)

Ⓒ 2020 MARVEL