Snoopy Themed PEANUTS HOTEL Celebrates 1st Anniversary
To celebrate the 1st anniversary of the PEANUTS HOTEL, which opened on August 1, 2018, the hotel has released a collection of original commemorative merchandise.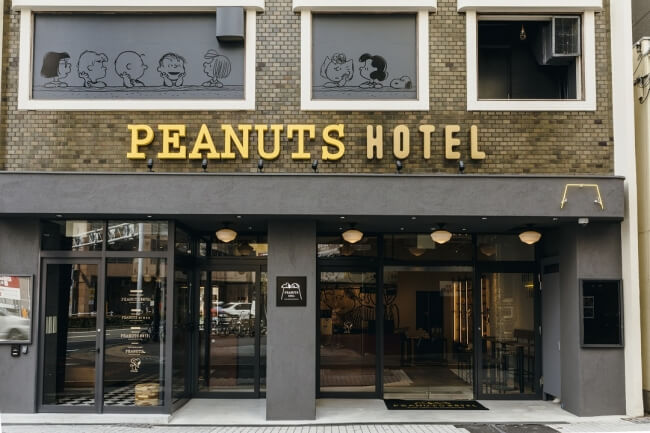 The PEANUTS hotel is home to 18 rooms each with its own unique design. The merchandise collection is themed on each of these rooms.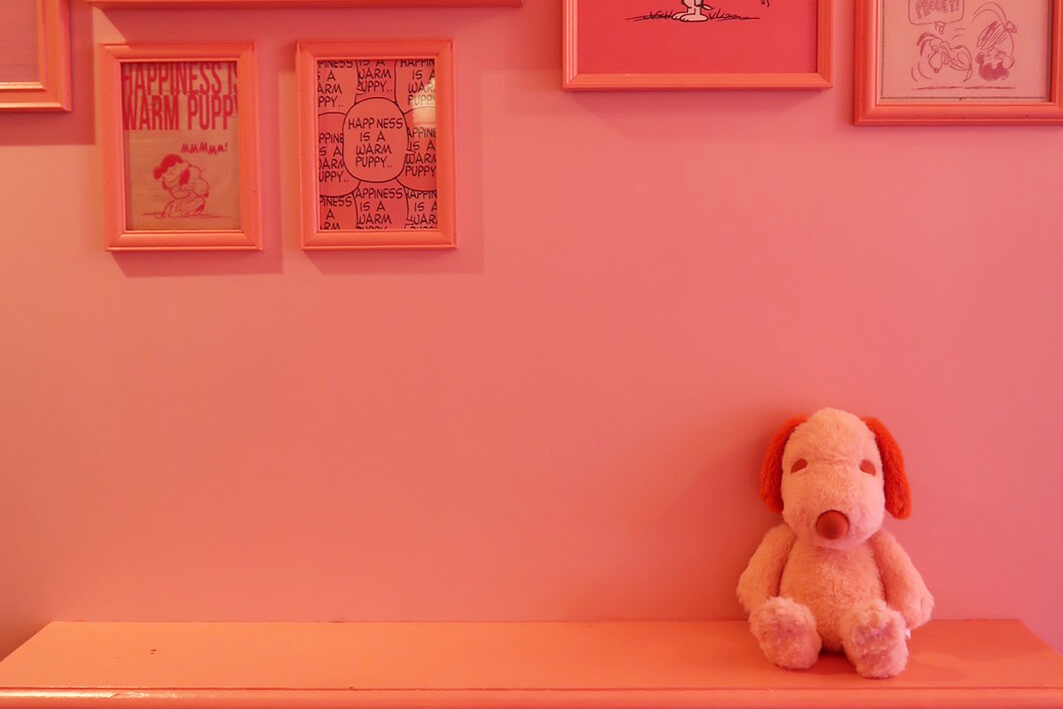 PEANUTS HOTEL "Happiness is a warm puppy.." (Room 64) – ¥3,500
The theme of Room 64 is "Happiness is a warm puppy," so the PEANUTS HOTEL has made that a reality by creating a huggable Snoopy plush toy which is so cute and soft you'll never want to let him go. He is a smaller version of the big Snoopy you can hug in Room 64, meaning you can take him anywhere with you!
PEANUTS HOTEL 1ST ANNIVERSARY Postcards (5 Designs / 2 Included With Each) – ¥2,200
The hotel's postcard sets are popular with guests, and to celebrate the 1st anniversary, it is selling limited edition designs. Using special manufacturing methods, the hotel has released sets themed on Rooms 44, 57, 61 and 62. They are packaged in a beautiful box that looks like the outside of the hotel and its windows. They are great for both sending to someone with a message or for simply using them as decoration in your own room.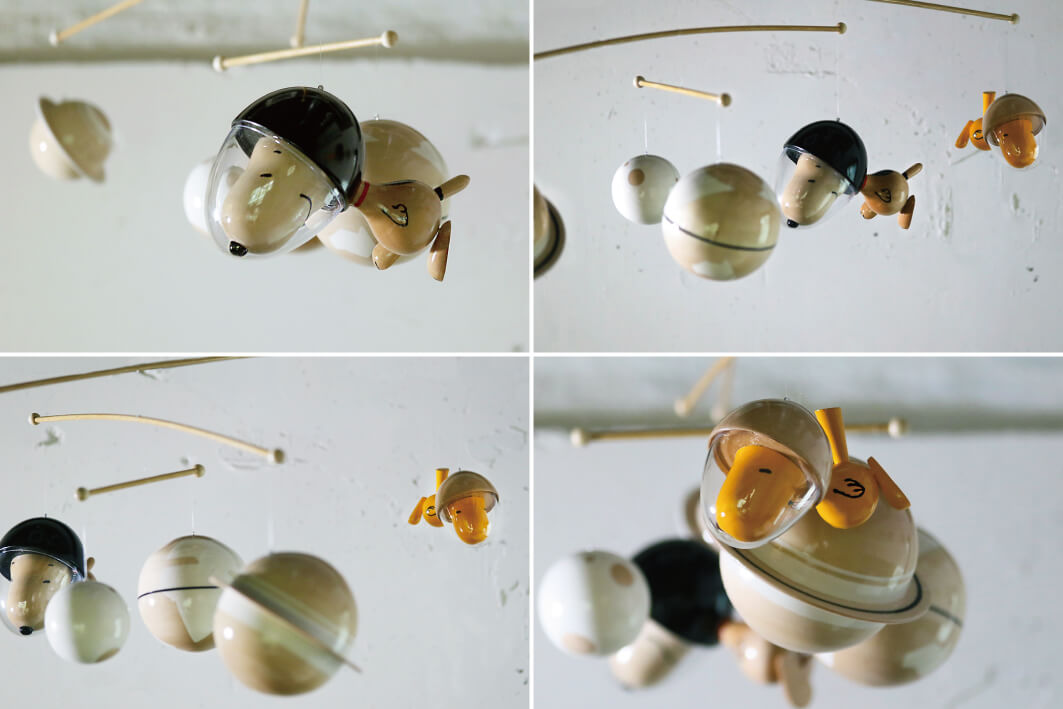 PEANUTS HOTEL x tegoto "solarsystem" (Room 42) – ¥49,000 (Only 30 Available)
PEANUTS HOTEL has teamed up with the internationally popular product brand tegoto to release mobiles inspired by Astronaut Snoopy which is the theme of Room 42. Each mobile is handcrafted individually and features Snoopy, Woodstock and the planetary system. Perfect for both kids and adults alike!
*Only 30 available. Each comes with its own unique handwritten serial number.
PEANUTS Cafe Nakameguro and PEANUTS DINER Yokohama are also joining in the celebration with their own pop-up corner which will run for the whole month of August. For this limited time only, they will sell items which are usually exclusive to the PEANUTS HOTEL.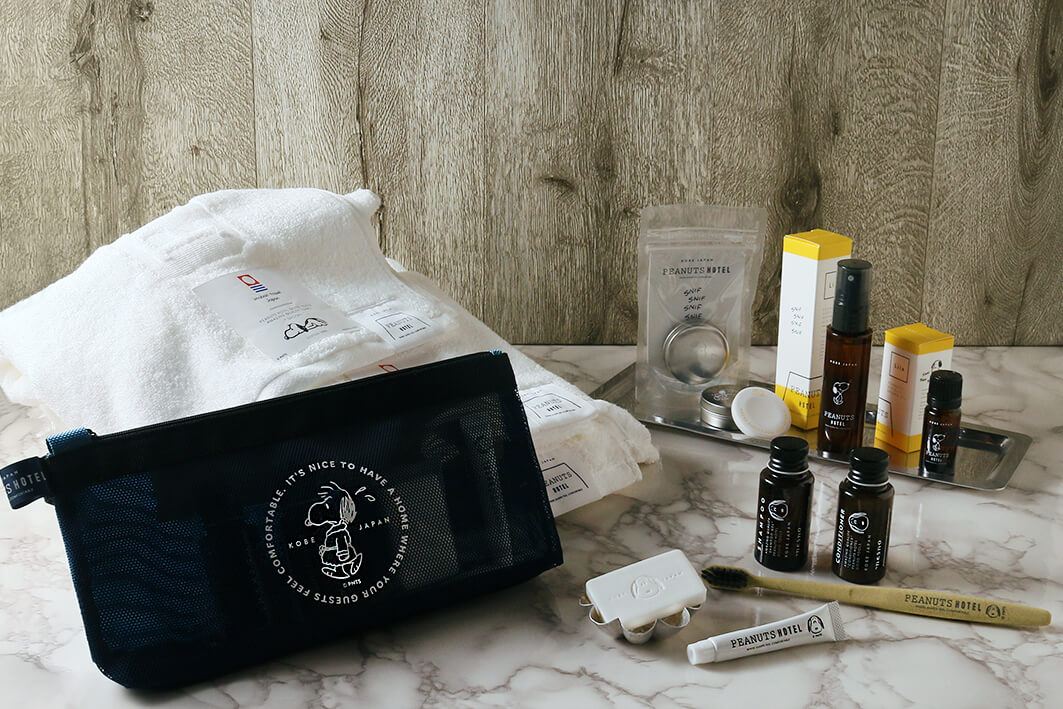 "Lila" Aroma Essential Oils – ¥2,300 / Aroma Air Mist – ¥2,200 / Aroma Stone Diffuser – ¥2,200 / PEANUTS HOTEL Bath Towel – ¥3,200, Face Towel – ¥1,800, Amenity Set – ¥3,400 / Compression Bag (Contains 5) – ¥1,500
These items are also available over on the PEANUTS Cafe Online Shop. Join Snoopy and his friends in celebrating the 1st anniversary of the PEANUTS HOTEL by picking up some cute merch!
*All listed prices are pre-tax.
© 2019 Peanuts Worldwide LLC
RECOMMENDED ENTRIES
Astronaut Snoopy Soars Up Tokyo Skytree For FIRST BEAGLE IN SKYTREE® Event

Tokyo Skytree is set to hold an event titled FIRST BEAGLE IN SKYTREE® from July 18 to October 14 in collaboration with the astronaut version of Snoopy which appeared in the original comic 50 years ago in March this year.

Strap on your space suits and get ready to head up the tallest tower in the world as its top floor, the Tembo Galleria―towering at 450 meters high―is transformed into a Snoopy space station. Learn about outer space with Snoopy and his friends, dine on food and drink themed on everybody's favourite beagle, and more.

Join snoopy as he makes his galactic debut as the first beagle in space. As you step into Shuttle 2 (the elevator) head up into the stars, you and your fellow astronauts will glimpse pictures an decorations taken from the Astronaut Snoopy graphic novel. While you watch the number of meters rolling up on the monitor as you soar higher and higher, you can rest assured the excitement of stepping out will surge simultaneously.

You've made it. You step out of the elevator into the Skytree Space Station where Snoopy and the gang will be ready to meet you. Be sure to snap a commemorative photo with them with the spacey background on the windows so you never forget this day. Once that's all done it's time to start your astronaut mission.

Continue up a further 110 meters to reach the peak of the Tembo Galleria and gaze at the wall decorations all along which celebrate Astronaut Snoopy's 50th anniversary with commentary. There's plenty of great opportunities for photos here too.

After learning about space, it's time to experience space yourself! Step into this area and take a photo that looks like you're floating in space with Snoopy. Nearby there are also boards with various commentaries on them regarding JAXA's work including the Akatsuki space probe, the Hayabusa2 asteroid explorer, astronaut gear for outside the space shuttle, sokol suits, space stations, and more.

It's finally time to depart for space exploration. At the space station's highest point (451.2m) you will find a special spaceship photo spot with beautiful illuminated half-globes and an illustration of the door to space behind you. Depart into the starry expanse with Snoopy, Charlie Brown and all the other characters of Peanuts.

Every astronaut needs a good meal to keep them going. Head back down to the SKYTREE CAFE on the Tembo Deck on floor 340F and enjoy a selection of themed desserts, drinks and more. You'll even get a free gift! Look forward to the Planet Bagel filled with avocado and basil, a Moon Surface Tiramisu, the Iced Charlie Brown Whipped Cream & Caramel Latte, and more.

Expect to sift through all the exclusive merchandise they'll have on offer too. All of this is available for a limited time only, so don't miss this chance to celebrate Snoopy as the FIRST BEAGLE IN SKYTREE®.

©2019 Peanuts Worldwide LLC 

©TOKYO-SKYTREE

Information

FIRST BEAGLE IN SKYTREE®

Running: July 18, 2019 – October 14, 2019

Location: Tokyo Skytree Tembo Deck and Tembo Galleria

Content

1. Decorations in Tembo Galleria

2. Original limited-edition merchandise at THE SKYTREE SHOP

3. Original limited-time menu at SKYTREE CAFE on floor 340 of the Tembo Deck

4. Stamp rally around Tokyo Skytree

5. Event for children's summer break research projects

Tokyo Skytree Official Website: http://www.tokyo-skytree.jp/en/

Snoopy Japan Website: http://www.snoopy.co.jp/

Snoopy Merchandise From the Peanuts Hotel in Kobe to be Sold in Tokyo & Yokohama

Original merchandise from the Peanuts Hotel in Kobe will be sold at the Peanuts Cafe in Nakameguro and Peanuts Diner in Yokohama from August 22 to September 2.

The Peanuts Cafe in Nakameguro is themed on the American comic strip series Peanuts by Charles M. Schulz that features the popular character Snoopy. It's based on the American style cafes of the west coast and has a fun, witty atmosphere to it.

The first floor has a neon sign and the walls are decorated in strips from the comic. When you climb the stairs it's as if you're entering the secret lair of a Peanuts collector as you are greeted by antique toys lined up together.

They serve a variety of comfort foods and desserts inspired by the characters from the series including Snoopy and Woodstock.

Yokohama is home to the Peanuts Diner, a spacious restaurant where you can enjoy your meal with an ocean view.

They sell a range of exclusive Peanuts Diner merchandise. You can even purchase the crockery and mugs they use at the restaurant, as well as t-shirts. It's a comfortable seaside diner where you can enjoy immersing yourself in the world of Peanuts whenever and whoever you visit with.

Both the cafe and diner are now selling merchandise from the newly-opened Peanuts Hotel including items to celebrate its opening, stationery, cute t-shirts and more.

Peanuts Hotel Open Commemoration Bag – ¥1,500 (Pre-Tax)

The simple design of the Peanuts Hotel bag is modern and stylish. The size is not too big and not too small.

Peanuts Hotel: Patisserie Tooth Tooth – Kobe Pound Cake – ¥1,500 (Pre-Tax)

Peanuts Hotel has teamed up with Patisserie Tooth Tooth, a confectionery shop in Kobe, to release this Kobe pound cake. It has a light flavour and is baked with lots of rich butter. There are 4 flavours to choose from each inspired by the unique characters in the world of Peanuts. They make for a delicious souvenir and gift.

Get your hands on these exclusive Snoopy hotel items and enjoy the world of Peanuts at home♡

■Information

PEANUTS Cafe – Nakameguro

Address: 2-16-7 Aobadai, Meguro-ku, Tokyo

Opening Hours: 10:00am-10:00pm

Sales Period: August 22, 2018 – September 2, 2018 (*Select items subject to change)

TEL: 03-6455-1541

Official Website: http://www.peanutscafe.jp/

PEANUTS DINER – Yokohama

Address: 2F Marine & Walk Yokohama, 1-3-1 Shinko, Naka-ku, Yokohama-shi, Kanagawa Prefecture

Opening Hours: 10:00am-11:00pm (Last Orders 10:00pm)

Sales Period: August 22, 2018 – September 2, 2018 (*Select items subject to change)

TEL: 045-323-9555

Official Website: http://www.peanutsdiner.jp

PEANUTS HOTEL

Address: 1-22-26 Nakayamatedori, Chuo-ku, Kobe-shi, Hyogo Prefecture

Official Website: https://www.peanutshotel.jp/

*The Peanuts Hotel bath towel, face towel and "Lila" aroma series are limited to the hotel and are not included in this commemoration sale at the cafe or diner.

A concept hotel of Snoopy, PEANUTS HOTEL will open in Kobe

A concept hotel called PEANUTS HOTEL which incorporates the designs of the unique characters of Snoopy and other Peanuts characters will open in Kobe in the summer of 2018.

Kobe is one of Japan's most popular tourist destinations boasting its magnificent views of the mountains and the sea. The city has a "retro" feel to it due to its unique history opening its port to the world during the Meiji Era. Accordingly, through the blending of Western and Eastern cultures, Kobe formed its exotic atmosphere. Today, more than 1 million foreign tourists visit Kobe every year.

Charles M. Schulz, the writer of Peanuts, had his studio in Santa Rosa, California. It could be said that there are many similarities between Santa Rosa and Kobe, that is the beautiful scenery and the retro yet modern atmoshphere.

The loveable Peanuts characters will be there to greet you at PEANUTS HOTEL. The mid-century furniture and Japan's high-quality design make for a very comfortable atmosphere. In addition, the Peanuts characters add a touch of humor and fun to the scene. On the first floor of the hotel you will find "PEANUTS Café" which is a very popular café in the Nakameguro, Tokyo. Here, you can enjoy a coffee time or a meal and they also sell Peanuts related goods.

Here is a hotel where all generations can enjoy by together feeling the "roots" of the "Peanuts world." A place where all kinds of people can connect and build community – this is what PEANUTS HOTEL is all about. They hope that heart-warming relationships can be nurtured by the casual and friendly atmosphere of this concept hotel.

Why not enjoy this "retro" and Kobe-like hotel. Come experience this "Peanuts world" in Kobe.

■Information

PEANUTS HOTEL

Open date: summer of 2018

Number of rooms: 18

Official website: To be opened later

<1st floor facility>

Name: PEANUTS Café

Open date: summer of 2018

Seat number: approx. 40 seats

Official website: http://www.peanutscafe.jp/
RELATED ENTRIES
You Can Take Your Pets to These Hotels and Accommodations in Japan

Online travel booking website Rakuten Travel has released this year's list for the most popular hotels and accommodations you can stay at with pets in Japan. The list is based off travellers' reviews taken from the website. This list has been updated and published every year since 2014, making this its 6th run.

Placing number one on the list for the first time is Yutsura, a ryokan Japanese-style inn which opened in Shizuoka in April 2018 and can be rented by one person or group for one night. Up to six people in a single group can stay there along with up to 5 small dogs weighing 5kg or less. It's highly favoured amongst travellers who want to take their dogs on the road due to the extent the inn caters for pets. Guests can enjoy having the dogs in their rooms as well as feed their pets there, all without being a bother to other guests.

Nipponia Sawara Merchant Town Hotel in Chiba Prefecture came in second place. You can feel the history of this hotel accommodation which is renovated from a traditional storehouse and townhouse. It allows up to three pets in a room which collectively weigh 25kg. There are three types of rooms to choose from, including one with a dog park. It also offers various services, including a free night for one dog, snacks and amenities for dogs, and more.

In third place is Dog Pension R65 in Shizuoka Prefecture which allows not only big and small dogs, but cats and other pets too. It offers large footbaths for dogs to use, dog parks, and many other services that cater to pets. The hotel also offers cottage-type accommodation rooms separate from the main building too if you're looking to spend some peaceful time away with your beloved companion.

If you're looking to travel around Japan with your pet, be sure to check if a hotel allows animals. Check the link below for the full Top 10 list.

PEANUTS Cafes and DINERs Are Holding a Joe Cool Fair For a Limited Time Only

PEANUTS Cafes and PEANUTS DINERs in Nakameguro, Minami-machida, Yokohama and Kobe are holding a Joe Cool fair from January 15, 2020.

PEANUTS Cafes and DINERs across Japan have held quite a few Snoopy-themed events based on a number of his disguises. In the past, the master of disguise has made an appearance in PEANUTS Cafes and DINERs as Astronaut Snoopy, Flying Ace Snoopy and Beagle Scout Snoopy. For the fourth and final theme of the series, Snoopy will be taking to the scene as his alter-ego Joe Cool. 

Joe Cool is the guy that everyone yearns for. The cool dude who is always hidden behind his signature jet black sunglasses. Although he's got the cool looks, he doesn't seem to have a knack for attracting girls. 

During the fair, there will be hot drinks decorated with illustrations of Joe Cool and a lineup of fair-limited merchandise.

Joe Cool Black Caramel Au Lait
Eat-In: ¥800 *Comes with an original drink coaster/ Take Away: ¥600 (Prices Before Tax)

The jet black caramel café au lait is topped with creamy milk foam and a dusting of black cocoa in the silhouette of Joe Cool. Enjoy the changing appearance of your drink as you take a sip. Even the label on the take out cup is decorated with a Joe Cool fair logo that you won't be able to resist taking a photo of.

Sold At:

PEANUTS Cafe Nakameguro: Eat-In/Take Away

PEANUTS DINER Yokohama: Eat-In/Take Away

PEANUTS DINER Kobe: Eat-In Only

PEANUTS Cafe Kobe: Take Away Only

*Not available at PEANUTS Cafe Snoopy Museum

Original Joe Cool Eco Tote Bag: ¥1,600 (Before Tax)

The popular Snoopy Eco Tote Bag has had a Joe Cool makeover. It has a simple design and is easy to use. The jet black colour makes it appropriate for anyone and it is large enough to fit an A4-size item inside. You can use it as your main bag or fold it up to store in your main bag so you're always ready for that unplanned shopping trip. The merchandise lineup also includes original-design stickers, keyrings bearing a Joe Cool Snoopy design and a stainless steel mug. 

All fair merchandise is available to purchase from the merchandise area of PEANUTS Cafes and PEANUTS DINERs or the online shop. 

The special Joe Cool menu and merchandise is available for a limited time only – perfect for a special trip!

© 2020 Peanuts Worldwide LLC

Information

Joe Cool Fiar – HI SWEETIE!

Running: January 15, – March 15, 2020

PEANUTS Cafe Nakameguro
Address: 2 Chome-16-7 Aobadai, Meguro City, Tokyo
Official Website:  http://www.peanutscafe.jp/

PEANUTS DINER Yokohama  

Address: MARINE & WALK YOKOHAMA Floor 2, 1 Chome−3−1, Shinko, Naka Ward, Yokohama, Kanagawa

Official Website: http://www.peanutsdiner.jp/

PEANUTS Cafe Kobe

Address: PEANUTS HOTEL Floor 1, 1 Chome-22-26 Nakayamatedori, Chuo Ward, Kobe

Official Website: https://www.peanutshotel.jp/

PEANUTS DINER Kobe
Address: PEANUTS HOTEL Floor 3, 1 Chome-22-26 Nakayamatedori, Chuo Ward, Kobe
Official Website: http://www.peanutsdiner.jp/kobe/

PEANUTS Cafe Snoopy Museum
Address: Minami-machida Grandberry Park Park Life Building, 3 Chome-1-1 Tsuruma, Machida, Tokyo

Official Website: http://www.peanutscafe.jp/snoopymuseum-tokyo/

PEANUTS Cafe Online Shop: https://www.peanutscafe.jp/online/

CHAYA 1899 TOKYO To Open in February Serving Specially Made Tea

With a history of 120 years in managing a number of old hotels and restaurants, the Ryumeikan Group will open a new café that sells Japanese desserts, pastries, tea and coffee called CHAYA 1899 TOKYO. The new café is set to open on February 21, 2020 and will embrace the delicious flavours of matcha, hōjicha and Japanese black tea. 

The café will open on floor 1 of the boutique hotel Hotel 1899 Tokyo. The café interior is wood-themed with touches of black for a casual fusion of tradition and modernity. With a space of 120 square metres, the relaxing environment is spacious enough to seat 38.

The original restaurant opened for business in December 2018. Now, CHAYA 1899 TOKYO specialises in Japanese beverages and intends to live its days as the tea shop that customers can visit as they please for a break from everyday life.

One of the most appealing aspects of the new restaurant has to be the menu. There are 10 different drinks available. Each drink is carefully made with high-quality tea leaves that were carefully selected from all over Japan. The tea varieties include matcha, hōjicha, Japanese black tea made from Japanese tea leaves. 

Rich Matcha Latte: ¥600 (After Tax)

Each cup of tea is carefully made, one by one, by the café's Japanese tea specialist. The rich matcha tea is made using traditional tools such as a bamboo whisk. From this, soy milk or milk is added to make the rich matcha latte. From three to six grams, you can choose the strength of your tea by the gram to create a more personalised matcha latte. 

 Other drinks on the menu include the Hōjicha Latte and the brand new inventions the 'Matcha Soda and 'Japanese Black Tea Soda', which will tempt you their exquisite aromas. 

The café even has a counter especially for the tea making and pouring procedures. The water for each drink is boiled in a traditional kettle by the tea specialist, who carefully regulates the water temperature and controls the brewing time according to the tea leaf. 

Matcha Pan:  ¥600 (After Tax)

As expected, the café also sells delicious sweet treats full of matcha goodness to go with your tea. The fresh green Matcha Pan are full of matcha goodness. They are made from 100% Japanese wheat, Hokkaido butter and milk. The mixture is left to rise at a low temperature over a long period of time. Afterwards, matcha from Shizuoka is added to the mix and then baked into muffins. This original and rare bread was developed with Baba FLAT – a café which sells very popular pastries and coffee in Takadanobaba, Tokyo. 

Craving more matcha? Enjoy both matcha and hōjicha at the same time in the form of a healthy snack: the Omatcha Brownie. The brownies are made from gluten-free rice flour and enjoy a moist texture and rich flavour.

Uji matcha, a high-quality and rich matcha used in tea ceremonies, is also used to make rich matcha ice cream (Koicha Gelato) and matcha cakes called "Sakecha Cakes" which combine tea and Japanese sake or brandy with cakes. The varieties of cake include matcha and Japanese sake, hōjicha and Japanese sake and black tea and brandy.

If you're looking for a unique tea experience, look no further than CHAYA 1899 TOKYO.

Information

CHAYA 1899 TOKYO

Address: 6-4-1 Shinbashi, Minato City, Tokyo

Opening Hours: 11:30 – 21:00 (Last Orders: 20:30)

Opens: February 21, 2020

Official Website: https://1899.jp/hotels/tokyo/

Relaxing Café by Day, Neon-Lit Bar by Night: Enjoy a Drink at Jinbōchō CAMPUS in Tokyo

Hello everyone, this is MOSHI MOSHI friend Banako.

Today I'll be introducing you to an interesting place in Jinbōchō, Tokyo that is a café by day and a café & bar at night.

From 9:00 to 17:00 it's known as COFFEE CAMPUS  and from 18:15 to 22:00 it runs as CAMPUS TOY cafe&bar. It first opened its doors approximately 48 years ago, solely operating as a café. Its current owner is an avid American toy and pop culture-lover who started running the café & bar seven years ago.

To get here, it's just a five-minute walk from exit A2 of Jinbōchō Station. The café is located in a quiet place just one turn off Odori Street.

Check out the menu:

The toast here is really good, so I ordered the Egg on Toast. (¥500)

To my surprise, an exceptionally large and thick slice of toast arrived at my table. The egg was evenly cooked and spread on top. I curiously sunk my knife into the toast to reveal the inside.

The egg dripped beautifully like melted cheese. It tasted wonderful with the freshly toasted slice of bread and was very filling. I was in a good mood after my very first bite.

Once the clock strikes 18:15, the café completely transforms into CAMPUS TOY cafe&bar which has a completely different atmosphere. 

One step into the newly-transformed café & bar and…

The calm undertones of the café were replaced with a cute pop-themed atmosphere illuminated by colourful neon lights. Rather than preparing a drinks menu, owner matz takes orders directly from customers, creating drinks catered to each individual customer based on what flavours and colours they like. 

Waiting to see what kind of drink is going to be brought to you is very exciting. Ordering drinks with friends and taking photos of the outcome is the best way to enjoy your time here. 

There are also lots of good spots to take photos for your Instagram so don't hold back! From time to time, there is a small market here where the owner sells small fantasy-themed items.

 Make sure to check out CAMPUSTOY cafe&bar on Instagram for their latest updates and information on opening hours. Whether you want to enjoy a pop-themed American atmosphere or are simply looking for a relaxing spot to chat, this café is for you. Matz the owner is very friendly and is full of interesting stories that you just got to hear.

Information

COFFEE CAMPUS /CAMPUS TOY cafe&bar

Address: Jinbōchō Mansion Floor 1, 2-10, Jinbōchō, Kanda Ward, Chiyoda, Tokyo

Opening Hours

COFFEE CAMPUS: 9:00 ー 17:00

CAMPUSTOY cafe&bar: 18:15 ー 22:00

* Please be careful to not mix up the opening hours of the café and café and bar.

Closed: Saturdays, Sundays and National Holidays

Access: Approx. 5-minute walk from Jimbocho Subway Station exit A2

CAMPUS TOY cafe&bar Instagram:https://instagram.com/campustoy_matz?igshid=2nblcij8r4b7

Enjoy a Luxurious Teatime Treat in The Characteristic Ginza Café 'Tricolore'

Hello!

This is MOSHI MOSHI Friend Banako. 

Today I'll be introducing you to an old café in Ginza called Tricolore, where you can really feel the culture of Ginza. Tricolore has a rich history dating back to 1936. It is just a three-minute walk from exit A3 of Ginza station just off the main street. 

From the outside, it looks like a gorgeous and luxurious hotel. 

Considering its old, historic background, entering the café through a set of revolving doors was not expected. Once you enter, you will notice the grand showcase full of cakes beautifully arranged before your eyes. The neat pattern of brick walls filled the interior with character. Velvet chairs, sofas and trees created a beautiful atmosphere. 

The smoking seats are located on floor one and floor two, which opens from 11:30, is for non-smoking. The entire interior was beautiful.

I settled at a table and soon ordered the Cake Set for ¥1,520.

From the selection of cakes, I chose the apple pie and for my drink, I ordered an iced cafe au lait. The drink prices are slightly cheaper before 11:30, making it more cost-effective to order a drink separately and not as part of a set. After 11:30, you can pay a little extra to order a different drink. 

The thin and crispy pie pastry was stuffed with apples. Each delicious bite was filled with warmth. The cream was moderately sweet and perfectly balanced out sweet and tangy apple filling.

When you order a cafe au lait, you can choose your ratio of coffee to milk and have it poured for you at your table. Being able to choose the strength of your coffee to this extent is very important to all coffee-lovers. Watching the drink being beautifully poured before your eyes fills you with a sense of luxury.

The waiters and waitresses are always smiling and are very polite when serving customers. This is a very comfy place to enjoy breakfast or lunch. If you are looking for a spot to relax, this is definitely a good shout!

Information

Tricolore Main Shop

Address: 5-9-17 Ginza, Chuo City, Tokyo

Opening Hours: Monday – Friday: 08:00 – 20:30 (Last Orders: 20:00)

Weekends and National Holidays: 08:00 – 21:30 (Last Orders:21:00)

No regular holidays

Phone Number: 03- 3571-1811

Access: 3-minute walk from exit A3 of Toei Subway Ginza Station

Official Website: http://www.tricolore.co.jp/ginza_trico/info/info.html

5 Must-Eat Succulent Strawberry Desserts in Kyoto That Are Simply Kawaii

Winter is here, which means that the season of strawberries has finally fallen upon Japan. Today we are joined by Instagrammer Tiara, who enjoys posting their adventures around Japan's Kansai region to try out all of the sweets and desserts. We are taking a look at must-visit locations in Kyoto for a taste of their tempting strawberry delights.

LITT UP.KYOTO in Gion-Shijō

At LITT UP.KYOTO, their "ichigoame" lets you enjoy strawberries in their original cute form.

They are coated in sweet strawberry candy and served on sticks in cups reminiscent of something from a Japanese festival. Part of their allure is how perfect they are as a tasty treat for walking around with. There's even popping candy attached to the strawberries for an even sweeter textural treat.

▼LITT UP.KYOTO Gion

Address: 533 Gionmachi Minamigawa, Higashiyama Ward, Kyoto

Opening Hours: 10:00-18:00

Official Instagram: https://www.instagram.com/litt_up_kyoto/

Kissa Zou in Imadegawa

The "Kisetsu no Babaroa" (Seasonal Baravois) at Kissa Zou has an springy texture and sits in a sweet and sour strawberry sauce.

I recommend ordering one of the separate elephant cookies to place on top too to make this an even cuter dessert.

▼Kissa Zou

Address: 440-3 Santeicho, Kamigyo, Kyoto

Opening Hours: 9:00-18:00 (Last Orders 17:00)

No Fixed Holidays

Official Instagram: https://www.instagram.com/kissa_zou/

Chounohane in Fushimi

At Chounohane they are serving strawberry barquettes as well as mini versions of them. The dessert itself is of course beautiful, but is made even more so by the antique plate♡

▼Chounohane

Address: 791 Nishishujakucho, Fushimi Ward, Kyoto, Kyoto Prefecture

Opening Hours: [Tues/Sat/Sun] Shop & Cafe 11:00-17:00 / [Fri] Shop Only 11:00-17:00

Official Instagram: https://www.instagram.com/chounohane/

Utanekodo in Kyoto Shiyakusho-mae

Utanekodo was renovated from a 100+ year old building and has its own cat cafe. The cafe space is located on the first floor.

Their "Nyanko Strawberry Milk" speaks for itself, topped with adorable kitty ice cream and delicious with its subtly sweet taste.

▼Utanekodo

Address: 155-4 Tachibanayanagicho, Nakagyo Ward, Kyoto, Kyoto Prefecture

Opening Hours: 13:00-20:00 (Last Orders 19:00)

No Fixed Holidays

Official Website: http://utanekodo.com/

MASHOLA in Kyoto Shiyakusho-mae

Finally we have the "Strawberry Tiramisu Cube Cake" served at MASHOLA, a Korean-style cafe. This cake is made with refreshing homemade tiramisu cream, delightful sponge, and is packed full of sweet and sour strawberries which complement the entire thing.

▼MASHOLA

Address: 1-A MOVIX, 406 Sakuranocho, Nakagyo Ward, Kyoto, Kyoto Prefecture

Opening Hours: 10:00-20:00

Official Website: https://mashola.business.site/

All of these cafes are wonderful, so if you're in Kyoto for the strawberry season, be sure to visit as many as you can.

Tiara has plenty of other recommendations over on their Instagram page, so if you're a sweet tooth looking for something sweet to indulge in around the Kansai area, be sure to give them a follow.

Text & Photos: @happy_pinkrose_tiara

Translation: Joshua Kitosi-Isanga

Hyakudan Hinamatsuri 2020: Hotel Gajoen Tokyo Announces Hina Doll Festival at 100 Step Staircase

Hotel Gajoen Tokyo, a historical museum and hotel in Japan, has announced that it will host the Hyakudan Hinamatsuri 2020 doll festival from January 24 to March 15 next year. It will take place at the hotel's Hyakudan Kaidan, or '100 Steps Staircase'―which was registered by Tokyo Prefecture as a Tangible Cultural Property in 2009 for its exceptional architecture and artistic beauty.

Hinamatsuri is an annual festival in Japan celebrated on March 3 every year where ornamental dolls are displayed. Hotel Gajoen Tokyo boasts the biggest Hinamatsuri festival in Tokyo, with over 600,000 visitors having attended across the 10 years it has been held.

A First For The Festival: Photography Permitted

Up to now, photography at the hotel's Hinamatsuri has been restricted to protect the displays. However, for the first time ever, next year's event will allow photography in all of the rooms, which will house dolls symbolising each period of Japanese period: Edo, Meiji, Taisho, Showa, Heisei, and the current Reiwa, not to mention the 500+ zashikibina dolls. There will also be hanging decorations with rabbit designs in the elevator hall created by Nippon Tsurushibina Kyoukai, a non-profit organisation. Also for the first time this year, visitors will be able to dress up in a beautiful uchikake wedding coat and take a photo at the designated photo spot. This is so they can further fill a part of the hina doll world.

Tottori, Shimane & Yamaguchi Get Involved For The First Time

Visitors will be able to enjoy dolls in a variety of ways from different places across  Japan, including a giant 2-meter long wall decoration and old hina dolls handed down from families past from the city of Yonago in Tottori, tiny tsuchi dolls from Hokuei in Tottori which can fit in the pal of your hand, renbei dolls, and more. The spectacular collection will have visitors feeling like they are inside a hina doll palace.

The Hina Doll of the Ishitani Residence (Chizu, Tottori)

The town of Chizu is located in the southeast portion of Tottori Prefecture and is surrounded by mountains. It flourished during the Edo period as a post town and place of rest for the Tottori Domain as part of sankin-kōtai, a policy which had feudal lords alternate living for a year in their domain, as it headed towards Edo. The Ishitani Residence, which is built facing the Inaba Kaidō―a type of route built during the Edo period for transportation―has almost 40 rooms and spans 4,000 square meters. It is listed as an Important Cultural Property of Japan for its modern Japanese-style architecture. The enormous mansion, which is home to a doma dirt floor supported by great beams as well as a Japanese-style garden which can be seen from all the tatami rooms, is decorated with ancient handed-down hina dolls when early spring settles in. This includes dolls from the Meiji periodo with vibrantly embroidered outfits, gorgeous decorations for the hina doll steps, special hina bowls used when celebrating Hinamatsuri at the Ishitani Residence, and more.

Hyakudan Hinamatsuri Memorial: Display Of Over 500 Zashikibina Hina Dolls (Iizuka, Fukuoka)

Iizuka in Fukuoka formerly thrived for its coal mines and bustled as a business dealing in coal. The Former Den'emon Ito Residence spans 2,300 square meters and speaks volumes of the cultural significance of the city's ties to coal as it belonged to Den'emon Ito who was known as the "King of Coal Mining." Every year during the Hinamatsuri season, the Itsuzuka Hina no Matsuri festival is held at the residence where hina dolls from 16 areas throughout the town are displayed. The Former Den'emon Ito Residence is the main venue for Itsuzuka Hina no Matsuri, which sees a huge number of zashikibina hina dolls put out. The Residence has been involved with Hyakudan Hinamatsuri twice in the past, and this time, their overwhelming showcasing of 500+ dolls, which has garnered popularity every time, will be put on as a special display. The display will keep with the festival's theme of tales of Izumo as well as the myth of the Hare of Inaba.

Hina no Shitsurai: Table Laying

Another special display will also be put on for the festival with the theme "Hina no Shitsurai," meaning "setting up a hina living space." There will be gorgeous table laying by Tomiko Ishibashi, who is an interior decorator working internationally, as well as displays of hina decorations in home living rooms and genkan. Select parts of this exhibition will be available to purchase in the museum shop, so people can take away a memory and try setting up their own hina decorations. And for the first time ever, the festival is opening the Hina Cafe for a limited time between January 24 to February 14 where visitors can sip on Japanese tea and eat Japanese snacks. Hina decorations will serve as the theme for the cafe.

Discover the beauty of the Hinamatsuri, a festival unique to Japan, at the 11th Hyakudan Hinamatsuri.

Information

Hyakudan Hinamatsuri 2020

Running: January 24, 2020 – March 15, 2020

Time: 10:00-17:00 (Last Entries 16:30)

*Photography allowed (However please refrain from using tripods and flash and from taking photos for commercial or business purposes. Photography prohibited for select displays.)

*The venue will not use heating in order to protect the displays

Entry Prices

Same-Day: ¥1,600 / Official Online Ticket: ¥1,600 (Special ¥1,100 price available on January 23)

External Ticket Sellers: Adults ¥1,500 / University and High School Students ¥1,000 / Elementary and Junior High Students ¥600

*School ID required. Entry free for preschoolers.

Special Tickets

Pair Ticket (For the first half of the festival period): ¥2,000

Ticket With Postcard (Limited Quantity): Advance ¥1,200 / Same-Day ¥1,500

Ticket With Designated Date and Time, Gallery Talk & Guidebook: ¥1,800

Location: Hotel Gajoen Tokyo

Event Page: https://www.hotelgajoen-tokyo.com/event/hinamatsuri2019

Irresistible Fruit Sandwich Shop "Futsu ni Fruits" Opens in Osaka

Popular Tokyo fruit sandwich shop "Futsu ni Fruits" has opened a branch in Osaka called "Futsu ni Fruits Tosabori Parlor". With the help of Kansai's expert dessert Instagrammer Tiara, we'll be taking a closer look at the shop's irresistible menu.

Futsu ni Fruits is a sister branch of Omotesando's popular café & bakery "Bread, Espresso &,". Futsu ni Fruits at Tosabori Parlor in Osaka sells takeout sandwiches on floor 1 and has an eat-in café space on floor 2. 

Fruit Sandwich

 The café menu varies according to the time of day. There's a toast menu in the morning which sells toast with various fruit toppings. Futsu ni Fruits' classic Fruit Sandwiches are available from lunchtime and onwards. The rich whipped cream embraces the flavour of the fruit filling perfectly, leaving a refreshing aftertaste. 

The teatime menu is served from 3 pm which is your chance to try the Tosabori Parlor-limited Purin à la mode, parfaits and much more. 

Seasonal Fruits Drink


Purin à la Mode, Strawberry Milk and Coffee Milk

The Tosabori Parlor-limited purin à la mode is a luxurious mountain of delicious fruit and purin. 

If you're curious to try a Japanese fruit sandwich then Futsu ni Fruits is guaranteed to give you an enjoyable experience. 

If you're a dessert-lover in Japan then you just have to check out Tiara's Instagram which is a library of the most delicious desserts in the Kansai region. 

Article Contents and Photos by: @happy_pinkrose_tiara

*The information on the desserts mentioned in this article are subject to change at any time. For the latest updates, please refer to the links provided in this article.

Information

Futsu ni Fruits Tosabori Parlor

Opening Hours: 10:00 – 19:00
(Floor 1 Takeout: 10:00 – 16:00)
(Morning Menu: From 10:00/Lunch Menu: From 12:00/ Teatime Menu From 15:00)

Address:  1 Chome-1-30 Tosabori, Nishi Ward, Osaka

Official Website: https://bread-espresso.jp/

Winter is Coming: Warm Up With Hot Pot at Hot Spring Hotel Hoshino Resorts KAI

The cold weather is here, and it's only set to get colder. When winter falls in Japan, one of the best things people like to do is cook hot pot. Hoshino Resorts is offering the same service for guests this winter at 14 branches of their 'KAI' onsen ryokan (hot spring Japanese inn) brand hotels up and down Japan, with each hot pot filled with the taste of local cuisine.

Winter is truly the best time to eat hot pot for Japanese people, as they huddle around the table nice and toasty and tuck into their piping hot dinner. We're showcasing 9 of the hot pots you can enjoy at Hoshino Resorts KAI this winter season.

Hoshino Resorts KAI Tsugaru: "Gyu Shabu" – Dashi made delicious with plentiful dried tuna

KAI Tsugaru is situated in Aomori, and this hot pot is made one with one of the prefecture's most famous ingredients: tuna, which is caught during the autumn and winter seasons. The main player of this beef shabu hot pot is its dashi which is made from the sweet juices of tuna which go deliciously well with the beef. If you're looking for a hot pot that's a little different from the usual options, you'll love this one.

Running: September 1, 2019 – February 29, 2020 (Except December 29-January 1)
Plan Name: Ooma no Gaguro Zukushi Kaiseki (大間のまぐろづくし会席)
Price: From ¥24,000
Reservations: https://www.hoshinoresorts.com/en/resortsandhotels/kai/tsugaru.html

Hoshino Resorts KAI Kaga: "Kani Sukinabe" – Zuwai-gani snow crab

At KAI Kaga, which is located in Yamashiroonsen, Ishikawa, this hot pot they have cooked up is made in a kombu dashi and is filled with legs of zuwai-gani snow crab and a variety of winter vegetables like bok choy and edible chrysanthemums.

The dish makes full use of the delicious flavour of the crab. It's also served in kunitani-ware made by a young craftsman and Yamanaka lacquer ware, adding to the originality of this hot pot.

Running: November 7, 2019 – March 10, 2020 (Except December 29-January 6)
Plan Name: Katsu Kani Zukushi no Tagu Zuki Kani Kaiseki (活蟹づくしのタグ付き蟹会席)
Price: From ¥47,000
Reservations: https://www.hoshinoresorts.com/en/resortsandhotels/kai/kaga.html

Hoshino Resorts KAI Alps: "Yuki Nabe" – Thawing of spring

The hot pot at KAI Alps in Nagano includes fluffy cotton candy which is based on the snowy mountains of the alps. When you pour the soup over, the cotton candy melts, symbolising the thawing of spring, to reveal the beef and vegetables. The cotton candy adds a light sweetness to the soup as well as fun visual effect.

Running: December 1, 2019 – May 31, 2020 (Except December 31-January 3)
Plan Name: Yuki Nabe Kaiseki (雪鍋会席)
Price: From ¥25,000
Reservations: https://www.hoshinoresorts.com/en/resortsandhotels/kai/alps.html

 

Hoshino Resorts KAI Kinugawa: "Ise Ebi & Roast Beef Ryujin Nabe" – The dragon god's hot pot

KAI Kinugawa in Tochigi has created a hot pot based around the legend of the Ryuokyo dragon god, capturing its malevolence. It's cooked over stones heated to almost 800℃.The soup bubbles as the pot begins to boil and cooks the seafood and other local ingredients from Tochigi, making sure to draw every last delicious drop of flavour from them.

Running: December 1, 2019 – February 29, 2020 (Except December 28-January 4)
Plan Name: Ise Uni to Gyuu Roosu no Ryuujin Nabe Kaiseki (伊勢海老と牛ロースの龍神鍋会席)
Price: From ¥31,000
Reservations: https://www.hoshinoresorts.com/en/resortsandhotels/kai/kinugawa.html

Hoshino Resorts KAI Sengokuhara: "Uni & Beef Sukinabe" – Satisfying spices from the mountains and seas

KAI Sengokuhara in Kanagawa has created a hot pot that's made with lots of ingredients from the mountains and the seas. By using a bounty of uni, which goes incredibly well with beef, it adds a rich sweetness to the overall flavour. There is also a secret flavour hidden under it all: syrup made from the ao mikan citrus which grows in the city of Odawara. This not only adds an exquisite sourness to the hot pot, but also serves to elevate the sweetness of the uni.

Running: June 1, 2019 – February 29, 2020
Plan Name: Uni to Gyuu no Sukinabe Kaiseki (雲丹と牛のすき鍋会席)
Price: From ¥46,000
Reservations: https://www.hoshinoresorts.com/en/resortsandhotels/kai/sengokuhara.html

Hoshino Resorts KAI Ito: "Sankai Nabe" – Soaking up the mountains and seas of Ito

Shizuoka is home to KAI Ito, where guests can enjoy yet another hot pot lavish with ingredients from the mountains and the seas, like splendid alfonsino―which Ito enjoys an abundance of―as well as seasonal vegetables and beef. There are two soups to combine these ingredients with: a bouillabaisse which contains a dashi made from fish from Ito filled with splendid alfonsino and vegetables, and a beef soup.

Running: October 1, 2019 – February 29, 2020 (Except December 31-January 3)
Plan Name: Sankai Nabe (山海鍋)
Price: From ¥25,000
Reservations: https://www.hoshinoresorts.com/en/resortsandhotels/kai/ito.html

Hoshino Resorts KAI Enshu: "Tecchiri" – A taste of the Torafugu tiger pufferfish

KAI Enshu is another hot spring inn, located in Hamamatsu in Shizuoka. Their "Tecchiri" is made with Torafugu tiger pufferfish. None of the flavour of the fugu is wasted in this hot pot, and that is proven as the entire thing is made right in front of customers' eyes. The zōsui is made with a KAI Enshu-original blend of sencha green tea called souka (爽華), which ensures that element of locality is included in the dish as Shizuoka is famous for its tea.

Running: October 5, 2019 – March 31, 2020 (Except December 29-January 3)
Plan Name: Fugu Zukushi Kaiseki (ふぐづくし会席)
Price: From ¥31,000
Reservations: https://www.hoshinoresorts.com/en/resortsandhotels/kai/enshu.html

Hoshino Resorts KAI Izumo: "Kani Sukinabe" – Collaboration between Katsu Matsubagani & Shijimi

KAI Izumo is situated in Tamatsukuri Onsen, an onsen hot spring in Tamayu, Shimane. Their "Kani Sukinabe" is made with rich snow crab crab which has an exquisite sweetness and is soft in texture. From beginning to end, this hot pot is a crab party in your mouth.

Running: November 7, 2019 – March 10, 2020 (Except December 31-January 4)
Plan Name: Tagu Zuki Katsu Matsubagani Zukushi Kaiseki (タグ付き活松葉蟹づくし会席)
Price: From ¥45,000
Reservations: https://www.hoshinoresorts.com/en/resortsandhotels/kai/izumo.html

Hoshino Resorts KAI Aso: "Netakuri Nabe" – Rich miso and cheese

The base of the soup in KAI Aso, located in Kumamoto, is a mix of milk from Jersey cattle and miso. It contains wagyu Japanese beef and seasonal vegetables. Its appearance is based on the Aso Caldera region of Kumamoto Prefecture and its incredibly vast grasslands.

Running: September 1, 2019 – February 29, 2020 (Except December 29-January 3)
Plan Name: Wagyuu to Caciocavallo o Tanoshimu Netakuri Nabe (和牛とカチョカヴァロを楽しむねたくり鍋)
Price: From ¥46,000
Reservations: https://www.hoshinoresorts.com/en/resortsandhotels/kai/aso.html

Below is a video which showcases each of these local hot pot dishes, so be sure to check it out if you're not already watering at the mouth


All of these hot pots are made with only the best local ingredients as expected of KAI, and all are available for the rest of winter only. Guests can experience the local regions not only through the food, but in the tableware each hotel uses. If you're in Japan this winter, be sure to book with one of the many Hoshino Resorts KAI branches and stay warm with a delicious serving of hot pot.

Harajuku's Korilakkuma Cafe: another me in the mirror | Food Review

"Korilakkuma Cafe: another me in the mirror" is set to open in Japan's hub of kawaii culture Harajuku on December 21 where it will run until March 22 next year.

MOSHI MOSHI NIPPON received early access to the cafe, so we went together with Ruki from Spain.

The cafe incorporates "interactive tabletop projection mapping" technology developed by Sony, which allows customers to enjoy their meals while playing together with the characters as they walk around their plates and tables.

So what exactly does this look like…?

Korilakkuma Cafe: another me in the mirror is located along Takeshita Street in Harajuku. Enter Takeshita Street and walk just a little bit to find HARAJUKU AR BOX. The entrance is pictured above.

The cafe operates on a "pair seating" system, making it the perfect spot to go with your best friend or special someone♡

The theme of the cafe is "another me in the mirror," which sees Korilakkuma meeting another Korilakkuma inside of a mirror. When seated at your pair table, you'll notice all of the Korilakkuma artwork adorning the cafe.

When we sat down, the staff came and gave us a dolomite coasterーa gift for all customers who visit the cafe.

When you place the coasters down on the table, that's when the fun begins. Trace your finger around the table to play with Korilakkuma and company.

Here is Ruki having Korilakkuma move around.

When we had finished playing, the appetisers from our course menu arrived. It costs ¥2,500 per person, and you both have to order when ordering this course menu. You can pick from clam chowder or minestrone.

If you thought that was it for the projection mapping, think again! The fun was only just beginning, as a new display came on the table when the plates went down.

Ruki was completely enchanted by the sparkling food. It makes you feel like you're inside of a picture book♡

The salad was Caesar, and the minestrone was packed full of veg and ingredients, making it nice and filling.

The next dish that was brought was the main. You pick one each of a main dish and dessert and share between two people.

We ordered the "Omurice – Let's Draw Together" (in Japanese: 一緒におえかきオムライス). Korilakkuma was wrapped up completely in an omelette blanket. The projection mapping comes on when you set this plate down too.

Korilakkuma draws around the plate, and we got to join in too by decorating Korilakkuma's blanket with drawings of Rilakkuma and Kiiroitori in ketchup.

The mapping helps you with drawing by projecting an outline you can trace. Ruki did hers really well!

As we forked into the omurice we found a cheeseburger underneath! The combination of the juicy cheese hamburger with the soft egg was to die for, and it becomes even more delicious and smooth when you pour over the cream sauce.

Last up was dessert. We got the "Spell-Cast Pancakes" (in Japanese: パンケーキに魔法をかけて). The projection mapping cast a mirror onto the pancakes. Even more animations happen when you wave the brush you're given on the table.

The fluffy pancakes are topped with a hearty serving of cream. You can enjoy them as they are, but they're delicious if you top them with the fruits, iced cream and nuts scattered around the plate too!

Twin Korilakkuma Strawberry Milk – ¥990

Korilakkuma Cafe au Lait – ¥890 (Served Hot Only)

As well as the course menu, there are also special drinks you can order separately which come with another free and exclusive coaster.

Sliding Mirror (Pink or Purple) – ¥1,200 Each

Acrylic Key Ring (4 Designs/Chosen Randomly) – ¥500 Each

Korilakkuma fans can expect to sift through a whole range of cafe-exclusive merchandise too, so be sure to check out what they've got in stock when you visit.

Korilakkuma Cafe: another me in the mirror is Harajuku's hottest new spot where you can enter the kawaii world of Korilakkuma. Pull up a seat and enjoy and interactive meal experience.

©2019 San-X Co., Ltd. All Rights Reserved.

Information

Korilakkuma Cafe: another me in the mirror

Running: December 21, 2019 – March 22, 2020 (Not running December 30, 2019 to January 3, 2020)

Location: HARAJUKU AR BOX -table projection mapping cafe- (4-28-28 Jingumae, Shibuya, Tokyo)

Grand Opening: December 9, 2019 at 16:00

Reservations: Now Open

*This cafe serves course menus for two people to share only

*Drinks ordered separately

Table Projection Mapping Seats: ¥2,500 per person (Before Tax)

*Reservations for two people only
*Course menu charged separately

Official Website: https://korilakkumacafe.jp/

Peanuts x The Marc Jacobs Pop-Up Shop Opens at Shibuya PARCO

A pop-up shop in collaboration with the Peanuts comic strip series starring Snoopy and The Marc Jacobs opened at GATE on the first floor of Shibuya PARCO today and will run until January 13, 2020.

[Pre-Release Item] THE PEANUTS T-SHIRT: ¥21,000 (Before Tax)

This special collaboration sees a line of apparel and items from The Marc Jacobs with gorgeous designs taken from the internationally comic strip series Peanuts by American cartoonist Charles M. Schulz.

The pop-up shop is inspired by Snoopy's dog house which when you step inside transports you into the wonderful world of Peanuts.

The shop is also collaborating with the PEANUTS CAFÉ for three days between December 20-22. Attendees can get themselves a hot chocolate at the wagon located in front of Shibuya PARCO Koen-dori Street. The delicious drink is topped with chocolate chip cookies—a favourite of the Peanuts gang—and marshmallows.

If you walk around the Center Gai, Dogenzaka and Koen-dori areas of Shibuya, you'll spot posters plastered up to promote the pop-up shop. There are five designs featuring Snoopy, Charlie Brown, Lucy van Pelt, Linus van Pelt, and Peppermint Patty. If you scan the QR codes on each of the posters you can download respective wallpapers for each character for your smartphone.

If you manage to scan all five of the QR codes, you'll receive a special present when you show your phone at the pop-up store. This is running right now until December 30, 2019, so don't miss out!

Information

PEANUTS x THE MARC JACOBS Pop-Up Store

Running: December 17, 2019 – January 13, 2020

Opening Hours: 10:00-21:00

No Fixed Holidays (Except when Shibuya PARCO is closed)

Location: Shibuya PARCO (GATE, Floor 1F)

*Please note that depending on how busy the shop is you may be given a numbered ticket upon arrival to determine when you can enter. More details can be found on the Shibuya PARCO website.

Shibuya PARCO Official Website: https://shibuya.parco.jp

Hot Chocolate Wagon

Running: December 20, 2019 – December 22, 2019

Opening Hours: 10:00-21:00

Location: In front of Shibuya PARCO Koen-dori Street

Cherry Blossom Themed Menu to be Served at InterContinental Tokyo Strings in Spring 2020

InterContinental Tokyo Strings has revealed adelightful cherry blossom-themed menu line-up that is set to hit the hotel in spring 2020. They will be served at the hotel's Rhythmos Café and Bar and from March 1 to April 30 next year.

Sakura Strawberry Afternoon Tea

This cherry blossom afternoon tea set can be found at Rhythmos, a cafe and bar in InterContinental Tokyo Strings. Hanami, or 'flower viewings,' is a fundamental part of Japanese culture during the spring when people go out to see the cherry blossoms. This custom has been recreated with this afternoon tea set, with which customers can enjoy hanami on their plate in a mix of strawberries and cherry blossom Japanese sweets.

The green colours add accent to the overall presentation, and represent the young budding leaves of springtime. The tempting selection of cherry blossom pink bites are not only mouthwatering to look at but have a cute appearance to them, one that you want to keep gazing at like the cherry blossoms during hanami. The flavours are a combination of strawberry and cherry blossom, inviting you on board for some early spring vibes. Even better is that both the sweets and savoury items, which look like spring in full bloom, are made with high quality, in-season ingredients for maximum tastiness.

The fraisier is a strawberry cake said to represent the coming of spring in France. At Rhythmos, it's served in a glass so you can see all the delicious insides, from the round-sliced strawberries to the beautiful green pistachio mousseline cream. The pure white crémet d'Anjou has a fluffy texture and is mixed with refreshing and sour strawberry and raspberry sauce which elevates the flavour of the fromage blanc.

Other treats to pick from include the cherry blossom ganache tart which has a faint cherry blossom fragrance, cherry blossom and strawberry cream-stuffed macarons, strawberry daifuku, and more―all with spring flavours and colours.

The savoury line-up too offers some elegant and unique items. There's the sandwich wraps which include cherry blossom leaf-topped grilled chicken with a lining of shredded dried plum, strawberry ceviche with grilled scallops, and much more.

▶︎Sakura Strawberry Afternoon Tea

Running: March 1, 2020 to April 30, 2020

Location: Rhythmos Café and Bar (InterContinental Tokyo Strings)

Time: 14:00-18:00 (Last Orders 16:30)

Price: ¥4,800 per person

"The Breath of Spring" Cocktail

Rhythmos will also serve a very special and oriental cocktail called "The Breath of Spring" which uses cherry blossom and chai tea as its base. It arrives served in a ceramic cup and captures the Japanese spirit and love of cherry blossoms and their joy at the arrival of spring. It mixes a cherry blossom vodka made in-house with chai tea and a dash of maple syrup for an added subtle sweetness. It's topped with a milk foam made with cherry blossom bean jam which is sure to not only elicit a kind of nostalgic taste to the Japanese palate, but offer an oriental flavour too with the addition of chai tea. This is the perfect drink to enjoy on an evening after observing the cherry blossoms during Hanami.

▶︎The Breath of Spring

Running: March 1, 2020 to April 30, 2020

Location: Rhythmos Café and Bar (InterContinental Tokyo Strings)

Time: 17:00-Midnight (Last Orders 23:30)

Indulge in the culture of cherry blossoms in Japan at InterContinental Tokyo Strings next spring.