Experience Tasting Mount Koya's Famous Sesame Tofu at ONAKA PECO PECO in Tsukiji
ONAKA PECO PECO by Rurubu Kitchen is a cafe located in Tsukiji, a district in Chuo, Tokyo. They serve rice balls filled with locally sourced ingredients from various locations in Japan. In the evenings, the rice balls can be enjoyed with delicious sake.
If you visit the cafe right now you'll be able to try sesame tofu (goma tofu) made by the long-running restaurant Kadohama. Sesame tofu is a meibutsu―or "local speciality"―of Mount Koyo.
While it is possible to buy sesame tofu on Kadohama's online store, the only places you can eat them out at is at their restaurant on top of Mount Koya or at select branches of department stores such as Mitsukoshi or Isetan. We visited ONAKA PECO PECO by Rurubu Kitchen for a taste of this exquisite collaboration.
Mount Koya is located in the Ito district of northern Wakayama Prefecture and is home to the town of Koya. The region is encased an abundant mountainous landscape. The Japanese Buddhist monk Kūkai opened the sacred mountain around 1,200 years ago. In 2004, Mount Koya which was registered as a World Heritage Site by UNESCO in 2004 under the "Sacred Sites and Pilgrimage Routes in the Kii Mountain Range" category. It has since become a popular tourist destination with Japanese and foreign travellers alike.
Here is the heavenly menu lineup at ONAKA PECO PECO which is packed full of Kadohama's sesame tofu.
There are five items which are made with the sesame tofu: an onigiri rice ball, crab soup, cold tofu, pork shabu shabu, and a drink.
Time to tuck in and try this famous food which has been enjoyed for many years!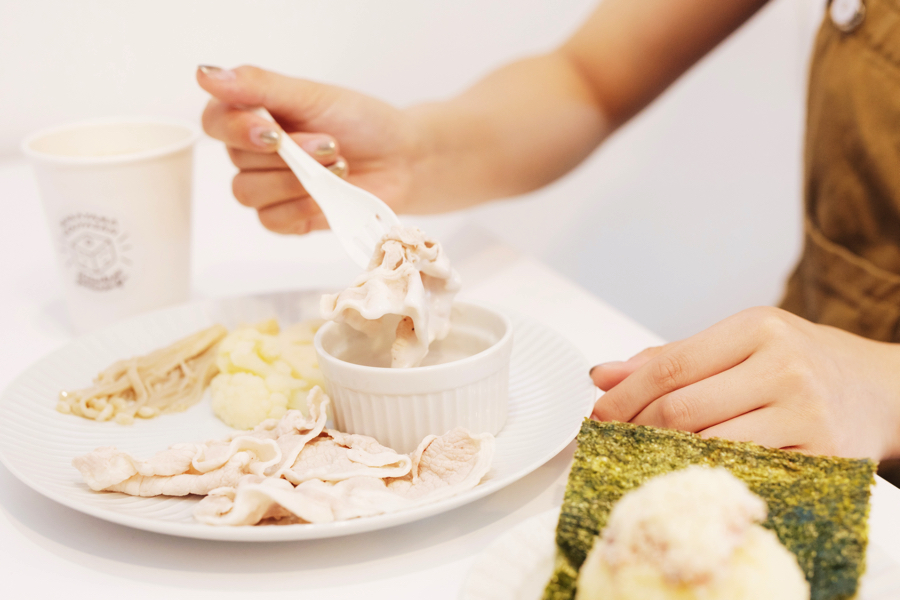 White Vegetables & Steamed Pork Shabu w/ Koji Sesame Tofu Sauce – ¥800
This dish is garnished with a generous serving of fresh white vegetables and succulent meat. It includes lotus root, enoki mushrooms, cauliflower, and pork. It also comes with a white sauce made with sesame tofu, shio koji, and sesame oil. The sauce has a mild flavour in which you can get the full glorious taste of the tofu. It's smooth and refreshing so is a perfect pick for the hot summer.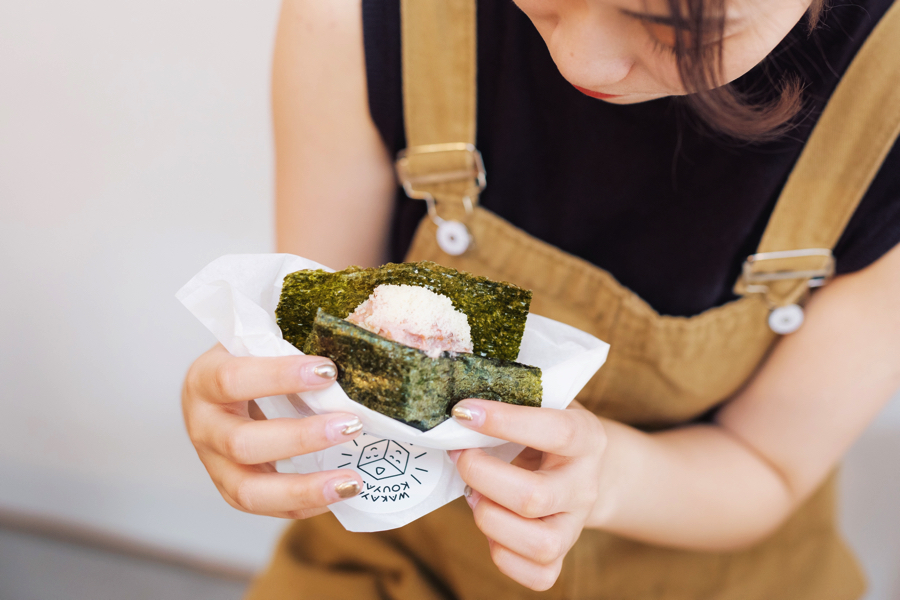 Sesame Tofu & Plum Cheese-Loaded Rice Ball – ¥250
This rice ball is a flavourful combination of a sesame tofu and plum paste and lots of cheese.
This fat rice ball is wrapped in paper like a hamburger. The rich taste of the tofu and cheese reduces the sourness of the plum, giving it a gentler flavour.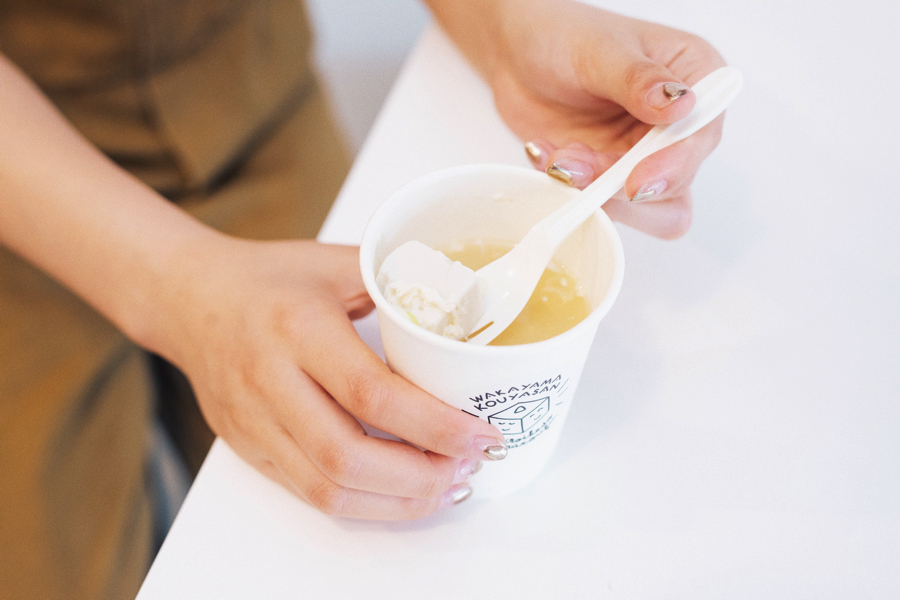 Sesame Tofu & Egg Crab Soup – ¥400
The soup is an amazing combination with the rice ball. It has a miso soup base filled with green onion, enoki mushrooms, and crab. The elastic-y tofu is cut into big satisfying chunks. Its rich, creamy flavour combined with the crab is to die for.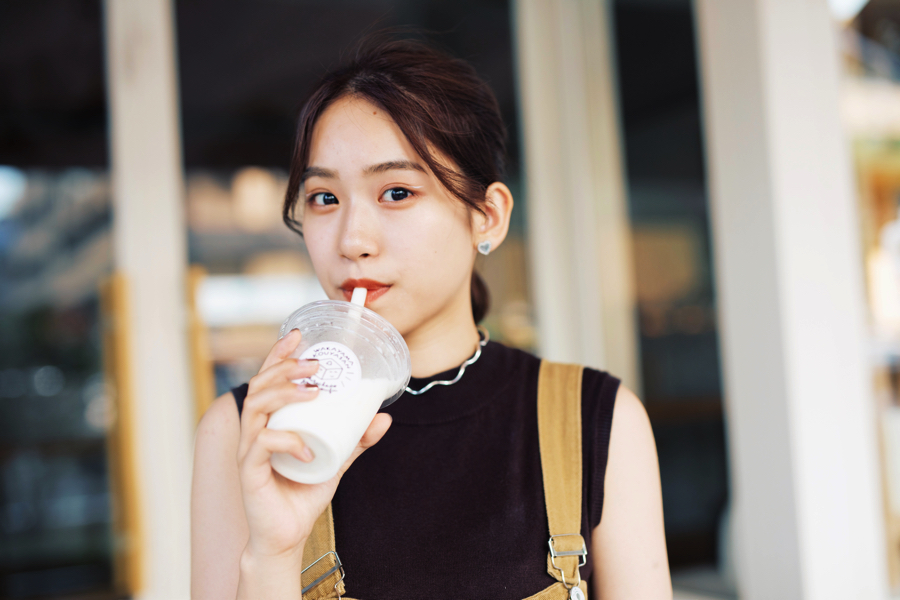 Sesame Tofu & Sweet Sake Jelly Drink – ¥350
The cute white-coloured beverage is a healthy mix of sesame tofu paste and sweet sake. It retains the pulpy texture of the tofu and the aftertaste is super refreshing.
You can order the drink for takeout so you can take a stroll around the streets of Tsukiji.
Kadohama Sesame Tofu – Eat In: ¥300 / Takeout: From ¥240
If you're looking to enjoy the sesame tofu on its own then you've got to try it with either the wasabi and soy sauce or brown sugar. You can also order this to take away too. Each box contains one piece of tofu.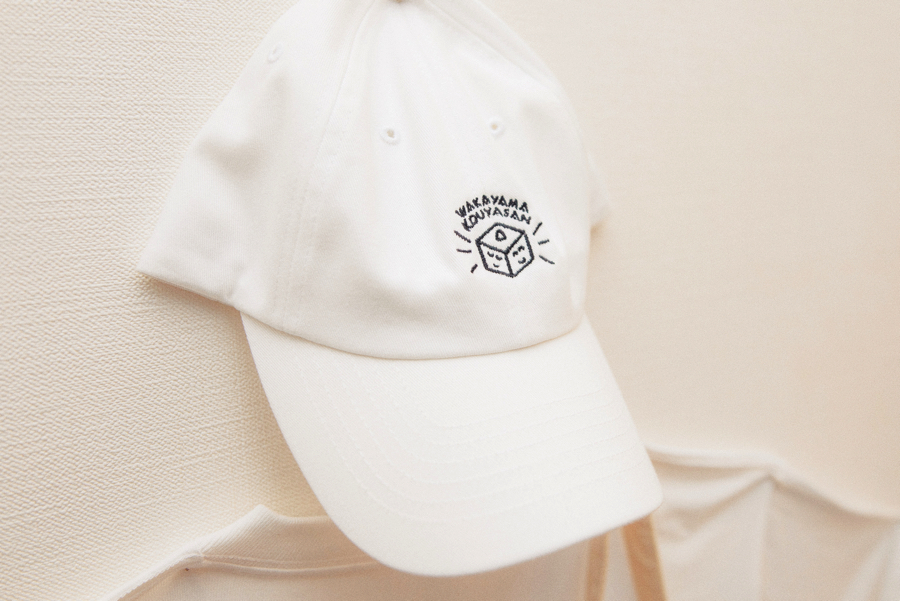 The cafe is also selling exclusive merchandise as part of the collaboration. The collection includes a t-shirt, sacoche bag, and cap. Each item has a simple design making them easy to incorporate into looks.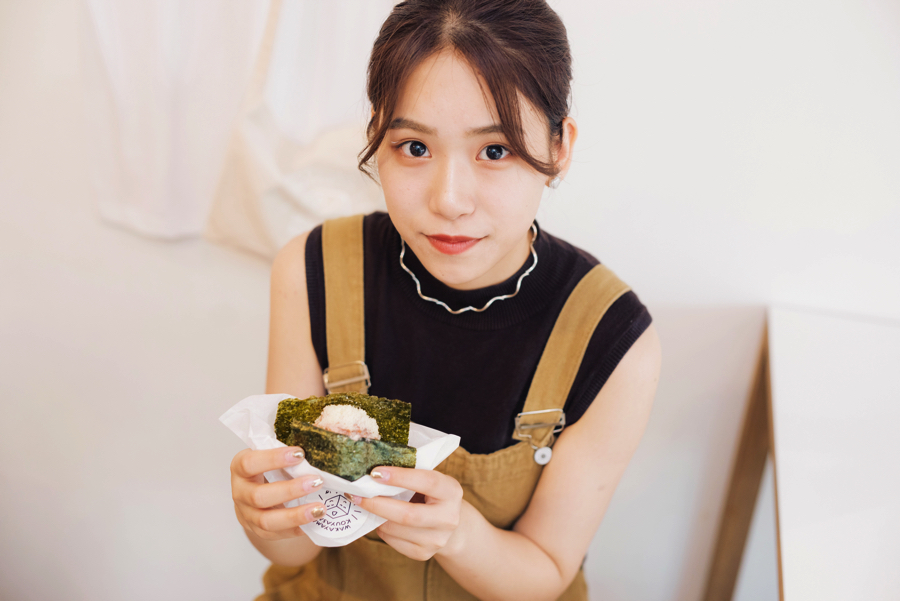 Easy access to Kadohama's sesame tofu―which is made using traditional cooking methods that have been passed down generations at Mount Koya―can only be enjoyed at ONAKA PECO PECO by Rurubu Kitchen. If you're in Tokyo this summer, then take a trip to Tsukiji district to try this healthy and nutrient-packed tofu.
Model: Ririka Satsuki
Writer: Sayuri Mizuno (MMN Editorial Team)
Photographer: Haruka Yamamoto
Translator: Joshua Kitosi-Isanga
Information
ONAKA PECO PECO by Rurubu Kitchen
Address: 4-7-3 Tsukiji, Chuo Ward, Tokyo (Along Harumi-dori)
Opening Hours: 10:00-14:00 / 17:00-22:00 (Last orders at 22:00)
Closed: Sundays
Access: 10-minutes on foot from Ginza Station / 7-minutes on foot from Higashi-Ginza Station / 5-minutes on foot from Tsukiji Station
Official Website: http://onakapecopeco.com/
RECOMMENDED ENTRIES
5 Sushi Restaurants With Multilingual Support In Tsukiji

Tsukiji Market, located in the Chuo ward of Tokyo, is known to be the largest fish market in the world. The freshest seafood is brought in and here, you are able to savor delicious sushiand kaisendon, or seafood rice bowls, on site.

However, there are many sushi shops and seafood bowl restaurants standing side by side on the streets and can get confusing which one to go to.

This time we would like to introduce you to shops that carry menus in foreign languages and even a shop with a manager who speaks nine languages.

The terms "jonai" and "jogai" written next to the name of the shop states roughly where the shop is located. The difference between jonai and jogai can be found in this MATCHA article.

Read more: What'sThe Difference Between Tsukiji Jogai And Jonai?

1. Kaisendon Oedo (Jonai)

First, we would like to introduce you to Kaisendon Oedo in the jonai area. The great part about this shop is their menu has over 150 items and you can eat seafood according to your preferences here. From tuna, salmon, scallops, crab, sea urchin, and shrimp, there are rice bowls with a variety of seafood mixed and matched.

For instance, the highly recommended Hakodate-don (*1) contains salmon from Hakodate, sea urchin, salmon roe, and tuna on rice. On the Otaru-don (*2), it has specialties from Otaru such as salmon roe, large shrimp, crab claw, squid, and scallop. As you can see, you will be able to find a rice bowl with toppings of your preference.

There are staff members that can speak English, so those that cannot speak Japanese can ask about the types of fish and how they taste in English. At Kaisendon-Oedo, you will also be able to taste the fresh and delicious tuna they auctioned at the tuna auction first thing in the morning.

*1 Hakodate: A city in Hokkaido.
*2 Otaru: A city in Hokkaido.

Read also: How to See the Tuna Auctions at Tokyo's Tsukiji Fish Market

2. Umai Sushikan (Jonai)

Next, we would like to introduce you to a sushi shop called Umai Sushikan.

Many sushi and seafood bowl shops in the jonai area tend to be small shops with approximately 10 seats, but this is a larger shop with 42 seats. This is recommended for groups, families and those who do not want to wait in a line to eat. At Umai Sushikan they have seasonal sushi set additions such as the Pacific Saury sushi in autumn so you can come back to try something new many times.

Tempura, Soba and Gyoza! Six recommended restaurants which offer Japanese food other than Sushi

Japanese food is not only sushi! There are a lots of wonderful traditional Japanese dishes. Let us introduce to you 6 restaurants witch offer Japanese food in Tokyo.

GYOZA BAR Comme a paris(Aoyama)

Gyoza is a representative popular food that is loved by many people. "GYOZA BAR Comme a Paris" in Aoyama is a new style Gyoza restaurant where you can enjoy gyoza with natural wine or champagne.  It is also known as the restaurant that Masakazu Narukami from restaurant called, "Narukami" which received one star in the Michelin guide book, is in charge of creating the menu, so their side dishes and sauces incorporate his own uniqueness. Cilantro, gyoza (680yen tax included) and Onion gratin gyoza (920 yen tax included) are popular in addition to the standard menu items such as Vegetable gyoza (520yen tax included) and Pork gyoza (550yen tax included). Especially, Onion gratin gyoza has a great combination of the chewy texture of the gyoza skin which tastes like boiled gyoza and the rich onion gratin's flavor.

Detailed information:http://www.moshimoshi-nippon.jp/42992

■Information

GYOZA BAR Comme a paris

Address:2-2-4 Aoyama Alcoop205, Shibuya, Shibuya-ku, Tokyo

Hours:5:00PM to 11:45PM(L.O.11:30PM)

Holiday:Sunday

Tel:03-6427-6116

TEL:03-6427-6116

Tamawarai(Harajuku)

The 3 major noodle dishes in Japan are ramen, soba-noodles, and udon-noodles. What people like about these noodles is how different they are according to the area. Broadly speaking, people in the East like soba noodles, and people in West like udon-noodles. Therefore, Tokyo is in the soba culture area. If you are looking for a modern type of restaurant, there is the Michelin-starred restaurant called "Tamawarai" in Harajuku. The building is located in a residential area, and does not look like a soba noodle restaurant. Steamed soba noodles which are made of coarsely ground buckwheat has a rich flavor when you chew it. They do not serve many kinds of appetizers, but they are proud of their menu items such has miso flavored shrimp, tempura, and herring which is cooked for six days.

Detailed information:http://www.moshimoshi-nippon.jp/19569

■Information

Tamawarai

Address:5-23-3 Jingumae, Shibuya-ku, Tokyo

Hours:[Tuesday~Friday]11:30~15:00(L.O.14:30)18:30~21:30(L.O.21:00)

 [Saturday]11:30~20:00(L.O.19:30)

 [Sunday]11:30~17:00(L.O.16:30)

 Holiday:Monday (If Monday is a national holiday, the next day, Tuesday will be a holiday)

TEL:03-5485-0025

Moo Moo Paradise Kabuki-cho main store (Shinjuku)

You can't make it through the Japanese winter without eating a "nabe" (hot pot). Shabu shabu is a hot pot dish that you can enjoy no matter what the weather is like -hot or cold. "Moo Moo Paradise Kabuki-cho main store" is mostly popular among young people. The first store started in Kabuki-cho in 1993, and now there are forty branches all over the world. They slice the meat right before they serve it up. The soup stock for shabu shabu is extracted from exclusive oxtails.  They offer organic ponzu and sesame dressing for the dipping sauce. They are very particular about the food they serve.

Detailed information:http://www.moshimoshi-nippon.jp/24978

■Information

Moo Moo Paradise Kabuki-cho main store

Address: Humax Pavillion Shinjuku Kabuki-cho Bldg. 8F, 1-20-1 Kabuki-cho Shinjuku-ku, Tokyo

Hours:Monday~Friday17:00~23:00(L.O.22:30)

Saturday・Sunday・Public holidays11:30~23:00(L.O.22:30)

Holiday:no holiday

TEL:03-3208-0135

>>next page

Sushi represents Japanese food! 5 recommended sushi restaurants in Tokyo

Sushi is the probably the most famous Japanese food! Below are 5 sushi restaurants we highly recommend.

Roppongi "atelier Morimoto XEX"

"atelier Morimoto XEZ" is a combined restaurant produced by Masaharu Morimoto who works in foreign countries centering around the U.S. You can make an order until 3:00 AM and enjoy many kinds of dishes which are a mixture of Japanese style and Western style. "Edomaezushi" is the recommended dish. Why don't you enjoy the dishes created by this top chef who is loved by people all over the world?

Detailed information:http://www.moshimoshi-nippon.jp/58797

■Information

atelier Morimoto XEX

Address: Roppongi Building, 7-21-19, Roppongi, Minatoku, Tokyo

Holiday: New Year's Day

TEL:03-3479-0065

URL:http://www.xexgroup.jp/morimoto

※The counter with cast iron-pan can be used until 24:00 and the isolated room can be used by paying 20,000 yen.

Shinjuku "Sushizanmai"

"Sushizanmai" is a sushi chain restaurant. The price of one of the lunch menus "Maguroduke Donburi" is only 477 yen (tax not included)! Moreover, you can drink as much coffee as you like. The lunch menu noted previously is offered from 11:00 to 17:00 at Shinjuku Higashiguchi Store (only on weekdays.) The helping of rice can be chosen at will and the menu comes with miso soup. The menu is recommended for those of you who want to enjoy seafood at a low price!

Detailed information:http://www.moshimoshi-nippon.jp/34111

■Information

Sushizanmai Shinjuku Higashiguchi Store

Address: 3F Seno Building, 3rd street, 18-4, Shinjuku, Shinjukuku, Tokyo

Business hours: 24 hours, lunch time – 11:00 to 17:00

Holiday: no holiday

TEL:03-5357-7737

Shinjuku "Hokkaido Sushi Unimaru"

The branch store of "Hokkaido Unimaru" where you can enjoy sushi and dishes of sea urchin opened inside of "Odakyu Ace" at Shinjuku Station's West Exit. The set "Uni Tabekurabe" (1,800 yen) offers three kinds of sea urchins; Murasaki Uni, Bafun Uni and Ensui Uni. Accordingly, you can compare the taste of these different sea urchins. This set menu is highly recommended. You can choose either "Shiro Shari (white rice)" using rice vinegar or "Aka Shari (red rice) using red vinegar.

Detailed information:http://www.moshimoshi-nippon.jp/40869

■Information

 "Hokkaido Sushi Unimaru"

Address: 〒160-0023, West Exit Basement #1, Nishishinjuku, Shinjuku, Tokyo (Odakyu Ace North Department)

Business hours: 8:00 to 23:00

Holiday: no holiday

TEL:0362790148

>>next page
RELATED ENTRIES
IKEA Harajuku Opens This June With Swedish Convenience Store

IKEA Japan is set to open its first central Tokyo branch in Harajuku this week. Located inside WITH HARAJUKU, and just a 1-minute walk from Harajuku Station, the store will officially open its doors on June 8, 2020.

IKEA Harajuku's features

Sales floors stocked with all your living needs

The sales floors are split into four different themes to cater to customers' living needs: "Sleep" and "Organise" are on the first floor, while "Relax" and "Cook" can be found up on the second floor. IKEA Harajuku also caters to single person households and their lifestyles too, so takes into consideration limited spacing with its items.

Swedish Convenience Store

To support life in the busy city and create a convenient shopping experience, IKEA Harajuku will be home to the world's first "Swedish Conbini," or Swedish convenience store. Eco-friendly items can be bought speedily, including eco bags, ISTAD freezer bags made from plants, plant ramen, and so on—all at an affordable price.

IKEA Harajuku Exclusive Tunnbröd

The convenience store stand will also serve takeout food like cinnamon rolls, plant-based soft serve ice cream, sundaes, and more. There's even the "Sweden Cafe" up on the second floor where they'll sell Tunnbröd, a traditional Swedish-style flatbread topped with various ingredients. This will be exclusive to IKEA Harajuku. The cafe brings together Harajuku's culture of crepes and foods to eat while walking with Swedish culture.

Due to the outbreak of the novel coronavirus (COVID-19), and to limit people in the shop, a ticket system will be place. Employees will also be using masks, and staff will use face shields when serving customers. The shop will also be practicing social distancing and asking people to wear masks.

Information

IKEA Harajuku

Address: WITH HARAJUKU, 1-14-30 Jingumae, Shibuya, Tokyo

Grand Opening: June 8, 2020

Opening Hours: 10:00-21:00

Access: 1-minute on foot from Harajuku Station via JR Line / 1-minute on foot from Meiji-Jingumae Station via Tokyo Metro

IKEA Harajuku Official Website: http://www.IKEA.jp/harajuku

SANRIO CAFE Ikebukuro to Open in Tokyo's Sunshine City On June 5

Sanrio is set to open the new SANRIO CAFE Ikebukuro in on floor B1F of Sunshine City in Ikebukuro, Tokyo on June 5, 2020.

Just a convenient 8-minutes on foot from Ikebukuro Station, SANRIO CAFE Ikebukuro will serve up a menu that captures the kawaii world of Sanrio's roster of characters.

The cafe is divided into two areas: the main cafe space, and then the wagon corner for takeout. Enjoy dining surrounded by adorable Sanrio characters on the walls and ceiling, or take your character-inspired food and drink away with you.

The cafe is putting the health and safety of its customers and staff at the top of its list in response to the novel coronavirus (COVID-19) and so will operate the cafe while taking all necessary safety measures.

If you're in Tokyo, or the next time you're in Tokyo, make sure you don't pass up the chance to dine at SANRIO CAFE Ikebukuro.

Information

SANRIO CAFE Ikebukuro
Grand Opening: June 5, 2020 at 10:00 (JST)
Location: Sunshine City (Floor B1F), 1-28-1 Higashi-Ikebukuro, Toshima Ward, Tokyo
Opening Hours: 10:00-21:00 (Last Orders 20:00)
TEL: 03-5985-5600 (Open from June 5, 2020)

Sanrio Official Website: https://www.sanrio.co.jp/

*Please note that opening hours are subject to change or closure depending on the status of the novel coronavirus (COVID-19). For the latest updates, please visit Sanrio's official website.

Clean Japanese Cosmetics Shop MAKANAI to Open in Kagurazaka

Kagurazaka-based Japanese 'clean' beauty brand MAKANAI are set to open up a store in Kagurazaka, Tokyo on June 5, 2020.

The shop interior was designed by up-and-coming Japanese artists and is based around gold leaf.

The decor features gold leaf-incorporated wall and ceiling art, as well as fragments taken from Kutani ware that became damaged when it was being forged in Ishikawa Prefecture. MAKANAI is a place that prides itself on sustainability.

The main centre table, called the "Ritual Bar," is made using the stump of a lime tree that is hundreds of years old. It is on this luxurious table that various beauty products are to be displayed. The interior designs, which makes use of wood grain, gives the shop a natural feel to it and feels nice to touch together with the products. It's a simple yet relaxing and welcoming aesthetic that will have you staying in there for a long time without noticing.

The shop has a smart mirror which uses AI to diagnose your skin type, and there are also workshops too such as "Pure Beauty Rituals" where MAKANAI will teach you how to care for your skin. MAKANAI plans to introduce other exciting things too.

Grand Opening Commemoration Set w/ Tote Bag: ¥10,000 (Before Tax)

To commemorate the store's opening, customers can purchase a set which comes with face lotion, moisturising oil, and face cream. Normally, all of this would cost ¥13,000 (before tax), but for the opening it will be offered at the special price of ¥10,000. It's a great MAKANAI starter kit.

Experience MAKANAI's brand concept of clean Japanese cosmetics for yourself at the official store when it opens on June 5.

MAXPLAN AZABU10: The New Landmark of Tokyo's Azabu Juban District

MAXPLAN Co. is set to open MAXPLAN AZABU10 on October 22, 2020 which is set to become the new symbol and a landmark of Tokyo's Azabu Juban District. The building will offer many unique and extraordinary experiences.

Nakamura Suzuko (CEO, MAXPLAN Co.) | Comment

"This project borrows the strength of internationally-active architect Kengo Kuma. I am overjoyed to have the opportunity to be a driving force together with him once again. This building, which is the 'Azabu Juban Development Project,' will be a place that creates and discovers new collective value between companies and individuals. A place of creative symbiosis. It aims to offer well being for companies that brings about a sense of cultural values. It will be a creative space for companies and individuals to resonate, bounce ideas off, and flow with one another. I pray from the bottom of my heart that these things will serve as a connection to how we want to live in the future."

Kengo Kuma (Architect) | Comment

"Azabu Juban is Tokyo's intersection between tradition and the future. I wanted to create a symbol for this district of 'fluctuations' around its crossroads. Combining panels of varying sizes with different heights, thicknesses, and textures expresses the district's diversity and energy. I wanted the building to blend in as part of the 'fluctuations,' as well as create a small 3D city which itself has 'fluctuations' […]"

We look forward to seeing how this new landmark and symbol of Azabu Juban brings together the traditional and the futuristic.

Information

MAXPLAN AZABU10
Building Site: 4-1-1 Azabu Juban, Minato Ward, Tokyo
Access: 1-minute on foot from Azabu Juban Station (via Tokyo Metro Namboku Line and Toei Oedo Line)
Grand Opening: October 2020 (subject to change)

Beauty Connection Ginza's Fruits Salon Reveals Mango Menu Line-Up

Beauty Connection Ginza and its second floor fruit course cafe Fruits Salon have been closed since April 8, 2020 as a result of the novel coronavirus (COVID-19) outbreak. But that hasn't stopped Fruits Corner wanting to deliver its tasty treats to customers as it reveals its new mango themed menu which is set to run for the whole month of June. It will be taking online orders.

Following the pear, citrus fruits, and strawberry line-ups, the new mango course is made up of four different vitamin-packed and refreshing accompaniments, all made with fresh mangoes from Miyazaki Prefecture.


Mango Full Course: ¥4,400 (Tax Included)


1st. plate "Terrine"


2nd. plate "Airy Tart"

Each of the four plates, packed full of rich and sweet mangoes, offers refreshing taste to give you that early summertime vibe.


3rd. plate "Parfait"


4th. plate "Dried Fruits/Mignardises/After-Meal Drink)

The third plate is a gorgeous, eye-catching parfait centred on mango gelato and made up of delicious ingredients that all come together harmoniously. Mix everything together to create new flavours. The full course is 90 minutes, and beckons you to use all five of your senses to enjoy it.

Doraemon 50th Anniversary Online Fair Launched at TSUTAYA Ginza

Since the launch of the manga back in 1970, Doraemon has brought smiles on people's faces in the form of books, anime, live-action films, collaborations with artists, and more, for the past 50 years.

To celebrate the franchise's 50th anniversary, TSUTAYA Ginza has opened an online fair on its website. TSUTAYA Ginza is a place where people of all ages and nationalities come from around the world, and the number one book the store can recommend as part of Japan's culture continues to be the first volume of Doraemon. For the entirety of 2019—that's January to December—the first volume of Doraemon was the number one best selling book at TSUTAYA Ginza.

Doraemon 50th Anniversary Fair

Doraemon Volume 1 (Tentoumushi Comics)

Doraemon has come to be a symbol of Japan and has been passed down generations, but there probably a lot of people who don't know how the story started. To find out, pick up a copy of volume one at TSUTAYA Ginza.

Doraemon Volume 0 (Tentoumushi Comics)

As part of the anniversary celebrations, a special volume 0 has been published. This full-colour book features 6 versions of the first Doraemon story as well as comments  by the author and more.

Doraemon Mizuhiki Accessories (Pins, Earrings, Piercings)

Mizuhiki are decorative Japanese cords which are used for important ceremonial occasions such as weddings, births, and funerals. These special Doraemon mizuhiki have been turned into beautiful accessories featuring Doraemon and Dorami's iconic blue and yellow colours respectively. They can be used for decorating clothes with and more.

This is just a peek at some of the celebratory merchandise on offer for the online fair. For the full list, check out the website below.

3 New Limited-Edition Botanical Drinks to Arrive This Summer at BOTANIST Tokyo

BOTANIST Tokyo, the flagship shop of BOTANIST in Omotesando, has announced a new collection of limited-edition drinks will be served on the second floor BOTANIST Cafe from July 12, 2020. BOTANIST Tokyo is currently closed but it scheduled to reopen on June 1.

There are three new refreshing drinks to choose from, all of which can be ordered for takeout. From apple mint to grapefruit, each beverage us the perfect accompaniment for cooling you down in Japan this summer.

REFRESH MENU


Refresh Soda: ¥600 (Tax Included)

A combination of grapefruit jelly and fizzy soda water make this one of those drinks that you go "Ahh!" afterwards on a hot summer's day. There's also a hint of sweet green apple.

Botanical Melon Soda: ¥800 (Tax Included)

This is a smoothie which blends together two types of melon soda and adds melon jelly and a dollop of ice cream. It's like a dessert in a cup!

Banana & Avocado Refresh Smoothie: ¥720 (Tax Included)

Enjoy the sweetness of banana and sugar beet together with the smoothness texture of the avocado in this smoothie which has apple and mint mixed into it for that refreshing summertime kick.

The cafe's regular menu has also been revised to add three new desserts.

REGULAR MENU


Vegan Waffles w/Drink: ¥800 (Tax Included)

These vegan waffles are healthier for the body if you're looking for some guilt-free indulgence. It's topped with soy whipped cream, maple syrup, and fruits of your choice.

Lemon Cheesecake w/Drink: ¥1,000 (Tax Included)

A crunchy cookie base, a creamy cheese top, and a lemon to top it all off. The combination of the salty flavour with the sour hit is a match made in heaven.

Homemade Rich Pudding: ¥500 (Tax Included)

An in-house made purin, which is a type of Japanese custard pudding. It's a delightful mix of rich egg and subtly sweet soy whipped cream.

Customers who spend over ¥4,000 (tax included) on items in the Refresh Series will also be entered in for a chance to win a "Refresh Soda." The soda is available while supplies last.

Information

REFRESH MENU
Serving: June 1, 2020 – July 12, 2020

REGULAR MENU
Serving: From June 1, 2020

BOTANIST Tokyo
Address: 6-29-2 Jingumae, Shibuya, Tokyo (1st Floor – Shop / 2nd Floor – Cafe)
TEL: 1st Floor: 03-5766-3777 / 2nd Floor: 03-5766-3778
Opening Hours: 11:00-20:00
Official Website: https://shop.botanistofficial.com/

Stock Your Kitchen With Japanese Kitchenware Tools by SALON adam et rope'

SALON adam et rope' has launched its new "Nihon no Daidokoro Dougu" (Japanese Kitchen Tools) collection which features a curated selection of Made In Japan kitchenware and cookware items from high quality Japanese brands.

Kasane

Top: ¥12,000 / Middle: ¥12,000 / Bottom: ¥9,000 (Before Tax)

Traditionally, Japanese knives were made by men with men in mind, but these Kasane knives are made by women to fit with the modern age. They are made in such a way to feel comfortable in smaller hands. The handles are made from rare natural wood from the cerasus jamasakura trees of Gifu Prefecture which give them a texture that changes as you continue to use the knives. The blades themselves are made from high-carbon stainless steel which gives them superior sharpness and durability. The blade edge is the result of a new technology developed by Sumikama called "Zero Edge" which makes them thin and sharp.

Kaji Donya

 
Left: ¥1,300 / Middle: ¥2,000 / Right: ¥2,800 (Before Tax)

Left: ¥1,000 / Middle: ¥1,200 / Right: ¥2,000 (Before Tax)

These handy stackable containers are made by Kaji Donya, a company based in Tsubame, Niigata. The height of each one is the same which makes them super convenient when stacking inside fridges.

Ceramic Grill: ¥1,400 (Before Tax)

The ceramic grill is a longtime seller at SALON. If you're grilling bread on it, it leaves the outside crispy and the inside nice and soft. It uses far-infrared rays which means the water content of the ingredients grilled on it is not lost, allowing for the full tasty flavour to stay locked in and the food plump and juicy.

Enter Virtual Shibuya: The New Ghost in the Shell Digital Platform

Shibuya 5G Entertainment Project launched its new digital platform "Virtual Shibuya" with an opening event on May 19. The event Virtual Shibuya helped promote release of Ghost in the Shell: SAC_2045 with talks and performances from SEKAI NO OWARI's DJ LOVE, virtual YouTuber and member of Nijisanji Ange Katrina, Chinatsu Wakatsuki of Future Design Shibuya, and Naohiro Ukawa of S/U/P/E/R DOMMUNE—all of whom are fans of Ghost in the Shell.

Officially recognised by Shibuya City, Virtual Shibuya comes in response to the effects of the novel coronavirus (COVID-19) which has brought tight restrictions to the economy and people's way of life. It will enable people to continue enjoying entertainment from the comfort of their homes by participating in a whole host of virtual events and activities. The project aims to deliver content from Shibuya with live performances from artists, art exhibitions, talks, and more. The use of 5G and the latest cutting edge technology will connect the real Shibuya to a virtual space, combining the realms of the digital and real world.

The guests joined over 50,000 users for the first event which went down a storm. Chinatsu Wakatsuki said: "I was amazed how much it looked like Shibuya! I can't go to Shibuya right now, so it felt like I got to visit home again after so long."

Shibuya was fully recreated a virtual space for people to visit

Lots of Ghost in the Shell fans gathered in the city

Everybody in this virtual world jumped into their avatar skins, including the diverse range of guests who probably would never have come together had it not been for the Ghost in the Shell theme, as well as DJ LOVE, Katrina, Chinatsu Wakatsuki, and Naohiro Ukawa.

The real world and the world of Ghost in the Shell collide

The four performers, who were coming face to face with each other for the first time, talked to guests about what they love about Ghost in the Shell while strolling around Virtual Shibuya and having fun with fans on equal terms.

Comments from the performers

・Chinatsu Wakatsuki (Future Design Shibuya)
"I was amazed how much it looked like Shibuya! Shibuya is a place I hold near and dear to my heart. There were a lot of 'firsts' for me, like my first time using an avatar, and meeting new people for the first time, so I thought it was going to be difficult at first, but I found myself not nervous at all and had fun with everyone in there using this futuristic entertainment. Looking forward, au 5G will grow and the number of things we can do will as well. I hope to challenge myself as a tarento and a mum in many different things and have fun with this Virtual Shibuya!"

・"DJ LOVE" (SEKAI NO OWARI)
"It felt like I had dived right into the world of Ghost in the Shell, my favourite series. It was a wonderfully fun event which expanded on my dreams. I'm looking forward to seeing it evolve and I hope to perform live there at some point. I want to make stuff that people who haven't been physically able to go to venues up to now can enjoy. I think it would be fun to communicate with people who participated."

・Ange Katrina
"The streets of Shibuya I know were completely transformed into the world of Ghost in the Shell, and my favourite Tachikoma made an appearance too. For a Ghost in the Shell fan like myself it was a whale of a time! Right now we have to battle with staying indoors. Me having disappeared has caused a bit of trouble, but the thrill of this virtual event has lifted my nerves. I had a lot of fun."

You can check out footage from the event in the video below which was posted on Shibuya 5G Entertainment Project's official YouTube channel.

The world of Ghost in the ShellVirtual Shibuya in can be experienced until May 31, 2020, so sign up while you still can.

Shibuya 5G Entertainment Project to Launch Virtual Shibuya Platform

Shibuya 5G Entertainment Project is set to launch its new digital platform "Virtual Shibuya" on May 19, 2020. The platform is officially recognised by Shibuya City.

Virtual Shibuya comes in response to the effects of the novel coronavirus (COVID-19) which has brought tight restrictions to the economy and people's way of life. It will enable people to continue enjoying entertainment from the comfort of their homes by participating in a whole host of virtual events and activities.

The project aims to deliver content from Shibuya with live performances from artists, art exhibitions, talks, and more. The use of 5G and the latest cutting edge technology will connect the real Shibuya to a virtual space, combining the realms of the digital and real world.

1: Online Events

A variety of online events will be held inside the virtual event space. People tune into Virtual Shibuya while at home by connecting with their smartphones, PCs or VR devices. They will have their own avatar and be able to traverse the area together with other people who are connected while participating in different interactive online events. The events will also be streamed on video streaming services.

2: XR Art

Experience XR (cross reality) content which will connect both Virtual Shibuya to the real Shibuya. Those in either Shibuya will be able to experience the same content and entertainment.

The opening event for the grand opening of Virtual Shibuya will promote the release of Ghost in the Shell: SAC_2045 with talks and performances from SEKAI NO OWARI's DJ LOVE, who is a fan of Ghost in the Shell, as well as virtual YouTuber and member of Nijisanji Ange Katrina, Chinatsu Wakatsuki of Future Design Shibuya, and Naohiro Ukawa of S/U/P/E/R DOMMUNE.

Information

Ghost in the Shell Night by au 5G

Date: May 19, 2020

Time: 19:00-19:45

How to Participate

Virtual Shibuya can be accessed using a VR device, smartphone, or PC/Mac. To participate, you must create a (free) Cluster account and install the Cluster app on your device. This event will also be streamed live on YouTube Live and the official Twitter page of Shibuya 5G Entertainment Project.

Join Here: https://cluster.mu/e/bee95acc-5c7f-4ebb-b08a-606348747487

Shibuya 5G Entertainment Project Official Twitter: https://twitter.com/shibuya5g

Father's Day: Otokomae Tofu Celebrates Dad's Around the World With New Tofu Product

Japanese tofu company Otokomae Tofu is celebrating Father's Day this year by releasing its new "Chichi no Hi Tofu" (Father's Day Tofu) at supermarkets around Japan for a limited time between June 15 and June 21.

When you pour soy sauce over the Father's Day Tofu, a message of gratitude appears on the tofu's surface in Japanese. This is a unique, one-of-a-kind tofu experience. There are four messages in total which translate to: "Manly," "Thanks always, dad. I love you, live a long life," "You work so hard papa, I love you," and "Dad."

Giving your dad some Father's Day Tofu is sure to make for a Father's Day to remember!

Information

Chichi no Hi Tofu (Father's Day Tofu)

Running: June 15, 2020 – June 21, 2020

Price: ¥158 (Before Tax)

Available: Supermarkets in Japan (Except Hokkaido and Okinawa)

Otokomae Tofu Official Website: http://otokomae.com

McDonald's Japan: Chicken Tatsuta Mentai Cheese & Other Japanese Flavoured Foods Coming to the Menu

McDonald's Japan is introducing some mouth-watering new foods to its menu including two which incorporates chicken tatsuta: the "Chicken Tatsuta Mentai Cheese" which is made with walleye pollack roe, and the bite-sized "Hitokuchi Tatsuta"ーthe latter of which is arriving to the side menu.

It is also introducing the "Rice Chicken Tatsuta" burger following the success of the "Rice Burger" which was released at stores for the first time earlier back in February of this year.


These new menu items will be released on May 13, 2020 at all McDonald's branches in Japan for a limited time.

Chicken Tatsuta Mentai Cheese

Chicken tatsuta is a popular Japanese dish which combines a soft, soy ginger-soaked chicken patty with spicy sauce and stuffs it inside a bun. McDonald's new "Chicken Tatsuta Mentai Cheese" adds spicy walleye pollack roe mayo and smooth white cheddar cheese to the equation. It will be available all day round, including for the morning menu.

Hitokuchi Tatsuta

Rice Chicken Tatsuta

The "Rice Chicken Burger" will be available in the evenings only.

Japanese actor Toshiyuki Nishida is appearing in the TV commercials to promote the "Hitokuchi Tatsuta" while comedian Nobuyuki Hanawa and actor Katsumi Takahashi appear in the "Rice Chicken Tatsuta" commercials which feature a re-recording of the song SWEET MEMORIES ~Amai Kioku~ by Seiko Matsuda.