Experience Tasting Mount Koya's Famous Sesame Tofu at ONAKA PECO PECO in Tsukiji
ONAKA PECO PECO by Rurubu Kitchen is a cafe located in Tsukiji, a district in Chuo, Tokyo. They serve rice balls filled with locally sourced ingredients from various locations in Japan. In the evenings, the rice balls can be enjoyed with delicious sake.
If you visit the cafe right now you'll be able to try sesame tofu (goma tofu) made by the long-running restaurant Kadohama. Sesame tofu is a meibutsu―or "local speciality"―of Mount Koyo.
While it is possible to buy sesame tofu on Kadohama's online store, the only places you can eat them out at is at their restaurant on top of Mount Koya or at select branches of department stores such as Mitsukoshi or Isetan. We visited ONAKA PECO PECO by Rurubu Kitchen for a taste of this exquisite collaboration.
Mount Koya is located in the Ito district of northern Wakayama Prefecture and is home to the town of Koya. The region is encased an abundant mountainous landscape. The Japanese Buddhist monk Kūkai opened the sacred mountain around 1,200 years ago. In 2004, Mount Koya which was registered as a World Heritage Site by UNESCO in 2004 under the "Sacred Sites and Pilgrimage Routes in the Kii Mountain Range" category. It has since become a popular tourist destination with Japanese and foreign travellers alike.
Here is the heavenly menu lineup at ONAKA PECO PECO which is packed full of Kadohama's sesame tofu.
There are five items which are made with the sesame tofu: an onigiri rice ball, crab soup, cold tofu, pork shabu shabu, and a drink.
Time to tuck in and try this famous food which has been enjoyed for many years!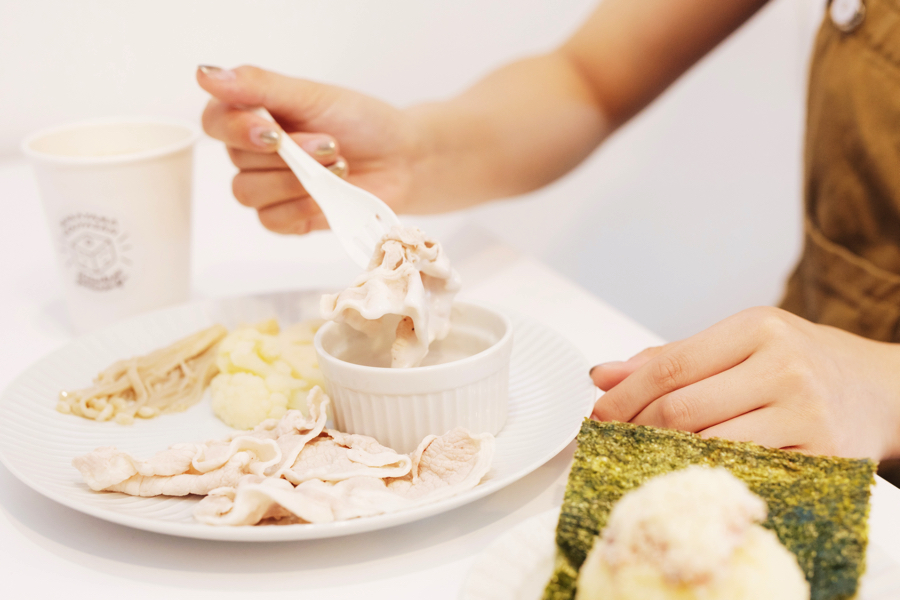 White Vegetables & Steamed Pork Shabu w/ Koji Sesame Tofu Sauce – ¥800
This dish is garnished with a generous serving of fresh white vegetables and succulent meat. It includes lotus root, enoki mushrooms, cauliflower, and pork. It also comes with a white sauce made with sesame tofu, shio koji, and sesame oil. The sauce has a mild flavour in which you can get the full glorious taste of the tofu. It's smooth and refreshing so is a perfect pick for the hot summer.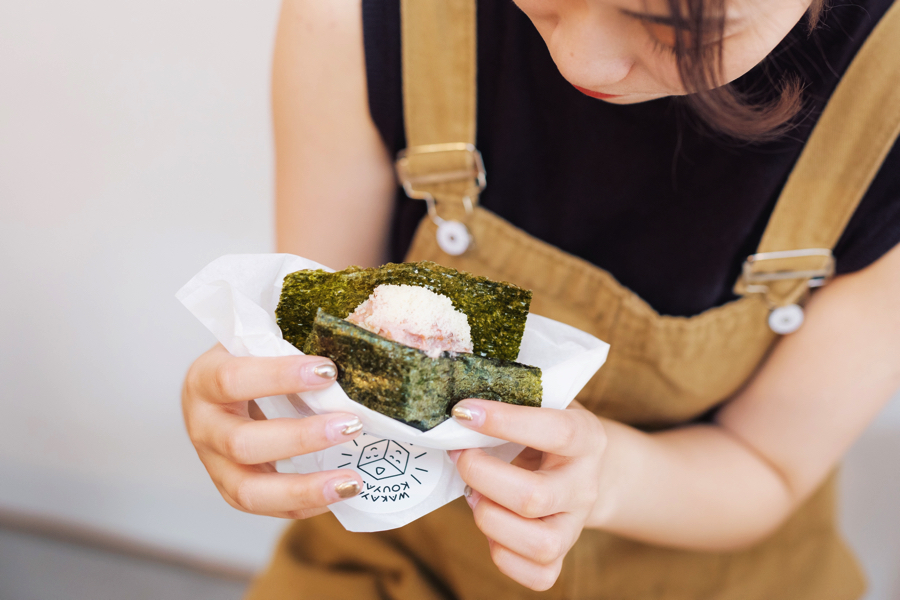 Sesame Tofu & Plum Cheese-Loaded Rice Ball – ¥250
This rice ball is a flavourful combination of a sesame tofu and plum paste and lots of cheese.
This fat rice ball is wrapped in paper like a hamburger. The rich taste of the tofu and cheese reduces the sourness of the plum, giving it a gentler flavour.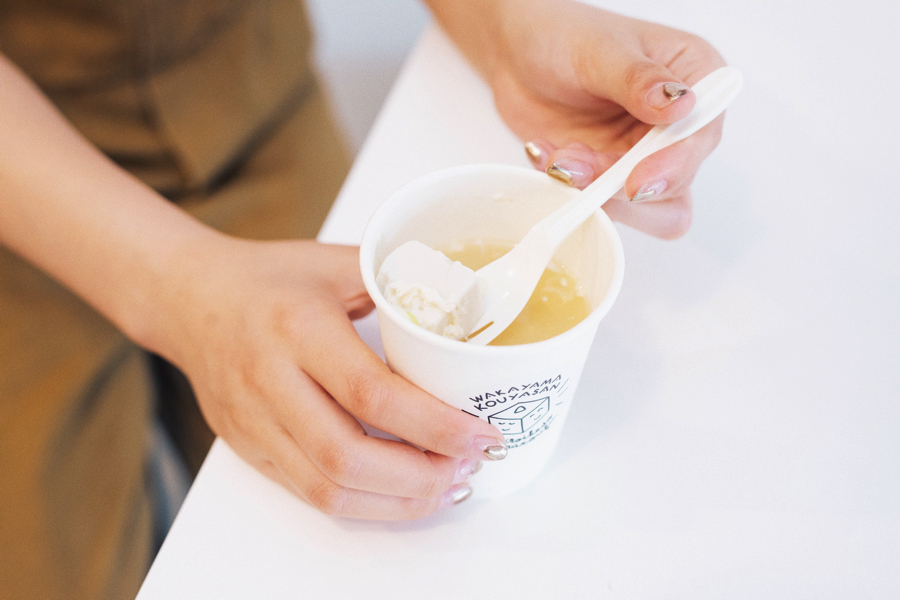 Sesame Tofu & Egg Crab Soup – ¥400
The soup is an amazing combination with the rice ball. It has a miso soup base filled with green onion, enoki mushrooms, and crab. The elastic-y tofu is cut into big satisfying chunks. Its rich, creamy flavour combined with the crab is to die for.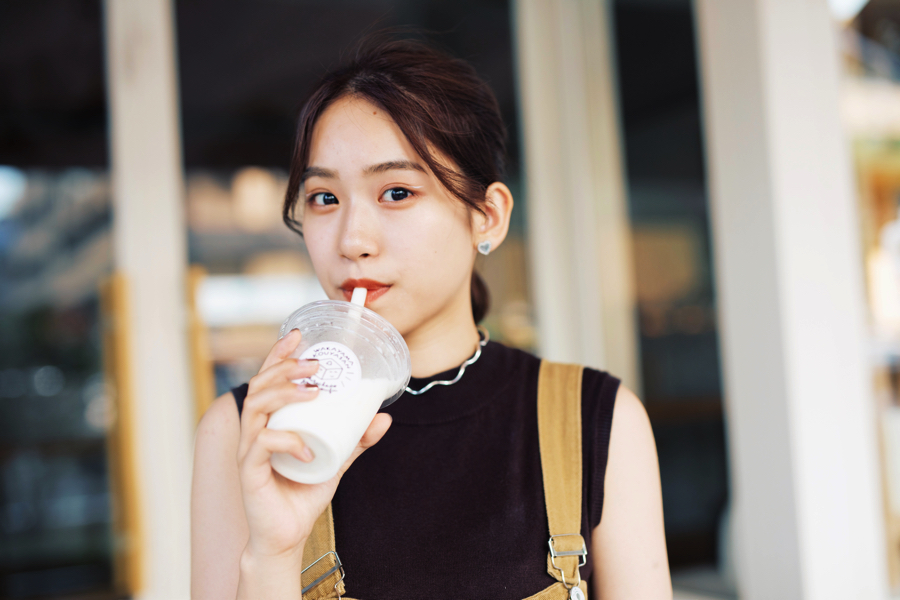 Sesame Tofu & Sweet Sake Jelly Drink – ¥350
The cute white-coloured beverage is a healthy mix of sesame tofu paste and sweet sake. It retains the pulpy texture of the tofu and the aftertaste is super refreshing.
You can order the drink for takeout so you can take a stroll around the streets of Tsukiji.
Kadohama Sesame Tofu – Eat In: ¥300 / Takeout: From ¥240
If you're looking to enjoy the sesame tofu on its own then you've got to try it with either the wasabi and soy sauce or brown sugar. You can also order this to take away too. Each box contains one piece of tofu.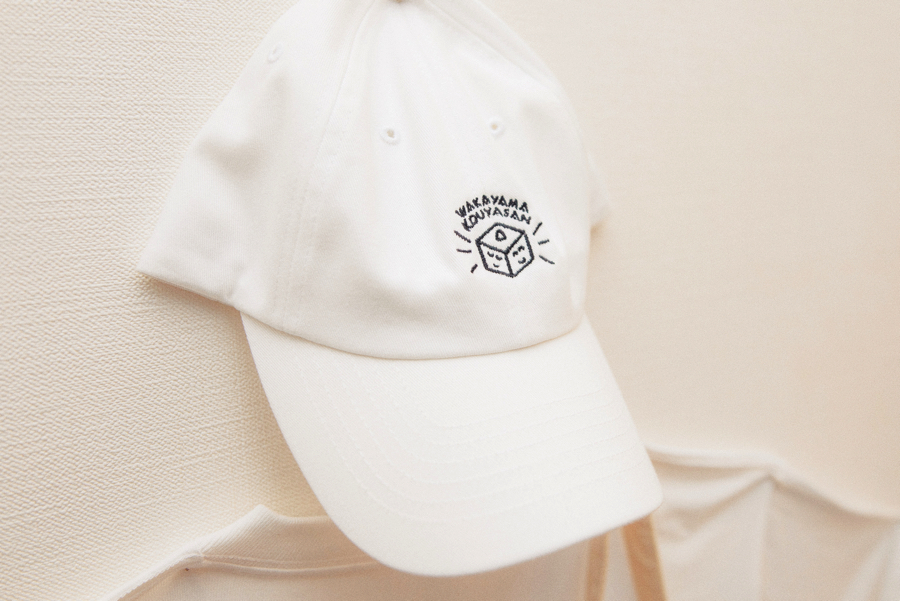 The cafe is also selling exclusive merchandise as part of the collaboration. The collection includes a t-shirt, sacoche bag, and cap. Each item has a simple design making them easy to incorporate into looks.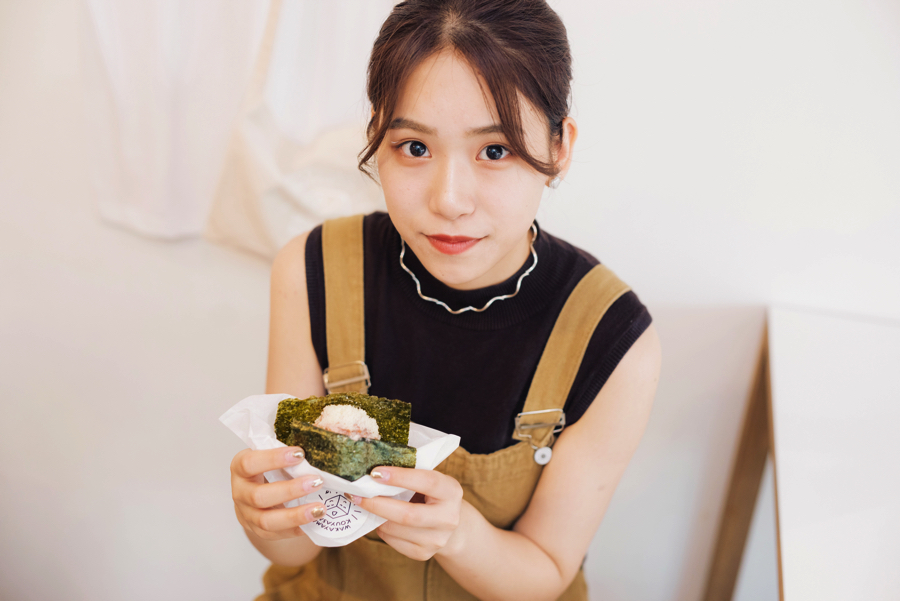 Easy access to Kadohama's sesame tofu―which is made using traditional cooking methods that have been passed down generations at Mount Koya―can only be enjoyed at ONAKA PECO PECO by Rurubu Kitchen. If you're in Tokyo this summer, then take a trip to Tsukiji district to try this healthy and nutrient-packed tofu.
Model: Ririka Satsuki
Writer: Sayuri Mizuno (MMN Editorial Team)
Photographer: Haruka Yamamoto
Translator: Joshua Kitosi-Isanga
Information
ONAKA PECO PECO by Rurubu Kitchen
Address: 4-7-3 Tsukiji, Chuo Ward, Tokyo (Along Harumi-dori)
Opening Hours: 10:00-14:00 / 17:00-22:00 (Last orders at 22:00)
Closed: Sundays
Access: 10-minutes on foot from Ginza Station / 7-minutes on foot from Higashi-Ginza Station / 5-minutes on foot from Tsukiji Station
Official Website: http://onakapecopeco.com/
RECOMMENDED ENTRIES
5 Sushi Restaurants With Multilingual Support In Tsukiji

Tsukiji Market, located in the Chuo ward of Tokyo, is known to be the largest fish market in the world. The freshest seafood is brought in and here, you are able to savor delicious sushiand kaisendon, or seafood rice bowls, on site.

However, there are many sushi shops and seafood bowl restaurants standing side by side on the streets and can get confusing which one to go to.

This time we would like to introduce you to shops that carry menus in foreign languages and even a shop with a manager who speaks nine languages.

The terms "jonai" and "jogai" written next to the name of the shop states roughly where the shop is located. The difference between jonai and jogai can be found in this MATCHA article.

Read more: What'sThe Difference Between Tsukiji Jogai And Jonai?

1. Kaisendon Oedo (Jonai)

First, we would like to introduce you to Kaisendon Oedo in the jonai area. The great part about this shop is their menu has over 150 items and you can eat seafood according to your preferences here. From tuna, salmon, scallops, crab, sea urchin, and shrimp, there are rice bowls with a variety of seafood mixed and matched.

For instance, the highly recommended Hakodate-don (*1) contains salmon from Hakodate, sea urchin, salmon roe, and tuna on rice. On the Otaru-don (*2), it has specialties from Otaru such as salmon roe, large shrimp, crab claw, squid, and scallop. As you can see, you will be able to find a rice bowl with toppings of your preference.

There are staff members that can speak English, so those that cannot speak Japanese can ask about the types of fish and how they taste in English. At Kaisendon-Oedo, you will also be able to taste the fresh and delicious tuna they auctioned at the tuna auction first thing in the morning.

*1 Hakodate: A city in Hokkaido.
*2 Otaru: A city in Hokkaido.

Read also: How to See the Tuna Auctions at Tokyo's Tsukiji Fish Market

2. Umai Sushikan (Jonai)

Next, we would like to introduce you to a sushi shop called Umai Sushikan.

Many sushi and seafood bowl shops in the jonai area tend to be small shops with approximately 10 seats, but this is a larger shop with 42 seats. This is recommended for groups, families and those who do not want to wait in a line to eat. At Umai Sushikan they have seasonal sushi set additions such as the Pacific Saury sushi in autumn so you can come back to try something new many times.

Tempura, Soba and Gyoza! Six recommended restaurants which offer Japanese food other than Sushi

Japanese food is not only sushi! There are a lots of wonderful traditional Japanese dishes. Let us introduce to you 6 restaurants witch offer Japanese food in Tokyo.

GYOZA BAR Comme a paris(Aoyama)

Gyoza is a representative popular food that is loved by many people. "GYOZA BAR Comme a Paris" in Aoyama is a new style Gyoza restaurant where you can enjoy gyoza with natural wine or champagne.  It is also known as the restaurant that Masakazu Narukami from restaurant called, "Narukami" which received one star in the Michelin guide book, is in charge of creating the menu, so their side dishes and sauces incorporate his own uniqueness. Cilantro, gyoza (680yen tax included) and Onion gratin gyoza (920 yen tax included) are popular in addition to the standard menu items such as Vegetable gyoza (520yen tax included) and Pork gyoza (550yen tax included). Especially, Onion gratin gyoza has a great combination of the chewy texture of the gyoza skin which tastes like boiled gyoza and the rich onion gratin's flavor.

Detailed information:http://www.moshimoshi-nippon.jp/42992

■Information

GYOZA BAR Comme a paris

Address:2-2-4 Aoyama Alcoop205, Shibuya, Shibuya-ku, Tokyo

Hours:5:00PM to 11:45PM(L.O.11:30PM)

Holiday:Sunday

Tel:03-6427-6116

TEL:03-6427-6116

Tamawarai(Harajuku)

The 3 major noodle dishes in Japan are ramen, soba-noodles, and udon-noodles. What people like about these noodles is how different they are according to the area. Broadly speaking, people in the East like soba noodles, and people in West like udon-noodles. Therefore, Tokyo is in the soba culture area. If you are looking for a modern type of restaurant, there is the Michelin-starred restaurant called "Tamawarai" in Harajuku. The building is located in a residential area, and does not look like a soba noodle restaurant. Steamed soba noodles which are made of coarsely ground buckwheat has a rich flavor when you chew it. They do not serve many kinds of appetizers, but they are proud of their menu items such has miso flavored shrimp, tempura, and herring which is cooked for six days.

Detailed information:http://www.moshimoshi-nippon.jp/19569

■Information

Tamawarai

Address:5-23-3 Jingumae, Shibuya-ku, Tokyo

Hours:[Tuesday~Friday]11:30~15:00(L.O.14:30)18:30~21:30(L.O.21:00)

 [Saturday]11:30~20:00(L.O.19:30)

 [Sunday]11:30~17:00(L.O.16:30)

 Holiday:Monday (If Monday is a national holiday, the next day, Tuesday will be a holiday)

TEL:03-5485-0025

Moo Moo Paradise Kabuki-cho main store (Shinjuku)

You can't make it through the Japanese winter without eating a "nabe" (hot pot). Shabu shabu is a hot pot dish that you can enjoy no matter what the weather is like -hot or cold. "Moo Moo Paradise Kabuki-cho main store" is mostly popular among young people. The first store started in Kabuki-cho in 1993, and now there are forty branches all over the world. They slice the meat right before they serve it up. The soup stock for shabu shabu is extracted from exclusive oxtails.  They offer organic ponzu and sesame dressing for the dipping sauce. They are very particular about the food they serve.

Detailed information:http://www.moshimoshi-nippon.jp/24978

■Information

Moo Moo Paradise Kabuki-cho main store

Address: Humax Pavillion Shinjuku Kabuki-cho Bldg. 8F, 1-20-1 Kabuki-cho Shinjuku-ku, Tokyo

Hours:Monday~Friday17:00~23:00(L.O.22:30)

Saturday・Sunday・Public holidays11:30~23:00(L.O.22:30)

Holiday:no holiday

TEL:03-3208-0135

>>next page

Sushi represents Japanese food! 5 recommended sushi restaurants in Tokyo

Sushi is the probably the most famous Japanese food! Below are 5 sushi restaurants we highly recommend.

Roppongi "atelier Morimoto XEX"

"atelier Morimoto XEZ" is a combined restaurant produced by Masaharu Morimoto who works in foreign countries centering around the U.S. You can make an order until 3:00 AM and enjoy many kinds of dishes which are a mixture of Japanese style and Western style. "Edomaezushi" is the recommended dish. Why don't you enjoy the dishes created by this top chef who is loved by people all over the world?

Detailed information:http://www.moshimoshi-nippon.jp/58797

■Information

atelier Morimoto XEX

Address: Roppongi Building, 7-21-19, Roppongi, Minatoku, Tokyo

Holiday: New Year's Day

TEL:03-3479-0065

URL:http://www.xexgroup.jp/morimoto

※The counter with cast iron-pan can be used until 24:00 and the isolated room can be used by paying 20,000 yen.

Shinjuku "Sushizanmai"

"Sushizanmai" is a sushi chain restaurant. The price of one of the lunch menus "Maguroduke Donburi" is only 477 yen (tax not included)! Moreover, you can drink as much coffee as you like. The lunch menu noted previously is offered from 11:00 to 17:00 at Shinjuku Higashiguchi Store (only on weekdays.) The helping of rice can be chosen at will and the menu comes with miso soup. The menu is recommended for those of you who want to enjoy seafood at a low price!

Detailed information:http://www.moshimoshi-nippon.jp/34111

■Information

Sushizanmai Shinjuku Higashiguchi Store

Address: 3F Seno Building, 3rd street, 18-4, Shinjuku, Shinjukuku, Tokyo

Business hours: 24 hours, lunch time – 11:00 to 17:00

Holiday: no holiday

TEL:03-5357-7737

Shinjuku "Hokkaido Sushi Unimaru"

The branch store of "Hokkaido Unimaru" where you can enjoy sushi and dishes of sea urchin opened inside of "Odakyu Ace" at Shinjuku Station's West Exit. The set "Uni Tabekurabe" (1,800 yen) offers three kinds of sea urchins; Murasaki Uni, Bafun Uni and Ensui Uni. Accordingly, you can compare the taste of these different sea urchins. This set menu is highly recommended. You can choose either "Shiro Shari (white rice)" using rice vinegar or "Aka Shari (red rice) using red vinegar.

Detailed information:http://www.moshimoshi-nippon.jp/40869

■Information

 "Hokkaido Sushi Unimaru"

Address: 〒160-0023, West Exit Basement #1, Nishishinjuku, Shinjuku, Tokyo (Odakyu Ace North Department)

Business hours: 8:00 to 23:00

Holiday: no holiday

TEL:0362790148

>>next page
RELATED ENTRIES
Hoshinoya Tokyo Offers New Safe & Mask-Free Dining Experience Using 'Lantern Partitions'

Hoshinoya hotels each offer a unique experience with their own theme. The Otemachi-based Yoshinoya Tokyo has announced the new "Tokyo Lantern Dinner," which has been proposed to suit the 'New Normal' of the Covid-19 generation. The new dining option was opened to customers from October 13 2021 and blends the new rules of restaurant partitions and mask wearing with Japanese culture, using lantern partitions to allow customers to enjoy their food with peace of mind. Customers can remove their mask as they sit under the lantern partition, which lights up your face and meal with a soft glow, meaning you can safely enjoy conversation and see your partner's face as you talk and eat. Conveniently, the lantern also prevents splashing, making eating out in the Covid-19 era even easier! 

The Lantern Partition was Developed with a Long-Established Lantern Company

Nippon Cuisine ~Fermented~

The partition lanterns were created by Kojima Shoten, a long-established lantern shop based in Kyoto which was founded in the Kansei-Edo period. The original lantern-shape was crafted by the professionals, from the structure all the way to the painting. The unique shape of this elastic lantern allows customers to enter and exit freely, and part of the lantern has been made using a 0.15mm transparent vinyl meaning that face-to-face conversations can be held with ease. In addition, the lantern is equipped with a light that gently illuminates the face and food of the person seated beneath it.

 

 

Yoshinoya Tokyo usually only accepts dining reservations from those staying at the hotel, but customers can now invite non-guests specifically to enjoy the main meal together.  They have prepared a variety of options for meetings and events that previously couldn't meet up due to the Covid situation, such as meetings between families before marriage, anniversaries, birthdays, business dinners, and more. 

 

 

Hoshinoya Tokyo is a Japanese Inn that respectfully combines the comforts of the modern day with traditional Japanese culture. The dining room, located on the first basement floor, offers 'Nippon Cuisine' made using a combination of Japan's historical fermentation culture and French cooking techniques.  The menu includes a wide variety of ever-popular fermented foods and seasonings, such as soy sauce and miso, along with preserved foods such as pickles and salted fish. The lactic acidosis bacteria found in these foods is referred to as a "Good Bacteria," known for its positive effects on the body and its ability to regulate gut bacteria. 

The taste and nutritional value of each meal has increased due to fermentation and aging, using seasonal ingredients from around Japan and French cooking techniques to bring out the flavor, resulting in a new and original taste. 

 

Why not check out Hoshinoya Tokyo and experience this new-era Japanese dining experience for yourself?

Information

Tokyo Lantern Dinner

Available From: October 10 2022 

Reservations: https://hoshinoya.com/tokyo (Must be made at least five days in advance)

Capacity: One group per day

Daruma Themed Exhibition and Auction Featuring 11 Artists Opens in Shimokitazawa

From October 13 to October 27, artists are flocking to BONUS TRACK Gallery in Shimokitazawa to display some incredible works based on daruma, a type of lucky Japanese traditional doll. These works will also be up for sale in an online auction happening during the event period!

October 2020 Exhibition

October 2020 Exhibition





The motif of BONUS TRACK is the daruma, which are seen as symbols of perseverance and good luck in Japanese culture. This marks the third time that artists have been invited to create and sell their daruma-inspired works.

20% of the final bid price for each piece will be donated to various organizations. 30% will be given to the venue, while 50% will be given to the artists themselves. 

During the first event, donations went towards the Nippon Foundation's Emergency Relief Fund for Coronavirus. Other organizations supported include the Kitazawa Osekkai Club, a group involved in PTA and youth committee activities in the area, and Peace Wanko Japan, a dog protection organization in Hiroshima. 

Tokyo Mega Illumination at Tokyo City Keiba to Collaborate with NAKED for AR Experience

2021 marks the fourth year that the Oi Racecourse, also called Tokyo City Keiba, will be bathed in a sea of over eight million colorful lights! The Tokyo Mega Illumination is back from October 16, 2021, until April 10, 2022, and features a water fountain show synchronized to music, a 100-meter tunnel covered in twinkling lights, and more. This year, in the Twinkle area of the event, guests can enjoy various AR illuminations created as a collaboration with NAKED, a creative production company headquartered in Shibuya. The NAKED BIG BOOK interactive experience will also welcome visitors to enjoy a projection mapping experience like no other.

NAKED BIG BOOK

Pergola (Interactive)

Illuminated Logo

AR Horse Camera Filter

AR Lights
Limited-Time Area: Tree Playing with Lights (Lawn Area)

NAKED's most popular work, NAKED BIG BOOK, utilizes projection mapping to allow guests to turn the pages of a giant book and experience a unique world separate from their own. Using web filters and AR, guests can also see the object as a pop-up picture book! 

During this special collaboration held on a horse racing track, visitors can also see a giant white horse in AR as they explore the grounds. Colorful horseshoes and stars will pop up from people's footprints, and the sound of visitors' steps will take on the sound of a horse's hooves instead. Be sure to make some memories by snapping commemorative photos with themed filters during the event!

Information

Tokyo Mega Illumination 2021-2022

Open: 

October 16, 2021 – April 10, 2022

Open Saturday and Sunday throughout October (Closed October 31)

Open Daily from November 1, 2021 – January 10, 2022 (Closed on Race Days and January 1)

Open Friday, Saturday, Sunday, and Holidays from January 11, 2022 – April 10, 2022 (Closed April 1)

Tickets are sold for the following week. New tickets for the following week go on sale each day at 0:00. 

Tickets: https://www.asoview.com/channel/tickets/gCscCKZ8EA/

Official Site: https://www.tokyomegaillumi.jp/

Machida City Museum Hosts Looking at Prints: Techniques, Expressions and Histories Exhibition

The Machida City Museum of Graphic Arts in Machida, Tokyo, is currently holding the Looking at Prints: Techniques, Expressions, and History exhibition until December 5, 2021. Featuring over 130 prints created with a large variety of techniques, guests can take a deep dive into how each piece of art was made. 

An Up-to-Date Parody of the Four Classes – Utagawa Kunisada. 1857. Letterpress, wood, multi-color printing. 

Artists featured in the exhibition have used many different techniques to create their masterpieces, including woodblocks, copper plates, lithographs, and stencils. The main exhibit introduces famous printmakers such as Albrecht Durer, Pablo Picasso, and Shiko Munakata, but also a number of lesser-known artists who utilized less traditional techniques. All explanations are in an easy-to-understand manner, so why not come learn about art in Tokyo? 

Information

Looking at Prints: Techniques, Expressions, and Histories

Running: Until December 5, 2021 (Closed Mondays)

*Contents will undergo partial changes throughout the exhibition. 

Hours: 

Weekdays – 10:00 AM until 5:00 PM

Weekends/Holidays – 10:00 AM until 5:30 PM

*Last admission 30 minutes before closing. 

Address: Machida City Museum of Graphic Arts (4-28-1 Haramachida, Machida, Tokyo)

Official Site: http://hanga-museum.jp/

Sumikko Gurashi Themed Cafes Open in Tokyo, Osaka, and Aichi to Commemorate Second Theatrical Movie

To commemorate the release of the their second movie, 'Sumikko Gurashi: Aoi Tsukiyo no Mahou no Ko,' Sumikko Gurashi will be opening the limited-time 'Night Party with Sumikko' cafe in Osaka on October 20, Tokyo on October 21, and Aichi on November 11.

 

(Advance Reservation Benefit Only) Original Invitation with Postcard (Five types)

Menu

Tokage's Night Party Curry: ¥1,430 (Tax Incl.)

Shirokuma's Warming Hot Rice Casserole: ¥1,430 (Tax Incl.)

Five's Recommended Children's Lunch: ¥1,650 (Tax Incl.)

Magician's Party ~Açai Bowl~: ¥1,430 (Tax Incl)

Aoi Tsukiyo's Fruit Punch: ¥1,100 (Tax Incl.) + ¥220 for one mini ice cream

Sumikko's Pudding Ice Cream: ¥880 each (Tax Incl.)

Starry Drink: ¥990 each (Tax Incl)

Dolomite Coaster

Hot Café Au Lait: ¥880 (Tax Incl.)

Original Goods

Acrylic Keyholder (Random out of five): ¥770 (Tax Incl.)

Phosphorescent Sticker (Random out of eight): ¥605 (Tax Incl.)

Acrylic Stand (Random out of five): ¥880 (Tax Incl.)


Muddler (Three types): ¥1,100 each (Tax Incl.)

Mug Cup: ¥1,980 (Tax Incl)

Purse: ¥1,100 (Tax Incl.)

Fluorescent Pen Set: ¥1,100 (Tax Incl.)

A5 Clear File Duo: ¥605 (Tax Incl.)

Bandanna: ¥1,870 (Tax Incl.)

The Sumikko Gurashi characters are beloved by both adults and children for their gentle touch and tone. Their first movie, 'Sumikko Gurashi Tobidasu Ehon to Himitsu no Ko' was released in November 2019 and received great popularity. The sweet story of the Sumikko's adventures through a story-book world attracted over 1.2 million viewers across Japan.

The heartwarming cafe menu includes "Tokage's Night Party Curry," "Shirokuma's Warming Hot Rice Casserole," Five's Recommended Children's Lunch,""Magician's Party ~Açai Bowl~," "Aoi Tsukiyo's Fruit Punch," "Starry Drink," and more. The cute, Instagrammable dishes feature the characters who feature in the movie, which tells a mysterious story that begins under a blue moon in the Sumikko's hometown. A lineup of limited edition goods and perks will also be available, adding to the movie excitement.

 

Enjoy a cute, social-media friendly meal and original merchandise at the exciting Sumikko Gurashi cafe!

©2021 Japanese Sumikko Gurashi Association Film Club

Information

Sumikko Gurashi Cafe

Date/Store

Tokyo: BOX cafe&space Tokyo SolaMachi (Previously TOKYO BOX cafe&space Tokyo SolaMachi)

October 21 ~ December 5 2021

1-1-2 Tokyo Sky Tree Town Solamachi 1F, Oshiage, Sumida-ku, Tokyo

Shinsaibashi, Osaka: kawara CAFE&DINING Shinsaibashi

October 20 ~ December 5 2021

1-4-3 Shinsaibashi OPA 9F, Nishishinsaibashi, Chuo-ku, Osaka City, Osaka

Aichi & Nagoya: BOX cafe&space Nagoya LACHIC 1F (Previously NAGOYA BOX cafe&space A) 

November 11 ~ December 12 2021

3-6-1 LACHIC Basement 1F, Sakae, Naka-ku, Nagoya City, Aichi

Reservation Fee: ¥650 (¥715 incl. tax) *Reservation comes with benefits *Up to four seats can be reserved per application.

Cafe Online Shop opens November 11 12:00 until December 12 at 23:59

Reservations & Official Site: https://sumikkogurashi-movie-cafe.jp 

Official Twitter: https://twitter.com/cafe_sumikko 

Online Shop: https://sumikkogurashi-movie-cafe.jp/online_store 

Shirahama Marriott in Wakayama to Offer Panda-Themed Getaway

Adventure World, a zoo and theme park in Shirahama, Wakayama prefecture, is teaming up with the Nanki-Shirahama Marriott Hotel to celebrate the first birthday of baby panda Fuhin. This room plan will only be available from November 1, 2021, until March 31, 2022, and will include a fully themed room, an original mini-photo book of the panda's growth to date, and plenty of other Fuhin amenities and goods!

Fuhin 1st Anniversary Room

Collaboration Burger 'Marriott Panda Burger' 

The Fuhin 1st Anniversary Room is a mixed Japanese-Western style room with an ocean view. The walls, blankets, and tatami are all covered in panda imagery, while portions of the room's lighting are made from bamboo as a part of Adventure World's quest to create more sustainable products. The special 'COCOAR' app will also allow guests to enjoy a moving photo frame featuring Guhin by holding their smartphone over the word 'Fuhin' on the wall. 

The limited-time Marriott Panda Burger uses the same recipe as the normal burger, but with a panda-shaped bun created along with Adventure World staff. How would you like to come and celebrate Fuhin's birthday beside the sea? 

Your Favorite Panda Instagram Campaign

By taking a picture of one of the seven giant pandas at Adventure World (Eimei, Rauhin, Ouhin, Touhin, Yuhin, Saihin, Fuuhin) and posting it to Instagram with the two campaign hashtags (#推しパンダマリオット and #InsertFavoritePandasNameHere), 20 winners will be selected to receive special Adventure World goods!

Information

Kaedehama 1st Anniversary Room Stay

Address: Nanki-Shirahama Marriott Hotel

Reservations Open October 6, 2021

Running: November 1, 2021 – March 31, 2022

Details: https://www.shirahama-marriott.com/special/panda/

Official Site: www.MarriottHotels.com

Marriott Panda Burger

Available Starting November 1, 2021

Price: ¥3,270

Where: Nanki-Shirahama Marriott Hotel Lounge

Your Favorite Panda Instagram Campaign

Running: November 1, 2021 – January 31, 2022

How to Enter: 

① Install the Instagram App.

② Follow Adventure World (@adventureworld_official) and Nanki Shirahama Marriott Hotel (@nankishirahamamarriott).

③ Post a picture of your favorite panda along with the hashtag MyFavoritePandaMarriott (#推しパンダマリオット) and the second hashtag including your favorite's name along with a picture of your favorite panda!

The winners will be announced on the official Nanki-Shirahama Marriott Hotel Instagram page in February 2022. 

Changes Made to November's OMNIBUS Music Festival in Tokyo

As part of the Tokyo Art & Live City project, the OMNIBUS music festival will take place on November 6 and 7 in Japan's capital. Rather than being held at Shinjuku Central Park, the November 7 concert will now take place at Hulic Hall Tokyo. Originally, this concert was named The Park #Assembly, though this has now been changed to The Hall #Space. For those holding tickets with the original name, don't worry–your ticket will still be valid at the new venue. 

Those who want a refund due to the venue change should head to the official website by October 9. The November 6 concert titled The Circuit #Excursion will be held as scheduled. 

Additional tickets for the festival went on sale on October 2, 2021. Schedules for the events will be released soon, so stay tuned for more details!

Information

OMNIBUS

The Circuit #Excursion 

When: November 6, 2021 / Venue Opens at 12:00, Show Starts at 12:30

Locations: Shinjuku ACB HALL / Shinjuku Marz / Shinjuku Marble / Shinjuku Motion / Shinjuku Zirco / Shinjuku Red Cross / Shinjuku ReNY

Performers: asobi, Wez Atlas, ODD Foot Works, Campanella, kiki vivi lily, Kvibaba, Kai Kubota, Kuro, (sic)boy, SUKISHA, Suzuki Mamiko, Sleepless Sheep, Saboten, sooogood!, dongurizu, PEAVIS, VivaOla, YOSA&TARR, YonYon, and more

The Hall #Space

When: November 7, 2021 / Venue Opens at 15:30, Show Starts at 16:30

Location: Hulic Hall Tokyo 11F (2-5-1 Yurakucho Center Building, Yurakucho, Chiyoda-ku, Tokyo)

Performers: Sohei Oyamada, GLIM SPANKY (Acoustic ver.), Koji Shimotsu, and more

Tickets: 

Lawson Ticket: https://l-tike.com/omnibus/ (L Code: 74447)

Ticket Pia: https://w.pia.jp/t/omnibus/ (P Code: 203-026)

Official Site: https://omnibus-tokyo.com/

#GucciGardenArchetypes Exhibition Held for Brands 100th Anniversary, Explores Brands' Archetypes and Vision

To celebrate the brand's 100th anniversary, Gucci will be hosting the 'Gucci Garden Archetypes' exhibition in Tennozu, Tokyo, between September 23 and October 31. The exhibition reflects the vision, aesthetics, and inclusive philosophies of creative director Alessandro Michele, as shown through advertising campaigns throughout his years in the position.

  

An Archetype refers to something that many things have been based on, and Gucci's advertisement campaigns are exactly that – the Archetype to Gucci's world.

The exhibition features astronauts, aliens, horses, angels, and more motifs that were featured in venues throughout the world, from Tokyo to Los Angeles, and even Paris' May Revolution in 1968. Visitors are whisked away on a spectacular journey through Alessandro Michele's kaleidoscopic vision. You will also discover the music, art, journeys, and pop culture that inspired Gucci's campaigns.

 

Exhibition director Alessandro Michele spoke, saying "I thought it would be interesting to invite people to join me on this six year journey, experiencing a dazzling world of fantasy and surprises. From there, I decided to create an immersive world that people could jump into through the advertisement campaigns. After all, it is the campaigns that best represent my vision." 

The exhibition is made up of multiple spaces built using cutting-edge technology, sophisticated craftsmen, and innovative interior design. The studio was designed by Archivio Personale, who has transformed Alessandro Michele's vision into a narrative space. 

As you enter the venue, you'll discover a control room, seemingly behind the scenes of the first exhibition as photos of Michele's campaigns are projected onto screens. Each room is based on a different theme, connected by aisle to recreate the diverse and wonderful world of Gucci's campaigns.

The Gucci Beauty room is full of screens at different angles, each showing footage from a lipstick collection campaign with the phrase "for the bold, the bright, and the beautiful." The room dazzles those entering with the smile of punk singer Dani Miller, which is said to have overturned beautify standards in the cosmetics industry.

 The Gucci Bloom room is a floral paradise with its rich, floral scent. This campaign featured actress Dakota Johnson, feminist artist and photographer Petra Collins, and Hari Nef, a transgender actress and model, as the protagonists, each hiding away in an imaginary hidden garden. The three charismatic and unconventional women perfectly reflect Michele's vision of modern femininity.

The 2018 pre-fall collection campaign paid homage to the young people who participated in Paris' May 68 movement to mark the 50th anniversary of the event, using graffiti to add depth to the atmosphere. 

The room featuring the 2018 Spring/Summer campaign features visuals by Ignashi Monreal, who is known for his elaborate and expressive artwork, covering the walls and ceiling with a giant mural.

The room for the 2016 Fall/Winter collection takes you to Tokyo, using thousands of sequins across the walls to recreate Tokyo, a city that shines even at night. Meanwhile, the 2017 Fall/Winter room will take you all the way to space, with otherworldly creatures, aliens, and astronauts, all introduced in a Natural History Museum inspired diorama style.

The 2018 Fall/Winter room reflects the world of an eccentric collector, with shelves covering the walls from floor to ceiling. There are countless collectors items, with cases of butterflies, cuckoo clocks, colorful plushies, and even a number of Gucci GG Marmont bags. There are even set spaces, such as the  2016 Spring/Summer campaign which was set in the toilets of a 1980's club in Berlin and the luxurious modern villa from the "Party of a Lifetime" cruise collection campaign in 2020. Head behind the scenes and traverse deeper into this maze-like space, riding the Los Angeles subway to return to Alessandro Michele's very first campaign in 2015 Fall/Winter.

Lose yourself in the world of Gucci's advertising campaigns with this immersive space!

Images Courtesy of Gucci

Information

GUCCI GARDEN ARCHETYPES

Address: B&C HALL・E HALL 2-1-3, Higashi Shinagawa, Shinagawa-ku, Tokyo

Duration:  September 23 ~ October 31

Opening Hours: 11:00 ~ 20:00 (21:00 on Fri, Sat.) ※Last admissions are 30 minutes before closing.

Entry: Free, reservation required. Reservations can be made via the Official Gucci LINE account.

Official Site: www.gucci.com

Lottery Open to Snag ALIENS GALAXY 2021, a Sake That Traveled Through Space

Want a bottle of sake that's been to space? Liquor Innovation is opening a lottery through October 16 to snag a bottle of ALIENS GALAXY 2021, and as you would imagine the number of these items is extremely limited. 

ALIENS GALAXY 2021 started brewing on October 1, 2005, also known as 'Sake Day.' Using Kochi-grown yeast and rice, this brew then spent ten days orbiting the Earth on the Russian spacecraft Soyuz. This is only the second year ALIENS GALAXY 2021 will be available, after an incredibly positive response in 2020. With a refreshingly light and dry taste, the sake is a great example of Kochi's dry sake culture, and showing up to a party with this in hand is sure to have people talking! 

Second Tom & Jerry Cafe Opens in Tokyo and Osaka for Limited Time Only

Did you know that 'Cheese Day' takes place every year on November 11? To commemorate this tasty holiday, the second Tom & Jerry cafe will open for a limited time in Tokyo and Osaka, selling a variety of themed goods and original merchandise. 

Original Postcards (4 varieties), given to guests who purchase advance tickets

Menu

Jerry Cheese Omurice

BOOM! Macaroni & Cheese Burger

Rolling Meatball Pasta

Jerry and Tuffy Tiramisu

CHASE! Cheese Set 

BE HAPPY Cheesecake Parfait

Tom's Little Cake Plate

Jerry's Little Cake Plate

Tom's Cream Soda 

Jerry's Cream Soda 

Cheese Cream Tea

Tom and Jerry Cafe Latte  

Original Merchandise

Sticker (6 varieties, random)

Acrylic Charm (6 varieties, random)

Acrylic Magnet (5 varieties, random)

Acrylic Pin (5 varieties, random) / Clear Folder

Memo Pad with Case / Tote Bag 

Handkerchief / Mug

The animated Warner Bros. series Tom & Jerry celebrated 80 years in 2020 and became a fast favorite with kids. Tom the Cat and Jerry the Mouse are the perfect slapstick duo, and even after so many decades, the two characters still have plenty of fans. 

The first Tom & Jerry cafe was open from March until May 2021 to celebrate the release of the Tom & Jerry film. Due to an overwhelmingly positive response, the cafe is back with an updated menu and new goods!

The new menu includes a Macaroni and Cheese Burger inspired by the bulldog Spike, Meatball Pasta inspired by the diaper-wearing Toffee, a gorgeous cheese set, and character-inspired drinks. Popular at the previous cafe, the Omurice and Tiramisu are making a comeback. The space will be decorated with tons of cute and colorful character art, so don't miss out!

TOM AND JERRY and all related characters and elements © & ™ Turner Entertainment Co. (s21)

Information

Tom & Jerry Cafe

Shinjuku, Tokyo: 

Address: BOX cafe&space LUMINE EST Shinjuku B1F (3-38-1 Shinjuku, Shinjuku-ku, Tokyo)

Running: October 7 – December 5, 2021

Abeno, Osaka: 

Address: Abeno Q's Mall 4F (1-6-1 Abenosuji, Abeno-ku, Osaka) 

Running: October 8 – November 14, 2021

How to Reserve: 

Available on Online Shop from October 7 – December 5, 2021

Online Shop: https://tomandjerrycafe.jp/online_store

Official Site: https://tomandjerrycafe.jp/

Collab Exhibition Opens Featuring DANDELION PROJECT & Japan Sinks Drama Series

An exhibition between the art initiative DANDELION PROJECT, formed by the creative company NAKED, and the TBS drama series Japan Sinks: People of Hope, will be held during the month of October on the first floor of Akasaka Biz Tower in Tokyo. 

The DANDELION PROJECT is inspired by the idea of world peace and hopes to help transcend barriers and connect people in an increasingly divided world. This networked initiative wants to bring this change about by planting (or installing) dandelion-inspired art around the world, while it invites people visiting these dandelion exhibits to send their prayers for peace as a digital flower in real-time. The theme of 'hope' found in the new Japan Sinks drama fits perfectly into this exhibition. 

When you see the petals of the dandelion flow through the air after being hit with a gust of wind, that means that someone from around the world caused that to happen. Due to the recent pandemic, rather than blow on cotton wool as is usually done at these exhibits, guests can hold up their smartphones to cause the same thing to happen. The DANDELION PROJECT will also be making an appearance at Tokyo Tower, Saga Prefectural Hall, and other places, so be sure to participate in this unique exhibit!

DANDELION PROJECT Installations Currently Open Around Japan

Saga Prefectural Exhibition Hall

Tokyo Tower Main Deck

Information

Japan Sinks x DANDELION PROJECT

Address: Akasaka Biz Tower SHOPS&DINING 1F (5-3-1 Akasaka, Minato-ku, Tokyo)

Running: October 1 – October 31, 2021

Hours: 11:00-18:00

Admission: Free

Official Site: https://naked.co.jp

2021 Halloween Sweets Collection Coming Soon to Cerulean Tower Tokyu Hotel

The pastry shop at Cerulean Tower Tokyu Hotel will start selling an absolutely gorgeous selection of Halloween sweets starting October 1, 2021. 

Purple Sweet Potato Mont-Blanc (S, pictured left and right): ¥630 (Tax Included) / (M, pictured center): ¥2,700 (Tax Included)

Chatnoir: ¥745 (Tax Included) 

Pumpkin Pudding: ¥626 (Tax Included) 





The sweets included in this year's lineup are meant to bring some joy to those who have struggled during the past year of lockdown, and those who might not be able to attend their favorite seasonal events this year. In this lineup of three beautifully decorated treats, guests can bring the spirit of Halloween home. Which of these would you want to add some spooky flair to your kitchen?