Experience Tasting Mount Koya's Famous Sesame Tofu at ONAKA PECO PECO in Tsukiji
ONAKA PECO PECO by Rurubu Kitchen is a cafe located in Tsukiji, a district in Chuo, Tokyo. They serve rice balls filled with locally sourced ingredients from various locations in Japan. In the evenings, the rice balls can be enjoyed with delicious sake.
If you visit the cafe right now you'll be able to try sesame tofu (goma tofu) made by the long-running restaurant Kadohama. Sesame tofu is a meibutsu―or "local speciality"―of Mount Koyo.
While it is possible to buy sesame tofu on Kadohama's online store, the only places you can eat them out at is at their restaurant on top of Mount Koya or at select branches of department stores such as Mitsukoshi or Isetan. We visited ONAKA PECO PECO by Rurubu Kitchen for a taste of this exquisite collaboration.
Mount Koya is located in the Ito district of northern Wakayama Prefecture and is home to the town of Koya. The region is encased an abundant mountainous landscape. The Japanese Buddhist monk Kūkai opened the sacred mountain around 1,200 years ago. In 2004, Mount Koya which was registered as a World Heritage Site by UNESCO in 2004 under the "Sacred Sites and Pilgrimage Routes in the Kii Mountain Range" category. It has since become a popular tourist destination with Japanese and foreign travellers alike.
Here is the heavenly menu lineup at ONAKA PECO PECO which is packed full of Kadohama's sesame tofu.
There are five items which are made with the sesame tofu: an onigiri rice ball, crab soup, cold tofu, pork shabu shabu, and a drink.
Time to tuck in and try this famous food which has been enjoyed for many years!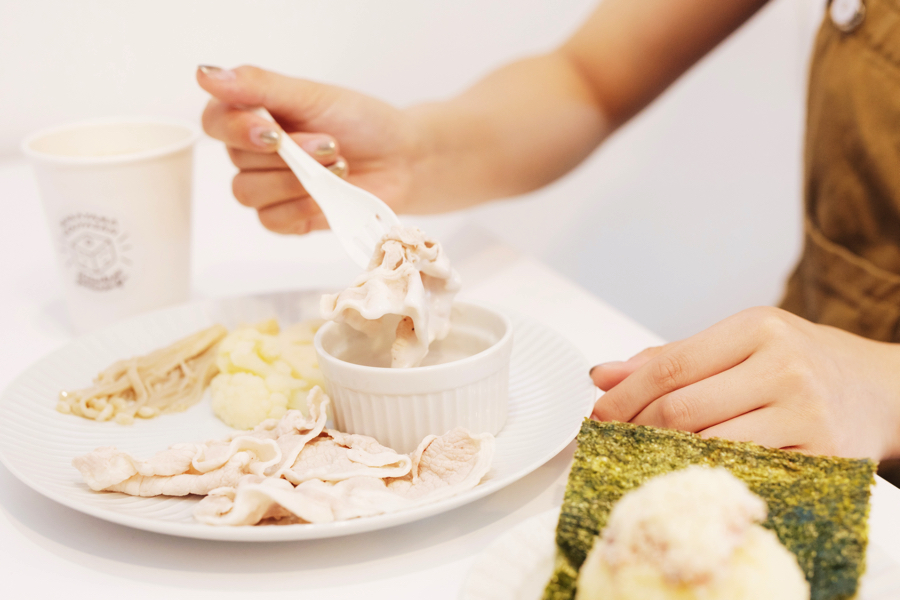 White Vegetables & Steamed Pork Shabu w/ Koji Sesame Tofu Sauce – ¥800
This dish is garnished with a generous serving of fresh white vegetables and succulent meat. It includes lotus root, enoki mushrooms, cauliflower, and pork. It also comes with a white sauce made with sesame tofu, shio koji, and sesame oil. The sauce has a mild flavour in which you can get the full glorious taste of the tofu. It's smooth and refreshing so is a perfect pick for the hot summer.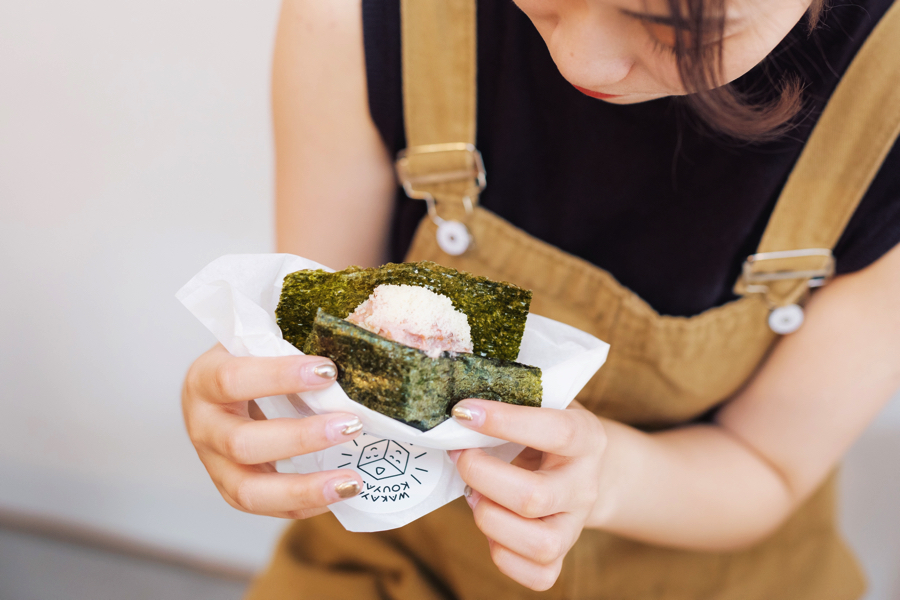 Sesame Tofu & Plum Cheese-Loaded Rice Ball – ¥250
This rice ball is a flavourful combination of a sesame tofu and plum paste and lots of cheese.
This fat rice ball is wrapped in paper like a hamburger. The rich taste of the tofu and cheese reduces the sourness of the plum, giving it a gentler flavour.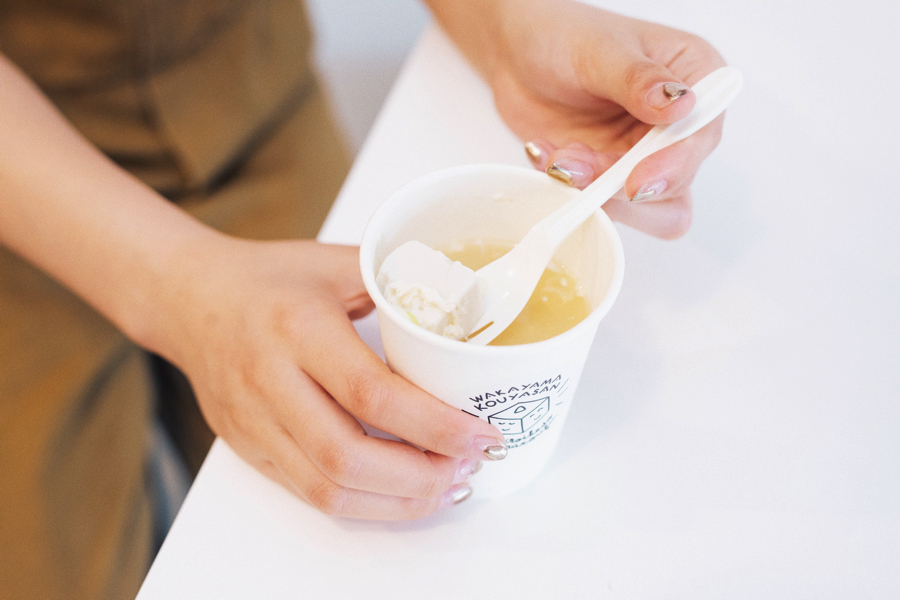 Sesame Tofu & Egg Crab Soup – ¥400
The soup is an amazing combination with the rice ball. It has a miso soup base filled with green onion, enoki mushrooms, and crab. The elastic-y tofu is cut into big satisfying chunks. Its rich, creamy flavour combined with the crab is to die for.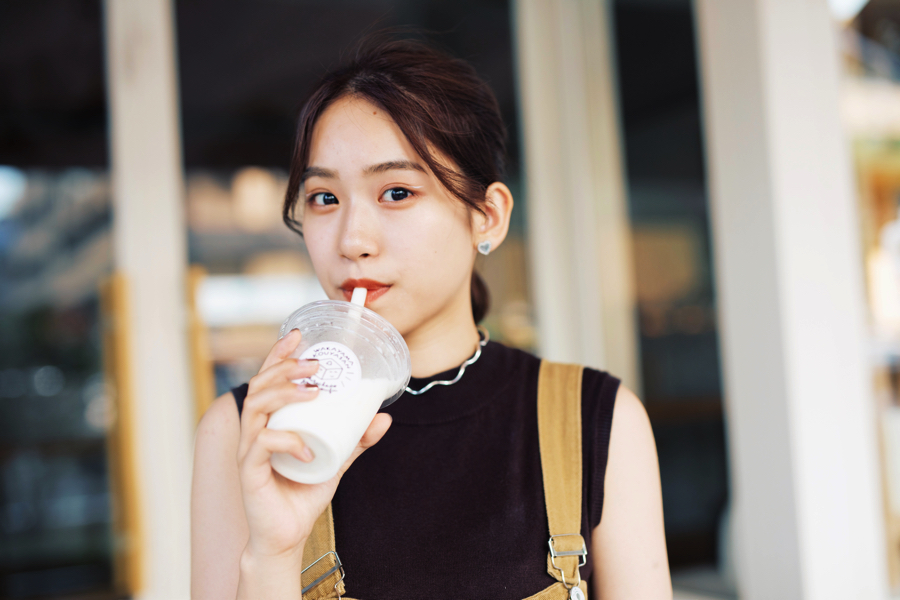 Sesame Tofu & Sweet Sake Jelly Drink – ¥350
The cute white-coloured beverage is a healthy mix of sesame tofu paste and sweet sake. It retains the pulpy texture of the tofu and the aftertaste is super refreshing.
You can order the drink for takeout so you can take a stroll around the streets of Tsukiji.
Kadohama Sesame Tofu – Eat In: ¥300 / Takeout: From ¥240
If you're looking to enjoy the sesame tofu on its own then you've got to try it with either the wasabi and soy sauce or brown sugar. You can also order this to take away too. Each box contains one piece of tofu.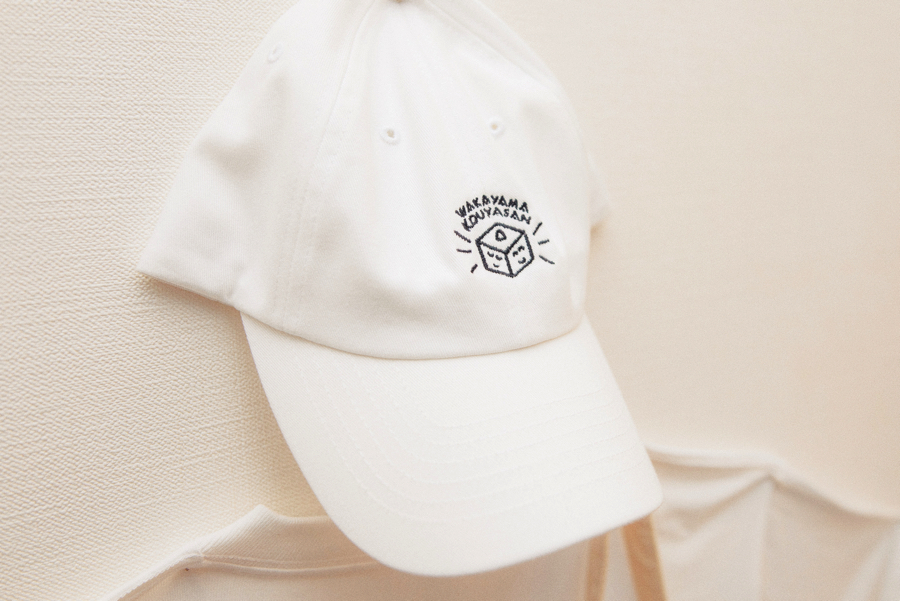 The cafe is also selling exclusive merchandise as part of the collaboration. The collection includes a t-shirt, sacoche bag, and cap. Each item has a simple design making them easy to incorporate into looks.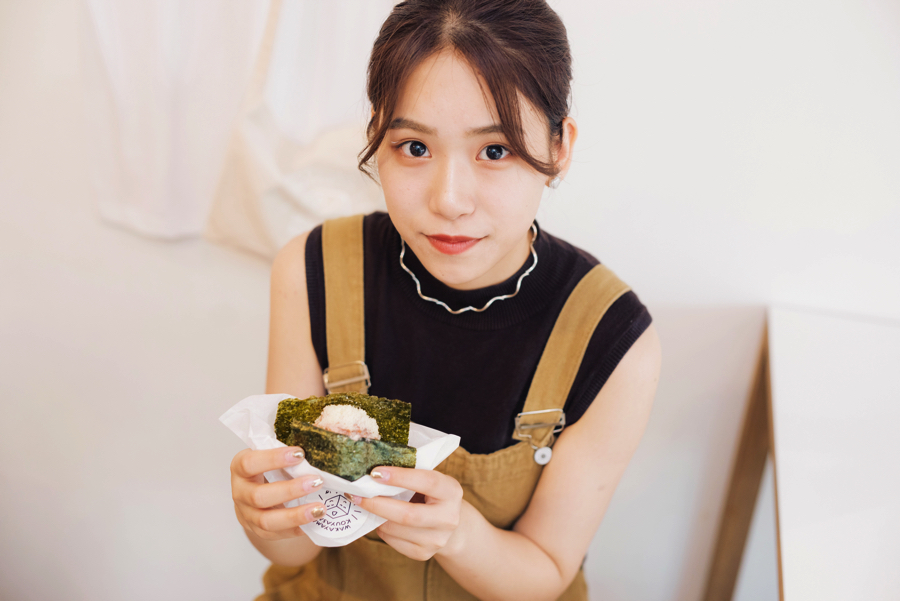 Easy access to Kadohama's sesame tofu―which is made using traditional cooking methods that have been passed down generations at Mount Koya―can only be enjoyed at ONAKA PECO PECO by Rurubu Kitchen. If you're in Tokyo this summer, then take a trip to Tsukiji district to try this healthy and nutrient-packed tofu.
Model: Ririka Satsuki
Writer: Sayuri Mizuno (MMN Editorial Team)
Photographer: Haruka Yamamoto
Translator: Joshua Kitosi-Isanga
Information
ONAKA PECO PECO by Rurubu Kitchen
Address: 4-7-3 Tsukiji, Chuo Ward, Tokyo (Along Harumi-dori)
Opening Hours: 10:00-14:00 / 17:00-22:00 (Last orders at 22:00)
Closed: Sundays
Access: 10-minutes on foot from Ginza Station / 7-minutes on foot from Higashi-Ginza Station / 5-minutes on foot from Tsukiji Station
Official Website: http://onakapecopeco.com/
RECOMMENDED ENTRIES
5 Sushi Restaurants With Multilingual Support In Tsukiji

Tsukiji Market, located in the Chuo ward of Tokyo, is known to be the largest fish market in the world. The freshest seafood is brought in and here, you are able to savor delicious sushiand kaisendon, or seafood rice bowls, on site.

However, there are many sushi shops and seafood bowl restaurants standing side by side on the streets and can get confusing which one to go to.

This time we would like to introduce you to shops that carry menus in foreign languages and even a shop with a manager who speaks nine languages.

The terms "jonai" and "jogai" written next to the name of the shop states roughly where the shop is located. The difference between jonai and jogai can be found in this MATCHA article.

Read more: What'sThe Difference Between Tsukiji Jogai And Jonai?

1. Kaisendon Oedo (Jonai)

First, we would like to introduce you to Kaisendon Oedo in the jonai area. The great part about this shop is their menu has over 150 items and you can eat seafood according to your preferences here. From tuna, salmon, scallops, crab, sea urchin, and shrimp, there are rice bowls with a variety of seafood mixed and matched.

For instance, the highly recommended Hakodate-don (*1) contains salmon from Hakodate, sea urchin, salmon roe, and tuna on rice. On the Otaru-don (*2), it has specialties from Otaru such as salmon roe, large shrimp, crab claw, squid, and scallop. As you can see, you will be able to find a rice bowl with toppings of your preference.

There are staff members that can speak English, so those that cannot speak Japanese can ask about the types of fish and how they taste in English. At Kaisendon-Oedo, you will also be able to taste the fresh and delicious tuna they auctioned at the tuna auction first thing in the morning.

*1 Hakodate: A city in Hokkaido.
*2 Otaru: A city in Hokkaido.

Read also: How to See the Tuna Auctions at Tokyo's Tsukiji Fish Market

2. Umai Sushikan (Jonai)

Next, we would like to introduce you to a sushi shop called Umai Sushikan.

Many sushi and seafood bowl shops in the jonai area tend to be small shops with approximately 10 seats, but this is a larger shop with 42 seats. This is recommended for groups, families and those who do not want to wait in a line to eat. At Umai Sushikan they have seasonal sushi set additions such as the Pacific Saury sushi in autumn so you can come back to try something new many times.

Tempura, Soba and Gyoza! Six recommended restaurants which offer Japanese food other than Sushi

Japanese food is not only sushi! There are a lots of wonderful traditional Japanese dishes. Let us introduce to you 6 restaurants witch offer Japanese food in Tokyo.

GYOZA BAR Comme a paris(Aoyama)

Gyoza is a representative popular food that is loved by many people. "GYOZA BAR Comme a Paris" in Aoyama is a new style Gyoza restaurant where you can enjoy gyoza with natural wine or champagne.  It is also known as the restaurant that Masakazu Narukami from restaurant called, "Narukami" which received one star in the Michelin guide book, is in charge of creating the menu, so their side dishes and sauces incorporate his own uniqueness. Cilantro, gyoza (680yen tax included) and Onion gratin gyoza (920 yen tax included) are popular in addition to the standard menu items such as Vegetable gyoza (520yen tax included) and Pork gyoza (550yen tax included). Especially, Onion gratin gyoza has a great combination of the chewy texture of the gyoza skin which tastes like boiled gyoza and the rich onion gratin's flavor.

Detailed information:http://www.moshimoshi-nippon.jp/42992

■Information

GYOZA BAR Comme a paris

Address:2-2-4 Aoyama Alcoop205, Shibuya, Shibuya-ku, Tokyo

Hours:5:00PM to 11:45PM(L.O.11:30PM)

Holiday:Sunday

Tel:03-6427-6116

TEL:03-6427-6116

Tamawarai(Harajuku)

The 3 major noodle dishes in Japan are ramen, soba-noodles, and udon-noodles. What people like about these noodles is how different they are according to the area. Broadly speaking, people in the East like soba noodles, and people in West like udon-noodles. Therefore, Tokyo is in the soba culture area. If you are looking for a modern type of restaurant, there is the Michelin-starred restaurant called "Tamawarai" in Harajuku. The building is located in a residential area, and does not look like a soba noodle restaurant. Steamed soba noodles which are made of coarsely ground buckwheat has a rich flavor when you chew it. They do not serve many kinds of appetizers, but they are proud of their menu items such has miso flavored shrimp, tempura, and herring which is cooked for six days.

Detailed information:http://www.moshimoshi-nippon.jp/19569

■Information

Tamawarai

Address:5-23-3 Jingumae, Shibuya-ku, Tokyo

Hours:[Tuesday~Friday]11:30~15:00(L.O.14:30)18:30~21:30(L.O.21:00)

 [Saturday]11:30~20:00(L.O.19:30)

 [Sunday]11:30~17:00(L.O.16:30)

 Holiday:Monday (If Monday is a national holiday, the next day, Tuesday will be a holiday)

TEL:03-5485-0025

Moo Moo Paradise Kabuki-cho main store (Shinjuku)

You can't make it through the Japanese winter without eating a "nabe" (hot pot). Shabu shabu is a hot pot dish that you can enjoy no matter what the weather is like -hot or cold. "Moo Moo Paradise Kabuki-cho main store" is mostly popular among young people. The first store started in Kabuki-cho in 1993, and now there are forty branches all over the world. They slice the meat right before they serve it up. The soup stock for shabu shabu is extracted from exclusive oxtails.  They offer organic ponzu and sesame dressing for the dipping sauce. They are very particular about the food they serve.

Detailed information:http://www.moshimoshi-nippon.jp/24978

■Information

Moo Moo Paradise Kabuki-cho main store

Address: Humax Pavillion Shinjuku Kabuki-cho Bldg. 8F, 1-20-1 Kabuki-cho Shinjuku-ku, Tokyo

Hours:Monday~Friday17:00~23:00(L.O.22:30)

Saturday・Sunday・Public holidays11:30~23:00(L.O.22:30)

Holiday:no holiday

TEL:03-3208-0135

>>next page

Sushi represents Japanese food! 5 recommended sushi restaurants in Tokyo

Sushi is the probably the most famous Japanese food! Below are 5 sushi restaurants we highly recommend.

Roppongi "atelier Morimoto XEX"

"atelier Morimoto XEZ" is a combined restaurant produced by Masaharu Morimoto who works in foreign countries centering around the U.S. You can make an order until 3:00 AM and enjoy many kinds of dishes which are a mixture of Japanese style and Western style. "Edomaezushi" is the recommended dish. Why don't you enjoy the dishes created by this top chef who is loved by people all over the world?

Detailed information:http://www.moshimoshi-nippon.jp/58797

■Information

atelier Morimoto XEX

Address: Roppongi Building, 7-21-19, Roppongi, Minatoku, Tokyo

Holiday: New Year's Day

TEL:03-3479-0065

URL:http://www.xexgroup.jp/morimoto

※The counter with cast iron-pan can be used until 24:00 and the isolated room can be used by paying 20,000 yen.

Shinjuku "Sushizanmai"

"Sushizanmai" is a sushi chain restaurant. The price of one of the lunch menus "Maguroduke Donburi" is only 477 yen (tax not included)! Moreover, you can drink as much coffee as you like. The lunch menu noted previously is offered from 11:00 to 17:00 at Shinjuku Higashiguchi Store (only on weekdays.) The helping of rice can be chosen at will and the menu comes with miso soup. The menu is recommended for those of you who want to enjoy seafood at a low price!

Detailed information:http://www.moshimoshi-nippon.jp/34111

■Information

Sushizanmai Shinjuku Higashiguchi Store

Address: 3F Seno Building, 3rd street, 18-4, Shinjuku, Shinjukuku, Tokyo

Business hours: 24 hours, lunch time – 11:00 to 17:00

Holiday: no holiday

TEL:03-5357-7737

Shinjuku "Hokkaido Sushi Unimaru"

The branch store of "Hokkaido Unimaru" where you can enjoy sushi and dishes of sea urchin opened inside of "Odakyu Ace" at Shinjuku Station's West Exit. The set "Uni Tabekurabe" (1,800 yen) offers three kinds of sea urchins; Murasaki Uni, Bafun Uni and Ensui Uni. Accordingly, you can compare the taste of these different sea urchins. This set menu is highly recommended. You can choose either "Shiro Shari (white rice)" using rice vinegar or "Aka Shari (red rice) using red vinegar.

Detailed information:http://www.moshimoshi-nippon.jp/40869

■Information

 "Hokkaido Sushi Unimaru"

Address: 〒160-0023, West Exit Basement #1, Nishishinjuku, Shinjuku, Tokyo (Odakyu Ace North Department)

Business hours: 8:00 to 23:00

Holiday: no holiday

TEL:0362790148

>>next page
RELATED ENTRIES
Keyakizaka Lights, a Tokyo Winter Tradition, to be Held Again in 2022

From November 11 until December 25, 2022, Roppongi Hills Christmas will cover Tokyo in glittering lights once again. The Keyakizaka Lights, one of Tokyo's most popular winter attractions, will also take place in 2022, with the 400-meter-long Keyakizaka street covered in over 800,000 blue and white LED lights.

For the first time in three years, the Mohri Garden will be covered in lights as well. The annual Christmas market will invite guests to experience an authentic German Christmas, and Christmas cakes and gourmet food unique to Roppongi Hills will be for sale. 

The Roppongi Hills Christmas event utilizes LED lights and has done so since the first event was held in 2003. Clean power will be used again this year, and the lights will be switched on from 5 PM until 11 PM each night. 

Information

Roppongi Hills Keyakizaka Lights

Running: November 10 – December 25, 2022 *Daily from 5:00 – 11:00 PM

*Lights may begin at a different time on November 10 only.

Location: Roppongi Keyakizaka Street

Official Site: https://www.roppongihills.com

New Sake '&Soda' Made Exclusively to be Mixed with Soda Water

Shiragiku Sake Brewery will release a special sake made exclusively to mix with soda water on October 1, 2022. The beverage will be available in Okayama Prefecture.

The company's interest in creating a new sake culture led them to develop &Soda, a delicious sake made to be mixed with soda. This may be helpful for those who don't know much about sake, or who may feel intimidated by the many different types. Being able to mix it with soda will make sake drinking feel more casual. 

Sake Made Exclusively for Mixing with Soda Water, '&Soda'

"Many people may like to mix sake with soda water or drink it on the rocks. By doing this, however, a nice sake may lose its flavor, and the drinker might be wasting a nice sake for the sake of a more easy-drinking beverage. &Soda was made exclusively to be mixed. Using Asahi Rice, a specialty in Okayama Prefecture, and water from the brewery, we've created a sake that has the proper aroma and sweetness. These characteristics will come through even after being mixed! The alcohol content has been increased to 18 percent, and the package will make the product easy to find and understand," a statement from the brewery reads.

For more information on how to enjoy &Soda, please see the special website below!

Information

Sake Made Exclusively for Mixing with Soda Water, '&Soda'

Release Date: October 1, 2022

Official Site: http://www.andsoda.jp/

Japan's Largest Sake Event TOKYO SAKE FESTIVAL to be Held in Shinjuku in October

Japan's largest sake event, TOKYO SAKE FESTIVAL 2022, will run from October 4 until October 6 at the Shinjuku Sumitomo Building's Triangle Square.

The event's aim is to make sake more mainstream around the world, with the first festival taking place in 2020. Tokyo Sake Festival blends sake with entertainment, showing off the very best of Japanese culture to those who may be new to craft sake. For the third year, former NMB48 member Yui Takano will serve as ambassador. Takano is known for leaving her idol career to manage the sake specialty store Yui Sake Shop. 

Tokyo Sake Festival 2022 is bringing together forty carefully selected sake breweries from around Japan, including Inoue Seikichi, winner of the Champion Sake award at IWC 2022. Tonoike Sake Brewery, winner of Kura Master 2022's President's Award, will also be in attendance. The full lineup can be found on the official website.

Popular influencers and artists from Raphael to BOYS AND MEN and Ukon Takafuji will take the stage during the event, so be sure to swing by if you're a fan of Japanese spirits!

Information

TOKYO SAKE FESTIVAL 2022

Dates: 

October 4: Part 1 13:30-16:30 / Part 2 18:00-21:00
October 5: Part 1 13:30-16:30 / Part 2 18:00-21:00
October 6: 16:00-19:00
Venue: Shinjuku Sumitomo Building Triangle Square
(2-6-1 Nishishinjuku, Shinjuku-ku, Tokyo)

Buy Tickets/Details: https://tokyosakefestival.bitfan.id/

Halloween Afternoon Tea with Black Cat Motif Coming to Tokyo's Grand Prince Hotel New Takanawa

During the month of October, Grand Prince Hotel New Takanawa in Tokyo will be offering a special Autumn Afternoon Tea. Inspired by Halloween–and particularly black cats–Lounge Momiji on the first floor will invite guests to devour some tasty treats. 

This year's Halloween theme is 'black cats,' which are said to be the messengers of witches. Guests will be able to enjoy Halloween-specific sweets and afternoon tea to fully enjoy the flavors of autumn.

 

In addition to sweet and sour macaroons filled with blackcurrant with a black cat motif, visitors can enjoy a bat-themed purple sweet potato Mont Blanc and cream puffs made with pumpkin. The black cat cookies are also perfect for posting to Instagram, so come enjoy lots of sweet and savory goods made with autumn fruits and vegetables such as grapes, persimmons, and figs.



Come enjoy afternoon tea and get into the Halloween spirit this October!

Ibiza-Inspired Kiranah Resort Toyosu Opens with Stunning View of the Rainbow Bridge

Kiranah Resort Toyosu, an outdoor dining and leisure facility, will open in Koto-ku, Tokyo on August 26, 2022.

 

Kiranah Resort Toyosu is a complex perfect for families, couples, and children alike, and was inspired by Ibiza in Spain. The attractive location offers a view of Tokyo Bay and a panoramic view of the Rainbow Bridge. The site is the size of a soccer field and includes barbecue facilities with approximately 1,000 seats in three unique areas, as well as a restaurant and bar offering both a la carte and full-course meals. Visitors will also find a DJ booth, dog area, bonfire lounge, event stage, lawn, and much more.

The barbecue area spans three areas, each with a distinct atmosphere. The number of guests, the menu, and the price can be changed according to the guest's needs.

The cabin area offers an outdoor kitchen with a grill and sofas beneath an air-conditioned pergola perfect for every kind of weather.

At the pool area, guests will find impressive DJ booths and will feel as though they have been transported to a luxury beach resort. At night, the area is lit up to give a more adult atmosphere.

The Pallet area includes activities for children and adults alike, and sports a massive lawn, bonfire area, and food trucks. A huge dog park will also welcome furry friends!

The main dining room is scheduled to open in September and will feature a bar area on the first floor and a restaurant on the second floor. The restaurant will have dishes and drinks to suit every situation, including lunch, a la carte, catering menus, and full-course gastronomic meals in an extraordinary space. Seats on the second floor overlook the Rainbow Bridge, Tokyo Tower, and Sky Tree, so be sure to visit on your next trip to Tokyo!

Information

Kiranah Resort Toyosu

Address: 6-5 Toyosu, Koto-ku, Tokyo

Hours: 11:00-15:00, 17:00-21:00 (Subject to change.)

Holidays: None (subject to change)

Access: 10-minute walk from Shijo-mae Station on the Yurikamome Line / 5 minutes by taxi from Toyosu Station on the Yurikamome Line
Reservations: https://kiranahresort-toyosu.com/ 

Concert to be Held at World Heritage Site Kumano-Nachi Taisha in Wakayama

Each year, an incredible event is held at Kumano-Nachi Taisha, a Shinto shrine and World Heritage Site located in the Kii Mountain Range of Wakayama Prefecture.

To kick off the 'diamond celebration,' a special concert will mark the 1,250th anniversary of the birth of Kobo Daishi, the Japanese Buddhist monk who founded the Shingon school of Buddhism. Yoshimi Tsujimoto, a shakuhachi player from Hashimoto, will perform, while the event also hopes to bring tourism to the area by sharing more information about Wakayama with the masses. 

Date: October 22, 2022, 13:30
Venue: Danjo-garan Buddhist Temple

Program:

[Part 1] Chorus of local elementary school students, etc.

[Part 2] Talk Session

Participants:

Hougen Yabu (Director of Head Temple Kongobu-ji on Mount Koya)

Yoshimi Tsujimoto (Shakuhachi player)

[Part 3] Concert

Performer: Yoshimi Tsujimoto (Shakuhachi player)

*Will include a percussion, guitar, and keyboard session

<About the Call for Visitors>

350 Guests are Invited!

*If there are too many applicants, a drawing will be held.

*Livestreaming of the event will also be available online.

Application Period: August 23 – September 26, 2022

 *Postcards must be postmarked by September 26. Those applying n the website must do so by 23:59 on September 26.

How to Apply:

By postcard

Address: Yamabutai Concert Section
Wakayama Broadcasting Co.
3-3 Minatohonmachi
Wakayama, 〒640-8577

What to Include: Zip Code, Address, Name, Age, Phone Number, Admission
*Can include up to 2 guests.

     2. On the special website

Please apply using the application form on the special website.

Keep in Mind:

1. Incomplete entries will be considered invalid.

2. Only one application per person is allowed.

3. If there are too many applicants, a drawing will be held. Winners will be announced when numbered tickets are sent out.

4. Personal information provided in each application will not be used for any purpose.

(For Reference) Past Performers

2015 – Hitomi Shimatani (Danjo-garan Buddhist Temple)

2016 – Chitose Hajime (Kumano-Nachi Taisha)

2017 – *Canceled due to typhoon.

2018 – Kumiko (Oyunohara)

2019 – May J. (Kumano-Nachi Taisha)

2020 – *Canceled due to the ongoing pandemic.

2021 – Yuki Koyanagi (Kumano-Nachi Taisha)

■Cast Profiles

◆ Hougen Yabu / Director of Head Temple Kongobu-ji on Mount Koya

・1993 – Graduates from Koyasan University

・In 2011, he became the chief priest of Kirihata Temple, where he remains to this day.

        *Kirihata Temple [Fukuoka Prefecture] / Sasaguri 88 Sacred Sites, #10

・In 2021, he became the Director of Head Temple Kongobu-ji on Mount Koya and was also appointed as the director of the 1,250th birthday celebration for Kobo Daishi, the founder of the Buddhist sect.