SHINING MOON TOKYO: Sailor Moon Show Restaurant to Open in Azabu-Juban
Azabu-Juban is a district in Tokyo and considered a holy ground amongst Sailor Moon fans as it is where the Sailors reside in the series. That fact is about to be set in stone as the all-new show restaurant SHINING MOON TOKYO is set to open in Azabu-Juban on August 15.
The building used for the restaurant was actually built in the same year when the Sailor Moon manga began serialisation. It's also located in Joule A, the same place where Jewelry OSA-P appears in the series.
Since its release in 1991, the Sailor Moon manga series has been translated into 17 languages, and the anime series has made it to 40 countries worldwide. It has even spawned musicals which have been taken around the world. Now, fans can look forward to enjoying their favourite series in a new form with the opening of SHINING MOON TOKYO.
The restaurant's stage show is being produced by Nelke Planning who has been involved in many of the franchise's musicals. It will make use of stunning LED visuals and lightning and will feature music and dancing.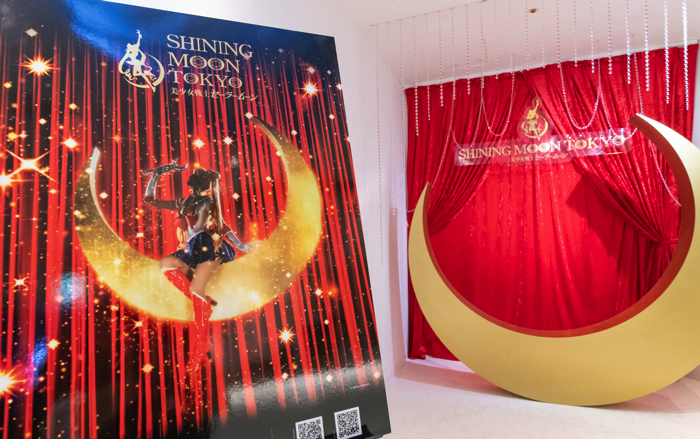 At the entrance to the restaurant is a gorgeous golden moon which you can sit on and pose like one of the Sailors.
A little further in is the stage, whose pink aesthetic and decorations have received the official stamp of approval from Sailor Moon author Naoko Takeuchi. The distance between the stage and audience is short, allowing for an up-close, immersive and thrilling spectator experience.
Concealed behind glass display cases are gorgeous and glittery Sailor Moon outfits.
Our five Sailors all feature in the stage show who we get to see in their everyday lives, during their transformations, and in battle scenes. The manga will be brought to life before the crowd's eyes.
Most of shows will be non-verbal, meaning that people can enjoy them without understanding Japanese. Many different stories will be told on stage―you can find out which ones they will be showing while at the restaurant.
The restaurant will feature a kawaii menu with original drinks and dishes you can't get anywhere else.
Sailor Planet Sushi Balls – ¥1,800 (Tax Included)
This tropical-looking sushi platter is made up of five different sushi balls including Japanese halfbeak, Okinawan spinach, salted salmon roe, snow crab, and conger eel. The vinegar used in the dish has antioxidants in it which will protect your body like a Guardian Sailor!
Tsukino Family Classic! Rabbit Curry – ¥1,800 (Tax Included)
The rice in this adorable dish is made into the shape of a rabbit, which in Japanese is usagi―and is also the name of our titular heroine! It contains fragrant spices which are sure to warm your body and healthy herbs to soothe fatigue.
SHINING MOON TOKYO Roll Cake – ¥1,500 (Tax Included)
For dessert, look forward to a gorgeous strawberry roll cake topped with fresh cream and cherries. If you like the sound of lots of flavours dancing in your mouth at once, then we recommend this one to you!
SHINING MOON TOKYO Pancakes – ¥1,500 (Tax Included)
The sweet and sour taste of the mango and kiwi elevate the nectarous notes of the maple pancakes. It even comes with an iced Sailor Moon cookie.
Pretty Guardian Lunch Box (Left) / Moon Prism Rice Burger (Right)
Once you've eaten everything in your lunch box, which includes rice balls, vegetables and more, you can take it home with you to add to your Sailor Moon collection!
Drinks – ¥800 Each (Tax Included)
There are five drinks inspired by each respective Sailor and each comes with their own original coaster.
Acrylic Silhouette Key Rings – ¥1,300 Each (Tax Included)
Stock up on your Sailor Moon collection too with a whole range of exclusive goodies!
Enter a new Sailor Moon world with food and entertainment at SHINING MOON TOKYO when it opens in the Sailors' hometown on August 1.
Model: Ruki
ⒸNaoko Takeuchi
ⒸNaoko Takeuchi・PNP / Sailor Moon –SHINING MOON TOKYO–
Information
SHINING MOON TOKYO
Grand Opening: August 15, 2019
Address: Joule A Floor B1F, 1-10-1 Azabu-Juban, Minato Ward, Tokyo
Access: Direct connection from Azabu-Juban Station which is on the Toei Edo Line and Tokyo Metro Namboku Line
Official Website: https://sailormoon-shiningmoontokyo.com/en/
RECOMMENDED ENTRIES
Sailor Moon Show Restaurant To Open in Azabu Juban, Tokyo

Dining on Sailor Moon-themed food while being entertained by a live Sailor Moon musical is a dream come true for many. On August 15, 2019, a show restaurant called Sailor Moon-SHINING MOON TOKYO will open in Azabu Juban, Tokyo. 

Japan has already surprised many with the release of a Sailor Moon 2.5D Musical. This is a type of modern Japanese musical theatre based on anime where the characters are brought into the real world. This new show restaurant is aiming even higher, offering a completely new form of live entertainment. 

There isn't a better place for the restaurant to open than Azabu Juban, where the Sailor Moon characters are often seen in the anime. In fact, Azabu Juban is a holy land for all Sailor Moon fans, attracting fans from all over Japan and even from overseas. Once fans heard the news of the show restaurant, excitement spread like wildfire.

There is no doubt that this original show is a fantastic opportunity to delve deep into the world of Sailor Moon. There will also be the opportunity to try meals and drinks that are based on the anime which is not sold anywhere else. Of course, there will also be an area dedicated to the sale of original goods. 

The official website was published ahead of the grand opening of the restaurant. General ticket sales will be launched at 10 am on July 21. Enjoying Sailor Moon-themed meals and drinks while being entertained by a Sailor Moon stage show is a completely unique experience that many are curious about.

©️Naoko Takeuchi

©️Naoko Takeuchi, PNP, Sailor Moon  –SHINING MOON TOKYO –

Information

Sailor Moon  –SHINING MOON TOKYO –

Location: Basement Floor 1, Joule A, 1 Chome-10-10 Azabu Juban, Minato City, Tokyo 

Grand Opening: August 15, 2019 

※ Ticket sales start at 10 am on July 21, 2019

General Ticket Enquiries: info@sailormoon-shiningmoontokyo.com 

Official Website: https://sailormoon-shiningmoontokyo.com/ 

Beautiful Sailor Moon T-Shirts Released by UNIQLO's UT Brand

UNIQLO's graphic t-shirt brand UT it collaborating with Sailor Moon to release a collection of t-shirts at UNIQLO stores across Japan and their online store on June 23.

The original Sailor Moon manga series written and illustrated by Naoko Takeuchi was the biggest shojo manga series of the 1990's. It has been translated into 17 languages and the anime series has been made available in over 40 countries. The Sailor Moon 25th Anniversary Project began in 2017 and has brought about new anime series, a musical and more. In July this year, the manga series was released digitally and simultaneously worldwide for the first time.

To celebrate and help promote the digital distribution of the manga series, the t-shirt collection was made in collaboration with Naoko Takeuchi herself. The designs are enough to make the hearts of fans out there throb.

This design features Sailor Moon's iconic pose when she declares, "In the name of the moon, I'll punish you!"

This design showcases the classic scene when the Sailors send in their power to the Holy Grail. The dialogue has been translated into 10 languages in celebration of the international digital distribution of the manga.

The front of this t-shirt features the series logo while the back has the Sailors and Luna each with their respective colours.

The back of this t-shirt features Sailor Moon's birthday scene. It comes with trendy tie-dye colouring.

This final design has a pocket with a picturesque scene of Azabu-Jūban, a district in Tokyo where the Protagonists live. There is also a cute embroidering of Luna above it.

From longtime readers to more recent fans, this is a collection you're sure to enjoy!

©Naoko Takeuchi

Hello Kitty Theatre Restaurant HELLO KITTY SHOW BOX Opens its Kawaii Doors to the Public

The official Hello Kitty theatre and restaurant HELLO KITTY SHOW BOX on Awaji Island had its grand opening on August 12.

Related Article: Stunning Hello Kitty Theatre Restaurant HELLO KITTY SHOW BOX to Open On Awaji Island

New photos have emerged giving us a peek inside the restaurant and at the menu.

The restaurant itself is situated in the farmlands of Awaji Island. Hiding on top of the building is an adorable hidden face of Hello Kitty which can't be seen from the ground.

At the back of the restaurant is a giant screen spanning 6 meters wide and 16 meters tall. The stage in front will give rise to a whole new kind of Hello Kitty entertainment with song, dance and performances.

The menu was conceived by Japanese chef Hal Yamashita and uses healthy, organic ingredients to make incredible dishes that both taste amazing and are fun to look at. As well as vegan dishes, there will be a dessert buffet which also uses healthier alternatives. Everything look delicious!

The interior is both cute and high class, offering the ultimate Hello Kitty restaurant. With its doors now open to the public, fans of Hello Kitty are set to flock to Awaji Island.

Ⓒ1976, 2019 SANRIO CO., LTD. 

Information

HELLO KITTY SHOW BOX

Grand Opening: August 12, 2019

Address: 177-5 Nojimahirabayashi, Awaji, Hyogo Prefecture
Business Hours: 11:00-20:00
Closed: Wednesdays
Weekday Hours: Lunch 11:00 / Cafe 15:00 / Dinner 18:00
Weekend Hours: Lunch 11:00 / Cafe 14:15 & 16:15 / Dinner 18:15

Reservations
①Reservations can be made via the homepage here (*Discount applied to all reservations)
②Reservations can also be made at the restaurant on the day depending on the number of available tables
Allotted Time: 2 hours max.

Official Website: https://awajiresort.com/hellokittyshowbox/
RELATED ENTRIES
Peter Luger Steak House Opens First Japanese Branch at Ebisu Garden Place

Hailing originally from Brooklyn, the 130-year-old Peter Luger Steak House has announced the opening of its first-ever Japanese branch which will welcome customers at Ebisu Garden Place in Tokyo this September with its 3-storeys of red brick.

Peter Luger is credited with spreading the mouth-watering wonder of dry-aged beef steak to the world which has made the restaurant's name globally famous. The restaurant of course wields a Michelin Star and has been featured high on the Zagat Survey for over 30 years.

The secret behind Peter Luger's signature ingredient

The restaurant's beef fillet and New York strip are signature items on the menu, both of which are made from porterhouse steak. Their steak is also made from USDA Prime beef which is dry-aged by hand to intensify the flavour and aroma.

The porterhouse is placed directly onto the broiler and seasoned solely with salt. The steak is flipped only once during the broiling process. A knob of melted butter is added to a serving platter and the steak is sliced atop it. It's then placed back into the broiler for a few minutes depending on the doneness requested by the customer. It's this process that gives Peter Luger's steaks their deliciousness. 

 

Brooklyn red brick building and theatre decor

The Japanese branch takes inspiration from the Brooklyn restaurant with its red brick exterior.

The first floor is home to the bar where customers can enjoy food and cocktails. There's also a takeout shop with gifts and other items.

The second floor is the spacious dining space which is home to Peter Ruger's first-ever open kitchen. The third floor is another seating area with balcony-like seats so you can look out over the city.

There are seven private dining rooms of varying sizes for those looking a little more intimacy and privacy. The restaurant's lighting was also designed by a New York designer.

Information

Peter Luger Steak House Tokyo

Grand Opening: September 9, 2021

Address: 4-19-19 Ebisu, Shibuya, Tokyo

Bookings: From August 2021

Peter Luger Steak House Japan Official Website: https://peterluger.co.jp/

Sailor Moon Eternal Anime Film Promoted With Luna and Artemis Cheesecakes

Neko Neko Cheesecake, a bakery chain in Japan which cooks up cute desserts and pastries shaped like cats, is promoting the release of the two-part anime film Sailor Moon Eternal with two cheesecakes reminiscent of Luna and Artemis. The cakes will be sold from February 11 to March 25.

Sailor Moon Nyan Cheesecake (Mango) | ¥1,380 (Before Tax)

Sailor Moon Nyan Cheesecake (Strawberry) | ¥1,380 (Before Tax)

The cakes arrive in fruity mango and strawberry flavours, available both in-store at Neko Neko Cheesecake branches and via the online store All Hearts Mall in Japan. Both are also safely wrapped up and packaged in a cute box featuring a sailor uniform before being placed in a bag that has Luna and Artemis huddled together and sat atop a crescent moon.

The first film in the Sailor Moon Eternal series was released on January 8, 2021, and the second on February 11, 2021.

©武内直子・PNP/劇場版「美少女戦士セーラームーンEternal」製作委員会

Sailor Moon Eternal's Second Anime Film Promoted With Luna Shaped Bread

Japanese bakery Neko Neko Shokupan is promoting the release of the second in the two-part anime film series Sailor Moon Eternal by baking up a bread inspired by everyone's favourite feline: Luna. The bread will be sold from February 11 to March 25.

Neko Neko Shokupan Luna Bread w/ Chocolate Pen | ¥1,200 (Before Tax)

The bread is made of pastry laced with black cocoa powder. Luna's ears are strawberry flavoured and she  of course has her iconic crescent moon atop her forehead. She arrives safely packaged in a cube-shaped box decorated in night sky stars and the moon. This box is placed in an eye-catching bag with little Sailor Moon details that are sure to be familiar to any fan, including Luna herself as well as Artemis.

The bread is available in-store at Neko Neko Shokupan branches and via the online store All Hearts Mall in Japan

The first film in the Sailor Moon Eternal series was released on January 8, 2021, and the second on February 11, 2021.

©武内直子・PNP/劇場版「美少女戦士セーラームーンEternal」製作委員会

Limited-Edition Emerald Blue Sailor Moon Eternal Wristwatch Released in Japan

Citizen Watch brand wicca released a new emerald green wristwatch to commemorate the release of the new anime film Sailor Moon Eternal. The item was released exclusively on PREMICO's online shop in Japan on January 6, 2021, with a limited stock of just 3,000.

Wicca x Sailor Moon Eternal Special Collab Watch | ¥29,800 (Before Tax)

The watch features intricate nods to the film such as a crescent moon at the 12-o'-clock mark with a rhinestone, Pegasus and white wings on the bottom half, an emerald blue round face, the Crystal Carillon on the 6-o'-clock mark, and more.

The mesh strap is pink and gold to complete the a beautiful and feminine appearance. And since only 3,000 have been made, each watch also has its own Edition Number engraved into it. The watches are packaged in special gold leaf box with a Swarovski® crystal on it.

©武内直子・PNP/劇場版「美少女戦士セーラームーンEternal」製作委員会

Swarovski® is a registered trademark of SwarovskiAG.

Summon Magical Girl Vibes to Your Daily Life With the Sailor Moon Eternal x 3COINS Merch Collab

Japan's 300-yen store 3COINS collaborating with the upcoming anime film Sailor Moon Eternal, which will hit theatres in Japan on January 8, 2021, to release a collection of original merchandise which will drop at all 3COINS branches in Japan (including 3COINS+ plus, colle, 3COINS OOOPS!, 3COINS station, and ASOKO+3COINS) on January 16, 2021. The items will also be sold for a limited time at 3COINS sister brand store ASOKO Harajuku from January 16 to 29 as well as on the company's official online shop PAL CLOSET on January 18.

It's a line-up of 3COINS exclusives including a warm blanket for the winter season, a makeup basket to add fun to your makeup routine, a mug and plate with the Sailors on it, and more. There are 35 pieces of merch in total, all of which can be incorporated into your daily routine.

©武内直子・PNP/劇場版「美少女戦士セーラームーンEternal」製作委員会

Sailor Moon Eternal Lingerie Collection to Release in Collaboration With GiRLS by PEACH JOHN

GiRLS by PEACH JOHN has revealed that it's releasing a lingerie set in collaboration with the upcoming anime film Sailor Moon Eternal.

Peasy001 Sailor Moon Eternal ver. | ¥2,280 (Before Tax)


Sailor Moon Eternal Eternal Bra Set | ¥6,980 (Before Tax)


Sailor Moon Eternal Non Wired Bra Set | ¥3,980 (Before Tax)

A Sailor Moon Eternal limited-edition print of GiRLS by PEACH JOHN's popular Peasy001.

Sailor Moon Eternal Makeup Panties | ¥1,480 (Before Tax)


Sailor Moon Eternal Set Up | ¥3,980 (Before Tax)


Sailor Moon Eternal Lingerie Set | ¥3,980 (Before Tax)

The collection will drop online at GiRLS by PEACH JOHN, as well as PEACH JOHN stores in Shibuya, Shinjuku Sanchome, and Osaka on January 27, 2021. The collection will also roll out at overseas PEACH JOHN stores.

©武内直子・PNP/劇場版「美少女戦士セーラームーンEternal」製作委員会

Information

Sailor Moon Eternal Collaboration Collection
Release Date: January 27, 2021
Available in-store at: PEACH JOHN Shibuya / PEACH JOHN Shinjuku-Sanchome / PEACH JOHN Osaka / PEACH JOHN overseas
GiRLS by PEACH JOHN Official Website: https://www.peachjohn.co.jp/girls/

Sailor Moon Launches Fans Into Space at KONICA MINOLTA PLANETARIA

KONICA MINOLTA PLANETARIA TOKYO, Konica Minolta Planetarium "MANTEN" in Sunshine City, and Konica Minolta Planetarium "TENKU" in TOKYO SKYTREE TOWN® are set to collaborate with the upcoming anime film Sailor Moon Eternal starting on December 22, 2020.

Each of the planetariums' lobbies have been decorated into special Sailor Moon Eternal welcome zones, and fans can get their hands on a range of original and exclusive merchandise. At PLANETARIA TOKYO, their Cafe Planetaria is serving up a selection of Sailor Moon-themed food too.

Guided by the Light of the Moon: A Welcoming Under the Starry Sky

As part of the collaboration, PLANETARIA TOKYO, Planetaria "MANTEN," and Planetaria "TENKU" have a special welcome reception ready for visitors inspired by the two-part Sailor Moon Eternal movie.

New official artwork designed for the planetarium

A special new and original illustration has been drawn for the collaboration which is displayed at each venue as well as featuring on some of the merchandise being sold.

Welcome Zone

The Welcome Zone is decked out in Sailor Moon Eternal decorations, a special photo booth, and more for fans to feel like they're part of the anime film's work.

Locate Luna, Artemis, and Diana

If you find Luna, Artemis, and Diana at any of the planetariums, there will be keywords associated with them. The first 5,000 people at each planetarium tell these to a staff member will receive a special limited-edition Sailor Moon Eternal postcard.

Cafe Planetaria Collaboration Menu

Galaxy Doughnuts – From Left: Super Sailor Jupiter / Super Sailor Mercury / Super Sailor Moon / Super Sailor Mars / Super Sailor Venus | ¥600 Each (Before Tax)

Cafe Planetaria at PLANETARIA TOKYO is selling doughnuts worthy of a cafe whose menu focuses on having customers enjoy "the taste of the night sky." Each of the five galaxy doughnuts is inspired by the colours of the five main Sailors. There's also a selection of drinks and other desserts too.

Super Sailor Moon Lychee Milk | ¥800 (Before Tax)

A lychee juice and milk combi topped with a crescent moon-shaped lemon. Pour in the accompanying pink grapefruit juice to enjoy a new taste and cute appearance.

Tuxedo Mask's Chocolate Latte | ¥800 (Before Tax)

A truly striking beverage whose inspiration is sure to be instantly recognisable to Sailor Moon fans. It's none other than Tuxedo Mask who gets himself a macadamia nut and chocolate latte.

Super Sailor Moon Parfait | ¥1,200 (Before Tax)

A sweet and tangy parfait with colours based on the Sailor uniform. It's topped with amaou strawberry ice cream and pineapple jelly and adorned with a chocolate crescent moon and ribbon.

Super Sailor Chibi Moon Sweets Box | ¥1,100 (Before Tax)

An assortment of sweets treats like a raspberry and strawberry fruit sandwich, a berry-topped baked dessert, a heart-shaped macaron, and more.

Otome Berry Tart  ¥1,000 (Before Tax)

A fruity tart topped with assorted berries and a macaron made to look like the Crisis Moon Compact.

Planet Cocktail Series

Limited-Edition Coasters (3 Designs)

Fans who order one of the non-alcoholic cocktails from the Planet Cocktail Series will receive one of three limited-edition coasters for free. There are also alcoholic cocktails but these don't come with a coaster.

Sailor Moon Eternal Anime Film Gets Special Event at Yokohama Landmark Tower Sky Garden

Sky Garden, ab observation deck on the 69th floor of Yokohama Landmark Tower, is holding a special event in collaboration with the upcoming two-part anime film Sailor Moon Eternal from December 22, 2020 to January 31, 2021.

The event will commemorate the release of the first film, which is hitting Japanese theatres on January 8, 2021, with a range of exhibits, a VR experience called "VE DREAM FLIGHT" that puts visitors into scenes in the film, a line-up of original drinks inspired by the film, and more. And if you buy one of the special entry tickets you can get one of the original cards pictured above.

VR DREAM FLIGHT: Sailor Moon Eternal in 360°

See Super Sailor Moon and Super Sailor Chibi Moon transform and immerse yourself in scenes from Sailor Moon Eternal in a 360° virtual space.

Running: December 22, 2020 – December 27, 2020 / Weekends & Holidays in January

Time: 11:00-21:00 (Last Entries 20:30) / (from 10:00-18:00 on January 1, 2021 only)

Ages: 7+

Original Drinks

Super Sailor Chibi Moon Drink | ¥800 (Tax Included)

A strawberry latte inspired by Super Sailor Chibi Moon that's topped with chocolate hearts and a chocolate ribbon.


Pegasus Drink | ¥800 (Tax Included)

A refreshing Calpis beverage made with ramune flavoured jelly and topped with a Pegasus chocolate.

Exclusive Merch

Acrylic Key Rings | ¥935 (Tax Included)

Get your hands these limited-edition and exclusive acrylic key rings available at the Tower Shop to celebrate the release of Sailor Moon Eternal.

©武内直子・PNP/劇場版「美少女戦士セーラームーンEternal」製作委員会

Information

Sailor Moon Eternal Collaboration Event
Location: Yokohama Landmark Tower Sky Garden (Floor 69F)
Running: December 22, 2020 to January 31, 2021
*Open 10:00-21:00 (Last Entries 20:30) on December 31, 2020

*Open 10:00-18:00 (Last Entries 17:30) on January 1, 2021
Official Website: http://www.yokohama-landmark.jp/skygarden 

Experience a Sailor Moon Themed Wedding With This Official Line-Up of Ceremonial Items

An official collection of Sailor Moon themed wedding items is being released next year in Japan in collaboration with the manga's author Naoko Takeuchi. Orders open on January 4, 2021.


The line-up includes food, dessert, drinks, a wedding cake, welcome cards, decorative flowers, cookies, and a wedding certificate.

The decorative flowers include an enormous crescent moon for the main sofa, three bunches for the main seats, 12 desk plants, and 4 bouquets.

The cookies feature original designs with the wedding certificate also having original design sheets.

Sailor Moon Eternal Clothing Collection to be Released in Collaboration With jouetie

Japanese fashion brand jouetie is teaming up with the upcoming anime film Sailor Moon Eternal to release an original clothing collection. The items are currently available for pre-sale online at RUNWAY channel and ZOZOTOWN and will be released at all jouetie stores in Japan on January 8, 2021.

Sailor Moon Eternal x jouetie Scene Hoodie | ¥9,000 (Before Tax)

A street-style hoodie featuring a scene taken from the anime film itself. The back features an embroidered logo. It's a comfortable size so can be worn as a one piece or paired with tight pants.

Sailor Moon Eternal x jouetie Long T-Shirt | ¥8,000 (Before Tax)

A long black T-shirt which features Super Sailor Moon, Super Sailor Chibi Moon, and Luna marks on the chest. It's a street-style T-shirt bearing an old English logo, serving both cute and strong feminine. A great pairing with short pants or a skirt with high boots.

Sailor Moon Eternal x jouetie Blouse | ¥8,000 (Before Tax)

A blouse covered in guardian makes which are sure to be instantly-recognisable amongst Sailor Moon fans. Its loose silhouette means it looks great with denim bottoms like short pants.

Ginza's Italian Restaurant FARO Earns Michelin Star

FARO, an innovative Italian restaurant in Ginza, Tokyo, has earned itself a Michelin Star in Michelin Guide Tokyo 2021 which went on sale on December 10, 2020.

Located on the 10th floor of the Tokyo Ginza Shiseido Building, the restaurant offers a taste of contemporary Italy, fusing tradition and innovation with a menu that incorporates Japanese ingredients and culture for an original dining experience.

Chef's Special: Potato spaghetti

The individual credited with the creation of a new food culture is FARO's executive chef Kotaro Noda who is the only Japanese person to own two Michelin-starred restaurants in Italy. He has been at the forefront of the Italian cooking world for the past 20 years.

Vegan Menu: Daikon Mochi [Winter Season Item]


Flower Tart

FARO puts a lot of work into its array of colourful vegan courses. These courses aren't only aimed at vegans either – they are available to anyone wanting to eat delicious and healthy food.

The restaurant is also a display of Japanese craftsmanship, with all cutlery, crockery, table accessories, and more made using traditional Japanese methods, like the lattice work on the doors from Niigata Prefecture, the Tajimi and Arita ware, fabrics from Imabari, Edo kiriko cut glasses, and more.

The decor of FARO is an elegant and stylish fusion of both Japanese and western tastes, with a colour gradation representing the earth, sea, and sky. This colouring offers a completely different dining in both the daytime or during evening hours.

Information

FARO
Address: 8-8-3 Ginza, Chuo-ku, Tokyo

Opening Hours: [Lunch] 12:00-13:30 / [Dinner] 18:00-20:30

Closed: Sundays/Mondays/Mid August/New Year Holidays
TEL: 0120-862-150 / 03-3572-3911
Official Website: https://faro.shiseido.co.jp/ 

Luxurious Sailor Moon Eternal Purses Made With Traditional Nishijin-Ori Woven Silk

Imperial Enterprise has just released two gorgeous new purses to promote the release of the two-part anime film Sailor Moon Eternal, the first part of which will hit theatres in Japan on January 8, 2021.

The purses are made with a traditional Japanese textile known as Nishijin-ori which is produced in the Nishijin district of Kyoto. There are two designs to pick from: Super Sailor Moon and Super Sailor Chibi Moon, both of which were released on PREMICO's online shop in Japan on Monday (December 7).

Both purses are skilfully and beautifully handwoven by textile artisans and are sure to delight all magical girls out there.

Super Sailor Moon

The design is inspired by a night sky with twinkling stars in the back. Dotted around the face of the purse are crescent moons and white wings arranged in a traditional karakusamon grass motif design with gold thread. The purse button is based on the Crisis Moon Compact and is bejewelled with a sparkly pink rhinestone.

Super Sailor Chibi Moon

The design features Pegasus, the Silver Crystal, moons, and white wings arranged in a traditional karakusamon design. The purse button is based on the Crystal Carillon and comes with a charm bejewelled with a pink quartzite.

The purses have a handy 19 different pockets including a coin compartment and 12 card slots. The inside of the purses also have moon and wing motifs to keep with the Sailor Moon aesthetic.

Each purse comes in a specially-made box made with beautiful gold leaf. The purses are a celebration of both Sailor Moon and Japanese artistry and are a must-have for fans of the series.

©武内直子・PNP/劇場版「美少女戦士セーラームーンEternal」製作委員会

Information

Sailor Moon Eternal x Nishijin-ori Silk Purses
Release Date: December 7, 2020
Shipping: End of January 2021
Product Page: https://iei.jp/sailor-nw2/