Disney Christmas 2019 at Tokyo Disneyland: Spend This Year's Holiday Season With That Special Someone♡
Tokyo Disney Resort has announced this year's Disney Christmas which will take place at Tokyo Disneyland® and Tokyo DisneySea® from November 8 to December 25. This is the Tokyo Disneyland® event line-up. For the Tokyo DisneySea® schedule, click here.
Disney Christmas Stories
Disney Christmas Stories celebrates the holiday season with a magical parade which will bring together the Disney cast members with their loved ones. The characters will dress in festive outfits and deliver to guests their own Christmas stories. Seven joyous Christmas stories will unfold before guests' eyes, from a merry family outing with Donald Duck, his beloved Daisy Duck and his three nephews Huey, Dewey, and Louie, to the star couple Mickey and Minnie Mouse.
The parade will seemingly stop all of a sudden which will be followed by ringing bells, signalling the start of a Christmas party. Snow will fall along the parade route, and the cast members will invite guests to join them in celebrating a heart-warming Christmas.
Christmas Decorations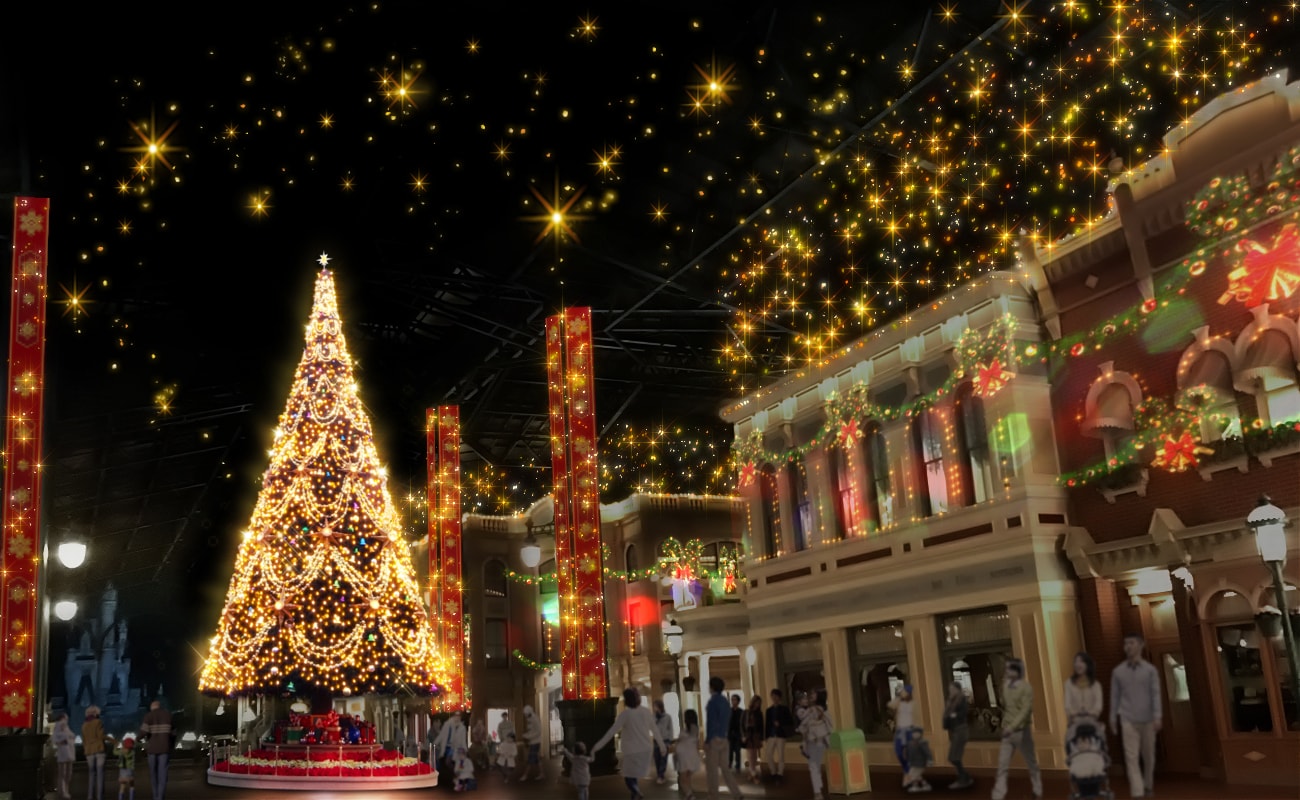 An enormous 15-meter tall Christmas tree will tower over World Bazaar and illuminate the streets with its brilliant lights together with dazzling projections, combining with the festive music to create a romantic atmosphere.
The plaza in front of Cinderella's Castle will glimmer with Christmas adornments as well as Christmas presents, Winnie the Pooh decorations, and more. Each themed land across the park will also be embellished in Christmas colours, bringing a merry little Christmas to the park.
Special Christmas Merchandise
Glass Set – ¥2,200 (Tax Included)
Around 65 special Disney Christmas themed items are set to go on sale from November 1, from glasses to cushions and more, all of which can be used for Christmastime at home. Featuring designs of the Disney characters, each item is sure to bring an air of that nostalgia we all feel at Christmas.
Christmas Food & Drink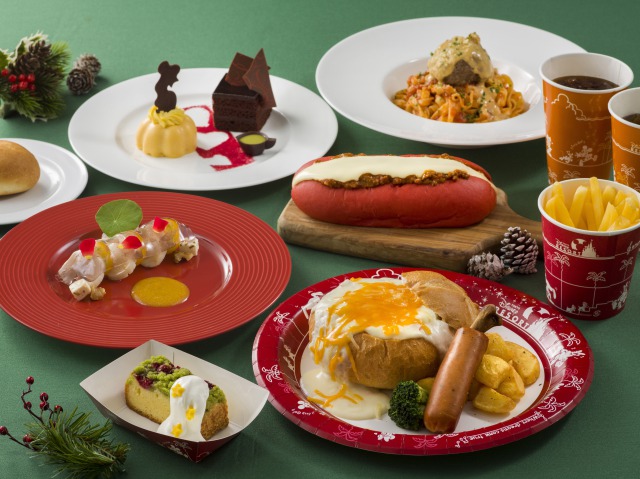 Also available from November 1 is a very special Christmas menu made up of 15 dishes and drinks. There's the seafood cream bread packed with melted cheese, a hot dog dressed in the colours of Christmas with its eye-catching red bun and white cheese, and more. There's also a dish inspired by the Disney film Beauty and the Beast who are set to appear in the parade.
Enjoy a very merry Christmas this year at Tokyo Disneyland.
RELATED ENTRIES
Strawberry Matcha & Matcha Chocolate Christmas Cakes Releasing at Itohkyuemon

Kyoto-based tea shop Itohkyuemon is now taking orders for two Christmas cakes via its online shop: the Strawberry Matcha Ice Cream Cake Premium and the Uji Matcha Chocolate Cake Chocolat de Veil.

The luscious Strawberry Matcha Ice Cream Cake Premium is made with high-quality matcha ice cream and snow white cream and is topped with condensed milk lathered strawberries, redcurrants, blueberries, and raspberries. This doughnut-shaped cake serves 6 people who are sure to be delighted with its fresh, sweet and sour assortment this Christmas. Its flavour combination is one you won't tired of.

The cream of the Uji Matcha Chocolate Cake Chocolat de Veil is made with an innovative pressing method. The cake itself is a matcha sponge cake with adzuki beans inside, topped with matcha mousse, raspberries and blueberries. The combination of the matcha and berries was a decision made by the artisan bakers not only to bring a sweetness and bitterness, but to create a "wow" factor. The sourness of the berries elevates the rich taste of the matcha and the sweetness of the chocolate.

Which of these Christmas cakes looks most tempting?

Wear Plain Clothes This Halloween at Shibuya's Jimi Halloween 2019 Event

Worried about what to wear for Halloween this year? No need to panic. If you're spending your Halloween in Shibuya this year, which is known the world over for its incredible Halloween festivities, then head to Tokyo Culture Culture on October 27 where a very unique event is taking place.

Jimi Halloween is an event that takes out the stress of having to go all out for Halloween as people go dressed as ordinary people. It has been held annually since 2014, with the number of attendees growing each year. Over 800 people took part last year, all clad in their plain clothes.

This year's event will be split into three slots, with a capacity of 200 people per slot. Sign-ups begin on October 15 at 12:00pm (JST).

Past Examples

①Situational attire

Beauty salon client

Dressing up as someone doing something has been a popular choice at the event recently. You can come up with some creative ideas that'll make people say, "You came as that?!"

②"I've seen people like that!" attire

Flea market woman

There's always certain types of people that everyone sees, and in Japan this is one of them!

③"I get it, but I don't get it" attire

Hawaii vibe  uncle

You've heard all about them, but have you seen them?

④Work attire

Handing out tissues with pachinko ads on them

Work attire is a go-to at the plain clothes event. It wouldn't be an exaggeration to say that this is the one that started the entire movement.

⑤Miscellaneous attire

Maslow's hierarchy of needs

The final entry is those which are hard to categorise. They serve whatever vibes they are feeling.

Attend this year's event and show off your own unique ideas!

Information

Jimi Halloween

Date: October 27, 2019 (3 Slots / 200 People Per Slot)

 Slot ①: 11:00-14:00 

 Slot ②: 15:00-18:00 

 Slot ③: 19:00-22:00 

★Places are available on a first-come, first-served basis at the website below

Venue: Tokyo Culture Culture (cocoti SHIBUYA 4F, 1-23-16 Shibuya, Tokyo)

Entry: Free (Apply at the link below)

2019 Kobe Luminarie Winter Illuminations to Light Up Kobe This December

The 25th Kobe Luminarie light festival will take place from December 6 to 15. The theme of this year's festival is "25 Years, Guided by the Light of Hope" (Original Italian title: Da 25 anni, guidati dalle luci della speranza).

Kobe Luminarie is an illumination festival that has been held annually since 1995 in commemoration of the Great Hanshin earthquake which hit Kobe that year on January 17. The event has continued as a symbol of hope for Kobe and has also become a festival associated with the winter season. Last year's festival saw around 3.43 million people in attendance.

The "Light Bulbs" make a comeback radiating their warm light

Formerly the doorstep to foreign culture, Nakamachi-dori, lined with countless tasteful stores, will be lined with around 270 meters' worth of decorations. The entrance decoration, named Frontone, stands almost 22 meters tall with three towering gates each connected to each other. The Sparri Ara is a wide wall of lights which runs 50 meters from Frontone all the way to Kyomachisuji Crossing. And as a special instalment to the 25th run of the festival, the light bulbs used at the first festival will be strung up to create another wall illumination from Itomachi to the East block which will be dubbed the "Memorial Zone."

The event's largest light dome

In the eastern amusement park plaza, Cassa Armonica―an illuminated church structure set up every year―will be enveloped in a large 21 meter high dome featuring an arch for the first time standing 4 meters tall in the memorial area

Over in the floral clock area, the Sparri Ara wall lights twinkle beside the wisteria trees. The lights will change and transform to the sound of the music. Attendees will also be able to pick up small gifts too as well as take pictures at the various photo spots.

Earthquake Talk Booth

Talks will be held discussing the origins of Kobe Luminarie and why it started. Earthquake survivors will also talk about their real experiences.

International Creative Director and Executive Producer Daniel Monteverde, who has been working with Luminaire for 20 years, made the following comment: "The city of Kobe will bustle once again this year, which will mark 25 years. People will fill the streets and look to the sky while they wait for the chime of the bell to signal the illuminations. We hold the memories of the people we lost 25 years ago close to our hearts. I hope we can convey our hopes and dreams and our story to our children and the young people who will bear the next generation. I hope people will be proud of Kobe which has recovered from the earthquake."

He continues: "The Kobe Luminarie lights will shine once more for Hyogo, for Japan, and for the world. These lights are a symbol of each and every person's devotion, their efforts, and their love. I pray that the Luminarie lights will send a message of hope to the world and continue shining in our hearts for the rest of time." * Full comment translated from Japanese

Information

25th Kobe Luminarie

Running: December 6, 2019 – December 15, 2019

Location: Kyu Gaikokujin Kyoryuchi and Kobe East Park (Higashi Yuenchi) (Chuo Ward, Kobe, Hyogo)

Illumination Times

[Mon-Thurs] 18:00-21:30

[Fri] 18:00-22:00

[Sat] 17:00-22:00

[Sun] 17:00-21:30

*Times may be extended depending on the number of people. Event may be postponed in the case of bad weather.

Kobe Luminarie Official Website: http://kobe-luminarie.jp/

Tokyo Disney Resort to Release Frozen 2 Goods that Will Melt Your Heart

Disney's Frozen is thawing back to life with the release of Frozen 2 which will premiere on November 22, 2019. To celebrate, Tokyo Disneyland and DisneySea are gearing up with the release of approximately 30 kinds of exclusive merchandise which will be released on October 18. These are definitely worth melting for. 

Plush Toy Hand Warmer: ¥2,900

Kid's Cape: ¥3,900

The cold bothering you? Now you can let it go. Your kids will be prepared to embark on any winter adventure while staying stylish and warm with this magnificent Elsa and Anna-themed cape. Your sidekick Olaf has also come to life in the form of a Plush Toy Hand Warmer and is the perfect companion to keep your hands warm this season.

Drink Bottle: ¥2,700

Lip Balm: ¥900

There is also a big lineup of goods aimed at adults. The lineup consists of drink bottles, lip balms and much more. These items are perfect for everyday use no matter what season it is.  

Pancake Sandwich (Potato Salad and Corned Beef) with a souvenir pouch: ¥1,300 

Disneyland will also be serving up a delicious pancake fit for a princess which comes with a souvenir pouch. This Olaf Pancake Sandwich will be sold from October 18, 2019 to January 8, 2020. Two fluffy and sweet pancakes sandwich a potato salad and corned beef filling. The sweet and salty flavour will leave you and your friends finishing each other's sandwiches!

There will also be a photo spot located on the wall of the Cinderella Castle (Tomorrowland) where you can get a photo with your favourite Frozen characters. Make sure you plunge into the world of the film and join Elsa, Anna, Olaf, Kristoff and Sven for a special photo.

*Please check the special edition website to find out more about the availability dates of the photo spot. 

Special Cake Set: ¥2,000 

The Disney Ambassador Hotel's Hyperion Lounge will be selling a Special Cake Set and Special Drink from November 1 to December 19. The Special Cake Set consists of a lemon and cherry cheese tart. Can you spot the sugar paper Anna and Elsa on the plate? Eat the tart together with the lemon meringue for a refreshing flavour. 

Special Drink: ¥1,300

The Special Drink is an autumn-themed Maple Syrup Iced Tea which perfectly depicts the autumn scenes of the film.

Tokyo Disney Resort® is giving you a first-time-in-forever-opportunity to experience the world of the film and is definitely worth checking out.

©Disney

Minnie Mouse Takes Over Tokyo Disneyland for 'Very Very Minnie!' Event in 2020

The all-new Minnie's Style Studio is set to open in Tokyo Disneyland on April 15, 2020 as a character greeting location where you can meet the Disney cast. In the run up to its opening, Minnie Mouse is hosting a 70-day kawaii-packed event entitled "Very Very Minnie!" which will run at the park from January 10 to March 19 next year.

There's so much to look forward to at the event. The "It's Very Minnie!" show will take place at the Showbase amphitheatre where Minnie and her fellow Disney comrades will look back at past events and dress up in various costumes they've worn up to now, along with music, serving lots of different styles such as Latin, romance and club. For the finale, the Disney characters will step out in all-new costumes inspired by Minnie. They will also dance along to a new theme song.

There will be a mini parade titled "Very Minnie Remix" packed full of Minnie references. The parade will make a stop in 6 areas around the park, with the characters and cast dressed in new costumes, inviting guests into the world of Minnie Mouse. Depending on the day you see the parade and what location from, you can expect to see something different every time, meaning you can enjoy the parade multiple times.

There will of course be plenty of cute Minnie-themed food and merchandise to enjoy too. Merch will feature Minnie's iconic polka dot design.

Special Set – ¥990 @ Huey, Dewey and Louie's Good Time Cafe

Sparkling Tapioca Drink (Strawberry Yogurt) – ¥450 @ Huey, Dewey and Louie's Good Time Cafe

Minnie has a cute line-up for food and drink across various cafes and restaurants in the park. The "Mickey Mouse Pizza" now on sale at the Huey, Dewey and Louie's Good Time Cafe will be transformed into a Minnie Mouse Pizza for a limited time. There's also the tapioca drinks, filled with tapioca pearls so it looks like Minnie's polka dots.

Special Set – ¥2,800 @ Eastside Cafe

Blue Bayou Course – ¥5,200 @ Blue Bayou Restaurant

Eastside Cafe is also getting in on the action, serving up a cute pasta dish with pink sauce and a ribbon, as is the Blue Bayou Restaurant where you can dine on a Minnie Mouse-inspired course.

The park will be decorated in all things "Very Very Minnie!" and they will change throughout the duration of the event. Be sure to find all the photo spots too for Minnie, Mickey, Donald and Goofy too.。

Enter the dreamy world of Minnie Mouse next year with "Very Very Minnie!"

New York-Style Cafe & Restaurant Sarabeth's Celebrates 7 Years in Japan With Special Event in Shinjuku

It has been seven years since Sarabeth Levine took her New York-based cafe and restaurant Sarabeth's to Japan back in 2012. To celebrate, the establishment will hold a special one-night event with a commemorative menu.

"Fermented Foods" is the theme of the event, which will see an incredible line-up of premium dishes. There will also be a talk by Sarabeth Levine herself who will be in attendance.

The menu line-up features a range of healthy fermented foods, like pancakes and Eggs Benedict, while drinks options include lemonade with fermented syrup, goishicha tea from Aichi Prefecture, and more. There will also be Sarabeth cookies which you can take home with you.

Information

Sarabeth's Japan 7th Anniversary Special Event

Date: November 5, 2019

Time: Reception 18:30 / Open 19:30-20:45 (subject to change)

Price: ¥3,800 (Tax Included)

Capacity: 50 (Reservation-Only)

Location: Sarabeth's Lumine Shinjuku (Lumine 2 Floor 2F, 3-38-2 Shinjuku, Shinjuku Ward, Tokyo)

TEL:03-5357-7535

Reservations:  https://sarabeths7th.peatix.com

Roof Star Gardens Illumination Event to Take Place On GINZA SIX's Rooftop Garden

Ginza's biggest shopping centre GINZA SIX has announced that it's set to light up its rooftop garden with an enchanting illumination event titled Rooftop Star Garden which will begin on November 26 and run until February 24 next year.

Standing at 56 meters high, the rooftop garden is the "closest place to the stars" in Ginza. This will be GINZA SIX's first ever illumination event and it will shine a bright spotlight against the nightscape of Ginza's streets.

Rooftop Star Garden will take place in two areas in the garden: the Water Fountain Area and the Forest Area, both of which will welcome star-themed light shows.

The theme of the Water Fountain Area is "Shooting Star," whose LED lights will elicit a sense of profoundness in its observers. 147 LED lights will form the main monument of this area, with bright, sparkling illuminations that will remind one of shooting and twinkling stars.

The Forest Area is made up of two separate areas between the Water Fountain Area. Lasers will shoot through crystals, creating an ocean of countless specks of light that look like little stars that make it feel like you're in space.

This limited-time event is the perfect way to spend this year's Christmas, so don't miss out.

*Photos are for illustrative purposes only

Information

Rooftop Star Garden

Location: GINZA SIX Garden (Building Rooftop)

Address: 6-10-1 Ginza, Chuo Ward, Tokyo

Running: November 26, 2019 – February 24, 2019

*Will close during bad weather or during invitation-only events

Time: Sunset to 23:00

Entry: Free

GINZA SIX Official Website: https://ginza6.tokyo/

Netflix Anime Series 'Beastars' Promotional Event to Take Place at Tobu Zoo in Saitama

Tobu Zoo is set to collaborate with the upcoming drama anime series Beastars from November 2 to December 29.

Beastars is a manga series written and illustrated by Paru Itagaki. It is serialised in Weekly Shōnen Champion which is celebrating its 50th anniversary this year.

Beastars is set in a world of herbivores and carnivores. The story follows Legoshi, a quiet and gentle grey wolf and student at Cherryton Academy. His world is turned upside down when one of his fellow students is brutally murdered.

The collaboration event will see Tobu Zoo decorated with illustrations drawn specifically for the event. There will also be exclusive and original merchandise on sale, as well as themed food and more.

Beastars will premiere in Japan on Fuji TV's +Ultra programming block on October 9. It will also be streamed exclusively on Netflix.

©板垣巴留(秋田書店)/BEASTARS制作委員会

Information

BEASTARS

Release Date: October 9, 2019 on Fuji TV +Ultra

*To be released on Netflix on October 8, 2019 (Japan pre-release; overseas release date TBC)

Official Website: https://bst-anime.com/

Tobu Zoo

Address: 110 Suka, Miyashiro, Minamisaitama-gun, Saitama Prefecture

Official Website: http://www.tobuzoo.com/

Tokyo Disney Resort to Unlock A Whole New World in 2020: New Area, New Attractions, New Adventures

Tokyo Disney Resort will be telling the guards to open up the gates to an enormous number of brand new attractions, events and much more all at once on April 15, 2020. Over the course of the year, there will be so many exciting events and programs all over the resort that you will be wanting to waltz into Disney Resort® every day. This is the perfect chance to experience your perfect Happily Ever After. 

In short, Alongside the numerous seasonal programs and events, Tokyo Disneyland will be expanding Fantasyland. A new area will be built inside it called New Fantasyland, which is dedicated to the Disney film Beauty and the Beast. There will even be a new attraction called 'Enchanted Tale of Beauty and the Beast', an indoor theatre called 'Fantasyland Forest Theatre', and much more. Along with the new Fantasyland developments, Tomorrowland will be home to the new ride 'The Happy Ride with Baymax' and Toontown is getting an attraction called Minnie's Style Studio. 

New Disneyland Attractions to Open on April 15, 2020

New Attraction: Enchanted Tale of Beauty and the Beast

There will be a brand new large-scale attraction dedicated to the Disney classic Beauty and the Beast. Enter the picturesque village of medieval France where Belle resides. Embark on a journey through the film in a dancing teacup and become part of famous scenes as the nostalgic movie music embraces you. You will want this beautiful moment to last forever.

 New Indoor Theatre: Fantasyland Forest Theatre

This is the first ever full-scale indoor theatre to ever be built at Disneyland and it will reside in Fantasyland. The theme of the theatre is travelling the wonderful world of music with your favourite Disney characters. The live performances to take place on the stage will be undoubtedly dynamic and intense. 

Minnie Mouse Meet and Greet Facility: Minnie's Style Studio

For the first time in forever, Tokyo Disneyland is setting up a greeting facility for Minnie Mouse to greet guests. Head to Toontown to meet fashion designer Minnie Mouse in her beautiful costumes. Make sure to get a picture with her! 

*Toontown, where Minnie's Style Studio is located, will be presented by Kodansha Ltd.

The Happy Ride with Baymax

If you're a fan of Big Hero 6 then this ride is for you. Your favourite personal medical healthcare companion Baymax will pull you along on a thrilling and rather unpredictable journey. 

* The Happy Ride with Baymax is presented by Daihatsu Motor Co., Ltd.

Seasonal Events

Tokyo DisneySea 'Disney Easter' Special Event

March 27- June 12, 2020

Tokyo DisneySea has some incredibly exciting news: The Usapiyo chicks are due to hatch in time for Easter! These mysterious chicks with bunny ears are sure to have your heart hopping with happiness. They will be taking part in a show held at the Mediterranean Harbor. The Usapiyo will be joining Mickey Mouse and the gang to celebrate spring and fill your heart with excitement and fun. 

 

Tokyo Disneyland Special Program: 'Happy Fair with Baymax'

June 4 – November 1, 2020

This program will take place in Tomorrowland and will see the park filled with decorations, photo spots, merchandise and menu items themed on Big Hero 6. Your excitement levels are bound to inflate dramatically!

These are just a few exciting events that 2020 holds in store. Be Prepared for some fun!

*All images in this article are illustrations. 

©Disney

Disney Ambassador®️ Hotel Now Serving Adorable Cake & Drink For Halloween

Disney Halloween 2019 is in full force at both Tokyo Disneyland and Tokyo DisneySea where "ghosts" are this year's theme. The spooky festivities are set to continue until October 31.

Disney Ambassador®️ Hotel is also getting in on the Halloween action, with a bone-chilling food and drinks line-up at the Hyperion Lounge.

Disney Halloween Cake Set – ¥1,700 (Available until October 31, 2019)

The eye-catching blueberry mont blanc is served with either tea or coffee. The sweet and sourness of the blueberry combined with the cream cheese is spot on.

It's also filled with blueberry jam for even more of a blueberry kick. Mix together with the powdered mango for extra flavour.

This cake set is serve from 12:00-22:00, but there is a limited number of servings per day so be sure to get in there quick!

Disney Halloween Special Drink – ¥1,300 (Available until October 31, 2019)

The Instagram-worthy drink is serving autumn vibes with its chestnut syrup and orange colour. It's also topped with whipped cream and a cute chocolate bat. The drink has a refreshing mix of range juice and grape juice which balance deliciously with the purple sweet potato whipped cream and sweet syrup. There's also grape jelly hidden underneath the cream.

This is also served from 12:00-22:00, and gets you an original coaster. These are limited in availability.

©️Disney

ROPPONGI HILLS HAPPY HALLOWEEN 2019: Monster Desserts, Horror Film Parade & More

Roppongi Hills has announced this year's Halloween festival. Titled "ROPPONGI HILLS HAPPY HALLOWEEN 2019," it will take place from October 1 to 31, packed full of spooky fun from a Halloween costume parade to a ghoulish gourmet menu line-up, featuring an always-unique array of food and drink.

Halloween Cupcakes – ¥638 Each @ LOLA'S Cupcakes Tokyo (Available from October 5)

LOLA'S Cupcakes has baked up an assortment of cute monster motif cupcakes, with flavours including pumpkin, purple sweet potato and more. Whichever one you pick, it's sure to give you a smile and delight your taste buds.

Halloween Mixed Berry Cake – ¥530 @ Roasted coffee laboratory

Creepy eyeballs adorn this cake, which is topped with blackberries and blueberries while drizzled in bloody blackcurrant jam. The cake is layered with sponge, fresh cream and a sweet and sour strawberry jelly.

Happy Monster – ¥980 @ Cafe Crepe

Delight in this cute pumpkin and fresh cream crepe, filled with pumpkin ice cream and snug in an orange crepe wrap. Housed inside is an adorable purple sweet potato mont blanc monster wearing a witch's hat.

A movie-themed parade will take place on Saturday October 26 at the event in line with the 2019 Tokyo International Film Festival. Children and adults can take part in the parade if they dress up. The 1km parade will last 25 minutes.

Gift bags will be given to all kids who get involved!

▼Halloween Parade

Date: October 26, 2019

Time: 10:30-13:30 (subject to change)

Location: Roppongi Hills Arena

Participation Conditions: Anybody who dressed up can join (the theme is "Movies")

Participation: Free

Enquiries: 03-6406-6000 (Roppongi Hills Information)

Halloween will hit Roppongi Hills for the entire month of October. Be sure to visit if you're in Japan next month!

Dress Up in Tokyo Disneyland's Spooky Outfits and Enjoy Disney Halloween 2019

It's only been a week since Halloween begun at Tokyo Disney Resort, and already guests are loving it. "Ghosts" are in the spotlight this year at Tokyo Disneyland, and they are serving up a spooky and ghostly time this year all the way up to October 31.

Tokyo Disneyland Halloween Gear

Since it's Halloween, and you've made the effort to travel to Tokyo Disneyland, why not dress up too with one of the park's many pieces of Halloween costume items?

Mickey Mouse Ear Hat – ¥2,000

The classic Mickey Mouse ear hat has taken on a Halloween theme for the event, wrapped in ripped bandages and spiderweb.

Poncho – ¥3,900 (Sizes S~LL) *Kid's size is ¥3,300

Mickey has also turned into a white ghost but it doesn't seem too spooky―friendly, actually―as he enjoys his drink and churro for the design of this poncho. It seems like he just wants to get in on the fun too.

Cap – ¥2,800 / Parker – ¥4,900

Transform into a black cat too with one of the many clothing items too, serving a completely different aura to the ear hats.

Spooky Boo! Parade

Once you're all dressed up, it's time to go and watch the Spooky Boo! Parade where the Disney cast and an army of ghosts invite guests into the Halloween festivities. Multiple stories will take place across the parade at once, so no matter which part of the parade you are watching, there'll be plenty to enjoy. The parade takes place twice a day.

Decorations

Be sure to check out the decorations in front of Cinderella's Castle while watching the parade, featuring the Disney cast dressed in their Halloween costumes.

You'll find ghosts hidden all around the park. Be on the lookout and see how many you can spot!

Special Menu

Wipe away your fatigue from walking around the park with one of the many special Halloween items on the menu at restaurants and cafes across Tokyo Disneyland.

Popcorn Soda & Doughnut – ¥600 @ Boiler Room Bites and elsewhere

The scrumptious popcorn coupled with the pumpkin flavoured doughnut make for a delightfully delicious combination. This is sure to whet your appetite right away.

Short Rib Cone – ¥500 @ The Gazebo

The cone is filled with ashed purple sweet potato and, short rib, and cheese sauce. A perfect little bite to walk around and eat while in the park when you're feeling peckish.

Special Set – ¥1,050 @ Sweetheart Cafe

Arriving with a cute Jack Skellington bun is this potato salad and tomato beef-filled burger. When you unwrap the packaging and place the burger on top like in the photo, it looks like Sally is gazing lovingly at Jack♡

Nighttime Decorations

When night falls, Main Street at World Bazaar will light up with projecting mapping and Halloween music will play, creating an exciting Halloween nighttime experience. Fireworks will also launch into the night sky and be Halloween-themed too.

Join the ghosts this year at Tokyo Disneyland for an exciting Halloween Party!