Disney Christmas 2019 at Tokyo Disneyland: Spend This Year's Holiday Season With That Special Someone♡
Tokyo Disney Resort has announced this year's Disney Christmas which will take place at Tokyo Disneyland® and Tokyo DisneySea® from November 8 to December 25. This is the Tokyo Disneyland® event line-up. For the Tokyo DisneySea® schedule, click here.
Disney Christmas Stories
Disney Christmas Stories celebrates the holiday season with a magical parade which will bring together the Disney cast members with their loved ones. The characters will dress in festive outfits and deliver to guests their own Christmas stories. Seven joyous Christmas stories will unfold before guests' eyes, from a merry family outing with Donald Duck, his beloved Daisy Duck and his three nephews Huey, Dewey, and Louie, to the star couple Mickey and Minnie Mouse.
The parade will seemingly stop all of a sudden which will be followed by ringing bells, signalling the start of a Christmas party. Snow will fall along the parade route, and the cast members will invite guests to join them in celebrating a heart-warming Christmas.
Christmas Decorations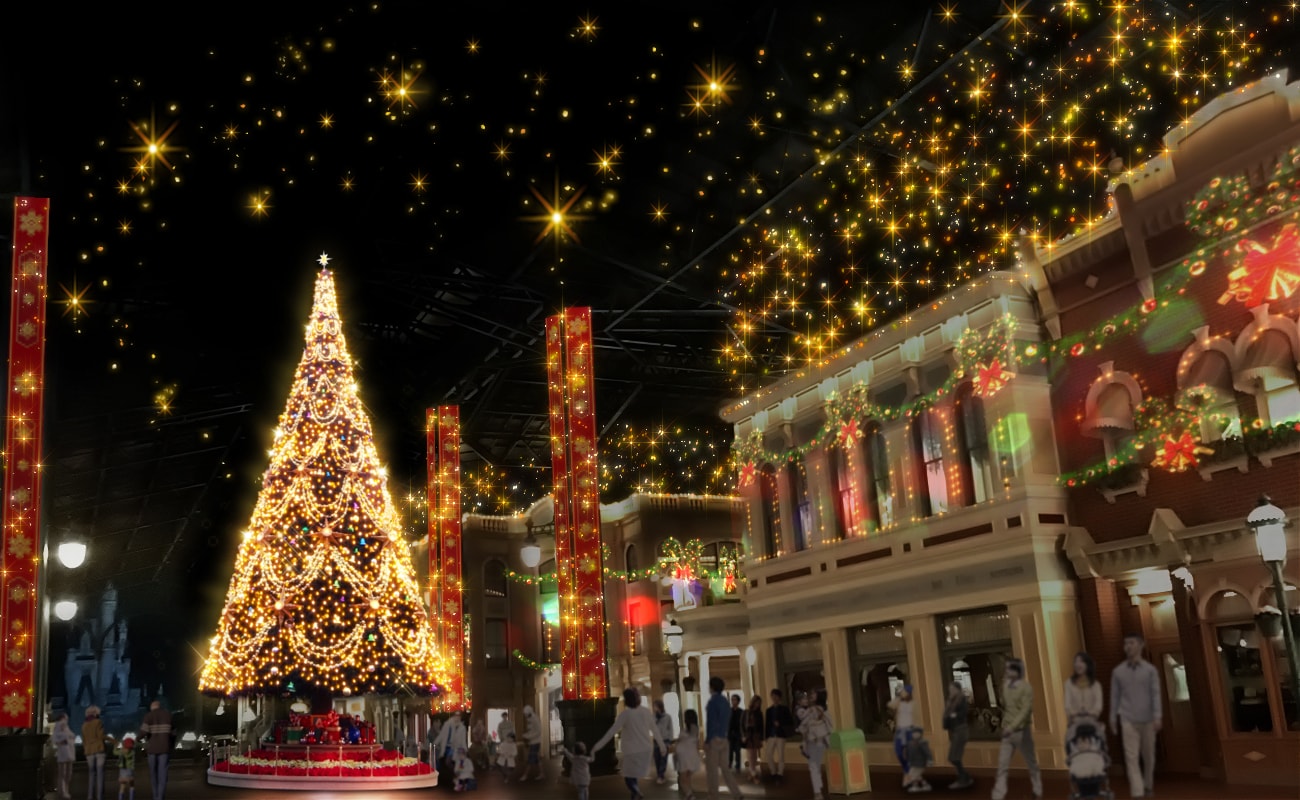 An enormous 15-meter tall Christmas tree will tower over World Bazaar and illuminate the streets with its brilliant lights together with dazzling projections, combining with the festive music to create a romantic atmosphere.
The plaza in front of Cinderella's Castle will glimmer with Christmas adornments as well as Christmas presents, Winnie the Pooh decorations, and more. Each themed land across the park will also be embellished in Christmas colours, bringing a merry little Christmas to the park.
Special Christmas Merchandise
Glass Set – ¥2,200 (Tax Included)
Around 65 special Disney Christmas themed items are set to go on sale from November 1, from glasses to cushions and more, all of which can be used for Christmastime at home. Featuring designs of the Disney characters, each item is sure to bring an air of that nostalgia we all feel at Christmas.
Christmas Food & Drink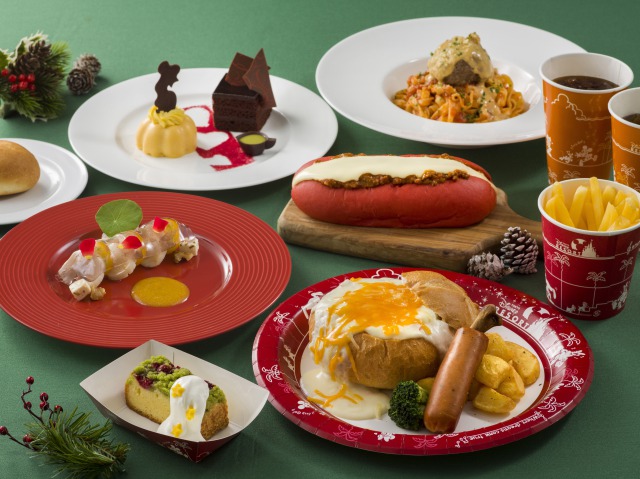 Also available from November 1 is a very special Christmas menu made up of 15 dishes and drinks. There's the seafood cream bread packed with melted cheese, a hot dog dressed in the colours of Christmas with its eye-catching red bun and white cheese, and more. There's also a dish inspired by the Disney film Beauty and the Beast who are set to appear in the parade.
Enjoy a very merry Christmas this year at Tokyo Disneyland.
RELATED ENTRIES
Demon Slayer: Kimetsu no Yaiba x Lagunasia Theme Park Collaboration Event Begins in March

Lagunasia, a theme park managed by Laguna Ten Bosch, has announced an event in collaboration with the TV anime series Demon Slayer: Kimetsu no Yaiba which will run from March 6 to June 5.

©Koyoharu Gotouge / Shueisha・Aniplex・ufotable

©Koyoharu Gotouge / Shueisha・Aniplex・ufotable

The event will feature an immersive attraction called "Trial of Recollection: Tanjiro's Journey" as well as a rally event to hunt down all the stickers around the theme park, a Demon Slayer themed menu line-up, exclusive merchandise, and more.

Further details will be announced in the coming months.

Demon Slayer: Kimetsu no Yaiba Anime Event Slashes Into Kyoto Until March

An event centred on the TV anime series Demon Slayer: Kimetsu no Yaiba is now taking place in Kyoto at Toei Kyoto Studio Park, Kyoto Railway Museum, and Shijō-Ōmiya Station and Arashiyama Station on the The Keifuku Randen Tram Line until March 14, 2021. Fans of the series can participate in a 'keyword rally' where they'll be walking around Kyoto trying to locate specific words to win prizes, enjoy unique Demon Slayer exhibits at each of the venues, gets their hands on original merch, tuck into themed food, and more.

Pins (17 Designs) | ¥440 Each (*Design chosen is random)


Long Chocolate Baumkuchen | ¥1,080

Merch includes pins of the anime series's main characters, a special baumkuchen cake based on the Infinity Train from the Demon Slayer: Kimetsu no Yaiba the Movie: Mugen Train film, and more. Online orders are also available in Japan at Chugaionline.

Fans still hyped over Demon Slayer: Kimetsu no Yaiba the Movie: Mugen Train, which broke records in Japan to become the highest-grossing film of all time in the country, can expect to stock up even more of their favourites for their collection at the event.

©吾峠呼世晴/集英社・アニプレックス・ufotable

Information

Demon Slayer: Kimetsu no Yaiba Exhibition

Event Name in Japanese: 鬼滅の刃 京ノ御仕事 弐
Running: December 26, 2020 – March 14, 2021
Locations: Toei Kyoto Studio Park / Kyoto Railway Museum / Randen (Shijō-Ōmiya Station and Arashiyama Station)
Event Page: https://www.toei-eigamura.com/kimetsu/
*Event opening hours subject to sudden change or cancellation depending on COVID-19.

Online Orders
Running: Until January 31, 2021 at 23:59

Shipping: March 2021 (Japan only)

Chugaionline: https://www.chugai-contents.jp/blog/event/eigamura_kimetsu/

Online Shonen Jump Festival 'Jump Festa 2021' Opens App Download and Announces Schedule

Shueisha announced last month that JUMP magazine's annual festival JUMP Festa is heading online for 'Jump Festa 2021 ONLINE' which will run from December 19, 2020 to December 20, 2020. The application needed to access the festival was finally made available on Wednesday (December 9), as was the timetable.

Concept Movie

Jump Festa 2021 ONLINE App

The festival can be attended either by download the Jump Festa 2021 ONLINE app (ジャンプフェスタ2021 ONLINE) or by going on the event's official website. However, certain content is restricted on the website. The festival takes place on Jump Festa Island, a virtual space where visitors can access content related to Jump-related media from the free-to-access library to the theatre, an online shop, and more. There's also a zoo area, photo spots, and mini games. If visitors use the 'attend with a friend' function or chat function, they can also take a special commemorative photo as well as watch the stage performances.

22 Original Art Pieces

Jump Festa is a celebration of five manga magazine publications by Shueisha: Weekly Shonen Jump, Shonen Jump+, V Jump, Jump SQ., and Saikyo Jump. Each of the five publications have had 22 of their own original characters drawn with original artwork for this online event which people can use as their avatar to roam around Jump Festa Island.

2-Day Stage Events

42 stage performances will take place on December 19 and 20. Content will include live streams from special guests at Makuhari Messe, videos, and more. There are three virtual stages to watch: the Jump Super Stage, Jump Studio, and Jump Amusement Tower.

Jump Super Stage

The Jump Super Stage is centred on anime and media adaptations of Jump manga. Performances will be streamed like from Makuhari Messe.

December 19, 2020

10:00-10:30 / Dr.STONE
11:30-12:00 / World Trigger
13:00-13:30 / Jujutsu Kaisen
14:30-15:00 / Boruto: Naruto Next Generations
16:20-16:50 / My Hero Academia

December 20, 2020

10:00-10:30 / World's End Harem
11:30-12:00 / Black Clover
13:00-13:30 / The New Prince of Tennis
14:30-15:00 / Dragon Quest: The Adventure of Dai
16:10-16:50 / One Piece

Jump Amusement Tower

This stage is centred on V Jump and Saikyo Jump. It will give the latest information on Jump games live from Makuhari Messe.

December 19, 2020

9:30~ / Jump Festa 2021 ONLINE Introduction Stage – Presented by V Jump Play
11:00~ / One Piece Bounty Rush Jump Festa 2021 Battle Stage ONE PIECE
12:20~ / Naruto & Boruto Game New Information
14:00~ / Yu-Gi-Oh! New Information JF 2021 Stage
15:50~ / JUMP FORCE Special Stage

December 20, 2020

9:30~ / Jump Festa 2021 ONLINE Introduction Stage – Presented by V Jump Play
11:00~ / Dragon Ball App Stage
12:30~ / Dragon Quest: The Adventure of Dai Cross Blade Special Stage
14:00~ / Yu-Gi-Oh! New Information JF 2021 Stage
15:00~ / Super Dragon Ball Heroes Ultimate Stage

Jump Stage

This stage is centred on Weekly Shonen Jump, Shonen Jump+, and ,Jump SQ. It will feature video footage.

December 19, 2020

9:10~ / Digital DJ Special Program
9:45~ / Kemono Jihen
10:30~ / Hell's Paradise: Jigokuraku
11:05~ / Haikyu!!
12:00~ / Super HxEros
12:35~ / Bōkyaku Battery
13:30~ / Blue Exorcist
14:05~ / Chainsaw Man
14:40~ / "Platinum End" Special
15:05~ / Demon Slayer: Kimetsu no Yaiba
15:50 / Gintama

December 20, 2020

9:10~ / Weekly Shonen Jump New Hero Stage
9:45~ / Hetalia World☆Stars
10:30~ / Rurouni Kenshin: The Hokkaido Arc
11:10~ / Moriarty the Patriot
12:00~ / 2.5D no Yuuwaku
12:35~ / Blood Blockade Battlefront Back 2 back
13:10~ /  SPY x FAMILY
13:45~ / Showa Otome Otogibanashi
14:30~ / 2nd Nationwide One Piece Knowledge King Battle Final Stage
15:05~ /  BLEACH/BURN THE WITCH
15:50~ / The Promised Neverland

JF Coins From 24 Jump Series

On Jump Festa Island, visitors can collect JF Coins from 24 different Jump series from across the five magazines which they can spend on mini games to earn limited-edition items, enjoy the Capsule Character Tower, and more. Some spots also give Rare Coins.

There and three original mini games to play. Gain a high score and earn one of twelve stamps.

Jump Photo Spots From 24 Series

Take a photo at one of the many photo spots that recreate famous scenes from 24 different Jump series. Have your character avatar look like they're part of the scene.

TikTok x Jump Festa Special Collaboration

This year, Jump Festa is collaborating with TikTok with its own official account as well as original video effects. There will also be a special TikTok LIVE stream in collaboration with the festival before the start date on December 18 at 19:00 (JST).

© SHUEISHA Inc. All rights reserved.

Shizuoka's Strawberry Cafe Ichigo BonBonBERRY ATAMIHOUSE. Releases Winter Menu

Ichigo BonBonBERRY ATAMIHOUSE. is the first cafe to open in Atami specialising exclusively in strawberry desserts. This Christmas, the cafe is serving up a new Christmas cake, winter afternoon tea set, and strawberry milk beverage, all of which hit the menu on Friday (December 4).

Hitorijime Christmas Cake | ¥1,000 (Before Tax) *Comes with drink

A dreamy Christmas cake for one loaded with cream and sweet strawberries. There's a strawberry on top and more in the middle squished between soft sponge.

Winter Afternoon Set | ¥1,200 (Before Tax)

The cafe has turned its popular afternoon tea into a wintertime version for Christmas, served with a mini bavarois in the shape of a strawberry, strawberry ice cream, melty fondant chocolate, and a rum raisin chocolate tiramisu. A delightful combination of sweet, tangy, and rich flavours.

Hot Strawberry Milk | ¥400 (Before Tax)

A hot strawberry milk to feel cosy in the cold winter weather, topped with plenty of cream and a sprinkling of strawberry powder. Enjoy it as it is or mix together for a creamier beverage.

The winter menu is seasonal and so will only be available this wintertime.

Information

Ichigo BonBonBERRY ATAMIHOUSE.
Address: 3-16 Tawarahonchō, Atami, Shizuoka
Opening Hours: 10:00-18:00
Access: 2-minutes from Atami Station (JR Line side)
Official Website: http://www.atami-bonbonberry.com

Sarutahiko Coffee Releases Pistachio and Mixed Berry Coffee Beverage For Christmas

Sarutahiko Coffee released a Christmas-exclusive seasonal flavour of its popular Jellatte dessert drink on Tuesday (December 1) which it's calling the "Maroron Merry Pudding Jellatte."

Maroron Merry Pudding Jellatte | ¥750 (Before Tax)

The beverage is the second in this year's Christmas themed drinks to be released by Sarutahiko Coffee. It uses a coffee jelly base made from Ethiopian coffee beans and contains layers of mascarpone cheese from Italy, a chocolate sauce made from Cacao Hunters chocolate, milk pudding, four kinds of mixed berry jellies, pistachio milk pudding, milk foam, and to top it all off, chocolate pieces and pistachios.

The pistachio and mascarpone bring a richness to the dessert drink which blends deliciously with the freshness of the berries and full-bodied coffee for a combination that's like a warm and cosy Christmas hug.

Information

Maroron Merry Pudding Jellatte
Serving: December 1, 2020 – December 25, 2020
Available: Sarutahiko Coffee in Japan
Official Website: https://sarutahiko.co

Golden Island Zipang 2020 Illumination Event Lights Up Matsue in Shimane

The splendid Yuushien Garden in Matsue, Shimane, is now hosting a dazzling winter illumination event titled Kogane no Shima Zipang 2020 (Golden Island Zipang 2020) until January 11, 2021.

Golden Island Zipang 2020

Yuushien Garden is located on the eastern side of Matsue on Daikon Island, a volcanic island in Nakaumi. The garden has been called the most beautiful Japanese-style garden in all of Japan, which makes it the perfect setting for the illumination event. 50 projectors at the garden are using projection mapping to create a flurry of flashy illuminations.

It's a full pixel illumination display coupled with music that's sure to dazzle all who visit. this winter.

Information

Golden Island Zipang 2020 (Japanese: 黄金の島 ジパング 2020)
Event Schedule
Autumn Illuminations: November 14, 2020 – November 30, 2020

Christmas Illuminations: December 1, 2020 – December 27, 2020

New Year Illuminations: January 2, 2021 – January 11, 2021
Event Page: https://www.kankou-matsue.jp/rehappy/feature/illumination

Yuushien Garden
Address: 1260-2 Yatsukachō Hanyū, Matsue, Shimane
Opening Hours:9:00-17:00
Closed: December 30-31
TEL: 0852-76-2255
Official Website: https://www.yuushien.com

Sanrio's Little Twin Stars Kiki & Lala Light Up Shinjuku With TWINKLE COLOR CHRISTMAS Illumination Event

Sanrio's beloved character pair Kiki & Lala, also known as the Little Twin Stars, are hosting a special winter event titled "TWINKLE COLOR CHRISTMAS" at Shinjuku Southern Terrace from December 1 to 25, illuminating the area with beautiful Christmas lights, as part of their 45th anniversary.

Kiki & Lala's twinkling Christmas tree magical in the daytime and night time

The towering 4-meter tall Christmas Tree is decorated in countless mirror balls which reflect beautifully both during the day from the sun and at night with Kiki & Lala's illuminations. A special light show is also taking place from 16:30 each day with Christmas songs.


Decorated around the tree are Kiki & Lala neon signs and pastel-coloured adornments.

Those unable to visit Shinjuku this Christmas can access the "TWINKLE COLOR CHRISTMAS AR TREE" digitally This will have Kiki & Lala's Christmas tree appear on your phone when taking photos. You can access it here.

Kiki & Lala treats at the Sanrio Cafe Wagon

Limited time menu

45th Anniversary Items

On weekends, as well as from December 19 up to Christmas Day, a food wagon will make an appearance at the event serving Kiki & Lala food and drink like the pink and fruity Ruby Chocolate Latte and fruit-filled Twinkle Crepe.

©'76,'20 SANRIO 著作(株)サンリオ

Information

Little Twin Stars x Shinjuku Southern Terrace TWINKLE COLOR CHRISTMAS
Running: December 1, 2020 – December 25, 2020
Tree Light-Up Schedule: December 1 = 17:00-24:00 / December 2-24 = 16:30~24:00 / December 25 = 16:30-21:00
Address: 2-2-1 Yoyogi, Shinjuku, Tokyo
Entry: Free
Official Website: https://www.sanrio.co.jp/news/ts-odakyu-twinkle-color-christmas-20201119/

Japan's Moomin Cafe Releases Christmas Takeout Food For the 2020 Holiday Season

Moomin Cafe branches around Japan, which are themed on the Swedish fairy-tale Moomin books, released their Christmas menu on November 20.


Moomin Cafe Winter Season Menu | ¥4,800 (Before Tax) *Photo is a portion for 2


The seasonal menu is a very special set containing a burger, chicken, salmon milk soup, raspberry juice (which is adored by the Moomin family), and more, so you can eat heartily like the Moomins this winter.

Souvenir Cup (2 Designs)

Visitors can also order a dessert and choose from two different mugs. Takeout is available at each of the cafes so you enjoy a Moomin Christmas at home.

Table reservations are available via the Moomin Cafe website so customers can ensure they can get booked in during the busy holiday season.

If you're in Japan for Christmas then don't miss out on a visit to the Moomin cafe.

©Moomin Characters TM

Cheese Tea Shop machi machi Showcases Christmas 2020 Beverage

Taiwanese cheese tea shop machi machi is releasing a new drink in Japan this holiday season on December 1: the 'Flurry Strawberry Milk With Crème Brûlée.'

machi machi is an extremely popular cheese tea chain in Taiwan that has been called the 'king of cheese tea' by Taiwanese news outlets. Each and every cup poured is made fresh with tea from Taiwan to which rich cream cheese is added for a salty kick, creating a new kind of dessert drink.

Flurry Strawberry Milk With Crème Brûlée | ¥750 (Before Tax)


The new Christmas beverage being served in Japan uses fresh strawberries which adds a delightful sweetness to the milk. It's topped with crushed Oreos and combined with crème brûlée for a variety of layered flavours. The Oreos add crunch to the dessert drink so that it's a delicious experience down to the last sip.

If you've never had Taiwanese cheese tea, and are in Japan this Christmas, don't miss out on this seasonal drink, available for the whole month of December.

Information

Flurry Strawberry Milk With Crème Brûlée
Serving: December 1, 2020 – December 31, 2020
Available: machi machi stores in Japan
Official Website: https://machimachi.baycrews.co.jp

Karuizawa Shiraito Falls Midwinter Light Up Arrives For 2020-2021

Shiraito Highland Way has announced that this year's Karuizawa Shiraito Falls Midwinter Light Up will run from December 19, 2020 to February 14, 2021.

The illumination event will take place at Karuizawa Shiraito Falls, a 3-meter tall waterfall that spans 70-meters in length. The lights will add a warmth to the cool evening and glow under a starry night sky.

The event creates a different atmosphere from the summer light-up, allowing visitors to enjoy the enveloping nature in a way that they normally can't and see beauty they may not have noticed in the area before. The waterfall is located in Jōshin'etsu-kōgen National Park, a protected area which means the lights will be set up in a way that's considerate to the park.

If you're in Japan this winter then don't miss out on this year's Karuizawa Shiraito Falls Midwinter Light Up which will be split into three sessions: the Christmas Session, New Year Session, and St. Valentine Session. More details below.

Information

Karuizawa Shiraito Falls Midwinter Light Up
Location: Karuizawa Shiraito Falls
Running: December 19, 2020 – February 14, 2021
・Christmas Session: December 19th-20th, 24th-27th (17:00-19:00)
・New Year Session: January 2nd-3rd,  8th-11th (17:00-19:00)
・St.Valentine Session: February 11th-14th (17:30-19:30)

Access: https://karuizawa-shw.com/access/
*Please see the website for the latest information

*Entry restrictions may be made depending on the number of visitors

Official Website: https://karuizawa-shw.com/

Tokyo's Art Aquarium Museum in Nihonbashi Announces Christmas Event

Having only held annual summertime events up to now, Art Aquarium Museum in Nihonbashi, Tokyo, is celebrating Christmas for the first time this year with a series of holiday season festivities.

The Aquarium's first Christmas tree

Art Aquarium Museum will display its very first Christmas tree for the event indoors near the entrance. The tree artwork was created by Hidemoto Kimura using 550 colourful crystals that have been made to look like goldfish. Made from venetian glass, he had them shipped himself from Italy. They are strung in 10 different colours which glow and glisten to create a romantic atmosphere.

Artwork Name: Natale di Pesce D'oro
Running: December 1, 2020 – December 27, 2020
Location: Art Aquarium Museum entrance

Pair tickets for Christmas with alcohol


Pair Ticket (2 People) + 2 Drinks | ¥4,600 (Tax Included)

Those arriving in twos can buy Pair Tickets which come with two alcoholic or non-alcoholic beverages so you can plunge into the magical underwater world of the aquarium while enjoying a drink.

Buy Tickets: https://ticket.artaquarium.jp/en/
Running: November 24, 2020 – December 27, 2020
Validity Period: December 1, 2020 – December 27, 2020
Drinks Menu:

[Alcohol] COEDO Beer / Marihana / Louis Raison Rouge Délice

[Non-Alcoholic] Sanpellegrino Pompelmo / Grapefruit

Christmas menu served up in the lounge and cafe

2-Person Hors d'oeuvre With 2 Drinks | Online Booking ¥4,200, Same-Day ¥5,000 (Tax Included) | Serving: December 18, 2020 – December 25, 2020

The aquarium's lounge restaurant is serving an hors d'oeuvre for pairs of Japanese and western food together with two drinks.

2-Person Christmas Sweets Plate With 2 Drinks | Online Booking ¥3,300, Same-Day ¥3,850 (Tax Included) | Serving: December 1, 2020 – December 27, 2020

The cafe is serving up plate of assorted desserts, perfect for a post-aquarium date.

Christmas Special Cocktail | ¥2,200 (Tax Included) | Serving: December 1, 2020 – December 27, 2020

Both the restaurant and cafe are also serving a seasonal cocktail of chocolate, strawberries, cranberries, and champagne jelly for a sweet and refreshing mix.

Information

Art Aquarium Museum Christmas Event

Address: 1-3 Nihonbashihoncho, Chuo Ward, Tokyo
Opening Hours: 10:00-21:00 (Until 20:00 in December)
No Fixed Holidays
General Admission: Adults (13 and over) ¥2,300 (Tax Included) / After Dark Ticket: Adults (13 and over) ¥2,000 (Tax Included)

*Free for 12 and under
Official Website: https://artaquarium.jp/en/

Jin Akanishi and Ryo Nishikido Feature in Swarovski's Christmas Campaign

Swarovski Japan is launching a Christmas campaign this year in collaboration with Jin Akanishi and Ryo Nishikido's YouTube channel "NO GOOD TV" and fashion magazine ELLE Japon.

Swarovski is an Austrian glass producer founded in 1895 that's celebrating its 125th anniversary this year. The company's Swarovski Crystal Business is known for its craftsmanship and innovation, providing crystal glass, jewellery, and accessories to the people of the world since its inception.

As part of Swarovski Japan's Christmas campaign, it is teaming up with Japanese musicians Jin Akanishi and Ryo Nishikido. This is the first time the company has used male celebrities in its promotions in Japan. Together with the global women's fashion magazine ELLE Japon, the campaign will promote Swarovski products in the run up to Christmas. A six-page feature will be included in January 2021 issue of ELLE Japon of the two musicians promoting Swarovski's jewellery, watches, and more.

Jin Akanishi and Ryo Nishikido posted a 14-minute video on their YouTube channel ("NO GOOD TV – Vol. 21") with behind-the-scenes footage of their ELLE Japon photo shoot as well as other news related to the collaboration with Swarovski.

Exclusive photos of Akanishi and Nishikido which weren't feature in either the magazine or on YouTube were also officially released on Swarovski's official LINE account.

Information

Jin Akanishi and Ryo Nishikido Christmas Campaign Collaboration
Official Website: http://swarovs.ki/vl~D