New Hotel Renovation Hakone Yutowa in Gora Caters to Millennials and Families
Hakone Yutowa is a new hotel in the town of Gora, Hakone that opened on August 11, 2019. This hotel renovation is aimed at millennials (those in their 20s and earlier 30s) and families, offering various different rooms include your typical hotel-type as well as condos. There are also multiple shared public spaces full of fun and relaxation.
Part of the enjoyment at Hakone Yutowa is getting to walk around the site leisurely finding all the little things it has to offer, from the hot spring with its own hot spring source to a communal room so stylish you can't help reaching for your camera to snap photos. The hotel aims to offer guests "an experience in remote Hakone you can't get anywhere else" and it does so by presenting a new style of hotel accommodation.
Hakone Yutowa is about a five-minute stroll along a flat-level path from Gora Station, which is accessed via the Hakone Tozan Railway, meaning it can be accessed easily by those without a car. "Yutowa" is has a combination of meanings: the yu in Japanese means "hot water" which conjures up not only the hot springs but also a warm and welcome stay at the hotel. It is also word play with the word "you." The to means "and" in Japanese and wa is "circle" like a circle of friends. In other words, at Hokone Yutowa, you'll be spending a nice time together with someone special.
The hotel is split into three buildings: the East Wing, West Wing, and Condominium Wing. Each offers "a new style of travel accommodation."
New Style ①
Spa Lounge Nakaniwa and Lively Lounge are two public spaces in the hotel that anyone is free to use at their leisure. Nakaniwa is home to a footbath at the outdoor wooden deck which makes use of the hotel's natural spring source, as well as an open-air fire. Lively Lounge houses around 700 books which guests can pick from before finding a little spot to sit down and relax.
New Style ②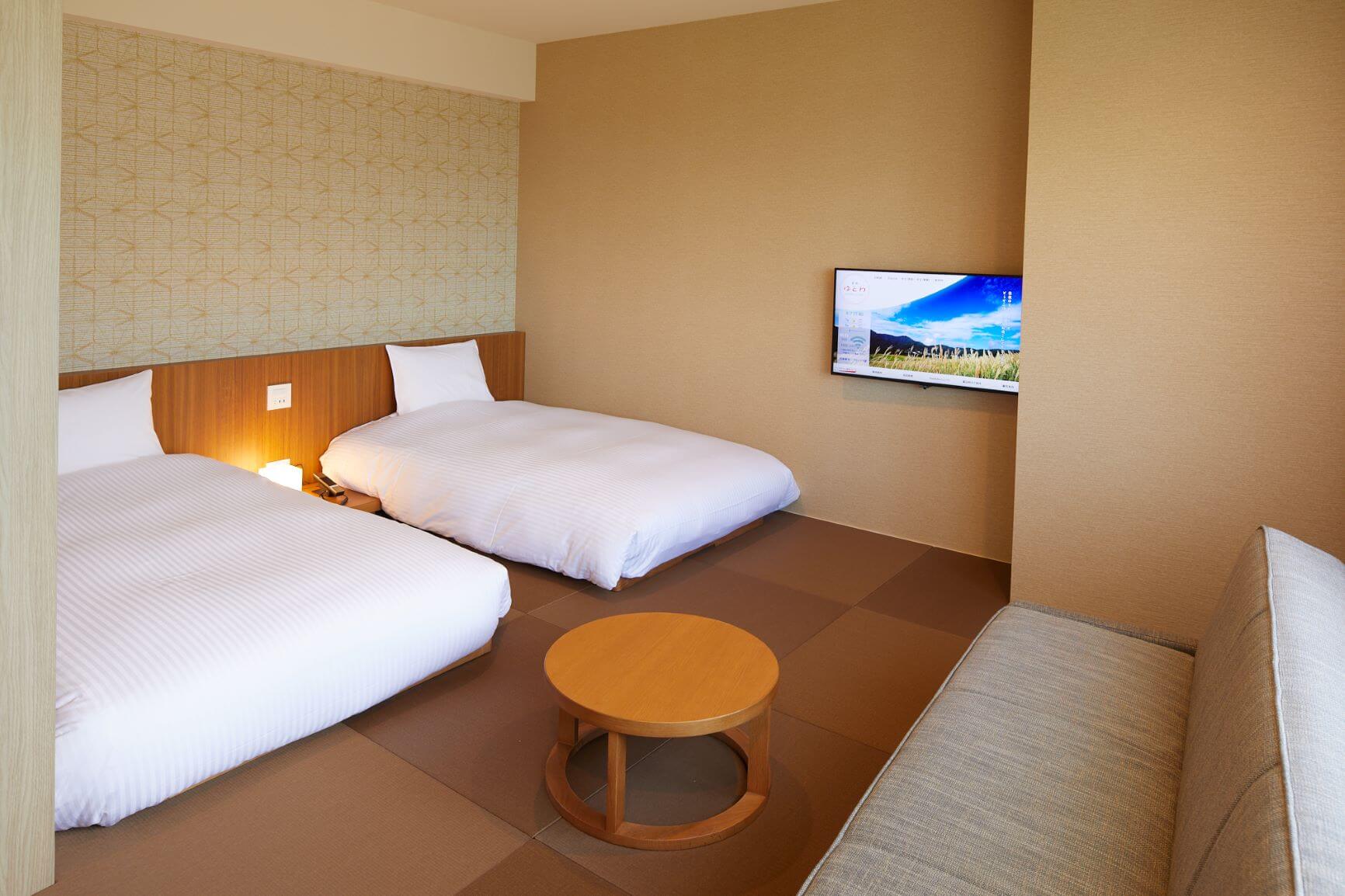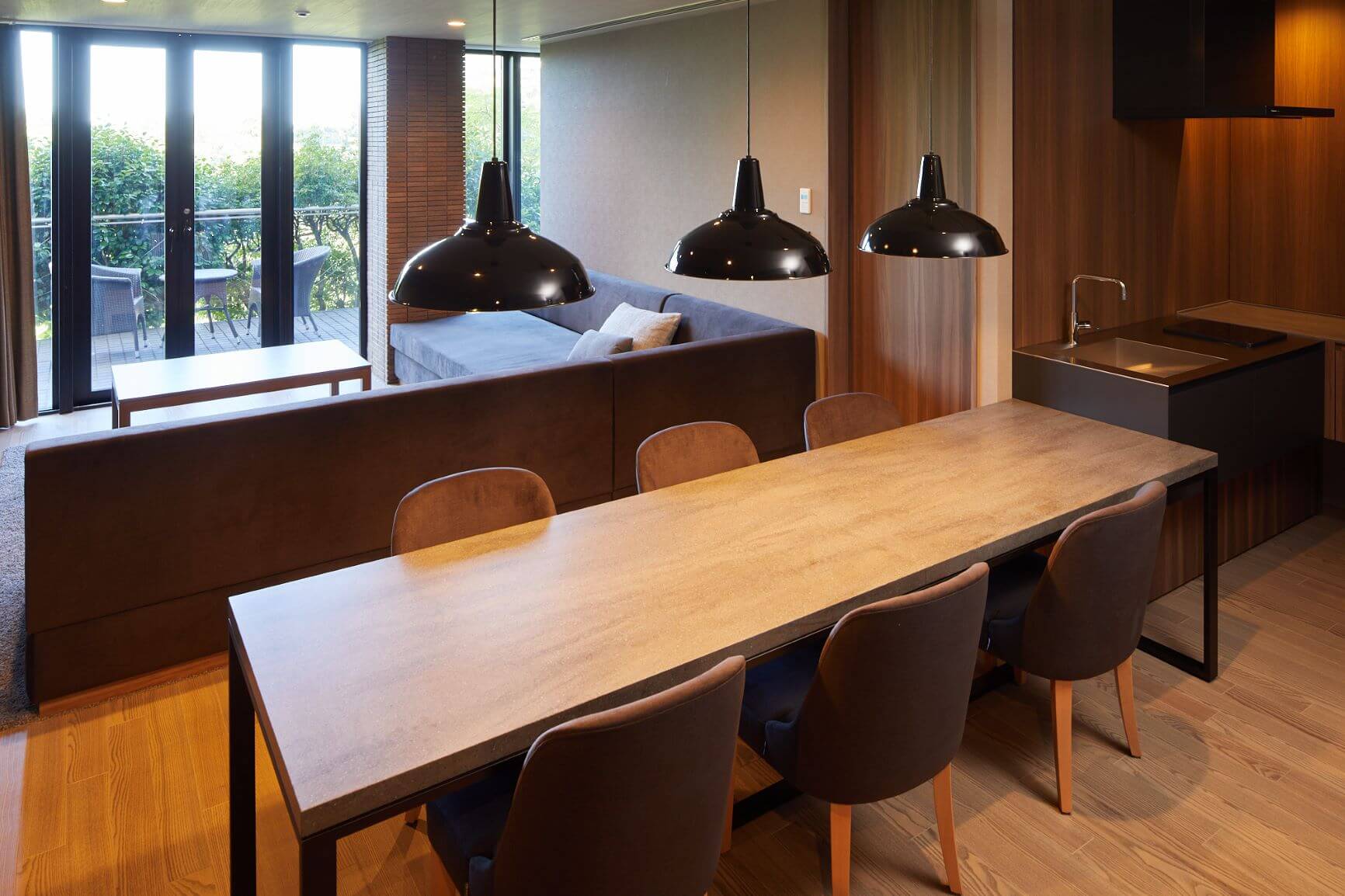 There are two types of rooms: Hotel and Condominium. The Condominium rooms are the first hotel rooms of their kind to be offered in the Gora area. These fancy rooms have their own hot spring bath with a beautiful view. The water in the bath flows directly from the hot spring source.
New Style ③
The all-inclusive plan includes breakfast and dinner as well as free drinks and free use of the communal spaces. Guests do not need to worry about any extra fees as everything is included. There are also other baths available in the hotel including one that makes use of colourful lights.
If you're looking for a hotel with freedom in Japan then take your family, friends or loved one to Hakone Yutowa.
RECOMMENDED ENTRIES
Samurai Oyado – A Soothing Guesthouse in Odawara

Odawara, a Town That Soothes Tired Travelers

It's easy to go to Hakone and Mt. Fuji from Kanagawa prefecture's Odawara city. Odawara has prospered as a town for travelers, especially those looking for lodgings, for over 300 years.

Samurai Oyado is a guesthouse near Odawara Castle and is a representation of those old style accommodations. This guesthouse is filled with the owners strong hopes of making it a place where travelers from abroad can re-energize themselves.

Consideration Is Key; Conveying the Spirit of Old Inns

What's most important when speaking to travelers from overseas is to see things from their perspective, and to be considerate of this.

This is what the owner Mr. Abe (on the left) and staff member Mr. Ozawa (on the right) say. Their thoughtful hospitality has led Samurai Oyado to have a high rating of 8.8 on Booking.com (as of March 2017).

The idea of starting the Samurai Oyado came from seeing the excitement travelers had at viewing historical or retro Japanese buildings while attending events in Japan. This led to the opening of Samura Oyado, with the revival of traditional inns as its concept.

Inns have existed in Japan for over 300 years and were once accommodations where samurai and other travelers stopped to spend the night in peace during long journeys. With this idea of a soothing stay in mind, Samurai Oyado has several key points to it that are sure to help its guests have a peaceful rest.

Soothing Point 1: Gorokichi Is Waiting to Greet You

When you enter the Samurai Oyado, you will be greeted by Gorokichi, the cat and mascot of this guesthouse. It's the perfect surprise for cat lovers. Gorokichi has an affectionate personality and likes to meet new people, and will not hesitate to approach the guests to say hi, even if it is the first time they are staying there.

【TRAVEL Q&A】From Shinjuku to Hakone Hot Spring via Odakyu "Romancecar" Line!

Hakone, Kanagawa is one of the most popular "onsen" (hot spring) towns in Japan. The area is popular among both Japanese people and tourists from foreign countries since it is close to Tokyo and has many sightseeing spots such as Ahinoko (lake), Owakudani (valley) and Hakone Chokoku no Mori Museum.

There are several ways to go to Hakone but I recommend using the "Odakyu Romancecar" (limited express train) run by Odakyu Dentestu which departs from Tokyo. It takes about an hour and 40 minutes and you can go to Hakone direct. In this article, I will inform you of how to ride on the "Odakyu Romancecar" to go to Hakone.

1: How to ride Odakyu Romancecar?

Let's get tickets first. The tickets you must buy are "Joshaken (normal fare)" and "tokkyuken (limited express surcharge)." The "Joshaken" is an Odakyu Dentetsu limited ticket and the fare differs according to the station that you will get off at. "Tokkyuken" is a ticket you must buy when riding on a limited express train which means you must buy this ticket in addition to the "joshaken." There are three ways to buy these tickets.

1) Making a reservation/purchasing the ticket via the Internet

2) Making a reservation/purchasing the ticket at a ticket counter/ticket vending machine

3) Making a reservation on the telephone.

Making a reservation by telephone is not recommendable for those of you from foreign countries since English-speaking staff are not available.

2: How to but a ticket via the Internet?

Using e-Romancecar is recommended when using the Internet to buy a ticket. As a matter of course, you can use a credit card on this web site. You can ride the Romancecar by just by handing out the printed sheet or showing the screen of your smart phone to the staff at the ticket counter. If you are planning to just make a reservation (not paying the fare) on the web site, you must pay the fare by using the ticket vending machine or at the ticket counter before getting on the Romancecar. It is recommended that you buy your ticket beforehand if the date that you are going to Hakone is decided.

3: How to buy a ticket/make a reservation via the ticket counter at the station?

The ticket counter is normally open from 6:30 to 21:00. The ticket vending machines can be used any time (except for when the trains are not running) but credit cards cannot be used. You can purchase tickets for up to 8 persons at once using the vending machine. So, those of you who are planning to go to Hakone with a group of more than 9 people you must purchase your tickets at the ticket counter.

4: Let's get on to the Romancecar!

Now let's learn how to get on a Romancecar. There are several types of Romancecars available – MES (Type 6000), VSE (Type 50000), EXE (Type 30000) and LSE (Type 7000). The fares for all types are the same. You can eat a limited-"bento" (box lunch) if you make a reservation 3 days (AM) before you ride the Romancecar.

Why not experience a ride on the "Romancecar" and enjoy the hot springs in Hakone. Wishing you a pleasant trip! MMN will introduce to you many kinds of "Q&As in Japan."

If you have any questions, feel free to send a message to MOSHI MOSHI NIPPON's FB account!

Visiting Hakone? Pick Up A Freshly Baked Hakone Basque Cheesecake

A brand new Basque Cheesecake shop called Hakone Cheese Terrace opened on July 26th. The carefully balanced rich flavour and smooth texture of these cheesecakes makes them the perfect Hakone souvenir! Basque cheesecake is a type of burnt cheesecake that originated from Basque, Spain.

Hakone is home to a large number of Japan's popular tourist spots as well as relaxing hot springs and beautiful nature. Located just 1.5 hours from Tokyo, Hakone has an extraordinary atmosphere which will heal both your body and mind. Hakone Cheese Terrace opened to enhance the appeal of the nature surrounding Hakone resorts and to contribute to the fascinating culture of the area. 

The basque cheesecake comes in a mini cup so customers can enjoy this delicious treat while on the go exploring the local area. This is also the perfect souvenir size.

The cheesecakes at Hakone Cheese Terrace are made mostly from locally sourced ingredients. For a creamy, fresh taste, milk sourced from the south of Hakone is combined with high-quality cream cheese. An original recipe blend is used for a rich flavour and smooth texture.

The cheesecakes are baked fresh at the shop so you can enjoy your cheesecake at its most delicious stage. Rock salt, black pepper and soy sauce are available as toppings for customers to discover a new flavour.

Come enjoy the flavours of Hakone to your heart's content at Hakone Cheese Terrace. 

Information

Hakone Cheese Terrace  

Address: 54 Motohakone, Hakone, Ashigarashimo-gun, Kanagawa

Access: 3-minute walk from Motohakone Minato, 1-minute walk from Hakone Jinja Iriguchi (Hakone Shrine entrance), Hakone Tozan Bus.

Opening Hours:  9:00 ー 16:00

Official site: https://hakone-cheese-terrace.com/
RELATED ENTRIES
Kyoto Brighton Hotel Offers 5 New Hotel Plans For Springtime, Cherry Blossom & Temple Experiences

Kyoto Brighton Hotel is now selling reservations for its new "Haru no Asobi Plan" (Springtime Fun Plan) which is taking place between March and May this year and offers guests the opportunity to enjoy Kyoto in the spring and its cherry blossoms.

Spring in Kyoto is the most popular season for tourists and travellers who flock from not only across Japan but from around the world. The Haru no Asobi Plan is made up of 5 exciting plans to see the ancient capital's breathtaking cherry blossoms, vibrant green maples, and other offerings.

"Asakatsu" – An early morning temple visit and stroll

Get away from the crowded streets and enjoy the rare opportunity to experience incredible early morning sights you don't normally get to see. Spend a quiet morning in a gorgeous environment in this plan. Several temples and gardens are in place for the experience: Kōdaiji Temple, Bishamon-do Temple, Taizō-in, Haradanien, and Tenryū-ji.

Kiyomizu-dera Temple special night viewing

One of the must-visit spots when travelling to Kyoto is Kiyomizu-dera, officially a World Heritage Site. This plan rents out the temple for you to experience it at nighttime. The main building is currently undergoing large-scale renovation to secure the roof as well as the inner construction of the temple. Seeing the temple is truly a sight to behold.

You are guaranteed a view of the famous "Stage of Kiyomizu," an enormous veranda attached to the main hall. The surrounding trees will be lit with enchanting lights, and you'll be able to gaze at the distant city nightscape. Experience Kyoto like never before as the warm lights illuminate the Niōmon (Deva Gate), 3-storey pagoda, and purified water which runs from the Otowa Waterfall.

Discover the world of Kyoto embroidery

The traditional practice of Kyounui, or Kyoto-style embroidery, has continued since the Heian Period and is even garnering attention overseas. It's a delicate and refined style of embroidery unique to Kyoto.

After your embroidery session which will take place in a Kyoto town house nearby the cherry blossom-filled Hirano Shrine, you'll look at kimono and yukata so beautiful they'll look like they should be in an art museum, before heading to eat together with the creator.

See the green maple trees of Hōgon-in on a private train

Board the private 1-2 carriage Randen train on the Keifuku Electric Railroad, which runs from Shijō-Ōmiya to Arashiyama. This cute retro train will take you Arashiyama where the green maples are breathtakingly beautiful.

You'll also get to stroll through the quaint gardens of Hōgon-in Temple, view artwork painted by Noriko Tamura, and more.

Sky Bus

Enjoy a panoramic view on a private ride of the Sky Bus, a double-decker bus which is gaining huge popularity right now. You will ride through the city of Kyoto and see the rows of pink cherry blossoms. In April, they will also do an evening tour of the cherry blossoms so you can see them at night, and in May they'll do a green maple tree tour.

Discover the beauty of Kyoto in this very special hotel plan at Kyoto Brighton Hotel.

3 Breathtaking New Rooms to Open at Hoshino Resorts OMO7 Asahikawa

Hoshino Resorts OMO7 Asahikawa, a branch of Hoshino Resorts' hotels for tourists and travellers, has announced that it is opening three new room types to guests from April 1 to make their stay and travels that much better. They are the "Double Room," "Superior Room," and "Family Room."

OMO7 Asahikawa opened in Hokkaido April 2018 as the first branch of Hoshino Resorts's "OMO" brand of city tourism hotels. The hotel offers not only a great sleep, but enjoys the benefit of its location with must-see sights surrounding it, and all of this to make guests' stay the best it can be.


The hotel's Studio Rooms, formerly named the DANRAN Room before the renovation, have received praise from guests that have stayed there for offering everything they needed while being compact, as well as it being easy to kick back and relax in them. It was revealed that in 2019, the average number of people staying in a single room at Hoshino Resorts OMO7 Asahikawa was higher than the average of that in other city hotels in Asahikawa, as well as the hotel being popular for catering to tourist and sightseers' needs.

The hotel has now renovated 111 of its rooms in response to it being used by a lot of people because of its catering towards tourists' needs. It has also added the three new types of roomsーDouble, Superior, and Familyーwhich incorporate the well-received functionality of the Studio Rooms. That's 226 room renovations out of the hotel's 237 rooms.

All beds have storage space underneath them. Those travelling in big groups like families will especially benefit from this if they have a lot of luggage as they can save on plenty of space in rooms.

New rooms are furnished with new sofas and tables for maximum comfort amongst friends and family where they can talk about their trip while enjoying local drinks and snacks.

Also, in the Superior Rooms and Family Rooms, where there is a small amount of guests, beds can be folded and turned into spacious sofas.

The OMO brand promises "a reasonable price for your travels," and this rings true: the new Family Rooms start at ¥5,500, allowing an affordable stay so you can spend more on the local sights.

Room bookings will open on February 3, 2020, so if you're visiting Hokkaido, be sure to check out Hoshino Resorts OMO7 Asahikawa.

You Can Take Your Pets to These Hotels and Accommodations in Japan

Online travel booking website Rakuten Travel has released this year's list for the most popular hotels and accommodations you can stay at with pets in Japan. The list is based off travellers' reviews taken from the website. This list has been updated and published every year since 2014, making this its 6th run.

Placing number one on the list for the first time is Yutsura, a ryokan Japanese-style inn which opened in Shizuoka in April 2018 and can be rented by one person or group for one night. Up to six people in a single group can stay there along with up to 5 small dogs weighing 5kg or less. It's highly favoured amongst travellers who want to take their dogs on the road due to the extent the inn caters for pets. Guests can enjoy having the dogs in their rooms as well as feed their pets there, all without being a bother to other guests.

Nipponia Sawara Merchant Town Hotel in Chiba Prefecture came in second place. You can feel the history of this hotel accommodation which is renovated from a traditional storehouse and townhouse. It allows up to three pets in a room which collectively weigh 25kg. There are three types of rooms to choose from, including one with a dog park. It also offers various services, including a free night for one dog, snacks and amenities for dogs, and more.

In third place is Dog Pension R65 in Shizuoka Prefecture which allows not only big and small dogs, but cats and other pets too. It offers large footbaths for dogs to use, dog parks, and many other services that cater to pets. The hotel also offers cottage-type accommodation rooms separate from the main building too if you're looking to spend some peaceful time away with your beloved companion.

If you're looking to travel around Japan with your pet, be sure to check if a hotel allows animals. Check the link below for the full Top 10 list.

Hyakudan Hinamatsuri 2020: Hotel Gajoen Tokyo Announces Hina Doll Festival at 100 Step Staircase

Hotel Gajoen Tokyo, a historical museum and hotel in Japan, has announced that it will host the Hyakudan Hinamatsuri 2020 doll festival from January 24 to March 15 next year. It will take place at the hotel's Hyakudan Kaidan, or '100 Steps Staircase'―which was registered by Tokyo Prefecture as a Tangible Cultural Property in 2009 for its exceptional architecture and artistic beauty.

Hinamatsuri is an annual festival in Japan celebrated on March 3 every year where ornamental dolls are displayed. Hotel Gajoen Tokyo boasts the biggest Hinamatsuri festival in Tokyo, with over 600,000 visitors having attended across the 10 years it has been held.

A First For The Festival: Photography Permitted

Up to now, photography at the hotel's Hinamatsuri has been restricted to protect the displays. However, for the first time ever, next year's event will allow photography in all of the rooms, which will house dolls symbolising each period of Japanese period: Edo, Meiji, Taisho, Showa, Heisei, and the current Reiwa, not to mention the 500+ zashikibina dolls. There will also be hanging decorations with rabbit designs in the elevator hall created by Nippon Tsurushibina Kyoukai, a non-profit organisation. Also for the first time this year, visitors will be able to dress up in a beautiful uchikake wedding coat and take a photo at the designated photo spot. This is so they can further fill a part of the hina doll world.

Tottori, Shimane & Yamaguchi Get Involved For The First Time

Visitors will be able to enjoy dolls in a variety of ways from different places across  Japan, including a giant 2-meter long wall decoration and old hina dolls handed down from families past from the city of Yonago in Tottori, tiny tsuchi dolls from Hokuei in Tottori which can fit in the pal of your hand, renbei dolls, and more. The spectacular collection will have visitors feeling like they are inside a hina doll palace.

The Hina Doll of the Ishitani Residence (Chizu, Tottori)

The town of Chizu is located in the southeast portion of Tottori Prefecture and is surrounded by mountains. It flourished during the Edo period as a post town and place of rest for the Tottori Domain as part of sankin-kōtai, a policy which had feudal lords alternate living for a year in their domain, as it headed towards Edo. The Ishitani Residence, which is built facing the Inaba Kaidō―a type of route built during the Edo period for transportation―has almost 40 rooms and spans 4,000 square meters. It is listed as an Important Cultural Property of Japan for its modern Japanese-style architecture. The enormous mansion, which is home to a doma dirt floor supported by great beams as well as a Japanese-style garden which can be seen from all the tatami rooms, is decorated with ancient handed-down hina dolls when early spring settles in. This includes dolls from the Meiji periodo with vibrantly embroidered outfits, gorgeous decorations for the hina doll steps, special hina bowls used when celebrating Hinamatsuri at the Ishitani Residence, and more.

Hyakudan Hinamatsuri Memorial: Display Of Over 500 Zashikibina Hina Dolls (Iizuka, Fukuoka)

Iizuka in Fukuoka formerly thrived for its coal mines and bustled as a business dealing in coal. The Former Den'emon Ito Residence spans 2,300 square meters and speaks volumes of the cultural significance of the city's ties to coal as it belonged to Den'emon Ito who was known as the "King of Coal Mining." Every year during the Hinamatsuri season, the Itsuzuka Hina no Matsuri festival is held at the residence where hina dolls from 16 areas throughout the town are displayed. The Former Den'emon Ito Residence is the main venue for Itsuzuka Hina no Matsuri, which sees a huge number of zashikibina hina dolls put out. The Residence has been involved with Hyakudan Hinamatsuri twice in the past, and this time, their overwhelming showcasing of 500+ dolls, which has garnered popularity every time, will be put on as a special display. The display will keep with the festival's theme of tales of Izumo as well as the myth of the Hare of Inaba.

Hina no Shitsurai: Table Laying

Another special display will also be put on for the festival with the theme "Hina no Shitsurai," meaning "setting up a hina living space." There will be gorgeous table laying by Tomiko Ishibashi, who is an interior decorator working internationally, as well as displays of hina decorations in home living rooms and genkan. Select parts of this exhibition will be available to purchase in the museum shop, so people can take away a memory and try setting up their own hina decorations. And for the first time ever, the festival is opening the Hina Cafe for a limited time between January 24 to February 14 where visitors can sip on Japanese tea and eat Japanese snacks. Hina decorations will serve as the theme for the cafe.

Discover the beauty of the Hinamatsuri, a festival unique to Japan, at the 11th Hyakudan Hinamatsuri.

Information

Hyakudan Hinamatsuri 2020

Running: January 24, 2020 – March 15, 2020

Time: 10:00-17:00 (Last Entries 16:30)

*Photography allowed (However please refrain from using tripods and flash and from taking photos for commercial or business purposes. Photography prohibited for select displays.)

*The venue will not use heating in order to protect the displays

Entry Prices

Same-Day: ¥1,600 / Official Online Ticket: ¥1,600 (Special ¥1,100 price available on January 23)

External Ticket Sellers: Adults ¥1,500 / University and High School Students ¥1,000 / Elementary and Junior High Students ¥600

*School ID required. Entry free for preschoolers.

Special Tickets

Pair Ticket (For the first half of the festival period): ¥2,000

Ticket With Postcard (Limited Quantity): Advance ¥1,200 / Same-Day ¥1,500

Ticket With Designated Date and Time, Gallery Talk & Guidebook: ¥1,800

Location: Hotel Gajoen Tokyo

Event Page: https://www.hotelgajoen-tokyo.com/event/hinamatsuri2019

Winter is Coming: Warm Up With Hot Pot at Hot Spring Hotel Hoshino Resorts KAI

The cold weather is here, and it's only set to get colder. When winter falls in Japan, one of the best things people like to do is cook hot pot. Hoshino Resorts is offering the same service for guests this winter at 14 branches of their 'KAI' onsen ryokan (hot spring Japanese inn) brand hotels up and down Japan, with each hot pot filled with the taste of local cuisine.

Winter is truly the best time to eat hot pot for Japanese people, as they huddle around the table nice and toasty and tuck into their piping hot dinner. We're showcasing 9 of the hot pots you can enjoy at Hoshino Resorts KAI this winter season.

Hoshino Resorts KAI Tsugaru: "Gyu Shabu" – Dashi made delicious with plentiful dried tuna

KAI Tsugaru is situated in Aomori, and this hot pot is made one with one of the prefecture's most famous ingredients: tuna, which is caught during the autumn and winter seasons. The main player of this beef shabu hot pot is its dashi which is made from the sweet juices of tuna which go deliciously well with the beef. If you're looking for a hot pot that's a little different from the usual options, you'll love this one.

Running: September 1, 2019 – February 29, 2020 (Except December 29-January 1)
Plan Name: Ooma no Gaguro Zukushi Kaiseki (大間のまぐろづくし会席)
Price: From ¥24,000
Reservations: https://www.hoshinoresorts.com/en/resortsandhotels/kai/tsugaru.html

Hoshino Resorts KAI Kaga: "Kani Sukinabe" – Zuwai-gani snow crab

At KAI Kaga, which is located in Yamashiroonsen, Ishikawa, this hot pot they have cooked up is made in a kombu dashi and is filled with legs of zuwai-gani snow crab and a variety of winter vegetables like bok choy and edible chrysanthemums.

The dish makes full use of the delicious flavour of the crab. It's also served in kunitani-ware made by a young craftsman and Yamanaka lacquer ware, adding to the originality of this hot pot.

Running: November 7, 2019 – March 10, 2020 (Except December 29-January 6)
Plan Name: Katsu Kani Zukushi no Tagu Zuki Kani Kaiseki (活蟹づくしのタグ付き蟹会席)
Price: From ¥47,000
Reservations: https://www.hoshinoresorts.com/en/resortsandhotels/kai/kaga.html

Hoshino Resorts KAI Alps: "Yuki Nabe" – Thawing of spring

The hot pot at KAI Alps in Nagano includes fluffy cotton candy which is based on the snowy mountains of the alps. When you pour the soup over, the cotton candy melts, symbolising the thawing of spring, to reveal the beef and vegetables. The cotton candy adds a light sweetness to the soup as well as fun visual effect.

Running: December 1, 2019 – May 31, 2020 (Except December 31-January 3)
Plan Name: Yuki Nabe Kaiseki (雪鍋会席)
Price: From ¥25,000
Reservations: https://www.hoshinoresorts.com/en/resortsandhotels/kai/alps.html

 

Hoshino Resorts KAI Kinugawa: "Ise Ebi & Roast Beef Ryujin Nabe" – The dragon god's hot pot

KAI Kinugawa in Tochigi has created a hot pot based around the legend of the Ryuokyo dragon god, capturing its malevolence. It's cooked over stones heated to almost 800℃.The soup bubbles as the pot begins to boil and cooks the seafood and other local ingredients from Tochigi, making sure to draw every last delicious drop of flavour from them.

Running: December 1, 2019 – February 29, 2020 (Except December 28-January 4)
Plan Name: Ise Uni to Gyuu Roosu no Ryuujin Nabe Kaiseki (伊勢海老と牛ロースの龍神鍋会席)
Price: From ¥31,000
Reservations: https://www.hoshinoresorts.com/en/resortsandhotels/kai/kinugawa.html

Hoshino Resorts KAI Sengokuhara: "Uni & Beef Sukinabe" – Satisfying spices from the mountains and seas

KAI Sengokuhara in Kanagawa has created a hot pot that's made with lots of ingredients from the mountains and the seas. By using a bounty of uni, which goes incredibly well with beef, it adds a rich sweetness to the overall flavour. There is also a secret flavour hidden under it all: syrup made from the ao mikan citrus which grows in the city of Odawara. This not only adds an exquisite sourness to the hot pot, but also serves to elevate the sweetness of the uni.

Running: June 1, 2019 – February 29, 2020
Plan Name: Uni to Gyuu no Sukinabe Kaiseki (雲丹と牛のすき鍋会席)
Price: From ¥46,000
Reservations: https://www.hoshinoresorts.com/en/resortsandhotels/kai/sengokuhara.html

Hoshino Resorts KAI Ito: "Sankai Nabe" – Soaking up the mountains and seas of Ito

Shizuoka is home to KAI Ito, where guests can enjoy yet another hot pot lavish with ingredients from the mountains and the seas, like splendid alfonsino―which Ito enjoys an abundance of―as well as seasonal vegetables and beef. There are two soups to combine these ingredients with: a bouillabaisse which contains a dashi made from fish from Ito filled with splendid alfonsino and vegetables, and a beef soup.

Running: October 1, 2019 – February 29, 2020 (Except December 31-January 3)
Plan Name: Sankai Nabe (山海鍋)
Price: From ¥25,000
Reservations: https://www.hoshinoresorts.com/en/resortsandhotels/kai/ito.html

Hoshino Resorts KAI Enshu: "Tecchiri" – A taste of the Torafugu tiger pufferfish

KAI Enshu is another hot spring inn, located in Hamamatsu in Shizuoka. Their "Tecchiri" is made with Torafugu tiger pufferfish. None of the flavour of the fugu is wasted in this hot pot, and that is proven as the entire thing is made right in front of customers' eyes. The zōsui is made with a KAI Enshu-original blend of sencha green tea called souka (爽華), which ensures that element of locality is included in the dish as Shizuoka is famous for its tea.

Running: October 5, 2019 – March 31, 2020 (Except December 29-January 3)
Plan Name: Fugu Zukushi Kaiseki (ふぐづくし会席)
Price: From ¥31,000
Reservations: https://www.hoshinoresorts.com/en/resortsandhotels/kai/enshu.html

Hoshino Resorts KAI Izumo: "Kani Sukinabe" – Collaboration between Katsu Matsubagani & Shijimi

KAI Izumo is situated in Tamatsukuri Onsen, an onsen hot spring in Tamayu, Shimane. Their "Kani Sukinabe" is made with rich snow crab crab which has an exquisite sweetness and is soft in texture. From beginning to end, this hot pot is a crab party in your mouth.

Running: November 7, 2019 – March 10, 2020 (Except December 31-January 4)
Plan Name: Tagu Zuki Katsu Matsubagani Zukushi Kaiseki (タグ付き活松葉蟹づくし会席)
Price: From ¥45,000
Reservations: https://www.hoshinoresorts.com/en/resortsandhotels/kai/izumo.html

Hoshino Resorts KAI Aso: "Netakuri Nabe" – Rich miso and cheese

The base of the soup in KAI Aso, located in Kumamoto, is a mix of milk from Jersey cattle and miso. It contains wagyu Japanese beef and seasonal vegetables. Its appearance is based on the Aso Caldera region of Kumamoto Prefecture and its incredibly vast grasslands.

Running: September 1, 2019 – February 29, 2020 (Except December 29-January 3)
Plan Name: Wagyuu to Caciocavallo o Tanoshimu Netakuri Nabe (和牛とカチョカヴァロを楽しむねたくり鍋)
Price: From ¥46,000
Reservations: https://www.hoshinoresorts.com/en/resortsandhotels/kai/aso.html

Below is a video which showcases each of these local hot pot dishes, so be sure to check it out if you're not already watering at the mouth


All of these hot pots are made with only the best local ingredients as expected of KAI, and all are available for the rest of winter only. Guests can experience the local regions not only through the food, but in the tableware each hotel uses. If you're in Japan this winter, be sure to book with one of the many Hoshino Resorts KAI branches and stay warm with a delicious serving of hot pot.

Cherry Blossom Themed Menu to be Served at InterContinental Tokyo Strings in Spring 2020

InterContinental Tokyo Strings has revealed adelightful cherry blossom-themed menu line-up that is set to hit the hotel in spring 2020. They will be served at the hotel's Rhythmos Café and Bar and from March 1 to April 30 next year.

Sakura Strawberry Afternoon Tea

This cherry blossom afternoon tea set can be found at Rhythmos, a cafe and bar in InterContinental Tokyo Strings. Hanami, or 'flower viewings,' is a fundamental part of Japanese culture during the spring when people go out to see the cherry blossoms. This custom has been recreated with this afternoon tea set, with which customers can enjoy hanami on their plate in a mix of strawberries and cherry blossom Japanese sweets.

The green colours add accent to the overall presentation, and represent the young budding leaves of springtime. The tempting selection of cherry blossom pink bites are not only mouthwatering to look at but have a cute appearance to them, one that you want to keep gazing at like the cherry blossoms during hanami. The flavours are a combination of strawberry and cherry blossom, inviting you on board for some early spring vibes. Even better is that both the sweets and savoury items, which look like spring in full bloom, are made with high quality, in-season ingredients for maximum tastiness.

The fraisier is a strawberry cake said to represent the coming of spring in France. At Rhythmos, it's served in a glass so you can see all the delicious insides, from the round-sliced strawberries to the beautiful green pistachio mousseline cream. The pure white crémet d'Anjou has a fluffy texture and is mixed with refreshing and sour strawberry and raspberry sauce which elevates the flavour of the fromage blanc.

Other treats to pick from include the cherry blossom ganache tart which has a faint cherry blossom fragrance, cherry blossom and strawberry cream-stuffed macarons, strawberry daifuku, and more―all with spring flavours and colours.

The savoury line-up too offers some elegant and unique items. There's the sandwich wraps which include cherry blossom leaf-topped grilled chicken with a lining of shredded dried plum, strawberry ceviche with grilled scallops, and much more.

▶︎Sakura Strawberry Afternoon Tea

Running: March 1, 2020 to April 30, 2020

Location: Rhythmos Café and Bar (InterContinental Tokyo Strings)

Time: 14:00-18:00 (Last Orders 16:30)

Price: ¥4,800 per person

"The Breath of Spring" Cocktail

Rhythmos will also serve a very special and oriental cocktail called "The Breath of Spring" which uses cherry blossom and chai tea as its base. It arrives served in a ceramic cup and captures the Japanese spirit and love of cherry blossoms and their joy at the arrival of spring. It mixes a cherry blossom vodka made in-house with chai tea and a dash of maple syrup for an added subtle sweetness. It's topped with a milk foam made with cherry blossom bean jam which is sure to not only elicit a kind of nostalgic taste to the Japanese palate, but offer an oriental flavour too with the addition of chai tea. This is the perfect drink to enjoy on an evening after observing the cherry blossoms during Hanami.

▶︎The Breath of Spring

Running: March 1, 2020 to April 30, 2020

Location: Rhythmos Café and Bar (InterContinental Tokyo Strings)

Time: 17:00-Midnight (Last Orders 23:30)

Indulge in the culture of cherry blossoms in Japan at InterContinental Tokyo Strings next spring.

Top Six Hotels on Booking.com for Nighttime Sceneries and Light Displays in Japan

The diverse range and large number of accommodations and trip services found on Booking.com is phenomenal. As one of the world's largest travel accommodation booking websites, this is the first port of call for many who want to guarantee seamless travel plans. Today we're announcing Booking.com's top accommodations for heart-warming light up events and nighttime views. For couples looking for a romantic getaway in Japan, let this article be your guide.

Hotel La Suite Kobe Harborland (Kobe, Hyogo)

Hotel La Suite Kobe Harborland is a five-star hotel located near Harborland Waterfront which enjoys an extraordinary view of the sea. The rooms are fitted with a spa bath and there is even a rooftop terrace with comfy sofas to relax. All guests are treated to a romantic view right from their window. The hotel is situated just a 20-minute walk from Kobe's grandest winter illumination event called 2019 Kobe Luminarie. If you want to get up close to magnificent works of art, this hotel is for you.

Review Rating: 9.5/10.

Click here to view Hotel La Suite Kobe Harborland on Booking.com

Yokohama Royal Park Hotel (Yokohama, Kanagawa)

Yokohama Royal Park Hotel is situated on floor 52 and upwards in Yokohama Landmark Tower. Being located in the second tallest building in Japan surely has its perks. Soak in the beautiful cityscape and the best view of Yokohama Bay Bridge to your heart's content. You can only imagine the breathtaking view available in every room. Facilities in the hotel include a fitness centre with an indoor pool, eight diverse restaurants and a massage facility (fee applies). A brand new shopping mall called Yokohama Hammerhead recently opened in close vicinity which is the perfect place to spend the afternoon or have a bite to eat.  

Review Rating: 9.0/10.

Click here to view Yokohama Royal Park Hotel on Booking.com

The Prince Park Tower Tokyo, Minato, Tokyo

With the iconic figure of Tokyo Tower glowing right outside your window, the Prince Park Tower Tokyo stands tall in Shiba Park. Prince Park Tower Tokyo enjoys spacious rooms, entertainment facilities such as bowling and karaoke, and relaxation facilities such as saunas, massage services and much more. Limited facilities include access to the fitness centre, onsen spas, indoor swimming pool and the lounge on floor 33. You can purchase a room with the view of Tokyo Tower on Booking.com 

Review Rating: 8.9/10 

Click here to view Prince Park Tower Tokyo on Booking.com 

Garden Terrace Nagasaki Hotel & Resort (Fukuoka, Nagasaki)

Located on Mount Inasa, this hotel offers a beautiful view of Nagasaki. There is a wide variety of facilities including an outdoor swimming pool (open depending on the season) and bars. Guests can enjoy the mystical and romantic nighttime scenery from the poolside. The hotel even offers a wedding plan, making it the perfect place for couples. 

Review Rating: 8.9/10.

Click here to view Garden Terrace Nagasaki Hotel & Resort on Booking.com

mizuka Nakasu 3mizuka Nakasu 3 -unmanned hotel (Fukuoka)

This hotel is located in Nakasu, Fukuoka just 500m away from Seiryu Park, the old municipal guest palace Kihinkan Hall and the historic monument Hakata Machiya Kishin Takatoro. Each room has two bunk beds and can fit up to four guests. Enjoy the hotel's barbeque or takoyaki set with friends or family with the fantastic nighttime view of Fukuoka. 

Review Rating: 8.8/10

Click here to view mizuka Nakasu 3 -unmanned hotel on Booking.com

Ryukyu Onsen Senagajima Hotel (Naha, Okinawa)

Ryukyu Onsen Senagajima Hotel's magnificent outdoor pools, onsen, massage services and buffet restaurant that overlooks the picturesque sea at night should be enough to get your attention. You can enjoy a SPA OSa beauty treatment and even water sports or golf in the area. This is a wonderful way to celebrate the first Christmas of the Reiwa Era with your friends or family.

Review Rating: 8/7/10

Click here to view Ryukyu Onsen Senagajima Hotel on Booking.com

If you're visiting Japan this Christmas, consider one of these relaxing hotels and their glorious views.

*Review Ratings are based on reviews received in the past two years (from December 2017 to December 2019) on Booking.com and are calculated based on scores given in the following categories: cleanliness, comfort, location, facilities, staff and value for money.

Hotel Royal Classic Osaka: A Museum & Hotel Fusing Tradition and Innovation in an Art Museum-Style Space

Shin Kabuki-za is an old theatre in Osaka that has been loved by locals since it opened in 1926. The theatre is set to find new life as Hotel Royal Classic Osaka, a new hotel developed by Japanese architect Kengo Kuma which is set to open on December 1, 2019. The MOSHI MOSHI NIPPON editorial team received exclusive access to view the hotel before it opens to report on it and showcase how it differs completely from other hotels with its characteristic charms.

Its direct connect to Namba Station means super easy access

Hotel Royal Classic Osaka is situated in the central part of Osaka Minami. Direct access to the hotel from the Osaka Metro section of Namba Station will be made available from March 2020, allowing for easy access and the reassurance that you won't get lost wandering the streets trying to find your accommodation. Its location means easy access for tourists and travellers with a lot of luggage, working professionals who want to shorten the distance between commutes as much as possible, and pretty much any other scenario where accessibility is a priority.

An iconic building exterior combining tradition and modern innovation

Shin Kabuki-za is known by the locals who live in the area for its magnificent karahafu roof gables. The hotel will inherit this symbolic part of the theatre's design and restore the lower part of the building. The upper part makes use of multiple layers of aluminium to create a dynamic and intricate design, resulting in a unique appearance that fuses both the traditional formation of the original theatre with a modern touch. Thanks to Kengo Kuma's skillful architectural work, the building merges effortlessly with the surrounding buildings while retaining the local culture.

It's as much of an art museum as a hotel

Olympic Girl 100m by Ay-O (Takao Iijima)

The hotel also stands tall and proud as an art museum. As you walk down its corridors, your eyes will meet a plethora of gorgeous pieces of artwork which serve to lay guests into a sense of calmness and tranquility. These works are scattered throughout the hotel, both at the front desk, guest rooms, and elsewhere, making it feel like you have really stepped into a museum of art. High-class pieces also line the walls nonchalantly, so give yourself time to appreciate the many masterpieces you'll find there.

  

High ceilings create spaceーspace which is nothing less than relaxing

There are 150 guest rooms in total, consisting of Standard Rooms, Premium Rooms, and Suite Rooms. Not only does each and every room boast a beautiful and panoramic window view of Osaka's nightscape, they also enjoy high ceilings, creating a sense of space and freedom.

Wood is the base of all the rooms, giving them a natural and relaxed feeling. The furniture is simple which gives the rooms a minimalist design, again adding to the space and sense of luxury. We stayed in one of the Standard Rooms. Don't let going for Standard make you feel inferior, however, as we felt the room was incredibly spacious with plenty of space to store luggage.

Room lighting is controlled with a tablet located next to the bed. The tablets are compatible in four languages. Each icon on them also has universally easy-to-recognise pictures for easy use.

Also, the bathtubs in Standard Rooms have a little window that looks into the main bedroom. If you're with someone you're on good terms with, whether friends, family or a loved one, you can communicate back and forth while you take a soak. (There is of course a sliding door so you can close it off too!)

We were also shown around one of the Suite Rooms which are fitted with a living room and spacious washroom. It really is penthouse-level extraordinary.

The bathrooms have a window that looks out across the city nightscape, allowing for an indulging soak with a breathtaking view. It's not one we could afford every single time we book a hotel, on a special occasion one time it's an absolute definite.

 

Amenities galore to pamper your hair and body

The rooms come with a long line-up of fantastic amenities, like comfy cotton PJs, fluffy slippers, and our personal favourite: a compressed bag for your clothing. 

The amenities in the washroom were bountiful too, from shampoo to conditioner, shower gel and body gelーall of which, by the way, are by the Thai organic brand Panpuri. They all smelled incredible and filled the bathroom with their gorgeous scent.

They have all your ordinary must-haves too like a hair comb, cotton buds, toothbrush, and so on.

KUMO KUMO: The bar and lounge with comfy sofas

The hotel building has a total of twenty floors. After enjoying our time in the hotel portion, we headed up to the bar and lounge KUMO KUMO on the 20th floor. Inside the elevator, piano music plays while you gaze at the several pieces of art fitted inside. There was even a piece by Yayoi Kusama, so be sure to take a look.

When entering KUMO KUMO, there's not only seats at the counter, but lots of sofas too with a window view.

Jazz music flowed through the bar and lounge, which is best enjoyed with a cup of delicious sake while staring out over nighttime Osaka.

HAFU is a restaurant for guests only that serves breakfast.

Their menu consists of lots of healthy options, from fruits to salads.

The chef will also prepare fresh hotel-grade egg and meat dishes too, amongst other delicious delights. There's also a range of slim-friendly menu items made with foreign guests in mind. The assortment was truly incredible, we can't recommend this place enough.

Of course, there's yogurt, mini sweets and other dessert-like morning treats to indulge in too. It was a breakfast for the gods.

YURAYURA: A restaurant that combines Japanese and Western cuisine


The team enjoyed lunch at YURAYURA too, a buffet-style restaurant that also seats non-guests. Their menu is an amalgamation of the Japanese and Western palate, serving carefully-selected ingredients from countries around the world.

They had various foods from around Asia too like nasi goreng from Indonesia, as well as Korean japchae, and more.

Other things we spotted were pincho and small-cut sweets too.

For Japanese food there were things like freshly-fried tempura, and large cuts of roast beef which were cut there and then by the chef.

What I was personally happy about was their cafe menu, with things like cafe latte and other hot drinks. It was a satisfying 90-minutes spent, wolfing down food and then enjoying some sweets with a cafe latte.

5 spaces that can be used for weddings, parties & more


The hotel building even houses two chapels, as well as banquet halls, which can be used for weddings, parties and more. The chapels have large windows that let in plenty of natural sunlight. The use of natural wood also gives the room a warm feeling to it.

Floor 8's HANAEMI

There are five banquet halls in total each on a different floor and each with their own concept. Those on floors 7, 8 and 9 even have terraces for parties too. Whether you're having a party, a wedding, or a conference, there is a room for you.

Hotel Royal Classic Osaka's speciality is its inclusion of leaving a part of traditional Japan in there while still letting you feel the Japan of today. Whether you're travelling to Osaka for some sightseeing and fun, or you're in the business scene and need a regular-use hotel, look no further. We felt connected to Osaka in our experience there, so if you're planning a trip to Osaka, be sure to book with Namba's newest landmark.

Information

Hotel Royal Classic Osaka

Address: 4-3-3 Namba, Chuo Ward, Osaka

Grand Opening: December 1, 2019

Access:

①From March 2020, the hotel will be directly connected to Exit 12 of Namba Station in the Osaka Metro section

②4-minutes on foot from Namba Station via the Nankai Main Line

③3-minutes on foot from Namba Station via the Hanshin Namba Line

④10-minutes on foot from Namba Station via the JR Line by way of Namba Walk (underground)

Official Website (English): https://hotel-royalclassic.jp/en/

Tokyo's My Hero Academia Themed Hotel Rooms Unveil Designs | Tokyo Prince Hotel

Tokyo Prince Hotel has announced a collaboration with the upcoming anime film My Hero Academia: Heroes: Rising which is set for release on December 20, 2019. Bookings are now open for their My Hero Academia themed hotel rooms, which will be available to stay in from December 7 this year until February 29, 2020.

The room designs and hotel plans were revealed today. There are two plans available: the "Concept Room Plan" where guests can stay in a room that recreates the world of the movie and comes with free merchandise and a themed drink, and the "Regular Room Plan," which features a regular hotel room decked out with lots of My Hero Academia decorations, and also comes with the merch and drink.

The concept room is split into two rooms: the first recreating the room in which the students of class 1-A meet the protagonist, Izuku Midoriya, and the second on Midoriya's bedroom.

Expect to see illustrations of the students as well as the Villains in the rooms too. Bookings are first-come, first-served, so don't miss out!

©️2019 "My Hero Academia THE MOVIE" Production Committee ©️Kohei Horikoshi/Shueisha

Information

My Hero Academia Collaboration Hotel Plan

Location: Tokyo Prince Hotel

Running: December 7, 2019 – February 29, 2020

Bookings: Open from December 22, 2019 (First-come, first-served)

Booking Page: https://www.princehotels.co.jp/tokyo/plan/contents/myheroacademia_stay/

Plan Details

①Concept Room Plan (Original Merchandise & Drink)

②Regular Room Plan (Original Merchandise & Drink)

Amenities:

・Pop-up card

・Metal keyring

・Pass case

・Toothbrush set

・Original drink (w/ coaster)

This Relaxing Onsen Hotel with Picturesque Nature and Luxurious Local Cuisine is the Perfect Getaway

Japan is full of picturesque locations where you can be at one with nature and soak the tiredness of your body away in the onsen baths. If you are looking for an escape from busy working life, then you're in luck: Today we'll be introducing you to a modern onsen hotel which is perfect for families, lovers, and even solo travellers. 

Escape from Tokyo on the bullet train, ride the Zairai line and finally, catch a bus. After your two-hour journey, you will arrive at onsen hot spot Uonuma city in Niigata Prefecture. Today, we'll be heading to Tomoya Hotel. The picturesque scenery of paddy fields and mountains will unfold before your very eyes and put your mind at ease.    

Sunlight pours over the reception desk from the giant window. It was time to check in. After being informed on meal times and private onsen rentals, I quickly headed to my room.

I was given room 305. The warm wooden structure made the room feel lavishly large. Whether you're snuggling up with a lover, chilling out with friends or relaxing with family, the atmosphere and size of the room allows for flexible usage.

The Sanashi river was right outside my window. I could watch the soothing clear water flow out to the horizon for hours. 

The room was prepared with loungewear, bath towels, toothbrushes, socks and many other amenities. It was even fitted with a fridge and water heater. 

From the lamps lighting the stairway and hallway sofas to the displayed artwork, every item in Tomoya Hotel is a carefully selected item of special design. 

There was even a DJ area next to the lobby which contained a surprising stash of records, CDs and DVDs which was uncountably large. Being able to discover new music and films is another admirable feature of the hotel. 

The front lobby is filled with a fresh and liberating atmosphere. There are plenty of spots to sit and read to yourself as the melodies of records weave through the air.

The shop sells specially selected products including locally produced juice, snacks and much more. You can even purchase Tomoya Hotel's original skincare goods. Reading the cheerful and thoughtful comments written on the goods by the manager made it clear that every single item in the shop was chosen with the utmost care. 

One by one, several lavish courses arrived at my door for dinner that evening. The locally-sourced ingredients and seasonal vegetables were served with Niigata prefecture's uonuma koshihikari rice, which is famed as Japan's best rice. 

Nameko mushroom hotpot, salt-fried East Asian trout, tofu mixed with lotus root, and sashimi were just some of the hotel's many original dishes that were brought to my door. As the rice was harvested from the first crop of the year, it was very sweet and so delicious that I helped myself to multiple servings without realising. The food was flavoured and seasoned very lightly to ensure that guests could fully enjoy the true flavours of the fresh harvest from the mountains and the sea. The luxurious dinner was highly enjoyable. 

I enjoyed sipping a small glass of Tomoya's chilled Reishu sake with my meal. This is an original recipe sake created by Tomoya Hotel and local sake brewery Tamagawa Shuzo. It was so refreshing, easy to drink and perfectly complimented every dish. The hotel provided a rich variety of alcoholic dinks including refreshing beer, carefully-selected wines, rare local sake, homemade fruit liqueurs, and more.

The onsen is home to rich history dating back to the year 1300 when it first opened its doors to the public. There are two types of private rental onsen and large public onsen indoors. Some square-shaped baths sit right beside a small stream which branches off from the Sanashi river. Treat yourself to a soothing soak in a historical onsen while absorbing the beautiful scenery. 

After finishing your relaxing soak, head to floor 1 of the main building to spend some time relaxing. This space is for guests to use freely and how they please. There are bookshelves lined with books and games available.

The first floor of the hotel annexe was my favourite place. Music from a variety of genres is played here. A disco ball hangs high, splashing light across the spacious room. There is a ping-pong table, a pool table, massage chair, piano, an old Nintendo game, manga and much more. It may seem like a relaxing place at first glance, but my heart was racing with excitement as I got hooked on the games.

The following morning, breakfast was delivered right to my room again. Seeing the tray filled with a luxurious mix of both western and Japanese-style cuisine was very pleasing to see. I indulged in yaki-fu: baked wheat gluten which is a specialty of Niigata, fried fish, rolled Japanese-style omelette, homemade cheesecake and much more. All the meals served at the hotel are made with the utmost care and precision. 

If I were to introduce all the wonderful services and features of Tomoya hotel then there would be no end to this article. The main highlights were the delicious meals made with locally sourced ingredients, the soothing onsen, the music, films and experience of art culture, and of course, the opportunity to get in touch with nature, watching the water trickle down the mountain streams as your mind discovers peace. 

If you are looking to heal your body, mind and soul whilst discovering nature and art, then Tomoya Hotel is perfect for you. 

Writer:Ellie(MOSHI MOSHI NIPPON)

Evangelion Second Impact Hits Hakone Kowakien YUNESSUN Spa Resort

If you're looking for a unique onsen experience in Japan then spa resort Hakone Kowakien YUNESSUN is for you. From Japanese sake to coffee, there are a range of unique baths for you to enjoy a soak in. The resort is also home to a number of water attractions for those looking for a splash of fun. From January 10 to June 30, 2020 the resort will be doubling up the excitement by collaborating with Evangelion. The upcoming Second Impact no Yu event provides a chance for Evangelion fans to discover the exciting world of Evangelion while soaking up the spa goodness.

The Second Impact no Yu event is being held in cooperation with the Evangelion Hakone 2020 MEET EVANGELION IN HAKONE project run by the Odakyu Group. As the first step of this project, the Evangelion series' global catastrophe "Second Impact" will be invading the swimsuit area of the Yunessun spa. If you're looking to plunge straight into some thrilling action, make sure to head to the cave bath and water slide.

From the inside to the outside, the resort has been completely invaded by Evangelion-themed decoration. More details on the collaboration event contents will be released on the resort's official website so make sure to check it out if you are interested.

Information

Second Impact no Yu

Running: January 10 – March 31, 2020

Location: Yunessun Swimsuit Onsen Outside Area 

Opening Days and Times:

Weekdays:10:00 – 18:00

Weekends and National Holidays: 9:00 – 19:00 (Last Entry: 1 hour before closing time).

Prices:

Adults: ¥2,500, Children (3 y/o – Primary School-Aged): ¥1,400 (Tax Included) 

* You must be over 110cm tall to enter Rodeo Mountain.

Resort Evangelion Decorations

Running: January 10 – June 30, 2020

Location: Hakone Kowakien Yunessun

Opening Hours:

Weekdays: 10:00 – 18:00

Weekends and National Holidays: 9:00 – 19:00 (Last Entry: 1 hour before closing time)

Hakone Kowakien Yunessun

Address: 1297 Ninotaira, Hakone, Ashigarashimo District, Kanagawa

Collaboration Website: https://eva-hakone.com/

Hotel Chinzanso Tokyo to Hold Christmas Evening Party at Le Jardin Restaurant

Hotel Chinzanso Tokyo has announced that it will hold a special Christmastime "Evening Party" from December 20-25 at Le Jardin, the hotel's stylish cafe/restaurant that offers a gorgeous view of the hotel's quiet garden landscape.

The Evening Party will take place just a little later than afternoon tea time where customers can tuck into some succulent meat and fish. The hotel has held it for the past 14 years, and anyone that has experienced it will tell you that you'll want to go back after trying it once.

At the party, seasonal food is served on an extravagant 3-tier hors d'oeuvres stand together with champagne. You will never forget the taste of the chef's specially-prepared thick cut roast beef, as well as your own choice of dessert, tea, coffee and more.

The roast beef in particular is hugely popular, with repeat customers flocking to get a taste of its delicious flavour. It's seasoned with salt, fennel, rosemary and juniper berries, and garlic before being browned in the frying pan and subsequently cooked in an airtight pack together with a mirepoix made from carrots, onions, celery and other ingredients on a low heat at 63°C for 3 hours. This is the secret to the meat's popularity, resulting in soft and succulent heaven.

Menu items will be served in Christmas colours, including some made to look like Christmas trees, and there is also a meal plan that includes a present.

Enjoy a wonderful dinner time this Christmas in Tokyo at Hotel Chinzanso Tokyo.

Information

Christmas Evening Party

Running: December 20, 2019 – December 25, 2019

*Reservations required

*Musical performances to take place on December 20 and 21 (18:30-21:00)

Time: 18:00-22:00 (Last Orders 20:30)

Location: Le Jardin, Hotel Chinzaso Tokyo Floor 3F

Price: ¥4,600 (¥8,000 w/ present) (Tax & service charge not included)

Reservations/Enquiries: 03-3943-0920 (10:00-21:00)