Häagen-Dazs Releases Purple Sweet Potato Tartelette & Rich Pumpkin Ice Cream
Häagen-Dazs just released their new Purple Sweet Potato Tartelettes and Rich Pumpkin mini ice cream cups in Japan. They will be available for a limited time only.
Purple Sweet Potato Tartelette
Concealed inside a crispy coating laced with purple sweet potato powder is a rich custard ice cream seeping in a subtly sweet purple sweet potato sauce. A tried and tested treat for autumntime, these crispy ice cream sandwiches not only taste like the sweet purple root vegetable, but they also take on their vibrant colour too.
Through much trial and error, Häagen-Dazs have been able to create the perfect harmony of flavours between the sweet potato and ice cream. The custard ice cream brings the richness of the egg and lifts the notes of the sweet potato to even greater heavenly heights.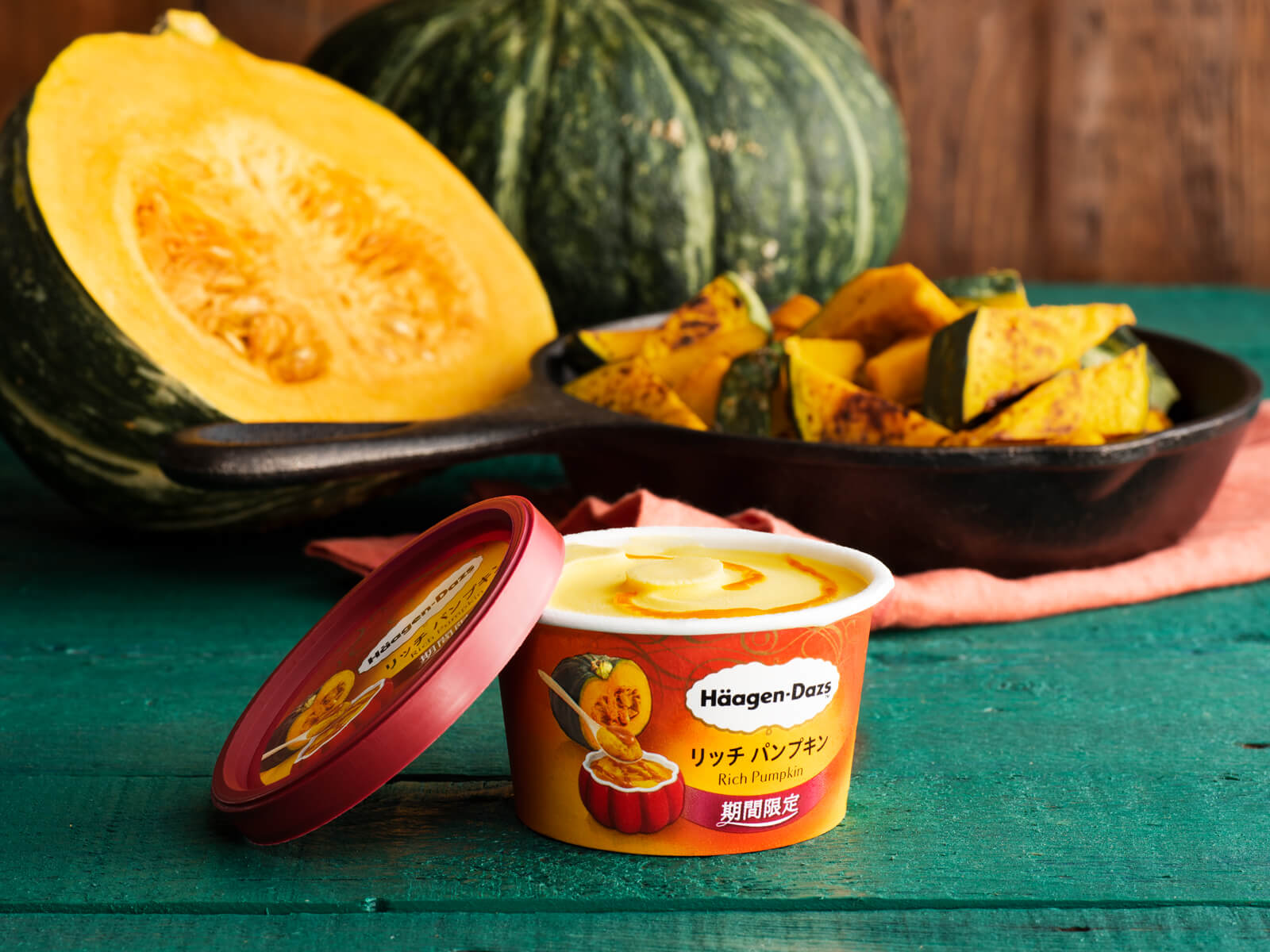 Rich Pumpkin Mini Cup Ice Cream
The new pumpkin ice cream is drizzled in a pumpkin sauce packed full of plump pumpkin perfection. And by cooking fresh pumpkin, the flavour is condensed and made even richer, filling your mouth with the gentle sweetness of pumpkin.
Both the ice cream and the sauce are made with Ebisu pumpkins from Hokkaido. And like the tartelettes, these mini ice cream cups retain that bright original flavour of the squash plant.
Taste the flavours of all with these two new delicious desserts from Häagen-Dazs.
Information
Häagen-Dazs Crispy Sandwich Murasaki Imo (Purple Sweet Potato) Tartelette (Limited Edition)
Release Date: August 20, 2019
Price: ¥319 (Tax Included)
Available: At supermarkets, convenience stores and department stores in Japan
Product Page: https://www.haagen-dazs.co.jp/murasaki_imo_tart/
Häagen-Dazs Mini Cup Rich Pumpkin (Limited Edition)
Release Date: August 20, 2019
Price: ¥319 (Tax Included)
Available: At supermarkets, convenience stores and department stores in Japan
Product Page: https://www.haagen-dazs.co.jp/rich_pumpkin/
RECOMMENDED ENTRIES
STRAWBERRY MANIA: Harajuku's Cutest & Tastiest Strawberry Ice Cream | Food Review

Hey, readers. It's Midori again, from MMN's editorial team.

Summertime in Harajuku means the cafes and ice cream shops start serving up some seriously kawaii and tasty ice creams. It's always nice to grab a cone to enjoy while walking around shopping, but relaxing in a cafe to enjoy it is fun too♡

If the latter sounds like your kind of thing, then I've got a new recommendation for you. I visited STRAWBERRY MANIA recently, cafe located along Takeshita Street in Harajuku that specialises in strawberry desserts.

You'll find it right above the 7-Eleven on Takeshita Street. Look for the strawberries!

There's also a sign outside showing a few of the desserts. Go up the staircase right next to it and you'll come to the cafe entrance.

No matter where you turn while you're here, your eyes will be met with strawberries. It looks so cute♡

The shopfront showcase is shelved with lots of succulent strawberry treats. The chef whips up other desserts to order besides these too. Everything's almost too cute to eat!

For the strawberry soft serve ice cream you can pick between three flavours: milk, strawberry or mixed. I couldn't pick between them so I went for mixed.

The combination of the bright red strawberry ice cream and pure white milk ice cream makes for a beautiful colour contrast.

It's also topped with a huge fresh strawberry.

I took no time at all in taking a spoonful. The strawberry ice cream has a really rich flavour. It's sweet but has that sour kick too, like you're eating a real strawberry. The milk ice cream has a milder sweetness and a real milky taste, the kind you'd imagine if it was sold at a farm with cows.

Everything is packed snug into the cone right down to the bottom, making it a filling treat. It can be ordered for takeout if you like, and if you do that you can get your ice cream straight away so you don't have to wait for seats.

They serve other things besides soft serve too, like shaved ice and parfaits. There's so much to choose from, I think you'll be spoiled for choice! Be sure to visit if you're in Harajuku.

Ice Cream Lovers' Paradise: Over 100 of Japan's Best Ice Creams Unite at Ice Cream Fair in Hokkaido

For six days only, The most mouthwatering ice cream flavours from all over Japan are heading to Sapporo Kita 3-jo Plaza AKAPLA for the regional ice cream fair Aipaku Hokkaido in Sapporo 2019. The ice cream fair will start on August 15 and end on August 20, 2019. 

The concept of Aipaku® is to make everyone's childhood dream into a reality; a paradise park where visitors are surrounded by the most delicious ice cream flavours that are found countrywide.  The Japan Ice Mania Association carefully selected heart-melting ice cream flavours from all over Japan to sell at this event. The event has been running since 2015 and has so far welcomed approximately 2 million satisfied ice cream lovers, making it the largest ice cream event in Japan. Visitors can tuck in to their ice creams straight away or buy cooler bags and dry ice at the venue to take it back home as a souvenir.

This time, Aipaku Hokkaido in Sapporo 2019 is completely changing its lineup. Compared to when it was last run in 2017, this year will see many ice creams and ice cream brands that are new to Hokkaido making their debut. If you are an ice cream lover, this is a paradise world you just cannot miss out on. 

Kikyou Shingen Soft/KIKYOUYA (¥500)

Since being launched in 2015, this ice cream has become the star of the show at Aipaku. This ice cream is otherwise only available in Yamanashi prefecture. The beautiful scent of the soft serve ice cream's kinako roasted soy bean will be the first thing to reach your nose. This ice cream is made with the original, rich-flavored brown sugar syrup of Yamanashi prefecture. 

Manhattan Roll Ice Cream/ Manhattan Roll ¥850

Roll Ice Cream is currently a big hit in Japan, so naturally it has infiltrated into this ice cream fair. This ice cream is not made using eggs like conventional ice creams. It is made with a unique combination ratio of milk, fresh cream and syrup. The result is a smooth ice cream which is rich but not overpoweringly sweet. 

Double Ruby Fantasy/ MAISON GIVRÉE/¥600

This is an Aipaku-limited ice cream. Its rise to fame occurred as a result of the World Championship of Pastry Ice Cream and Chocolate which took place in Milan in 2015. This Aipaku-limited soft serve ice cream was created by Team Japan's captain and world champion pâtissier Hiroyuki Emori. It is covered in sugar-coated ruby chocolate and decorated luxuriously with almonds, hazelnuts and pistachios. The pink colour is enough to melt your heart. 

Aipaku Original Häagen-Dazs Sundae/ Aipaku Official ¥800

This is an original sundae flavour that can only be obtained from Aipaku. The ice cream is made using Häagen-Dazs vanilla ice cream with a generous layer of luxurious whipped cream. This is drizzled with a rich caramel sauce. Crispy feuillantine, which is made by smashing baked crêpe batter, accents the flavour and adds texture. Chunky slices of banana and salty vanilla-roasted peanuts are placed on top. This is a special sundae that ice cream-lovers will not be able to resist. 

These are just a few of the vast range of ice creams you could be trying. There are just so many that you will be frozen for choice. The venue is also easy to access from Sapporo station. This is a wonderful way to leave the house and enjoy a Japanese summer whilst staying refreshed. 

*Prices after tax stated above

* The ice creams at the event may differ to the images above.

Information

Ice Cream Fair Aipaku Hokkaido in Sapporo 2019

Running: August 15 ー 20, 2019

Opening Times: 11:00 ー 20:00

Venue: AKPLA, (Sapporo Kita 3-jo Plaza)

Kita 2 Jonishi, 4/ Kita 3 Jonishi 4, Chuo Ward, Sapporo, Hokkaido

Free entry. 

Takeaway: If you wish to purchase ice creams to take away, please consider purchasing a cooler bag and dry ice (保冷バッグ+ドライアイス) at the venue.

Aipaku Official Website: http://www.i-89.jp

Baskin-Robbins Releases Pokémon Ice Creams, Sorbets and Cakes

Whether you're exploring Japan with your adult pals or on a family holiday with young kids, Pokémon fans from all generations cannot deny that treating yourself to Pokémon ice cream is the golden razz you need in this heat. 

From August 1 to 30, 2019, Baskin-Robbins will run a collaboration scheme with Pokémon to celebrate the release of the new Pokémon movie Mewtwo Strikes Back: Evolution. This involves the release of BR's first ever Pokémon-themed ice creams.

Pikachu Thunderbolt: Fruit Mix (price for single scoop, regular size: ¥390 after tax) *prices may vary,

Mewtwo Strikes Back: Evolution was released earlier this summer and there is no better opportunity to maximise your Pokémon experience than to indulge in the luxurious taste of Baskin-Robbins ice cream that has been combined with your favourite Pokémon with a beauty that no Pokémon fusion generator is possible of producing!

Pokémon Double Cup

Pikachu has arrived at Baskin Robins in the form of a sorbet, which is appropriately coloured yellow. The fruity sorbet flavours include pineapple, yellow peach, banana, apple and orange. This is decorated with bright red studs of delicious popping candy which look like Pikachu's cheeks. This is the first ever Pikachu sorbet to ever be sold at Baskin-Robbins.

BR also introduced a promotion scheme where those who purchase a Small Double-size ice cream (¥490 after tax)  can upgrade it to a Regular Double size for just an extra ¥100. Your ice cream will be served in a Pokémon-themed cup and you can even pick your favourite cup design out of the three available to maximise your ice cream experience.

Customers who order the Double Cup will receive a Pikachu spoon for each cup ordered. There are three different Pokémon spoon designs. Which one will you get? Hurry over to your nearest Baskin-Robbins to collect them all!

Pokémon Variety Pack

Small 6 pack: ¥1,550 Small 12 pack : ¥2,990 Regular six pack: ¥2,130 Regular 12 pack: ¥4,140 *All prices tax included and are subject to change. 

Want them all? The variety pack is perfect for those of you who want a selection to eat while on the go. The Pokémon-themed box is filled with rainbows of colours and all your favourite Pokémon, however, it is only available for a limited time. When you and your friends need a break from catching Pokémon, this is the perfect way to get refreshed.

Finally, don't miss out on BR's legendary Pikachu and Eevee ice cream cakes. The Pikachu Cake features BR's popular "Popping Shower" ice cream, which is a fusion of white chocolate and popping candy. This is wrapped in yellow strawberry-flavoured whipped cream. Pikachu's rounded chocolate eyes and red cheeks are enough to charm you. 

Pokémon Ice Cream Cake (Pikachu/ Eevee): ¥3,300 after tax *prices may vary, a variety of sizes are available

The Eevee Cake will stare at you with cute chocolate eyes. Eevee is wrapped in milk chocolate whipped cream and is wearing a caramel ribbon. Complete your cakes by placing the ears on by yourself. 

 

Maximise your Pokémon experience by watching the new Pokémon movie and indulging in Baskin-Robbin's legendary Pokémon ice creams.

©Nintendo・Creatures・GAME FREAK・TV Tokyo・ShoPro・JR Kikaku ©Pokémon ©2019 ピカチュウプロジェクト
RELATED ENTRIES
Miffy Cookies Get Baked Up by Netherlands Confectionery Theo Blom at Dick Bruna TABLE

The popular wine bar Dick Bruna TABLE, where customers can enjoy a glass of wine with a meal together with illustrations by Dick Bruna, the creator of Miffy, is now selling a batch of Miffy cookies created by the popular confectionery Theo Blom located in Utrecht, Netherlands.

Miffy Cookies & Chocolate | ¥4,000 (Before Tax)

Miffy Cookies | ¥4,000 (Before Tax)

Utrecht is the birthplace of Miffy author and creator Dick Bruna, and Theo Blom is a place that Bruna himself actually often visited. The confectionery is known for its tins which can be reused after the contents are eaten. The cute Miffy tins are definitely keepers.

Information

Dick Bruna TABLE – Miffy Cookies & Chocolate
Released: Mid December 2020
Location: Dick Bruna TABLE
Address: 3-1-1 Sannomiyacho, Chuo-ku, Kobe
Opening Hours:
[Weekdays] 11:00-15:00 (Last Orders 14:00) / 17:00-23:00 (Last Orders 22:00)
[Saturdays] 11:00-23:00 (Last Orders 22:00)
[Sundays/Public Holidays] 11:00-21:00 (Last Orders 20:00)
Access: 078-333-3332
Official Website: https://dickbrunatable.com/

McDonald's Japan Adds Crème Brûlée and Belgian Chocolate Pies to the Menu

McDonald's Japan is bringing back its popular Belgian Chocolate Pie from last year and is also introducing a new Crème Brûlée Pie, both of which will hit the menu at all McDonald's branches from January 13 for a limited time.

Crème Brûlée Pie | ¥150 (Before Tax)

Belgian Chocolate Pie | ¥150 (Before Tax)

The hot pies are filled with deliciously sweet cream and are a perfect, cosy treat during the cold weather.

Information

Crème Brûlée Pie / Belgian Chocolate Pie
Serving: January 13, 2021 – Mid February 2021
Available: McDonald's Japan
Price: ¥150 Each (Before Tax)
Official Website: https://www.mcdonalds.co.jp/

Nana's Green Tea x Häagen-Dazs Release Chocolate Matcha Glass Dessert

Nana's Green Tea is serving up a brand-new dessert in collaboration with Häagen-Dazs for Valentine's Day at 77 branches in Japan. The dessert was released on January 6 and will be available up to February 14.

Matcha Chocolate Glass with Häagen-Dazs | ¥880 (Before Tax)

The dessert is a tempting sight to behold – not only is it delicious but visually appealing to the eye too, and layered with various textures so that every bite is a surprise.

The dessert is made with Häagen-Dazs' "Sweet Chocolate" ice cream coupled with Nana's Green Tea's own original matcha ice cream, soft and crunchy meringue sticks, crumbled cookies, white chocolate whipped cream, and matcha chiffon cake. Sat at the bottom waiting to be discovered is a sweet strawberry sauce for a tangy kick.

Information

Nana's Green Tea – Matcha Chocolate Glass With Häagen-Dazs
Serving: January 6, 2021 – February 14, 2021
Price: ¥880 (Before Tax)
Available: 77 Nana's Green Tea branches in Japan (Excluding DiverCity Tokyo Plaza, Tokyo Dome, and Iias Okinawa Toyosaki)
Official Website: http://www.nanasgreentea.com/

Mister Donuts x Pierre Marcolini Luxury Doughnuts Hit Japan

Mister Donuts has teamed up with Belgian chocolate brand Pierre Marcolini to release the "misdo meets PIERRE MARCOLINI Collection" of doughnuts which hit Japanese branches on Friday (January 8).

Fondant Chocolate Doughnut – Chocolate | ¥200 (Before Tax)

Fondant Chocolate Doughnut – Caramel | ¥200 (Before Tax)

Fondant Chocolate Doughnut – Raspberry | ¥200 (Before Tax)

Fondant Chocolate Doughnut – Hazelnut | ¥200 (Before Tax)

Danish Chocolate – Raspberry | ¥230 (Before Tax)

Danish Chocolate – Hazelnut | ¥230 (Before Tax)

The doughnuts are part of Mister Donuts "misdo meets" series which first began in 2017 to combine the highest quality ingredients and techniques to in order to bake up the best possible doughnuts. This time, it has joined sticky bakers fingers with the popular Begian chocolate brand Pierre Marcolini to create a new kind of fondant chocolate doughnut and danish. The line-up is made with high quality authentic chocolate and has a bitter kick to it – perfect for those who aren't into sweeter treats. The heart-shaped danishes are also spot on for the Valentine's season in Japan.

Information

misdo meets PIERRE MARCOLINI Collection
Serving: January 8, 2021 – Mid March 2021
Available: Mister Donut Japan (Select branches not participating)
Official Website: https://www.misterdonut.jp

Gudetama Doughnuts at Floresta Celebrate the New Year

Floresta Nature Doughnuts, a doughnut cafe that hand-makes doughnuts using organic ingredients, is baking up two new Gudetama doughnuts with New Year's messages on them. They will be served from January 9 to 24.

Florest Gudetama Collab Doughnuts | ¥450 (Before Tax)

The doughnuts capture the lazy and lethargic energy of Gudetama. The crowning Gudetama is made from Japanese pumpkin and is sat on a bed of sweet white chocolate. Both doughnuts are also available as a set coming with an extra of any of Floresta's signature doughnuts.

Relax and take in the new year together with Gudetama.

7 Days of Strawberry Dessert Love at Isetan Shinjuku This January

Isetan Shinjuku has announced a special one-week event titled "7 Days of Loving Strawberries" which is centred around cute and delicious strawberry desserts and will run this month from January 13-19. Ten cafes and restaurants are participating with a sweet and succulent line-up including strawberry daifuku, strawberry shortcake, special parfaits and crepes, and more.

Strawberry Candle Pavlova @ mihopan popcake | Two for ¥972 (Tax Included) *Limited quantities

MIGAKI-ICHIGO Strawberry Parfait @ Ichibiko | ¥1,980 (Tax Included)

Strawberry Shake @ Ichigo-ya Sunsunen | ¥721 (Tax Included)

Crispy Strawberry Mille-Feuille Crepe @ Sorairo Crepe | ¥935 (Tax Included) *Limited quantities

Strawberry Shortcake Parfait @ Shiseido Parlour | ¥1,045 (Tax Included)

Strawberry Daifuku @ Berry UP! | ¥432 (Tax Included)

Ripe Strawberry Milk Pudding @ Kanjyuku Ichigo Kashi Kekyusho | ¥486

Whole Strawberry Sandwich @ Sajisakon | From ¥864 (Tax Included)

MIGAKI-ICHIGO Strawberry Daifuku @ Seigetsudo Hoten | ¥432 (Tax Included)

Information

7 Days of Loving Strawberries (Japanese Name: いちごに恋する七日間)
Running: January 13, 2021 – January 19, 2021
Location: Isetan Shinjuku Floor B1F
Official Website: https://mi-journey.jp/foodie/66251/

Matcha and Strawberry Parfaits Whipped Up at Saryo FUKUCHA in Kyoto

Saryo FUKUCHA in Kyoto is now serving up a very special selection of succulent strawberry and matcha parfaits until May 30, 2021. These exquisite delights will see only 10 made of each per day.

Saryo FUKUCHA is a cafe that was opened by FUKUJUEN in Kyoto Station in April 2019. This year, they have brought back their extremely popular strawberry and matcha parfaits : the Konome, Konoha, and Konoka. They have also introduced a new addition to the line-up: the Strawberry & Matcha Milk Parfait. Also on the menu is a strawberry matcha latte.

Matcha & Strawberry Parfaits


Konome | ¥1,350


Konoha | ¥1,450


Konoka | ¥1,550


Strawberry Matcha Milk Parfait | ¥800


Strawberry Matcha Latte | ¥650

Discover the taste of Japanese tea in a new way with Saryo FUKUCHA's matcha and strawberry parfaits and latte.

Information

Saryo FUKUCHA
Address: 901 Higashi Shiokojicho, Karasumadori Shiokoji Sagaru,, Shimogyo-Ku Kyoto Station Bldg. 2F, Kyoto 600-8216 Kyoto Prefecture
Opening Hours: 8:30-21:00 (Last Orders 20:30)
*The cafe is currently running on reduced opening hours as of December 25, 2020 due to COVID-19. Hours are now 08:30-19:00 (Last Orders 18:30) on weekdays and 08:30-20:00 (Last Orders 19:30) on weekends. Times are subject to change.
TEL: 075-744-0552

Official Website: https://fukucha-fukujuen.com/

Tuck Into a Strawberry and Herb Full Fruit Course at Fruits Salon in Ginza

Fruits Salon, a cafe inside Beauty Connection Ginza that serves full courses of fruit, has introduced a new strawberry and herb course to its menu which is being served until February 1, 2021.

Fruits Salon opened in November last year and garnered much attention for its full course fruit dishes. In August, the cafe served up the "Peach Full Course" which proved super popular. Last month, they offered a menu centred on juicy and sweet grapes. For December and January, the course features four items that combine the taste of seasonal strawberries and fragrant herbs.


Strawberry & Herb Full Course | ¥4,400 (Tax Included)

1st Plate: Shortcake

The first plate is a strawberry herb shortcake which contrasts beautiful red strawberries with white cream. It contains a jam made with milk sauce and gin, resulting in a harmonious balance between sweet and sour.

2nd Plate: Soup

The second plate is a hot strawberry and elderflower soup, combined with a mix of creamy yogurt, pistachio salt, and red wine reduction.

3rd Plate: Parfait

The third plate is the main: a milk gelato parfait with sorbet and chamomile. It also contains granita and champagne. The glass is completely stuffed to the brim and overflowing with sweet treat delights.

This extravagant full course is booking-only and lasts 90 minutes. That's 90 minutes of pure indulgence.

Information

Beauty Connection Ginza Fruits Salon
Address: GINZA gCUBE 2F, 7-9-15 Ginza, Chuo-ku, Tokyo
Opening Hours: 11:00-20:00
Closed: Tuesdays
TEL: 03-6263-8392

Official Website:  https://www.beauty-connection.jp/fruits/

Japan's Kirby Cafe to Celebrate the Near Year With a Special 2021 Menu Addition

The Kirby Cafe in Tokyo has announced a seasonal dish for the new year as part of the cafe's "Sweet NEW YEAR 2021" celebration which it will begin serving from January 1, 2021.


Kirby Burger & New Year Dessert | ¥1,980 (Before Tax)

The dish comes with a miniature version of Kirby Cafe's popular burger on a teeny-tiny plate measured at just 10cm in circumference.

The mini dish looks super cute lined up next to the cafe's plush toys.


The plate that the food is served on comes as a free souvenir which you can take home with you after eating. These will be limited in stock so will be available while supplies last for the New Year.

Information

Sweet NEW YEAR 2021
Kirby Burger & New Year Dessert
Serving: January 1, 2021 – January 31, 2021
Kirby Cafe Official Website/Table Reservations: https://kirbycafe.jp

Tokyo Banana Chooses Eevee as Next Pokémon Souvenir Sweet

Tokyo Banana World has revealed that its next sweet treat in its Pokémon Tokyo Banana series will be Eevee which Pokémon Trainers can expect to catch up and down Japan from January 2, 2021, including at the store itself as well as at 7-Eleven branches.

Pokémon Tokyo Banana Welcomes Eevee as Entry #2

Tokyo's official souvenir sweets brand Tokyo Banana launched its new Pokémon Tokyo Banana series of confections in November with the first catch being Pikachu. Now Eevee is being added to the collection.


The fluffy sponge is a delicious caramel macchiato flavour and is filled with sweet banana custard cream. It can be eaten as it is, refrigerated, or even baked to create completely different flavour experiences.

6 Designs Including a Lucky Heart-Shaped Tail

The sponge cakes come in six different designs, all of which are adorable. The one to look out for though is the one with a cute heart-shaped tail.

Fluffy Eevee Design Packaging

Eevee Tokyo Banana Caramel Macchiato (Contains 2) | ¥291 (Tax Included)

The packaging features fluffy artwork of Eevee in six different designs, such as a waving Eevee and winking Eevee.

Where Can You Catch Eevee Tokyo Banana?

Eevee will roll out at 7-Eleven stores across Japan (excluding Okinawa) at the dates listed below. Each branch will have a limited stock so don't miss out.

January 2, 2021 Release
Tokyo/Kanagawa/Chiba/Saitama

January 16, 2021 Release
Hokkaido/Aomori/Iwate/Akita/Miyagi/Yamagata/Fukushima/Ibaraki/Tochigi/Gunma/Niigata/Fuji/Ishikawa/Fukui

January 23, 2021 Release
Yamanashi/Nagano/Shizuoka/Aichi/Gifu/Mie/Okayama/Hiroshima/Tottori/Yamaguchi/Tokushima/Kagawa/Ehime/Kochi

January 30, 2021
Osaka/Kyoto/Hyogo/Shiga/Nara/Wakayama/Fukuoka/Saga/Nagasaki/Oita/Kumamoyo/Miyazaki/Kagoshima

©2021 Pokémon. ©1995-2021 Nintendo/Creatures Inc. /GAME FREAK inc.
ポケットモンスター・ポケモン・Pokémonは任天堂・クリーチャーズ・ゲームフリークの登録商標です。

Strawberry Loaded Afternoon Tea and Strawberry Cocktail to Welcome the New Year at Hotel Gajoen Tokyo

Hotel Gajoen Tokyo, which is a museum and hotel fusion, is serving up a special Strawberry Afternoon Tea and Strawberry Cocktail at its restaurant New American Grill "KANADE TERRACE" from January 6 to February 11 and February 15 to March 19 next year.

Strawberry Afternoon Tea | ¥4,500, with champagne ¥6,200 (1 Person/Before Tax/Service Charge Not Included)

New American Grill "KANADE TERRACE" is known for its afternoon teas, which are made with seasonal ingredients, as well as its cocktails. Their new Strawberry Afternoon Tea will welcome in the New Year with a strawberry and rhubarb tart, strawberry fondue, strawberry and mascarpone soup, and other sweet and savoury selections.

Strawberry Cocktail | ¥1,600 (Before Tax/Service Charge Not Included)

The Strawberry Cocktail is of course made with fresh strawberries as well as mint and soda for a fusion of sweet and tangy. Those who don't enjoy alcohol can rest assured they'll enjoy this alcohol-free cocktail.

Information

Strawberry Afternoon Tea / Strawberry Cocktail
Location: New American Grill "KANADE TERRACE" (Hotel Gajoen Tokyo Floor 1F)
Serving Dates: January 6, 2020 – February 11, 2020 / February 15, 2020 – March 19, 2020)
Serving Times: Afternoon Tea 14:30-17:30 / Cocktail 11:30-21:00
*Serving times are subject to change

*The afternoon tea is available while supplies last

Official Website: https://www.hotelgajoen-tokyo.com/archives/59170

Sailor Moon Launches Fans Into Space at KONICA MINOLTA PLANETARIA

KONICA MINOLTA PLANETARIA TOKYO, Konica Minolta Planetarium "MANTEN" in Sunshine City, and Konica Minolta Planetarium "TENKU" in TOKYO SKYTREE TOWN® are set to collaborate with the upcoming anime film Sailor Moon Eternal starting on December 22, 2020.

Each of the planetariums' lobbies have been decorated into special Sailor Moon Eternal welcome zones, and fans can get their hands on a range of original and exclusive merchandise. At PLANETARIA TOKYO, their Cafe Planetaria is serving up a selection of Sailor Moon-themed food too.

Guided by the Light of the Moon: A Welcoming Under the Starry Sky

As part of the collaboration, PLANETARIA TOKYO, Planetaria "MANTEN," and Planetaria "TENKU" have a special welcome reception ready for visitors inspired by the two-part Sailor Moon Eternal movie.

New official artwork designed for the planetarium

A special new and original illustration has been drawn for the collaboration which is displayed at each venue as well as featuring on some of the merchandise being sold.

Welcome Zone

The Welcome Zone is decked out in Sailor Moon Eternal decorations, a special photo booth, and more for fans to feel like they're part of the anime film's work.

Locate Luna, Artemis, and Diana

If you find Luna, Artemis, and Diana at any of the planetariums, there will be keywords associated with them. The first 5,000 people at each planetarium tell these to a staff member will receive a special limited-edition Sailor Moon Eternal postcard.

Cafe Planetaria Collaboration Menu

Galaxy Doughnuts – From Left: Super Sailor Jupiter / Super Sailor Mercury / Super Sailor Moon / Super Sailor Mars / Super Sailor Venus | ¥600 Each (Before Tax)

Cafe Planetaria at PLANETARIA TOKYO is selling doughnuts worthy of a cafe whose menu focuses on having customers enjoy "the taste of the night sky." Each of the five galaxy doughnuts is inspired by the colours of the five main Sailors. There's also a selection of drinks and other desserts too.

Super Sailor Moon Lychee Milk | ¥800 (Before Tax)

A lychee juice and milk combi topped with a crescent moon-shaped lemon. Pour in the accompanying pink grapefruit juice to enjoy a new taste and cute appearance.

Tuxedo Mask's Chocolate Latte | ¥800 (Before Tax)

A truly striking beverage whose inspiration is sure to be instantly recognisable to Sailor Moon fans. It's none other than Tuxedo Mask who gets himself a macadamia nut and chocolate latte.

Super Sailor Moon Parfait | ¥1,200 (Before Tax)

A sweet and tangy parfait with colours based on the Sailor uniform. It's topped with amaou strawberry ice cream and pineapple jelly and adorned with a chocolate crescent moon and ribbon.

Super Sailor Chibi Moon Sweets Box | ¥1,100 (Before Tax)

An assortment of sweets treats like a raspberry and strawberry fruit sandwich, a berry-topped baked dessert, a heart-shaped macaron, and more.

Otome Berry Tart  ¥1,000 (Before Tax)

A fruity tart topped with assorted berries and a macaron made to look like the Crisis Moon Compact.

Planet Cocktail Series

Limited-Edition Coasters (3 Designs)

Fans who order one of the non-alcoholic cocktails from the Planet Cocktail Series will receive one of three limited-edition coasters for free. There are also alcoholic cocktails but these don't come with a coaster.