Rakuen ("The Promised Land") is an upcoming film written and directed by Takahisa Zeze, who is known for his masterful work on the suspense mystery drama films 64: Part I and 64: Part II. Set for release on October 18 this year, the film is an adaptation of best-selling Japanese author Shuichi Yoshida's short story of the same name. It will star Gō Ayano, Hana Sugisaki, Kōichi Satō, Akira Emoto, and Nijirō Murakami.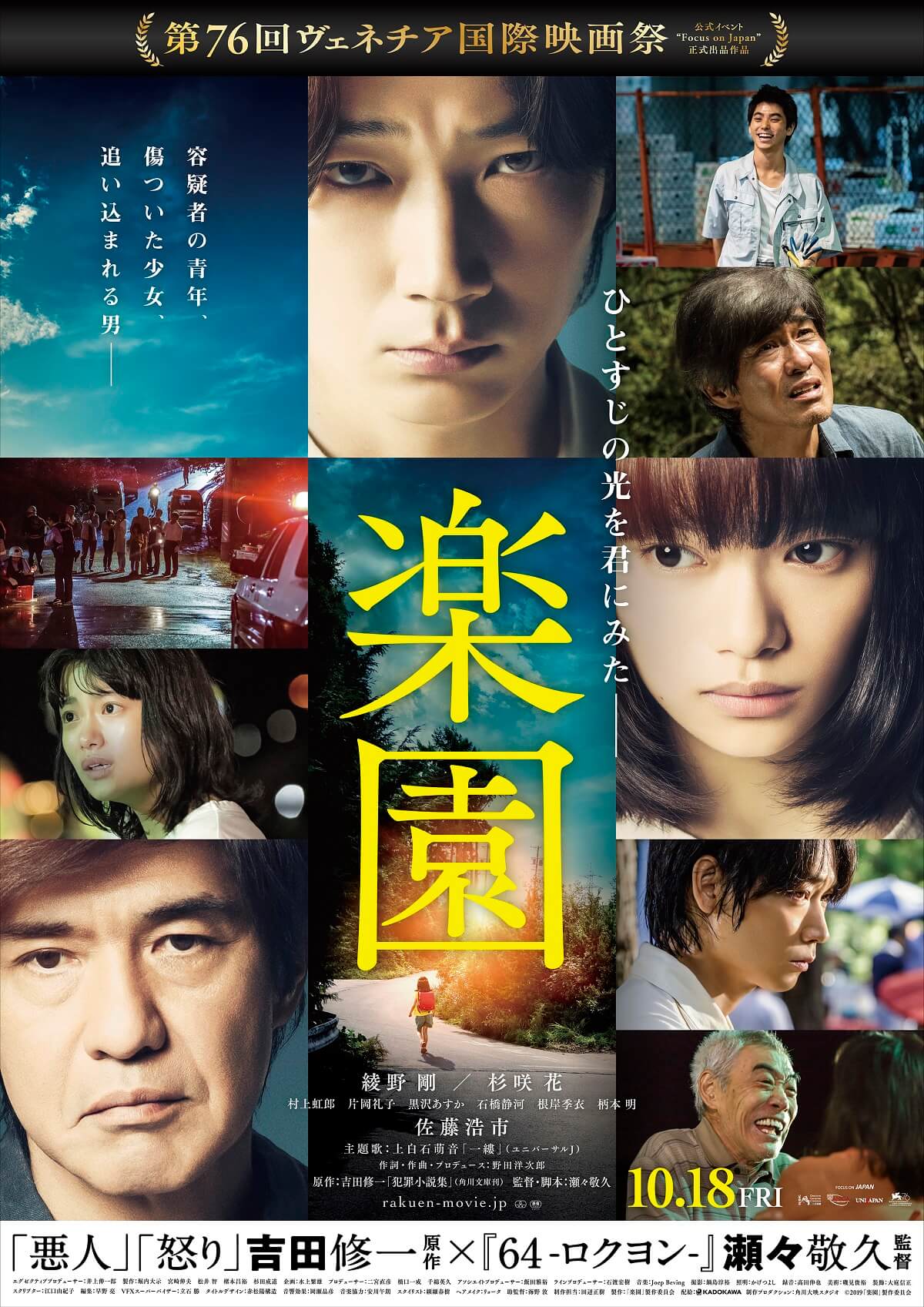 In the film, a little girl is kidnapped along a Y-shaped road but the perpetrator isn't caught. 12 years later, another girl is kidnapped along the same road. A man living close to the area of kidnappings lives together peacefully with his pet dog who is a coping mechanism to help forget his wife who passed away. He is pushed into deeper isolation after coming into disagreements with the locals in the area which causes him to lose his mind, leading to an incident nobody could have imagined. The truth to everything lies behind the two kidnappings and three peoples' fates.
The film will premiere at the 76th Venice International Film Festival before its official Japanese release on October 18, 2019.
The newest trailer features Takeshi (Gō Ayano) who, as a result of becoming a suspect of the kidnappings, runs away to another city. It also showcases Tsumugi (Hana Sugisaki) who was with the little girl before she was kidnapped, and Zenjirō, the dog owner.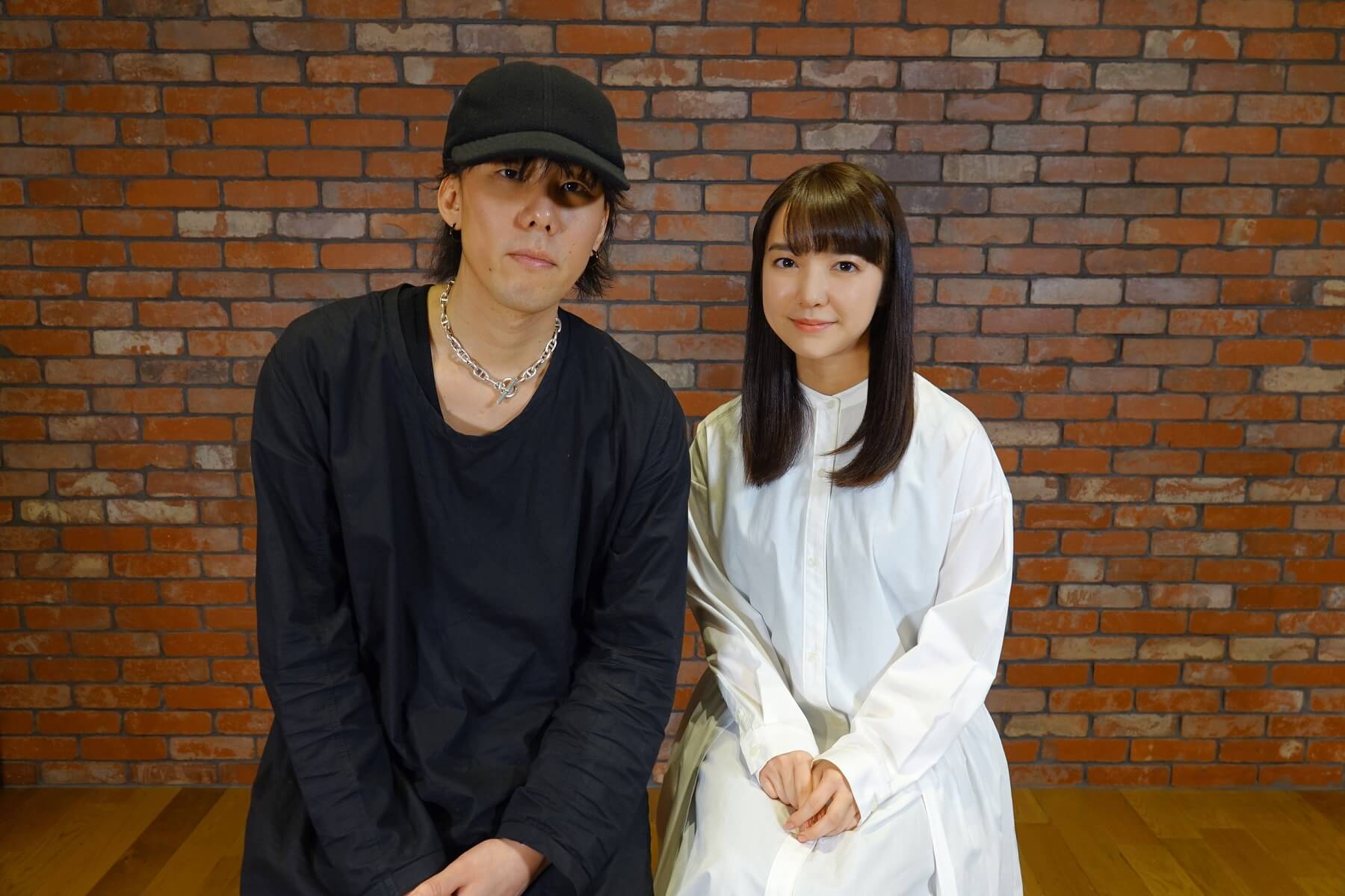 The film's main theme Ichiru ("Thread of Hope") was written, composed and produced by RADWIMPS frontman Yojiro Noda. He is joined by popular singer and actress Mone Kamishiraishi on vocals. Kamishiraishi provided the voice for Mitsuha Miyamizu in the 2016 hit anime film Your Name which RADWIMPS wrote the music for. She performed a cover of their song Nandemonaiya which garnered her much attention. Nearly three years later, she is collaborating with Noda officially for the first time. The song echoes the beam of hope the characters of Rakuen are searching for.
Speaking about the main theme, Mone Kamishiraishi commented: "When I first received the song I sat down on the floor and gave it a listen. Before I realised it I was in tears. Sure enough it felt like a small shining glimmer. Yojiro [Noda] hoped it would offer some small help or be a glimmer for people who have watched the film. But it became my own glimmer from the very start. I remember thinking, 'I've gone and sung on a hit record.' Having him write a song for me was a dream of mine, so I am overjoyed that it came true."
She continues: "He advised me, 'I want you to sing this song like you are singing it for the first time.' I sang it all in one go in front of Yojiro in the recording like it was brand new. I hope that this song becomes important to people, whether it be those who watch the movie, or whether it means something to people in their everyday lives."
Yojiro Noda also commented on his song: "When it came to talks about writing the song for the film, I was allowed to read the script and also watch the film itself. There are a lot of people in this film who are sad and struggling, and each one of them are desperately trying to do their best. The first thing I thought was that I wanted them to see a glimmer of hope beyond all of that. I wanted them to find happiness in some way."
He continues: "This was the first song I have written with Mone. She has a background in voice acting and of course has a strong ability to express herself as an actress. It's for those reasons that she has full command of her own voice and so is able to express both delicately and grandly as she pleases."
Noda wraps up by saying: "I'm blessed that Rakuen has enabled me to work like this again together with Mone. I'm happy to have been able to write this song. I'm able to feel like this because I made it an important song for myself too. I hope that it becomes part of the lives of those who hear it."
©2019 "Rakuen" Production Committee
Information
Rakuen (The Promised Land)
Release Date: October 18, 2019
Based On: Shuichi Yoshida's short story Rakuen
Director/Screenwriter: Takahisa Zeze
Publisher: KADOKAWA
Main Theme: Ichiru by Mone Kamishiraishi. Lyrics, composing and production by Yojiro Noda.
Official Website: rakuen-movie.jp