Cute Pikachu, Mew, Eeevee and Snorlax Blush & Powder Release in Pokémon Cosmetic Series
The next set of beauty items in the popular Pokémon Cosmetic Series has finally been revealed: the Pokémon Cheek and Pokémon Pressed Powder will be released on September 10. The line-up includes Pikachu, Eevee, Mew, and Snorlax.
Pokémon Cheek – ¥1,300 (Before Tax)
The Pokémon Cheek is a cream-type blush that spreads smoothly on your skin without any stickiness. It's comfortable on the skin and is durable. It also contains micropearls and so gives your skin a natural shine.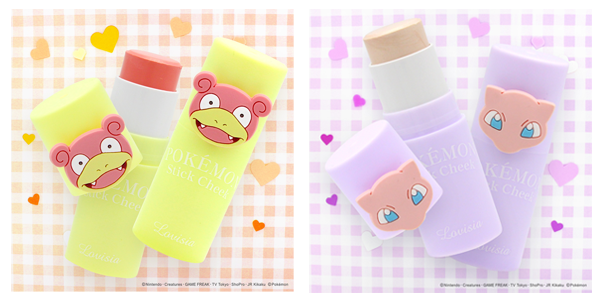 It comes in four colours: Pikachu Milky Pink, Eevee Rose Pink, Snorlax Coral Pink, and finally Mew Pearl White which brightens your natural skin tone. The blush comes as a stick and so is ncie and easy to apply and carry around.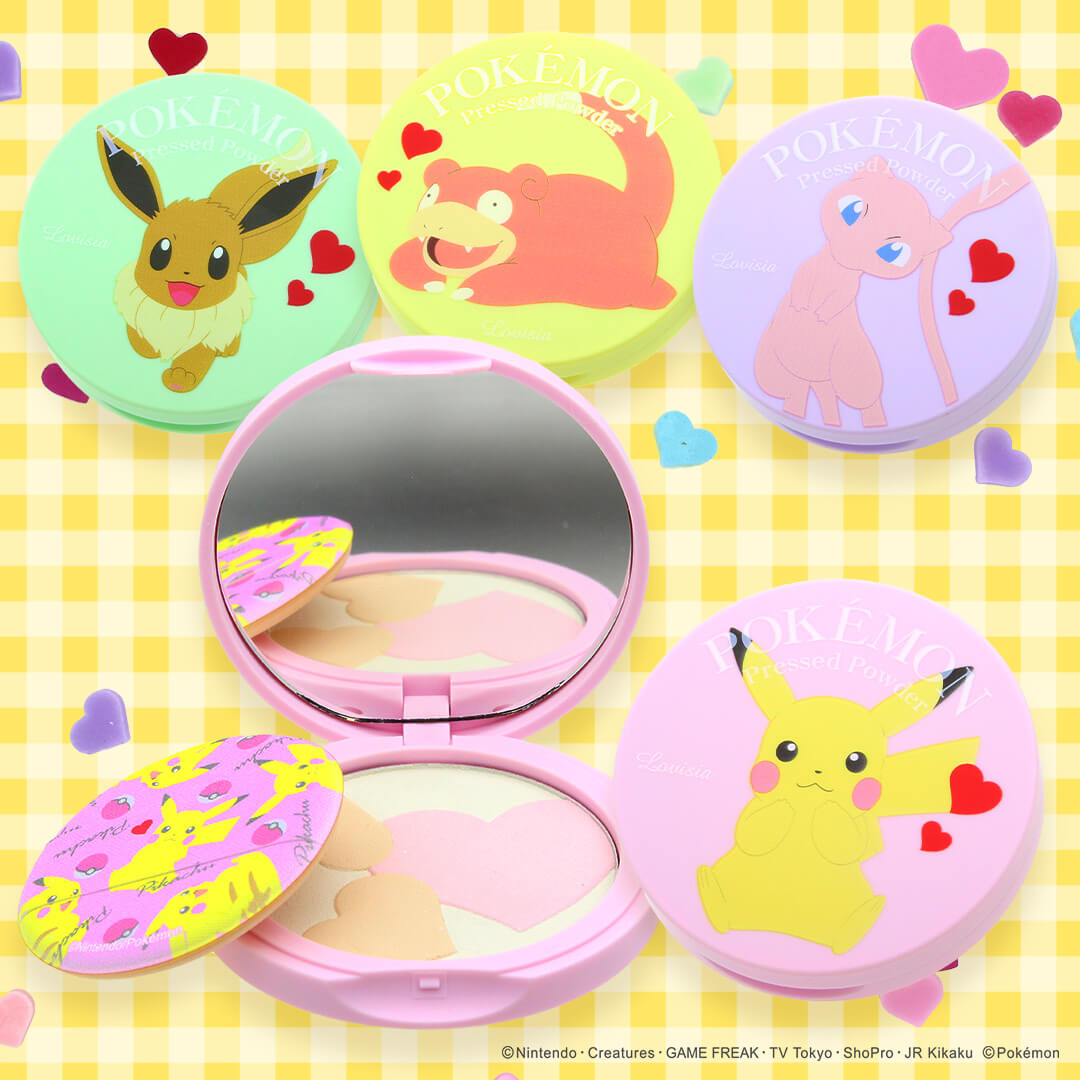 Pokémon Pressed Powder – ¥1,500 (Before Tax)
The pressed powder comes with its very own powder puff featuring a cute original design. The powder is mixed with minerals that are gentle on the skin as well as collagen. It leaves your face looking smooth and natural without any unwanted shiny patches.
Pick from four different colours: Pikachu Pink which brightens natural skin colour, Eevee Mint which elevates transparency, Snorlax Yellow which conceals blemished, and Mew Purple which brings out transparency and shimmer.
When out there in the wild catching Pokémon, why not look good at the same time? Be sure to check out the Pokémon Cosmetic Series, and stay tuned for any new products that are released.
Information
Pokémon Cosmetic Series – Pokémon Cheek / Pokémon Pressed Powder
Release Date: September 10, 2019
Available: Pokémon Center,  ITS'DEMO, Tokyu Hands, Village Vanguard, and elsewhere
Official Website: https://lovisia.jp/pokemon/
RELATED ENTRIES
Help Me Choose! Japan's Trending Makeup #3: Autumn & Winter Cosmetics

"Help Me Choose!" is the first ever featured article series where I, Yuri "Yurippa" Suganuma, feature as the writer, model and director.

I've been conservative with my eyeliner when doing my makeup recently, instead wanting to go for a more effortless style to convey my eyes. I've also been having more fun with eyeshadow, and I've wanted to make my lips the centerpiece of my makeup, so I've been making additions and subtractions which has slowly led to a more grown-up look.

So, for my recommended autumn/winter cosmetics this time around I'll be focusing on eyeshadow, lips, and cheeks. These are items I've been interested in and am buying. Here's my review.

▶︎THREE

THREE Dimensional Vision Eye Palette 03 – ¥7,020 (Tax Included)

This palette features four colours, none of which you will ignore. The colours also have different textures including pearl, matte powder, and cream.

Today's Makeup:

①For the whole eyelid

②For the undereye

③Adds gradation to the double eyelid

④Adds accent to the inner corner

I tried playing around a bit! Although I added colour and glitter to the inner corners of my eyes I'm all about it.

According to THREE, this is the order you should put these items on:

1. Add the ② cream eyeshadow to your whole eyelid

2.Add the ③ colour as a base around the edge of your ueye

3.Layer ① on your whole eyelid

4.Finish with ④ as a highlighter

Using the cream eyeshadow as a base brings out the orange to make it look even better!

Part of the fun of this eye palette is how easily arranged it all is. The colours in this palette in particular are extremely popular.

▶︎RMK

RMK Stone Blossom Brush 03 – ¥3,456 (Tax Included)

The thin powder blends softly into your cheeks. It gives gentle colouring while still bringing your whole face to life, making it an indispensable item. And terracotta looks good on anyone.

And how about combining it with this?

RMK Stone Blossom Lips 05 – ¥3,780 (Tax Included)

This lipstick is a smooth cream type. The orange hype is just beginning. It has a slightly deep colour and gives off a casual grown-up vibe. It also has moisturizing ingredients in it making it great for winter when your lips dry up.

By the way, this collection was inspired by the stony beaches of Málaga in Spain. The items are limited-edition so get your hands on them ASAP.

▶︎CHANEL

(New Colour) Rouge Allure Velvet Extreme 130 – ¥4,536 (Tax Included)

From my always-favourite Rouge Allure Velvet series comes a new colour and a limited-edition colour from CHANEL! At first glance, No. 130 looks like a deep red, but when you put it on it also has a slight purple tinge to it, serving up a wine colour.

The deep burgundy makes you look like a lady and is sure to captivate. If you're a girl who loves autumn/winter collections then you won't be able to resist the colour of this one!

(Limited Edition Colour) Rouge Allure Velvet Extreme 128 – ¥4,536 (Tax Included)

Orange beige. Beige lipstick has yet to become a thing around the world, but this colour isn't overly plain and even works on myself! The beige has a subtle, healthy orange in it. Another stylish colour from CHANEL.

Another thing I like is how the case is matte (normally in the Velvet series it's glossy). Autumn/winter vibes, I'm all about it!

▶︎GUERLAIN

GUERLAIN Glitter Eyeliner 02 KAKI & 03 BURGUNDY – ¥5,508 Each (Tax Included)

This glittery liquid eyeliner gleams and looks just as it does when applied to yourself. It gives your eyes a beautiful impact, and both of this colours are good taste.

▶︎SHIRO

SHIRO Ginger Lipstick 9I08 Vintage Brown – ¥4,320 (Tax Included)

SHIRO have released their very first lipstick collection. The vintage brown has a deep, elegant look to it. SHIRO really are amazing. They've become a brand I just can't let go. Everyone who sees this colour says it's cute. I especially want to recommend this one to those of you who are beginners to orange and browns. It's a really stylish one.

Incidentally, the brand actually changed its logo to commemorate its 10th anniversary, from "shiro" to "SHIRO."

"Do you have anything a little more natural?"

▶︎THE PUBLIC ORGANIC

THE PUBLIC ORGANIC Essential Oil Colour Lipstick Noble Orange – ¥700 (Tax Included)

This organic cosmetic item is 100% natural. It's made with the skin in mind to ensure it's good to it. It also has a nice roughness to it like when taking your makeup off with soap. This terracotta orange adds just a touch of colour so as to make full use of the lips' natural colour.

This lipstick was originally released as a limited-edition item last year and blew up on social media, but they are set to bring it back as a regular item this year on September 25.

ーYurippa's Closing Commentsー

In the end, I end up going for deep coloured lips and burgundy eyes every autumn and winter, but with these items they're not just simply deep reds or browns. When you apply them they have a faint orange or purple in them. I think that was the original intention of those brands. I love little devilish things like that, and so I recognize to the fun of cosmetics year by year.

I'm actually really into the new eyeshadow from TOMFORD, but I wasn't able to get ahold of it by the photoshoot so I had to leave it out this time, TOMFORD's eyeshadow is amazing  too!

I'm a girl who loves autumn and winter, so I'm looking forward to the coming seasons. I want to use lots of different coloured items and become an even more beautiful woman―more than in summer and more than I am now!

Writer / Model  Yuri Suganuma
Photographer  / Haruka Yamamoto

TALENT PROFILE

Yuri Suganuma

Yuri Suganuma is a model with a high fashion sense that has been picked up by various magazines. She receives much love and support from girls of the same generation as her to whom she is known by her nickname "Yurippa." She has a huge influence across her social media. Recently, she has stepped into other fields outside of modelling, such as appearing in TV shoots and in music videos. She is skilled in make-up and involved in the development of cosmetics.

Japanese Cosmetic Picture Book #2: Brightening Oil & Beauty Essence by AGILE COSMETICS PROJECT

Japan is home to an abundance of top-class, high quality cosmetic items. Knowledge about these cosmetics is slowly becoming widespread outside the country, with travellers stuffing their suitcases with everything they can to take back home with them.

Our featured series Japanese Cosmetic Picture Book is all about us here in the MOSHI MOSHI NIPPON team recommending products to you, our readers, that are made in Japan and that we use ourselves. Look forward to learning about the latest in cosmetics from the land of the rising sun.

Left: Clock G.e.n.e / Right: White Oil

The products we are taking a look at today are the White Oil and Clock G.e.n.e by AGILE COSMETICS PROJECT. The White Oil is an indispensable partner for the summer season while the Clock G.e.n.e is an essence that conditions the skin throughout the day.

AGILE COSMETICS PROJECT is a Japanese skincare brand that launched in November last year. They use completely natural ingredients in their products that are safe and good for your skin. What's characteristic about them however is that they update their products based on the demands of customers. To make products that their customer base will want to continue using, they focus on how an item feels on the skin, the functionality of its visual aspect, and its palatability amongst other things, all while making speedy improvements.

Has there ever been another brand that has listened to the desires of its users?

White Oil – ¥6,400 (Before Tax/Free Shipping) / Repeat Purchase – ¥5,500 (Before Tax/Free Shipping)

The White Oil is a two-layer product and so is to be shaken first before being used. Mixing two separate layers makes it easier for the oil to come together, down to the smallest corners of the outer layer. Ensure you mix it well before use.

When applied to your skin, it has a smooth texture despite being oil and does not become sticky. It feels very comfortable and natural on the skin and never becomes sticky even after applying, all while ensuring it stays moist. Since it's fairly smooth it means you can use it in summer and before you put on any makeup.

It's a personal favourite of mine. It makes a skincare routine super simple: after applying skin lotion you use the oil and you're done. It even comes in a stylish bottle and has a pleasant herb fragrance. I also have sensitive skin, so the fact that it's free from petroleum-based oils, mineral oil, parabens, UV absorption, and synthetic colouring is a huge plus.

I have used it for a week so I can't feel any change to my skin tone yet, but it has been incredible for keeping my skin in good condition. There are a lot of people on social media who have used it and have said that their skin tone has become brighter, so I will wait and continue using it!

Clock G.e.n.e – ¥7,000 (Before Tax/Free Shipping)

The second product to showcase is Clock G.e.n.e which was developed to create and maintain a "daily rhythm" in your skin. This liquid essence will treat one's tired skin, whether it be from your body clock being off, stress or the like. It adds moisture to the skin throughout the day and also protects it from damage and repairs at night.

It comes in a pipette-type bottle. It is added to your skin after applying moisturiser and makes it super soft. This too is made from 98% natural ingredients and is free from silicon, parabens, mineral oil, synthetic fragrances, and synthetic colouring, meaning people with sensitive skin can use it freely without worry.

If you use skin lotion, Clock G.e.n.e and White Oil in that order, your skin is going to feel completely different the next year. When you start using these items, people are going to complement how smooth your skin looks, so for me the effects are outstanding.

Even now, with the high level of satisfaction people have with these two products, the company are continuing to update them based on feedback buyers can give via the QR code that is coupled with the products. I feel strongly AGILE COSMETIC PROJECT's desire to create products that they want consumers to continue using means that they are making good products. Both items are sold online, but the first production batch for Clock G.e.n.e is currently sold out. They are set to release more in the near future, so be sure to peruse their website.

Writer: Sayuri Mizuno (MOSHI MOSHI NIPPON)

Translator: Joshua Kitosi-Isanga

Duty Free Japanese Cosmetics Now Available at Narita Airport

The JAPAN DUTY FREE Main Building Shop reopened on floor 3F of Narita Airport Terminal 2 on August 9, 2019, where they are now selling products by Kagurazaka-based cosmetics brand Makanai Cosmetics.

The JAPAN DUTY FREE store's concept is making people feel the beauty of Japan in a modern way.

To celebrate the shop's reopening, they are now selling the "HAPPY BAG" which contains seven popular cosmetic items by the brand. Arriving in a cloth bag with an original design, this bag is exclusive to the JAPAN DUTY FREE store. They are also selling the brand's most popular set of hand cream and lip cream as well as a set of supplements and powder to protect against UV rays. Those who spend over ¥15,000 will also receive special bath powder as a gift.

Makanai Cosmetics are already set up in Terminal 1 of the airport, and with the opening of the second branch, are set to deliver J-Beauty to even more people arriving from around the world.

Information

JAPAN DUTY FREE Main Building Shop

Location: Duty Free Area, Narita International Airport Terminal 2 Floor 3F

Opening Hours: 7:30-21:30

Makanai Cosmetics Narita Airport Branch

Location: Narita International Airport Terminal 1, Central Building Floor 4F

Opening Hours: 8:00-20:00

Official Website: http://en.makanaicosmetics.co.jp/

Baskin-Robbins Extends Pokémon Collaboration and Releases Free Goods Scheme

As we know, Baskin-Robbins released their first ever Pokémon-themed ice creams to celebrate the brand new Pokémon movie Mewtwo Strikes Back: Evolution. The collaboration, which is currently taking place, was going to end on August 30th. However, the collaboration period has been extended to September 13th, 2019 due to popular demand.

Find out more here: Baskin-Robbins Releases Pokémon Ice Creams, Sorbets and Cakes

Furthermore, from September 1 they are introducing a new scheme where those who purchase the Pokémon Double Cup will receive an original BR Pokémon-themed clear file for free. 

The clear file comes in two very cute designs. There are a limited number of these files, so get your hands on them before they run out.

* The current size upgrade discount scheme (Turn your Small Double into a Regular Double for an extra ¥100) will end on August 30th. 

Enjoy a never ending Pokémon summer with Baskin-Robbins! 

(c)Nintendo・Creatures・GAME FREAK・TV Tokyo・ShoPro・JR Kikaku (c)Pokemon (c)2019 Pikachu Project

Tokyo's Pokémon Cafe Unveils Halloween Themed Menu Line-Up

The Pokémon Cafe in Nihonbashi, Tokyo has revealed its Halloween food and drink line-up for the spooky season which will arrive early on September 7 be served until October 31.

The cafe is known for always having a cute selection of meals and beverages inspired by each season. So, what do they have in store for Halloween 2019?

Pikachu's Greedy Halloween Plate 2019 – ¥1,706 (w/ Plate ¥2,894)

This year's Halloween plate features Pikachu wearing a witch's hat. This filling plate features a pumpkin salad, spaghetti and more. Plenty to keep you going until the late-night candy snacking!

Discovering Celebi!? Oak Forest Pesto Pasta – ¥1,706

This adorable and healthy, vegetable-packed Celebi dish includes basil flavoured short pasta and a cute.

Zorua's Halloween Roast Beef Burger – ¥1,706

This hearty burger is packed with a generous serving of roast beef. You'd best not leave a crumb or Zorua might play a trick on you!

When ordering a drink at the cafe you'll receive one of six possible coasters. One of the designs is being kept a secret!

And for the duration of the Halloween event, there's also a limited-edition lunch mat and clear coaster to get your hands on. These are limited in stock so you'll want to catch 'em all quickly! And don't forget, you have to book a table in advance to dine at the Pokémon Cafe.

© 2019 Pokémon.©1995-2019 Nintendo/Creatures Inc./GAME FREAK inc.

Pokémon, ポケットモンスター and ポケモン are registered trademarks of Nintendo, Creatures Inc. and GAME FREAK inc.

Information

Pokémon Cafe
Address: 2-1-2 Nihombashi | Nihombashi Takashimaya SC East Bldg. 5F, Chuo 103-0027, Tokyo Prefecture
Business Hours: 10:30-22:00

Access: 5-minutes on foot from Tokyo Station's Yaesu North Exit via JR Line / 5-minutes on foot from Nihonbashi Station's B2 Exit via Tokyo Metro Ginza Line and Tozai Line / 4-minutes on foot from Nihonbashi Station via Toei Asakusa Line

TEL: 03-6262-3439

Reservations: https://reserve.pokemon-cafe.jp/

Official Website: https://www.pokemoncenter-online.com/cafe/

YOUCA's Formula For a Fine Face Vol. 1: Oriental Face

Popular Japanese hair and makeup artist YOUCA is an analyzer of the latest makeup collections. In this new featured series, YOUCA reveals the secret formula to easily incorporating today's makeup trends into your daily routine. In Volume 1, she showcases midsummer oriental-style makeup. Learn the formula for a fine face by following her trendy tips and tricks.

Oriental Face Formula = Turquoise Line x Terracotta Lipstick + Flower Print

YOUCA: "The 2019 fall/winter collections have been adventurous with eye makeup colours, featuring things like paint makeup and graphic eyeliner. Those are hard to incorporate with your everyday looks, so I recommend just using them in one spot. I'm serving makeup colours that go well with the botanical look, something which is in fashion right now."

Turquoise Line: Go casual with a single coloured line drawn from your eye

What we are focusing on here is the single coloured eye makeup line. By choosing a colour like turquoise, which is far away from skin colour, it highlights the eyes more. With this style you are looking to make the eyeline stand out, so we want to be low-key with the eyeshadow. All YOUCA has done here is used grey eyeshadow (pictured top right) which is spread thinly. The eyelashes are not raised and only a little mascara has been applied. Then, using the eyeliner (pictured bottom left), she has drawn a thin line just above where the double eyelid ends. Simply apply the colour as it is without flicking it up for a more effortless eye.

Terracotta Lipstick: Sophisticated grown-up lips without looking overly pop

The colour of terracotta, which is a type of earthenware, goes really well with floral designs. It's also a perfect match with the turquoise eyeliner. Just put a little bit of the terracotta lipstick (pictured bottom right) on your lips and pat it with your finger to blend. Keep in mind that the eyes are the main focus so don't emphasize your lips too much.

To make your eye makeup stand out even more, try to go makeup-less as much as possible on your skin. YOUCA is using the purple makeup base from Shinseido (pictured bottom) instead of foundation which gives a more no-makeup naked look. For her cheeks, she's using the Cream Cheek (pictured top right) by Celvoke and applying it thinly to her cheeks to give her a more grown-up look.

Clockwise From Top Left

Top Left: SHISEIDO Essentialist Eye Palette 02 – ¥4,000 / Shiseido International

Top Right: Celvoke Comfy Stick Brush 03 – ¥3,500 / Celvoke

Bottom Right: SHISEIDO Kajal InkArtist 07 – ¥2,200 / Shiseido International

Bottom Middle: Shiseido Glow Enhancing Primer – ¥4,000 / Shiseido International

Bottom Left: Celvoke Dignified Lips 09 – ¥3,200

Styling Credit
Shirt (Stylist's Own Item) / DISCOVERED: Pants ¥27,000 / flake: Earrings ¥24,000, Bangle ¥46,000/ agete: Ring (Gold/Right Hand Ring Finger) ¥22,000 / IDEALITE: Ring (Silver/Right Hand Index Finger)

SHOP LIST
agete 0800-300-3314
IDEALITE 03-5413-3546(alpha PR)
Shinseido International 0120-81-4710

Celvoke 03-3261-2892
DISCOVERED 03-3463-3082
flake 03-5833-0013

Staff Credit
Photographer:中野 与志夫
Styling:橋本 裕介
Model:KAINO Yu
Writer:石井 佐代子
Editor:YOUCA

*All prices listed are pre-tax prices

Source: https://asbs.jp/archives/43166(Japanese)

Pikachu Outbreak 2019: Day One Report Of This Year's Event – MOSHI MOSHI NIPPON

The Pikachu army has returned again this year for Pikachu Outbreak 2019 which is running from August 6 to 12 in Minato Mirai, Yokohama. This year, the event also features an evening show which takes advantage of Minato Mirai's gorgeous nightscape and couples it with exciting lighting technology.

We visited the first day of the event with Chinese talent Etsuna and 7-year-old Yuugo-kun. Here's our report!

Upon arrival at Minato Mirai Station we were immediately met by lots of Pikachu decorations and event advertisements. And when you go through the ticket gate it plays Pikachu's cry! If you're visiting the event this year then be sure to listen out.

There are lots of Pikachu to spot after leaving the ticket gates, so be sure to try finding them all.

We alighted at Minato Mirai Station and headed straight to Rinko Park.

When we hit the park we were greeted by a huge balloon Pikachu!

There's lots of other Pokémon to catch too, such as Lapras, Psyduck, and many other popular names.

This tiny Pikachu was so cute.

There are food trucks set up by the Pokémon Cafe for the event at Rinko Park so you can get your hands on some food, drinks, and ice pops.

The Pikachu designs on the trucks are super kawaii♡

Pikachu Pineapple Ice Bar – ¥500 (Tax Included)

The ice pops they sell comes with one of four possible Pikachu facial expressions. They're given randomly.

They're so cute they seem a waste to eat!

Pikachu Orange Lemonade Soda – ¥500 (Tax Included)

The drink cups have Pikachu designs too, even the lids.

Wherever you look there's a Pikachu, so you can take pictures literally everywhere.

After we had strolled around Rinko Park, we headed to Nippon Maru Memorial Park. Usually when you visit this park they have huge boats on display but for Pikachu Outbreak, the Pikachu have swarmed the area.

There are lots of walls with various Pokémon illustrations on them around Nippon Maru Memorial Park, such as Ho-Oh's wings and a Pikachu balloon. They are scattered here and there, so make sure to find all of these too!

Below is where you can watch the Pikachu march wearing illuminating LED costumes.

Even the Ferris wheel at Yokohama Cosmo World was lit up with Pokémon motifs―the Pikachu and Poké Ball ones in particular were beautiful.

After a little while, several Pikachu arrived on a boat to greet everyone. And then…

…out came the LED Pikachu! Their synchronised pattering walk was beyond adorable. They even danced.

But the fun doesn't stop there. If you head to Queen's Square Yokohama right next to Nippon Maru Memorial Park then you'll catch the Eevee march too. Their cute pattering walks too are enough to heal your soul♡

What we've shown you is just a snippet of the fun happening this year―there are many other exciting events happening for Pikachu Outbreak 2019.

Photos: CHIHIRO (@chiicd5)

These last photos were taken at the show in Grand Mall Park at Yokohama Art Museum which makes stunning use of projection mapping. The Pikachu don their LED costumes and perform an incredible light show for the crowd.

For more details on each event check out the official website. Pikachu Outbreak is a fun day out for kids and adults alike, so enjoy this year's event and be careful not to catch heatstroke.

Information

Pikachu Outbreak 2019
Running: August 6, 2019 – August 12, 2019
Location: Minato Mirai area

Event Page: https://www.pokemon.co.jp/ex/pika_event/

Drink & Ice Shop by Pokémon Cafe

Running: August 6, 2019 – August 12, 2019

Locations:

①Yokohama Red Break Warehouse (Open 12:00-20:00)

②Rinko Park (Open 12:00-20:00)

③Yamashita Park (Open 10:00-17:00)

New Snorlax & Poké Ball Meals Arriving at the Pokémon Cafe in Nihonbashi

The Pokémon Cafe in Nihonbashi is introducing a new Snorlax plate―inspired by the huge Snorlax that is sitting outside Pokémon Center Tokyo DX―and Poké Ball dessert bowl to its menu on August 10. These will be served with certain dishes in the cafe and can also be bought as merchandise there too so you can use them at home.

Snorlax's Stomach-Filling Afternoon Nap Lunch Plate – ¥1,922 (Tax Included)

If you want a satisfied belly like Snorlax then you'll want to order the hearty lunch plate. And after that you can take a nice afternoon nap. Just make sure not to block any routes or anything!

I Choose You!! Poké Ball Dessert Bowl – ¥1,706 (Tax Included)

What does it look like inside the Poké Ball? It's being kept a secret by the Pokémon Cafe so you can only know if you visit! What kind of Pokémon could be sleeping inside…?

Ingredients: Berry flavoured jelly, strawberry spongecake, strawberries, wafers, whipped cream, crepe, mint

Pokémon Café Snorlax Plate – ¥2,160 (Tax Included)

Pokémon Café Poké Ball Donburi Bowl – ¥2,160 (Tax Included)

If you want your own Snorlax plate or Poké Ball bowl then keep in mind that supplies at the cafe are limited. And don't forget that you must make a reservation at the cafe if you want to dine there.

© 2019 Pokémon.©1995-2019 Nintendo/Creatures Inc./GAME FREAK inc.

Pokémon, ポケットモンスター and ポケモン are registered trademarks of Nintendo, Creatures Inc. and GAME FREAK inc.

Information

Pokémon Cafe
Address: 2-1-2 Nihombashi | Nihombashi Takashimaya SC East Bldg. 5F, Chuo 103-0027, Tokyo Prefecture
Business Hours: 10:30-22:00

Access: 5-minutes on foot from Tokyo Station's Yaesu North Exit via JR Line / 5-minutes on foot from Nihonbashi Station's B2 Exit via Tokyo Metro Ginza Line and Tozai Line / 4-minutes on foot from Nihonbashi Station via Toei Asakusa Line

TEL: 03-6262-3439

Reservations: https://reserve.pokemon-cafe.jp/

Official Website: https://www.pokemoncenter-online.com/cafe/

Third Pokémon Smart Device Collaboration Launched by CASETiFY

CASETiFY is a global lifestyle brand established in LA that has enjoyed hugely popularity with celebrities and influences around the world for their services that enable you to customise your digital devices from smartphones to Apple Watches and more.

The company launched its "Day & Night" themed collaboration with Pokémon back in May. The third collection in the line has finally been unveiled which will be released worldwide on August 15 at 10:00pm (JST).

1st Collaboration: https://www.moshimoshi-nippon.jp/206562

2nd Collaboration: https://www.moshimoshi-nippon.jp/229807

For the third collection, CASETiFY has New York and London-based artist duo Craig & Karl. Titled "The Icons by Craig & Karl," the new collection incorporates the two artist's signature style and shines the spotlight on four Pokémon―Pikachu, Charmander, Bulbasaur and Squirtle―and three Poké Balls.

Pokémon Trainers out there can choose from CASETiFY's signature Impact Case, the DTLA Case, and for this third collaboration, the Floaty Glitter Case, and there's a bunch of cool tech accessories too with limited-edition designs. You also have the option to put your name on your case.

Back when the second drop launched on July 10, CASETiFY set up a waiting list which gave people priority access to purchase these limited edition items before they sold out. The waiting list surpassed a whopping 90,000 people. The waiting list has returned for the third drop which you can sign up to right now.

As a fan of the Pokémon franchise, Craig Redman of the artist duo spoke about how enjoyable it was to be able to collaborate with Pokémon on this project and implement their signature style. He also praised the customisable aspect of the collection which he said can bring you closer to Pokémon.

This marks the final drop of the CASETiFY & Pokémon Day & Night collection which you can also catch at pop-up shops in Tokyo, London, Paris, Los Angeles, and the Landmark shopping mall in Hong Kong.

©2019 Pokémon. ©1995-2019 Nintendo/Creatures Inc. /GAME FREAK inc.

Information

CASETiFY & Pokémon Collaboration – 3rd Drop

Release Date: August 15, 2019

Items: iPhone cases, Macbook cases, wireless charging pads, iPad cases, AirPods cases, card holders
Price: ¥2,700-¥7,800

Official Website & Waiting List: https://www.casetify.com/pokemon

Pokémon Design Manholes to Begin Appearing All Across Japan

The Pokémon Company has announced its plans to begin placing more Poké Lid manholes across Japan. To date there have been appearances of them in Ibusuki in Kagoshima Prefecture and within 13 towns and villages of Iwate Prefecture, but that number is about to skyrocket.

Hokkaido, Fukushima Prefecture, Tottori Prefecture and Kanagawa Prefecture are all participating in the Pokémon Local Acts programme which will see an increase of Poké Lids this fall and winter. But it doesn't stop there as there are plans to expand the number even further going into 2020. This is the first nationwide manhole design project of its kind to ever hit Japan.

Each lid features completely original Pokémon designs making each individual one the only one in the world. The Pokémon Company plans to make each one of them PokéStops for Pokémon GO in the future.

In line with the upcoming Pikachu Outbreak event in the Minato Mirai area of Yokohama, which is taking place from August 6, five Pikachu manhole covers will be placed around Yokohama on August 5. Only one of the designs has been revealed as pictured above, and this one will be placed in front of Sakuragichō Station. The remaining four will only be placed for a limited time―until September 1 this year―around Minato Mirai. The locations will be announced on the official website.

Most of the Poké Lids are cast iron and are carefully handcrafted by artisans in a factory in Saga Prefecture. The use of craft iron allows room for intricate detail from the thickness of the lines to the angles and colours.

Make sure to be on the lookout for Poké Lids when visiting in Japan in the future. Their locations will be posted on the official website once they have been placed.

©2019 Pokémon. ©1995-2019 Nintendo/Creatures Inc. /GAME FREAK inc.
Pokémon, ポケットモンスター and ポケモン are registered trademarks of Nintendo, Creatures Inc. and GAME FREAK inc.

Baskin-Robbins Releases Pokémon Ice Creams, Sorbets and Cakes

Whether you're exploring Japan with your adult pals or on a family holiday with young kids, Pokémon fans from all generations cannot deny that treating yourself to Pokémon ice cream is the golden razz you need in this heat. 

From August 1 to 30, 2019, Baskin-Robbins will run a collaboration scheme with Pokémon to celebrate the release of the new Pokémon movie Mewtwo Strikes Back: Evolution. This involves the release of BR's first ever Pokémon-themed ice creams.

Pikachu Thunderbolt: Fruit Mix (price for single scoop, regular size: ¥390 after tax) *prices may vary,

Mewtwo Strikes Back: Evolution was released earlier this summer and there is no better opportunity to maximise your Pokémon experience than to indulge in the luxurious taste of Baskin-Robbins ice cream that has been combined with your favourite Pokémon with a beauty that no Pokémon fusion generator is possible of producing!

Pokémon Double Cup

Pikachu has arrived at Baskin Robins in the form of a sorbet, which is appropriately coloured yellow. The fruity sorbet flavours include pineapple, yellow peach, banana, apple and orange. This is decorated with bright red studs of delicious popping candy which look like Pikachu's cheeks. This is the first ever Pikachu sorbet to ever be sold at Baskin-Robbins.

BR also introduced a promotion scheme where those who purchase a Small Double-size ice cream (¥490 after tax)  can upgrade it to a Regular Double size for just an extra ¥100. Your ice cream will be served in a Pokémon-themed cup and you can even pick your favourite cup design out of the three available to maximise your ice cream experience.

Customers who order the Double Cup will receive a Pikachu spoon for each cup ordered. There are three different Pokémon spoon designs. Which one will you get? Hurry over to your nearest Baskin-Robbins to collect them all!

Pokémon Variety Pack

Small 6 pack: ¥1,550 Small 12 pack : ¥2,990 Regular six pack: ¥2,130 Regular 12 pack: ¥4,140 *All prices tax included and are subject to change. 

Want them all? The variety pack is perfect for those of you who want a selection to eat while on the go. The Pokémon-themed box is filled with rainbows of colours and all your favourite Pokémon, however, it is only available for a limited time. When you and your friends need a break from catching Pokémon, this is the perfect way to get refreshed.

Finally, don't miss out on BR's legendary Pikachu and Eevee ice cream cakes. The Pikachu Cake features BR's popular "Popping Shower" ice cream, which is a fusion of white chocolate and popping candy. This is wrapped in yellow strawberry-flavoured whipped cream. Pikachu's rounded chocolate eyes and red cheeks are enough to charm you. 

Pokémon Ice Cream Cake (Pikachu/ Eevee): ¥3,300 after tax *prices may vary, a variety of sizes are available

The Eevee Cake will stare at you with cute chocolate eyes. Eevee is wrapped in milk chocolate whipped cream and is wearing a caramel ribbon. Complete your cakes by placing the ears on by yourself. 

 

Maximise your Pokémon experience by watching the new Pokémon movie and indulging in Baskin-Robbin's legendary Pokémon ice creams.

©Nintendo・Creatures・GAME FREAK・TV Tokyo・ShoPro・JR Kikaku ©Pokémon ©2019 ピカチュウプロジェクト

Team Rocket Take Over Pokémon GO Twitter Account

Team Rocket jacked the official English and Japanese accounts for Pokémon GO from July 28 to 29. During that time they showed off their many nefarious activities.

They garnered over 150,000 retweet with their posts which included everything from the rules of the organisation, the Pokémon they use, recruitment to the team and more.

Team Rocket also occupied every Pokémon GO Pokéspot on July 28 from 4pm to 5pm local time. As of now, it seems like they are not occupying any more Pokéspots, but their activity is being investigated. According to a post believed to have been written by the Pokémon GO Rocket boss, the organisation seems to have plans to strike again in the future. Trainers are advised to be cautious when out there in the wild.