Cute Pikachu, Mew, Eeevee and Snorlax Blush & Powder Release in Pokémon Cosmetic Series
The next set of beauty items in the popular Pokémon Cosmetic Series has finally been revealed: the Pokémon Cheek and Pokémon Pressed Powder will be released on September 10. The line-up includes Pikachu, Eevee, Mew, and Snorlax.
Pokémon Cheek – ¥1,300 (Before Tax)
The Pokémon Cheek is a cream-type blush that spreads smoothly on your skin without any stickiness. It's comfortable on the skin and is durable. It also contains micropearls and so gives your skin a natural shine.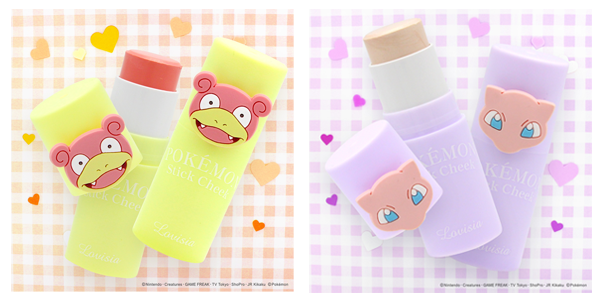 It comes in four colours: Pikachu Milky Pink, Eevee Rose Pink, Snorlax Coral Pink, and finally Mew Pearl White which brightens your natural skin tone. The blush comes as a stick and so is ncie and easy to apply and carry around.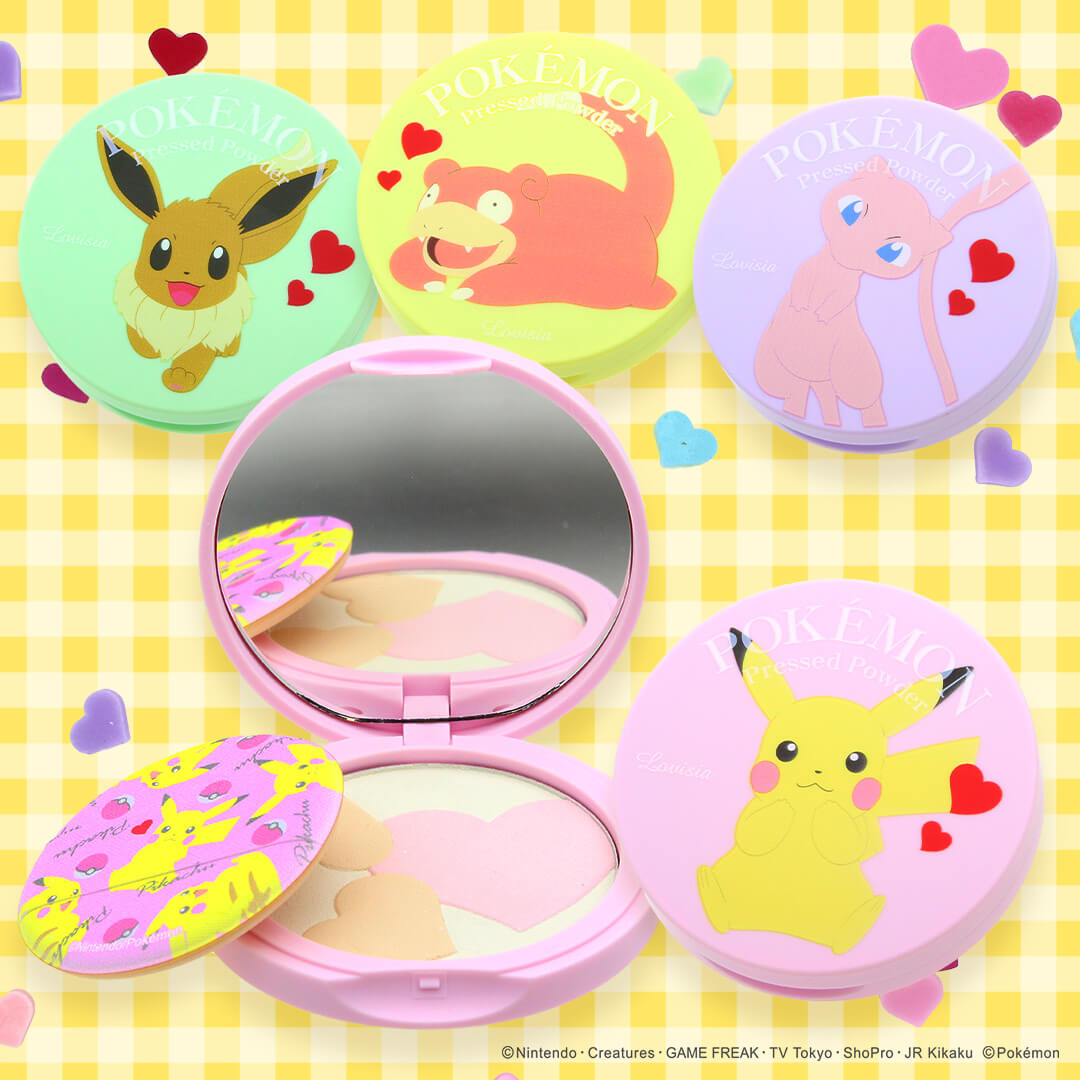 Pokémon Pressed Powder – ¥1,500 (Before Tax)
The pressed powder comes with its very own powder puff featuring a cute original design. The powder is mixed with minerals that are gentle on the skin as well as collagen. It leaves your face looking smooth and natural without any unwanted shiny patches.
Pick from four different colours: Pikachu Pink which brightens natural skin colour, Eevee Mint which elevates transparency, Snorlax Yellow which conceals blemished, and Mew Purple which brings out transparency and shimmer.
When out there in the wild catching Pokémon, why not look good at the same time? Be sure to check out the Pokémon Cosmetic Series, and stay tuned for any new products that are released.
Information
Pokémon Cosmetic Series – Pokémon Cheek / Pokémon Pressed Powder
Release Date: September 10, 2019
Available: Pokémon Center,  ITS'DEMO, Tokyu Hands, Village Vanguard, and elsewhere
Official Website: https://lovisia.jp/pokemon/
RELATED ENTRIES
Loosen Up Your Mind and Body With SHIRO's New Fragrance Bath Oils

SHIRO is releasing three new bath oils as part of its Fragrance series which serve to loosen up your mind and body. The oils are the perfect accompaniment to a relaxing bath time and protect against dryness during Japan's rainy season, keeping skin nice and moisturised.

Bath Oils: ¥3,800 (Before Tax)

There are three fragrances to choose from: "Soap" which envelops you in fresh fruits, "White Lily" which has a sophisticated floral scent, and the refreshing and relaxing "White Tea."

The oils are mixed with sunflower oil and unrefined shea butter from Ghana to leave your skin feeling completely smooth and moisturised after your bath. If you're looking for some simple yet effective body care, then you can't go wrong by winding down from the stress of the day with these oils.

Information

Bath Oils

Release Date: June 11, 2020

Available: SHIRO Online Store / SHIRO branches in Japan

SHIRO Official Website: https://shiro-shiro.jp/

107 Sinnoh Region Pokémon Added to Pokémon PON Stamp Line

Online hanko store Hankos released a new collection of stamps in its "Pokémon PON" stamp line on May 30 which are based on 107 Pokémon from the Sinnoh region. Hanko are a type of stamp or seal traditionally used in place of signatures in Japan. They are crafted with people's names and unique symbols.

Pokémon PON are made-to-order hanko stamps which feature a Pokémon of your choice and a name in Japanese writing. The Sinnoh region stamps follow the release of the Kanto, Johto, and Hoenn region themed stamps.

The 107 designs include the Sinnoh starter Pokémon Turtwig, Piplup, and Chimchar, as well as the Legendary Pokémon Dialga, Palkia, and Giratina, and Mythical Pokémon Shaymin, Darkrai, and Arceus.

When ordering your stamp you pick your favourite Pokémon and give your name to be written on it. This can be your actual name, surname, pen name, social media name and so on. Keep in mind though that there is a character limit: three Kanji, five Hiragana or Katakana, and up to six alphabet letters.

There are three different fonts and several types of hanko. One type produces ink by itself meaning you don't have to buy an ink pad. The wooden type can also be used with most banking facilities in Japan.

Pokémon PON stamps are packaged in an exclusive Pikachu and Eevee box.

©Nintendo・Creatures・GAME FREAK・TV Tokyo・ShoPro・JR Kikaku
©Pokémon

Clean Japanese Cosmetics Shop MAKANAI to Open in Kagurazaka

Kagurazaka-based Japanese 'clean' beauty brand MAKANAI are set to open up a store in Kagurazaka, Tokyo on June 5, 2020.

The shop interior was designed by up-and-coming Japanese artists and is based around gold leaf.

The decor features gold leaf-incorporated wall and ceiling art, as well as fragments taken from Kutani ware that became damaged when it was being forged in Ishikawa Prefecture. MAKANAI is a place that prides itself on sustainability.

The main centre table, called the "Ritual Bar," is made using the stump of a lime tree that is hundreds of years old. It is on this luxurious table that various beauty products are to be displayed. The interior designs, which makes use of wood grain, gives the shop a natural feel to it and feels nice to touch together with the products. It's a simple yet relaxing and welcoming aesthetic that will have you staying in there for a long time without noticing.

The shop has a smart mirror which uses AI to diagnose your skin type, and there are also workshops too such as "Pure Beauty Rituals" where MAKANAI will teach you how to care for your skin. MAKANAI plans to introduce other exciting things too.

Grand Opening Commemoration Set w/ Tote Bag: ¥10,000 (Before Tax)

To commemorate the store's opening, customers can purchase a set which comes with face lotion, moisturising oil, and face cream. Normally, all of this would cost ¥13,000 (before tax), but for the opening it will be offered at the special price of ¥10,000. It's a great MAKANAI starter kit.

Experience MAKANAI's brand concept of clean Japanese cosmetics for yourself at the official store when it opens on June 5.

Pokémon Camping Items Released in Collaboration With Pokémon Center and LOGOS

Outdoor brand LOGOS has teamed up with the official Pokémon shop, the Pokémon Center, for the first time to release a new collection of Pokémon-themed camping gear. The items went on sale at Pokémon Center and its website in Japan on May 30, 2020.

The 10 items feature cute retro designs of familiar Pokémon and can be used for outdoor life and everyday use.

The line-up includes a sun shade that can be easily assembled by just taking it out of the bag and opening it, two types of chairs for adults and children, a lightweight cushion, two different floor blankets, a compact and foldable basket, a drinks cooler, a food cooler, and a mini table. The two-person LOGOS pop shade will be released on August 8.

Enjoy a Pokémon picnic or camping trip with this cute new collection from LOGOS and Pokémon Center!

9 Cute Nail Styles to Inspire Your Self Love and Creativity at Home

With most people stuck in lockdown, many people are taking the time to try out different nail styles right now in Japan. If you're stuck on what designs to go for, take some inspiration from these 10!

Girly Off Blue Nails | @paakogrm

Mayu has gone for the ever-popular off-blue to create a girly design.

Dalmatian Nails | @fnds23

YUI has incorporated a dalmatian print for a simple yet stylish combination.

Colourful Nails Against The Blue Sky | @bjmmm_13

Koharu's nails feature a mix of fun colours, patterns, and designs which are sure to cheer her up whenever she's using her hands and sees them.

Mai's Toy Story nails seem as though they're about to come to life and start talking. Check out those fluffy clouds too.

Demon Slayer | @aiarrn

Rin's Demon Slayer and turtle shell designs are all hand drawn. Tanjiro and Nezuko look really cute.

Nao-chan's nails are made up of various shiny parts which look even cute when the sun shines on them!

Lovely Blanket Nails | @kym__81g

Mayu's lovely blanket nails are hand drawn and have a soft, gentle aesthetic to them.

Pom's nails combine off-colours with browns for a vintage look. The polka dots are a sophisticated cute without being overly-kawaii.


Yukina's nails are made up of various cute fruits. She's serving freshness for the coming summer season.

Use this opportunity while at home to make your own nails cute too!

Tropical Flavoured Pikachu Puré Gummies Dropping This Summer

Japanese confectionery company Kanro has revealed its new limited-edition, tropical flavoured Pikachu gummies which it developed in collaboration with Pokémon for its Puré gummy range. They will be released in Japan on June 2, 2020.

The sweet and chewy tropical gummies are made with pineapple juice which is the main flavour, mango juice, and banana juice. They also added a soda flavour for that Pikachu thunderbolt kick (and to balance the flavours!)

They come in limited-edition Pikachu shapes

A packet of these gummies includes the classic heart-shaped Puré gummy sweets as well as Pikachu-shaped ones. There are also four packet designs all featuring original and exclusive Pikachu illustrations.

Additionally, for a limited time, the regular lemon, grape, and muscat grape Puré gummy packaging feature Pikachu's paw prints on the front and back. There are even hidden Pikachu-shaped gummies inside these regular packets.

Pikachu online promotion

The product is being promoted over on the official Puré Twitter page. Pikachu is set to take over the page this June with promotional videos.

Pokémon 1/20 Figures to be Released as Part of 'Pokémon Scale World Galar Region' Collection

A new series of 1/20 size Pokémon figures are set to be released featuring Pokémon from Pokémon Sword and Shield. The series includes the "Pokémon Scale World Galar Region," "Pokémon Scale World Galar Region Set," and "Pokémon Scale World Galar Rillaboom," all of which are set to drop in September 2020.

What is Pokémon Scale World?

Pokémon Scale World is a series of detailed 1/20 scale figures of Pokémon and Pokémon Trainers by Bandai. For their fourth release, they are releasing Pokémon and Pokémon Trainers from the Galar Region, with both small figurines that can fit in the palm of your hand to bigger ones.

Pokémon Scale World Galar Region

Pokémon Scale World Galar Region: ¥500 Each / ¥3,500 Whole Set (Before Tax)

12 Pokémon and 1 Pokémon Trainer from Pokémon Sword and Shield arrive for the new collection. This includes Gloria, the three starter Pokémon (Grooky, Scorbunny, and Sobble) and their evolution, and more.

Rillaboom

Pokémon Scale World Galar Rillaboom: ¥3,600 (Before Tax)

You can also get your hands on Rillaboom, the final evolution of Grooky. At 10.5cm tall, he stands above the rest of the collection.

©2020 Pokemon.
©1995-2020 Nintendo/Creatures Inc. /GAME FREAK inc.

Tokyo's New Skin Care Concept Shop SKINCARE LOUNGE BY ORBIS to Open in Omotesando

SKINCARE LOUNGE BY ORBIS is the debut concept shop by Japanese beauty company ORBIS, and it's set to open in Omotesando this summer. The shop's teaser website opened on May 13 where information on its conception, special content, interviews with the company's partners, and more will roll out in the run up to the grand opening.

ORBIS established themselves in 1984, and in 1987 launched their mail-order service. Since then, their mission has been to "create a world filled with people who are true to themselves, think positively, and lead lives of beauty." They believe in the beauty each of us has inside them and want to unlock its full potential.

SKINCARE LOUNGE BY ORBIS aims to have people learning about their own skin and to unlock its full potential. "Feel," "Learn," and "Take" are the keywords of the concept shop.

The shop's creative directors are Hisato Ogata, who is a designer and innovator at takram, and Momo Kudo of Tokyo-based architecture and interior design studio MMA Inc. They are also supported by George Amano of GEORGE CREATIVE COMPANY.

SKINCARE LOUNGE BY ORBIS has two floors. On the first floor, customers are free to test various products as well as learn about the correct way to look after their skin. The second floor offers skincare treatments, workshops, and various private events. You must be a member on the shop's official app and book in advance for the second floor services.

If you're strolling around the Harajuku and Omotesando area this summer, pop into SKINCARE LOUNGE BY ORBIS and learn all there is to know about proper skin care.

Information

SKINCARE LOUNGE BY ORBIS

Address: 5-7-1 Minamiaoyama, Minato Ward, Tokyo
LOUNGE: 10:00 AM-8:00 PM
JUICE BAR: 8:00 AM-8:00 PM
*Please note that the shop is subject to temporary closure

Official Website: http://www.orbis.co.jp/skincarelounge/

Dior Releases Tokyo Pink Colour of its Addict Lip Maximizer

Parfums Christian Dior opened pre-sales for its 2020 Summer Collection via the official Dior online boutique on Friday.

The line-up features shades for early summer's blue skies, as well as vivid colours that will stand out against the midsummer rays. Everything in the range screams bright and energetic femininity.

This summer, look forward to applying highly efficient formulas perfect for the season, with textures that feel natural on the skin, glittery shades that reflect the sunlight, and new rules set for healthy summer makeup.

Dior Addict Lip Maximizer 019 Tokyo Pink – ¥3,700

A standout of the collection is the Japan-exclusive Tokyo Pink edition of the Dior Addict Lip Maximizer. It's a pink that symbolises Tokyoーthe neon lights and feminine beautyーwhile still looking transparent. It's a clear pink with a delicate glittery look that gives instant volume to the lips the moment it's put on, serving energetic summer vibes. It has hyaluronic acid on it which keeps them looking moist all day long, as well as collagen and capsaicin.

Dior 5 Couleurs (Colour Games) – ¥7,800 / Diorshow Colour & Contour Duo – ¥3,900

Dior is also releasing limited edition versions of its Dior 5 Couleurs eye palette and eyeliner and eye shadow combo Diorshow Colour & Contour Duo for the summer season.

Information

Summer Collection 2020 "Colour Games"
Pre-Sales: May 8, 2020

Release Date: June 5, 2020 (From May 15, 2020 at select websites)

Official Website: https://www.dior.com/ja_jp

Pokémon the Movie: Coco Promoted With Merchandise Prize Campaign

FIRST BAKING CO., LTD. launched a campaign in Japan last Friday where Pokémon Trainers can win an assortment of fun and exciting merchandise for the upcoming Pokémon movie Pocket Monsters the Movie: Coco which is set for release on July 10, 2020.

To enter, you must collect five serial codes featured on select Pokémon bread packaging from FIRST BREAD which bears the campaign logo. You can then enter via the campaign's official website for a chance to win a variety of merchandise includes a Pokémon card folder, tote bag, and tumblers with straws.

How to Enter
Collect five serial codes from Pokémon bread at FIRST BREAD and then enter via the official website. There are three tiers of prizes.

Pokémon Bread 

Only Pokémon bread with "対象商品" written on it counts for the competition.

Competition Period
Applications: May 1, 2020 at 00:00 (JST) to July 3, 2020 at 23:59 (JST)

Campaign Logo Period: May 1, 2020 to June 30, 2020

Prizes & No. of People

A Prize: Original Large Pokémon Card Folder (2,500 Available)

B Prize: Original Parent & Child Tote Bags (1,000 Available)

Runner Up Prize: Set of 3 Tumblers w/ Straws (100 People)

*Photos are for illustrative purposes only

©Nintendo・Creatures・GAME FREAK・TV Tokyo・ShoPro・JR Kikaku ©Pokémon 

©2020 Pikachu Project

Make Bath Time Even More Special With the New Hair and Body Series From ORBIS

ORBIS released its new "RELEASE By Touch" series of hair and body products on April 23, 2020.

Since the company's establishment, ORBIS has striven to bring out the full potential of the skin's power. Its brand message is "making comfort beautiful." Their Touch series invites people to love their hair and body by touching and caring for it, leading them to a relaxing, comfortable time.

RELEASE By Touch Shampoo / RELEASE By Touch Conditioner – ¥1,300 (Before Tax)

The hair care items in the new RELEASE By Touch series includes shampoo and conditioner that gently cares for both the hair and scalp.

RELEASE By Touch Body Shampoo – ¥1,000 / RELEASE By Touch Body Wash Glove – ¥1,200 (Before Tax)

Lather your skin and body in thick bubbles and enjoy some body care time.

RELEASE By Touch Bath Towel

When you're done, wrap yourself in a fluffy towel and feel refreshed after your luxurious bath.

If you're looking for some personal relaxing bath time then you can't go wrong with the new RELEASE By Touch series from ORBIS.

Information

RELEASE By Touch Series

Release Date: April 23, 2020

Available: At ORBIS stores in Japan and online

Official Website: https://www.orbis.co.jp/

Pokémon Clothing Collection Releasing This Spring From GiRLS by PEACH JOHN

GiRLS by PEACH JOHN has revealed its new Pokémon collection which is set to release on their official website and in select stores on May 7, 2020. Items include Peasy wireless bras, bra sets, lounge wear and more with cute Pokémon designs from familiar faces such as Pikachu, Eevee, Jigglypuff, Sylveon, and more.

Product Line-Up

Peasy 001 – ¥2,280 (Before Tax) | Sizes: S, M, L


Pikachu Print Panties – ¥1,480 (Before Tax) | Sizes: M only

The Peasy wireless bra and underwear features an adorable Pikachu print design with the popular Pokémon's many different expressions.

Rirakore Sylveon Lace Bralette Set – ¥2,980 (Before Tax) | Sizes: M, L

Feel as beautiful as Sylveon with this lady-like bralette set.

Morikore Flowers & Eevee Bra Set – ¥3,980 (Before Tax) | Sizes: Bra = B-F/65/70/75

Eevee is embroidered into this cute bra set which is sure to please any girl.

Jigglypuff's Sleepy Pyjamas – ¥3,980 (Before Tax) | Sizes: M only

Jigglypuff will help lull you sleep with this comfy pyjama set.

Pokémon Icon Thermal Pyjamas – ¥3,980 (Before Tax) | Sizes: M only

Snug thermal pyjamas that are comfy even on hot summer days. The set features tiny adorable Poké Balls.

Pikachu Pouch – ¥1,980 (Before Tax) | Sizes: One Size

A pouch plump like Pikachu which you can find many uses for.

© 2020 Pokémon.
© 1995 – 2020 Nintendo/Creatures Inc./GAME FREAK inc.TM, ®, and character names are trademarks of Nintendo.