Cute Pikachu, Mew, Eeevee and Snorlax Blush & Powder Release in Pokémon Cosmetic Series
The next set of beauty items in the popular Pokémon Cosmetic Series has finally been revealed: the Pokémon Cheek and Pokémon Pressed Powder will be released on September 10. The line-up includes Pikachu, Eevee, Mew, and Snorlax.
Pokémon Cheek – ¥1,300 (Before Tax)
The Pokémon Cheek is a cream-type blush that spreads smoothly on your skin without any stickiness. It's comfortable on the skin and is durable. It also contains micropearls and so gives your skin a natural shine.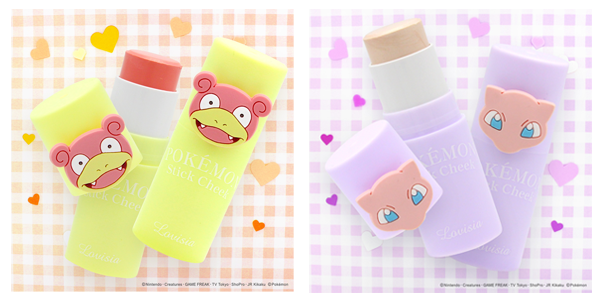 It comes in four colours: Pikachu Milky Pink, Eevee Rose Pink, Snorlax Coral Pink, and finally Mew Pearl White which brightens your natural skin tone. The blush comes as a stick and so is ncie and easy to apply and carry around.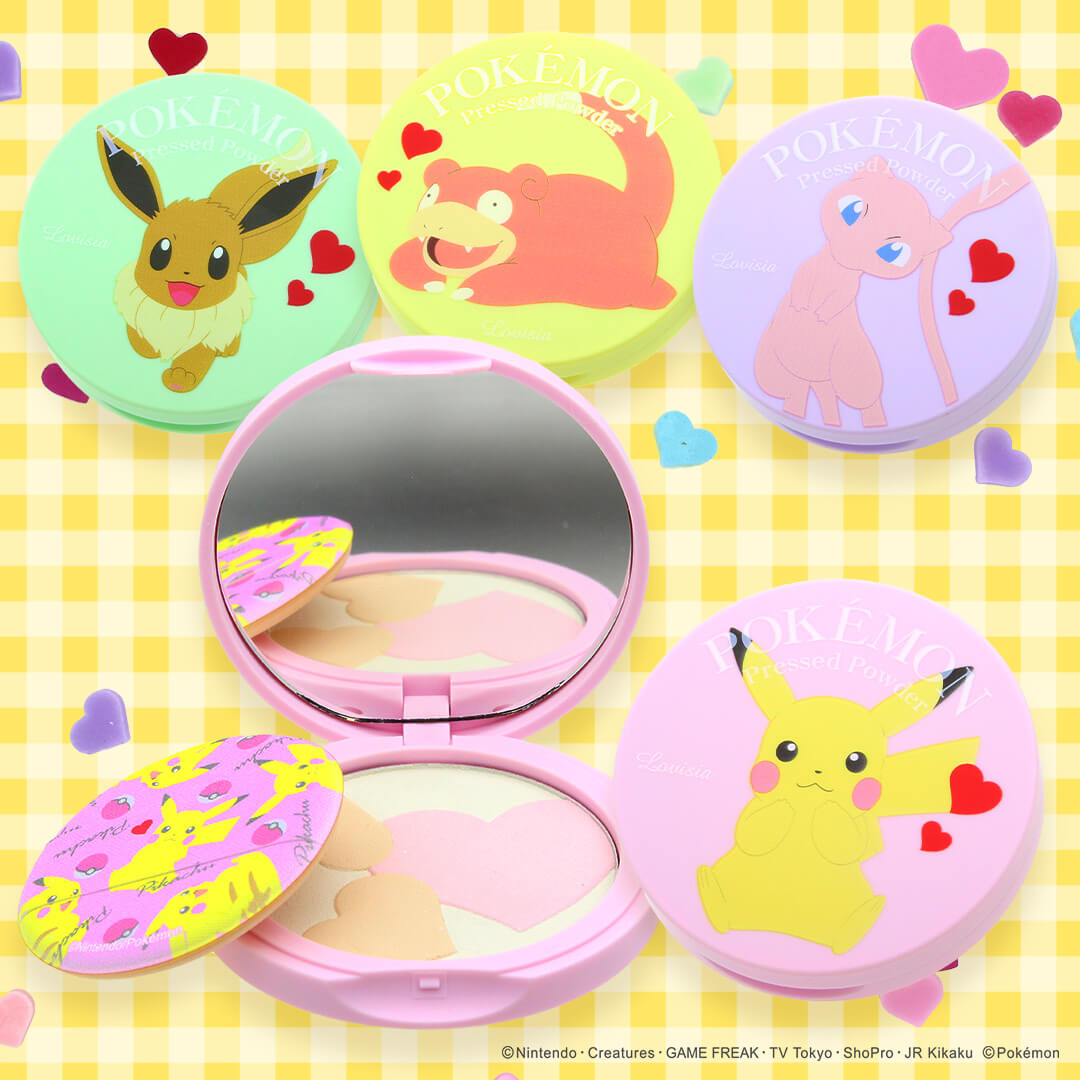 Pokémon Pressed Powder – ¥1,500 (Before Tax)
The pressed powder comes with its very own powder puff featuring a cute original design. The powder is mixed with minerals that are gentle on the skin as well as collagen. It leaves your face looking smooth and natural without any unwanted shiny patches.
Pick from four different colours: Pikachu Pink which brightens natural skin colour, Eevee Mint which elevates transparency, Snorlax Yellow which conceals blemished, and Mew Purple which brings out transparency and shimmer.
When out there in the wild catching Pokémon, why not look good at the same time? Be sure to check out the Pokémon Cosmetic Series, and stay tuned for any new products that are released.
Information
Pokémon Cosmetic Series – Pokémon Cheek / Pokémon Pressed Powder
Release Date: September 10, 2019
Available: Pokémon Center,  ITS'DEMO, Tokyu Hands, Village Vanguard, and elsewhere
Official Website: https://lovisia.jp/pokemon/
RELATED ENTRIES
Japan's Men Skin Care Brand BULK HOMME to Release Products in France & UK

BULK HOMME, a Japanese skin care brand for men, is releasing a line of its popular products in France and the United Kingdom on March 20, 2020. To date, the company has focused in the Asian region, stocking shelves in Taiwan, China, South Korea and Hong Kong. This will be the first time the company makes its mark in Europe.

BULK HOMME placed top in the Hair Product category at Cosmoprof Bologna 2019 for its product "THE SHAMPOO," held in Italy last March, making it the first Japanese men's brand to do so. French professional footballer Kylian Mbappé was even enlisted as the global ambassador for the brand in June 2019.

The company is also using its European expansion as an opportunity to replace its outer packaging form a clear case to paper that has been certified by the Forest Stewardship Council. This will begin rolling out this March.

Products Releasing in France/UK

THE FACE WASH

THE TONER

THE LOTION

THE SHAMPOO

THE TREATMENT

THE SCALP SERUM

THE BUBBLE NET

BULK HOMME is aiming to be in 100 stores throughout France and the UK by March 2021, focusing on getting into upend department stores and with future plans to get into cosmetic stores.

Information

BULK HOMME

Release Date: (France/UK): March 20, 2020

Official Website: https://bulk.co.jp/

Japan's First Muslim Eyelash Extension Salon 'Crazy Beauty' Opens in Shibuya

Japanese eyelash extension salon Crazy Beauty has announced its efforts to strengthen its services to cater towards its increasing number of Muslim customers. The salon released a new list of policies in English including using no pork-derived ingredients in its glue, a comment about the alcohol level of its glue, and more.

"Muslim Welcome" is the name of this new initiative launched by Crazy Beauty with support from the Made in Japan Halal Support Committee.

Prayer Space

Crazy Beauty provides prayer mats and has a space for its Muslim clients to pray.

Consideration For Muslim Customers

Since Muslims are not able to use products with alcohol in them, Crazy Beauty provides Halal-certified Clean Shu! Shu! Neo, which has alkali ions in it that kills bacteria, and it also cleans and smells since. Crazy Beauty also uses MOMA Water, officially recognised by JAKIM in Malaysia. Customers can also enjoy Halal-certified tea after their session.

Muslim Welcome Eyelash Policies

・Our salon uses medical grade glue that does not contain pork-derived ingredients.

・The medical-grade glue used in our salon contains a small amount of alcohol.

・A spare space can be used for prayer purposes.

・Prayer mats are available upon request.

Source: https://crazybeauty.jp/en

If you're a Muslim and looking to experience Japan's beauty scene, then be sure to check out Crazy Beauty to see everything they have to offer.

Information

Crazy Beauty

Address: 906 Dogenzaka Square, 5-18 Maruyamacho, Shibuya, Tokyo

Reception Times: Last Phone Booking 21:00 (Until 19:00 on Sundays and Public Holidays)

No Fixed Holidays (Open during festival seasons)

TEL: 03-6416-1726

Official Website: https://crazybeauty.jp/en

Visiting @cosme TOKYO in HarajukuーThe Place That Satisfies All Of Your Makeup & Cosmetic Needs

@cosme TOKYO is a new flagship store that opened in front of Harajuku Station in Tokyo on January 10, 2020.

@cosme is a web portal centred on makeup and cosmetics. Offering a wealth of beauty information from a number of perspective, the website lets you see the latest trending items in the makeup world from the word on the streetーby letting people comment on and rank itemsーoffers solutions to skincare and makeup-related problems, and more.

@cosme TOKYO is the first-ever physical store by @cosme. Its floor space spans over 1,300 square meters where it houses an enormous selection of cosmetics and makeup products, from inexpensive and affordable quality items to luxury brands. Since opening, it has become the talk of the town in Harajuku.

It's comprised of three floors, each with their own highlights. Let's go and check it out.

1st Floor: A Hall of Fame for the latest most popular cosmetics

When you walk into the first floor area, the first thing that's sure to catch your eye is the incredible "Best Cosmetic Award Tower," a collection of items that have have won past cosmetic awards for being the best. All the cosmetics are stacked up high in their own little display case.

As you proceed further across the shop floor, there is the "@cosme Weekly Ranking" corner which ranks the most popular items on the website for that week, so customers can always know what products are the best to incorporate into their makeup and beauty routine.

But perhaps the centrepiece of @cosme TOKYO is the "Tester Bar," where customers are free to try out products using the puffs and cotton pads provided. There's also a tap and sink for rinsing. You can't deny how great this service is; without worrying about others, you can try out all the cosmetics to your heart's desire and then buy them if they're to your liking.

There are also smart lockers so you can lock your things away, allowing for your hands to be free while you test makeup and shop. But it doesn't stop there, as there's even a foreign currency exchange machine which caters for 85 currencies in 120 countries.

2nd Floor: Men's cosmetics, beauty equipment, and more

Up on the second floor, you'll find another area that ranks products, this time the ones with the most sales at @cosme TOKYO. Everything is displayed in such a way that it's easy to find products as they are separated by base makeup, mascara, lipsticks, and so on. You'll find pop artwork hand drawn by the staff to highlight products, so enjoy comparing and considering all the different items.

Recently in Japan, men's products have been garnering attention, and so @cosme have created an entire section dedicated to male and unisex makeup items. Picking out makeup with your partner is goals, and now it's finally becoming a reality.

Another area that's popularーwith both Japanese people and foreignersーis one that stocks cosmetics made with naturally-derived ingredients from Japan, as well as products with Japanese-style packaging. It's perfect if you're looking for Japanese-specific items or for gifts and souvenirs.

Also on the second floor are beauty mirrors so you can check yourself out as well as two Tester Bars, so you can try out products here too.

If you have kids, you can drop them off in the kid's area while you shop. There's also bread-feeding rooms and places for changing diapers. They have it all!

3rd Floor: A place to relax exclusive to @cosme app users

The third floor is home to a lounge that can only be used by those who have the @cosme app installed on their phone. It can be used for relaxing or for hanging out with friends. It's hard to find a such a quiet and relaxing place like this so close to Harajuku Station.

If you want to retouch your makeup, there's a powder space you can do that for free, as well as oxygen boxes. This floor is packed full of different great services.

@cosme also has its own points system. One point equals one yen, and you get five for just visiting the store.

Anyone and everyone can enjoy a fun and easy shopping experience

 

Each product in the store has a JAN code on it which when scanned at one of the tablets in store will give you information about that product in multiple languages, including English, Simplified/Traditional Chinese, and Korean. This goes for the map of each floor too, so you can find out what each floor offers without getting lost.

@cosme TOKYO also has free Wi-Fi, and can also ship products around Japan. It offers a comprehensive shopping experience that caters to both Japanese and foreign customers.

You're sure to find many items you like when visiting @cosme TOKYO, so you can't miss out on visiting if you're travelling to Harajuku or Tokyo. Enjoy shopping!

Information

@cosme TOKYO
Opened: January 10, 2020

Address: 1-14-27 Jingumae, Shibuya, Tokyo
Opening Hours: 10:00-21:00
No Fixed Holidays
Official Website: https://www.cosme.net/flagship/

adidas Teams Up With Pokémon to Release First Generation Pixel Graphic Collection

adidas Japan and Pokémon have collaborated to create a new apparel collection featuring the Pokémon games' first generation graphics. The items dropped today in Japan at adidas store branches and its online shop, Sports Authority, G-FOOT, and Pokémon Centre.

PKM PXL Unisex T-Shirt – ¥3,490 / Released: January 22, 2020

PKM PXL Unisex T-Shirt – ¥3,490 / Released: January 22, 2020

The collection includes adidas tracksuits, t-shirts, pants, short pants, and three types of footwearーwhich kids and adults alike can get behind.

ADIHOOPS MID 2.0 PKM Kids – ¥5,490 / Released: January 22, 2020

ADVANCOURT PKM Kids – ¥4,990 / Released: January 22, 2020

PKM Kids Tracksuits – ¥6,990 / Rolling out March 2020

For the kids sneakers, the adidas Advantage and Hoops Mid 2.0 uppers feature Pokémon pixel graphics, redefining the adidas shoes to give them a retro feel.

ADVANCOURT PKM Unisex – ¥7,990 / Released: January 22, 2020

PKM TRAINER Unisex T-Shirt – ¥2,990 / Released: January 22, 2020

For the adults, they can enjoy the adidas Phosphere running shoes, which feature a distinct pixel design.

You Pokémon Trainers out there that pick up an item from this collection in Japan will receive one of five possible A5-size stickers. They are limited in stock, so catch 'em all before they run out!

©2020 Pokémon. ©1995-2020 Nintendo/Creatures Inc. /GAME FREAK inc.

Cosmetic Brand SUQQU Releases Origami-Themed Spring Colour Collection

Cosmetic brand SUQQU released their Spring Colour Collection on January 10, 2020. The collection is inspired by Japanese origami, which is light, beautiful and easy to adapt to a variety of situations. 

SUQQU Vibrant Rich Lipstick: ¥5,000 (Before Tax)

The Vibrant Rich Lipstick is SUQQU's first matte lipstick. It feels light on your skin and doesn't rub off easily. Its rich and radiant colour adds a vivid streak of life to your lips, easily becoming the focal point of your overall look. Its bold colour also has a soft pigment which compliments your skin for a natural look. These lipsticks enjoy a brand new texture comparable to Japanese washi paper, providing the complexion and voluminous lips that all adults desire. These lipsticks will brighten up your entire face with colours perfect for spring. 

If you like these lipsticks, then check out the rest of the Spring Colour Collection which includes eye shadows, blushers, highlights, nail polishes and much more. 

SUQQU's Spring Colour collection is the perfect way to prepare for spring 2020. 

Information

SUQQU 2020 Spring Colour Collection
Release Date: January 10, 2020

SUQQU Vibrant Rich Lipstick (10 standard colours, 3 limited edition colours): ¥5,000 (Before Tax)

SUQQU Designing Colour Eyes (1 new colour, 1 limited edition colour):¥6,800 Each (Before Tax)

SUQQU Glow Touch Eyes (2 new colours, 1 limited edition colour): ¥3,700 Each (Before Tax)

SUQQU Waterproof Eyelash Mascara (2 limited edition colours):¥4,300 Each (Before Tax)

SUQQU Pure Colour Blush (2 limited edition colours): ¥5,500 Each (Before Tax)
SUQQU Shimmer Liquid Highlighter (1 new colour): ¥3,900 (Before Tax)
SUQQU Nail Colour Polish (3 limited edition colours): ¥2,500 (Before Tax)

SUQQU Official Website: https://www.suqqu.com

7 Lucky Foods and Items From Tokyo Station To Push You Towards Success

You've studied as much as you can for your exams and prepared as much as you can for that mid-term presentation but the nerves are still getting to you. How about some lucky items to help you succeed? As the exam season is approaching, Tokyo Station's shopping centre GRANSTA is holding a fair from January 13 to February 14, selling a variety of lucky items and foods to fill you with the courage and strength you need to calm your nerves and boost your confidence.

 Katsu Sandwiches

As "katsu" also means "win", a crunchy and juicy "winning" sandwich is the perfect way to boost your confidence and energy levels.

Kinokuniya Katsu Sandwiches (3 Sandwiches): ¥430 (After Tax)/KINOKUNIYA Entrée GRANSTA Marunouchi Floor B1 (Outside ticket barriers)


A crunchy katsu sandwich with a thick slice of juicy Japanese pork – This popular katsu sandwich will provide you with the stamina you need to do that presentation.

Katsu Fillet Sandwich (4 Sandwiches): ¥880 (After Tax) / Nagoya Meibutsu Misokatsu Yabaton: GRANSTA Floor B1 (Inside ticket barriers)


A soft southern Kyushu katsu meat fillet drizzled with Yabaton's special sauce. Enjoy the juicy flavour with every bite. 

Egg and Shrimp Katsu Sandwich (1 Full Sandwich): ¥388 (After Tax) /Kyo no Gohan Wasai no Kuni: GRANSTA Marunouchi Floor B1 (Outside ticket barriers)


This pack includes a tender shrimp sandwich and a rich-flavoured egg sandwich. (Limited number sold per day)

Sangenton Katsu Sandwich Eat-In: ¥396, Take Away: ¥388 (After Tax)/ BOULANGERIE ASANOYA, GRANSTA Floor 1 (Inside Ticket Barriers)


The Sangenton Katsu Sandwich is a hearty meal that consists of pork of three origins. This is perfect to fuel up on energy before your big moment. (Limit of 40 sold per day)

Chestnut-Flavoured Talisman of Victory

Silver Bell Pancake Sandwich: ¥378 Each (After Tax)/ Colombin GRANSTA Floor B1 (Inside ticket barriers)

Chestnut-based foods as a victory treat date back to the end of the 15th century during the Warring States period of Japanese history. In this pancake sandwich, two fluffy pancakes hug a filling of delicious cream and chestnuts, creating the perfect victory snack. *Sold from January 13 – February 14, 2020

Lucky Iyokan Mikan Vinegar

Lucky Iyokan Mikan Vinegar (1:5 Dilution, 150ml): ¥1,296/ Drinking Vinegar expre・su Tokyo GRANSTA Floor B1 (Inside ticket barriers)

This mikan orange-flavored drinking vinegar is made from Iyokan mikan oranges, which is said to bring luck. "Iyokan" also means "good premonition", which is sure to provide both an energy and confidence boost. *Limited sales: From January 13, 2020 while stocks last.

Lucky Pentagonal Chopsticks Set

Lucky Pentagonal Chopsticks Set: ¥3,300/ Nihonbo GRANSTA Floor B1 (Inside Ticket Barriers)


These lucky pentagonal (gokaku) chopsticks are a play on words with the word "gokaku", which also means success. They are pentagonal right to the tip, making it easy to grip your food. This is the perfect present for your friend who is going to take an exam. Limited Selling Period: Until the beginning of March.

Tokyo Station GRANSTA is full of lucky items and foods to help you and your friends prepare for success.

Information

GRANSTA

Location: JR Tokyo Station Floor B1/1 (Inside Ticket Barriers)

Address: 1-9-1, Marunouchi, Chiyoda-ku, Tokyo

Opening Hours: 08:00 – 22:00 (Open until 21:00 on Sundays and the last days of consecutive holidays)

GRANSTAMARUNOUCHI

Location: JR Tokyo Station Floor B1/1 (Outside Ticket Barriers)

Address: 1-9-1, Marunouchi, Chiyoda-ku, Tokyo

Opening Hours: 10:00 – 22:00 (Open until 21:00 on Sundays and the last days of consecutive holidays)

*Opening hours of some shops may vary

Official Website: https://www.tokyoinfo.com/shop/mall/gransta/

Check Out The ASOKO de POKÉMON Series – Original Pokémon Pouches, Bags and More

ASOKO is a general merchandise store which sells fun items based on the concept of enjoying a good surprise. ASOKO has teamed up with Pokémon and is set to release the ASOKO de POKÉMON merchandise series on January 18, 2020.

Items designed by Kazuhiko Ifuku 
○ Deep Pouch: ¥440 ○ Shallow Pouch: ¥330 ○Lunch Bag: ¥440 ○2WAY Tote Bag: ¥550 ○Canvas Pouch: ¥330 ○ 2P Kinchaku Drawstring Bag: ¥330 (and much more)*

Items designed by buggy

○Tote Bag: ¥660 ○Lunch Bag: ¥440 ○Pouch: ¥330 ○Pencil Case: ¥275 ○Tissues Case: ¥330 ○Shopping Bag (Two Designs): ¥220 Each ○ Folding Eco Bag: ¥330 (and much more)*

The series includes 84 different items from fashion accessories such as bags and pouches to kitchen utensils and even stationery. Now you can enjoy your favourite Pokémon friends on original-design ASOKO items. 

As well as being sold at ASOKO stores, there will be additional pop-up shops opening in Sapporo, Nagoya, Osaka and Kōchi which will also sell the series. These items are perfect for kids and adults alike – you'll soon be wanting to get them all!

*Prices After Tax

Information

ASOKO de POKÉMON

Release Date: January 18, 2020

Available at the following stores:

・ASOKO Harajuku: 6 Chome-27-8 Jingumae, Shibuya City

・ASOKO Kobe Harborland umie: Kobe Harborland umie Mosaic Floor 2, 1-6-1 Higashikawasakicho, Chuo Ward, Kobe

・ASOKO LaLaPort EXPOCITY: LaLaPort EXPOCITY Floor 1, Senribampaku Koen, Suita-shi, Osaka

・ASOKO KAWARAMACHI OPA: Floor 1 KAWARAMACHI OPA, Agaru Shijo, Kawaramachi-dori, Nakagyo Ward, Kyoto

・ASOKO + 3COINS Ikspiari Maihama: Ikspiari Floor 3, 1-4 Maihama, Urayasu, Chiba 

Pop-Up Shops

・Sapporo (January 18 – 26)

Sapporo Esta Floor 7, 2 Chome-1 Kita 5 Jonishi, Chuo Ward, Sapporo

・Nagoya (January 18 – 26)

Dai Nagoya Building Floor B1f ISETAN HAUS, 3 Chome-28-12 Meieki, Nakamura Ward, Nagoya

・Osaka (January 22 – February 4)

LUCUA Osaka Floor 2, isetan Urban Market, 3-1-3 Umeda, Kita Ward, Osaka

・Kōchi (January 25 – February 11)

Tsutaya Books Kōchi Floor 1, 6-10 Minamigoza, Kōchi 

ASOKO Japan Official Website: http://www.asoko-jpn.com/

6 Popular Character Collaboration Cafés to Open in January 2020

Every month, Japan sees numerous collaboration cafés opening all over the country featuring the world's most favourite characters, artists and much more. We've summed up the ones to look out for in January 2020.

Cafe de Perochi with Seven Days War, Shinjuku

To celebrate the anime film Seven Days War which premiered on December 13, a themed café opened at EJ Anime Theater in Shinjuku, Tokyo. The café opened in collaboration with popular creator Pantovisco who has over 680,000 followers across his social media.

 The cute menu line-up features Seven Days War-inspired food and desserts with Perochi and his friends joining in with the fun. There's also a drinks menu with a line-up of colourful beverages and lattes which you can get various latte art drawings on.

Cafe de Perochi with Seven Days War

Running: December 13, 2019 – January 12, 2020

Location: EJ Anime Theater Shinjuku Floor 5F (Shinjuku Bunka Bldg., 3-13-3 Shinjuku, Shinjuku Ward, Tokyo)

Official Website: http://7dayswar.jp/

More Information: https://www.moshimoshi-nippon.jp/280643

BT21 Café, Shibuya, Tokyo and Abeno, Osaka

The BT21 collaboration café is currently running for the fifth time. The café opened in Shibuya, Tokyo and Abeno, Osaka on November 21, 2019 and will close on January 13, 2020. This there are more BT21 family members and friends featuring in the foods and drinks as part of the BT21 UNIVERSE series' first-ever menu. There is lots of menu and café-limited merchandise to get your hands on too. 

Korean Burger: ¥1,490

Double Yangnyeom Chicken Rice: ¥1,490


BT21  Café, Shibuya, Tokyo Abeno, Osaka

Location: Shibuya BOX CAFE&SPACE (Shibuya BOX109)

Running: November 21, 2019 to January 13, 2020
*Closed January 1

BT21  Café, Abeno, Osaka

Location: Abeno, Abeno contact

Running: November 21, 2019 – January 13, 2020
Official Website: https://www.bt21.com/relations

Devil May Cry 5 x Capcom Cafe Ikebukuro

The Capcom Cafe is collaborating with the action-adventure hack and slash video game Devil May Cry 5 once again at the Ikebukuro, Tokyo branch from December 5, 2019 to January 15, 2020.

Devil Breaker "Overture" Potato – ¥880 (Before Tax)


Demon World Mont Blanc – ¥980 (Before Tax)


The cafe will feature various menu items and merchandise that was sold at the Laketown branch of Capcom Cafe, as well as new meals, drinks and even more merchandise.

 Devil May Cry 5 x Capcom Cafe Ikebukuro

Running: December 5, 2019 – January 15, 2020

Address: Capcom Cafe Ikebukuro, 1-30-3 Higashi-Ikebukuro, Toshima Ward, Tokyo

Opening Hours: 10:00-22:00 (Last Orders: 21:00)

Official Website: http://www.capcom.co.jp/amusement/capcomcafe/ikebukuro/

More Information: https://www.moshimoshi-nippon.jp/276074

Pokémon Sword and Shield: Nihombashi, Tokyo and Shinsaibashi, Osaka

The Tokyo (Nihonbashi) and Osaka (Shinsaibashi) branches of the Pokémon Cafe are releasing their second batch of menu items in collaboration with Pokémon Sword and Shield which will be served between January 18 and March 19 next year.

Weezing's Chemical Change Gas Pancakes – ¥1,628


Morpeko's Hungry W Sauce Omurice – ¥1,628


Pokémon Sword and Shield was released on Nintendo Switch on November 15 so if you're a Pokémon fan in Japan, this is the perfect way to celebrate.

 Pokémon Sword and Shield

 Pokémon Cafe (Nihombashi, Tokyo)

Address: Nihombashi Takashimaya SC East Bldg. 5F, 2-1-2 Nihombashi, Chuo Ward, Tokyo

Business Hours: 10:00-22:00

No Fixed Holidays (Except when Nihombashi Takashimaya SC is closed)

Reservations: https://www.pokemoncenter-online.com/cafe/reservation.html

Pokémon Cafe (Shinsaibashi, Osaka)

Address: Daimaru Shinsaibashi Honkan 9F, 1-7-1 Shinsaibashisuji, Chuo Ward, Osaka, Osaka Prefecture

Business Hours: 10:00-21:30

No Fixed Holidays (Except when Daimaru Shinsaibashi is closed)

Reservations: https://www.pokemoncenter-online.com/cafe/reservation.html

More Information: https://www.moshimoshi-nippon.jp/283263

Korilakkuma Cafe: another me in the mirror, Harajuku

"Korilakkuma Cafe: another me in the mirror" opened in Japan's hub of kawaii culture Harajuku on December 21 and will run until March 22 next year. The cafe is the perfect spot to relax with Korilakkuma and be entertained by projection mapping.

Table Projection Mapping Seats: ¥2,500 per person (Before Tax)


Twin Korilakkuma Strawberry Milk – ¥990


The cafe incorporates "interactive tabletop projection mapping" technology developed by Sony, which allows customers to enjoy their meals while playing together with the characters as they walk around their plates and tables.

Korilakkuma Cafe: another me in the mirror

Running: December 21, 2019 – March 22, 2020 (Not running December 30, 2019 to January 3, 2020)

Location: HARAJUKU AR BOX -table projection mapping cafe- (4-28-28 Jingumae, Shibuya, Tokyo)

Official Website: https://korilakkumacafe.jp/

More Information: https://www.moshimoshi-nippon.jp/284456

MARUKO&COJICOJI CAFE, Ginza

 The MARUKO & COJICOJI CAFE is set to open in Marronnier Gate Ginza, Tokyo on January 31, 2020 where it will run until July 31. It is a collaboration between the manga series Chibi Maruko-chan and Coji-Coji, both by Momoko Sakura. The cafe is opening to promote the release of the Chibi-Maruko-chan and Coji-Coji dream collaboration picture book. Customers can look forward to joining the two characters on their adventures as they are vividly recreated on their plates.

MARUKO & COJICOJI CAFE

Location: Sunday Brunch, Marronnier Gate Ginza 1 Floor 4F (2-2-14 Ginza, Chuo Ward, Tokyo)

Running: January 31, 2020 – July 31, 2020 (Subject to change)

Opening Hours: 11:00-21:00

Reservations: Opening on the official website from mid-January 2020

More Information: https://www.moshimoshi-nippon.jp/284763

How about kicking off New Year in Japan at a cute collaboration café?

Cosmetics brand SHIRO to Release Natural Makeup that Improves Your Skin

Cosmetics brand SHIRO is known for producing makeup that both looks after your skin and brings out your natural beauty. From March 5, 2020, they will be releasing the Calendula Liquid Eyeshadow for a refined and sparkly finish to your eyes and the Calendula Liquid Cheek Tint for silky smooth cheeks and a natural complexion.

Calendula, often known as Pot marigold, is a plant known for its miraculous skin-treating abilities. SHIRO has harnessed its moisturising and healing properties, developing two new products that enjoy the benefits of locking moisture into the skin and a beautiful, natural look. Each Calendula plant is raised organically and harvested by hand in Shimokawa, Hokkaido.

Calendula Liquid Eyeshadow (Comes in 6 colours): ¥3,500 (Before Tax)

Apply the Calendula Liquid Eyeshadow to instantly capture anyone's gaze. The eyeshadow is water-based, locking in moisture and adding a dynamic effect to your eyes. A small amount will spread far and evenly, instantly attaching to your skin for no risk of smearing. 

From top left  0C01 Dusk Orange/0C02 Copper Brown/0C03 Sparkle Light

From bottom left 0C04 Sand Beige/0C05 Grayish Beige/0C06 Sepia Brown

The eyeshadows come in six different colours: four glitter finishes and two matte finishes so you can change your look depending on the occasion.

Calendula Liquid Cheek Tint (Comes in 4 colours): ¥3,500 (Before Tax)


The Calendula Liquid Cheek Tint is oil-based and spreads evenly over your cheeks for a silky smooth, natural complexion. This is perfect for contouring your cheeks so you can enjoy both a radiant glow and healthier skin. 

From top left  0C07 Raw Umber/0C08 Foggy Pink,  From bottom left 0C09 Coral/ 0C10 Copper Red

This is available in four colours and can also be used as an eyeshadow or to colour your lips after using the 0C01 Copper Red Lip Liner.

SHIRO is not only available in Japan, but also has three shops in London and one in New York. SHIRO uses carefully-selected natural ingredients to bring out the natural beauty of your skin.

Rather than hiding your skin, this makeup embraces it, caring for it and adding a natural finish. 

Pokémon Shirts Expands Shipping to Europe, Canada, Australia and New Zealand

Original Inc. has announced that it is expanding its shipping efforts for its Pokémon Shirts collection, which is made officially in collaboration with The Pokémon Company. The shirts are now available in The UK, France, Italy, Spain, Germany, Canada, Australia and New Zealand, totalling the number of countries to 17.

Pokémon Shirts was launched back in February by American custom shirt brand Original Stitch, which offers over one billion design customisations, and the Pokémon franchise. In October, the shirt line received an overhaul. The line-up offers two options: either a shirt featuring one of the original 151 Pokémon, or a plain shirt which you can fully customise including the patterns, silhouette, material, button variation, size and more. Orders are made online and delivered to your home.

Have fun making your very own shirt featuring your favourite Pokémon.

Pokémon Sword and Shield Themed Food to be Served at the Pokémon Cafes in Tokyo and Osaka

The Tokyo (Nihonbashi) and Osaka (Shinsaibashi) branches of the Pokémon Cafe are releasing their second batch of menu items in collaboration with Pokémon Sword and Shield which will be served between January 18 and March 19 next year.

Pokémon Sword and Pokémon Shield are the latest games in the Pokémon video game franchise and were released for the Nintendo Switch on November 15, 2019. The two new menu items fans can hope to enjoy based on Weezing and Morpeko. Also, due to popular demand, the serving period for the first collaborative menu which featured Grookey, Scorbunny, and Sobble has been extended to March 19, 2020.

Weezing's Chemical Change Gas Pancakes – ¥1,628

Try pouring the accompanying blueberry sauce over Weezing's cotton candy gas clouds and you might just see an actual chemical change yourself!

Ingredients: Pancakes, Matcha Whipped Cream, White Chocolate Sauce, Blueberry Sauce

Morpeko's Hungry W Sauce Omurice – ¥1,628

Just like Morpeko can change between two forms via its Hunger Switch ability, this omurice too is served with two different flavoured sauces.

Ingredients: Omurice, Demi Glace Sauce, Tomato Cream Sauce

If you've yet to visit the Pokémon Cafe in Japan be sure to put it on your list of things-to-do, and expect to enjoy a whole range of Pokémon-themed treats!

*All listed prices include tax

©2019 Pokémon. ©1995-2019 Nintendo/Creatures Inc./GAME FREAK inc.

Pokémon, ポケットモンスター and ポケモン are registered trademarks of Nintendo, Creatures Inc., and GAME FREAK inc..

Information

Pokémon Cafe (Nihombashi, Tokyo)
Address: Nihombashi Takashimaya SC East Bldg. 5F, 2-1-2 Nihombashi, Chuo Ward, Tokyo
Business Hours: 10:30-22:00
No Fixed Holidays (Except when Nihombashi Takashimaya SC is closed)
Reservations: https://www.pokemoncenter-online.com/cafe/reservation.html

Pokémon Cafe (Shinsaibashi, Osaka)
Address: Daimaru Shinsaibashi Honkan 9F, 1-7-1 Shinsaibashisuji, Chuo Ward, Osaka, Osaka Prefecture
Business Hours: 10:00-21:30
No Fixed Holidays (Except when Daimaru Shinsaibashi is closed)
Reservations: https://www.pokemoncenter-online.com/cafe/reservation.html

*Reservations available online only. Telephone reservations not available.

New Pokémon Anime Series 'Pocket Monsters' Opening Theme '1・2・3' Released Digitally

After the Rain, a collaborative duo formed by Mafumafu and Soraru, released their new song One, Two, Three (written as 1・2・3 in Japan) digitally on December 15, 2019.

The song is being used as the first opening theme song to the new Pokémon anime series Pocket Monsters. It was written by Mafumafu who worked on the lyrics, composed song, and arranged the music.

The two artists have a big online presence, with Mafumafu having over 850 million views on YouTube and 1.6 million followers on Twitter, and Soraru having over 180 million views and 1.4 million followers. They were chosen to perform the opening theme to create that sense of partnership, like Ash and Gou, Ash and Pikachu, or Gou and Scorbunny.

The song was released on Mafumafu's official YouTube channel and has amassed over 5.5 million views in less than a month.

The song is garnering huge attention from both After the Rain fans and Pokémon fans alike. Details on the CD release have yet to be announced, but it is now streaming on Spotify and Apple Music and is available to download on iTunes. Links below.

© Nintendo・Creatures・GAME FREAK・TV Tokyo・ShoPro・JR Kikaku © Pokémon