Mitama Hot Spring in Yamanashi Ranks in Japan's Top 100 Night Views & Registers as Night View Heritage
Located in the beautiful little town of Ichikawamisato in Yamanashi Prefecture is Mitama Hot Spring, a "day-trip" type hot spring, which has just received a double award: it has been listed as one of Japan's Top 100 night views for the first time, and as a Night View Heritage of Japan.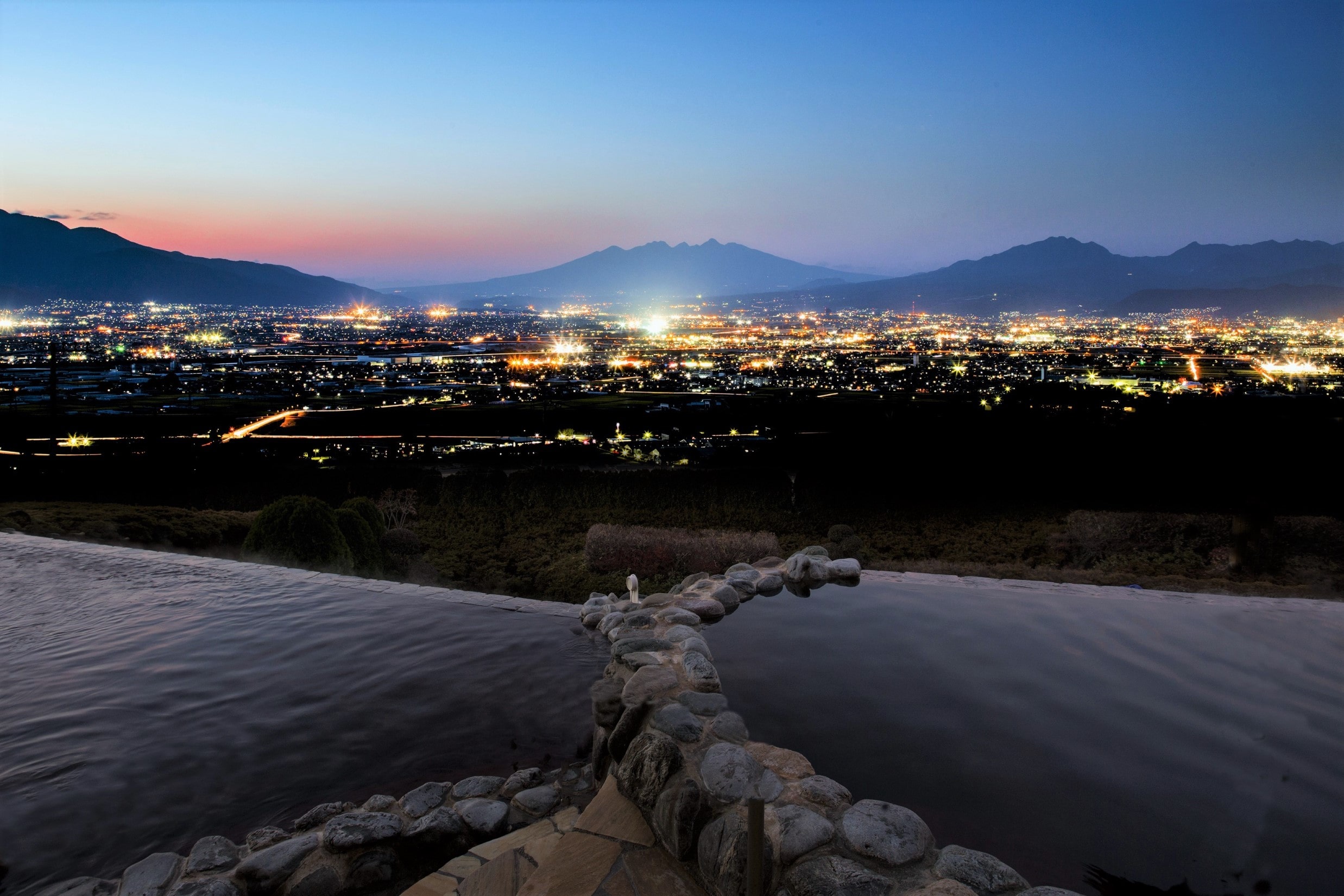 Mitama Hot Spring is built on the southern tip of the Kōfu Basin―Kōfu being Yamanashi's capital city-which can be viewed in a breathtaking 180 degree panoramic view from the northern side of the open-air baths. The majority of the hot spring also faces the south which means a breathtaking nighttime view of the city, picturesque against a resplendent sky, as you soak in the warm embrace of the hot spring.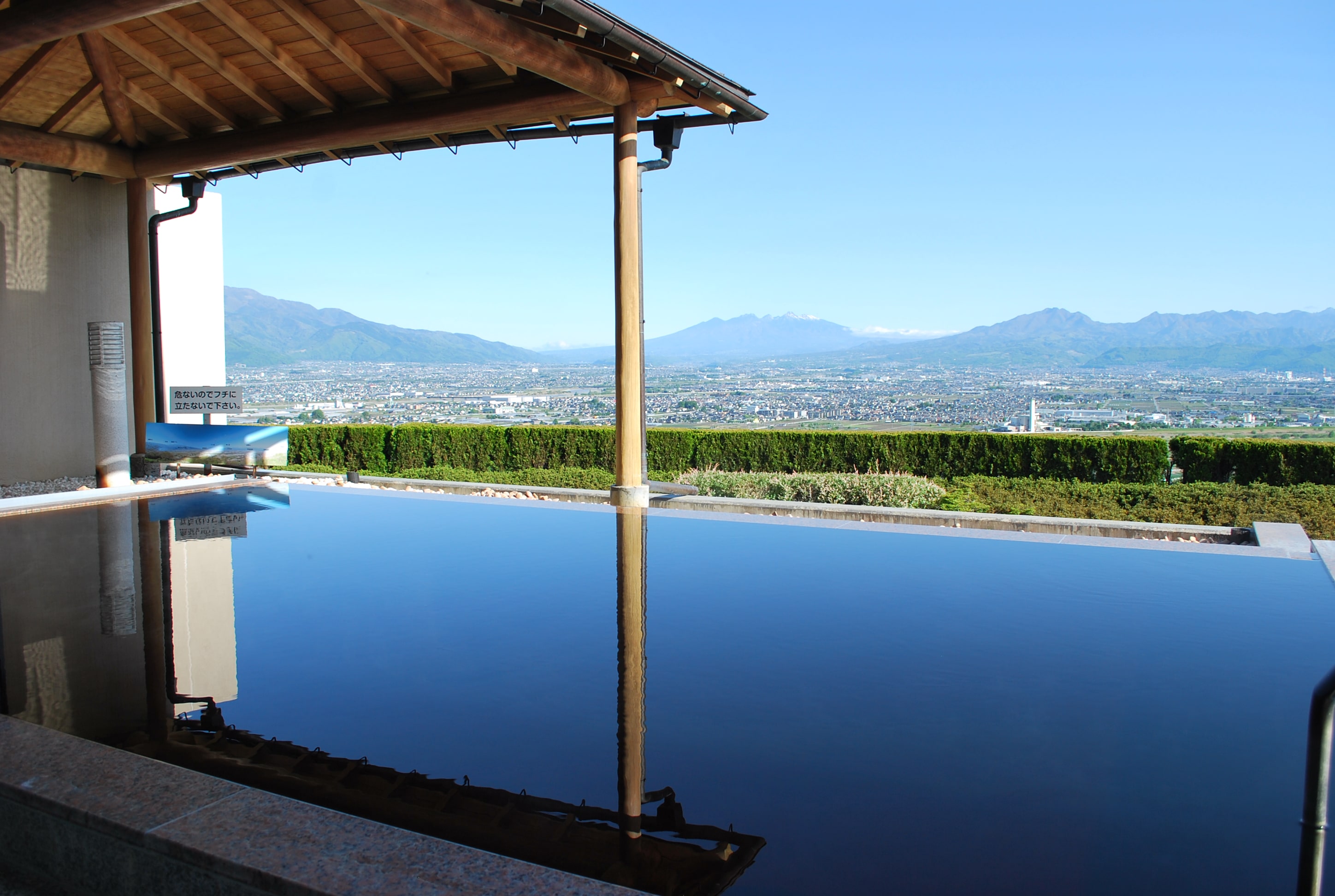 During the day, one's eyes can roll their gaze across the Yatsugatake Mountains at the front, and in the direction of west is Mount Kita, the second tallest mountain in Japan after Mount Fuji.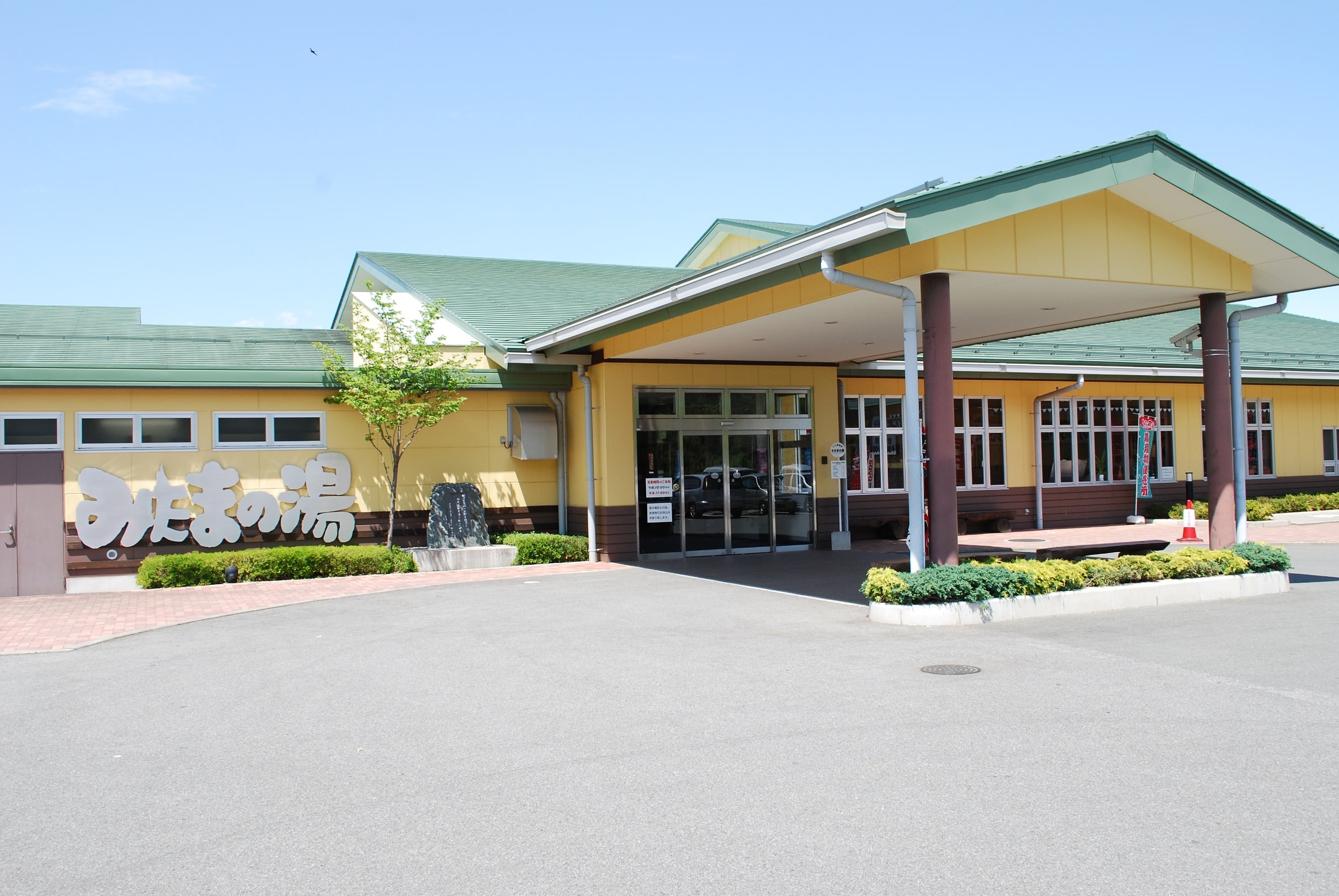 Mitama Hot Spring should absolutely be on your bucket list of things to do when visiting Yamanashi Prefecture.
Information
Mitama Hot Spring
Address: 2608 Ōtsuka, Ichikawamisato, Nishiyatsushiro District, Yamanashi Prefecture
Opening Hours: 10:00-23:00 (Last Entries 22:00)
*Closed around 5 days a year for inspection and maintenance
Price: General ¥700 / Elementary School Children ¥500 / Toddlers – Free
*General price set to increase to ¥780 this October
Official Website: http://www.mitamanoyu.jp/
RELATED ENTRIES
This Irresistible Tart is Made From Rare and Delicious Heart-Shaped Grapes

 Fruit tart specialist shop Qu'il fait bon will be selling a brand new kind of lovable tart which is made using a rare species of grape sourced from Yamanashi prefecture. The tart is currently selling at Grand Maison, Ginza and Hamamatsu. These will be available for a limited period only. 


The tart is covered with incredibly rare "My Heart" grapes, which were developed by the grape research institute Shimura Budou Kenkyusho. Growing and cultivating these grapes was no easy task and took an incredible amount of time. There was only a short window of time available to harvest the produce and even then the harvest was small, so stocking up was very difficult. Despite the challenges, these tongue-tantalizing tarts are being sold this year, however, they are in limited supply. 

Shine muscat grapes and loubell muscat grapes were crossbred to create this new kind of grape. The marvellous flavour of both parent grapes can be tasted. The new grapes have a high sugar content, a wonderful scent and the skin is wonderfully crunchy.  

Take a bite into the special Yamanashi Grape My Heart Tart and you will be filled with a sophisticated fruity flavour. The adorable heart-shaped grapes are layered perfectly on top of a bed of white wine custard. You just have to try this delicious and beautiful tart!

Kusatsu Onsen's Emerald Green Pudding is a Must-Try After a Dip in the Hot Springs

Kusatsu Onsen is a hot spring resort in Gunma Prefecture that is one of Japan's three principle hot spring locations. The site opened its new Japanese custard dessert (known as 'purin') shop, Kusatsu Onsen Pudding, on August 24, which serves the most incredibly smooth purin you have ever tried, each inspired by the hot springs.

Once you've stepped out of the nice warm hot springs of Kusatsu Onsen you can refresh yourself with a delicious purin packed full of love from the shop which has created a flavour you can only try by travelling to Gunma and going there. Each and every dessert is made fresh in the shop to further elevate its exclusivity as a local speciality.

Kusatsu Onsen Pudding also makes sure to use local and regional ingredients where it can to help support manufacturers and producers. Their purin is also made with a special type of milk sourced from in Gunma known as Haruna milk. The milk is made as delicious as can be by ensuring cows are raised on a healthy natural diet of grass on green pastures in Gunma bathed in plenty of sunlight.

Yuhata Purin

The Yuhata purin is inspired by the hot spring areas where mineral deposits are harvested, its jelly taking on a gorgeous emerald green colour. It's lemon and lime flavoured, the perfect flavour to enjoy when stepping out of the hot water, and one which goes surprisingly well with purin.

Yumomi Purin

The staple purin of the store, this purin is based on yumomi, a method used for cooling the hot water with paddles from which cold water gushes forth. This velvety delight is made with lots of fresh cream and high-quality vanilla beans from Madagascar for added punch.

Furomage

A pun on the word fromage, with furo in Japanese meaning "bath," the Furomage purin uses a rich cream cheese base which has a seriously smooth texture. It's topped off with strawberry jelly for the perfect combination, packing a perfect balance between sweet and sour.

Yuhata Soft (Milk/Yuhata/Mixed)

Choose from the Yuhata soft serve ice cream which is ramune flavoured and inspired by the flowing water of the hot springs or the Haruna milk-mixed vanilla flavoured Milk soft serve. If you can't pick, then choose mixed for a bit of both. A satisfyingly refreshing pick for when you're done in the hot springs.

The shop has plans to sell purin made using bamboo steamers in the near future, so you're pudding can be steamed like yourself after a dip in the water! The wooden spoons used to eat the desserts are also made in the image of the paddles used in yumomi too.

Stay in a Traditional Japanese Hotel in Kosuge Village Where the Population is Just 700

NIPPONIA Kosuge Genryū no Mura is a new hotel opening in the village of Kosuge in Kitatsuru District, Yamanashi Prefecture on August 17. The hotel is renovated from an old Japanese-style house that was originally used for local personages and was constructed over 150 years ago.

Kosuge is about two-hours from Tokyo and is completely enveloped in the natural environment with 95% of the land occupied by trees and nature. Its population is around 700 which is a mere third of its peak population. It is currently faced with a serious depopulation problem due to its ageing population.

The hotel will open in an effort to pass on the beautiful landscapes and culture of the village to the next generation. It hopes to aid in solving the problem of its declining population and empty houses while acting as a means to bring in tourism and sightseeing.

The hotel serves as just the first part of this village revitalisation project. It features 4 guest rooms called OHYA as a restaurant that seats 22.

There are three rooms in the main building and one in the basement. Each is designed with privacy in mind and each has its own concept.

OHYA 1

From the rooms guests can enjoy the view of the gorgeous Japanese-style gardens surrounding the hotel.

The restaurant menu concept is titled 24 Sekki, which denotes the twenty four seasonal turning points of the old Japanese calendar, and is made using carefully local ingredients so that guests can enjoy an authentic Kosuge experience.

All the staff at the hotel are local villagers. The majority of the ingredients used in there are grown and produced by the farmers of Kosuge. The hotel also offers other services for guests to  get to know the area better such as nature walks and bike rides through the village. You are made to feel like one of the locals.

A second building will be renovated in May 2020 to accommodate two more rooms. There are 70-100 vacant buildings in Kosuge, so there are plans in place to receive permission from landlords to make further repairs, improvements and renovations.

If you're travelling to Japan and are looking for a truly remote experience then why not visit the quaint little village of Kosuge in Yamanashi Prefecture?

Information

NIPPONIA Kosuge Genryū no Mura

Address: 3155-1 Kosuge, Kitatsuru District, Yamanashi Prefecture (In Japanese: 山梨県北都留郡小菅村3155-1)

Grand Opening: August 17, 2019

Rooms: 4 (10 People)

Price: From ¥25,000 per person (includes one breakfast)

Access:
①Approximately 2 hours by car from Tokyo.
②1 hour by bus from Ōtsuki Station via the JR Chūō Main Line, 70-minutes by car from Oume Interchange
③1 hour by bus from Okutama Station via the Ōme Line, 20-minutes by car from Lake Okutama

TEL: 042-887-9210

Reservations: Open from August 1, 2019 via the following website: https://www.ikyu.com/vacation/00050804/

The New Kaga Onsen Hot Spring Town-Inspired Purin Shop Kaga no Yu Purin

Kaga no Yu Purin is a new shop specialising in Japanese custard puddings, known in Japanese as 'purin,' that is inspired by Kaga Onsen―a collection of hot spring towns in Ishikawa Prefecture. It will open on June 29.

The shop encourages people to experience Kaga Onsen's ancient hot spring culture while enjoying their desserts made with fresh ingredients from Kaga such as milk and eggs. The shop itself too has that Japanese hot spring atmosphere to it.

One of their standout purin is the Awa Purin (Bubble Pudding), the first purin in Japan to be inspired by the bubbles of hot springs. Not only is its appearance bubbly, the texture is too so it just melts on your tongue. Other purin flavours include strawberry, which are made with local strawberries, Kaga-bocha tea, and pumpkin.

If you're passing through the hot spring region of Kaga Onsen then be sure to treat yourself to one of these special purin.

Information

Kaga no Yu Purin

Address: 1-55 Kosuganamimachi, Kaga, Ishikawa Prefecture

Business Hours: Weekdays 10:00-16:00 / Weekends & Holidays 10:00-17:00

Access: 1-minute on foot from Kagaonsen Station

Official Website: https://kaganoyupudding.com/

Goldfish Art Exhibition Begins at Ooedo-Onsen Monogatari in Tokyo Odaiba

Onsen theme park Ooedo-Onsen Monogatari in Odaiba, Tokyo launched its biggest event of the year Kingyo Matsuri Art Exhibition on June 24. The festival feature a range of exciting exhibits including Japan's biggest terrarium developed by aquarium creator Masanori Miyazawa.

Aquarium ①: Japan's biggest Japanese-style Terrarium

A terrarium is a sealable glass container inside which soil is placed to grow plants. Aquarium creator Masanori Miyazawa, who goes by the artist name GA☆KYO, has built Japan's biggest Japanese-style terrarium which represents the change from the old generation into the new. Standing at 5-meters tall and stretching 1.5-meters wide, the terrarium makes use of bonsai, moss and driftwood.

Aquarium ②: Yukata x Aquarium x Photo Spot

Inspired by the ladies of Edo Castle, beautiful cylindrical fish tanks with kimonos wrapped around them act as a great photo opportunity together with the goldfishes.

Aquarium ③: Meet the 1 Million Yen Ryukin Goldfish

This innovative art installation pairs the Ryukin, a type of Japanese goldfish that has been sold in long-standing fish shops for more than 200 years, with onigawara decorative tiles that have been used to ward off spirits since ancient times, bonsai and more. Also in the exhibit is the "Pre-Edo Goldfish Tearoom" and "Large Round Fish Tanks."

Summer Festival Drinks & Desserts

From Left: Blue Goldfish Shaved Ice: ¥550 @ Kuranoe / Goldfish Blue Hawaii Soda: ¥580 @ Yumeakari / Blue Mojito: ¥850 @ Ooedo Cafe

Feel the festive spirit with these summery drinks and desserts.

Goldfish Goodies

The souvenir store Ryokokuya is selling a range of goldfish themed merchandise perfect as gifts and souvenirs or for taking on summer trips with you.

RAKU SPA 1010 is a new spa located in Kanda, Tokyo that had its grand opening on March 1, 2019. With its concept of "an oasis in the city," the bath house perfectly balances relaxation, work and social interaction.

Reisei Otsumami (Cold Light Meals): ¥480 (Before Tax)

The facility also serves light food and refreshments. And as part of the grand opening, the first 5,000 people to use the bath house will receive an original RAKU SPA 1010 towel with the facility's logo on it.

There are 3 different spa plans on offer at RAKU SPA. This includes a 10-hour option which allows full use of the facility, a 3-hour option for use of the bath house, and a sauna option. Each plan offers long stay periods which can be utilised in many ways whether to simply use the sento or sauna or to make use of the co-working space, eat at the pub and diner, and so on.

Enjoy a long and luxurious sojourn at RAKU SPA 1010.

Information

RAKU SPA 1010 Kanda

Address: 2-9-9 Kanda Awajichō, Chiyoda Ward, Tokyo

Opening Hours: 11:00am-8:00am (the following day)

Grand Opening: March 1, 2019

TEL: 03-5207-2683

Prices (Tax Included)

・RAKU SPA Course (10 Hours): ¥1,460

・Sauna Course (3 Hours): ¥890

・Sento Course (3 Hours): General ¥460 / Children ¥180 / Infants ¥80

*General: 12+ years / Children: 6-12 years / Infants: 6 years and below

Official Website: http://rakuspa.com/kanda/

Hot Spring Theme Park Solaniwa Onsen Osaka Bay Tower to Open in 2019

The Kansai region's biggest hot spring style theme park Solaniwa Onsen, spanning 16,500m², is set open on floors 2 to 5 at Osaka Bay Tower North on February 26, 2019.

Osaka Resort City 200 (ORC 200) changed its name to Osaka Bay Tower on March 27, 2018. Following that, Hotel Osaka Bay Tower―which welcomes all guests from business people to families―underwent a re-branding and re-opened on March 29. The tower is now set to expand its facilities even further with the grand opening of Solaniwa Onsen.

The hot spring theme park is themed on "Beauty, Healing, Taste." It will be decked out with natural hot springs, stone saunas, relaxation facilities, restaurants, stores and more. Based on the concept of the Azuchi–Momoyama period of Japanese history, the park fuses traditional Japan with the modern to offer a unique and exceptional experience.

The area in which the park is being set up is where an already hugely popular theme park is based. A world fair is set to take place there in 2025 which will bring more international attention to the Osaka Bay area.

There will be many types of bathing experiences on offer at Solaniwa Onsen such as a natural hot spring with low alkalinity for beautiful skin, an open-air bath with the water source running into it, a bath that overlooks an immense Japanese-style garden, a bath with carbonic acid water, another that changes daily, and more. There are also baths that can be booked for 2-5 people for a more private bathe.

The female locker room at the park is home to Japan's biggest powder room which spans close to 100m². There they have a range of beauty equipment, cosmetic rental services and more. The menu includes a combination of traditional food crafted by Tsubouchi Sekisai―who is said to have been a chef to Oda Nobunaga―and modern cuisine.

Step back into the Azuchi–Momoyama period at Solaniwa Onsen.

Information

Solaniwa Onsen Osaka Bay Tower
Address: 1-2-3 Benten, Minato Ward, Osaka, Osaka Prefecture
Grand Opening: February 26, 2019
Opening Hours: 11:00am-9:00am (next day)
Price: Weekday ¥2,400 / Weekends & Holidays ¥2,600 / Special Day ¥2,800
Access: The closest station is Bentenchō Station which is connected to the Osaka Loop Line and Osaka Metro Chūō Line. You can also access the station by boarding the Rapid train on the JR Line at Kansai Airport Station (ETA: 60-minutes).

Official Website: http://www.solaniwa.com

Mount Fuji Pancakes Made in Lava Furnace Now Available in Yamanashi Prefecture

These 'Mount Fuji Pancakes' are cooked in lava furnaces at Mount Fuji. They're being sold at The Noborisaka Hotel.

Mount Fuji Pancakes

Price: ¥980 (Tax Included)

Cooking the pancakes in a lava furnace causes the molecules to vibrate due to the far infrared effect. This means it cooks at a high temperature in a short period of time. Because of this, the necessary moisture ceases to evaporate, resulting in a soft, fluffy and deliciously cooked pancake. They're made with mascarpone which leaves a refreshing taste in your mouth

Strawberry Chocolate Fondue Pancake

Price: ¥1,880 (Tax Included)

Mount Fuji European Style Curry (only 30 served per day)

Price: ¥1,280 (Tax Included)

There's other dishes cooked in the furnaces too including pizza, steak and fried vegetables. It's different from cooking in an ordinary furnace. The surface doesn't burn but the heat, juices and flavour remain inside.

Try this ultimate Mount Fuji meal for yourself.

■Information

Mount Fuji Pancake

Opening Hours: 10:00am-9:00pm (Last Orders 8:00pm)

Address: The Norisaka Hotel 1F (6832 Funatsu, Fujikawaguchiko-machi, Minamitsuru-gun, Yamanashi Prefecture)

TEL: 0555-28-5310

Website: http://hotel-noborisaka.jp

Fujiyama Onsen: The Hot Spring Facility With a Mount Fuji View Undergoes Renovation

Fujiyama Onsen is currently undergoing renovation and will reopen on July 14. Located in Yamanashi Prefecture, the site sits at the foot of Mount Fuji.

The facility is being fitted with a new stone sauna where you can have a clear view of Mount Fuji. There's also a new hammock resting spot as well as hot yoga classes amongst other things. All of these changes transform Fujiyama Onsen from a simple natural hot spring site into a full-day experience.

The fourth and highest floor now has a relaxation area with a picturesque view. There's also other stone saunas in a quiet area with the lights dimmed for winding down, as well as break rooms called 'hot rooms.'

Hot rooms are equipped with heated flooring and there's a reading corner with manga and magazines as well as cushions. Everyone is free to move between the sauna area and hot rooms.

*A separate fee of ¥600 is charged for use of the stone sauna area and hot room space.

The third floor resting area has rooms with tatami flooring and a wide view of Mount Fuji as well as hammocks and a kid's room. There are 6 hammocks – three chair types and three for laying down.

The menu of the site's restaurant, Fujiyama Dining, has also been updated. You can look forward to specially made Yamanashi Prefecture chicken and lots of locally source ingredients as well as beer.

Hot Yoga classes begin from July 21. By exercising at high temperatures, you'll be able to stretch your muscles much easier as well as get rid of any waste in your body. It's also good for dieting and your skin.

Gaze at Mount Fuji while having a relaxing time at Fujiyama Onsen.

■Information
Fujiyama Onsen

Address: 4-17-1 Shinnishihara, Fujiyoshida, Yamanashi Prefecture

Business Hours

・Morning Bath: 7:00am-9:00am

・Regular Bath: 10:00am-11:00pm

・Restaurant: 11:30am-10:30pm (Last Orders 10:00pm)

Price

・Morning Bath: Adults ¥620 / Children ¥310

・Regular Bath: Adults – Weekdays ¥1,400 / Weekends & Holidays ¥1,700

Children – Weekdays ¥700 / Weekends & Holidays – ¥850¥1,700

*Price includes entry fee, bath towel and face towel rental.

*Weekday prices to adopt weekend and holiday prices during the summer season.

*Includes stone sauna yukata and dry towel rental.

TEL: 0555-22-1126

Hotel Nampuro in Nagasaki Introduces an Infinity Pool Overlooking the Ariake Sea

Hotel Nampuro is located in Shimabara Onsen in Nagasaki Prefecture and has been around for 110 years. The hotel recently held the grand opening two infinity pools. One gives an unbroken view of the Ariake Sea and the other a lush garden.

The concept behind the pools is to get people closer to Shimabara's natural environment. Guests can enjoy feeling the sea breeze from ideal locations close amongst Shimabara's abundance of lush greenery and the Ariake Sea while offering an exquisite resort experience you can't get in the city.

The unique design of the open-air infinity pool makes it seem as if it flows into the sea itself. There's also an observation deck next to the pool too where people can gaze across the gorgeous waters.

The location also makes for a great power and energy spot as one can see the morning sun rise from Kumamoto across the shore. Guests can enjoy the sight in the morning, daytime and nighttime.

The other infinity pool is built by the garden restaurant deck terrace and blends in with the surrounding nature. Beyond the horizon lies Shimabara's waters, sky and nature which becomes one with the edge of the pool. The sky and trees also reflect on the surface of the water, making it feel like you're floating on top of a cloud in the sky.

The pool is around 50cm deep so children can enjoy themselves too. There are also jets fitted on the sides of the pool.

The poolside wooden deck is fitted with tables and sofas to enhance that resort feel. They also serve breakfast and there's a BBQ too.

Guests can look forward to the 300+ trees in the garden being lit up in a magical and mystical performance, giving the air a touch of romance. It offers an experience like no other as you're wrapped in a forest of lights under a starry sky.

Consider Hotel Nampuro if your trip to Japan is taking you to Nagasaki Prefecture.

"Mount Fuji Curry" Arrives at Lava Cafe in Fujisan World Heritage Center

The Lava Cafe, located in the north block of the Fujisan World Heritage Center in Yamanashi Prefecture, has introduced the new Mt. Fuji Curry to its menu.

The blue coloured curry dish is made to look just like Mount Fuji while the pickles represent the surrounding forest at the base of the mountain Aokigahara, also known as the 'Sea of Trees.' This Instagrammable meal is aimed at both Japanese and foreign tourists.

There have been many curry dishes on the market with rice formed in the shape of Mount Fuji, but this dish not only maintains the shape, but the colouring too. It took them over half a year to perfect the dish.

The cafe will also begin serving a 'mega size' version of the blue curry from June 22 to bring it closer to the size of Mount Fuji. They also plan to release a spicy red version in autumn to bring to life the scene when Mount Fuji appears red when the sun's rays shine over it. Make sure you don't miss out on this one either.

Head to the Lava Cafe to try eating this stunning curry that you can't get anywhere else!

■Information

Lava Cafe

Address: Fujisan World Heritage Center North Block 2F, 6663-1 Funatsu, Fujikawaguchiko-machi, Minamitsuru-gun, Yamanashi Prefecture

Opening Hours: 09:30-16:30 (Last Orders 16:00)

No Fixed Holidays.

TEL: 0555-72-0259

Information: https://tabelog.com/yamanashi/A1903/A190301/19009495/

Mt. Fuji Curry

Price: ¥1,000 (Tax-Included)

*There is also a Halal option.

Free Entry to Fuji-Q Highland from July!

Fuji-Q Highland is one of Japan's most popular theme parks, and from mid-July this year, you'll be able to enter for free.


The decision to open the park to free entry was made to bolster the fantastic tourism of Mount Fuji together with the many things available to do around Fuji Five Lakes. As it is now, the park, together with the other surrounding sightseeing spots, is a place people only spend a little time at, but by making it free to enter, they hope to increase the way people enjoy themselves.


Fuji-Q Highland plans to introduce more popular schemes and hold collaborative events, as well as events in line with the seasons. They also hope to proactively spread their global chain brand power and attract people to local specialities and famous products. By doing all of this, they aim to develop the area around Mount Fuji to increase tourism in the future.

Look forward to the continued development of the park and what they have planned as they build it into a place that people can enjoy going visiting to enjoy the things they like when they like.