Mitama Hot Spring in Yamanashi Ranks in Japan's Top 100 Night Views & Registers as Night View Heritage
Located in the beautiful little town of Ichikawamisato in Yamanashi Prefecture is Mitama Hot Spring, a "day-trip" type hot spring, which has just received a double award: it has been listed as one of Japan's Top 100 night views for the first time, and as a Night View Heritage of Japan.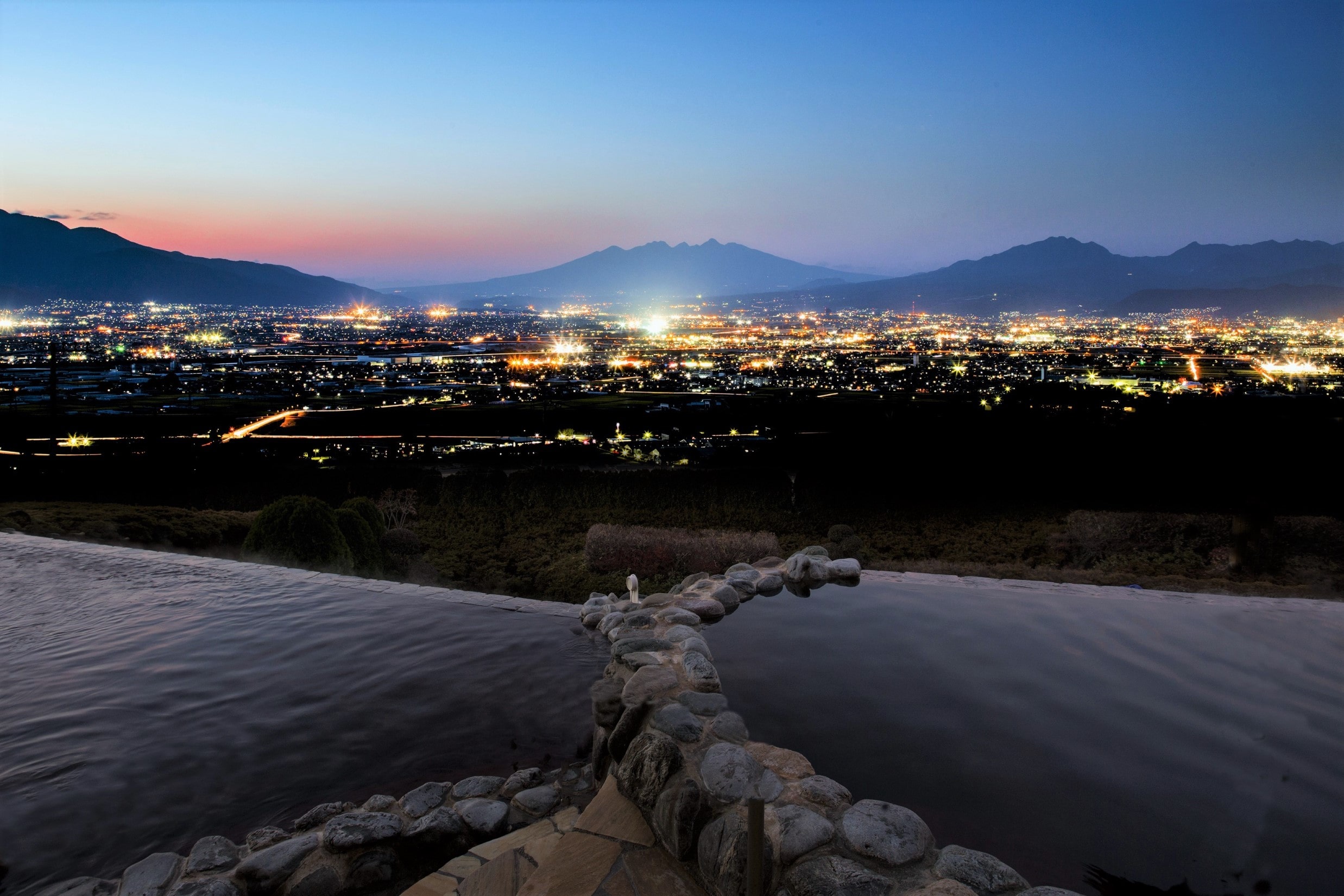 Mitama Hot Spring is built on the southern tip of the Kōfu Basin―Kōfu being Yamanashi's capital city-which can be viewed in a breathtaking 180 degree panoramic view from the northern side of the open-air baths. The majority of the hot spring also faces the south which means a breathtaking nighttime view of the city, picturesque against a resplendent sky, as you soak in the warm embrace of the hot spring.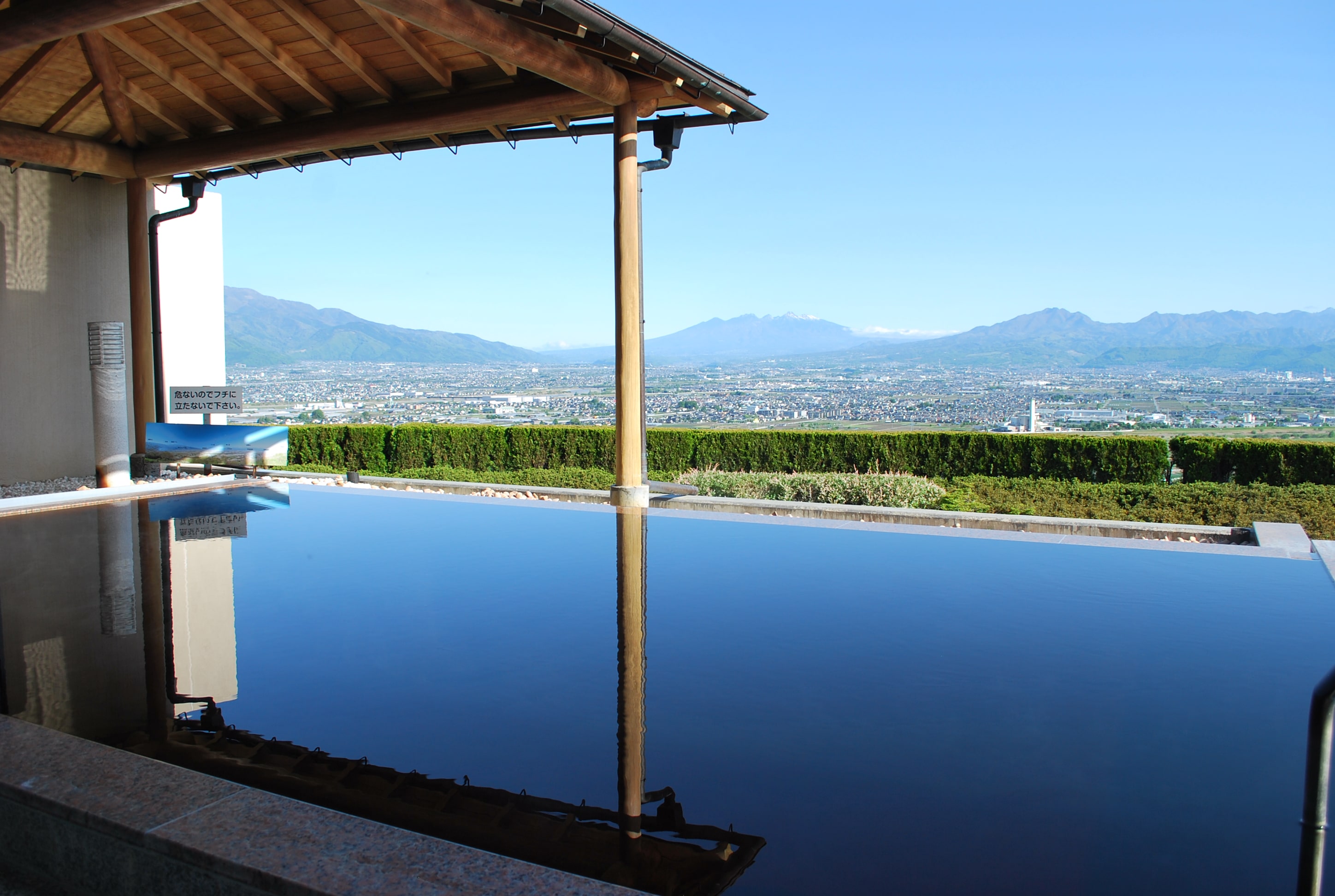 During the day, one's eyes can roll their gaze across the Yatsugatake Mountains at the front, and in the direction of west is Mount Kita, the second tallest mountain in Japan after Mount Fuji.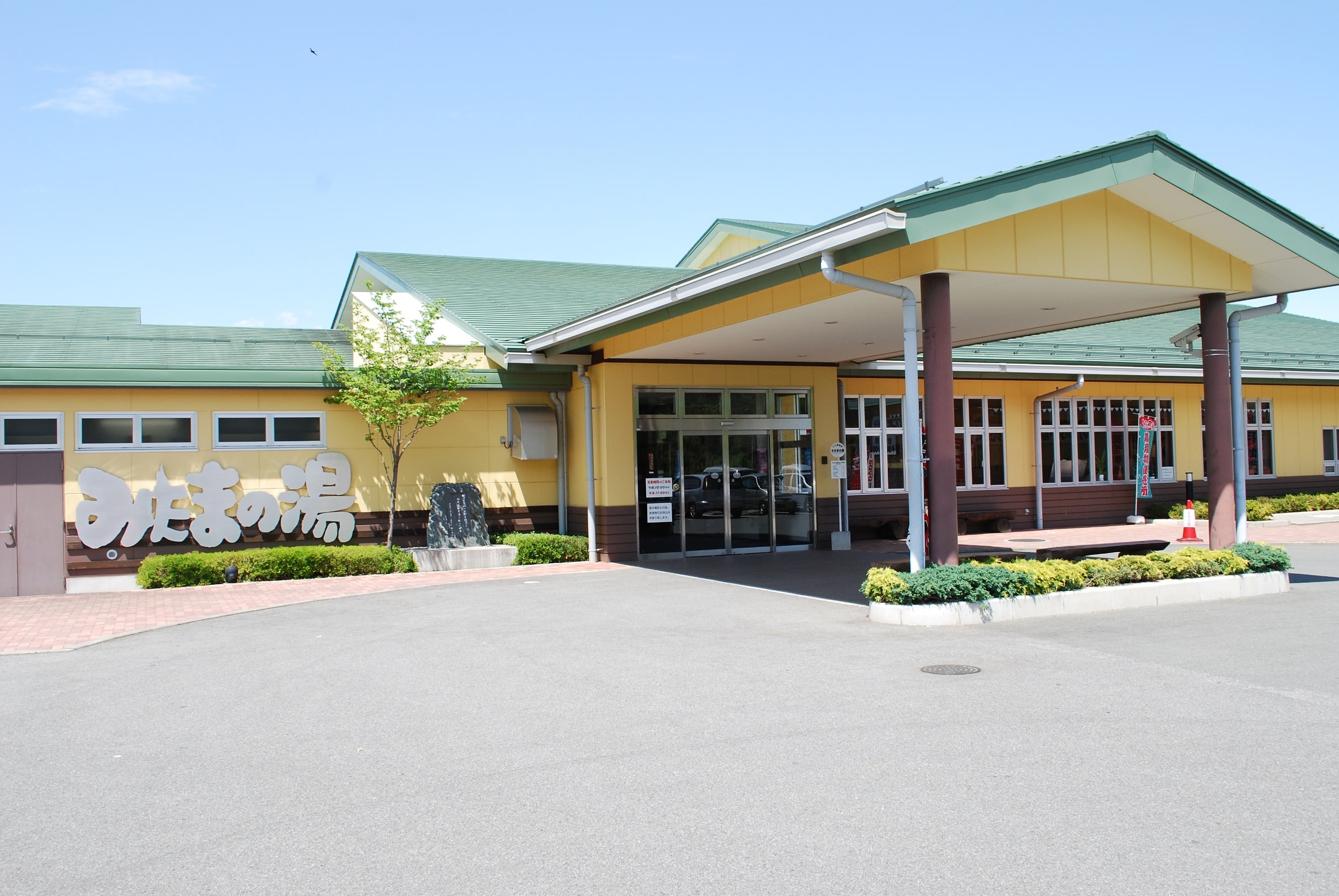 Mitama Hot Spring should absolutely be on your bucket list of things to do when visiting Yamanashi Prefecture.
Information
Mitama Hot Spring
Address: 2608 Ōtsuka, Ichikawamisato, Nishiyatsushiro District, Yamanashi Prefecture
Opening Hours: 10:00-23:00 (Last Entries 22:00)
*Closed around 5 days a year for inspection and maintenance
Price: General ¥700 / Elementary School Children ¥500 / Toddlers – Free
*General price set to increase to ¥780 this October
Official Website: http://www.mitamanoyu.jp/
RELATED ENTRIES
Nakamura Keith Haring Collection Holds 15th Anniversary Exhibition, 'Chaos and Hope'

The Nakamura Keith Haring Collection in Yamanashi Prefecture will be holding a celebratory exhibition in honor of the location's 15th anniversary from May 14, 2022 until May 7, 2023.

In April 2007, the Nakamura Keith Haring Collection opened in Kobuchisawa, located at the foot of Mt. Yatsugatake. The only museum in the world dedicated entirely to New York-based artist Keith Haring, Kazuo Nakamura collected the works and acts as the director of the museum. Over 300 works of art are on display along with 500 other pieces, from photographs and videos to merchandise. The new exhibition features approximately 150 works.

Three Lithographs (People Ladder), 1985

Icons (Radiant Baby), 1990

Untitled, 1984

Untitled, 1988

Untitled (Subway Drawing), 1981-1983

The 'Chaos and Hope' exhibition was originally held during the museum's first year of operation and looks back at Haring's first experiences in New York City in 1978. The artist was present at the dawn of the hip-hop movement and was struck by the clash between typical white art and underground minority artists. In only five years, Haring rose to stardom. Sadly, while traveling the world, he contracted AIDS, passing away at the age of 31. Behind the bright and cheerful artwork he left behind, he hid his inner suffering and desire for hope and freedom.

All Keith Haring Artwork ©Keith Haring Foundation
Courtesy of Nakamura Keith Haring Collection.

Information

Nakamura Keith Haring Collection 15th Anniversary: Chaos and Hope

Venue: Nakamura Keith Haring Collection

Running: May 14, 2022 – May 7, 2023

Official Site: https://www.nakamura-haring.com

Yunohana Onsen Resort Reveals Contemporary Art-Inspired Guest Rooms

Sumiya Kihoan, a cozy inn at Yunohana Onsen in Kameoka City in Kyoto, opened a unique new guest room on April 28, 2022. The room's concept is "where guests can stay in the middle of contemporary art," and was inspired by the works of internationally-acclaimed contemporary artist Yukinori Yanagi. The new room, created as part of the Art Room Project, has been named 'Kofuu.'

The Icarus Corridor Connecting Heaven and Earth

Heavenly Bath Welcoming a Rainbow at Dusk

In-Ground Bath Featuring Oribe Glazed Ceramic

Concept Drawing of the Art Room Project by Yukinori Yanagi


The new room includes an open-air bath where guests can be transported into the world of Yanagi's contemporary art while gazing at the gorgeous Kyoto landscape. Upon entering the inn, guests are greeted by a long corridor leading to the bedrooms, dining room, and two creative open-air baths. The space was created in collaboration with Yanagi and local artists and craftsmen, such as potter Ishii Naoto, obi craftsman Yamaguchi Genbei X, plasterer Kusumi Akira, and Japanese paper craftsman Hatano Wakaru. A delicious menu is prepared by chef Hosoi Kunihiko.

Peter Rabbit's English Garden Opens at Fuji Motosuko Resort

Peter Rabbit's English Garden, one of the largest English-style gardens in the Tokyo metropolitan area, will open at Fuji Motosuko Resort on April 16, 2022.

Known for the Fuji Shibazakura Festival, an annual springtime cherry blossom event, Peter Rabbit's Garden is opening at the resort at the perfect time. The garden will include over 300 varieties of plants, trees, and flowers, and visitors can enjoy a photogenic stroll with popular characters. An on-site cafe will offer a lineup of original items inspired by Beatrix Potter's classic books, including a colorful afternoon tea set and 'Flowery Latte' with petals scattered on top. 'Mr. McGregor's Vegetable Garden Salad' is also a light dish perfect for spring.

Cafe Menu

Take Out Menu

Cafe


Original Merchandise

Photo Spot

Shop & Gallery

Original Sticker

Guests can also enjoy a gallery highlighting moments from the Peter Rabbit picture books, from The Tale of Squirrel Nutkin to The Tale of Mr. Jeremy Fisher, both translated by novelist and poet Mieko Kawakami. The shop will offer original merchandise only available at Fuji Motosuko Resort, including keychains, sweets, and coffee cups. There's something for adults and children alike, so fans of Peter Rabbit won't want to miss it!

To commemorate the opening of the garden, a bus decorated with Peter Rabbit and friends will be in operation from April 4 until April 16. This passenger bus will bring visitors from Shinjuku, Yokohama, Shizuoka, and other locations, and those riding will get a special sticker as a bonus.

Come enjoy some time outdoors with Peter this spring!

BEATRIX POTTER(TM) & (C) Frederick Warne & Co.,2022

Information

Peter Rabbit's English Garden at Fuji Motosuko Resort

Opening April 16, 2022

Address: 212 Fujigane, Fujikawaguchiko, Minamitsuru, Yamanashi

The Ryokan Tokyo Yugawara Opens in Kanagawa Prefecture, Features Hot Spring Bath Cafe

The Ryokan Tokyo Yugawara, a traditional-style Japanese inn and hot spring located in Kanagawa Prefecture, will open on March 18, 2022. The hot springs in the area have a storied history, appearing in the oldest collection of Japanese poems from the year 759 AD and loved by great writers such as Natsume Souseki and Ryunosuke Akutagawa. There is also a cafe inviting visitors to enjoy delicious meals as they relax in the springs.

Onsen Dojo operates and plans hot spring facilities, including the 'Ofuro Cafe' brand, resort facilities, and more. The company also provides support for local business investments. 

Wakura Onsen in Ishikawa Prefecture to Hold Special Illumination, Luxurious Tea Time

The Wakura Onsen Tourist Association is sponsoring a new project to illuminate Seirinji Temple, a nationally registered cultural property. Along with this light show, guests can enjoy a luxurious tea time starting on January 8, 2022. This year, the pavilion and garden will be lit up again, and the entrance will be decorated with traditional local paper lanterns. 

The historic property was built in 1909 as a resting place for Emperor Taisho. Only two such buildings exist in Japan: one in Hamada City, Shimane Prefecture, and the other at Wakura Onsen. Both were registered as Tangible Cultural Properties of Japan in 2017. 

 

Last year, the area was photographed for posters and pamphlets as part of the 'Japanese Beauty Hokuriku' campaign organized by JR East, JR West, and the Central JR Railway.

Each Saturday evening through February 26, guests will be invited to enjoy a different kind of atmosphere while enjoying a very fancy tea time. The program has been very well received by visitors, so it shouldn't be missed!


The light-up of the temple and garden, with its slowly changing colors, will transport guests to another world. The entrance to Seirinji Temple will be redecorated and lit up, and a pathway of lights will be created from the gate to the entrance of the pavilion using paper lanterns.

Information

Seirinji Temple Illuminations & Luxury Tea Time

Running: Saturdays from January 8 – February 26, 2022 

First Seating: 17:00  

Second Seating: 18:00

Address: Seirinji Temple, Wakura Onsen (61 Wakuramachi, Nanao, Ishikawa)

*Available for guests of Wakura Onsen

Official Site: https://www.wakura.or.jp

Socially Distanced NAKED Night Walk Art Project to Open in Kaga, Ishikawa

The COVID-19 pandemic has impacted how many people live their lives, with fewer and fewer people venturing outdoors. Now, Japanese creative company NAKED has announced a Night Walk at the picturesque Katayamazu Hot Springs in Kaga, Ishikawa. While practicing social distancing, visitors can explore an illuminated wonderland from December 17, 2021, until January 16, 2022. 

Lights of the Dragon God: Ukimidou

Sunny Spot Baths: Katayamazu Hot Springs Sunahase Park, Aiai Plaza

NAKED Distanced Lanterns: Katayamazu Hot Springs Sunahase Park, Aiai Plaza

NAKED Flower Cleansing: Katayamazu Hot Springs Sunahase Park, Aiai Plaza

The Halo of Life: Aizenji Temple

Crystal-Dyed Paper Lanterns: Aizenji Temple

Guests will be invited to explore the grounds while carrying a NAKED Distanced Lantern–both an art piece, and a way to illuminate your steps. With safety in mind, there will be plenty of space between visitors, so people can enjoy the event with peace of mind. 

The location for the event, Katayamazu Onsen, was recently a runner-up in the Onsen General Election 2018 spectacular scenery category. Surrounded by crystal blue waters and with a beautiful view of Mt. Haku, the location will have guests feeling completely calm by the time their visit comes to an end. 

Information

NAKED Night Walk -Katayamazu Hot Springs-

Running: December 17, 2021 – January 16, 2022

Hours: 17:00-22:00

Address: Katayamazu Hot Springs (Sunahase Park, Aiai Plaza, Yonomoto Park, Aizenji Temple)

Admission: Free

Official Site: https://yoru-sanpo.naked.works/katayamazu/

Gorgeous Project Mapping Event Coming to Yamashiro Onsen in Kaga, Ishikawa

DMM.com will sponsor a projection mapping project titled Yamashiro Night Promenade Fall 2021 on Yamashiro Onsen Street in Kaga, Ishikawa prefecture from October 30 until November 28, 2021. 

The limited-time project is being organized by the Yamashiro Onsen Tourist Association with support from DMM. Under the themes of harmony and local tradition, brilliant images of flowers, water, and geometric patterns will illuminate the hot spring resort while accompanied by music. There will also be traditional Taiko performances during the event. 

Information

Yamashiro Night Promenade Fall 2021

Running: October 30 – November 28, 2021

Hours: 20:20-21:20 (Canceled for rain) 

Address: Yamashiro Onsen Street in front of Hatori Ryokan (17 Onsen-dori, Yamashiro Onsen, Kaga City, Ishikawa) 

Official Site: https://sousei.dmm.com/

Solo One-Day Hot Spring Plan Offers Complete Relaxation and Rejuvenation in Karuizawa

Karuizawa Hoshino Area, a place known for bringing nature and culture lovers together, will be offering a new one-day hot spring spa plan from November 4, 2021, until March 19, 2022. This is the perfect way to unwind from the stresses of the past year while getting away from crowds and responsibilities. Because it's only one day, it's perfect for those who can't take a long vacation, but who are still desperate for some relaxation! The package will include access to hot spring baths, body care, a choice of lunch and drinks, and plenty of skincare amenities.

Tonbo-no-Yu Hot Spring, open since the Taisho era, will serve as the main location for the getaway. The springs themselves are bicarbonate and chloride springs with soft and thick waters in which to achieve the perfect soak and detox. Getting out of the water will leave a veil of salt on your skin, moisturizing it and cleansing every inch of your body. The open-air bath is surrounded by trees, while the indoor baths offer excellent views through oversized windows. 

Five Luxuries to Enjoy on the One-Day Getaway

[Power Up] Proper Bathing Instructions for the Best Hot Springs Experience

For those looking to maximize their hot spring experience, a comprehensive bathing guide will be provided to all guests, including breathing exercises and techniques for a great facial massage. The plan includes rental towers, and guests can feel free to enter the springs as many times as they like. At the reception desk, guests will also be given a bottle of Apple Vinegar Water to help them stay properly hydrated while soaking. 

[New] Gentle Skin Care while Relaxing in the Spring

Those participating in the one-day plan will be given OSAJI amenities to use during their stay. The brand is made up of safe and organic products approved by dermatologists, to be applied before and after bathing. 

[Power Up] Improve Gut Health with Healthy Beverages

When guests get out of the bath, a warm brown rice amazake will be waiting, shown to improve the intestinal environment and boost natural immunity. By using brown rice, the drink contains larger amounts of Vitamin E and dietary fiber than traditional amazake. This tasty drink will be served at Cafe Hungry Spot, adjacent to the springs. 

Relieve Stiff Joints with Attentive Body Care

At Tokoyo, located within the Harunire Terrace in the Karuizawa Hoshino Area, guests will get a 30-minute body care treatment with their choice of foot massage or shoulder and neck massage. Unwind and let go of all of your stress. 

Choose From Six Different Restaurants for Lunch

For lunch, six restaurants in the Hoshino area are at your beck and call, from Japanese cuisine to Italian. There's no need to make reservations in advance; choose what you're craving the day of, and don't stress! 

Information

Solo One-Day Hot Spring Spa Plan

Running: November 4, 2021 – March 19, 2022 (Excluding Dec. 29 – Jan. 3 and Jan. 11 – 20)

Reservations: https://www.hoshino-area.jp (Reservations required by 18:00 the day before) 

Location: Tonbo-no-Yu, Karuizawa, Nagano

Kansai Yamamoto's Nippon Genki Project 2021's Mount Fuji Runway to be Featured On YouTube

The Nippon Genki Project will be held again this year and it will be available to watch on the event's official website and on YouTube. The event was created by the late Japanese fashion designer Kansai Yamamoto as a way to get people energised and motivated to realise their dreams.

Past Nippon Genki Project events

Nippon Genki Project 2015 Super Energy!! at the Museum of Contemporary Art Tokyo

Nippon Genki Project 2016 Super Energy!! at Yoyogi National Stadium

Nippon Genki Project 2017 Super Energy!! at Roppongi Hills Arena

Nippon Genki Project 2018 Super Energy!! at Roppongi Hills Arena

Nippon Genki Project 2019 Super Energy!! at Roppongi Hills Arena

Nippon Genki Project 2020 Super Energy!! Online

The theme of this year's event is 'World Heritage Runway.' The event will be recorded in Fujiyoshida, Yamanashi, at the foot of the World Heritage Site of Mt. Fuji. The footage will be released as a fashion film on August 21. Designers from across Japan have created a variety of looks for the event, and pieces by fashion schools, fashion universities both in Japan and overseas, and more will also be showcased.

Information

Nippon Genki Project 2021 World Heritage Runway at Mt. Fuji
Online Release Dates

Fashion Movie: August 21, 2021 @ 20:00 (JST)

Documentary: August 28, 2021 @ 20:00 (JST)

Price: Free

Available: Nippon Genki Project Website / YouTube

Official Website: www.kansai-inc.co.jp/ngp2021/

*More details to be released in mid-August

Satoyama Jujo THE HOUSE IZUMI: Rent Out a Renovated Japanese House in Niigata

Japanese design company Jiyujin launched its new Satoyama Jujo THE HOUSE chain of accommodations this month which offer a single group of guests a one-night stay in an entire house.

The first branch to open is IZUMI which features a fully-renovated Japanese-style house located in the city of Uonuma in Niigata. A gorgeous outlook is offered from the house with an unbroken view of lush forests, rice fields, and Mt. Makihata, which is listed as one of the '100 Famous Japanese Mountains.'

A breathtaking view awaits guests from the open-air bath

The spacious living room

Fully renovated from a 150-year-old private house, the building is supported by beautiful wooden beams and columns, and in the middle the oe, a sunken hearth. This, along with the beams and sashigamoi joints, are made from keyaki Japanese zelkova which is an elm-like tree. This species of tree is rare even in a tree-covered region such as Uonuma. The lumber used for this house was cut, preserved, and dried out for a number of decades before being processed into building material for the house. The heart in the middle of the living room is reminiscent of a time when large families would gather around one and serves to recreate that lifestyle.

The Nishiyama region is known for is production of delicious rice. IZUMI in fact looks out over Kabanosawa, a special and important place of rice production in Nishiyama. This vantage point also gives guests an opportunity to appreciate the hot and cold temperatures of the daytime and evening, the rivers, the shape of the land, and the earth the city sits on. The drastic change in temperatures in the day and night are especially noteworthy as this, along with the basin between the mountains, gives rise to a sea of clouds.

IZUMI sits on a hill that overlooks the rice paddies, making it a perfect location for spotting the sea of clouds. Minamiuonuma's sea of clouds has over a 70% chances of appearing in the autumn and spring seasons.

The number one reason why Japan's old, long-standing, and precious private houses are demolished is due to the cold getting in and it being too dark inside. Even those who want to see them preserved for tradition, including those who live in them already, would rather live in a modern home. That's why Jiyujin has begun a renovation project instead of a demolition one. By refurbishing the houses, the ancient framework can be fixed up and preserved while a range of contemporary amenities are incorporate to fit with modern lifestyles. The Satoyama Jujo accommodations are built so they can be used for over 100 years.

For dinner, there are three options for guests. The first is a dinner at SANABURI which earned itself a Michelin star in Michelin Guide Niigata 2020. The second is a meal at a restaurant that earned the status of Bib Gourmand in the same guide. The third is to prepare your own meal in the house. There are plenty of shops around the station nearby where you can buy local ingredients.

After a delicious meal, guests can take a soak in the open-air tub and enjoy gazing out across the fields and the beautiful mountains which stand almost 2,000 meters high.

Information

Satoyama Jujo THE HOUSE IZUMI

Japanese Name: 里山十帖 THE HOUSE IZUMI

Address: 671-1, Amanosawa, Minamiuonuma, Niigata, 〒949-6433, Japan

Official Website: Opening early July 2021

Access: 7-minutes by car from Jōetsu International Skiing Ground Station (JR Joetsu Line) / 16-minutes by car from Shiozawa-Ishiuchi IC

Celebrate Sasuke Uchiha's Birthday at Fuji-Q Highland's Naruto x Boruto Summer Event

Fuji-Q Highland began its 'NARUTO x BORUTO Fuji Hidden Leaf Village' event on Wednesday which is set to run throughout summer until August 29. The event is taking place to celebrate the birthday of the popular character Sasuke Uchiha from the Naruto franchise.

During the event, a keyword rally will take place, and a special menu will be served up.

Keyword Rally

Guests must play and ride six Naruto-themed attractions at the park where they will be able to collect keywords related to the Uchiha family. Those who manage to answer all the questions correctly will receive one of two free exclusive pins. The Sasuke & Itachi design will be available from June 9 to July 22 and the Uchiha Family design from July 23 to August 29. Check out the designs below, both of which are must-grabs for fans of Sasuke and the Uchihas.

Pin Design 1: Sasuke & Itachi (Uchiha Brothers) | Available: June 9, 2021 – July 22, 2021 

Pin Design 2: Sasuke & Sakura & Sarada (Uchiha Family) | Available: July 23, 2021 – August 29, 2021

Special Menu

Guests will also be able to enjoy a special menu line-up including a ramen dish served at Ichiraku, the ramen bar at Fuji-Q Highland which is themed on the same eatery of the same name in Naruto, and two cakes at Fuji-Q Highland's official hotel resort and spa.

Uchiha Brother's Spicy Ramen | ¥1,500 (Tax Included)

Uchiha Brother's Print Cake

Uchiha Family's Print Cake


ⓒ岸本斉史 スコット/集英社・テレビ東京・ぴえろ

Information

Uchiha's Summer
Running: June 9, 2021 – August 29, 2021

Where: Fuji-Q Highland

Official Website: https://www.fujiq.jp/

Be Surrounded by Glowing Fireflies With Kissho Yamanaka's New Hotel Plan

Kissho Yamanaka, a hot spring hotel in Kaga, Ishikawa, is now offering a firefly-viewing experience as part of a new guest plan until June 15. This gorgeous resort, situated by the Daishoji River in the Kakusenkei Gorges, was awarded three Michelin stars in the Ryokan category of Michelin Guide Hokuriku 2021 Special Issue.

The firefly tour arrives as early summer is soon to begin. As part of the hotel plan, guests can also enjoy a dazzling Firefly Cocktail too.

Feel the rays of early summertime at Kissho Yamanaka.

Information

Firefly & Sunset Hotel Plan

Address: Kissho Yamanaka, 1 Chome-14−3 Yamanakaonsen Higashimachi, Kaga, Ishikawa 922-0114, Japan

Official Website: https://kissho-yamanaka.com/